Similar to any other eCommerce business models, it is crucial to select a suitable eCommerce platform to succeed with dropshipping. To help you with such an important decision to make, I have a few recommendations ready.
In short, 4 of the best eCommerce platforms for dropshipping that you can consider include:
Open-source platforms:
Hosted platforms:
Let's continue to see what users love about these website builders!
What is dropshipping?
With traditional eCommerce selling, store owners sources products from suppliers and promotes them on their websites before shipping to customers when there is an order. In these cases, store owners must manage their inventories closely. Once products are out-of-stock, merchants have to get more from their suppliers before processing more orders.
However, products don't need to be in stock for merchants to sell with dropshipping. They can still display and advertise products from dropshipping suppliers on their websites without acquiring them beforehand. Once a customer makes a purchase, the store owner will send the order information to the supplier. Packaging and shipping to customers is now the responsibility of the suppliers.
How to select the best eCommerce platforms for dropshipping
Choosing the right dropshipping platform plays a key role in the success of your business. Below are the fundamental criteria that determine whether an eCommerce website builder is right for dropshipping.
1. Ease of use
An ideal dropshipping platform should be easy to navigate for both online sellers and customers. It is more efficient for merchants to work with a website builder with an intuitive back-end interface. Similarly, the front-end of your website should also be user-friendly with neatly categorized products.
2. Scalability
Slow loading time or data corruption can happen once your website generates significantly larger traffic as your business grows. These things will negatively impact your customers' experience and hurt your sales. Hence, another important factor that we should consider is the scalability of website builders.
3. Marketing tools
Marketing plays an important role in any business. Especially when it comes to dropshipping, your profit margin is lower which means you have to sell to a larger number of customers. It is also crucial to build a strong brand to succeed with dropshipping. As a result, marketing tools is undoubtedly a priority while choosing a dropshipping platform.
4. Support major dropshipping plugins
In most cases, you have to use dropshipping plugins or extensions to enable other functionalities that your platform does not provide by default. Therefore, you should choose a website builder with feature-rich dropshipping solutions available.
Which is better: Open-source or Hosted?
Before I go into details of any particular website builder, you first need to understand the differences between open-source and hosted platforms to wisely choose your preferred one. Each of the two has its pros and cons, so it mostly depends on your expectations to say which is better.
1. Open-source platforms
If you prioritize customization over anything else and have good technical expertise, you should go with an open-source platform.
In general, these platforms allow you to view and edit its source code, which creates endless customization possibilities of the design and functionalities of your website. Hosted platforms do not allow users this level of control.
However, it also means that to fully optimize your store, you'll need either coding skills, hiring an in-house tech team or outsourcing. An open-source platform also does not provide you with any official support. As a result, you will have to go through their online resources and seek help from their communities.
2. Hosted platforms
In contrast, hosted platforms will be the right choice if you don't want to bother with any infrastructure-related tasks and want active support from official personnel.
These platforms allow you to set up and manage your online store easily without any technical knowledge. All you need to do is choose a plan, buy your store domain if you haven't got one and use a pre-made theme to set up your store.
Indeed, you will not have to worry about choosing a hosting solution, security vulnerabilities or version updates if you are on a hosted platform. Besides, you will receive dedicated and timely customer support from these website builders' support team.
One weakness of hosted platforms is the lack of flexibility to customize your store. Therefore, if you want to add more functions to the platform's default features, you will have to depend largely on third-party applications and plugins.
What is the best eCommerce platform for a dropshipping business?
At this point, you may have already made your decision to go with open-source or hosted. In case you would like to work with an open-source solution, my 2 suggestions are Magento and WooCommerce.
1. Magento
There are 2 editions that you can choose from: Magento Open Source and Magento Commerce. These 2 editions of Magento greatly differ. Magento Open Source is the freely available edition for store owners who have a budget behind them. While Magento Commerce (formerly known as Magento Enterprise) is the paid version with more powerful features and excellent customer support.
Magento is a feature-rich platform, but it is not one bit beginner-friendly. If you have technical knowledge or are employing tech experts to handle your website, Magento will be an excellent platform to work with.
Ease of use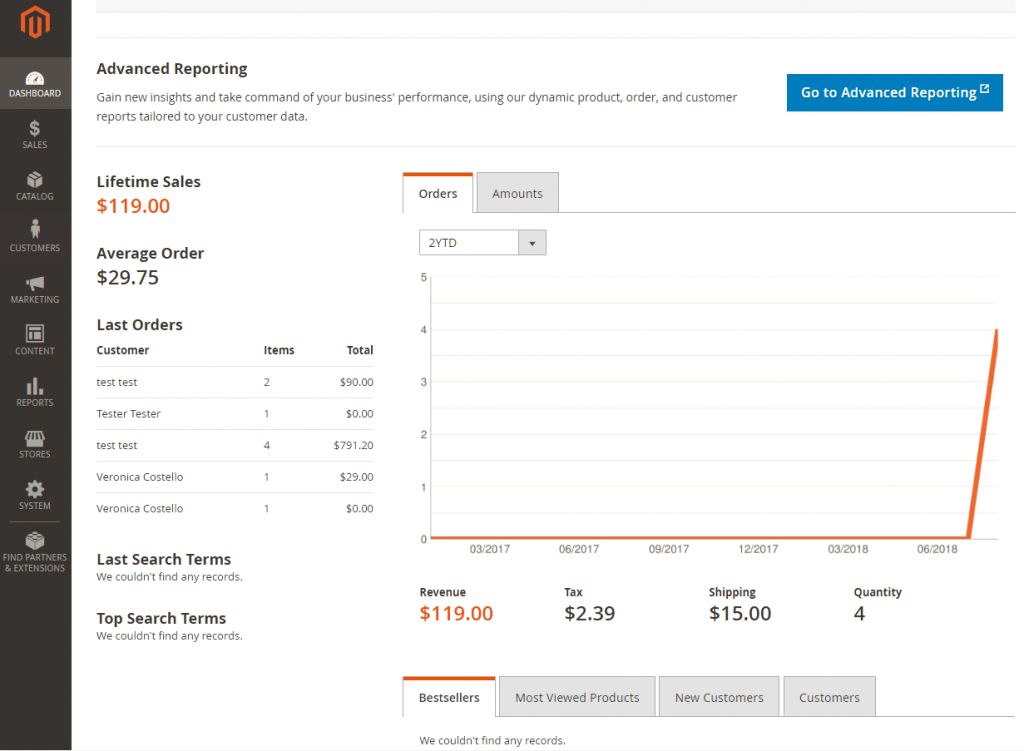 At first, new users may have a hard time setting up Magento because of complicated tasks regarding FTP and commands. However, once you have finished with the setup, the back-end interface of Magento is pretty intuitive.
It is conspicuous that the back-end interface of Magento is easy to work with. Orders, product descriptions, categories, quantities, and marketing features, etc. are simply displayed on the dashboard. But as you go through different sections, you may be overwhelmed by the numerous options in each setting. In fact, beginners sometimes have difficulty with Magento's terminology, while developers and experts are in love with it.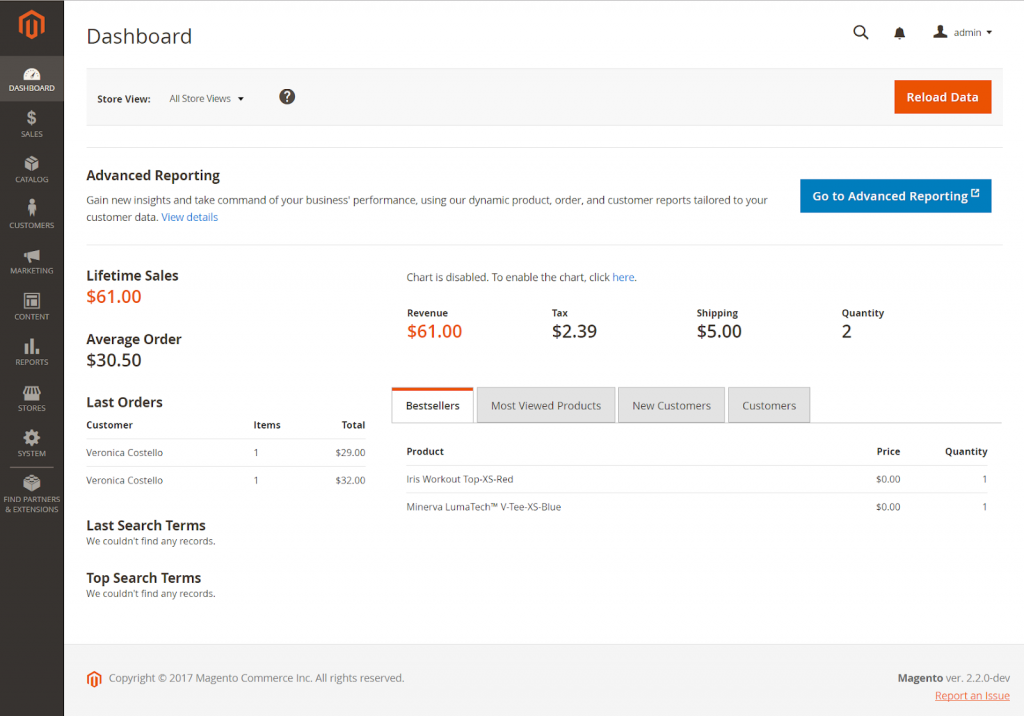 Scalability
Magento is a powerful platform that is capable of comfortably coping with up to 50,000 visits per hour. Its new version has many database and server improvements in order to meet the need for stability and scalability of large enterprises.
One of the highlights is the integration with Varnish page caching to enhance server responsiveness. Magento also optimized the amount of data that must be passed to the browser in order to render the webpage which reduces page weight.
Marketing tools
Magento has endless possibilities when it comes to SEO. This platform comes with all of the SEO features that you need, such as URL modification, adding canonical tags or adding 301 redirects.
In addition, Magento's Marketing integrates with Google Analytics, Google Privacy Setting, Google Content Experiments, Google Tag Manager, and Google Adwords. You can also generate unique coupon codes for each promotion and export the list for offline distribution, email, newsletters, etc.
Furthermore, with Magento Enterprise edition, you have access to even more advanced tools like customer segmentation and targeted promoting, automated email marketing reminder or reward points.
Support major dropshipping plugins
There are many choices of dropshipping extensions for you to choose from on Magento Marketplace. For example, AliExpress Dropshipping extension enables Magento 2 users to connect with AliExpress Dropshipping program to advertise its products on their website and earn commissions. For your information, AliExpress is Alibaba B2C marketplace focusing on international trade. The major functions of this extension include:
 Imports items information such as description, images, and reviews.
 Enables fetching of Product variation data such as colour, size, fabric, and so on.
 Enables products import in bulk from AliExpress.
 Synchronization of product price, image, description, and availability of products.
 Imports products based on Keywords and Product URL.
2. WooCommerce
WooCommerce is a free WordPress plugin that adds eCommerce functionality to your WordPress website and makes it an online store. This platform is currently the most popular one in the industry as it is being used by 30% of online stores as of October 2020.
For that reason, it has a massive community of users, developers and contributors. There are several forums specialized in this platform where you can seek answers to technical queries.
Similar to Magento, WooCommerce is an open-source platform. This means that it is fully flexible and customizable. One of its advantages over Magento is that it is much more user-friendly, especially to those who already have experience with WordPress.
Ease of use
Before setting up a store using WooCommerce, you have to choose the hosting provider and download WordPress. After that, you can go on WordPress admin panel and install WooCommerce to turn your website into a fully-functioning eCommerce store.
After installation, the configuration of WooCommerce is pretty simple since its back-end interface is intuitive and easy to use. All of the features you need are on the left side of the dashboard. In short, WooCommerce is a more user-friendly open-source platform in comparison with Magento.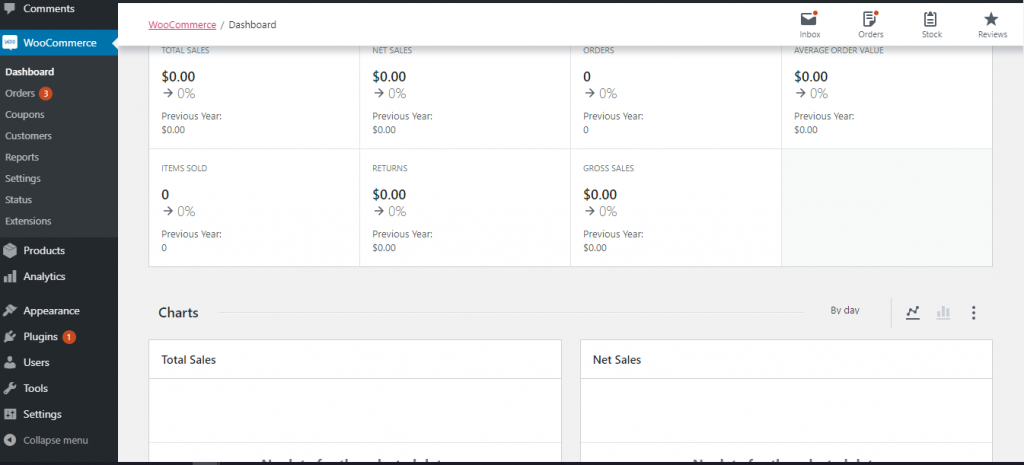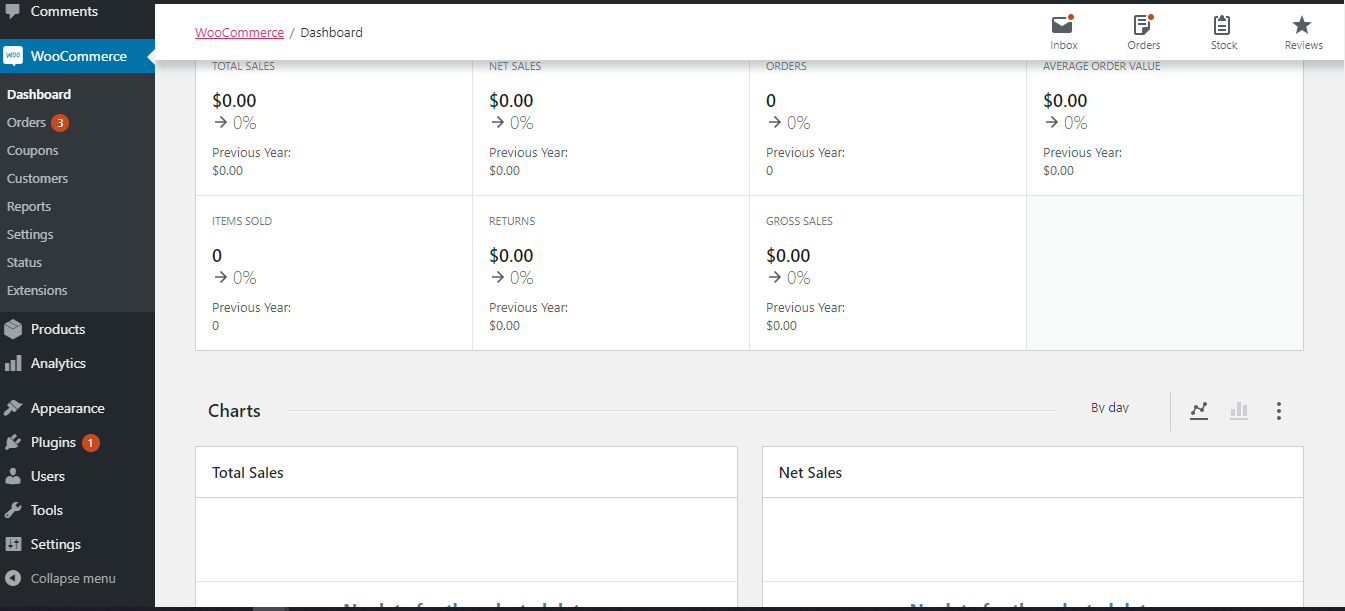 Scalability
WooCommerce can handle 100,000+ products as long as you concentrate on optimizing the website speed, page load time and database queries. You also need to pay attention to your hosting provider and hosting plan since that's where many scalability problems arise from.
For example, the store Inter Shop which is based on WooCommerce has over 158,000 products of different categories. The analysis of the website shows that it scores 93% page speed score, which is an outstanding score for an online store of this scale. Hence, it takes effort to optimize the website but once this is done, you can definitely go large-scale with WooCommerce.
Marketing tools
As WooCommerce is empowered by the biggest blogging platform, you have many advantages in terms of SEO. The platform will attempt to automatically create simple 301 redirects for situations such as when you change the title of a product page. You can also easily create a blog for WooCommerce by adding a post right from the WordPress Admin dashboard.
Unlike many other platforms with many built-in marketing features, you need to install quite a few WooCommerce plugins to optimize your marketing performance. Many websites on this platform are relying on plugins like Yoast SEO – a tool that suggests improvement regarding readability and SEO for blogs, or Smush – an image optimization and compression tool.
Support major dropshipping plugins
You can find numerous dropshipping plugins on WooCommerce marketplace. You can sell with AliExpress suppliers with the AliDropship plugin. Like other dropshipping plugins, this one allows you to adjust pricing and inventory. You can also fulfil orders with just a click of a button. The plugin also tracks your orders and sends notification emails to customers about their order status.
Another dropshipping plugin for WooCommerce for you to consider is DropshipMe. This plugin picks the best suppliers with a proven track record to make sure that your orders match customers' expectations. Apart from products, you can also import real customer reviews to increase credibility for your website.
We've just looked at some of the best open-source platforms for dropshipping. But what if you prefer dedicated support, simplicity and ease of use? In that case, launching your business with a hosted platform is the perfect option. There are a number of website builders you can choose from, among which Shopify and BigCommerce are the best recommendations.
3. Shopify
Being the hosted platform with the most users, Shopify is undoubtedly among the best eCommerce platforms for dropshipping for a beginner who is not tech-savvy.
Despite being simple and straightforward to use, Shopify is a powerful platform. Its major advantages revolve around multi-channel selling (Facebook, eBay etc), dedicated 24/7 customer support and no technical hassles for users.
Ease of use
Since Shopify is a hosted platform, it's really straightforward to launch a store. You just need to register an account, fill in all the information, choose a theme and upload your products. The process is simple enough so people with absolutely no technical background can configure.
Shopify has a huge number of features which are logically structured. Indeed, their backend interface is very intuitive and straightforward to navigate. And if you encounter any problems, their support team is available 24/7 via live chat to answer your queries.

Scalability
As discussed, Shopify is a powerful platform. For eCommerce sites with massive traffic, especially on special occasions like Cyber Monday, Shopify Plus ensures 99.98% overall uptime thanks to its cloud-based infrastructure.
In addition, this website builder offers a world-class Content Distributor Network (CDN) at no extra cost. This CDN serves the purpose of distributing the content delivery load through the server closest to users' location. Furthermore, you can use Shopify built-in image size parameter to make sure that your photos are the smallest possible while keeping its quality to ensure quick loading.
The notable thing is that with Shopify, scaling is simple. Similar to other SaaS-based platforms, you don't have to worry much about the architecture when it comes to scaling up your store. When your online store grows to the point that the capacity of your current plan is no longer suitable, buying a higher plan will solve most of the problem. Also, Shopify Plus is an exclusive Shopify plan for large-scale stores, you can read the detailed comparison here.
Marketing tools
Shopify has an email marketing tool that allows you to connect to customers. You can also list products for free on Google Shopping and create Facebook Ads in minutes right from Shopify.
In addition, you can add discount codes to your Shopify store easily. This feature allows you to set codes for discount percentages, free shipping or even "Buy one, get one free" campaigns. You can also promote gift cards, but keep in mind that this feature is not available with the Basic plan. However, all of the Shopify plans provide abandoned cart recovery functionality.
Nevertheless, Shopify has limitations when it comes to SEO. You can edit title tags, meta descriptions and product elaboration but not URLs. There will always be a subfolder structure in your blog URLs. Indeed, SEO is something that WooCommerce would do much better. You can take a look at this Shopify vs WooCommerce for dropshipping article for more details.
Support major dropshipping plugins
Oberlo and Spocket are two of the most used plugins on Shopify. Oberlo is a user-friendly app that allows CRM integrations and order tracking. Spocket is also very easy to use and provides neutral non-branded packaging from suppliers and allows sending branded invoices which enhance your brand credibility.
One of the most preferred features of this plugin is that it supports suppliers based in Europe and the United States which decrease the delivery time for customers in these regions compared to AliExpress.
4. BigCommerce
Besides Shopify, BigCommerce is another one of the biggest hosted solutions out there. This platform is extremely powerful, scalable and feature-rich.
This platform allows you to sell on multiple channels like Facebook, Instagram or Pinterest. Remarkably, BigCommerce SEO tool is advanced. In fact, BigCommerce boasts an impressive average growth of 28% for its clients year on year.
Ease of use
Similar to other hosted solutions, you can set up a store easily with BigCommerce. In the past, users used to have difficulties with the store builder because its design interface was split into two areas. One was for adding and managing products, shipping, discounts and other back-end related entities, while the other was where you edit your front-end.
Lately, BigCommerce has made it easier for customers by releasing a store design tool that allows you to see the effect of your edit. However, the platform still has quite complicated terminology which can be unsuitable for beginners.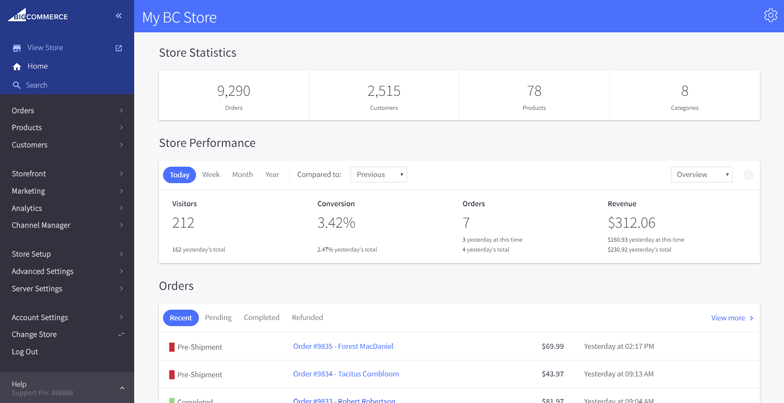 Scalability
At the end of 2015, BigCommerce made a big improvement and reduced the average load time of their sites by 30%, making the response time less than half a second on average. This is crucial as online shoppers will not wait more than 2 seconds for pages to load. Similar to Shopify, BigCommerce uses Content Delivery Networks (CDN) to store image information in regional servers which improves loading speed.
Moreover, BigCommerce's powerful API allows for seamless integration. With a single click, it is possible to connect to all the marketing automation and shipping solutions that you may need for your business to scale up.
Marketing tools
BigCommerce provides every possibility to improve your SEO performance. You can edit page titles, meta descriptions, alt tags. The platform also automatically extracts information that you put into your product pages and creates rich snippets. If you change the name of a product, it also automatically generates 301 redirects. Notably, BigCommerce SEO has its own built-in analytics that gives you the statistics you need to track your SEO performance.
Similar to Shopify, this platform also has an abandoned cart recovery system that allows you to send 3 automated emails to draw customers back to their purchase. You can also customize your email, send more and add discount codes. However, this function is not available with the Standard plan.
Even though this website builder lacks the email marketing function by default, BigCommerce also integrates with several email marketing services: Constant Contact, iContact, Mailchimp and Interspire.
Support major dropshipping plugins
BigCommerce definitely supports multiple dropshipping plugins. There are also many options available for you to choose from. The major dropshipping apps for this platform include:
Differing from the other dropshipping plugins mentioned in this article, Printful operates by helping you print your custom designs onto items and delivering them to your customers on-demand.
On the other hand, Wholesale 2B has over 1 million products from more or less 100 suppliers for you to choose from. You can always modify the product name and description for personalization.
Conclusion
In this article, I have discussed 4 best eCommerce platforms for dropshipping and some recommended dropshipping plugins for each. Hopefully, this article has the information that you are seeking and has helped you make a decision.
If you are planning on migrating from your current website builder to Shopify, BigCommerce, WooCommerce or Magento, or any other platforms, LitExtension team is willing to help! As the world-leading shopping cart migration tool with 140,000+ successful migrations for 40,000+ worldwide customers in the last 6 years, LitExtension can transfer all your data including products, customers orders automatically, quickly, and accurately, especially, with no technical skills required.
You can find the list of LitExtension supported carts here. If your platform is not on the list, contact our team via live chat to make a request. For any further information about LitExtension, please feel free to contact us!