Introduction
Shopify is well-known as one of the most popular eCommerce platforms, with about 1,631,096 live websites around the world, according to BuiltWith.com. It ranks second place with 20% market share, only behind WooCommerce (a WordPress plugin).
Shopify is the best place to start an eCommerce business because Shopify is a fully-hosted solution, which allows everyone, even those who have little to no technical knowledge to set up an online store and sell their products online seamlessly. Don't miss a golden chance to try building your website with one of the cutting-edge platforms with our instruction.
For those who want to build your own Shopify store but still wonder about Shopify pricing, you find the right place.
In this article, I will give you detailed information about how much it costs to set up a Shopify store. Overall, there are 5 main factors that affect the cost of a Shopify store as follows:
Shopify pricing plan
A domain name
Theme design
Add-ons and integration
Payment fees
Shopify
1. Shopify pricing plans and which to choose?
There are five different pricing plans for Shopify. These are Shopify Lite, Basic Shopify, Shopify, Advanced Shopify, Shopify Plus. Each Shopify pricing plan offers a variety of features. There is no one specific plan that works for every business so I hope that the information I will be giving you below will help you decide what plan works for you.
Now, let us take a look at each of these plans in more detail:
Shopify Lite
Shopify Lite is the cheapest option for you to sell your products. It costs $9 per month, which is commonly choosen by those who start to sell online with a small number of products.
Shopify Lite allows you to sell products through your existing website or social media channels. For example, you can simply turn your store's Facebook page into a shopping window or you can add a Buy Button on a page on your website or blog that you already have and then start to sell products. However, you won't be able to get a full online store with a shopping cart as you can do with other Shopify plans.
Basic Shopify
The Basic Shopify plan is extremely suitable for small businesses that are just starting, with a monthly subscription fee of $29. It is the cheapest price to get a fully functional eCommerce website.
Basic Shopify offers you a standalone website with an eCommerce store and a blog. The number of products you will be able to sell is unlimited and there are two staff accounts you can create.
Although the Basic Shopify plan doesn't include some of the more sophisticated features like reports and abandoned cart recovery, it is still a great place to kick off your business because you can easily move on to higher plans as your business grows.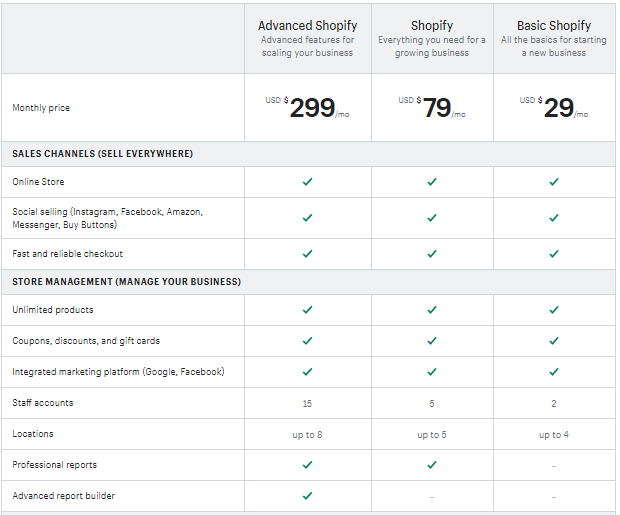 Shopify
The Shopify plan works well for growing eCommerce businesses that are looking to scale up their operations. This one will cost $79 per month. You will be able to get all the features of Basic Shopify with this plan along with a few additional features.
In terms of additional features, one of the main differences is that you will be able to create up to 5 staff accounts, more than 3 accounts compared to the Basic Shopify plan. In this plan, it already offers features like professional reports. As a result, that accessing to reports yields valuable insights into the purchasing habits of your customers helps you make better business decisions.
Advanced Shopify
When your business grows up and you need more features to manage your store, the advanced plan is surely the cream of the crop. It costs $299 per month. It allows you to create up to 15 staff accounts under this plan.
One of the outstanding features of this plan is that you will be able to integrate third-party shipping carriers to calculate shipping rates during checkout and use your own accounts with shipping carriers to display rates.
Additionally, you will receive an advanced report builder. Therefore, you'll be able to make custom reports that can be filtered by dimensions. This means that you can capture the biggest opportunities to scale up your business.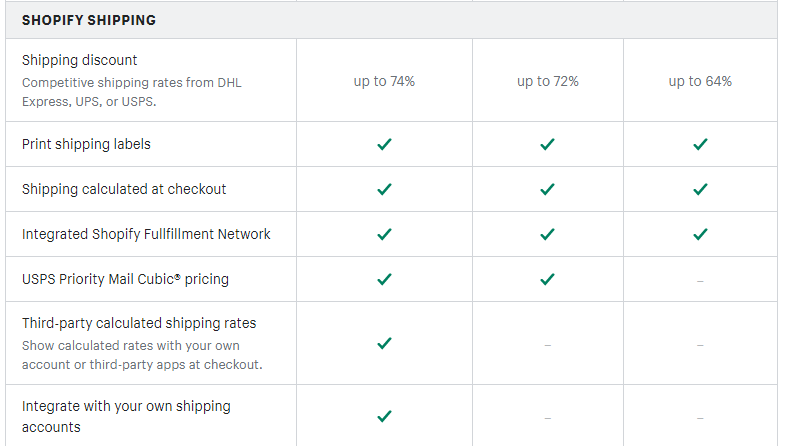 Moreover, real-time carrier shipping information is another advantage of the Advanced Shopify plan. In fact, one of the most common reasons for cart abandonment comes from the customer encountering unexpected costs. Fortunately, the real-time carrier shipping information ensures you offer customers carrier based shipping prices at the checkout so you can prevent cart abandonment.
2. Domain name
After choosing your appropriate Shopify plan, you need to register a domain name. Let's see how much it contributes to Shopify pricing.
If you already have a domain name registered, you can continue using that for your Shopify store by transferring or connecting the domain to Shopify. The detailed guide can be found here.
Besides, Shopify gives another option for you which is to purchase your own domain name. You can even try using the free domain name that you get when you sign up with Shopify.
Registering a domain name with Shopify for one year will cost you from $14 per year. You will be able to choose a domain name from over 50 ones available. Furthermore, you will get free subdomains and unlimited subdirectories with your domain name.
3. Theme design
Your store's appearance plays an important role in increasing conversion rate, that's why you need to find a mesmerizing theme for your website. Fortunately, Shopify features a wide range of free and premium themes on its website. At the moment, you will be able to find 9 free themes and 64 premium themes. If you choose a premium theme, you have to include this cost when calculating Shopify pricing.
Themes are designed specifically for many types of eCommerce sites, ranging from clothing & fashion, electronics to art & photography. It costs you from $100 to $180 for a premium theme. If you find it difficult to choose the theme suitable for your store, don't worry, we have listed 7 Shopify best themes for you to choose from.
Besides, you can also find good quality themes created by third-party providers. Typically, Themeforest is where you can find multiple interesting Shopify themes
4. Add ons and integrations
To extend the functionality of your online store, add ons and integrations are indispensable parts. Understanding this demand, Shopify has a large collection of free and premium apps that you can make full use of to add more specialized features to your store. The expense you have to incur depends on the specific requirement of your store. Most of the premium apps cost you around $20-$29 while some cost more than $70. Here are some of the popular categories for Shopify apps:
Store design
Sales and marketing
Inventory management
Orders and shipping
Customer support
Security
Reporting
It can be overwhelming to search for a suitable app for your store so we highly recommend you take a look at the article about the best Shopify apps for a brand new website and for SEO.
5. Shopify payments
Credit card rates and transaction fees are two costs that merchants have to consider when estimating Shopify pricing because it has a direct impact on the profits.

Credit card rates
You have to pay a small fee to the credit card payment provider to accept major credit cards, such as Visa and MasterCard as payment in your store. These fees for online differs from the ones for Shopify POS due to the security and risk of taking payment online versus taking payment in person. Credit card rates vary depending on the plan that you choose:
Basic Shopify plan: 2,9% + 0,3 USD per transaction
Shopify plan: 2,6%+ 0,3 USD per transaction
Advanced Shopify plan: 2,4% + 0,3 USD per transaction
Transaction fees
Transaction fees are applied for each transaction if you use a third-party payment provider to take customer payments. It means that you can avoid this fee if you choose Shopify Payment. This fee covers the charge for Shopify to integrate with an external payment provider. Like credit card rates, transaction fees also depend on the plan that you choose:
Basic Shopify plan : 2,0%
Shopify plan: 1,0%
Advanced Shopify plan: 0,5%
Note that: If you activate Shopify Payments, you only pay the credit card rate without additional transaction fees.
Shopify Plus
Shopify Plus is definitely a comprehensive eCommerce solution for enterprises. You'll also have a dedicated project manager, an account manager, personalized support contacts.
Additionally, Shopify Plus is renowned for its robust functionality. You can find out more about the difference between Shopify and Shopify Plus here.
Let's go straight into the cost breakdown of Shopify Plus:
1. Website build cost
The cost of a custom site build can differ significantly, depending on the agency, the number of products, and product variants on the site,…
However, it is about $30,000 to $250,000 for the average retailer moving up to Shopify Plus.
2. Shopify Plus license fee
In addition to the website build cost, you have to pay for the Shopify Plus license fee to get access to the Plus system and have your site hosted on their servers. This fee is based on the monthly sales volumes of your business. Once you make $800,000 or more per month, the fee turns into a revenue-based model and you'll pay 0.25 % of your monthly revenue.
However, the fee starts at $2,000 per month snd won't exceed $40,000 per month.
3. Payment processing fees
Likewise Shopify, there are charges you have to pay:
Credit card rates
1.6% + $0.35 (£0.20 in UK) per transaction
Transaction fees:
0.15% per transaction if using a third-party payment gateway
4. Additional app fees
Although Shopify Plus is a powerful system, large enterprises still require more advanced tools and apps to manage specific tasks better. The more add-ons and extensions that are integrated into your business, the more additional fees you'll incur each month.
For the average Shopify Plus operation, the expected cost is between $200-$500 per month.
5. Maintenance fees
Shopify Plus is a fully hosted platform so maintenance costs are normally associated with other alternatives such as server fees or security patches, and it is included in the license fee. However, you have to pay maintenance fees regarding updates to your site.
These fees are relatively low which is about $100.
Overall, the total cost of Shopify Plus is $44,350.80 in the first month, then $4,350.80 / month!
Conclusion
In brief, Shopify pricing varies significantly between pricing tiers. It mainly depends on the scope of your business. You have to pay certain unavoidable expenses to get a fully functional Shopify eCommerce store, including domain name registration, theme cost, payment fees, and extension cost.
Now, you probably estimate Shopify pricing for your online store. I hope that you can choose the right pricing plan for your business based on the comparison between pricing tiers I've shown you.
If you already had an e-store and are about to move to Shopify, choose LitExtension to do the heavy lifting of data transferring for you. This automated shopping cart migration will help you migrate all your important data including customers, orders, products to your new Shopify store quickly and accurately. So don't hesitate to try our Free Demo and get support from our team whenever you need. Furthermore, we do have Facebook Community for further information and updates about eCommerce industry, let's check it out!