Beyond a shadow of a doubt, Shopify is known as a state-of-the-art platform that provides all the necessary tools to create, manage and level up a store. If you're planning on opting for Shopify to set up and grow your online business, your concerns may revolve around Shopify pricing. As for my case, I have asked a bunch of questions such as How much does it cost to sell on Shopify? Is Shopify free? or What are Shopify plans and features? Don't worry, this article has come to the rescue!
Currently, Shopify offers 5 different pricing plans, including:
In this article, let's learn about the nitty-gritty of these Shopify fees and all the underlying costs that you may need to be aware of. Additionally, let's go through all the reasons why Shopify is still worth it.
Without further ado, let's get this show on the road!
Need Help To Migrate Your Store?
In case you're selling elsewhere and planning to migrate to Shopify, you can consider using our automated cart migration service.
---
Shopify Pricing Plans – Where's The Difference?
Store owners can choose from 5 different Shopify pricing packages. They are Shopify Starter, Basic Shopify, Shopify, Advanced Shopify, and Shopify Plus. Each Shopify pricing plan offers a variety of features that fits separate business sizes. This section will only focus on the pricing estimation of the first 4 plans, with monthly costs ranging from $5 to $399 per month.
Then the Shopify Plus pricing plan will be discussed later in another part because this package is specially designed for enterprise-level merchants.
Please note that this platform enables users to try a 3-day free trial and enjoy 3 months of Shopify for $1/month before kicking off their business.

#1. Shopify Starter
If you are looking for the lowest Shopify pricing plan to start your business, Shopify Starter is the ideal option. This special Shopify fee only costs $5 per month. In my assessment, this pricing plan is best for those who only want to sell via social media channels, SMS, email, or forums with a simple checkout experience to test a selling idea.
Even with a smartphone, you can set up your Shopify store with ease! Please note that this Shopify pricing plan is only available for new merchants within their free trials.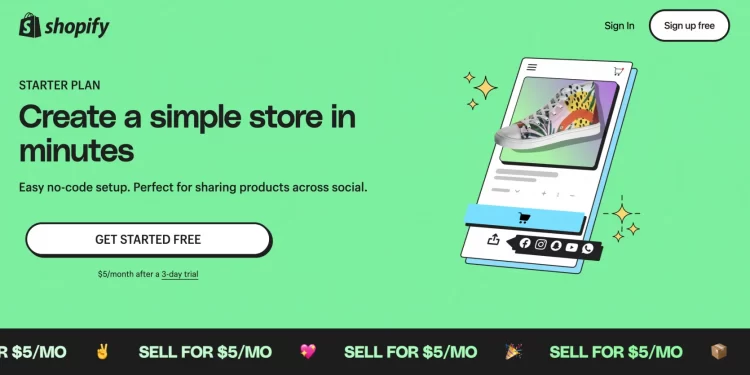 Shopify Starter features
If you choose Shopify Starter pricing, here are the impressive functions you may get:
Quick setting storefront
Unlimited product page
Fast & secure checkout
Contact page
Selling through social media channels or anywhere you can share a link with Linkpop
If you're using Shopify Payments, the transaction fee will be 5% (and it's way high!)
Who is the Shopify Starter for?
Shopify Starter is an ideal pricing to kick off your online business if you already have a website or social media page. This solution enables you to earn a pretty penny by integrating some products to sell on these sites.
💡Still curious about this pricing option? Check out our in-depth Shopify Starter review now!
#2. Basic Shopify Plan
Basic Shopify, which charges you $39/month, offers you a standalone website with an eCommerce store and a blog.
Shopify basic plan features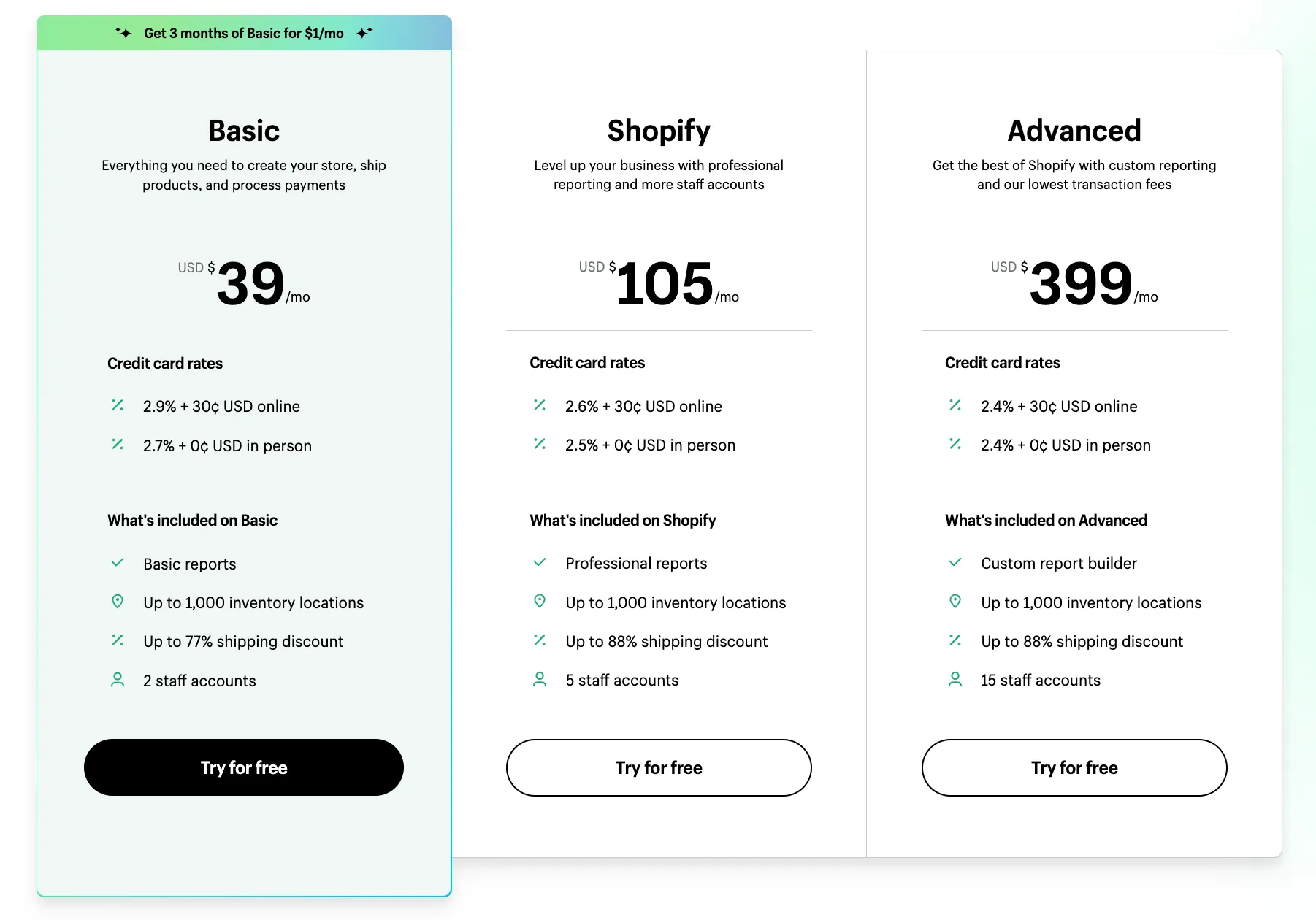 With the Basic Shopify pricing plan, you can get access to almost selling features of Shopify, including:
Creating 2 staff accounts
Having up to 1000 inventory locations
Selling unlimited products
Getting Shopify tax support
Selling internationally with Shopify Market
From my point of view, the downside of this pricing plan is that it doesn't include some of the more sophisticated features like Professional reports, eCommerce automation, or third-party calculated shipping rates.
To summarize my thoughts, Basic Shopify pricing plan is still a great place to kick off your business because you can quickly move on to higher plans as your business grows. You can minimize the operation cost and get the most out of Shopify Basic pricing by subscribing to the annual plan and getting 25% OFF!
Who is the Basic Shopify plan for?
The Basic Shopify pricing plan is extremely suitable for small or newly-built businesses, with a monthly subscription fee of only $39. It is the cheapest price to get a fully functional eCommerce website.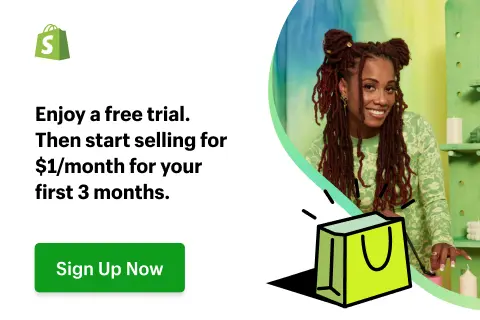 #3. Shopify Plan
If you opt for the Shopify pricing plan, you'll have to pay $105/month and, at the same time, can create a more robust eCommerce Shopify store!
Shopify plan features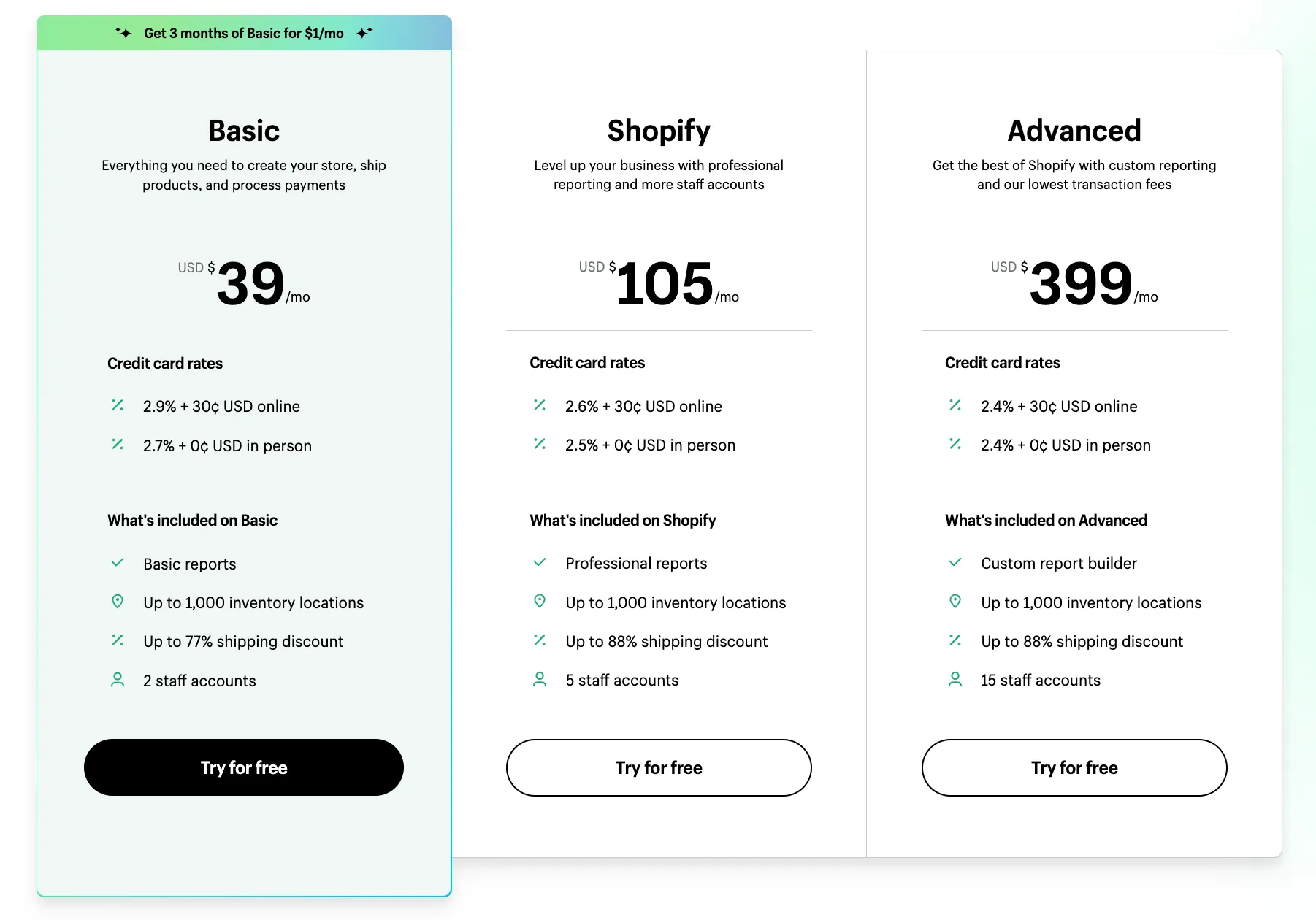 With the Shopify pricing plan, you can get access to even more prominent features of Shopify, including:
Creating 5 staff accounts
Having up to 1000 inventory locations
Enjoying higher shipping discount (88%)
and more!
Based on what they have to offer for the Shopify pricing plan, I went for this one and received a seamless selling experience. Specifically, this package offers Professional reports. These figures surely enabled me to have a better view of customers' purchasing habits. As a result, I and my staff were able to come up with more effective marketing strategies to increase conversion rates.
| | | |
| --- | --- | --- |
| | | |
| *if not using Shopify Payments | | |
| *assign & manage staff's activities | | |
| | | |
| *automatically manage & operate stores | | |
| *more locations to track stocks & fulfill orders | | |
| *shipping subsidies with leading carriers | | |
| | | |
| Third-party calculated shipping rates | | |
It appears to me that online merchants cannot access the Third-party calculated shipping rates function with this pricing plan, which will be discussed later.
Who is the Shopify plan for?
Still, my personal take is that the Shopify pricing plan works well for growing eCommerce businesses that are looking for a solution to scale up their operations when you can get all the features of Basic Shopify with this plan along with powerful additional features.
#4. Advanced Shopify Plan
This Shopify fees is the most expensive package, which charges you $399 monthly.
Shopify Advanced plan features
From what I've observed, users are able to create up to 15 staff accounts with the Shopify Advanced pricing plan. Additionally, this pricing option allows you to integrate third-party shipping carriers to calculate Shopify shipping rates during checkout. By doing this way, your customers can select the carrier that offers the lowest shipping rates in order to save the total cost of the purchase.
Plus, you will receive an advanced report builder which enables you to edit default reports and customize a new one. You can filter these files by dimensions to get the exact data that you need and get a bird's eye view of your entire business.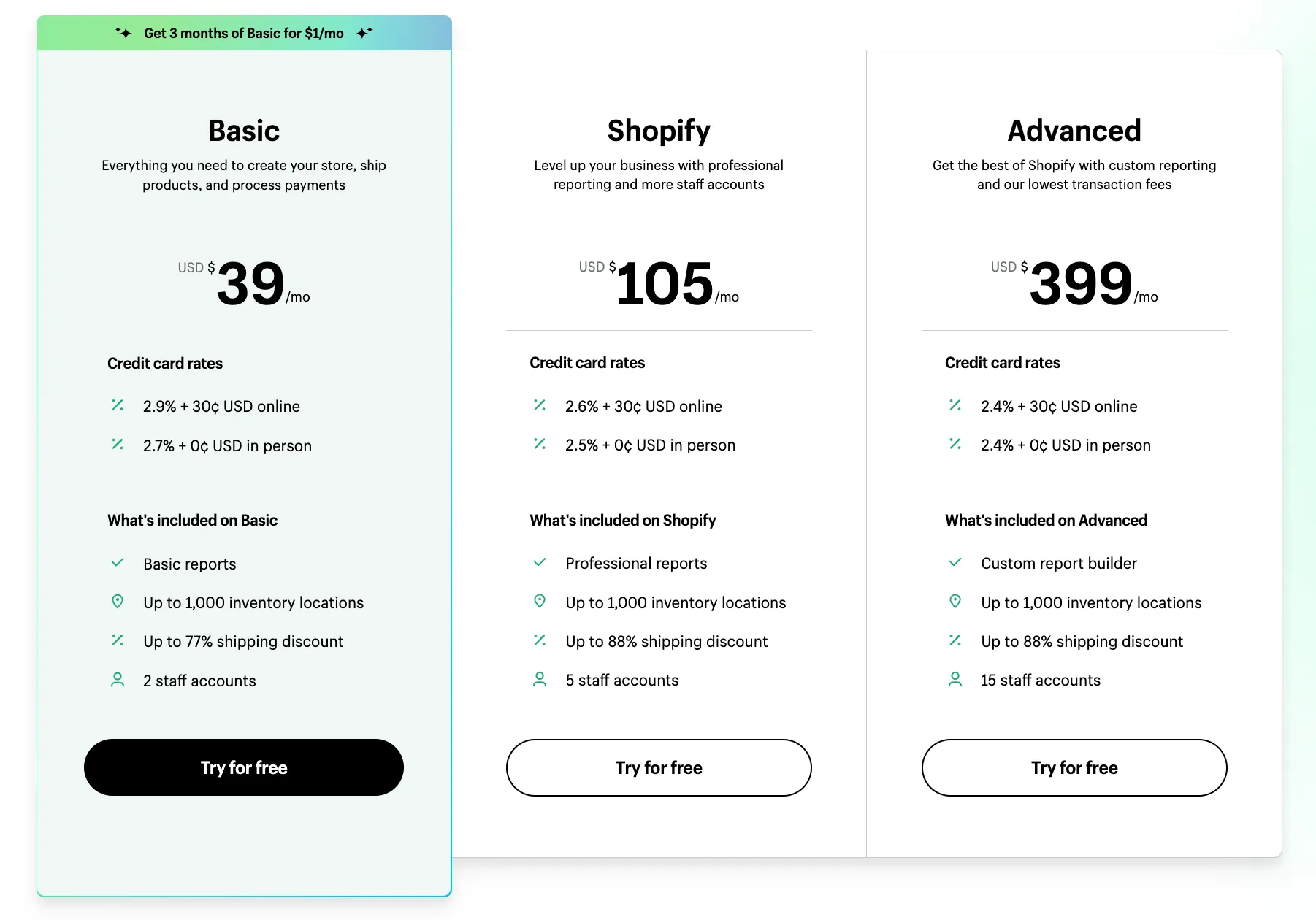 Who is the Advanced Shopify plan for?
The Advanced Shopify pricing plan is well-suited for large businesses and enterprises. As your business continues growing up, you may need to invest in superior features to deal with a sharp increase in-store traffic. This is when the Advanced Shopify pricing plan comes as the cream of the crop to help you improve store management.
To my way of thinking, it is the best to take a look at each of these Shopify fees in detail so that you may get a broader view of how much is a Shopify store and, which pricing option is most suitable & the Shopify cost per month.
I'm of the opinion that the Shopify and Advanced Shopify pricing plans are ways to outweigh the Basic plan with more inventory locations, staff accounts, lower transaction fees, progressive report systems, and outstanding workflow automation.
| | | | |
| --- | --- | --- | --- |
| | | | |
| *if not using Shopify Payments | | | |
| *assign & manage staff's activities | | | |
| | | | |
| *automatically manage & operate stores | | | |
| *shipping subsidies with leading carriers | | | |
| | | | |
| Third-party calculated shipping rates | | | |
#5 Shopify Plus
What is Shopify Plus?
If this is your first time learning about Shopify fees, you might be intrigued by this special pricing tier. Shopify Plus is definitely a comprehensive eCommerce solution exclusively for enterprises. You'll have a chance to take full advantage of a dedicated project manager, an account manager, personalized support contacts, and so on.
Explicitly, Shopify Plus is a decent choice for high-growth merchants and huge companies like Rothy's, Heinz, and Allbirds.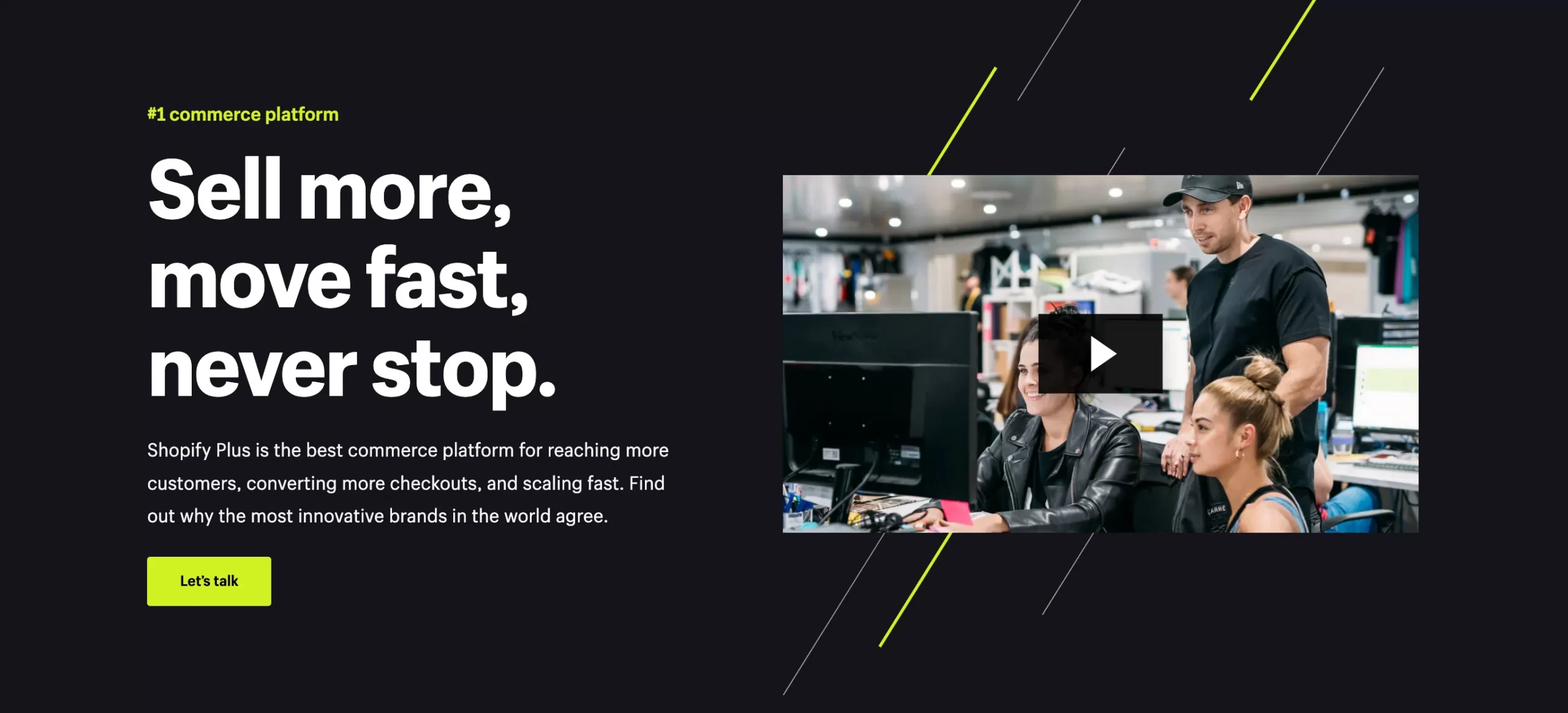 For a better understanding of key differences between Shopify and Shopify Plus, please take a look at our comprehensive comparison of these two eCommerce systems.
Shopify Plus pricing
#1. Website Build Cost
I've found that the minimum fee of the Shopify Plus plan is $2000/month for standard setups and integrations. However, you need to pay more if your business has a higher volume.
Shopify Plus pricing
Contrary to Shopify, the Shopify Plus pricing plan requires you to contact their experts and negotiate directly to get the exact pricing for your business when upgrading to the enterprise level.
#2. Payment Processing Fees
Like other Shopify pricing plans, the Shopify Plus option charges you credit card rates and additional transaction fees.
The credit card rates vary by country. You need to contact Shopify Plus representatives to know exactly how much you have to pay to the credit card payment provider.
In terms of Shopify fees for transactions, Shopify Plus allows you to use a third-party payment processor. Nonetheless, you need to pay an extra cost of 0,15% per transaction. Otherwise, you can enable Shopify Payments to eliminate this fee.
#3. Additional App Fees
As a matter of fact, Shopify Plus doesn't replace all of your apps installed previously, except for automation and customization add-ons. Therefore, large enterprises are still in need of advanced tools and apps to manage specific tasks better. The more add-ons and extensions that are integrated into your business, the more additional fees you'll incur each month.
Want to Migrate to Shopify Plus?
Looking for a solution to migrate to Shopify Plus and expand your online business there? LitExtension is always ready to help. We will help you perform a quick, accurate, and secure Shopify Plus migration with no technical skill required.
---
How Much is Shopify? – Additional Costs You Must Not Ignore
#1 Shopify Domain Name Cost
To give you the most objective point of view, I will directly guide you through each step while setting up my own Shopify store. Once you go with the appropriate pricing plan, it's time to register a domain name.
In fact, Shopify offers a free myshopify.com domain for all stores. However, it is important to have a specific domain name because it helps your products to be widely visible. Also, owning a unique domain name lays a firm foundation for your brand authority and awareness, especially when you want to expand the scope of your business.

If you already have a domain name registered, you can continue using that for your Shopify store. You can choose to transfer or connect your existing domain to Shopify at no cost. Then, you can manage all domain settings directly in your Shopify admin, including making payments for your domain provider.
Otherwise, for those who haven't had one like me, I buy a domain name with Shopify starting at $15 per year. The exact price will depend greatly on the top-level domain (TLD) extension you choose.
There this one tool called Shopify domain generator, which I could check the price and availability for my domain and get inspiration for some catchy names, too. Even if I no longer like that name, Shopify allows me to change it whenever I want.
#2 Shopify Themes & Design Pricing
Your store's appearance plays an important role in increasing conversion rate, that's why you need to find a mesmerizing theme for your website.
Fortunately, Shopify features a wide range of website templates (both free and paid options) on its Shopify Theme Store. You must include this cost when calculating Shopify pricing if you choose a paid theme.
The additional Shopify fees for themes and templates cost around $180 to $350. The category ranges from clothing & fashion, electronic to art & digital cameras, and so on.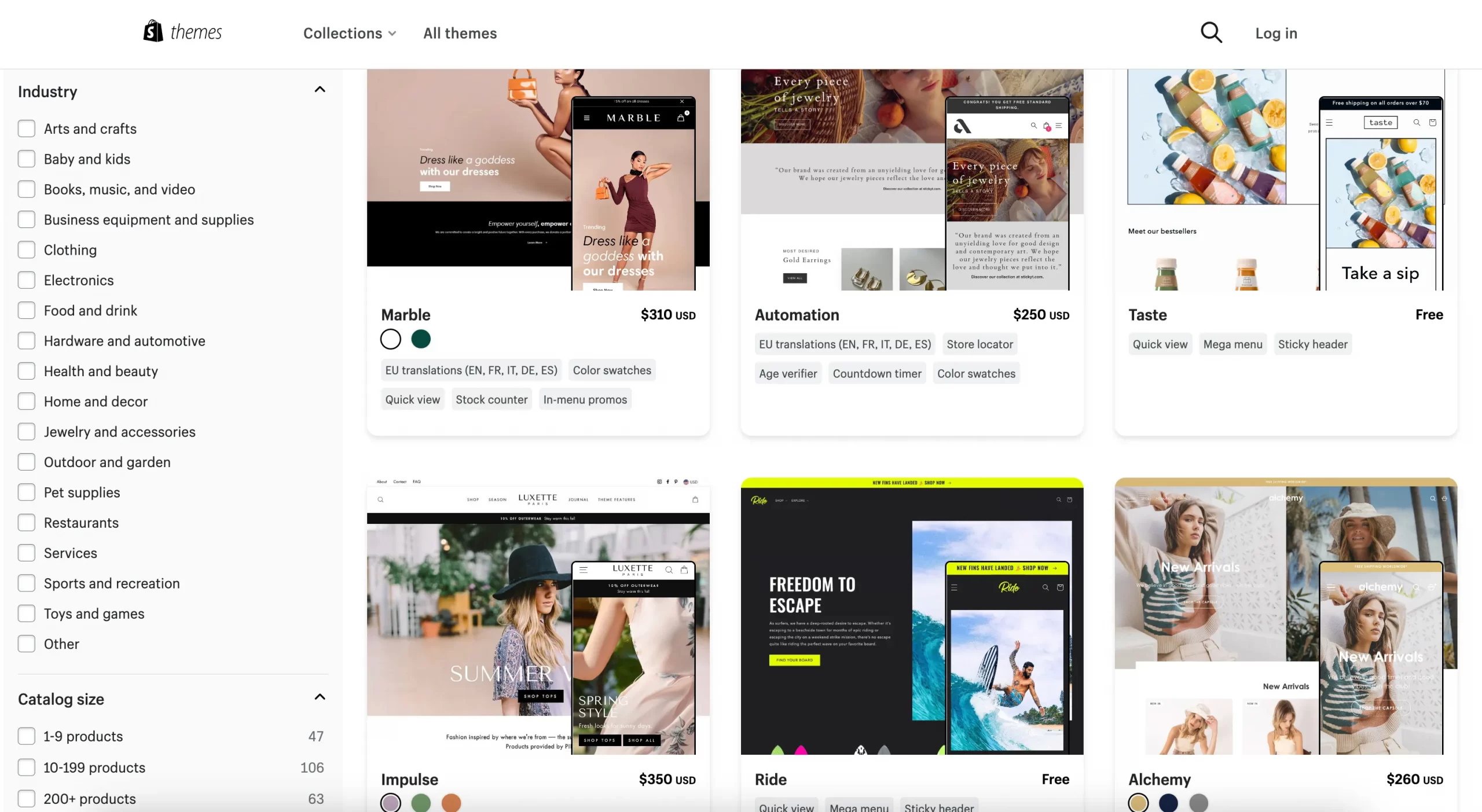 If you find it challenging to choose a suitable theme for your store, don't worry, we have listed best Shopify themes for your consideration.
Otherwise, I could also find good-quality themes, or stunning web designs created by third-party providers. In my analysis, Themeforest and Verzdesign are where you can find multiple interesting Shopify themes and eCommerce web designs at a relatively lower price. Additionally, you can easily change theme on Shopify, so feel free to test several options before choosing the ideal one for your business.
💎 Other best Shopify themes that can help your store convert more:
#3 Shopify Apps & Integrations Cost
To extend the functionality of your online store, add-ons, and integrations are indispensable parts. Understanding this demand, Shopify developers have created an extensive collection of freemium third-party plugins on its Shopify App Store that allow you to equip your store with more specialized features.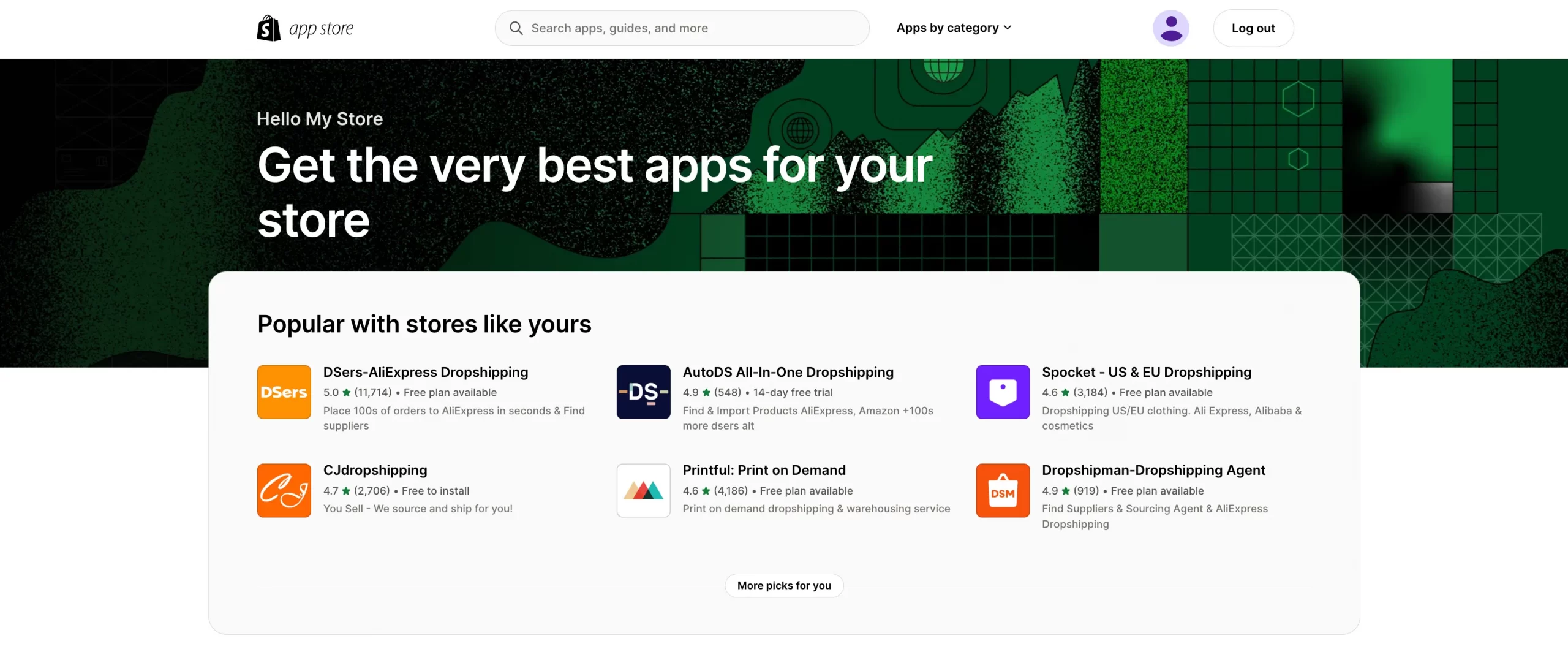 Most of the premium apps cost you around $20-$70, while some cost more than $350. Here are some of the popular categories for Shopify apps:
Store design
Sales and marketing
Inventory management
Orders and shipping
Customer support
Security
Reporting
What I love about it and maybe you too is that even the Shopify free trial pricing can access their variety of apps. Some of them offer a 3-day trial, while others allow you to use them for free within a month.
It can be overwhelming to search for a suitable app for your store, so I highly recommend you take a look at our article about the best Shopify apps.
💎 Don't forget to check out our hand-picked Shopify apps to boost your store:
#4 Shopify Payments and Transaction Fees
Does Shopify charge transaction fees? Yes, other Shopify pricing that need to be taken into account are transaction fees. This Shopify cost is included in every transaction if you use third-party payment providers to execute customer payments.
The Shopify transaction fee will be charged according to the Shopify pricing plans you choose as follows:
Basic Shopify plan: 2.0%
Shopify plan: 1.0%
Advanced Shopify plan: 0.5%
Shopify Payments
From what I've researched, you can use Shopify Payments to avoid additional Shopify fees per sale. This is an in-house payment system developed by Shopify itself to ease the complexity of the payment process.
Credit card rates are other Shopify fees that we have to consider when estimating Shopify pricing because it has a direct impact on your profits.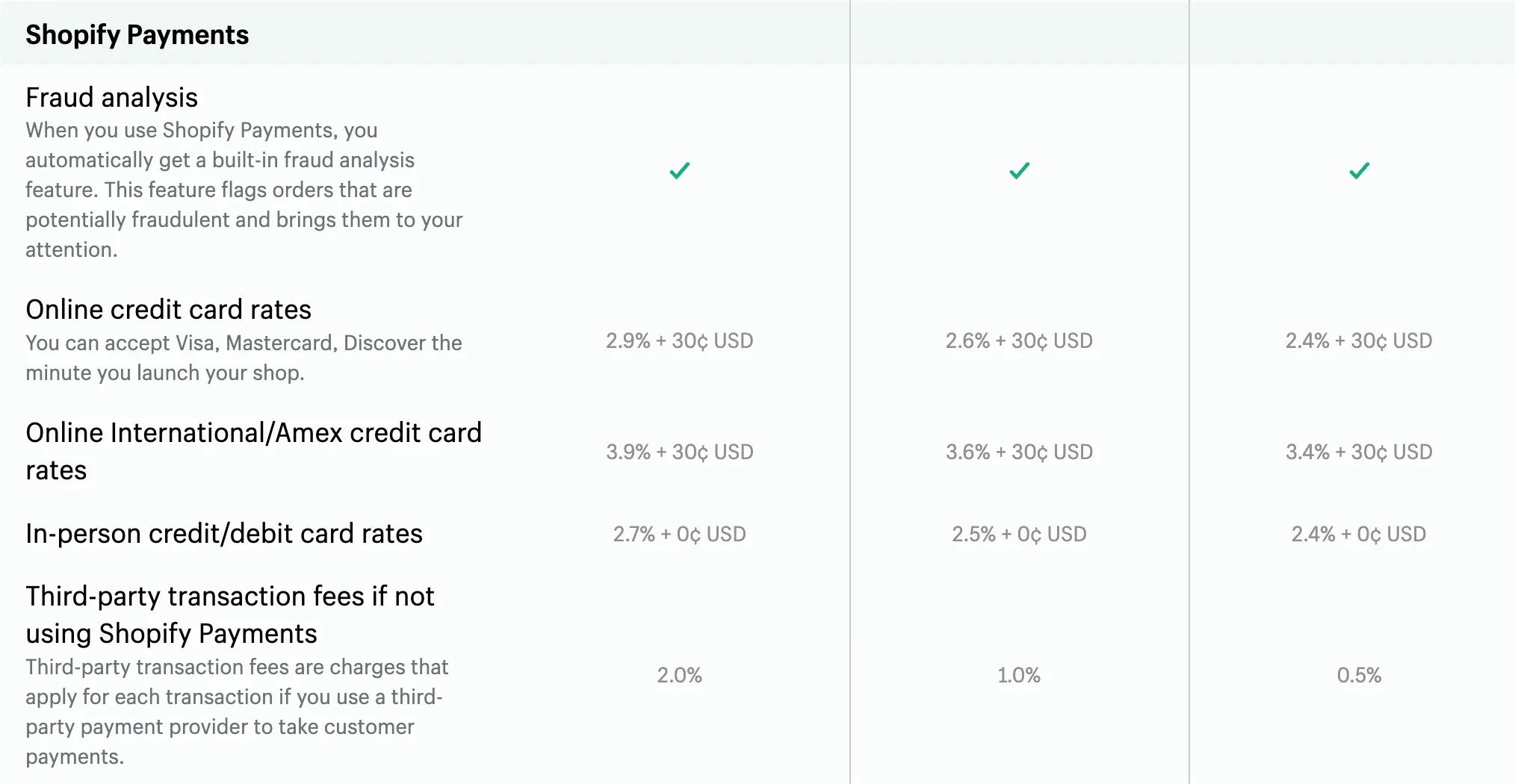 To accept payments via credit cards, such as Visa, MasterCard, American Express, etc, I had to pay a small Shopify fees. My take on it is due to the security risk when processing digital data, Shopify charges higher rate for online credit cards than in-person payment.
Similar to transaction fees, online credit card rates per transaction vary depending on the Shopify pricing plans that you choose:
Basic Shopify plan: 2.9% + 30¢ USD
Shopify plan: 2.6% + 30¢ USD
Advanced Shopify plan: 2.4% + 30¢ USD
And the rates for in-person credit/debit card are charged as follows:
Basic Shopify plan: 2.7%
Shopify plan: 2.5%
Advanced Shopify plan: 2.4%
#5 Shopify POS Pricing
Shopify designed its own POS system for on-the-go sales (Shopify POS Lite) and brick-and-mortar sales (Shopify POS Pro).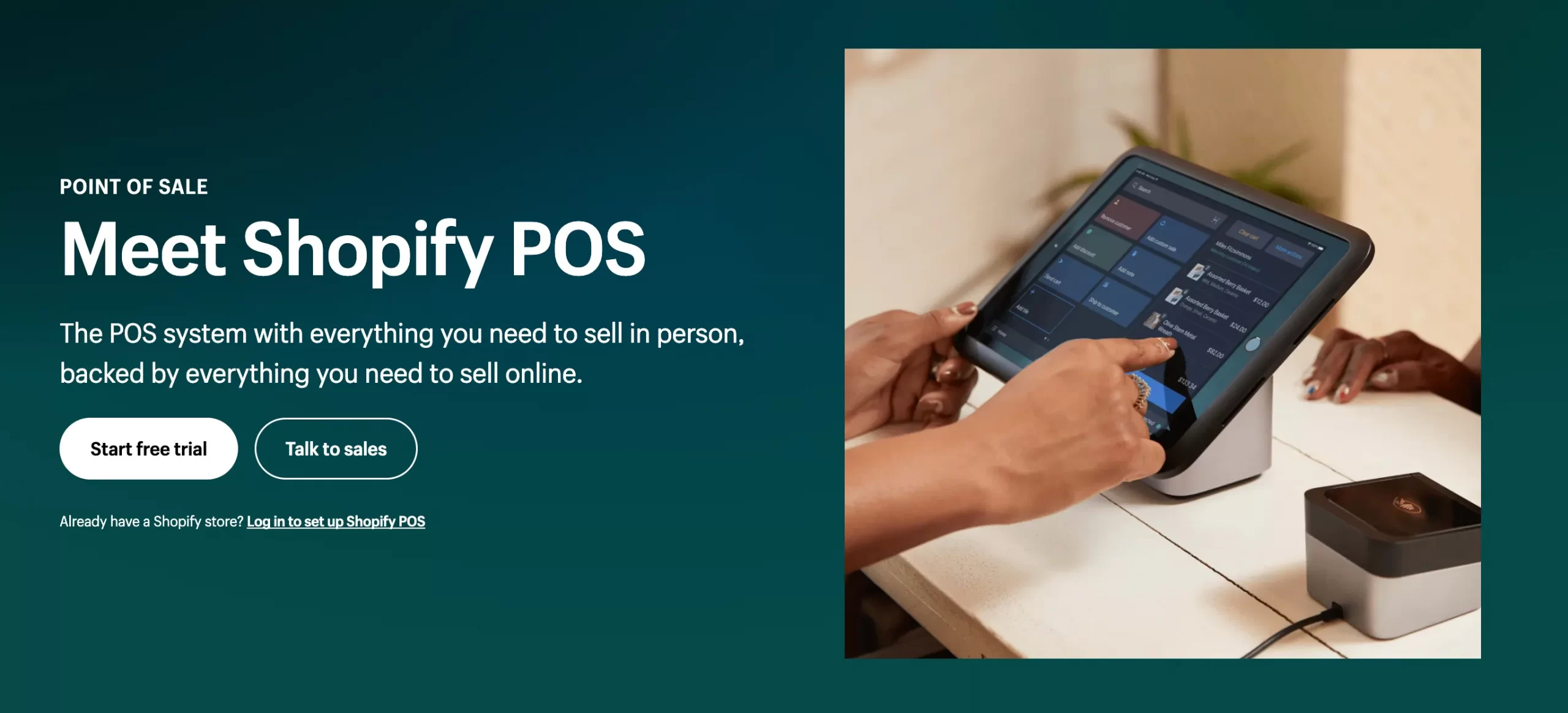 The Lite version is available in all Shopify pricing plans, allowing you to manage orders, products, and customer profiles. You need to pay in-person credit card rates as mentioned in the Shopify Payment section above.
Likewise, Shopify POS Pro is included with all Shopify pricing packages. Besides the monthly cost of each pricing plan, you need to pay an additional fee of $89/month per location. Notably, even enterprise-level business owners on Shopify can benefit from the features of Shopify POS Pro as well.
Besides, the Shopify POS system requires you to install Shopify POS Apps and buy some form of hardware (Shopify Chip & Swipe Reader or Tap & Chip Card Reader). You can order these accessories right in the Shopify Hardware store to build your full kit.
Check out our exclusive Shopify POS system review so that you can make your decision!
#6 Email hosting
Email is one of the key factors that greatly contribute to your marketing strategy. Therefore, it's important to take Shopify Email into consideration calculating the cost of Shopify.
Fortunately, the Shopify Email does not require an installation fee. This means users on all Shopify pricing plans can optimize this feature and expand their reach. Each month, you are able to send up to 10,000 emails for free, both automated and manual. Then, when you run out of that quota, this platform will charge $1 per 1,000 additional emails.
Asides from that, when you reach the number of 300,000 emails, the price will be reduced to $0.65 per 1,000 additional emails. It will be $0.55 if you reach 750,000 emails.
Need Help To Migrate Your Store?
Don't have time to perform the Shopify migration yourself? Let LitExtension expert lift the burden off your shoulder with our All-in-One Migration Service. Sit back and enjoy a seamless data transfer project since our Personal Assistant will do everything for you.
---
How Much Does Shopify Cost in Different Countries?
Do you know that Shopify offers different pricing plans for different countries and regions?
Yes, we were so surprised by this interesting fact when conducting our research on Shopify pricing. Here are a few examples that we've gathered.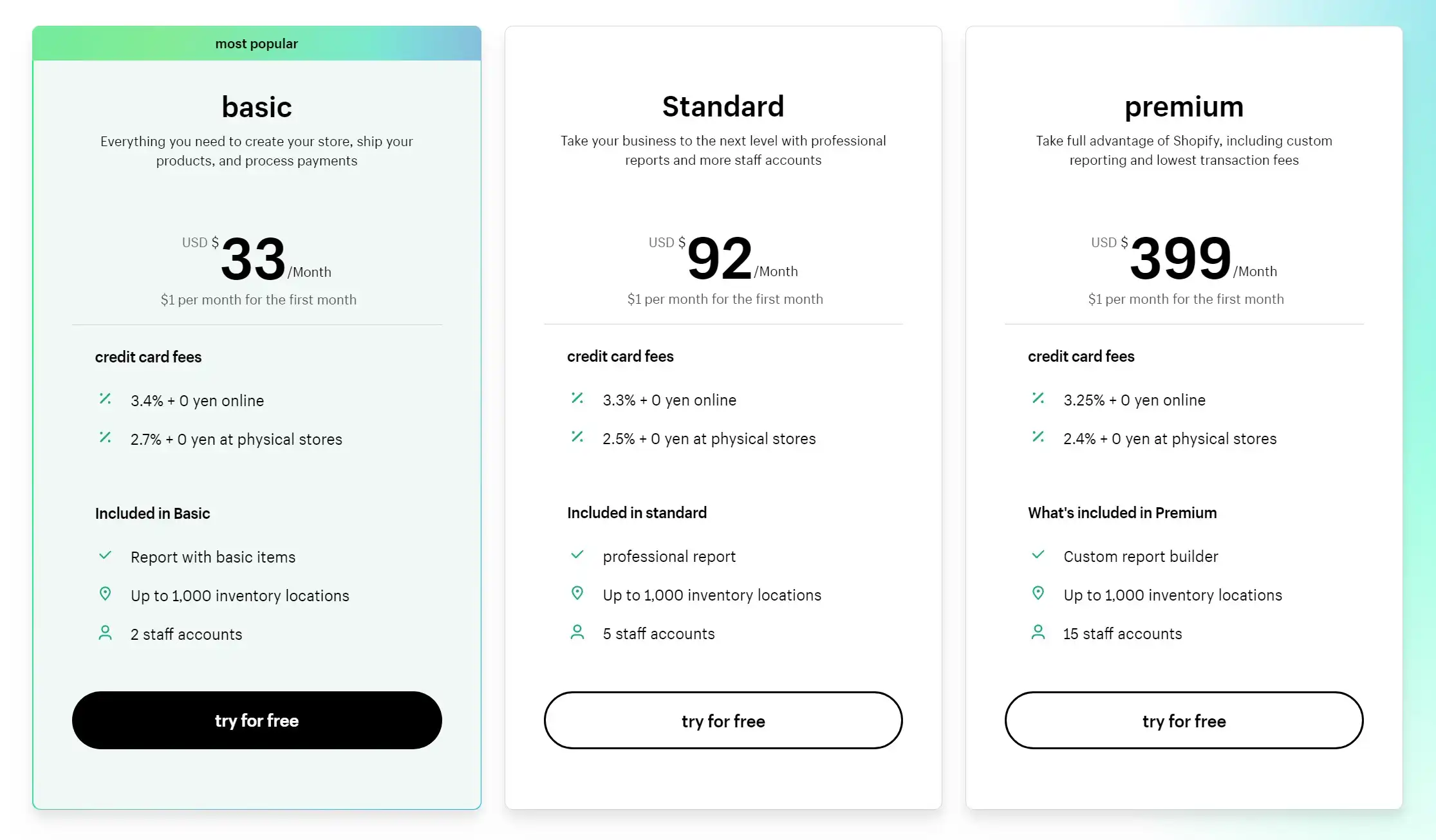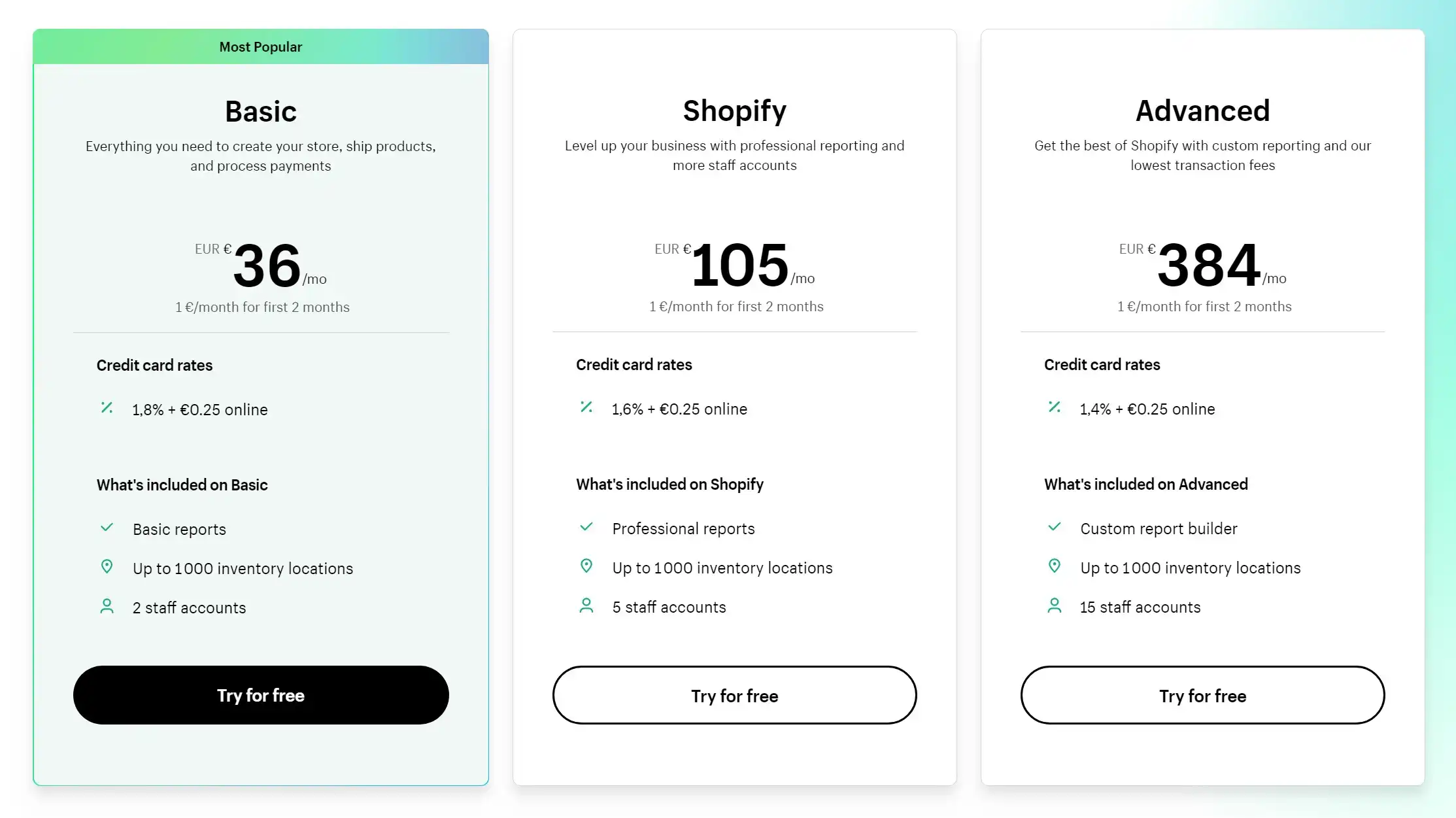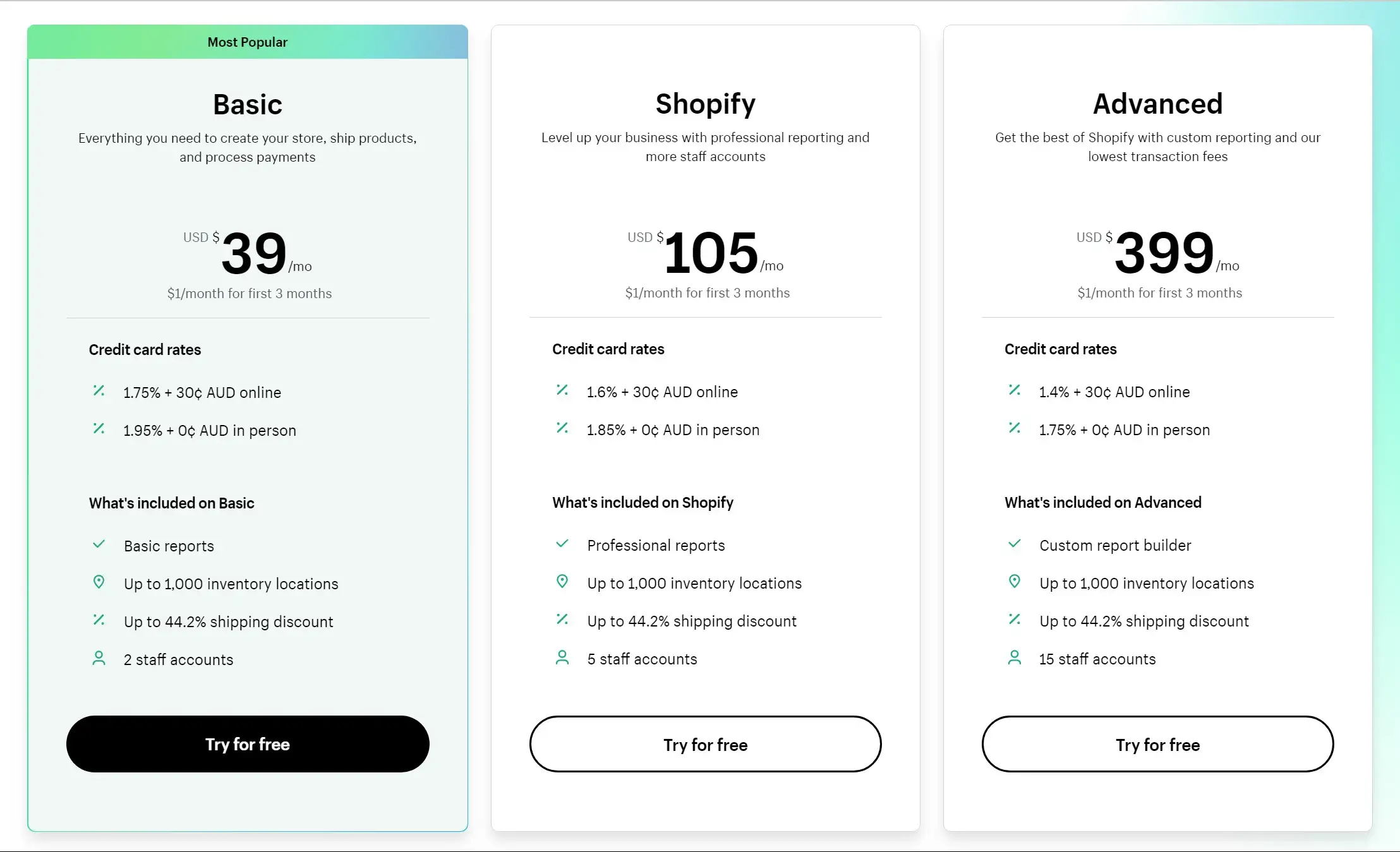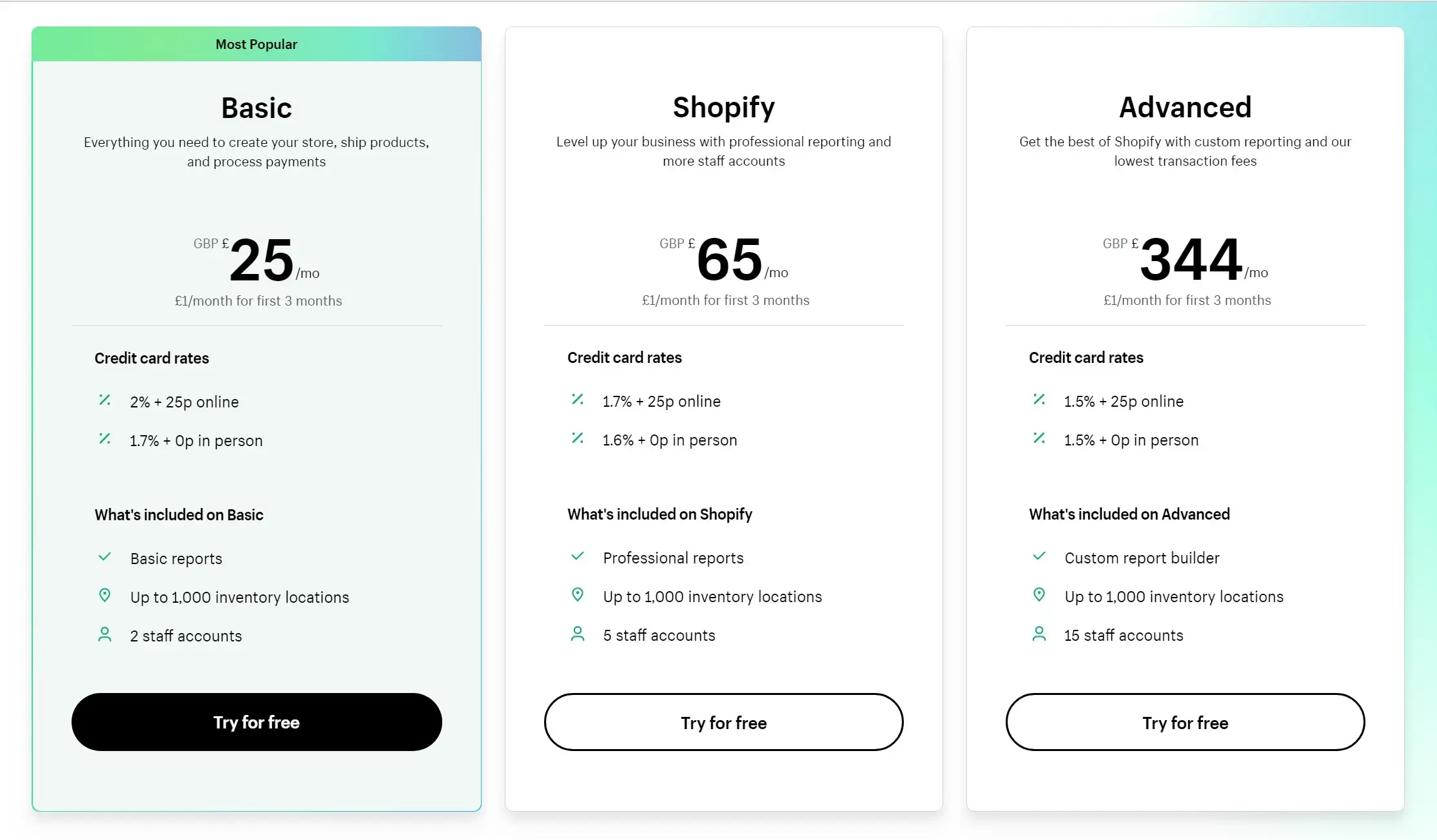 ---
Is Shopify Still Worth It?
It's not an exaggeration to state that Shopify is the most powerful hosted eCommerce platform in the market. Shopify is regarded as a safe and efficient platform, which is home to more than 4.4 million live websites worldwide. This eCommerce platform is no doubt one of the best eCommerce platforms until now.
From someone who had their own hands-on experience working with this platform for nearly a year, I must say Shopify is an ideal solution if you aren't tech-savvy. With its effective tools, I had no trouble creating my website and generating profits on Shopify.
After filling in an email address, password, and a Shopify store name, I'll be guided through the Shopify store creation process with a straightforward dashboard. Besides, with Shopify, I don't have to trade ease of use for customization because you can easily customize your site using Shopify Liquid.
Additional Shopify resources you shouldn't miss:
I have started multiple shops with Shopify, and honestly considering the community support and number of plugins, I have absolutely loved the experience! Can't recommend enough.
Shopify review from Tanya Kozlova
Armed with a wealth of functions, Shopify takes care of your online presence, from online store building and sales to payments and marketing. Apart from that, I can benefit from Shopify inventory management, Shopify app store, Shopify reporting & analytics, and superb functions in spheres of multi-channel & omnichannel, dropshipping, payment & shipping.
Plus, don't miss a golden chance to launch a Shopify store with one of the cutting-edge platforms by having a quick glance at our visualized tutorial:
---
Shopify Pricing – FAQs
As a hosted option, Shopify isn't free. It charges you on a monthly or annually basis. How much is Shopify monthly or annually, it depends on the plan you choose. Besides, you'll have to pay for a custom domain, apps & extensions, themes, as well as transaction fees.
With the Shopify plan, you will be able to create up to 5 staff accounts, more than 3 accounts compared to the Basic Shopify plan. Especially, this package offers professional reports.
Yes, it is. Shopify provides a wide range of pricing plans with specific features for all kinds of businesses and all levels of e-merchants. Although Shopify costs are relatively high in comparison to other self-hosted solutions, store owners have a full stack of superior functionalities to scale up their business.
---
Shopify Pricing: Final Thoughts
In brief, Shopify pricing varies significantly between pricing tiers. It mainly depends on the scope of your business. I had to pay certain unavoidable expenses to get a fully functional Shopify eCommerce store, including domain name registration, theme cost, payment fees, and extension cost.
Now, you probably estimate and have Shopify pricing comparison for your online store. If you're not satisfied with the trial, you can cancel free trial store at any time. I hope that you can choose the right pricing plan for your business based on the comparison between the pricing tiers I've shown you.
In case you already have an e-store and are about to move to Shopify, choose LitExtension – #1 Shopping Cart Migration Expert to migrate all important data to your new Shopify store accurately and effortlessly. So don't hesitate to try our Free Demo and get support from our team whenever you need it.
Furthermore, don't forget to check out our LitExtension blog and join our Facebook Community for further information and updates about the eCommerce industry, let's check it out!