In this Wix templates review article, LitExtension – #1 Shopping Cart Migration Expert listed out 19 best Wix themes for your Wix store from the total 800+ designs from Wix. Some of the criteria that we use to choose the suitable theme for you in this list such as eye-catching, highly customizable, fully responsive and striving for SEO friendly. Furthermore, we also categorize the list according to your business types so you can easily choose what is best for your store:
First, let's get a brief introduction to Wix.
Want to Migrate to WIX?
If you are intending to migrate to WIX, LitExtension offers a great migration service that helps you transfer your data from the current eCommerce platform to a new one accurately and seamlessly with utmost security.
---
What is Wix?
"I have three sites up and they are simple to build and edit. The software is terrific for small businesses that don't have an "IT" person on staff and need to get things updated quickly. There are plenty of options in terms of templates, fonts, buttons, graphics, and more." – Jennifer S.
Indeed, Wix is a great option for those who want to start an online business without any technical knowledge. Many merchants choose to start their businesses with Wix because of the ease of use and low starting cost. You only need to invest 27$-$59 for a complete online store with a rich set of features, which you may comprehensively see via Wix pricing plans analyzed.
So, why don't you go for Wix now?
Compared to other top eCommerce solutions in the market, like Shopify or WooCommerce, Wix comes to the front with its amazing template collection and dedicated customer service, including live chat, email/help desk, phone support, and a massive knowledge base.
In fact, many merchants choose to migrate to Wix (Shopify to Wix, WooCommerce to Wix, Squarespace to Wix…) so they can level up their stores and get more customers. Not to mention, Wix is a great website builder for creating visual-focused sites such as wedding websites or photography portfolios.
---
19 Most Stunning Wix Templates for Your Websites
Currently, you can find 800+ designer-made Wix templates. Each one is fully customizable and can be used as a great starting point for your website creation journey. The Wix template collection covers a wide range of business types. From blogging, consultancy, marketing to eCommerce, personal CV and so much more.
There's one downside when it comes to choosing a Wix template is that it's not possible to apply a different template to a site you already created. Hence, it's important to find a suitable one for your store right at the beginning.


#1. Wix blog templates
Personal Blog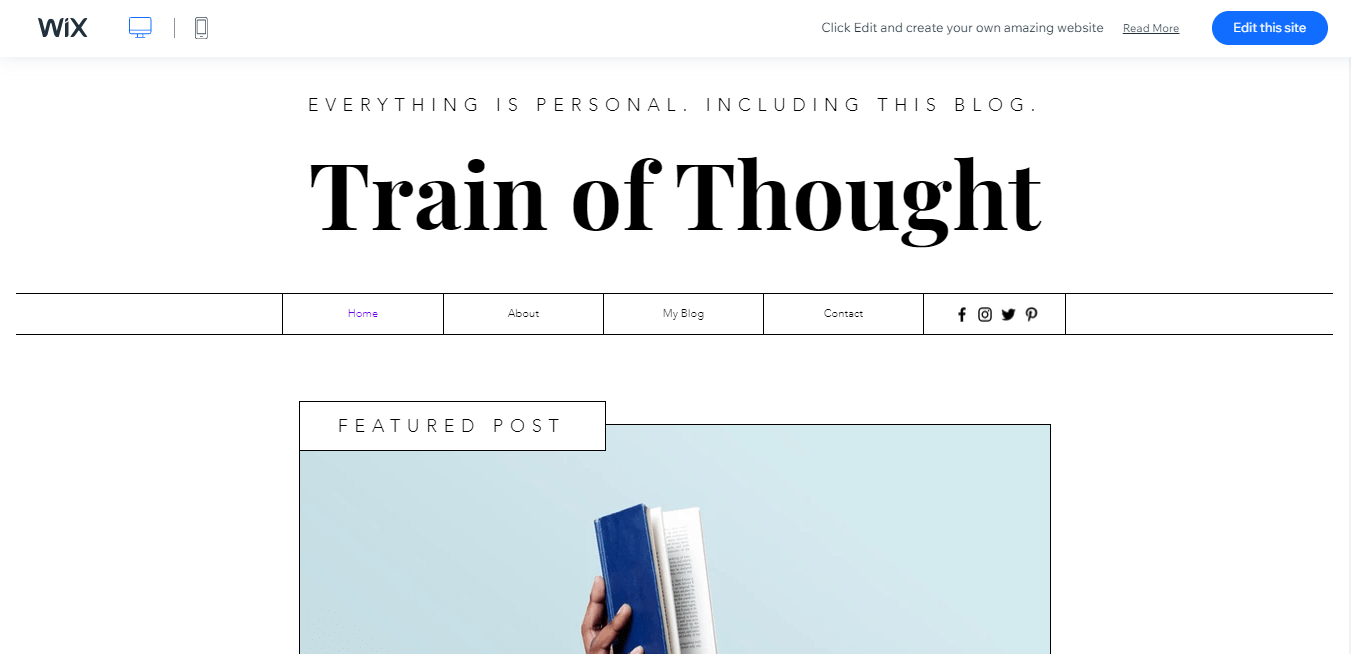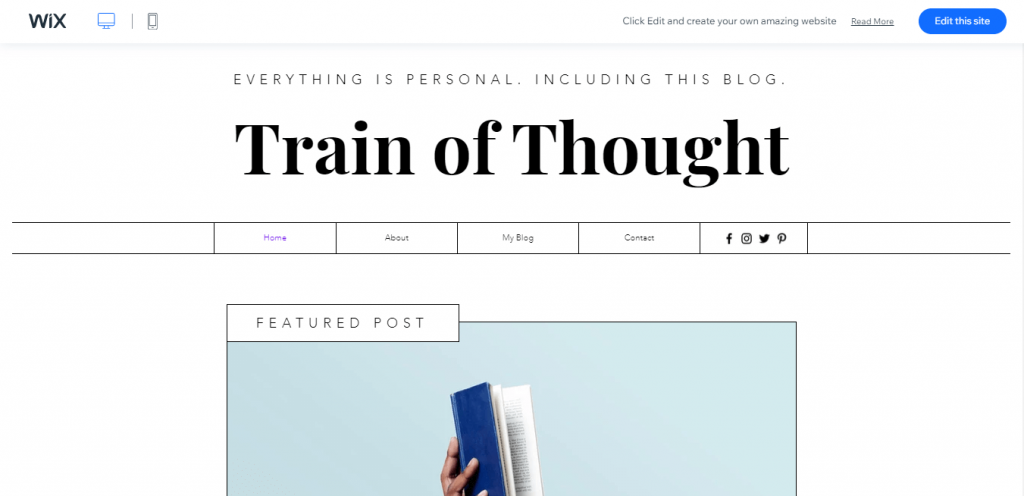 It is the best choice for: Personal blog, Business blog and personal website
The simplicity created from the black single line layout brings a classic feeling for your website. Moreover, the combination of the Santral font and the violet purple color will make your audience feel more comfortable scrolling through your blog.
Personal Blog has everything you need for a blogging website, from feature post to subscribe section, blogs showcase and an online form so readers can leave a message for you.
Preview the Personal Blog
Travel Blog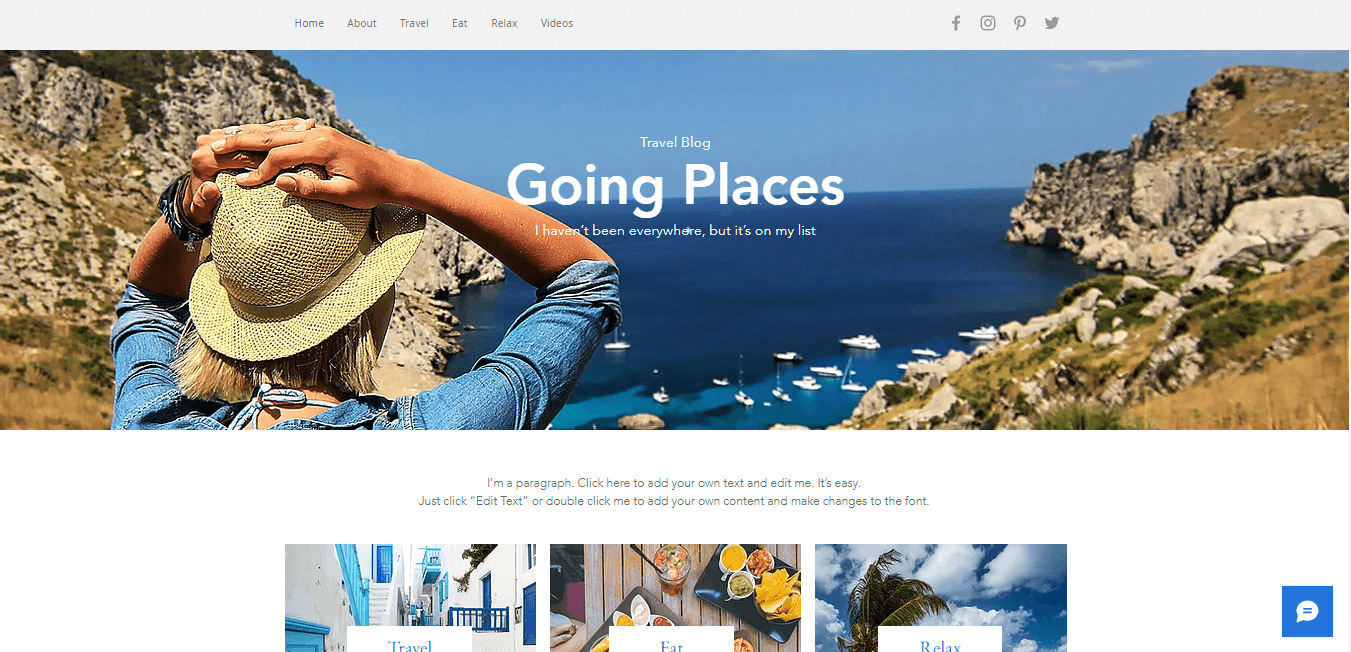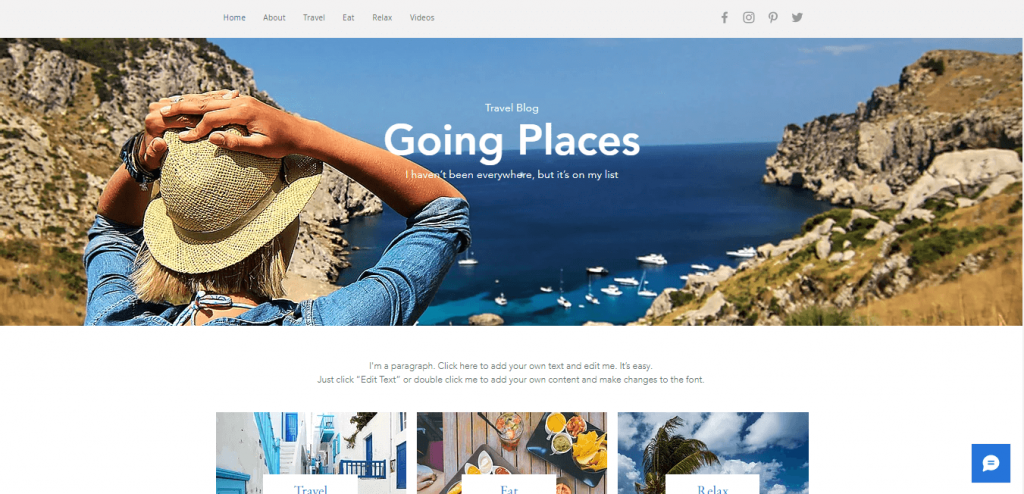 It is the best choice for: Bloggers, Travel Blogs, & Lifestyle Blogs
This Wix template is perfect for displaying photos on a large scale across your page. You can put in your traveling or lifestyle pic to encourage your audience to explore and engage with your content. This theme has a quite straightforward structure with a panel containing a full-width picture followed by three blogs highlighting your main article categories, and a list of your most recent blog posts with their featured images.
The social media feed widget of the Travel Blog template is quite impressive. It connects with your Instagram account. Once you type in your account info, a collection of 5 latest photos on your Instagram album will appear on your site.
Preview the Travel Blog
Food Blog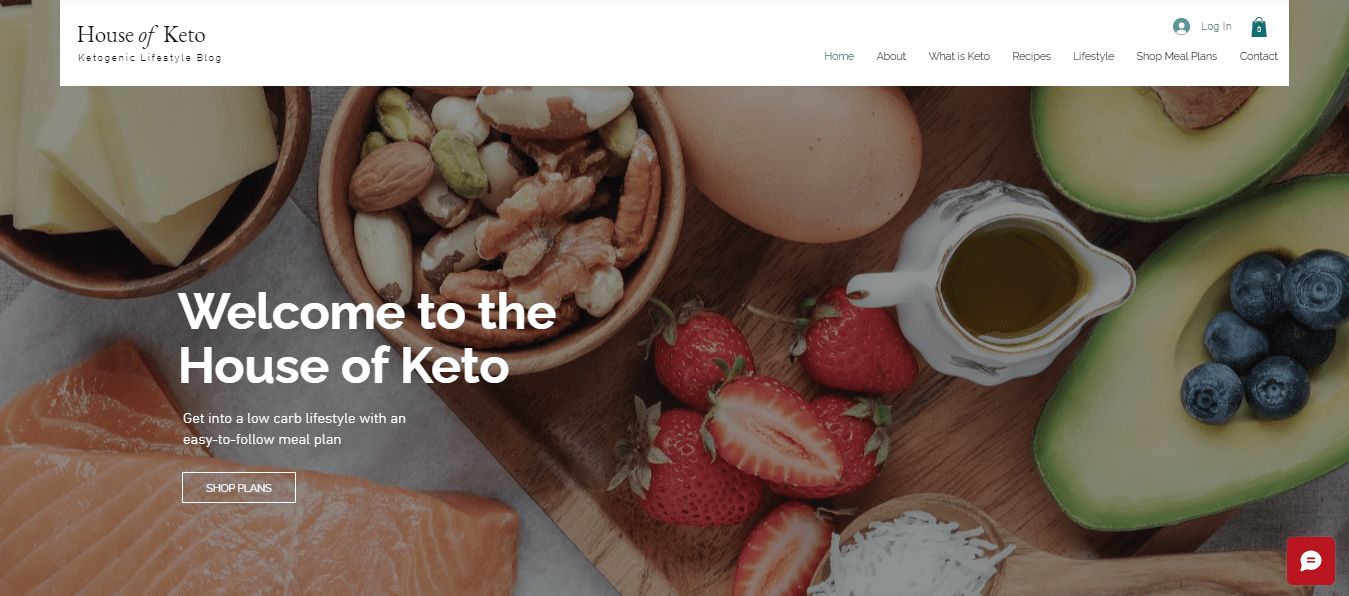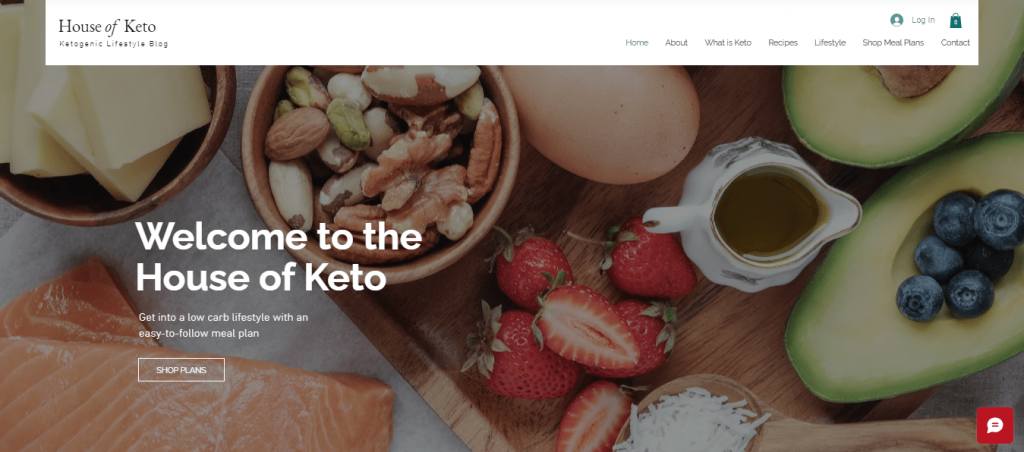 It is the best choice for: Food bloggers, chefs, nutritionists, and dietitians
The fully-responsive theme is designed to brighten up your culinary pictures and capture your visitor's attention at first sight. It includes a stylish layout where you can display your photos with large image previews along with two columns where you can showcase your best blog posts.
What I like the most about this Wix theme is the fixed menu element which follows users along the page as they scroll. This way, your customers can easily get to any part of your website with just a simple click.
Preview the Food Blog
Fashion Blog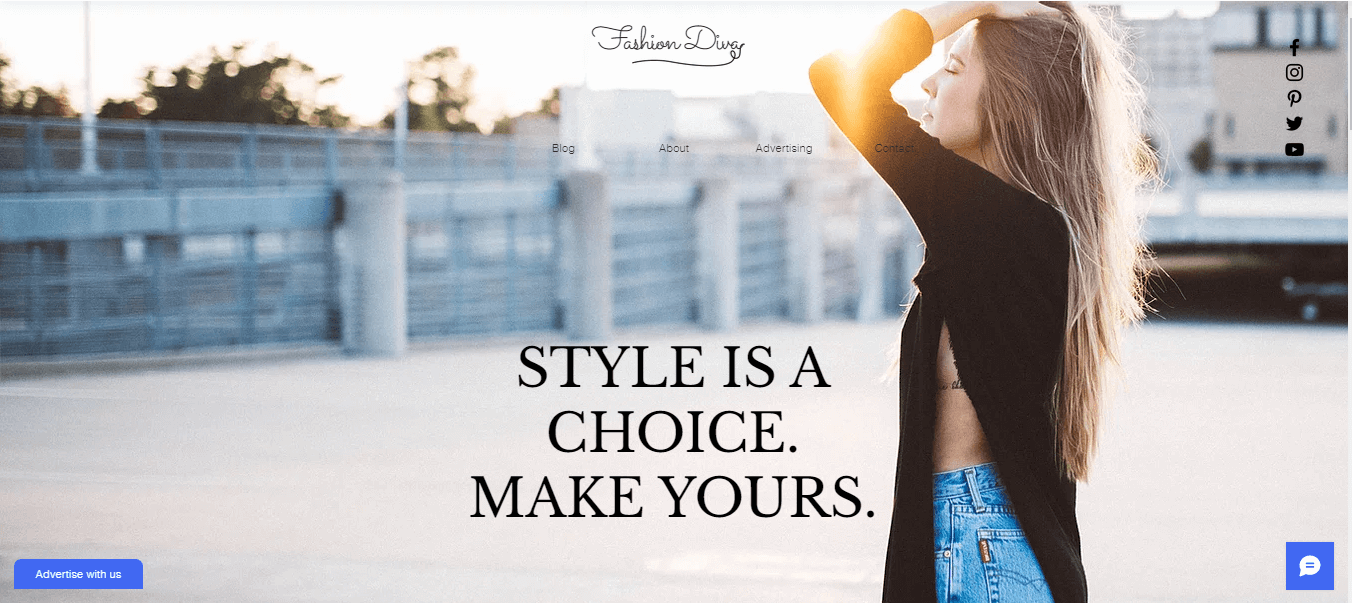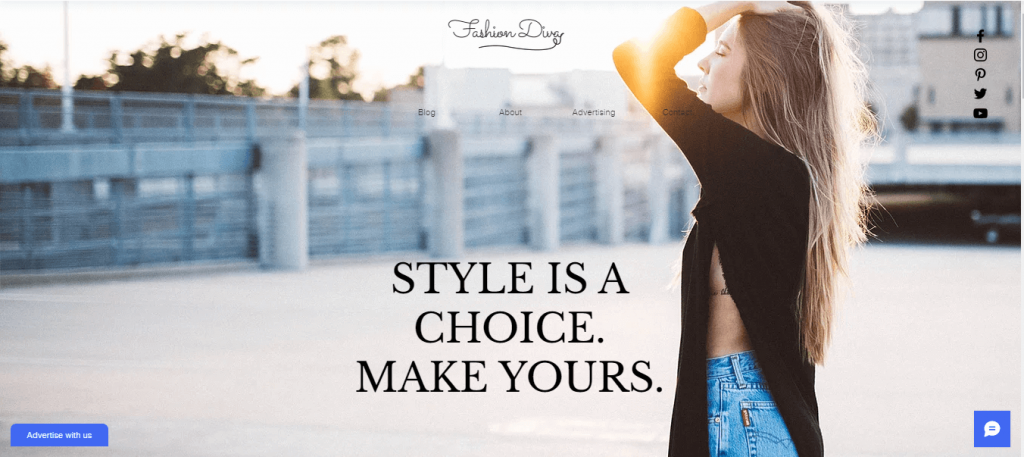 It is the best choice for: Fashion, trend and style blogs
If you're looking for a Wix template that best suits your fashion blog and business, this could be the perfect fit for you. The template includes a home page, a blog, Contact and About pages, and even a page for advertisements. What makes this template stand out from the crowd is the large header image which is fixed into the background. With a smart choice for this picture, you can easily capture your visitor's attention and drive them into your content.
Preview the Fashion Blog
Sports Blog & Podcast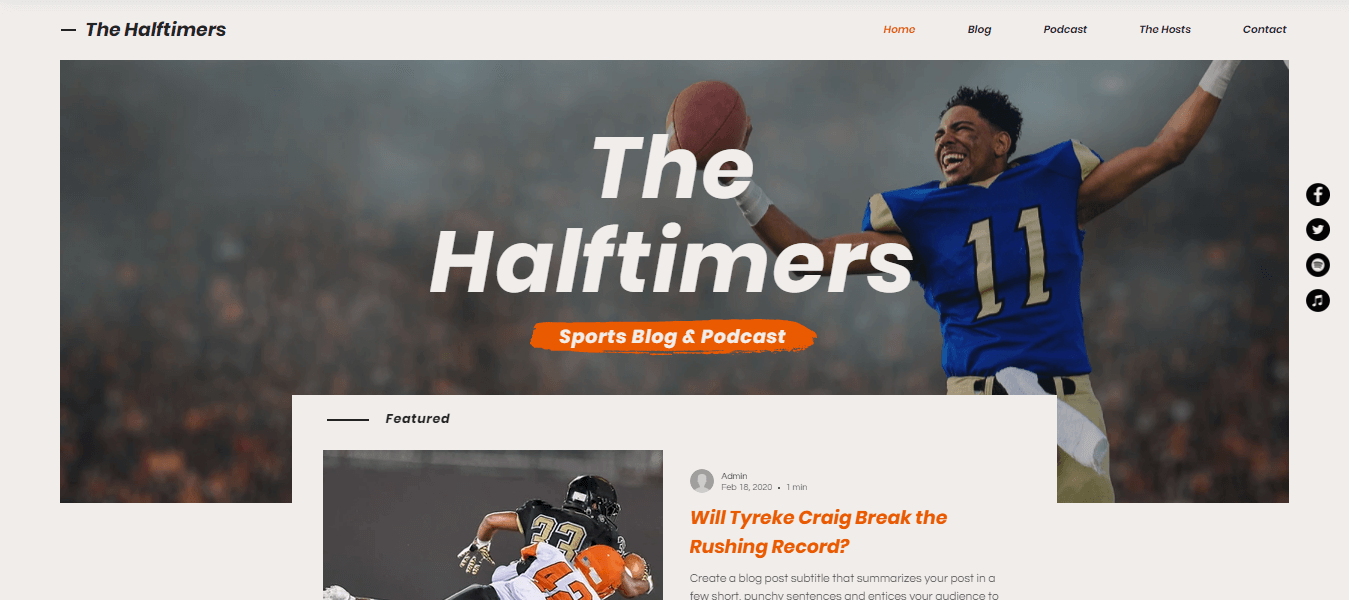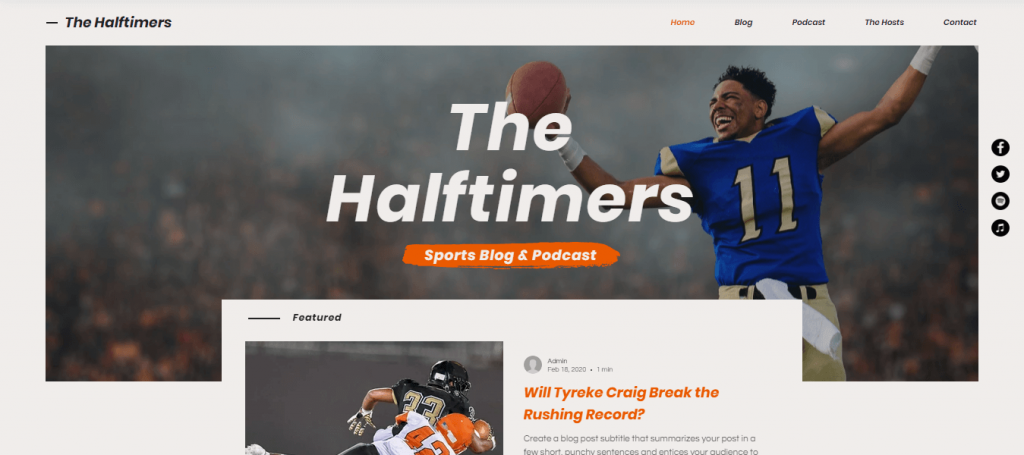 It is the best choice for: Podcasters, radio broadcasters and journalists
Creating a successful podcast blog is about more than just pushing records. It's the structure and orientation of your site that attracts the audience. Without a doubt, this Wix template has what you need for a successful podcast website. The impressive header section with a large-size image along with the feature post create a strong and exciting feeling. Moreover, the combination of orange, grey and white makes your site more alive than ever.
Preview the Sports Blog & Podcast
Photographer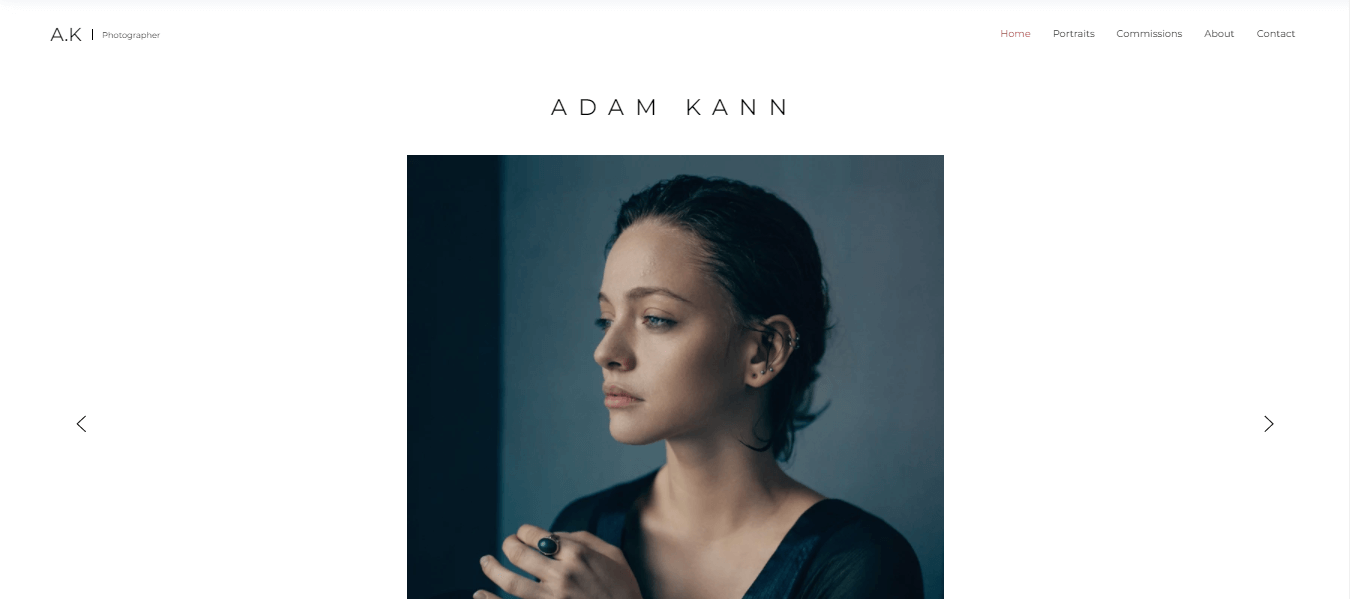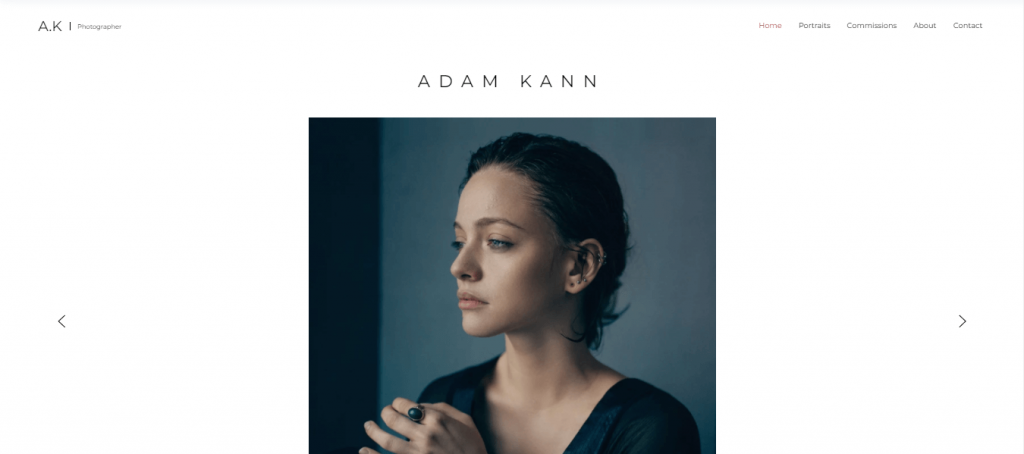 It is the best choice for: Photographers, artists, and creative professionals
You're living in the US and trying to find a job?  If you have good skill in photography and looking for a Wix theme to show your art,  Photographer will be an excellent choice for you.
The minimal yet sophisticated template includes 5 pages: Home, portraits, commissions, about, contact. The home page is just a slider layout that showcases your pictures on the large size. The simplicity creates room for your pictures to shine. The portraits and commissions pages are also the main parts of this template. These two pages take advantage of the grid and three-column layout to give potential clients a look at exactly what you are capable of.
Preview the Photographer
#2. Wix portfolio templates
Graphic Designer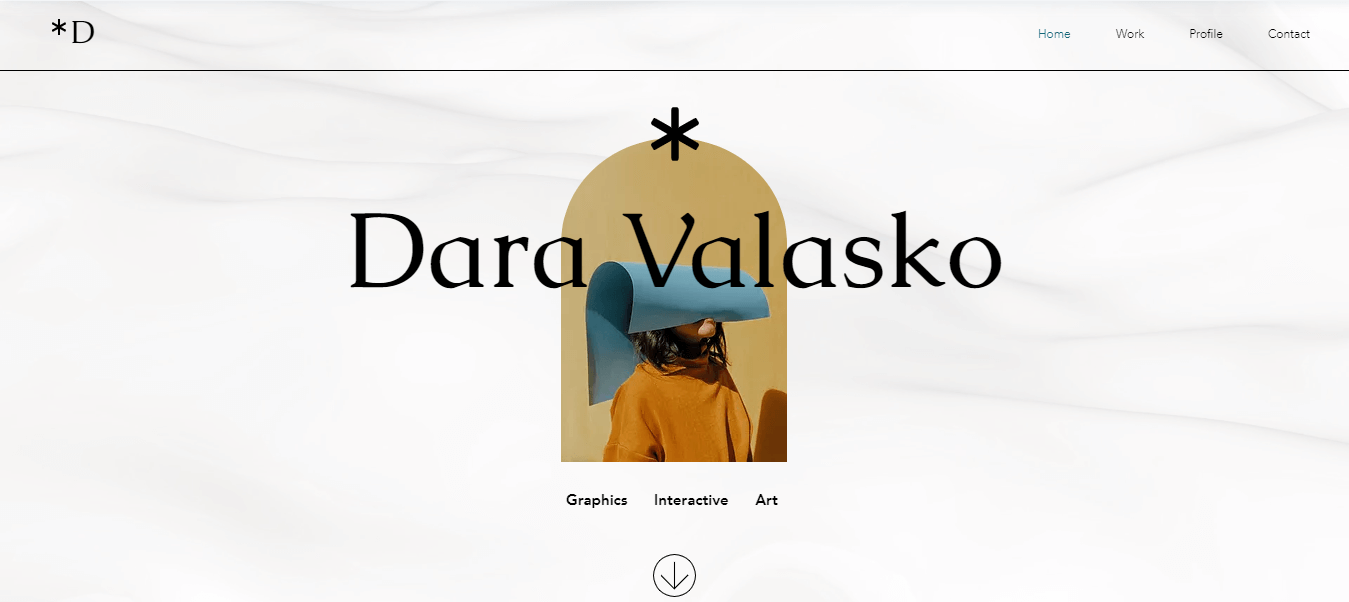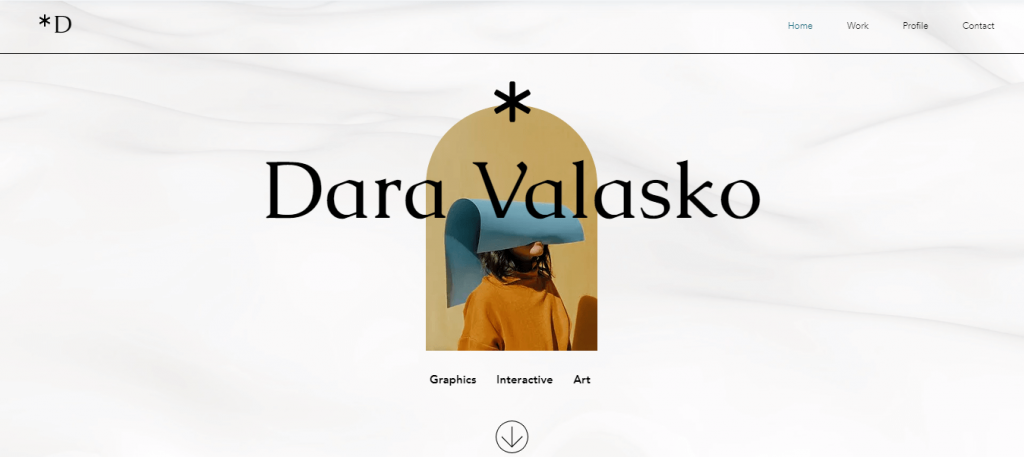 It is the best choice for: Designers, artists and creative professionals
This is one of the best Wix portfolio templates that you can have from Wix's template marketplace. It's creative, minimal and cleanly designed. The header is the key element making this theme so special. It includes a motion background, a small-size image and larger-size text, and all of them combine to create a modern yet unique feeling for your visitors. Moreover, the theme also brings plenty of space for you to highlight your designs as well.
Preview the Graphic Designer
Fashion Designer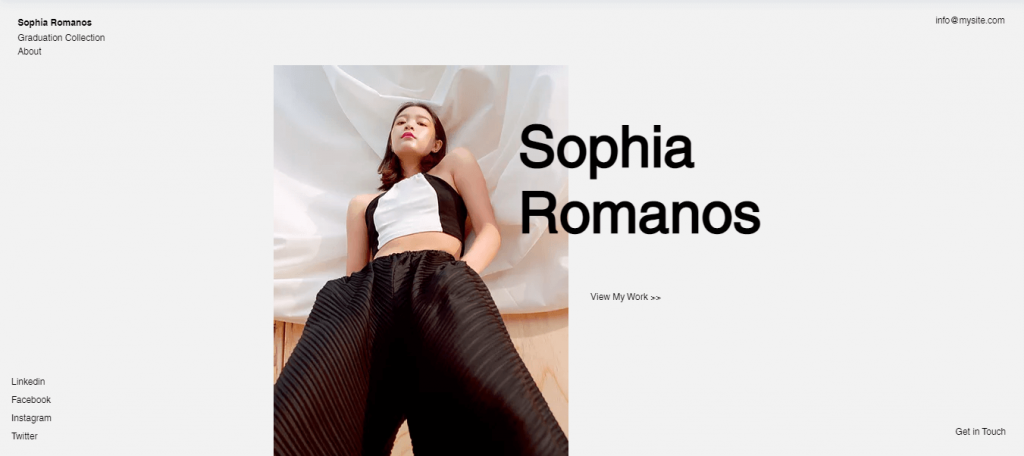 It is the best choice for: Artists, design students and fashion professionals
Fashion Designer is a clean and lightweight Wix portfolio template. This theme is fully optimized for mobile, desktop and search engines so it looks great on all modern devices. Fashion Designer includes a homepage, collection page (where you can showcase your designs) and contact page. What I like the most about this theme is the personal tone. It allows you to create a unique feeling and make room for you to show your creativity.
Preview the Fashion Designer
Makeup Artist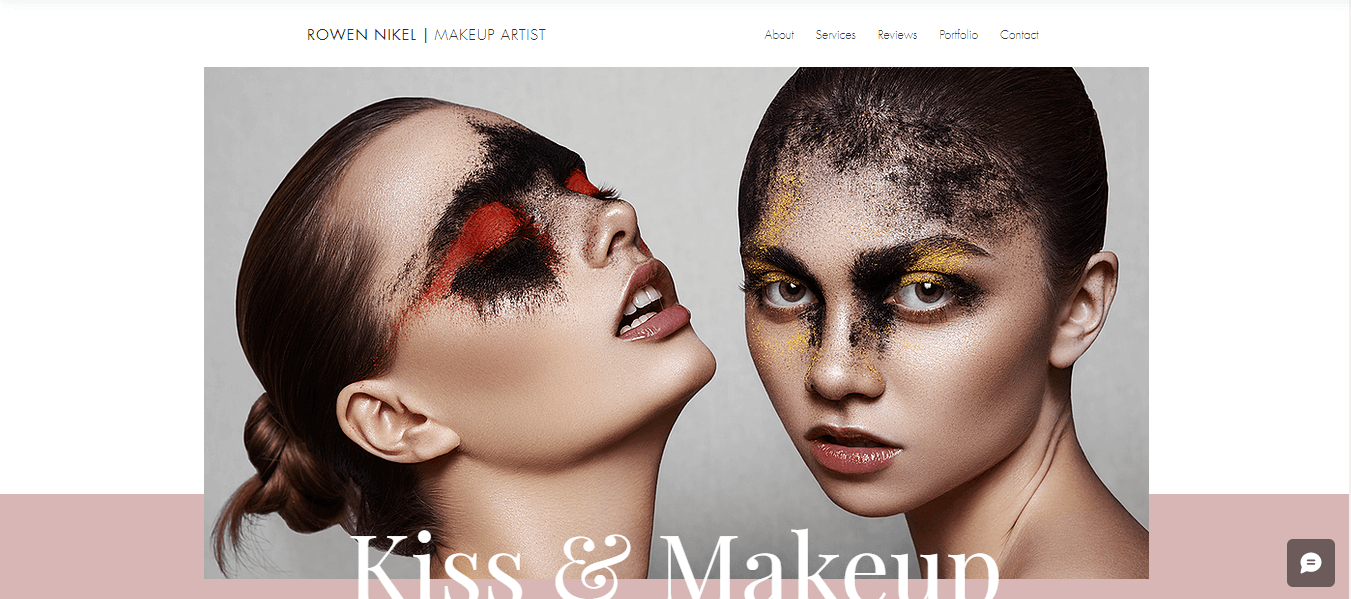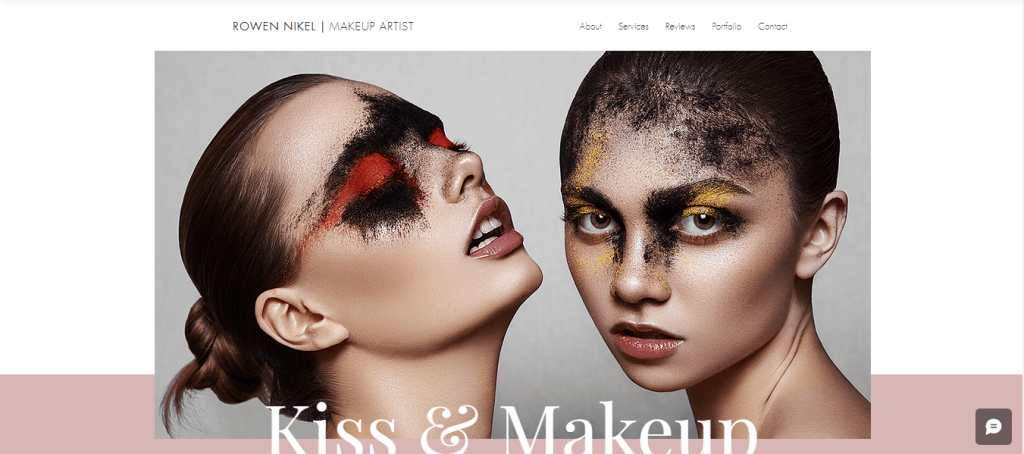 It is the best choice for: Makeup artists, fashion studios, and design specialists
I fell in love with the style of the Makeup Artist template at first sight. It's a one page design for showcasing your creatives in a modern yet delicate way., minimalistic white background that highlights your works instantly and displays a fixed menu which follows you when scrolling through the page. The theme is also fully responsive for mobile devices and super easy to customize.
Preview the Makeup Artist
3D Designer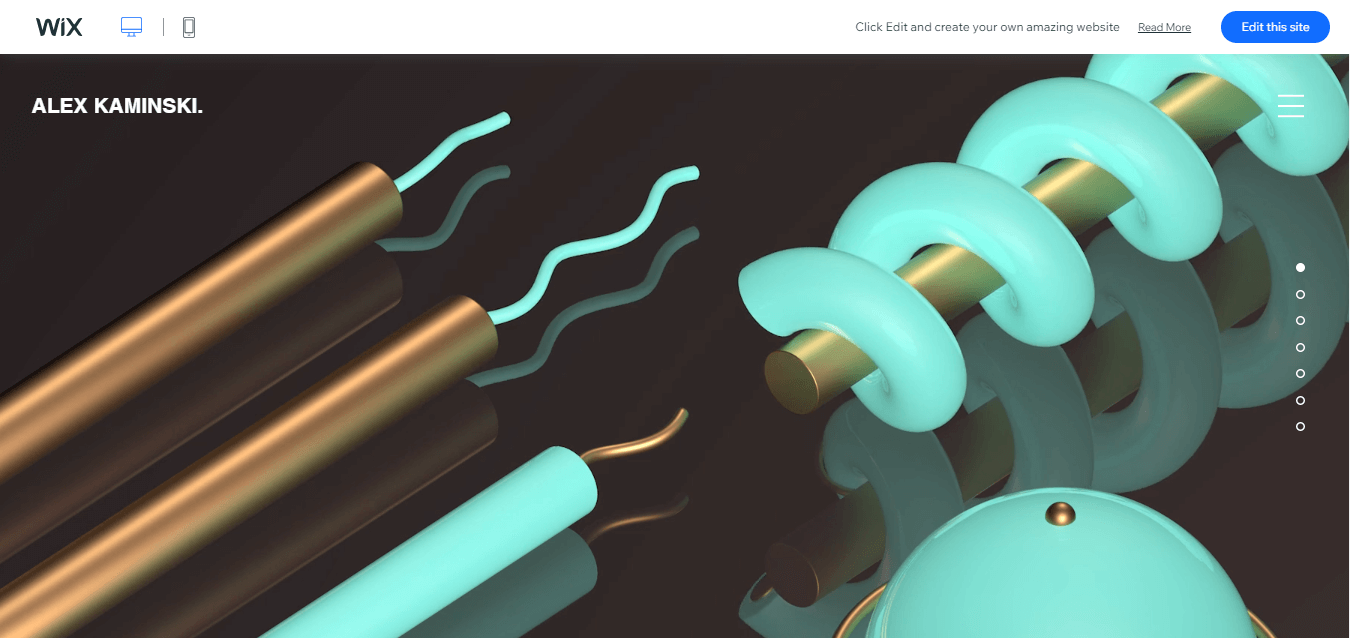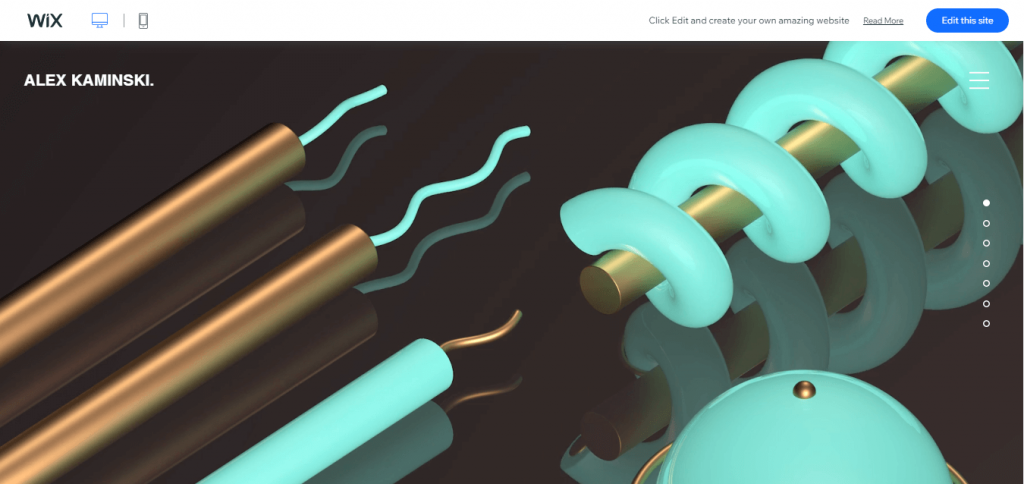 It is the best choice for: Motion graphic designers, art directors and creative portfolios
3D Designer template will ensure your work is the true star of the show. The unique structure is the key point making this theme shine. 3D Designer is set up with two fixed large-size images as the background which highlight the creativity and the uniqueness of your design.
Preview the 3D Designer
Food Stylist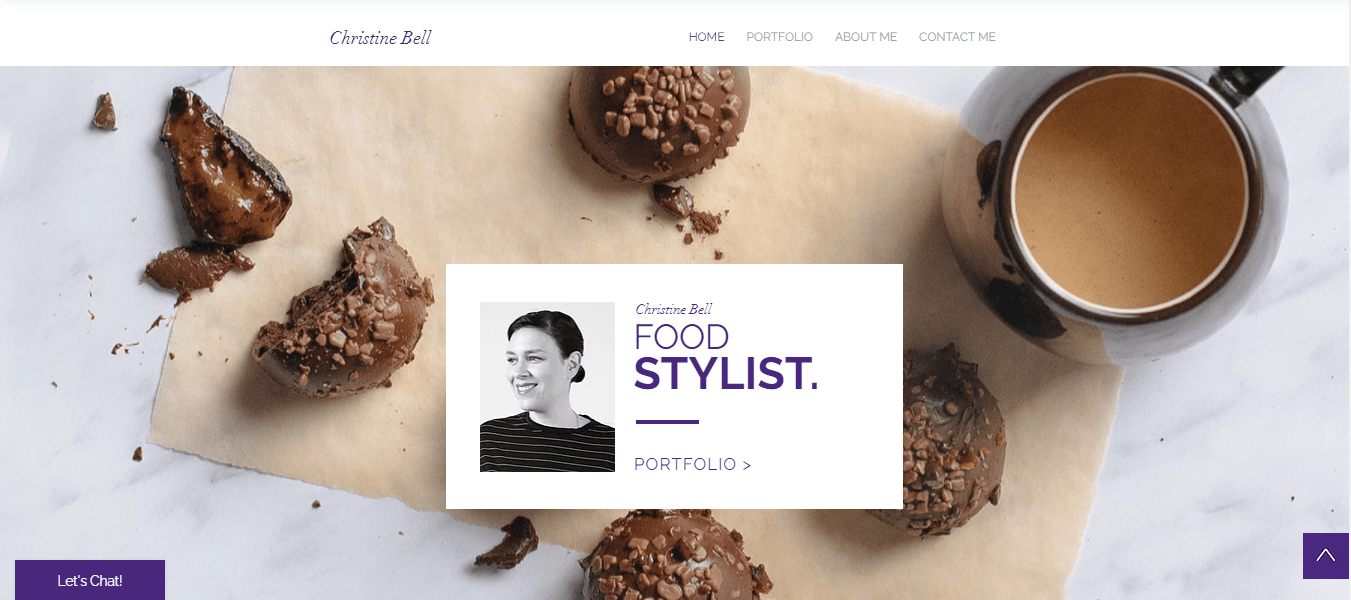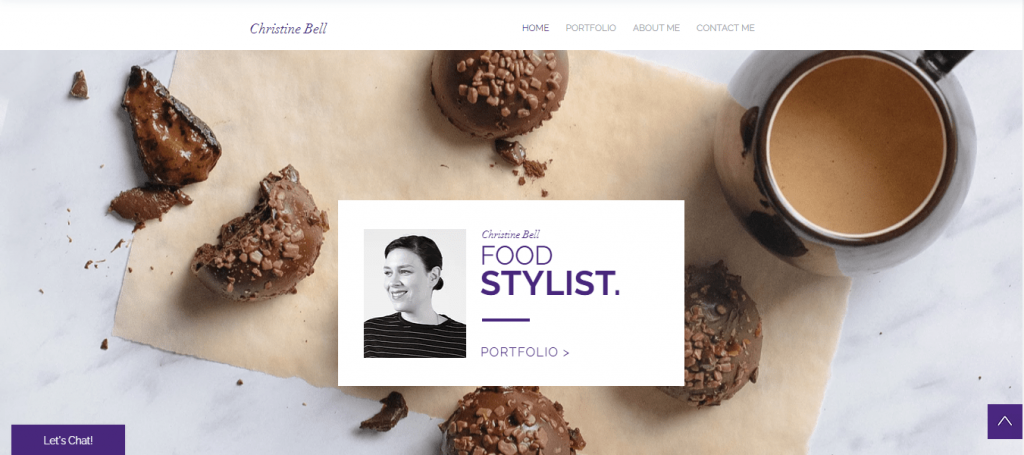 It is the best choice for: Food Stylists, Food Photographers, Culinary Creatives
The Food Stylist has everything you need for a food portfolio template. From highly visual pictures that tell a delicious story to professional profile panels which bring simplicity yet elegance for your website. Besides, you will also get an eye-catching gallery display, which locks together images with different aspect ratios to bring a visually pleasing grid.
Preview the Food Stylist
#3. Wix eCommerce templates
Clothing Store


It is the best choice for: Online clothing stores, fashion boutiques, and designers
Creating the spotlight for your store to shine by applying this energetic and creative Wix template. It is truly a dynamic theme which brings your shoppers a seamless experience when they come to your store. The header features an attractive two-column design that you can put in your pictures in large size to encourage them to click in. Moreover, you can also showcase your best-seller products at the grid layout below.
Preview the Clothing Store
T-Shirt Store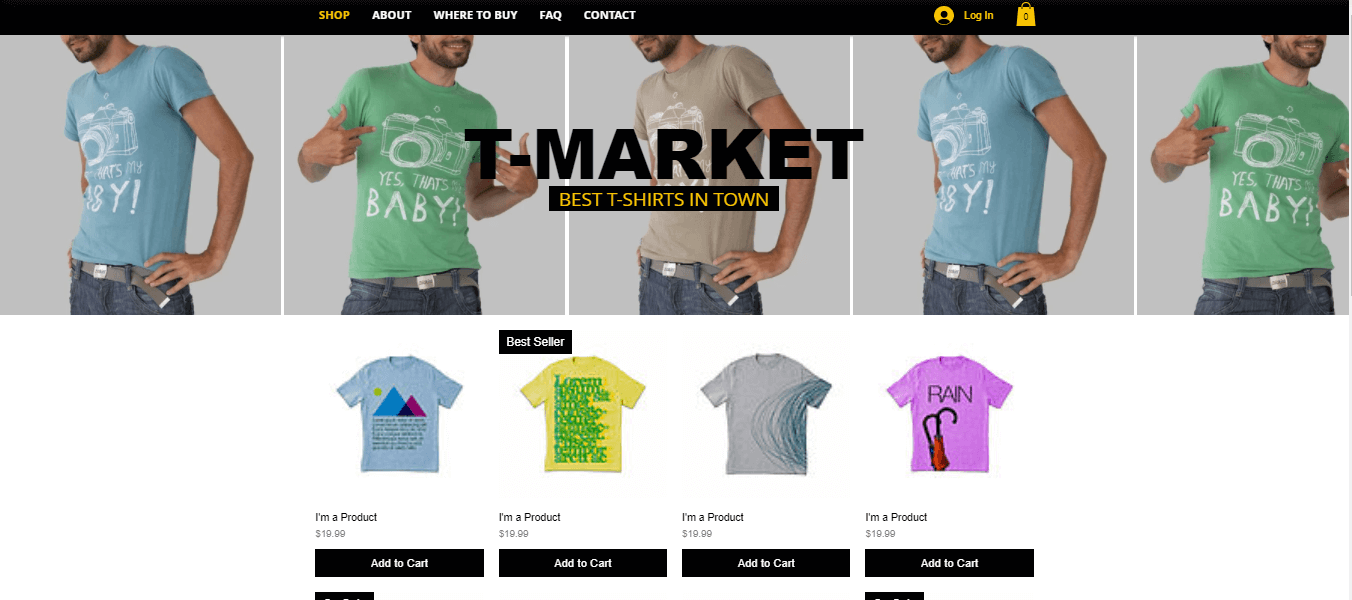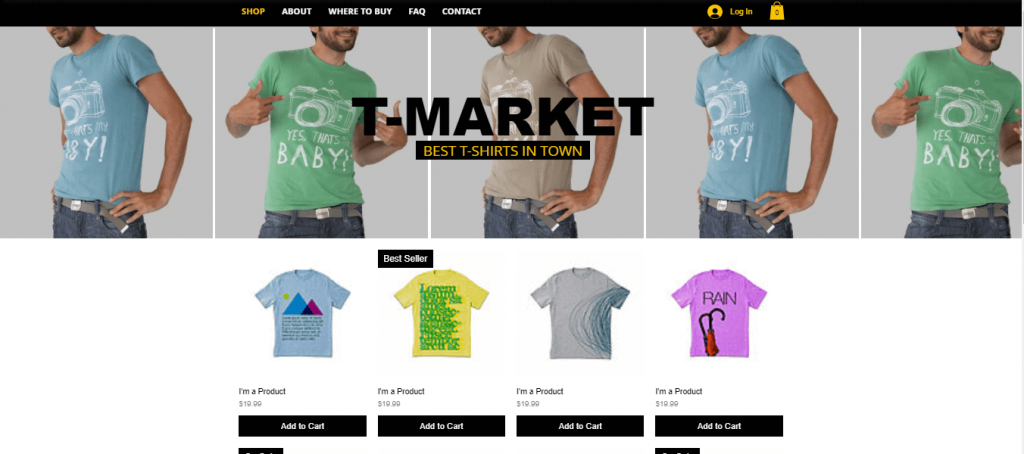 It is the best choice for: Online stores, boutiques and fashion retailers
With a product gallery featuring prominently on the homepage, this is the perfect option for anyone wishing to start selling their products immediately! This theme is a lot more about the easy-going style and that's what this template reflects.
Preview the T-Shirt Store
Plant Store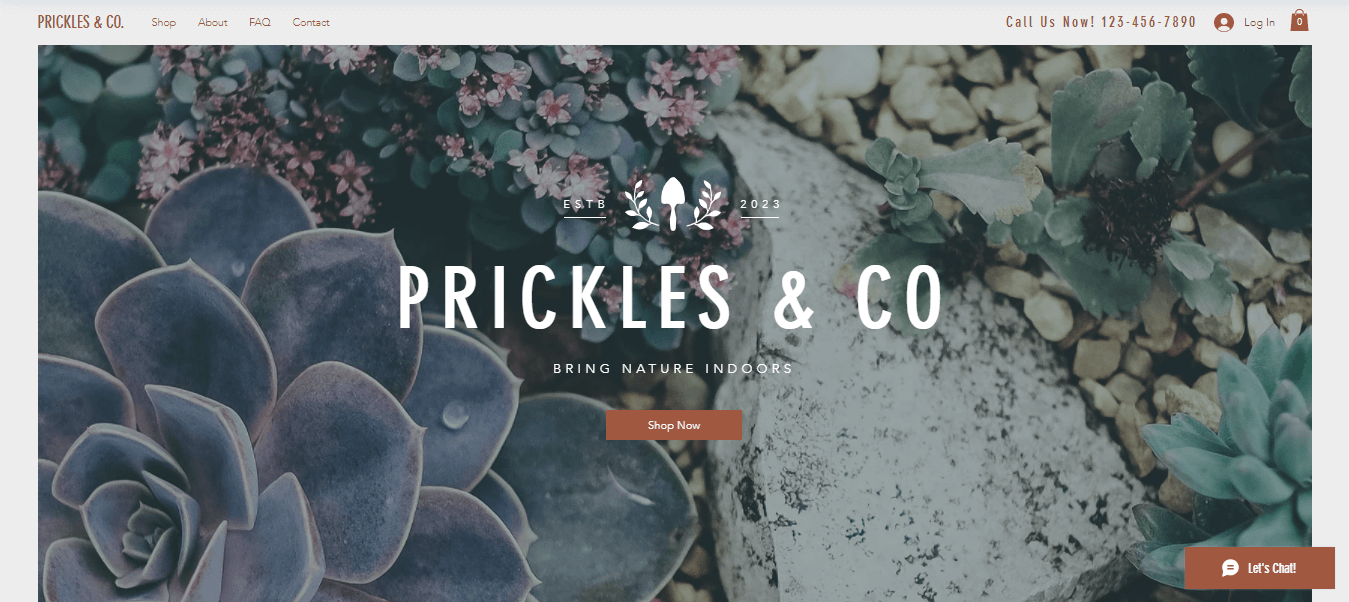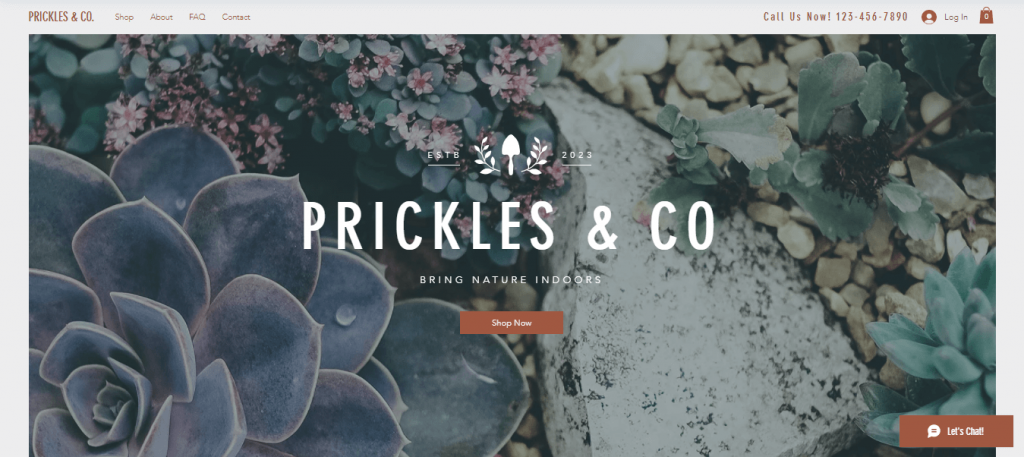 It is the best choice for: Florists, garden supply stores, and boutique plant shops
What makes this Wix template stand out from the crowd is the large-size picture fixed as a background and also appearing as the header of the theme. It allows you to get visitors' attention at first glance. Besides, with the Shopping cart button placed at the center, you can help customers navigate throughout  your store and buy more products. You can also make use of the three-columns layout to show your main categories or collections.
The combination of bright tone color for texts and picture layout and the dark color for CTAs buttons create a cool and relaxed feeling which is exactly what a plant store needs.
Preview the Plant Store
Beauty Store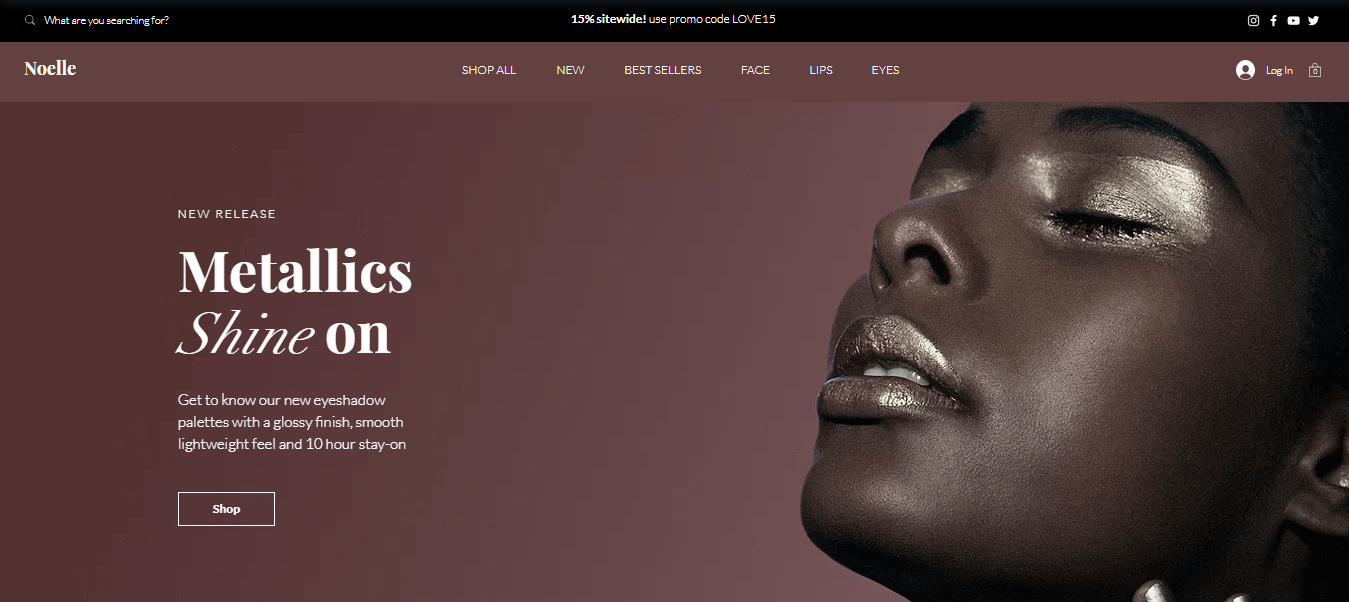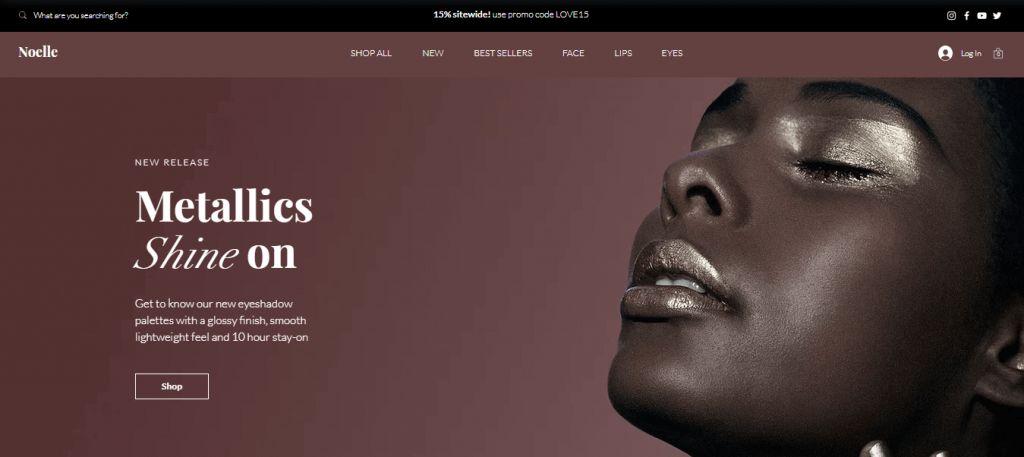 It is the best choice for: Online beauty product retailers, wellness boutiques and makeup stores.
This bold and dynamic template provides the perfect platform for promotion and selling. The contrast between light and dark colors brings a sense of luxury for your products. Besides, Wix has incorporated the preview-picture into the Beauty Store theme so your customer can see more with just one product displayed.
Preview the Beauty Store
Electronics Store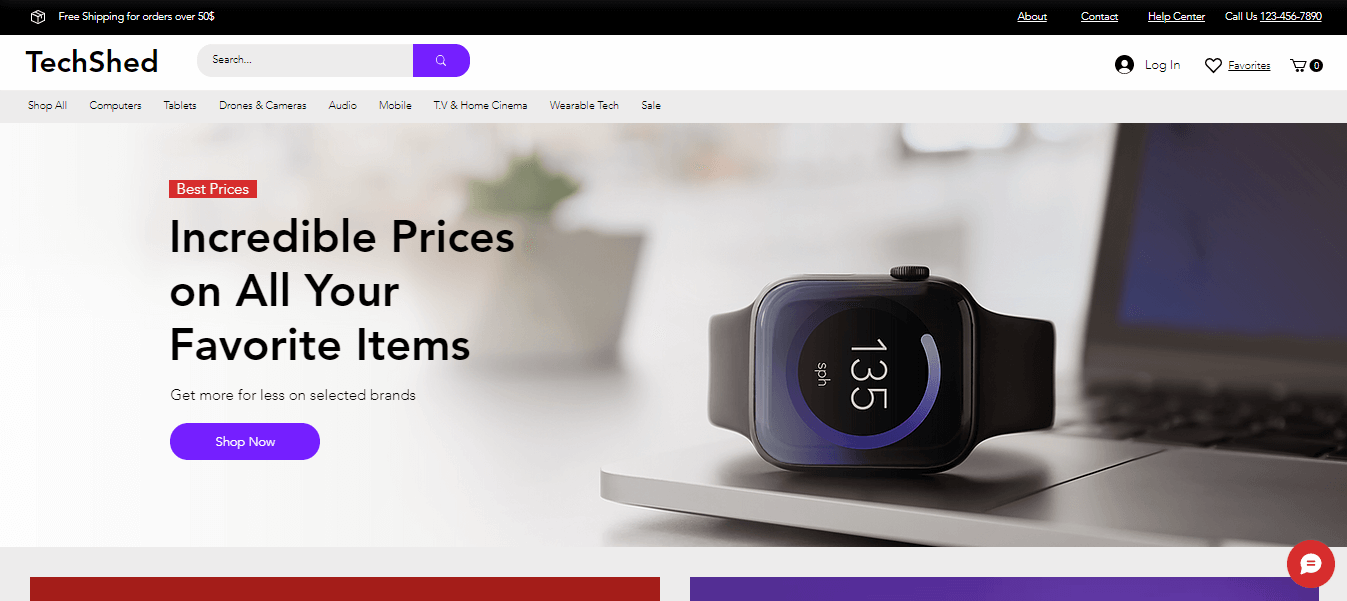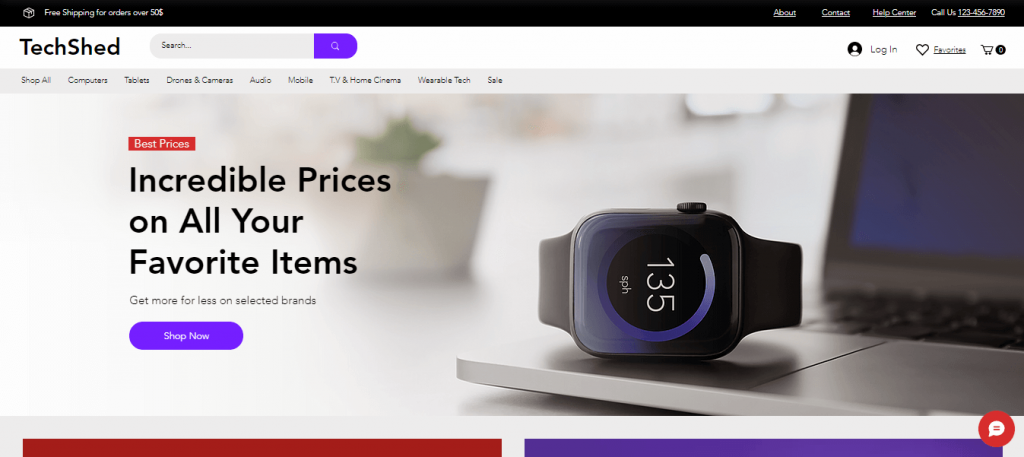 It is the best choice for: Tech shops, electronics retailers and e-commerce sites
The Electronics Store template should provide you with everything you need in order to launch a professional and eye-catching website to promote your tech store or electronics eCommerce site. The homepage includes a full-width picture as the header, two columns and a grid lay-out to show your best selling products, and a panel where you can add your promotion. The best part of this theme is that you can add a huge amount of content and pictures to your homepage without making your customer feel uncomfortable.
Preview the Electronics Store
Pet Supply Store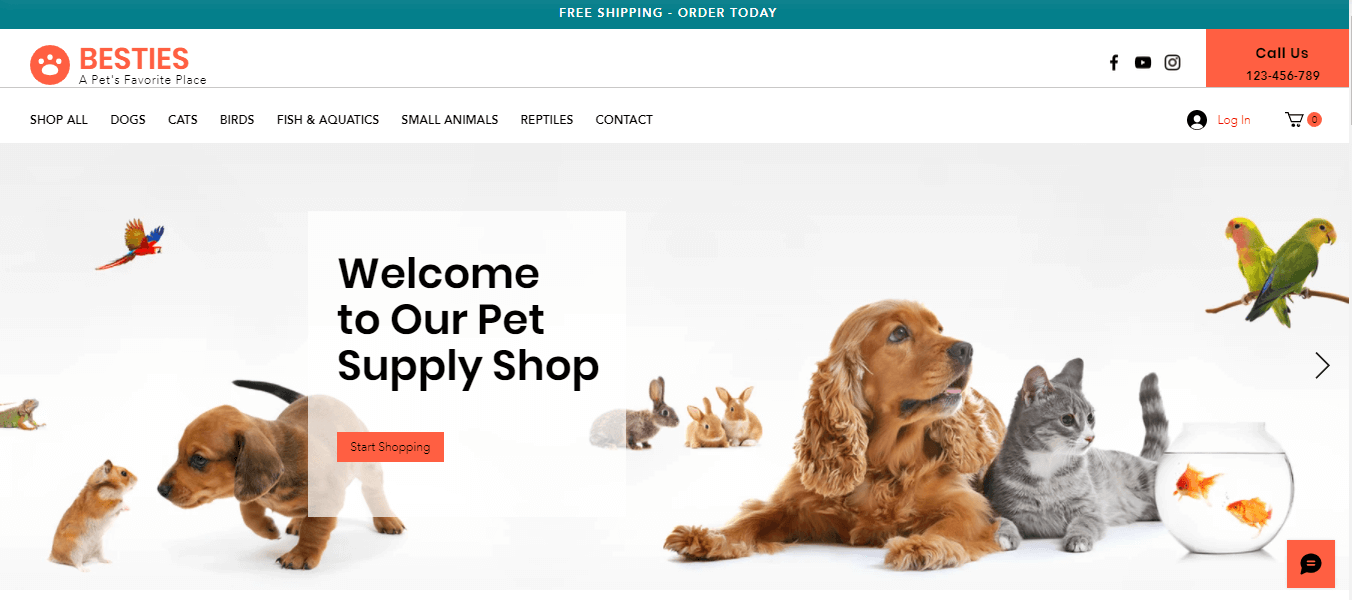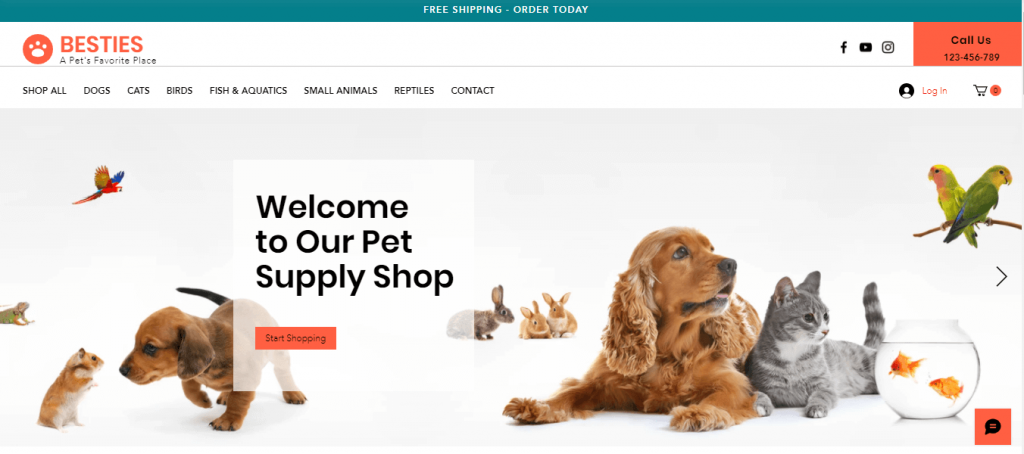 It is the best choice for: Pet stores, animal supply shops, and online boutiques
Pet Supply Store is highly responsive and very easy to customize. This Wix template can easily fit with various business requirements. Coming with creative and colorful mixed layouts, this theme can really help to attract more customers and level up your store. The most notable part of this theme is the advanced filters for your product. Shoppers can easily sort out the product they need based on category, price or name.
Preview the Pet Supply Store
Home Goods Store
It is the best choice for: Textile, home decor and fabric stores.
Home Goods Store is a beautiful, modern and eye-catching design. You will be surprised with the smooth feeling when scrolling through the homepage. The structure of the Home Goods Store is quite straightforward. It includes a header with a large-size image set up as your background, a three-columns layout to display your featured products, an About Us section and a contact form.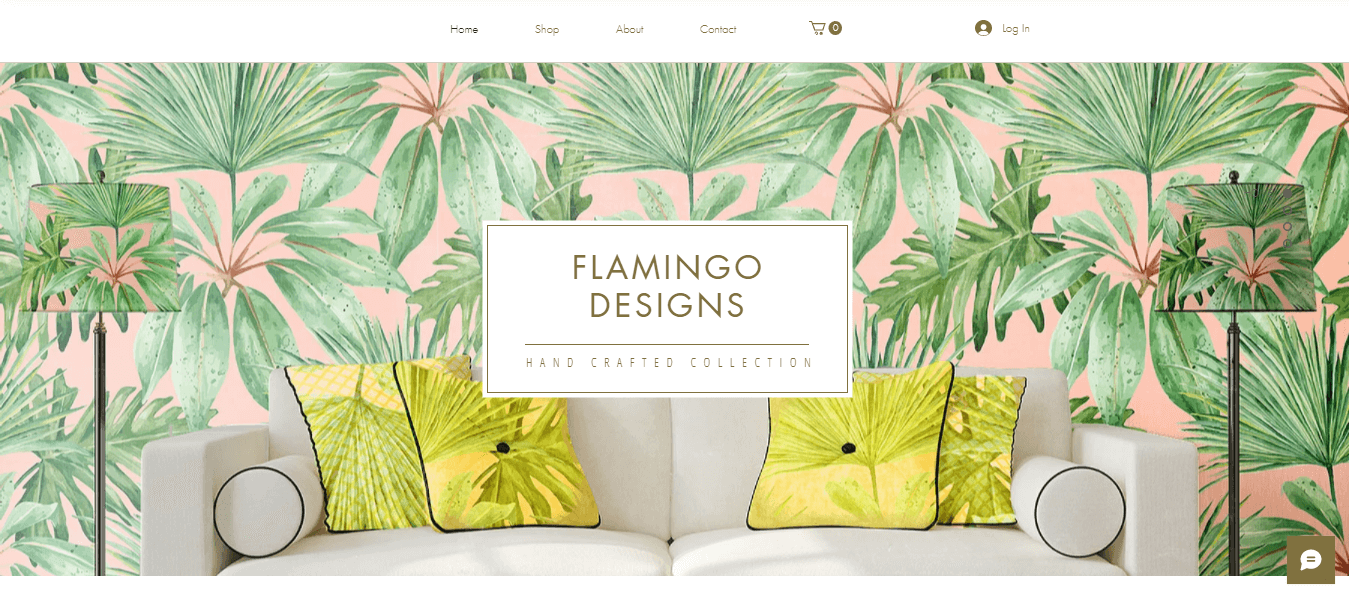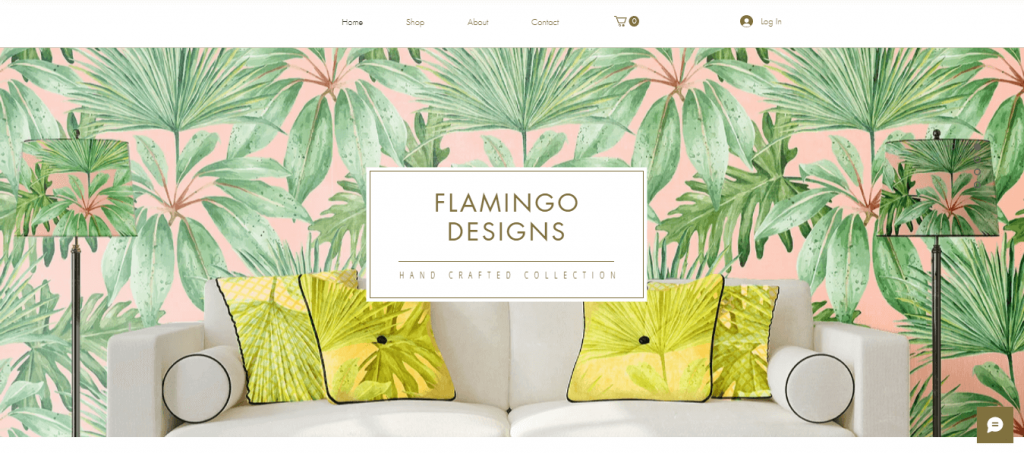 If you focus on the layout of the template instead of the image used in the background, Home Goods Store presents a great looking layout that could cater to a variety of needs.
Preview the Home Goods Store
Kids Clothing Store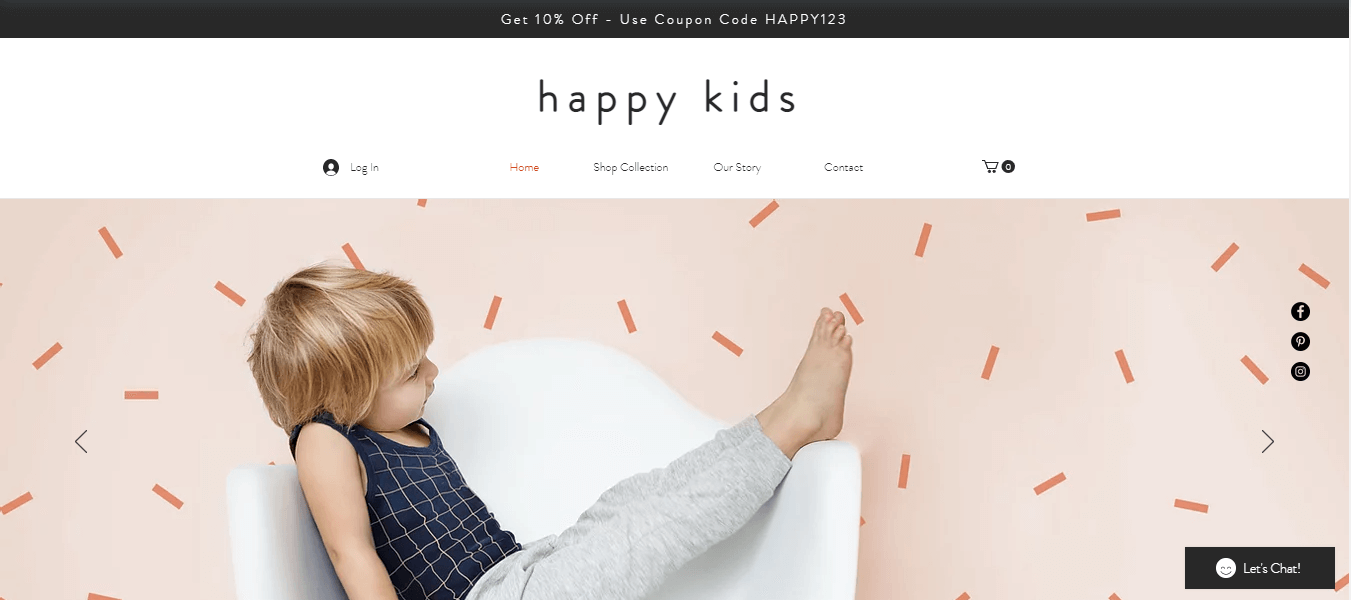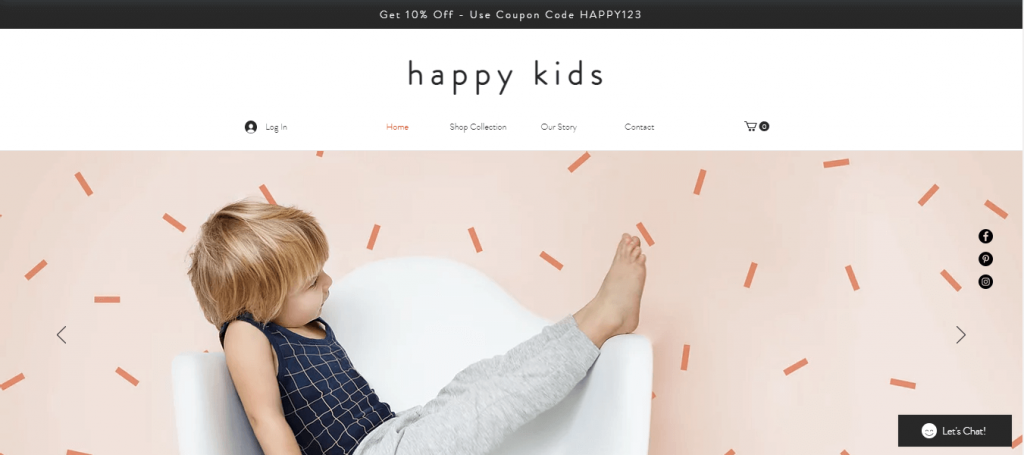 It is the best choice for: Children's clothing boutiques, online apparel stores, and fashion retailers.
Kids Clothing Store is a minimal and modern Wix eCommerce theme. The layout of this template is simple yet effective. There's a header where you can add full-width pictures and place your social media button such as Facebook, Instagram, or pinterest. The rest of the homepage is a slider with four columns for displaying your best-selling products. Kids Clothing Store is also fully responsive for desktop, tablet and mobile devices.
Preview the Kids Clothing Store
Hassle-Free Moving to Wix With LitExtension!
Want to switch your store to Wix without a finger lifted? LitExtension offers a great All-In-One migration service with a dedicated Personal Assistant that helps you transfer your data to Wix accurately, painlessly with utmost security.
---
Wix Website Examples
Here are some of Wix website examples to get you inspired.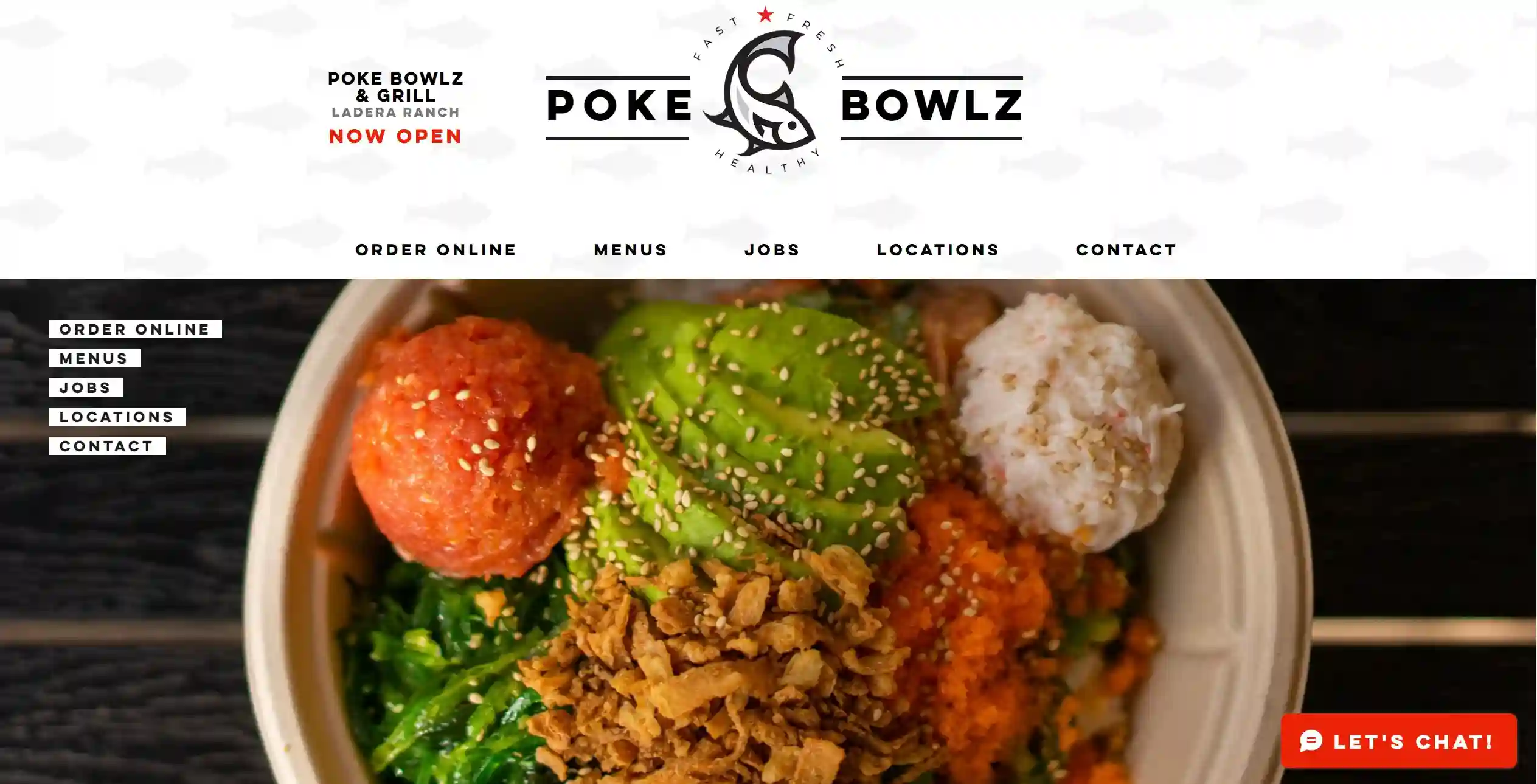 ---
Wix Website Templates – FAQs
Yes, all Wix templates are free to use. You don't have to pay a cent, just pick one of the Wix themes recommended above and start making your website. Plus, we refer this list of free designed templates that may include your ideal choice.
It's not possible to switch templates of a Wix website you've created already. Hence, it's essential that you choose the right one from the start.
There are 5 steps to design your website with Wix:
Step 1: Choose the template you want
Step 2: Add and edit sections
Step 3: Choose fonts and colors
Step 4: Work with Images and Galleries
Step 5: Publish your website
Check out the detailed guide on how to create a stunning Wix website here.
---
Final Words
That's the top stunning Wix templates for you. We've gone through Blog templates, eCommerce templates and portfolio templates and we hope you can find the perfect template for your website. Try Wix now to build a stunning online store!
If you intend to move to Wix, LitExtension – #1 Shopping Cart Migration Expert is the best choice for you. LitExtension is an automated migration tool that can help you to migrate all your data to Wix in just a few steps. If you need more information, please contact our support team. They are always ready to help. We will support you 24/7 and make sure your migration process will occur in the most seamless way.
Lastly, don't forget to visit LitExtension Blog to get more eCommerce insights, and join and follow ou Facebook community to get more eCommerce tips and news.