In this article, we will show you how to use LitCommerce to perform Shopify eBay integration using 2 methods:
1. Integrate Shopify with eBay Using LitCommerce
2. How to sell on eBay via Shopify?
Multi-channel Selling Made Easy
Want to minimize manual efforts when integrating Shopify with eBay? Try out LitCommerce – A Powerful Multichannel Selling Tool! Within 4 Steps ONLY, you can easily sell on eBay with Shopify, and manage everything in one dashboard.
TRY SHOPIFY EBAY INTEGRATION NOW
---
Integrate Shopify with eBay Using LitCommerce
While choosing a manual method to connect Shopify to eBay, sellers might take more time and effort to complete the integration, however, choosing Shopify to eBay app might get your job done quickly and accurately.
For any seller who wants to sell on various sales channels and manage all of their data in one centralized dashboard, LitCommerce is the most convenient and affordable option.
In this part, we will guide you through 4 simple steps to integrate Shopify with eBay with the LitCommerce app.
#Step 1: Add LitCommerce  from Shopify App Store
Go to Shopify App Store and find the app named "LitCommerce Amazon Etsy eBay+".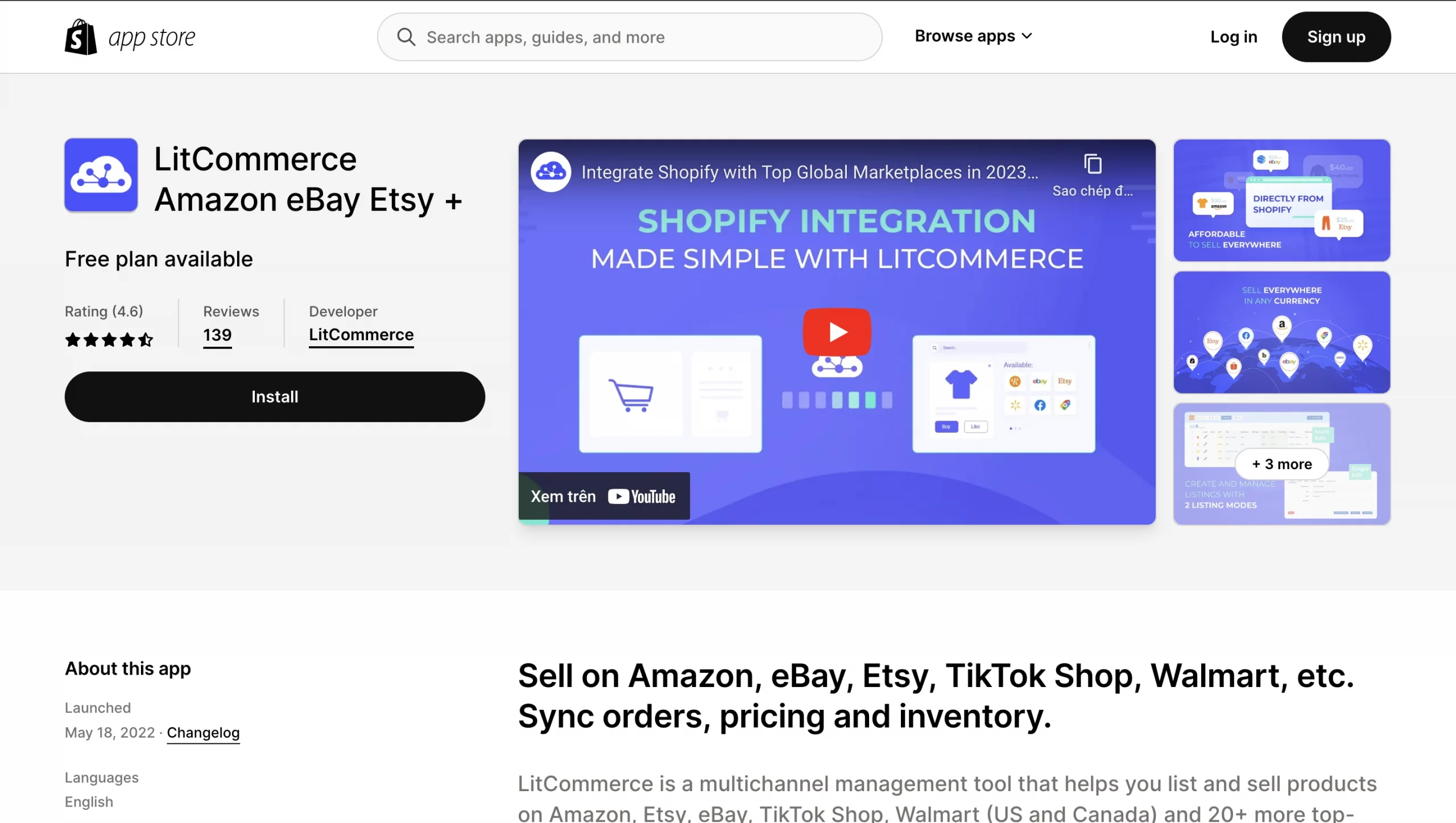 Click Add app to install the app immediately.
After that, in the Shopify dashboard, you can easily connect to LitCommerce app by choosing Install App in the top right corner.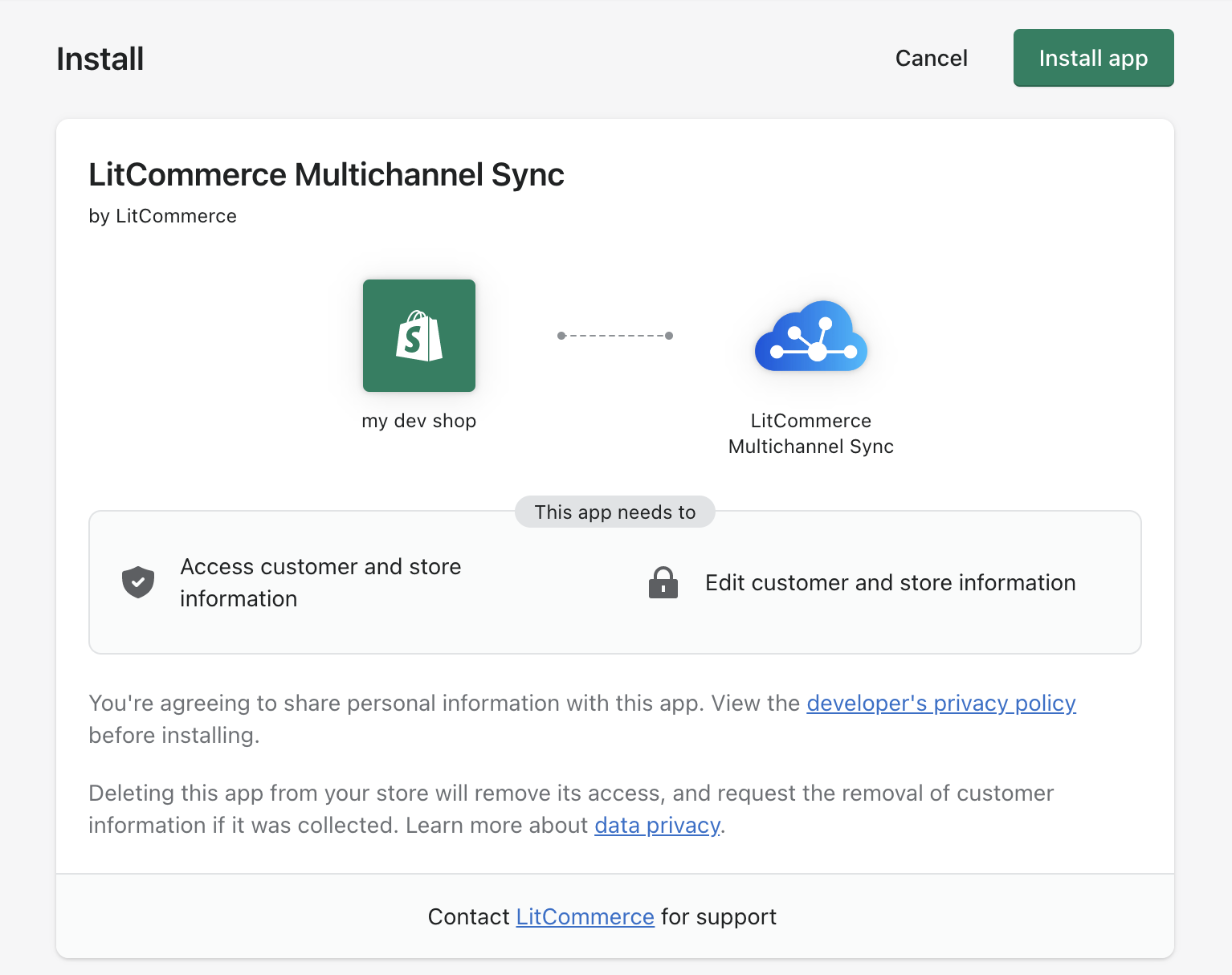 Once installed on the app, you will be redirected to the LitCommerce dashboard to start integrating your eBay store.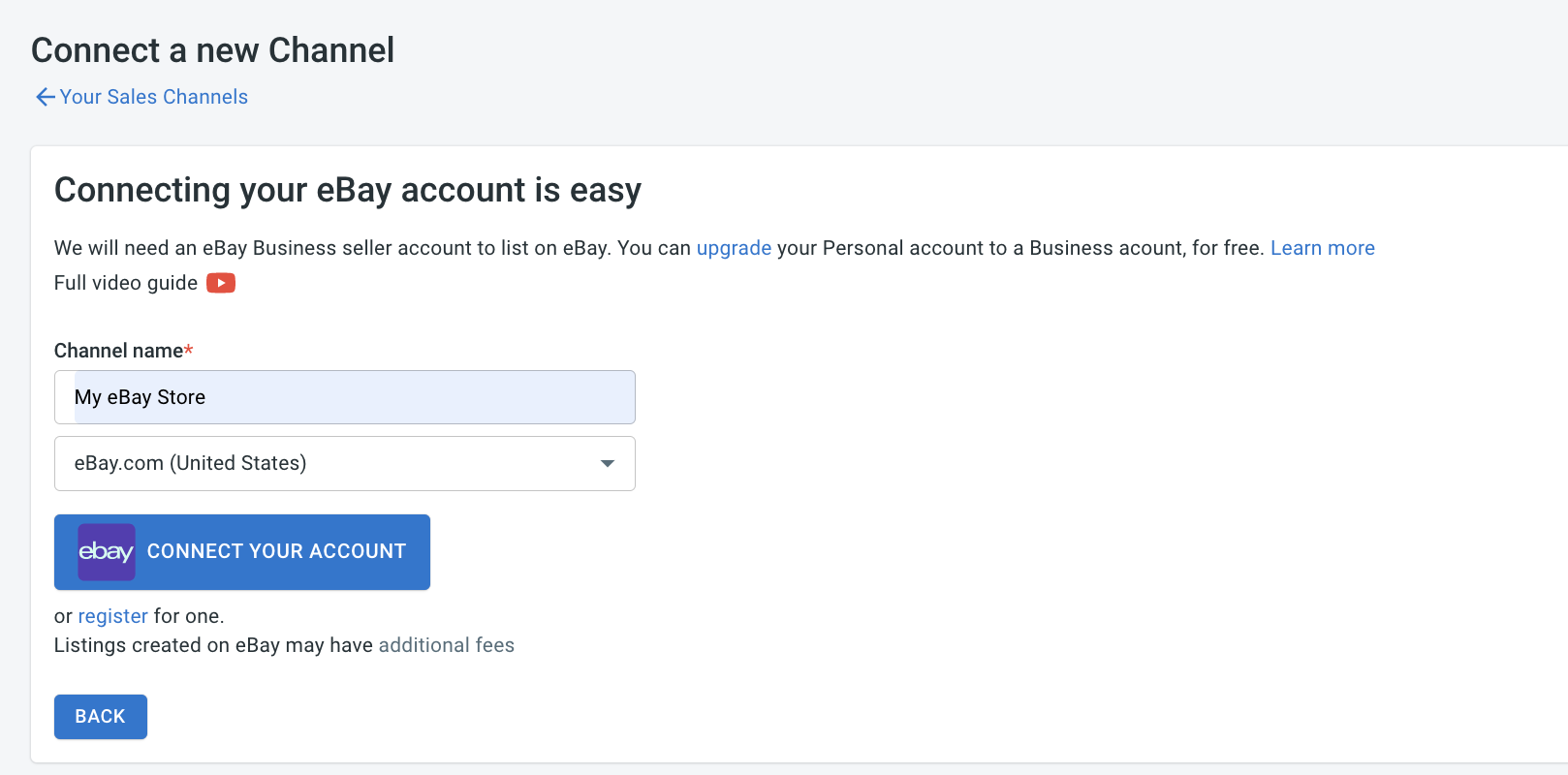 Here with LitCommerce, you only need to choose a nickname for your Channel and enter it in the field. Then continue by selecting the region where you want to locate your store, afterward, to integrate Shopify with eBay using LitCommerce, click Connect Your Account.
#Step 2: Edit listings before publishing on eBay
One notable thing about LitCommerce is that you don't need to manually import products from Shopify to eBay, the app will automatically do the whole process once you connected 2 channels.
This way, instead of manually matching products between two channels to avoid duplication, LitCommerce will check and scan product identity by using SKU which can save a lot of time and effort.
Now, you can choose any products you want to list on eBay or vice versa by simply clicking on the tickbox. Then, from the List Products on Channel dropdown menu, choose eBay.
The app will transfer your chosen listing into draft, you can access your editing methods:
Single mode: This helps you edit listing individually. When using the Single edit mode as you integrate Shopify with eBay, you need to fill in product details, including specifications, images, titles, shipment, etc.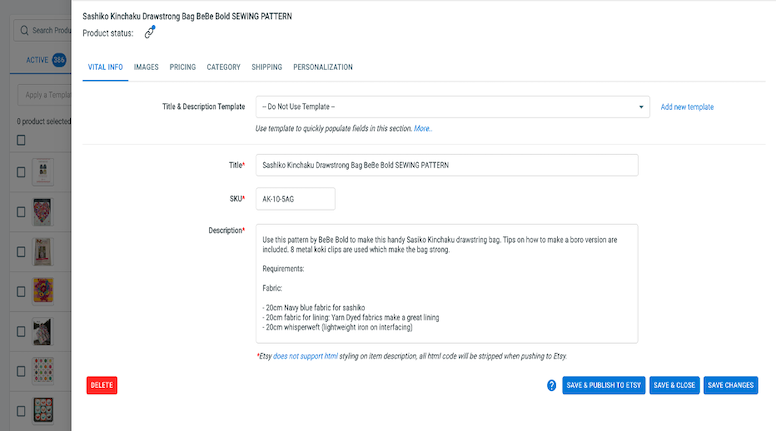 Multi-edit mode: On the second hand, Multi-edit mode is a smart and effortless way to adjust your listings before you publish them on Shopify and eBay. While using Multi-edit mode, you will be directed to a spreadsheet interface that lets you monitor and adjust all listings.

After that, you can publish your listings on eBay right from LitCommerce dashboard.
#Step 3: Enable Shopify eBay sync
Inventory synchronization: With inventory sync turned on, LitCommerce will automatically update the inventory quantity on your sales channels to match with the quantity in your LitCommerce central catalog.

Every time there is a new order on your channels, the inventory quantity will decrease according to the amount ordered and will be updated on all selling channels. This way you can always display the correct quantity for every product to avoid overselling.
Pricing synchronization: The Price Sync feature will update the price of all listings on your channels according to the price of products in the LitCommerce catalog. You can activate Price Sync individually for each sales channel.

Once activated, LitCommerce will begin updating the price of all listings on that channel with the price of linked products in your catalogue. The price will also be automatically synced when you create a new listing on that channel.
Order synchronization: If you enable Inventory Sync, all orders on your marketplace channels will be imported to LitCommerce system. To view orders, go to All Orders from the left sidebar menu.

#Step 4: Manage Shopify and eBay orders
To fulfil all orders, please go to the Orders section on the Shopify dashboard. There you can apply current order fulfillment methods that are integrated into your Web store.
There are 2 ways you can fulfil orders:
Manage and fulfil orders using your marketplace fulfilment methods: If you have an order on your marketplace channel, for example, eBay, you go to your eBay account and apply your integrated eBay fulfilment methods.
Manage and fulfil all orders from your channels in your Main store: You can import all orders from a channel to your Main store for centralized management and fulfilment. For example, you can choose to automatically import all Etsy orders to your Main store on Shopify and apply your integrated Shopify fulfilment methods.
Choosing LitCommerce for a Simplified Shopify eBay Integration
Looking to streamline Shopify and eBay integration without the hassle of manual work? Experience LitCommerce: Your Ultimate Multichannel Sales Solution! With just 4 simple steps, effortlessly sell on eBay through Shopify and centralize management in a single dashboard.
TRY LITCOMMERCE FOR FREE
---
How to Sell on eBay via Shopify Manually?
#Step 1: Add eBay as a Sales Channel
After logging into your Shopify dashboard, you can see a section "Sales channel" on your left. Clicking on the plus (+) icon button next to it, you can see the list of channels that Shopify supports. The option for "eBay" is right at the top of the list.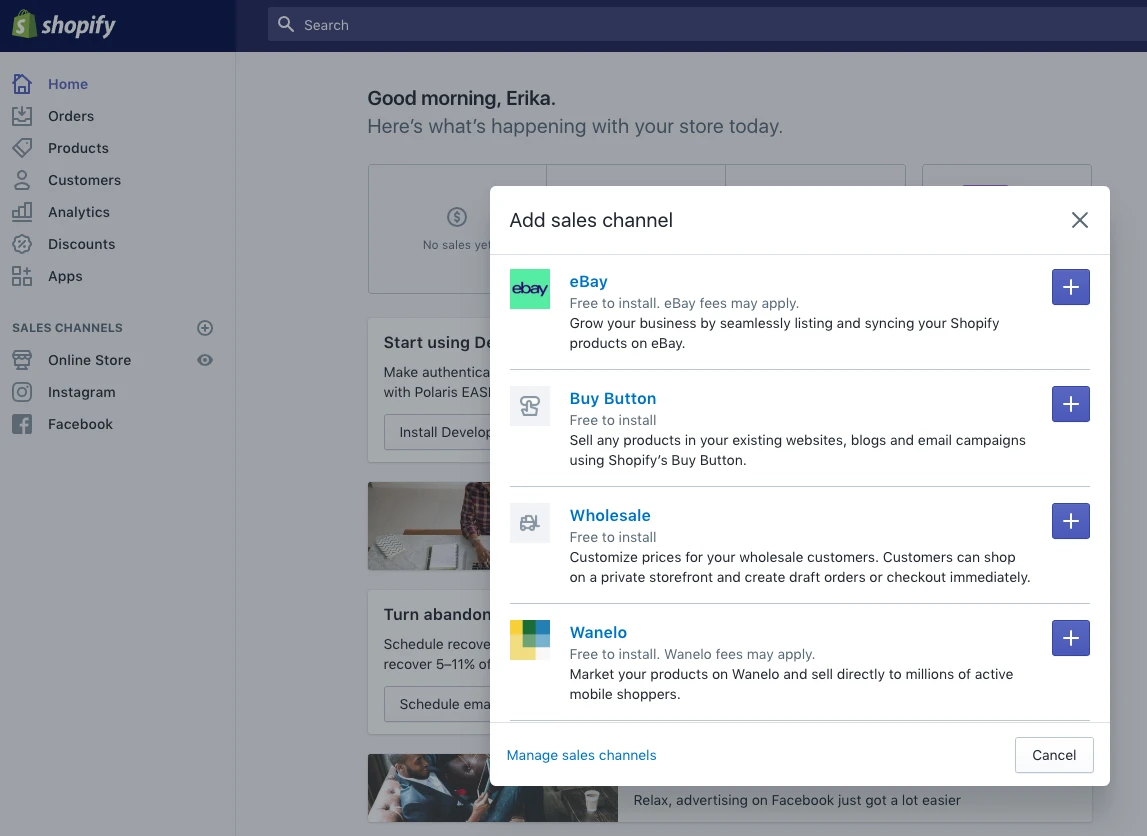 #Step 2: Link your eBay account to Shopify
In order to add eBay as a sales channel to your Shopify account, you just need to click on the plus button on the right side of the eBay section. Then a pop-up will display to help you connect your eBay account to Shopify.

You will be asked to grant eBay access to your Shopify account after clicking. This will allow Shopify to collect all data about sales, messages, and clients from eBay. To continue the process, click "Add sales channel".
Then, a pop-up window will appear that shows eBay 's login dialog. (If no pop-up window appears, it is likely that it has been disabled by your browser. To allow pop-ups, take the required measures, then click "Link" again.)
To log in to eBay, enter your eBay ID and eBay Password if you have an existing eBay account. Click on the "Register" tab if this is your first time selling on eBay and follow the prompts to set up a new eBay account.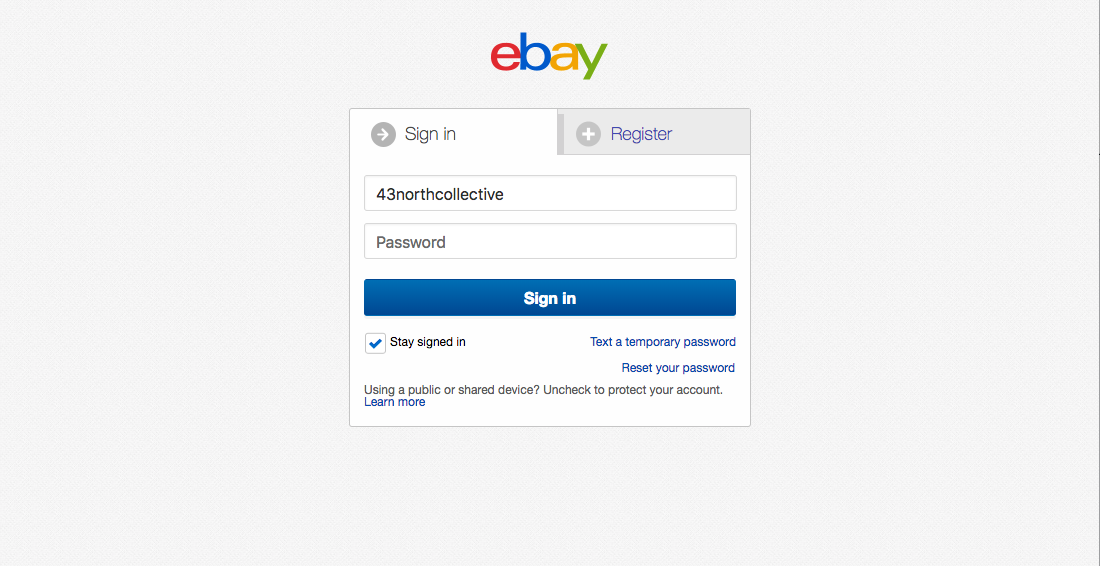 Whether you register for a new account or link to an old one, you have to provide additional business information, including contact details, inventory details, or ownership details. These questions are for the purpose of confirming the company's credibility. If you fail to verify your business information, you cannot get full access to all marketing initiatives. Therefore, you need to keep your answers honest and accurate.
After connecting or creating an account, you'll be prompted to grant Shopify access to your eBay account. To proceed, press 'I agree'.

This step enables Shopify to create and keep track of eBay listings and inventory levels (Products that you publish on eBay are referred to as "listings").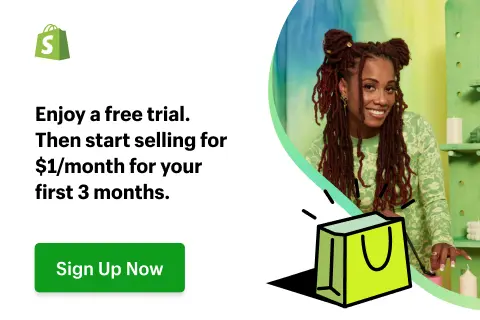 #Step 3: Configure your eBay policies
In the next step, you will have to configure some policies for your listings on eBay related to your location, sales terms, and fulfillment. Merchants should follow the default policies that eBay recommends because they do not want to deal with policy infringements in the future. However, they can still modify them to meet their business's requirements.

#Step 4: Select products to publish as eBay listings
Now that you have linked your Shopify account and eBay account, you can easily import your products from your Shopify store to eBay. Shopify gives you two options, which are "Review and publish all products" and "choose individual products".
After choosing your products, click "Save and publish" to continue. Before your listings go live on eBay, you can edit many aspects such as title, price, category, inventory,…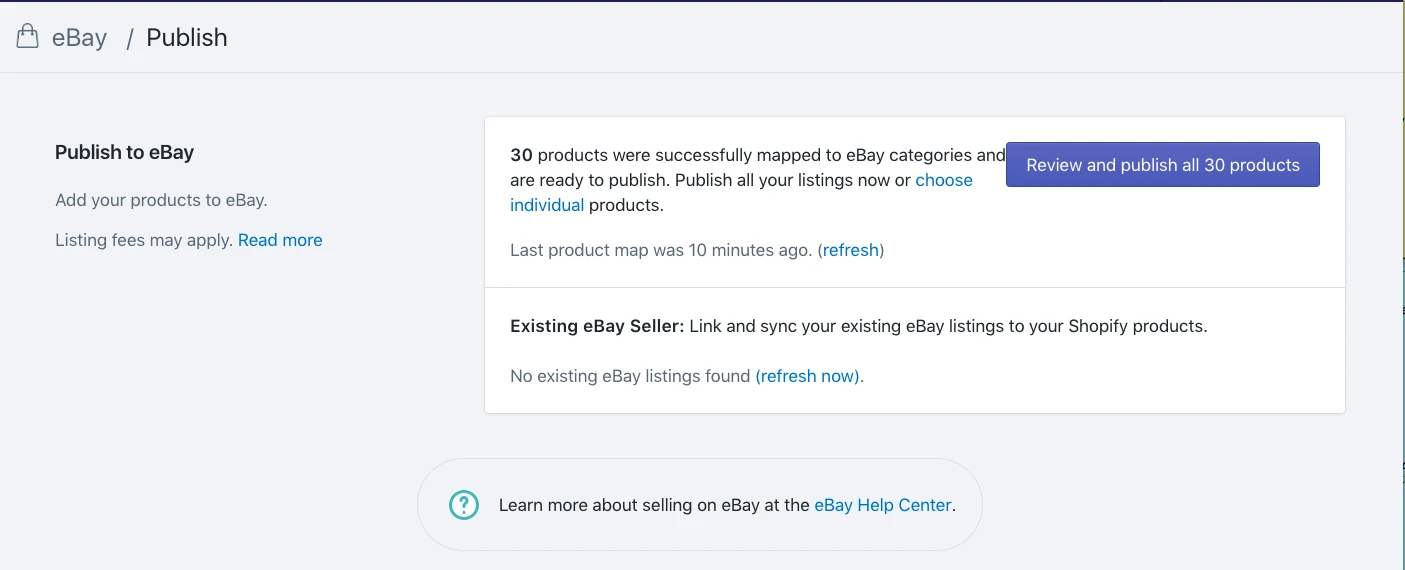 This is such an essential function as the ranking of your listings on eBay depends a lot on the keyword in title and description, so you may need to add more phrases into your product details.
#Step 5: Manage inventory settings
Henceforth, Shopify eBay integration will help you synchronize your inventory and order management between Shopify and eBay. After every sale, Shopify will automatically synchronize the inventory level on eBay, so the current stock available for sale on both sales channels is always the same. Therefore, you can avoid the risk of overselling, which means you will be able to deliver ordered items in good time since your store will only display the available stock.
Another good option to make good use of both Shopify and eBay is to use them as your selling channels and find a multichannel selling tool to create a Shopify eBay integration. This way, you can easily broaden your customer base and also, improve the inventory management of your store.
#Step 6: Start fulfilling orders
When someone places an order for your products on eBay, the order will also appear in Shopify. Therefore, you can easily manage it right inside your Shopify dashboard. Once an order is fulfilled in Shopify, the carrier and tracking details will be updated to eBay automatically.
Selling on eBay from Shopify using LitCommerce
Want to minimize manual efforts when integrating Shopify with eBay? Try out LitCommerce – A Powerful Multichannel Selling Tool! Within 4 Steps ONLY, you can easily sell on eBay with Shopify, and manage everything in one dashboard.
TRY LITCOMMERCE FOR FREE
---
Choose LitCommerce for Shopify eBay Integration
After finishing the Shopify eBay integration task, your business has already had multiple sales channels. The integration can boost your growth considerably in the next few months with tons of new orders from eBay.
Besides eBay, you can connect your Shopify store with Amazon and many other sales channels such as Facebook, Messenger, Instagram, Handshake, Wholesale, Houzz and Buy Button as well. Furthermore, by installing apps developed by Shopify or third-party developers, you can even sell on many other marketplaces like Walmart, Google Shopping, Wish, Etsy, Shopee,…
Should you have any questions about Shopify eBay integration, do not hesitate to contact LitExtension – #1 Shopping Cart Migration Solution. And don't forget to visit LitExtension blog or join our Facebook Community for further details.