Take your eCommerce store design to the next level, with our list of best BigCommerce themes suggestions!
BigCommerce is one of the best platforms for large or fast-growing businesses. This hosted-cart website builder comes with a wide range of responsive, professional, and eye-catching templates to help you design your online store.
Below, LitExtension – #1 Shopping Cart Migration Expert have collected the 8 best BigCommerce templates based on key factors such as price (<$200), purposes, design, and features. We'll be going through these key points:
Let's take a look!
---
Best BigCommerce Themes 2023: Overview
#1 What is BigCommerce?
BigCommerce was founded in 2009 by Eddie Machaalani and Mitchell Harper. For over a decade, the company has become one of the most popular eCommerce solutions currently available. Its scalability and customizability are what contribute to the platform's superiority over its competitors.
Being a hosted eCommerce platform, setting up your online store no longer requires too many technical skills. Along with Shopify and Magento, BigCommerce has become the prominent choice for e-merchants to build their online businesses. You can find out what is BigCommerce with us in our thourough review.
See how BigCommerce differs from other popular eCommerce platforms:
#2 BigCommerce themes
There are 15 free and around 300 paid theme variations on the BigCommerce theme store. The themes are divided into specific categories to match the products you're selling. Moreover, you can also pick the best BigCommerce themes in several marketplaces such as Themeforest, Templatemonster, or Webibazaar.
If you wish to make further customization to the original BigCommerce theme design, you can even tweak the HTML and CSS by using BigCommerce stencil themes. Thus, you can give your store a more unique look and improve your customer's experience.
Choosing the right theme for your BigCommerce store will definitely give you a better chance of impressing and converting viewers into paying customers. So without further ado, let's create a BigCommerce store and try out the best BigCommerce themes on our list!
---
Best Free BigCommerce Themes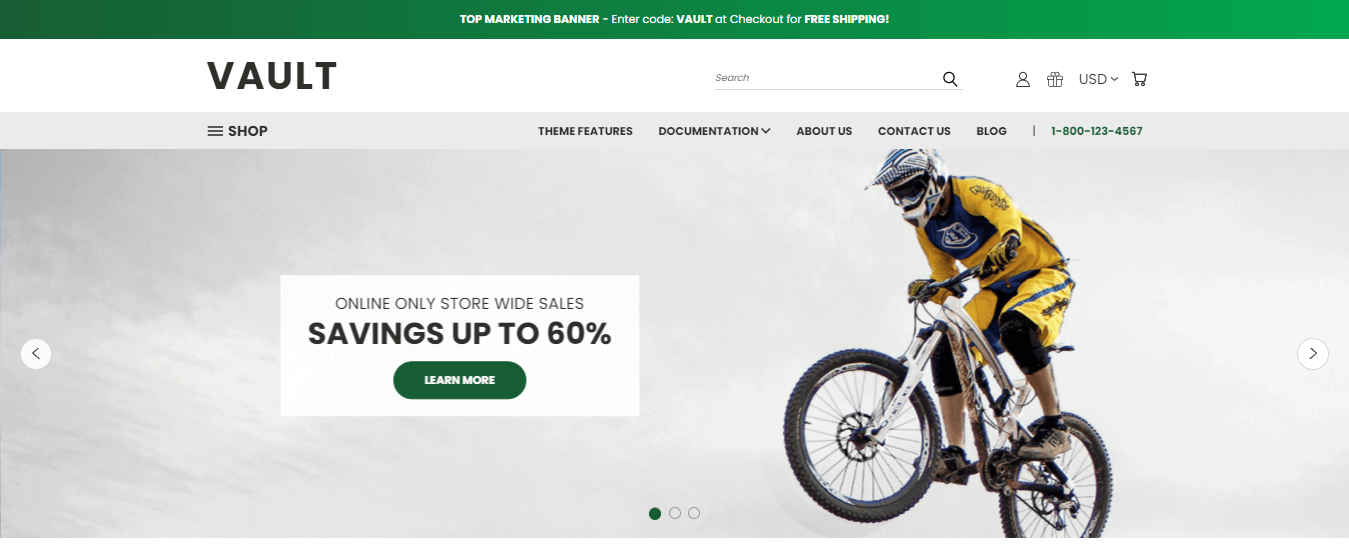 The first theme on our list – Vault – is one of the best free BigCommerce themes over the years. The outstanding strengths of Vault are its expandable 'mega menu' that's ideal for large inventories, and that it can serve multiple purposes. This amazing theme offers features that are suitable for small, medium, or even large businesses.
What's special about this theme's design you might ask? Vault offers a clean, well-structured layout, and its dynamic homepage can quickly catch customers' attention. Plus, it gives you the power and flexibility to change text, insert pictures, and add banners to your store with just a few clicks.
Vault is also one of the fastest BigCommerce themes and best BigCommerce sports themes, thanks to its sleek and compact structure.
Home feature banners: Allow up to 6 pre-positioned images on homepage.

Fully responsive design: Your site will look good on both mobile and desktop.

Product comparison table: Allow customers to select and compare two or more products on a single page.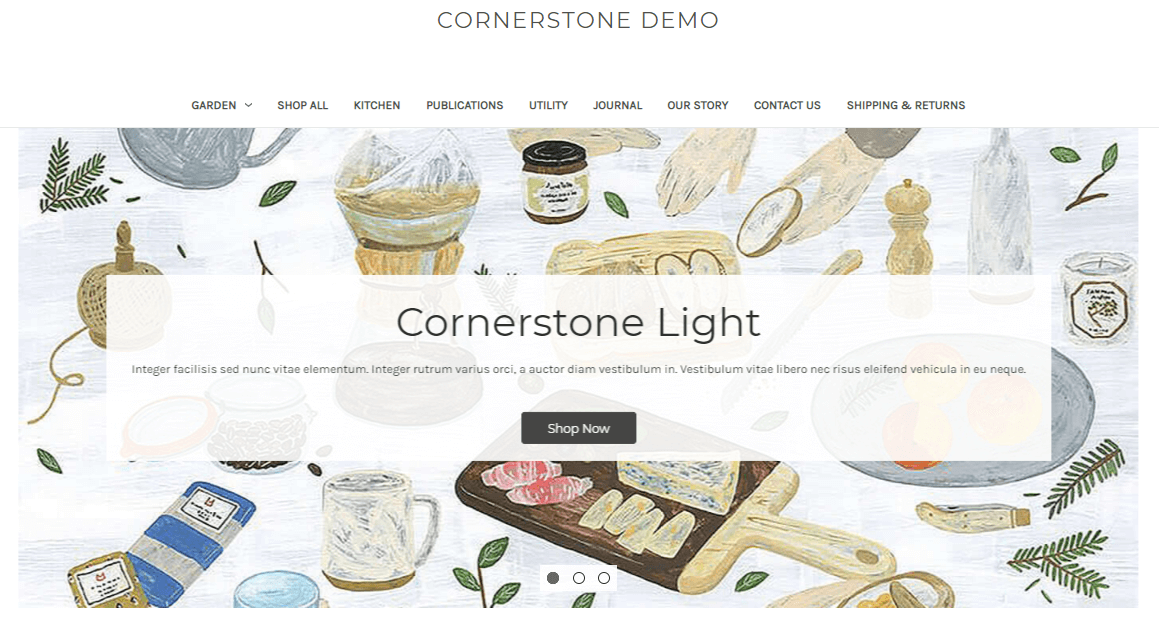 Sometimes simplicity is the best option. With a simple yet efficient design, Cornerstone has earned its spot as the most well-known and among the best BigCommerce minimal themes.
The BigCommerce Cornerstone theme provides its users with a neat and comprehensible store design. You can also customize this free template to fit your ideal business without much technical knowledge needed.
With Cornerstone's stylish and uncluttered appearance, customers can easily follow and navigate your website content. In addition, important information as well as call-to-action buttons are still eye-catching enough to grab shoppers' attention.
Many novel merchants chose to start their eCommerce journey with Cornerstone because of its scalability. With a rich built-in and mega-site menu, this theme can handle both small and large catalogs. At the same time, Cornerstone is also one of the popular BigCommerce B2B themes, so the possibility of growing your business is pretty much endless!
Complex search filtering: Various search options to help your customers navigate products more easily.

Cart suggested products: Whenever a customer adds a product to their shopping cart, a similar product suggestion will show up.

Google AMP (Accelerated Mobile Pages): Optimize your website speed on mobile devices by reducing the unnecessary part of your site when loading.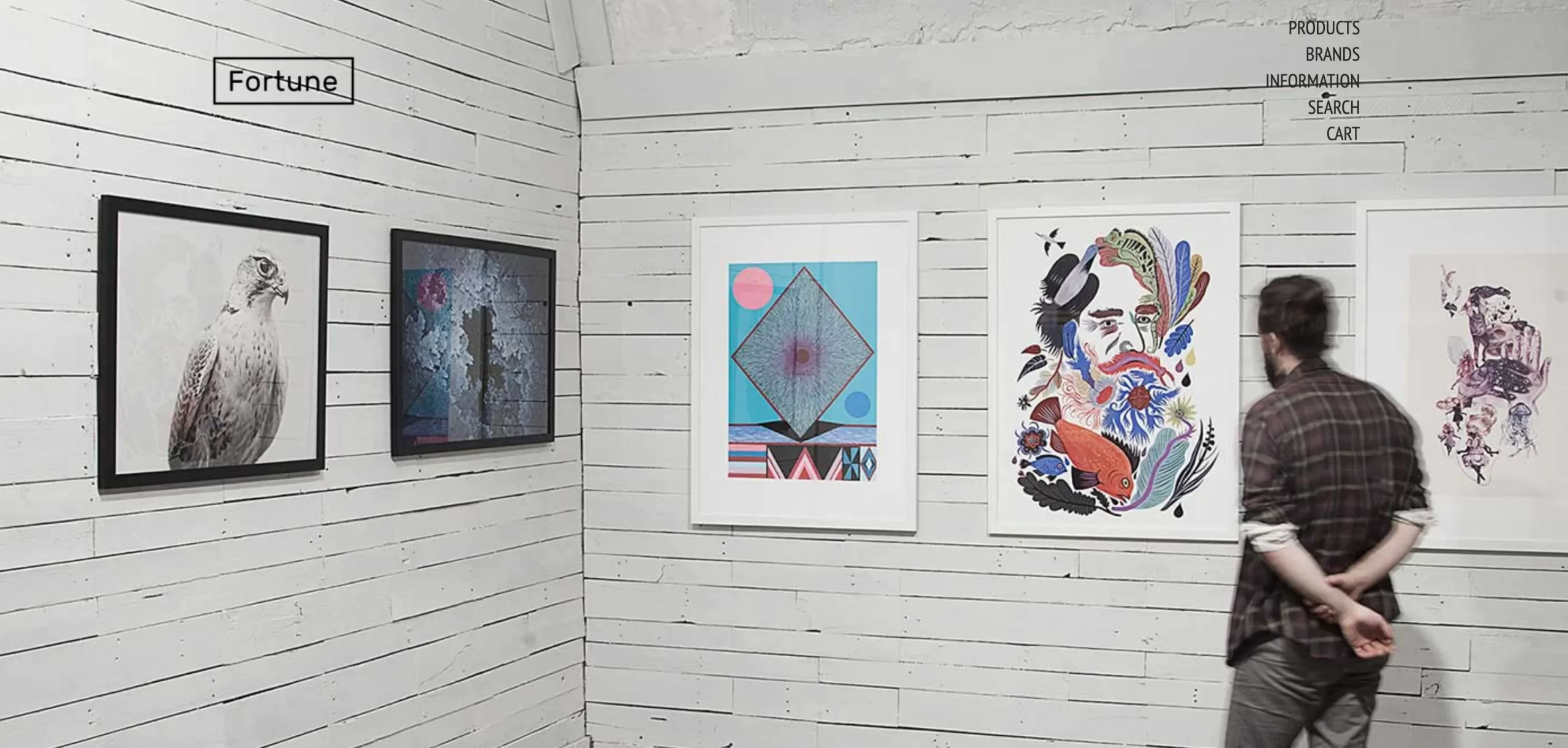 Another amazing free theme on our list of best free BigCommerce templates is Fortune. This theme is a great match for store owners who wish to impress their audience with a cutting-edge website.
Fortune is reviewed to be extremely powerful in advertising your products. But how, exactly? The key advantages lie in the theme's standout design.
Fortune offers its users a unique product grid on the homepage, combined with an oversized hero area. This creates a stunning display of images that will keep customers scrolling for more. Ideal for small-to-medium-sized catalogs, Fortune has everything you need to convert viewers into paying customers.
Advanced Quick View: Allow your customer to get a quick view to see main features at a glance on the product listing

One Page Check-Out: All the check-out elements are displayed on one single page, making the check-out process much simpler for customers.

Quick Add-to-Cart: Allow buyers to add a product to their cart directly from the products gallery.
---
Best Paid BigCommerce Themes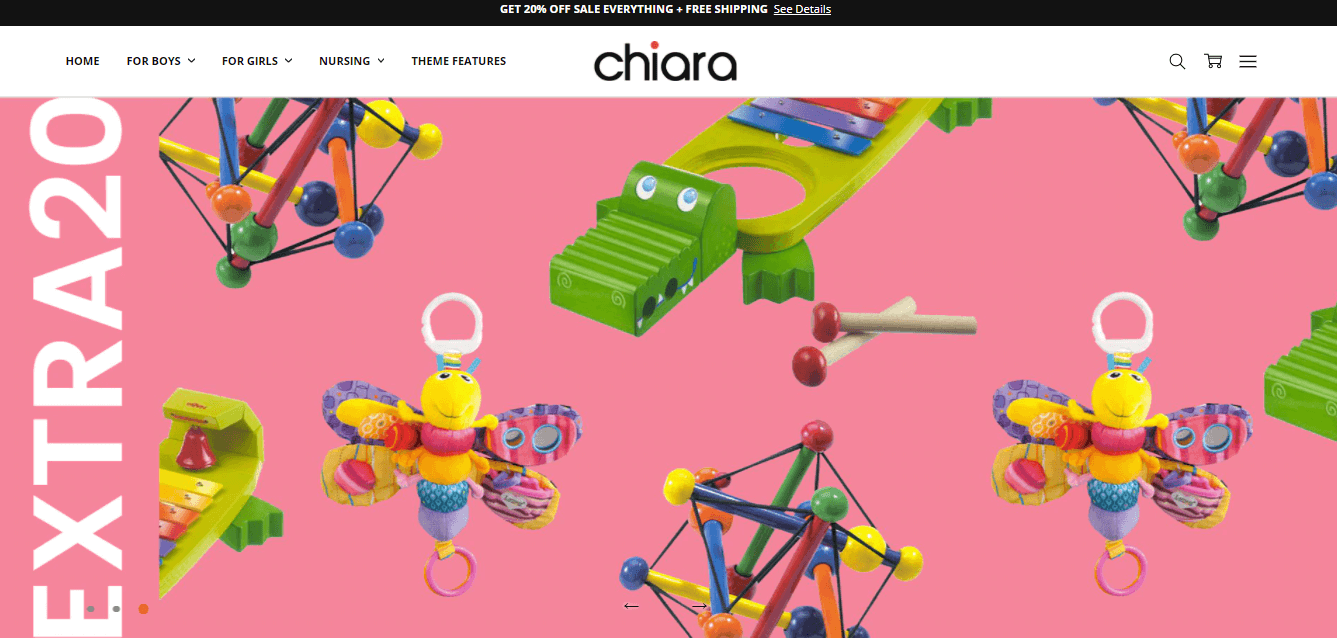 With a price of $195 on the BigCommerce theme store, is the Chiara theme worth the money? Does it deserve a position in the list of best BigCommerce themes?
The good news is that Chiara definitely lives up to the expectation. This fully responsive BigCommerce template gives you a "full package" capacity, including a large-scale product display area along with a massive menu.
The distinct advantage of Chiara lies in its aesthetic and energetic design. Though its structure might be a little more complicated, it can still maintain efficiency and doesn't cause confusion for users. With the full-width carousel banner and eye-catching digital effects, customers will have a hard time taking their eyes off your store.
Google Analytics integration: Seamlessly integrate with Google Analytics, helping you track visitors and conversion rate on your store.

'Frequently bought together' cart suggestions: Whenever a shopper adds a new product to their cart, a pop-up that suggests a similar item will automatically appear.

Free theme update: Free updates are available when a new version is listed.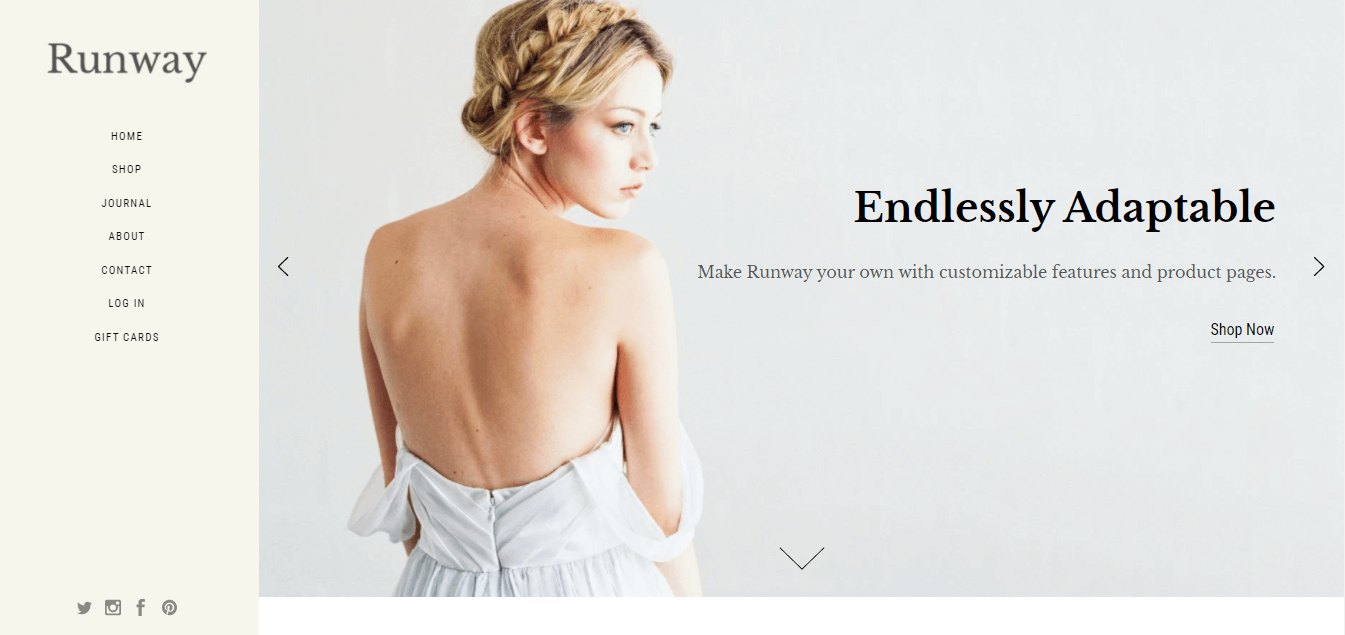 If you are looking for a paid theme with affordable price and elegant design, then Runway is the perfect suggestion!
With its impressive full-width images and clever sidebar navigation, the Runway theme will give your store a dazzling look. Moreover, the large display area makes it even easier for shoppers to view the details of your products. Thus, this theme deserves a spot in a list of best BigCommerce themes!
Runway will be a great match for stores selling high-end products such as home furnishings and handicrafts. The template will be an excellent choice for brands looking to showcase their visuals and make a statement to their customers.
Fully responsive design: This function helps your site keep its high-quality graphic display on any resolution.

Free update and customer support: You can easily update the theme by using its page builder.

Product comparison table: Just like Vault and Cornerstone, Runway also supports your customers in creating a table of two or more products and evaluating the prices.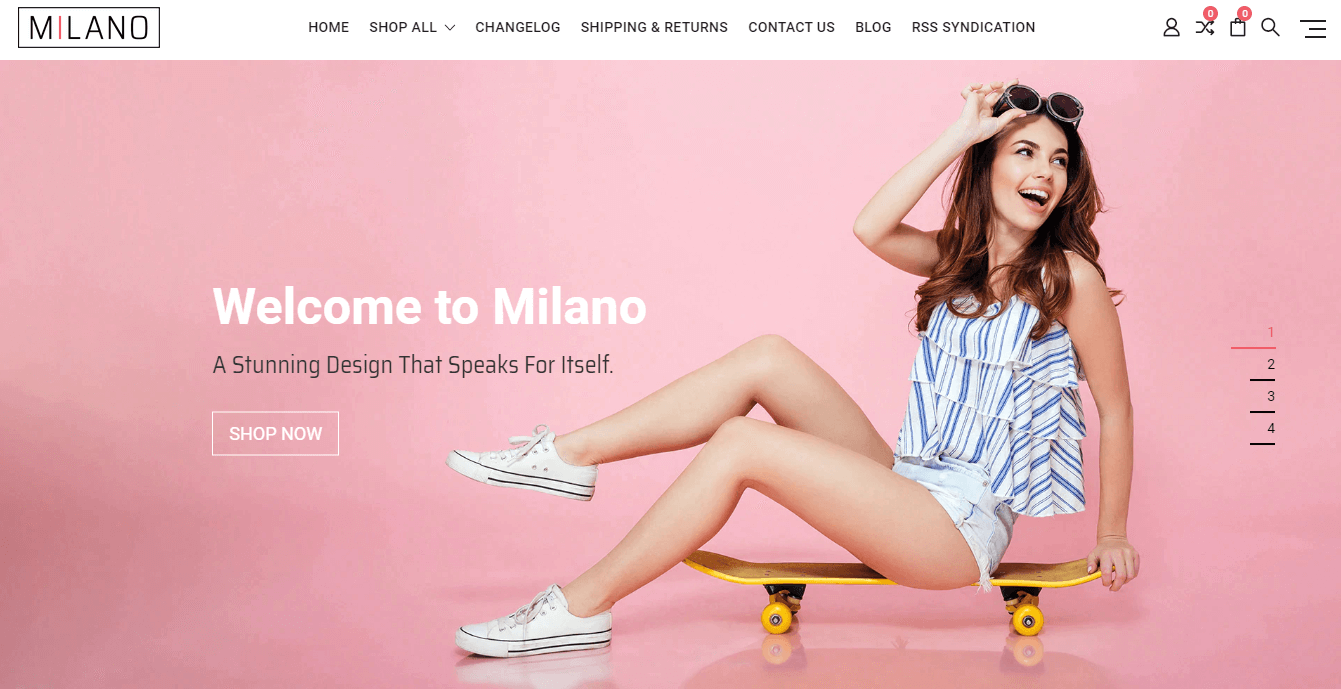 "A stunning design that speaks for itself" is indeed the fitting description for Milano.
This modern theme stands out from the crowd for its highly creative and unique look. Milano can give a wonderful first impression with its professional and eye-catching design. Its strength lies in the harmonious combination of warm and cool colors, bringing an attractive appearance to your product display.
Another unique point of Milano is that you can change the whole design palette with just a few clicks. Once you make changes, the new colors will have a global effect on major elements of your store, such as button background color, right sidebar title background color, icon colors, etc.
Milano is a wonderful option for brands with large catalogs, as its flexibility allows businesses of all sizes to utilize its functions.
Custom admin panel: Easily modify your store appearance without having to use HTML or CSS.

Product lazy loading: Reduce the loading time of your site.

Product image change on hover: Whenever customers point to a product's picture, another image will appear.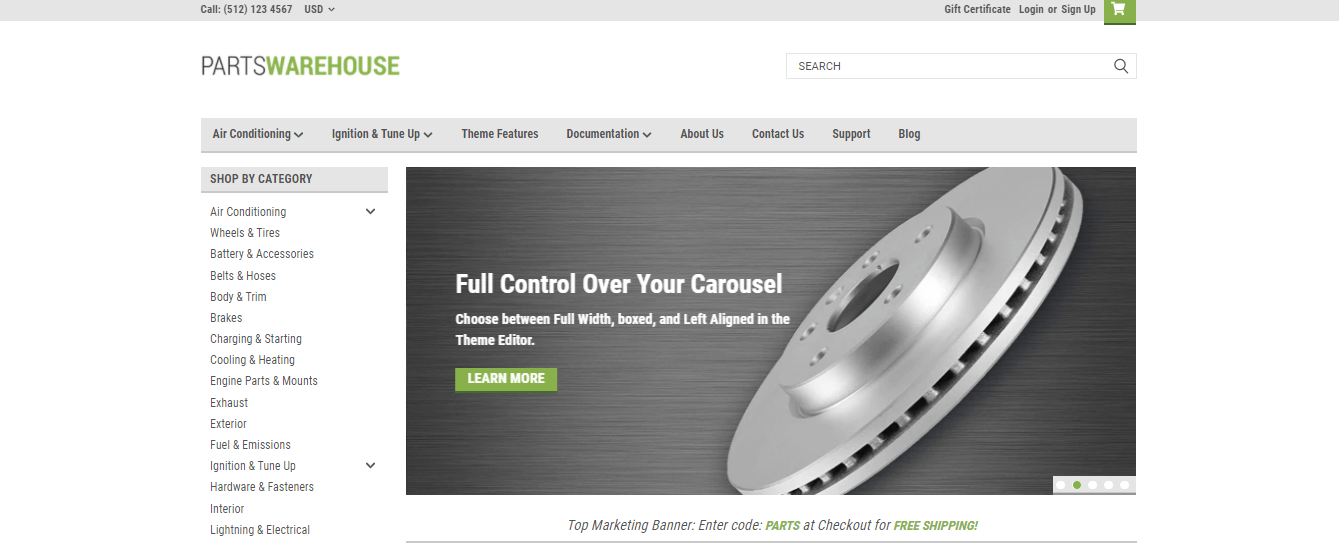 Another classy BigCommerce theme is Parts Warehouse – one of the best BigCommerce technology themes for enterprise-level businesses.
This theme is optimized for brands with larger catalogs with various different products. The huge menu can handle thousands of items, and the dropdown navigation makes it easy to organize your products into multiple categories.
Additionally, Part Warehouse has great flexibility and a highly customizable theme editor. The theme provides a custom admin panel for you to add, tweak, or remove elements from the original design without having to master technical skills.
Storefront CSRF Protection: Protect your site's data such as account info, payment info… from being stolen.

Multi-Tiered Sidebar Menu: Large site menus with various categories that display all of your products in a certain order.

Google AMP (Accelerated Mobile Pages): Speed up your site loading by cutting all the irrelevant parts in the loading process.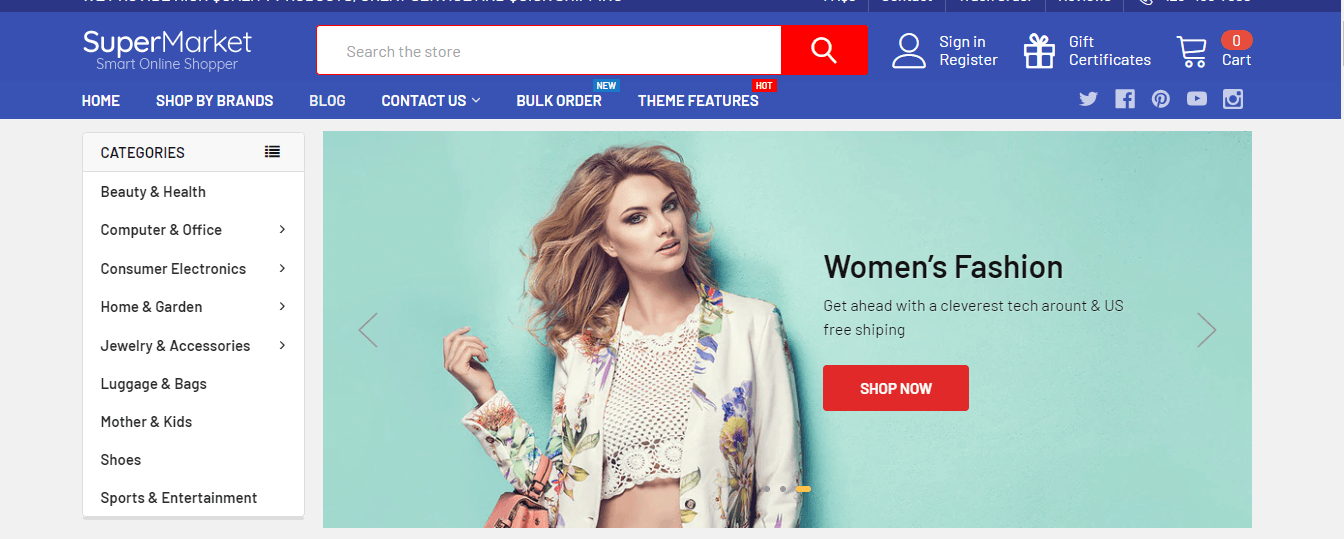 The final theme on our best BigCommerce themes list, Supermarket is a theme with rich built-in features, huge capacity and dedicated support.
This responsive, UI UX optimized theme supports a mega menu and multiple areas to display your marketing banners such as homepage, sidebar, category pages or product pages. Moreover, there are quite a few useful features for wholesale merchants to take advantage of, such as Bulk Order or Frequently Bought Together.
Supermarket is ideal for large stores, wholesale B2B/B2C marketplaces or even online shopping malls. This BigCommerce theme brings a high level of customization, as it comes with a theme documentation to help you easily configure and design your site to your liking.
Instant Load: Support loading more products without leaving the homepage.

Custom Popups: This function allows you to display your custom popups on any page, which helps you engage more with your customer.

Video banner: You can add a video or a Youtube video at your top banner to attract shopper's attention.
---
Which BigCommerce Theme Is The Best?
After looking through our list of the 8 best BigCommerce themes, you might be wondering which would be the most suitable for your business. If you have the same question, here are our suggestions:
If you are looking for a low-budget option, you could go with Vault, Cornerstone or Fortune. These are the best free themes to start with. Your website will still have an exquisite look and a lot of user-friendly features.
If you want a paid theme with sufficient functionalities for a reasonable budget, why not try Milano or Runway? These fashionable themes can provide stores with a modern look and great flexibility.
If you require the best functions and can afford a pricier theme, then try out Chiara, Parts Warehouse or Supermarket. These themes are inclusive with rich built-in features and well-suited for both small and large-scale catalogs.
Want to migrate to BigCommerce?
If you are intending to migrate to BigCommerce, LitExtension offers a great migration service that helps you transfer your data from the current eCommerce platform to a new one accurately with utmost security.
---
Benefits of a Suitable BigCommerce Theme
BigCommerce has provided its users with an array of great themes, and it'd be a shame if we don't make the best use of them.
With the right BigCommerce theme, here are a few benefits you're likely to get:
Convenient installation and setup: Even if you have little technical skills, you can make use of themes to build your online store. They also come with multiple built-in functions and plug-ins, so you don't have to worry about having to add them on your own.
Cost-saving: Rather than hiring a developer or a third party to work on your website, you can make adjustments to your store designs easily using the provided theme editor.
Eye-catching design: With the help of pre-made templates for eCommerce websites, impressing your audience is no longer a daunting task. A beautiful website will lead to better conversions and higher profitability.
Abundance of functionalities: Most BigCommerce templates will offer you a multitude of useful built-in functions to power up your website and scale your business.
SEO optimization: BigCommerce templates with SEO functionalities will help you attract more customers to your website.
---
FAQS
BigCommerce currently has 12 free and more than 300 theme variations for you to choose from.
BigCommerce themes are available on the BigCommerce theme store. The themes are divided into specific categories for you to easily choose the most suitable one. Alternatively, you can also pick the best BigCommerce themes in several marketplaces.
Yes, you can customize many elements of your selected theme using BigCommerce Page Builder. There's no need for much technical skills as you can simply use the available menus of the builder to select and change design options of your store.
---
Final Words
BigCommerce offers its users multiple theme choices with superior built-in features to grow your business. We hope that with the detailed information above, you can make the right choice out of the best themes for BigCommerce stores, and boost your performance.
If you want to switch to BigCommerce, LitExtension will assist you all the way! Don't hesitate to contact LitExtension to get instant assistance about BigCommerce migration process.
Visit our eCommerce blog section to know more about eCommmerce and join our active Facebook Community to get support from many other eCommerce store owners today!