Introduction
Magento (Adobe Commerce) is one of the top-notch platforms in the eCommerce industry due to its high level of usability and customization. As of 2022, there is a total number of more than 250,000 active eCommerce sites powered by Magento. To scale up your online store and get the most out of Magento features, choosing a powerful Magento cloud hosting service is a must. In this article, we will be showing you the top 5 best Magento hosting providers that can help your business at the fundamental level.
Keep scrolling for more insightful information!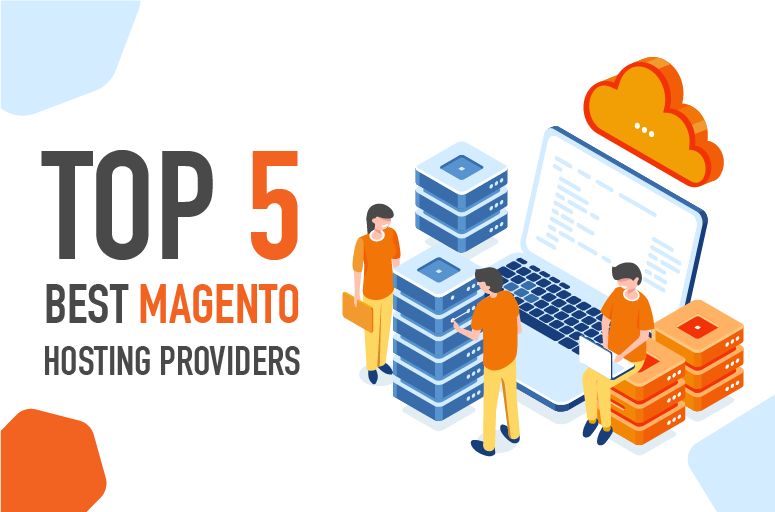 ---
Check-List to Choose a Right Magento Hosting
Before diving deeper into 5 best Magento hosting, let's first get to know 5 key factors that need to be taken into consideration when choosing a hosting service.
#1 Compatibility
Before making any decision, it's essential to ensure that your Magento hosting provider functions are compatible with Magento. You first need to check for PCI (payment card industry) compliance to certify that your Magento store does not face any unwanted compliance issues.
Secondly, for a seamless performance, we highly recommend you use MySQL 5.6 or higher and PHP 7.0 or higher. Whether your server runs Apache, NGINX or LiteSpeed, all requirements have to be adjusted accordingly to meet Magento latest compatibility guidelines.
#2 Speed
Speed is one of the key features when it comes to Magento web hosting. Nobody likes to waste their time on slow websites. In other words, a slow-loading website can hamper your online sales.
According to Google, 53% of mobile users abandon sites that take over 3 seconds to load. So, if your website loading time is more than 3 seconds, you may lose half of your prospective customers. You should directly contact your Magento cloud hosting providers to see whether the server can handle overloads and ensure maximum speed for your online store or not.
#3 Server Location
This builds on from the previous point. While the location of Magento hosting providers has a huge impact on its response time, not many store owners know where their server is located. This factor will also affect your SEO ranking. By selecting a server that is close to your customer, your site loading speed will be increased significantly.
#4 Security
Beyond that, security is of utmost importance. Though Magento stores are capable of securing itself, server-side security cannot be taken lightly. Your store security system should be able to protect all data, including, but not limited to, customers' personal information, credit card details, and other confidential data.
To do so, we suggest you choose a web hosting that provides all the major security measures such as dedicated firewalls, SSL certificates, IP whitelisting, 2-factor authentication, and so on.
#5 Support
Last but not least, it's important for your provider to have a dedicated technical support team. The support department should be available 24/7 via phone and email. Ideally, you want to have a team that can support you with all technical issues at any time. However, nothing comes for free. So, be ready to pay extra money for premium support from your provider.
Discover more about Magento (Adobe Commerce):
---
5 Best Magento Hosting Providers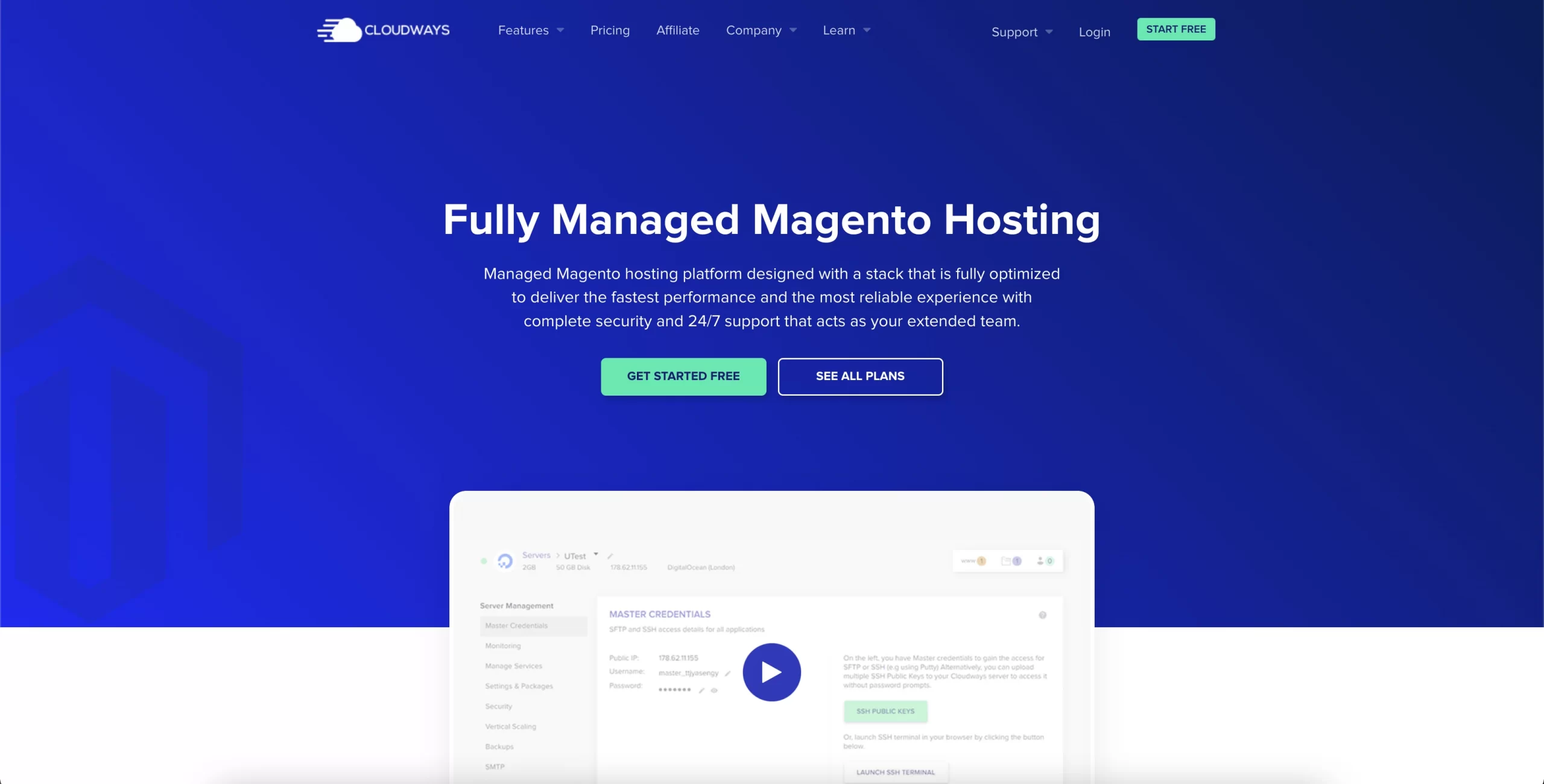 Founded in 2011, Cloudways is ranked among the top Magento hosting services. This managed hosting service offers cloud servers of a wide range of top cloud hosting providers such as DigitalOcean, Vultr, Linode, AWS and GCE.
Cloudways also has the advantage of offering hosting in all data-centers of the five cloud computing companies. More providers mean they have access to more data centers around the world. In other words, you will be able to feasibly host closer to your audience.
1. Pricing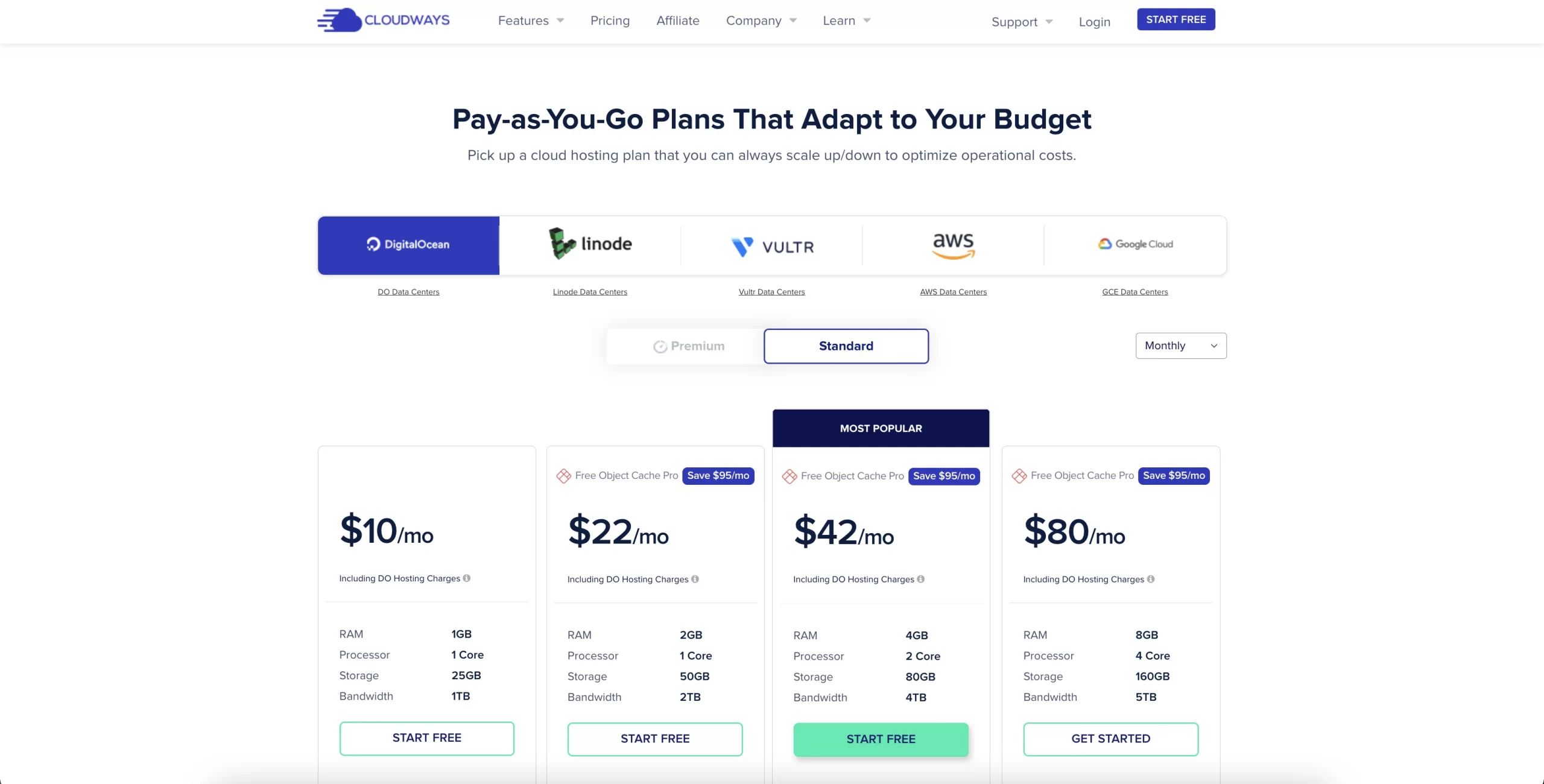 Cloudways offers a variety of options for you to choose from. The price ranges from $10-$80 with the monthly plan. Instead of monthly payment, you can also change your payment to hourly to get the most out of what Cloudways has to offer. Once you subscribe to Cloudways, you will be able to track how they manage your pay and adjust your investment accordingly.
In case you are unsure about Cloudways service and its functions, check out their 3-Day Free Trial to experience Cloudways services before making your payment.
2. Highlight Features
Cloudways offer multiple exciting features that help you manage and optimize your e-store within a few clicks. Let's see what they have to offer:
Cloudways Thunderstack: Cloudways uses the ThunderStack caching formula. This is Cloudways own formula to help boost up the server and application performance. Correspondingly, it guarantees fast loading time for e-commerce stores built with Magento. The stack includes some main applications such as Apache, New Relic, My SQL, PHP-FPM, etc.
1-Click SSL Installation: This is a built-in feature that comes with your package. It helps improve your website security with a trusted certificate that fulfills all your HTTPS requirements.
Server Settings and Packages via UI: With this feature, you will have full control over several server parameters and deploy applications. Cloudways also supports you change store settings directly from Cloudways Platform without going to the command line.
CloudwaysBot Notifications: To help you save time going back and forth between channels, Cloudways AI-based assistant will send you real-time notifications and insights via Slack and emails. You can use this information to integrate and boost your store performance.
3. Support
Cloudways support team is slightly different compared to other providers. Instead of having an in-house support team, Cloudways outsources its frontline customer support to Pakistan and Malta. All support agents are experts in the field and know their way around hosting. However, they will not be able to solve all your problems. For advanced technical issues, you will be directed to Cloudways in-house Magento experts. This time-consuming process might affect your store performance.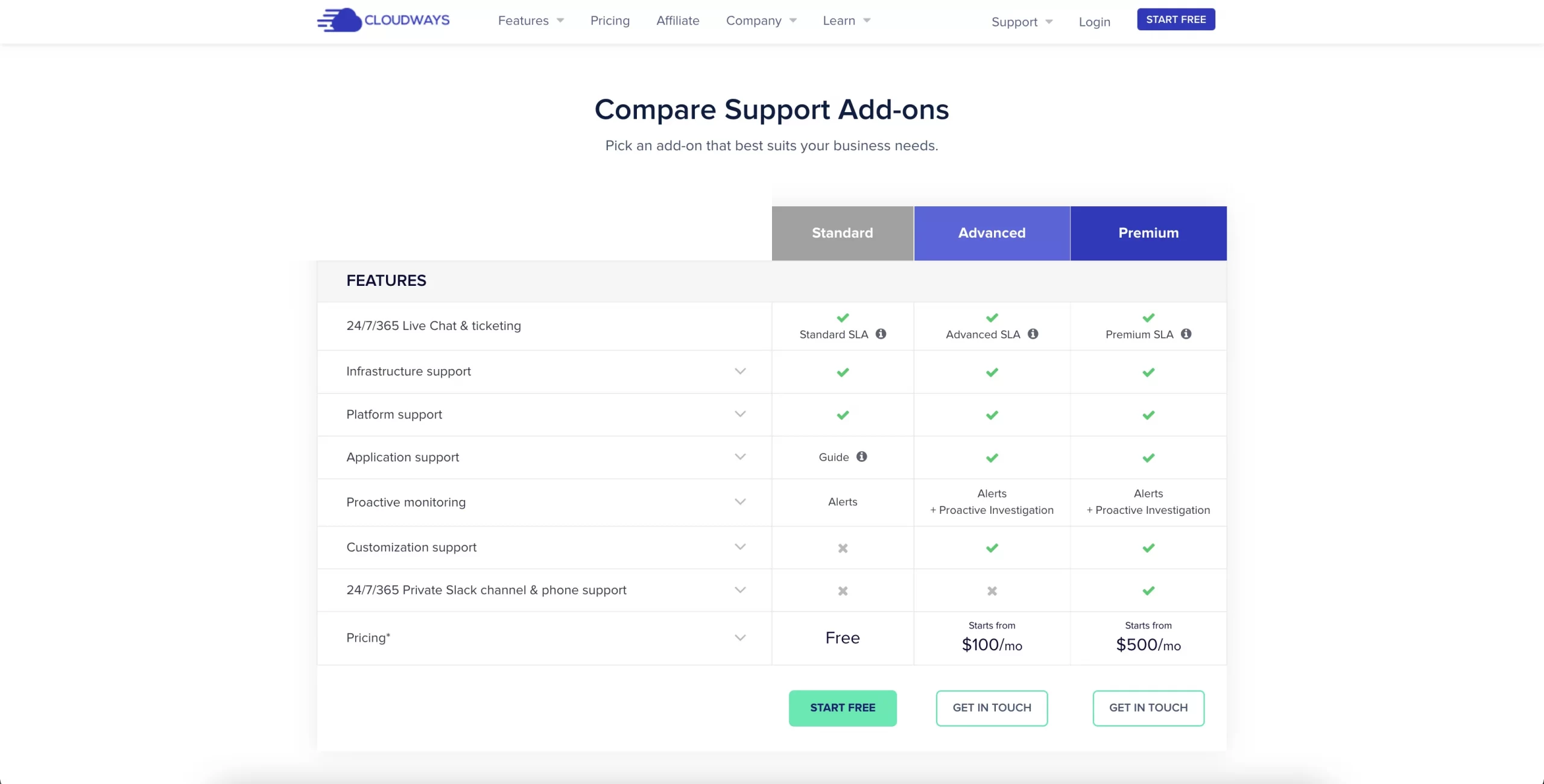 To enhance its customer service, Cloudways offers 3 levels of 24/7/365 support. These three plans come with different prices and features. Standard Support is the most popular among merchants. It's free with 24/7 LiveChat support. However, if you are planning to go beyond a regular support relationship, Advanced and Premium Support Add-ons are better choices. These Add-ons come with faster response time, a private Account Manager and customization support.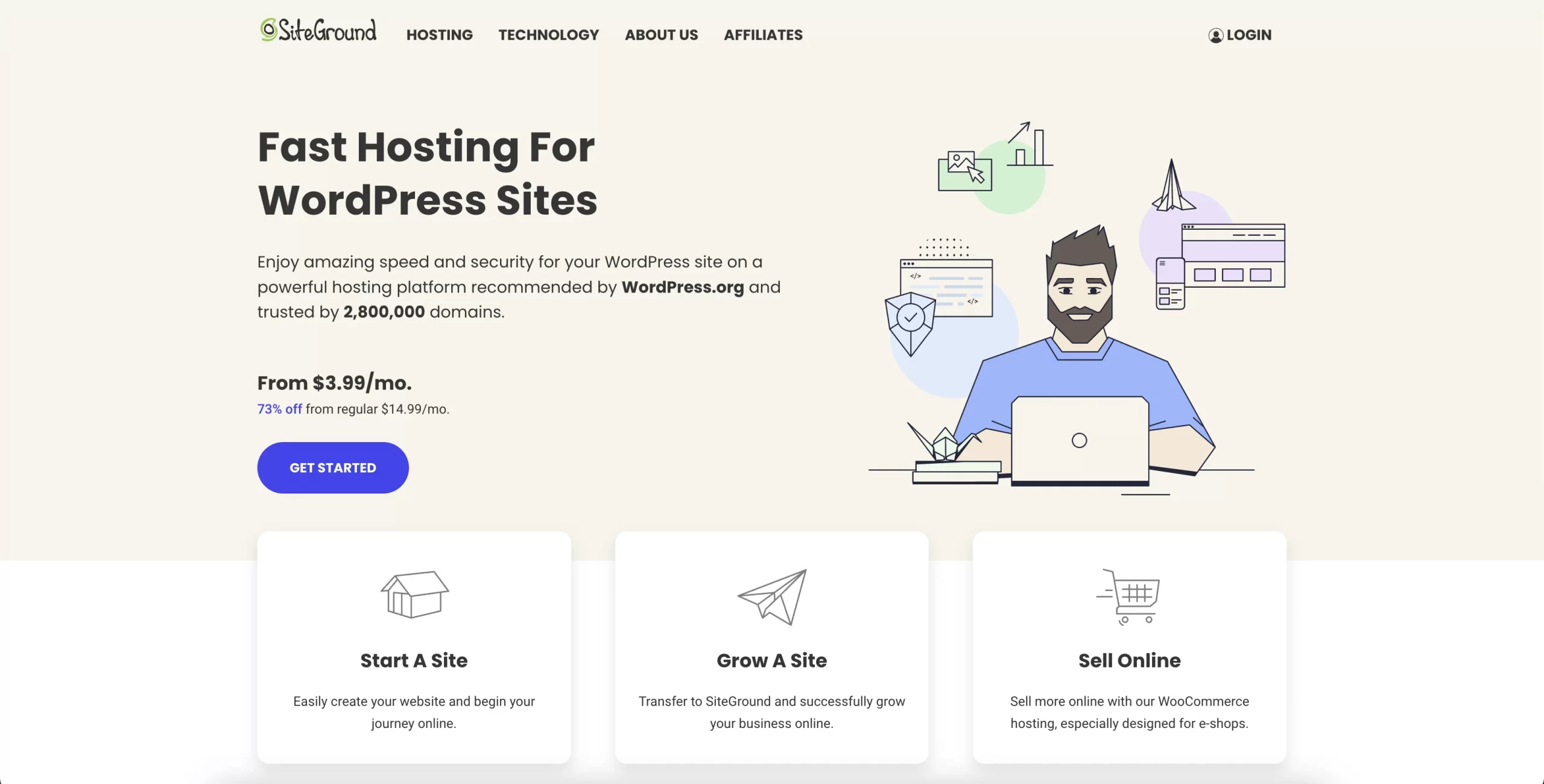 Siteground is among the most popular ones in the field, especially within the eCommerce community. Its hosting plans come with a variety of unique features that work for both small and big enterprises. That is why they are trusted and used by over 2 million users, as of 2020. With its user-friendly UI, SiteGround is perfect for those who are new to eCommerce.
1. Pricing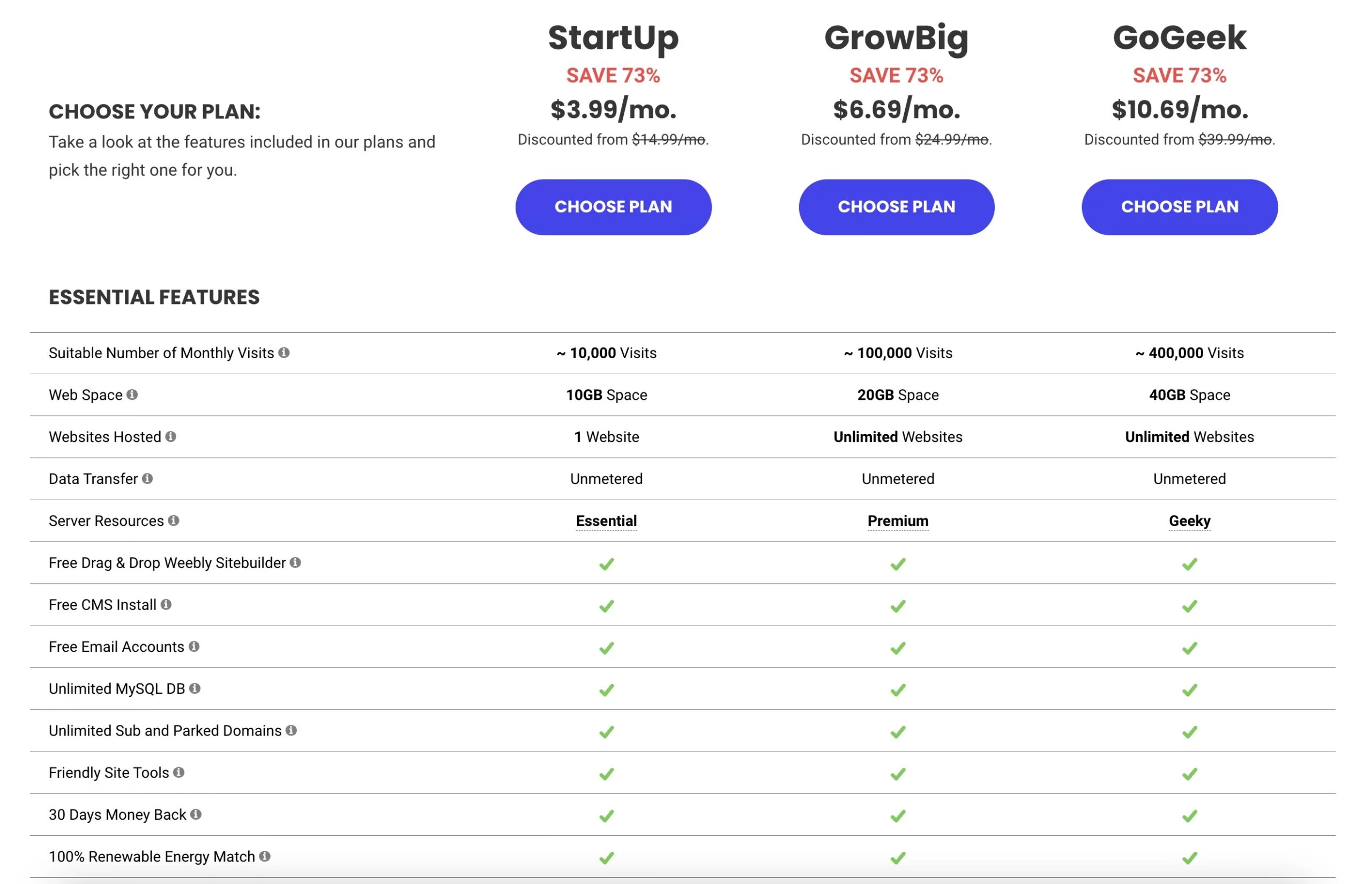 Similar to Cloudways, SiteGround is very flexible in its hosting plans. Plus, their prices are quite affordable. For those, who are having a tight budget, this hosting service is perfect for you. In general, SiteGround offers 3 shared plans (save 73%):
The StartUp, the cheapest plan start at $3.99 monthly, comes with 10 GB of web space and can only manage below 10,000 visits monthly. If your site traffic is higher than this, you should go for 2 higher plans.
GoBig and GoGeek start at $6.69 and $10.69/month. These two plans allow you to manage unlimited websites under one domain and have up to 40GB of web space. Apart from StartUp plan features, these higher plans also allow you to create on-demand backup copies and add collaborators.
For further details, you can check out these pricing plans on the SiteGround website.
2. Highlight Features
Free SSL Certificate: 

The SSL certificate is required for all websites. It protects private information from being transmitted between devices and websites. When subscribing to SiteGround, you will receive a free SSL certificate for each server.

Free CDN: 

Cloudflare CDN is used to keep images and videos off of your server. In other words, it prevents large files from slowing down your site's response time.

White-label Hosting & Client Management: 

This feature is designed to serve agencies and designers. Agencies will be able to register their clients as users and give them white-label access to the Site Tools. In its simplest words, clients will not see the SiteGround logo logging into their website, which means agencies will be able to provide a white-label hosting service.
Check out the SiteGround website for more features.
3. Support
SiteGround is known for its superb customer support. Under WordPress Tutorial on SiteGround's website, you will find step-by-step instructions to set up a Magento store, some basic tasks, and answers to some common questions. This tutorial is very helpful and acts as a resource for Magento first-time users.
Unlike Cloudways, SiteGround has a powerful in-house customer support team. The team is dedicated to providing you with excellent support and implementing innovative technology in its service. The technical support team is available 24/7 via LiveChat. This means that you'll be connected with the most experienced SiteGround technicians whenever you need help.
The SiteGround support team keeps amazing me. I love the chat function, where I always get a prompt answer and help, in my own time zone. Even if a question takes longer to answer, I'm reassured that they will return with a solution.

Rian Rietveld, Senior Accessibility Consultant with Level Level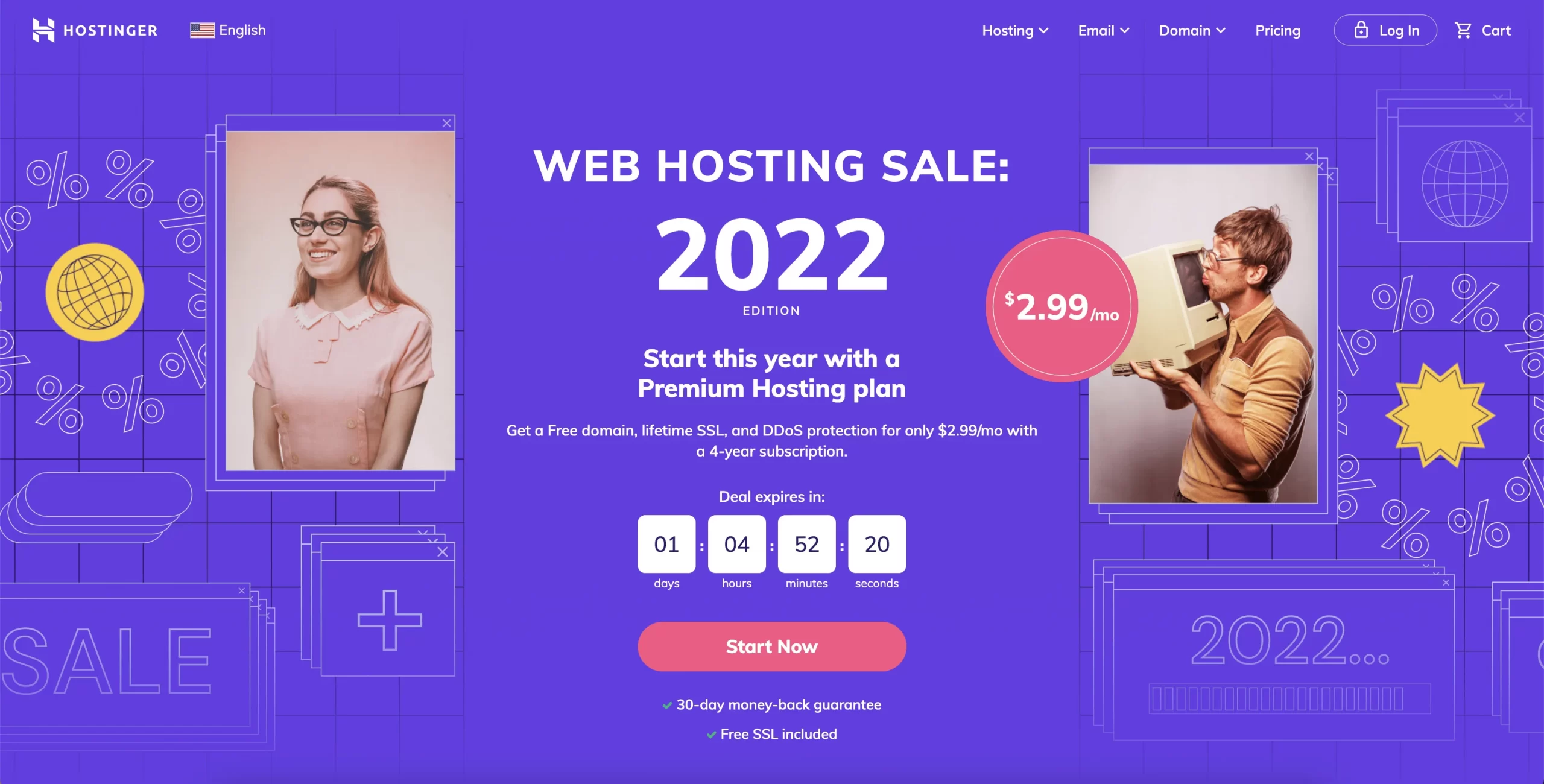 Hostinger is one of the fastest-growing providers in the market. Founded in 2004, Hostinger has now attracted more than 29 million in 178 countries. Their entire ethos revolves around providing customers a workable and affordable solution for their hosting needs. They offer a variety of plans, packages, and hosting types. Some of which are better than others.
Compared to other Magento hosting providers, Hostinger pricing plans are relatively cheaper. Yet, their services remain the same. Let's take a closer look at their pricing plans and features to see how they excel from others.
1. Pricing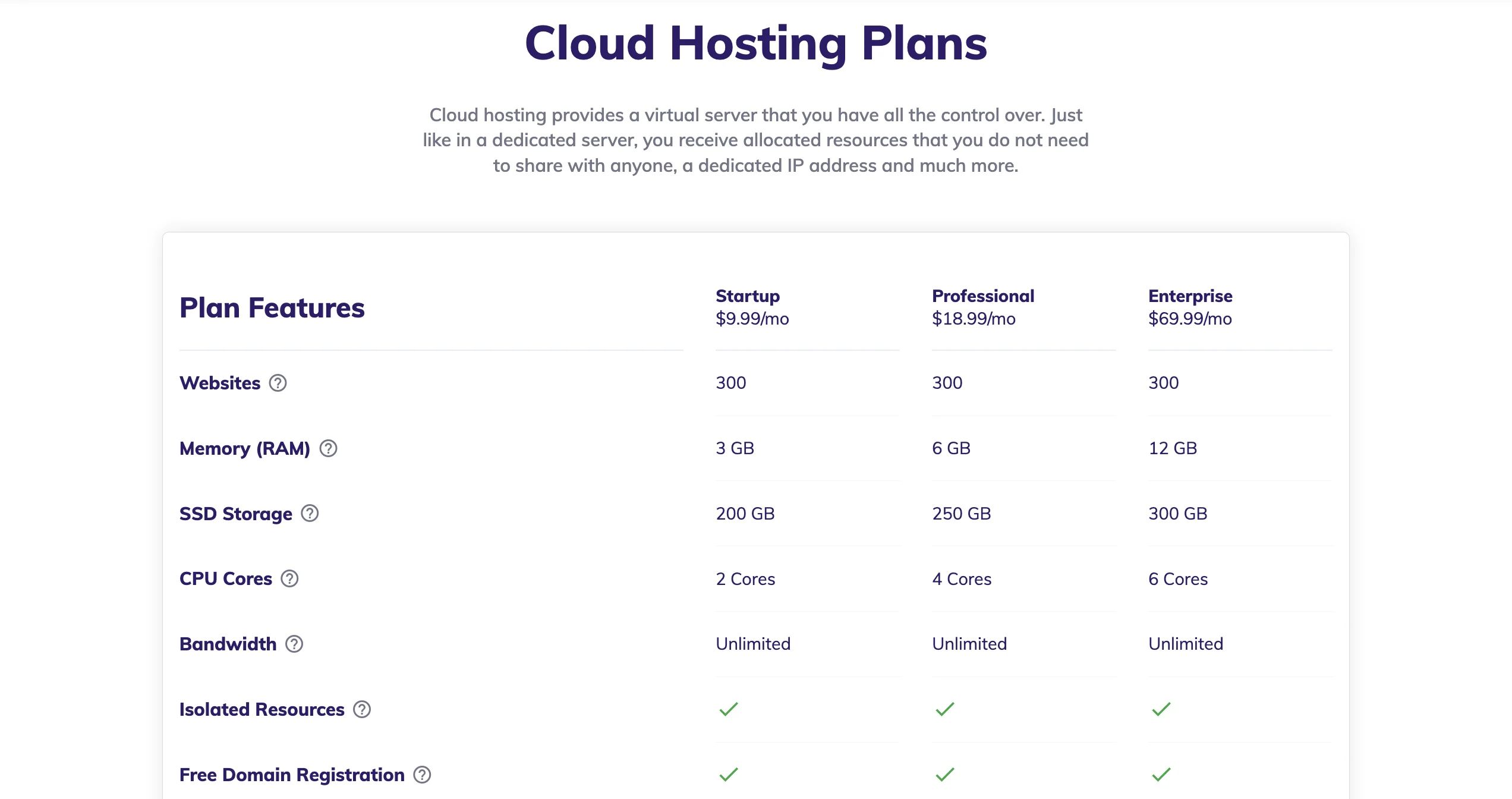 Hostinger offers Magento hosting on its cloud hosting plans, which all include unlimited websites, unlimited bandwidth, and one free domain name. There are three different cloud plans to choose from: Cloud StartUp, Cloud Professional, and Cloud Global. Hostinger pricing plan ranges form $9.99 to $69.99 per month.
Normally, a premium plan includes more advanced features than the starting plan. However, with Hostinger, you will be able to experience full service even with the lowest plan. Yet, the higher the plan you purchase, the bigger data storage you have.
Hostinger's low prices and its exclusive features make it become one of the most affordable hostings in the field. If you are new to eCommerce or have a limited budget, LitExtension highly recommend this Magento hosting provider.
2. Highlight Features
Speed Boost: 

This custom-built infrastructure by Hostinger allows you to optimize performance and increase loading speed by 4 times.

1-Click App Installer: 

This exciting function allows you to download 100+ apps in just 1 click. These extensions help add more advanced features to your e-store without any custom coding. Thus, many users are fond of Hostinger because of this function.

Uptime Guarantee: 

According to

Hostinger's server status reports, its overall uptime for the last 30 days (at the time of writing) was 99.961%, which is pretty in keeping with its guarantee of 99.90%.
3. Support
Though Hostinger is such a big name in the market, its support team is not as good as others. Currently, Hostinger is not providing support over the phone. Instead, you have to email them your questions or submit a request via Ticket. Live chat is also available 24/7/365 but it's pretty buggy. Moreover, it takes Hostinger a while to respond to your questions, which results in your site downtime.
While the technical support team can solve most Magento-related issues, the front-line agents are not Magento pros. Thus, you will be directed to different sources for further assistance. This kind of support system is quite annoying and apparently, it slows down your store performance.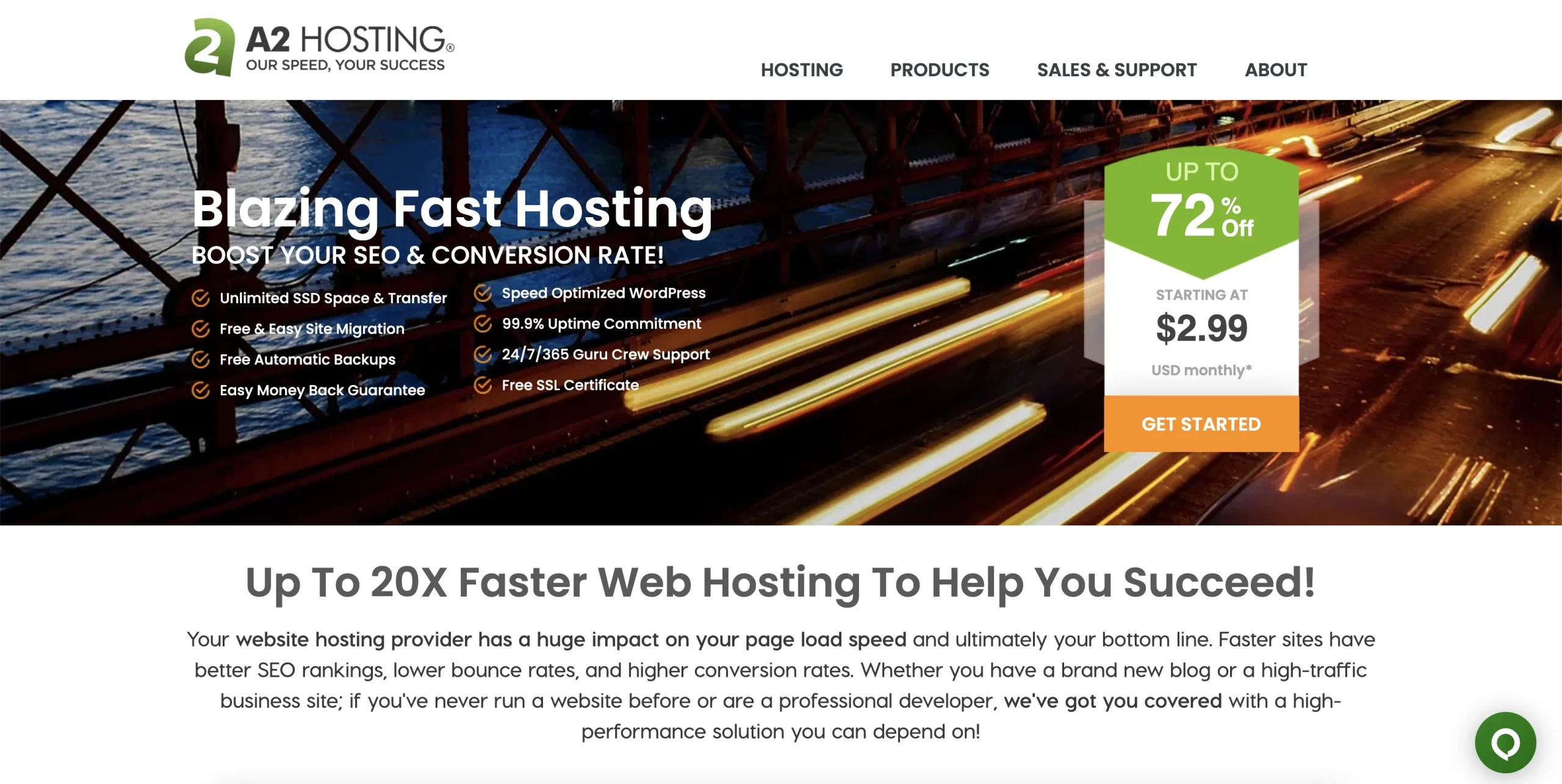 A2 Hosting has been hosting Magento sites since the platform was released in 2008. With its Turbo and Managed VPS plans, A2 Hosting guarantees to be a fast, secure and reliable Magento hosting. A2 Hosting is not the largest nor the most affordable Magento hosting provider in the market. But its ability to provide 20x faster sites than other web hosts and its in-house security initiatives are what set them apart.
1. Pricing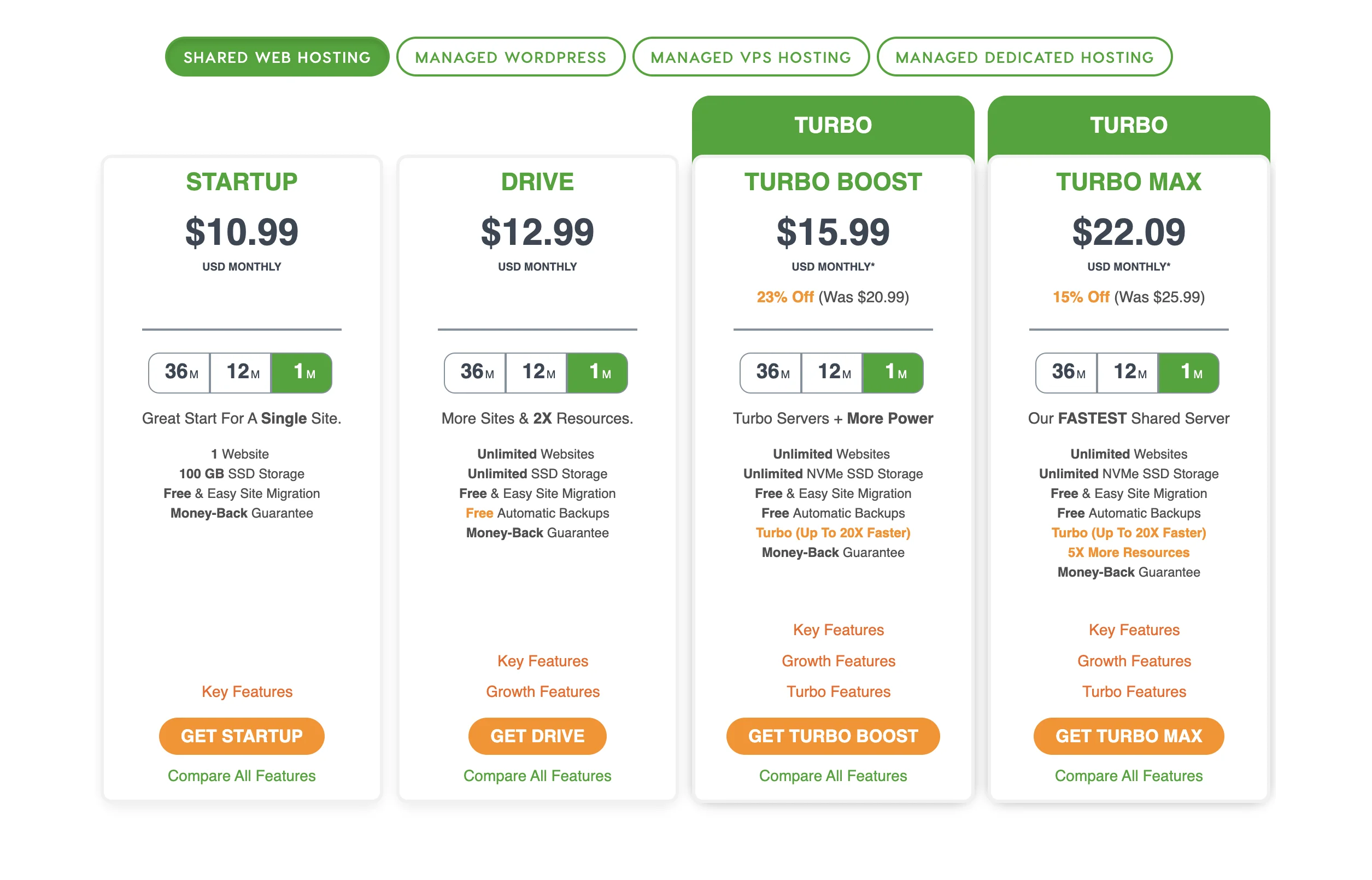 A2 Hosting currently offers 4 types of shared plans for Magento merchants: StartUp, Drive, Turbo Boost, and Turbo Max. You can choose 36-month payment, 12-month payment or 1-month payment. The longer duration you choose, the better price you will get! A2 Hosting monthly plan ranges form $10.99 to $22.09.
StartUp is great for 1 single site with 100 GB SSd Storerage, Free & Easy Site Migration. What it more, you are guaranteed with the money-back.
Drive comes with unlimited website and 2X resources. You will get a free automatic backups.
If you choose higher plan like Turbo Boost or Turbo Max , you can get access to unlimited website support with superb service such as 20X speed responding. Especially, with the Turbo Max – the fastest shared server, you can get X5 more resources!
Though these Turbo cloud hosting plans include all the must-have features for a website, its scaling ability is quite limited. As a result, you might have to move to VPS plans at some points. Unfortunately, A2 Hosting is currently not providing VPS plans for Magento.
2. Highlight Features
A2 Optimized: 

A2 Optimized provides auto-configuration so you get the best performance and most secure settings. That way you can instead turn your focus to building your site, writing content, and promoting.

Perpetual Security: 

This hosting plans come with free HackScan Protection, which blocks hacks before they can do damage to your site. The service also includes Reinforced DDoS attack protection. With this feature, your site will remain online during even the most sophisticated distributed denial of service attacks.

Turbo Features: 

Turbo features are A2 Hosting top selling points. These features are created to minimize your page load delay time. With Turbo servers, your website will experience the most speed-optimized servers with your choice of server location.
3. Support
A2 Hosting has always prided itself on superb customer service. Their support team is full of skilled agents, who are able to respond and solve your issues promptly. Currently, they offer a 24/7 support service. You can simply contact them via chat, toll-free phone line, and email.
The Knowledge Base section on A2 Hosting website is also a highlight for their service. It contains a pretty decent amount of tutorials and frequently asked questions. You can find a wide variety of information about how to set up a Magento website and some common issues just within this section. The only downside of the A2 Hosting website is its impractical UI. It might take you a while to get used to the A2 Hosting website and find things around.
A2 Hosting is a cost-effective deal for both companies and Small-Medium Businesses (SMB). What makes it one of the strongest web-hosting contenders is its amazing features (such as free SSL, one free site transfer, a 320ms speed, etc.) and its impeccable support and compatibility across different platforms ( Drupal, Magento, WordPress or  Joomla,,…

– Moru. R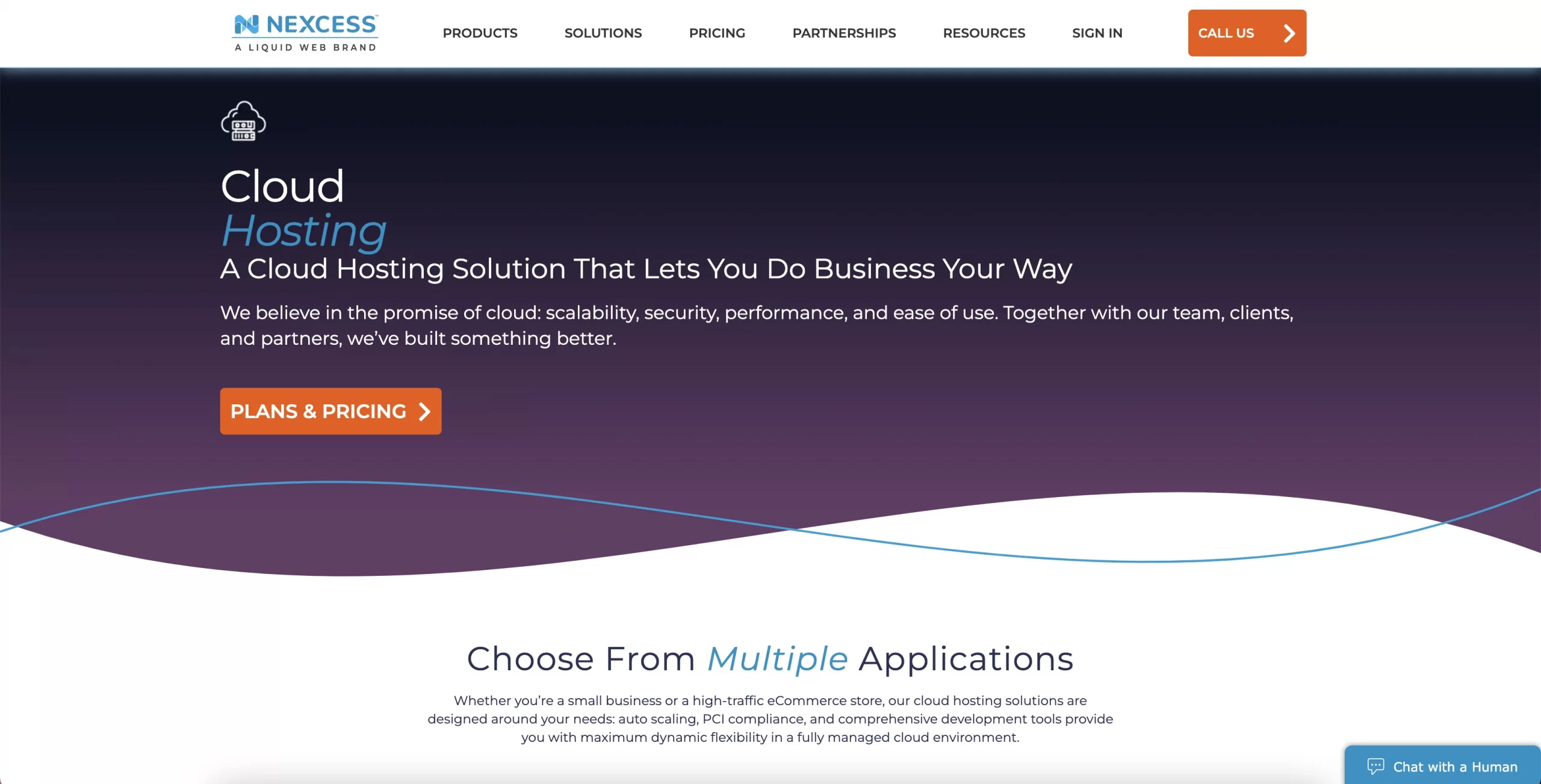 Nexcess has been offering web hosting services for Magento merchants ever since it started. It is a reputed service provider for Magento 2 hosting. Many Magento users regard it as the go-to managed hosting provider.
Nexcess gives its users the freedom to pick a package that matches their needs as well as the needs of their customers. Plus, the servers that Nexcess provides are very stable. Accordingly, you can seamlessly develop a Magento 1 or Magento 2 website in the blink of an eye.
1. Pricing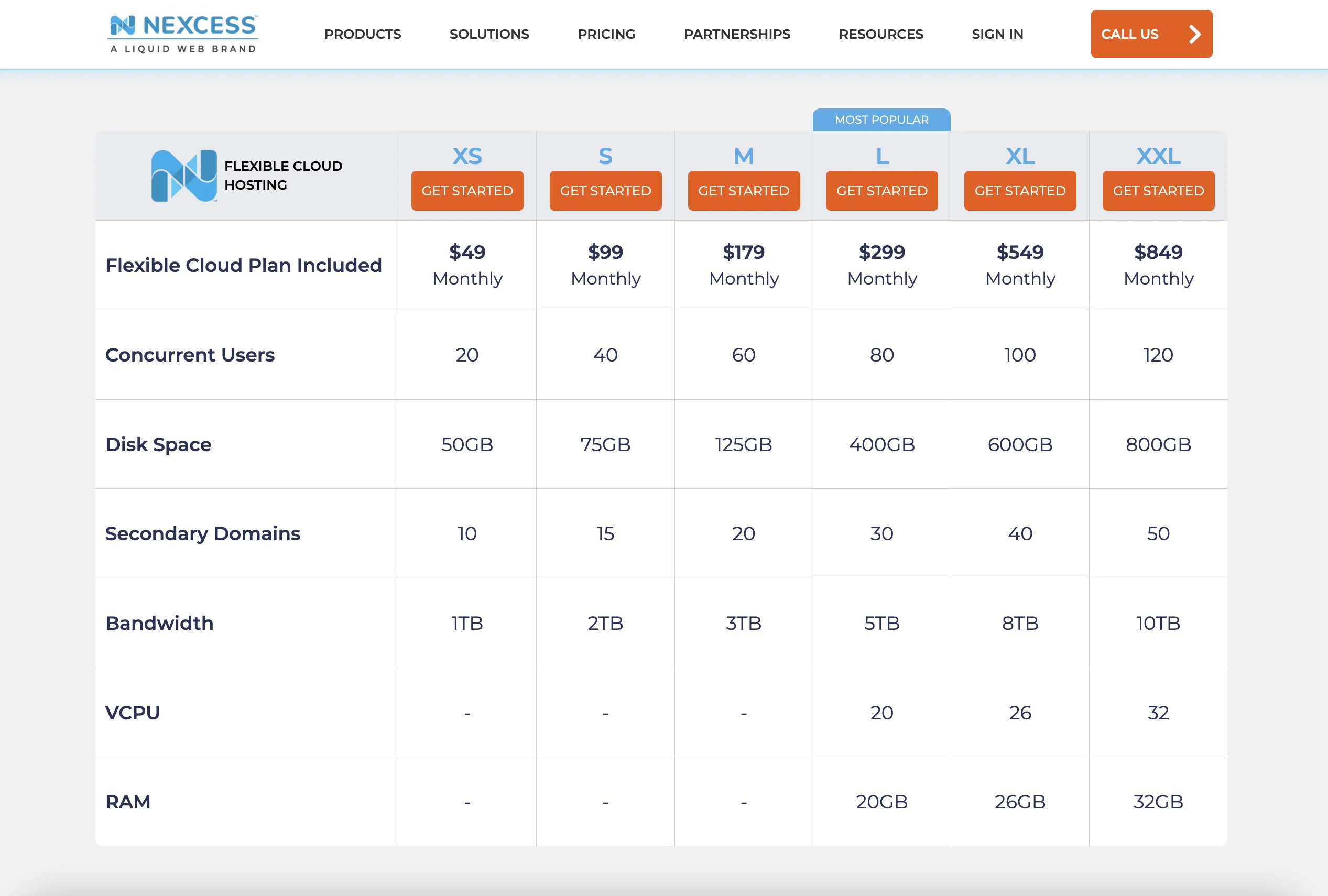 Compared to other 4 Magento hosting providers, Nexcess is extremely flexible in its subscribing plans. It offers 6 distinct plans ranging in price from $49/month to $849/month. These plans provide the same features in different volumes. The higher plan you purchase, the more users and disk space you receive from the provider.
While Nexcess's starter plan can handle 20 concurrent users only, the largest one can support up to 120 concurrent users. As you can see, there is quite a gap between the smallest and the biggest plan. Thus, make sure you are fully aware of these differences before choosing one that best matches your needs.
One thing that sets Nexcess apart from other Magento hosting providers is that the prices of its plans do not go up once you renew the plan. In other words, prices remain the same unless you upgrade your website to a higher plan.
Remember, there is no need to choose a subscription plan that is higher than your actual needs. You can upgrade your plan effortlessly with the help of the auto-scale feature.
2. Highlight Features
Auto Scaling: 

Autoscaling is a function that monitors your website and triggers a scaling event whenever traffic begins to exceed concurrent user capacity. If you are experiencing an extreme traffic spike, you can try Nexcess' Advanced Auto Scaling at the price of $90/month to prevent crashes or a reduction in speed

Development Site: 

This helps you test changes without affecting your production site. I highly recommend you use this function to have an overview of what your website would look like after the upgrade and avoid making unwanted changes.
3. Support
On top of flexible subscription plans, Nexcess is also popular for its dedicated support team. They are all Magento professionals and are able to support you 24/7.
When looking for support, normally, you have to contact the frontline support team. They will then reroute you to in-house Magento experts. This process is quite time-consuming and ineffective. With Nexcess, on the other hand, you can contact their Magento professional from the get-go. This eliminates any unnecessary waiting.
For Magento beginners, Nexcess's Knowledge Library is truly a valuable resource. It contains all the detailed instructions that you need to know when setting up and managing your Magento store. Furthermore, it keeps you updated with the latest Magento news.
Want to migrate to Magento?
If you are intending to migrate to Magento, LitExtension offers a great migration service that helps you transfer your data from the current eCommerce platform to a new one accurately, painlessly with utmost security.
---
Final Words
To sum up, each provider has its own strengths and weaknesses. Thus, you had better figure out your top priority then compare them to what your providers have to offer. All factors, including prices, support, and features, should be taken into consideration when making your decision.
Don't pressure yourself! All Magento hosting providers listed above have a money-back policy. So, if you don't feel comfortable with one, it's totally fine to switch to another provider.
As you can see, from the list above, many top-notch hosting providers are supporting Magento (Adobe Commerce) with their incredibly handy features. Thus, you can move your store from any platform to Magento to get the most out of these host services. If you are on a hunt for a Magento migration solution, let LitExtension be your partner!
As a world-leading shopping cart migration expert, we have successfully performed more than 200,000 cart migrations for over 100,000 customers all over the world. If you are uncertain about the migration process, you can try our FREE DEMO. Should you have any further questions/ comments, feel free to contact us via LiveChat or email.
Don't forget to join our dynamic Facebook Community to gain more insights and connect with other eCommerce fellows!