Overview
In a technology-dominated world with the prevalence of the internet, shopping online has recently become an accelerating trend universally. In order to completely satisfy customers' demands, the shopping site should be built on a potent platform supported by loads of functionalities. Among the multiple platforms out there, Shopify vs Shopify Plus are widely praised as two of the outstanding platforms. However, not everyone really arrives at a radical understanding of them. In this article, I will be providing you:
A rudiment about Shopify vs Shopify Plus
Detailed analysis of notable features (Pricing Plans, Customer Support, and e-commerce features)
Should you upgrade to Shopify Plus?
If you are looking for a quick Shopify tutorial video that is going to guide you through all primary steps to set up a Shopify store from scratch, check out this video:
Commonly, Shopify is a wise choice for small, medium, and large businesses in the light of its affordable cost and efficiency. Whereas, Shopify Plus is the icing on the cake for enterprise-level businesses as they need a more high-powered platform to cater to their enormous business.
Currently, Shopify owns nearly 1,4 million stores, which is an impressive number. Meanwhile, there exist more than 5,5 thousand live websites harnessing Shopify Plus.
Don't miss the golden chance to experience one of the most powerful e-commerce platforms in 14 days. And you can have a deeper insight into this incredible platform with Shopify Review 2020 – A Thorough Analysis By LitExtension. Now, let's dive deeper into the head-to-head comparison of Shopify vs Shopify Plus.
Pricing plans
Regarding pricing plans, you have a couple of options to choose from for the best suitability. Three world-famous plans are Basic Shopify ($29/month), Shopify ($79/month), and Advanced Shopify ($299/month). The higher fee you pay, the more helpful features you will get in Shopify, namely professional reports, advanced report builders, or third-party calculated shipping rates. These features surely will facilitate your business management.
Besides, you have to cover the domain name along with the transaction fee. The domain name will cost you $14 annually. In terms of the transaction fee, you are supposed to pay 30 cents per transaction if using Shopify Payment and a credit card rate from 2.4% to 2.9%. Or else, you have to pay a transaction fee ranging from 0.5 to 2% plus the credit card rate required by the payment processor you chose.
While you can have a crystal clear view of how much you have to pay in normal Shopify plans, with Shopify Plus, direct negotiation is required. You can compromise the deal with Shopify Plus by tapping the "Get Pricing" button and fill in the contact form to get the exact quotation. Retailers will pay at least $2000 per month based on their sales volume. However, if you achieve $800,000/month in sales, their charging system will turn into a revenue-based model. You'll pay 0.25%, but not more than $40,000 of your monthly revenue.
The transaction fee on Shopify Plus can be negotiated in accordance with your sales volume and the reliability of your store. With Shopify Payments, in the United States, you'll pay 2.15% + $0.30 for each transaction on domestic Visa and MC. For AMEX and international cards, you will have to pay an extra fee of 1%. Other 3rd party payment gateways, such as PayPal, 2Checkout, Skrill, will charge you 0,15% of an extra fee. Please note that these fees vary by country.
As you can see, the transaction fee is not comfortable at all. However, you can negotiate with Shopify Plus to come down to a suitable amount of charges depending on your sales volume and number of customers.
Support
One of the key reasons that more than 1,4m e-store owners trust Shopify vs Shopify Plus to set the very first brick for their businesses is the platform's excellent customer service. Along with fantastic help centers that are always kept up-to-date for you to search for information, you can get assistance from users and experts all over the world by joining its huge forum.
Shopify also arms you with 24/7 live support via phone, email, and live chat. The live chat is definitely the profound difference between Shopify and other e-commerce platforms. Round-the-clock support is absolutely helpful. It's so convenient that you can also look for the solution for your questions through social media platforms, such as Facebook, Instagram, and Twitter.  The less time you are in trouble, the more time you have to rapidly expand your business.
Shopify Plus offers you the same support and some other exceptional merits. What you receive from Shopify Plus is unwavering personal support called Launch Manager, who will get your business ready within 90 days or less. Then Merchant Success Manager will take center stage in fully exploiting your potential with the expert strategy and support. Apparently, they make a substantial contribution to your success with detailed guidance on how to optimize Shopify Plus, strategic coaching, and prediction coupled with analysis of industry trends.
Themes and design flexibility
On both Shopify vs Shopify Plus, 73 themes are available. Bear in mind that, besides 9 free themes, the rest of the themes' prices range from $140-$180.

Shopify allows you to change the theme and employ Liquid – an open-source template language to edit HTML or CSS. This means you need a basic understanding of Liquid coding to make the custom edits. Don't despair, step-by-step instructions are always ready for you.
Moreover, several themes are available in various languages. So if you desire to build up an online store for a target audience in a specific country, you can do so with English, Spanish, French, German, Italian, Japanese, Brazilian Portuguese. Customers tend to stay longer on the site with their native languages as they can comfortably explore your site, provided items, or services.
However, with the assistance of Shopify Plus, the Launch Manager is in charge of writing code and making custom edit for you. In this case, a dedicated Launch Manager will save enterprise-level businesses hundreds of bucks and a great deal of time.
Another superiority of Shopify Plus is that it allows you to utilize Script Editor to customize your checkout page, which is not available on other Shopify plans.
Defined as small pieces of code, Shopify Scripts let you create personalized experiences for your customers in their cart and at checkout. There exist 3 sorts of scripts you can generate, which are Line item scripts, Shipping scripts, and Payment scripts. You can:
change the discount for specific products by both percentage and fixed discounts;
run promotions; offer prices based on the volume;
alter, hide, reorder shipping options, and price and payment gateway methods.
The personalized checkout page will bring a more satisfactory experience to your customers on your site.
Shopify Plus also enables merchants to deploy bot challenges on the checkout page. Once you activate this, customers will be required to prove that they are human before they purchase their orders. Bot challenges are essential when you stage an online event to avoid robots or opponents' clicks.
eCommerce features
1. Internationalization
Multi-Currency
Understanding the demand to attract international customers of Shopify merchants, since 2019, Shopify has launched the ability to sell in multiple currencies with Shopify Payments to not only Plus merchants but all of its users. This means your online store can change the currency displayed for your items depending on where the customer is. Additionally, customers can get refunds in local currency. This brilliant idea opens the door for merchants who intend to sell globally since it facilitates customers' payment process. Fortunately, the list of supported currencies is now up to 133 ones, so almost everyone can access your products without any barrier.
On Shopify's core plans, customers can select the local currency from a currency selector added in your theme or you can use the Shopify Geolocation app to support your customers' local currency switching process.
The conversion charge will be applied to the final price and converted automatically, depending on the foreign exchange rate.
While your customers have to select the proper currency manually on Shopify, Shopify Plus automatically selects the appropriate currency for buyers based on their IP addresses.
What's more, Shopify Plus allows you to customize the rounding rules on your store after the system converts the origin price into a target currency. With Shopify Plus, you have tighter control over selling with multiple currencies in your store.
Languages
Currently, Shopify doesn't support other languages rather than English. Therefore, to make your dream of international business come true, you have to meet some requirements to set your store in different languages.
Install a third-party language translation application, such as Langify
A theme that supports multiple languages. At present, all nine free themes allow you to display your store in multiple languages. Update your theme and make use of this helpful feature. In case a theme provided by a third-party is used, you can contact the theme developer to find support.
A theme that is designed with a language selector. Currently, only the latest versions of Express, Brooklyn, and Debut themes are endowed with built-in language selectors. Hence, if you are deploying another theme or an older version of the theme, you can make full use of the Geolocation app by Shopify to add a language selector.
An easily seen difference between Shopify vs Shopify Plus is that Shopify allows you to translate your store into 5 languages only while Shopify Plus supports up to 20 ones so far. Transparently, the more languages you translate your store into, the more customers you will get.
Tax
Shopify eases your worry of tax with a built-in tax engine that is able to carry out the common sales tax calculations automatically. You can also set tax overrides to deal with specific tax regulations and particular circumstances.
Even though Shopify applies various default updated sales tax rates, you still have to check it again to make sure that they are up-to-date and correct for your situations. Shopify allows you to override them whenever necessary.
However, Shopify will not file for you or remit your sales taxes. To administer your sales tax you may need to register your company with the state or federal tax authority. Shopify's calculations and reports will be a great help when it's time to file and pay your taxes.
On the other hand, Avalara AvaTax automatically calculates and files tax on Shopify Plus plans for you.
Avalara AvaTax is a paid service that is only available for Shopify Plus plans. After registering for Shopify Plus, you can purchase Avalara AvaTax. Once you activate Avalara, you can find it in Shopify admin to start charging taxes. Avalara AvaTax is compatible with both Shopify POS on Android and iOS devices.
Avalara AvaTax is helpful in:
collecting accurate and up-to-date tax codes from more than 12,000 jurisdictions
modifying a set of tax rules to satisfy your business's demand.
producing accurate reports of your business's taxes
Despite some minor disadvantages, merchants report that Avalara AvaTax is cost-effective.
2. Wholesale channel
Wholesale makes an enormous contribution to the increase of your sales and expansion of your business in a short amount of time. Luckily, Shopify enables you to sell your products wholesale. It offers a variety of ways to wholesale your products, from using discount codes to opening another store.
You have the same solutions of wholesale applied for Shopify Plus. However, you can benefit more from this version as it can help you to build up a wholesale channel separate from your Direct to Customer (DTC) sales. Since this channel is based on your existing store, you display the same products at exclusive discounts to wholesale customers. You can also sell wholesale-only products on this channel.
Laird Superfood took advantage of Shopify Plus to go wholesale and grow its brand tremendously. "Being able to automate the wholesale process changes how we build our team," said CEO Paul Hodge. "It just solves so many problems."
3. Integration
Any merchants can expand their stores on Shopify vs Shopify Plus by employing API to integrate with several apps. API plays an integral role in interoperating with other systems and platforms to add innovative features to Shopify and Shopify Plus.
All Shopify APIs are rate-limited to remain stable and fair for every merchant. There are slight differences between Shopify vs Shopify Plus in integration. You can figure out with the table below: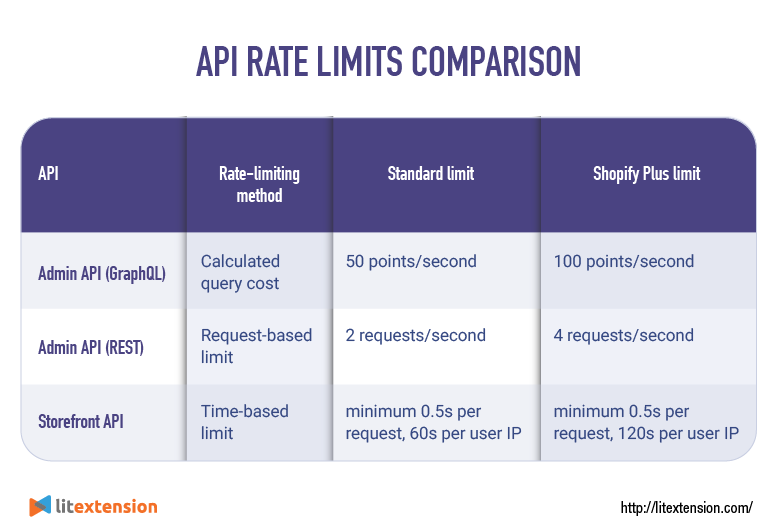 With the doubled API call limit, Shopify allows you to seamlessly integrate some third-party platforms you're already using such as Product information management (PIM), Enterprise resource planning (ERP), Inventory, and order management (IMS and OMS)…
4. E-commerce Automation Tool (Shopify Plus Sales Features)
Shopify Plus exclusively offers you two management tools that can make a huge difference from Shopify. With the assistance of these tools, your business catering process becomes exceedingly straightforward and effective.
Launchpad is an automation tool that allows you to handle tons of event tasks to launch your business impressively. You can use Launchpad to schedule, coordinate and execute events such as sales, product drops, and restocks of inventories. You can monitor the performance of an event progresses by viewing the real-time, analytic dashboard of the app.
Basically, Shopify Flow enables you to set up automation for all facets of your business, including customer service, marketing, inventory tracking, order management, risk management, and more. In a couple of minutes, you can personalize the most common workflows of Shopify Plus on your own. You can select templates grouped by different areas of your business by visiting Shopify Flow's Templates page. It's easy to pick and start simplifying your workload straight away. With the benefit that Flow offers, you can effectively cater to your business with less time since it automatically set everything for you.
5. Analytics
Shopify serves its own dedicated analytic dashboard. The live reports will illustrate a broad picture of your up-to-date business's sales and customer data. The higher fee you pay the more detailed reports will be provided. Take a brief look at the table below to know how many reports you have with your current plan.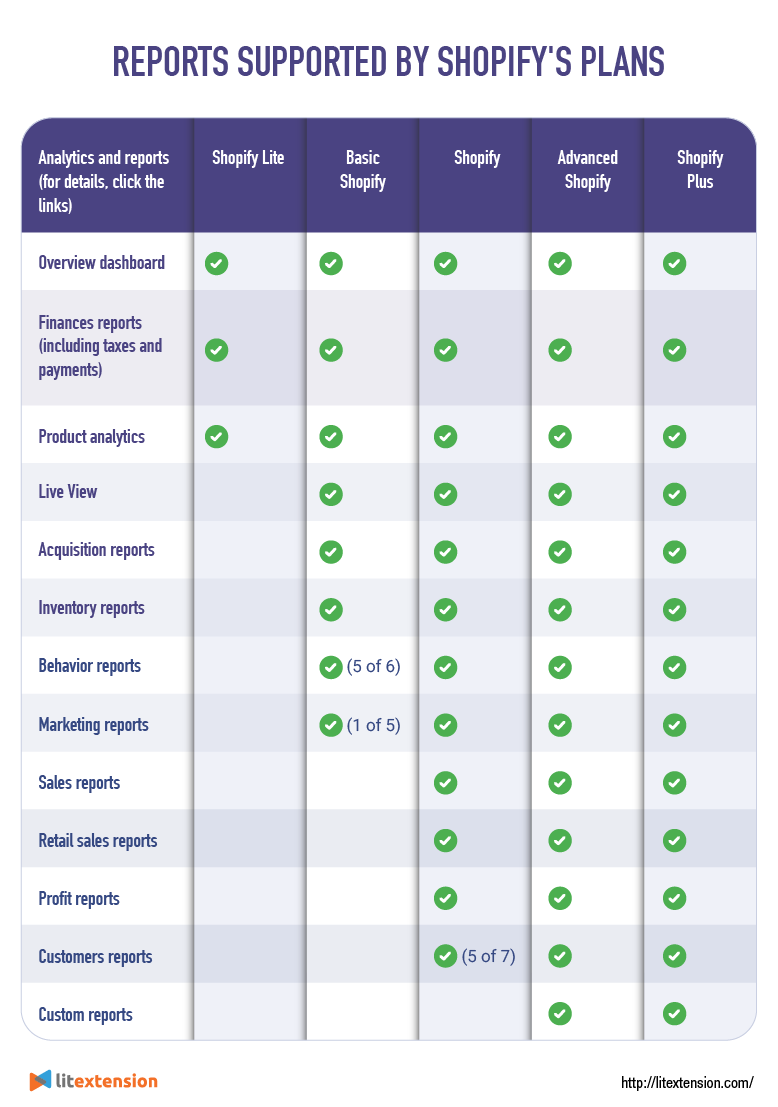 You may notice that there's no difference between Advanced Shopify vs Shopify Plus. However, Shopify Plus has an edge here. Glew and Looker, who are Shopify Plus partners, are two of the leading analytics companies. They do not only give you up-to-date data but also expert data and insight. Collected information will be the game-changer since you can completely employ it to grow your business massively.
So, should you upgrade to Shopify Plus?
With superior features and functionalities, Shopify Plus is doubtlessly the most suitable platform for your enterprise-level business. If you are weighing the pros and cons of Shopify's plans, don't forget to consider the giants in the eCommerce industry, Shopify Plus, which will significantly boost your sales and facilitate your store management process with all the robust functionalities. Shopify Plus will surely alleviate all of your burden of workload while you run a business.
Shopify vs Shopify Plus – Conclusion
In the final analysis, it's apparent that the three core plans of Shopify are certainly an appropriate choice for you to kickstart your online business if you're catering to small, medium, and large businesses. The reason is that it's quite easy to approach and it offers every necessary thing for your business to thrive at reasonable prices.
At the same time, Shopify Plus is the cream of the crop in terms of its professional support, high customizability, and powerful functionalities. Even though the price is much higher than Shopify's core plans, it's totally cost-effective since Shopify Plus minimizes the time, labor force, and workload. With all of these features above, Shopify Plus arms your enterprise-grade business with the optimal factors to sustainably develop.
If you are planning to upgrade from Shopify to Shopify Plus, LitExtension is always here to give you a hand. With our help, re-platforming is a piece of cake. We offer an advanced automated migration tool that transfers all your data to another platform quickly, with a high level of security and accuracy.
To experience yourself, free Demo Migration is available. Spend a couple of minutes to check how the process works. Should you have any questions, please feel free to contact us.
You can also join our Facebook Community to get more eCommerce tips and news.