Choosing the right platform to build and manage your online store can be a critical factor for success. BigCommerce is a popular choice for businesses of all sizes, but sometimes this platform may not be the best fit for everyone. If you plan to find a more suitable online selling solution, here is our list of the best BigCommerce alternatives for you to make a more informed decision.
In this blog post, LitExtension – #1 Shopping Cart Migration Expert will explore BigCommerce alternative platforms that can offer similar features and benefits to help you grow. These are the main points to help you navigate through our article:
Whether you're a small business owner or a growing enterprise, if you're looking to switch from BigCommerce to another platform or want to know your options, keep reading!
---
BigCommerce Overview
1. What is BigCommerce?
BigCommerce is a cloud-based eCommerce platform that allows businesses to create and manage their online stores. It offers a range of features and tools for designing, selling, and shipping products, as well as organizing payments, taxes, and customer orders.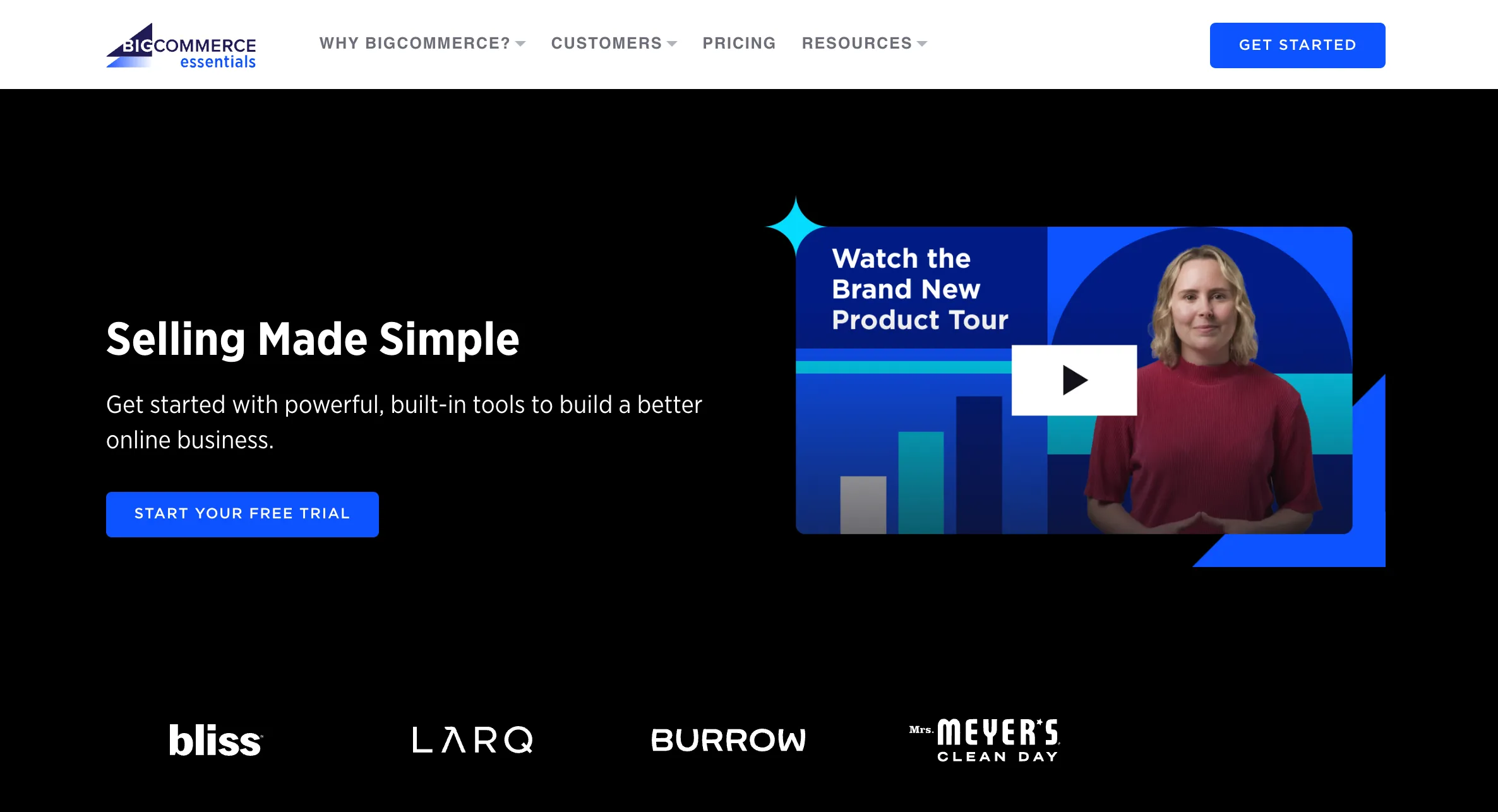 BigCommerce supports a wide range of products and businesses, from small startups to large enterprises. More than just a regular 24/7 customer service, this platform has acquired a large BigCommerce community to assist sellers with practical answers.
With superb features such as SEO optimization, mobile responsiveness, and integration with popular sales channels like Amazon, eBay, and Facebook, BigCommerce is an all-in-one solution for online businesses of all sizes.
Dig deeper into what BigCommerce can offer!
2. Why you may need BigCommerce alternatives
While BigCommerce is a highly-regarded eCommerce platform, sellers still need to consider other alternatives to pick out the best one for their business.
Some of the problems online sellers may experience while using BigCommerce include:
Pricing: BigCommerce can be more expensive than other eCommerce platforms. This is especially correct applying for businesses with high sales volumes or advanced customization needs.
Limited design options: While BigCommerce offers a decent range of customizable templates, some users may find it more difficult to search for the right design compared to other platforms.
Third-party app limitations: While BigCommerce has a large app store, some apps may be less comprehensive and well-supported.
Thus, having a list of platforms that can act as BigCommerce alternatives will help store owners solve these problems and manage their businesses more efficiently.
---
Top BigCommerce Alternatives to Consider
So what are the notable BigCommerce competitors that will make a great substitute platform? Let's check out these BigCommerce alternatives and decide for yourself!
Shopify is a hosted platform designed with ease of use in mind. With its user-friendly interface, customizable design options, and robust feature set, Shopify is a top BigCommerce alternative for businesses looking to start or grow their ecommerce presence.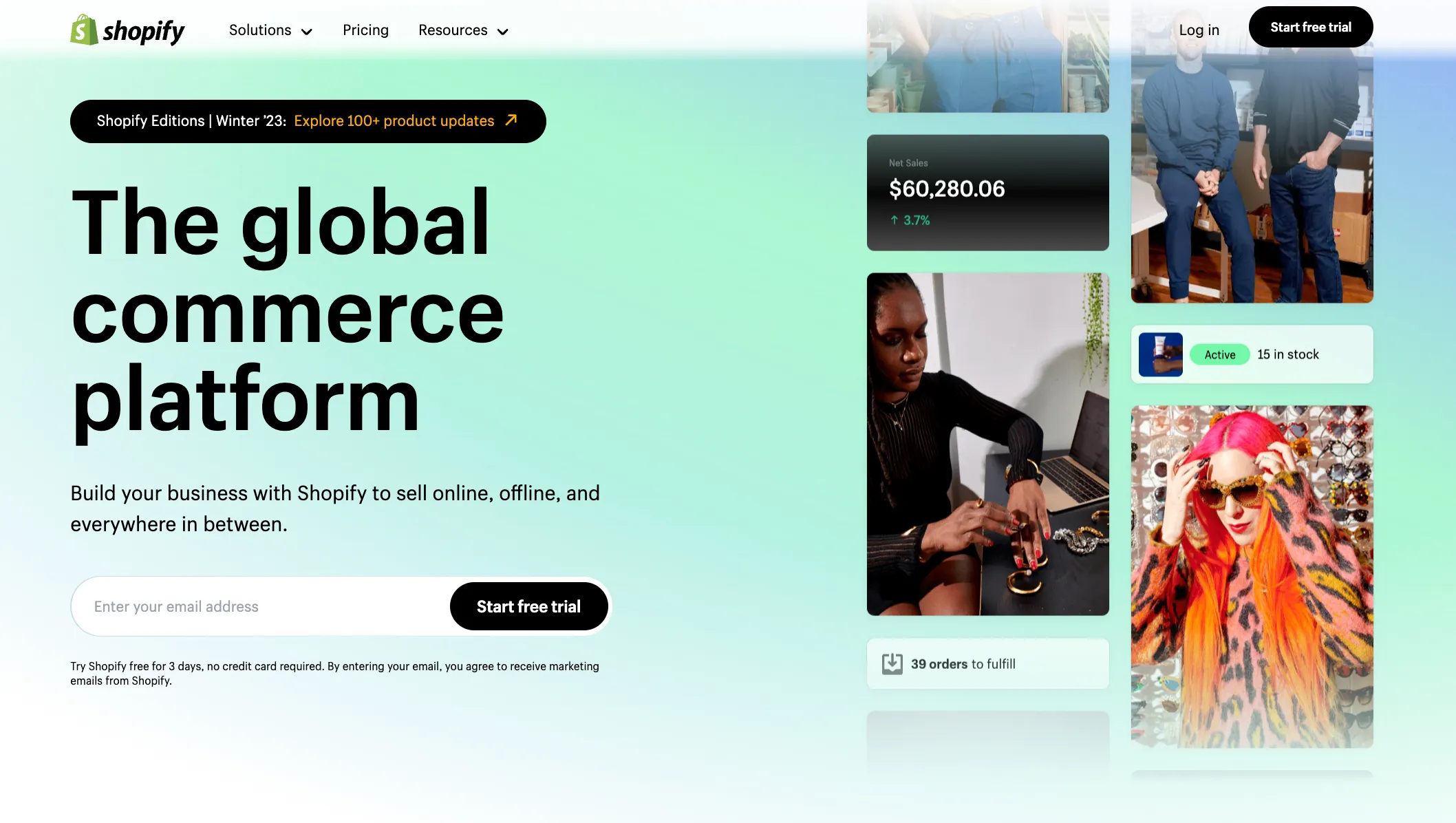 This eCommerce solution makes it simple for businesses to manage their products and offer their customers a seamless shopping experience. A key feature of Shopify is its built-in payment processing system, which allows you to accept payments from a variety of sources, including major credit cards, PayPal, and more. Additionally, Shopify offers powerful analytics and reporting capabilities, allowing you to track sales, customer behavior, and other key metrics to grow your business.
Compared with BigCommerce
Shopify offers a matching range of robust features with BigCommerce, including customizable themes and a powerful backend system. However, most people recognize Shopify for its optimized user-friendliness. For this reason, it will be a suitable BigCommerce alternative for businesses that are just starting out. There are also more pricing plans to choose from, making Shopify a more budget-friendly hosted solution.
Shopify also offers an app store with the widest range of third-party apps and plugins to extend its functionality. Using this platform, you can freely and easily grow and scale your business without limits.
Read on for a more detailed comparison: BigCommerce vs Shopify – battle of the two giants
Wix eCommerce is another website builder that is among the best BigCommerce alternatives on the market. One of Wix's most outstanding features is the beginner-friendly drag-and-drop editor and its wide selection of beautiful templates.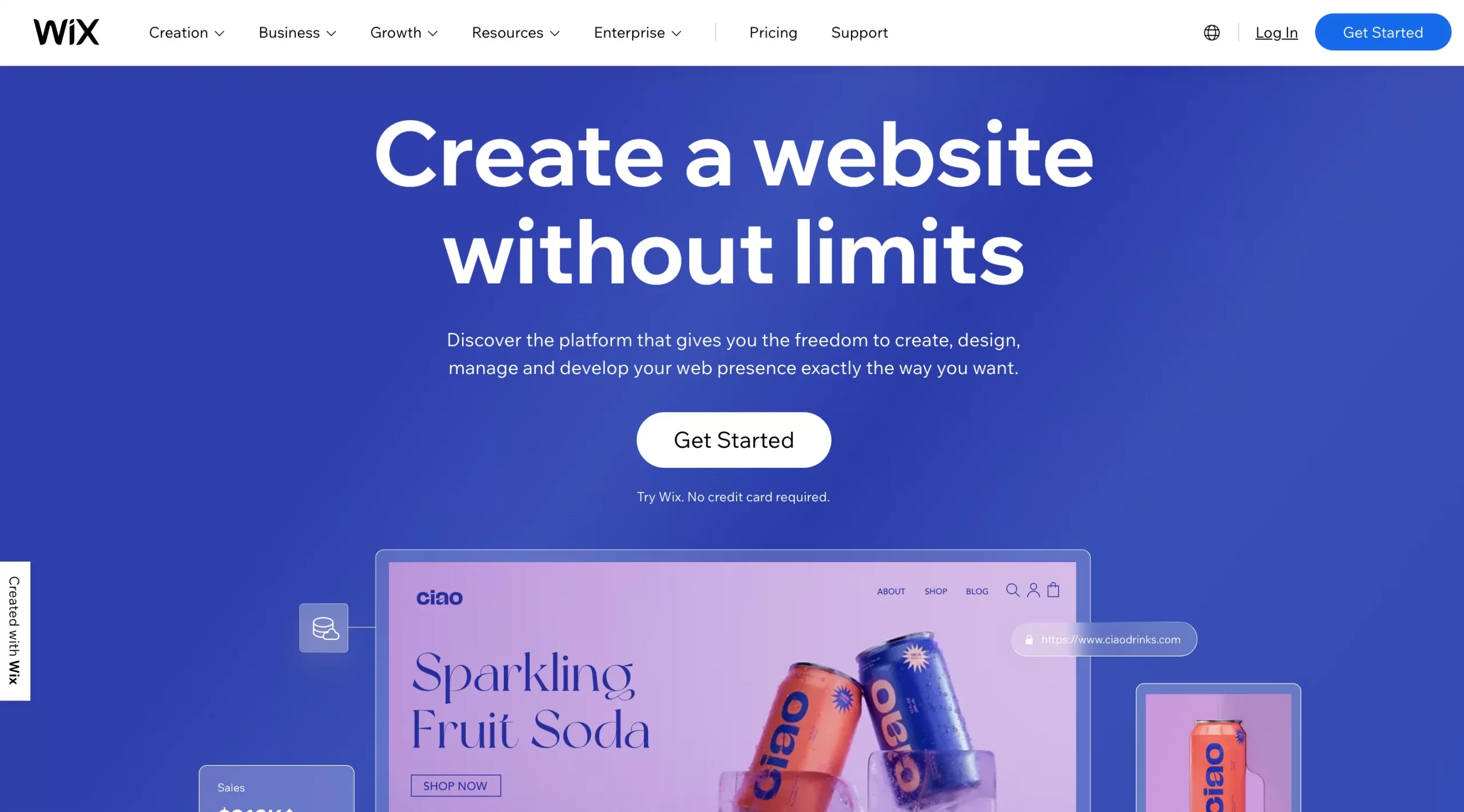 Wix eCommerce brings its users many exciting features. These range from optimized shopping and payment experiences for customers to business and finance management tools and more. Wix even offers order tracking and shipping integrations with popular carriers like FedEx and UPSAll in all, it's a formidable BigCommerce competitor on the market.
Compared to BigCommerce
In terms of pricing, Wix is more affordable than BigCommerce, with plans starting at just $23/month. At the same time, with its wide variety of free themes, Wix is ideal for new users, creatives, and small businesses. 
If you're about to choose Wix, don't forget our selling on Wix guides for a full-fledged eCommerce store!
WooCommerce is a popular eCommerce platform that is built on top of WordPress. If your business is already operating a WordPress-based website and now want to sell on that same site, you can not miss out this platform. WooCommerce is free to install, but businesses will need to pay for hosting fees and any additional plugins if they want to increase their website functions.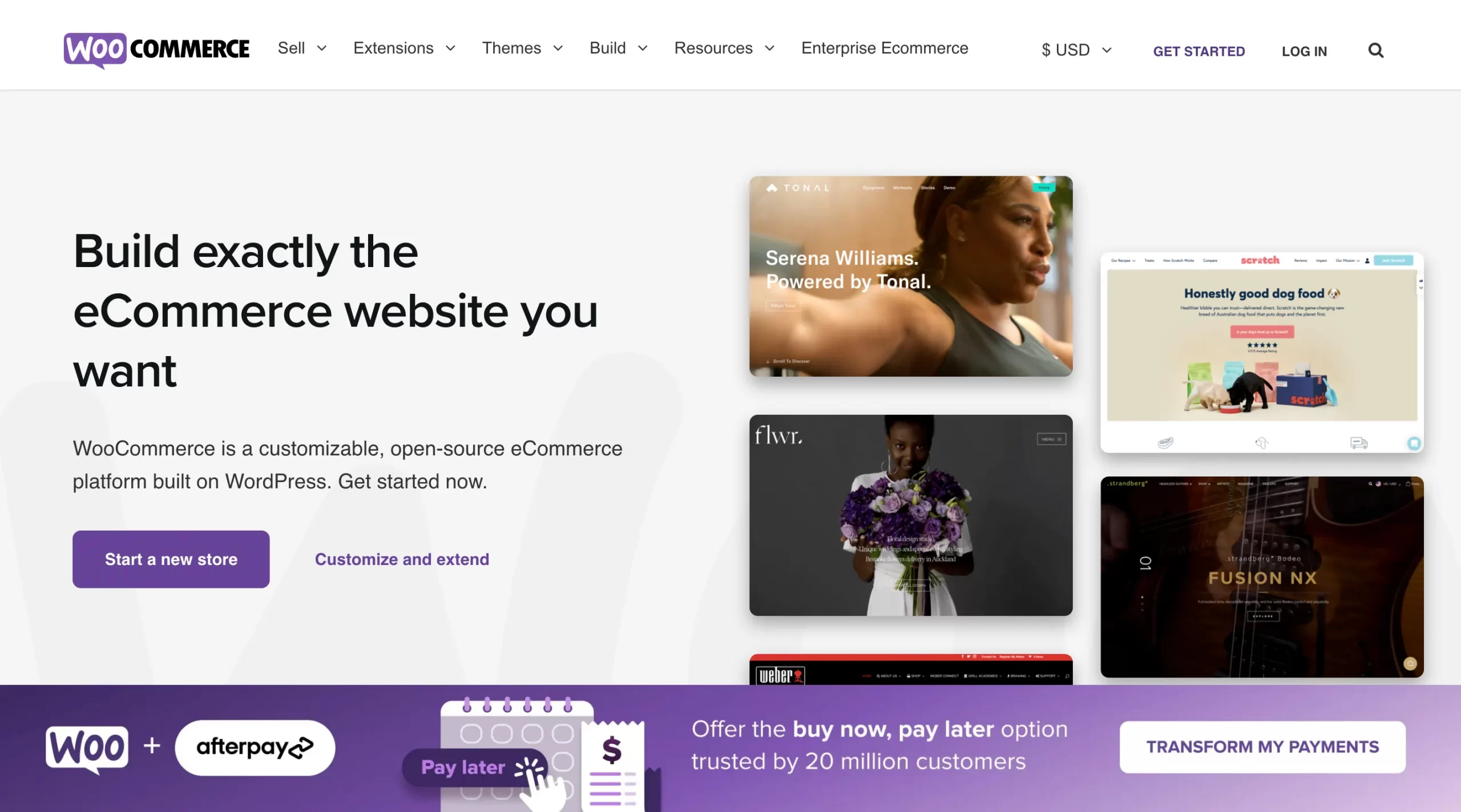 Using WooCommerce, you can easily create a customized eCommerce store that meets your specific needs. More specifically, you will be able to add functionality and features through a vast library of plugins and extensions. What's more, its integration with WordPress allows you to leverage the power of the world's most popular CMS to manage your online store.
Compared with BigCommerce
In the battle of BigCommerce vs WooCommerce, WooCommerce can also offer a wide variety of eCommerce functionalities. But WooCommerce comes with the advantage that you'll gain full control over your website customization. There are thousands of free and paid WooCommerce extensions available for you to freely add to your online store as you like. WooCommerce themes are also more diverse in number. Plus, it can be edited more profoundly than BigCommerce's templates.
For those of you who have a tight budget at the beginning, WooCommerce is an ideal choice. This is because the price range depends on the number of plug-ins you add.
Magento (now Adobe Commerce) is a powerful online selling platform designed for large and enterprise-level businesses. Most thriving businesses prefer this platform as they need more advanced functionality and customization options.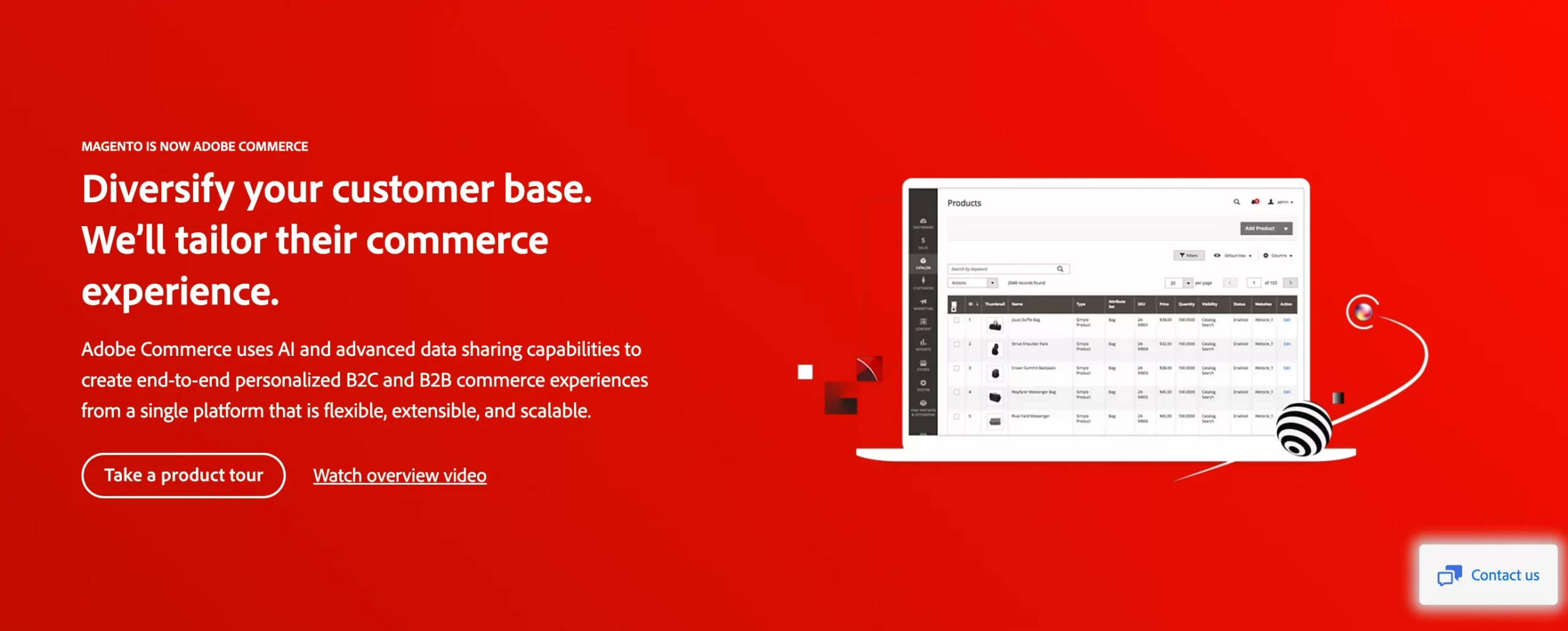 Magento offers a set of powerful tools to efficiently and seamlessly manage orders, process payments, and ship products to customers. Additionally, Magento provides a range of built-in marketing tools, including personalized promotions and targeted email campaigns. To this extent, businesses can effectively drive traffic and increase sales.
Compared with BigCommerce
For store owners with sufficient technical knowledge, they can take more advantage of Magento (Adobe Commerce). Merchants with a tight budget can make use of Magento free version. This allows them to add only the necessary functions and manage their business more cost-effectively.
As an open-sourced platform, Magento will also let you control and customize your store in a more in-depth manner. Therefore, in the Magento vs BigCommerce comparison, this platform is a wonderful BigCommerce alternative if you have a large business that requires more tailored functions.
Volusion is an all-in-one eCommerce solution that offers a variety of effective features. Thanks to these, you will be able to run your online store in a breeze. The platform has been around since 1999, making it one of the oldest platforms in the game. It offers an easy-to-use website builder with robust inventory management and comes with built-in SEO tools.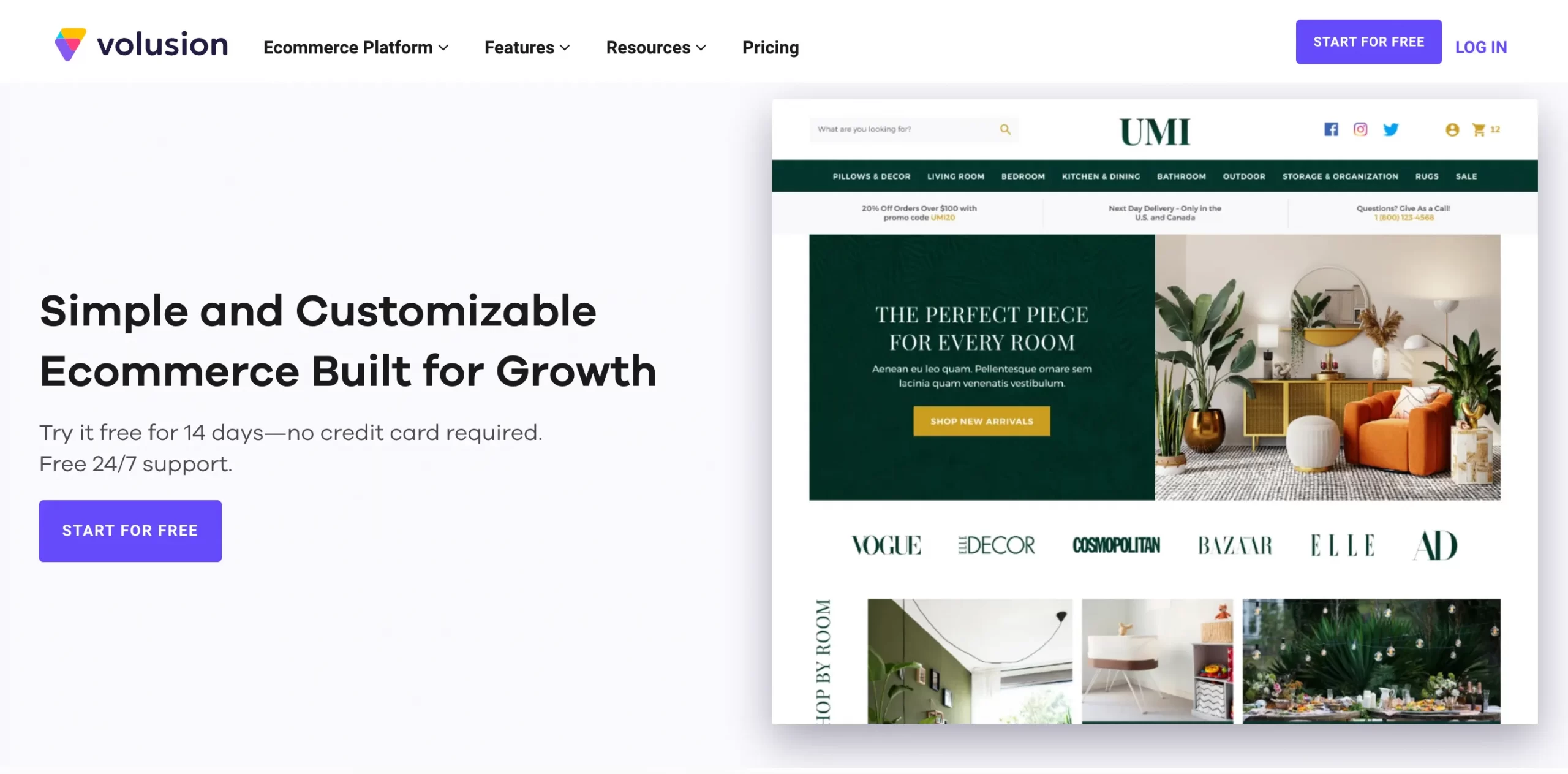 With Volusion, businesses can easily create and manage an online store, process payments securely, and provide their customers with a seamless shopping experience. Moreover, Volusion offers a decent range of themes and templates to choose from, with options for customization.
Compared with BigCommerce
One of the biggest differences between Volusion and BigCommerce is the pricing structure. Volusion has a tiered pricing model that's based on the number of products you sell. While at the same time, BigCommerce charges a flat monthly fee regardless of the number of products you have. Thus, this will be a fitting BigCommerce alternative for smaller businesses that might want to avoid a monthly subscription fee.
Squarespace is generally known as a website builder, but it also offers ecommerce functionality. It's known for its sleek, modern templates and ease of use. Squarespace offers a drag-and-drop editor, integrated payment processing, and robust analytics.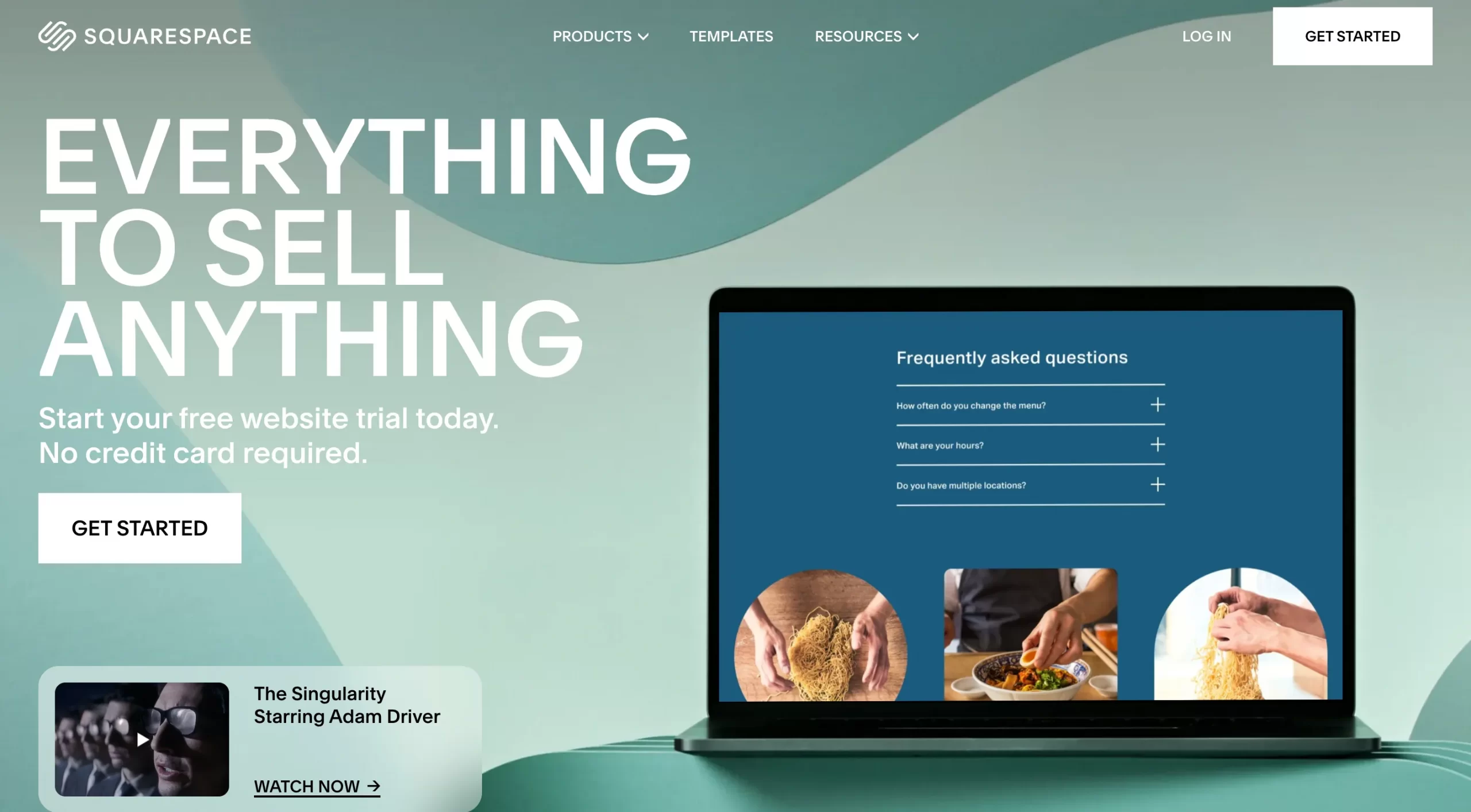 Thanks to Squarespace's simplicity, all you need to do is create an account, choose a template for your website, and customize it to your needs using the easy drag-and-drop design tool. Your stunning site will be up and running in no time!
Compared to BigCommerce 
When comparing BigCommerce vs Squarespace, Squarespace is a platform that has a much simpler and easier-to-use structure. It also offers more customization options for your website design, with a variety of beautiful templates to choose from. Therefore, Squarespace will be a more suitable option than BigCommerce for small online retailers who want to impress their customers with a creative website.
PrestaShop is an open-source eCommerce platform that's been around since 2007. The platform includes a great deal of eCommerce features so that store owners can maximize their online stores. It also offers a powerful product management system. This makes it easier to manage your inventory, track your sales, and offer a range of product variations and customization options.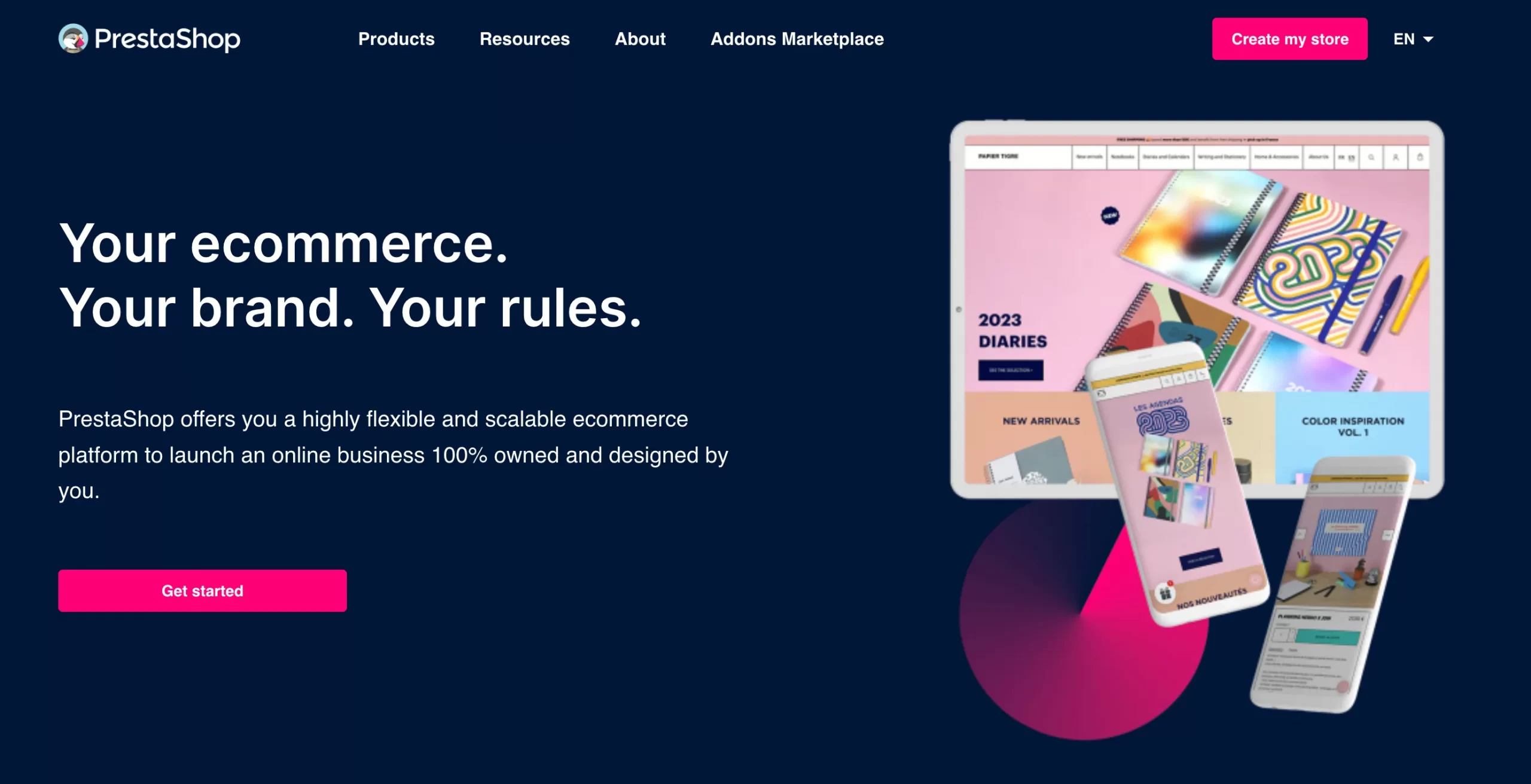 Another notable feature of PrestaShop is its SEO-friendly architecture, which helps to optimize your store for search engine rankings and increase visibility. PrestaShop also offers a variety of plugins and modules. These all help you to easily integrate to your store to add additional functionality. In addition, PrestaShop has a large community of developers who contribute to the platform, meaning there are plenty of third-party add-ons and integrations available.
Compared to BigCommerce
Prestashop offers more customization options and a wider range of features than BigCommerce. Prestashop is also free to use, whereas BigCommerce requires a monthly fee. If you have from small to medium store size and just want a platform that can provide you with the customization and the ability to sell with no complication, PrestaShop is the recommended platform.
---
What to Consider When Choosing a BigCommerce Alternative
When it comes to choosing one out of many BigCommerce alternatives that suits your business the most, there are several important factors to consider. From eCommerce features to pricing and scalability, each platform has its own unique strengths and weaknesses.
Here are some key factors to keep in mind when evaluating your options:
1. eCommerce Features
One of the most important considerations when choosing an eCommerce platform is the range of features and tools it offers. Compared to other BigCommerce alternatives, you should find a platform with robust inventory management, payment processing, and shipping tools. Make sure the platform you choose has the features you need to run your business effectively.
2. Design and Customization Options
Your eCommerce site's design plays a crucial role in attracting and converting customers. A platform that offers a range of customizable templates with design options, as well as the ability to add custom code and third-party integrations, will ultimately be the best choice. Your eCommerce platform should allow you to create a unique and visually appealing storefront that reflects your brand image.
3. Integrations with Other Platforms
No eCommerce platform can stand alone. Thus, it's important to choose a platform that can seamlessly integrate with other key business systems like your CRM, marketing automation tools, and multichannel selling software. Considering a platform that offers an extensive library of integrations or an open API will help you to effortlessly integrate with other platforms.
4. Pricing and Scalability
Cost is always an important factor when it comes to choosing an eCommerce platform. Normally, each platform will associate with different upfront and ongoing costs. You should look for a platform that offers transparent pricing with no hidden fees and flexible pricing plans that can accommodate your business's growth. Additionally, you'll also want to consider the platform's scalability. This is because you'll want a solution that can grow with your business and accommodate spikes in traffic and sales.
---
BigCommerce Alternatives: FAQs
---
Final Thoughts
Ultimately, choosing the right eCommerce platform can have a significant impact on the success of your online business. By carefully considering features or integrations, you can choose a BigCommerce alternative that meets your unique needs and goals.
After selecting the right alternative, you only have to access BigCommerce log in, backup BigCommerce store and move your store data. Whichever platform you choose, the key is to find a platform offering an effective balance of features, functionality, and affordability. The right selection can help you take your eCommerce business to the next level. Follow our eCommerce blog for more useful online selling insights!