If you are struggling with your current Magento store and looking for a more supportive and effortless one, a new BigCommerce store is more likely to be an ideal solution for you. This article may guide you to walk through 4 short steps of Magento to BigCommerce migration in minutes with LitExtension – #1 Shopping Cart Migration Expert:
Let's specifically dive into each step!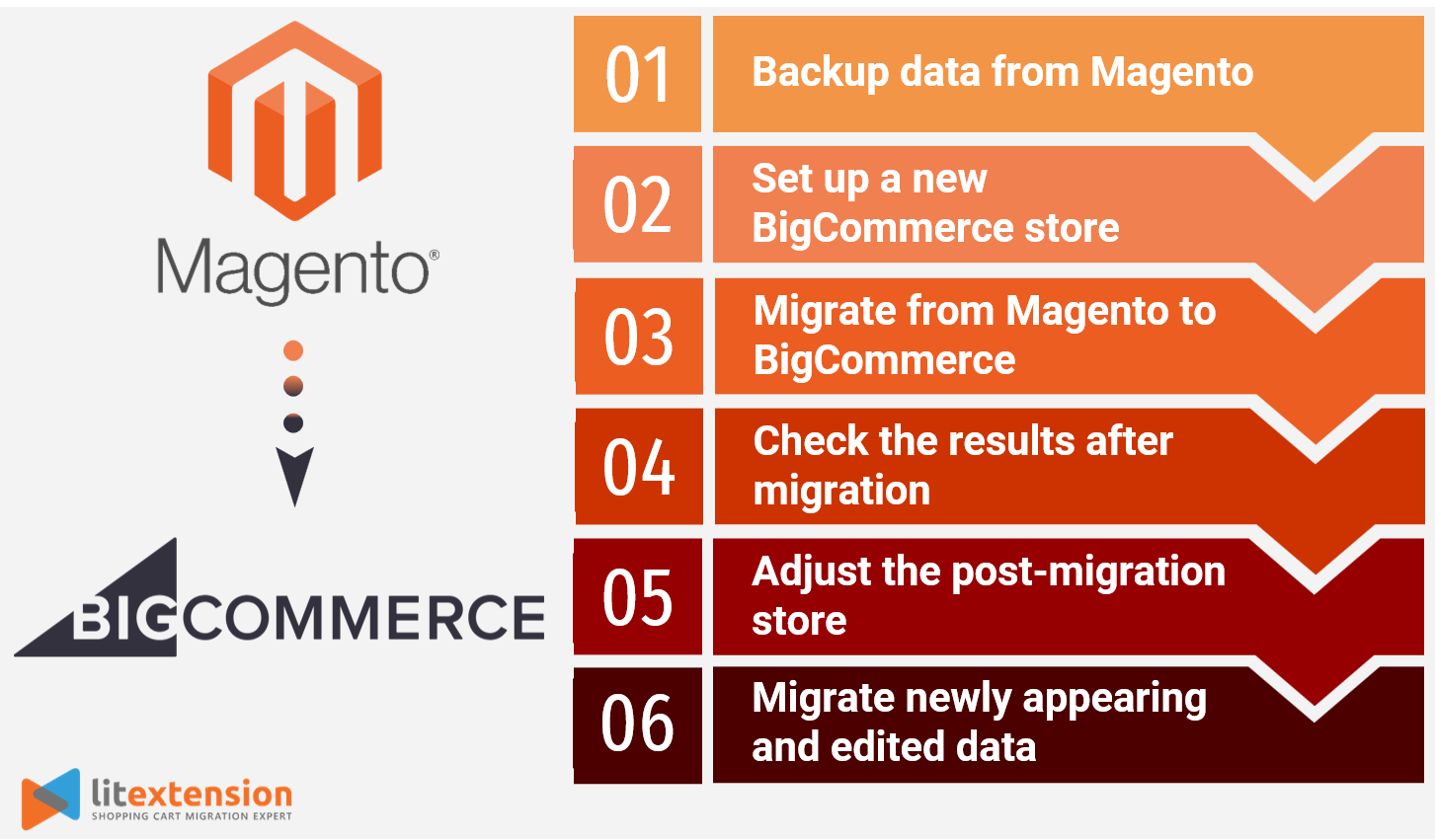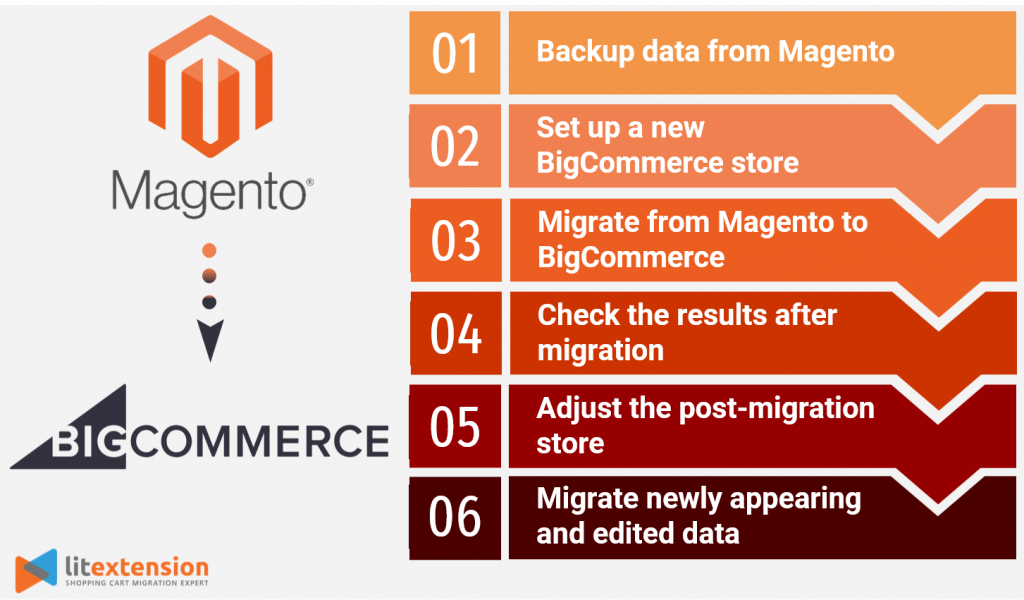 ---
How to migrate Magento to BigCommerce?
#1. Back up Magento data
Backup data is a must-have preparation to preserve significant data in case any interruption emerges in the migration process. There are four easy steps to backup data from Magento 1, stick to it!

Step 1: Log in to your Admin Panel, and navigate to System > Tools > Backups.
Step 2: There are three options depending on the type of data required for backup. Click one of the following buttons.
System Backup: Creates a full backup of the database and the file system.
Database and Media Backup: Creates a backup of the database and the media folder.
Database Backup: Creates a backup of the database.
Step 3: During the backup process, remember to turn on the maintenance mode by ticking the checkbox. This mode will show a temporary error notification to all customers that prevent them from placing an order. This mode will be automatically turned off after the backup task has finished.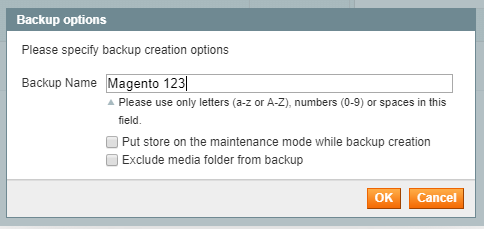 Step 4: Once this finishes, you will receive an informed notification and the list of backups will appear on the table.

---
#2. Set up a new BigCommerce store
After backing up your files successfully, it's time to create a new BigCommerce home and begin your migration.
Firstly, you need to register a new BigCommerce account by filling out the form. This platform offers a 15-day free trial with no credit card required and no strings attached.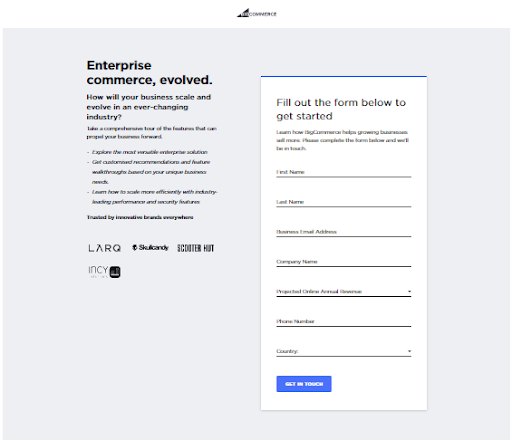 Next, key in your email and password, input your proposed or existing store's name, and provide some general information about your business. After that, you will be directed to your new BigCommerce store's dashboard, where you will learn how to build an eCommerce website.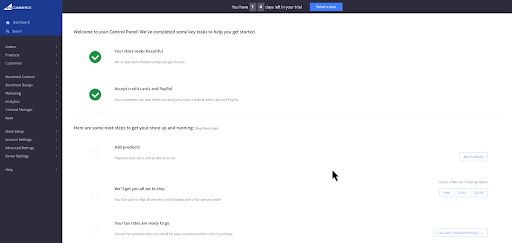 It's unnecessary to pay attention to BigCommerce's advanced features while building and launching your store yet. In addition, BigCommerce's support team is available round-the-clock to help you via phone and chat in case you need any assistance.
---
#3. Perform Your Magento to BigCommerce Migration
First and foremost, you will need to Register an account or Sign in on the LitExtension homepage to create a new migration to BigCommerce.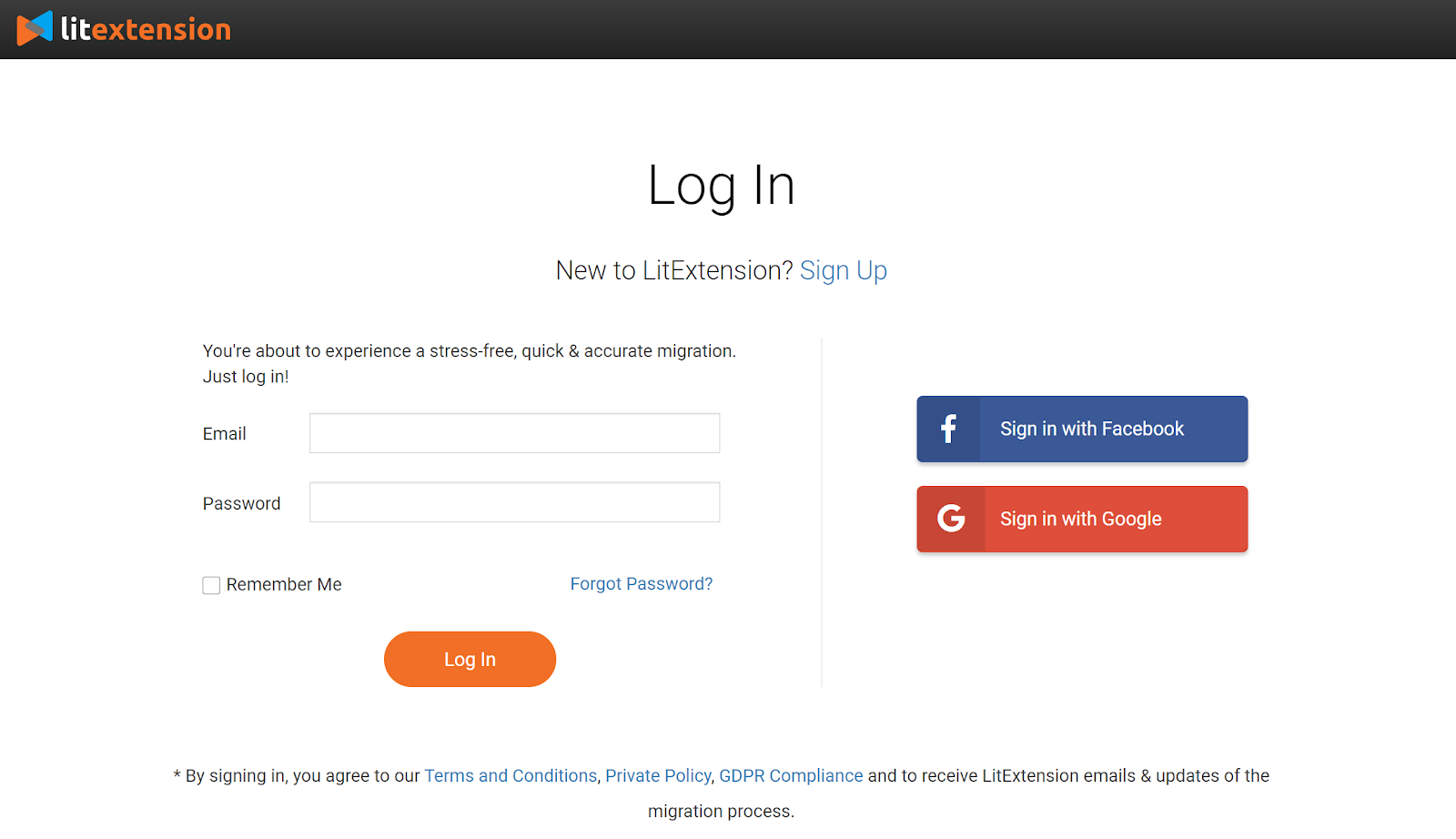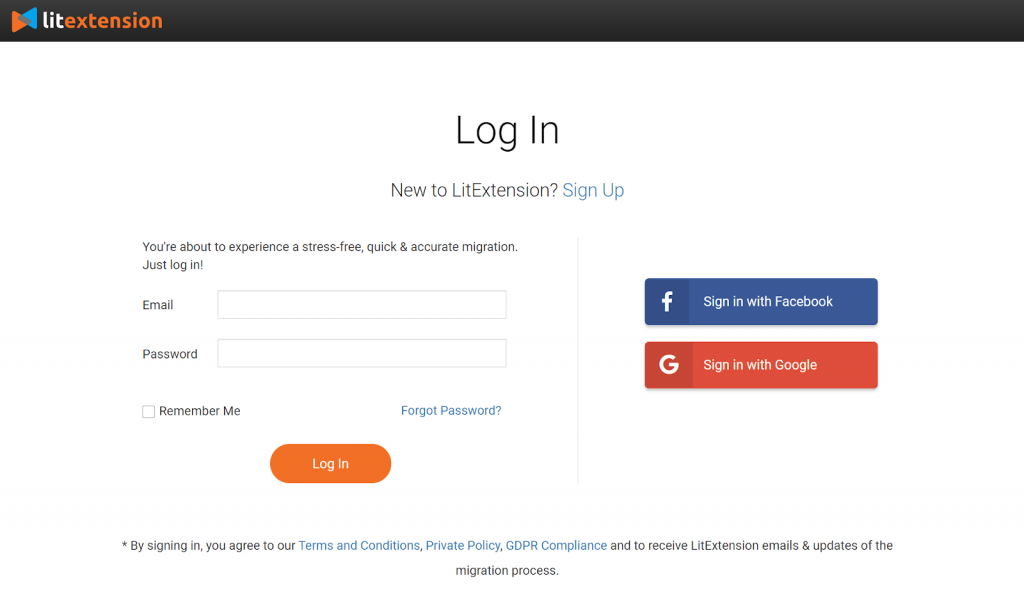 Step 1: Enter Source Cart and Target Cart information
Now that you have a new LitExtension account, you can create your new Magento to BigCommerce migration by clicking on the "Create New Migration" button.
On the migration setup page, you need to enter the Magento Source Store information, including your store URL. Make sure you download and install the connector into your Source Cart to retrieve the data from the old store.


Have trouble with any steps? You can always check out the whole process of Magento to BigCommerce migration in this comprehensive tutorial video.
Next, moving to the Target Cart, choose BigCommerce from the drop-down list. Then enter your store URL. For this platform, you also need to provide us with your API Path, API token, and Client ID/Username.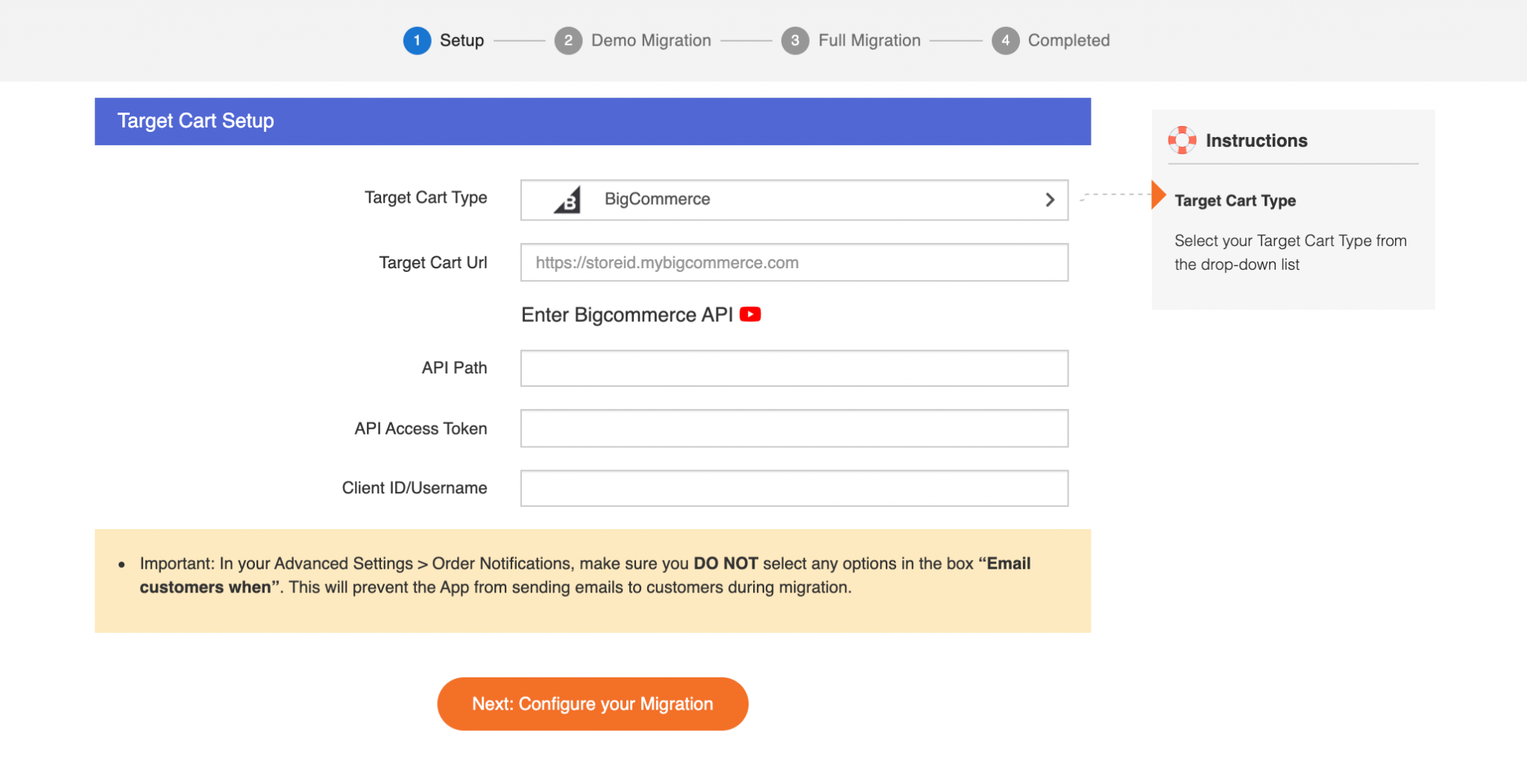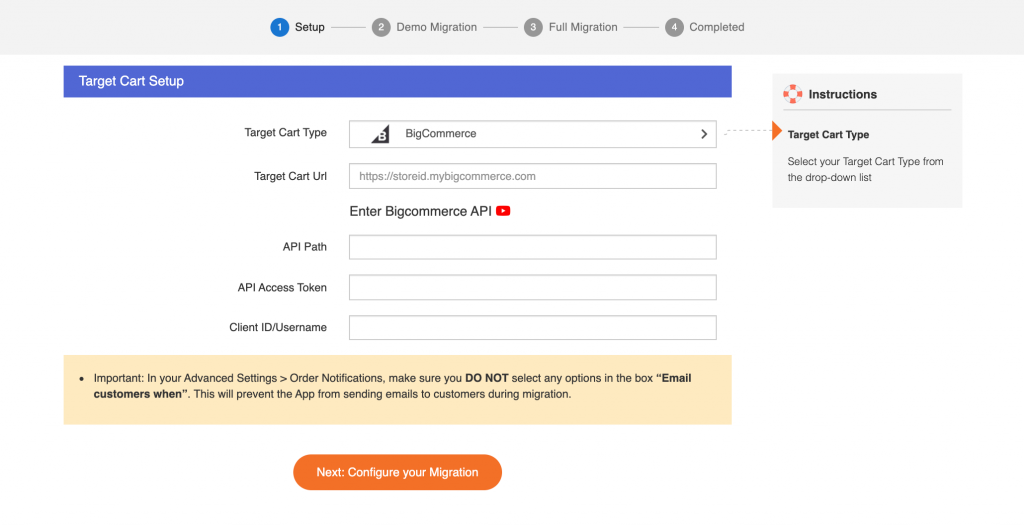 Important: In your Advanced Settings > Order Notifications, make sure you DO NOT tick any options in the box "Email customers when". This will prevent the App from sending notification emails to customers during migration.
Step 2: Select entities and additional options
This site asks you to choose entities that you want to convert Magento to BigCommerce. LitExtension allows you to transfer all of the important data including products, customers data, orders, and so on. You can select either all of them together or some certain data.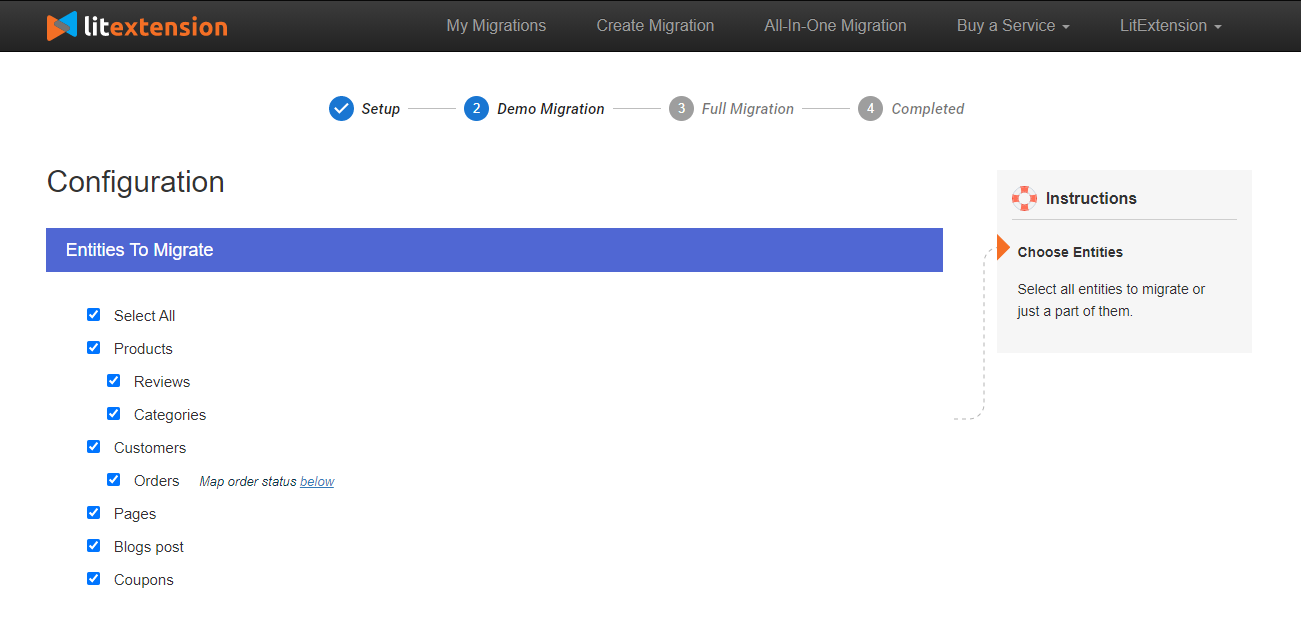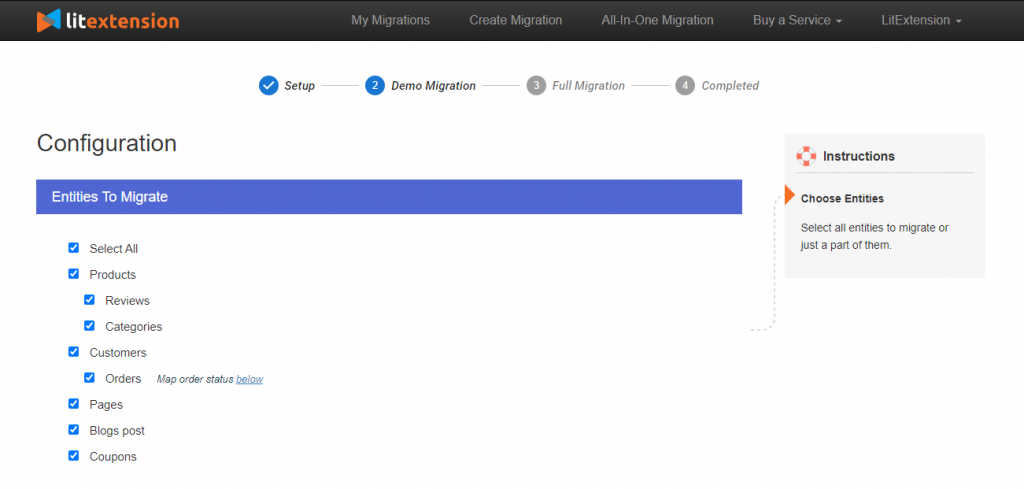 You can extend your migration potential with Additional Options such as preserving product IDs on Target Store, and Strip HTML Tags from the category. You can also match Languages, Order Status, and Customer Group together to display consistently in the BigCommerce store.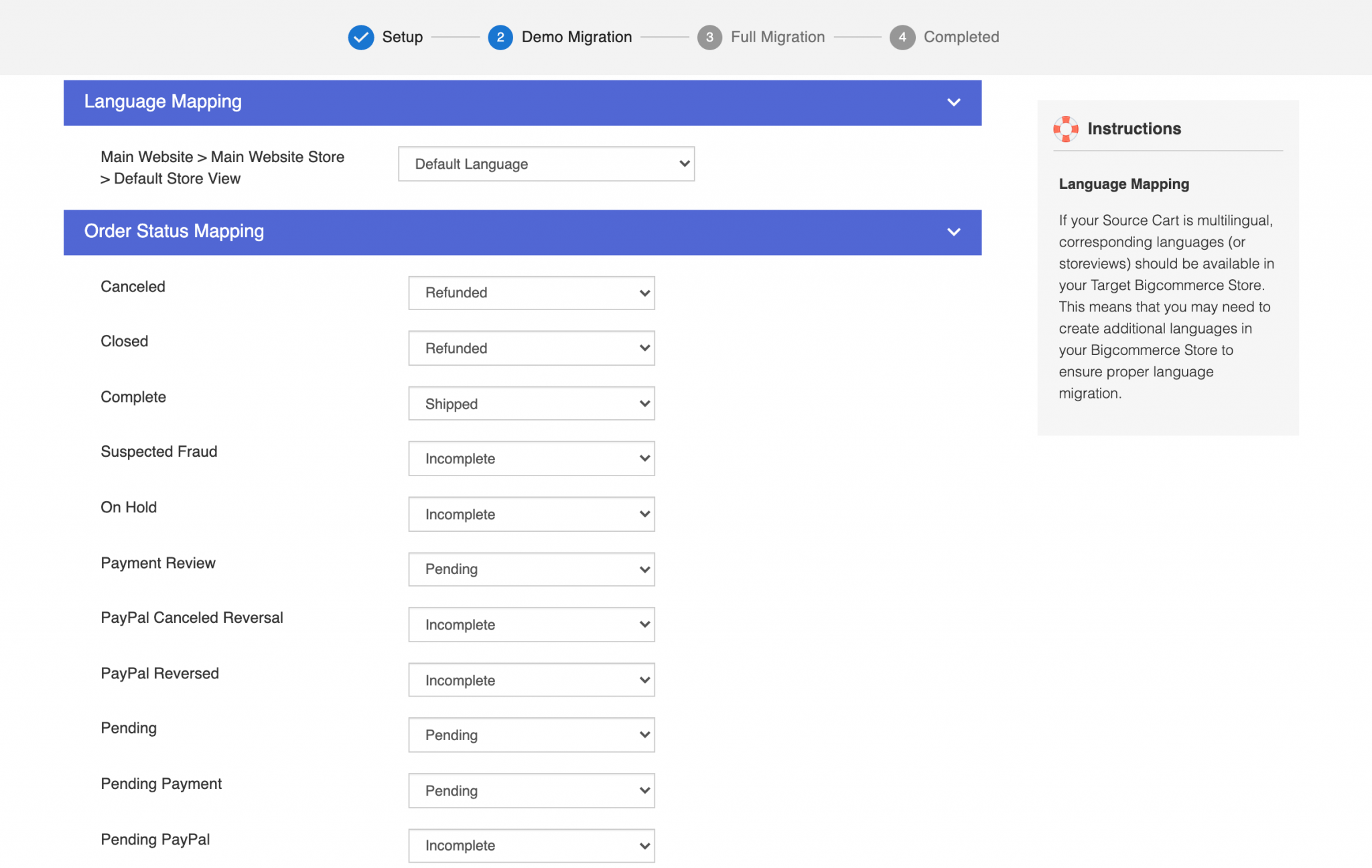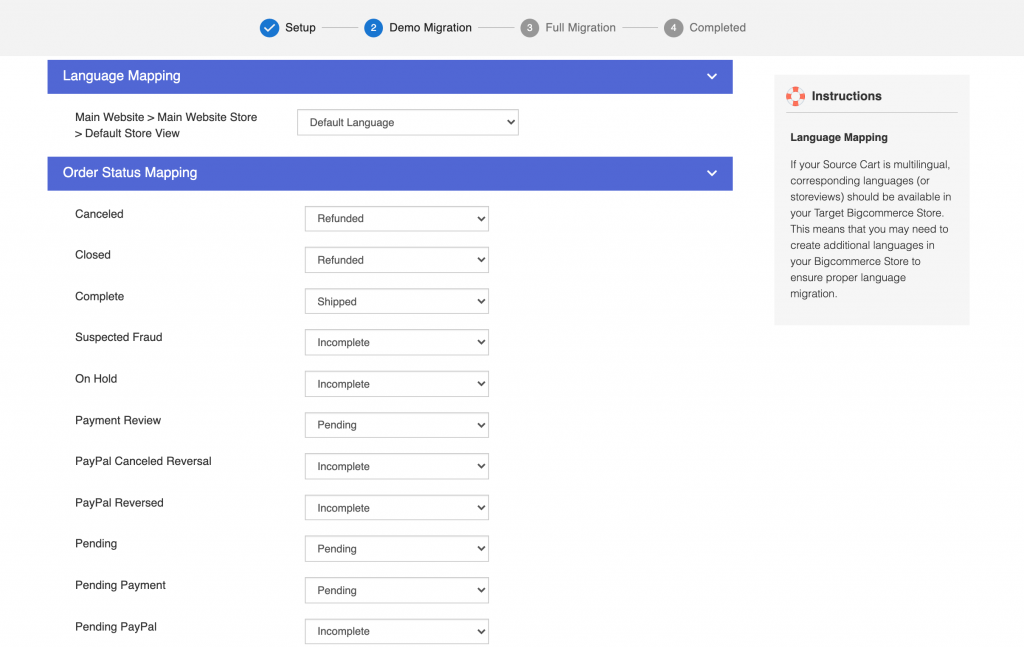 Step 3: Start Magento to BigCommerce migration
LitExtension highly recommends you try a demo first to see the way the system operates. Or else, you can run full Magento to BigCommerce migration immediately.
To try Demo: Demo migration mode limits the number of 200 entities. The protocol is totally similar to the actual migration. After choosing entities and extra options, simply click "Start Free Demo Migration" to prerun.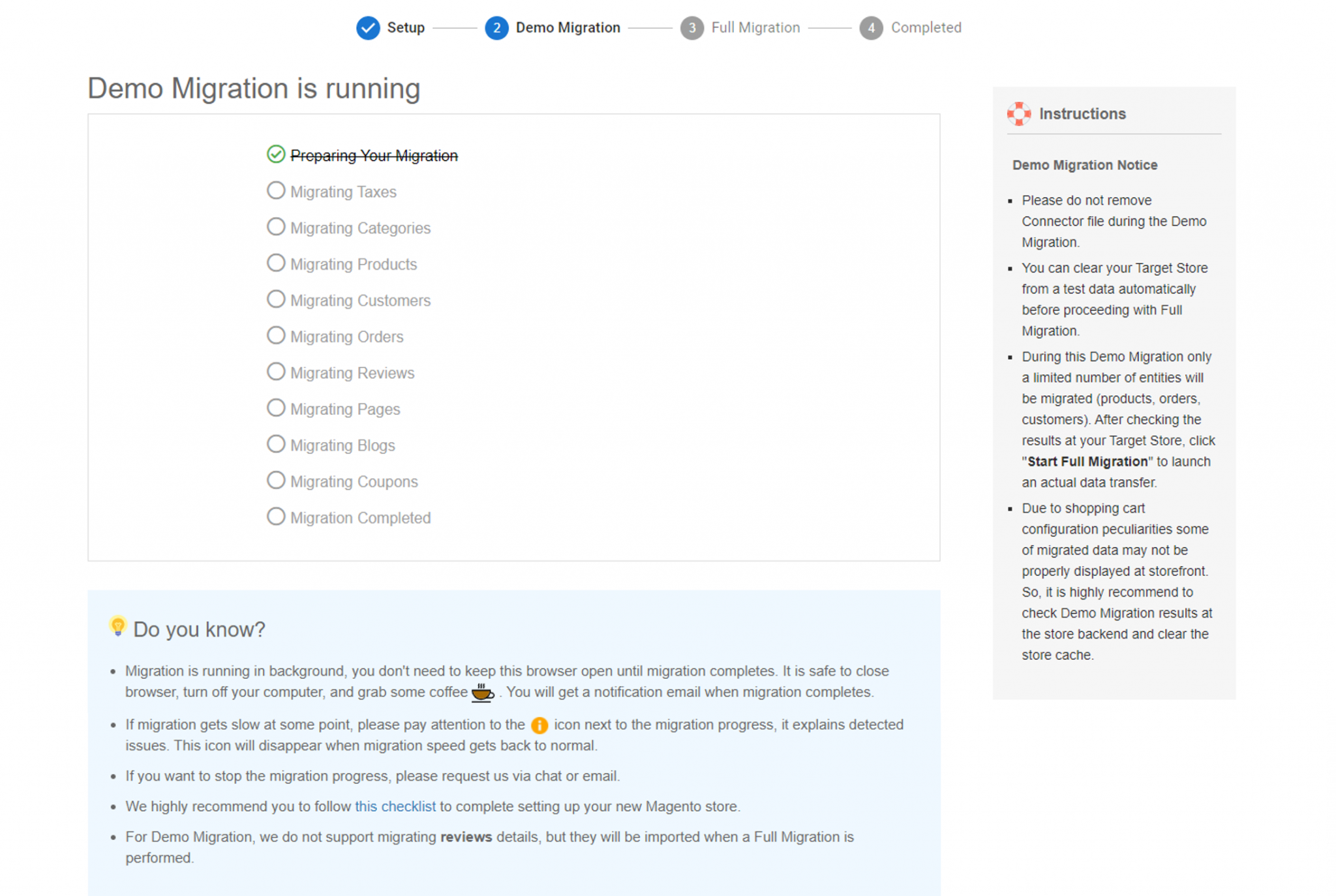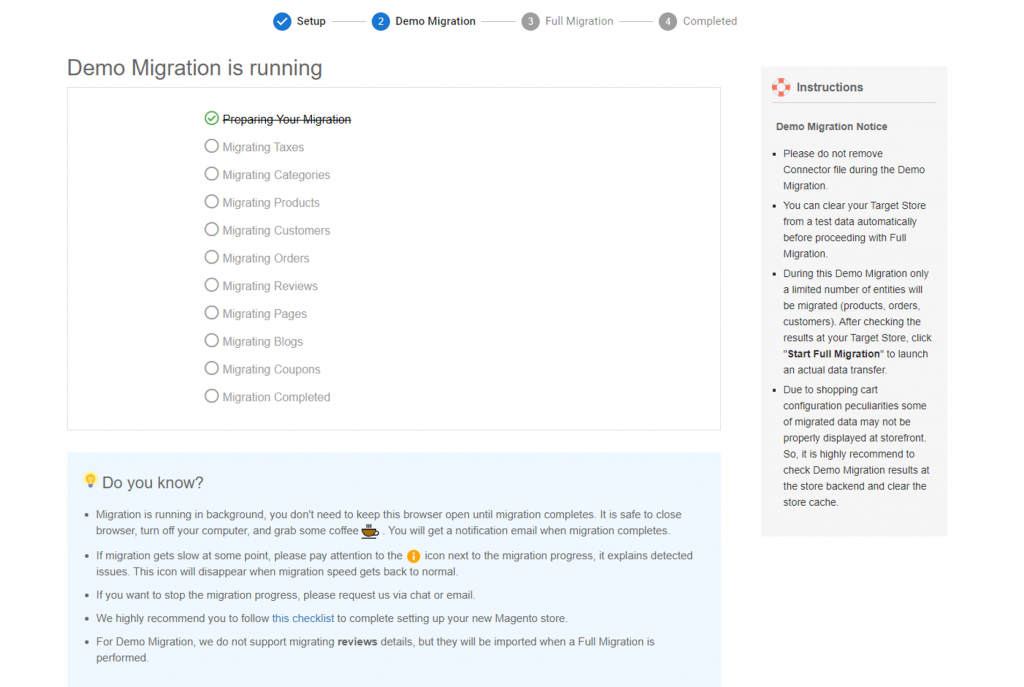 During Demo migration, you can see the data transfer status. Test transfer will take about 20 minutes, depending on the number of entities you migrate. You can turn the site off during the process and sip some coffee. You will get a notification email for the result as soon as it's complete.
To perform Full Migration: You can "Skip Demo Migration" to perform full Magento to BigCommerce migration right away. Similar to the Demo version, once the migration starts, it will run on the server implicitly and only announce once the process is done.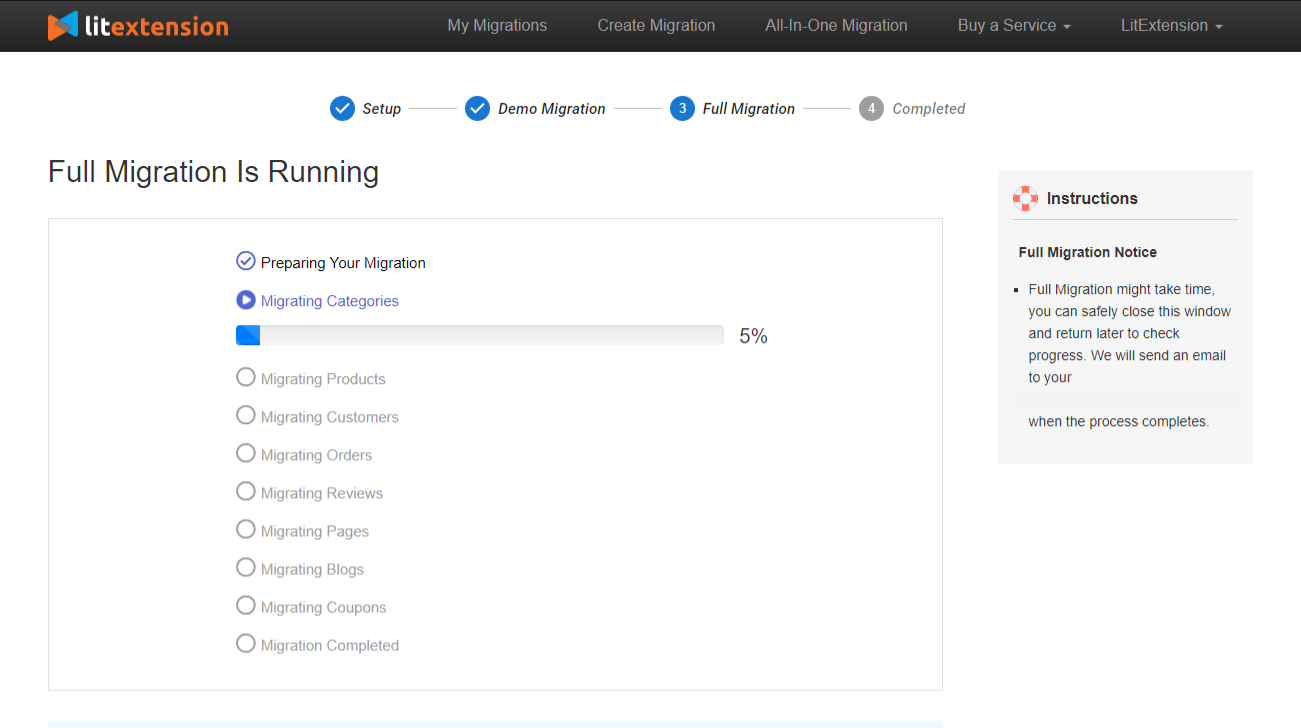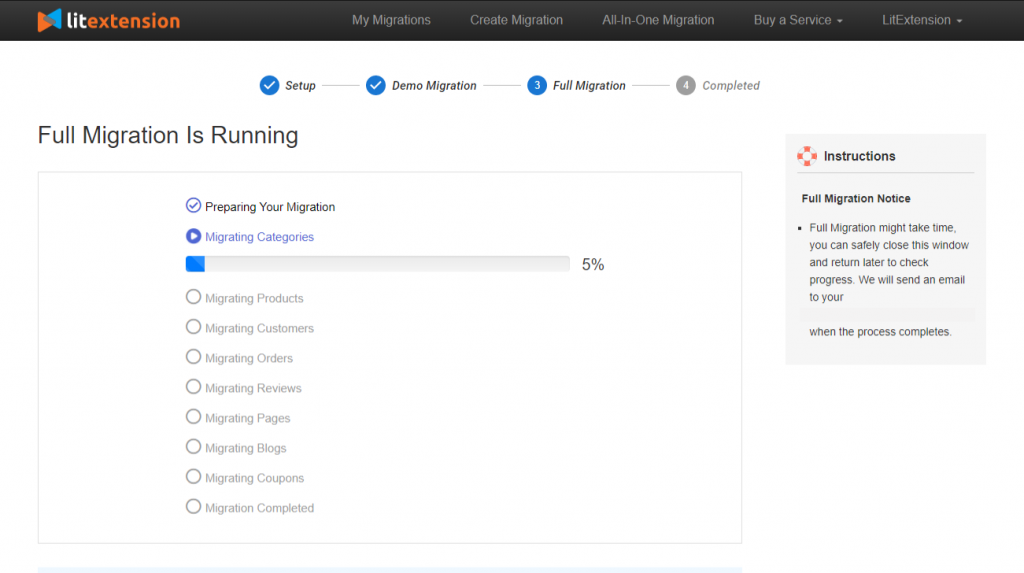 ---
#4. Post-migration activities and BigCommerce store checklist
1. Check the Magento to BigCommerce migration results
Now, you have transferred all your data to the new BigCommerce store, click on "Check result" to double-check everything. You may consider following the head check below:
Ensure all your products are displayed on both the front-end and back-end.
Make sure all your products are appearing in the appropriate categories and onsite search.
Examine every link that leads to menus, header, footer, and inside the pages.
Sample a purchase in your new store.
You can find a more detailed checklist How to check results after full migration on BigCommerce. Otherwise, you can contact the LitExtension support team for further assistance.
2. Design/Select BigCommerce themes
Currently, BigCommerce is providing 15 free themes and 100+ paid options, charging users from $145 to $350 each. All of these are mobile responsive and effortless to customize. Unfortunately, you can't migrate the theme from the old store to the new one due to the incompatible structures of these two platforms. However, you can either customize your new theme to look similar to your old one or give your site a brand-new look.
Besides the BigCommerce theme store, you can also search for a wide range of themes in Themeforest or Templatemonster, etc.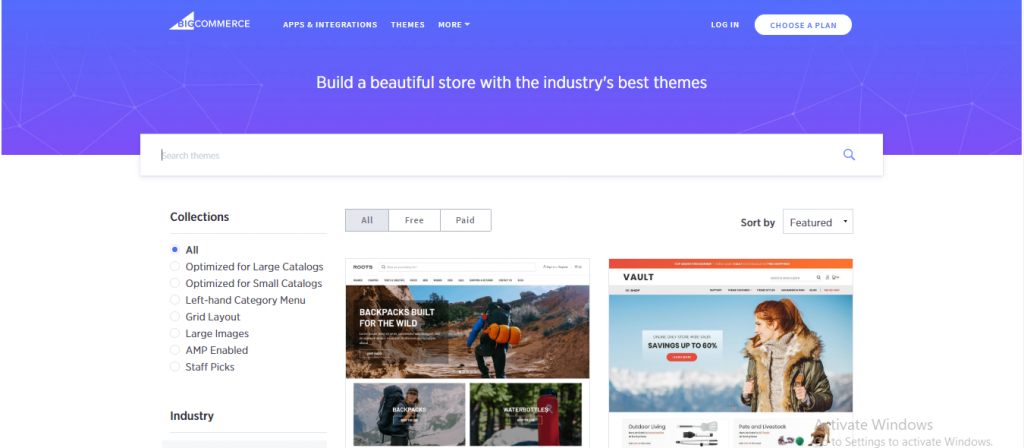 However, in case you are still struggling to sort out the most suitable theme for the site, you can refer to 8 best BigCommerce themes carefully chosen from a large number of themes.
3. Configure tax and shipping settings
Next, you need to set up your tax, tax rates, and shipping options. This is of paramount importance to control how taxes are calculated and appear on the customer interface with both manual tax and automatic tax setups.
Go to Store Setup › Tax, scroll down, and click Edit next to Tax settings to get started.

BigCommerce also has made a detailed guide to set up a tax that you can check out for more info. Additionally, configuring shipping options is an important measure that allows you to set up real-time delivery status for the buyers.
Go to Store Setup -> Shipping to get started. If you're not familiar with BigCommerce, the built-in shipping setup may guide you to add your origin address and the shipping services you want to offer as a default for all transactions.
4. Set up BigCommerce payment methods
BigCommerce offers over 65 integrated payment gateways to its users. They also offer integrations to the most popular digital and mobile wallets, such as Apple Pay, Amazon Pay, PayPal, and more. All BigCommerce plans don't charge transaction fees except for credit card rates. However, you can always minimize this kind of fee by installing a higher plan.
To view the available payment gateways for your store, go to Store Setup -> Payments, and click on "Online Payment Methods"
Locate your desired payment gateways and click "Set up". Once you've entered your credentials and settings, click "Save". Your payment gateway is now installed! You can read "How BigCommerce payment gateways work" to understand thoroughly and choose the best method which suitable for you.
5. Deal with new data
During the migration process, your old Magento store still operates normally.  Thus, new orders and newcomers have still been placed while setting up your new BigCommerce store. This is when our services, such as Recent Data Migration, Smart Update, and Re-migration are serviceable.
Recent data migration helps you transfer all the data that have newly appeared or been added to your BigCommerce store during and after the migration.
Smart Update allows you to update data that has been edited and, at the same time, migrate those that recently appeared in your BigCommerce store during and after the migration.
Re-migration service enables you to migrate your data all over again.
Within 3 months of using our full migration service, all the services above are totally on the house. However, it is recommended that your total additional entities should be less than 10% of the total number of entities in the very first transfer.
6. Change DNS and switch domain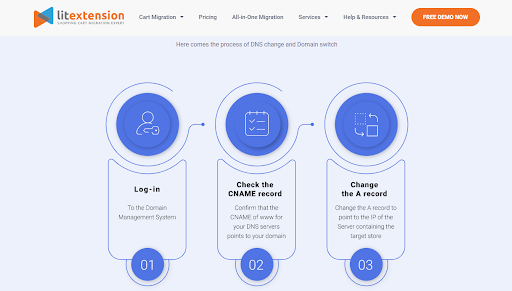 When building the new store, DNS settings also require an update navigating to the new IP address. In this situation, contacting your old hosting provider is likely to be the most optimal way to do so. Otherwise, we also support our customers with switching domains after the migration. Let's check it out!
7. Place some orders
Now, your new BigCommerce store is ready to launch! However, you should request a test order to fully accomplish your customer's purchasing experience in your new shop and make necessary adjustments to create a more pleasant and efficient journey.
Here are a few different types of running demo orders:
Completing a successful and a failed transaction
Refunding and canceling an order
Fulfilling or partially fulfilling an order
Saving a successful order
For further details about every single step, please check out this article.
---
Why should you choose BigCommerce?
BigCommerce is a platform available to startups as well as established companies that fulfills their needs, to begin with and cultivate their online store. This software is synonymous with its simple-to-use interface as well as advanced built-in features.
On the other hand, BigCommerce offers its customers the ultimate benefit of a free trial of 15 days. It is the best and cheapest eCommerce software you can ever get.
Besides, there are several additional reasons why store owners should consider this eCommerce software:
It offers customizable pre-built website templates.
The software has built-in SEO
It has marketing as well as conversion tools to offer to its customers.
BigCommerce also offers tools to achieve shipping as well as things related to payments.
The software has 99.99% uptime.
You also get the benefit of annual conferences on eCommerce.
The platform offers point-of-sale (POS) solutions to its users.
You also get B2B eCommerce solutions.
BigCommerce software has a single dashboard to organize the product listing of the website. Plus, Amazon, Facebook, Insta, and many other channels.
It offers around 28% of the year-over-year growth of your online store. This is the average rate of growth of these software users, as per the research conducted by Ipsos.
---
Conclusion
In summary, this article provides readers with precise instructions on Magento to BigCommerce migration by using the LitExtension tool. With LitExtension, our experts will guarantee the accurate performance of moving from Magento to BigCommerce and the highest level of security to your store's data. If your store is operating on another platform that dissatisfied you, you may find a way to migrate to BigCommerce in this article.
In case you are busy and just want someone to totally take care of your store migration for you or your store has some third-party modules or some custom fields that need to be migrated, we would like to offer the All-In-One Migration service; this service provides high-quality migration service with low cost. We will perform data migration and provide all the necessary customization for you. The main goal is to save time and minimize the efforts of e-merchants.
LitExtension has a dedicated support team who are available 24/7 to handle any of your concerns via ticket, phone, live chat, or email. At LitExtension, customer satisfaction is of the greatest importance to us. If you have any more questions while using the LitExtension service, please visit our Support Center or feel free Contact Us. Let's join our community to get more eCommerce knowledge.