It is simple to migrate OpenCart to Shopify when conducted through LitExtension migration solution.
LitExtension can help you migrate products, orders, customers, and other data from OpenCart to Shopify automatically. Hence, let me guide you with the easiest steps to transfer your OpenCart store to Shopify.
Backup OpenCart database
Create new Shopify store
Check OpenCart to Shopify migration results and prepare your new store to go live!
Let's begin the process!
Need Help To Migrate Your Store?
If you are intending to migrate to Shopify, LitExtension offers a great migration service that helps you transfer your data from the current eCommerce platform to a new one accurately, painlessly with utmost security.
---
How to Migrate OpenCart to Shopify Store?
#1. Backup OpenCart database
In System>Backup/Restore, you can obtain a backup of the store's current database or restore the database to the administration.
The Backup section shown below contains a list of all the data tables in the MySQL database that may be downloaded.
You may select which files to download by clicking on them.
Then, click the Export button, and the tables you've chosen will be downloaded to your computer.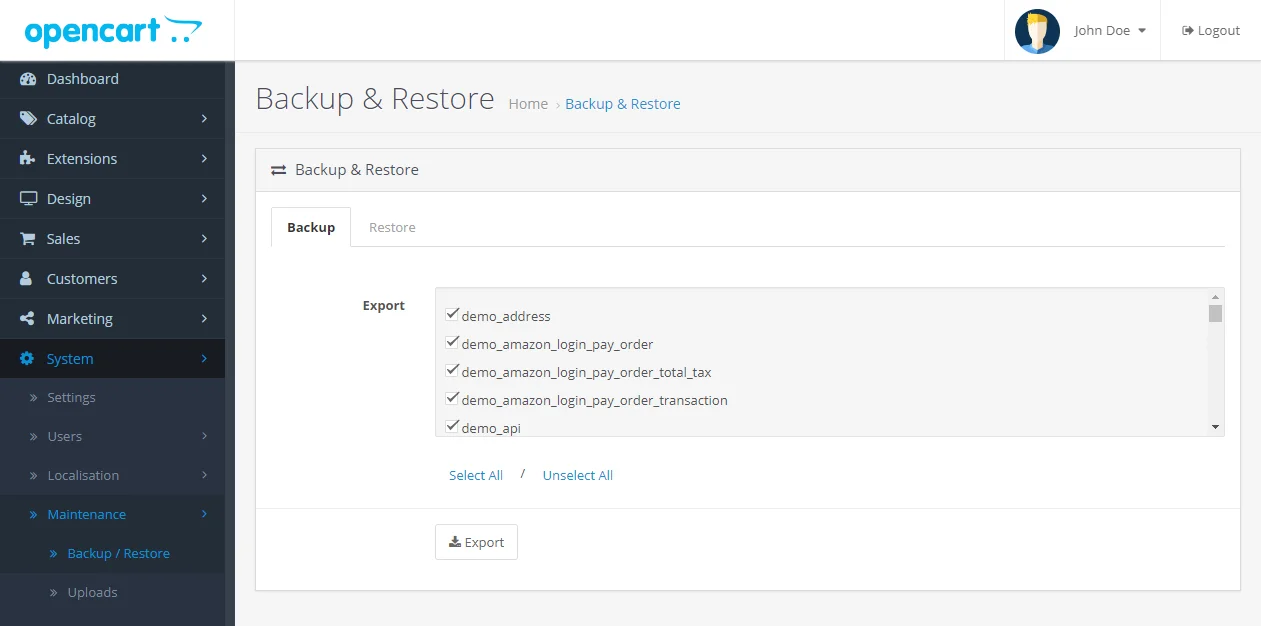 #2. Create Shopify store
After you've saved your store data, you'll need to create a new Shopify store so you can transfer your data. Shopify provides a 3-day free trial to allow you to try out their tools and services.
Check out this Shopify tutorial video if you're searching for a quick Shopify lesson that will walk you through all of the basic steps for setting up a Shopify store from start.
#3. Migrate OpenCart to Shopify with LitExtension
Register an account or Sign In on LitExtension site. You also can log in easily by your existing Google or Facebook account.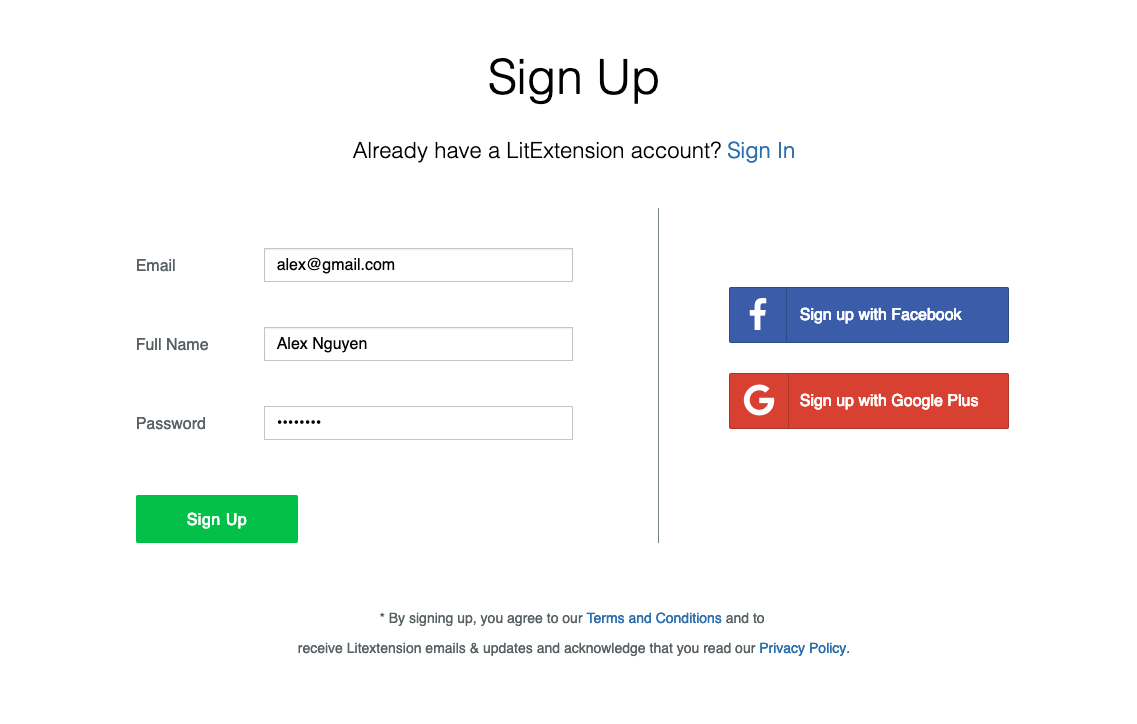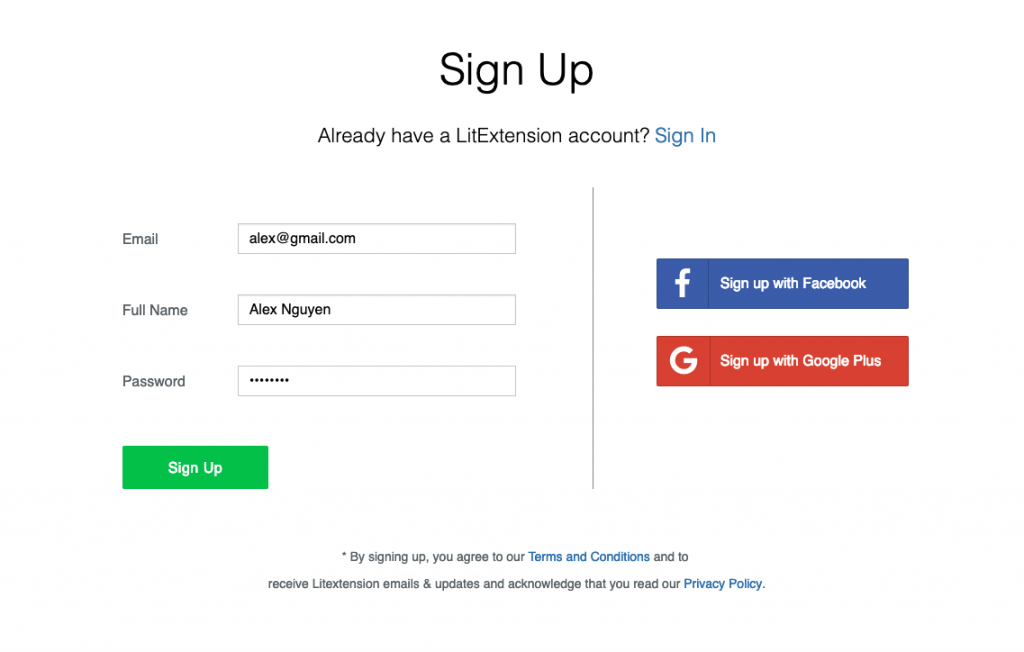 Step 1: Enter carts' information
On the Migration Page, click Create New Migration at the top right button on the screen. Select Opencart as Source Cart Type and provide its URL into the blank bar.
Then click LitExtension Connector to download the connector, extract the zip file, and upload connector to OpenCart's root folder.

Right here, the Connector Installation will be automatically checked and informed on the screen without manual checking.


Select Shopify as Target Cart Type and provide its URL into the blank bar. Follow the brief instruction to get your API info and fill them in the form.
Step 2: Select entities you want to migrate
Choose entities you want to migrate. You can select either all of them together or certain data. For example, only Products, Customers, or Orders.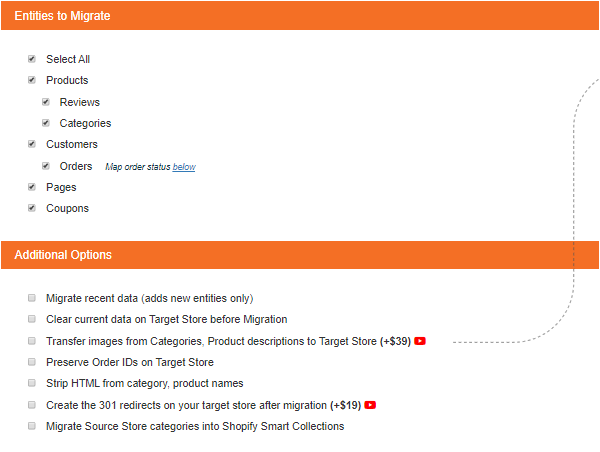 LitExtension also provides Additional Options here to extend your migration possibilities. Languages, Order Status and Customer Group will be matched together to be displayed correspondingly in the new store.
Step 3: Perform OpenCart to Shopify migration
LitExtension recommends that you execute a demo version to migrate OpenCart to Shopify first in order to see the results on your new shop. Plus, if you complete the demo migration, you will receive $5 in your balance!
To Try Demo: Start your demo migration with a limited number of entities. You will see the same actions as the actual migration. However, you can skip this step by clicking "Skip Demo Migration" button to immediately move forward to Full Migration.
To Perform Full Migration: Once the migration is started, it will run seamlessly on the server. Therefore, there's no need to keep your PC on when transferring the data. It is completely safe to turn it off! Take a break, have a cup of coffee and you'll receive an email notification when the process is completed.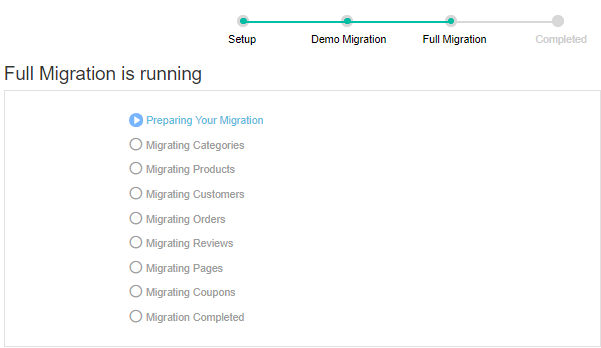 For a hands-on experience, we also made a video tutorial of the full OpenCart to Shopify migration process for you!
#4. Post-migration Checklists
Check OpenCart to Shopify migration results
When the cart to cart migration is complete, all of your items, excluding those that are out of stock, will be shown on the storefront. As a result, you can simply discover them in the catalog or through an onsite search. You should thoroughly review your product information, including product descriptions, photos, variations, and meta descriptions.
If you're new to Shopify, you should be aware that there aren't any categories or subcategories here. Instead, you'll have product tags and collections. As a consequence, data in your Source store's categories and subcategories will be migrated to equivalent collections and tags on Shopify.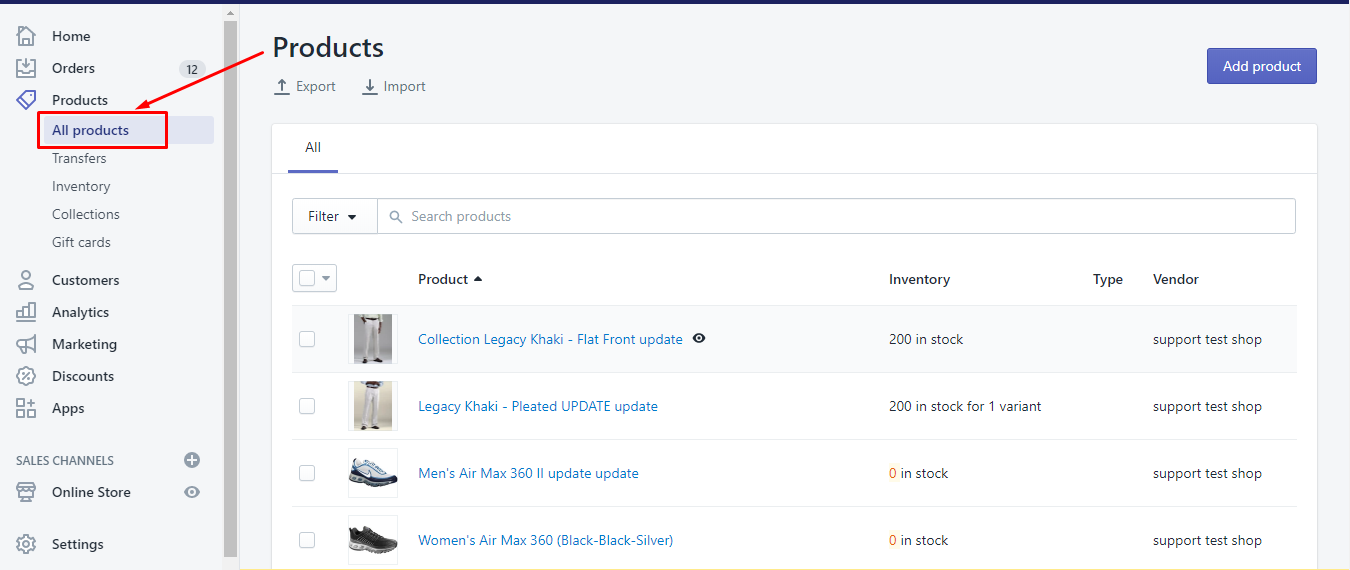 After checking data on your front-end, log in to the admin area and go through the customer data as well as order data from the back-end.
Design/Choose a new Shopify theme
When it comes to developing websites, it is evident that selecting the correct theme is critical. The best Shopify theme you select should be responsive, appealing, and complement the content of your website. Make sure you choose the best theme possible from the available selections.
You may look at some of the greatest Shopify theme recommendations that we have reduced down:
The best free Shopify theme: Minimal
The top premium Shopify themes: District, Responsive, Testament, and Icon which are available on the Shopify Theme Store. They all provide a high level of customizability for making changes to the website, allowing you to adjust them to any type of business.
The best Themeforest Shopify themes: Wokiee, Ella. These are the two best themes on Themeforest that can work on multipurpose.
Install the necessary Shopify applications
Apps are undeniably one of Shopify's key capabilities. The platform provides a plethora of features and Shopify applications that may assist merchants in easily developing a professional online shop and increasing their worth significantly.
SEO & Marketing: SEO Suite – SEO image optimizer, DataFeedWatch, Reveal,…
Dropshipping: Oberlo, Spocket, Prinful,…
---
Final Words
In case, you are busy and just want someone to completely take care of your store migration for you, we would like to offer the All-In-One Migration service, this service provides high-quality migration at a low cost ($129). We will perform data migration and provide all the necessary customization for you. The main goal is to save time and minimize the efforts of e-merchants.
LitExtension has a dedicated support team who are 24/7 available to handle any of your concerns via ticket, phone, live chat, or email. With LitExtension, customers' satisfaction is our great success.
If you have any more questions while using LitExtension service to migrate OpenCart to Shopify, please visit our Support Center or feel free Contact Us.
Other migration pairs that LitExtension support: