Shopify has been thriving since it was founded in 2004. According to our eCommerce platform research, Shopify is one of the most popular eCommerce platforms on the market. Powering more than 1 and a half million live websites as of February 2021, Shopify provides users with unmatched functionality while maintaining a smooth and friendly user experience. Its main aim is to help people build their own websites and start selling quickly without dealing with lines of code or hiring professional developers.
Despite the enormous amount of users, whether it is the most suitable option for you is yet to be decided at first glance. For that reason, we have conducted thorough research and written this article with a view to giving you profound insights into what Shopify has to offer. This review will cover:
Brief introduction of Shopify
Top-notch updates on Shopify in 2021
Most essential information of Shopify ( functions, ease of use, pricing)
What should you consider when choosing Shopify?
Feeling excited? Let's get into it!
Overview
Shopify is a SaaS (software-as-a-service) eCommerce solution, meaning it includes everything you need to create a website. Instead of having to get yourself a host and dealing with technical stuff, you just need to go to the main website and create an account and that's basically it.
Shopify offers a 14-day free trial and you can try out this platform easily without entering credit card information. Once you decide to opt for a plan, Shopify will charge you a monthly fee, and this varies depending on your plan.
No matter how big your business is, Shopify is always an option worth considering. Its scalability is one of the factors that help build trust and reputation among users. With an astonishing amount of add-ons and integrated functions, the eCommerce platform ensures utmost satisfaction even for large stores.
Top-notch updates on Shopify for a thriving 2021
Shopify has been continuously updating their functionality. Here are some of the most exciting new features we would like to share with you. For more information, please visit Shopify changelog.
Adding shipping speeds at customer checkout: The new update function allows your customers to track their shipping status whenever they need it. As a result, you can gain more trust from shoppers as well as provide them with convenience. This also brings clarity and transparency to your store.
Buyers will see a range of days at checkout that reflects the estimated transit time of their purchase. Therefore, you can help your customers stay alert to their shipping process at any time.
Include country-specific tax in product prices: If you sell internationally, you should be familiar with adding sales tax into your price. With the new update, Shopify will automatically calculate and include tax based on your customer's country.
Please notice that the country-based tax is only added at the checkout page, therefore, the price on the product or cart page remains the same
View your real-time store activity with Live View: Live View Shopify includes a world map that shows you all the activities that appear in your store in real-time and location of visitors and customers so you can easily track your e-store
Live View will automatically capture and display the visual of your customers' behavior (within 10 minutes) throughout their checkout process.
This function is super useful during high traffic times of your store such as Black Friday, Cyber Monday, Christmas…when you want to get the big picture of your recent marketing activity, discounts, or other promotions.
Fulfill orders more efficiently on the Shopify mobile app with new functions: This brings merchants a series of new bulk actions for order and fulfillment tasks so you can speed up the fulfillment process and get products to customers faster.
– Mark as fulfilled: set up your order status as fulfilled
– Capture payment: set up the order status as you finished collecting payment
– Archive products: this status keeps track of open orders that have not yet been completed
– Unarchive products: Mark your order as unarchive product if you want to delete it later
Create shipping labels (available in US, Canada, and Australia only): Shipping labels show information that's used by shipping carriers to make sure a shipment is delivered correctly
Manage returns directly in Shopify: There's no doubt that the product return process is one of the most important parts when it comes to customer care. This new attribute allows you to manage refunds from the Shopify orders page.
Now, let's take a closer look at several outstanding features of this platform.
2021 detailed Shopify review
Ease of use
Just like other hosted platforms, Shopify is fairly easy to use. It's designed for everyone, from eCommerce experts to total beginners. You don't need to have experience in creating websites to get yourself a fully functioning online store with the help of Shopify.
While open-source platforms require a lot of steps such as buying a host and uploading the source code to your server, Shopify takes the hassles out of creating a website. It's not even an exaggeration to say you can get your store up and running in a matter of minutes.
After filling in your email address, a password for your account, and a store name to begin, Shopify takes you to the initial configurations.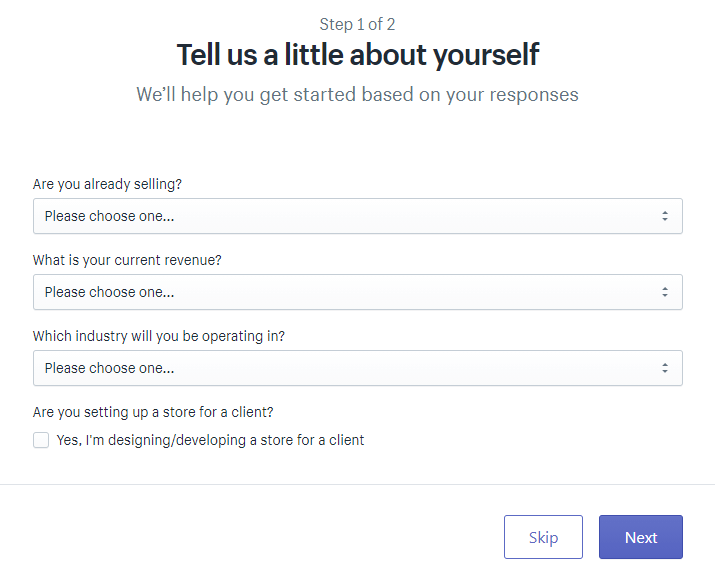 There is hardly a point when you have to spend time looking around to find what you need. Right after you create an account, Shopify guides you through the important steps to make your store fully functional. The main page shows the shortcuts to add first products, customize your theme and add a domain.

As seen from the image, the dashboard is straightforward with categories containing corresponding sub-sections for easy navigation. Here's a video showing how easy it is to create a site and navigate to different sections to configure your eCommerce store. Check it out!
Pricing
You can try Shopify without spending a penny before deciding to provide payment details such as your credit card information. The platform offers a 14-day free trial with full access to its functions. Even if you give your credit card details during this time, Shopify lets you cancel any time without charging as long as you do it within the first 2 weeks.
Compared to some other platforms, Shopify's pricing plans seem rather costly. However, it is totally cost-effective once your business reaches potential growth with the help of powerful tools from Shopify. The SaaS eCommerce platform offers you 5 plans with monthly costs.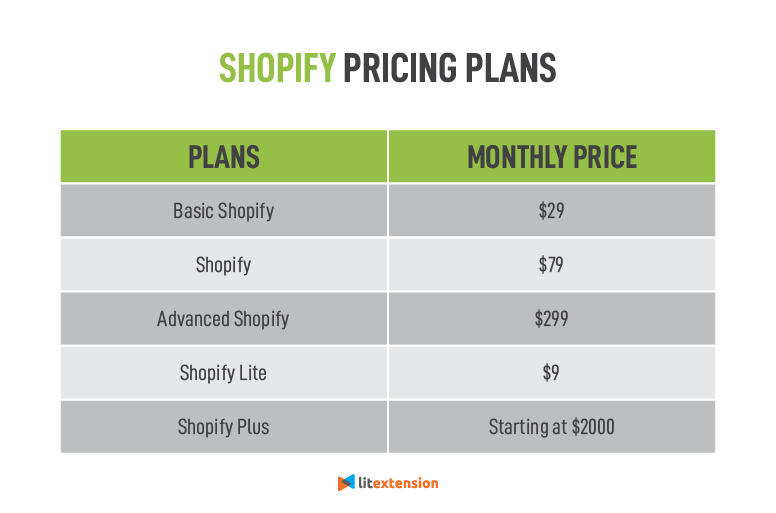 Firstly, let's take a look at the Basic Shopify plan. With $29 per month, you get all the basic eCommerce functions. If you've just started your business or just want to build a simple online storefront for your existing brick-and-mortar one, this is a suitable option.
The next plan, simply called "Shopify", costs $79 and has everything you need for a growing business. Paying such an amount provides you with additional features needed for your store to reach its potential.
Advanced Shopify costs $299 per month, and comes with the most advanced features. A medium to large business can always grow more, and this plan makes the process even more possible.
Shopify Plus is a great option for enterprise or high-volume businesses. With the starting price of $2000 a month, you'll get what you pay for. The cost-effective enterprise platform offers you tons of amazing features such as advanced security features or extensive options for selling in multiple currencies and so on. Find out more here!
The Shopify Lite plan costs you $9 per month and allows you to sell an unlimited number of goods. However, this plan is not a good choice if you try to sell online since all you can do is add the "Buy Now" button to your product.
Other than the monthly pricing, Shopify also charges different credit card rates for each plan when using Shopify Payments. If you go for Shopify Basic, the platform charges $2.9 + 30 cents per transaction. The fee is reduced to $2.6 + 30 cents with the Shopify plan and $2.4 + 30 cents with Advanced Shopify.
If you decide to use any payment provider other than Shopify Payments itself, the additional fee per transaction will be 2.0%, 1.0%, and 0.5% for Shopify Basic, Shopify, and Advanced Shopify respectively.

If you have a long-term plan for your business, consider annual payment. Signing up for an annual plan saves you 10%, and paying once for 2 years use saves 20%.
Themes
The conversion rate also depends on your store's appearance. Getting yourself a good theme ensures more chances of a customer coming back for more and thus generates more revenue.
Here are the pros and cons of Shopify themes.
| | |
| --- | --- |
| Pros | Cons |
| Sophisticated and contemporary design | Only 9 free themes are provided. |
| Professionally built and mobile responsive | Costs range from $140 to $180, which is quite costly. |
| Designated to suit your style and the feature of your e-commerce shop with certainty → they'll reformat to suit the mobile and tablet screens | Multiple languages are not available in ALL themes. |
| Full of features and you can choose from various styles. | |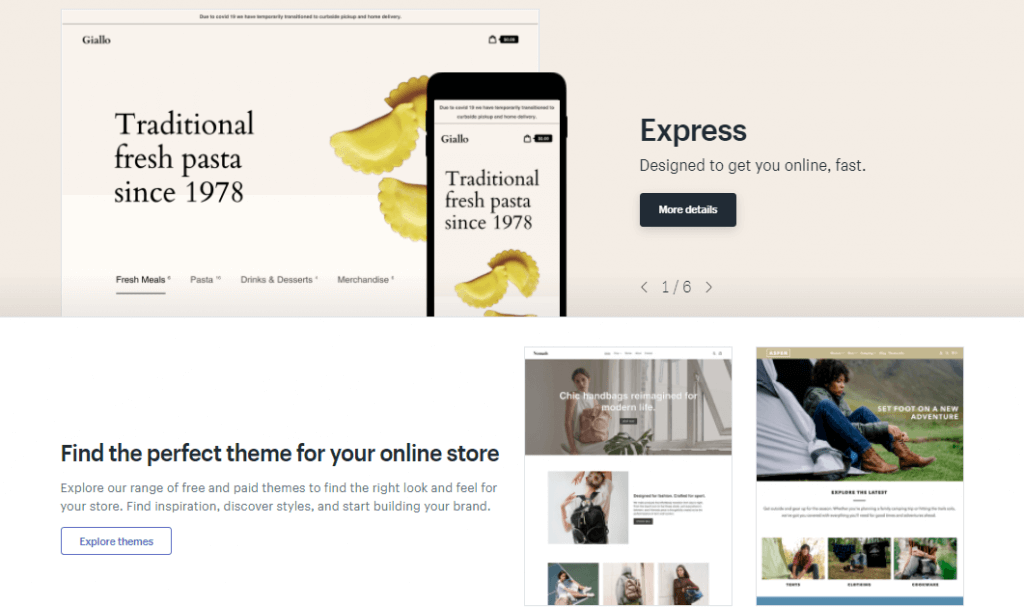 Generally speaking, Shopify themes seem tidy, elegant, and attractive. They are made by professional designers, so you don't have to worry about the functionality and usability of each one.
If you are unsure whether investing around $180 in a premium theme is the right decision, you can get free themes to see how that works out for your store. Of course, they will be inferior to the paid ones in terms of functionality and attractiveness.
Having said that, we still recommend switching to a nicely designed paid theme later on when your business generates a decent amount of revenue. The price may be a bit higher for new businesses, but it's not that expensive when you consider it as a one-time payment. Furthermore, the paid themes are designed by UI-UX professionals. Hence, you can expect to get excellent quality as well as highly customizable templates for your store.
Apart from the price, you should also consider the style according to what you're selling and how you want your customers to feel when they see your store. On Shopify's theme page, you can browse by industry or collections. Feel free to spend your time deciding what suits you the most.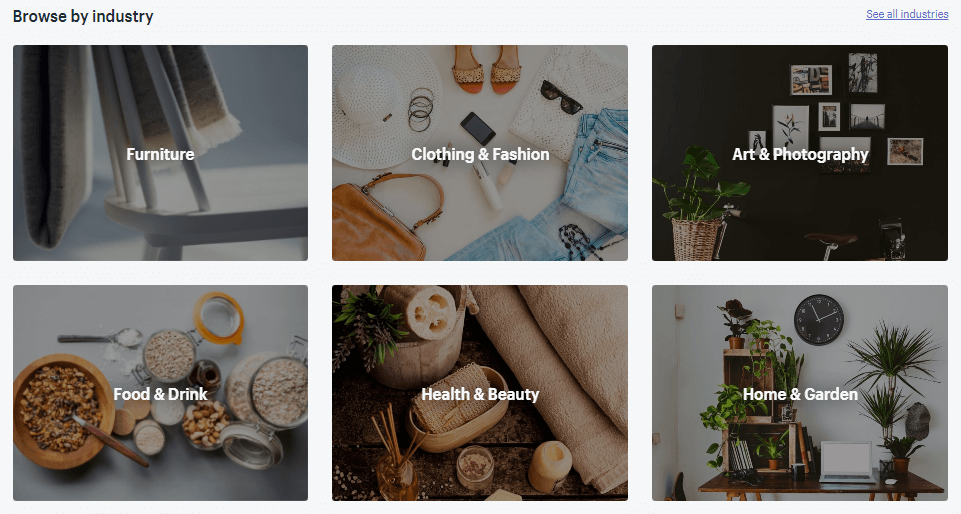 Note that all themes are freely customizable with the Liquid code. You can add a personal touch to any of the themes by changing colors, fonts, social media buttons, and more. Once again, Shopify's ease of use makes things much more convenient as you can add, remove or move sections by yourself with just a few clicks.
eCommerce tools and features
1. Reporting and Analytics
Shopify offers a decent range of reporting tools, which can be upgraded with higher plans. Basic Shopify gives you a real-time overview of key factors such as revenue, consumer preferences, and so on. Further upgrades include detailed sales and customer reports, and Advanced Shopify or Shopify Plus both provide deep analysis with the help of filters.
You can also benefit quite a lot from Google Analytics integration. Connecting your store to a Google Analytics account results in an adequate and flexible combination between the two, where you may find almost anything you need.
In 2021, Shopify continued to improve its report and analysis with the new update on the store session and conversion rate KPI's in Overview analytics. The new function aims to support multi-channel businesses. It allows you to see an overview of key metrics for all your stores in one central place. Hence, you can easily monitor the health of your business as well as grab the big picture of "What's happening right now" for all of your channels.
2. Inventory management
Shopify lets you manually add products or import them using CSV files. Additionally, customers, orders, and other pieces of data can also be imported. Adding products is extremely simple. Clicking on "Products" right in the main dashboard directs you to the page where you can manage your products. If you haven't had any, Shopify will show a big button right in the middle to add one.
You can fill in all the information related to your products, including title, description, featured images, videos, and so on. SKUs and quantity tracking features help manage your inventory easily and automatically mark out-of-stock products.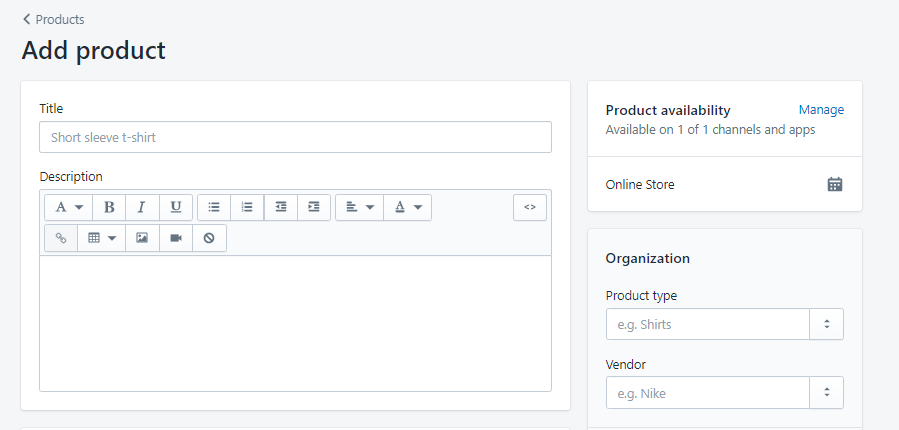 Here you can also add variations for your products and set different prices for each one. However, note that you can only add 3 variants (size, color, material, etc).
3. Multi-channel & omnichannel
If you're looking for a great eCommerce solution where you can take advantage of multi-channel and omnichannel to boost your sales, Shopify is surely a wise choice for you. Shopify provides merchants with a total of 8 sale channels including Facebook, Instagram, Amazon…  By connecting each sales channel to Shopify, you can easily monitor all of your products, orders, and customers in just one place.
If what you need is not on the list, you can always look for third-party integration in the Shopify App Store to get the job done. Now, let's dig deeper into each sales channels
Social commerce uses social networking websites such as Facebook, Instagram, Messenger… as vehicles to promote and sell products or services. According to Forbes, 30% of consumers now say they'd purchase social media. Therefore, this sales channel is an effective way to approach cusomers as well as boost your sales. Shopify allows you to connect with Facebook, Instagram, or even Messenger
Sale Channels
Supports from Shopify
Facebook and Instagram
– Sync your products to a catalog on Facebook and Facebook Shop

– Allow you to create and manage Marketing and Ads campaign on Shopify

– Let you run Ads retargeting

Messenger
– Allow your customer to shop directly from the conversation

– Add the "Contact Us" button into your store

– Bring you the ability to customize your automated messages
A point of sale (POS) is a physical place where a customer purchases goods or services. A POS transaction may occur in person or online, with receipts generated either in print or electronically.
Shopify POS is an application for iOS and Android devices that you can use for transactions in a brick-and-mortar store, markets, or pop-up setting. Find products, process orders, take payment, swipe credit cards, produce receipts, and control it all from your iPad or mobile devices.
Currently, there're 2 Shopify POS subscription plans for you to choose from: Shopify POS Lite and Shopify POS Pro with a bunch of amazing features
Besides Social media and POS, Shopify also allows merchants to connect with some of the best eCommerce marketplaces around the world such as Amazon or Handshake officially (Available for the US). Besides, if you choose the Shopify Plus plan, you can take advantage of the separated  wholesale channel as well
– Link Shopify to your existing Amazon listings or create a new list on your Amazon store
– Link your existing Amazon listings to your Shopify admin
– Manage everything from your Shopify Admin panel
Wholesale channel (only available for Shopify Plus)
– Create a separate, password-protected storefront for Wholesale
– Add wholesale-only products that are available in your wholesale store only.
– Manage everything from your Shopify Admin panel
Please note that you can still integrate your Shopify store with other markets by using an extension or third-party developer.
4. Payment and shipping
Shopify offers over 100 payment processors (probably more than any other platforms), including the most popular names such as Stripe, 2Checkout, PayPal or Authorize. This is great news except for the fact that Shopify will charge you a transaction fee (2.5% to 0.5% depending on your plan) unless you use its own payment gateway – Shopify Payments.
The option of accepting payment in multiple currencies is only available with Shopify Payments. The system will automatically convert the price according to current exchange rates. You should definitely consider this option if your target market expands overseas and your location is in the list of where Shopify Payments is available.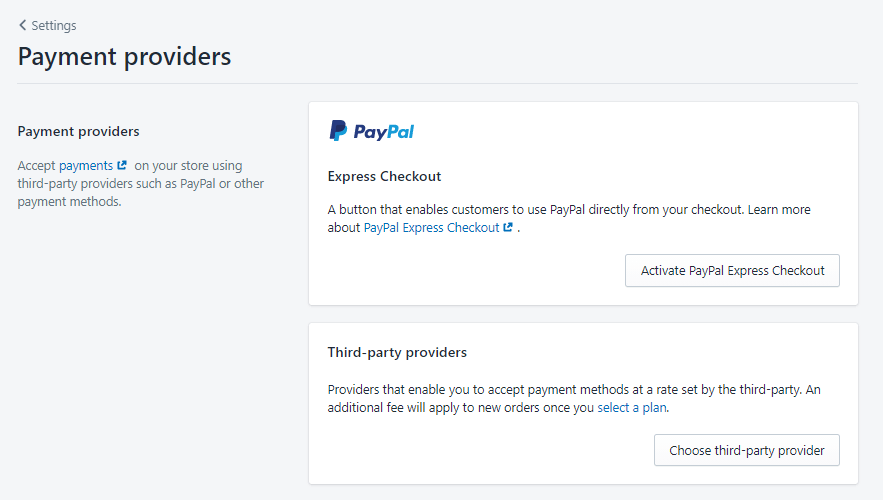 You can choose from 100+ payment providers including PayPal, Amazon Pay, Apple Pay…
Shopify provides high flexibility when it comes to shipping. You can configure your shipping rates (free shipping, flat rate, depending on region, etc). With the Advanced Shopify plan, you can also unlock the third-party calculated shipping rates, so you can show customers the current courier prices at checkout.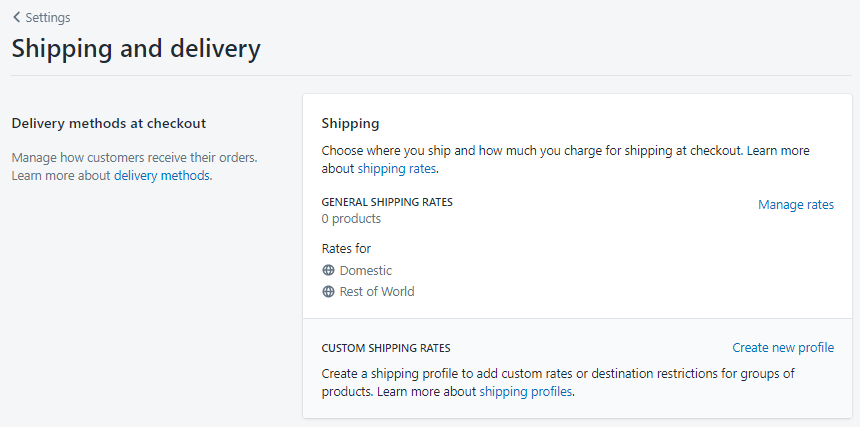 5. App store
With a total of 2000+ apps, Shopify is by far the platform with the biggest app store on the market. Basically, you can find almost anything you want there.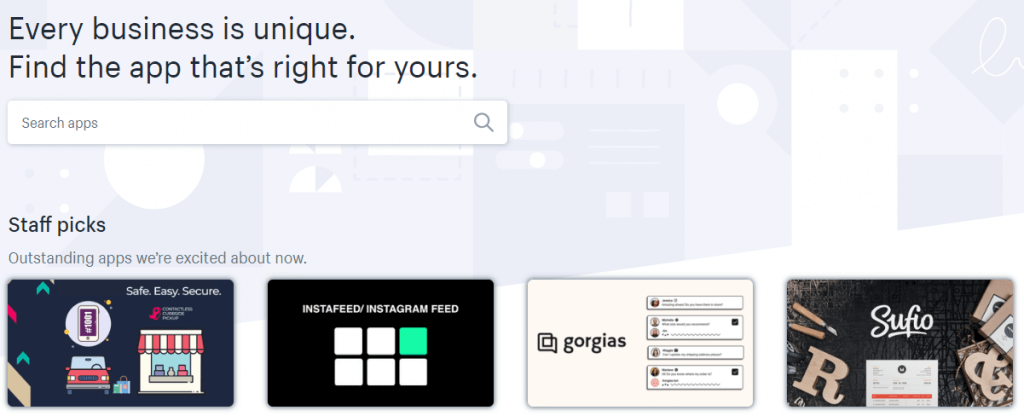 While Shopify has already included most of the functionalities to meet basic needs, the App Store breaks all limits to what you can make of your eCommerce site.
The Shopify team does a good job helping you navigate through the enormous store by letting you browse by categories or collections. They are even passionate enough to create a "Staff picks" section containing apps personally selected by the team themselves.
One of the popularly used features is dropshipping, which is not integrated by default. Thus, you will need the help of the app store if you want this feature. Fortunately, there are a lot of apps for this, and Obelo is one of the recommendations.
Other than that, you can browse the app store for more marketing tools, order & inventory management, store design tools, more. Some apps let you connect to social media platforms in order to further promote your business and increase traffic to your site.
6. Internationalisation
Shopify is a strong candidate if your priority is cross-border selling so you can reach customers all around the world. It allows your store to connect with various sales channels, enable multiple-languages, multi-currencies, and location-based tax settings so you can create a localized shopping experience for your visitors.
Shopify Multi-languages function lets you create separate URLs for your original content with a different language. When customers land on a translated URL, your website will automatically show the translated version. After that, your customer can view the product, create an order, checkout, and receive notifications in their local language.
The number of available languages depends on your current Shopify plan:
– Shopify Basic – you can translate up to two languages.
– Advanced Shopify, then you can translate up to five languages.
– Shopify Plus merchant, then you can translate your store into 20 languages.
Selling with multiple currencies is also supported by Shopify. When applying this function, your customers can view prices in your store, pay for their orders at checkout, and receive refunds in their local currency.
The conversion rate is set up by default based on the real-time foreign exchange rate. If you want to change the currency, you can lock in a fixed rate for each currency manually.
Note: Selling in multiple currencies is only supported by Shopify Payments. Orders placed using Paypal or other third-party payment providers are processed in your store currency.
Tax is also an obstacle when you want to sell internationally. Fortunately, Shopify has it covered for your business. Many countries charge taxes based on an order's destination. Therefore, you can set up these rates manually. Moreover, you can choose whether or not to include the customer's tax into your product price automatically. The system will calculate the price of your products (not include tax), and then apply tax rates according to region.
SEO & Marketing
Most (if not all) eCommerce stores rely heavily on SEO & Marketing to sell products. No matter how much time and money you invested in developing your website, bad Search Engine Optimization and improper marketing can always hurt your sales since customers are the core of all businesses.
Fortunately, Shopify's SEO is quite effective. It is adequate, intuitive, and can help you rank well when being utilized properly. Once again, Shopify's ease of use comes in handy as you can access most built-in functions without a hitch.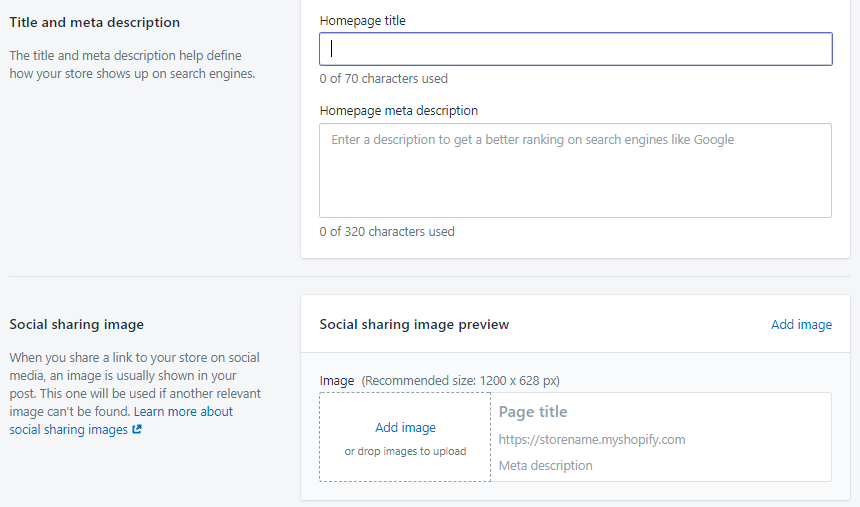 As seen from the image, adding a title, meta description, and images to your pages is easy and straightforward. Shopify also lets you create custom URLs and 301 redirects every time you change the URL so as to avoid 404 errors.
Site speed is decent. Especially if you choose a simple and light theme, fast loading speed is not so hard to get. You can also structure your site by categories, which not only benefits your SEO but also helps users navigate seamlessly.
Having said that, there is still room for improvement. Certain URLs bear a mandatory string, which isn't good for SEO. For example, product pages have '/products/', and posts are stuck with '/posts/' right after your domain name.
Additionally, the Robots.txt file and Sitemap aren't available for modification, making Shopify SEO a bit frustrating if you're serious about site optimization.
Things aren't that bad though. Those were just some minor inconveniences that are outweighed by the number of benefits you can derive from Shopify. Don't forget the huge app store with endless SEO possibilities, and other tools to help you gain more traffic. Discover here
1. Blogging
If you want to write blog posts related to your business, the good news is that Shopify does have a blogging feature. However, there isn't too much to expect, as this is not the main focus of the platform. It only gives you some basic functionality to write posts, meaning you may find it lacking if you already know how other platforms such as Weebly or Wix work.
The features you may miss the most include blogging analytics, social bookmarking, categories (you have to stick to tags). If your site is centered around content with a bit of eCommerce sprinkles, perhaps Shopify is not for you.
Having said that, Shopify blogging features still somewhat satisfy those with simple needs and goals. You can start writing right away without having to install any apps. Adding tags, editing titles and keywords is easy and simple. There are also SEO parameters for you to customize and increase your chances of appearing in the first search results page.
2. Email marketing
Email marketing is one of the best ways to connect to your customers. Shopify gives you a built-in email tool to promote your products and share updates.
You can choose from different email templates to have an easy start while still maintaining professionalism. Of course, emails are editable so you can add a personal touch of your own. All of this is processed within your admin panel, including reports of campaign effectiveness.
You can find the best email marketing app for your Shopify store from this collection here.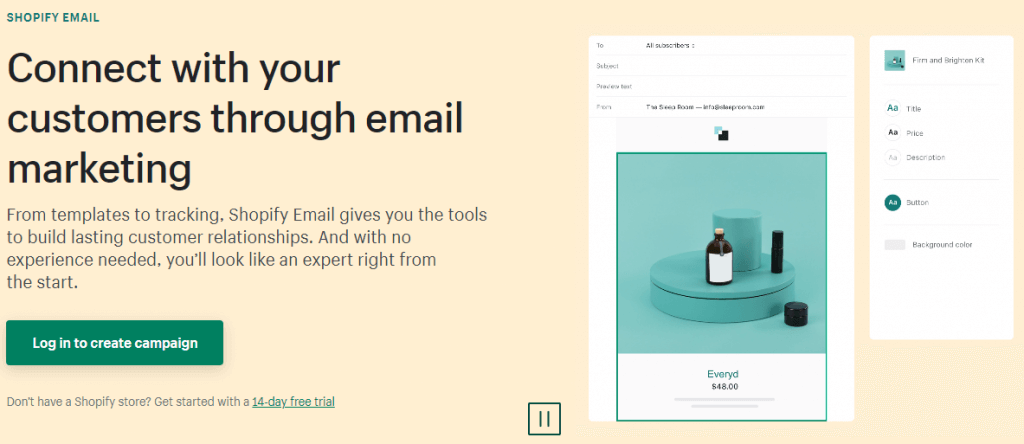 3. Abandoned cart recovery
This is a really useful feature that is integrated by default for all plans. Instead of having to get an app, you just need to go to Orders from your Shopify admin and then click Abandoned checkouts to manage abandoned carts.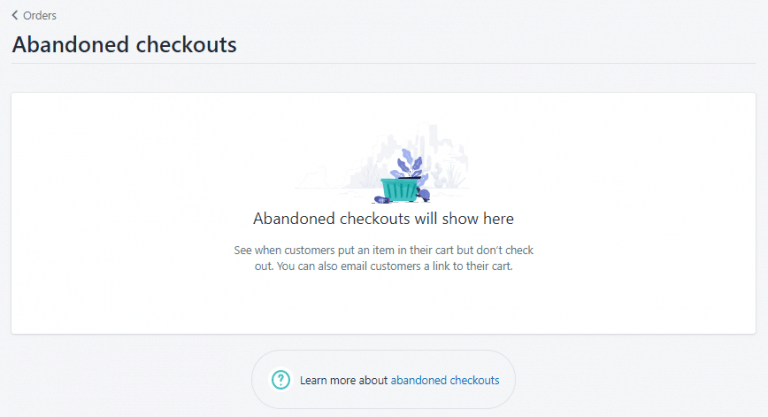 Here you can view payment events from abandoned checkouts. Shopify notes all payment events in the history of the abandoned checkout each time a customer fails to pay for a cart. You can get the information about their unsuccessful check out here in case your customers contact you for help with payment details.
This feature also helps you figure out why carts are left unpaid by looking at the similarities. You can also choose to automatically or manually send emails containing check-out links to your customers to get them back to their abandoned carts.
Wondering how that works out for you? Shopify even lets you evaluate the effectiveness of cart recovery by email reports. Go to the Marketing section from your admin dashboard and you will be able to see orders that are completed via reminder emails.
Security
When it comes to security, apparently there's less to worry about when you opt for a hosted eCommerce solution instead of building a store with open-source platforms. You don't even need to do anything – Shopify takes care of all tasks regarding security in the background.
With SSL Certificates for every Shopify site, all data transferred between you and your customers is encrypted. This helps increase trustworthiness as sensitive information such as credit card details is completely secure. Additionally, Shopify is also PCI compliant, meaning it follows security standards for processing credit card and debit card details.
Support
Shopify has a support team available 24/7 for phone, email, and live chat support. This is also a great advantage over its open-source rivals. The dedicated support team delivers valuable service regarding both information quality and response time.
Other than that, you also get to access its community forum, help center, and other video tutorials. The ultimate form of support is hiring professional certified Shopify experts to ensure maximum problem resolution and seamless business operation.
Shopify Review – Recap
Shopify has outperformed almost every other eCommerce platform in our research. In summary, we suggest using Shopify to create your eCommerce store as it's a highly flexible platform with a large app store, reasonable pricing plans, and an impressive range of built-in features.
Shopify has a great sales potential, ease of use, and satisfaction rates, making it a great option for newcomers and big sellers. According to our recent data report, our customers have been flocking to Shopify because of its outstanding features and we have also received positive feedback on this platform. Most of the migration we have completed so far are:
See our tutorial below to get an idea of how LitExtension can move your store to Shopify perfectly!
By the way, we have GREAT NEWS for you! If you want to move your online store to Shopify, we have created a migration app helping you to transfer 100 entities to Shopify for FREE.  Although the number of entities is limited, we believe that it would help you grab an overview of how your store is built on Shopify!
Thank you for keeping up with the Shopify review at this length. Should you have any concerns, don't hesitate to leave us a message via live chat on the website or an email via contact@litextension.com
In the arena of eCommerce solutions, it is obvious that there are competitions among platforms to win customers' hearts. We have also put Shopify in battle with other notable shopping carts. Check it out if you want to get to know more! You can also join our Facebook Community to get more eCommerce tips and news.