Introduction
WooCommerce is a free WordPress plugin that adds eCommerce functionality to your WordPress website and makes it an online store. Even though it provides many built-in eCommerce features, they may not be enough to fulfill your requirements. Hence, it is highly recommended to install some necessary plugins to extend the functionality of your WooCommerce store.
Understanding that we have collected 14 plugins that we believe are the best WooCommerce plugins for your store. In this article, LitExtension – The #1 Shopping Cart Migration Expert will be pointing out the key features of all of these extensions, how much you have to pay to install them along with some information about their update services.
---
Best WooCommerce Plugins to Grow your Business
Before discovering the best WooCommerce plugins for your online store, why don't we take some time to learn a little bit more about this eCommerce platform with these articles:

#1. Omnisend Email & SMS Marketing
Omnisend is an email & SMS marketing tool that helps WooCommerce stores build brand loyalty and generate significant sales. It helps achieve this by making it easy to create list-building popups, automated workflows, and hyper-targeted segments, so that businesses can spend more time on running their business and less time fidgeting with marketing tools.
Omnisend offers a free plan that includes all of its features: popups, landing pages, the gamified Wheel of Fortune, along with the drag-and-drop, customize-everything Form Builder. There's also the automatically-imported branding that can be applied to signup forms and emails, plus a large library of email and popup templates.
In fact, Omnisend offers templates or presets in all of its major areas: not only popups and emails, but also templates for high-converting workflows or presets for proven customer segments you can set up in a click.
Key features
Drag-and-drop email and form builders that allow you to customize everything quickly.
Automated branding import of your logos, colors and fonts from your website to use in your signup forms and emails.
A large library of templates for signup forms and emails, as well as presets for workflows and segmentation.
Ecommerce-focused email elements, like Product recommender, Product listing that adds products directly into your emails, Unique discount codes, and more.
Advanced reporting to help you get deep insights into your performance
Pricing and support
Omnisend offers a free plan that includes all of its features. Paid plans start from $16/month. Omnisend has award-winning 24/7 support via email and live chat for all, regardless of the plan (even for free users)
#2. WooCommerce One Click Upsell Funnel Pro
WooCommerce One-Click Upsell Funnel Pro helps merchants to make post-purchase upsell offers that users can buy in one click without re-entering payment details. This encourages customers to spend more which, as a result, increases your Average Order Value.
You can add multiple offers in your upsell funnel. If the customer doesn't accept the first offer, you can present him/her with another offer with a more attractive discount.
The plugins allow the merchant to create product-specific offer pages, accept secured payments via widely accepted payment gateways, and ready-to-use offer templates. It also supports some of the major page builders like Elementor which lets you create custom and responsive upselling pages.
Key features
Special One-time Post-Purchase Upsell Offer: Create exclusive upsell funnels that will be visible to the customers only once, irrespective of the fact that he accepts or rejects the offer. In short, a customer who has seen the offer once will never see it again.
Streamlines with Upsells and Downsells: In some situations, you've to narrow down your customers' expectations and provide them with offers that best fit their needs. When upselling your customers does not work, then it's time to take a backseat and let down-sell do its work. With WooCommerce One Click you'll get a streamlined framework for upselling and down-selling offers.
Funnel Sandbox Mode: The WooCommerce plugin has a Sandbox mode that gives you a testing environment for your post-purchase upsell funnels. Thus, you can isolate the changes on your live store without harming the production environment.
Responsive Offer Pages: As the plugin is compatible with some of the major page builders, you can create responsive offer pages for your desktop, tablet, and mobile users. The WooCommerce One Upsell Funnel Pro lets you tailor every offer page to match your brand goals.
Accept Payments From Multiple Payment Gateways Securely: Nothing can be worse than a customer not able to pay for your products and services. Thus, MakeWebBetter has made the plugin compatible with a plethora of payment gateways, like Paypal, Stripe, Bank Transfers, Cash On Delivery, Authorize.net CIM, WooCommerce Square, and many more.
Smart Offer Upgrade: Another incredible feature of the WooCommerce One Click Upsell feature; Smart Offer Upgrade. The Smart Offer Upgrade allows the customers to upgrade their cart with a superior version of the product in the purchase.
Performance Reports: One of the most important features of the WooCommerce upsell feature is performance reporting. We'll know marketing is all about making decisions backed by data. Thus, the performance reports give you deep insights into your upselling funnels.
Pricing and support
It comes with a free version and a pro version for you to choose. The paid plan comes with 1 year free of 24/7 dedicated support.
#3. Ultimate WooCommerce Gift Cards
Ultimate Gift Cards for WooCommerce plugin allows merchants to create, sell, and manage gift cards at their WooCommerce store. With this plugin, admin can customize gift card templates, send gift card coupon codes as QRCode/BARCode, create reusable gift cards, and send balance notifications to customers. Recipients can use this card to make purchases at store and he/she can also recharge/redeem these cards at both online and retail store.

Key features
Customizable Templates: The plugin comes with 20+ gift card templates, designed for every occasion and event. And guess each template can be customized according to your requirements and goals.
Redeem/Recharge Gift Cards on your Retail Store: With this feature, the customers can easily redeem or recharge their gift cards at your online or offline store. You just have to generate a redeem/recharge click and the customer can perform the action just by clicking on it.
Share Gift Cards On WhatsApp: The WooCommerce extension allows your customers to share the Gift Card details on WhatsApp with their dear ones. This feature boosts the reach of your online store and brings more customers through referral marketing.
Analyze Gift Card Performance via Reporting: The plugins allow the admin to take follow-ups for each gift card sold. This way the admin can easily track the Purchased Date, Gift Card Amount, Remaining Amount, Sender and Receiver's name, Schedule and Expiry Date, etc.
Allows The Merchant To Send Gift Cards Offline: Ultimate Gift Cards for WooCommerce plugin allows the merchants to share the gift cards offline with their loyal customers. This plugin has PDF support which allows the admin to either import the file with all the details or adds the details by clicking on the Add New button in the Offline Gift Card section.
SMS Notification: The Ultimate Gift Cards for WooCommerce plugin is integrated with Twilio that allows users to share gift cards via SMS. You just have to enable the SMS Notification feature from the Notification settings of the plugin and you're good to go.
Pricing and support
The Ultimate Gift Cards for WooCommerce plugin also comes with a free version and a paid version for you to choose.
#4. YITH WooCommerce Wishlist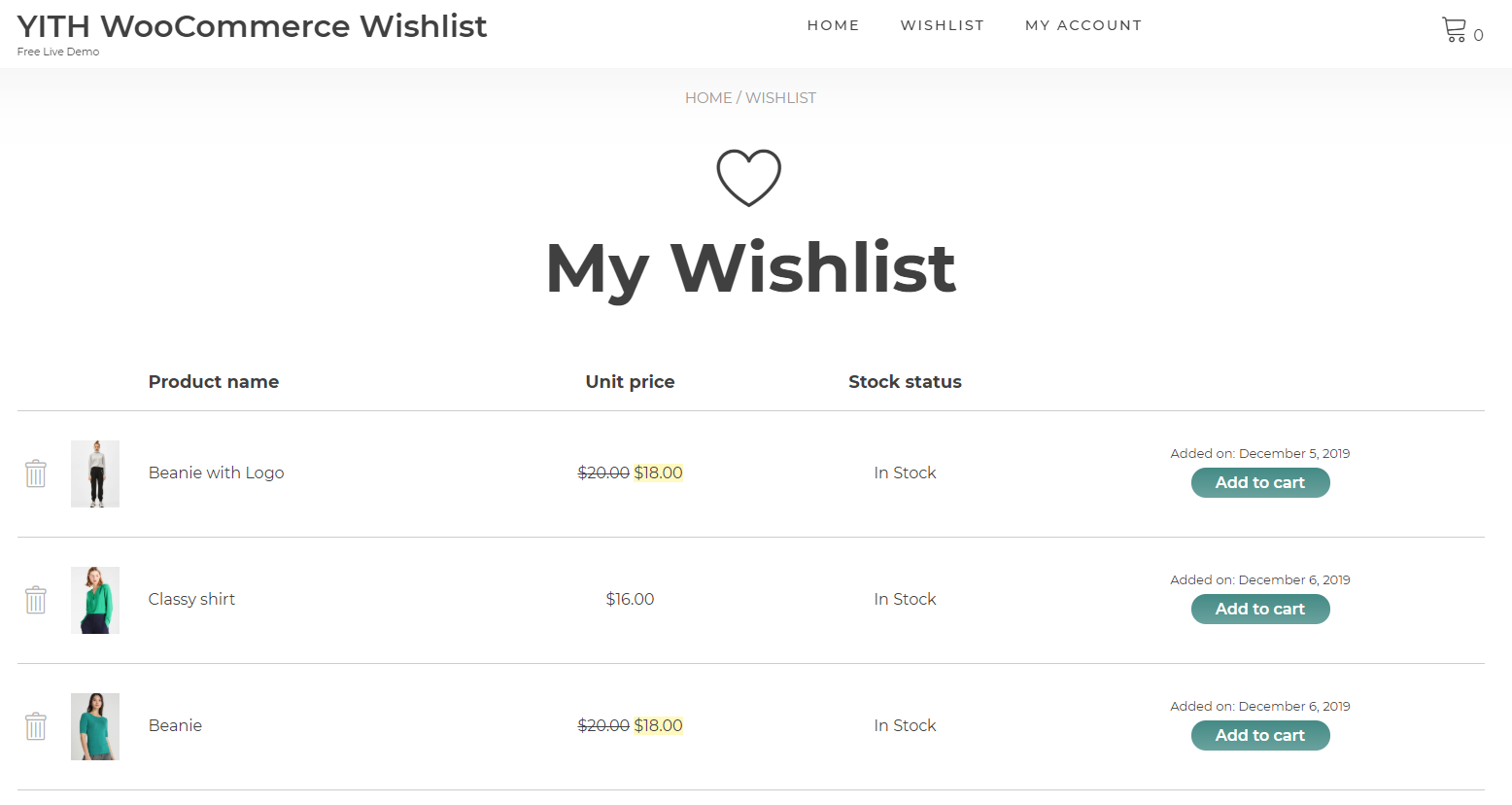 The wish list is hands-down one of the most widely used tools on any eCommerce platform in the light of its necessity and WooCommerce is no exception. With YITH WooCommerce Wishlist, your visitors will be able to:
Save their favorite products to carts and later when they want to find and buy those items, they can simply go through the pending post and check out.
Share the wish list with some of their friends and relatives to buy things from the list together.
Share the wishlist on their social media. This way, they are indirectly promoting your online shop.
Key features
With this plugin installed on your site you will be able to:
Understand what your customers want at that moment. To be more specific, this data can help store owners identify which products are gaining more attention than others. Accordingly, businesses can modify their branding and marketing strategies, establish a deeper relationship with their customers and ultimately, drive more sales.
Alert customers about sales. Smart purchasers often use wish lists to save items for potential flash sales. Informing your customers that items in their wishlist have gone on sale is an excellent tactic to pull them back in and convince them to complete the checkout.
Effectively manage your inventory. If any out of stock items are added to your customers' wishlist, you can notify them via email or in-app chat once the item is back in supply.
Drive more traffic to your shop. According to Nielsen, 92% of people around the world said they trust recommendations from friends and family above all other forms of advertising. Therefore, having consumers sharing their wishlist on social media is a wonderful way to promote your products, especially when it's free.
Pricing and support
Installing YITH WooCommerce wishlist for 1 site only costs you 89.99 euros. You can save some bucks if you buy for 6 or 30 sites at 199.99 or 399.99 euros respectively. All of these plans come with 1 year of update and support. Plus, if you are not satisfied with the plugin, you will receive a 100% refund for any reason.
#5. Doofinder Advanced Search Engine for WooCommerce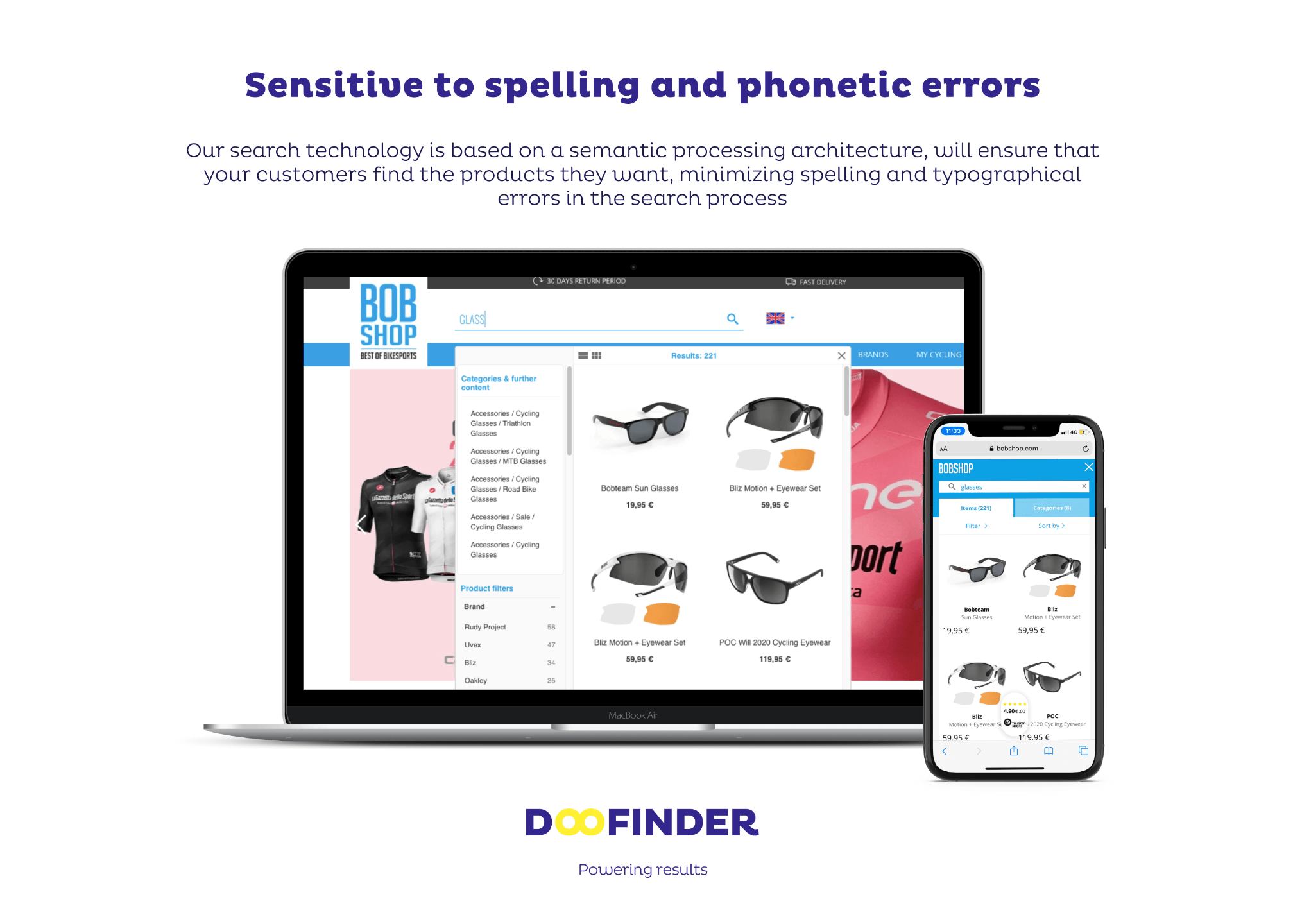 Doofinder is a smart search engine extension that provides fast and accurate results based on your website content. Accordingly, visitors to your website will be able to find what they are looking for correctly in the twinkling of an eye.
Key features
Filters for WooCommerce: It allows you to give your products the attributes you want to give them. By doing this, your customers can apply filters to find the products they are looking for.
Banners and special offers: With Doofinder, you can add banners and special offers to your site search. It can either display banners or promos when a user performs a specific search or display static banners all the time.
Responsiveness: Doofinder works well on both computers and mobile devices.
5 minutes installation: You can install this plugin in only 5 minutes and enjoy its 30 days free trial before deciding whether to buy it or not. No strings attached and no programming required.
Live statistics: You will be able to know the most updated searches, the most viewed products, your conversion rate, and other relevant data from your WooCommerce store.
Synonyms and Autocomplete: Doofinder will make relevant word suggestions for your site's visitors when they start typing. On top of that, the plugin also automatically corrects their typos if there are any.
Pricing and support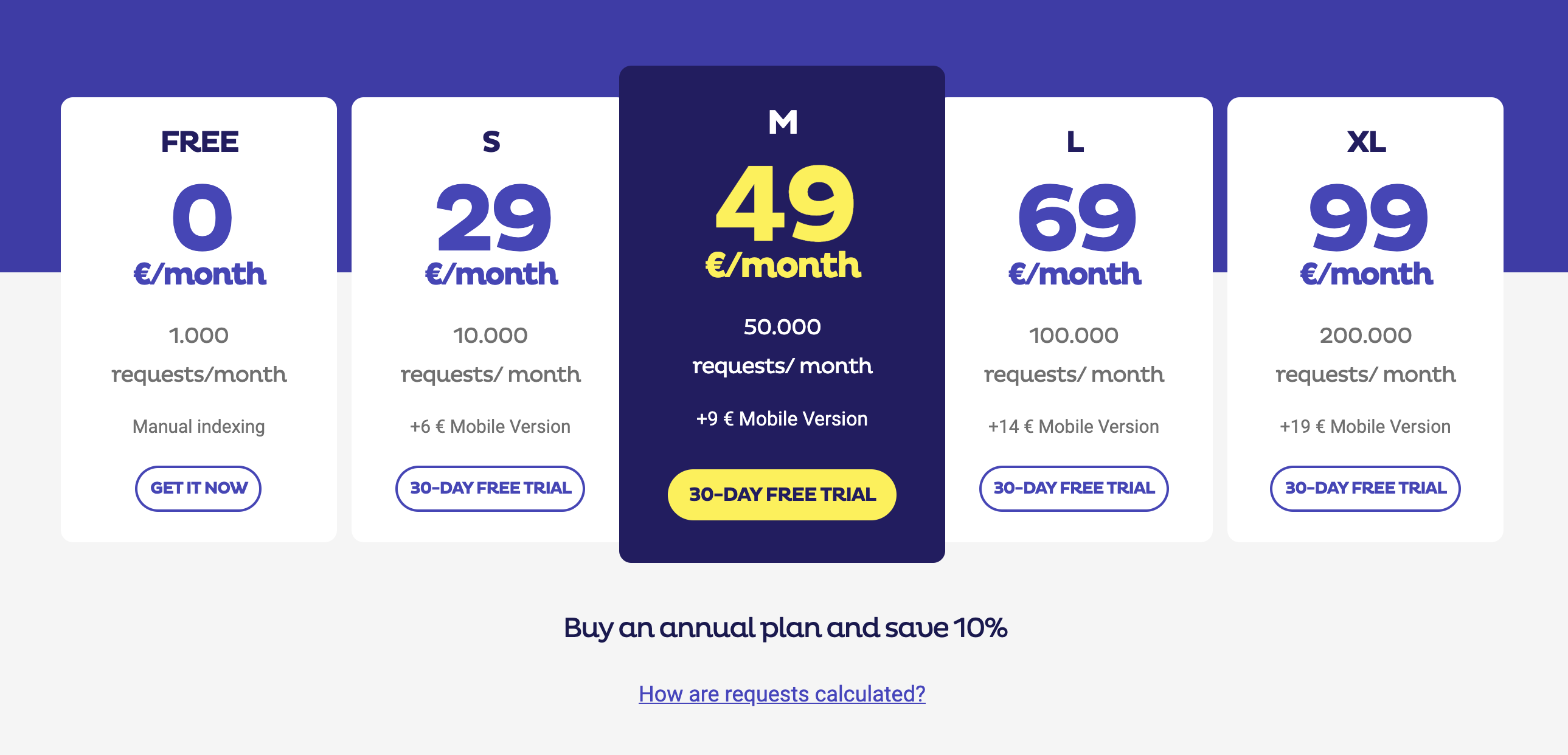 As you can see from the picture above, Doofinder has 5 pricing plans ranging from 0 to 99 euros per month. Buying an annual plan can save you 10% depending on the plan you choose. If you need help configuring Doofinder, you can always find technical documents here or send emails directly to their support team via [email protected].
#6. Beeketing for WooCommerce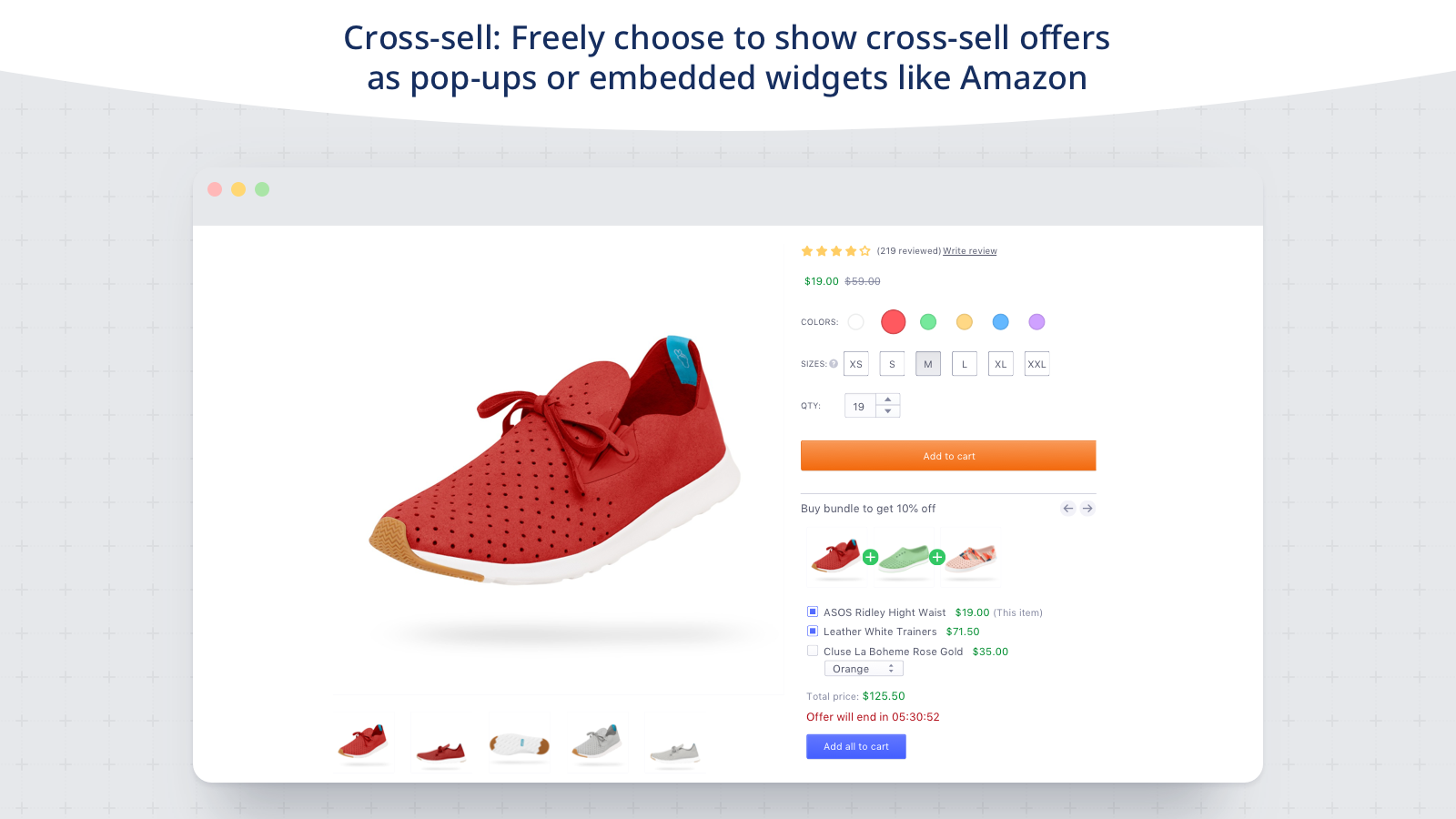 Beeketing is another name in the best WooCommerce plugins list which provides an All-in-One marketing service that empowers more than 32,000 WooCommerce stores worldwide. It is built by Beeketing – a SAAS (Software as a Service) Marketing Automation platform for eCommerce websites.
Within the plugin, you will see a list of different apps, each with a distinctive set of features that focus on lifting up conversion rates at different stages in the sales funnel.
Features
By installing Beeketing for WooCommerce, you can:
1. Substantially boost your conversion as the plugin allows you to
Add a Buy Now button fixed on top or bottom of the product page and display full-screen product images on mobile devices. Show popup coupons to encourage visitors to make their purchases. Koopy.com also recommends submitting your coupons to coupon marketplaces for added visibility.
Create a sense of a busy store by showing recent order notifications on the corner (both real and fake orders).
Display the number of people who have viewed or bought the product.
2. Greatly increase your average order value by
Upsell related items and cross-sell product bundles at discount prices to encourage customers to spend more. You can either choose the items you want to upsell and cross-sell manually or let the automated upsells and cross-sells backed by AI help save your time.
Show Best Sellers, Recently Viewed, Who Bought This Also Bought, Recommendations Based on Cart product carousel sliders.
3. Increase the checkout rate & prevent cart abandonment
Add sales countdown timer to create a sense of urgency for discount deals. In other words, purchasers must check out before the sale time runs out.
Offer discount code, free shipping code or a free gift if customers complete the order at the checkout page to minimize the cart abandonment chances.
4. Build long-term customer relationship & retain loyal customers as Beeketing supports
Installing a live Facebook chat widget right on your store. You can take advantage of this function to offer your customers real-time support via Messenger and grow your Facebook page at the same time.
Pricing and Support
As Beeketing offers both free and paid services, the cost varies depending on the features you need for your WooCommerce store. In terms of the free features, you will receive unlimited access. Meanwhile, with the paid subscription, it will charge you from $8 to $49 per month with a 15-day free trial. It doesn't matter whether you are using the free or paid versions of Beeketing, they do not charge for support and updates.
#7. Yoast SEO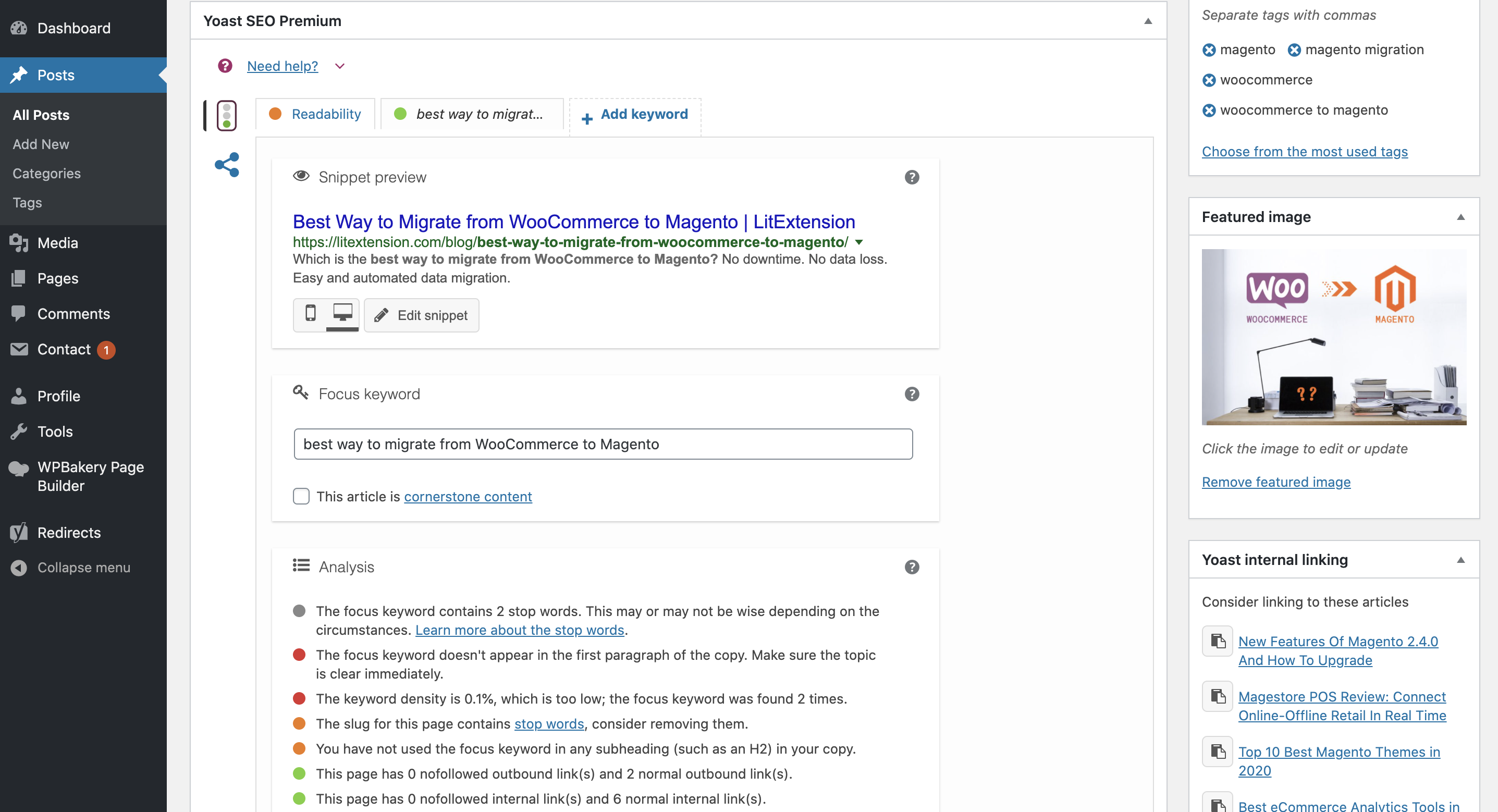 Whether you are developing your own blogging site, running your own shop or online education website, or any other fields, Search Engine Optimization (SEO) has always been an indispensable part.
Manually optimizing your SEO can be very complicated and ineffective. Thus, installing a plugin to assist you with SEO is highly recommended, especially with open source platforms like WooCommerce. Among a vast selection of SEO plugins available for WooCommerce, Yoast SEO stands out to be the most widely used one.
Let's see what it has to offer!
Key features
Allows you to write SEO-friendly paragraphs with the SEO analysis function.
Make sure you are writing intelligible and engaging content for both real people and search engines.
Yoast has a snippet preview which shows you how your page will look in the search results.
Indicate cornerstone content and internal linking features to help you rank for the right keywords with the right pages.
Enable users to edit titles and meta descriptions in bulk.
Pricing and support
Yoast SEO has a free and premium version. The premium version will unlock more features and a 24/7 support team. The premium one will cost you $89 for 1 site and you can save up to 15% if you buy in bulks.
#8. WooCommerce Multilingual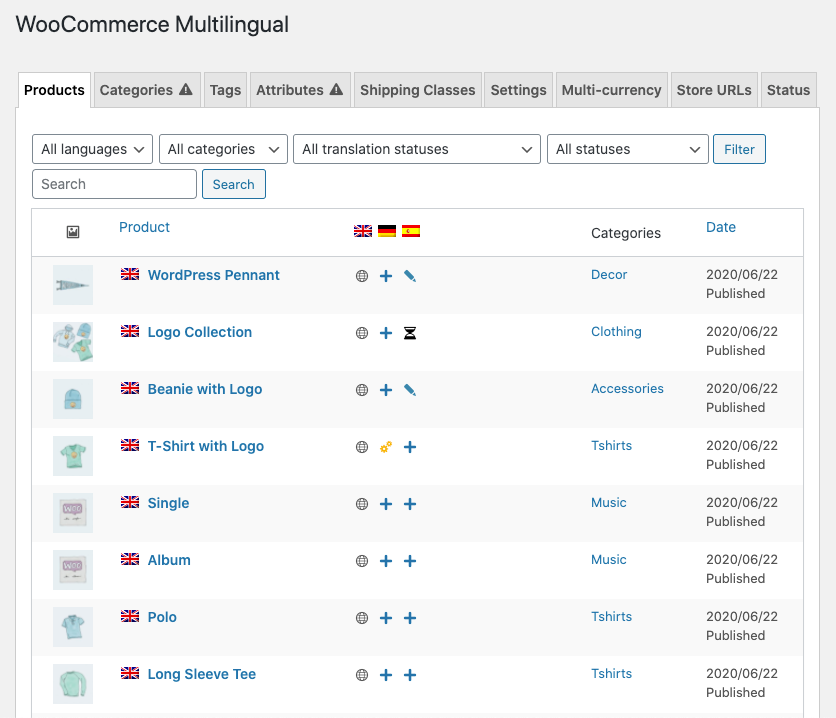 Research shows that 45% of buyers say that they don't purchase a product that is displayed in foreign languages. This means that merchants who run multilingual websites have a higher chance of building trust with foreign purchasers and further drive more sales to their websites. Therefore, I am determined to put WooCommerce Multilingual in the best WooCommerce plugin list. The plugin was born to make it possible to run full multilingual eCommerce websites using WooCommerce and WPML.
Key features
Translate all products (simple, variable, group)
Easy translation management
Enable customers to check out in the same language
Send email to clients and admin in their language
Enable you to run your WooCommerce store with multiple currencies based on the customer's language or location
Allows picking payment gateways based on customer's location
Compatible with other popular WooCommerce extensions such as WooCommerce bookings, WooCommerce table rate shipping, WooCommerce subscriptions, WooCommerce product Add-ons, or WooCommerce tab manager.
Pricing and Support
WPML offers convenient pricing for businesses and Web agencies building multilingual WordPress sites. All account types include support and updates for a year and 30 days money-back guarantee.
#9. WooCommerce PDF Invoices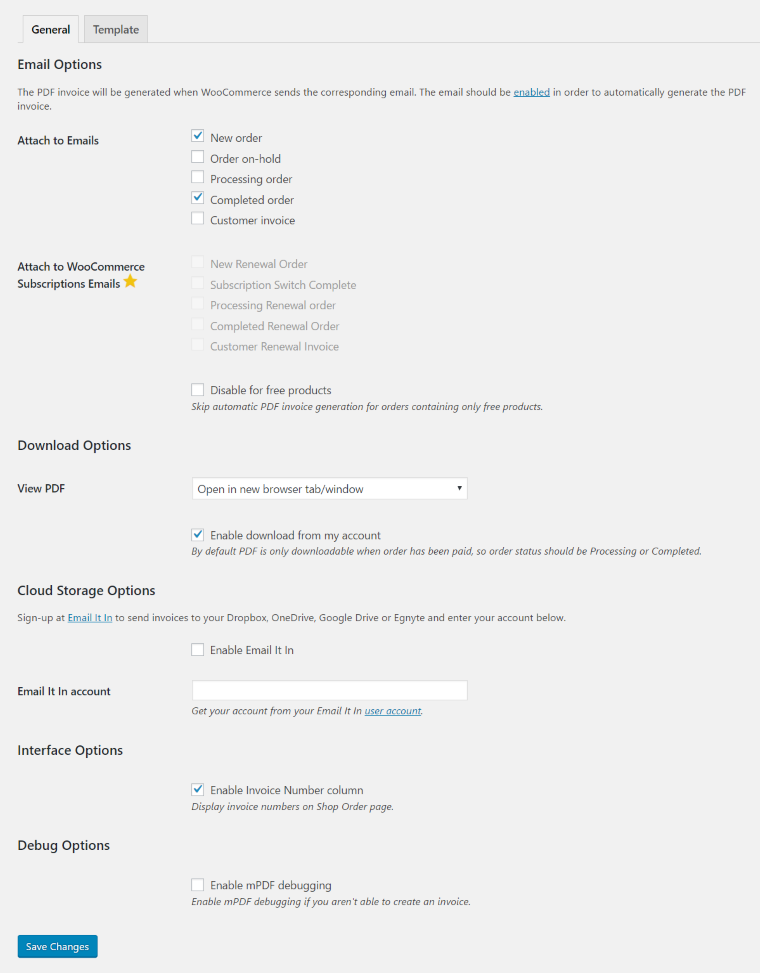 WooCommerce PDF Invoices automates the invoicing process by generating PDF invoices and PDF packing slips, attaching it to your email, and sending it to your customers' Dropbox, Google Drive, OneDrive, or Egnyte. You can surely select a template or customize one.
Key features
With the normal plan, you will get:
Download invoice from the My Account page
Automatically generate PDF Invoices and attach them to your email templates
Manually create or delete PDF invoice
Generate PDF packing slips
Connect with Google Drive, OneDrive, Egnyte, and Dropbox
Customizable PDF templates
The premium version is more feature-rich:
Generate, export or download PDF invoices in bulk
Directly send customer invoices to multiple recipients
Change the font of the PDF invoices.
…
Pricing and support
This WooCommerce plugin charges you $79 per year and it comes with 1 year of update and support.
#10. WooCommerce Currency Switcher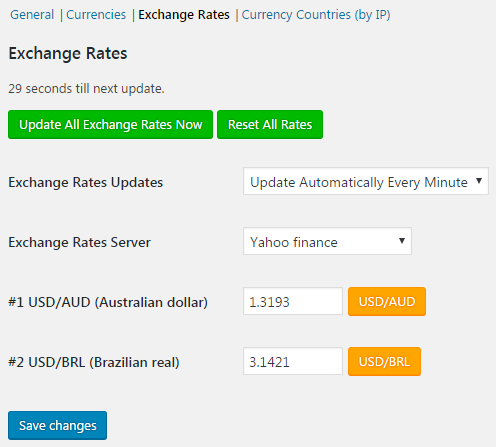 Allowing customers to pay in their own currency substantially contributes to retaining their interest and loyalty to your store. On the grounds of that, your WooCommerce store definitely needs a plugin for this. Among all the highly-rated plugins this giant has to offer, Currency Switcher is one of the best WooCommerce plugins that allows your customers to switch between currencies of their preferences.
Key features
Display your website's default currency flag on the front-end
Users can convert product shipping, coupon codes, taxes, and other prices on the website to the currency they prefer
Allow the admin to receive emails every time a currency rate is changed
Add multiple currencies (and their respective flags) from the back-end
Update currency exchange rates on predefined time intervals via Open Exchange Rates API
Users can change the currency on shop, cart, and checkout pages
Add currency switcher on the front-end as a widget
Currency Switcher for WooCommerce is compatible with Donation for WooCommerce, WooCommerce Subscriptions, and WooCommerce bookings
Pricing and Support
With $79/ year you will receive unlimited updates and support.
#11. WooCommerce OptiMonk Popup Tool
OptiMonk is a smart popup tool that helps eCommerce stores increase their email list, revenue, and Customer Lifetime Value (CLTV). The powerful popup builder lets you create eye-catching popups that convert well and don't annoy your visitors.
The free plugin from OptiMonk detects customers who are about to leave and sends them personalized messages. Popups with discount codes or free shipping offers are frequently enough to persuade on-the-fence buyers to purchase right away.
OptiMonk allows you to personalize your visitors' entire customer journey, ensuring that the right message is delivered at the right time. A free shipping bar and email popups can also be added using OptiMonk's plugin.
Key features
Product Element: Embed product images and information from your Shopify store into your popups with ease.
Auto Coupon Redeem: Increase your coupon redemption rate by automatically inserting the coupon code into the order form after a visitor has claimed it in a popup.
Multi-step popup campaigns: Break down your campaigns into engaging step-by-step popups to increase subscriptions.
Assisted revenue: Track exactly how much money your popup campaigns have brought in.
Split-testing: Create as many versions of your campaign as you want and see which ones get you more conversions!
Connect to any tool you want, including newsletter tools, CRM, CMS, Messenger, and SMS marketing.
Pricing and support
OptiMonk offers a free option for any seller who wants to try it. Besides, the core plans are ranging from $29 – $199 per month depending on your demands.
#12. WooCommerce Checkout Manager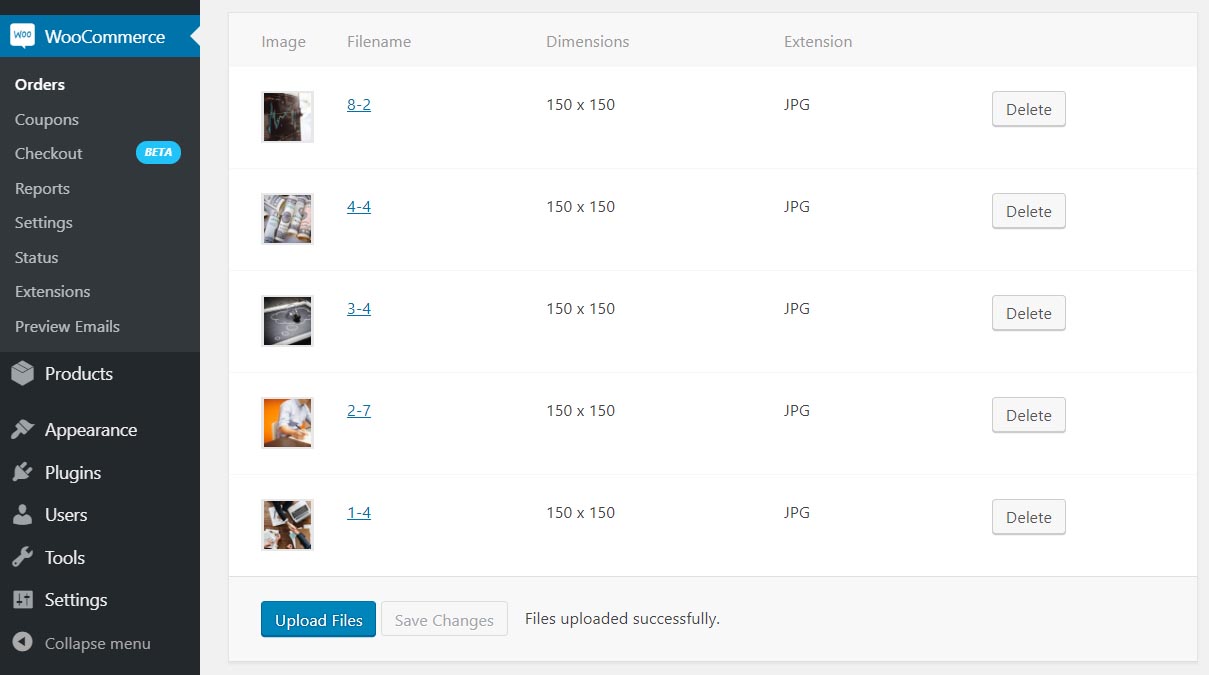 WooCommerce Checkout Manager is a plugin designed to help you tailor-make your checkout pages and increase conversion rates. This plugin allows you to customize, add, edit, and delete fields on the checkout page.
Key features
Easily add and reorder new fields on the checkout page.
Make checkout fields optional.
Add and remove the required fields.
Hide or show fields for specific user roles.
Upload files to the checkout page.
Export orders by field name.
Create Conditional Fields.
Pricing and Support
Its pricing varies from 0 to $80 per year. If any issues arise, you can get help from the forum.
#13. WooCommerce Google Analytics Integration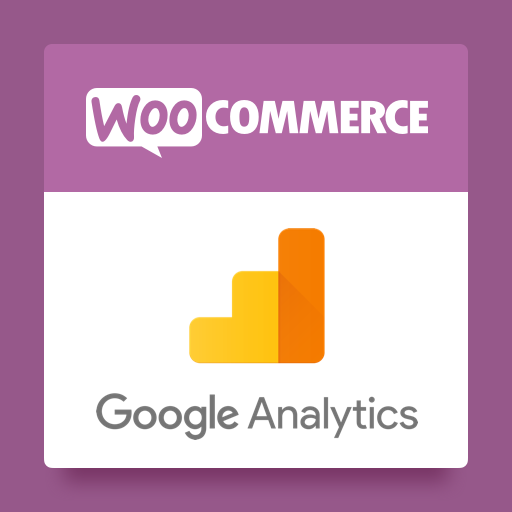 Every marketing campaign that you launch for your WooCommerce store needs to be tracked in order to make it successful. Google Analytics is one of the best tools on the market that allows you to collect traffic data of your site and use it to strengthen your stronghold on this search platform. If that is also what you are looking for, installing the WooCommerce Google Analytics Integration plugin is your ultimate solution.
Key features
What the tool can do for you:
Track basic data such as sessions, number of users, and events.
Integrate Enhanced ECommerce Analytics to get basic eCommerce data, including cart actions and product views.
Exclude visits from administrators to get a more accurate picture of customer data.
Support displaying Ads.
Pricing and support
You can download this extension at no cost and seek assistance in the WordPress support forum.
#14. AliDropship Plugin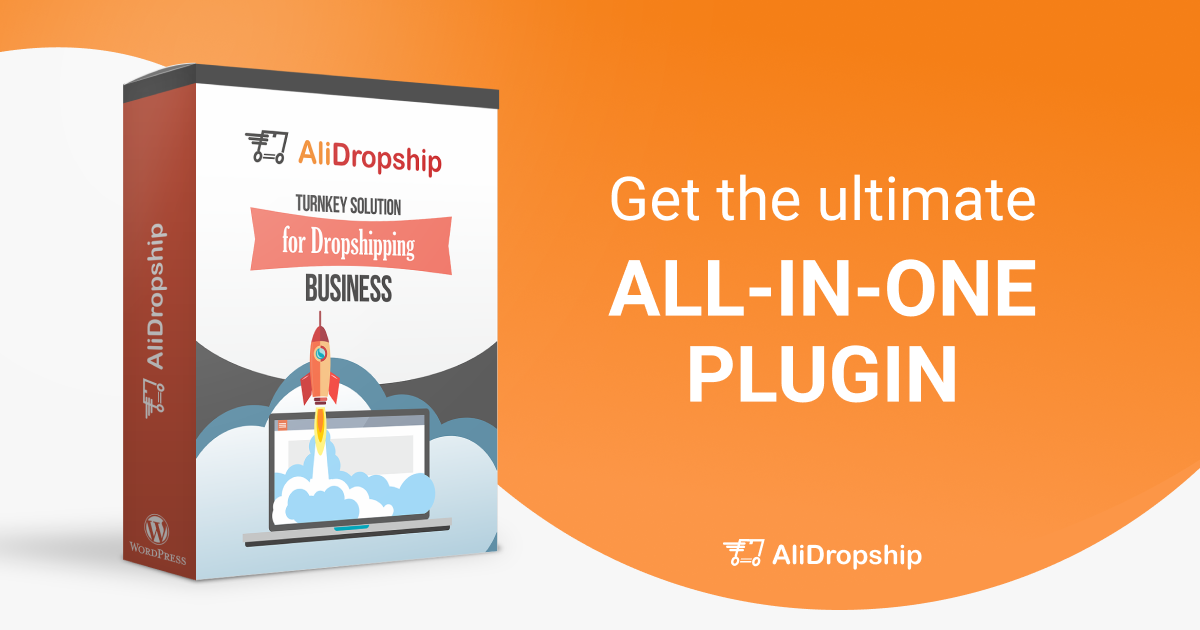 Dropshipping is a retail fulfillment method where a store doesn't keep the products it sells in stock. Instead, the store owner purchases the item from a third party and has it shipped directly to the customer. As a result, the seller doesn't have to handle the product directly. However, if you are on WooCommerce, you still need to add products to your WooCommerce dropshipping store and you can do that with the help of AliDropship. The AliDropship plugin delivers everything you need to start your dropshipping business.
Key features
Fully compatible with WooCommerce
Simple and user-friendly interface
Easy product search and instant upload
Live stats and auto-updating
Built-in themes optimized for high conversions
Pricing and Support
AliDropship is a one-time payment, you will get the best features out of AliDropship along with unlimited updates and support.
#15. Booster for WooCommerce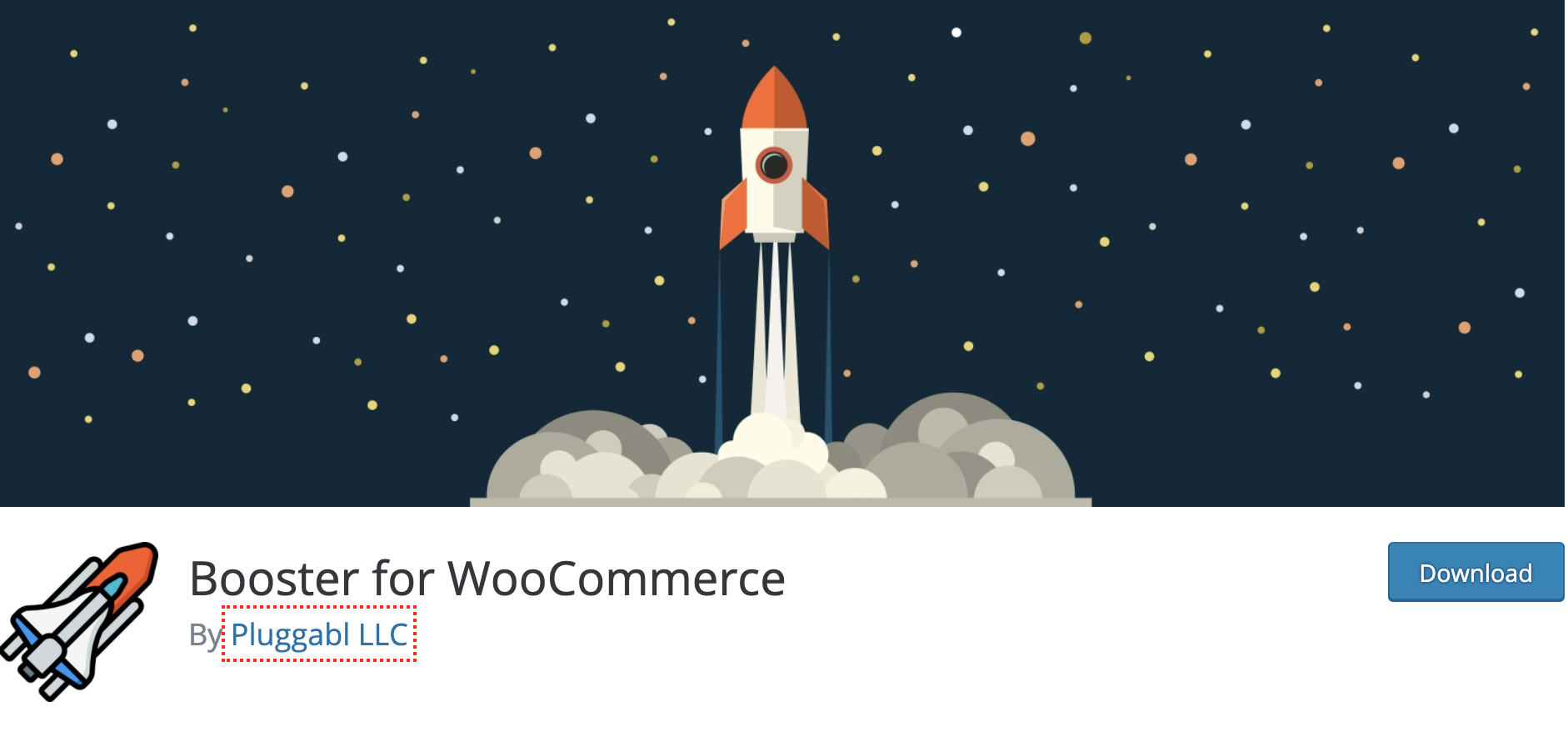 Booster for WooCommerce is a plugin that allows you to run your store more efficiently by adding several powerful features to your site. It's an all-in-one plugin with more than 100 modules enabling you to quickly add customized functionalities to your WooCommerce business without writing a line of code.
Key features
PDF invoicing and Packing slips
Product Input Fields
Prices and currencies
Cart and Checkout
Product addons
Button and price labels
Payment gateways
Emails and additional tools
Pricing and Support
In order to get Booster for a single WooCommerce store with one 1 year support and update you will need to pay $59.99. If you are running more than one site and you wish to have lifetime updates, the $169.99 package is the way to go.
#16. Woo Auction Software: WordPress Auction Plugin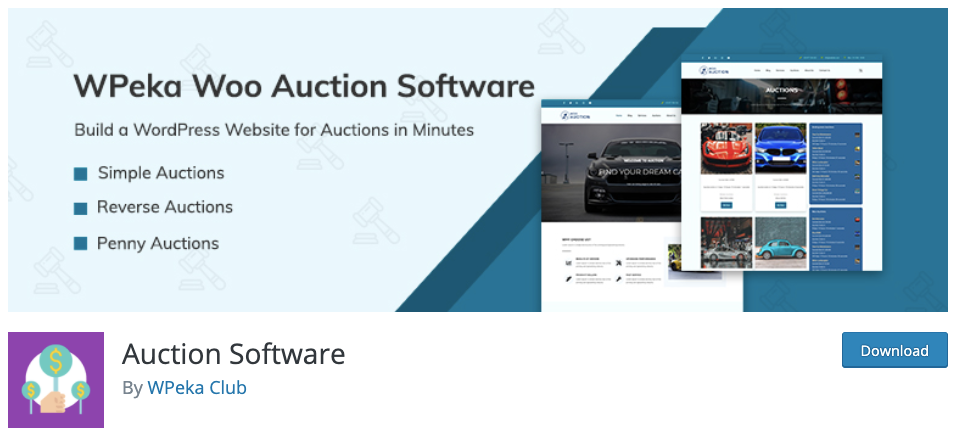 Woo Auction Software allows you to create your own eBay-style auction marketplace. This can take your business to a whole new level, where different sellers can auction their products on your website and you charge them for using your website. you can also use it to set up your own auctions. this way you can monetize your site in multiple ways.
The plugin supports multiple types of auctions like a simple auction, penny auction, and reverse auction.
Key features
Integrated with WooCommerce Hooks. Easily extendable.
uses the WooCommerce template system. Helps to create your themes and works with popular WooCommerce themes.
Rich Widgets to use in sidebars or homepages.
Supports multiple products types (Physical, Digital, Virtual Products/Services)
Email Notifications – Option to customize your email templates.
Pricing and Support
The Pricing ranges from 0 to $49 and support is available here.
Besides, as you may know, the Subscription service is a new eCommerce solution that brings many benefits to store owners as well as convenience for customers. Consequently, we suggest you should try combining this plugin and WooCommerce Subscriptions – a plugin that helps you to easily create simple subscriptions for your customers.
Selling subscription products is an efficient way to ensure a steady stream of revenue for your WooCommerce store. Retaining customers is indeed a cost-effective way than acquiring new ones. With this WooCommerce subscriptions plugin, you can start selling subscription products or scale your WooCommerce store into a subscription revenue model.
Following are the features offered by the plugin
Sell variable products on subscription
With the plugin, you can sell both simple and variable products on a subscription basis. You can set up subscriptions having daily, weekly, monthly, or yearly renewal and set expiry for each subscription.
Offer free trials and increase signups
Free trials are the best promotional option for selling subscription-based products. It gives customers a way to try out the products before buying them. It is a great way to avoid churn and increase sign-ups. You can set the length of the trial period.
Offer recurring discounts
You can offer discounts to encourage customers to renew their subscriptions. Both fixed amount and percentage-based discounts can be created using the plugin.
You can charge a sign-up fee for products that's independent of the actual subscription price of the product.
Synchronization of subscription renewals
You can make subscription management easy by synchronizing all renewals to occur on a fixed date. You can prorate charge for the subscription till the first renewal.
---
Conclusion
In summary, we have just presented to you the 11 best WooCommerce plugins along with their outstanding features, pricing, and support. Also, we recommend checking out these best WooCommerce search plugins.
Hopefully, at this point, you have had a much better idea of which plugins fit best your online business. If you are a new business owner, let us help to know more about the cost of setting up a WooCommerce store!
On the other hand, if you don't have a WooCommerce store of your own but you are considering moving to this robust platform, let LitExtension have the honor to be your partner.
As the world-leading migration expert, LitExtension provides top-quality migration services. We support 200+ most popular eCommerce platforms, successfully migrated 200,000+ stores for over 200,000 customers across the globe. Receiving 95% excellent customer satisfaction, we believe it would be a wise choice for you to take LitExtension into account for your future migration projects.
Our support is available 24/7 so don't hesitate to contact the LitExtension team at any time and for any question!