Introduction
Beyond a shadow of a doubt, Magento possesses a great number of notable features that make this platform a perfect choice when you decide to establish an online business. However, before starting your website with Magento 2, it is important to do thorough research on the pricing of this platform.
In fact, Magento pricing is quite complicated. It depends largely on the edition and the hosting option you choose. In this article, LitExtension – #1 The World Shopping Cart Migration Expert will show a general view of Magento cost to help you make reasonable selections when building your site with this powerful platform.
Let's dive into it!
Need Help To Migrate Your Store?
LitExtension provides a well-optimized Cart to Cart migration service that will help you transfer all your data accurately, painlessly with utmost security.
---
Why Choose Magento?
Magento is an open-source solution used to build eCommerce websites on the Internet. It is a robust platform that provides users a powerful capability to customize everything on the website (theme, functions, apps, integration).
Since its release on August 31, 2007, by Varien Inc., Magento has grown rapidly and obtained many honor awards, namely "Best of Open Source Awards" and "SourceForge Community Choice Awards" several times. From June 19, 2018, Adobe officially acquired Magento for $1.68 billion and integrated it into Adobe Experience Cloud.

Excellent.

Fantastic platform for running an ecommerce business with digital goods.
Magento review from Yvette Leclair
Currently, Magento is one of the best eCommerce platforms for businesses, ranking 8th among all websites using OpenSource technologies on the Internet.
More than just an eCommerce platform, business owners can also enjoy a supported omnichannel journey with Magento POS.

---
Magento Pricing: Elements That Influence Magento Prices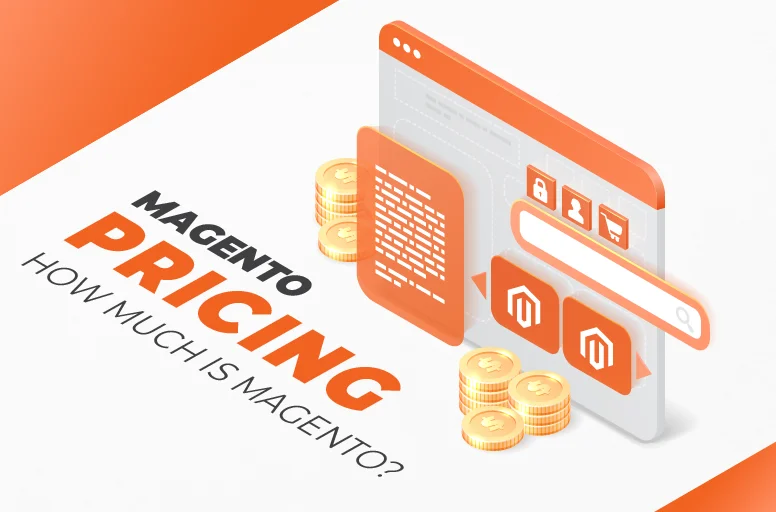 Store owners are often looking for an accurate cost estimate for their Magento eCommerce website.
Many factors influence the total Magento fees, especially:
The level of flexibility and functionality you'd want to have over the key features and storefront design of your Magento store.
The number of integrations and the types of integrations.
In the sections that follow, we'll go through the most important aspects of maintaining a Magento website that you should consider.
Catch more insights about Magento (Adobe Commerce) with:
---
Magento Pricing – How Much Does Magento Cost?
As mentioned above, building a Magento store requires you to expend many distinct fees for each particular purpose. The expenses listed below can be considered as core Magento prices so that you can base on them and estimate your own expenditure for your business.
Currently, Magento is providing three versions: Magento Commerce and Magento Open Source (formerly known as Magento Community Edition or CE), and Magento Commerce Cloud (Adobe Commerce).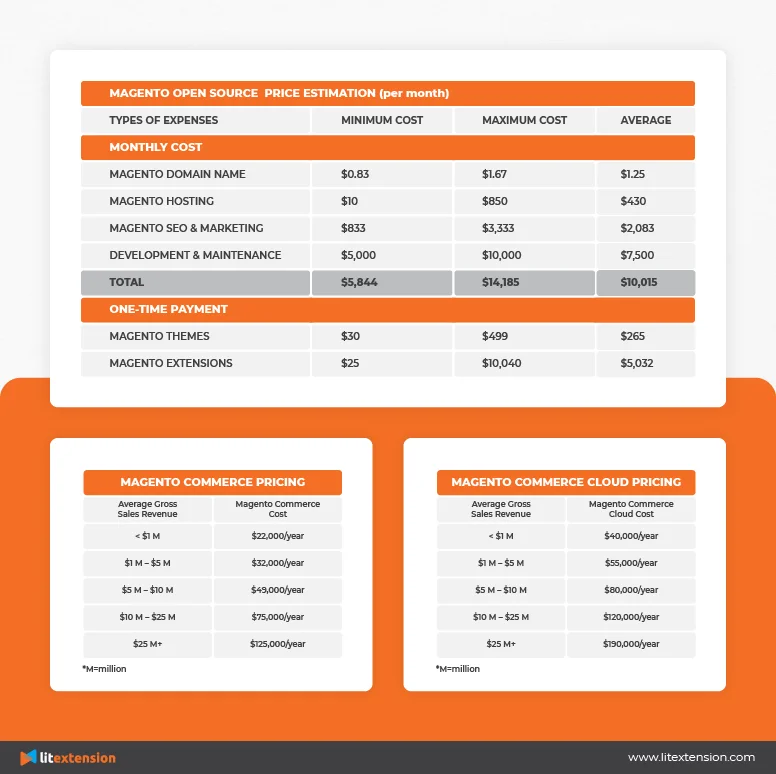 ---
Magento Open Source Pricing Breakdown – An Estimation
Let's take a look at the table below to have an overview of the Magento cost per month:
Magento 2 Open Source Pricing

Development & Maintenance
Magento Open Source is free to download and set up. It is the most popular edition among the three plans on the Magento market (at 83% of all stores). You'll get all the fundamentals such as:
Integrated checkout, payment, and shipping
Mobile optimized shopping
Global selling
Catalog management
Extended functionality via the app marketplace
Instant purchase
Site search
Thanks to these core functions, you have the ability to undertake any eCommerce operations.
Magento Open Source requires you to set up everything manually, including hosting, domain, security, and extensions. If you don't have time or your technical skill is insufficient, you need to hire a developer team that helps you to set up, configure and customize your store.
It will take a lot of your time to complete the frontend and backend. The cost of hiring a developer starts from $65 to $150 per hour. The total cost might range from $5,000 to $67,000 depending on the workload.
1. Magento Domain Name Cost
The domain name is the address of your website. It is what people type into a web browser to access your site instead of entering a full IP address.
Your domain will be the face of your brand so you should spend time finding a brand-oriented and memorable domain name. Remember that an available domain has not to be taken by other organizations on the Internet.
After choosing your desired name, you can purchase it through reputation websites namely Domain.com, Google domain, and so on. Generally, domain name cost ranges from $10 to $20 per year depending on how popular your domain is and the registrar you use.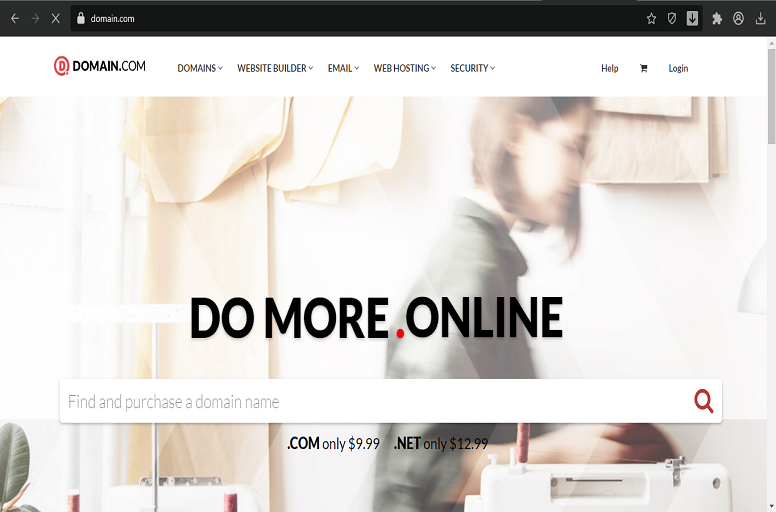 Purchase a domain on Domain.com
2. Magento Hosting Cost
The web host is the place where you store all of your website's data. Since it allows your file (code, content, image,..) available for viewing online, it is an important part of building an online website. By choosing a high-quality web host, you'll enhance your website's performance, search engine rankings, and a lot more.
In addition, there are 4 main types of web hosting: Shared Hosting Service, Virtual Private Server (VPS), Dedicated Server Hosting and Cloud. If you want to build a strong Magento website, Virtual Private Server would be the best option among the four services.
It will cost you from $10 to $850 per month based on your requirement for storage data and your hosting provider.
An important note before choosing a hosting service is that you need to check whether its features are compatible with Magento or not. Many hosting providers contain hosting dedicated services which are fully compatible with Magento. From our in-depth hosting research, we highly recommend you top 5 best Magento hosting providers.
3. Magento Themes Pricing
As you may know, your store's appearance plays an important role in purchasing decisions of customers when shopping online. A store with eye-catching decoration and a user-friendly interface will attract more buyers to visit and purchase your products.
Fortunately, Magento allows you to fully customize your storefront. There are hundreds of Magento website templates to choose from, both free and paid options. The price for paid themes varies from $30 to $499. Moreover, you can also design a template from the scratch using CSS and JavaScript.
Please remember that before applying a new theme, you should check whether the theme is still compatible with your current Magento version or not. If you feel that choosing a suitable theme from Magento is too difficult, please check out the top 10 best Magento themes.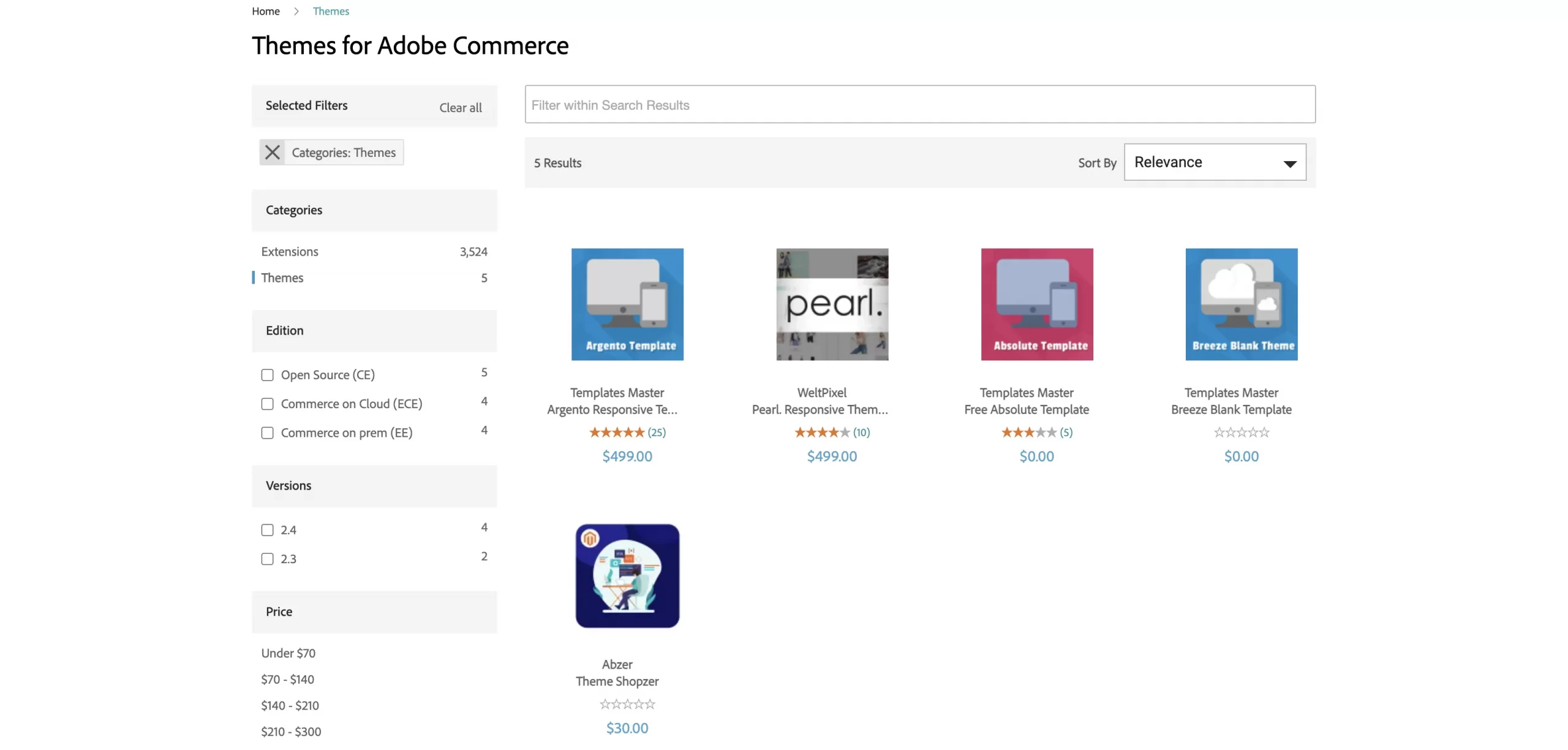 4. Magento Extensions Cost
Magento offers you a wide variety of third-party extensions on the market (more than 3200+ extensions). Each extension brings you useful functions such as accounting and finance, promotion, shipping to enhance your business.
Besides, You can also make your own extensions list based on the Best Magento Extensions recommended by our Magento experts. They have both paid and unpaid extensions and you'll need to pay from $25 to $10,040 to add a paid extension to your site.
5. Magento SEO & Marketing Cost
To attract customers, online businesses face fierce competition, necessitating large investments in website advertising and SEO. You can almost skip this step unless you're selling niche products and services. Otherwise, SEO and promotion services often cost between $10,000 and $40,000 per year on average.
6. Magento Development & Maintenance Cost
To survive in the competitive market today, every Magento store has to perform some common tasks namely optimize the site, troubleshoot problems, update new features, manage new custom fields, and so on. All of these above require a high level of technical experience. If you aren't tech-savvy, you can opt for one of the following three development options:
Web Development Agency (prices range from $25 to $200 per hour)
The most expensive of the three possibilities is to hire a web development agency. However, you receive good quality and professionalism for a hefty price. You will have the opportunity to collaborate with expert Magento developers who are capable of translating your idea into a polished result. When you're finished, you can obtain consultations to help you improve your eCommerce store.
These firms bill based on the level of skill of their developers and the value of their development portfolio.
Freelancer (rates range from $10 to $200 per hour)
Hiring a freelancer is a somewhat less expensive choice. While an agency will provide you with an account manager, a freelancer will provide you with direct and faster communication.
Here's a bird's eye view of Magento's freelancing price plan:
South-East Asia for a low price: $10 – $20 per hour
Eastern Europe: $20-$60 per hour
$150–200/hr in the United States, the United Kingdom, and Western Europe
In-house Development Team (starting at $60,000 per year and going up to $120,000 per year)
To keep up with the frequent store-level developments and changes, many mid-sized and large eCommerce enterprises prefer in-house development teams. The most significant advantage of such a team is the ability to respond quickly and have complete control over the development cycle.
In-house development costs for Magento CE and Magento EE are largely the same, according to experience. You should budget between $60,000 and $80,000 a year if you hire a junior developer (with less than a year of experience). Following that, the developer's cost doubles for every year of experience. For an experienced Magento developer, wage costs could reach $120,000 per year.
The most popular Magento migration pairs:
---
Magento Commerce & Magento Cloud Pricing
Magento Commerce (Magento Enterprise) is created to serve enterprise-sized businesses. Compared to Magento Open Source, Magento Commerce includes more features and higher security which improve your business performance and bring you considerable revenue.
However, Magento Commerce does not provide a hosting service. Consequently, you'll have to pay for hosting.
Magento Commerce pricing (Magento Enterprise pricing) bases on your yearly average gross sales revenue. There are five different cost levels for this edition:
| | |
| --- | --- |
| Average Gross Sales Revenue | Adobe Magento Commerce Cost |
| | |
| | |
| | |
| $10,000,000 – $25,000,000 | |
| | |
Magento Commerce Cloud (Adobe Commerce) is quite similar to Magento Commerce, but it has added two superior functions.
Firstly, Magento Commerce Cloud provides you a Cloud to back up all your data in case of hard driver damage or unexpected events.
Secondly, this version includes a hosting plan so that you don't have to pay for a server on the Internet. As a result, the price for Magento Commerce Cloud is higher than Magento Commerce price:
| | |
| --- | --- |
| Average Gross Sales Revenue | Adobe Magento Commerce Cost |
| | |
| | |
| | |
| $10,000,000 – $25,000,000 | |
| | |
---
Magento Pricing – FAQs
---
Conclusion
Magento 2 (Adobe Commerce) is definitely a comprehensive solution for both medium and large enterprises to operate and develop their business. This article has shown you about Magento eCommerce cost and demonstrated that it is cost-effective based on the excellent features Magento brings to your store.
If you are still using Magento 1 to manage your store website, you should consider upgrading to Magento 2 (Adobe Commerce) to make use of Magento 2's top-notch features.
In case you intend to perform a Magento 2.0 migration (Adobe Commerce Migration), we strongly suggest you use LitExtension's automated tool. We ensure to transfer your data easily, accurately, and securely at a reasonable price.
For more detailed information, please contact our support team. We are available 24/7 via Ticket System, email, and live chat.
You can also join our community to get more eCommerce tips and news.