Established in 2006, Shopify is one of the best eCommerce platforms and has become the solid companion of nearly 4,000,000 merchants around the world. If you decide to go for it, don't forget to take advantage of Shopify free trial to experience this solution before making any commitment.
Being someone who into the idea of having their own online business, I started to look at potential eCommerce platforms years ago. When asking for advice, I decided to start up with Shopify free trial before making the real deal. To help you save time and effort, I've done all the work, just keep scrolling through to learn more about:
Let's gear up!
---
How Many Shopify Free Trial Days Can I Get?
When searching for "Shopify free trial" on the Internet, you will find different information which might make you feel confused. Don't worry! I have done the research and listed out the 4 main categories of Shopify free trial below:
#1. Shopify 3-Day Free Trial
At the moment, 3 days is the standard free trial length that Shopify provides their users with. In my estimation, it seems might be short but is enough for us to learn how Shopify works and build your website in the demo environment. Don't worry if you think the free trial is not enough for you, as Shopify is super easy to use with its helpful resources.
Most of all, I only have to pay $1 to use Shopify in 3 months after completing their Shopify 3-day free trial. Hooray! This is such a golden opportunity for merchants to save lots of cost and lower the risk while launching online business.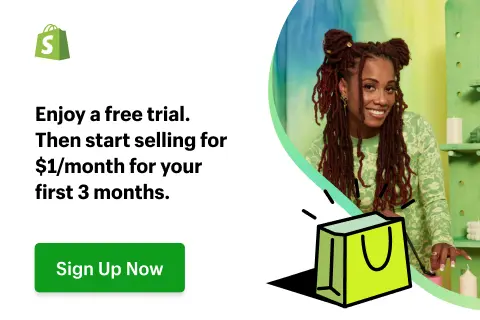 To kickstart your Shopify 3-day free trial, here are the three simple steps that I did:
Step 1: Visit Shopify free trial landing page
Step 2: Provide Shopify with your email address
Step 3: Answer questions from Shopify and fill in your store's name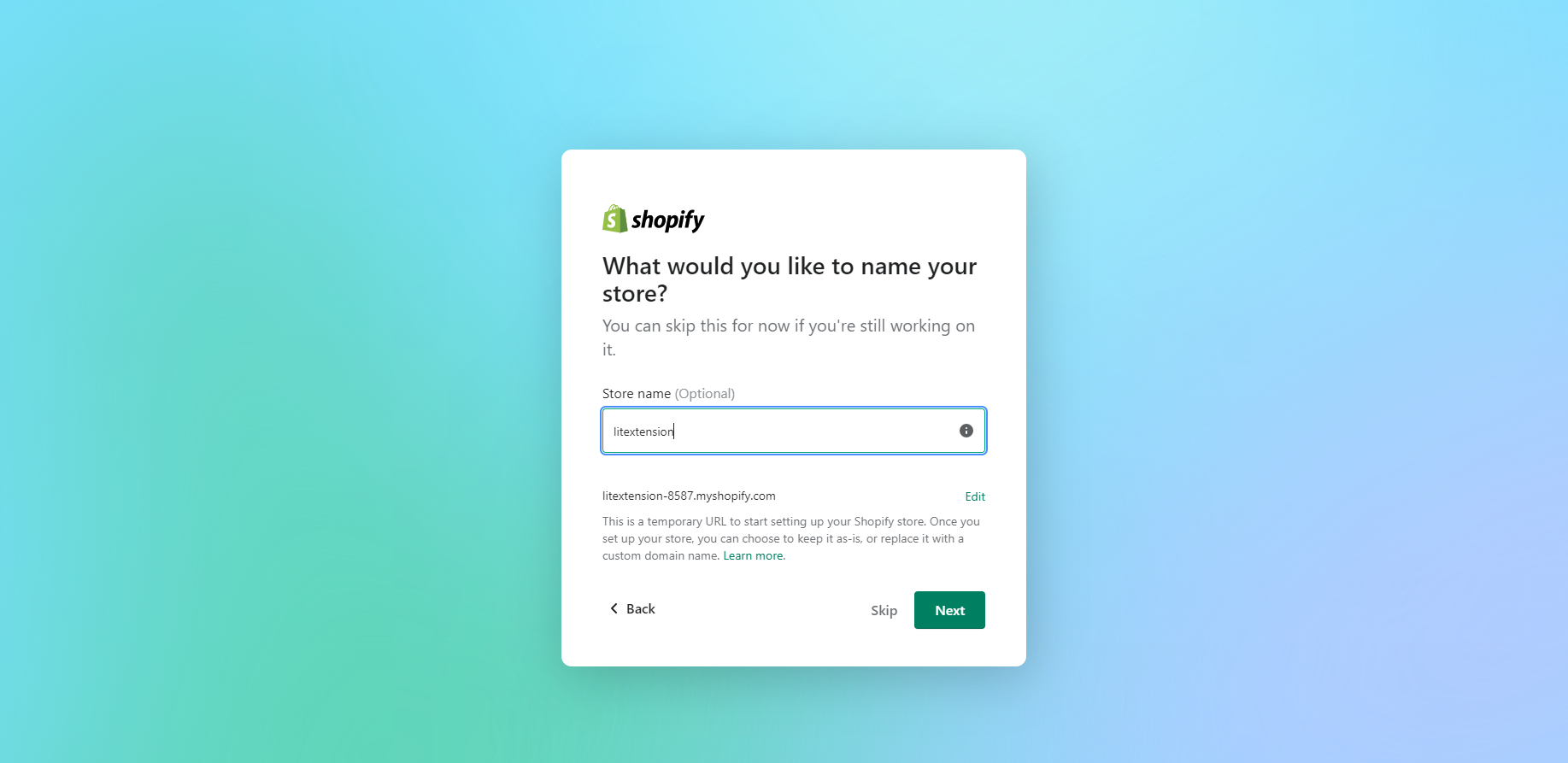 After 3 days, you can consider upgrading to any Shopify pricing plans below:
Shopify Starter
Basic Shopify (this is the most chosen plan by Shopify's customers)
Shopify
Advanced Shopify
Shopify Plus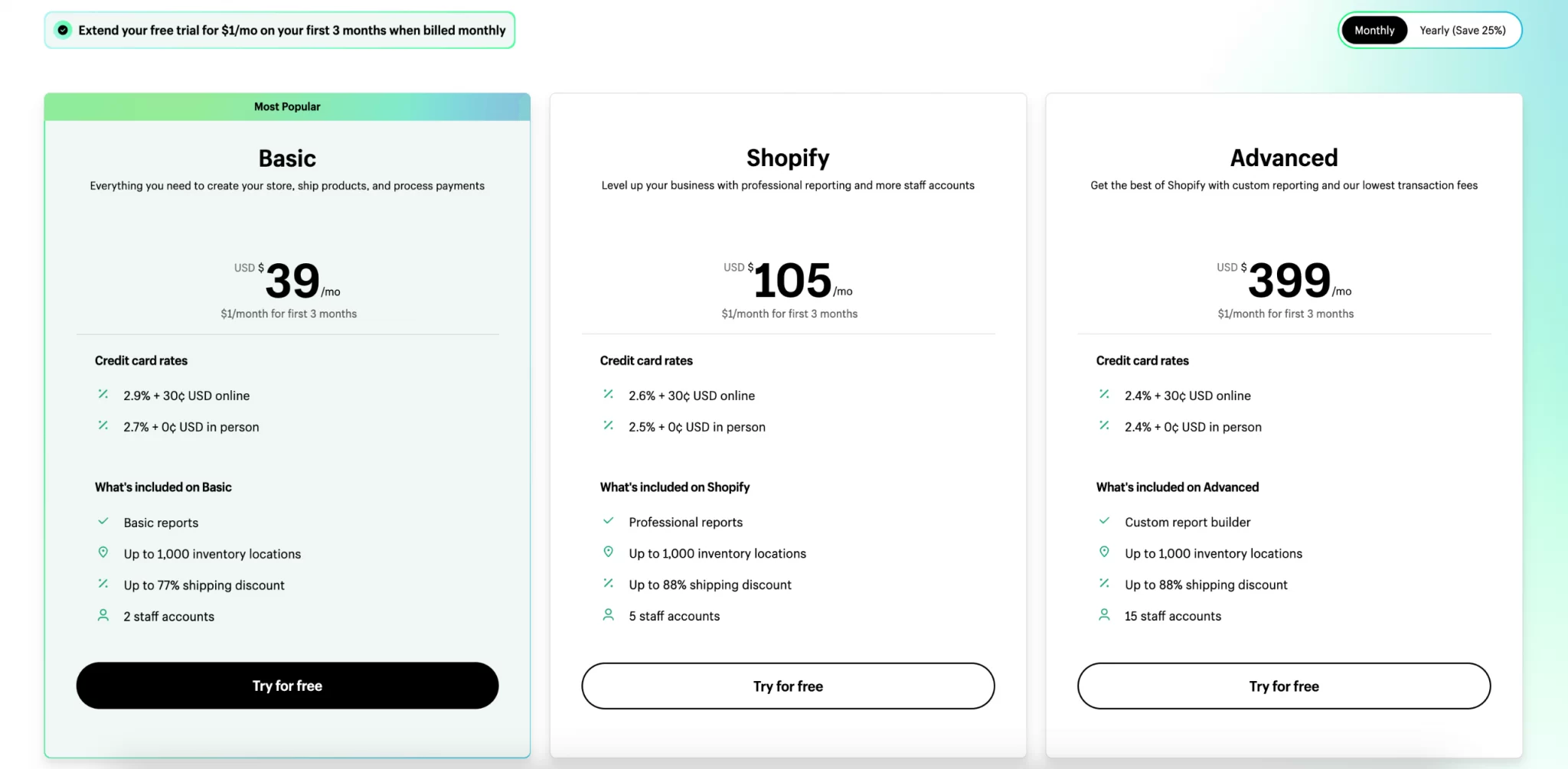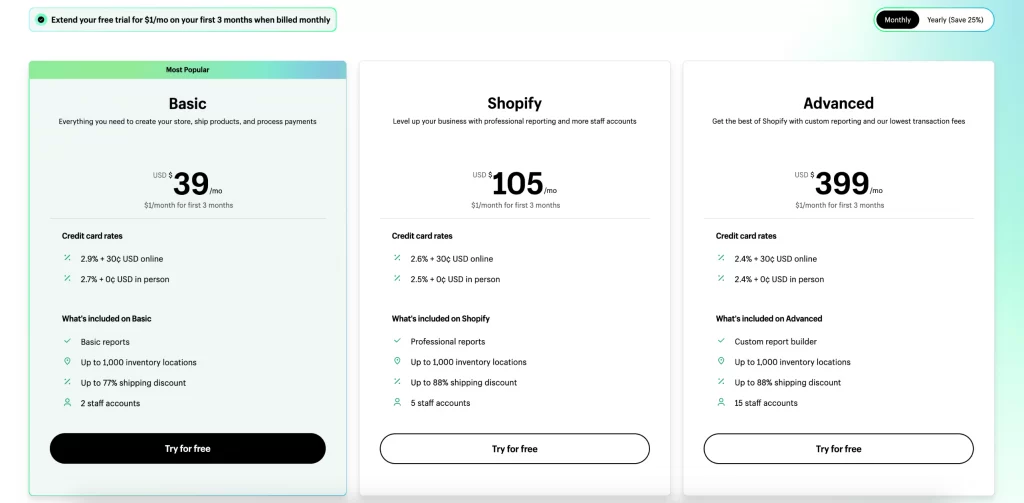 Please note that Shopify will give you a 25% discount when you purchase their annual pricing plans! This is a cost-saving choice for your business in the long run.
💡 Our experts have tested and found out that you need at least 1 month on a Shopify plan to get actual results. Luckily, Shopify has an extended incentive of $1/month for the first 3 months after the free trial. With just $1/month, you can:
Check ordering
Check URLs, content display, and navigation on all pages
Remove storefront password
Want more details? Please refer to Shopify Checklist: Trial store customization & completion!
#2. Shopify 14-Day Free Trial
There was a time when users could get the Shopify 14-day free trial as it used to be the standard offer from Shopify. Nonetheless, they have alternated this discount with the 3-day-free-trial promotion that I've mentioned above.
Although it seems to be a long enough trial length, merchants have to spend more in the first 3 months after testing out the platform. Unlike the 3-day-trial program, users are required to pay $39 to $399 right away when their free promotion ends.
#3. Shopify 60-Day Free Trial
Back in 2019, merchants used to get the 60-day free trial since Shopify gave their partners this promotion to pass it to merchants via their referral activities.
Unfortunately, right now, this Shopify 60-day free trial is no longer valid as Shopify has canceled this deal.
#4. Shopify 90-Day Free Trial
Obviously, we must have known that Covid-19 has negatively affected people's daily lives and business activities around the world. However, the pandemic has also created a huge surge in demand for online shopping. As a result, more people with a high entrepreneurial spirit will enter the eCommerce playground to start their online businesses.
Understanding this, Shopify has offered their users the Shopify 90-day free trial to help them use the platform in a cost-saving way. With this deal, online merchants could sell their products or services in 3 months without having to pay Shopify any fees.
Unfortunately, it is impossible to find this deal at the moment as Shopify no longer offers it after June 2021.
But…
Hey! you still can use Shopify in 3 months for just $1. Claim your deal here!
---
4 Things You Should Do During the Shopify Free Trial? 
#1. Add Products
Adding products to your store is probably one of the most basic steps when starting to use any eCommerce platform. From what I've experienced, I can add products to Shopify as quickly as a flash.
From your dashboard, click on Products button.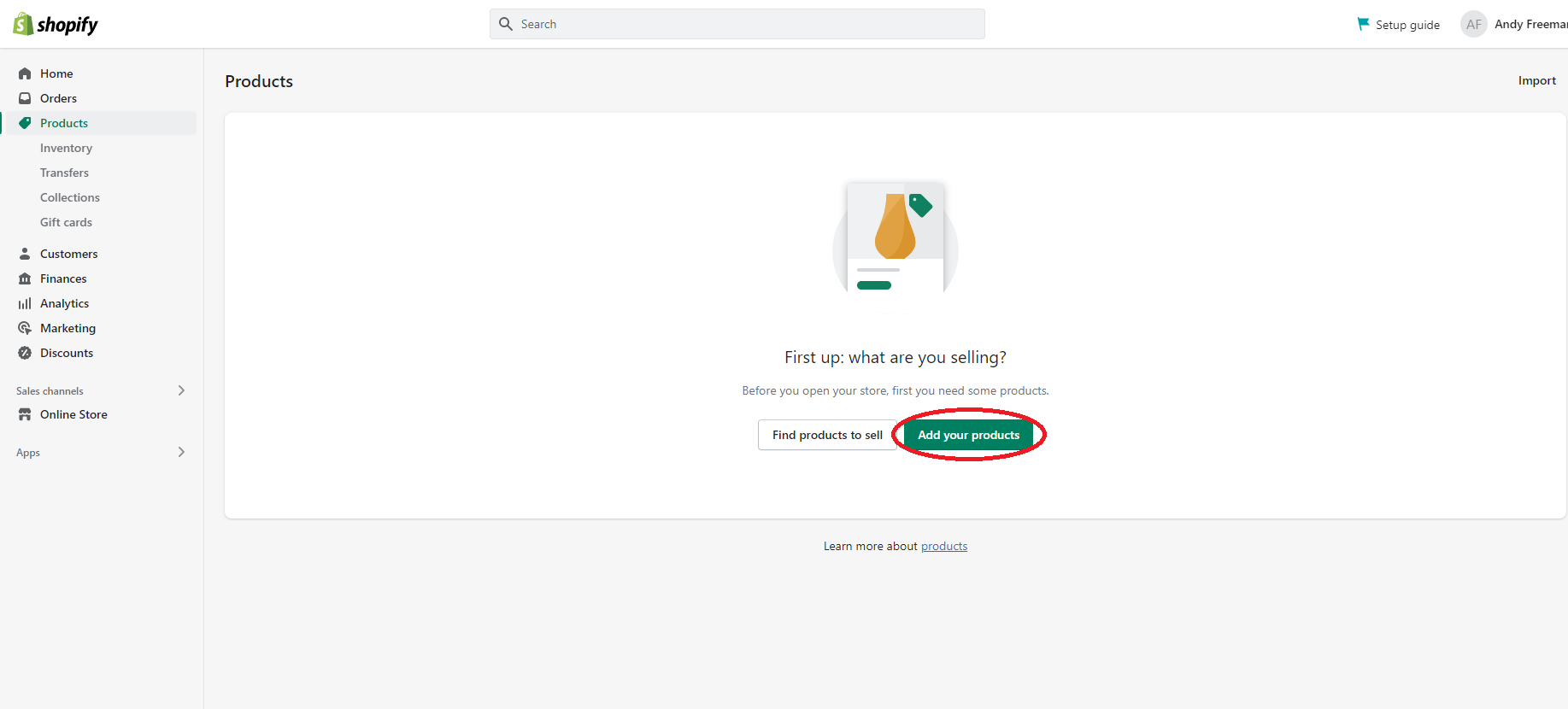 Next, I only need to enter the required information such as product image, description, price, SEO, etc.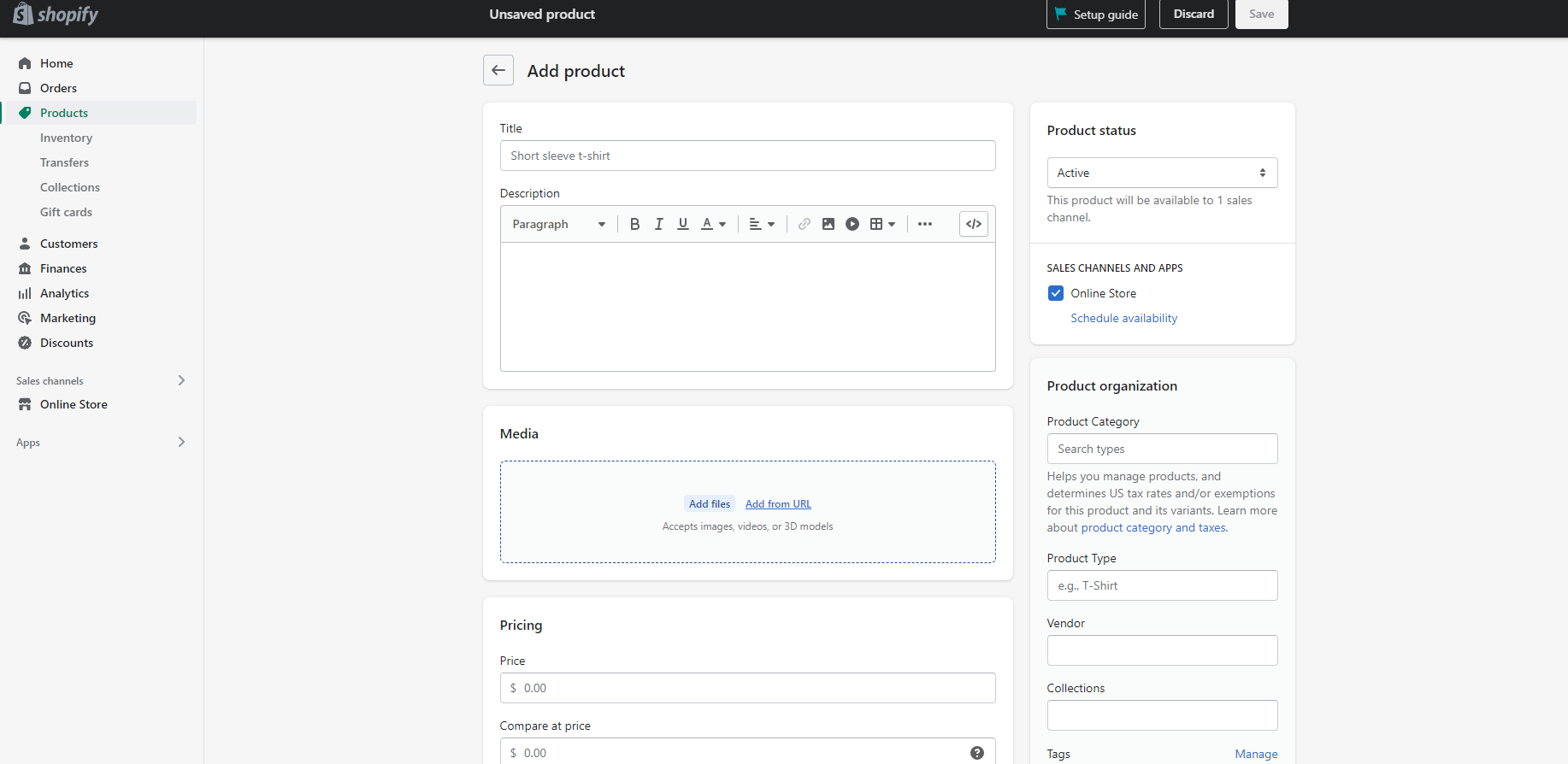 After that, just hit the Save button to display items to your visitors.
What if you are a dropshippers but don't have any products to sell? No problem, Shopify allows you to find dropshipping products. In the "Setup guide" section, click on "Find products to sell" and you can access top dropshipping apps of Shopify App Store. Particularly, some apps like Dsers and Spocket will help you find potential suppliers and import their products to your Shopify to sell.
Don't forget to take a look at our Shopify dropshipping resources to get some inspiration for your business:
#2. Payment Configuration
While doing online business, you probably don't want to make sales but cannot get the money, right? That's why you need to set up the payment gateway.
Technically, there are two different ways to handle transactions in Shopify:
Shopify Payment: a payment gateway developed by Shopify. The most awesome thing about this method is that you don't have to pay any transaction fees.
Third-party gateways: these are PayPal, Mastercard, Stripe, etc. If you use any third-payment providers, you have to pay the transaction fees for Shopify.
For me, I decided to choose Shopify Payment as my main payment gateway, and this is how I set up everything:
Step 1: Click on Setting in the dashboard
Step 2: Choose Payments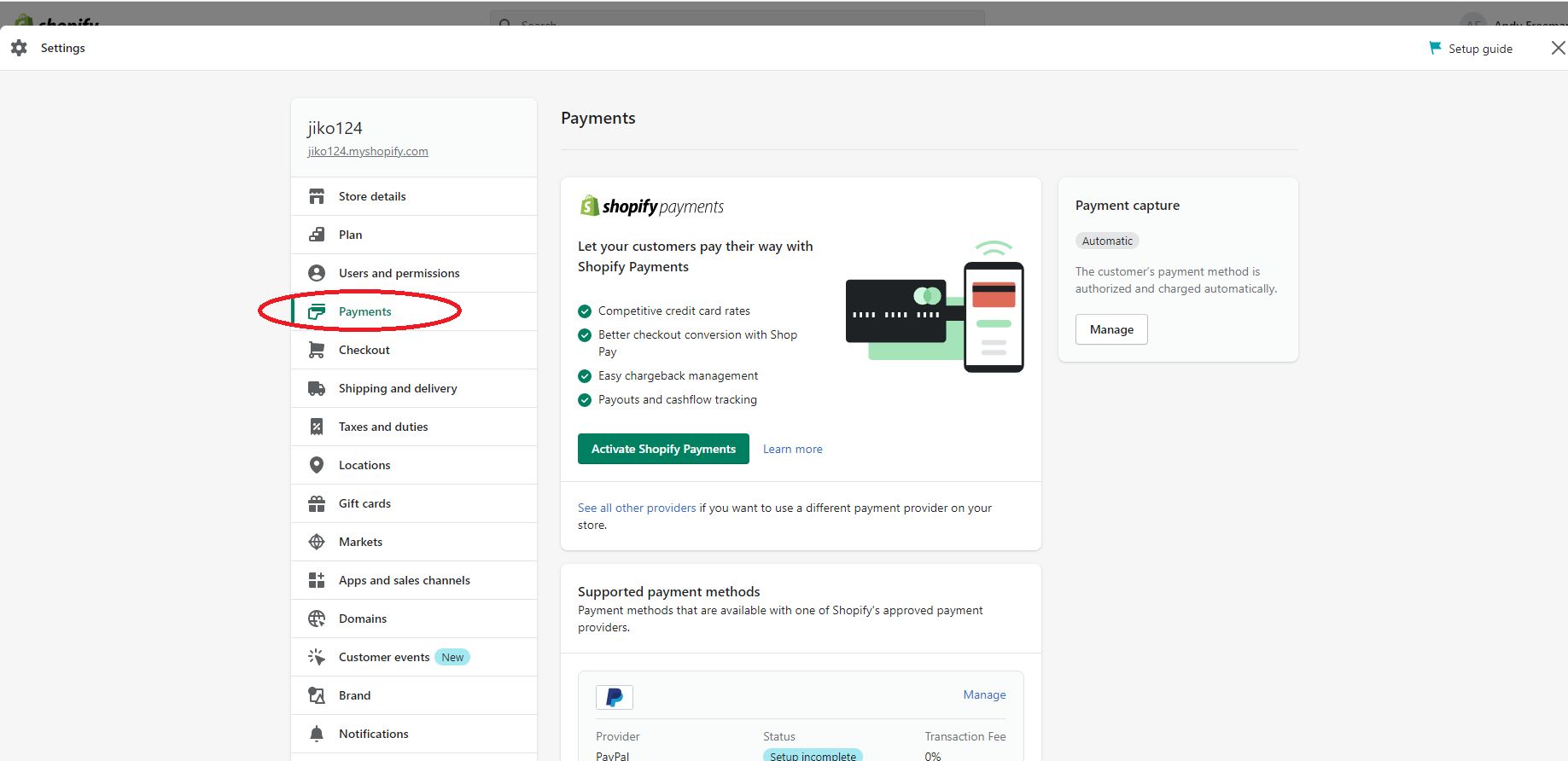 Step 3: Select Activate Shopify Payments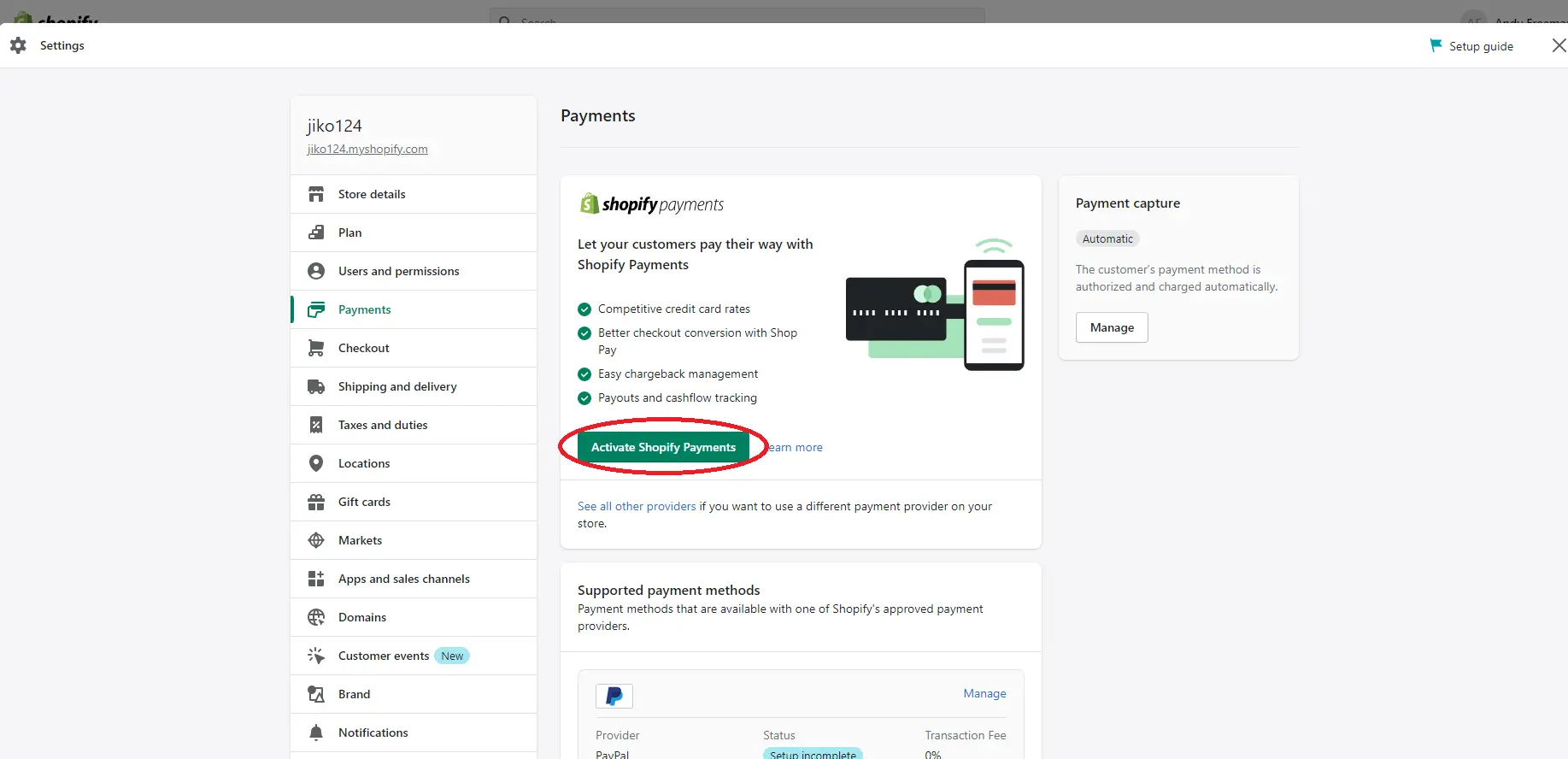 Step 4: Provide Shopify with both your personal and business information
In case you'd like to add a third-party payment provider to your online business, follow these steps below:
Step 1: Click on Setting in the dashboard
Step 2: Choose Payments
Step 3: Activate the payment gateway of your choice. For example, if you want to use Amazon Pay then click Activate Amazon Pay. In case you look for another option, simply select the Add payment methods button.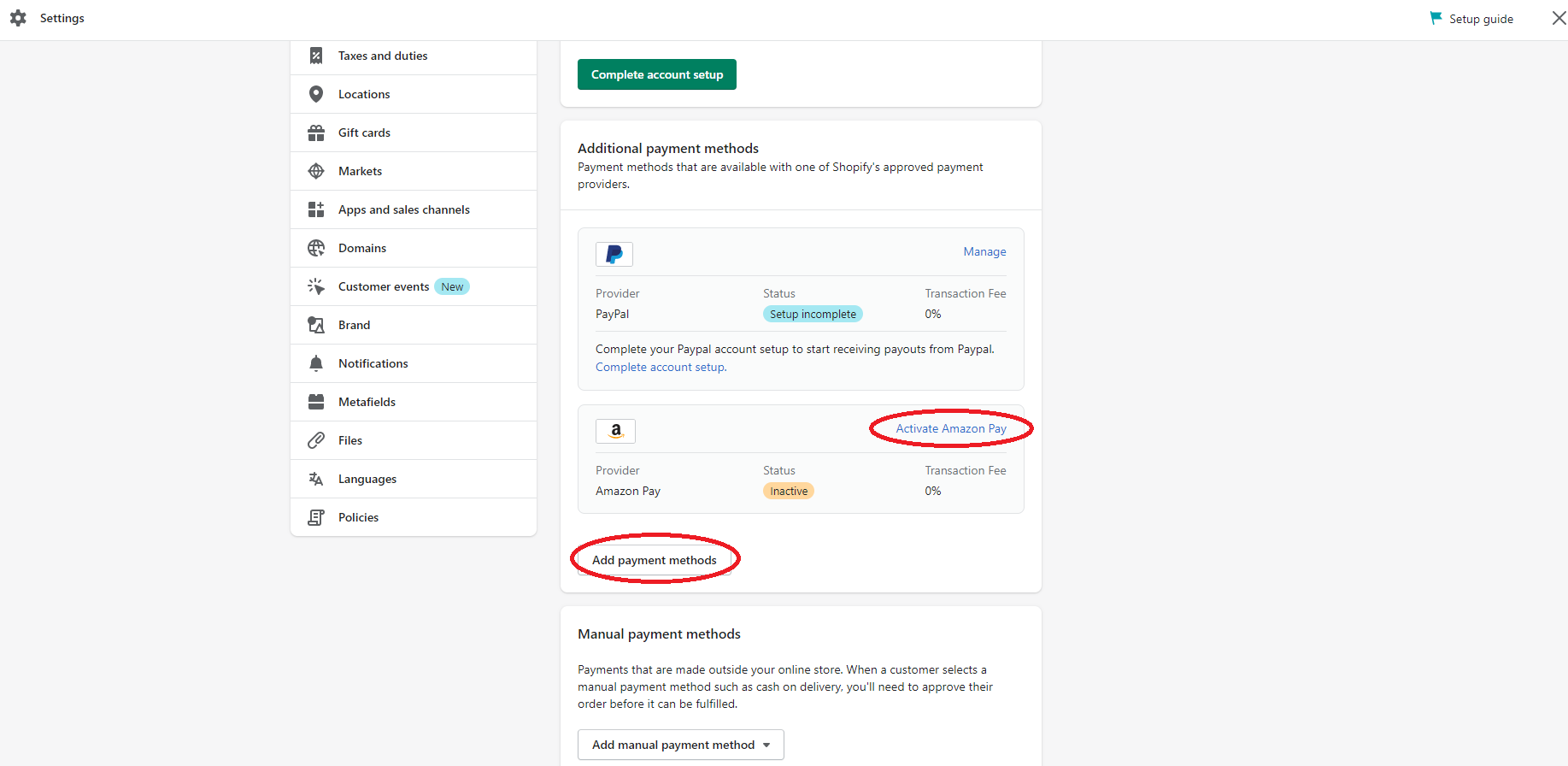 #3. Test and Edit Themes
According to WebFX, 94% of the online visitor's first impression is related to the website design. Needless to say, a store theme is one of the most essential factors that leads to the success of an eCommerce business.
In all honesty, Shopify has a wide range of paid and free templates for you to choose from their theme store. No matter what type of theme you choose, you can always try out a Shopify theme without having to pay any fees. Therefore, why don't you take advantage of this awesome chance to experience some paid templates from Shopify.
With that being said, free themes should be your prioritized option if you are a fresh online merchant as they are free, elegant, and easy to use. In case you are overwhelmed and don't know where to start, our recommendation is to give Sense and Dawn a try! They are some of the top free Shopify themes for new merchants.
Also, don't forget to check out these best Shopify themes suggested by our team to rocket your business!
Now, let's move to a few basic steps to install a Shopify theme on your store. In my eyes, it's quite easy:
Step 1: On the left menu bar, choose 'Online Store'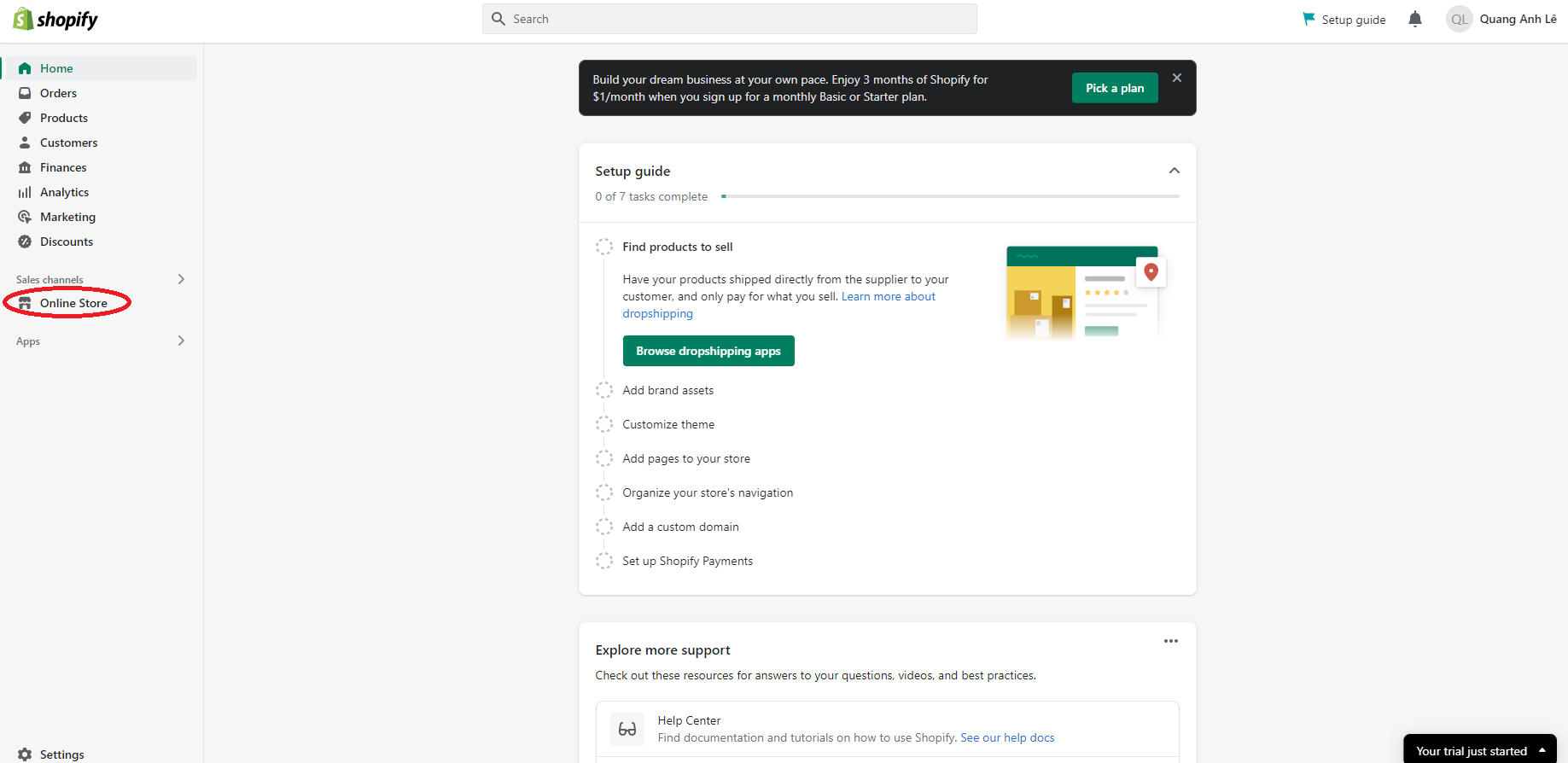 Step 2: Select 'Add theme' and click on Visit Theme Store. Here, you'll be able to access the Shopify Theme Store with over 100 stunning website templates (both free and paid).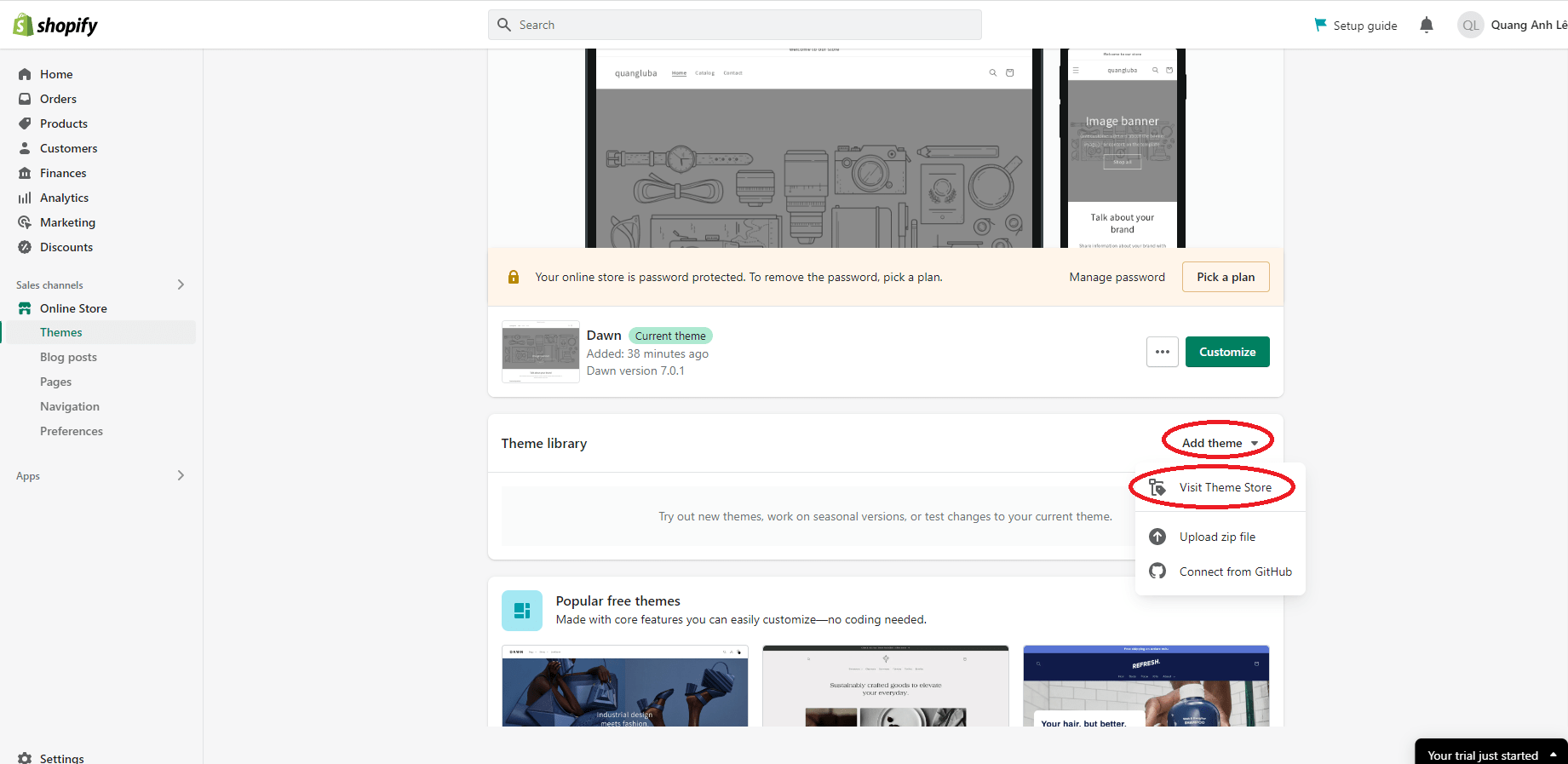 Step 3: To integrate a free Shopify theme with your store, simply select 'Try theme' and customize it.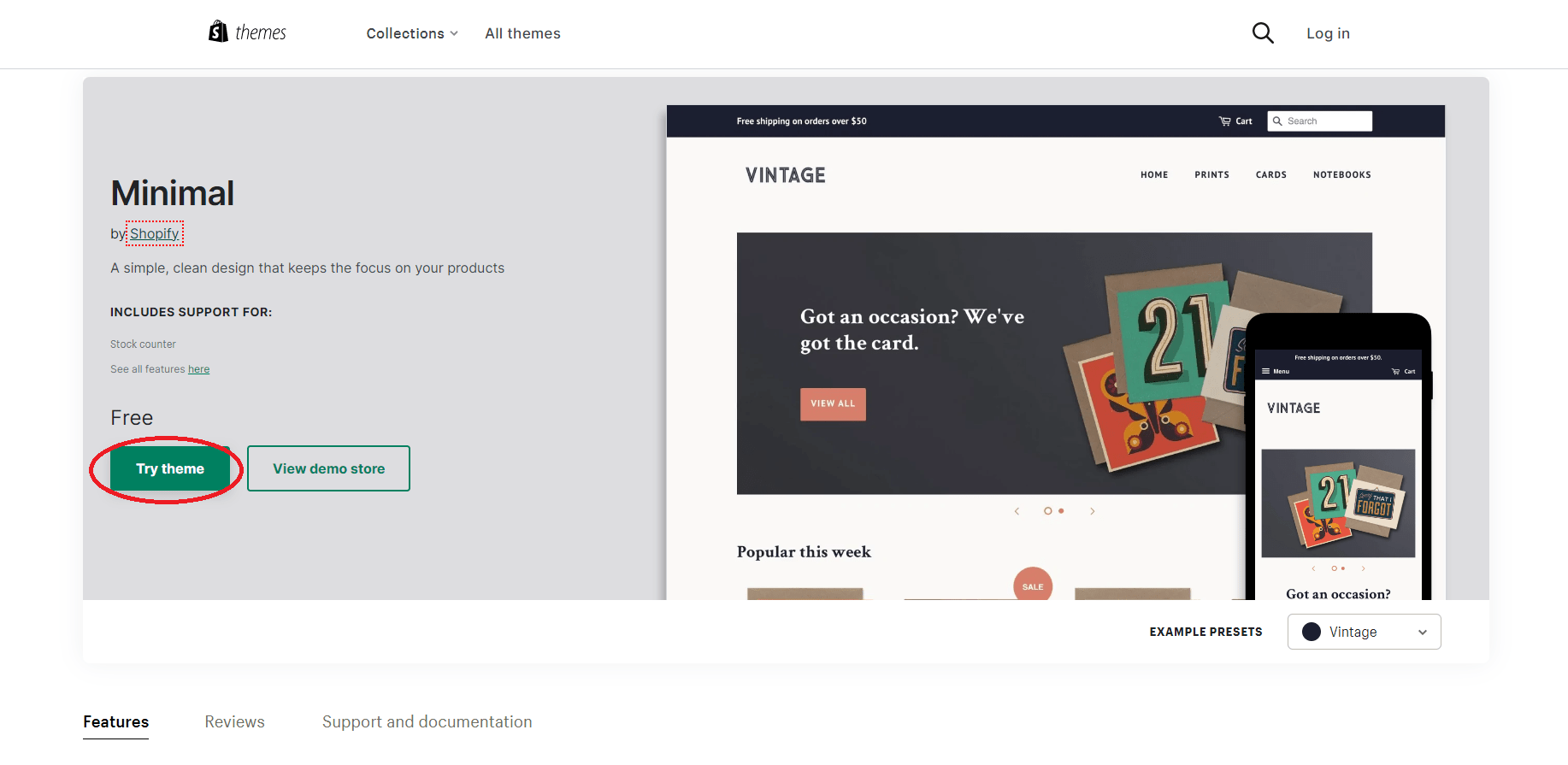 #4. Install and Try Apps
Besides outstanding built-in features, you can also use third-party add-ons from Shopify to level up your store. Therefore, our advice for you would be to test some apps to find the best Shopify apps during your free trial.
Honestly, it's not rocket science when it comes to integrating a Shopify app with your store. You only need to complete 3 steps below:
Step 1: From your store dashboard, choose 'Apps' on the left vertical menu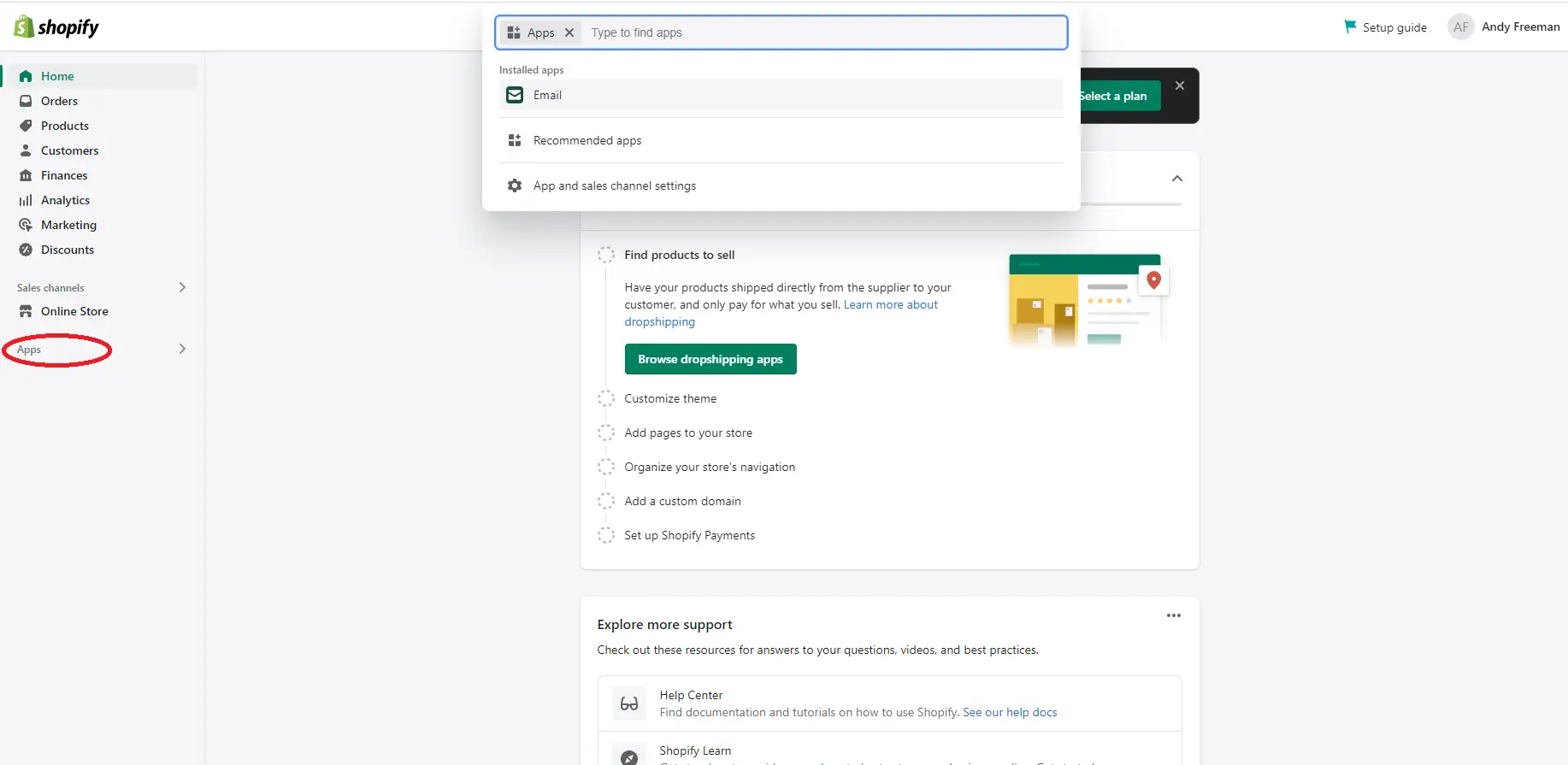 Step 2: Select 'Recommended apps'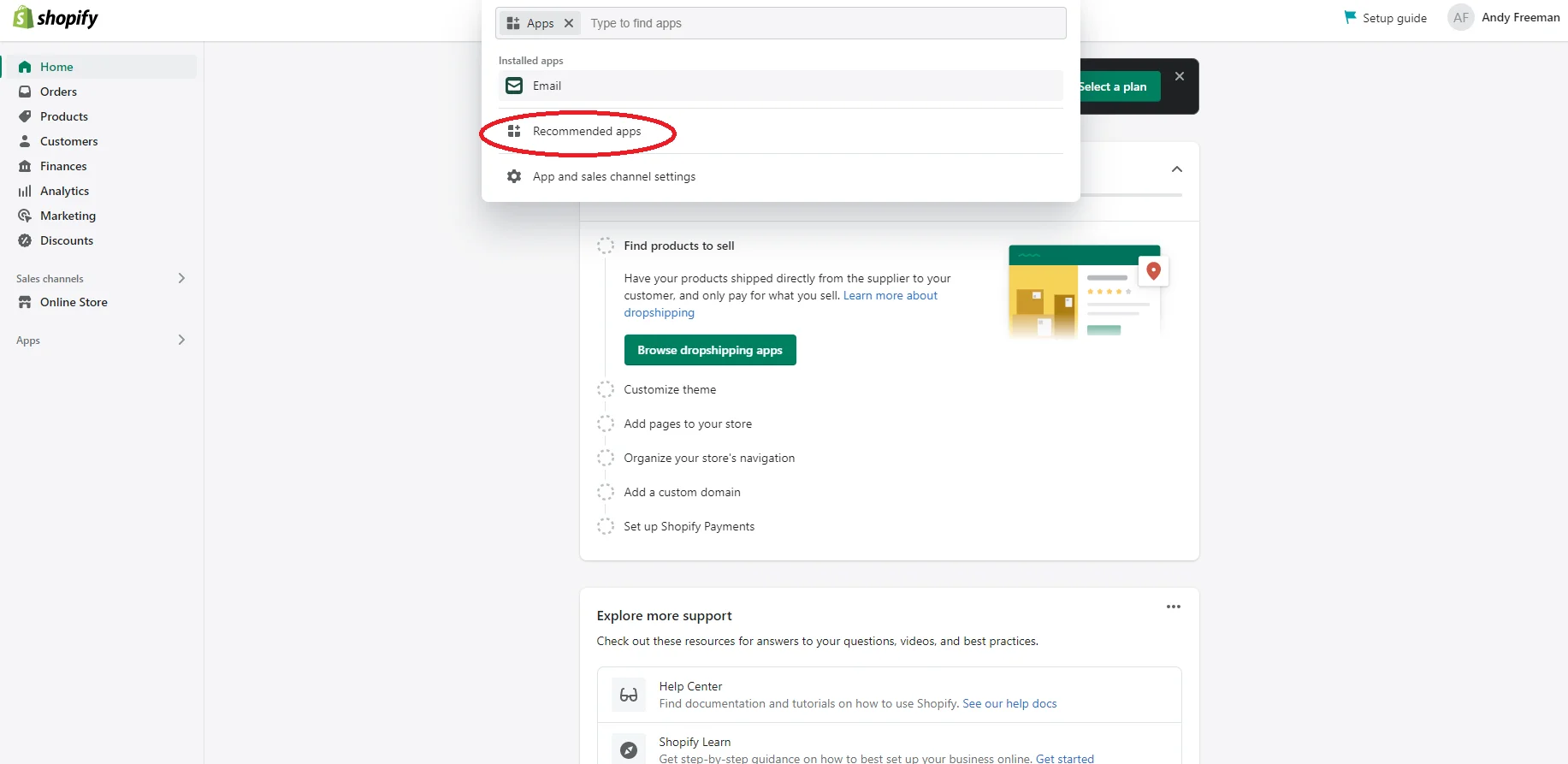 Step 3: Choose your desired app and click the 'Add' button to connect it with your store.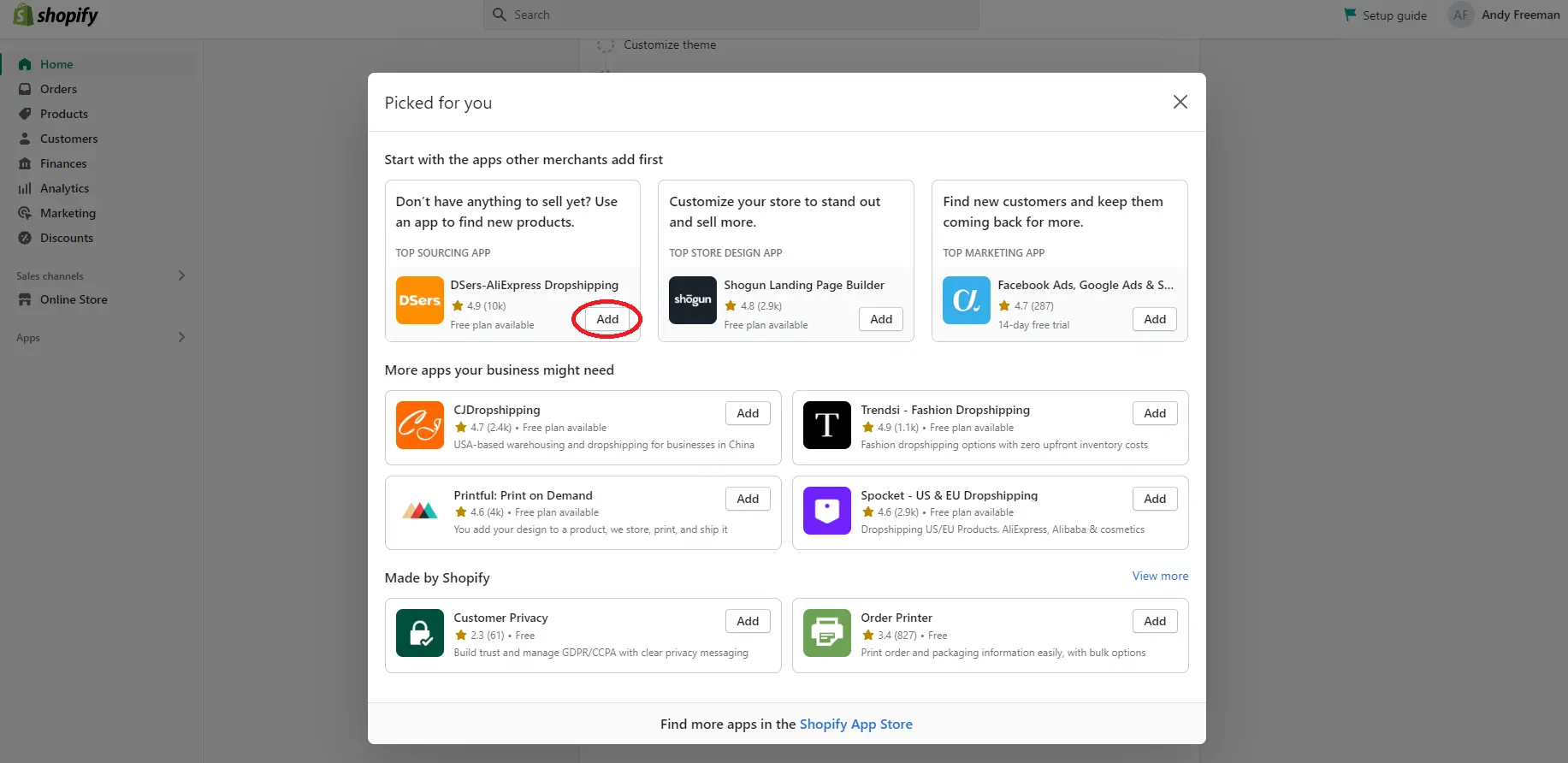 If you want to explore more apps besides those recommended ones, just click on 'Shopify App Store' at the bottom of the section.
---
How to Cancel Shopify Free Trial
To my way of thinking, Shopify is a great platform but that doesn't mean it could be a great match for everyone. Thus, I will show you how to cancel the free trial just in case Shopify is not your proper choice anymore. All it takes is a process with 5 steps below:
Step 1: Click on 'Setting' on the left of your store's menu
Step 2: Choose 'Plan' and select 'Deactivate trial'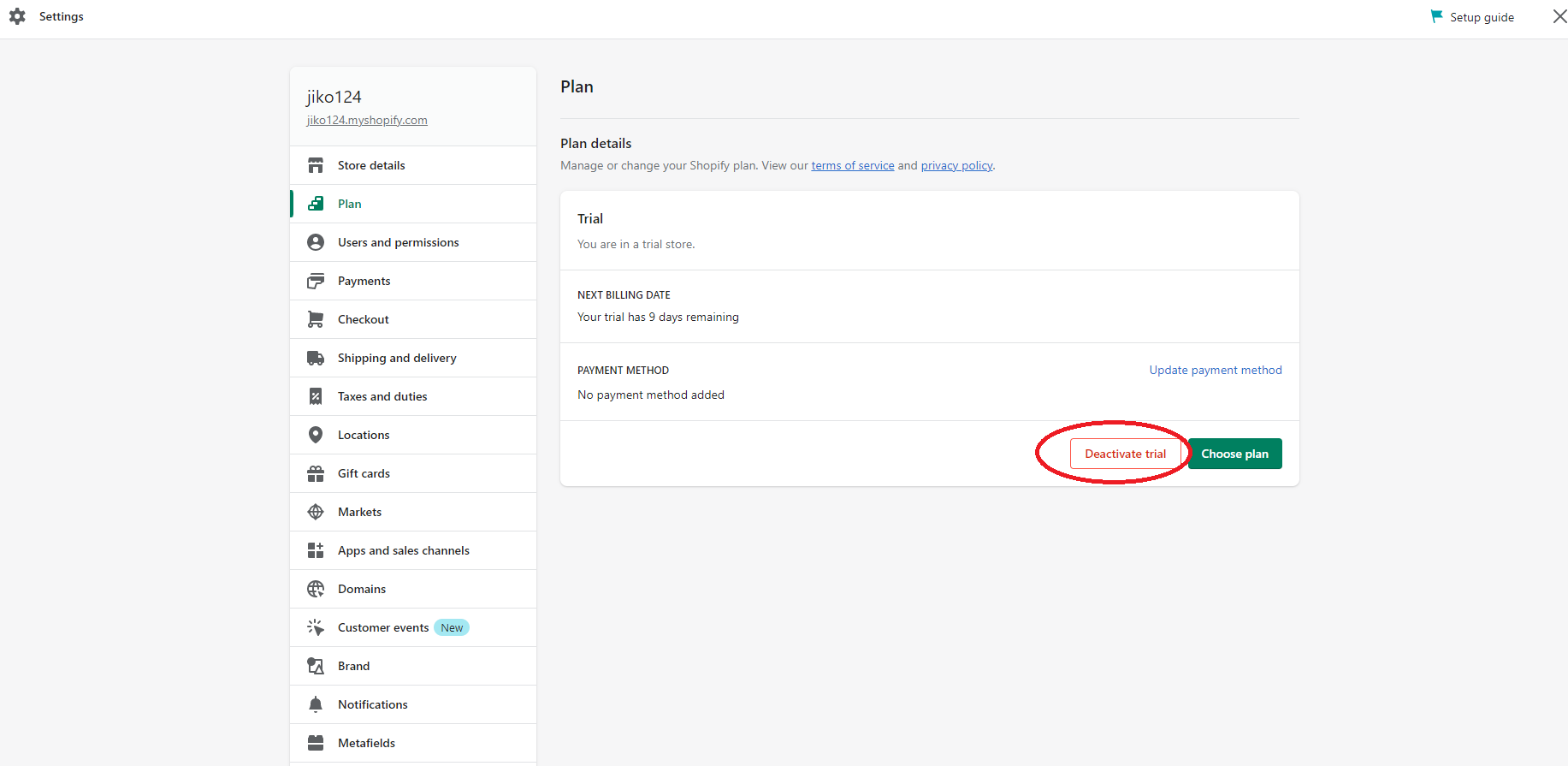 Step 3: Provide Shopify with the reason why you want to cancel the free trial
Step 4: Enter your password to finish the cancellation process
---
Is Shopify Still Worth It?
After joining the eCommerce playground, you will see a variety of platforms eligible for launching your online business. Among these, Shopify has claimed its reputation as one of the most well-known eCommerce platforms built for everyone. Throughout years of experience, it has successfully spread its brand to 175 countries around the world.
From my point of view, the core strength of Shopify lies in its superior ease of use, powerful built-in features, and a huge ecosystem of apps. Especially you can live your dropshipping dream with Shopify as the platform helps you find products from suppliers and sell them online.
Along with this Shopify free trial article, we would like to share with you other helpful Shopify resources to facilitate your upcoming journey:
Already in Love with Shopify?
If you are intending to migrate to Shopify, LitExtension offers a great migration service that helps you transfer your data from the current eCommerce platform to a new one accurately, painlessly with utmost security.
---
Shopify Free Trial – FAQs
---
Conclusion
In summary, I hope that this article has given you all the essential information about Shopify free trial. After trying it out on my own, I'm of the opinion that this free trial will definitely be a great choice for those of you who haven't made up your mind yet. In case you want to move to Shopify, LitExtension is the right choice as we have +11 years of experience with +200,000 migration projects completed.
Also, don't forget to check out our LitExtension blog and join our Facebook Community to receive helpful tips and tricks for your eCommerce growth.