Introduction
Setting up a professional-looking website used to require lots of technical knowledge, but those days are gone. In our technology-dominated world, building a website has never been easier with the help of website builder software or CMS. There is a wide range of website builder software in the market, choosing one of them could be a difficult task. However, the solution you should choose mainly depends on what you're looking for.
This article is a summary of our research about current best website builders, helping you pick the perfect one for your individual needs. After testing hundreds of candidates, we've listed out 5 best website builders (Shopify, Wix, Squarespace, BigCommerce, Weebly) with their highlights to make it easier for you to choose.
Let's dig deeper into what makes these website builders stand out from the crowd!
Why do you need a website builder for your store?
Building a website shouldn't be a daunting task. Website builder is easy to use. This is a selling point of a website builder, to be fair, a lot of popular options beat CMS in this area. You can get a website up and running quickly with little to no technical skills. Website builder software uses the drag-and-drop technology and user-friendly interface design, allowing any merchant to type in texts, upload images, or change and move any element with a simple click and drag of the mouse – all without having to write or edit a line of code and all of the other technical stuff.
Besides, you can edit your website at any time from any computer. Because website builders are online-based, your web files are hosted on the service provider's server – not your computer. You can log into your account, make a change and click save or publish and your changes are live – all you need is a web browser and an Internet connection, any time and from any device.
Furthermore, building a website with a website builder doesn't require a big budget. There are plenty of free and paid plans to choose from, which are very affordable compared to hiring professionals.
So now you know it's worth getting yourself a website builder. Let's get cracking!
What to look for in a website builder?
Before making any decision on which website builder is the best choice, let's skim over several bullet points when reviewing the best website builders for each case:
Ease of Use: a website builder should be easy to use for absolute beginners (non-techy users), therefore, when you are considering which website builder to go for, make sure you find one that comes with drag-and-drop features, powerful editing tools, and various customization options
Pricing: since it's a competitive space, merchants always look for which website builder offers the most value for the price. Not only the long-term cost but also your current financial status should be taken into consideration. In some cases, the cost includes some extra fees for other features or services. So make sure everything falls within your budget instead of just going with the cheapest option.
eCommerce features: a good website builder should offer plenty of professional website templates and room for add-ons or integrations, like Google Analytics, third-party marketing tools, and so on.
Customer Support: website builders should have an intuitive easy-to-use interface because merchants always prefer the one that offers many supporting channels and 24/7 online support when needed.
There are more criteria that should be taken into consideration such as SEO features, Security, etc. To read more comprehensive review on each website builder and comparison among them, please visit our eCommerce platform review section.
So, let's have a look at our best website builders list to find which one is the winner. We make this comparison based on stringent criteria of Pricing, Support, Highlighted features and we also point out some pros and cons of each website builder so you can easily compare them. Stay tuned!
5 Best website builders review: break into pieces
Shopify
Shopify is the most popular name among the best website builders for starting an online business. According to Builtwith, it powers 1 and a half million live websites at the time of this writing (November 2020). Shopify is definitely the top desired among the best website builders as it offers multiple themes and requires little programming experience.
Furthermore, managing customers and their details, orders, and statistics in the Shopify admin dashboard is a piece of cake since you can access every section from the main menu.
Pricing
Shopify pricing is quite clear and straightforward. It offers different pricing plans with additional features depending on which plan you are on. Shopify's basic plan will cost you $29 per month, you can upgrade it to Shopify plan with $79/month or Advanced Shopify plan for $299/month. Shopify also provides the Shopify Lite plan for just only $9 per month, which allows you to sell on social networks and embed a Shopify Buy Button on your website to use the shopping cart functionality. The good news is that each of these plans already includes a domain name, SSL certificate, and web hosting.
Shopify Pricing Plans
However, you might need to purchase third-party tools and add-ons to get some more helpful features. As your business grows, these costs will start adding up. Moreover, Shopify charges an additional fee if you employ other payment providers than Shopify Payment, which is around 0.5% – 2% per transaction depending on your plan.
Support
Shopify provides help via various channels. Its round-the-clock support phone, email, and live chat is absolutely a great advantage over Shopify's rivals. Plus, you can also get to its community forum, help center, and plenty of business courses and video tutorials. Other than that, you can hire professional Shopify experts to ensure optimal problem resolution and seamless business operations.
Highlight features
International domain: Merchants have global websites and can use region-specific domains to create localized user experience. You can choose to display your site in multi-languages and currencies in accordance with the domain.
Online store speed report: This tool allows you to measure your pages' loading speed via speed tests. You will have a detailed view of your site performance and evaluate the effectiveness of your speed optimization.
Product performance insights on the product page: You can see specific product sale reports directly from the product page. The information includes how the products are sold, where traffic comes from, and who is buying them.
Tipping option: Your customers can show their support for your business via tipping. You can enable this feature with one click, and tipping options will be displayed during checkout. Customers can choose to tip based on a percentage of their total order or a custom amount.
Summary
To sum up, Shopify is a dedicated website builder that helps merchants build their very own online store without a mad tech skill. However, if you are new to eCommerce, especially Shopify, you may find Shopify's cost a bit higher than some other website builders in this list. Shopify best suits anyone who wants a stunning and feature-rich store without worrying about pricing.
To take a closer look at each aspect of this website builder, please find more in our article about Shopify review
Let's find out what Shopify users say about this builder:
Shopify is a well-maintained platform that provides everything I need for website management, updates, pricing, order fulfillment, customer communication, etc.

The Shopify platform is really user friendly and you don't need to know how to code in order to make a store.
Wix is the clear front-runner in the race for website builder dominance. It's one of the biggest players with over  110 million websites built and boasts a great quantity of tools, capabilities, and freedom. Wix also offers usability and a relatively powerful set of features to easily build your website.
Wix
Pricing
Wix pricing plans
Wix has a basic free website builder plan that lets you create a free website starter site with ads. Pricing falls within industry standards with a $17-per-month Basic plan that covers most needs for a personal website. If you need an eCommerce website builder for your eCommerce store,  Wix offers a $35-per-month "Business VIP" eCommerce website plan for it. Those prices do not include a domain, so you'll need to account for that separately. And if you're interested in stats and analytics, you'll either need to get a Google Analytics paid plan or another third-party tool, as Wix doesn't have its own
Support
Wix offers multiple support options, including phone, email support, social media support and community forums. You can also find tons of blogs and vivid video tutorials that are particularly helpful for beginners. For the very technical issues, you might expect a bit of back and forth, but they will get to the right answer eventually.
If you sign up to the most expensive eCommerce plan, Business VIP, you get priority response to any tickets you submit. You are also eligible for VIP Support, which gives you priority phone support.
Highlight features:
Exceptional online store: merchants can sell and promote their brand with state-of-the-art storefronts. Also, they can optimize shopping experiences and an industry-leading suite of professional eCommerce apps.
Comprehensive eCommerce platform: Wix allows merchants to sell on multiple sales channels such as eBay or Facebook and helps merchants manage their store from one integrated dashboard.
Advanced payment options: Wix offers customers secure checkout and handles business transactions seamlessly. Customers can get competitive payment processing rates, custom payout schedules and dozens of common payment providers
Summary
To conclude, Wix is a feature-rich website builder with a flat learning curve. It offers no limited trial period which can be leveraged before you get started with Wix. However, it does have a few weaknesses with regard to data limitations. This builder is ideal for anyone looking to combine intuitive editing tools with eCommerce functionality.
To see more review about Wix and comparison between Wix and other website builders, please check here
Now let's see what other merchants say about Wix:
Creating categories and adding products was really easy, putting in a size variant was really easy, editing the text boxes and images to represent the brand – all super easy.

It looks really professional, even after adding a couple of buttons to the homepage. It's very clean – you can easily identify where things are, and how it would appear once published.
Squarespace is a well-known website builder designed to help merchants creatively build their website and perform their work, regardless of their technical skills. Squarespace is great for photographers, artists, and anyone who loves design and wants their website to look as good as possible. It is powering more than 2 million live websites all over the world, that's a solid testament to the result it delivers.
Squarespace
Pricing
Squarespace has two plans dedicated to website building. The Personal plan for $12/month gives you everything you need to set up a straightforward but full-fledged website. The good news is that Squarespace Personal plan comes with unlimited bandwidth and storage so if you don't need to sell online, the Personal Plan is a good choice to start.
The Business plan is $18/month, which comes with even more features. This is suitable for building a website rather than a store, but it still has lots of eCommerce functionality
Their eCommerce plans to sell online range from $26 and $40 per month. Squarespace is a beautifully designed platform that offers very easy to use features. It can be perfect if you just want to quickly build a website.
Squarespace pricing plans
The annual pricing is well worth it if you plan to grow your online business for the long-term. This option helps you save up to over 30%. For instance, with the Business plan, it costs $312 when you pay monthly but down to $216 for the annual option.
Support
In general, Squarespace offers a great support system compared to other platforms including Knowledgebase, Email, live chat support, Webinar, Forum, Guides, and videos. The strength of Squarespace in supporting is detail, they always provide in-depth answers or articles on the knowledge page. Additionally, they even provide a Developer Center for those who have an advanced understanding of web design, CSS, HTML… to create fully custom sites or build everything from scratch, integrate with 3rd party tools.
Highlight features
Social media integration: Squarespace allows you to link accounts from over 20 social channels such as Facebook, Twitter, Instagram, Youtube. You can even host your own podcast on your Squarespace website, and publish it to Spotify or Apple Podcast.
Built-in features: Squarespace's built-in features give you powerful tools to grow your site. However, the number of available features depends on the plan that you choose.
SEO and marketing features: Squarespace has 90% of the SEO options that your site will need including HSTS security, Sitemap.xml file, Clean HTML markup, etc. Besides, you can integrate Mailchimp or use Squarespace's all-in-one platform Email campaigns to run email campaigns
Summary
As I mentioned above, Squarespace is best for creatives to build a website to show off their work. You can find tons of dazzling templates optimized for desktop, tablets, and mobile devices. Squarespace mobile app allows you to edit eCommerce functions on the go. However, that Squarespace has no app store means that you have to rely all on its built-in feature. Furthermore, the editor can be a little manual, it doesn't autosave your work on its own so you should save your work after any changes.
Please refer to this article for a detailed review on each aspect of Squarespace.
Here are few things Squarespace users say about this builder:
I would argue that the time someone puts into understanding how this product works is imperative before onboarding. I wouldn't recommend to anyone that they could build a site with Squarespace if they wanted a site up within a couple of hours. Realistically, this is how long you would need to understand the back system and the interface to then make it a little easier.
BigCommerce is also a top website builder in the market. Over the years, it has helped build over 150.000 live websites over the world. BigCommerce is truly an expert in building websites. With loads of built-in features, data tools, etc, BigCommerce is best for large and growing businesses.
BigCommerce
Pricing
BigCommerce comes with a 15-day free trial for every plan. There are three main pricing plans: Standards, Plus and Pro, starting from $29.95/month to $299.95/month. By paying more, you can get access to more extensive features.
The Standards plan at $29.95/month offers you all essential features that you will need. You can upgrade to Plus plan, which is the most popular plan for BigCommerce users, for additional conversion optimization features. This is also the best plan for growing business, as it comes with many marketing tools such as Abandoned Cart Recovery, Store credit cards. At $299.95 per-month Pro Plan, you can get access to extra features like Google custom reviews, Product Search filtering, Custom SSL (Secure Sockets Layer)
It's undeniable that BigCommerce has more expensive plans than other competitors in this list. However, this is because of built-in features it comes with. While other builders require you to add third-party extensions, BigCommerce includes most of these functions in its package. So don't worry about the unexpected cost.
BigCommerce Pricing Plans
Support
The help and support function of BigCommerce depends on which plan you are on. With the Standard plan, BigCommerce offers you support via different channels such as 24/7 live and chat support and email supporting. In addition, you can get access to a library of video tutorials and BigCommerce Help Center.
If you are on the most expensive plan, you unlock the priority support including onboarding consultant, prioritized phone calls with instant connections to the most senior and high quality support staff.
Highlight features
Integration with WordPress: You can leverage the flexibility of WordPress while taking advantage of the best in-house features of BigCommerce. In simple words, your website will be fast and secure no matter how much traffic you get.
Integration with all payment gateways: BigCommerce doesn't charge you any transaction fee to use all payment gateways including Stripe (credit cards and ACH), Paypal, Apple Pay, Square, Amazon Pay, Visa Checkout, ChasePay, and more.
Secure experience: BigCommerce's PCI 3.1 Level 1certification and multiple data centers make backing up data second-nature, therefore, you don't need to worry about the safety of your store's data.
Summary
To sum up, BigCommerce is the most scalable eCommerce builder. It has more built-in features than any competitor to support conversion rate optimization. However, if you are just starting out, you will find BigCommerce pricing is a bit higher than any website builder in the list. BigCommerce may be not the quickest and easiest builder to use, but in the long run, its powerful built-in features will make running your online business super easy.
To read more reviews about BigCommerce on many other aspects and the comparison between BigCommerce and other builders, please refer to our blog site.
Now let's see how BigCommerce users had to say about this website builder:
It supports you in getting the job done and is incredibly professional. It clearly knows what it's doing, even though I don't 100% know myself.
If you are planning to create a small business or portfolio website, Weebly would be the optimal option for you. It's powering over 1 million live websites all around the world. The reason for its popularity is that it's easy to use and comes packed with apps and features to help you grow your site, from SEO to eCommerce.
Weebly
Pricing
Weebly's prices are similar to competitors like Wix or Squarespace, but its free plan option is one of the most generous among free website builders, and for just $5 a month you can get up and running with your own domain name. Its $12-per-month Pro plan will give you an ad-free site with analytics and commerce capabilities, while the $25 Business plan gets you more store tools, like tax and shipping calculators, inventory management, and discounts.
Weebly Pricing Plans
Support
Generally, Weebly provides a decent support service. By clicking on "Support" right on top of your home page, you can access Weebly Support Center, where it gives you everything you need to know to set up and keep your store running smoothly.
The guide articles includes different sections for easy reference, namely eCommerce, Building Your Website, Your Account, and so on. Each section contains from 14 to 54 articles, which will provide sufficient information to most users' needs.
Highlight features
Automated tax shipping calculator: The sales tax calculator determines the proper tax rate for every customer automatically. The calculator handles important sales tax rules like origin-based versus destination-based locations and additional rate requirements determined by zip code. This means you can focus on your business instead of researching and calculating tax rates for every digital customer coming from every region in the world.
Visitor statistics: With the Insights section on Weebly's dashboard, you can easily track how many people visited your website, which pages they visited, what search terms they used to find your site, and which websites referred traffic to your site directly from the Weebly dashboard. If you still want more, Weebly lets you integrate Google Analytics into your site for easy management.
Sell hidden products: This feature is available depending on different plans. Its goal is to restrict access for some pages or the entire site from the general public. First, you can choose items that you decide to hide. They will be only available to customers with the link to the item page. After that, you just need to create a password protected page and add the hidden items. With this method, you can sell exclusive merchandise or offer special deals to certain customers.
Marketing: Weebly's blogging feature lets you create a blog quickly and without unnecessary effort. There are several templates to choose from, thus you don't have to spend time designing them yourself. Another noteworthy tool is Weebly Promote, which is designed to make email marketing as effective as possible. This is a newsletter tool that is synchronized with your website. Hence, you can choose a template, customize your letter, and email your contacts with ease.
Summary
To sum up, Weebly is the best builder for small business sites and portfolios. It's easy to use and comes packed with apps and features to help grow your site. You can build a simple, stylish site with Weebly's drag-and-drop editor, and it's a great choice for portfolios, blogs, online stores, and business sites. To get a closer view on this website builder, please have a look at Weebly's feature review by LitExtension. Here are some thoughts about Weebly from its users:
It was fairly straightforward to add things – you had the app store that was easy to go into, so you just had to type in what you wanted and pull it into your site. Similar with the features, they were all really easy – it was a drag-and-drop motion to move it onto the page, and then the editing of text was also fairly straightforward.
Comparing 5 best website builders: Final words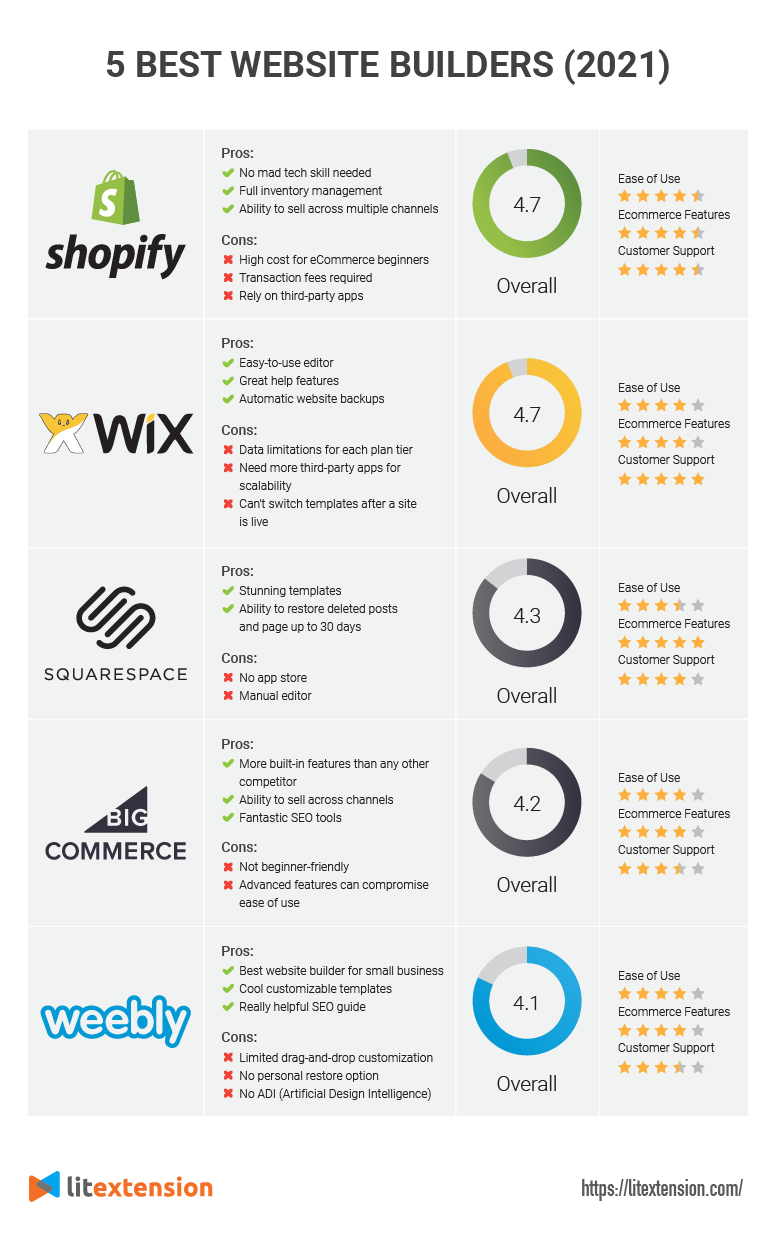 Although a plethora of website builders are available in the market, there is no one-size-fits-all solution. The key point is to find the software that is suitable for your business type as well as future objectives.
Moreover, this article compares 5 website builders that we consider the best among all: Shopify, Wix, Squarespace, BigCommerce, Weebly. In this article, we have illuminated these 5 best website builders to create a successful website in the view of our first-hand experience. These are also top the preference of many customers who've been using our service.
After listing and analyzing some factors of the above-mentioned software, it can be concluded that each software is suitable for each purpose: If you are interested in racking up sales, start by looking at the eCommerce specialists like Shopify and BigCommerce. If you want a stunning website, Wix and Squarespace are good places to start. Or if you just want something easy to use, Weebly can be your optimal solution. We hope that our article will help you choose the best website builder for your project
Use LitExtension migration demo when you are still not sure what your match is. This feature was developed to help customers see the result in reality after running a free demo. You could check which one is your favorite software. Also, if you are planning to move your site to Shopify, Wix, Squarespace, BigCommerce, you can always reach out to us anytime since our 24/7 online chat is available.