Introduction
Magento offers merchants every feature that they need with great customization capability. That's why it's so loved by large-scale enterprises. And the bigger your business is, the more expense you'll want to spend on building and adding up extensions to boost sales. Thankfully, you don't have to go through all 3,504 Magento extensions to test which one is the best. We have you covered here!
Zendesk Connector
Smart One Step Checkout for Magento 2
Mautic Integration
TaxJar Sales Tax Automation
Amasty Shipping Suite
Magento Multi Carrier Shipping Label & Rates With Tracking
Google One Tap Login
Want to migrate to Magento?
If you are intending to migrate to Magento, LitExtension offers a great migration service that helps you transfer your data from the current eCommerce platform to a new one accurately, painlessly with utmost security.
---
7 Best Magento Extensions Listed by Categories
In this article, we'll list down the best Magento extensions you'll need in each category, along with their pros and cons. We'll cover 6 categories including: Customer Support, Payments & Security, Marketing, Accounting & Finance, Shipping & Fulfillment, and Site Optimization.

#1. Customer Support
86% of customers are willing to pay up to 18% more to ensure superior customer service experience. Hence, it's crucial to have a high quality customer support since it directly affects sales.
Among 87 Magento extensions provided in the Customer Support category in marketplace, Zendesk can be considered the most favourable. Zendesk is designed to create more meaningful, personal, and productive customer relationships. It helps companies provide great support with self-service and proactive engagement.
Zendesk allows you to:
Open support tickets in the contact us form or your account dashboard in a simple and straightforward manner.
Update visible support ticket status in the Magento admin.
Respond and provide support from your Zendesk Account and this will reflect in your clients' dashboard.
Manage all the support tickets in your Zendesk account by collecting actual clients' information in a nice widget that will be visible next to support tickets.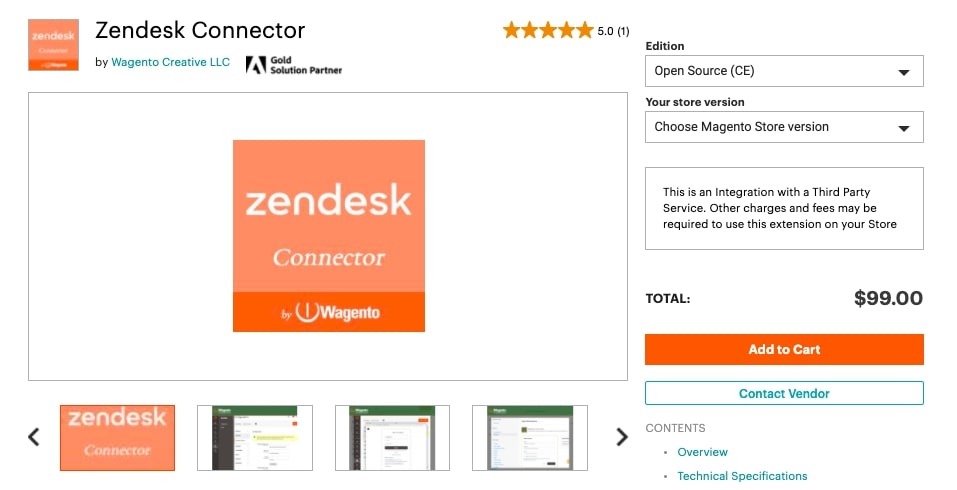 Moreover, Zendesk provides a wide variety of pricing plans, ranging from $5 per month. They even have custom built service in case you need out-of-the-box features. The price will vary according to the functionalities you want in your store. What's best is that it also has a free trial for you to test out the tool first.


Unfortunately, it's not an easy-to-use app since it requires a decent level of technical knowledge to set it up. Even though it offers you help from experts, yet, it takes quite a long time to receive responses from their support team. So, it'll need a lot of effort to get a hold of it if you're not a tech-savvy. But once you're familiar with the software, it's the best you can find.
#2. Payments & Security
Checkout is the last step in customers' purchase decisions. Therefore, an optimized check-out process will better guarantee sales.
Smart One Step Checkout for Magento 2 by Aheadworks provides store owners with data-driven control over checkout performance. It keeps the checkout page easy to use and reduces the checkout abandonment rate.
Some feature highlights of Smart One Step Checkout for Magento 2 are:
Increase revenue by providing a single-step checkout process.
Adjust to demands with smart configuration tools.
Support multiple payment gateways.
Analyze & track conversion rates and performance.
Two analytical reports: Abandoned Checkout report & Checkout Behavior report.
Including 3-month free technical support.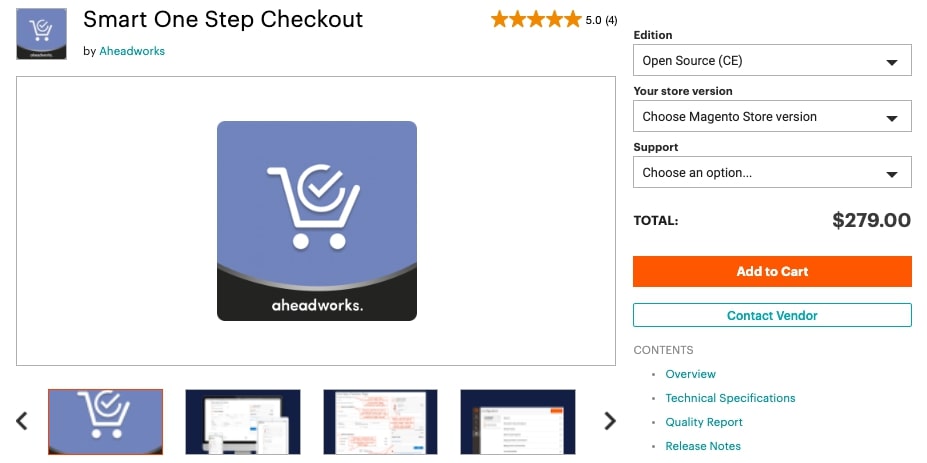 The price starts at $279. It's a pretty good deal in the long run.
All in all, it's a clean extension that functions perfectly and makes checkout super easy. The only complaint from customers is that sometimes there are issues with payment gateways. However, Adheadworks' customer service team is renowned for its excellent and in-time support. So, it's not a major issue since they will help you resolve any problems immediately.


If you're still on Magento 1, there's a similar extension called One Step Checkout. But the benefits of upgrading to Magento 2 will hugely improve your store's performance. Thousands of extensive functions combined with a highly secure system will bring the best support to help your business grow.  If you intend to move to Magento 2, there are 3 ways to do that in this article.
#3. Marketing
Marketing is very important in doing business. It's totally understandable why this category contains up to 462 Magento extensions. After a tough selection, we've picked out the one that you'll need:
Mautic Integration
Mautic is an open marketing software platform that provides you with the greatest level of integration and deep audience intelligence. It lets you implement your marketing campaigns in a few steps.
Mautic Integration main features:
Abandoned cart recovery: Reminds customers of the products in their cart and offers coupons
Marketing automation: Increases the conversion of the automated marketing campaigns.
Product recommendation: Recommends the products to your customers based on their purchasing history.
Order follow-up: Sends the follow-up emails to buyers.
Ultra-responsive popup forms: Expands your customer database.
Customer segmentation: Procures the customers' purchase history, tracks them, converts them, and turns them into your loyal customers.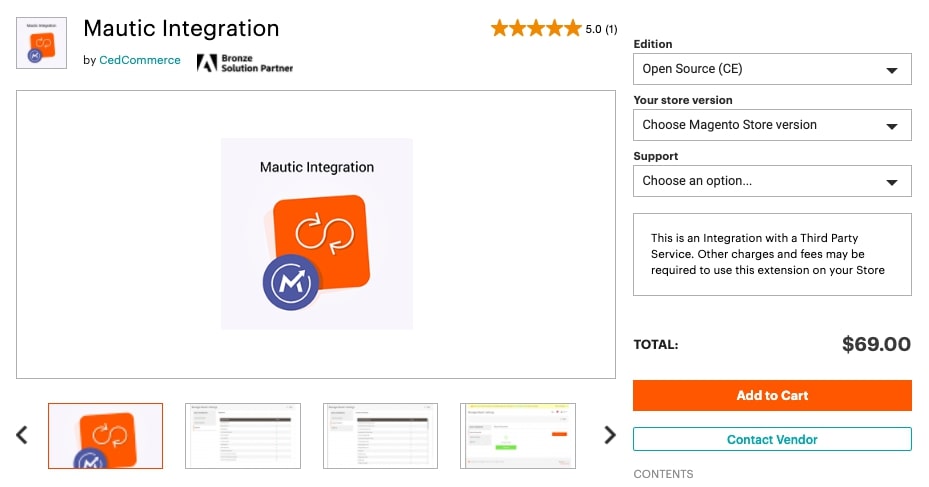 For a specific price, please refer to this site since it hugely depends on each person's needs. An outstanding point of the software is that it not only offers a live demo as a guided tour, but also lets you play with its best functions for free beforehand to get a handle on how the tool works. Even after you have selected a pricing plan, you'll still be provided with a free trial with fully supported experience.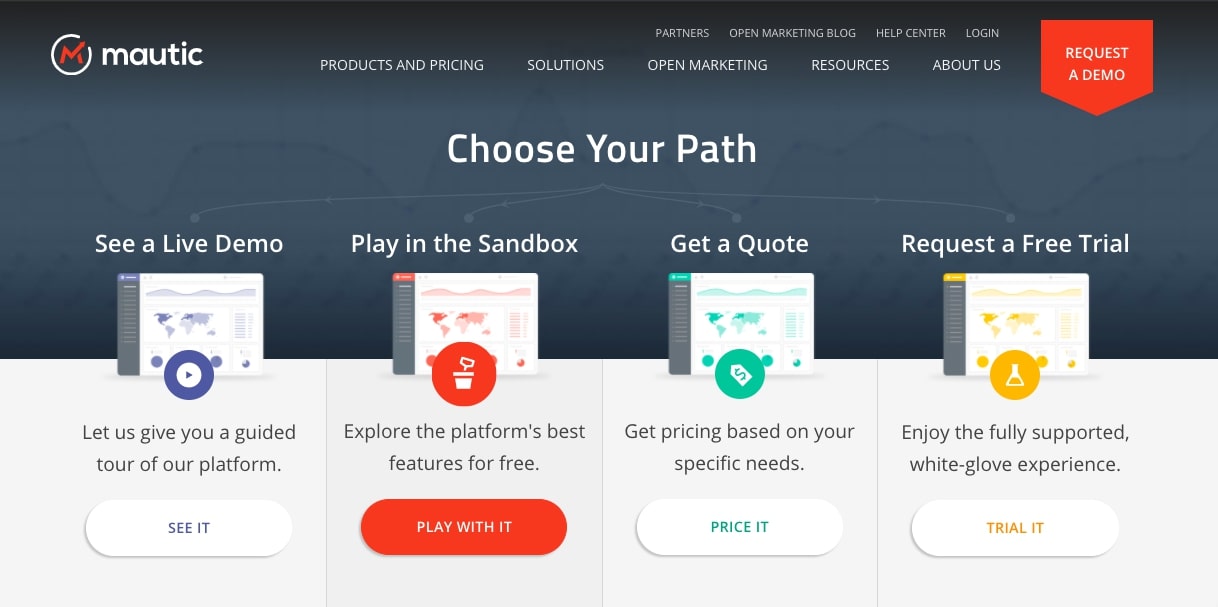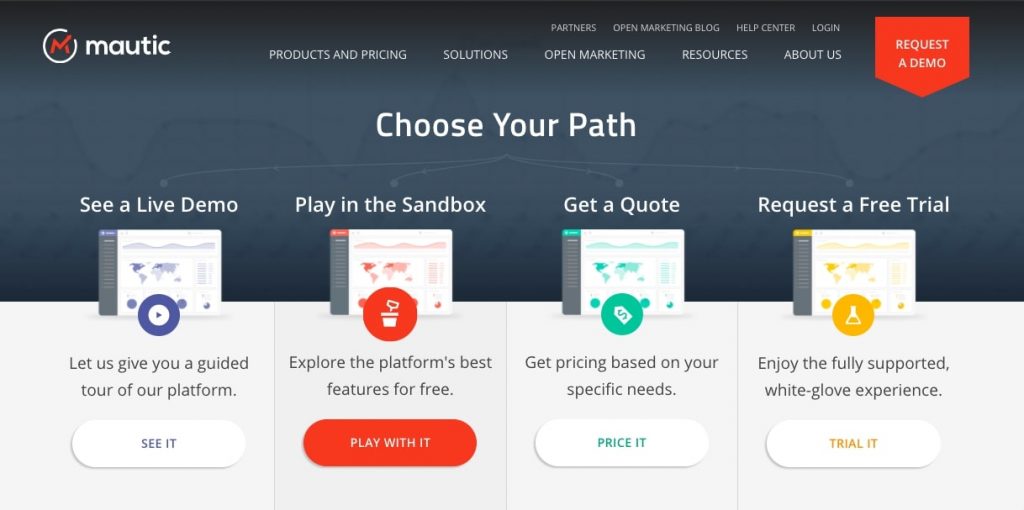 Open source means more powerful, yet, a little more work with more technical skills needed to configure some of its aspects. Fortunately, there are Mautic consultants that will professionally maintain your Mautic instance for a price that is far less than a subscription-based service.


DataFeedWatch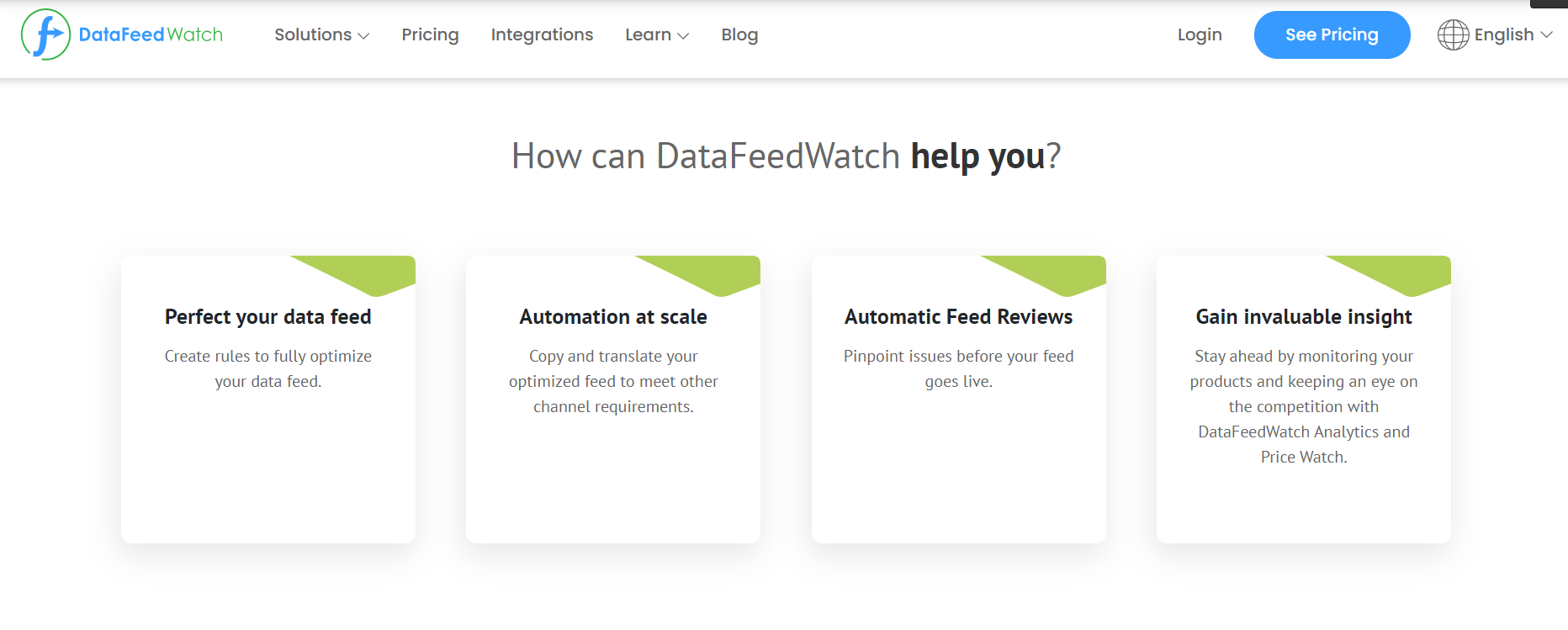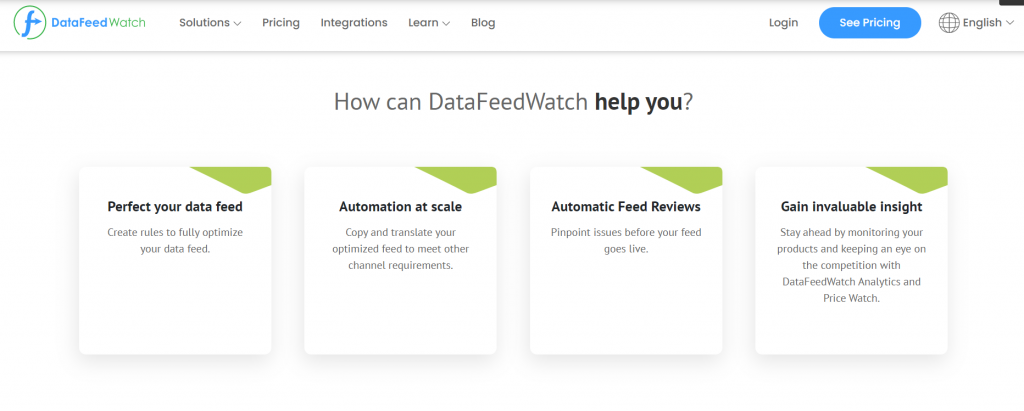 DataFeedWatch is a leading feed marketing solution combining data transformation with help and advice that empowers Merchants, Agencies, and Enterprises to succeed on eCommerce channels.
Businesses can use DataFeedWatch software to enhance their product feeds and increase sales on over 2,000 shopping channels worldwide.
DataFeedWatch main attributes are:
15-day free trial
Competitive prices
24/7 support from feed experts
Over 2,000 channel integrations
Intuitive feed optimization panel
Automated Search Ads functionality
Product-level analytics
Competitive price insights
Feed review to check and fix errors
Daily feed updates
Price: 
Shop: €49/mo
Merchant: €69/mo
Agency: €179/mo
#4. Accounting & Finance
One of the problems a business owner will face but don't want to deal with – sales tax. If you are in the same situation, we've found the best solution for you!
TaxJar leverages technology and exceptional customer service to help you focus on what matters most – growing your business. Trusted by more than 20,000 businesses, its award-winning solution makes it easy to automate sales tax reporting and filing, and determine economic nexus with a single click.
TaxJar Sales Tax Automation gives you:
Seamless & automatic filing: Automatically submits your returns to the states.
Return-ready, jurisdiction-level reporting: Organizes sales data into easy-to-read, exportable, return-ready state reports.
Real-time sales tax rates & calculations.
Economic nexus insights.
Peak season traffic management.
Out-of-the-box eCommerce integrations: Offers one-click integration with your Magento store and major marketplaces like Walmart, Amazon, Etsy, etc.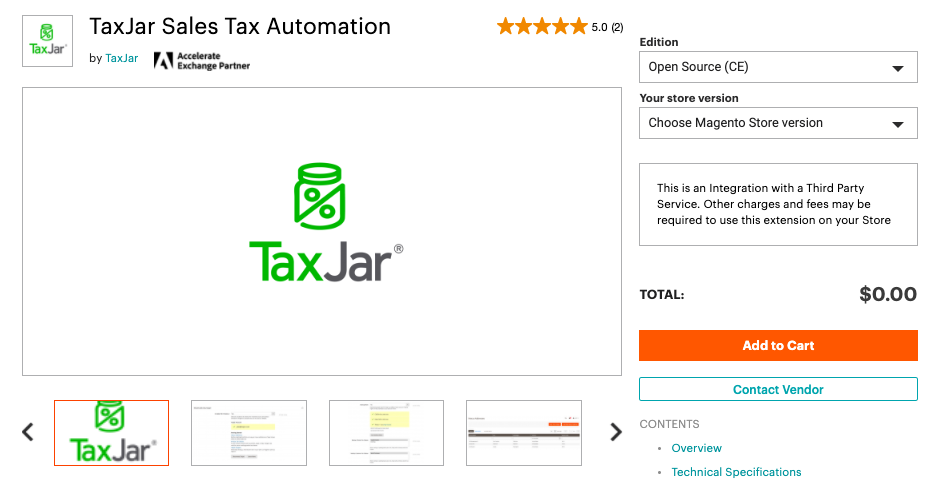 The software's price is transparent and follows order-based pricing. There are no setup fees, connector fees, or filing service fees. But please keep in mind that if your business exceeds 1,000 orders per month, an upgraded account will be required for real-time sales tax calculations. Then you'll be charged an amount of additional fee. Therefore, it may be expensive for stores with thousands of sales.


#5. Shipping & Fulfillment
Among hundreds of shipping extensions in the market, we've closed down to the one below as it's recommended by many Magento experts such as Mageplaza, Magenest, etc.
The price for this software starts at $499 for the community version. The enterprise version and other added-in support options will charge more. And again, the biggest problem comes from its difficulty to use as the majority of Magento extensions.
It's easy to operate but in the beginning, it takes much time to set up if you've never done it before. However, Amasty's support team is very responsive and professional so don't worry.
Magento Multi-Carrier Shipping extension is a complete shipping tool that lets store owners display live carrier-calculated rates at the cart/checkout, prints shipping labels in bulk, and finally sends live tracking details to customers. It seamlessly works with the Magento eCommerce platform and integrates with globally used carriers like FedEx, UPS, USPS, Canada Post, and many more.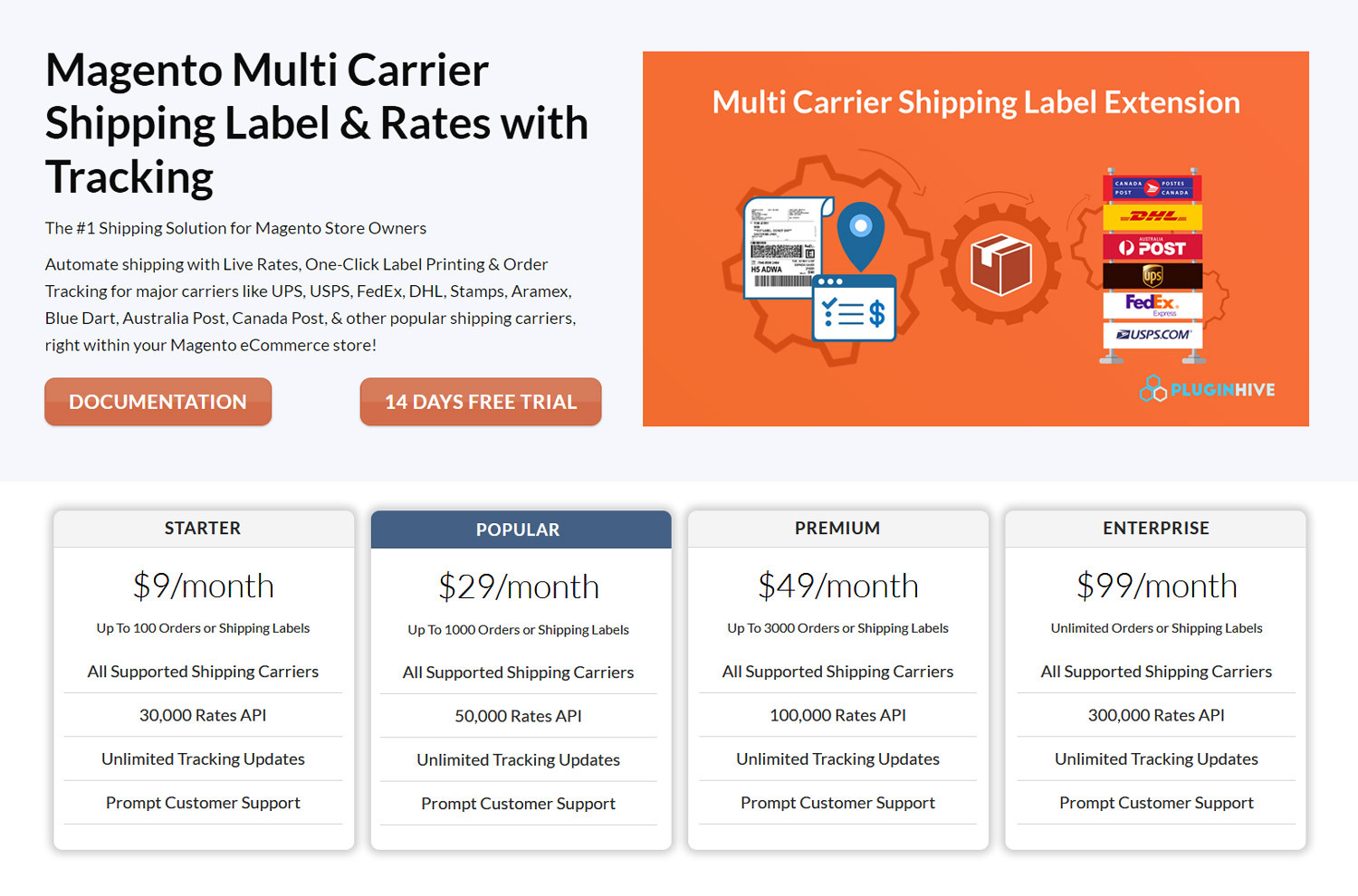 By using this shipping extension you can:
Display real-time shipping rates to charge accurate shipping costs

Print 100s labels in a single click

Send live tracking details to your customers via customizable email & track your orders with a tracking dashboard within the extension

Offer multiple packing methods: box packing, weight-based packing, stack packing, quantity-based packing based on your needs

Request carrier pickups & print manifests 

Achieve complex shipping scenarios using automation rules 

Get instant support for setting up & other shipping related queries
This extension is certified by top global carriers like FedEx, UPS, Canada Post, Australia Post, and Purolator. Connect your carrier accounts to get started with your seamless shipping experience. Not just that by choosing this certified shipping solution you can get special shipping charges from your preferred carriers as well.
Shipping Suite by Amasty is the all-in-one solution for enhanced shipping profitability. Take full control over your delivery process with the synergetic work of the 3 smart shipping managing tools: shipping table rates, rules, and restrictions.
With the integration of 3 functions in 1 app, you can:
Generate unrestricted number of shipping methods and rates.
Set rates to specific products and product groups.
Build shipping rules based on a variety of attributes.
Easily configure complex conditions for rules and restrictions.
Calculate shipping price based on volumetric weight.
Have 3-month free support.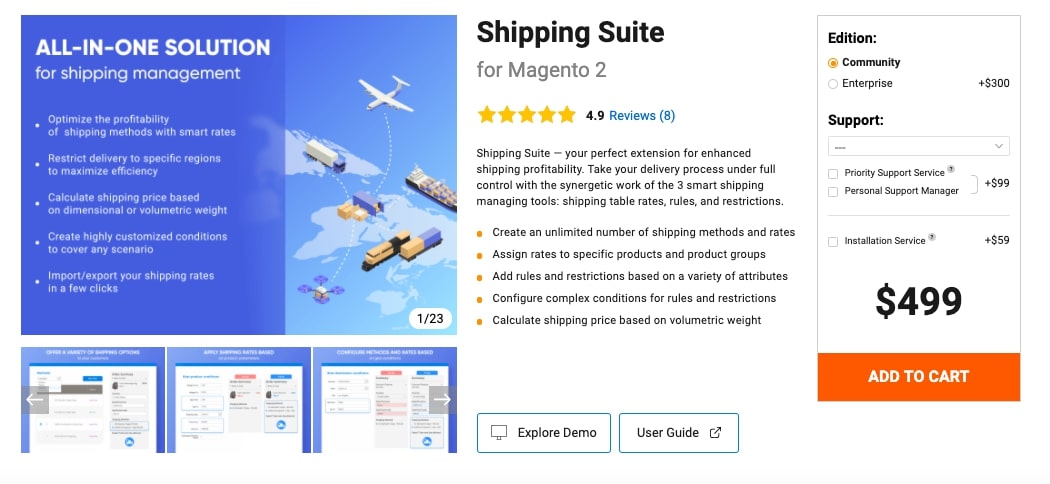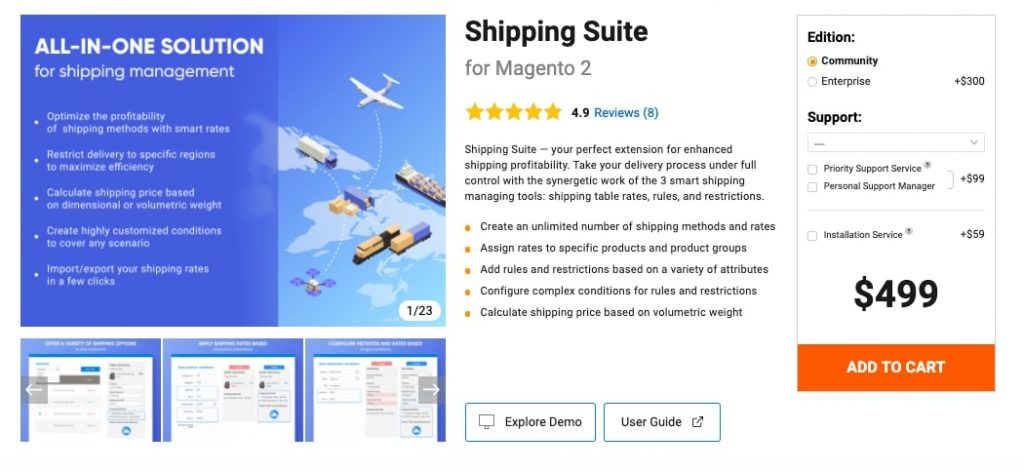 #6. Site Optimization
Store optimization is important to keep your customers and secure your success. Therefore, a good site optimization extension is something you should not miss.
One Tap is one of the latest cross-platform sign-in systems that supports both webs and Android. One Tap Login enables your customers to create and login their account in a single click without processing complex steps. By adding this extension in your Magento store, it'll help increase your website's signup rate and speed up the checkout procedure.
Other features of One Tap Login:
A skin popup cookie to improve customer experience.
Amplify customer experience and raise your store sales.
Lifetime free upgrade.
90 days of free support.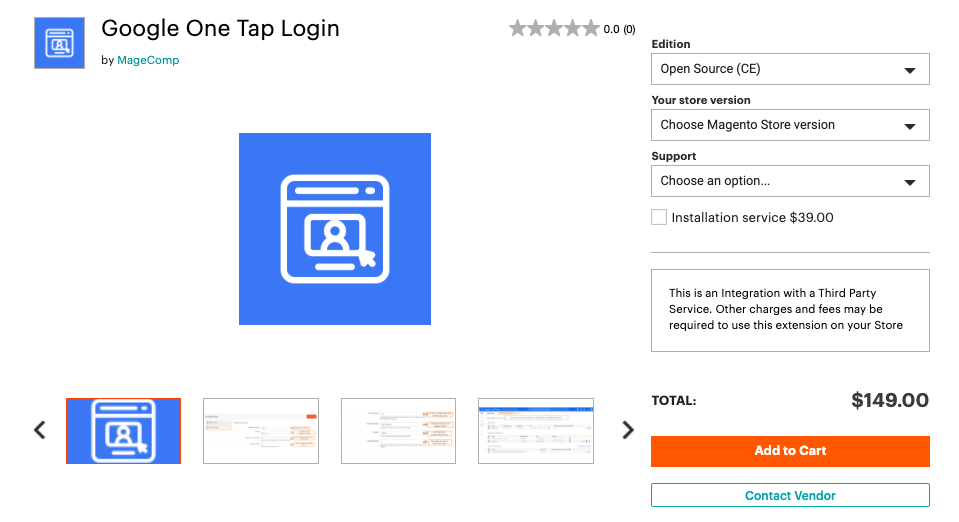 The basic price for this extension is $149, a pretty good bargain. It also delivers additional services such as installation service, extended support, etc. at reasonable prices.
#7. Zoho Inventory and Magento 2 Connector
Zoho Inventory Magento 2 Extension (Adobe Commerce Extension) has been a boon for small and medium scale businesses for seamless inventory management. It is a comprehensive online inventory management software that is carefully crafted for businesses that are growing rapidly.
It is a cloud based inventory management software, assists businesses in organizing and managing the track of stocks. You can use Microsoft credentials as the software works with Microsoft-Azure Active Directory.
With the Zoho Inventory and Magento2 Connector extension, you can connect your adobe commerce ecommerce website with Zoho Inventory to get some unmatched benefits.
With this extension, you can easily and seamlessly sync all your orders along with the accounts, contacts, products, etc. in Magento 2 Zoho Inventory integration.
Furthermore, you can effortlessly sync all the available products in your ecommerce store into Zoho Inventory software.
Also, you can sync the status of your Magento 2 orders into Zoho Inventory.
You may be interested in more resources about Magento (Adobe Commerce):
---
Final Words
In brief, Magento (Adobe Commerce) is definitely a giant in the eCommerce industry, like a badge guaranteeing success. Nonetheless, there is not much of a difference if you do not make the most out of it. If you wish to succeed in this competitive world, extensions are a necessity. That's why we've shortlisted these top 6 Magento extensions with different usages for you to give your eCommerce store the extra push it needs.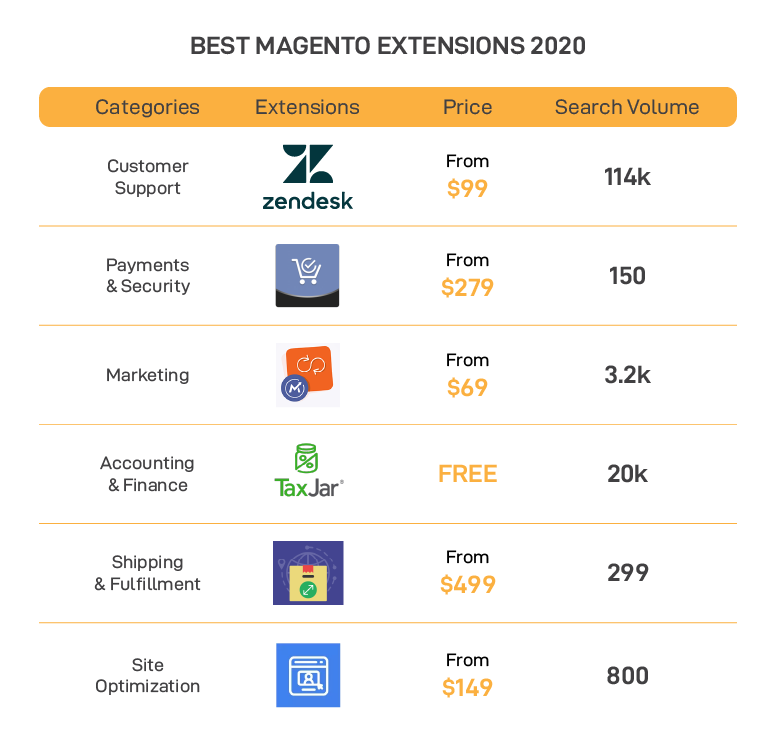 Above all, if you have just migrated your store from other platforms to Magento such as from Shopify to Magento, you can check out these recommendations from us. Or if you are considering moving from your current platform to Magento, you can count on LitExtension – #1 Shopping Cart Migration Expert. LitExtension is the expert in Magento migration service: Shopify to Magento, BigCommerce to Magento, WooCommerce to Magento, etc.
We're one of the most trusted migration solutions for merchants who are trying to find an effective and affordable way to transfer all your data. You can contact our support team by email or chat with us directly for more detailed information. Join our Facebook Community to get more eCommerce tips and news.