With a beginner-friendly workflow, Wix does great for small companies. But in exchange for that, Wix lacks the ability to scale up your business with additional functions. Meanwhile, WooCommerce provides limitless customization and expandable features, which are preferred by larger businesses. Thus, many store owners switch platforms from Wix to WooCommerce when their shop grows up.
Continue reading this post if you're interested in learning how to transfer your Wix to WooCommerce. In this article, LitExtension – #1 Shopping Cart Migration Expert will show you:
Now, let's get started!
Need Help To Migrate Your Store?
If you intend to migrate from Wix to WooCommerce, LitExtension offers a great service that helps you transfer data from the current platform to a new one accurately and seamlessly with utmost security.
---
Prepare to Migrate Wix to WooCommerce
It's necessary to make proper preparation before kicking off migrating your store to WooCommerce. Follow the steps below and prepare for the Wix to WooCommerce data migration.
#1 – Backup your Wix store database
To secure all vital data, we recommend making backups of your store database. Even if the system goes down, you can get back to normal by restoring your store from previous backups.
In this regard, Wix has a convenient feature named Site History, using Wix Velo to keep your database in check. The feature will automatically create backups for your website each time there are changes saved.
Alternatively, you can duplicate a page in Wix to create backups manually. Simply follow our procedure below to make it work:
First, log into your admin account. In the Wix dashboard, select your website.
Click "…", then Duplicate site to reproduce your current site.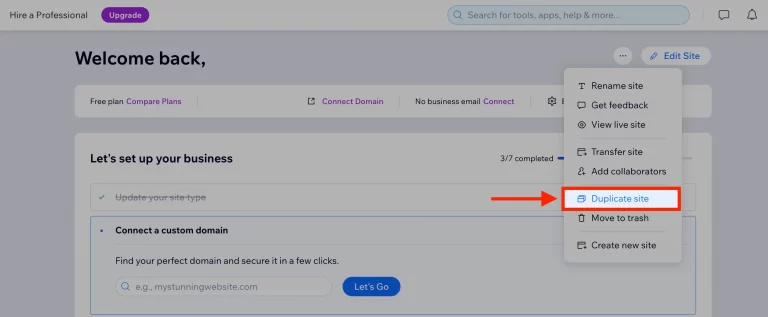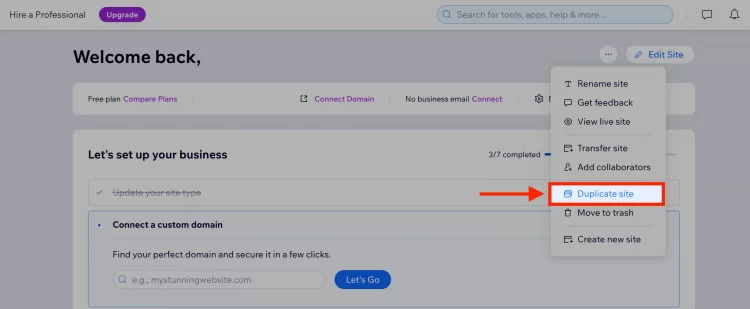 Name your duplicate site on the popup, then click Duplicate to confirm your action.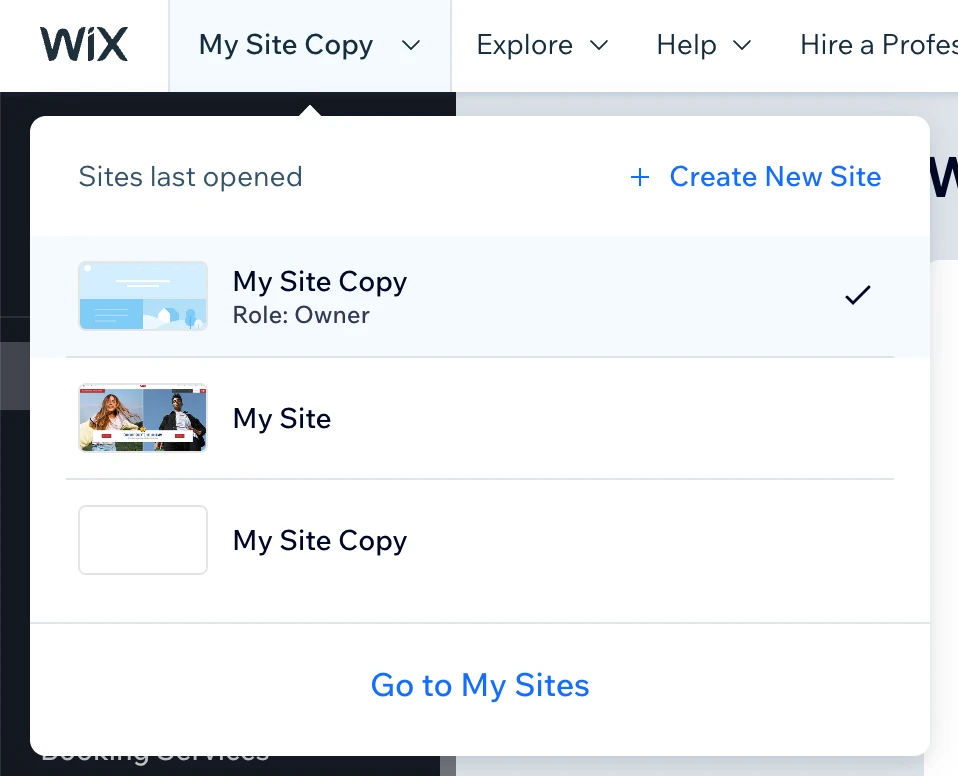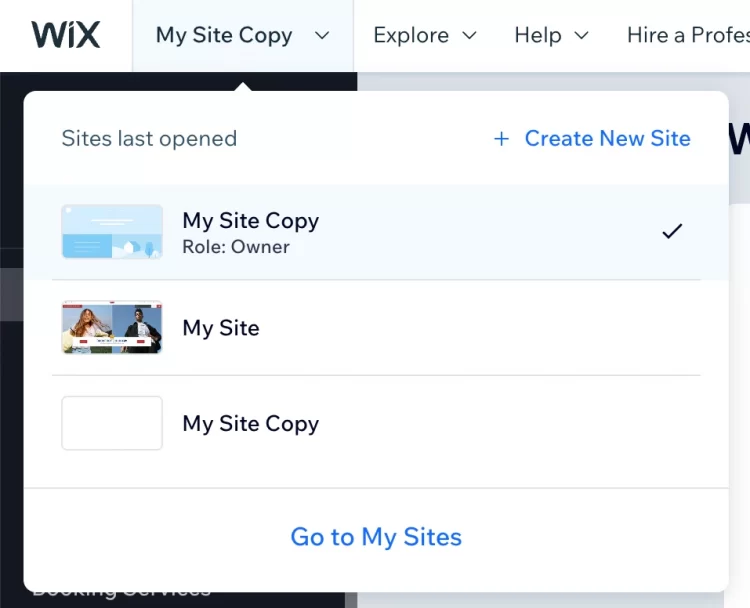 Now, you have successfully replicated your Wix store. Unfortunately, the new site doesn't integrate with store orders, contacts, invoices, or other crucial data. To import them later, you will need to export each of them to corresponding CSV files manually.
To continue exporting data to CSV, catch up with our steps:
On the left sidebar menu, click Products in the Store Products section. Find More Actions section.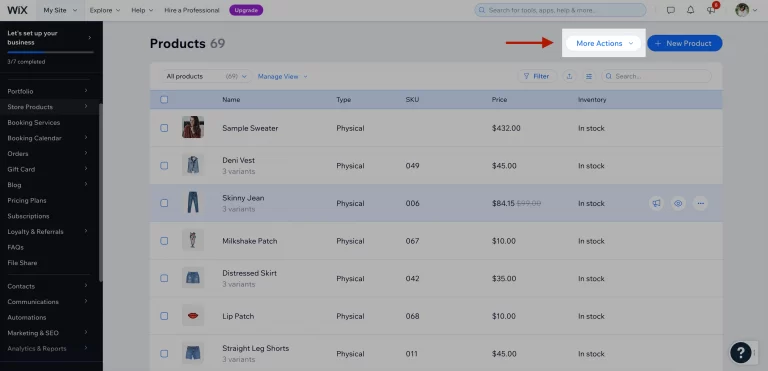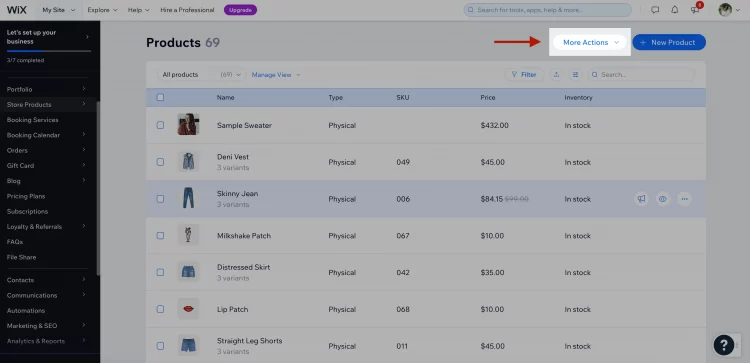 Click Export to export products from Wix to WooCommerce.


That's how to back up your Wix store main database.
#2 – Install & setup WooCommerce store
The next step is to install WordPress, then set up a new WooCommerce store as the target cart for the migration process.
Before doing so, you must prepare a trusted hosting service together with a domain name ready to use. If your hosting provider already supports WordPress, you can install the platform directly via their service.
If you are still confused about how to set up WooCommerce, simply follow our WooCommerce tutorial or watch the instructions from our video below.
---
How to Migrate Wix to WooCommerce with LitExtension
Manual migration requires lots of time and effort to ensure everything goes smoothly. Rather than doing it manually, let's visualize how LitExtension transfers all your data easily, accurately, and securely from Wix to WooCommerce store.
The process is just like a piece of cake, right? Let's start with LitExtension – #1 Shopping Cart Migration Expert now!
#1 – Setup source cart & target cart
To begin with, you need an account to use the LitExtension service. Visit LitExtension website, then register a new account using Google/Facebook account or log into your existing one. The registration is simple and can be completed in mere seconds.
Then, on the dashboard, click Create New Migration. The system will redirect you to the migration interface with 4 migration stages:
Setup,
Demo Migration,
Full Migration,
and Completed.
The first step to do is to define the Source Cart and the Target Cart for the migration. On the first half of the screen, select Wix from the Source Cart Type drop-down list. Then, fill in your Source Cart URL, your Admin Email, and Admin Password to allow us access to your store.


Next, you need to do the same with your Target Cart. Similarly, fill in all the blank fields like Target Cart URL, Admin Username, and Admin Password. Don't want to give us access to your site? You can also click on I want to manually upload connector!


Then download and install LitExtension connector according to our tutorial below.
Finally, click Next to move to the next step.
#2 – Configure migration entities
There are lots of checkboxes appearing on your interface, including Products, Customers, Pages, and Coupons. Here you can choose which entities you want to transfer from Wix to WooCommerce. Alternatively, you can also tick Select All to migrate all data at once.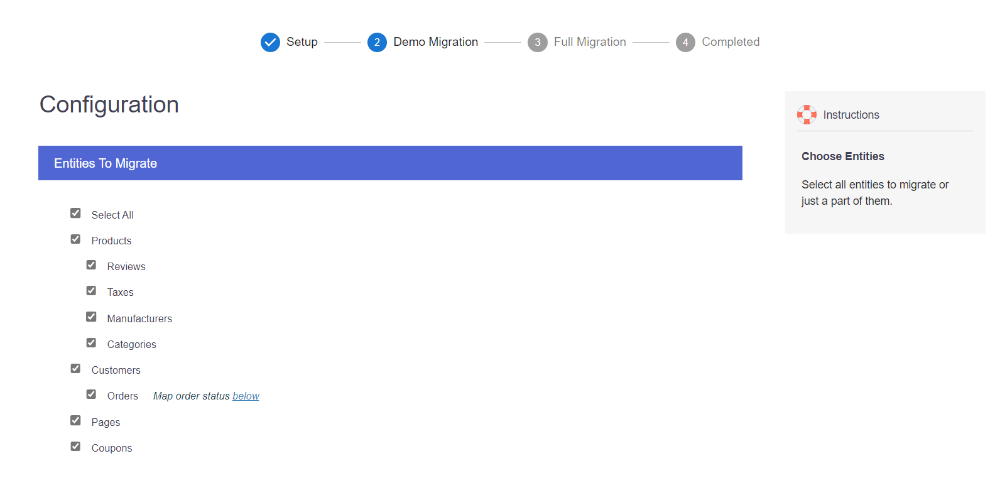 Scrolling down, you will see all Additional Options available for this Wix to WooCommerce migration. Simply hover your mouse over each option to see the side notes and understand what they offer.

Curious about our Additional Options? Let us show you some:
SEO URLs Migration & 301 Redirects. This feature enables you to transfer Product and Category URLs from your Source Store to the Target Store. Preserving these URLs will aid in retaining the SEO ranking you've worked on for years.
Create Product Variants Based on Combinations of Options. This migration process will transform basic products with choices in your Source Store into configurable/variant products in your Target Store.
and many more Additional Options for you to uncover!
Also, since Wix and WooCommerce have different of displaying things, don't forget to map your order status so that it displays correspondingly on your new WooCommerce store.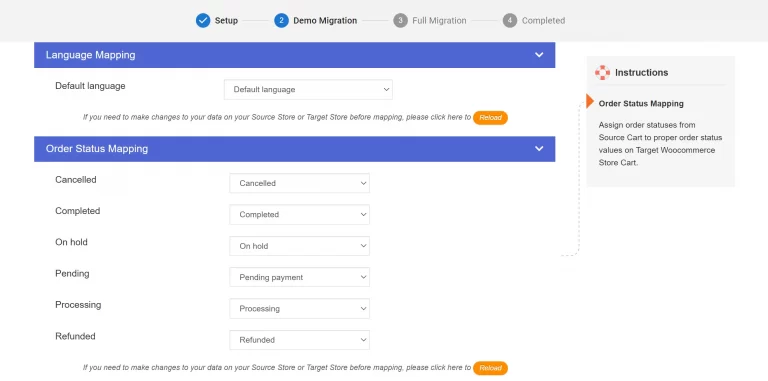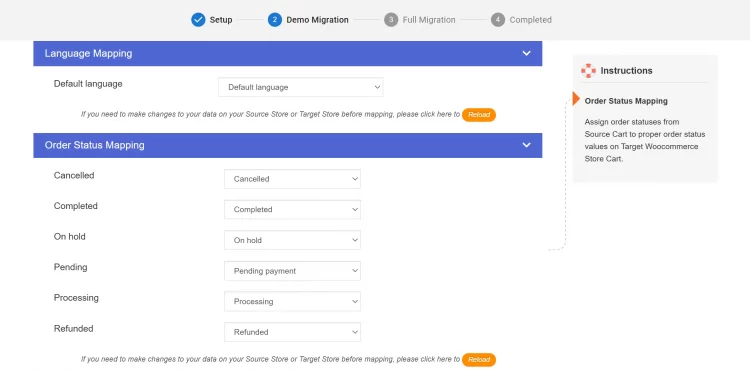 Finally, please double-check to make sure that your choices are accurate and in line with your preferences.
Once you are ready, click Next to begin the LitExtension migration process.
Want To Minimize Your Migration Effort?
Don't want to waste too much time on your migration project? Choose our All-in-One Migration Package to have your project handled by our experts and minimize your manual effort and time.
#3 – Perform Wix to WooCommerce migration
If this is your first time migrating with LitExtension, we highly recommend you try our Free Demo Migration first to see how the process goes. Or else, you can skip this step and start the Full Migration right away!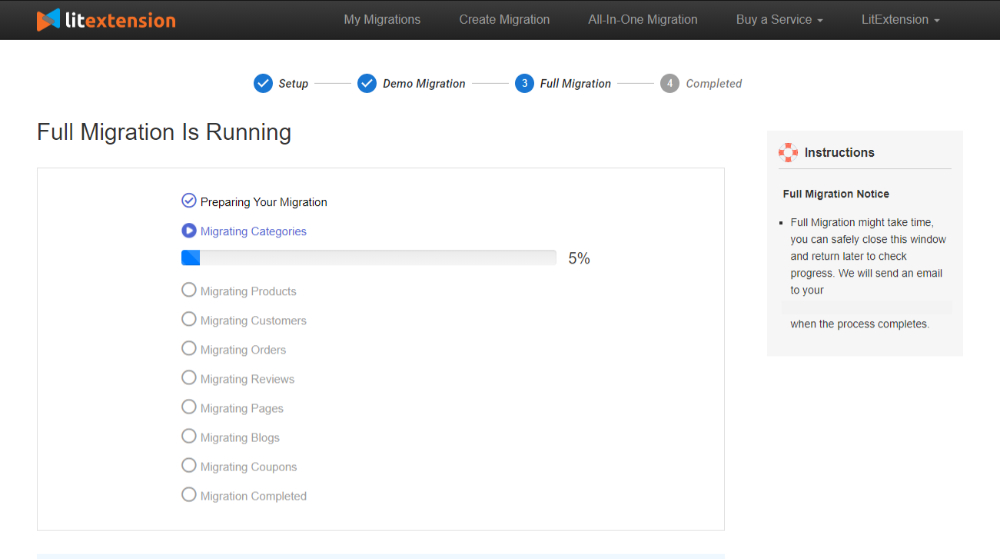 Now, while waiting for the transfer to finish processing, you can continue managing your business simultaneously. LitExtension solution runs entirely on the cloud, which means it won't interfere with any of your work-in-progress.
And that's how simple it is to migrate from Wix stores to WooCommerce with LitExtension.
---
Post-Migration Checklist for WooCommerce Store
#1 – Check migration's final result
You will receive an email that notifies you the migration is complete. To view the final result of the transfer process, click Check Result.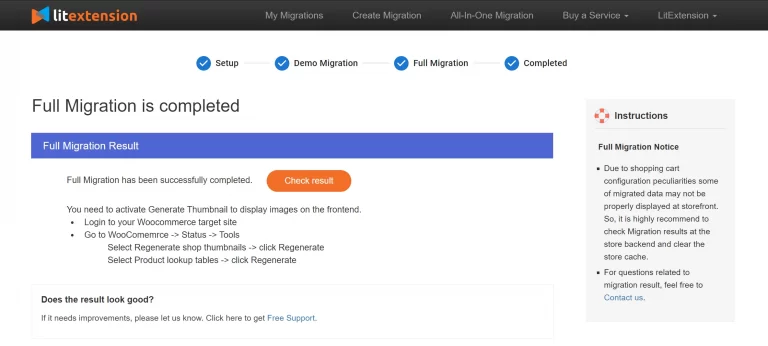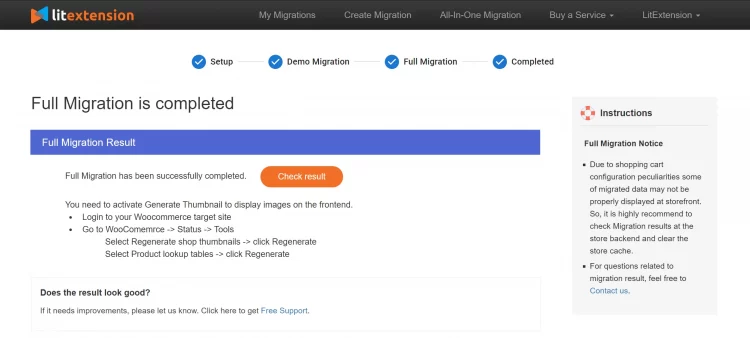 Follow our instructions to quickly check your product list via lookup tables:
First, log into your WooCommerce store.
Look at the left sidebar menu and select WooCommerce.
Continue navigating from Status to Tools, then click Regenerate.
Finally, select Product lookup tables and click the Regenerate button.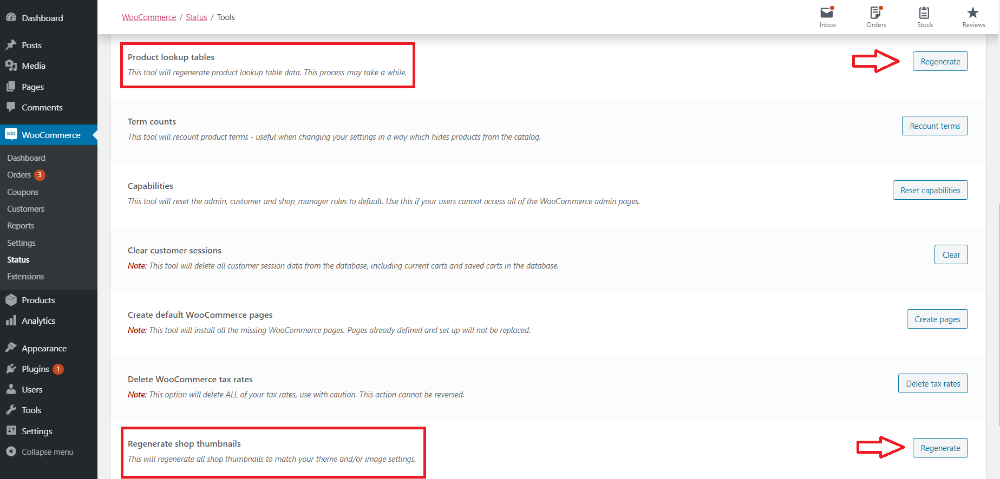 Additionally, to display product images on your storefront, you need to activate Generate Thumbnail.
Don't forget to contact our support if there are any technical issues with your migration.
#2 – Customize your new store
Now, all data has been properly migrated to your new WooCommerce store. However, there are still many configurations to be done. We recommend you continue to personalize your store, such as:
Change store themes.
Arrange your listings.
Set up payment methods.
Configure shipping options.
Download and install plugins.
Switch domain name.
#3 – Run Recent Data Migration or Smart Update
As mentioned, since Wix to WooCommerce migration runs on the cloud server, it doesn't interfere with your work. While the transfer is running, fresh orders might continue to come to your old Wix site.
You should consider update these new entities to your new store to make inventory management seamlessly. To do so easily, we recommend using LitExtension's Recent Data Migration or Smart Update service. Simply follow the tutorial video below:
#4 – Change DNS & switch domain
When you successfully switch to WooCommerce, your current Wix domain may no longer function. Moreover, all other connections to your website could have already been rendered useless. At that point, you can choose to use a different domain or update your DNS (Domain Name System).
The DNS converts domain names into IP addresses for computers to understand. Additionally, DNS settings link to both your personal domain name and the IP address of your hosting server.
As a result, you must point the DNS to your new domain rather than the previous one. Check out our detailed tutorial to learn how to manually update the DNS configuration.
Want to know about Basic Migration vs All-In-One Package form LitExtension? Let's have a look at the video below:
---
What Data Can Be Migrated to WooCommerce? 
- Name, SKU, Full Description, Status, Manufacturer.


- Meta Title, Meta Description.


- Variants: (SKU, Weight, Quantity, Price, Special Price).


- Product Tags EAN-13 UPC.


- Meta Title, Meta Description.


- First Name, Last Name, Email.


- Shipping Address: (Company, Address 1, Address 2, Country, State, City, Zip Code, First Name, Last Name).


- Billing Address: (Company, Address 1, Address 2, Country, State, City, Zip Code, Telephone, First Name, Last Name).


- Address: (Street Address, Zip Code, City, State, Country, First Name, Last Name).


- ID, Order Date, Order Status, Order Products: (Name, SKU, Option), Product Price, Quantity, Discount Price, Tax Price, Total Price.


- Shipping Address: (Company, Address 1, Address 2, Country, State, City, Zip Code, First Name , Last Name).


- Customer Name, Email, Billing Address: (Company, Address 1, Address 2, Country, State, City, Zip Code, Telephone, First Name, Last Name).


- Name, Coupon Code, Coupon Date.


- Title, Created Date, URL, Description.


- Title, Full Description, SEO URLs.

---
Why Move Your Store From Wix to WooCommerce?
#1 – What is Wix?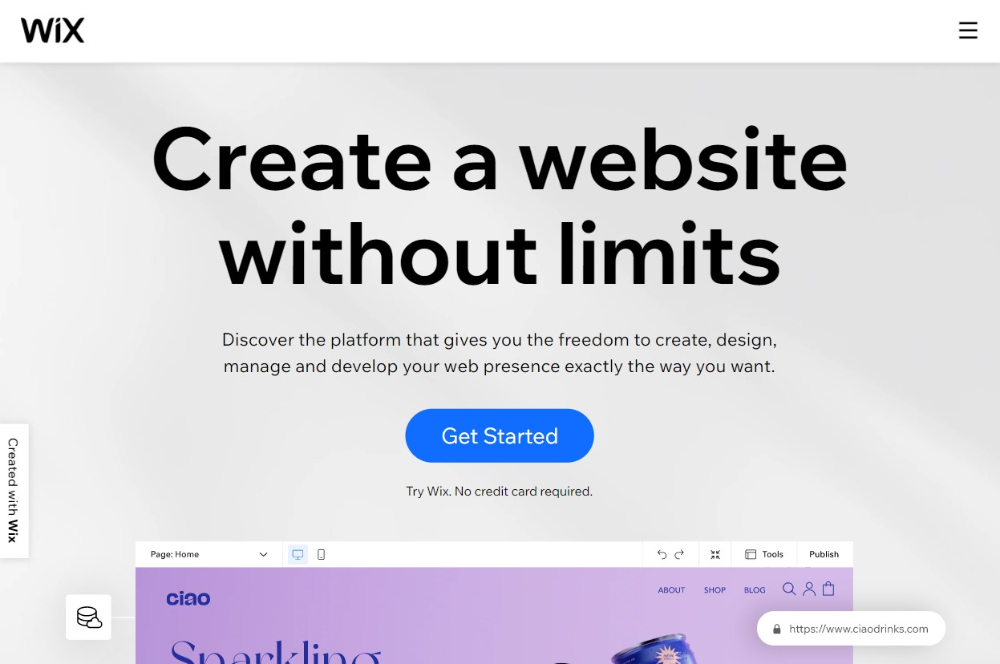 Wix is a drag-and-drop website builder with over 8 million active websites. Being acknowledged as one of the top online storefront builders, Wix formally launched Wix eCommerce in 2020.
The Wix eCommerce is targeted at online retailers, brands, and merchants over the globe. They offer a wide array of easy-to-use features that help enhance your online store in shipping, payment, finance and management.
To serve its diverse user base, Wix provides one free plan and eight paid options. Check out our Wix pricing article for more details.
✧ Discover more about Wix:
#2 – What is WooCommerce?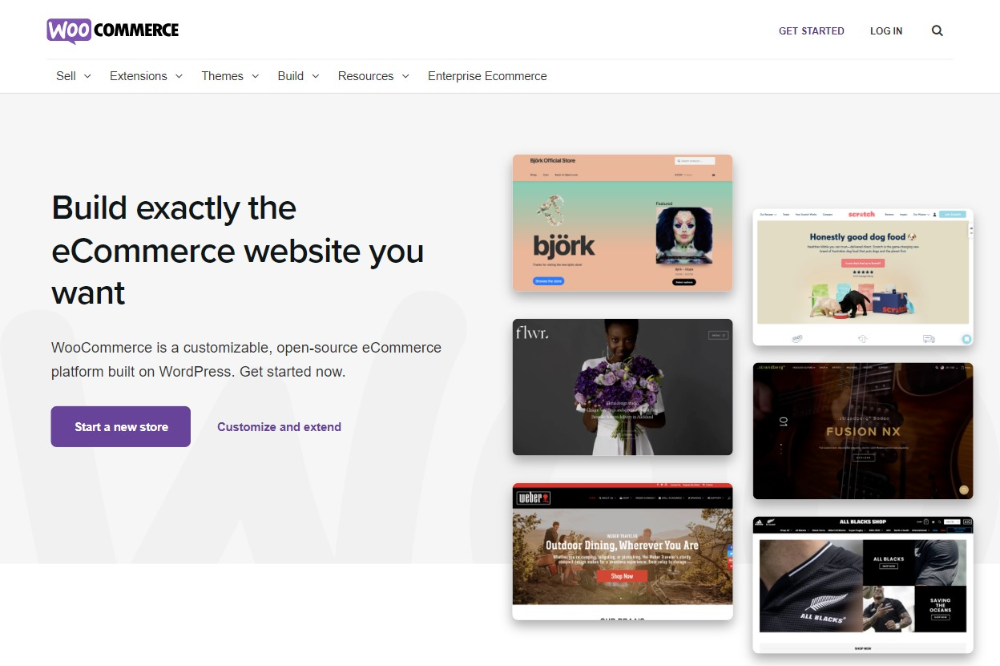 WooCommerce is an open-source solution for eCommerce businesses. However, different from other platforms like Magento, PrestaShop, or OpenCart, WooCommerce requires users to install the plugin on an already published WordPress website to function.
That said, WooCommerce users can benefit from the WordPress plugin marketplace to enhance their store with limitless customization options and features.
✧ Read on about WooCommerce:
#3 – Why migrate from Wix to WooCommerce?
Wix eCommerce is well-known for its user-friendly features. Small businesses benefit greatly since Wix makes it easy for them to create new websites from scratch. However, Wix doesn't give you complete control over their presence owing to the nature of a hosted platform. As a result, when your online business grows, Wix might not be able to keep up with your needs.
On the other hand, WordPress can be a little complicated for beginners, but it has a ton of features that are suitable for both novice and experienced users. Hence, there are countless opportunities for you to scale up your shop.
In the table, we will compile some thoughts on using and testing Wix and WooCommere over the years.
| | | |
| --- | --- | --- |
| | | |
| | Beginner-friendly with a user-friendly website builder. | Requires more technical expertise for setup and customization. |
| | Provides fundamental marketing tools. | Offers more versatility and advanced options through plugins in WordPress plugins market. |
| | Allows for customization but has some limitations and you cannot change the template of an existing site. | Has extensive customization capabilities due to its open-source peculiarity and you can freely design your store. |
| | Supports inventory management, more suitable for smaller inventories. | Provides robust inventory management tools for businesses with extensive product catalogs. |
| | Has a limited app market. | Boasts a vast ecosystem of WordPress plugins for extended functionality. |
| | Takes care of security aspects for you, making it simpler for users. | Can be highly secure when properly configured with the right plugins and security measures. |
| | Offers accessible customer support, quality may vary by service provider. | Support may depend on the hosting provider or plugin developer. |
Over time, WooCommerce has consistently shown to be better for every type of website. Wix, on the other hand, just aids users in the initial creation and management of their stores. As a result, an increasing number of Wix customers plan to migrate from Wix to WooCommerce.
---
Wix to WooCommerce Migration – FAQs
---
Conclusion
In closing, our article has demonstrated how to migrate from Wix to WooCommerce using LitExtension. We also include the whole preparation process and a post-migration checklist to ensure the quality of the final result. Let us compile all stages of Wix to WooCommerce as below:
Back up Wix data
Create a new WooCommerce site as the target store
Set up Source Cart (Wix) and Target Cart (WooCommerce)
Select data to migrate from Wix to WooCommerce
Perform full migration to WooCommerce 
Follow some post-migration activities
Now that you've read our article, we think you'd feel more secure about switching from Wix to WooCommerce. If you have any queries, don't hesitate to contact us or join our Facebook community, we're happy to help.
Other popular migration pairs you can try out with LitExtension are: