Introduction
eCommerce is growing as a favorable way of doing business today due to quick and easy access. Organizations of any size can employ eCommerce merchandising to increase exposure by reaching even international audiences through the web and search engines. However, choosing the best eCommerce platform is not as straightforward as it seems due to the variety of choices out there.
How about going for the choice of most people in the world? You can't go wrong with what people think is right, can you?
Yes, WooCommerce is currently the most popular platform among merchants around the world, and that is not going to change anytime soon. However, the fact that it suits most people does not necessarily mean it has to suit you, too.
That is exactly why we are doing this review today. In order to help you make up your mind about whether this eCommerce platform is your ultimate solution, we will provide you with:
An overview about WooCommerce and its popularity
Detailed analysis of its features and how many supports you can get
Suggestion on which businesses or merchants should use WooCommerce platform
Overview: What is WooCommerce?
WooCommerce began its life as a creation of two developers Mike Jolley and James Koster, who were hired by WooThemes. They worked on a replication of an existing eCommerce plugin called Jigoshop. In September 2011, the result was the first release of WooCommerce. In 2015, WooThemes and WooCommerce were acquired by Automattic, operator of WordPress  and core contributor to the WordPress software.
As of January 2021, there are 4,414,537 live websites using WooCommerce. It also leads the way as the most popular choice powering 26% of total eCommerce sites, ahead of both Shopify and Magento, with 21% and 8% of market share respectively.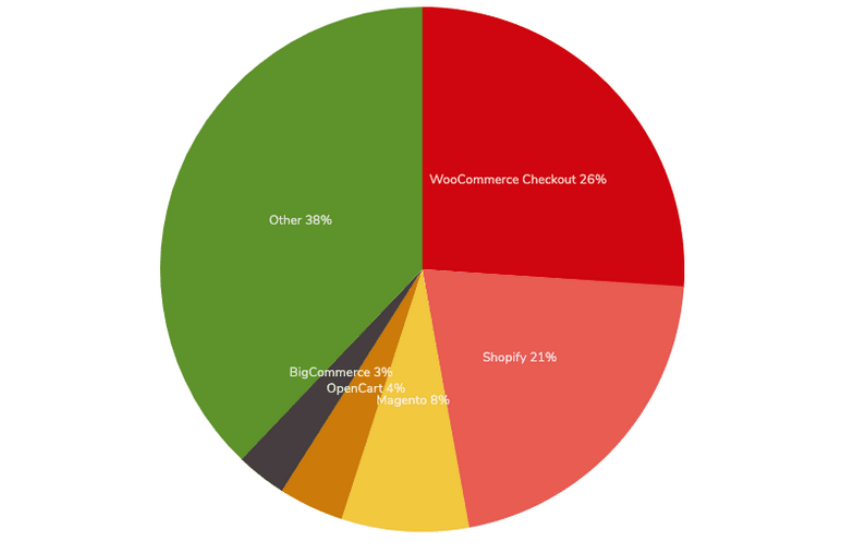 Source: Builtwith
As a WordPress plugin, WooCommerce adds eCommerce functionalities to your WordPress website and makes it an online store. Thanks to the open-source nature, you can get endless customization possibilities over the design or functionality of your store.
Pricing
WooCommerce itself is free. However, when it comes to WooCommerce pricing, there are still some costs involved in launching a new store including hosting, a domain name, SSL, themes, extensions, and developer fees. One of the reasons many people choose WooCommerce is that costs are customizable which means you have a lot more control over what and when you spend than with other eCommerce platforms.
Hosting is a service of providing the computer equipment and software for a website on the internet and making it available for people to see. Choosing the right one among many prevalent WooCommerce hosting providers is a crucial decision since it has significant impacts on your store performance (speed, security and stability).
Depending on the hosting provider and the features you need, you will have to pay different prices. In general, estimated costs of hosting ranges from $5 to $30, except for some companies like Bluehost which offers hosting plans starting at as little as $2.75 per month.
Your domain name is your online store's address on the Internet. It is another important cost you'll have to bear. There are two ways you can buy a professional domain name.
Some hosting providers, like Bluehost, offer a free domain name for the first year of your hosting plan. After the first year, you'll have to renew your domain annually at a regular price, which is from $10 to $20 per year depending on the domain name extension (.com, .org, ect) that you choose.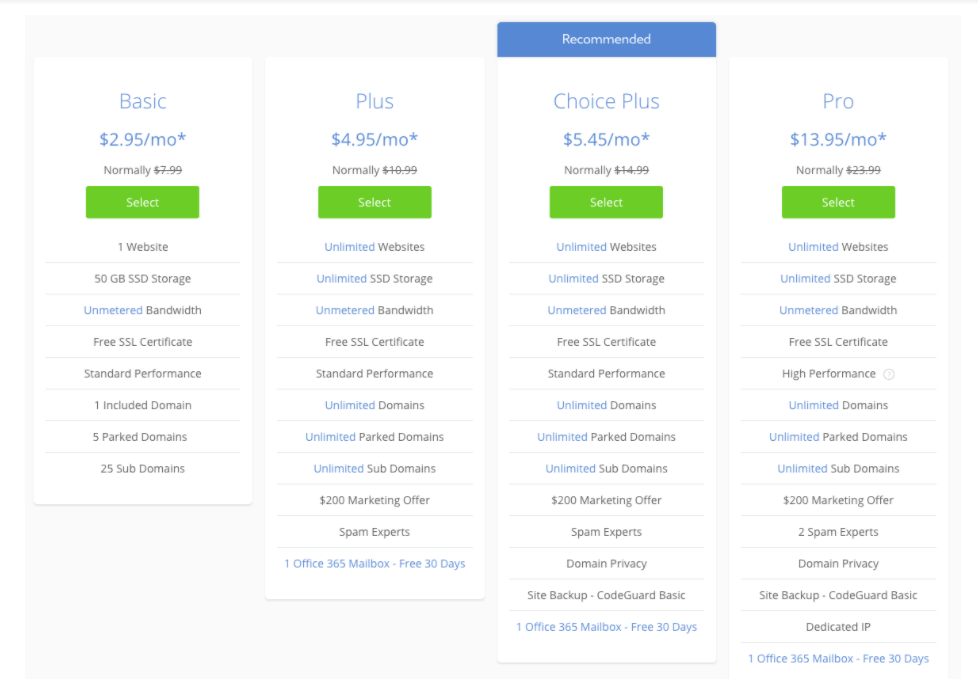 The other way is that you buy your domain separately which means you could purchase a domain name from one provider, and still host your site with another.
Secure Sockets Layer (SSL) certificate which encrypts sensitive information, like credit card data or other financial information between a customer's browser and your server is very important for online stores. In most cases, SSL is provided for free by your host. If your host doesn't provide a free option, the cost varies between $8/year to $65/year.
Ease of use
Being an open-source platform, WooCommerce requires you to install, manage updates, keep backups, optimize everything, all by yourself. Hence, it requires a certain level of knowledge to use or a willingness to spend some time learning.
The installation of WooCommerce is not quite as simple as some other hosted solutions'. This might be a challenge if you don't want to get yourself involved in any of the coding. You will have to create a database, before downloading a package and install it on your server through an FTP.
But that is where all the hassles settle. After WooCommerce is installed, the steps are just as simple as you imagined.
A setup wizard will pop up, guiding you through the initial configurations before you go to the details yourself.
Need a demonstration? This tutorial video will show you how to create a WooCommerce website from scratch:
Although there is no built-in drag-and-drop design builder, the interface is quite user-friendly thanks to the WP- Admin dashboard. Via a side control panel, it allows you to create, edit, and customize your website layout with as little coding as you want. If you already know what building a WordPress site is like, using WooCommerce is not much of a difference.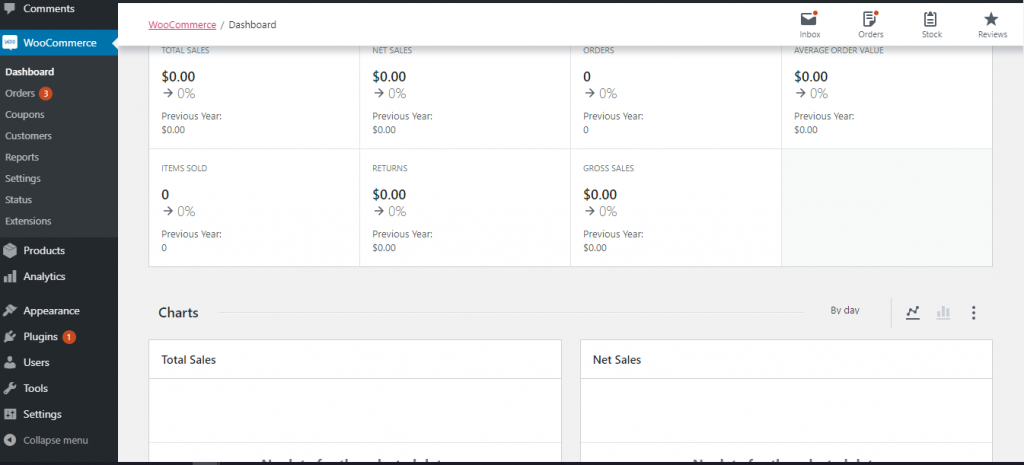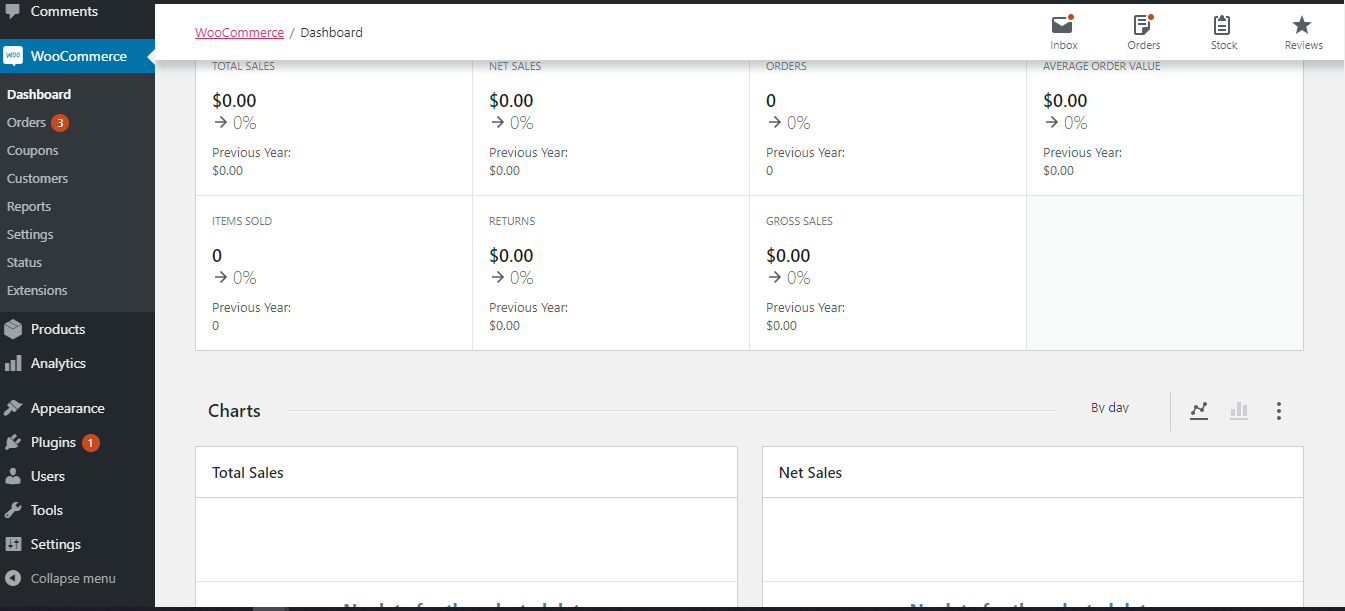 Themes & Customization
Choosing a suitable theme plays a vital role in the WooCommerce setup process. A stunning design and outstanding performance contribute remarkably to the value of your store.
Fortunately, you can easily pick an impressive theme for your eCommerce store thanks to WooCommerce's theme store. It is a WooCommerce theme marketplace where you can find both free and premium designs.
If you have a light budget, you may consider some free templates like Storefront. All  Storefront themes include WooCommerce integration, enough display options, responsiveness, eCommerce-focused homepage and accessibility.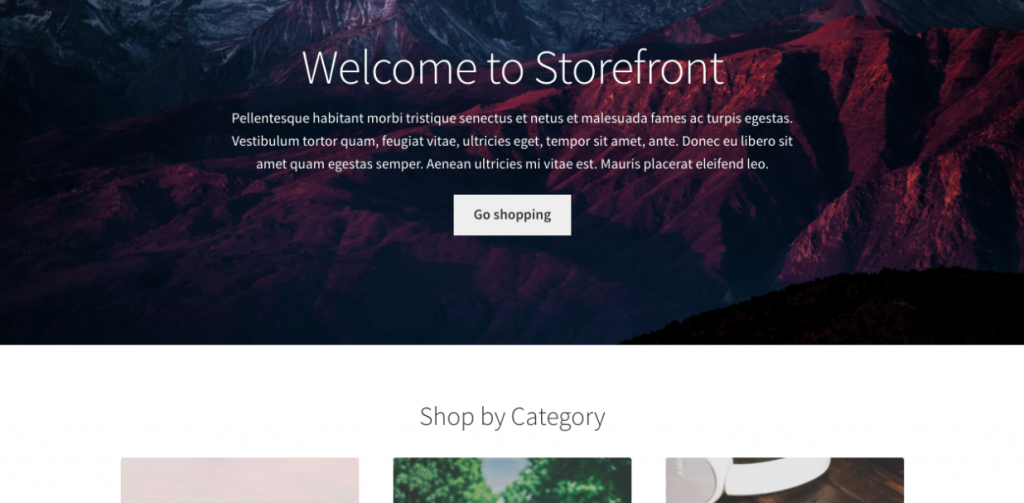 Besides, the store provides many premium themes for multiple niches like ProShop, Block Shop, etc. With prices ranging from $20 to $100 per year, you can make sure that your store looks appealing and outstanding among the crowd.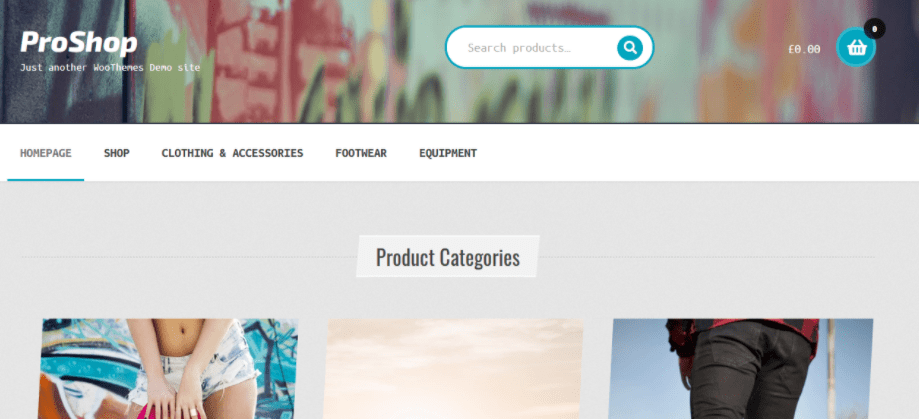 We also picked a few of the best eye-catching and feature-rich WooCommerce themes for you to try out for yourself. Beside WooCommerce's theme store, you can also select from a wide range of other stunning themes made by the 3rd parties.
Certainly, you can switch to another theme if the one you've chosen no longer meets your requirements. However, in order not to lose your content, there are precautions you should take before starting the switch. In other words, you have to strictly follow WooCommerce's guide which might be a daunting task for some users.
eCommerce features
Inventory Management
WooCommerce inventory management feature allows you to manage your stock and track inventory easily. You can handle basic tasks like creating inventory reports and make changes to any part of your products. Additionally, you can create and manage variable products and add quantity for seperated variations. A main product and additional items can be included by WooCommerce Grouped Products as a neat option for up-selling and better inventory management.

An advantage of WooCommerce is that there are basically no limitations on how many products and variations you can create. However, managing inventory with WooCommerce may require the help of 3rd-party support to bring out the best in your store performance.
With various powerful features, some third-party plugins related to inventory management like Veeqo, WooPOS, WooCommerce Out of Stock! Manager can ease your workload and streamline your processes. That's how you can invest more time in focusing on your customers or other important tasks.
Shipping & Tax
Currently, this platform offers 3 shipping methods namely Flat Rate, Free Shipping and Local Pickup. Then, you need to select the options and pricing you'd like for each one.
Flat Rate Shipping: Create a standard rate per item, order or shipping class. Later on, we'll get into shipping classes some more.
Free Shipping: If you choose free shipping, you can offer free shipping on any order or set the "Free shipping requires…" field.
Local Pickup: You can give customers the option to pick up their products at no cost instead of having it delivered.
With Shipping options, you can choose the method of calculation, the destination for shipping and decide whether to enable debug mode or not. In addition, you can use Shipping classes to group products of similar type or provide different rates to different classes of product.
When it comes to tax, WooCommerce gives the users a great deal of control over how tax is implemented. You can configure settings so that tax is calculated on the shipping address, billing address, or your store location. Especially, in order not to be worried about sales taxes for your online store, this platform also provides a free plugin called WooCommerce Tax. When you connect with your site, it automatically calculates how much sales tax should be collected for WooCommerce orders based on your location. Moreover, you can start benefiting from free security, insights and uptime monitoring.
Payment Gateways
WooCommerce is a big player in terms of payment gateways. This platform provides its own payment solution designed only for WooCommerce stores. This payment plugin is free to download, with no setup or monthly fees. Your customers are able to securely make payments through credit or debit cards. You can increase conversions by allowing them to pay you directly without leaving your store.
However, if you need more remarkable features, you can also find over 100 additional payment processors available as extensions.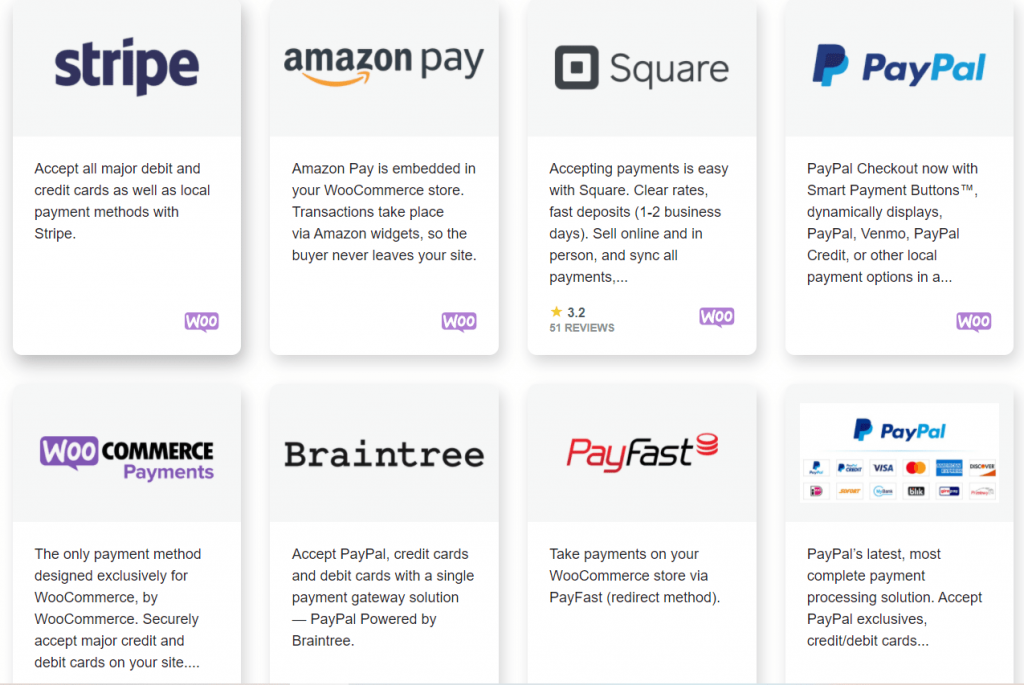 Analytics
WooCommerce Analytics provide detailed reports about your revenue, orders, products, categories, coupons, taxes, downloads and stock
Start by navigating to Analytics in your dashboard and you can view and export data in charts and graphs for a wide assortment of information. You can further customize your reports for specific product types and categories. Moreover, WooCommerce also enables you to export your data in CSV format to import into spreadsheets.
If you need even more insights, you can also add some useful tools like Google Analytics. It is a compelling tool providing you with information on your website's visitors. WooCommerce Google Analytics enables you to integrate your new store with Google's platform and keep track of your site performance from your dashboard. Specifically, it allows you to track users' behavior, discover which products interest them most or determine what they're looking for.
Multisite
WordPress Multisite is a powerful feature to create a network of sites, blogs or online stores. In fact, WooCommerce is compatible with WordPress Multisite meaning that you can certainly create a WooCommerce Multisite where each site in the network can be an online store.
With WooCommerce Multisite, you can not only save time by managing all sites in the network simultaneously but also sell different products in each country and set the currency for each store accordingly. In this way, your orders are kept separated, which makes it easier to manage and track all your distinctive orders.
Setting up WooCommerce Multisite is very simple. You just need to follow a few simple steps to build your multi-store without technical knowledge required.
Extensions & Plug-ins
You can improve your site's functionality by installing extensions from WooCommerce's extensions store. Currently, this platform offers over 400 free and paid plugins divided into many specific categories like Store Management, Marketing, Payments, etc. They not only enhance the appearance of your store but also increase conversions by analyzing customer behavior. Besides, you are able to select extensions based on price, rating and country. For every plugin, you can easily check out more detailed features, setup guide and user reviews.
You need to pay from $29 to $299 per year for one extension. Among hundreds of WooCommerce extensions, we suggest 11 best WooCommerce plugins for your online store.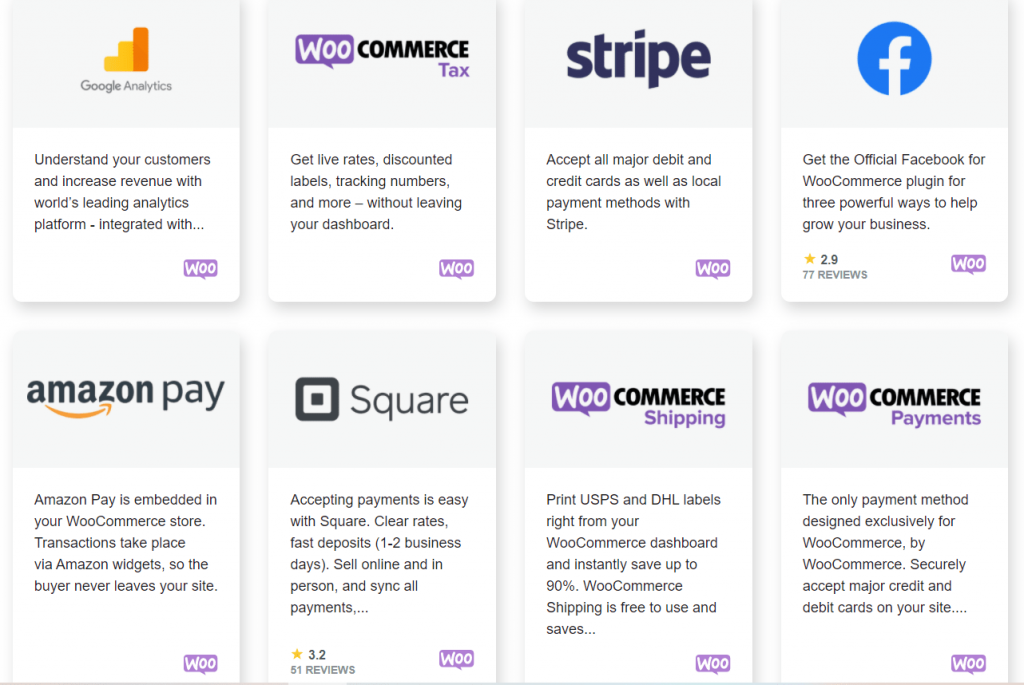 Integration
WooCommerce also integrates with other eCommerce platforms to gain more functionalities. There are many types of WooCommerce integrations such as listing your WooCommerce products on eBay, adding Shopify's Buy Now button to WooCommerce, etc. These will help you make most of the advantageous features from many big players in eCommerce.
For example, if you integrate your WooCommerce store with Amazon, you will receive some significant benefits. Amazon not only brings you more customers but also provides various tools to support your business. Furthermore, integrating your online store with one of the most popular marketplace helps to gain more trust from customers around the world.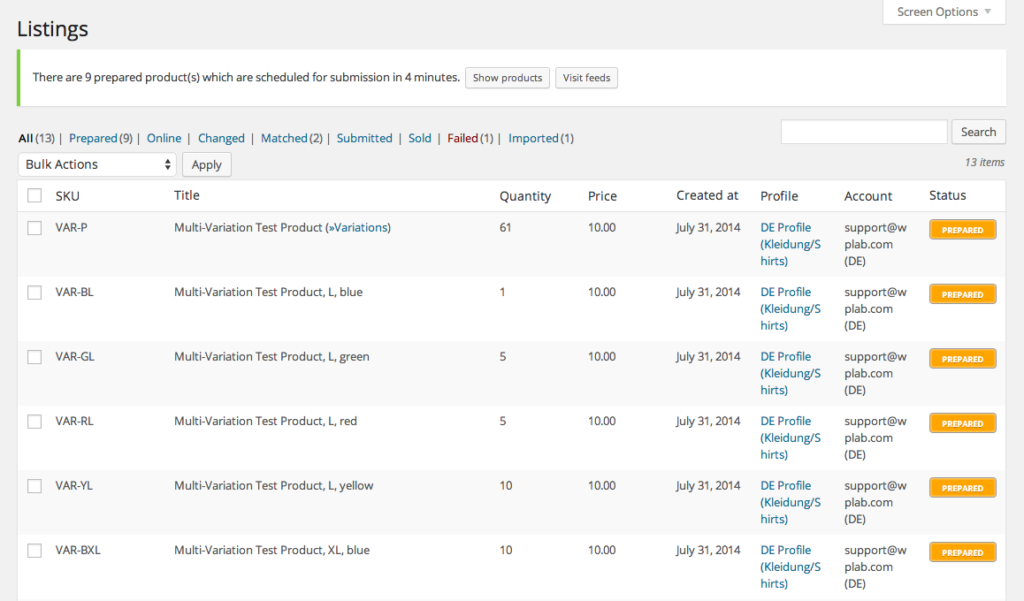 Dropshipping
WooCommerce is one of the best choices for your dropshipping business thanks to 3 main reasons:
Reasonable cost: To start a WooCommerce dropshipping business, you need to pay for hosting, a domain name, themes and add-ons.
No product restriction: Luckily, WooCommerce is an open-source platform which means you have full control over your website. Terms or policy of WooCommerce won't affect your decision about what your store sells. You sell any items as long as they are legal in your current country and customers' location.
High customizability: One of the biggest WooCommerce's advantages is high flexibility thanks to being an open-source platform. From setting up to managing your online store, you won't be controlled by any third-parties. That's why you can build and design your online business until you feel satisfied with it.
Initial steps to build an appealing dropshipping store on WooCommerce is not straightforward for beginners or non-coders. However, with this detailed guide about building a WooCommerce dropshipping from scratch, everything turns out easier.
SEO & Marketing
SEO
Search Engine Optimization (SEO) is crucial since it plays a vital role in where a website appears in search results. Ranking higher makes it easier for people to find your products when using search engines.
WooCommerce is SEO friendly meaning that this platform has built-in features that will help you optimize your product pages for search engines. Your responsibility is to create product categories and sort your products into the corresponding ones. With the WordPress editor, you can easily edit content, permalink and other page elements to optimize your product pages.
At the same time, WooCommerce also offers numerous SEO plugins that allow you to optimize your store. We suggest 2 impressive plugins among hundreds of SEO add-ons this platform provides.
Yoast SEO: Yoast is a go-to plugin for WooCommerce users who want to tackle SEO with confidence. Yoast SEO Free contains basically everything that you need to manage your SEO, and the premium version which costs $89 per year will unlock more tools and functionalities.
All in One SEO Pack: It offers a comprehensive set of tools to help you improve your WooCommerce store. The pro version pricing starts at $79 for a single site license, $139 for the business license, and $699 for the agency license.
As a WordPress plugin, WooCommerce seems to be powerful in terms of creation and management of blogging since it inherits from WordPress the outstanding blogging features. In other words, you can easily create a blog for WooCommerce by clicking the Posts category and adding one right from the WordPress Admin dashboard.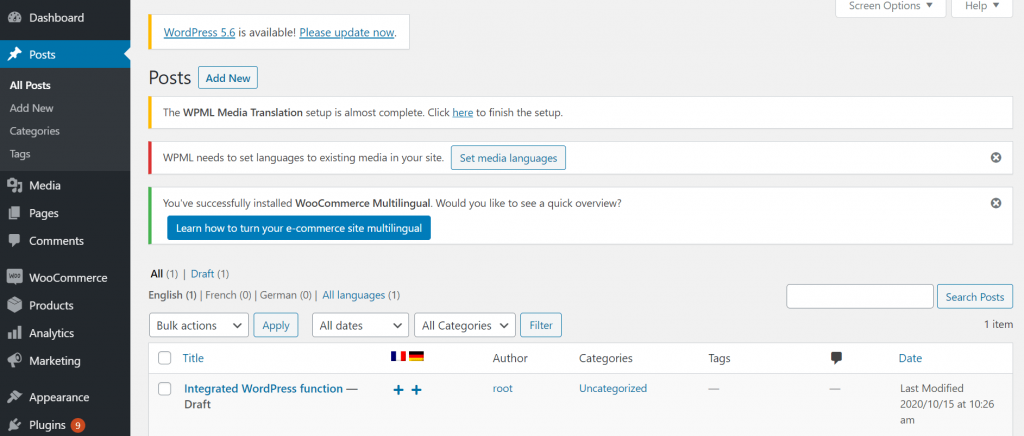 Marketing
Discount & Coupons
Coupons are a perfect way to offer discounts to your customers and promote sales. WooCommerce allows you to choose one of three discount types namely percentage discount, fixed cart discount and fixed product discount. Furthermore, you can add restrictions and limits for the coupon in the "Coupon data" tab.
WooCommerce coupons are useful but limited in features. They do offer category discounts, scheduling and restrictions to emails to name a few great additions. If you want to create flexible promotions for more sales, WooCommerce offers many useful plugins like WooCommerce Coupon Campaigns, WooCommerce Points and Rewards, etc.
Email Marketing
WooCommerce allows you to collect addresses from your site visitors and send them specific emails based on their account and orders. When it comes to styling and design, WooCommerce's default templates come in plain-text as well as HTML, and they are applied for a wide range of email clients.
At the same time, this platform also provides many add-ons like Mailchimp, Newsletter Subscription, etc in order to send automatic and personalized emails to increase customer loyalty as well as incentivize recurring purchases.
Besides, Abandoned Cart Recovery empowers you to create multiple follow-up emails and schedules to send to customers who have added the items into their carts but left without purchasing.
Security and Support
Security
It's easy to lose sight of security in the hustle and bustle of launching your store, but it's  important. Keeping your store's data safe should be a top priority from the very start. Good site security starts with a good host and domain, so you must take care of them.
Generally speaking, WooCommerce is quite safe. This platform lets you create two step authentication. It's a system where you use two of the three possible factors to prove your identity, instead of one. Thanks to that, you don't have to be worried much when your password accidentally falls into the hand of strangers.
With WooCommerce, you also will be in charge of the PCI compliance which is a set of actionable rules to encourage the broad adoption of consistent data security measures around the world with an aim to reduce credit card fraud. You have to strictly follow 12 core requirements to make your website PCI compliant.
However, you may have to confront security issues when there's a 3rd party app involved. Hosting and themes are also prone to risks if you don't pay enough attention to improving your site security.
Support
WooCommerce offers some ways so that customers can connect with this platform. Due to open-source nature, WooCommerce doesn't allow customer to keep in touch with this platfrom through live chat or email.
Instead of that, it provides help mostly in WooCommerce Docs. Besides, the platform also offers an FAQ section to provide answers to the most common questions. Another resource you can seek support from is the community forum. By taking part in the discussion, you can gain information on how other users have solved issues you are currently struggling with but keep in mind that the answers given are most of the time not official.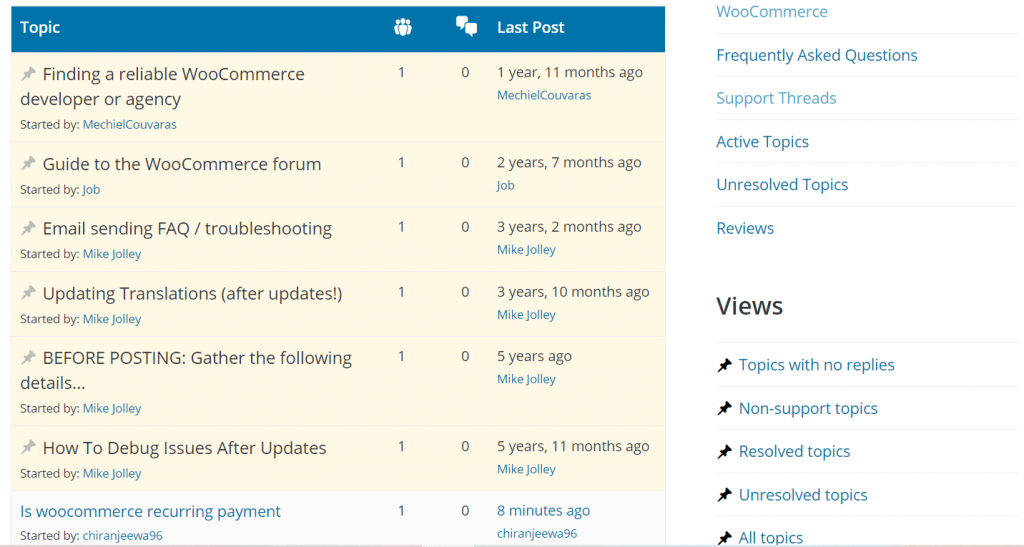 Especially, if you need a personalized experience, this platform also suggests WooExperts – the best WooCommerce agencies in the world solving complex eCommerce problems and partnering with your business to help you scale.
However, WooCommerce's support service doesn't cover its products supplied by third parties who are not its resellers or third party products and services. In other words, this platform only supports products sold on WooCommerce.com.
Final words
More likely than not, if you can't find a feature on WooCommerce, it won't be included in other platforms either. However, it's just common sense that we can't have a perfect thing for everyone. Here's a table summarizing the Pros and Cons of WooCommerce.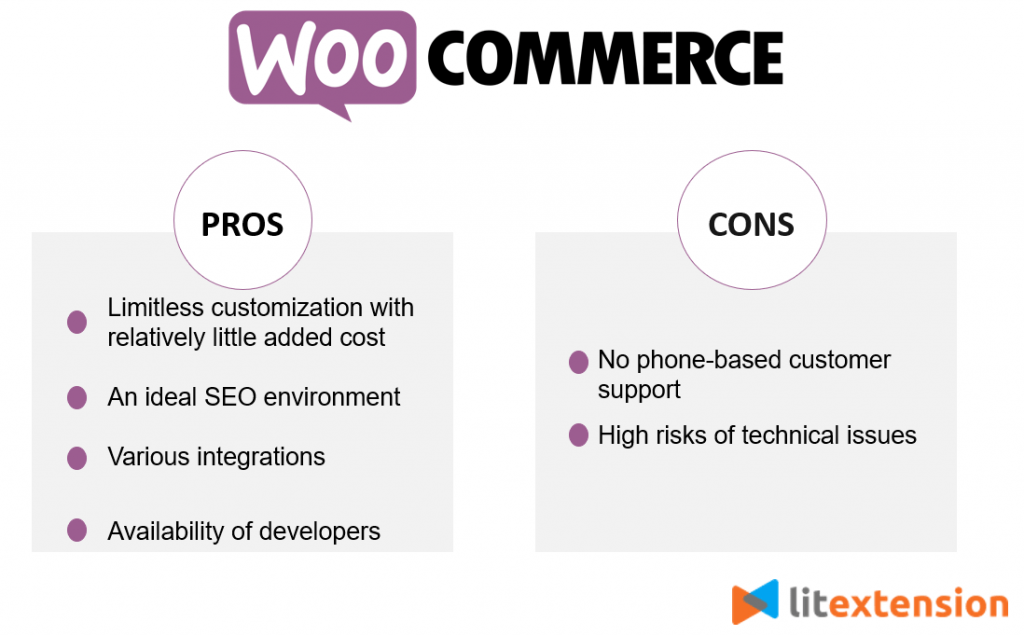 If you want to seek one that fits your individual needs, we suggest you should consider 6 best WooCommerce alternatives.
To sum up, WooCommerce seems not to be an optimal choice for those who don't have technical skills since it requires a steep learning curve. Both setting up store and on-going maintenance are quite complicated, so poor coding can expose security and functionality flaws in the site.
Nevertheless, if you have already owned an active WordPress blog and you want to monetize it through selling physical or digital products, WooCommerce seems like a seamless, logical fit. This platform is also suitable for users who want to create anything in their own styles but have a tight budget at the beginning providing they have already equipped a light set of technical knowledge.
If you are intending to move to WooCommerce, we offer a great migration service that helps you transfer your data from the current eCommerce platform to a new one accurately and safely. LitExtension currently supports more than 100 Shopping Carts available in the market.
Some of the common choices when it comes to WooCommerce migration:
Feel free to Contact Us for more information and join our Facebook Community to get more useful eCommerce tips and news.