Apparently, your choice of platform lays the cornerstone for your business's prosperity. If you need something of a blend of power and robustness, an open-source Content Management System (CMS) eCommerce platform like Magento will definitely satisfy you. Wondering why? Our comprehensive Magento 2 review today will provide you with a thorough response!
Keep reading to get:
Need Help To Migrate Your Store?
If you intend to migrate to Magento 2 (Adobe Commerce), LitExtension offers a great migration service that helps you transfer your data from the current eCommerce platform to Magento accurately and seamlessly with utmost security.
---
Understanding Magento
What is Magento?
Magento is an open-source eCommerce platform for building and managing online stores. This platform was originally developed by Varien and has since been acquired by Adobe on May 21, 2018. It's now known as Adobe Commerce.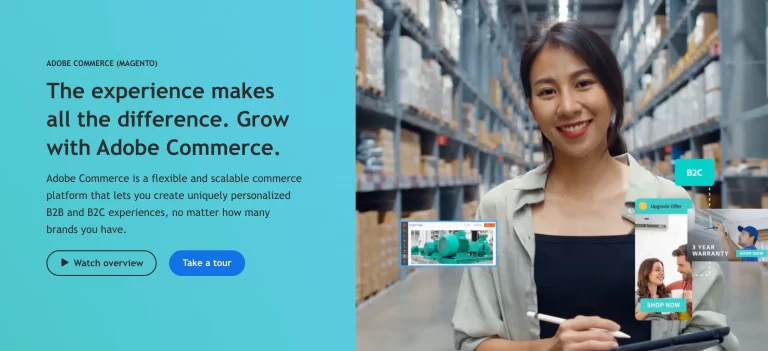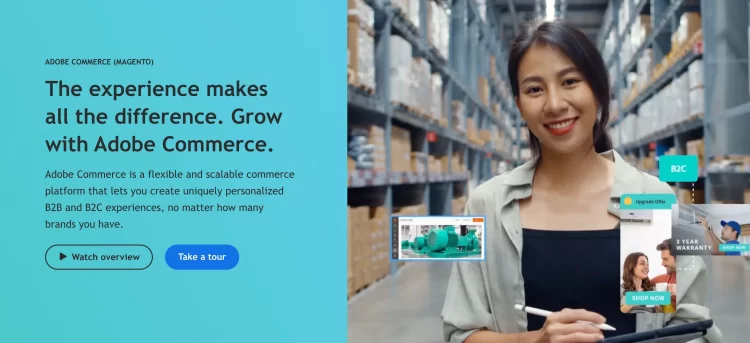 Magento uses a Model-View-Controller framework and leverages PHP and MySQL. It has strong developer tools and an active ecosystem of extension developers creating additional functionality.
Since its release in 2007, Magento has introduced multiple versions and product updates. Currently, there are 2 versions of Magento:
Open-source version: Magento Open Source (formerly Magento Community Edition) is the free, open-source version available for download.
Paid version: Adobe Commerce (formerly Magento Enterprise Edition) adds premium features like B2B functionality, advanced reporting, and marketing tools. It requires an annual subscription fee.
Currently, this eCommerce platform powers over 140,000 online stores globally (Source: BuiltWith). According to their own reports, Magento handles over $100 billion in annual GMV.
Is Magento Commerce vs Adobe Commerce the same?
Yes, Magento Commerce and Adobe Commerce are the same eCommerce platform. The name change was mostly for branding purposes rather than indicative of major architectural or feature changes. Here's a brief timeline of Magento:
Magento Commerce was originally developed by Varien in 2008 as open-source software called Magento Community Edition.
In 2018, Magento was acquired by Adobe, and the platform was rebranded as Magento Commerce.
In 2021, Adobe fully rebranded the platform again as Adobe Commerce to better reflect its ownership and strengthen its association with Adobe's other products and services.
So, in summary:
Magento Commerce = the platform prior to 2021.
Adobe Commerce = the current name since 2021.
Functionally, it remains the robust, flexible platform merchants have come to rely on – just with a new brand identity under Adobe.
What are the differences between Magento Open Source vs Magento Commerce?
At first sight, Magento Open Source is best for small to medium-sized businesses starting out, while Commerce is tailored for advanced functionality, support needs, and scaling of large enterprise eCommerce sites.
If you're curious more, below, we've compiled a table comparing Magento Open Source and Magento Commerce:
Magento Commerce

(Adobe Commerce)

Requires annual subscription/license fees

Can self-host or use any provider

Requires certified hosting partners or Adobe Cloud

Basic eCommerce functions like catalog, cart, checkout

Includes additional features like B2B, loyalty programs, personalization, etc.

Automatically handles upgrades and patches

May hit limits as business grows

Built for scaling complex sites handling high volumes

24/7 phone and chat support for any issues

✔ Small businesses and startups
What is Commerce on Cloud?
Commerce on Cloud is Adobe's managed cloud hosting solution for Adobe Commerce. Merchants can access their stores from anywhere via a web browser. There's no need to be onsite or remotely desktop into an on-premises server.
Commerce on Cloud is built for high availability and incorporates automated backups, redundancy, and disaster recovery processes.
However, in the scope of this Magento 2 review article, we only focus on Magento Open Source and Adobe Commerce (formerly Magento Enterprise Edition).
Magento 2 will refer to the open-source edition.
Adobe Commerce (formerly Magento Commerce) will refer to the paid enterprise version.
---
Magento Review – All Features Analysis
As you've got to all the basic understanding of Magento (Adobe Commerce), let's get into the essential part of this article to analyze and get a Magento 2 review in all features.
Let's get in!
Operational cost
In this Magento review, we'll show you a detailed analysis of "How much do you have to pay?" using this robust platform.
1. Fundamental cost
First, let's take a look at Magento 2 (open-source version).
Magento Open Source is free to download and install, and just it! However, you still need to pay for your hosting, domain, security, and any web development help if you don't have the time or skill level required to customize your site the way you want (stay stunned, we will talk about in next section)
Coming to Adobe Commerce (Magento Commerce), the best version for enterprise-sized businesses. This version offers a free demo, but you must provide all your contact information to the Adobe team.
Adobe Commerce charges based on your average gross sales revenue per year. So, we've made a table to help you somehow visualize your business on Adobe Commerce.
| | |
| --- | --- |
| Average Gross Sales Revenue | |
| | |
| | |
| | |
| $10,000,000 – $25,000,000 | |
| | |
2. Hosting, domain, and SSL certificate costs
Even if you go with Magento Open Source, that doesn't mean you'll be able to implement and manage your site for free. This is an open-source platform, so you'll have to pay for your own hosting, domain, and SSL certificate.
If you intend to build a strong Magento store with a high loading time, a Virtual Private Server would be a good option instead of shared hosting services. However, we still provide you with some costs for main hosting types:
Shared hosting starts around $25-50/month but has limitations.
VPS is a good option for strong stores, costing $60-300/month (range depends on resources needed).
Finding a trusting hosting provider can be the first struggle to start your business on Magento, and here, we recommend one of the best hosting providers – Cloudways.
Regarding domain, here are some common costs you may need to consider:
.com domain registration is $10-25 annually
Adding domain privacy is an extra $10-15 yearly
For the SSL Certificate, here are some of our recommendation for you:
Let's Encrypt certificates are free to use and do not have any additional costs.
Fastly's shared CDN/ edge caching services may start from $50 monthly. The pricing is usage-based only, based on requests, bandwidth, compute usage, etc.
As Adobe provides and manages these services as part of their Commerce hosting, the exact pricing would be part of the overall Adobe Commerce subscription costs rather than separate line items.
Overall, dedicated and optimized VPS hosting combined with low-cost domains/SSLs allows Magento stores to build securely for high volumes starting at around $100-400 per month initially.
3. Third-party extension costs
Next up in the Magento 2 reviews is the cost for third-party extensions. There are a lot of free third-party extensions on the market, and these tend to be simple for things like shipping calculators, loyalty programs, etc.
For a more advanced functional store, you'll need to pay for premium extensions. Extension prices can vary significantly depending on features:
Basic features (Shipping calculators, Simple banner/notifications, Widgets/blocks) cost around $0-99 for a one-time fee.
Estimation/Tax extensions start from $99-199 for a one-time fee.
Payments (Additional payment gateways, Payment plans/financing, Invoice/billing) total $199-399 annually.
Marketing extensions (Email marketing or Reviews/Ratings collection) cost around $199-599 annually.
Sales & CRM extensions may cost $499-1,499 annually.
Business Management extensions (Order management suite or Accounting/ERP integration) will cost $999-2,499 annually.
If you need large site integrations, you may need to directly contact the Magento (Adobe Commerce) team for the quote required.
Overall, with an average price of $100, installing an average of 10-15 extensions will cost you from $1,000-$1,500 just for extensions.
4. Frontend & backend costs
This is one of the biggest expenses of using Magento. There are various tasks that you'll need to pay for depending on your design complexity, the number of extensions, and other unique customizations that you couldn't find on Adobe Magento Marketplace.
Let's break the cost down!
Frontend Development Costs
Building an attractive, easy-to-use frontend is crucial in eCommerce. Frontend development involves designing templates and theme files, integrating extensions, and ensuring a smooth buyer experience across devices.
Typical rate: $65-150/hour, depending on developer expertise. Freelancers or smaller agencies may offer less, while larger firms charge more.
Estimated timelines: 3-6 weeks for a basic 1-2 page storefront. Complex multi-page sites with many custom design elements take 6-12+ weeks.
Backend Development Costs
The backend provides all critical commerce functionality like catalog/inventory management, order processing, and integrations. It requires expertise in configuring Magento's complex admin panel.
Typical rates: Same as frontend rates of $65-150/hour. Prices don't vary much for backend-focused developers.
Estimated timelines: 2-4 weeks for basic setups. More extensive integrations and customized operations can last 6-12+ weeks.
So overall, it takes from 2-4 months to finish building the front and back end, and the total cost ranges from $5,000-$67,000, depending on the workload.
5. Maintenance & Development
There's always something to do in a busy Magento store. The tasks could be optimizing your site, troubleshooting problems, updating new features, conducting new custom fields, and so on. They all require a certain level of tech experience.
The best choice for you is to hire a full-time developer to solve new issues monthly. The costs will also vary from $1,500 to $5,000, depending on the workload.
So here's an overall pricing estimation for yearly payments we've been reading so far: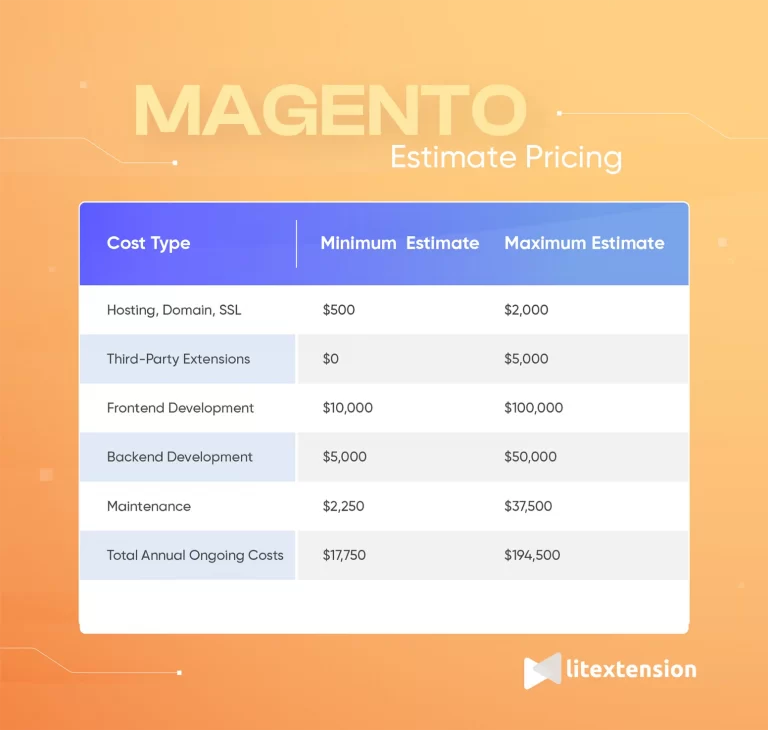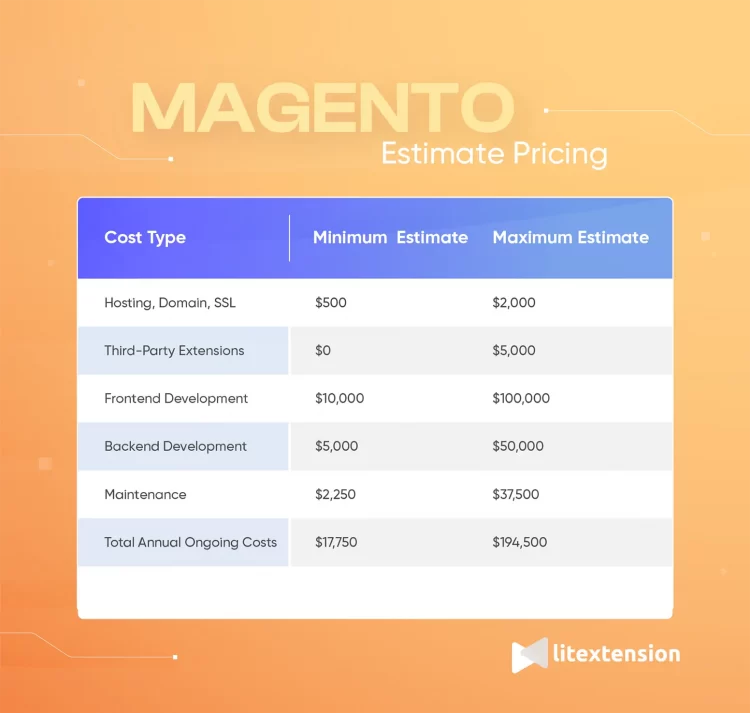 Ease of use
Let's come to the next part of this Magento review to answer the question: "Is Magento easy to use?". In this section, we will analyze based on 4 main criteria:
Store setup
Admin dashboard
Magento command-line interface (CLI)
Store backups, maintenance, and upgrades.  
1. Store setup
The installation of Magento 2 is local, so it requires setting up FTP and transferring Magento Archive to your hosted system. It's true that Magento is a bit of a pain to set up and customize.
Below is a brief guide to Magento setup process: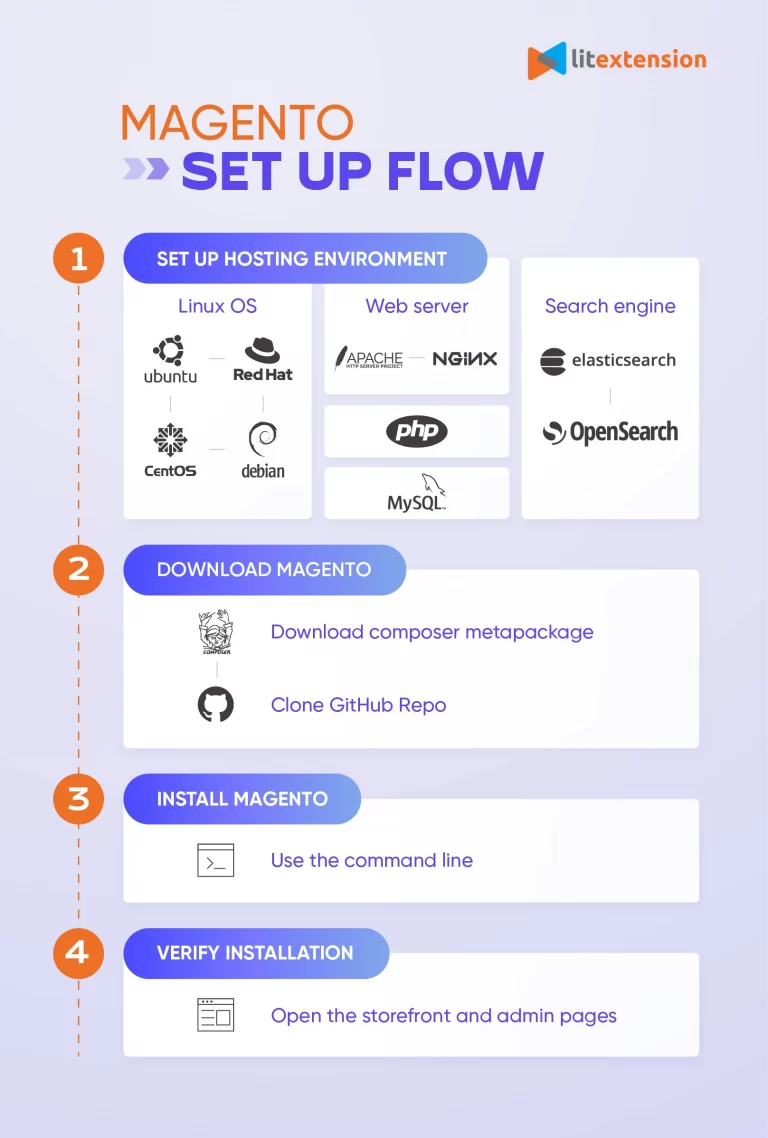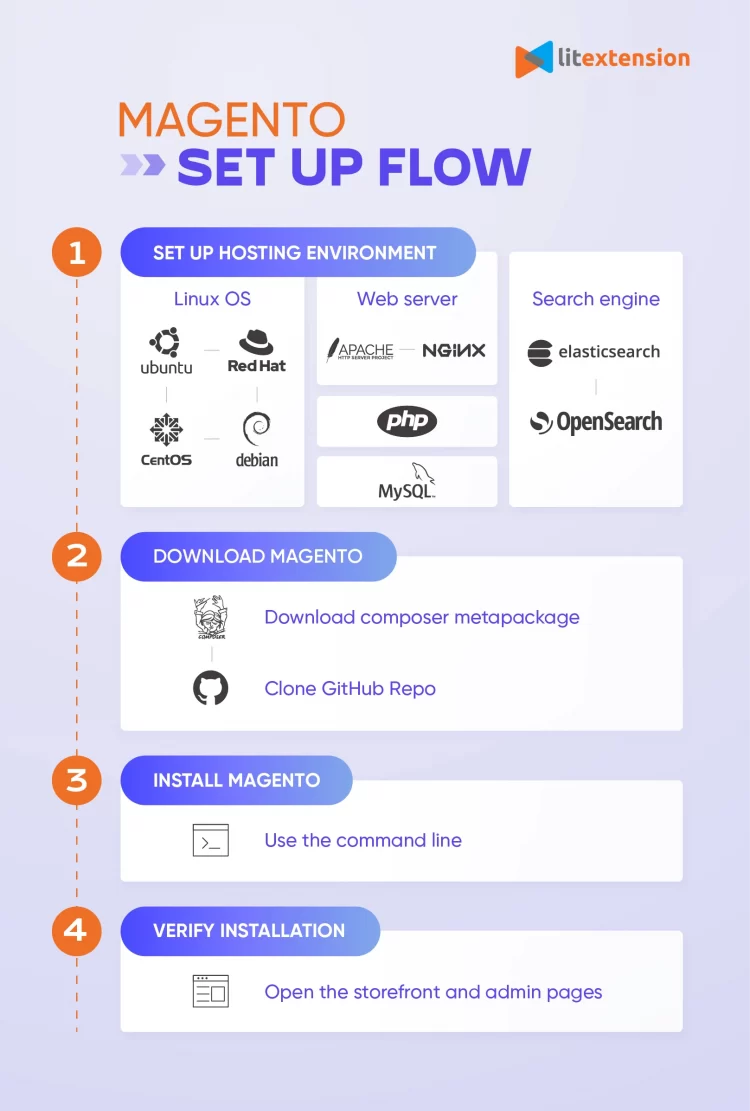 Or, in case you want to visualize how to set up a Magento store, below is our video tutorial for that:
As mentioned before, Magento is tailored for intermediate to advanced levels of web development. Thus, Magento is truly a stumbling block for beginners and non-techies when it comes to website setup.
2. Admin dashboard
Once you finish the Magento setup, everything turns out to be simple. Magento provides merchants with an excellent UI. Everything you need to manage, from product, customer, and marketing to content management, is all listed on the sidebar for seamless navigation.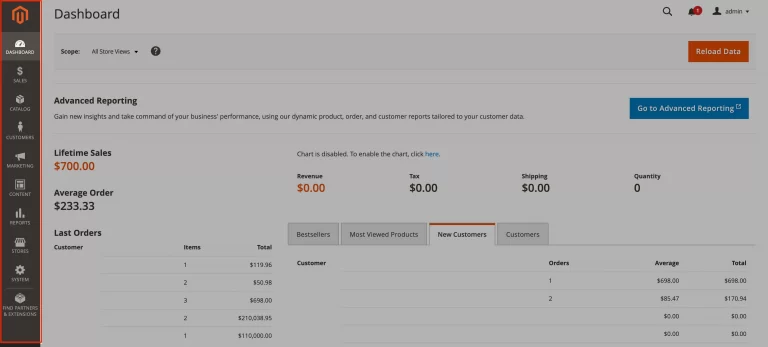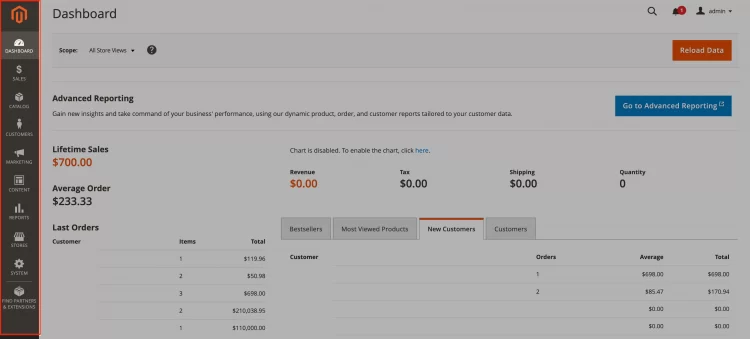 Magento's developers are putting more and more effort into bringing convenience and ease of use to its users. However, Magento is still at the "Expert level" and not as user-friendly as other eCommerce platforms.
3. Magento command-line interface (CLI)
Though the admin panel provides all the necessary functionality to manage the Magento site, we still want to introduce you to the Magento command-line interface (CLI).
Magento CLI is a set of commands that can be executed from the terminal/command prompt to perform administrative and development tasks. Though CLI is not strictly mandatory for operating a Magento store, it does help you perform some following tasks:
Install a new Magento store
Manage indexes (including reindexing)
Manage operation mode
Configure maintenance
and so much more!
Magento CLI can be difficult to use for non-technical users who don't have any coding experience.
However, if you're a tech developer, you may use Magento CLI provides a programmatic, non-GUI interface since it is an essential tool for DevOps with Magento stores.
4. Store backups, maintenance and upgrades
Backup is essential if you want to put your Magento store in maintenance mode or upgrade the store to a higher version. Luckily, Magento backup process is rather simple. On the Admin sidebar, navigate to System > Tools > Backups.


There are 3 options you can choose here:
| | |
| --- | --- |
| | A complete backup of the database and the file system, including the media folder. |
| | A backup of the database and the media folder. |
| | A backup of the database. |
You can also set the backup frequency to Daily, Weekly, or Monthly. It's important to note that you should put your store into maintenance mode during backup.
Putting Magento to maintenance mode may require some technical approach. You need to use Magento maintenance CLI to follow the Adobe guide:
bin/magento maintenance:enable [–ip=<ip address> … –ip=<ip address>] | [ip=none]
bin/magento maintenance:disable [–ip=<ip address> … –ip=<ip address>] | [ip=none]
bin/magento maintenance:status
Again, we insist it's not an easy game for those unfamiliar with coding when it comes to maintenance.
As an open-source solution, Magento may require frequent version updates. Since store upgrades can potentially cause disruptions and impact performance, we recommend you schedule during off-peak traffic times to minimize impact.
When upgrading the Magento version, we think utilizing Composer and Magento CLI can help you streamline the process.
Magento CLI uses the Composer under the hood to manage module and dependency installations.
When you run CLI commands like setup:upgrade, Composer runs in the background.
While Magento provides essential upgrade documentation, we still find that it's never an easy task for non-techies. Here, we have a guide on Magento upgrades to help you visualize the process. Check it out!
So overall, from our team's viewpoint on Magento 2 review, it is not an easy-to-use eCommerce platform. 
Themes & customization
1. Magento themes
Adobe Commerce Magento, by default, comes with two design themes pre-installed:
Luma theme is a great example for store owners of Magento's power and flexibility. It's elegant, clean, and easy on the eye, with endless customization possibilities.
Magento Blank theme is a barebones base theme intended as starter code for developers. It contains just basic HTML/CSS structure and organization of a theme and serves as a clean slate for building fully custom storefront designs.
In case you don't want to go for the default options, you can always browse 11 free and paid theme options ($0 – $499) in the Commerce Marketplace. Or, if you need more, check out our top 10 best Magento themes.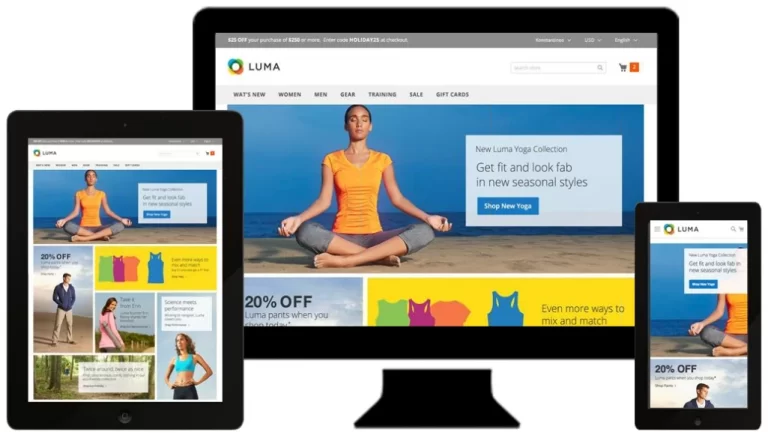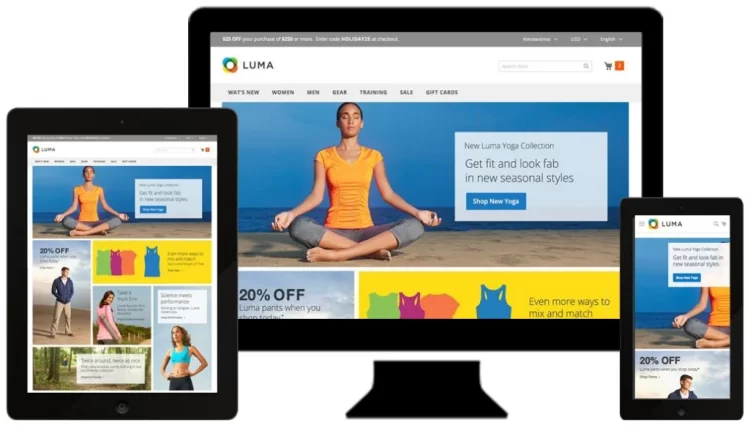 For even more suggestions, let's visit Themeforest, where there are more than 300 Magento templates for you at around $17 to $499.
When it comes to theme options, we find that Magento offers sufficient customization functionality. Whether with little tech skills or coding experience, Magento has everything you need to design stores to your needs.
2. Magento front-end customization
After you have your best theme, it's time to kick-start the installation process to make your store look just like what you want. This step requires experience with PHP and other programming languages, such as CSS and JavaScript.
If you're not confident about your technical skills, you can always contact a developer for help.
Before coming to our Magento review with front-end customization ability, we first want to clarify that there may be some differences between Adobe Commerce and Magento Open Source dashboard.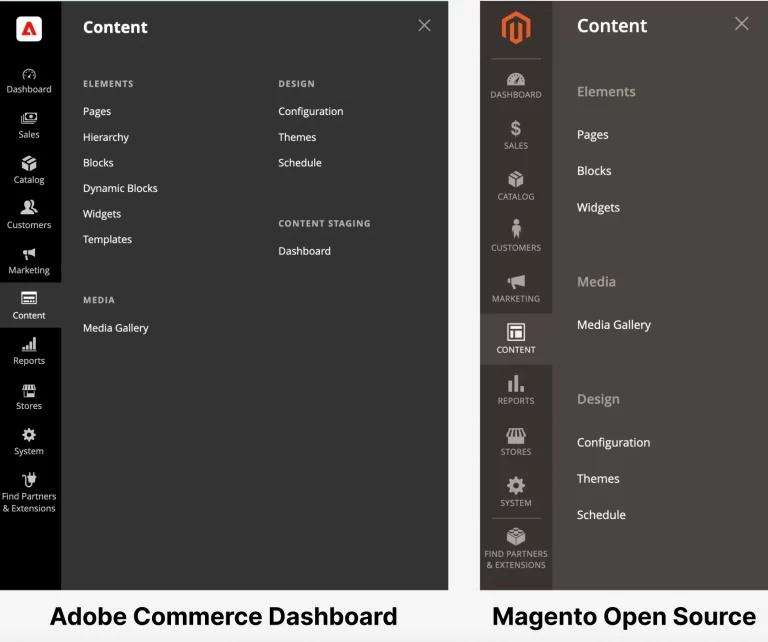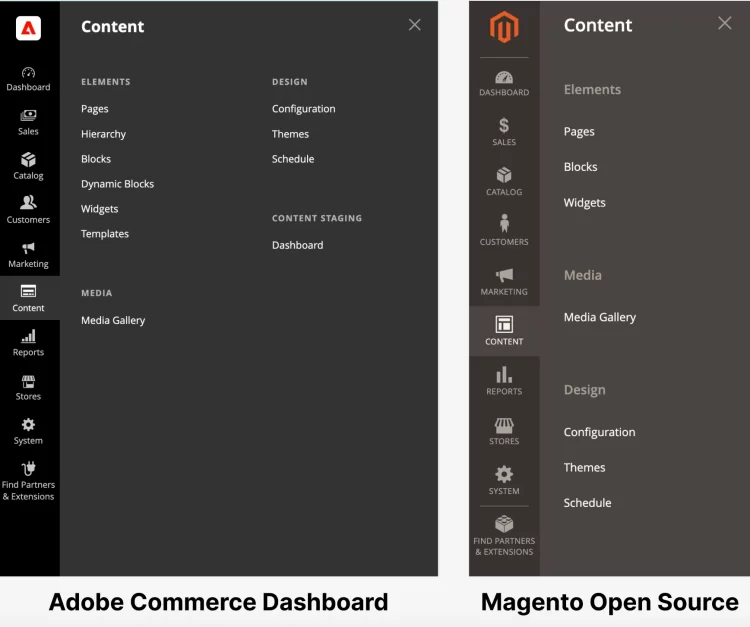 Since Adobe Commerce is a paid version, there will be some exclusive features that you may not find in Magento Open Source:
Elements: Hierarchy, Dynamic Blocks, Templates
Content Staging Dashboard
But worry not; we will review them all here!
Basically, Content menu provides a centralized hub to manage content, design, and promotions. This would allow us to efficiently create and maintain the online store experience through the administrative interface.
Content management features like pages, blocks, widgets, and templates give the flexibility to build out editorial and promotional content without coding. That's why we find this handy for non-technical users.
Here comes the exciting part, the exclusive feature only for Adobe Commerce users:
Dynamic blocks allow the creation of rich interactive experiences through custom configuration and logic.
Content staging allows users to safely preview and schedule bulk updates before publishing live.
Whether you choose Magento or Adobe Commerce, we find that they all offer full features to manage both the content and design of an eCommerce storefront.


eCommerce features
There are a plethora of installed features: search term synonyms, built-in marketing tools, detailed shipping/packaging settings, separate catalog and cart price rules, etc. It's a monster of a platform, one that serves many companies very well.
– Samuel N – Web Designer reviewed on Capterra
"It's a monster of a platform" – one of the reasons that make Magento a giant in the eCommerce platform solution market is its extensive features. With other simple platforms like WordPress, you need to install hundreds of extensions that cost tons of time, worrying about the compatibility, support, and updates on plugins. This has brought back thousands of good Magento 2 product reviews
in different eCommerce communities.
On the other hand, Magento reduces an enormous amount of work for store owners and developers by combining all the functions into the core system. This surely utilized its out-of-the-box features, a strong point against its competitors.
Magento's feature list is endless, but in Magento eCommerce reviews, we'll split the feature lists according to segment so you can have an overview of how you can sell with Magento.
1. Inventory management
Inventory management is a critical but often complex part of eCommerce. Tracking inventory at the source item level while also providing combined stock data separated by sales channel grants merchants great visibility and control.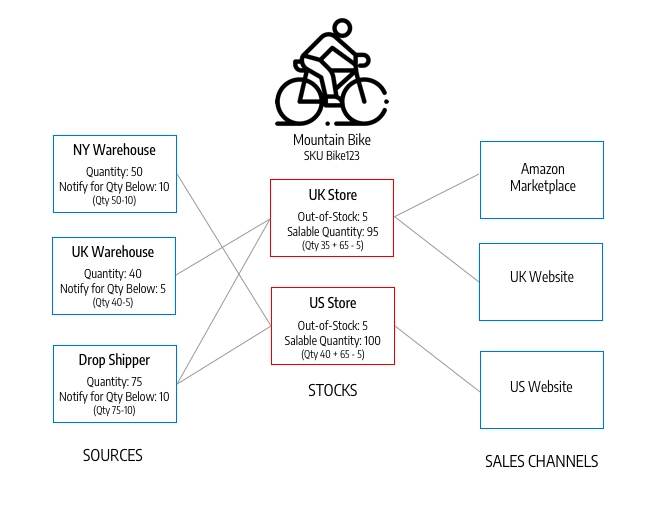 If you choose Magento 2 eCommerce platform, here's the inventory management ability:
Create simple, configurable (e.g., choose the size, color, etc.), bundled, grouped, virtual, downloadable (with samples) products
Create pre-defined product templates to quickly set up new products with a specific set of attributes.
Automatically assign products to specific categories based on their attributes. This means you don't have to add a product to the category manually anymore; all you need to do is set up attributes for your items.
Optimize the ordering and fulfillment process with features like reservations, algorithms for shipping source selection, and low stock notifications.
Manage multiple sources like warehouses, stores, and dropshippers instead of a single source allows better omnichannel fulfillment.
With these features, you can process long-running B2B (& B2C) features shared catalog while working on other administrative tasks.
2. Global expansion & Sales channel
Magento offers built-in capabilities for multi-currency, multi-language, multi-tax, and global shipping to smooth the way for worldwide sales. You can localize the catalogs, pricing, and content for each target market.
Besides, Magento allows merchants to establish multiple storefronts within a single Magento installation. This multi-store functionality enables the management of localized websites/stores for various countries in a unified Magento backend. This streamlined approach centralizes catalog, order, and customer data management on a global scale.
Moreover, you can access global marketplaces like Amazon to reach a huge existing customer base in new regions. Amazon Sales Channel is not pre-installed to Magento but you can add it for free via Commerce Market for all Adobe Magento versions.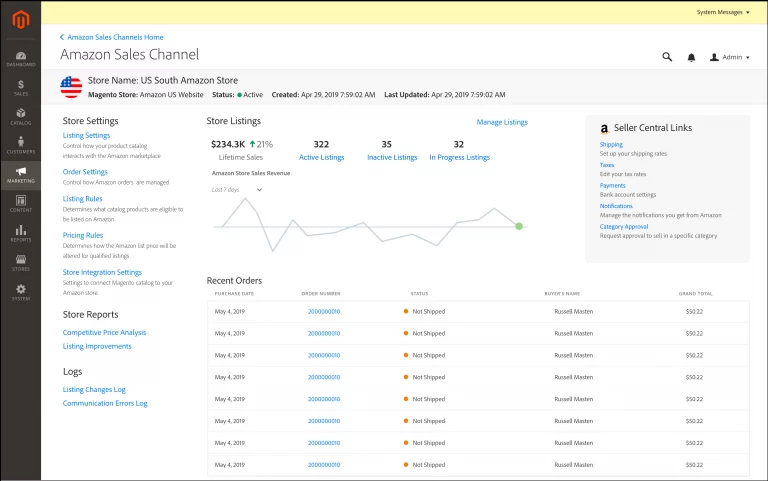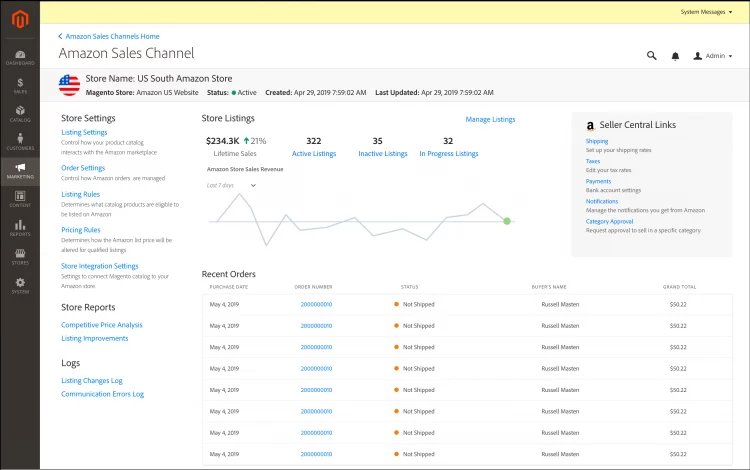 When installing Amazon, you can connect your Magento store directly to the Amazon US, CA, MX, and UK marketplaces. Advanced pricing rules allow automatically matching or beating competitor prices to increase the chances of winning the Buy Box while protecting margins.
To sum up, Adobe Commerce allows merchants to easily expand their online business globally. Its robust multi-store functionality provide the foundation to customize stores for different regions and languages.
3. Shipping and delivery
Magento provides basic delivery methods like free shipping, flat rate, and table rates that do not require third-party integrations. It also has built-in support for popular carriers like UPS, USPS, FedEx, and DHL to offer customers real-time rates and tracking.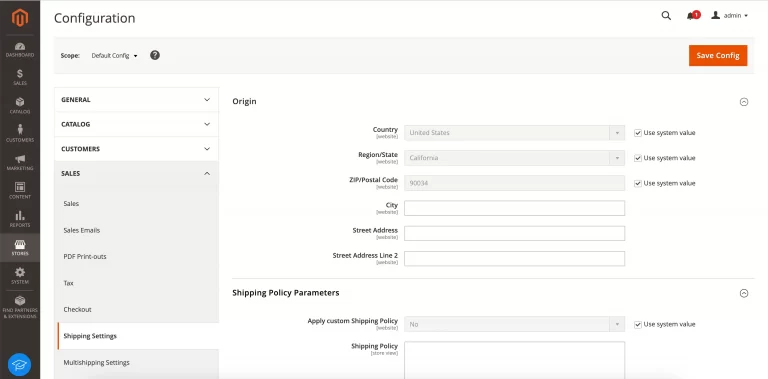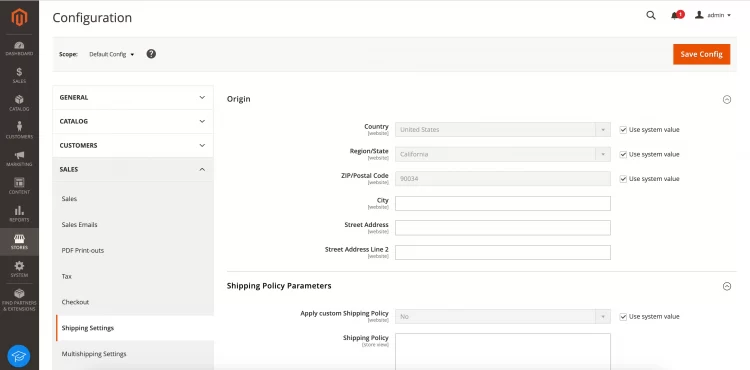 Here's what more you can expect from this Magento platform:
Addresses in-store pickup for inventory-enabled stores.
Extends to digital/non-physical product delivery.
Standardizes returns and replacements for customers.
Complex rate tables apply logic by location or attributes.
Configures point of origin for all store shipments.
Creates labels for new/existing orders from admin.
Saves labels in PDFs for download and shipping.
Magento shipping and delivery functions cover almost all essentials for optimizing the online shopping experience. Our team would certainly recommend merchants leverage the Adobe Magento platform's built-in and extensible delivery capabilities.
4. Store analytics and reports
When mentioning Magento for eCommerce, analytics and reports are all must-have features. This platform does not let our testing team down with robust functionality.
Basically, with Magento 2 you can:
Access all standard Magento reports across orders, sales, customers, and more via the Report menu.
Get started with up to 100 best practice commerce reports & dashboards included.
Export your data and visualizations outside of the platform for further analysis.
Execute advanced analyses with Magento's report builder.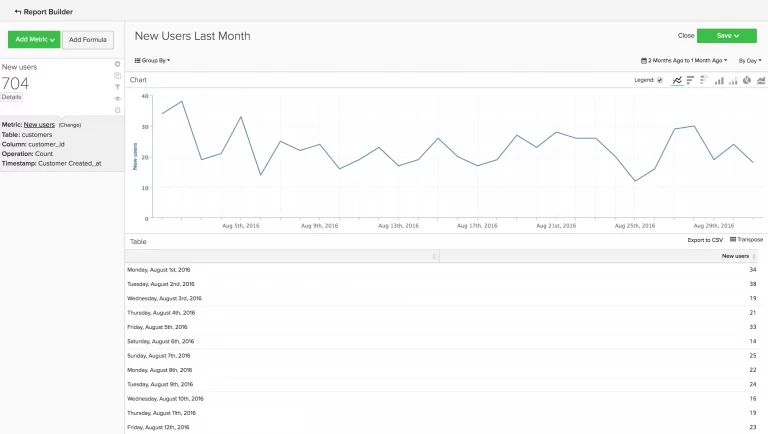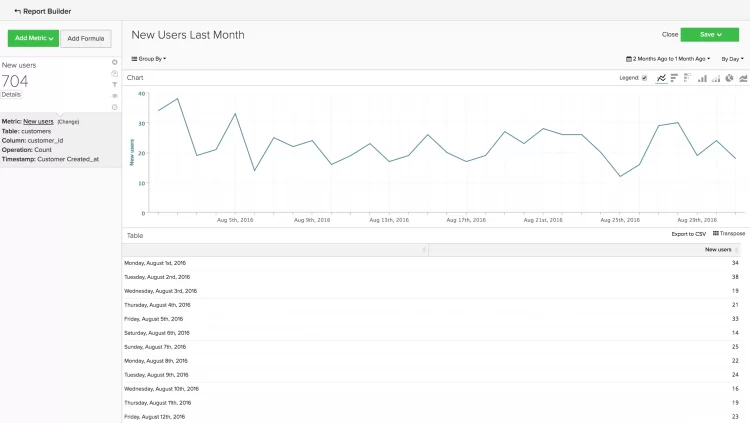 If you need some more analytics options, Magento allows adding Google Analytics tracking code (GA tag) to track site and store traffic/conversions. This can enhance eCommerce tracking with additional capabilities beyond just Magento reporting.
So, we believe that Magento provides standard and advanced capabilities right out of the box to gain insights for business decision-making.
5. Checkout & payments
During checkout, show tax and shipping estimates in the cart to give customers a clear view of total costs before payments.
With Magento 2, you can integrate with major payment gateways like PayPal, Braintree, Authorize.net, CyberSource, and WorldPay to accept major credit cards and digital payments. This platform qualifies for the easiest level of PCI compliance (SAQ-A or SAQ A-EP), depending on the payment methods used.
The payment methods configuration is also easy to set up and to start accepting online payments.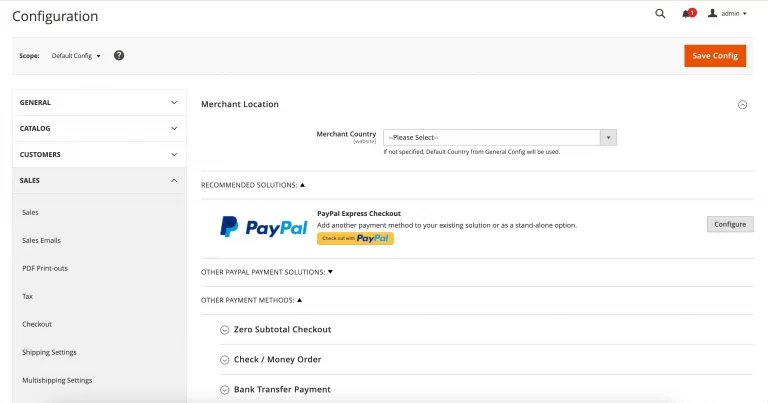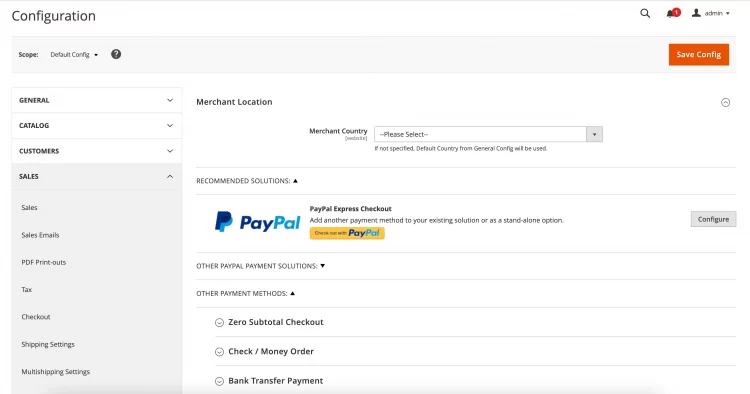 Here are some of our recommendations to configure for a seamless Magento checkout process:
Show tax and shipping estimates in the shopping cart.
Display an order summary with product images at checkout.
Boost conversion rates with an Instant Purchase option that uses saved payment and shipping information to speed checkout.
If you're already running your online store on Magento, take a closer look at this article for our suggested list of top 10 Magento payment gateways.
6. Tax configuration
Magento 2 supports fundamental tax calculations and configuration of tax rules like product/category tax classes. The tax configuration with Magento is rather simple when the dashboard offers all essential details.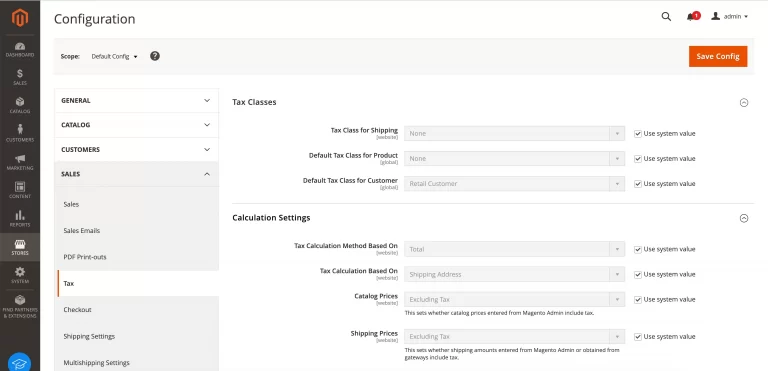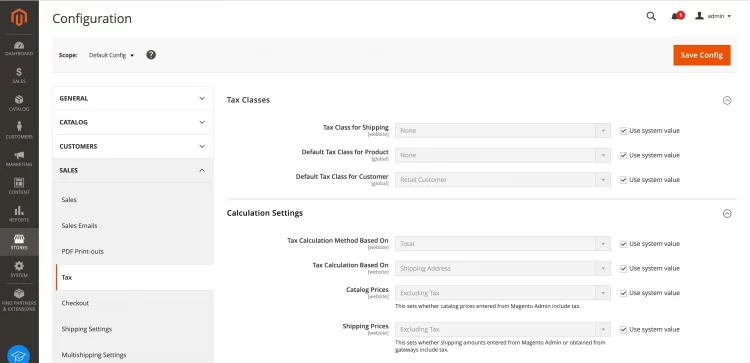 Here's what Magento supports with Tax:
Support complex tax rules based on item attributes and special tax classes like shipping & handling.
Automatically calculate tax for transactions in the EU with VAT-ID validation.
Supports fixed product taxes, such as WEEE/DEEE in default country.
Set up cross-border trade for different countries/regions.
* Small note: If you've ever heard about Tax Class for Gift Options, that's exclusive for Adobe Commerce only).
Suppose you're about to scale your business internationally. In that case, Adobe Commerce may be a better choice when it integrates with popular tax APIs and tools like Avalara, and TaxJar while Magento 2 has fewer options.
From our perspective, Magento 2 comes with all fundamental tax requirements, a crucial consideration when launching a business, particularly for those aiming to expand globally.
7. B2C & B2B Commerce 
Magento has basic native B2B features to support sales to corporate accounts with different user roles and permissions. It can power B2B and B2C on a single platform with unlimited customizations via APIs and extensions.


However, we find the open-source version somewhat fits B2C model since Magento cannot offer advanced B2B features like complex quoting or price lists. Or if you want to integrate out-of-box B2B features, you may require more custom development.
So, if you seek advanced yet built-in B2B features with less effort, go for Adobe Commerce version. Adobe Commerce offers an integrated B2B solution that allows merchants to support both B2B and B2C models on one platform.
Adobe Commerce's B2B capabilities are highly configurable, allowing stores to adapt workflows to their business needs. Here's how to find the B2B setup:
On the Admin sidebar, Stores > Settings > Configuration.
In the left panel under General, choose B2B Features.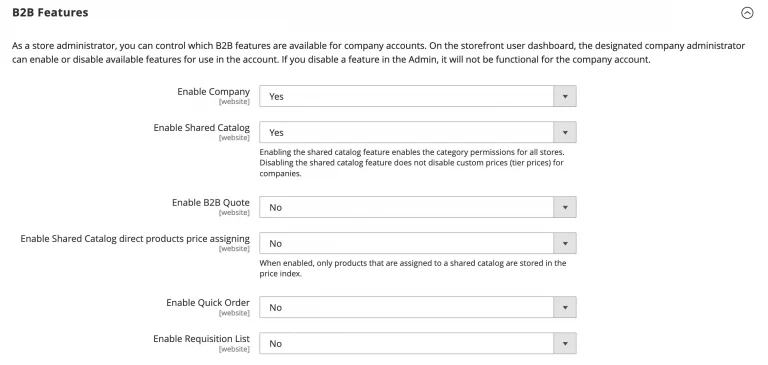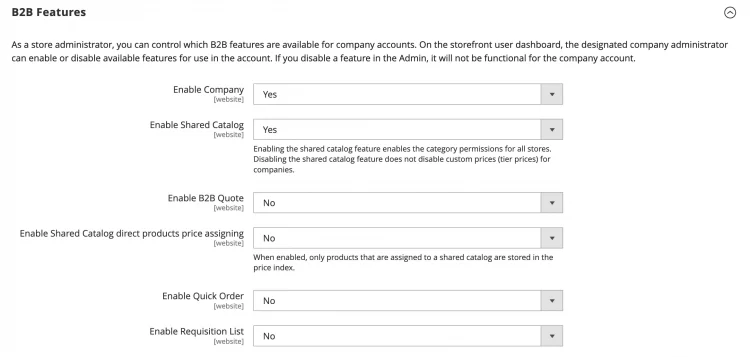 Core B2B features like companies shared catalogs and quotes can be enabled with a single switch, whereas other optional ones like quick ordering or requisition lists can be independently configured.
Statistics won't lie! Here's an example of how Adobe Commerce powered Covento to create a B2B marketplace and apply B2C best practices to the B2B sales process.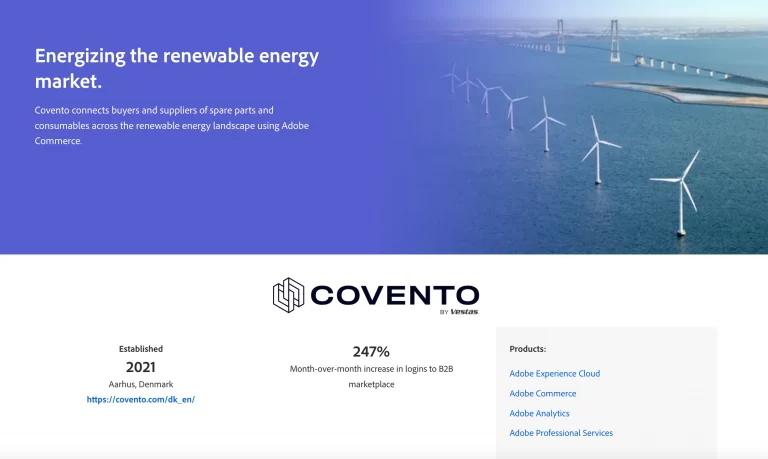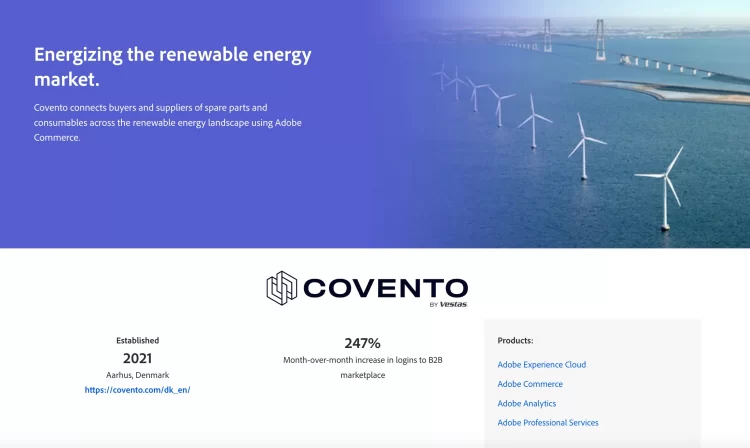 Overall, in this Magento review, we believe that this platform can satisfy all user needs with B2B and B2C models, though there may be some tech skills involved.
8. Point of sales (POS)
A POS system is a must-have technology for physical retail businesses, streamlining sales transactions at the point of purchase. It manages inventory, captures customer data, processes payments, and generates reports.
For B2B merchants, POS integration empowers store associates to access inventory, view pricing contracts, and handle orders directly from retail locations for business customers.
Though Magento does not have built-in POS functionality, you can explore Commerce Marketplace for top-notch POS systems and get an omnichannel retail strategy. Currently, Adobe Magento Commerce offers 60 robust POS solutions like Amasty or Webkul, some being Adobe's Silver Technology Partners that undergo strict quality checks.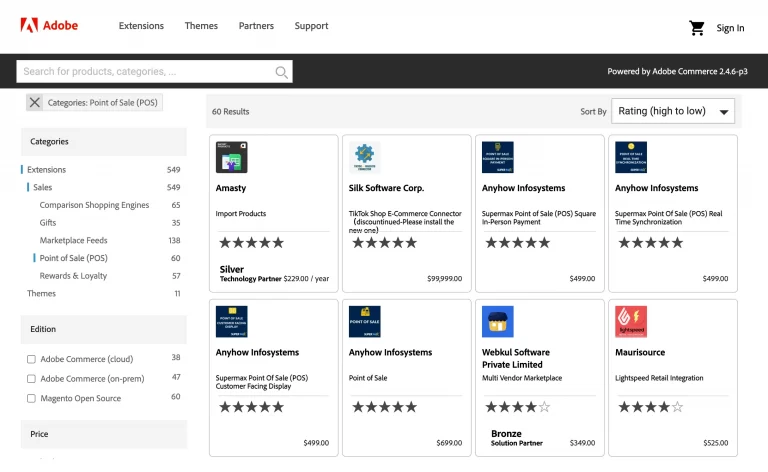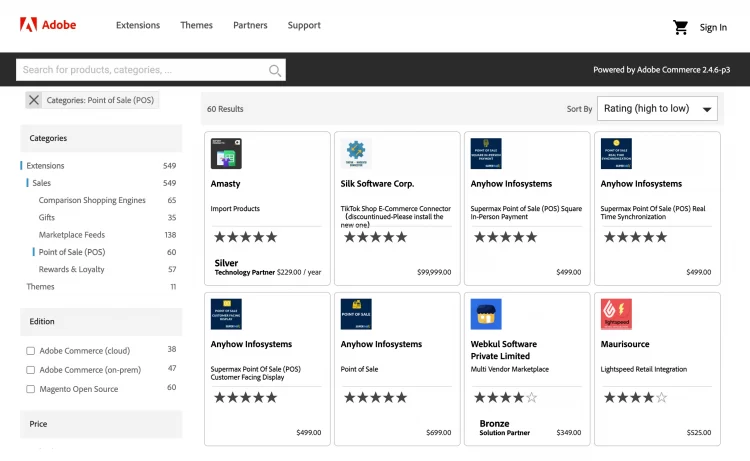 Absolutely, POS integrations on Magento 2 play a crucial role in delivering unified commerce experiences across B2B, B2C, and various retail touchpoints.
9. Mobile commerce & PWA studio
In recent years, Mobile Commerce has been becoming an emerging trend in eCommerce, and Magento didn't miss a thing!
Magento, one of the first eCommerce platforms focused on mobile commerce in 2011, showed its early priority and leadership in this area. Its mobile app integrates with all Magento versions.
Magento mobile apps with robust functionality will allow store owners to meet customers wherever they are – on desktop, tablet or phone. That is truly critical for an excellent omni-channel experience.
If you're curious why, we will introduce you to some robust features we found out in this Magento 2 review:
Mobile-optimized checkout and ability to reuse payment/address info from past purchases is a great way to improve conversion rates from mobile shoppers.
Responsive themes ensuring an optimized experience across various screen sizes are table stakes for modern commerce. Magento having this out of the box is a strong selling point!

Besides, by adopting agile progressive web apps (PWAs), Magento mobile sites and apps have app-like capabilities even when accessed through a browser, enhancing the user experience.
In general, by focusing on mobile for years, Magento showed it understands how important mobile commerce will be for online shopping as the future of commerce.
10. Merchandising
Let's understand what merchandising is first. Merchandising refers to retailers' methods and strategies to market and promote products in online stores. Here are some key aspects you should get to know:
Product assortment and selection
Pricing strategies
Visual merchandising
Visual Merchandiser is an exclusive feature only available in Adobe Commerce. It allows positioning products and applying conditions to dynamically select which products appear in a category listing based on changes in the catalog.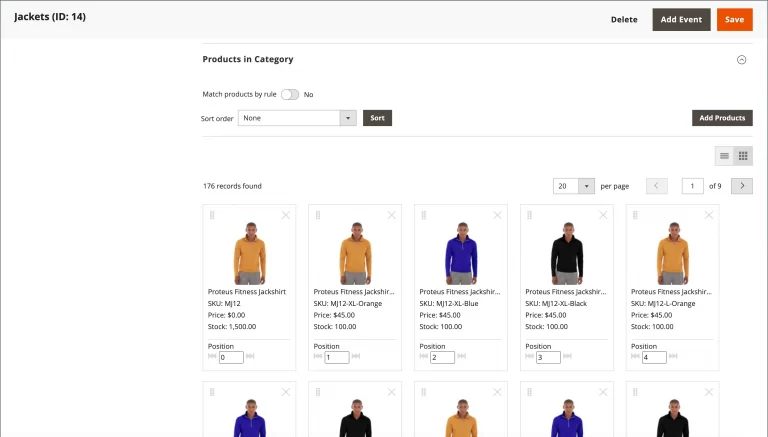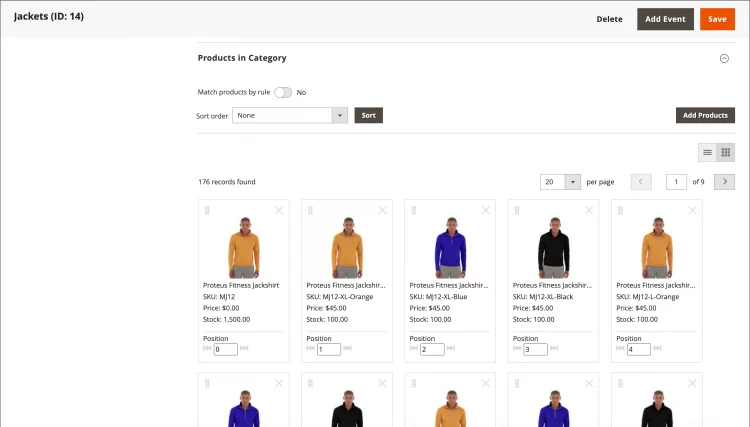 Products can be viewed and arranged on the category page either as tiles in a grid or a list. Visual Merchandiser saves time editing categories than manually rearranging products to highlight specific products.
In our view, Adobe Commerce provides flexible merchandising tools that enhance page optimization to boost customer experience.
Marking overall opinion on this Magento 2 review, our team is far impressed with the real power of Magento in the potential to make your own eCommerce features to solve most of the complex problems for your business.
Want to migrate to Magento (Adobe Commerce)?
If you intend to migrate to Magento (Adobe Commerce), LitExtension offers a great migration service that helps you transfer your data from the current eCommerce platform to a new one accurately and seamlessly with utmost security.
Marketing & SEO features
1. Promotions
Magento 2 provides merchants with powerful promotional capabilities through its Catalog Pricing Rules and Cart Pricing Rules features. These allow stores to create targeted discounts and drive conversion rates.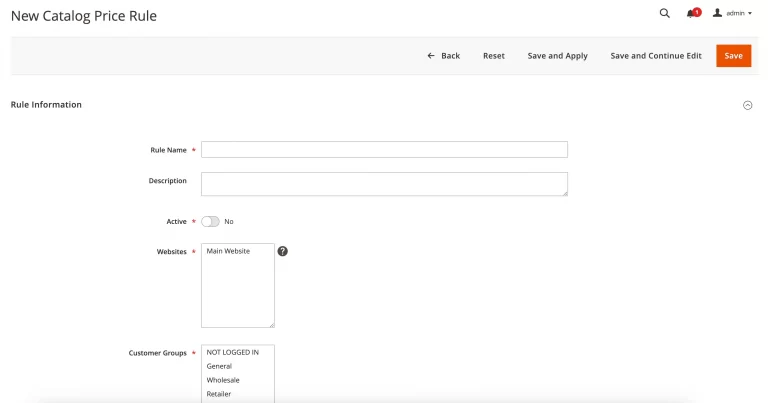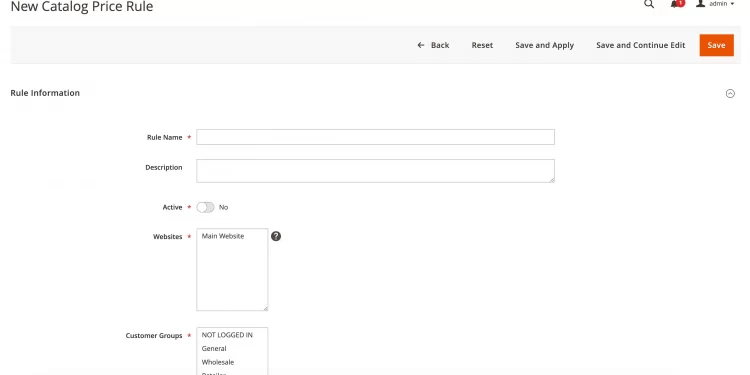 Catalog pricing rules allow changing product prices directly in the catalog based on attributes like category, brand or customer group. This enables running regular sales, seasonal promotions or loyalty pricing programs. Customers see updated prices on product pages.


Meanwhile, cart pricing rules apply discounts at checkout based on order totals, quantities, or customer data. Typical uses include buy-X-get-Y-free offers or bulk order discounts. Merchants can experiment with different checkout incentives.
The two rule types offer strategic advantages:
catalog rules provide ongoing promotional pricing
while cart rules surprise customers with discounts at the final stage.
Together, they give stores layered, stage-based control over price marketing campaigns. For merchants on a budget, these promotional features deliver powerful marketing automation capabilities for driving sales and retaining customers through targeted pricing promotions.
You can access exclusive features like Related Products Rule and Gift Card Accounts if your store is in Adobe Commerce version.
2. Product reviews
Product reviews allow customers to submit star ratings and written product feedback directly on product pages. Research shows higher higher-reviewed products rank better organically as reviews are seen as more credible social proof for shoppers over ads.
To find Product Reviews setting, you can simply follow:
On the Admin, go to Stores > Settings > Configuration.
In the left panel, expand Catalog and select Catalog underneath.
Expand Expansion selector the Product Reviews section.
From that, you may see the Product Reviews is enabled by default.


Reviews are submitted via the "Add Your Review" or "Be the first to review" buttons on a product page.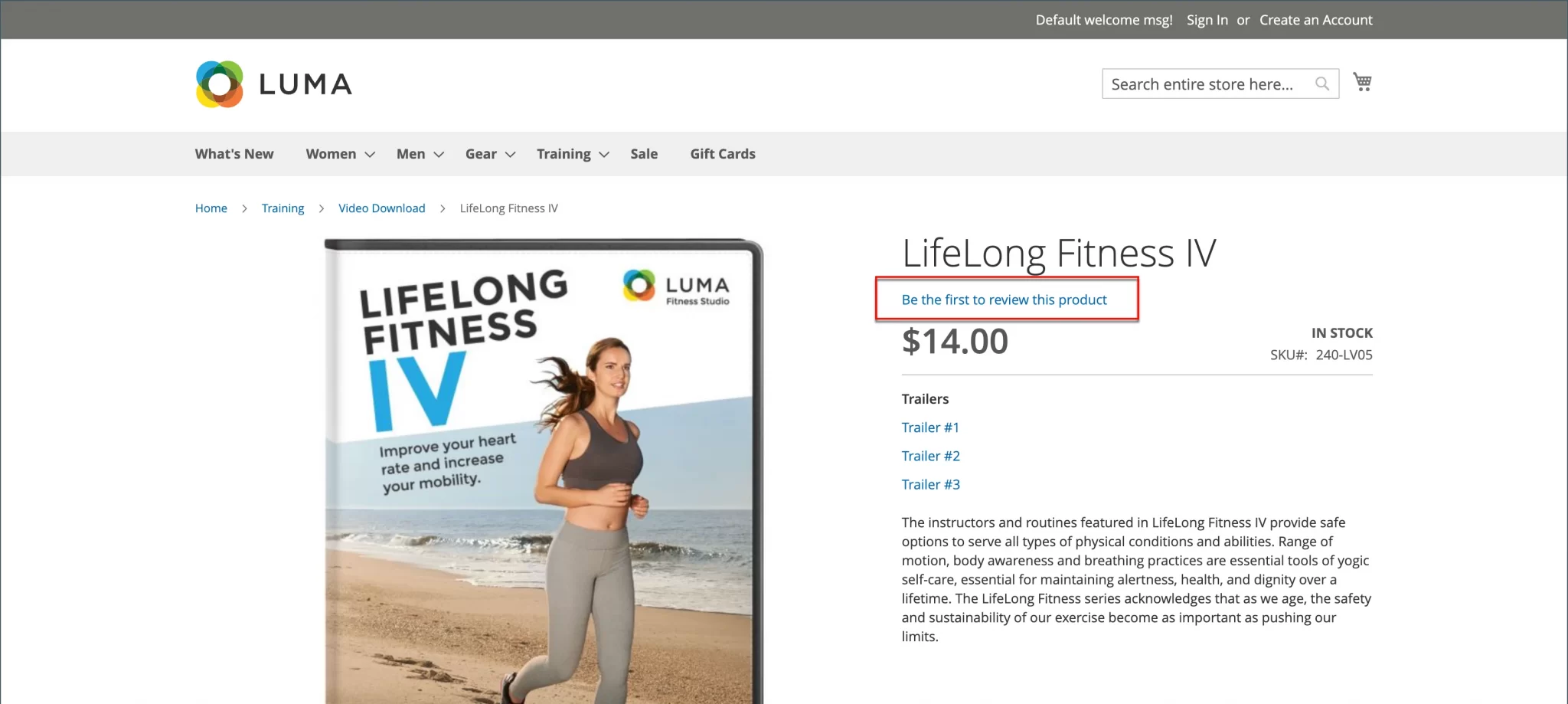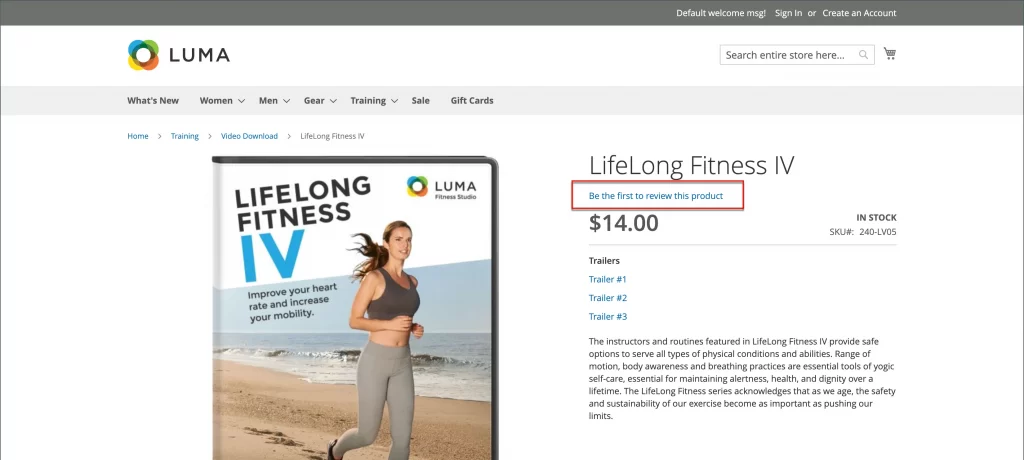 With the review data, you gain insight into popular vs. less popular items and specific feedback to improve products and conversion rates.
3. Email marketing
As an eCommerce merchant, effective communication with customers is vital. Luckily, Magento 2 gives excellent control over the transactional and promotional emails sent from the store.
For example, the template used for the new customer account email is located at:
/vendor/magento/module-customer/view/frontend/email/account_new.html
By default, this template has the following content:
The header and footer templates are included using directives.
Store contact information like name, address and phone are displayed using variables.
Internationalization is supported using the trans directive.
Basic inline styles are used for email client compatibility.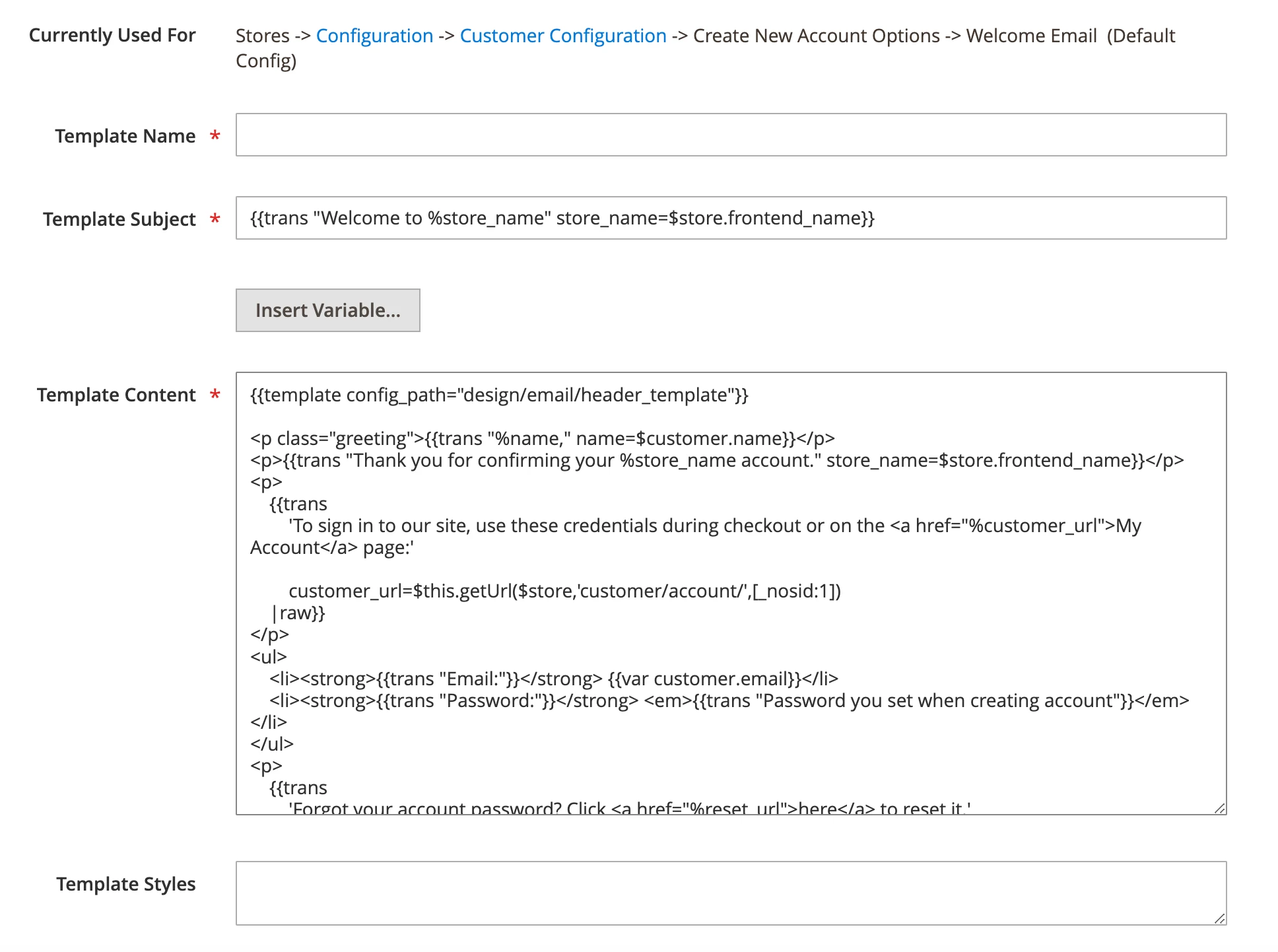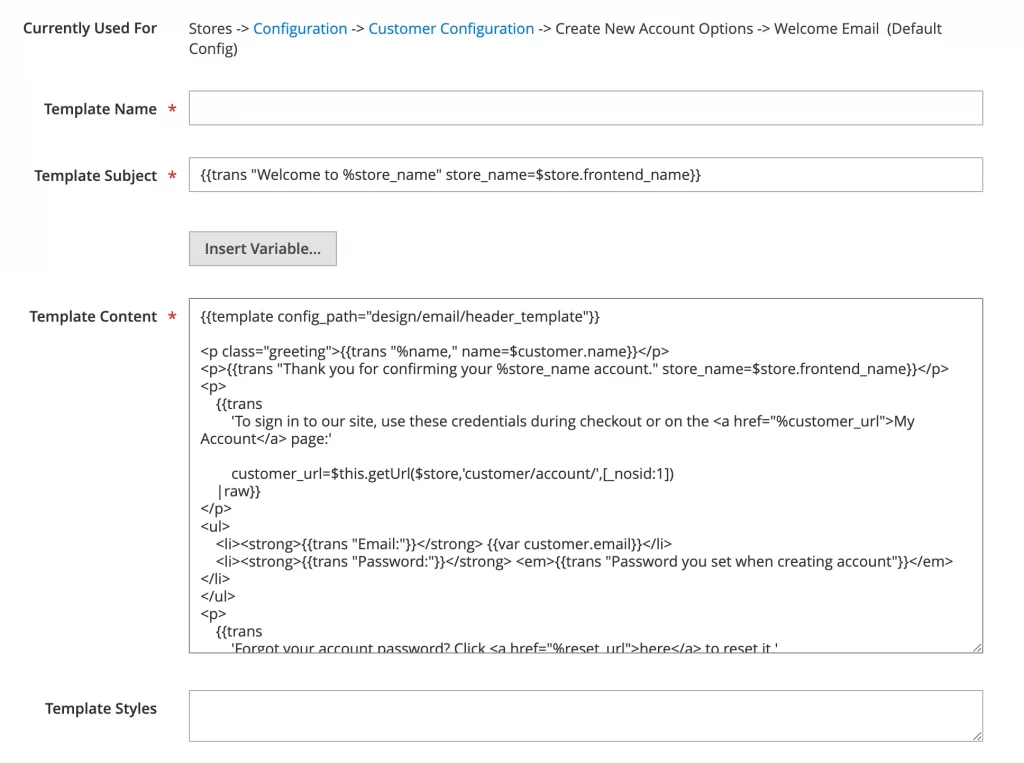 Welcoming email helps new customers get acquainted with the store and provides critical account/login details to start their experience. It allows merchants to celebrate customer acquisitions through automated onboarding emails.
What's great when using Magento is that we can manage templates from both themes and the admin. This makes it simple to update a design or create new variants quickly. We also appreciate how easily we can translate emails.
Overall, Magento's email capabilities grant users powerful yet user-friendly tools to nurture customer relationships through online communications.
4. Magento SEO (Metadata, Site maps, URL rewrites)
Magento SEO is automatically configured, but you can always make needed changes to meta keywords, meta descriptions, image alt-tags, product descriptions and snippets. Additional features such as Google sitemap, no-follow links, and redirects also support search engines to crawl your site more easily.
Apart from that, mobile optimization and standard Magento SEO are included in all versions of Magento 2. This means that everything is shown up nicely on customers' mobile phones and your site can still be reached without your investing too much time and effort.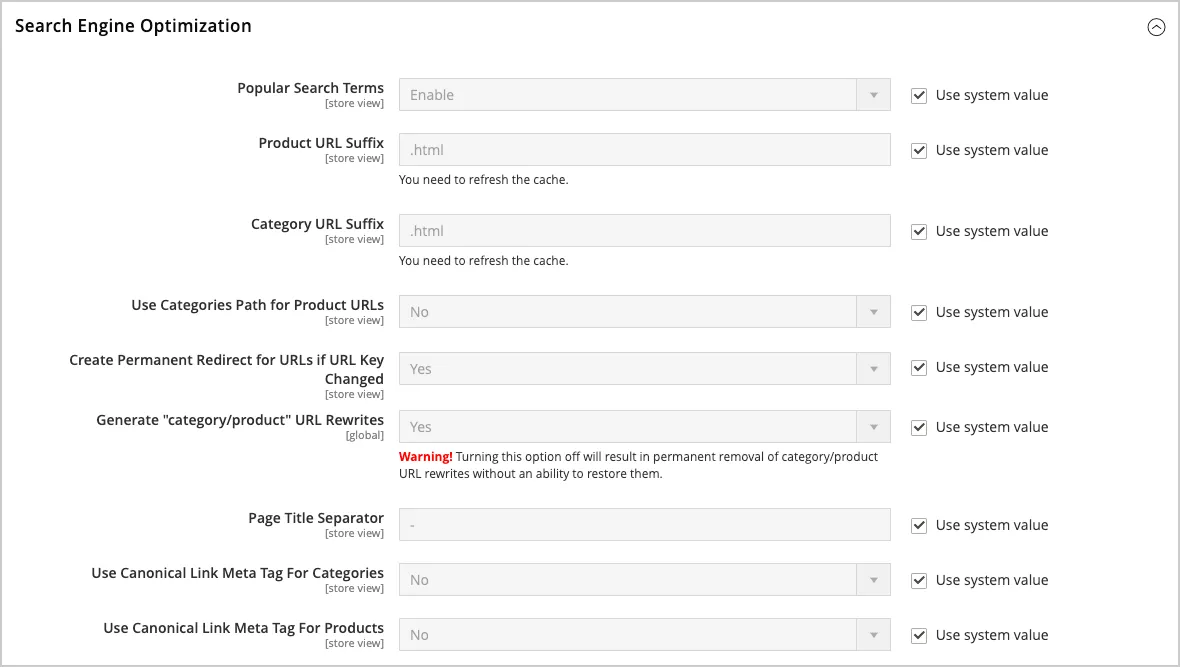 Technically viewing, Magento 2 provides a friendly URL Rewrite for categories, products, and CMS pages. URLs can be defined manually or automatically generated based on patterns.
Here are some more examples you may want to consider:
Robots.txt file controls which bots can access pages.
Hreflang tags support localization and geographic targeting.
-Canonical meta tags avoid duplicate content issues.
Grasping it all up, we find Magento has strong built-in SEO capabilities for metadata, sitemaps, and URL management that help with marketing efforts.
5. Magento CMS (Blogging)
If your business especially focuses on writing articles that help your users and successfully convert, Magento can definitely help you.
Magento CMS is fully equipped with all of the functionalities you'll need to manage your content and its quality easily. Of course, to leverage the blogging features, you can always turn to third-party extensions.
Nevertheless, these above-mentioned features are based on the plan you're using. If you currently use Magento Open Source, you might need to update to Adobe Commerce or Adobe Commerce Cloud to get more attributes.
However, the wonderful thing about this platform is that you can always customize your own Magento email marketing features to suit your business
If you care for a detailed marketing tutorial on Magento, definitely check this out!
Support & Extensions
1. Magento Support
Like most of the open-source eCommerce solutions out there, customer service is nonexistent with Magento. There's no live chat, phone, or email support for Magento Open Source merchants.
However, for tech-savvy merchants who can take control of their support strategy, Magento provides plenty of resources.
This platform has an informational blog, a knowledge base, and a forum where you can seek guidance from other users in a heartbeat.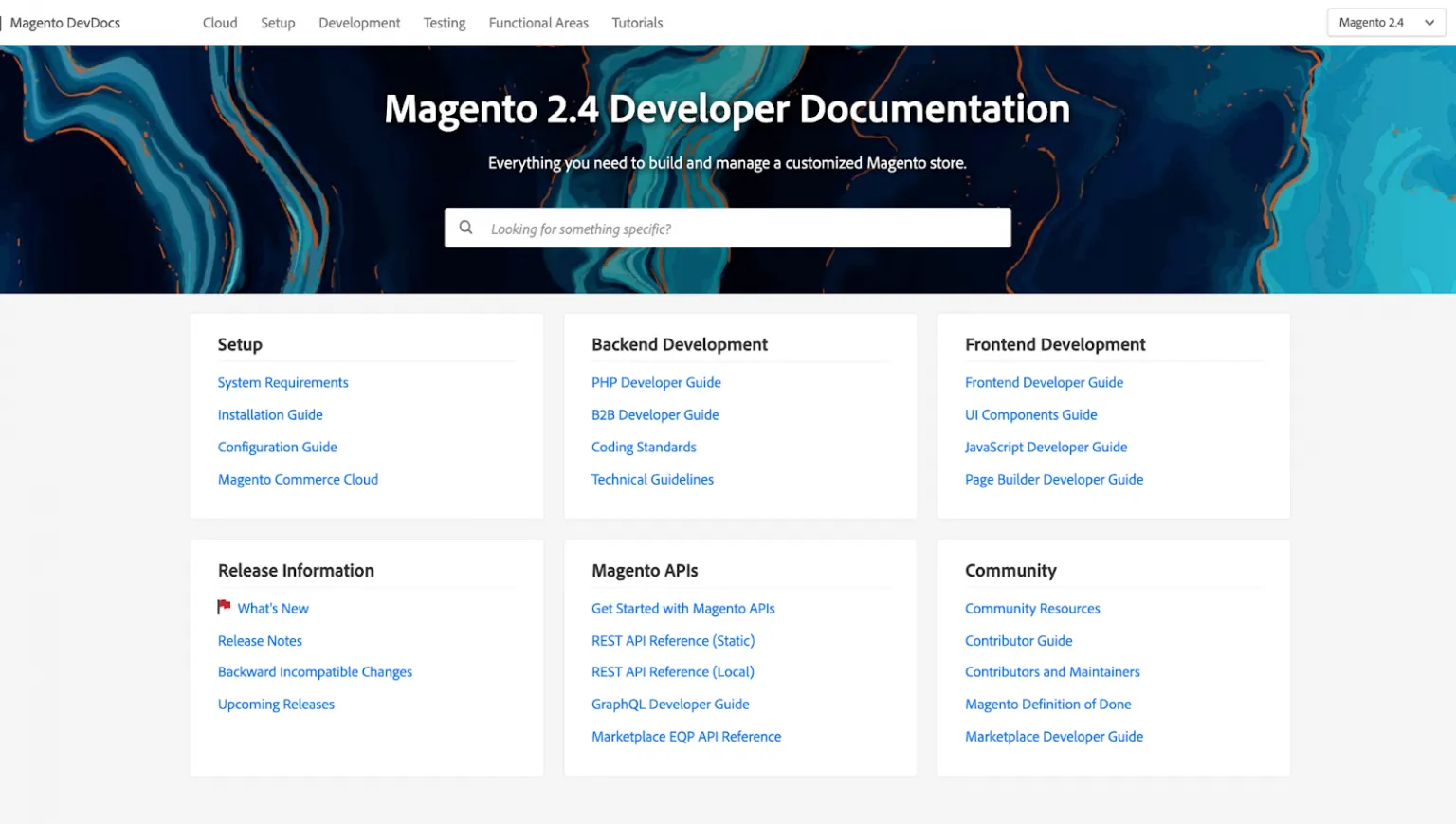 2. Magento Extensions
And regarding extensions/apps, Magento truly edges over other eCommerce solutions. Its marketplace has a stockpile of both free and paid extensions across all aspects from accounting & finance, content & customizations, customer support, marketing, Magento POS, payments & security to site optimization, etc.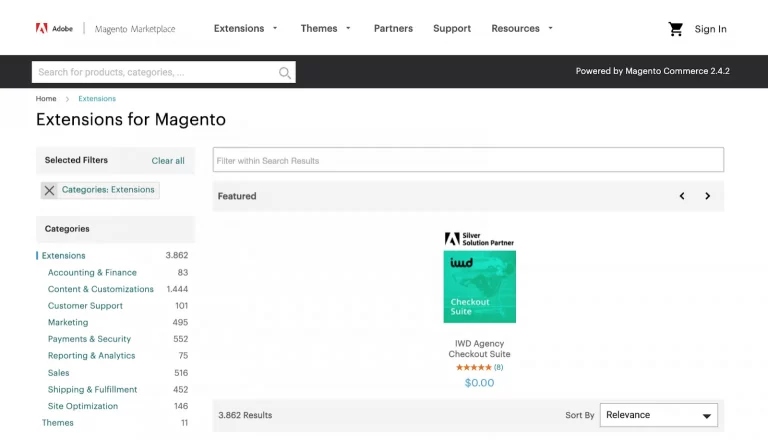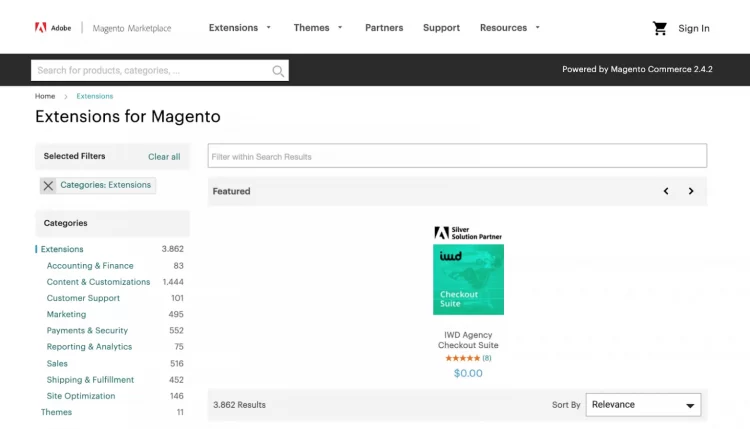 Security
As mentioned above, Magento targets mostly medium to enterprise-sized businesses. Hence, the high level of security for their website surely is a serious demand. From the very beginning, Magento has taken security seriously.
They have an entire Security Center dedicated to keeping your site safe. However, the expense is not cheap at all. It charges from $1,000 to $5,000 for SQL injection vulnerabilities, and this type of service is not available for Magento Open Source.


Let's check out some of the best safety methods that Magento provides you:
1. Payment Security
Securely pass credit card information directly from the client browser to the payment gateway, bypassing the Magento application. This helps your customer to ensure that their information doesn't leak out during the payment process.
PCI compliant: All sites qualify for the easiest level of PCI compliance (SAQ-A or SAQ A-EP), depending on the payment methods used. This aims to protect your shopper's info when  process, store, or transmit credit card information
Signifyd automated fraud detection tools: Remove the stress of eCommerce fraud prevention, abuse, and payment regulation
2. Architecture Security
Advanced Encryption Standard: Data encryption based on AES-256 and hashing based on SHA-256. Magento applies a global standard of encryption (AES and SHA) and it is used to keep prying eyes away from our data
Secure your stores and prevent fake logins with Google ReCAPTCHA and Two Factor AuthenticationLimit password guessing with strong password requirements and a secure Admin login process.
Stay informed about security issues through the Magento Security Center and mailing list.
Migrating to Magento Has Never Been Easier!
LitExtension provides a well-optimized All-in-One Migration Package that will help you transfer all your data accurately, painlessly with utmost security. Your projects will be handled by a Personal Assistant (PA) from start to finish.
---
Who Should Use Magento? Is Magento Still Worth It?
Together, we have gone through on Magento eCommerce software review. We will once again clarify who should use this platform:
Mid-large-sized eCommerce companies with annual revenues of $1M+/year
Stores that need high customization, flexibility, and extensibility
Businesses that require complex product attributes, catalog management
Is Magento still worth it?
Yes, for large-scale stores, the robust features of Magento can easily pay off for the investment. Even mid-sized stores can benefit from the long-term value and customizability.
If you're seeking simpler platforms, Magento actually not a suitable option.
---
Famous Brands Chose Magento to Power eCommerce Websites
To prove how powerful Magento is, we will show you some famous brands that chose Magento to power their eCommerce websites:
Monster Scooter Parts
Coca Cola 
HP
Canon
Accent Group
And so much more!
These big brands show that Magento can meet the needs of even the most complex sites, with room to spare for future growth and innovation.
---
Magento 2 Review: FAQs
---
Final Words
Magento 2 (Adobe Commerce) is holding a special position on the market. Over the years, this open-source eCommerce platform has earned a solid reputation as one of the best solutions for medium and large businesses.
Despite the lack of ease of use and numerous expenses, Magento still brings online stores around the world a mighty system with endless customization possibilities. Its features are also a plus if you decide to go with this powerful platform. Thousands of extensive functions combined with a highly secure system will bring the best support to help your business grow.
You might have been swamped with tons of Magento reviews. We hope that this article has provided you with some pieces of useful information. In case you're selling elsewhere and intend to migrate to Magento, you can take LitExtension – #1 Shopping Cart Migration Expert into consideration.
Finally, If you have any questions regarding our migration service, feel free to contact our 24/7 dedicated support team, we are always here to help you! You can also join our Facebook Community to get more eCommerce tips and news.