No longer fit with WooCommerce? Looking to migrate your online store to Shopify? Look no further! LitExtension WooCommerce to Shopify migration service will seamlessly transfer WooCommerce to Shopify platform, ensuring that all your data is preserved and your store is up and running in no time. 
The A-Z WooCommerce to Shopify migration process includes these below steps:
Step 1: Backup database of the WooCommerce store
Step 2: Set up a new Shopify store
Step 3: Set up Source and Target Cart
Step 4: Select entities to migrate
Step 5: Perform full migration from WooCommerce to Shopify
Step 6: Follow a go-live checklist for Shopify stores after data migration 
In case you want to dig deep into a complete guide on switching from WooCommerce to Shopify, please look at our comprehensive WooCommerce to Shopify guide here! Now, let's head straight to 3 critical steps of the WooCommerce to Shopify migration with LitExtension. 
Step 1. Set up Source and Target Cart
Click "Create new migration" after logging in. You will then be sent to a screen where you can input the details of your Source and Target Carts.
First, select WooCommerce from the drop-down selection as your Source Cart. Enter your store's URL next.
Download the "le_connector" file by following the instructions. The sole purpose of this connector is to build a connection between your WooCommerce database and the LitExtension App.
Upload the Connector folder to WooCommerce's root folder on your server after extracting the zip file. When you're finished, a message stating "Connection was successfully installed" will show up on your screen.
Moving on to Target Cart setup, after you have chosen Shopify as your Target Cart from the menu, enter your store URL and the API password to the blank spaces.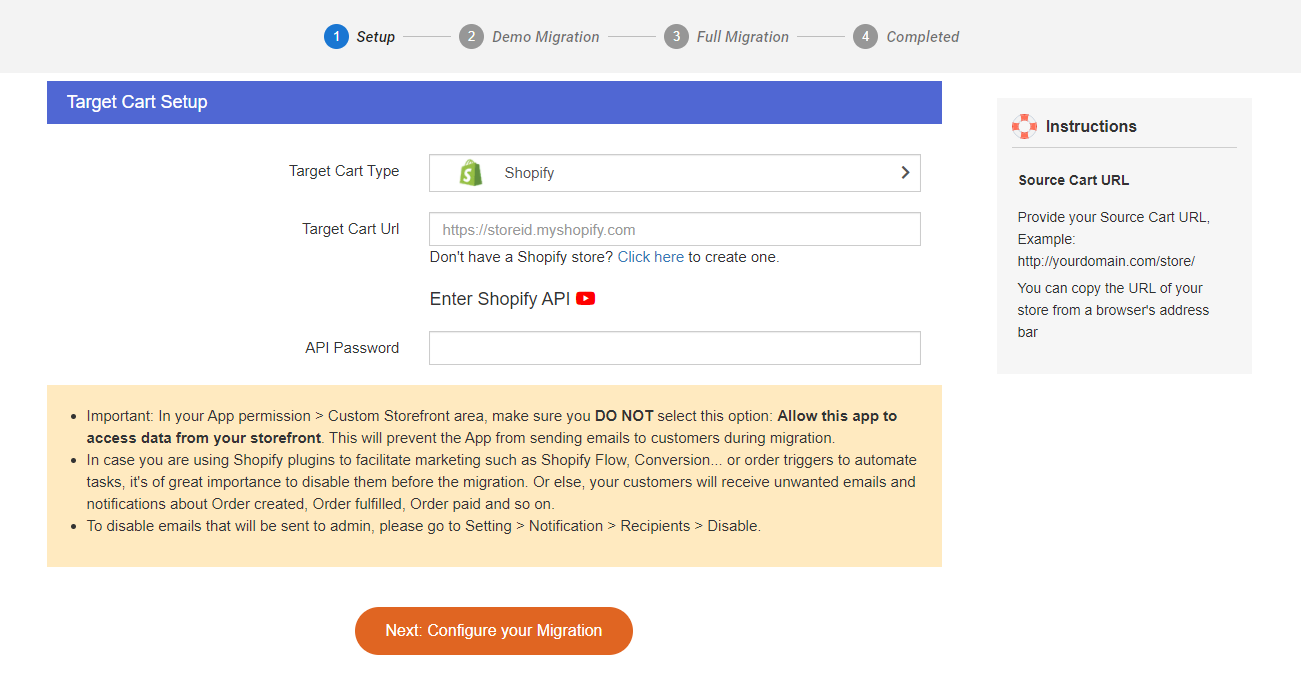 In case you don't know how to get an API password from your Shopify store, you can follow the instructions of this video.
Now you are ready to click "Next" and proceed to the next stage of the migration process.
Step 2. Configure Migration
This is where you choose the entities that you want to migrate from WooCommerce to Shopify. LitExtension supports migrating products, customers, pages, blog posts, and coupons in this case. You can choose to migrate only a few or click "Select all" to migrate all of them.
To help you extend your possibilities, LitExtension also offers some additional options such as Clear current data on Target Store before Migration or Create the 301 redirects on your Target Store after migration. The former option allows you to delete all the existing data that you have chosen above on your Target Store (if you have any). The data duplication risk can therefore be avoided. 301 redirect is a procedure of pointing URLs from one site to another. In other words, when your customers click on the links of your old WooCommerce website, they will be redirected immediately to the corresponding page on your new Shopify store.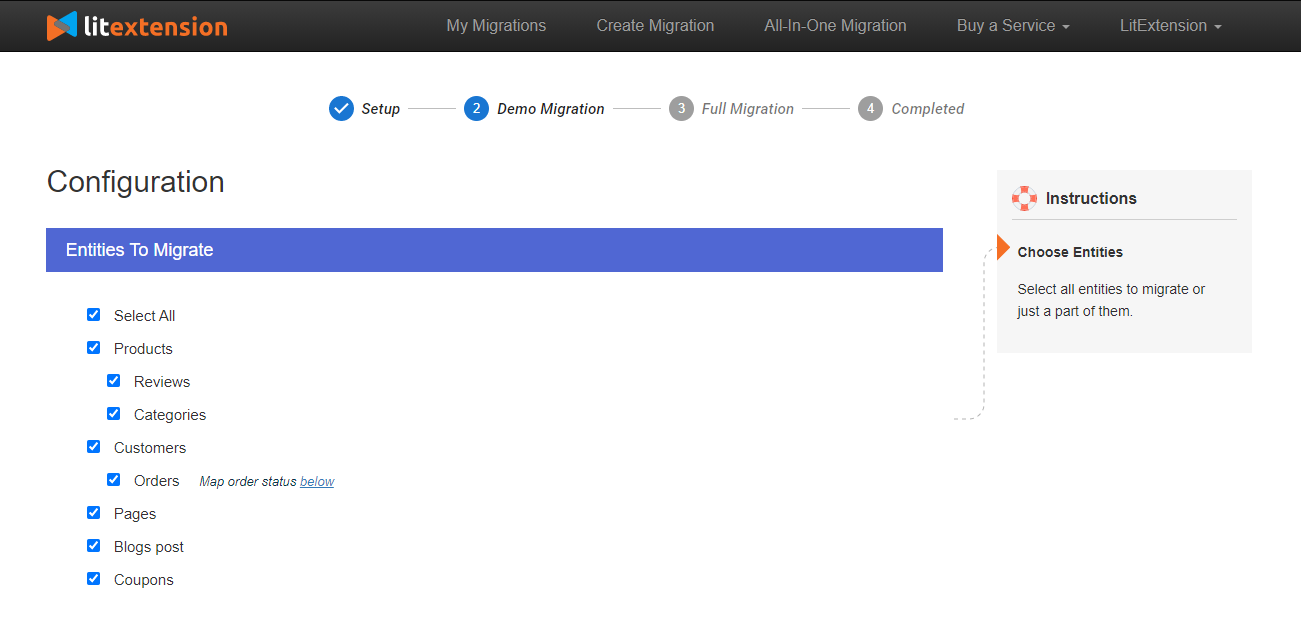 Don't forget to map your order status and language so that they will be displayed correspondingly on the Shopify site.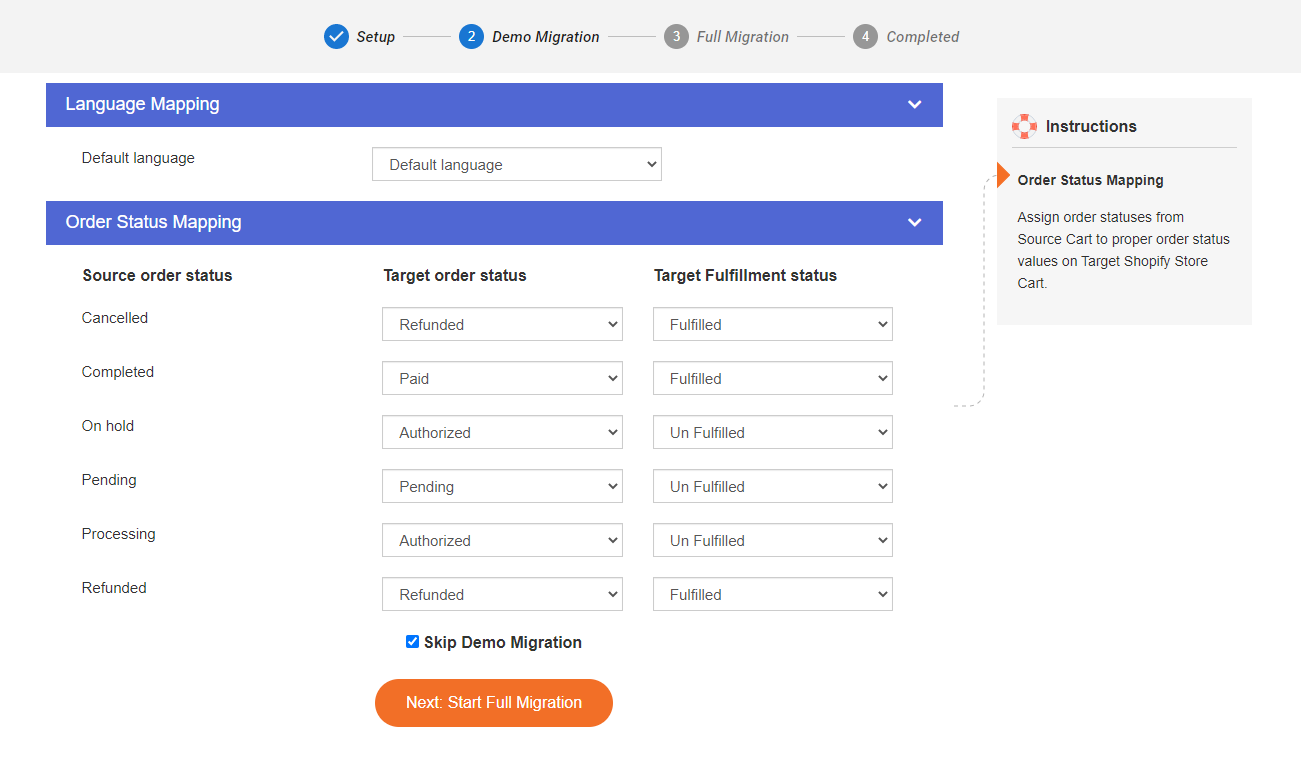 Step 3. Perform Migration
Now you are ready to run the migration. We highly recommend you run the FREE DEMO first to see how the process will be carried out by LitExtension. After that, you will receive $5 and later you can use it as a discount when running Full Migration.
Once begins, it will run seamlessly on the server. Therefore, there's no need to keep your PC on while the data is being transferred. It is completely safe to turn it off! Take a break, have a cup of coffee and your email will receive a notification when the process is completed.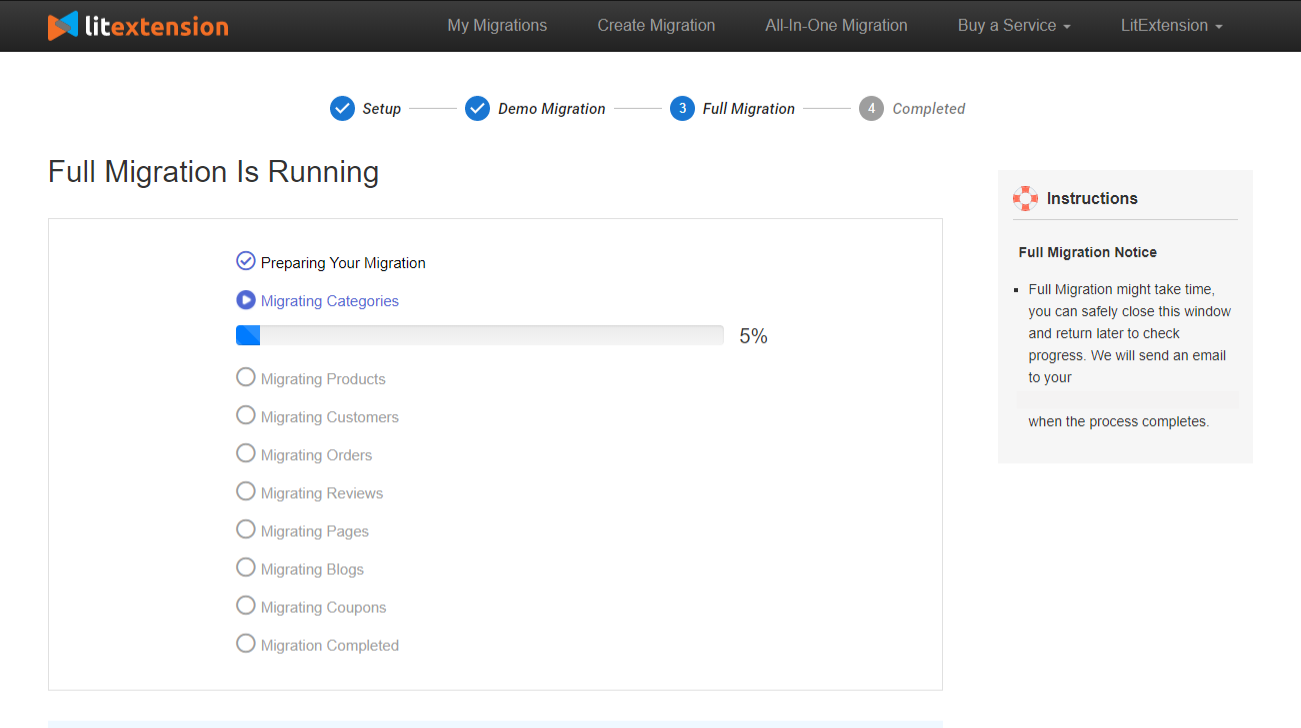 You may have a number of extensions that you installed on your WooCommerce site to support your business and you don't want to lose these extended functionalities. In order to achieve that, you need to find and install the Shopify apps which have similar purposes as those in your WooCommerce store. After that, LitExtension will help you migrate data from the WooCommerce extensions into the corresponding in Shopify.
During the whole process, LitExtension still keeps your old WooCommerce store running normally. Accordingly, you will still receive new orders and customers as usual while being busy decorating your new home. This is when our recent data migration, smart update and remigration services come in handy.
Recent data migration allows you to transfer all the newly appearing entities to your new store.
Smart update updates changes that you have made to data in old store along with all the newly appearing entities.
Remigration service enables you to migrate your data all over again.
All these three options are FREE under the condition that you have performed full migration with LitExtension within 3 months before and the total additional entities is less than 10% the total number of entities in the first migration.
For further details on how each activity should be performed, check out this article!
So, don't hesitate to move to Shopify with LitExtension since the process is easy peasy! If you aren't tech-savvy, leave your WooCommerce to Shopify migration in good hands with our All-in-One Migration Package. Our Shopify migration experts will lift the weight of manual tasks off your shoulder and handle the transfer at a committed response time, with a personal assistant and free additional options.
We are happy to help, so reach out to one of our agents if you run into any hiccups during your stay!
---
Why Should You Migrate to Shopify?
Shopify is an eCommerce platform that provides businesses with robust features to create and manage online stores. What is the extent of Shopify's popularity? Up to now, Shopify, the provider of this eCommerce platform, has enabled over 4 million websites worldwide.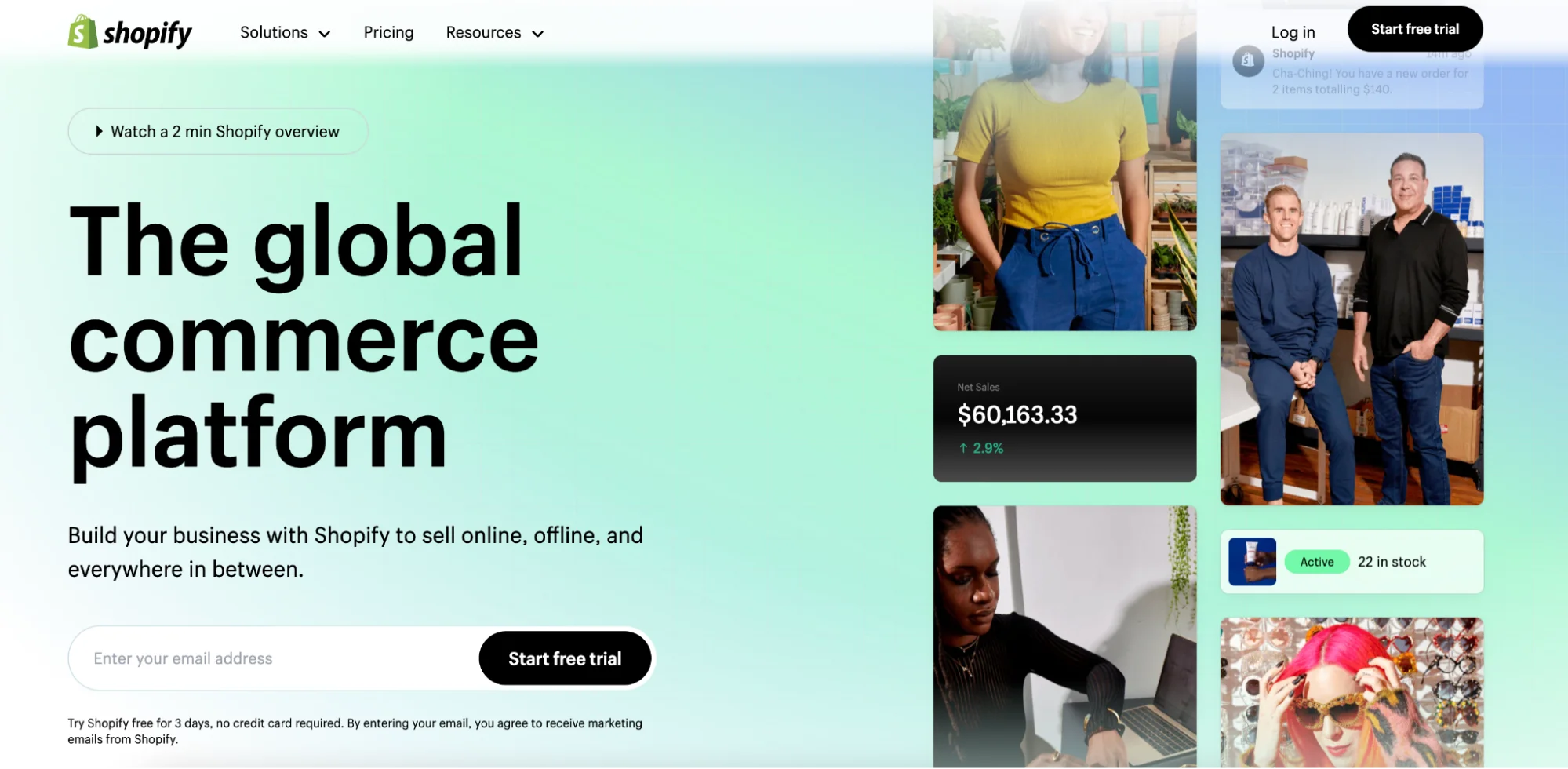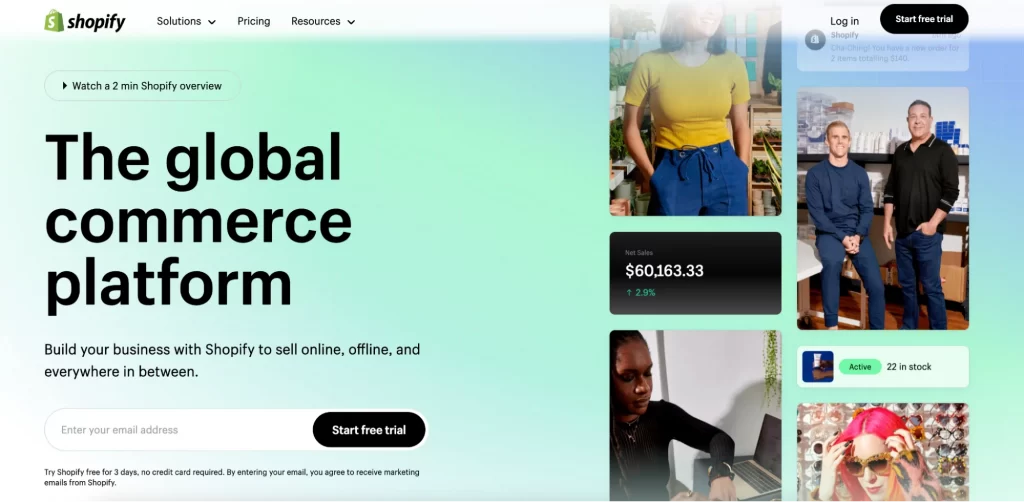 Migration to Shopify refers to transferring an existing online store or website from a different platform to Shopify. It involves moving all the essential data from the current platform to Shopify, including products, customers, orders, and other relevant information. 
If you are considering migrating to Shopify, here are six challenges that may validate the decision.
1. You cannot handle the technical complexity of WooCommerce
The nature of open-source solutions requires technical expertise to configure and maintain your online store. As time goes by, there will involve more managing servers, databases, security patches, and updates. 
On the other hand, Shopify is a hosted platform, meaning it takes care of the technical aspects, allowing you to focus more on your business than the infrastructure.
Even more, if you want to access exclusive features within a simple dashboard, you should not miss Shopify Plus! Perform the Shopify Plus migration and unlock all premier functions to scale your business now!
2. You need a more user-friendly interface to manage the store
Shopify has a user-friendly interface for non-technical users to customize their online store. You can create pages, add products, and manage content without extensive coding knowledge. This simplicity can save time and effort, especially for small businesses or entrepreneurs with limited resources.
3. You need security and reliability
When considering Shopify store migration, you have a great concern for security. Don't worry! 


Shopify handles security, updates, and backups, protecting your store against vulnerabilities and data loss. Its compliance with PCI DSS requirements and its use of SSL encryption. 
As a hosted solution, Shopify has dedicated teams working on infrastructure and security, alleviating the burden of maintaining a secure environment on your own. This reliability helps you focus on growing your business without worrying about technical issues.
4. You want to create a more mobile-optimized experience
With the increasing use of mobile devices for online shopping, having a mobile-optimized store is crucial. Shopify provides responsive themes that adapt to different screen sizes, ensuring customers a seamless shopping experience on smartphones, PCs, and tablets. 
5. You need a better support community and documents
Shopify has gained widespread acclaim for its exceptional customer support services. Notably, you can avail yourself of round-the-clock assistance from their support team through various channels such as live chat, email, or phone. 
In addition, Shopify boasts an active and engaged community of merchants and experts who are readily available to offer guidance, advice, and solutions for everyday challenges. This supportive network ensures that you have a reliable source of assistance to rely on. 


Moreover, Shopify provides its own comprehensive learning center called Shopify Learn. This resource equips you with all the necessary knowledge and guidance to build your business on the platform, covering everything from setting up your store from scratch to effectively marketing and promoting your business to drive sales and revenue.
---
What to Consider Before Migrating to Shopify? 
Before moving to Shopify, there are several factors you should pay attention to in this Shopify migration checklist:
1. Identify how Shopify fits your customization need
Review Shopify's available themes, templates, and customization options to determine if they align with your brand identity and desired store layout. Assess whether the platform allows you to modify the design, code, and functionality per your requirements.
2. Review data to Shopify before migration
Understanding the peculiarity of 2 different eCommerce platforms may be challenging. 
To perform the migration process yourself, you must assess the feasibility and complexity of migrating your data to Shopify. Basically, before migration, here's what you need to get involved:
Identify data to be migrated
Clean up your data
Export data from your current platform
Map data fields
Review data integrity
Suppose that you want to transfer orders to Shopify; using Shopify import orders CSV files are great options. When you use the Transporter app Shopify, it is required that your CSV files contain, at a minimum, the name of the object type and utilize UTF-8 encoding.
So, ensure you understand the process and any potential challenges involved. And as you may see, it's a relatively tricky task. LitExtension highly recommends you consider a Shopify migration agency or app. 
3. Consider integration requirements
Evaluate your integration needs with third-party systems such as inventory management, CRM, shipping, and accounting software. Check if the necessary integrations are available through Shopify's app ecosystem or if custom development is required. Evaluate the compatibility of existing integrations and the ease of setting up new ones.
However, what we said above may be daunting since it's hard to understand the differences between two extinct platforms fully. Therefore, we recommend hiring Shopify migration services.
4. Examine SEO & Marketing possibilities
If your business's search engine optimization (SEO) is essential, you should evaluate Shopify's built-in SEO features before Shopify SEO migration.
Besides, with marketing features, carefully examine Shopify marketing tools and analytics capabilities. Ensure the platform provides the necessary functionality for optimizing your online store, managing promotions, and tracking campaign performance.
5. Consider scalability & store growth in the future
Before Shopify data transfer, you must evaluate your long-term growth plans and evaluate if Shopify can scale with your business. Besides, assessing the platform's performance, infrastructure, and ability to handle increasing traffic and sales volumes is also essential.
You can also look for success stories and case studies of businesses similar to yours that have grown successfully on Shopify.  
6. Consider ways to perform migration to Shopify
Of course, you have this question: "How to migrate website to Shopify?". Basically, there're 3 main ways to migrate your data to Shopify. 
Manually migrate, and you transfer data to Shopify yourself.
Hire a Shopify expert/developer; a third person will handle your data.
Use an automated Shopify migration service, LitExtension, for example, and your data will be transferred to Shopify without interference from third parties.
If you go for LitExtension, you will know how to automate data transfer for Shopify import products, orders, or other entities. 
7. Consider cost implications of moving to Shopify
The cost will vary depending on the number of data (for example, products or orders) you have in your store. The more data you have, the higher the cost to Shopify you will encounter. 
Refer to our migration cost below for moving your store from WooCommerce to Shopify!
---
What Is the Cost of WooCommerce to Shopify Migration?
When using LitExtension, there will be 2 options for you to choose from:
1. Basic package starts at $79. If you opt for additional options, you will enjoy some free options, including: 
Clear Data On Target Store Before Migration
Create Product Variants Based on Combinations of Options
Migrate Images from Products, Categories and Blog Post Descriptions and many more. 
However, if you want "Preserve Product, Order, Customer IDs on Target Store" option, you must pay $39.
2. All-in-One package starts at $139. With this package, all additional options will be free.
So, how long does migration for Shopify take if you go for LitExtension? The duration of the process can fluctuate based on the amount of data and the level of complexity associated with it.
---
Tips to Optimize Shopify Store After Migration
After migrating to a new Shopify store with LitExtension, we have some tips to help you get started and make the most of the platform:
1. Customize Shopify storefront
Take the time to review your store's design, layout, and branding. Customize the theme to match your brand identity and ensure a visually appealing and professional storefront. 
Haven't you got your desired Shopify theme? Please refer to these 30 best Shopify themes for your online store.
2. Organize products & Set up payment & shipping on Shopify
At this phase, you can use Shopify's product organization features like collections, tags, and categories to enhance product navigation.
Configure your payment gateways, such as Shopify Payments or other third-party providers like PayPal, to offer a seamless checkout experience for your customers. Set up shipping options and rates that align with your business requirements.
3. Optimize SEO (Search Engine Optimization)
Implement SEO best practices to improve your store's visibility in search engine results. Optimize product titles, descriptions, meta tags, and URLs to make them search engine friendly.
4. Install apps and integrations
Explore the Shopify App Store and choose apps that enhance your store's functionality. Whether it's marketing features, customer support solutions, or inventory management systems, leverage the available apps to optimize your operations.
Here is the list of best Shopify apps you should have on your new Shopify store: 15+ best Shopify apps for any type of website.
5. Set up store analytics & tracking
Shopify has its own built-in analytics – Shopify Analytics. However, you can install analytics tools like Google Analytics to track website traffic from other sources, customer behavior, and conversions. Monitor key metrics to gain insights into your store's performance and make data-driven decisions.
6. Implement marketing strategies
Marketing is a must for any online store. You should develop a marketing plan to drive traffic and generate sales. To attract and retain customers, you can utilize Shopify's built-in marketing tools like discount codes, abandoned cart recovery, and email marketing integrations.