Magento is a robust open-source platform currently trusted by thousands of worldwide merchants. That said, no eCommerce platform is genuinely perfect for everyone. If you feel that Magento can no longer fulfill your business requirements, it's time to take the next step and check out some Magento alternatives.
So, what are the best Magento alternatives currently available on the market? And what could make an ideal Magento alternative for your online store? Let's go through the following key points and find out!
Read on and check them out!
Need Help Migrating Your Store?
LitExtension provides a well-optimized Cart to Cart migration service that will help you transfer all your data accurately, painlessly with utmost security.
---
What is Magento?
Magento eCommerce at a glance
Magento (or Adobe Commerce) is an open-source platform owned and developed by Adobe. With a strong reputation for its powerful scalability, high customizability, and robust built-in features, this eCommerce platform is now powering over 140,000 online stores (Source: BuiltWith). Many large enterprises and industry giants, such as Coca-Cola or T-Mobile, have put their trust in Magento to help them serve millions of buyers every day.
Magento has provided its users with multiple versions and service updates since its release in 2007. As of November 2022, Magento has become Adobe Commerce. By that, the platform offers users even more powerful eCommerce functions and designs.
Currently, Magento offers the following eCommerce solutions:
Magento Open Source: The free version of Magento that offers basic yet essential tools for small businesses to create and manage a thriving digital storefront. With this eCommerce solution, merchants can freely customize the storefront, and add various functionalities. What's more, they can download Magento extensions to power up their stores.
Adobe Commerce Pro and Adobe Managed Service: These paid versions of Magento offer advanced features that every big to enterprise-level business would need. These are better performance, high security, and enhanced scalability. 
Magento Pros and Cons
Known as one of the most robust open-source platforms, Magento provides extreme flexibility and limitless customization. You can modify source code, personalize the look of your store, or twist and turn the functionality exactly however you want. 
This eCommerce solution also makes it straightforward to integrate a third-party extension to enhance the capabilities of your online business. What's more, Magento comes with optimal scalability. Whether you want to start small with a few products or offer up to 1,000,000 SKUs, the platform can handle it effortlessly without any major performance tuning. 
That said, utilizing an open-source platform like Magento will necessitate a steep learning curve. Unless you have technical expertise, you may have to spend a lot on developing and maintaining your online store. Moreover, there will be incurred costs along the way you run your business, which you may not have considered previously.
Take a look at the comprehensive picture below, or access our thorough Magento reviews for detailed information.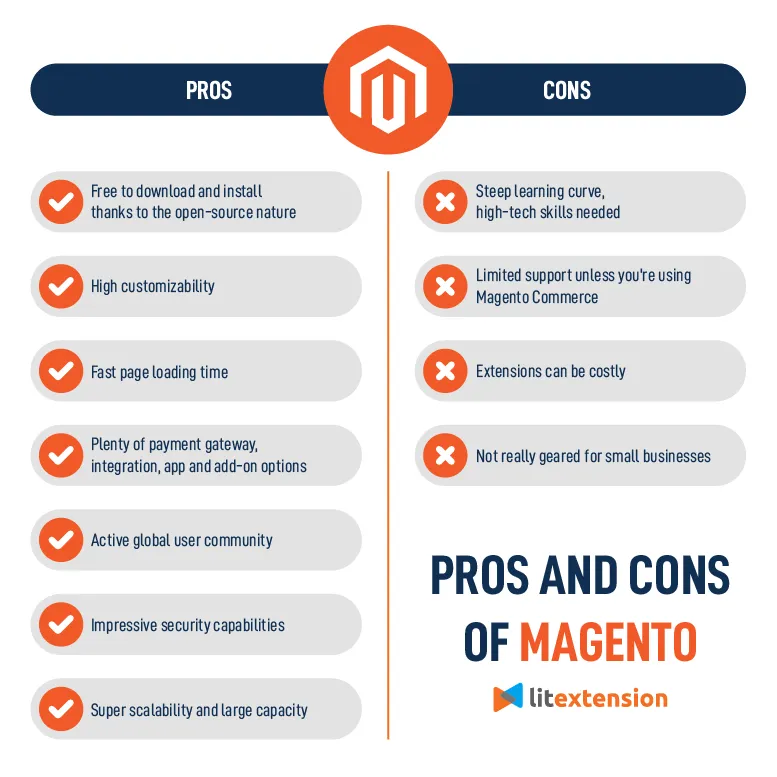 ---
Why Look For Magento Alternatives?
You probably know why you are dissatisfied with Magento. That's the reason you are here and seeking the best Magento alternatives. But are there any problems with Magento that you haven't encountered yet? Let's find out! 
Huge maintenance cost
First and foremost, it's visible that the platform is more expensive than most of Magento eCommerce competitors. 
Although Magento Open Source is free to download, you'll be responsible for any development fees to get your store up and running. There's also a long list of costs for separate hosting servers, eCommerce security, and design. What's more, its open-source nature calls for extensive technical expertise, as well as a thorough understanding of the software. What if you are not familiar with any of these? Hiring an experienced developer can be more expensive than the monthly subscription fee of a hosted eCommerce solution. 
If you opt to go with the paid versions, the product you choose will determine how much money you must pay for the license. The prices may vary based on the size and complexity of your business. Nevertheless, our experience suggests that Adobe Commerce would cost from $22,000 to $125,000 each year. For individuals new to the field, starting with Magento alternatives is a better idea. 
Longer development time
While high customizability is a massive advantage of Magento, it could be troublesome if you do not have a technical background. You'll have to keep all integrations running properly and data flowing smoothly when it comes to complex adjustments. If you are not confident with your comprehension of the platform's sophisticated infrastructure, you'd better employ an experienced development team.  
Constant update requirement 
Adobe Commerce releases updates on a regular basis to improve performance and security, as well as to introduce new features. It happens every 2-3 months, which is labor-intensive and time-consuming for merchants to keep up with. If you are one or more versions behind the latest release, you are exposed to unnecessary risks. 
---
Types of Magento Alternatives
It's worth noting that there are two types of Magento alternatives: 
Hosted eCommerce platforms 
Open-source solutions. 
Knowing exactly what they are will help you a lot in finding suitable Magento eCommerce alternatives for your business.
Hosted platforms are the all-in-one eCommerce solution that allows merchants to build up an online store without worrying about any infrastructure-related hassles. There will be flat-fee subscription plans for merchants to choose from based on their specific needs for added features. 
Meanwhile, open-source platforms are eCommerce website builders that grant you limitless access to the source code. They also allow you to customize it to the heart's content. Plus, these platforms are free to download, but you will be responsible for hosting, security, and maintenance fees. 
Now that you know the many forms of Magento alternatives. Let's get right into the nitty gritty when we discuss each platform in detail. By that, you can leave Magento knowing that you have chosen the best option for your needs. 
---
Best Alternatives to Magento: Top Hosted eCommerce Solutions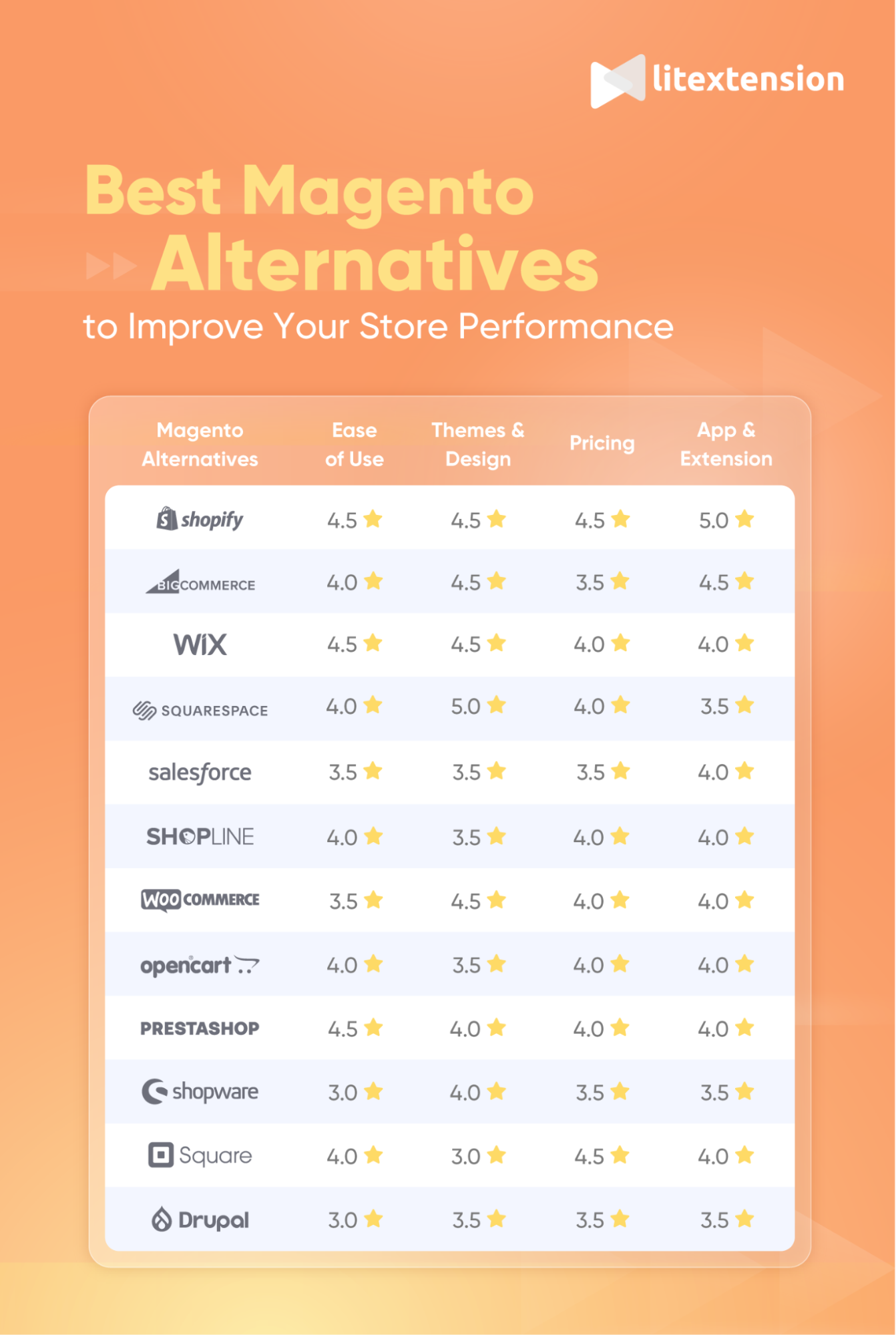 #1. Shopify
Shopify Overview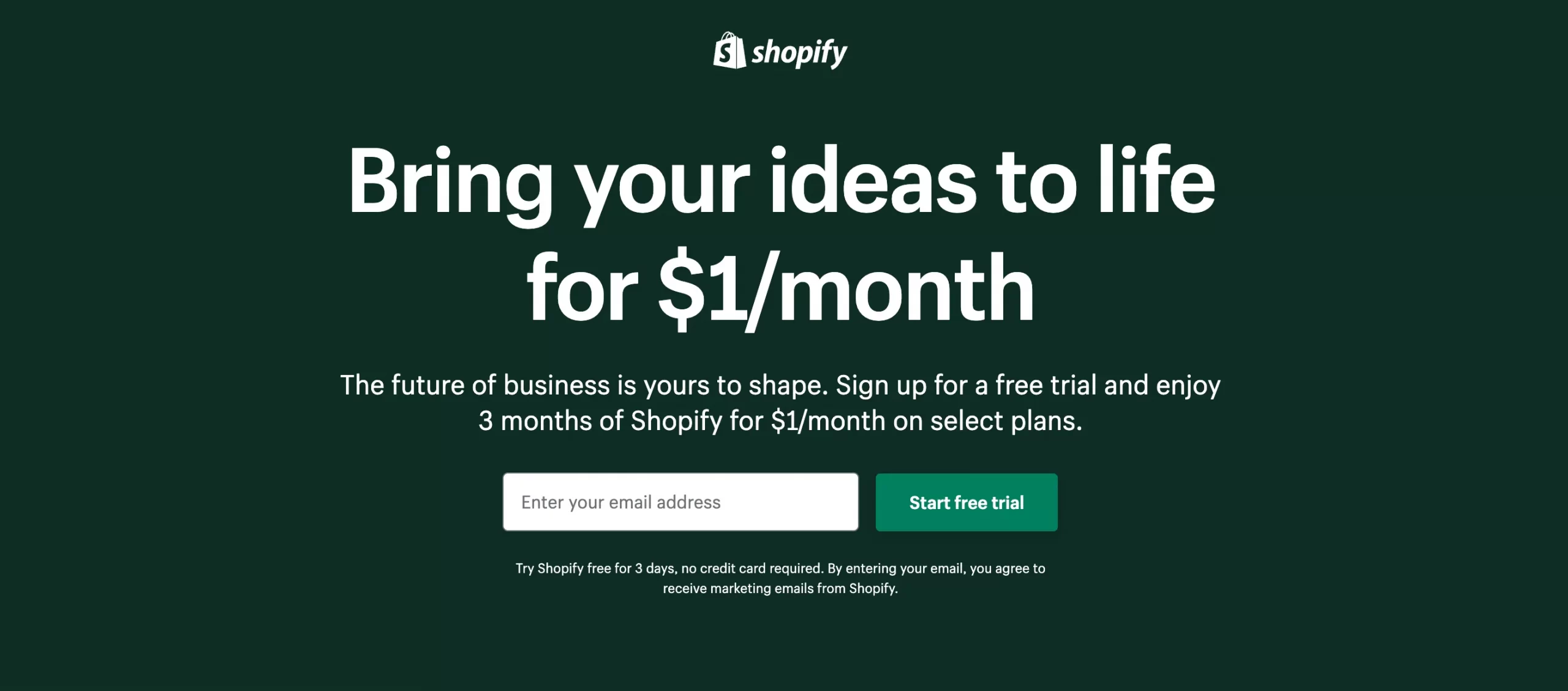 The first Magento alternative we will be going through is Shopify. With a user-friendly interface and high flexibility, this Magento competitor has topped the list of the largest eCommerce platforms and currently powers over 4.7 million eCommerce stores worldwide (Source: BuiltWith).
Shopify makes it straightforward for any merchant to create the online store of their dream. There's a 3-day free trial for everyone to get a feel of the platform's hosted nature. If you are still undecided, you can pay $1 per month for the next 3 months to try out more features before taking the plunge. 
Why Shopify is a great Magento alternative
Shopify is one of the top Magento eCommerce alternatives for numerous reasons. 
The hosted nature makes Shopify a beginner-friendly option for every online merchant. There's no need to be concerned about hosting, security, regular updates, or the platform's complex infrastructure. Plus, you can easily find and install a template from Shopify's intensive theme store. Shopify App Store, the biggest app store on the market, features 8,000+ apps that can be used to improve the functionality of your online store after just a few clicks. 
What's more, you can get all of the above features just by paying a reasonable fee to the platform, ranging from $39 per month. You can even save 25% more with the annual subscription. 
Seeking Seamless Migration Service?
If you intend to migrate from Magento to Shopify, LitExtension offers a great migration service that helps you transfer your data from the current eCommerce platform to a new one accurately, and painlessly with utmost security.
Who is it for?
With Shopify, setting up and maintaining your online store is much simpler. The cause is that it doesn't require as much technical knowledge as when using Magento. Therefore, Shopify is an ideal Magento alternative for both eCommerce beginners and large businesses.
Adding to that, Shopify allows you to sell almost anything, from physical and digital products to virtual and in-person services. Hence, if you are going to sell digital products, this Magento competitor may be one of the best alternatives to Magento.
Eager to learn more about Shopify but don't know where to put your feet? Browse our thorough Shopify review for more information.
#2. BigCommerce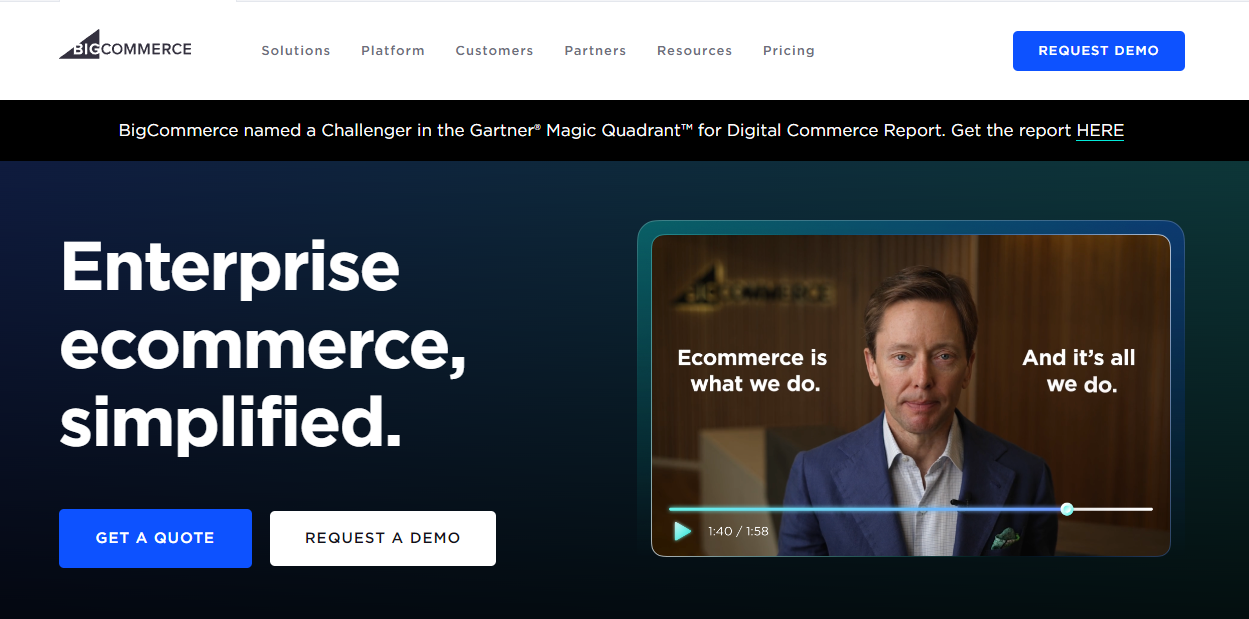 BigCommerce Overview
The next Magento alternative we will look at is BigCommerce, another well-known hosted eCommerce platform. Up to this point, roughly 45,000 online stores are thriving thanks to the help of BigCommerce (Source: BuiltWith).
Since its targeted customers are mostly large corporations and business-to-business (B2B) companies, scalability is one of BigCommerce's most prominent features. While the huge app store might be the significant advantage of Shopify over Magento, BigCommerce comes with numerous built-in features and data-reporting capabilities. What's more, the platform offers beautiful site templates and reliable uptime, making it an ideal Magento B2B alternative. 
• Setup tutorial is available

• Customization can be complex for beginners.

• 200+ responsive themes to choose from

• 12 free themes are provided

• Style Editor - easily customize any theme.

• Good website speed & powerful SEO functions

• Great range of necessary marketing tools.

• Multiple payment gateways

• BigCommerce POS: allow selling at brick-and-mortar stores

• Allow refund payments to customers.

• Starting from $39/month, an extra fee if surpasses the earnings threshold for each plan

• 15-day free trial

• No free plan.

• More than 900 apps covering multiple sales and design functions.

• Mobile app available for sellers.
Why BigCommerce is a great Magento alternative
Just like Magento, BigCommerce grants you the full ability to customize online stores to your desire. It's all thanks to the Style Editor function. Not only that, BigCommerce offers an impressive array of ready-made templates at varying rates for you to choose from. This makes it much easier for you to personalize store design without sophisticated coding. 
What's more, this Magento competitor may surprise you with over 900 apps across multiple categories to help streamline your business. Compared to Magento – which also serves a similar customer segment of big businesses, BigCommerce takes pride in its value for money and simplicity of scaling.
If you still hesitate about your Magento to BigCommerce migration, click here for a detailed comparison of the two platforms.
Who is it for?
With all of the above, BigCommerce definitely makes an excellent Magento B2B alternative. If you own a large business and are debating between Magento vs BigCommerce, the latter can save you thousands of dollars with the same features offered.
#3. Wix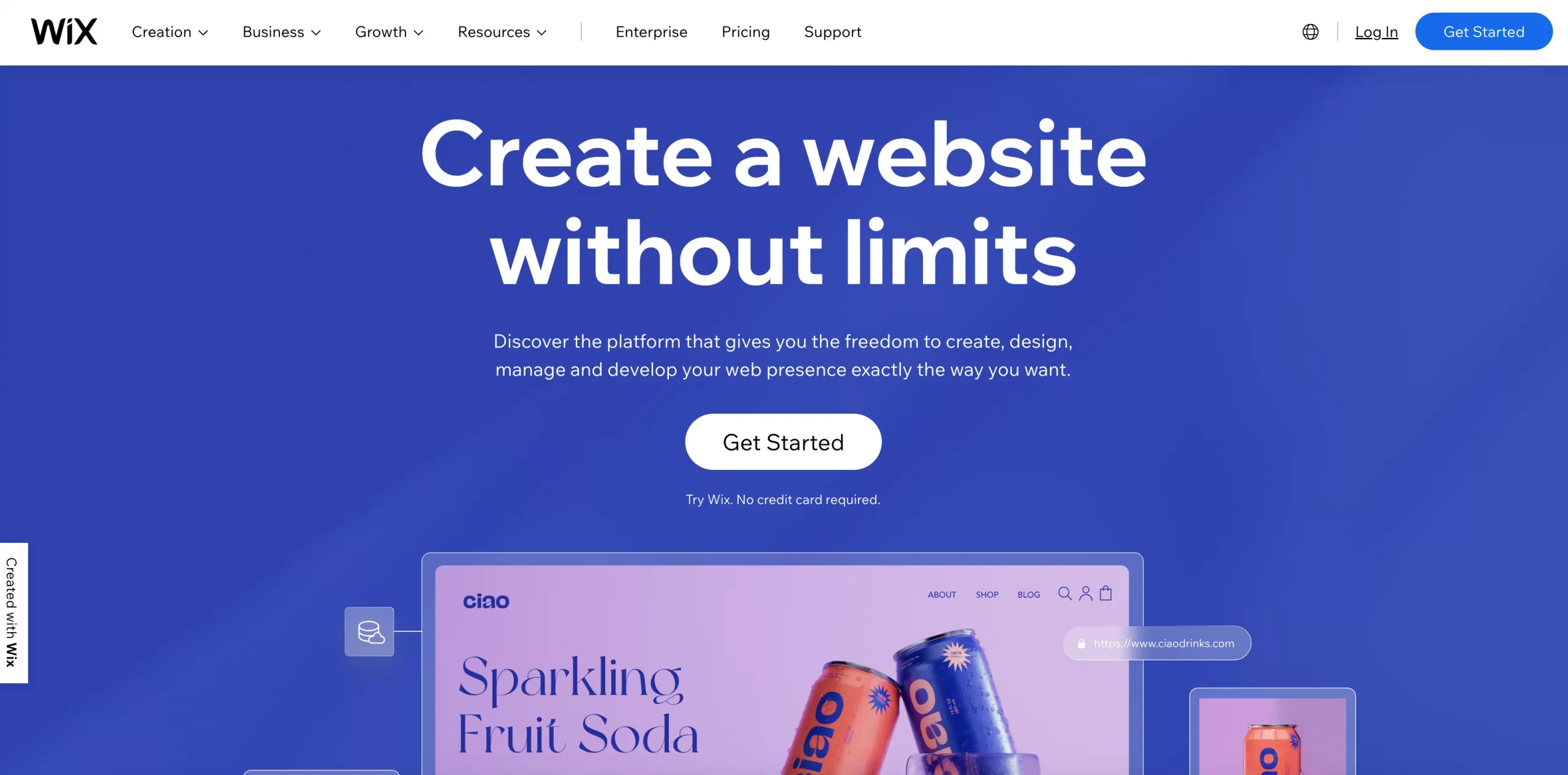 Among the list of Magento-hosted-platform alternatives, Wix is a website builder that many online-selling beginners highly trust. As of November 2023, this eCommerce platform has helped about 3 million online stores to thrive (Source: BuiltWith).
Wix comes with a useful drag-and-drop design feature as well as a large number of website templates. With Wix, you can customize almost anything, from web applications to page scrolling. Hence, it's straightforward to set up a stunning Wix store without any technical knowledge. 
• Straightforward setup process, suitable for beginners

• Over 800 templates

• Wix Editor: real-time web editor that lets you freely customize your store's visual

• Wix ADI: automatic design tools that quickly set up your store by asking you a set of questions

• Good range of built-in SEO and marketing functions

• Let customers purchase memberships, subscriptions, and packages.

• Starting from $32/month for Wix Business & eCommerce

• Free plan available

• Only over 250 add-on options

• A lot of apps are free or very reasonably priced
Why Wix is a great Magento alternative
Wix is an eCommerce solution truly developed with new online merchants in mind. In addition to its general site-building tools, Wix also provides solutions for different types of business, including photography, video, and services. With these business-specific feature suggestions, Wix has the advantage over Magento in terms of beginner friendliness. To no surprise, many Magento users choose to migrate to Wix. 
Rather than a dedicated eCommerce platform like Shopify or BigCommerce, this Magento alternative allows you to add eCommerce capabilities to any existing website using the Wix Stores feature. You can do it at no additional cost. What's more, you can always extend the ability to accept payments at reasonable prices. Paying $32 per month for Wix Business, you will get premium eCommerce services. Compared to what of Magento, Wix surely deserves a strong win.
Who is it for?
With Wix, you can build beautiful storefronts that function smoothly with almost zero technical expertise. That's why Wix is our top Magento alternative for eCommerce beginners, non-coders, or any online merchant who wants to launch their site in a couple of clicks. 
#4. Squarespace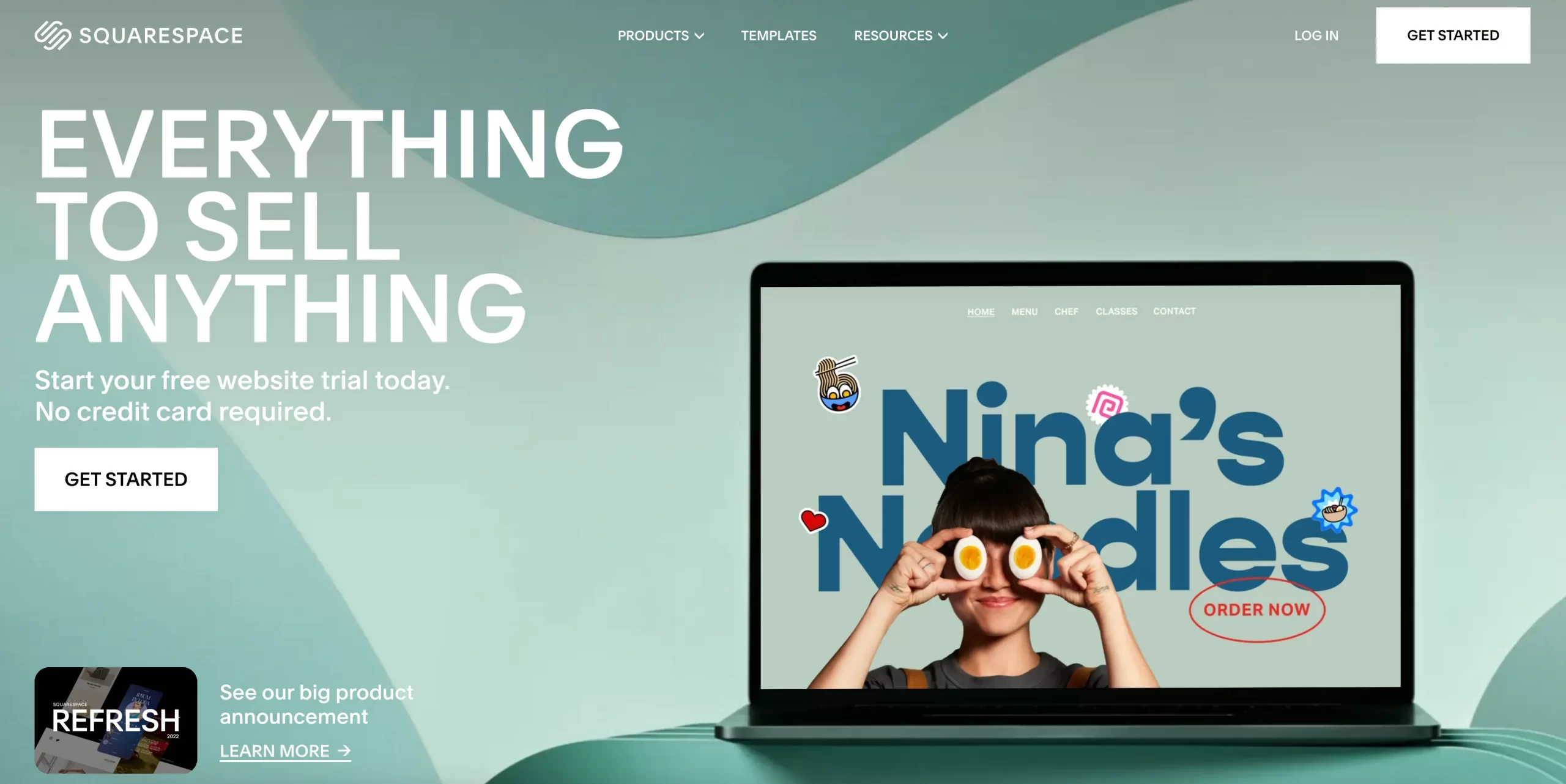 Squarespace Overview
Regarding the best Magento alternatives, it can be a huge mistake if we overlook Squarespace. Known as a useful content management system (CMS), this Magento competitor allows merchants to easily create and manage blogs, portfolio sites, and online storefronts. 
• Easy and convenient to launch a website

• Drag-and-drop design feature might require a longer learning curve

• 100+ professional templates

• Focus on quality over quantity

• Detailed design panel with integrated stock image sources

• Follow SEO best practices and offer a wide range of abilities.

• Limited options for payment methods, including Squarespace Payments.

• Starting from $16/month
• 14-day free trial
• No free plan.

• 31 paid extensions available for limited website functions.
Why Squarespace is a great Magento alternative
In comparison to Magento, Squarespace features a greater selection of appealing and quick-to-apply template options. These templates have been professionally developed to meet the greatest levels of design, usability, performance, and mobile responsiveness. Therefore, for tech-novice online retailers looking to create a sleek and modern website, Squarespace is a better fit than Magento.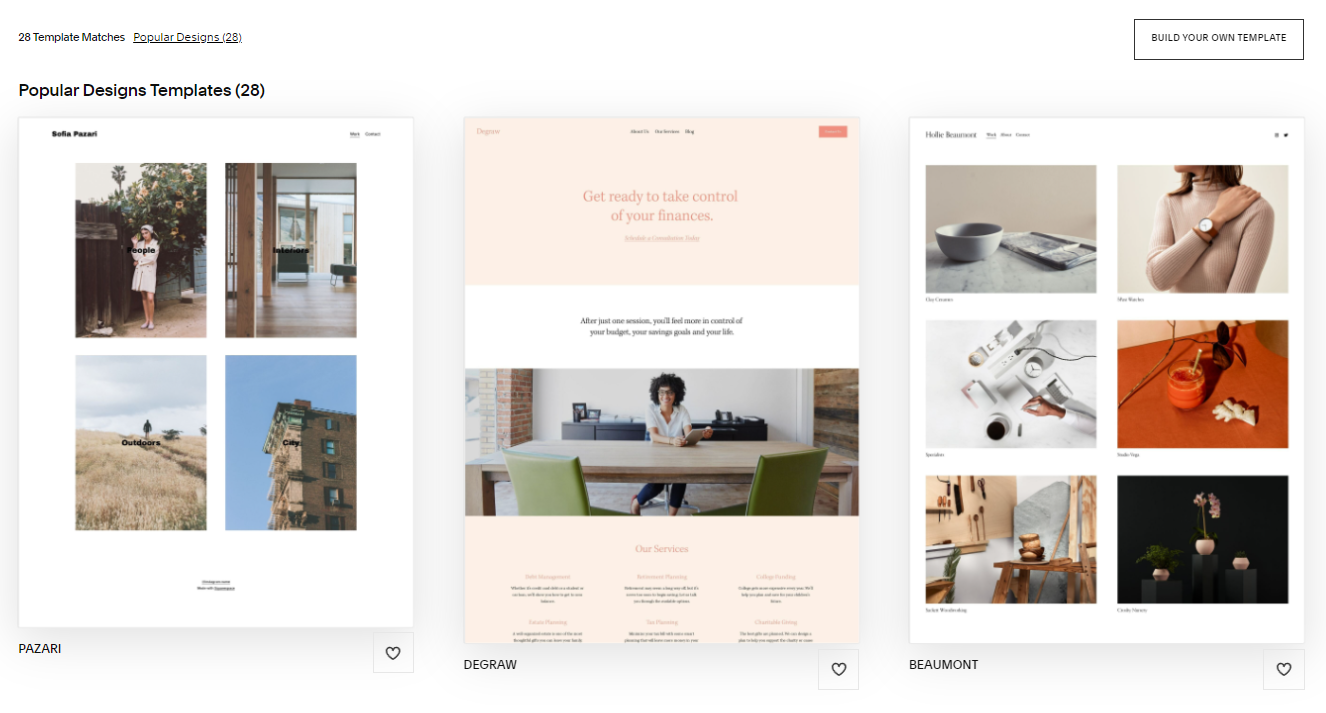 Unlike Magento, which generates lines of code to build a website, Squarespace's drag-and-drop interface will enable businesses of all sizes to create professional websites after just a few clicks. When migrating to Squarespace, you don't have to be worried about keeping up with regular updates or banding your website together once there's anything new. 
Who is it for?
If you are an eCommerce beginner with little to no technical experience yet require a strong visual presentation, we highly recommend you go with Squarespace. This Magento alternative is also great for designing eye-catching restaurant reservation systems and magazine subscription websites.  
#5. Salesforce Commerce Cloud
Salesforce Commerce Cloud Overview
Previously known as Demandware before its 2016 acquisition by Salesforce, Salesforce Commerce Cloud is another hosted eCommerce solution in the Magento alternatives list. For now, there are roughly 48,000 online stores using Salesforce Commerce Cloud services. (Source: BuiltWith).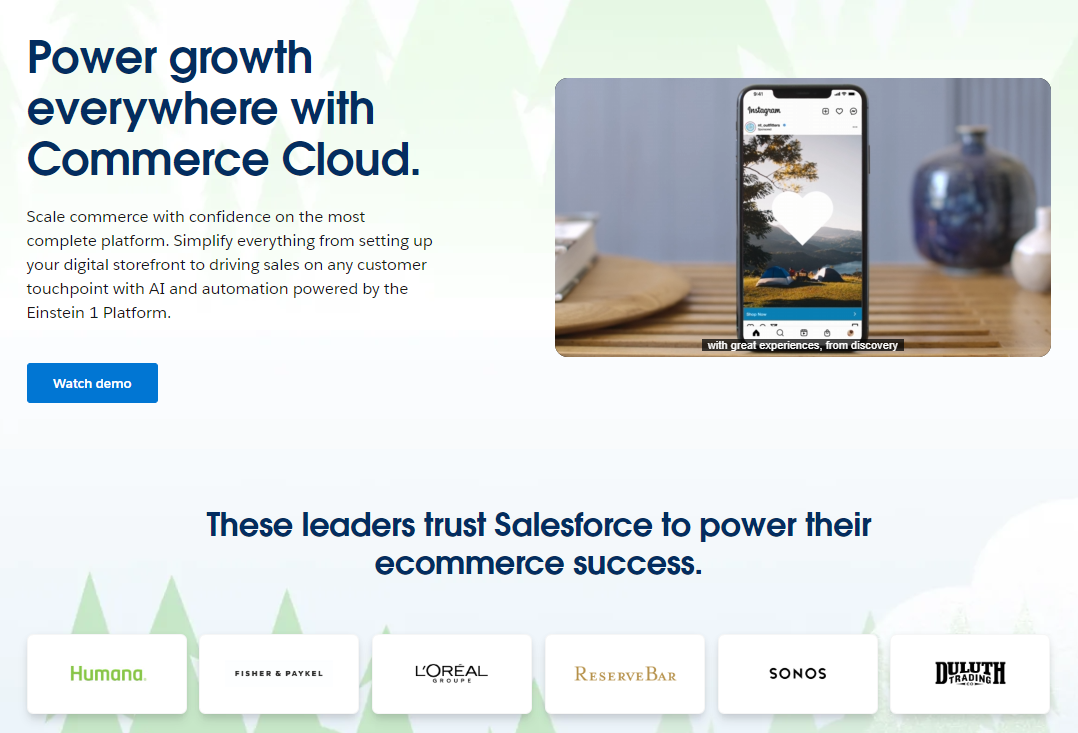 While entering the race a bit later than other Magento competitors, Salesforce Commerce Cloud proves to be a present-day eCommerce solution. It is a cloud-based eCommerce platform featuring numerous out-of-the-box features, helpful tools, and commerce portals to help everyone expand their online businesses. 
The platform simplifies everything, from setting up the online store and driving sales on any customer touchpoint to providing a mobile-friendly shopping experience. These are all made possible by the Einstein 1 Platform's AI and automation. 
Why Salesforce Commerce Cloud is a great Magento alternative
To begin with, creating your online store with Salesforce Commerce Cloud is unchallenging, especially when compared to the complex code lines of Adobe Commerce. This Magento alternative comes packed with hosting. Hence, you don't have to bother about setting up or managing a hosting service, and the platform will be in charge of any maintenance and support your servers may need. It also applies to eCommerce security and patches. You can rest assured that your store and customers will always be in good hands. 
With Salesforce Commerce Cloud, it's possible to connect the customer's entire shopping experience via multiple digital channels. You will get detailed information about each customer's interactions with your brands, which allows you to personalize their journey and offer relevant product recommendations. Everything will be streamlined, from marketing to successful purchase and retention campaigns. 
Who is it for?
Salesforce Commerce Cloud will be an ideal Magento alternative for companies seeking a B2C (business to customer) solution that is easy to set up and maintain. If you need an eCommerce platform with versatile omnichannel features, migrating to Salesforce is not a bad idea.
#6. Square Online 
Square Online Overview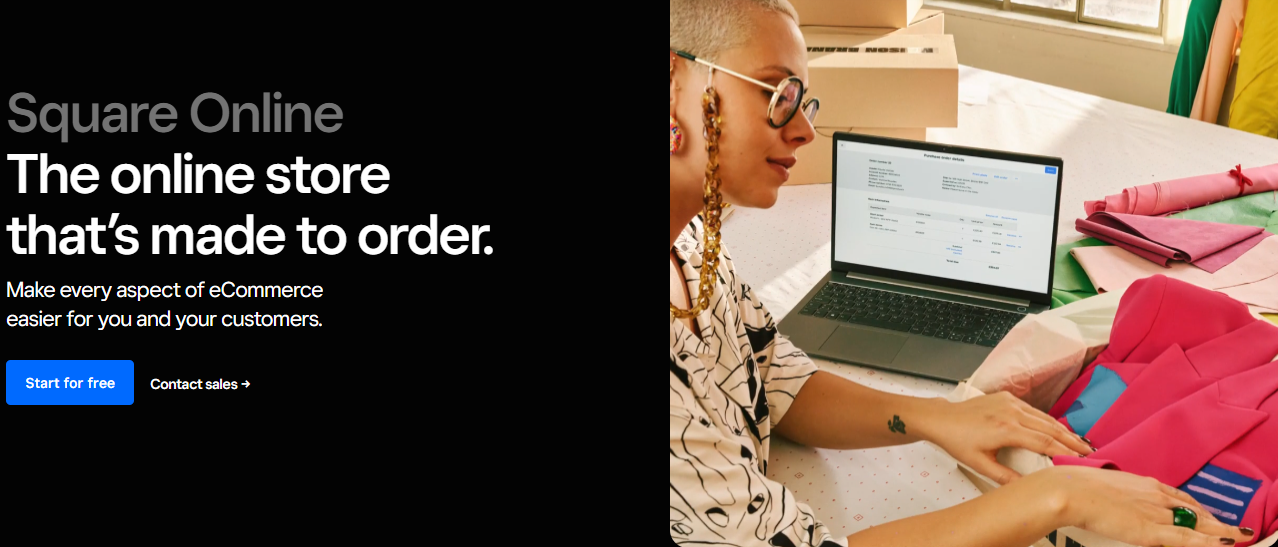 As the result of Square POS acquiring Weebly in 2018, Square Online is an up-and-running eCommerce solution delivering an easy setup process and an intuitive interface. Till now, Square has been a popular choice among small businesses, with over 246,000 online stores powered by the platform (Source: Storeleads).
Why Square Online is a great Magento alternative
Compared to Magento, Square Online is straightforward to start with. If you choose to migrate to Square, the sign-up process only involves a few questions about your business. No technical knowledge is required, and no complex coding lines. All you need to do is type in your answers, and just a few minutes later, you will be given a general layout to start customizing your online store.
With a forever-free plan, Square makes a strong Magento alternative for those who are just starting out or want to test the waters of eCommerce. You will be able to sell without paying any subscription fees, only 2.9% plus 30 cents per transaction, when you use Square's payment gateway. It's also possible to list unlimited products, extend shopping options, and sync with the existing Square POS system.  
Who is it for?
If you own a small business that sells both online and in-person, Square Online is the perfect Magento alternative. It seamlessly integrates with Square POS, allowing you to handle all orders in one single dashboard. 
#7. Shopline
Shopline Overview
Last but not least, Shopline is a promising Magento hosted-eCommerce alternative that powers over 53,000 online stores all over the world (Source: BuiltWith). This platform meets a plethora of business needs, from B2B functionality to live-streaming and dropshipping with AliExpress. What's more, it comes with excellent social media capabilities, allowing you to scale up your business in more ways than one.
Why Shopline is a great Magento alternative
Shopline makes it easy to create and launch an online business without coding know-how. There's an intuitive drag-and-drop website builder that allows you to transform existing Shopline templates into one that gives the feel of your business. The sky's your limit: you are able to choose different fonts, change color schemes, add content, and more. 
Adding to that, Shopline allows you to go live and sell on social media platforms. When migrating to Shopline, you will be able to create custom live streams. Manage your order keywords, highlight products during your live stream, and create polls, all made possible with the help of Shopline. You can also set up prize draws and include checkout reminders to help drive conversions. 
If you plan on multichannel selling, Shopline allows you to synchronize your inventory and product details across various channels, namely Lazada, Shopee, Tokopedia, Tiki, and more. 
Dropshipping is also a significant advantage of Shopline. The platform comes with Shopline Catcher, a special function that helps you find suitable products by analyzing product popularity from sales and advertising perspectives. 
Who is it for?
All in all, Shopline is a simple-to-use Magento alternative that goes along well with small businesses. Online retailers, dropshippers, and some B2B brands will find suitable features that cater to their needs. 
It's worth noting that Shopline supports some of the most popular selling channels in the SEA region. If you are currently based there, Shopline is truly the best Magento alternative for your business. 
---
Best Magento Alternatives: Top Open Source Platforms
#1. WooCommerce
WooCommerce Overview
Similar to Magento, WooCommerce is an open-source eCommerce platform that has earned its reputation as one of the most customizable online store builders. Here and now, there are over 6.4 million WooCommerce stores, making it one of the largest Magento alternatives (Source: BuiltWith).
Being a powerful plugin incorporated in WordPress, WooCommerce inherits almost all the benefits you get when setting up a website on this platform. 
• Need at least some technical knowledge to set up

• Super flexible in terms of customizability

• Over 31,000 high quality themes available

• Offer a professional blogging solution and exceptional SEO functions.

• Zero-transaction-fee option available, and numerous premium payment gateways.

• Mainly consist of domain name ($12/year) and hosting fee ($3-$40/month)

• Can be costly if required heavy customization and maintenance

• Over 55,000 plug-ins to choose from
Why WooCommerce is a great Magento alternative
When measured against Magento, WooCommerce's learning curve is not as steep. The platform comes with a pretty clear control panel that beginners and non-coders wouldn't have to spend much time learning the basics. However, its open-source nature still requires some technical knowledge. These are for setting up the WordPress site and editing the underlying code.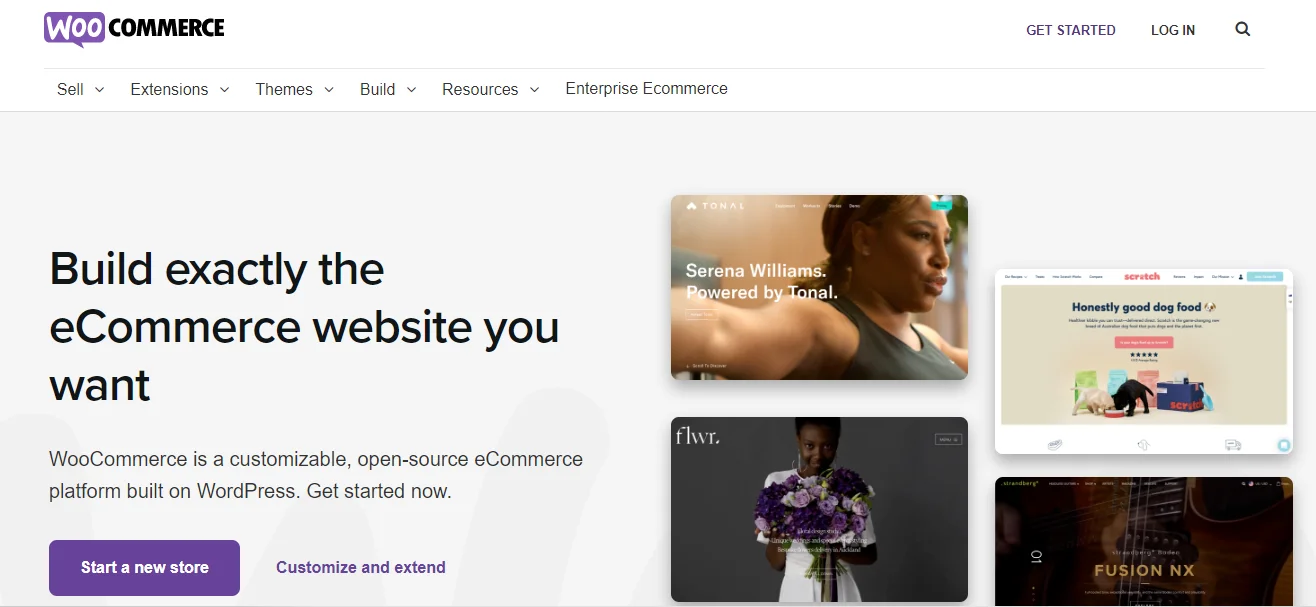 If you migrate your store to WooCommerce, you can enjoy an enormous number of apps and plugins from WordPress. You can get access to many out-of-the-box eCommerce features such as inventory management, analytics, and more. With WordPress' robust SEO capability, it's not hard to see why WooCommerce has become a choice for many merchants who wish to have powerful blogs for their stores.
Who is it for?
WooCommerce is a great alternative for sellers who want an open-source site similar to Magento but is more beginner-friendly and has more pre-built apps.
Want a Seamless Magento to WooCommerce Migration?
LitExtension offers an exceptional migration service that helps you transfer your data from the current eCommerce platform to a new one accurately, and painlessly with utmost security.
#2. OpenCart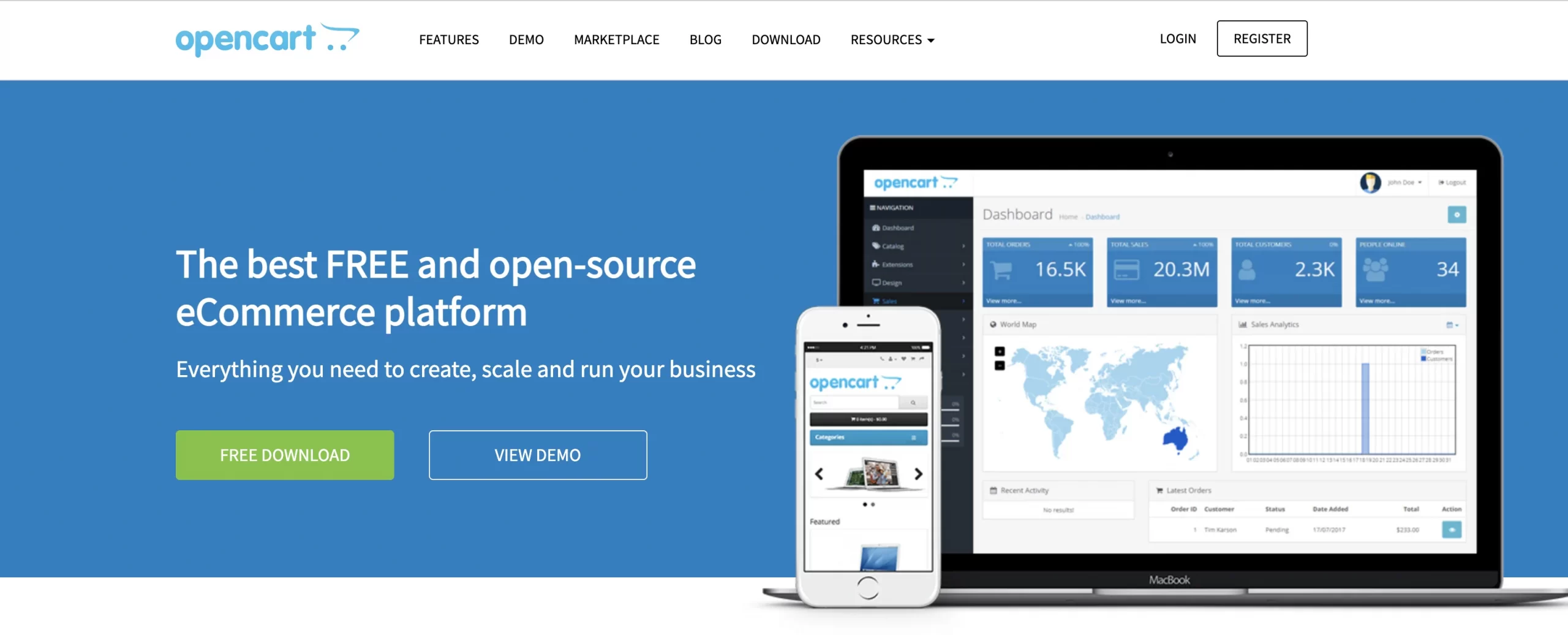 OpenCart Overview
Next on our list of open-source Magento alternatives is OpenCart. This platform offers users flexible website design customization as well as a modern, user-friendly dashboard interface. There is also a wide range of pre-designed themes to choose from, making it even easier for you to set up your store when migrating to OpenCart. 
• Intuitive interface and simple installation process

• Need at least some technical knowledge..

Super flexible in terms of customizability
Over 31,000 high-quality themes are available..

• Offers 500 themes, both free and paid

• Simple editing using OpenCart's Theme Editor.

• 36 payment methods, including charge-free ones.

• Free to use but there are additional fees associated (hosting, domain,...)

• Premium extension cost from $10 to $489 a month.

• Over 13,000 extensions available.
Why OpenCart is a great Magento alternative
Magento requires more advanced technical experience than OpenCart, but it is undoubtedly a more powerful platform. If you have a smaller budget and only wish to operate a moderate online store, OpenCart is a great substitute. This website is undoubtedly more beginner-friendly and cost-effective than Magento.
Who is it for?
OpenCart will make a suitable Magento alternative for newer sellers who want a simple, beginner-friendly online store that can still be customized later on.
#3. PrestaShop
PrestaShop Overview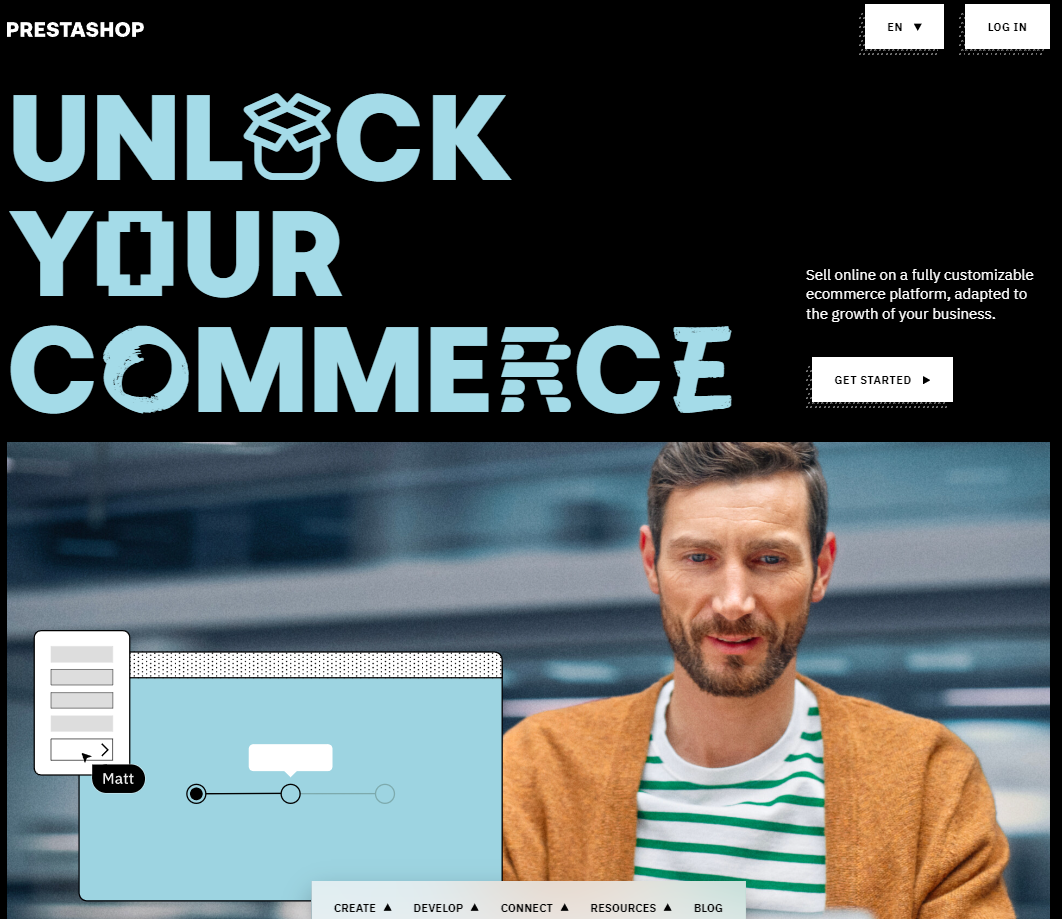 Our next Magento alternative suggestion is PrestaShop, a feature-rich open-source eCommerce solution. Store owners with hardly any technical knowledge can easily handle and maintain their websites on the PrestaShop platform. It is easy to install and comes with a simple back-end interface.
PrestaShop can even enable users with shared-hosting web services and cloud hosting. These are fairly low-budget hosting solutions in comparison with self-hosting. Therefore, generally, PrestaShop requires lower costs to develop and maintain than Magento. 
• Intuitive backend interface and simple installation.

• Easy inventory and order managing.

• More than 2,200 templates and a vast collection of customizable themes divided into 15 categories.

• PrestaShop SEO Audit & other solid SEO functions.

• 250 payment processors to choose from.

• Free to download.

• Hosting: $4 - $14 per month.

• Extensions can cost from $35 to ~$6000.

• Over 4,000 modules to customize your store functions.
Why PrestaShop is a great Magento alternative
Despite being an open-source cart, PrestaShop is easy to install and manage. This platform provides merchants with all of the important features that an online store would require. Plus, there are thousands of add-on modules at your disposal. Moreover, this platform is outstanding in terms of the number of ready-made templates, a pretty worthy reason to migrate to PrestaShop. 
Who is it for?
The open-source nature of PrestaShop allows for customizing flexibility. Therefore, PrestaShop would be an excellent choice for beginners or businesses of small to medium scale that aim at cost-efficiency.
#4. Shopware
Shopware Overview
On the list of best Magento alternatives, Shopware has always been overlooked and underrated despite being around since the first year of the 21st century. Before the release of Shopware 6 brought the platform to the world, the platform had been mainly used in its birth country – Germany. 
As of November 2023, there are over 30,000 online stores thriving with the help of Shopware. To your surprise, Shopware can compete with both Shopify and Magento. The platform offers SaaS (Software-as-a-service), PaaS (Product-as-a-service), and self-hosted solutions for businesses of all sizes. 

Why Shopware is a great Magento alternative
While Magento is a complex platform with numerous features and custom modules, Shopware owns an intuitive and user-friendly interface. Any non-technical user can utilize the drag-and-drop and double-click functionality to run an online store without any problem. That's also the reason why several Magento users choose to migrate to Shopware. 
If you focus on brand awareness, Shopware is the Magento alternative you are looking for. With its special marketing-oriented approach, Shopware helps to boost your brand through storytelling and unique shopping experiences. There are also promotional campaigns and product stream features that help to drive customer engagement.
Who is it for?
If you are based in the DACH countries (Germany, Switzerland, Austria), Shopware will surely make an excellent Magento alternative. The platform is the top eCommerce solution in the region. Many of its extensions are available in German only, and it's straightforward to seek help with any issues that come up. 
#5. Drupal Commerce 
Drupal Commerce Overview
The final candidate in our best Magento alternative list is Drupal Commerce. This is a native eCommerce module built on Drupal – the free and open-source content management framework. Since there are no pre-built templates, every Drupal Commerce store needs to be configured from scratch. That's how the store will be unique to your brand.
Why Drupal Commerce is a great Magento alternative
If licensing fees are the reason why you may migrate from Magento in the first place, Drupal Commerce can be a great alternative. There are no licensing fees or anything like that, and you are free to do whatever you want. It's also possible to integrate with a wide variety of 40,000 modules and 3,000 themes to extend your online store's capabilities. 
"Come for the Software, Stay for the Community". This Magento alternative comes with a welcoming and engaged community of 45,000+ developers. Whether it's software development, consulting, or anything else, there's always a helping hand to help your business grow and succeed. 
Who is it for?
Being an extremely powerful, flexible, and secured Magento alternative, Drupal Commerce is the best choice for complex and high-traffic stores or those with large resources and databases. What's more, there are no licensing fees required. Therefore, Drupal is also a good option for tech know-how store owners to test out new products.  
---
Magento Alternatives: FAQs
---
Magento Alternatives – Final Words
There are numerous choices for eCommerce platforms out there. Plus, you have to consider various factors when choosing the best platform for your business. If Magento no longer meets your needs, looking for suitable Magento alternatives and seeing how the new platform can help your business thrive is always a good idea.
If you're looking to migrate away from Magento, LitExtension is here to assist! We are proud to be the #1 shopping migration expert, with more than 200.000 successful data transfers!
Should you have any questions regarding Magento migration, the LitExtension support team is more than happy to help! In the meantime, subscribe to our eCommerce Blog and join our Facebook Community to get more eCommerce tips and news.