If you've decided to build an eCommerce web store using Wix, you shouldn't miss out on Wix apps to fuel your store's growth. But with over 500 apps on the Wix App Market, you might be wondering which are the best Wix apps to go with.
Don't worry! We, LitExtension – #1 Shopping Cart Migration Expert, have compiled 20+ best Wix apps you need to launch, customize your store, sky-rocket your conversions, etc. Without further ado, let's explore the 20 best Wix apps for:
Let's get started!
---
Wix 101 – All You Need to Know about Wix
Want to build an eCommerce store with Wix and test out the water? Sign up your Wix account (no credit card required).
Still, need more information? Here's a glance at what is Wix, how much it costs, and all the pros & cons of this popular platform!
What is Wix?
Wix is a popular website builder platform allowing individuals and businesses to create professional-looking websites without coding knowledge. It offers a range of stunning pre-designed themes and drag-and-drop tools, making it easy for anyone to build a website from scratch.
With Wix, you can customize your website's layout, add images and videos, and incorporate features like online stores, blogs, and booking systems.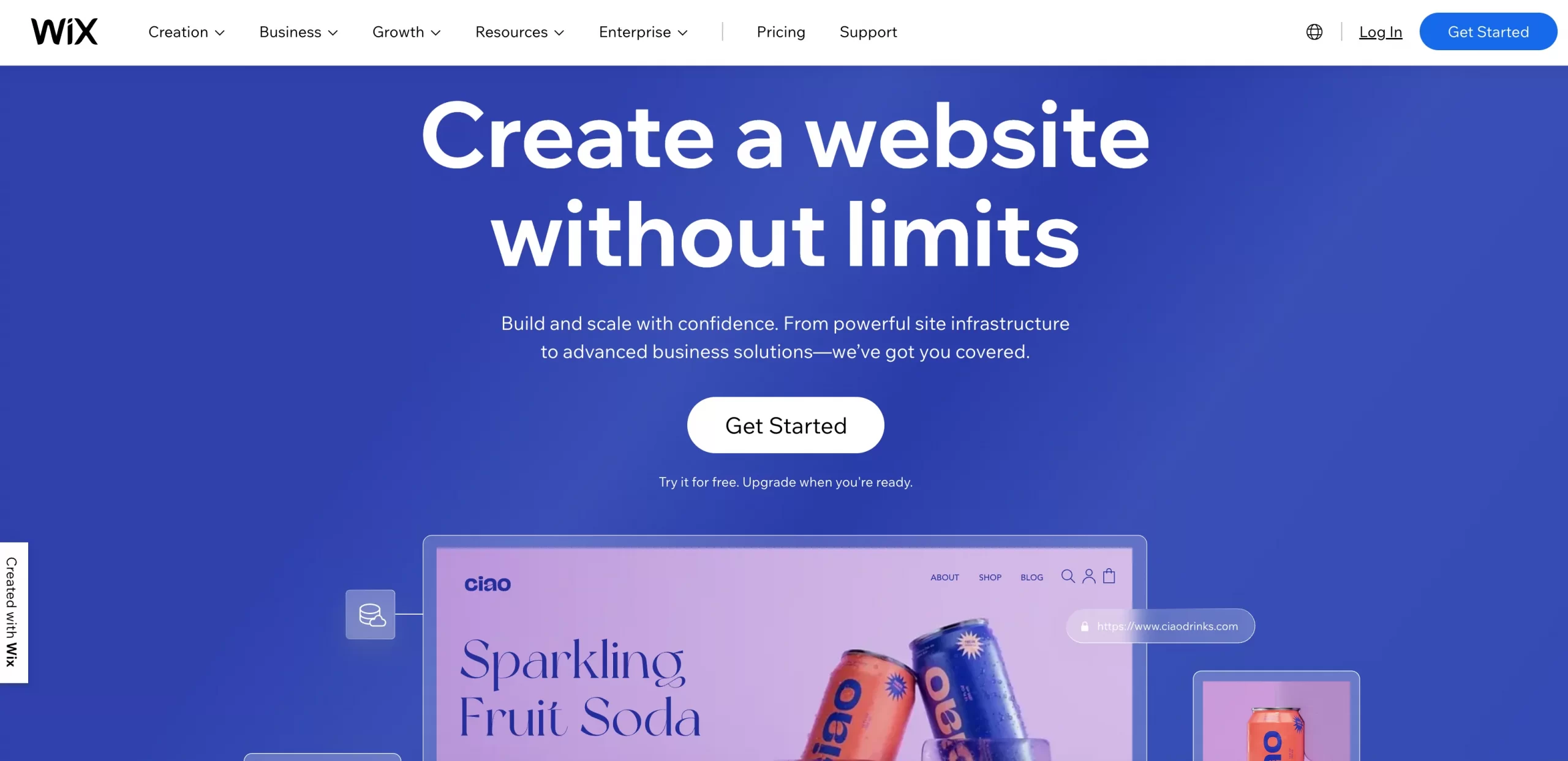 Wix pricing plans
Wix's affordable pricing plans are its biggest plus for those who want to build an eCommerce store but on a tight budget. Wix's Business basic plan only costs $27 per month for basic functionalities such as accepting payments.
If you need more advanced features, upgrade to Business Unlimited or Business VIP to fully explore Wix's built-in eCommerce features like subscription or loyalty program integration (Business VIP).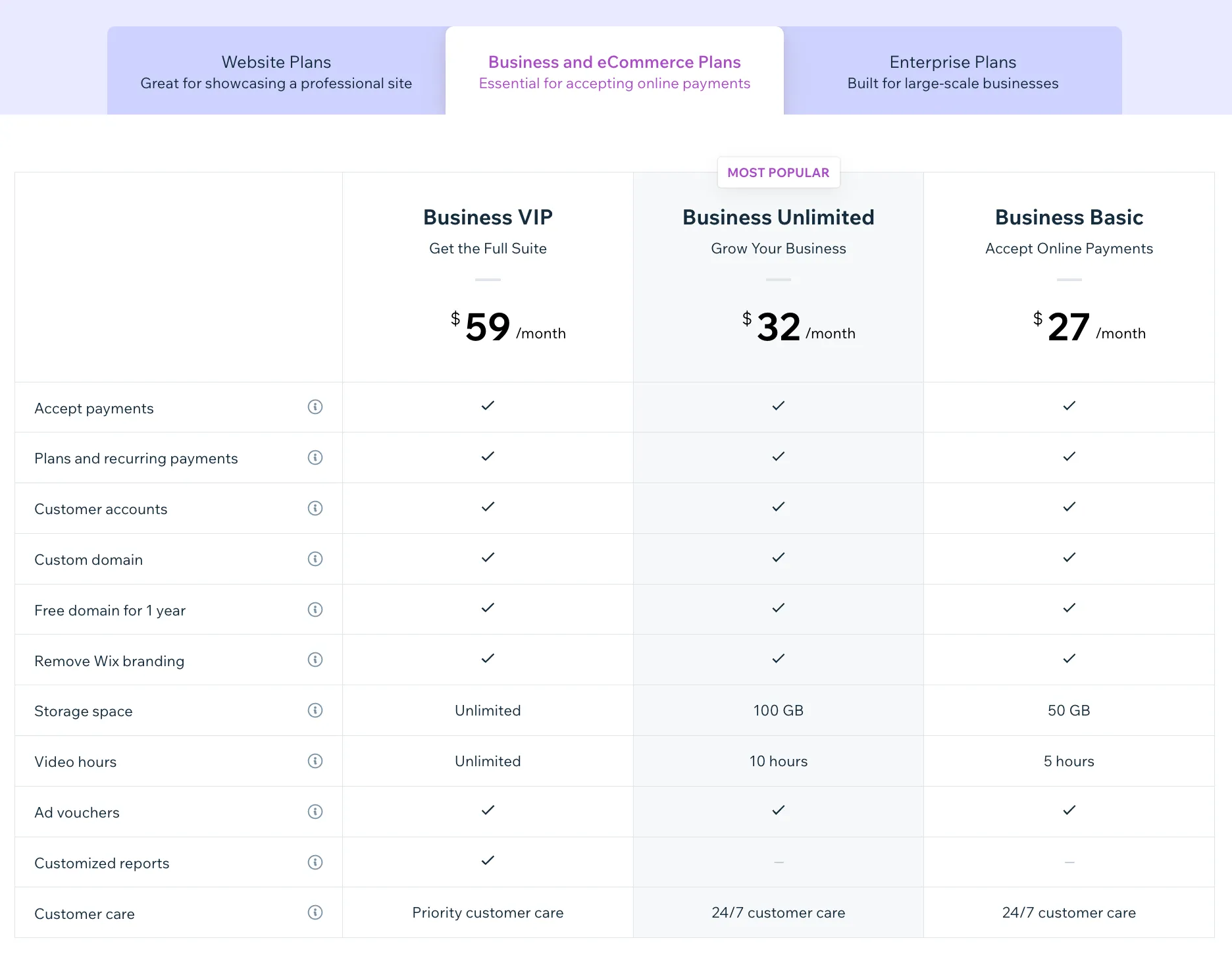 Be noted that the pricing plans we mentioned above are for building an eCommerce store with Wix. If you need a website for other purposes, the prices vary from $16 – $45/month.
Check out our article on Wix pricing plans for more info.
Wix pros & cons
Wix is great, but it's not a one-size-fits-all. Here are the platform's pros and cons for your reference:

Affordable pricing compared to other platforms like Shopify or BigCommerce (read on Wix vs Shopify and Wix vs BigCommerce).

Easy-to-use drag-and-drop builder.

Lots of eye-catching templates with elegant designs.

Good built-in features with an extensive app store.

Ability to edit SEO elements.

Besides eCommerce, Wix works great for booking, blogging, music, or any other website.

Your Wix site can be laggy if you edit multiple pages at the same time.

Unlike Shopify, you can't switch to a new template for your current site.

Wix doesn't auto-adapt your site to mobile devices. So you have to edit a separate mobile version in the backend manually.

Wix doesn't support exporting files created with Wix to an external destination or host.
---
Best Wix Apps for Store Design
#1. Impressive Site Menu
Rating: 4.2 (600+ reviews)
Pricing: $3.99/month | Free plan available
According to a case study by Invesp, improving your web navigation can help increase your conversions by 18.5%. That's why Impressive Site Menu is a must-have app to improve your website navigation with a stunning, well-structured web menu.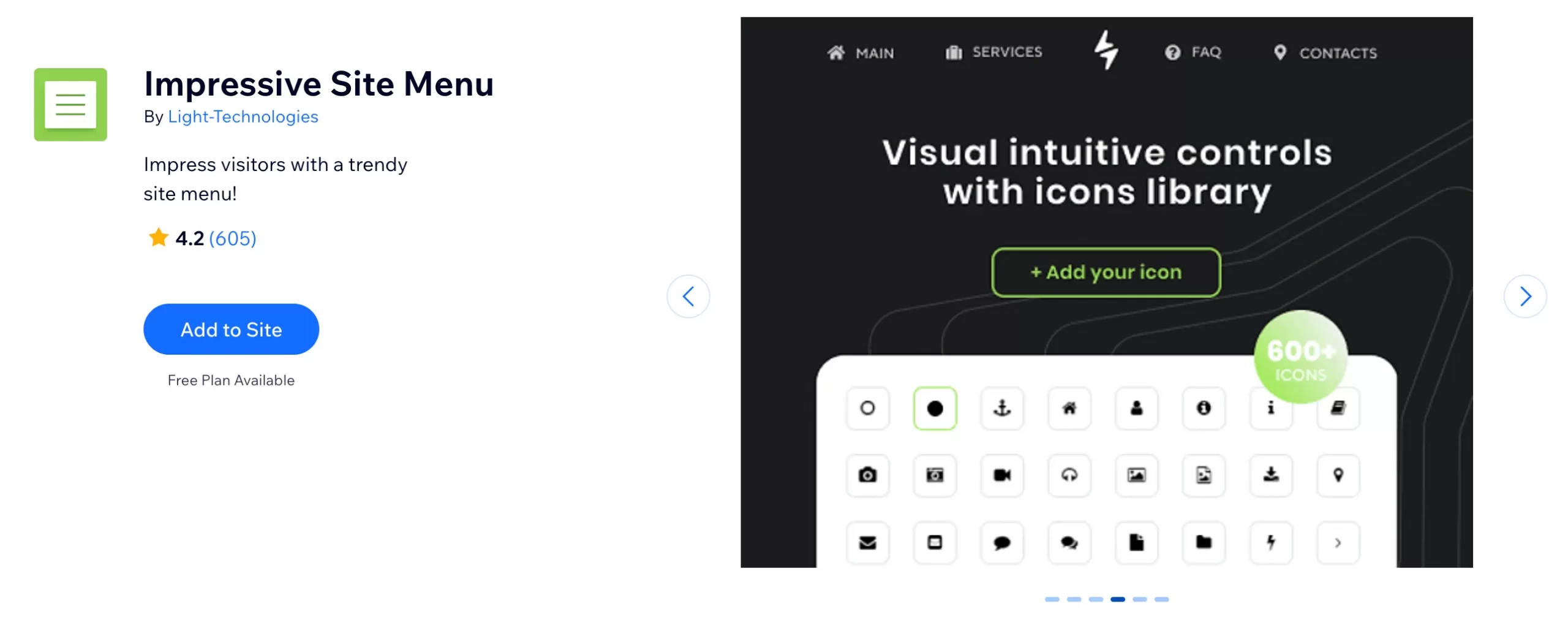 The app provides a variety of menu styles and customization options, allowing you to create a unique and visually appealing menu for your website. For instance, you can create a "mega menu" – a dropdown menu displaying multiple navigation options levels. This feature can be particularly helpful for websites with complex navigation structures.
Regarding customizations, the app provides a range of colors, fonts, and icons for you to customize the menu to match your brand theme. The plugin also integrates with Wix's drag-and-drop editor, making adding and editing menu items easy.
Highlight features:
Up to 3 menu levels to well-categorize your site's content
15 website templates
18 menu burger animations to smoothen your web menu
Embed and customize up to 6 social media icons
Add a Title near your logo
#2 3D Seasonal Effects: Easter
Rating: 4.9 (260+ reviews)
Pricing: $4.99/month
If you want to add a holiday atmosphere to your website to delight your customers and leave good impressions on them, 3D Seasonal Effects is one of the best Wix apps we highly recommend.
The app is coded to bring a cheerful atmosphere to your website during the holiday season. For instance, you can add falling snow effects on Xmas or sweet hearts popping everywhere on Valentine's Day. The best part? One click is all it takes!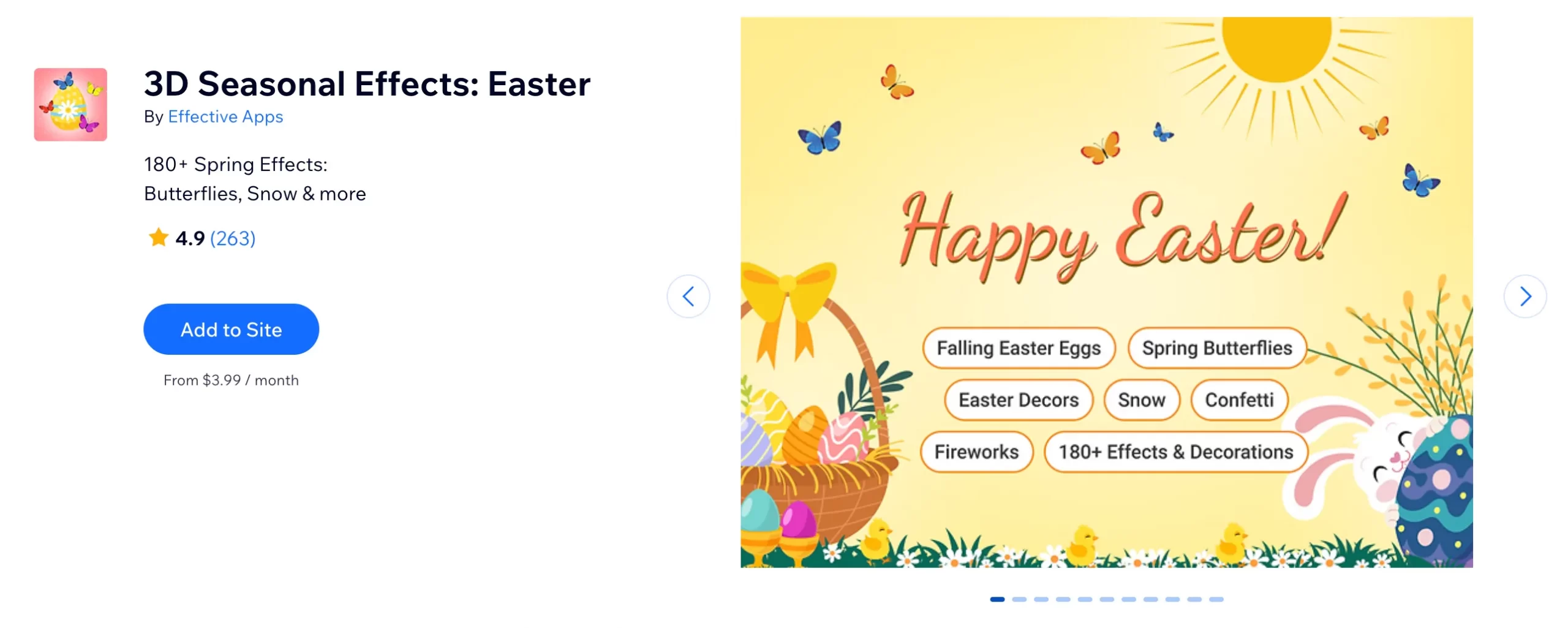 Highlight features:
Pre-made falling effects on all types of holidays like St Patrick's Day, Xmas, Easter, New year, etc.
Schedule the effects so they auto-apply to your site when the holidays come
Various holiday-theme decoration elements besides falling effects
Customize the effects and decorations, including their style and on which pages they appear
GET 3D SEASONAL EFFECTS: EASTER
#3. Salesdish Trust Badges
Rating: 3.9 (20+ reviews)
Pricing: Free
Lack of trust is one of the biggest reasons why your customers abandon their carts even when making it to the checkout page. Though there are various ways to enhance your customer trust, adding trust badges to your website is a small but effective tactic.
And that's when exactly Salesdish Trust Badges comes in handy. The app lets you add trust badges to your Wix product page, cart page, and checkout page, enhancing trust among your shoppers.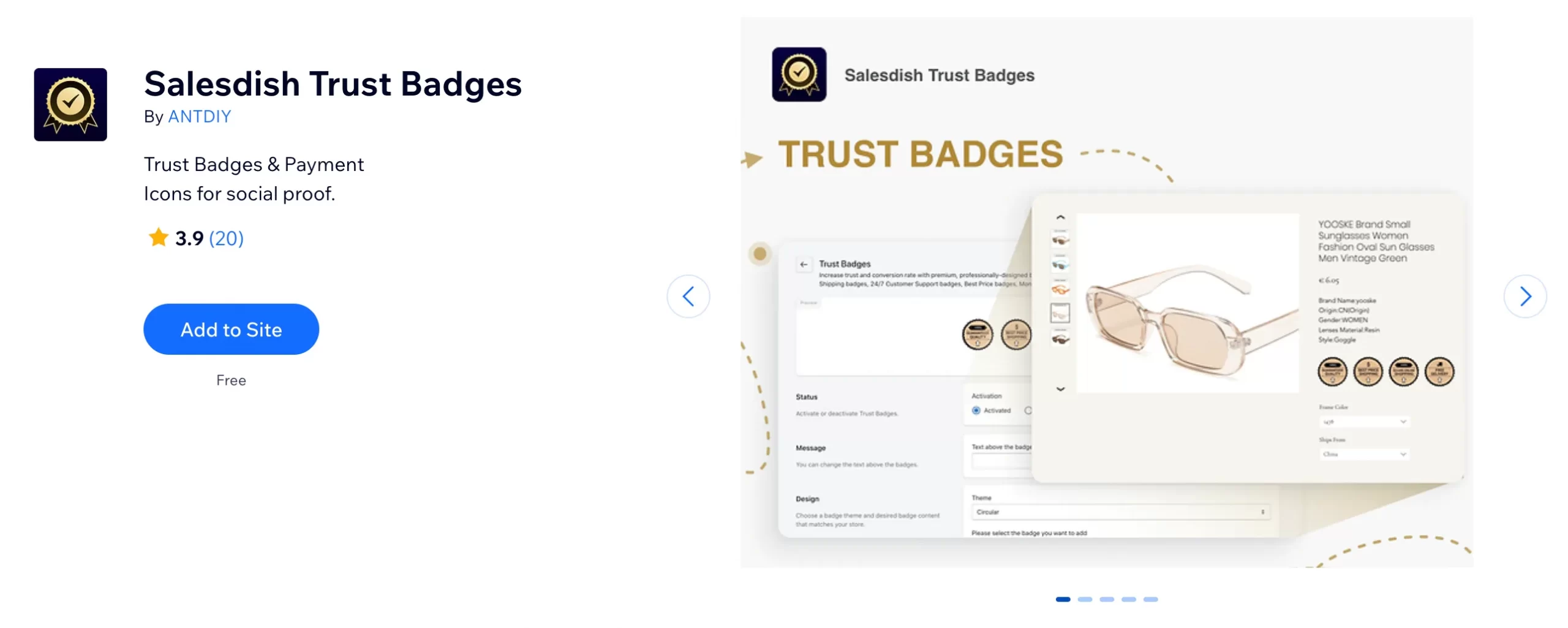 Highlight features:
8 trust badge types and each comes in 4 different styles
Add payment method icons to your pages to enhance trust
Fully customize the badges and icons' style, such as color, size, etc.
Quick badge and icon set-up to get you started fast
---
Best Wix Apps for Analytics
#1. QuickBooks Connector
Rating: 4.7 (600+ reviews)
Pricing: Free*
*Note that the plugin is free, but you'd have to pay for QuickBooks Online Account, which starts from $15/month.
If your eCommerce website is on growth, tracking and updating your costs, expenses, taxes, and profits using spreadsheets might seem daunting. The process might swallow a lot of your time, and also, manual tracking is prone to human error.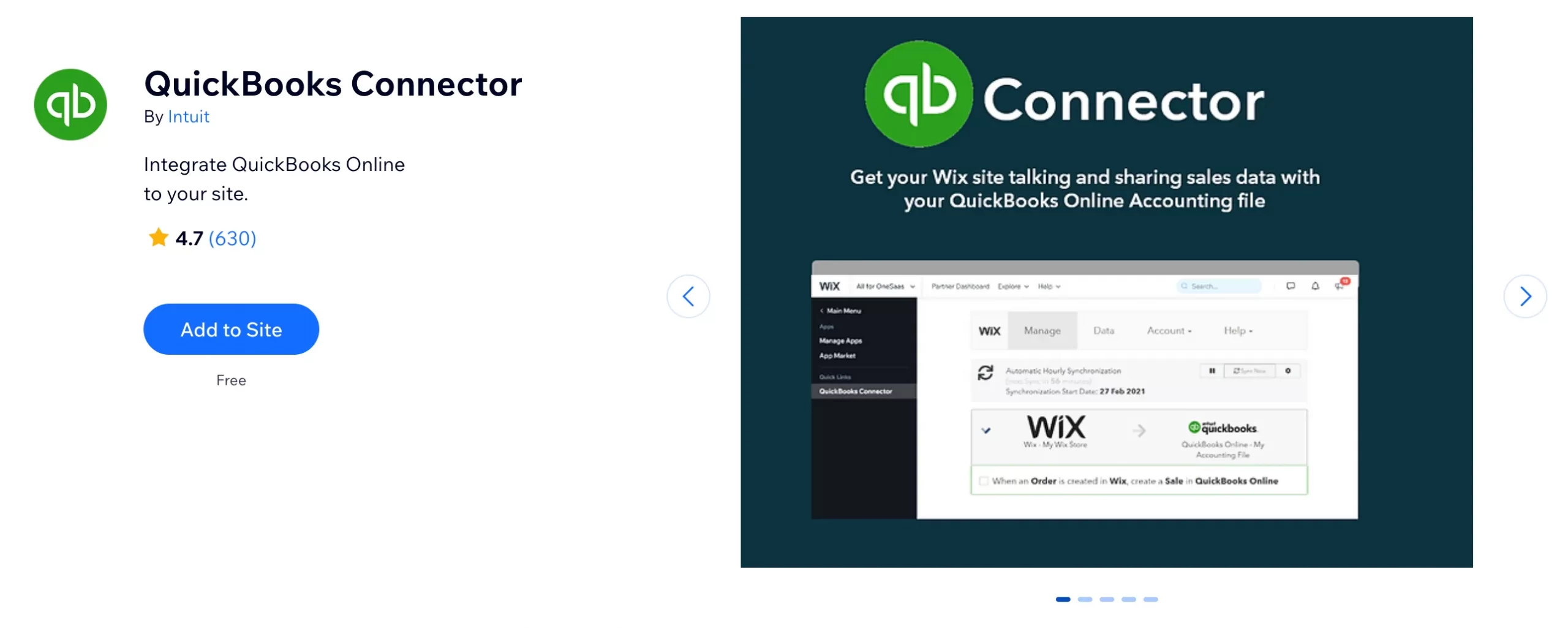 That's why you need QuickBooks Connector – one of the best apps for Wix stores to track your sales data with the least effort and high accuracy. The app lets you sync your Wix store's data with your QuickBooks Online Account. This helps automate your tracking and accounting process.
Highlight features:
Real-time sync with QuickBooks Online Account to auto-update your data from Wix store
The ability to retrieve orders from Wix Stores, Wix Bookings, Wix Discounts, etc.
The ability to retrieve orders by payment status
Easy tax code mapping from Wix Store to QuickBooks account
Match Wix items to QuickBooks items by SKU or product name
#2. Visitor Analytics
Rating: 4.6 (1,400+ reviews)
Pricing: Start from $8.99/month | Free plan available
As the saying goes, 'You can't improve on what you don't measure', knowing all the ins and outs of your Wix site analytics is a must, not a plus. Though Google Analytics is good, it doesn't show you the real big picture and deep-enough data to improve your site.
Fortunately, with Vistor Analytics, you can get comprehensive insights into your customer behaviors. This is thanks to a bunch of the app's advanced visitor analytic features like heatmaps, event tracking, video of visitors' sessions on your website, etc.
Highlight features:
In-depth web visitor analytics stats like session, time-on-site, bounce rate, competitive analysis, etc.
Video of visitors' sessions on your Wix site (e.g.: where your visitors scroll, click and pause, etc.)
Heatmap analytics that gives helpful insights into your visitor's on-site behaviors
Track your conversion funnel progress to optimize it better.
The ability to track your customer's data without cookies. This ensures compliance with GDPR (General Data Protection) & CCPA (California Consumer Privacy Act)
#3. WEB-STAT
Rating: 4.8 (436 reviews)
Pricing: $5.95 or $9.95/month | Free plan available
Despite not being as popular as Visitor Analytics, WEB-STAT is one of the best value plugins for Wix you should definitely consider. As its name might suggest, WEB-STAT is an app that will give you everything you need to know about your website analytics.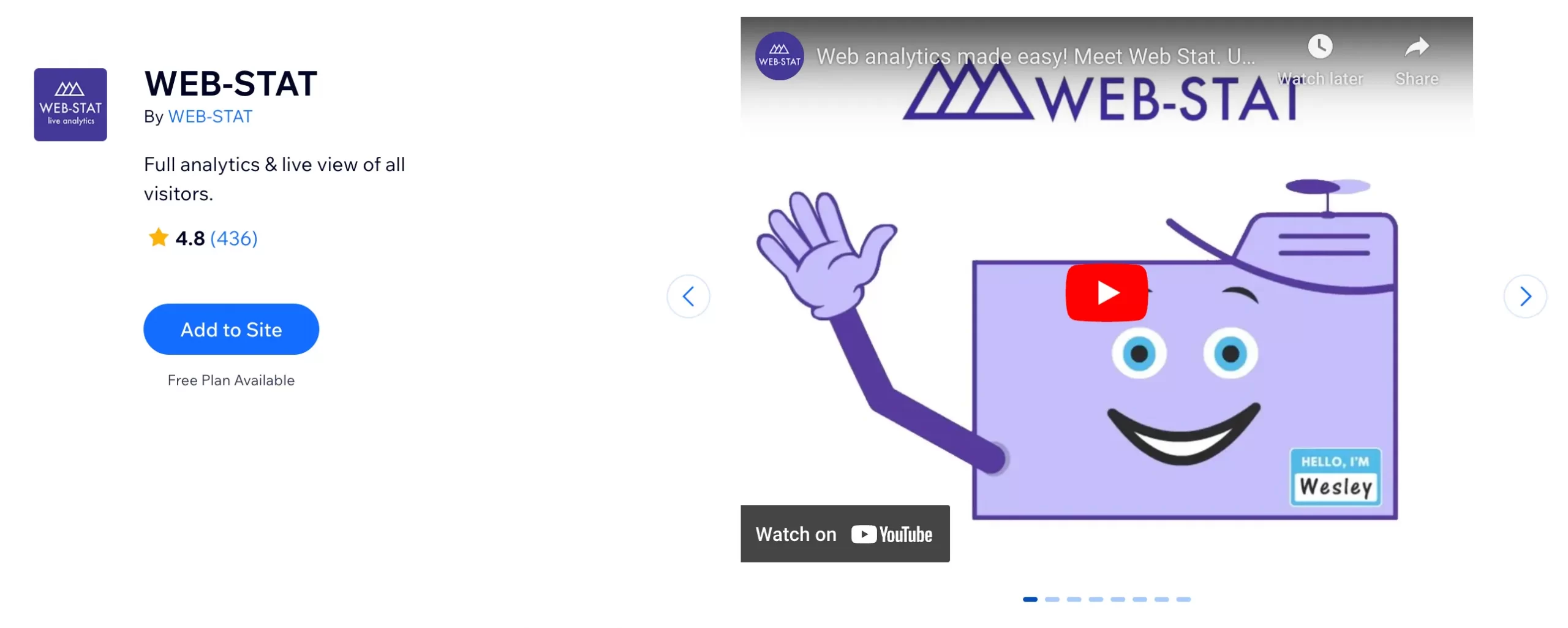 Apart from basic site analytics features like those of Google Analytics, WEB-STAT gives you tons of advanced and in-depth insights into how your website is performing. One impressive feature is the ability to see how visitors interact with your Wix site in real-time.
Highlight features:
See how visitors interact with your website in real-time
Gain in-depth analytics about visitors' path through your website and the amount of time they spend on each page
Get alerts any time your site has a new visitor, conversions, etc.
Display a visitor counter on your website to build trust
Receive website analytics reports via email
---
Best Wix Apps for Sales & Conversion
#1. Editorify ‑ Product Reviews
Rating: 5.0 (195+ reviews)
Pricing: Start from $9.95 per month | Free plan available
Given that customers trust user-generated content (UGC) 2.4 times more than branded one, Editorify ‑ Product Reviews is an app you must install if you take the idea of selling on Wix seriously.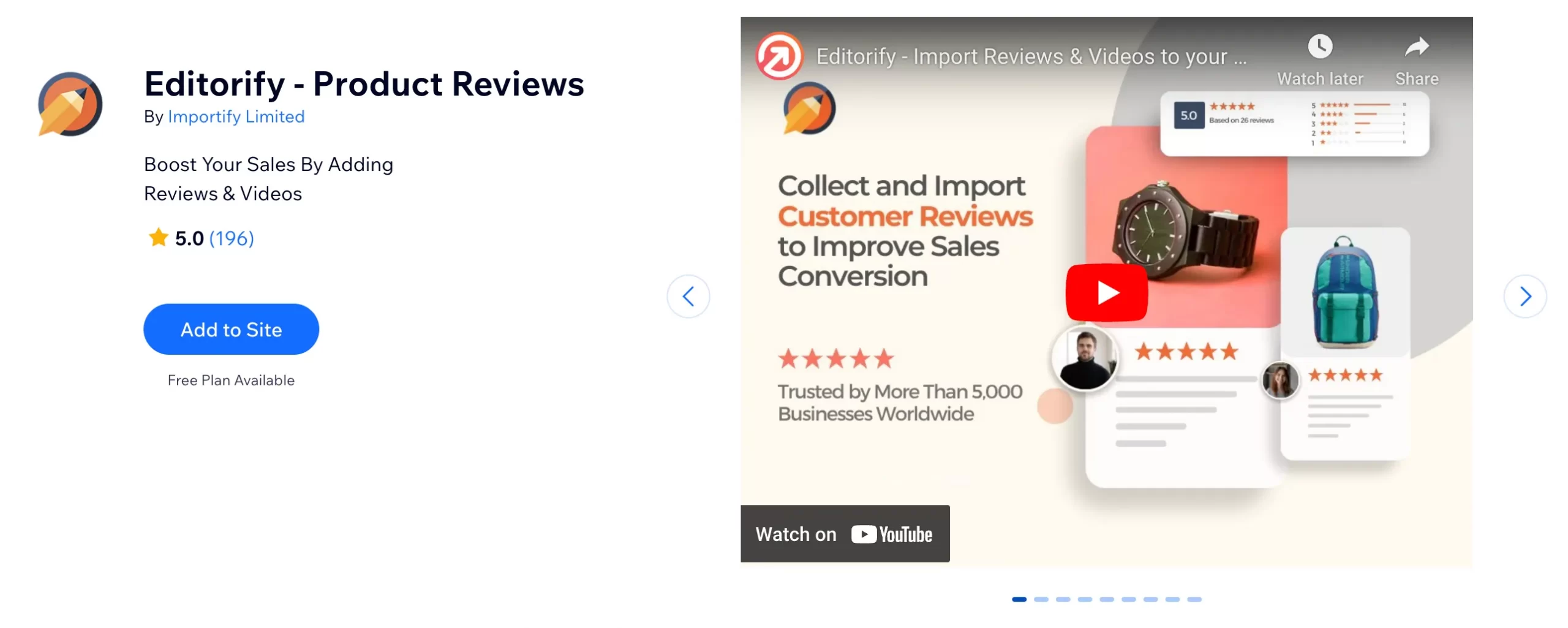 Editorify – Product Reviews is an incredible Wix reviews app that enables you to collect, customize, and showcase customer reviews on your Wix store. This helps boost trust among your shoppers, allowing them to make more confident checkouts and increasing your conversions.
Highlight features:
Import product reviews with images and videos from top marketplaces like AliExpress, Alibaba, Etsy, Dhgate, Taobao, 1688, etc.
Filter reviews by rate and keyword to show on your pages. For instance, only showcase reviews that are 4 stars above, or exclude reviews that contain "bad", "awful", etc.
Display rating on Google search results, improving your click-through rate
Showcase your store's average rating
GET EDITORIFY ‑ PRODUCT REVIEWS
#2. Omnisend Email Marketing & SMS
Rating: 5.0 (19 reviews)
Pricing: $3.99 – $5.99 | Free plan available
Email marketing is old but still a gold channel if you want a direct way to communicate with your potential customers and drive more sales. Thus, Omnisend Email Marketing is the next app we'd love to bring to the table today.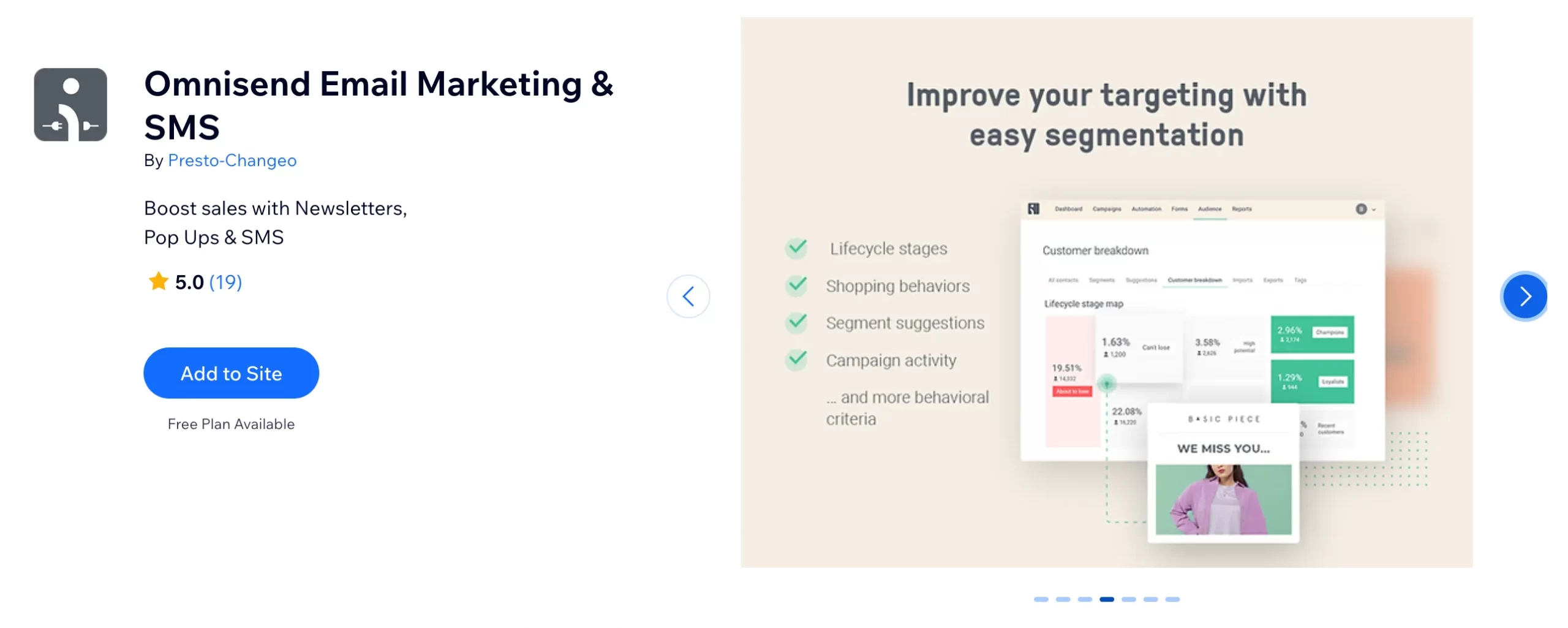 As one of the best Wix integrations, this app enables you to send personalized emails and SMS to your prospects and customers to fuel your sale growth. The plugin has powerful automation trigger flows, many email templates, and, most importantly, advanced segmentation to improve your target and conversions.
Highlight features:
20+ pre-built email trigger flow to automate your email marketing like cart recovery, welcome email, cross-sell email, etc.
Advanced segmentation to send the right emails to the right people
Beautiful pre-made email templates
Various tools to expand your mailing list, like exit intent pop-up, spin-to-win, etc.
In-depth report breakdowns to measure your email marketing efforts
Send SMSs for free on all plans
GET OMNISEND EMAIL MARKETING & SMS
#3. Smile: Points & Rewards
Rating: 4.2 (220+ reviews)
Pricing: $49/month | Free plan available
Next up, we have Smile: Points & Rewards – one of the best Wix eCommerce apps you shouldn't miss out on. The app empowers you to run a loyalty program on your Wix website.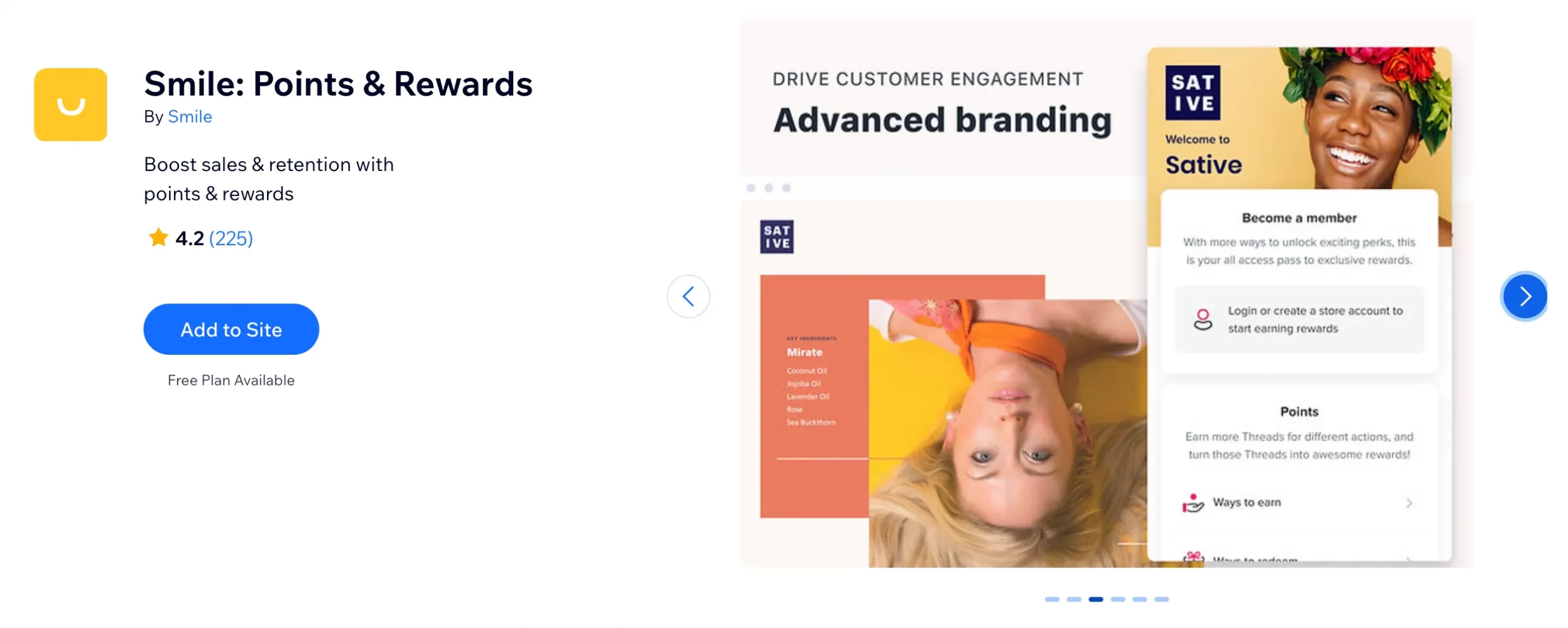 With Smile, you can incentivize your customers to join engaging point-earning activities (e.g: purchase, subscribe YouTube channel, etc.) and redeem their accumulated points with perks (discounts, free shipping, etc.)
Highlight features:
Boost repeat purchases and customer engagement with point-earning activities like placing an order, following on Instagram, etc.
The ability to run a VIP-tiered loyalty program with exclusive perks to encourage your customers to keep coming back for more
Reward customers with diverse gift ideas like free shipping, discount code, free gift, etc.
Built-in referral features to let your customers do the marketing for you
Comprehensive analytics dashboard to track your loyalty program's performance
---
Best Wix Apps for Social
#1. Social Media Feed
Rating: 4.4 (500+ reviews)
Pricing: Start from $5.49/month | Free plan available
Want to showcase your best social media posts to your website to enhance your Wix store trust? Social Media Feed is exactly the one you've been looking for.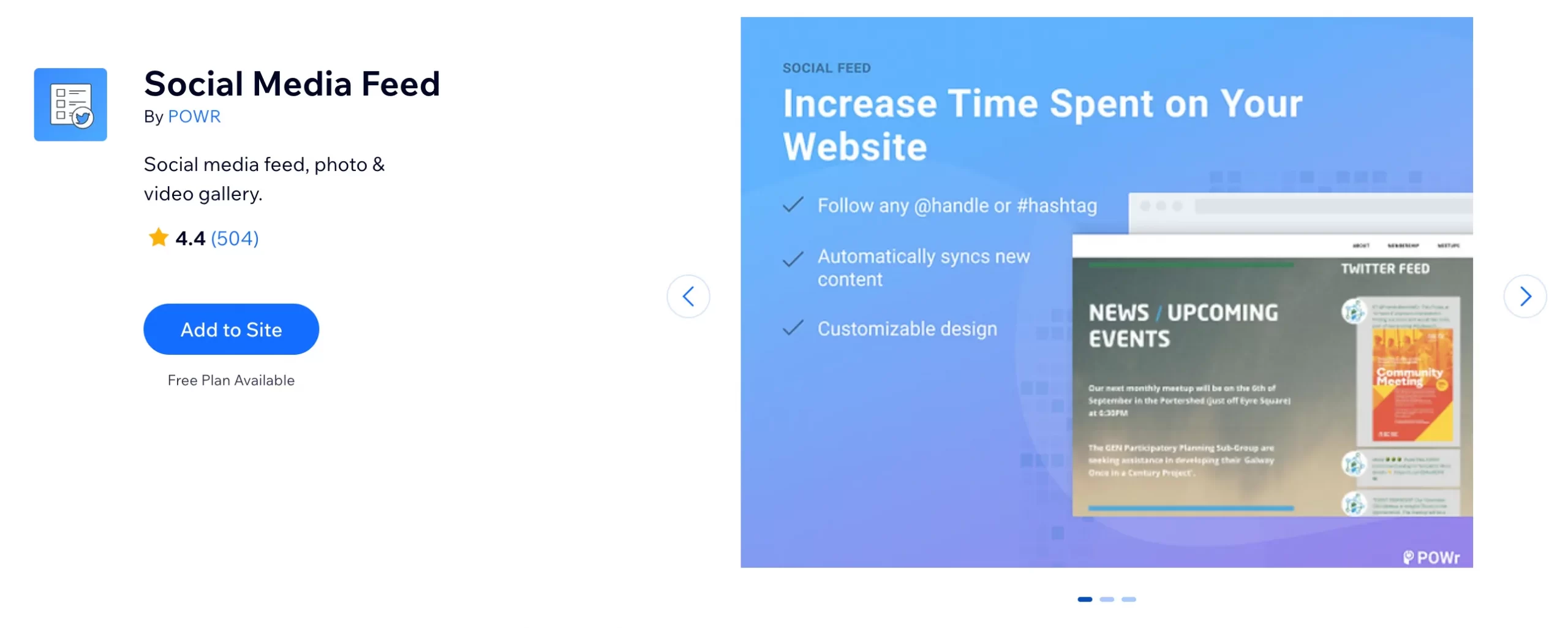 The app allows you to embed posts from top social media platforms like Instagram, Facebook, Youtube, etc., to your Wix website. What's cool is that you can sort posts by #hashtags or any @handle (account), allowing your feed to update itself in real-time.
Highlight features:
Showcase your social posts under beautiful pre-made layouts
The ability to sort posts from different accounts and hashtags to keep your feed always fresh
Easy setup hover effects on your feeds
Add social sharing buttons on your feed to grow your follower base
#2. Minta
Rating: 4.8 (86 reviews)
Pricing: $35 or $55/month | Free to install
Do you have far more critical marketing initiatives to spend time on than manually posting to your social channels? If that's the case, you may love to automate your boring, time-consuming social posting tasks with Minta.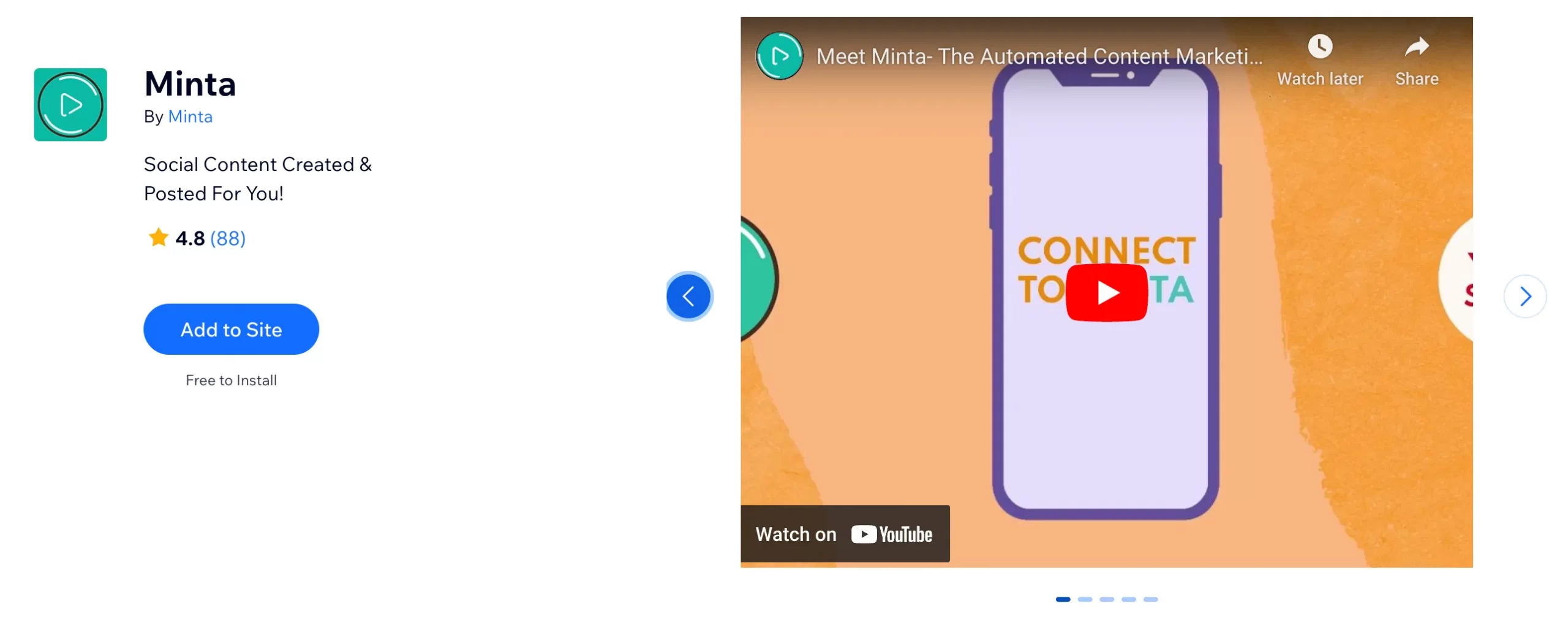 Minta automatically pulls products from your Wix store catalog and posts them on Facebook, Instagram, TikTok, and Pinterest. What's awesome is that this app even auto-creates product videos besides static product images to feature in your posts.
Highlight features:
Automatic branded video and image creation to save you time and effort
Automatically post your Wix store products on Instagram, TikTok, Facebook, and Pinterest
Easily customize the post elements like style, text, and products shown in your videos
Drag-and-drop calendar to schedule your posts in advance
#3. OSI Affiliate Software
Rating: 4.5 (15 reviews)
Pricing: $47 or $97/month
It would be a huge mistake leaving OSI Affiliate Software out of this list. It's one of the best Wix apps you should give a shot at if you have a strong emphasis on affiliate marketing. This Wix affiliate plugin enables you to run an affiliate campaign like a well-oiled machine.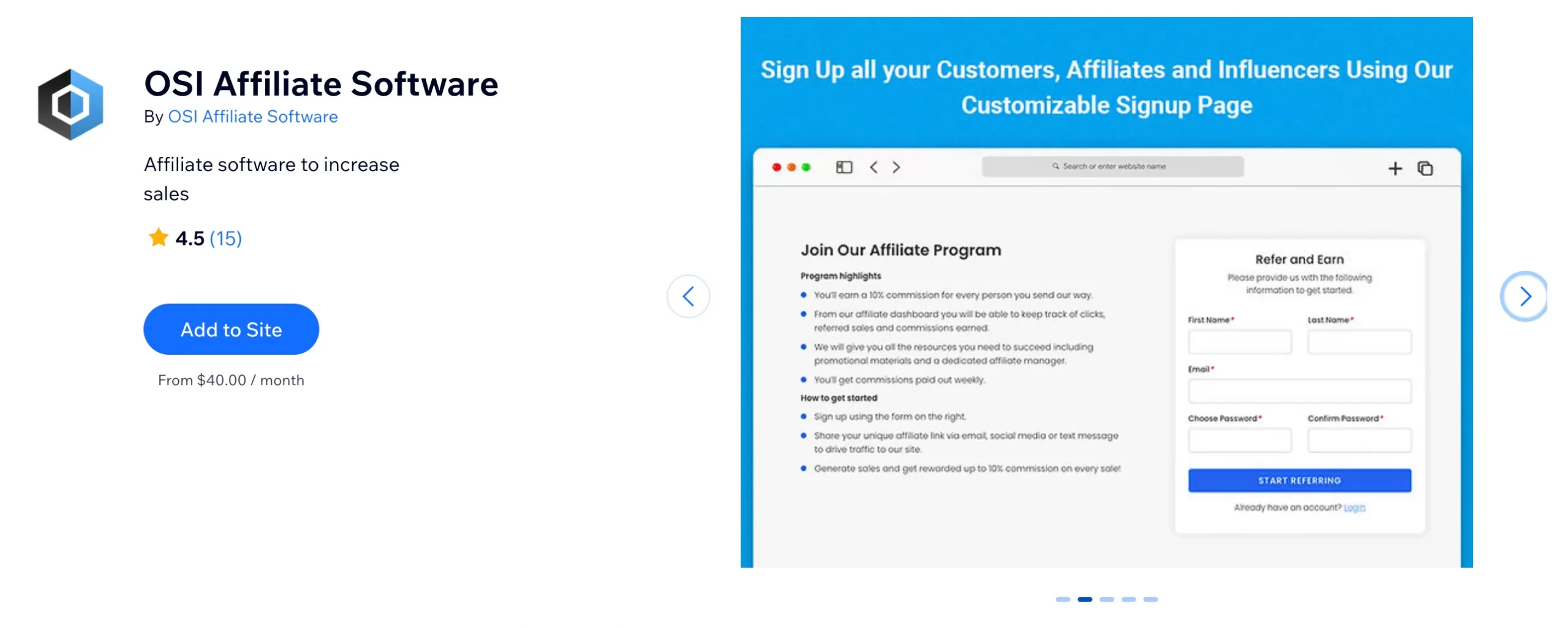 When an affiliate signs up for your program, they have a dedicated dashboard with unique affiliate links and promotional tools. OSI plugin will track sales made through the affiliate links to calculate commissions. And from your admin dashboard, you can see how things are going and working.
Highlight features:
Build an affiliate sign-up page that matches your Wix store theme
Dedicated affiliate dashboard that makes it super easy for your affiliates to promote your products and see their progress with crucial metrics: Click, Sales, Commission earned
Invite your email subscribers to join your affiliate program within clicks
A modern, clean admin control panel to set up and monitor your program intuitively
---
Best Wix Apps for Dropshipping & POD
#1. Dropshipping AliExpress-DSers
Rating: 4.8 (110+ reviews)
Pricing: Free
If you want to do dropshipping with Wix, there's no way you could miss out on Dropshipping AliExpress-DSers. The app enables Wix merchants to find products and suppliers on AliExpress – a top global marketplace.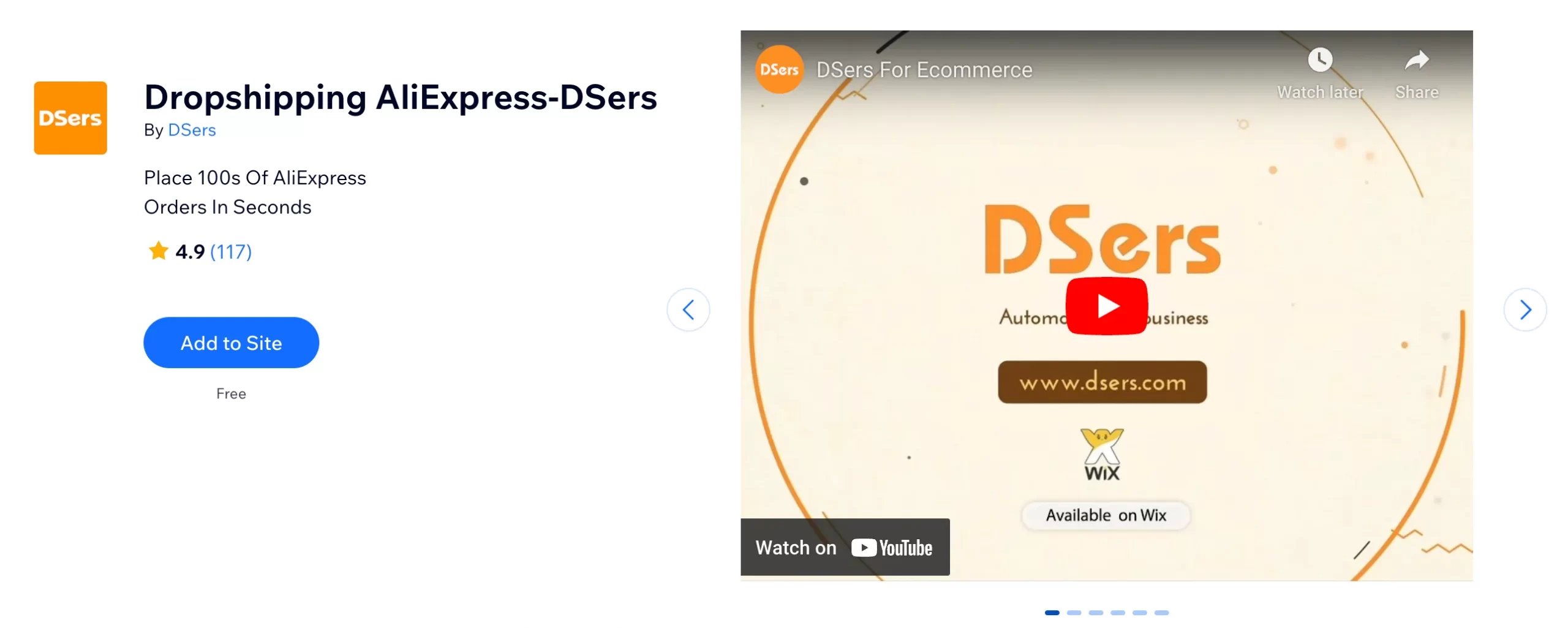 What makes DSers stand out from other Wix dropshipping apps is its ease of use and robust order fulfillment features. For instance, you can place 100 orders at once with AliExpress suppliers and have them take care of the order fulfillment for you.
Highlight features:
DSers's algorithm helps you choose the best value AliExpress suppliers
Easily import and edit AliExpress product information (e.g: price, name, etc.) before pushing them to your Wix website
The ability to place 100+ orders at the same time from AliExpress suppliers
Automatically sync shipping info and fulfillment status to stay on top of your dropshipping business
GET DROPSHIPPING ALIEXPRESS-DSERS
#2. Printful: Print on Demand
Rating: 4.7 (950+ reviews)
Pricing: You are charged manufacturing and shipping fees when an order is placed
This list would be incomplete without Printful: Print on Demand – one of the best Wix apps if you want to build a successful Wix print on demand business.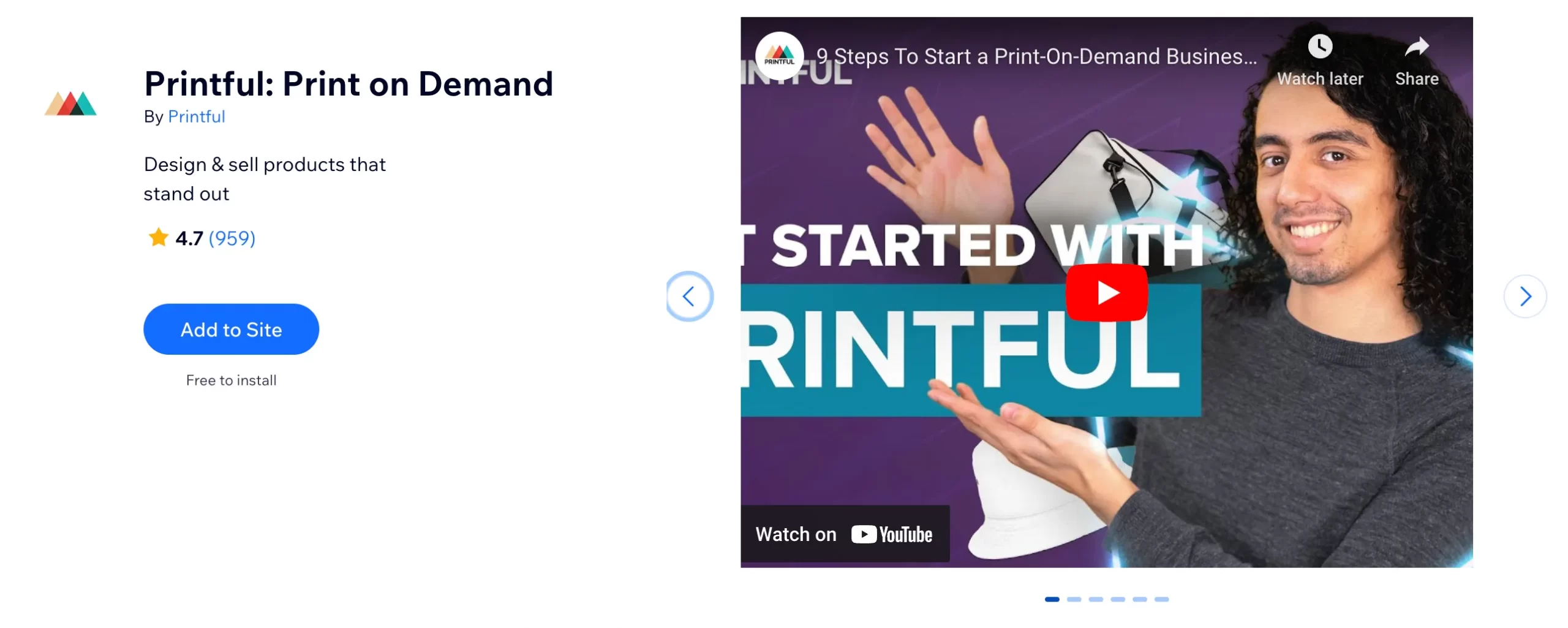 When you choose to do print-on-demand with Printful, the app will take care of the printing and shipping the printed products (e.g: T-shirts, mugs, blankets, etc.) to your customers. The great thing is that they'll add your brand designs (e.g: custom packaging, custom packing slip, etc.) before delivering the products to your customers.
Highlight features:
Intuitive design tools to create or upload your custom design
Preview your custom designs under mockups before publishing the products on your store
Printful will take care of the printing and shipping part – you pay the fees
Branded customizations like customized shipping-tracking page, custom packaging, etc.
#3. Spocket
Rating: 4.2 (80 reviews)
Pricing: Start from $24 | Free plan available
And here we go, Spocket is the last Wix app we'd love to introduce to you today. Spocket is one of the best Wix apps for dropshippers that want to scout for suppliers within the US and Europe regions.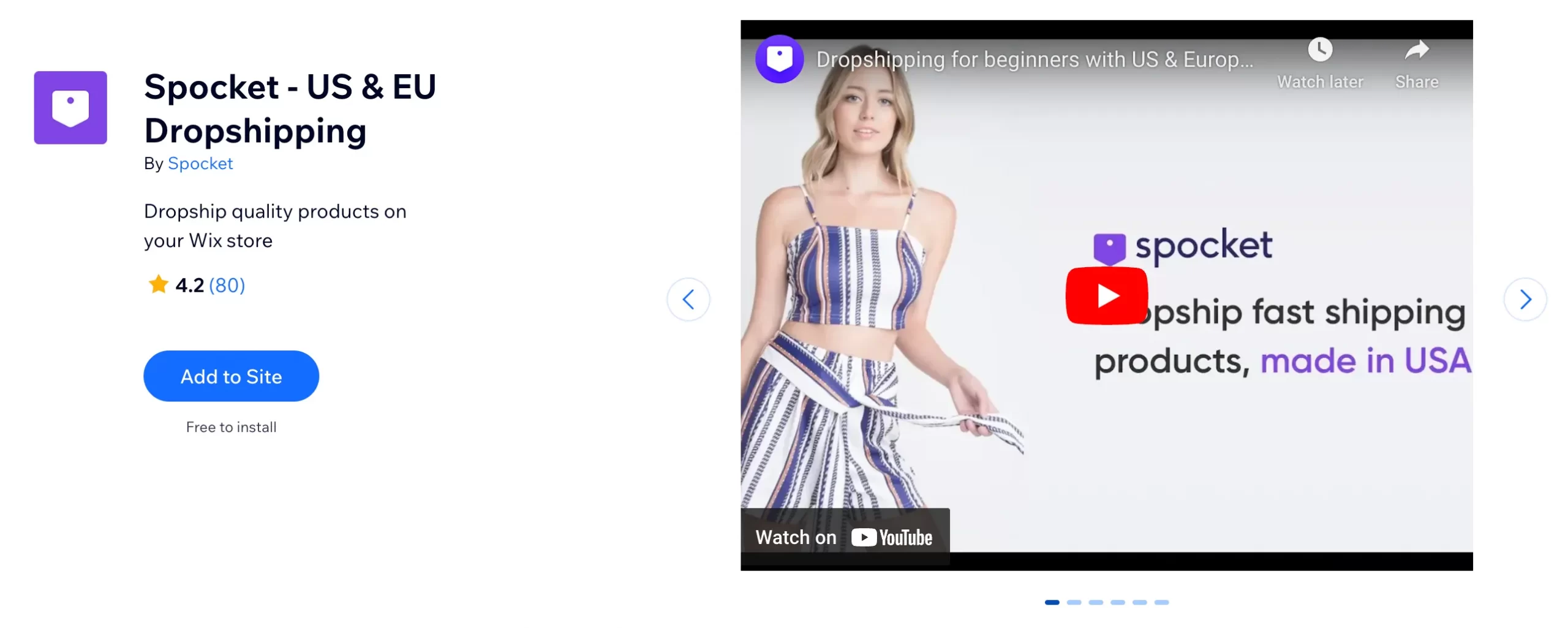 Compared to DSers, Spocket comes with more advanced automation features for dropshipping businesses. You can automate your order fulfillment process or sync data with suppliers to keep your product data updated (e.g., price, in-stock status, etc.)
Highlight features:
Easily import products to Wix stores and edit them before publishing them on your website
Automatic order fulfillment to quickly fulfill your customers' orders
A wide range of US & EU suppliers and products for you to choose from
Various branded options, such as adding your brand logo on the invoice or shipping package
---
Other Best Wix Apps That Are Worth Considering
Here is the list of other best Wix apps with high ratings on Wix App Store:
Wix Blog
Wix Events & Tickets
Constant Contact Form
Poptin: Smart Pop Ups & Forms
Impressive Welcome Bar
Mailing List Email Sign Up
Blocky: IP & Country Blocker
Cart Recovery by MKP
Carti Abandoned Cart Recovery
Popify Sales Popup & Discounts
Nudgify Social Proof & FOMO
And many more to discover on Wix App Market!
---
Best Wix Apps – FAQs
---
Final Thoughts
In conclusion, Wix offers a wide range of apps that can enhance your website's functionality and user experience, from store design, analytics, and social, to dropshipping and conversions. And we hope this article can help you choose the best Wix apps for eCommerce stores.
If you find this article helpful, check out our LitExtension blog for more insightful blog posts on eCommerce. And join our Facebook Community to get the inside scoop on battle-tested tips and tricks from 12,000+ eCommerce entrepreneurs like you!