Introduction
As a matter of fact, there's no one-size-fits-all eCommerce solution. As wonderful as WooCommerce can be, it's not going to be the perfect match for every online retailer out there. Hence, it's par for the course if the well-known WooCommerce doesn't look anything like your cup of tea and you're here researching other WooCommerce alternatives.
In this write-up, LitExtension – The World #1 Shopping Cart Migration Expert will help to clarify what you should know about WooCommerce drawbacks and how other eCommerce solutions could be appropriate choices to perfectly replace WooCommerce.
---
What Is WooCommerce?
As an eCommerce-specific plugin for WordPress, WooCommerce works as a bridge that turns any WordPress site into an online store. It means WooCommerce helps to monetize a WordPress site.
WooCommerce is the go-to platform for all-size businesses, mainly because it's free to download and install, chock-full of attributes, and comes with the clout of the WordPress brand name.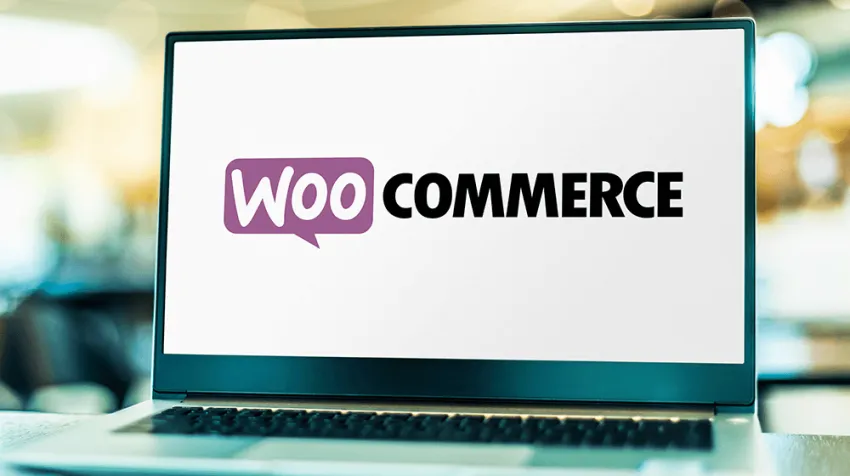 As of 2023, there are more than 6 million websites powered by WooCommerce, making it the most popular eCommerce solution on the globe. But this impressive statistic doesn't necessarily mean WooCommerce is the absolutely perfect one. Mission impossible.
Just like any other eCommerce solution, WooCommerce also comes with a set of superb features as well as a set of limits.
| WooCommerce Pros | WooCommerce Cons |
| --- | --- |
| The humongous respiratory of WordPress themes & WordPress plugins | Technical skills & code experience are required to take full advantage of WooCommerce |
| Advanced blogging functions | Most of the security-related tasks fall in your own hand |
| A great degree of flexibility & customizability | Limited customer support |
| Developer fees | Slow backend loading time |
Further Reading: WooCommerce Review
---
What Are WooCommerce Issues?
There's a high chance you're here researching WooCommerce alternatives as you've already been using WooCommerce and some of its disadvantages get on your nerves. Or you're about to get started with eCommerce, and you wonder whether those WooCommerce drawbacks are your acceptable trade-offs.
To get all your questions answered, let's delve deeper into the most severe WooCommerce issues right away!
#1 Technical Skills & Coding Knowledge Required
Being an open-source software, WooCommerce has a steeper learning curve than other hosted solutions like Shopify, BigCommerce or Squarespace. The platform itself is preferable for users who have acquired a certain level of technical skills.
For tasks like domain registration, setting up web hosts and security certificates, you'll have to carry them all on your own. Therefore, having some good IT skills would certainly help a lot to get your online store up and running.
Here is our WooCommerce tutorial video to help you set up a WooCommerce store:
Moreover, if you want to personalize your site, you may find yourself needing to write several complicated code lines. This means that you either need to master coding knowledge or afford to hire a professional developer to complete the task for you.
#2 Most Security-related Tasks Are Your Responsibility
With WooCommerce, you are fully responsible for the maintenance and update of your store. For example, assuming that you have installed security plugins, they will notify you of security updates, but you will need to install them and manage any new conflicts.
Indeed, if you use WooCommerce, you must handle hosting, installation, managing updates, maintenance, and backups yourself. Even when you use a hosting service that provides support, their support will not be comprehensive and you still need to troubleshoot the web store yourself.
Everything is your responsibility.

You are required to keep WooCommerce updated and running smoothly yourself. Quality website hosting makes this easier but adds to the costs. Plugins sometimes stop working and you will need to contact their developers in hopes for a quick solution, or spend time fixing the PHP code yourself.

Daryl A
#3 Customer Support Is Limited
WooCommerce does not provide any official customer support services. Therefore, you have to go through online resources to set up your WooCommerce store and troubleshoot any issues.
You can also seek help from the WooCommerce community, but keep in mind that the answers given are most of the time not official. Besides, you have to face a slow response time.
#4 Loading Time Is Rather Slow
Load speed is of utmost importance. It has the ability to make or break a website. If your WooCommerce store is slow to load, you stand a high chance of losing your potential customers.
In fact, WooCommerce is pretty slow-loading due to all the added WordPress plugins, oversaturated databases, and codebases. Furthermore, high-res images and lots of wording can also impact your site's load speed.
On average, with an online store on the WooCommerce platform, it takes nearly 1 second to load a home page and 1.32 seconds to reach the cart page.
Besides these disadvantages, WooCommerce definitely has many strengths when it comes to eCommerce functionality, blogging functions, SEO features, and flexibility.
However, if you don't think this platform is suitable for your store anymore, you can migrate your store to a new platform.
Here are our top alternatives to WooCommerce: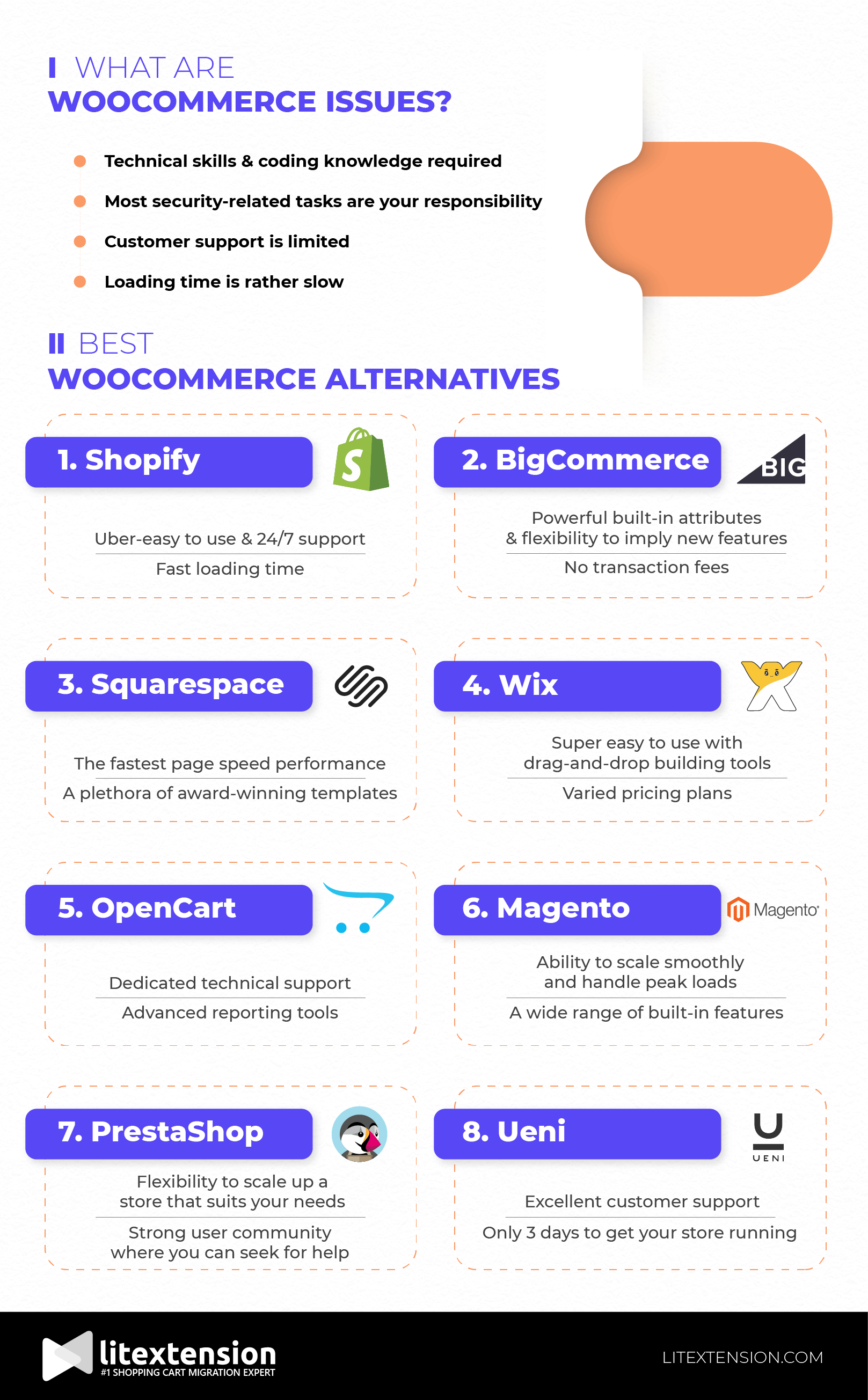 ---
Top WooCommerce Alternatives In 2023
#1 Shopify
What is Shopify?
One of the WooCommerce alternatives that we will recommend is Shopify – an all-in-one solution to host and manage an online store that doesn't take much muscle and technical expertise.
This hosted solution offers a 3-day free trial for every new member. Therefore, you can spend 2 weeks exploring some of the most outstanding Shopify features before making up your mind.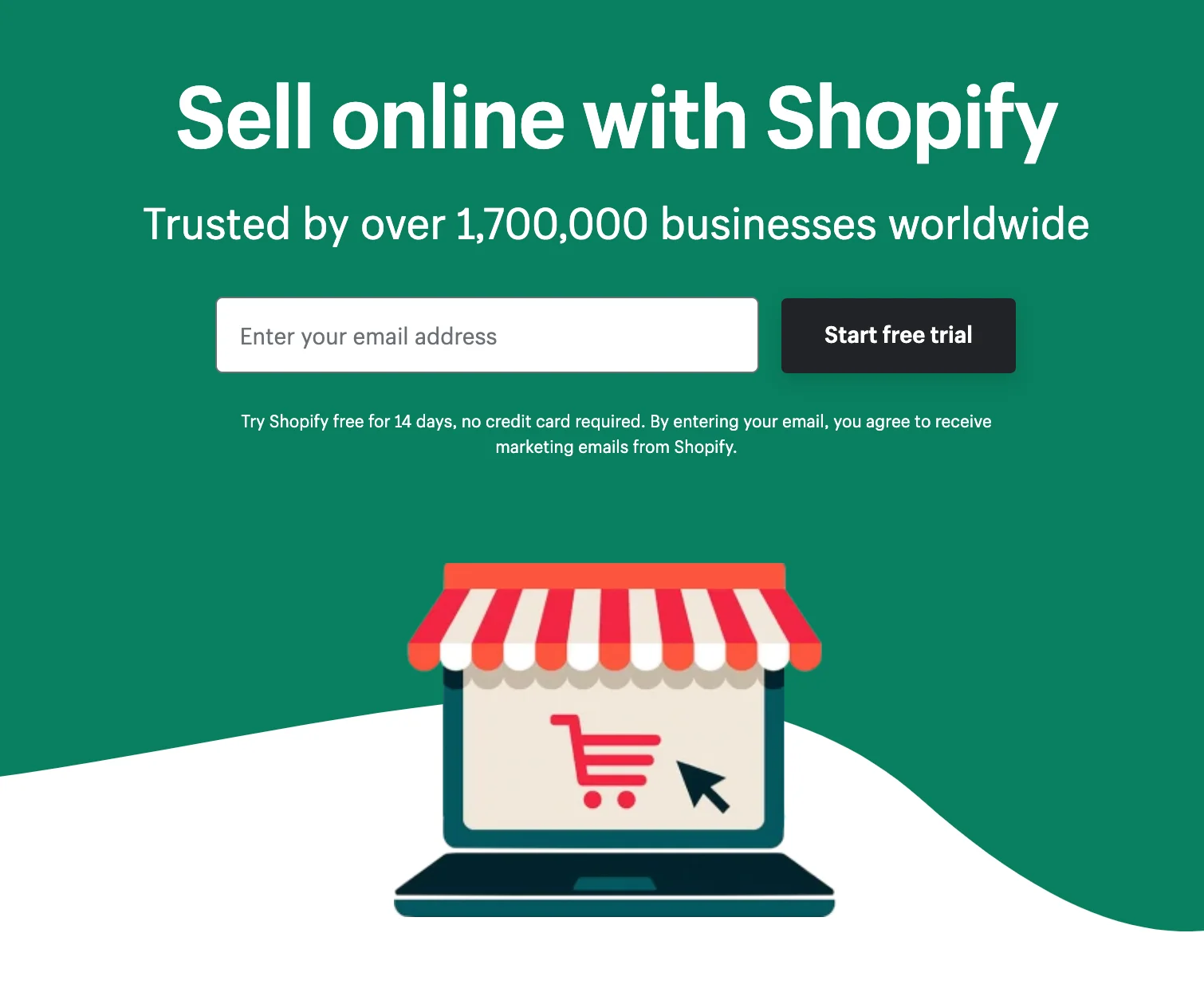 What Shopify does better than WooCommerce?
Being a hosted solution, Shopify is easier to set up and manage on a day-by-day basis. Hence, if you're new to eCommerce and you have little or no coding experience, Shopify suits you better than WooCommerce.
Another great thing when you go with Shopify (or other hosted solutions like BigCommerce, Wix or Squarespace) is that the platform takes all the security-related tasks off your plate. You can also secure your account using two-step authentication. Furthermore, Shopify is PCI compliant by default and provides you with an SSL certificate with all their plans.
On the other hand, with WooCommerce, you are responsible for security updates and SSL certificates. This platform is also not PCI compliant by default.
In addition, Shopify has the infrastructure in place to help load times. On average, Shopify web pages load in 309 milliseconds, while the Google Guidelines recommend an average of 500 milliseconds of loading time. Pretty impressive, right?
Besides, Shopify Plus has a 99.98% overall uptime which is 2.97 times faster than other SaaS platforms. In contrast, WooCommerce page speed will depend entirely on your WooCommerce hosting providers.
Other Shopify pros
Allow multi-channel selling: You can sell on Facebook, Instagram, Amazon or eBay easily with Shopify, which would remarkably increase your revenue once done right. Indeed, it has over 20 channels available for integration.
Brilliant inventory system: Shopify inventory system allows inventory tracking, hiding out-of-stock products, transfers from suppliers and between locations management, etc. Notably, Shopify Point of Sale is available for all plans. It allows Product detail QR codes, Split tenders, Partial payments, and many other availabilities to ensure a seamless shopping experience.
Shopify cons
Limited customizability and flexibility: Due to it being a hosted platform, you cannot have as much freedom to modify your website code as WooCommerce allows you to.
Transaction fee: Shopify is the only platform to enforce its own transaction fee unless you use its payment gateway, Shopify Payments. This transaction fee is 2.4 to 2.9% depending on your plan plus 30¢ per transaction.
Content doesn't automatically reformat if you switch to a different theme.
Shopify pricing
Its pricing structure is quite clear and straightforward. You can choose from the five Shopify pricing tiers with additional features depending on which plan you are on.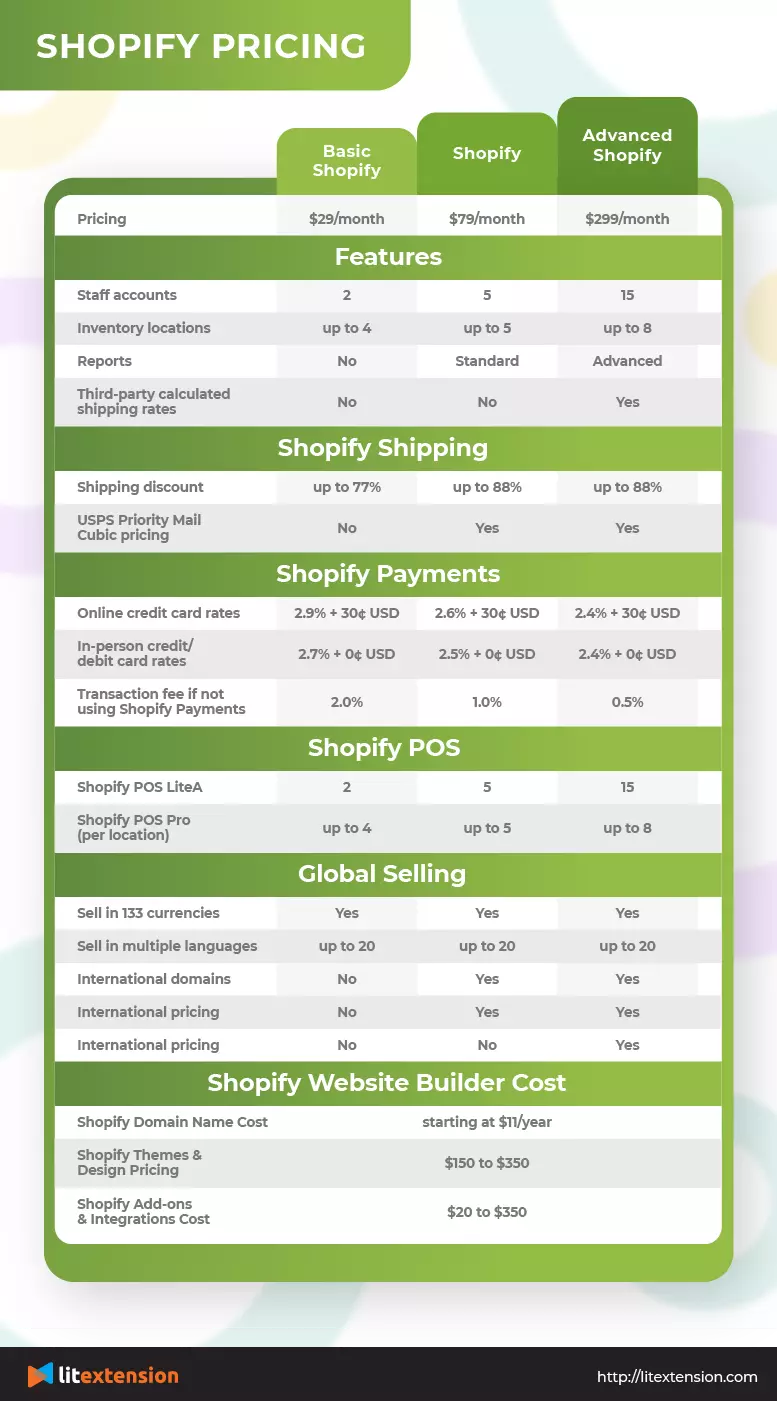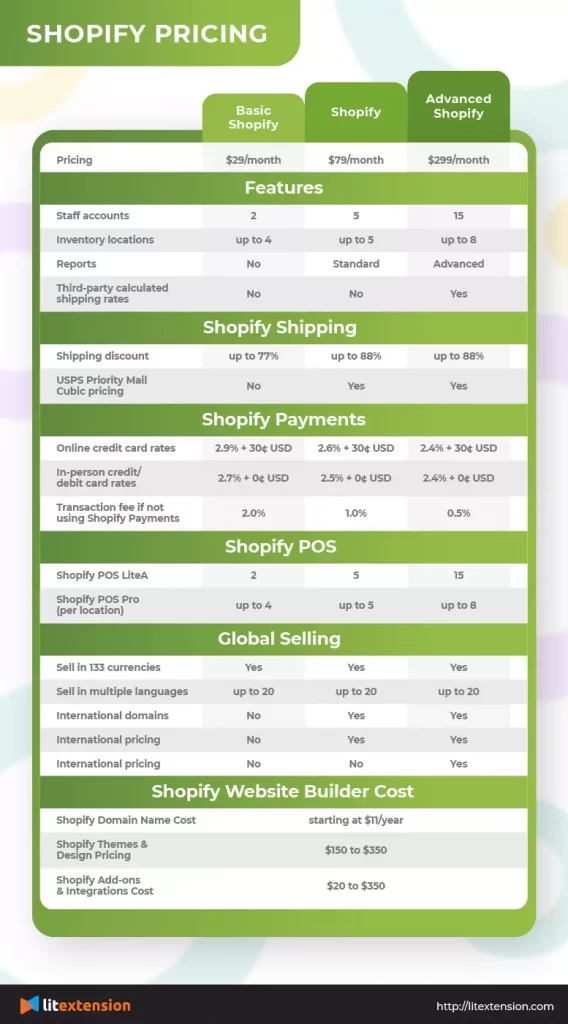 Further Reading:
Need Help To Migrate Your Store?
If you are intending to migrate WooCommerce to Shopify, LitExtension offers a great migration service that helps you transfer your data from the current eCommerce platform to a new one accurately, painlessly with utmost security.
#2 BigCommerce
What is BigCommerce?
Another prominent name among WooCommerce alternatives that you should put under consideration is BigCommerce. In comparison with WooCommerce, BigCommerce is a powerful platform with various built-in features and significantly exceeds WooCommerce regarding customer support. Even though this is a hosted platform, its open SaaS allows you the flexibility to imply new features and tools easily.
 Hard to beat, especially if you don't like WordPress/WooCommerce.

BigCommerce is a goldmine of flexibility when it comes to backend structure and security. WooCommerce is messy and so much to maintain.

Dana R
What features does BigCommerce have better than WooCommerce?
While WooCommerce heavily relies on extensions which can cost a lot of money. BigCommerce, on the other hand, significantly surpasses WooCommerce in terms of built-in features.
For example, BigCommerce allows you to send unique messages and offers to targeted types of customers. It also has an abandoned cart saver feature by default and a built-in powerful inventory management system.
This platform is also PCI compliant and ensures customer security on your behalf. Therefore, unlike WooCommerce,  you don't need to worry about security issues with BigCommerce.
Other BigCommerce pros
High scalability: BigCommerce – a SaaS platform built for hyper-growth -  has a variety of features that offers strong scalability. BigCommerce has stated that some businesses hosted on their platform have seen a dramatic increase in their normal traffic during BFCM season, running at three times the amount and with 100% uptime.
Multiple sales channels: You can also sell on Facebook, Instagram, and Pinterest with BigCommerce. All sales made on these platforms will be sent back to your BigCommerce online store.
No transaction fee: BigCommerce does not charge any transaction fees.
Take a look at our essential BigCommerce resources to make the best out of your eCommerce website:
BigCommerce cons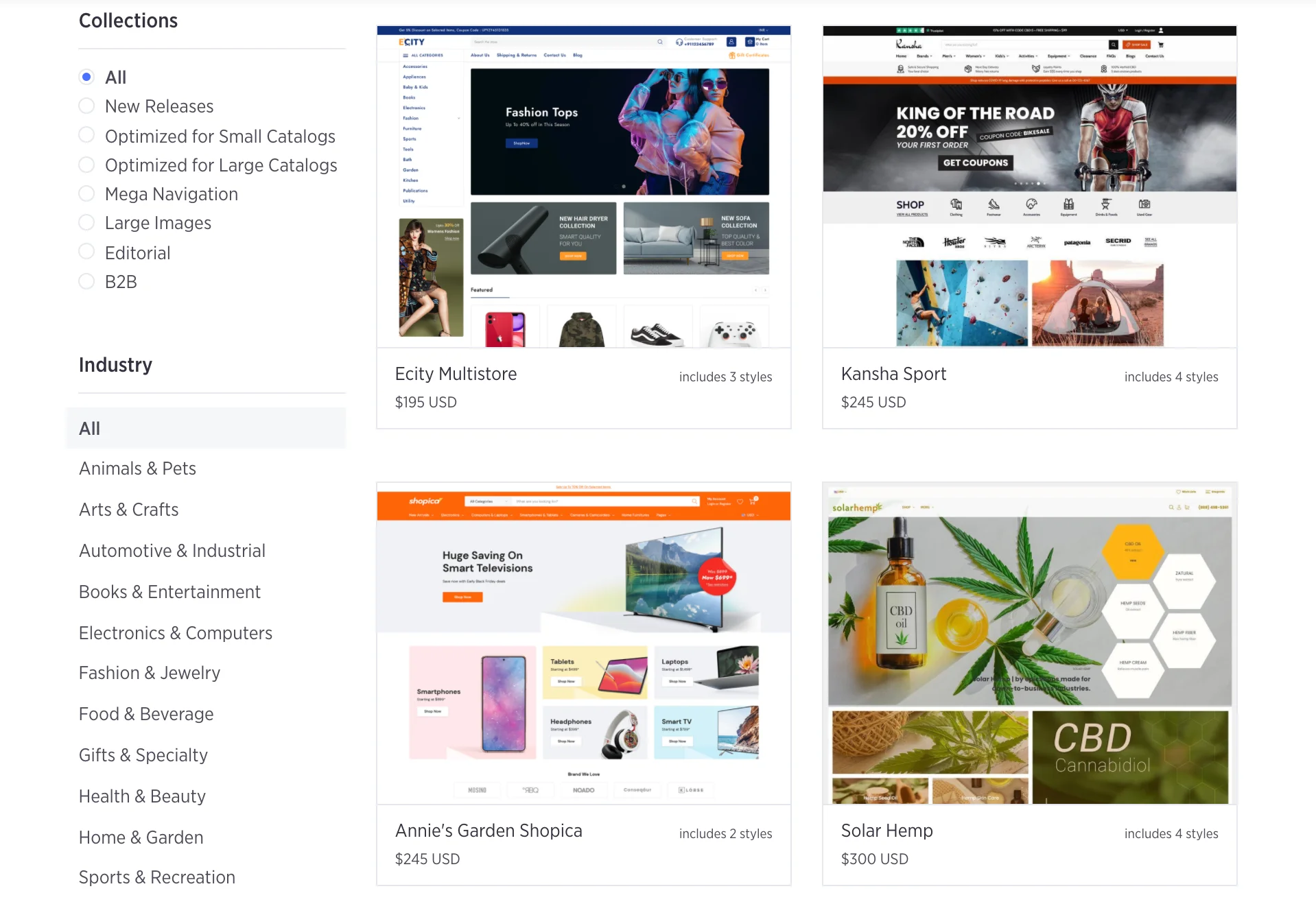 Similar-looking themes: Despite BigCommerce providing a fair number of free and paid themes, most of them look pretty similar. It's also unable to customize themes using HTML or CSS editors.
Implying annual sales threshold: Once you reach a certain level of sales, you must upgrade to the higher BigCommerce plan.
BigCommerce pricing
BigCommerce Standard Plan: $29,95/month
BigCommerce Plus Plan: $79,95/month
BigCommerce Pro Plan: $299,95/month
BigCommerce Enterprise Plan depends on your business size, often starting from $1000 and can range up to $15,000 per month.
Need Help To Migrate Your Store?
If you are intending to migrate to BigCommerce, LitExtension offers a great migration service that helps you transfer your data from the current eCommerce platform to a new one accurately, painlessly with utmost security.
#3 Squarespace
What is Squarespace?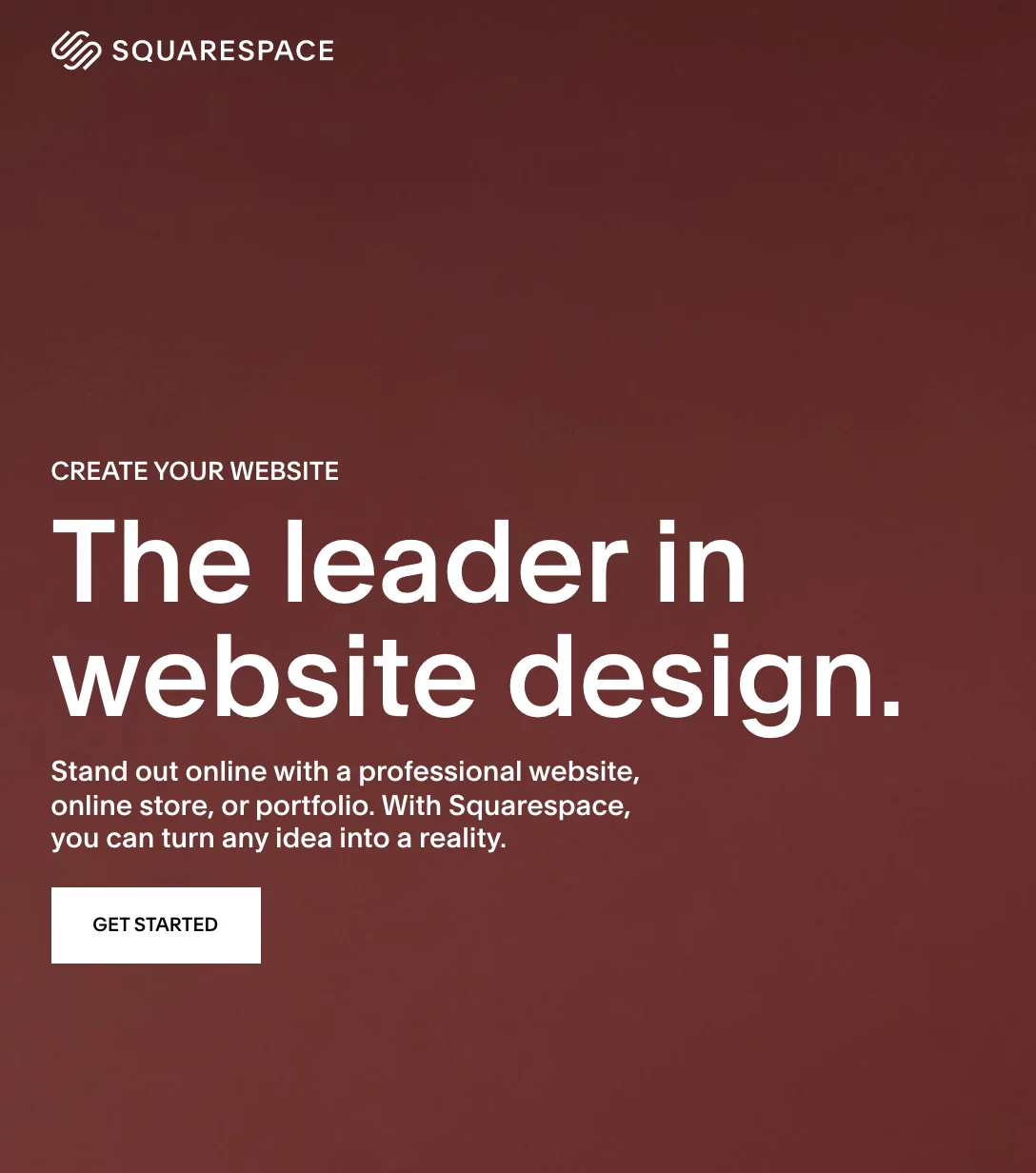 Squarespace is also one of the notable hosted WooCommerce alternatives on the market. This platform will be the right one for you if your most important criterion of a web store is aesthetics.
It is the 2nd most popular hosted solution on the market for both website builders and online merchants. Unlike Shopify or BigCommerce, Squarespace suits small to medium-sized web stores.
What Squarespace does better than WooCommerce?
Initially, Squarespace is better than WooCommerce regarding aesthetics. Squarespace is more intuitive and easier to use than WooCommerce. Squarespace interface feels more polished and thoughtful while of WooCommerce seems more cluttered.
In addition, as discussed above, Squarespace templates are pleasing to the eye. This platform offers over 100 sophisticated themes.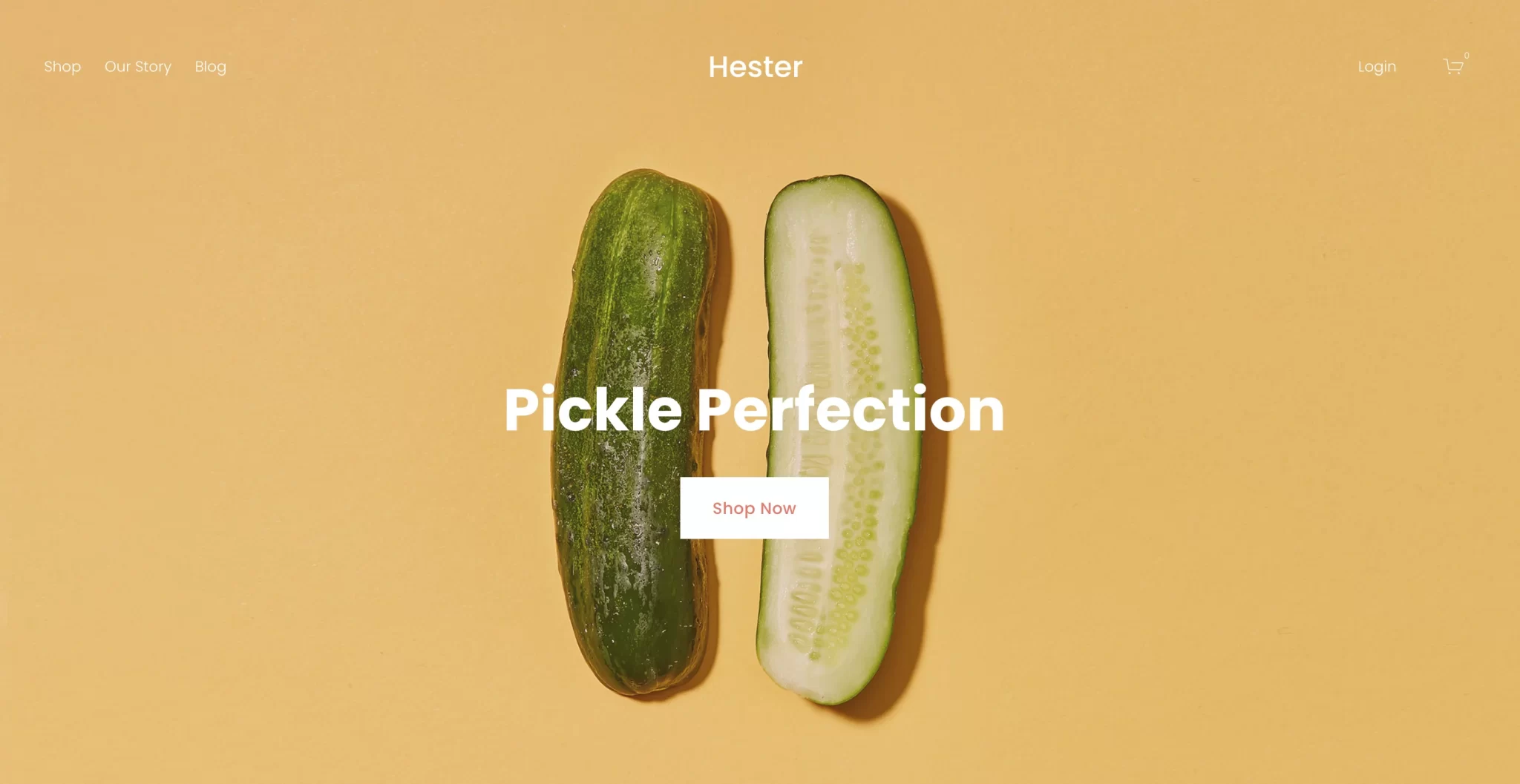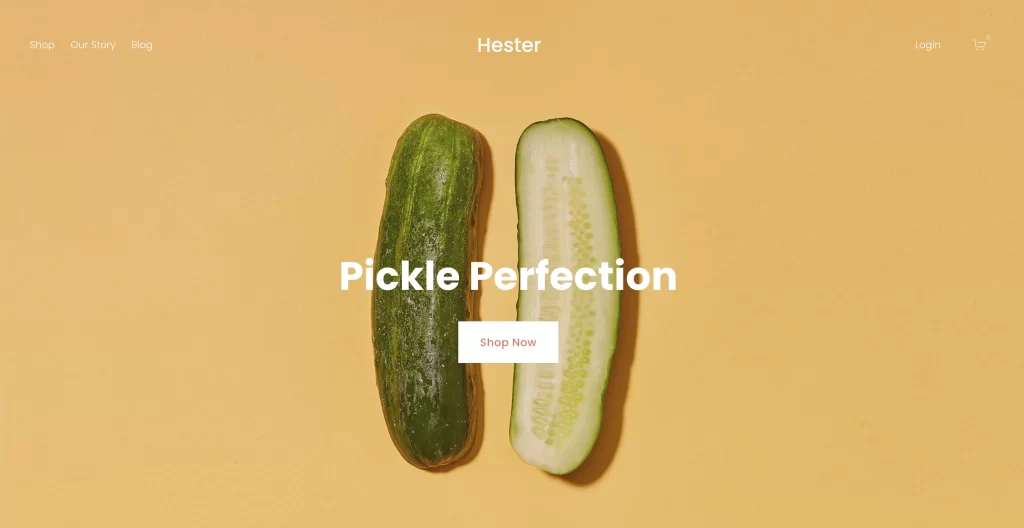 If you're a layman who wants a stylish digital appearance, you should definitely go for Squarespace instead of WooCommerce. Thanks to its wealth of modern, splendid templates, Squarespace is a solid option to showcase your photography portfolio, your blog, or simply items that you've handcrafted and wish to sell.
Furthermore, Squarespace has more powerful tools. For example, its Email Campaign feature includes mailing-list, building email campaign blasts, and automated campaigns. In addition, the Accelerated Mobile Pages tool helps you create streamlined versions of your blog posts so they'll load quicker on mobile devices.
Another example is that Squarespace automatically generates a sitemap while for WooCommerce, you need to use a third-party plugin to do so.
Another strength of Squarespace is that due to its great server system and AMP, this platform has the best overall mobile and desktop page speed performance, while WordPress ranked near the bottom, unlike Joomla.
Finally, similar to Shopify and BigCommerce, Squarespace takes care of security issues for you. Specifically, the HSTS (HTTP Strict Transport Security) mode of Squarespace helps to improve the security of your site.
Other Squarespace pros
Rich blogging features: Squarespace allows commenting, multi-author, post schedule, and many other features for you to manage your blog.
Mobile apps: You can edit your site's pages, manage your stores and track analytics on your mobile phone with Squarespace apps. These apps are available on both Android and iOS.
Squarespace cons
No multi-currency selling functionality: You can only choose one currency for a payment processor. You can still enable this function by installing an extension.
Limited payment options: Payment gateway options on Squarespace default are limited to just Paypal, Stripe, and Square. Currently, Squarespace doesn't support payment via Google Pay yet.
Squarespace pricing
This all-in-one hosted solution offers 4 pricing plans, ranging from $16 to $54 per month. If you pay annually, you'll get discounts.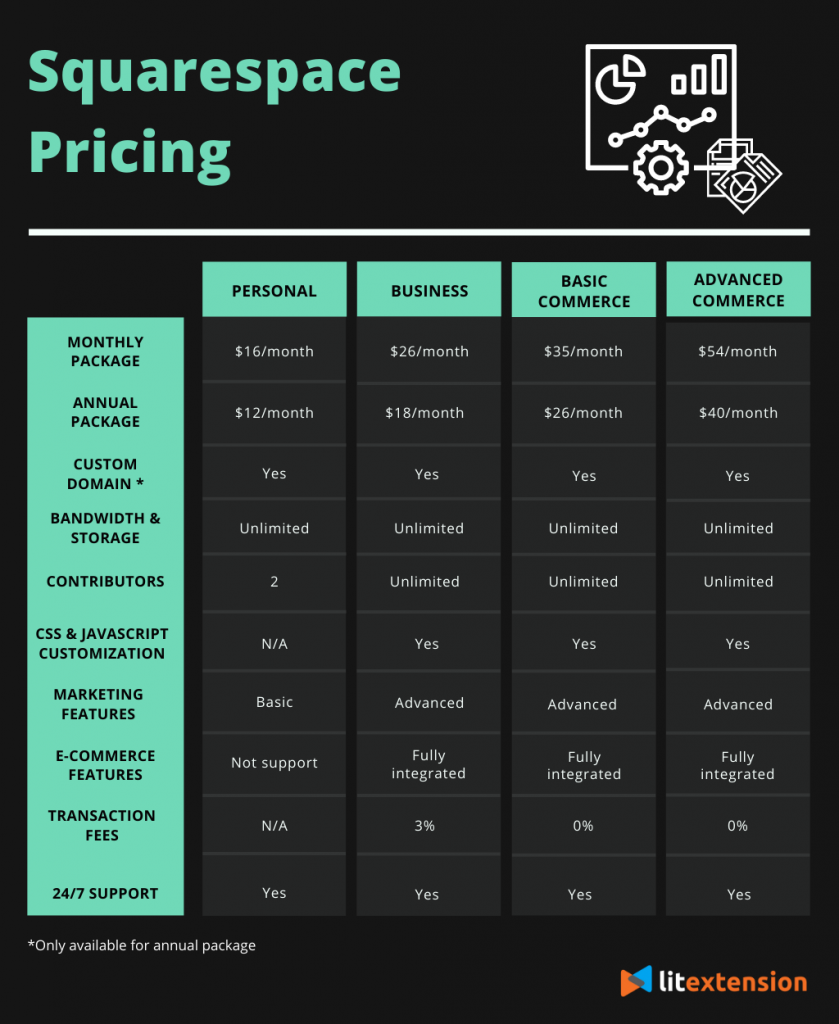 Further Reading:
Need Help To Migrate Your Store?
If you are intending to migrate to Squarespace, LitExtension offers a great migration service that helps you transfer your data from the current eCommerce platform to a new one accurately, painlessly with utmost security.
#4 Wix
What is Wix?
When it comes to WooCommerce alternatives, Wix is definitely an optimal choice. Wix is an eCommerce website builder founded in 2006 by three talented Israeli developers. Since its reception, this solution has continuously grown to become the home to more than 180 million registered users from 190 countries around the world.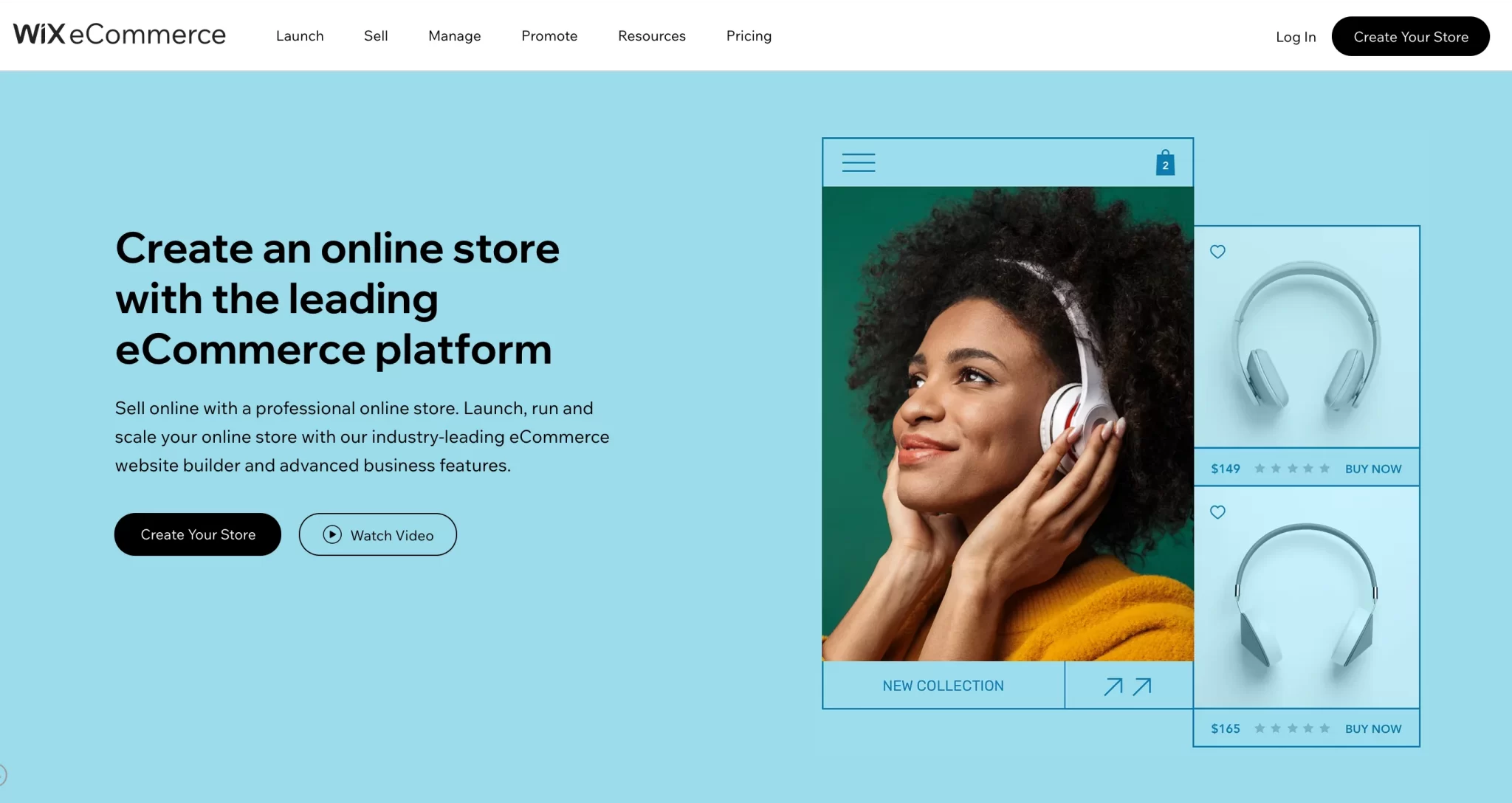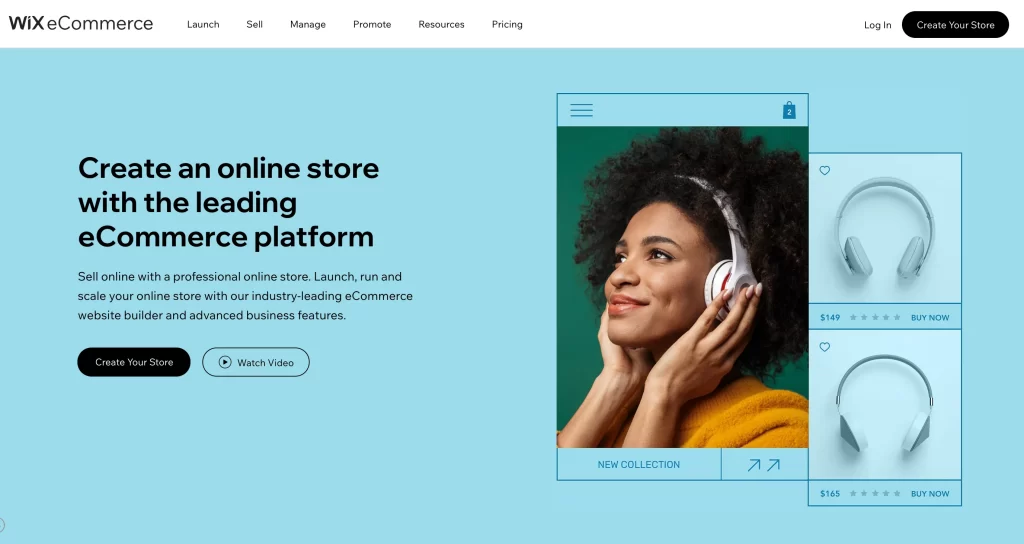 What Wix does better than WooCommerce?
While WooCommerce requires users more advanced technical skills to take control of their stores, Wix is designed for newcomers and non-coders. With a simple drag-and-drop builder, you can easily create a stunning Wix website without a line of code. Moreover, Wix also allows you to see how your edits are impacting the design of your storefront.
Wix has an excellent interface for drag and drop pictures, objects, and creating contact forms. I like the templates available for design as they are professional looking and allow you to set up your touch to the template.

Hunter B
While WooCommerce only allows you to sell in English, you can sell in multiple languages with Wix. Apart from English, other languages are also supported, such as Dutch or Polish.
Besides, Wix is also renowned for great customer support,  including email, phone, training, tickets and live support. Meanwhile, if you opt for WooCommerce, only email and tickets are available.
Let's discover more about Wix: 
Other Wix pros
Wix provides you with hundreds of Wix templates, which are also mobile responsive.
The prices of Wix are less expensive and easier to handle than those of WooCommerce. You can choose from 7 pricing plans, which are divided into two main categories: Website Premium Plan & eCommerce and Business Plans.
Wix Cons
You can't switch to a different template you've published your site without starting again from scratch.
You can find out more about Wix as well as Shopify in this Wix vs Shopify comparison video. Check it out!
Wix pricing
Website plans
Connect Domain: $4.50/month
Combo: $8.50/month
Unlimited: $12.50/month
VIP: $24.50/month
Business & eCommerce plans
Business Basic: $17/month
Business Unlimited: $25/month
Business VIP: $35/month
Further Reading:
Need Help To Migrate Your Store?
If you are intending to migrate to Wix, LitExtension offers a great migration service that helps you transfer your data from the current eCommerce platform to a new one accurately, painlessly with utmost security.
#5 OpenCart
What is OpenCart?
OpenCart is one of the open-source WooCommerce alternatives that we would suggest. If you are running a small to medium online business, OpenCart is right for you.
The most remarkable strength of this platform over WooCommerce is that despite being an open-source platform, OpenCart is very user-friendly.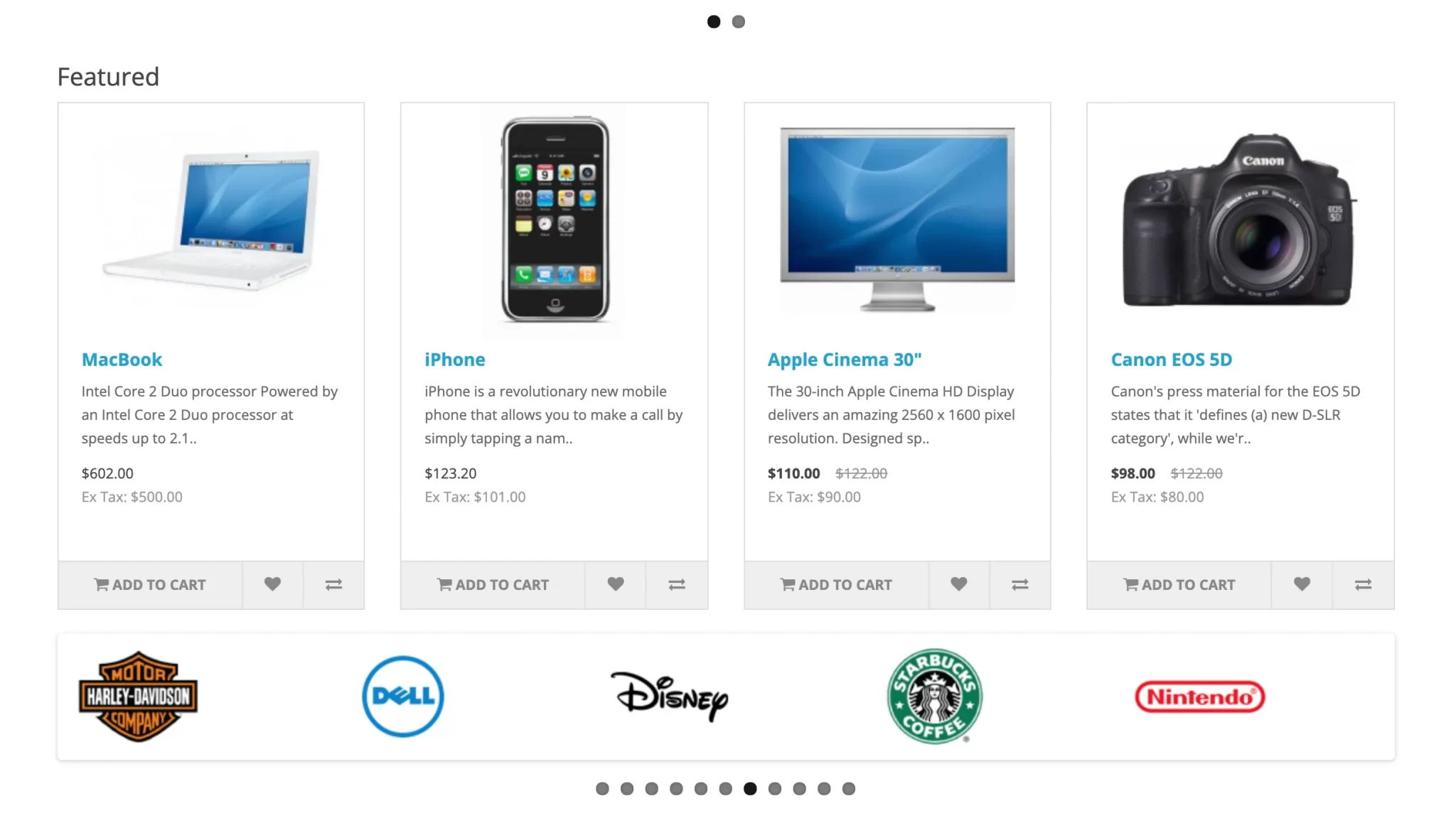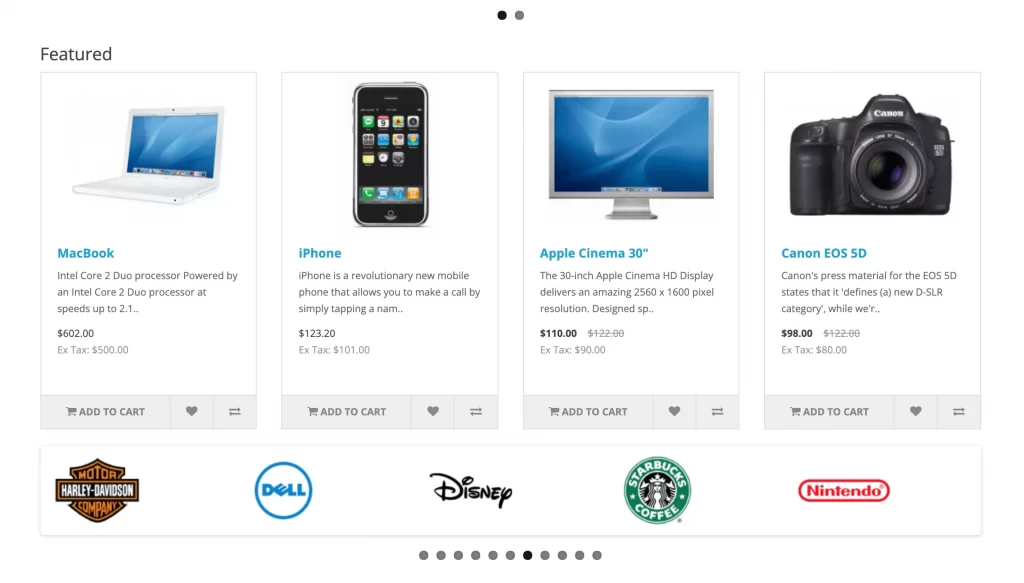 What OpenCart does better than WooCommerce?
Despite being an open-source platform, OpenCart offers better customer support than WooCommerce. As mentioned above, You can only seek the answers to your queries on WooCommerce online resources or community.
Nevertheless, for OpenCart, besides the free community support, you also receive dedicated technical support. This is a paid service including two plans: One-time fix and Monthly. One-time technical help costs $99 and comes with a 30-day bug-free guarantee. The monthly plan costs $99 per site and provides you with up to 48 hours of response time support from experts.
Secondly, OpenCart has a multi-store function. This function is not in WooCommerce default. While for OpenCart, you can enable this simply by using only one installation under one admin management. Once you have installed one OpenCart store, then you can create multiple stores right from the admin panel without performing the installation process all over again.
Other OpenCart pros
Ease of use: The sections and items on the OpenCart interface are very well-displayed. Almost every service, sector, and industry are represented on this platform, allowing you to use any integration needed. You can even integrate social media, eBay, or Amazon into your storefront.
Complete report and analytics: OpenCart automatically generates reports and metrics so that you can frequently update your business performance. You can even customize what the reports cover to fit the needs of your business. OpenCart also allows you to filter and compare data.
Integrate most common shipping methods: OpenCart integrates the most common shipping methods available on major eCommerce sites such as FedEx or UPS. You can also use your national postal systems, such as the USPS, Australia Post, or Royal Mail.
OpenCart cons
Duplicate pages with different URLs: When you start building your web store with OpenCart, you may find some duplicate pages having several different URLs, which can negatively affect your SEO.
Slow checkout experience: Without additional plugins, the checkout experience of OpenCart can be slower than other eCommerce platforms. There are many complaints of OpenCart users about checkout page loading time being over 1 minute on their forum.
OpenCart pricing
OpenCart is free to download and install. But to be able to create an OpenCart store, you might need to pay for some extras:
Hosting plan: Those usually start at around $10 / month if you're on a budget (the quality host will cost you more).
A domain name for your store: Around $10 / year or so.
An SSL certificate: Depending on the needs of the store owner, the price will vary.
An eye-catching theme/template, and any additional modules/extensions that you want to have in your online store (those tend to cost $100 on average).
Further Reading:
Need Help To Migrate Your Store?
If you are intending to migrate to OpenCart, LitExtension offers a great migration service that helps you transfer your data from the current eCommerce platform to a new one accurately, painlessly with utmost security.
#6 Magento 2.0
What is Magento 2.0?
The second open-source platform that would be one of the great WooCommerce alternatives is Magento. If you are a large-scale business owner and find WooCommerce not powerful enough for your web store, you can take Magento into account. This is a powerful and feature-rich platform for eCommerce professionals.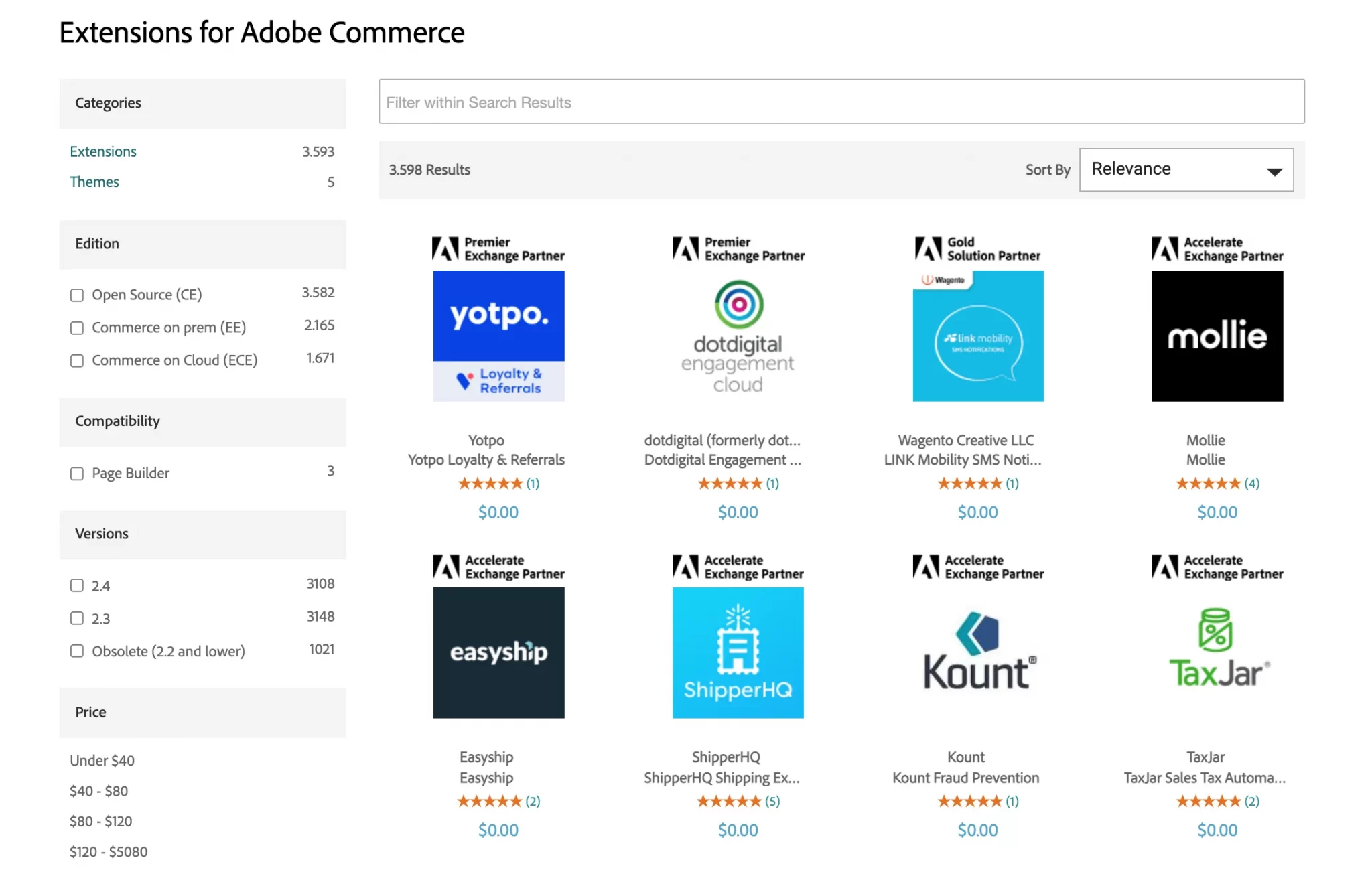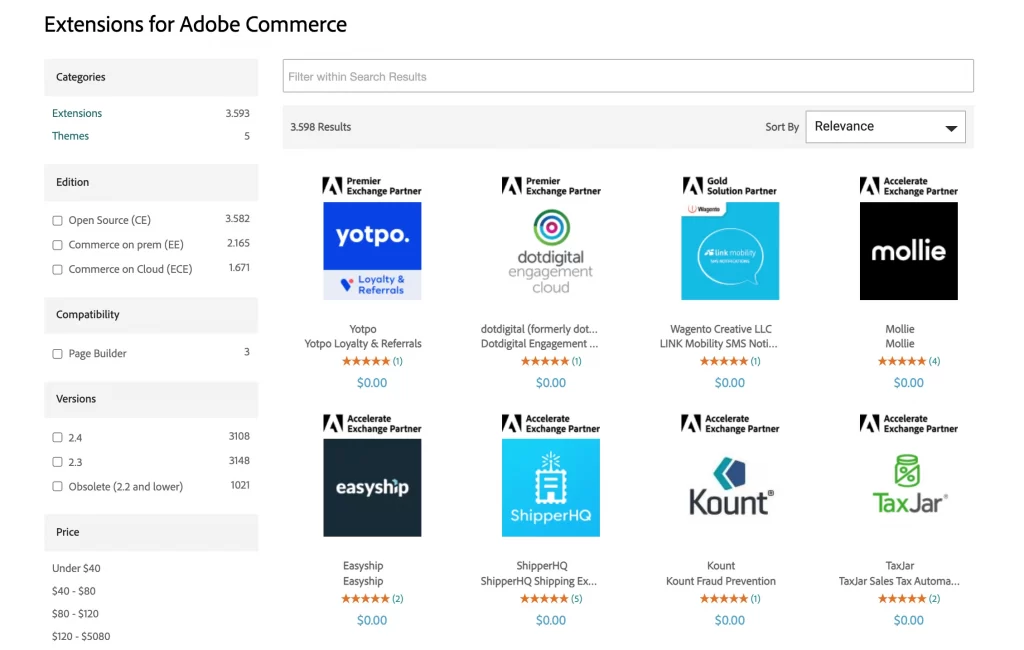 Even though Magento 2 was once considered one of the most complicated platforms, its latest version has improved a whole lot in terms of ease of use.
Access our essential resources for Magento (Adobe Commerce):
What Magento does better than WooCommerce?
According to our analysis between WooCommerce vs Magento, Magento has a better response time than WooCommerce.
For Magento, the average page load time is 665 milliseconds with high availability while the average page load time of WooCommerce is 776 milliseconds. Especially, it takes 1.32 seconds to reach the WooCommerce cart page, which is actually really low.
In addition, Magento is also more suitable for large-scale firms. While WooCommerce is more efficient for small-scale stores, Magento works better with big businesses. This platform is highly secure and performs very well when it comes to massive traffic at a time.
Moreover, besides its free Community edition, Magento also offers Commerce editions with outstanding performance, support, and features. It is well-known for being capable of comfortably coping with up to 50,000 visits per hour. In fact, Magento can approximately support up to five hundred thousand products and thousands of transactions in an hour.
Still wavering between Magento vs WooCommerce, this head-to-head comparison video might be helpful for you!
Other Magento pros
An abundance of features: Magento has a wide range of built-in features which allow us to manage multiple stores, and support multiple locations, multiple languages, multiple pricing, and multiple currencies.
Magento cons
Magento Pricing: Since Magento is a resource-incentive and heavy solution, it is a must that you choose a dedicated server to make the best out of this platform, which can be a little pricey. Furthermore, even though the Community edition is free to download, the Magento Commerce edition and Enterprise Commerce Cloud are pretty costly starts at $40,000 per year.
Magento pricing
Magento Open Source: $6,000 – $15,000/month
Magento Commerce: $22,000 – $125,000/year
Magento Commerce Cloud: $40,000 – $190,000/year
Further Reading:
Need Help To Migrate Your Store?
If you are intending to migrate WooCommerce to Magento, LitExtension offers a great migration service that helps you transfer your data from the current eCommerce platform to a new one accurately, painlessly with utmost security.
#7 PrestaShop
What is PrestaShop?
Among a plethora of WooCommerce alternatives, the last open-source platform that we suggest is PrestaShop. This platform is fairly easy and convenient to install and use. Like other open-source platforms, you have the freedom to modify and customize your store.
Here is our PrestaShop tutorial video to help you create a PrestaShop store within minutes:
What PrestaShop does better than WooCommerce?
In terms of security, despite both being open-source website builders, Prestashop downloadable set-up file is already PCI compliant by default while WooCommerce isn't.
In addition, Prestashop is multilingual from the get-go. You have over 40 languages pre-translated. While with WooCommerce, you'll have to learn the basics of translation of WordPress sites, understand .po/.mo files, and install an additional plugin.
In comparison with WooCommerce, Prestashop also offers more built-in features for the catalog, product details, logistics, promotional codes, and shopping cart rules. To have these features available on the WooCommerce site, you will need to install a few plugins.
Lastly, Prestashop offers more alternative payment methods. WooCommerce allows +100 payment gateways through free and paid plugins. Nevertheless, for Prestashop, you have +250 options on the PrestaShop marketplace or PrestaShop Checkout solution.
In case you need to learn more about PrestaShop, check out now:
Other PrestaShop pros
User-friendly: Despite being an open-source platform, Prestashop is easy to manage. The backend interface is very intuitive. Nevertheless, to customize your web store, you still definitely need to have coding knowledge and experience.
Customer support plan available: Prestashop also provides the same support as WooCommerce does. However, you can pay for their advanced support plans and receive responsive official support from Prestashop experts. The plans cost from $249 to $1399, depending on the support level.
PrestaShop cons
Limited scalability: Very large numbers of visitors and orders can cause slow loading time and backend errors on a Prestashop web store. Keep in mind that I'm referring to eCommerce global heavyweights. If you are operating a medium-scaled store, Prestashop still performs beautifully.
PrestaShop pricing
Just like other open-source software like WooCommerce or Magento, PrestaShop is free to download and install. However, it's not an entirely free ride as you'll have to pay for some extras.
The estimated cost breakdown below will give you a good idea of how much you have to pay.
Hosting: $5 – $100 per month
Domain: Around $20 per year
SSL certificate: $100 – $500 per year
Modules & Adds-on: $0 – $1000 (depends on your store configuration)
Need Help To Migrate Your Store?
If you are intending to migrate WooCommerce to PrestaShop, LitExtension offers a great migration service that helps you transfer your data from the current eCommerce platform to a new one accurately, painlessly with utmost security.
#8 SureCart
What is SureCart?
SureCart is a new WooCommerce alternative on the block. Created by the guys behind the Astra WordPress theme, CartFlows and other awesome products, SureCart is designed to take on the might of WooCommerce head on.
It's a headless eCommerce solution that does everything WooCommerce does, but faster. The store is displayed on your website as usual and the store works exactly like you expect.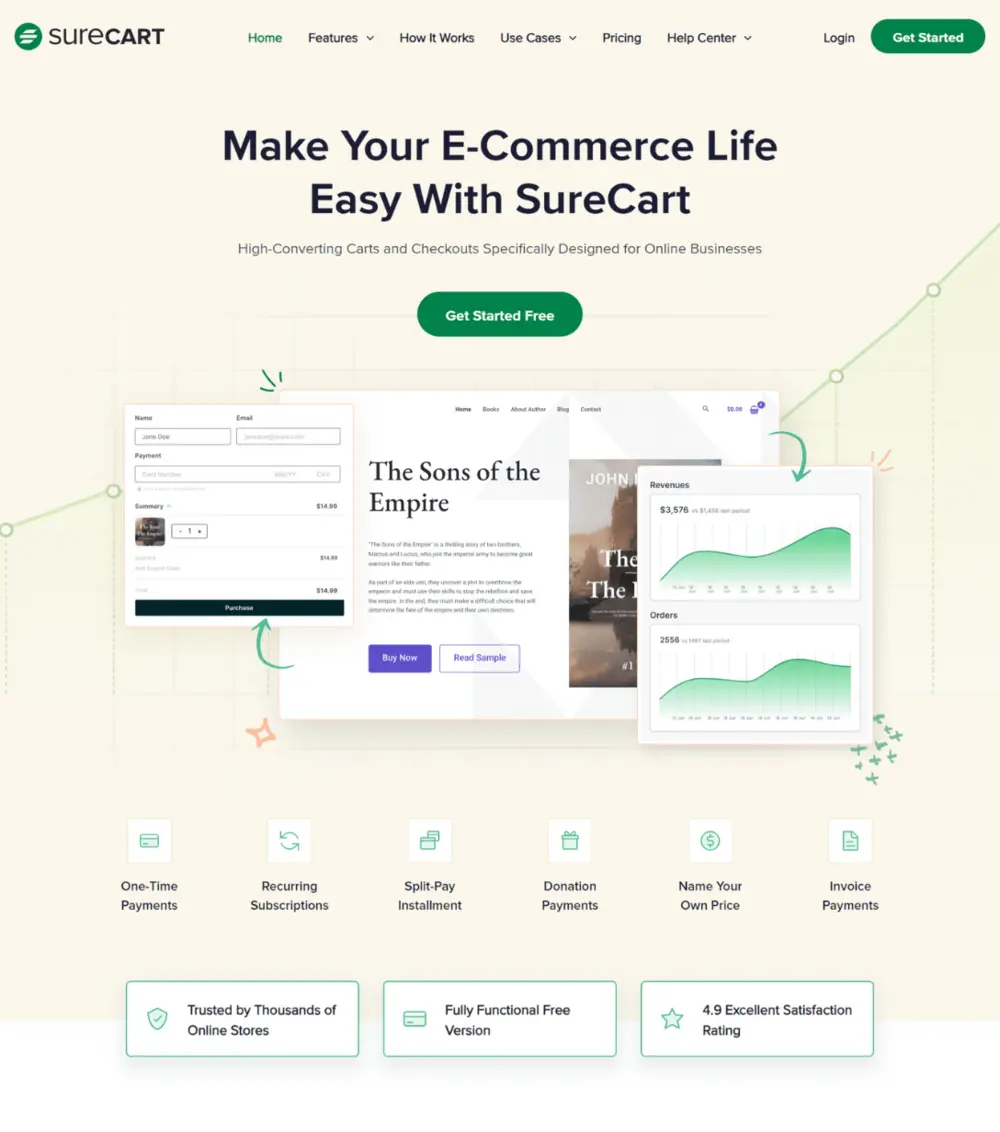 The difference is that all the heavy lifting is done by SureCart's secure servers. This leaves your web server just to handle visitors. It's a simple, elegant solution that's going down well so far.
What does SureCart do better than WooCommerce?
SureCart does a lot of things better than WooCommerce. In fact, the driving force behind it was to address the frustrations of using WooCommerce.
First, SureCart is easy to use. The menus are easy to find, functions are simple and there is documentation that covers every aspect of using it. There's also full support from a dedicated support team if you ever need it.
Second, SureCart is fast. If you have a WooCommerce store, you'll know how slow it can get at times and how much hosting able to cope with running a store can cost.
SureCart is different. Your site will host the front end of the store but the rest will be handled by SureCart servers connected via secured API.
SureCart also handles most functions without requiring plugins or paid addons. It can handle different payment options, donations, invoicing, subscriptions and more. You can fully customize how your store will look and optimize the checkout page for maximum conversions.
Finally, you can manage your store easily using simple dashboards and have a full picture of what's going on without having to load a bunch of different screens.
Other SureCart pros
Infinitely scalable: Start small and grow without having to change web host, buy new extensions or pay any extra. SureCart helps you grow however much you want to.
Integrates with your favorite tools: Have a store already? Want to duplicate it in SureCart? No problem. SureCart is designed to work with just about any WordPress theme or plugin. It can even work with custom plugins or code as long as it's compliant with WordPress standards.
Supports automation: SureCart has been designed to make your life easier. SureCart can work with SureTriggers and other automation platforms so you can level up your store while concentrating on growth.
SureCart cons
It's a new platform: Being fresh might seem like a good thing, but not everyone sees it that way. It's up to you whether you want to try a newly established platform made by the famous names behind Astra.
SureCart pricing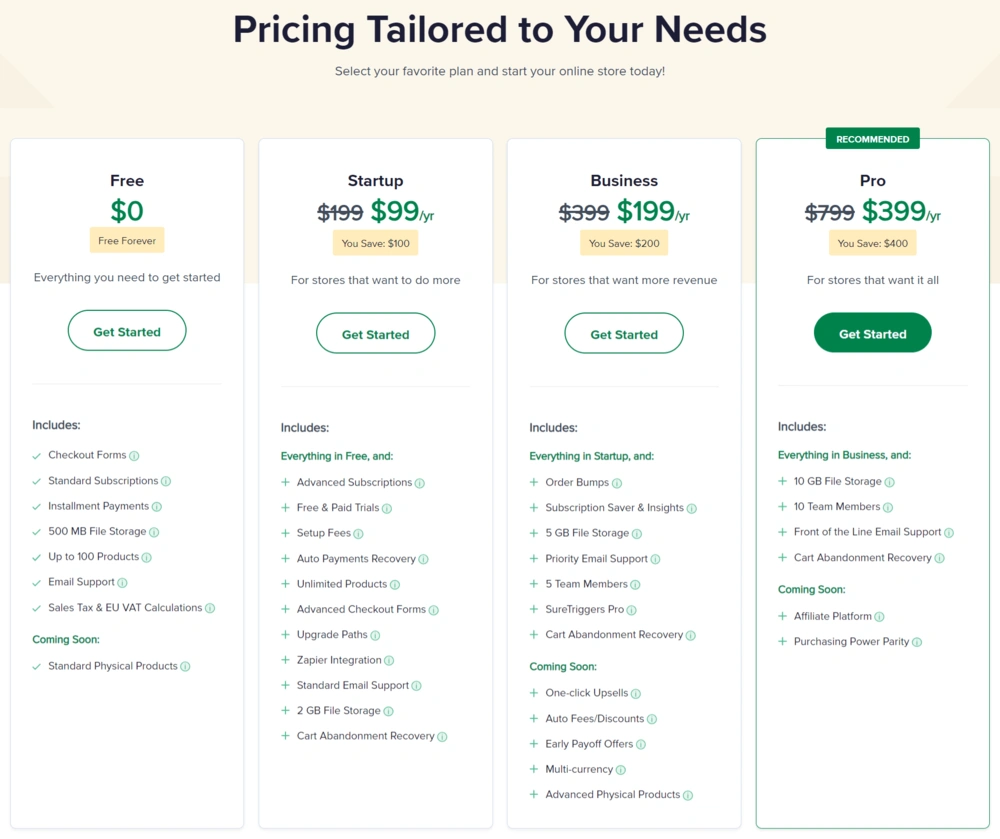 SureCart Free
SureCart Startup: $99/year
SureCart Business: $199/year
SureCart Pro: $399/year
#9 Ueni
What is Ueni?
This tool, which was founded in 2014 in London, is specifically designed for small enterprises. Ueni has aided over 600.000 enterprises in 10 countries since its beginnings.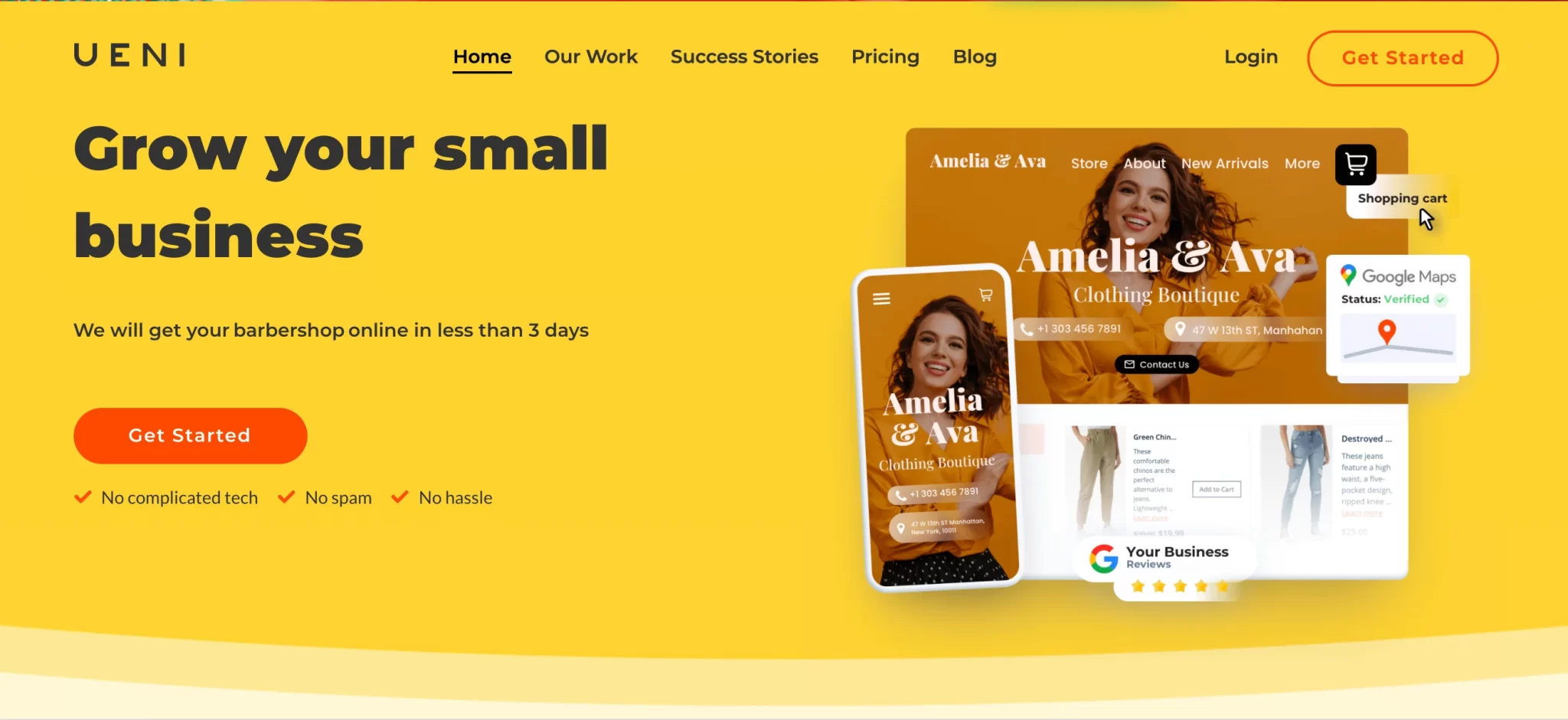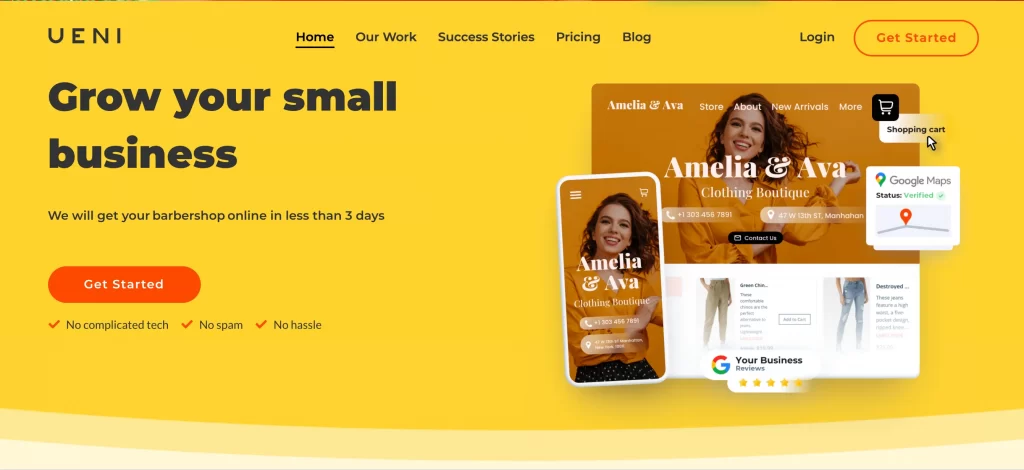 Designing your own website is very expensive. I've had quotes from places that were charging $300 or $400 just to design it. UENI is a great website designer that has great functionality. It's low cost, suits my needs, and has helped me get my name out there.

It's All Relative Genealogy, LLC
What Ueni does better than WooCommerce?
Ueni is a do-it-for-you application that may help you develop your internet presence in 3 simple steps. Ueni will have your new website up and running in less than three days by combining technology and operational processes. You only need to complete a few questions about your company and post photographs and descriptions of your products.
When it comes to eCommerce features, Ueni not only helps you build your brand with a custom domain name and email address, as well as a logo builder, but it also gives you access to advanced features like shopping cart sales, bookings & email leads, Facebook, Instagram, Google integration, and even advertising credit.
In a word, Ueni is a simple and low-cost approach to getting online and keeping your internet presence relevant. This solution gives you the quality of an agency at the cost of a do-it-yourself platform.
Other Ueni pros
Get found online
Build your brand
Save time & money
Sell everywhere
Meet your one-stop-shop
Ueni cons
Upgrade when you want to grow your business.
Ueni pricing
There're two pricing plans – Reputation & Plus. The former will cost you £49 per month and with the latter, you'll need to pay £39 monthly.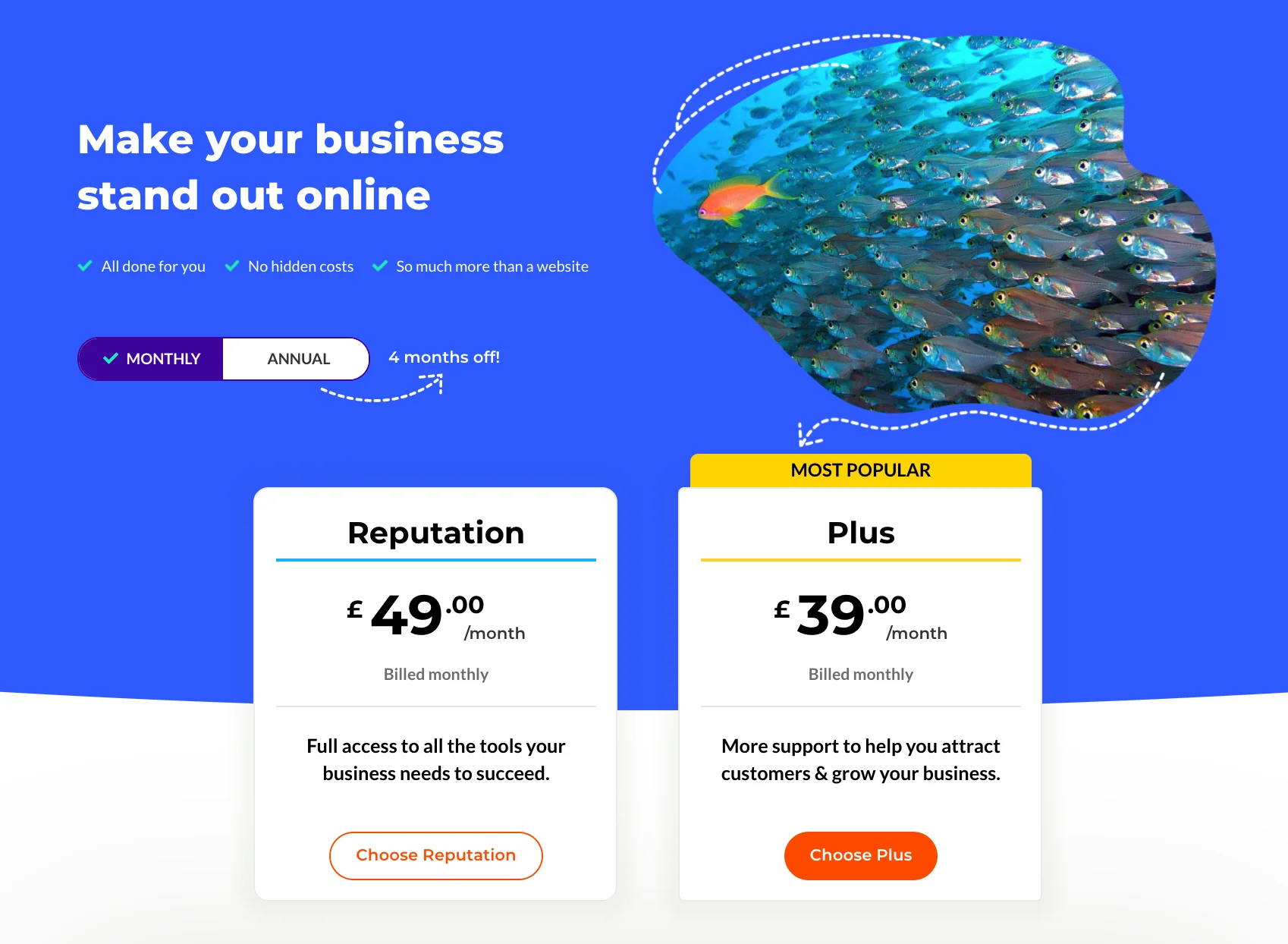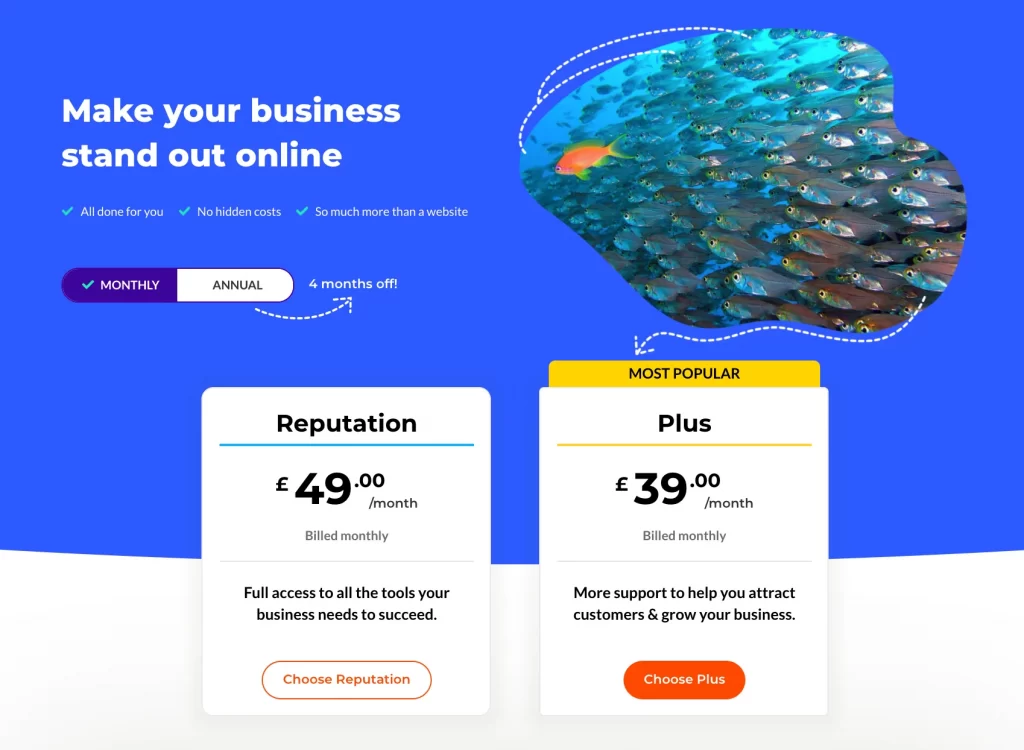 Further Reading: Top eCommerce Platforms in 2023
---
FAQs About WooCommerce Alternatives
---
WooCommerce Alternatives – Conclusion
In this article, we have discussed 8 WooCommerce alternatives, their pros and cons, and how they solve the problems that you may face with WooCommerce. Hopefully, this article has the information you seek and has helped you make a well-informed decision.
If you are planning on migrating from WooCommerce to Magento, WooCommerce to OpenCart, WooCommerce to BigCommerce, or any other platforms, LitExtension – #1 Shopping Cart Migration Expert is willing to help! As the world-leading shopping cart migration tool with 200,000+ successful migrations for 100,000+ worldwide customers since the dawn of its foundation, LitExtension can transfer all your data, including products, and customer orders, automatically, quickly and accurately, especially, with no technical skills required.
You can find the list of LitExtension's supported carts here. If your platform is not on the list, contact our team via live chat to make a request. For any further information about LitExtension, please feel free to contact us!
Join our Facebook Community to get more eCommerce tips and news.