Whether you are starting a new online business or thinking about changing platforms, we believe that choosing the best eCommerce platforms is of much importance.
Fully understand your concerns, LitExtension – The #1 Shopping Cart Migration Expert, has compiled a list of the best eCommerce solution providers, as below:
Let's get cracking!
---
Best eCommerce Platforms for Your Online Business
#1. Shopify
What is Shopify?
We think it's safe to say that Shopify has become one of the best well-known names in the eCommerce sphere and perhaps the easiest-to-use tool to build your online store.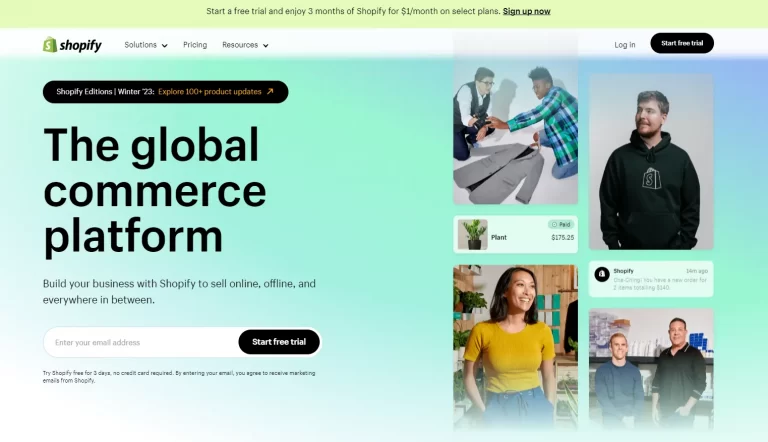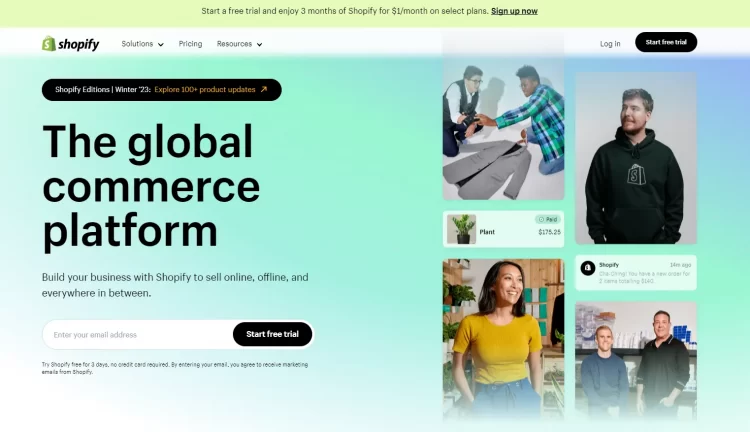 It's a full-featured hosted solution that provides you with everything needed to start selling online. This platform powers over 4,6 million businesses across 175 countries worldwide (Source: BuiltWith).
Shopify also has Shopify Plus – which best suits enterprise businesses. For more information on the pros and cons of this platform, you can check out our detailed Shopify Plus review.
Shopify Pricing
Shopify pricing is quite clear and straightforward. It offers 5 different pricing tiers with additional features depending on which plan you are on, which ranges from $5 to $399 per month. Unlike other open-source platforms, each plan already includes a domain name, SSL certificate, and web hosting.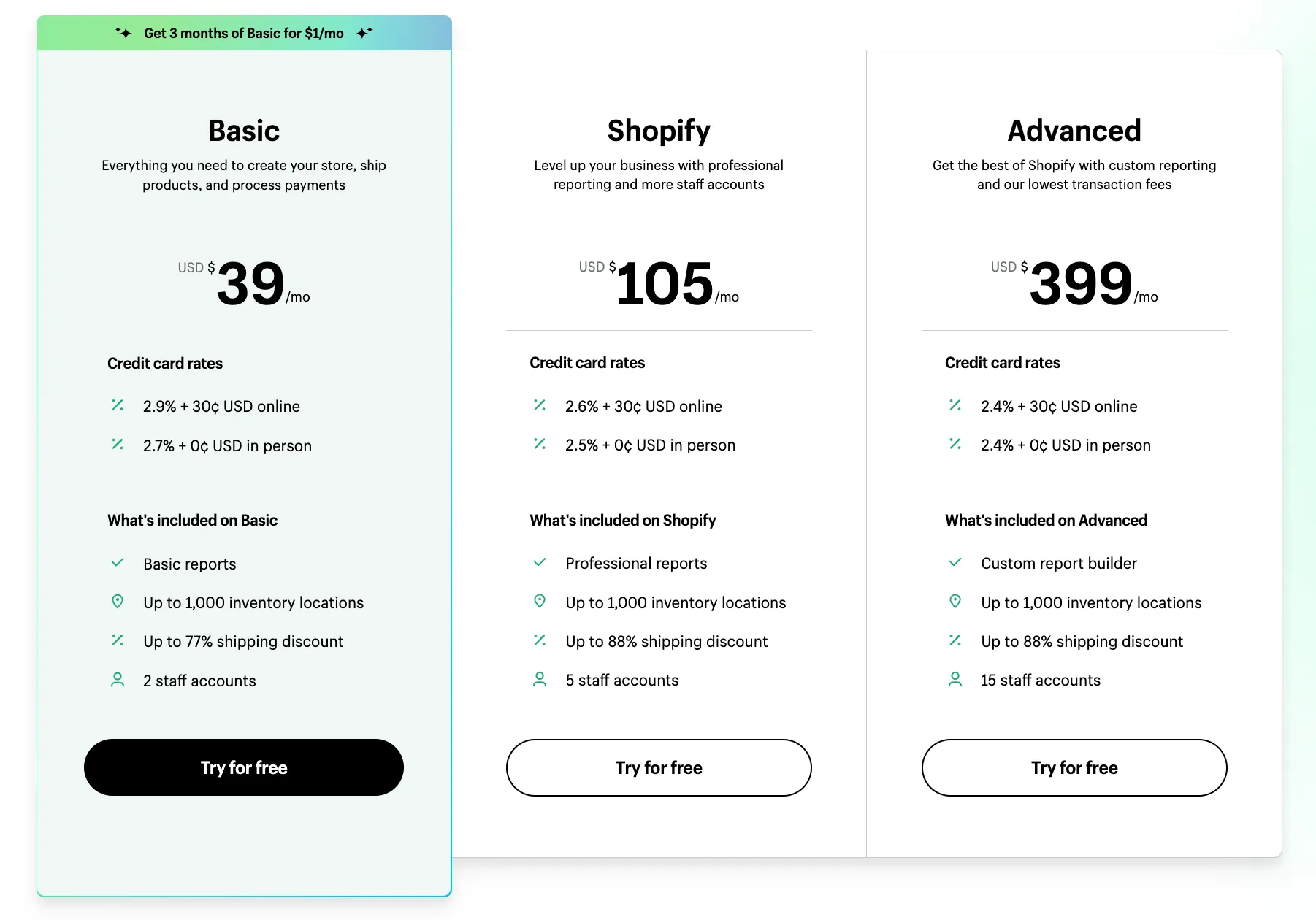 However, you might need to purchase third-party tools and add-ons for more helpful features. As your business grows, these costs will start adding up. Moreover, this platform charges an additional fee if you use other payment providers than Shopify, which is around 0.5% – 2% per transaction, depending on your plan.
This platform also provides the Shopify Starter plan for just only $5/month – best for links in bio and social eCommerce business. Please bear in mind that this pricing tier won't give you a complete online store. Instead, it lets you sell on social media and embed a Shopify Buy Button on your own website to use the shopping cart functionality.
Discover more about this platform's pricing via our research: Shopify pricing – Which plan is best for your business?
Why we select Shopify as one of the best eCommerce platforms
Ease of Use
As a hosted platform with many features packed into a user-friendly environment, Shopify makes things easier and best for e-merchants just getting their feet wet in online retailing. This platform gives it all: a simple setup with an intuitive dashboard area for easily adding products, changing the site's design, and much more. You can manage customers, orders, and inventory in the same way.
With Shopify, you can easily set up and open an online store within minutes without any coding knowledge required. Thus, it would be an ideal option for beginners and eCommerce sites without many in-house technical resources. You can also set up Shopify shipping integrations to simplify logistics and delivery processes.
If you want to see everything that Shopify offers and how it can help your business, we've been testing this eCommerce solution and give out this in-depth review below.
If you're a newbie just dipping your toes into the eCommerce business, don't worry! Shopify offers a 3-day free trial and $1 for a 3-month subscription for you to try it out!
Apps & Add-ons
This eCommerce platform comes with a powerful API and an App Store with over 8000 apps, helping you broaden your website's functionality. The good news is that you can add most apps just with the click of a button. However, keep in mind that some options might require your coding knowledge.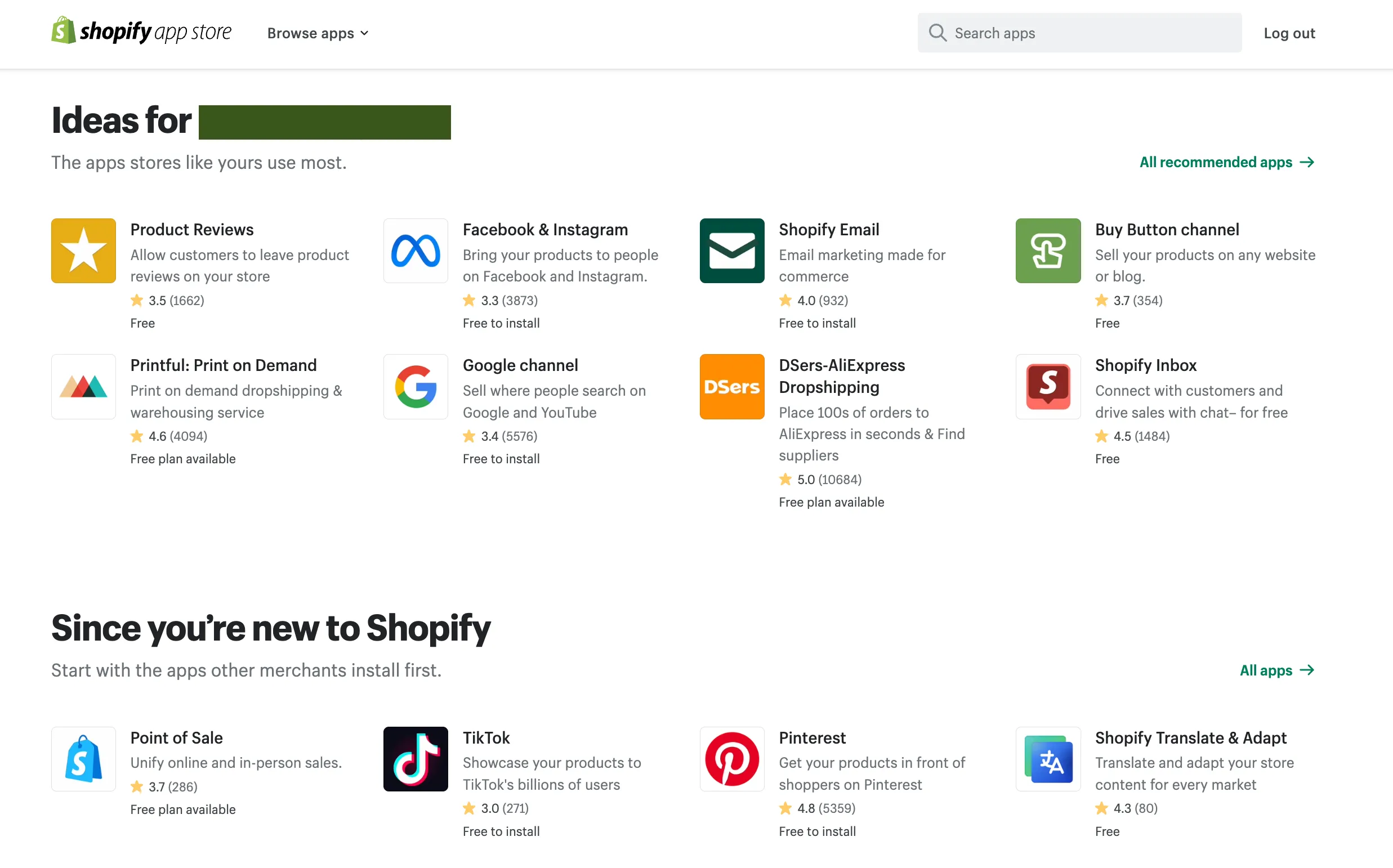 Design & Customization
Another reason that we think Shopify is one of the best eCommerce platforms is that it is packed with a wide selection of stunning templates. From our point of view, they look absolutely out of the box. It is also pretty easy for users to install and apply the best Shopify themes to design the store's look. This platform claims, "You don't need any technical or design experience to create a beautiful online store".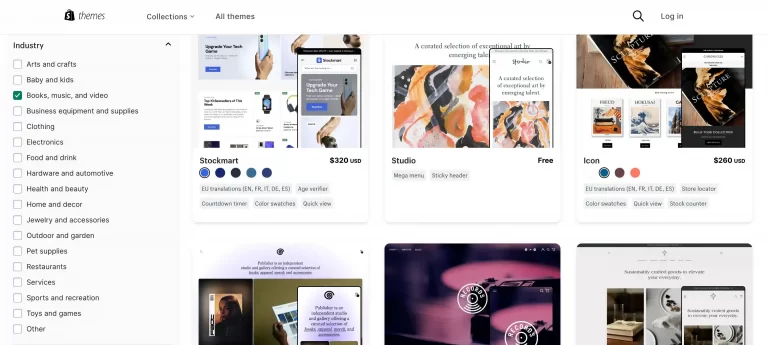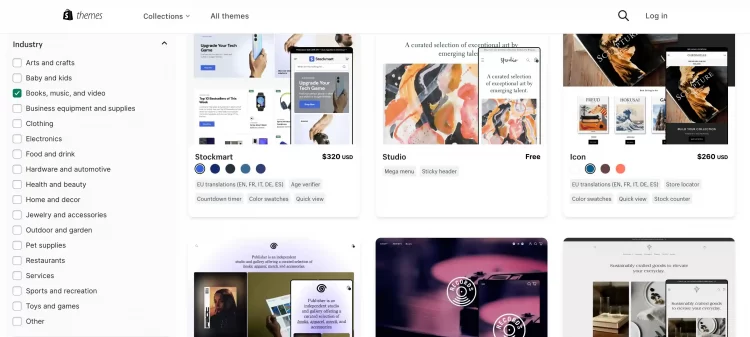 Currently, this platform provides 140+ website templates in its theme store, free Shopify themes, and paid options. These Shopify themes are all mobile-optimized and support a decent variety of business types with many coloring options. Thus, you can easily choose a theme that suits their business characteristics best.
Additionally, you'll be able to further custom Shopify themes by utilizing its specialized 'Liquid' language. However, we think it's worth noting that due to Shopify's proprietary codebase, this platform only offers limited customization options. So, you'd better hire Shopify experts to customize your website.
eCommerce Functions & SEO Features
In all honesty, with Shopify, you can effortlessly manage your product catalog and create a seamless shopping experience with a user-friendly cart and secure checkout options. The platform includes tools for calculating shipping costs and providing multiple shipping options, ensuring smooth logistics.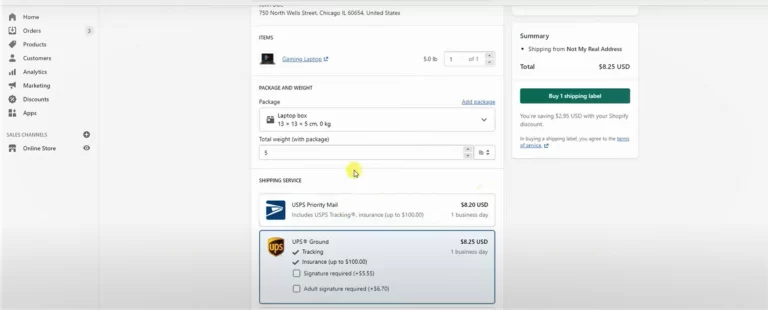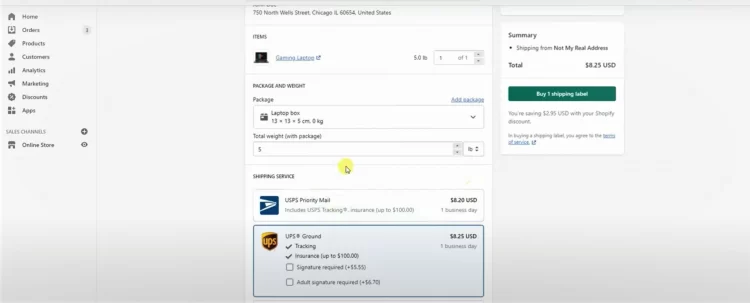 When it comes to SEO, Shopify offers a basic set of SEO features for users to optimize store-level content to ensure higher SERP positions. For instance, you can edit meta tags, add alt text to images, create 301 redirects and auto XML sitemap, etc. Notably, this platform provides SSL certificates for your store's checkout and any content hosted on your domain.
Our impression is that this eCommerce platform loads quite fast; we didn't experience any lagging or glitches during our time with it. This improves the user experience significantly, and search engines take notice as well.
Shopify's disadvantage is that it has a rigid URL structure. You cannot fully customize their URLs (section of Shopify store URLs cannot be changed). Moreover, it is quite difficult to create sub-categories on this platform.
Regarding content marketing strategy, this platform does have a blog with impressive features like multiple authors, easy-to-set tags, and customizable SEO parameters. However, we find that it still has some limitations, as it does not allow adding widgets and maps. Shopify also restricts users from embedding products in blog posts.
Support
We must say that Shopify is renowned for being one of the best eCommerce platforms, thanks to its outstanding customer support. Shopify's support team is available 24/7 via phone, instant messaging, and emails.
Apart from that, this platform offers extensive documentation as well as a knowledge base and a large community for users and developers. You can also hire Shopify experts if you need extra help or want to integrate a third-party solution.
We suggest Shopify is best for: Creating a full-fledged website, Most stores, Multi-channel selling, and B2B selling.
Already in Love with Shopify?
If you are intending to migrate to Shopify, LitExtension offers a great migration service that helps you transfer your data from the current eCommerce platform to a new one accurately and seamlessly with utmost security.
#2. Wix
+

Intuitive interface for product management

+

Reasonable pricing plans to start selling

+

Excellent website builder tools

-

Template cannot be changed

-

No multi-currency selling on Wix Stores

-

Poor marketplace
What is Wix?
Wix is an all-in-one website builder that allows users to create a website for various purposes rapidly. Based on our experience with this platform, it comes with a slew of features to help e-merchants succeed, including an easy-to-use design tool and hundreds of payment options.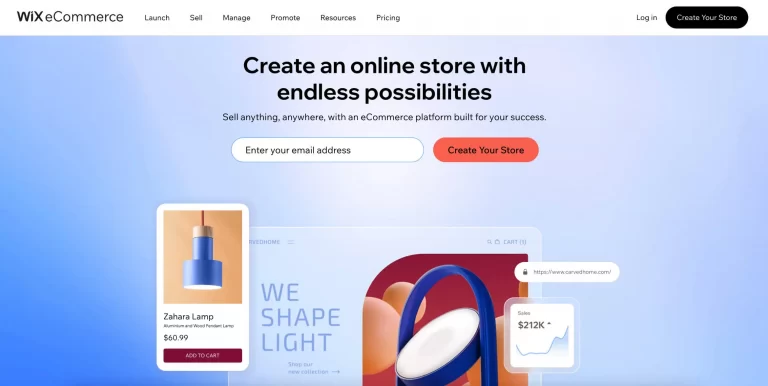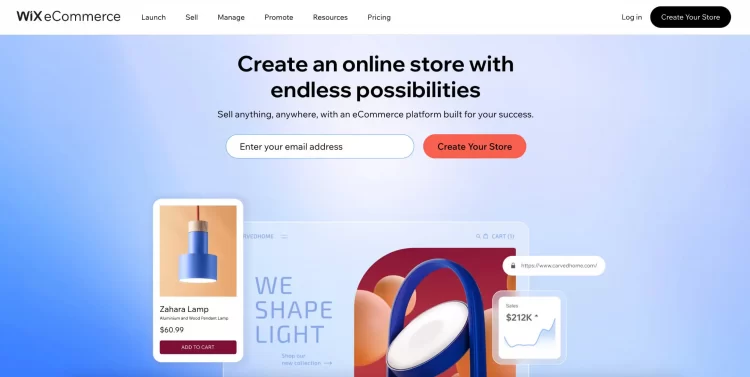 Another Wix resource that we've prepared for you: Wix eCommerce Review – All You Need to Know
Wix Pricing
We must say that Wix has the best and most reasonable price among other best eCommerce platforms.
Wix has six pricing tiers, starting at $16 (Light) and going up to $159 (Business Elite). It's important to note that the Light plan doesn't support payment processing or initiating selling activities. If you want to sell on Wix, you can go for Core, Business or Business Elite. If you're looking for a comprehensive solution to drive your eCommerce business and manage multiple sites, Wix Enterprise plan is your go-for selection that provides all the necessary features and tools.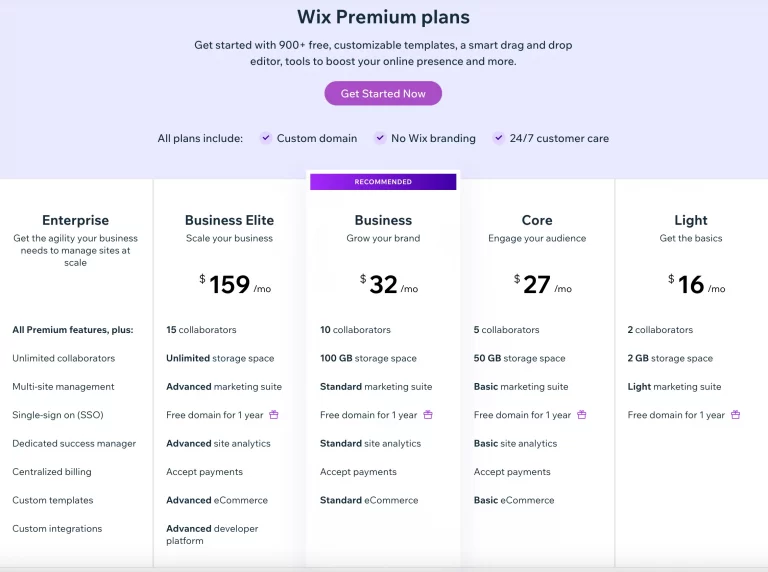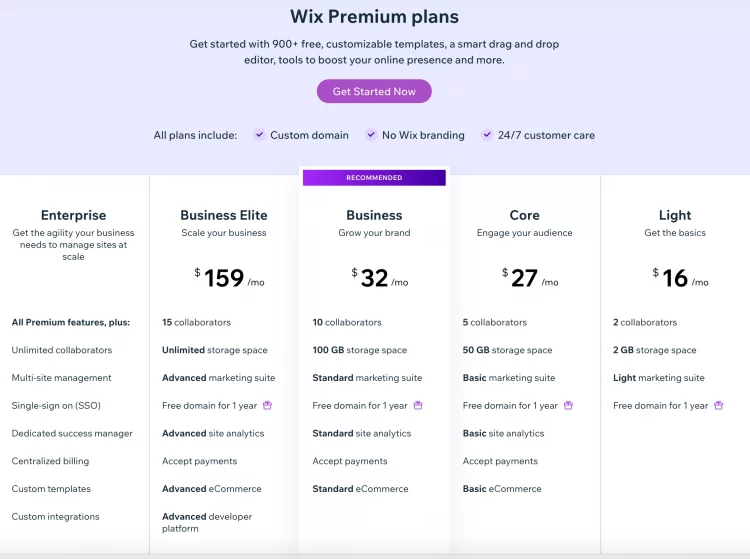 In addition, Wix also offers a Free plan, which provides a fundamental set of tools for creating a website. With the Free plan, your website will have a Wix domain, such as "yourdomainname.wixsite.com."
Learn more about Wix pricing via Wix Pricing Explained – Is Wix expensive?
Why we select Wix as one of the best eCommerce platforms
Ease of Use
Wix gives store owners complete control over every aspect of their websites without requiring them to know how to code. As a result, we find it would be a simple way for new eCommerce customers with few products and limited technological knowledge.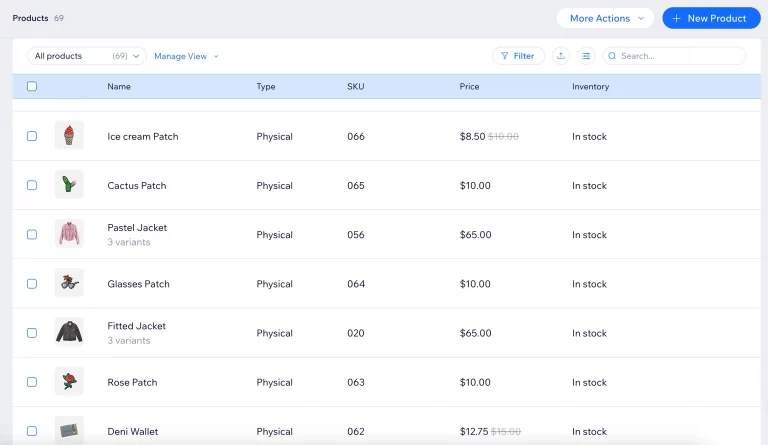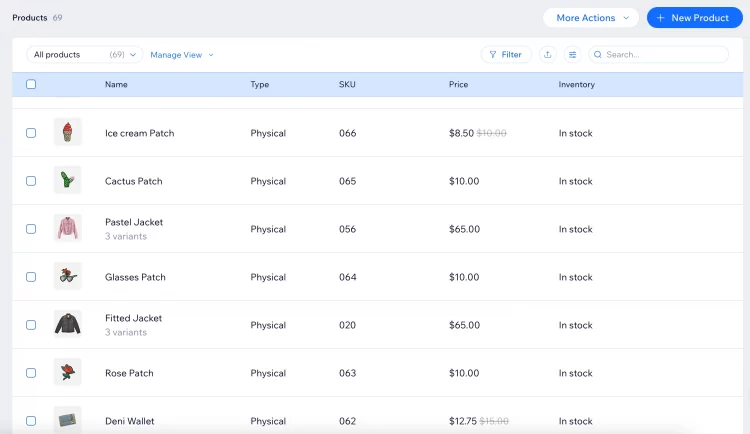 Website Builder Tools
Furthermore, Wix sets itself apart from its competitors in the industry by 3 three best website builder tools. Depending on your needs, you can create your website using Wix ADI, Wix Editor, or Wix Editor X. This platform can easily meet the demands of users, whether they want to create a personal blog or a Wix eCommerce web store.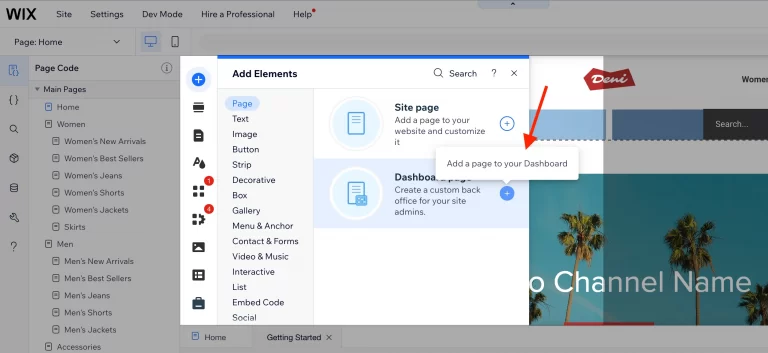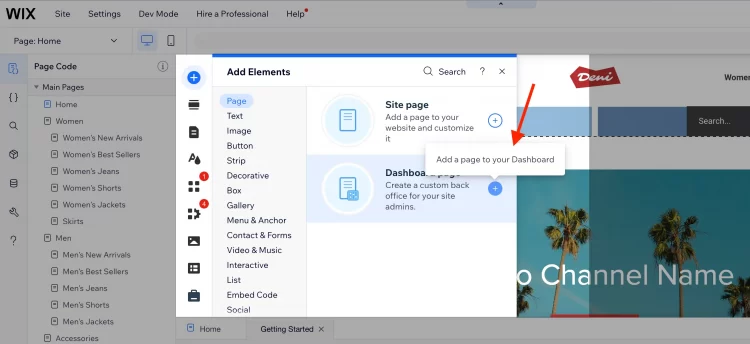 However, based on our test result, Wix ADI is rather slow when generating a website, and the result may not be what you need. So, we suggest you design your website on your own using Wix Editor.
eCommerce Functions
Wix Payments keeps up with industry changes to keep its systems up to current. This platform can provide users with the most up-to-date and best eCommerce payment trends, including Buy Now Pay Later or digital wallet.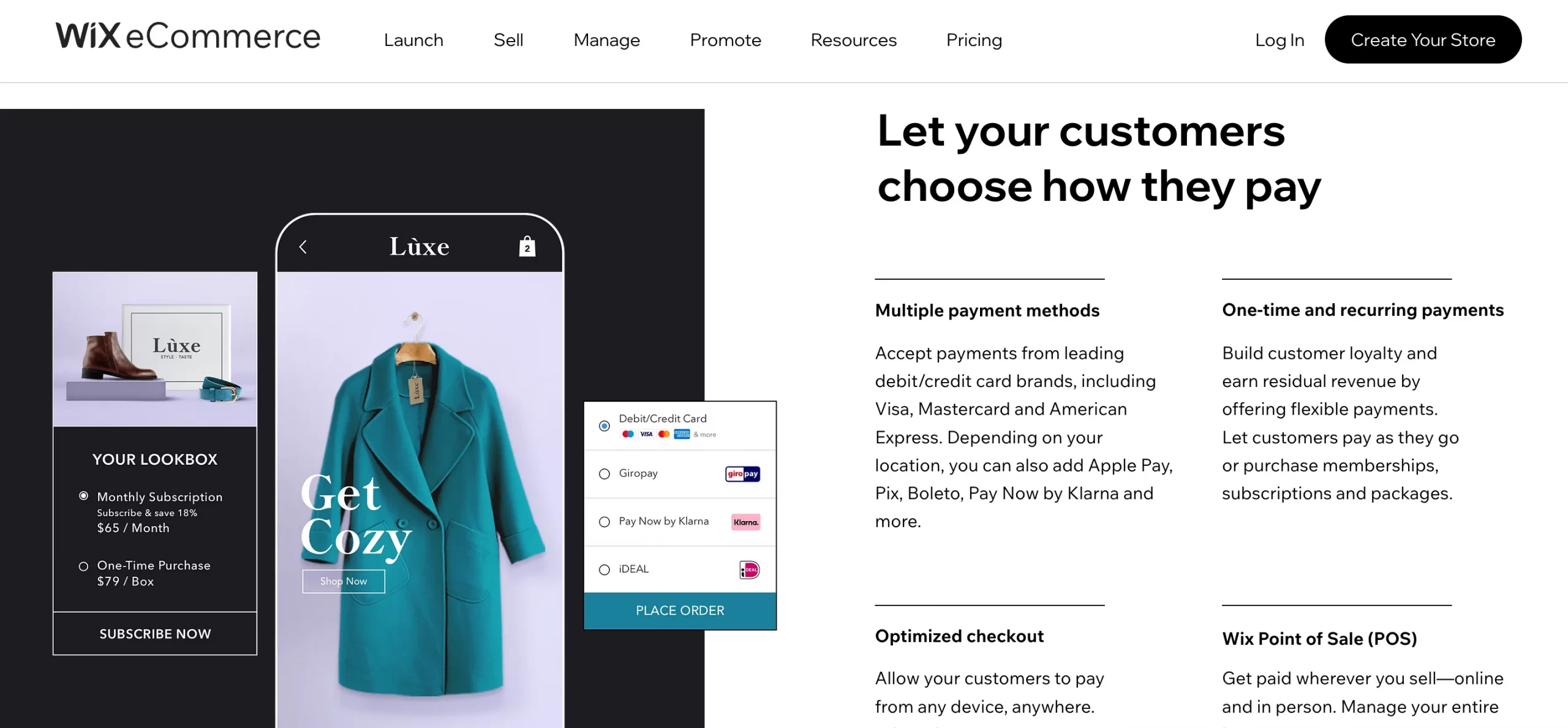 Notably, in our analysis, Wix was one of the first eCommerce platforms to accept cryptocurrency payments on their online store.
Wix Design & Customization
Users can choose from a variety of website themes through the Wix dashboard. Notably, all 900+ Wix templates are available for free download and customization. In our opinion, it would be extremely useful to eCommerce users who lack a strong financial foundation.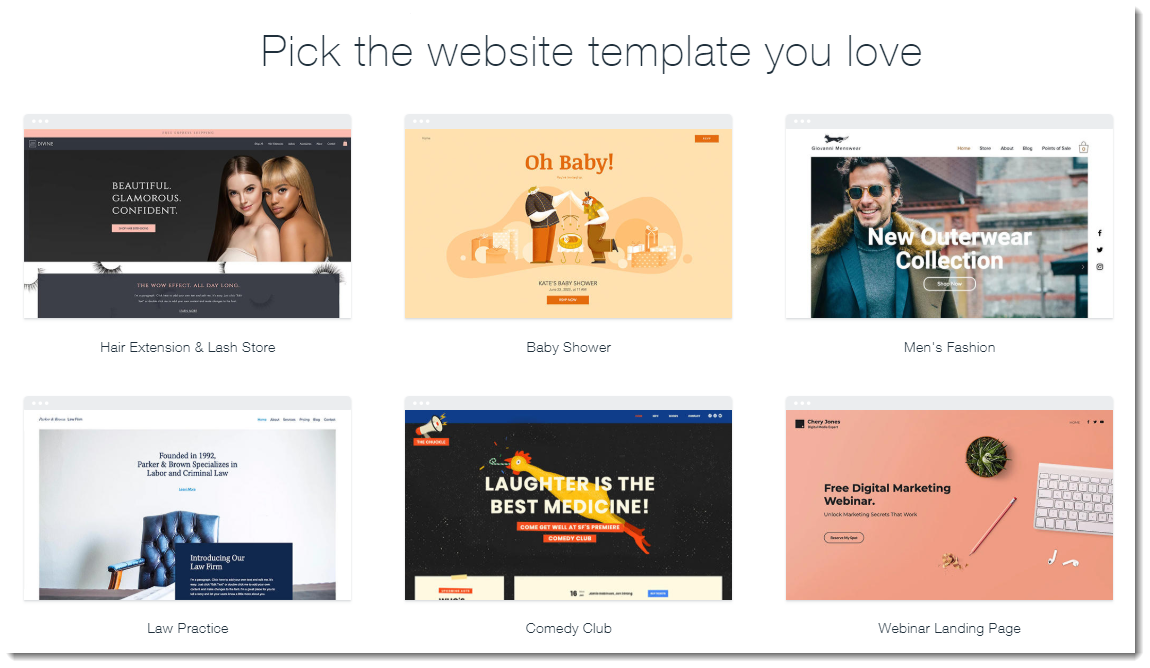 Discover our best picks for Wix templates with 19 beautiful & responsive Wix templates.
However, it's crucial to choose your theme design carefully, as Wix doesn't allow you to switch templates easily. If you still want to change to a different template, you would have to install a new Wix template and transfer all your custom designs to the new one. And this is one biggest downsides of this
We suggest Wix is best for: Beginners, small and medium businesses, startups, and users with little to no coding skills.
#3. BigCommerce
+

Strong built-in eCommerce features

+

No transaction fees applied

+

Superb multi-channel selling functions

-

Extra fee for high volume stores

-

Understanding BigCommerce complex dashboard may take time

-

Inconsistent loading speed
What is BigCommerce?
BigCommerce is a top-of-the-line eCommerce website builder in the current market. Similar to Shopify, it's a robust all-in-one eCommerce platform that allows users to get an online store built without worrying about any infrastructure-related hassles.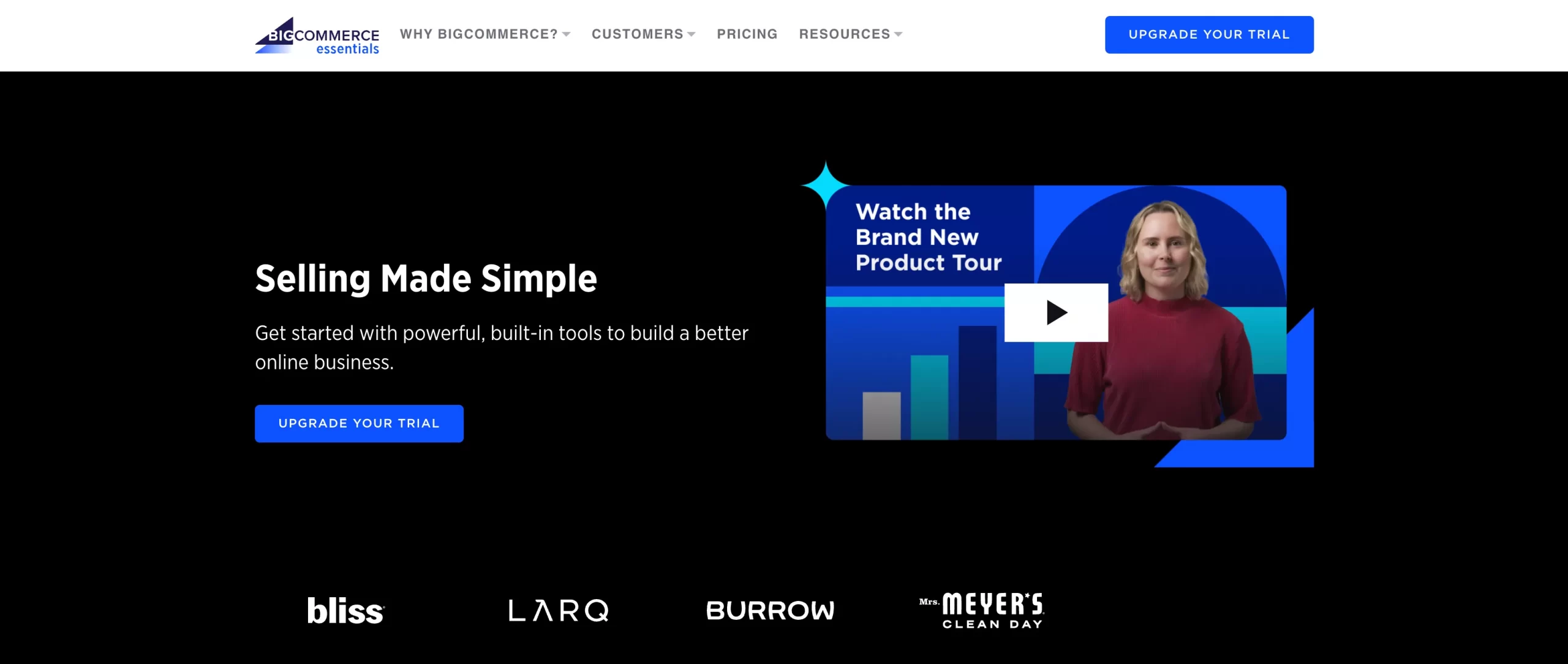 However, it appears our team that BigCommerce is less ideal for beginners due to its use of various tech terms. You may need help from Google a lot to understand all the terminologies, even when performing basic tasks like adding a product.
The technical load makes BigCommerce a heavier platform to deal with. However, this is because of its powerful in-built features, which bring you a finer level of customization.
With its uniquely sophisticated customizability and flexibility, we find that BigCommerce is such a great solution for mid-market and enterprise brands.
BigCommerce Pricing
BigCommerce offers a subscription-based model for its users, like other hosted eCommerce platforms. You can start your online store with a free demo, but soon you'll have to pay for the service.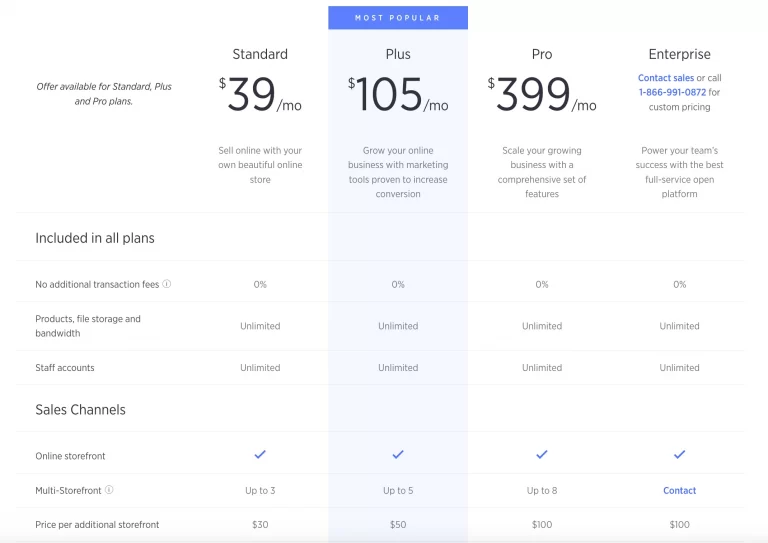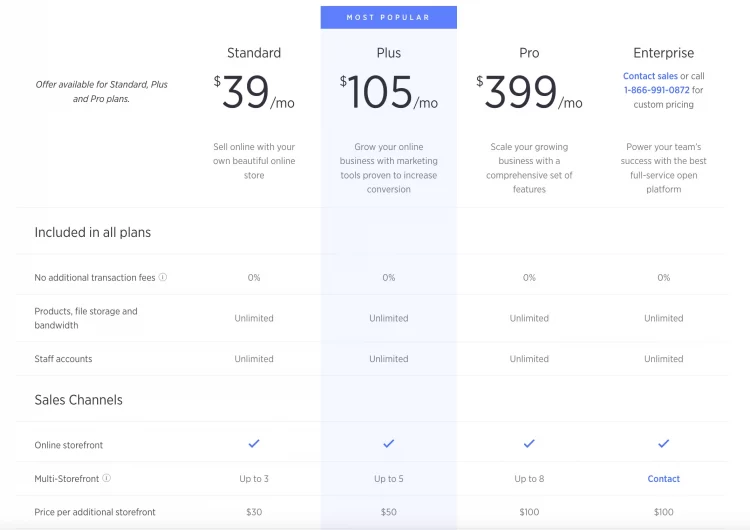 There are three main pricing plans: Standard, Plus, and Pro, which start from $39 to $399. By paying more, you can get access to a more extensive set of features.
In addition, BigCommerce offers Enterprise plans that provide advanced functionality and are tailor-made for enterprise sites.
At some point, BigCommerce has some edges over Shopify in terms of cost. This is because it doesn't charge users any additional transaction fees for selecting third-party payment gateways and also provides more native features. However, your BigCommerce store will be automatically upgraded to a new plan if it attains a certain amount of sales revenue in a year.
Want to know more about BigCommerce plans and observe which one is for your business? Here comes our comprehensive BigCommerce pricing analysis for your concerns.
Why we select BigCommerce as one of the best eCommerce platforms
First and foremost, based on our in-house data, BigCommerce is a full-fledged platform that ranked among the top migrated-to platforms in 2023. This solution may undoubtedly assist users in scaling their businesses more effectively and efficiently.
BigCommerce Apps & Add-ons
This eCommerce platform deserves the best ovation for its robust built-in features, such as abandoned cart recovery, single-page checkout, bulk pricing, and so on, which significantly cut your need for third-party services.
Besides, BigCommerce has hundreds of third-party apps and integrations to help you add superior features to your store. Like other platforms, BigCommerce apps cover many fields, including accounting & tax, analytics, customer service, merchandising, payment & security, marketing, etc.
For instance, BigCommerce merchants can easily combine their website building with marketing and conversion apps like Google Adwords and Mailchimp or accounting and tax tools like Sage, Xero, and Quickbooks. If you want to discover more about BigCommerce, here comes our list of best BigCommerce apps for your online business.
BigCommerce apps
In comparison with its main competitor – Shopify, it's clear to me that BigCommerce has a much smaller app store. However, it would be hard to find an app on Shopify that you could not find on BigCommerce.
BigCommerce Design & Customization
BigCommerce offers a pretty impressive array of premium and free BigCommerce themes with full responsiveness and cross-platform compatibility for store owners. Notably, we find that the way it approaches themes is somewhat similar to Shopify's strategy. You can simply design your store's look by choosing and applying many different nicely designed templates to your store with just a few clicks.
BigCommerce themes
Stencil is BigCommerce's theme platform, which integrates state-of-the-art practices in technology, design, conversion, and SEO. BigCommerce merchants can easily personalize and customize all parts of their site if they have the technical expertise or with the help of developers.
In our opinion, BigCommerce is ideal for merchants who don't have many technical skills. Still, it also allows tech-savvy people to tweak the website (through editing HTML, CSS, and popular code libraries).
Besides, BigCommerce is considered a growing Headless Commerce provider. Headless Commerce is a solution that allows users to decouple a store's back-end infrastructure from the front-end design. This gives you complete creative control over your website, offering a more flexible and seamless digital experience for your customers.
Furthermore, BigCommerce allows you to integrate a different CMS like WordPress or Adobe Experience Manager when using the platform's headless solution.
eCommerce Functions & SEO Features
As far as we have seen, BigCommerce comes with strong built-in eCommerce features like advanced product management, streamlined shopping cart and checkout processes, secure payment processing, and efficient order fulfillment.
With a default and secure payment, you can set up credit card payments, PayPal, and other popular payment gateways in BigCommerce. These options allow businesses to quickly start processing payments from customers without the need for extensive setup.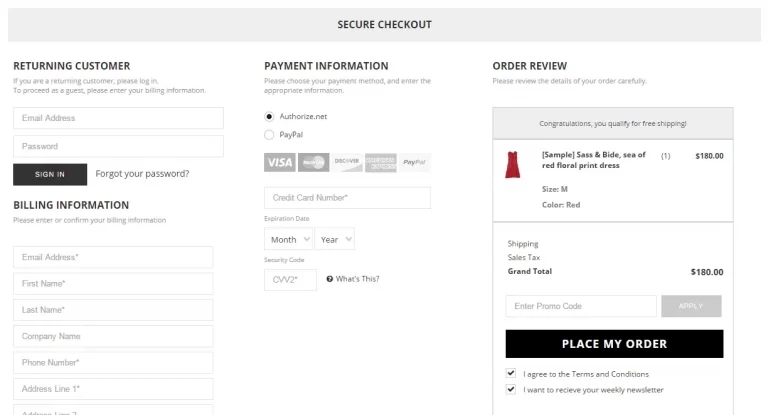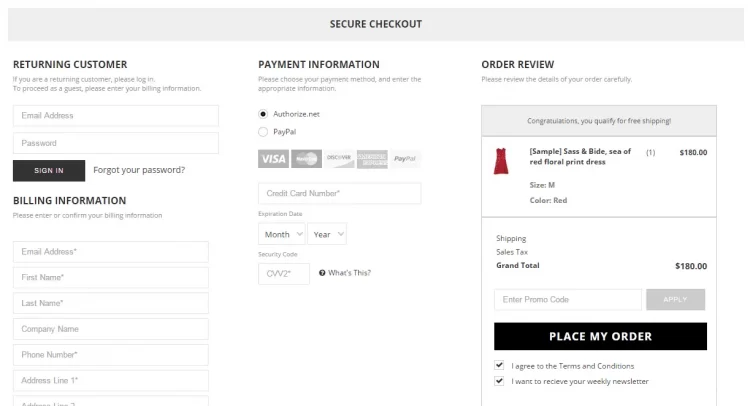 In my viewpoint, BigCommerce could be considered the best eCommerce platform thanks to its solid SEO features. The platform provides various functionalities with high customizability and integrations with marketing tools to please anyone who cares about ranking high on SERPs.
You can easily edit meta titles and descriptions, add image alt text, get keyword support, and create 301 redirects using BigCommerce. The platform also provides access to HTML and CSS code and advanced tools such as Schema, Sitemaps, and SSL. BigCommerce default URLs are also fully customizable, which is a direct advantage over its main competitor, Shopify.

Notably, Google accelerated mobile pages (AMP) have played a vital role in SEO performance. In this case, BigCommerce has AMP-enabled automatically on quite a lot of its themes, allowing merchants to provide lightning-fast product and category pages on mobile devices. Another best point of BigCommerce's SEO features is its unique content delivery network (CDN) that loads website pages much faster than competitors.
Support
As a fully hosted platform, BigCommerce comes with outstanding customer support service. There are multiple support options that you can access right from your BigCommerce dashboard, including 24/7 phone support, email support, live chat support, community support, and more. In our testing progress, anytime we run into an issue, we can get assistance quickly from the BigCommerce team.
BigCommerce support center
Additionally, this best eCommerce platform provides a powerful help center for users, which includes a rich knowledge base, a question-and-answer community, and blogs for the latest news on BigCommerce. Besides, BigCommerce University series is also very helpful for finding answers to your store-related questions.
We suggest that BigCommerce is best for: Large business, headless commerce and multi-channel selling.
#4. WooCommerce
+

Great customizability

+

Super-rich themes & eCommerce plugins

+

Excellent SEO functions

-

Steep learning curve to understand how WordPress & WooCommerce works

-

Hard to calculate the operational cost

-

Too many plugins & extensions may slow website loading speed
What is WooCommerce?
First off, WooCommerce is a bit different from other best eCommerce platforms. It's a customizable, open-source shopping cart plugin built on WordPress. However, WordPress WooCommerce is the world's most popular and best solution, with about one-third of all online stores powered by this CMS.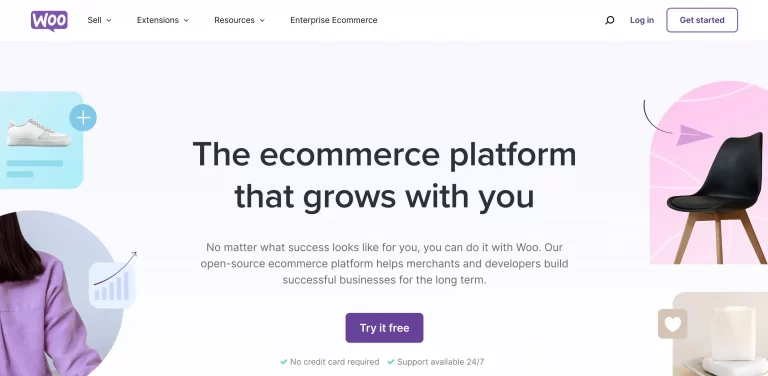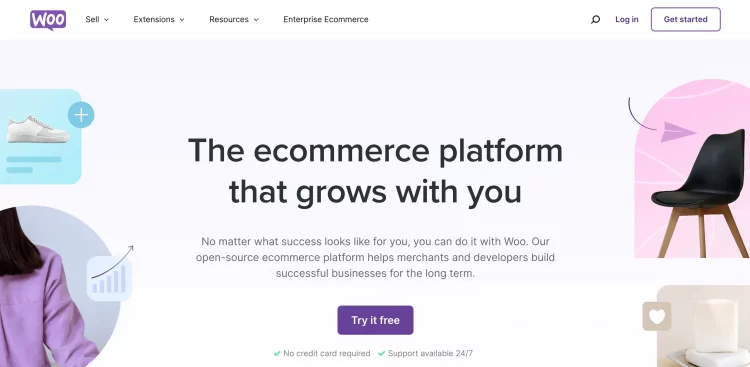 WooCommerce is an open-source eCommerce platform that allows the code to be freely available for anyone to view, modify, and contribute. Thus, users and programmers can customize stores at their will, easily build custom extensions or scale the store without breaking its structure.
If you're familiar with WordPress, you won't have to go through a steep learning curve to understand how WooCommerce works. Therefore, this platform would be the best option worth considering for those who already have a WordPress website or blog.
You can extend your knowledge of WooCommerce before choosing this platform by reading WooCommerce Review – Full Features Review.
WooCommerce Pricing
One of the reasons that makes WooCommerce among the best eCommerce platforms is that it is totally free to download. Thus, small and low-budget businesses can use this platform to build online stores.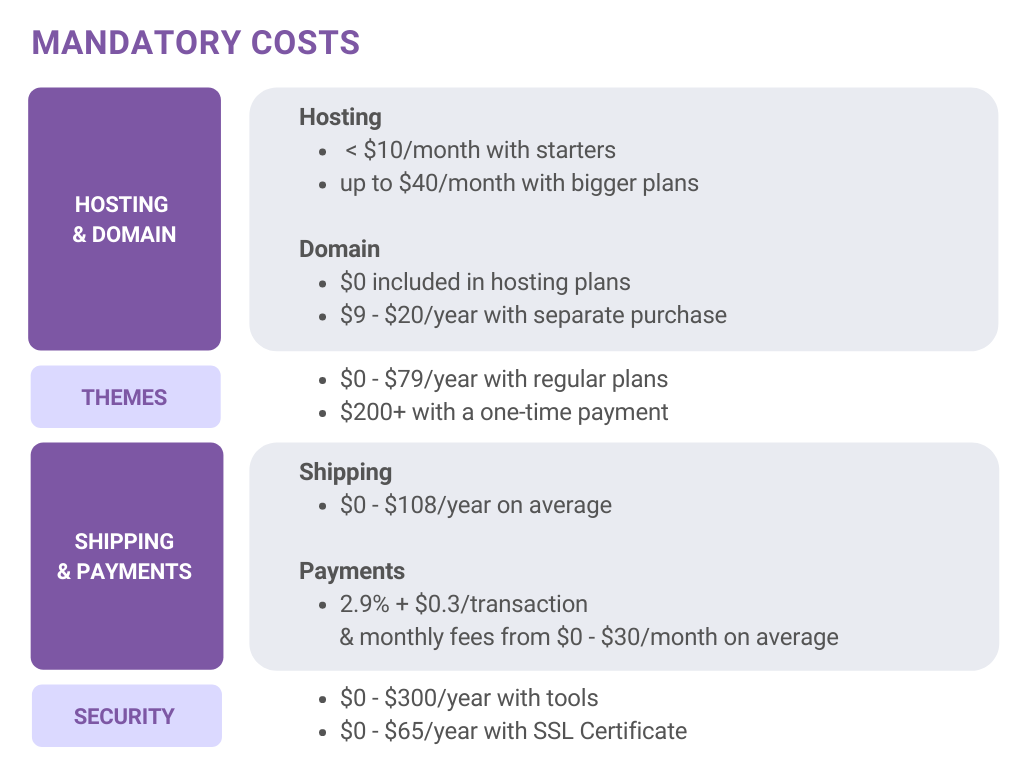 However, you have to pay for a domain name, web hosting, or SSL certificate to sell on your WooCommerce store. Normally, a domain name costs $9 -$20/year, a hosting solution costs $10/month, and an SSL certificate costs $65/year. However, you can have a look at these more affordable web hosting.
Aside from that, we realize that the basic WooCommerce store is limited in its capabilities when your store grows. Thus, you might need to purchase third-party plugins to expand and improve your store's functionality.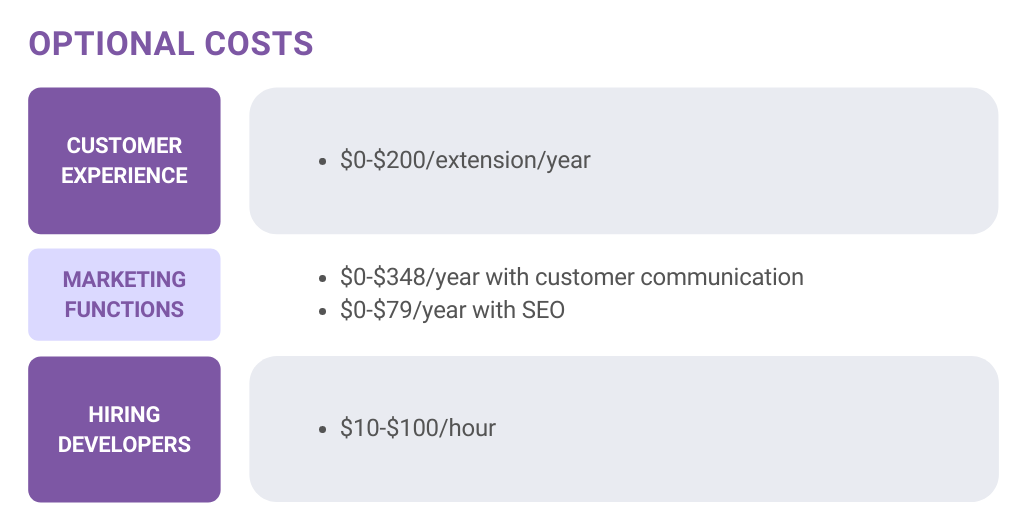 Why we select WooCommerce as one of the best eCommerce platforms
According to BuiltWith, WooCommerce ranks second among top platforms with over 1 million sites. Besides, as in our in-house data, WooCommerce ranked second in the most migrated-to platforms in the first half of 2023.
Drawing from our extensive testing and customer interviews, we've compiled a list of remarkable features that make WooCommerce stand out.
WooCommerce Design & Customization
Some eCommerce platforms are inherently better for design and customization, and so is WooCommerce. It should be pointed out that WooCommerce is a WordPress plugin, thus, we find it's the best for you to take advantage of the full force of super-rich WordPress themes, 5000+ free themes for more specific. 
This means that, in most cases, you are able to select any WordPress theme and still make it work together with WooCommerce. However, we find that it's advisable to use a specific tailor-made WooCommerce theme, as it can help you optimize your store's design.
The first place you should have a look at is Storefront, which is the WooCommerce default store theme and the best fit for those who have started out. It has all the important features of an eCommerce store and is fully responsive for a seamless user experience on mobile devices.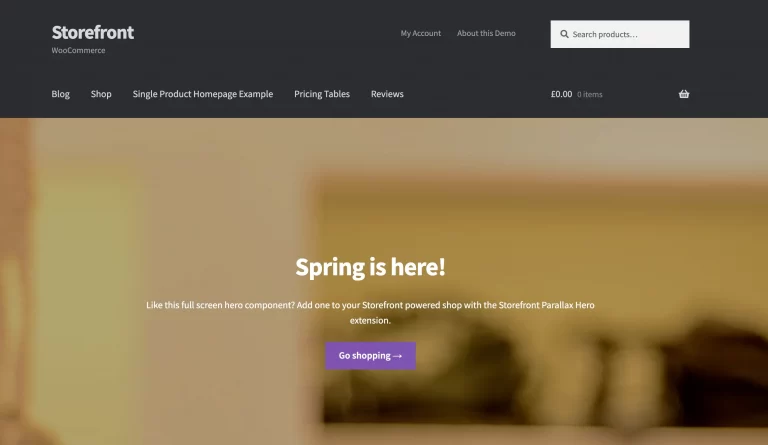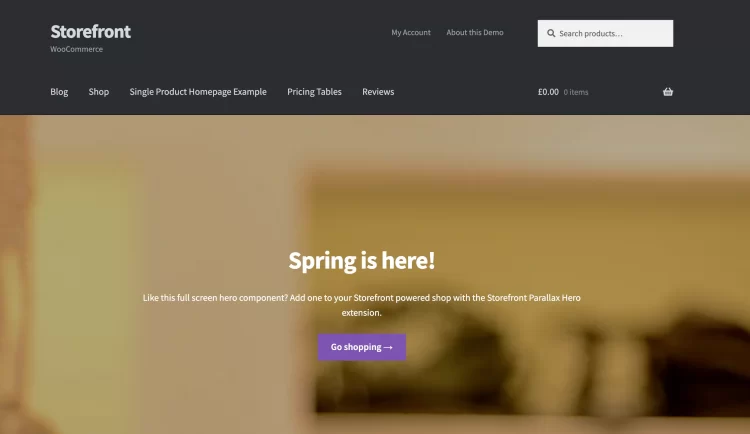 Moreover, you can customize your store's look by adding a child theme ($0-$39/piece) and extensions ($69/bundle) for Storefront.
WooCommerce also offers unlimited customization for its users, which is one of the greatest benefits when using this platform to sell online. You can adjust and code all plugins, extensions and themes to tailor the look and functionality of your website. This gives you greater control of your website appearance and the ability to add specific features to suit your business needs.
WooCommerce Apps & Add-ons
WooCommerce is an open-source platform built on top of WordPress. This gives users access to more than 59,000 WordPress plugins, and more than 800 extensions are specifically made for WooCommerce.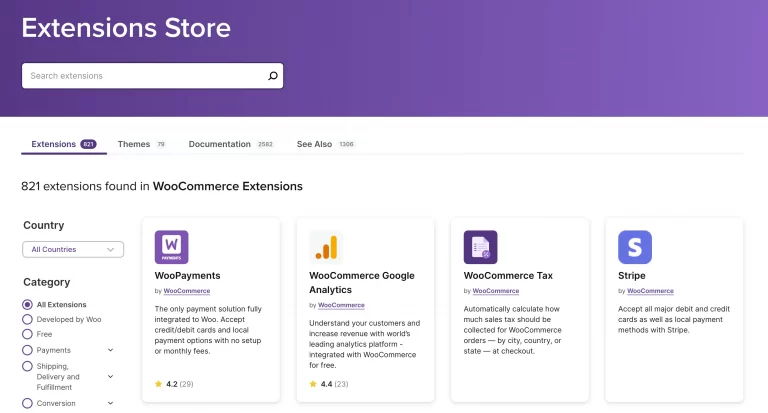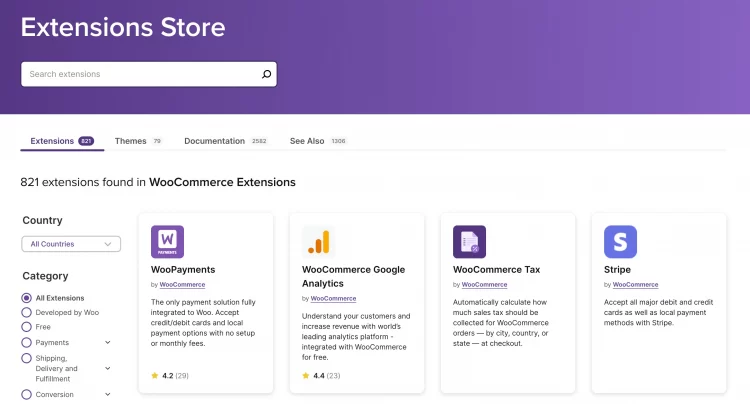 You can use this add-on to customize your website to match your business needs. It allows you to add things like payment options, lead generation tools, SEO improvements, and more. Or else, you can even hire a developer to create a unique plugin just for your site.
The main disadvantage of WooCommerce is that installing too many plugins and extensions tends to slow loading speed and overall performance. It is advisable to implement the desired functions through CSS, jQuery or HTML codes or limit the number of apps installed.
eCommerce Functions & SEO Features
WooCommerce also offers a comprehensive suite of eCommerce functions to cater to businesses of all sizes, such as inventory management, product management, shipping and tax calculations,… Besides, this platform supports various payment methods such as PayPal, Square, and more. So that you can streamline the WooCommerce checkout process and maintain transaction security.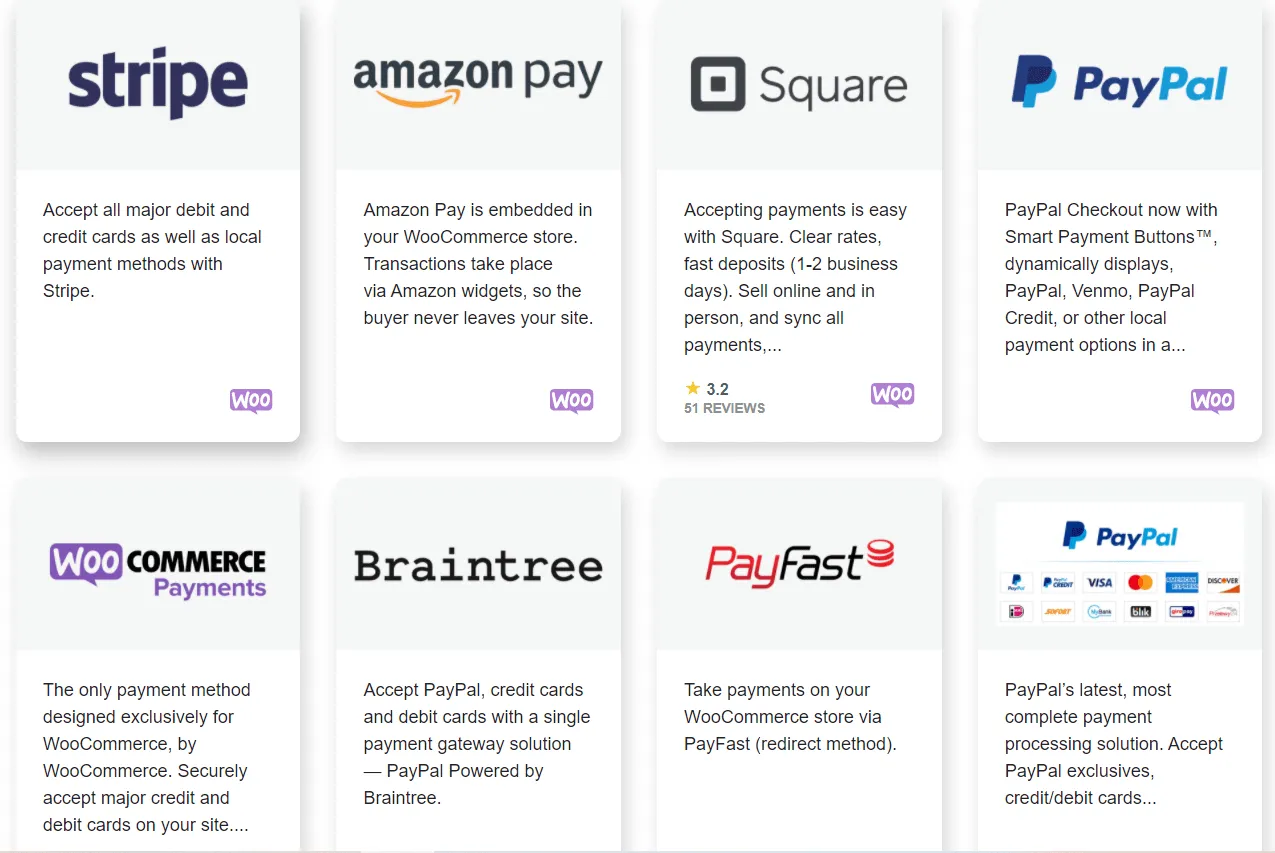 Since WooCommerce is a plugin integrated with WordPress, a trusted Content Management System (CMS) known for its robust SEO capabilities, it inherits all the excellent SEO features of WordPress. This means you can easily edit and add content and meta information to optimize your product keywords for higher visibility on search engine results pages (SERPs).
However, it's important to note that your choice of hosting provider largely influences the loading time of your website. This, in turn, can impact the overall SEO performance of your online store.
WooCommerce Support
As an open-source platform, WooCommerce has the advantage of a large user base and community. WooCommerce users can seek help or technical support easily from a huge community where peers, developers, and WooExperts are eager to help them.
This is an important aspect for small merchants, as they might not have the budget to hire a specialized developer.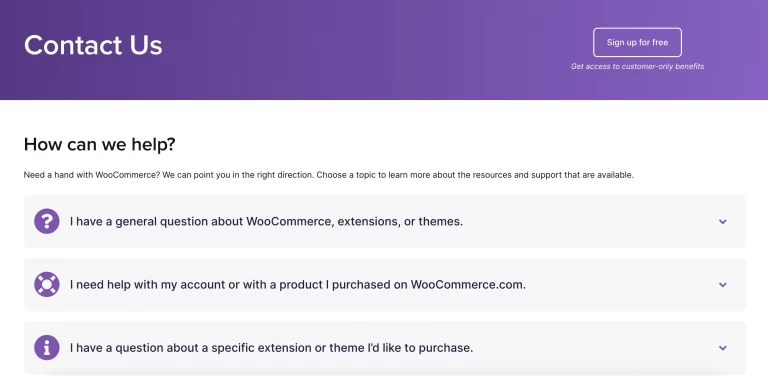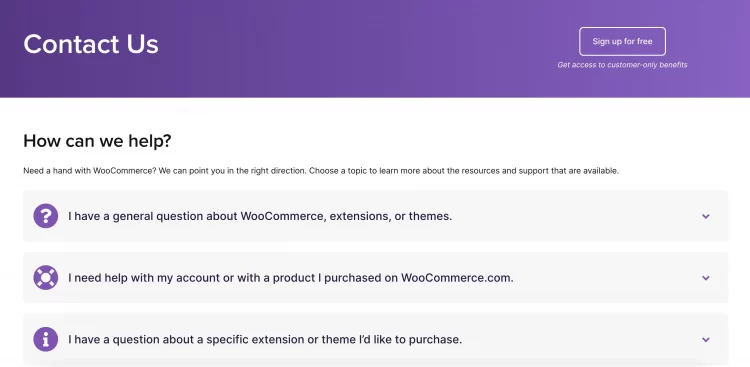 In addition, WooCommerce provides online documentation, reference materials, and tutorials for your WooCommerce products. These online guides will take you through common issues if you follow the instructions carefully.
If you go with WooCommerce, keep in mind that their customer support is not very extensive. They don't offer phone or email support. Instead, if you have a problem, you'll need to look for help online or fill out a form. They'll get back to you through live chat within 24 hours.
We suggest that WooCommerce is best for: All-size businesses, Tech gurus, WordPress sites, Dropshipping, B2B selling, and International sales.
#5. Magento 2 (Adobe Commerce)
+

Greate customizability

+

Intuitive commerce reports & B2B inventory management

+

Robust marketplace with eCommerce extensions

-

Certain levels of coding knowledge required

-

Hard to foresee the operational cost

-

Relatively high cost of Enterprise version
What is Magento 2?
Magento is a self-hosted eCommerce CMS, owned by Adobe. It's one of the most popular eCommerce platforms, providing scalability and reliable performance for the biggest companies worldwide. Such industry giants like Nike, Jack Daniel's, and Ford have their stores running on Magento and successfully serve millions of customers and thousands of daily in-store operations.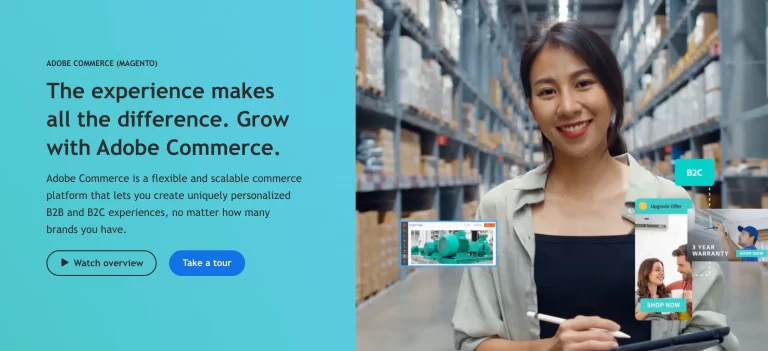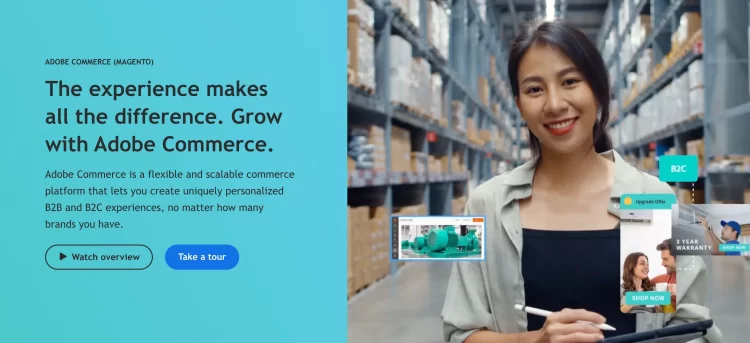 As a self-hosted solution, Magento (Adobe Commerce) provides you with lots of control over your website. With technical knowledge, you'll be able to change anything you want in terms of functionality design and choose your own server environment. So, if you want a truly customizable and powerful platform and/or have coding skills or a developer, Magento could be a perfect choice.
Since the release of the Magento 2.0 version in 2015, this platform has offered two main eCommerce platforms, namely Magento Open Source (previously Magento Community) and Adobe Commerce (previously Magento Enterprise & Magento Commerce), along with other products.
Adobe Commerce also has a managed and automated hosting version called Adobe Commerce Cloud, which is an all-in-one solution built exclusively for enterprise-level merchants with high sales volume or medium businesses preparing to grow.
Magento Pricing
Magento is mostly used for free, especially if you only use Magento Open Source. That's right, you can download and install this edition without paying a dime.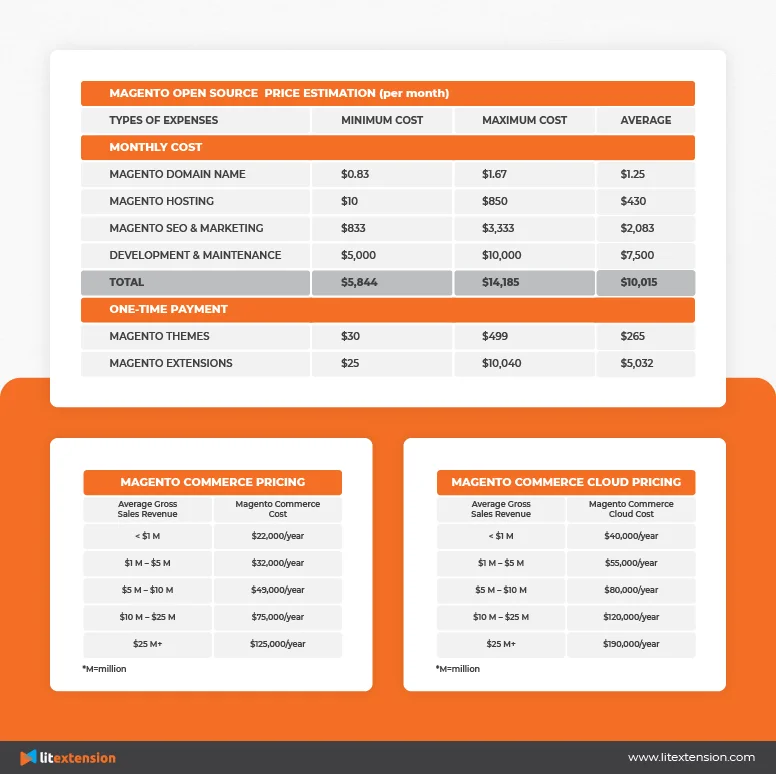 However, for the Magento Commerce version it can actually cost you a great deal of money. The annual license fee of this product starts at $22,000 for merchants generating less than $1 million in revenue. This cost will increase in accordance with your store's expected gross sale revenue. In other words, the more revenue you generate, the more you have to pay.
The license fee for running your business on Magento Commerce Cloud (Adobe Commerce Cloud) is even higher. It can cost you almost double for the same gross sales revenue tier as Magento Commerce, ranging from $40,000 to $190,000. Thus, it is ideal to use this edition if you have a huge business; otherwise, it's not worth it.
Curious about which solution is better suited for you? Find out via our Magento pricing review here.
Why we select Magento (Adobe Commerce) as one of the best eCommerce platforms
eCommerce Functions & SEO Features
To be honest, Magento (Adobe Commerce) goes beyond the standard eCommerce functions to offer powerful reporting, advanced B2B inventory management, the potential for a thriving marketplace. You can manage and track inventory across multiple locations, set up automated reordering, and even implement customized pricing for different B2B customers.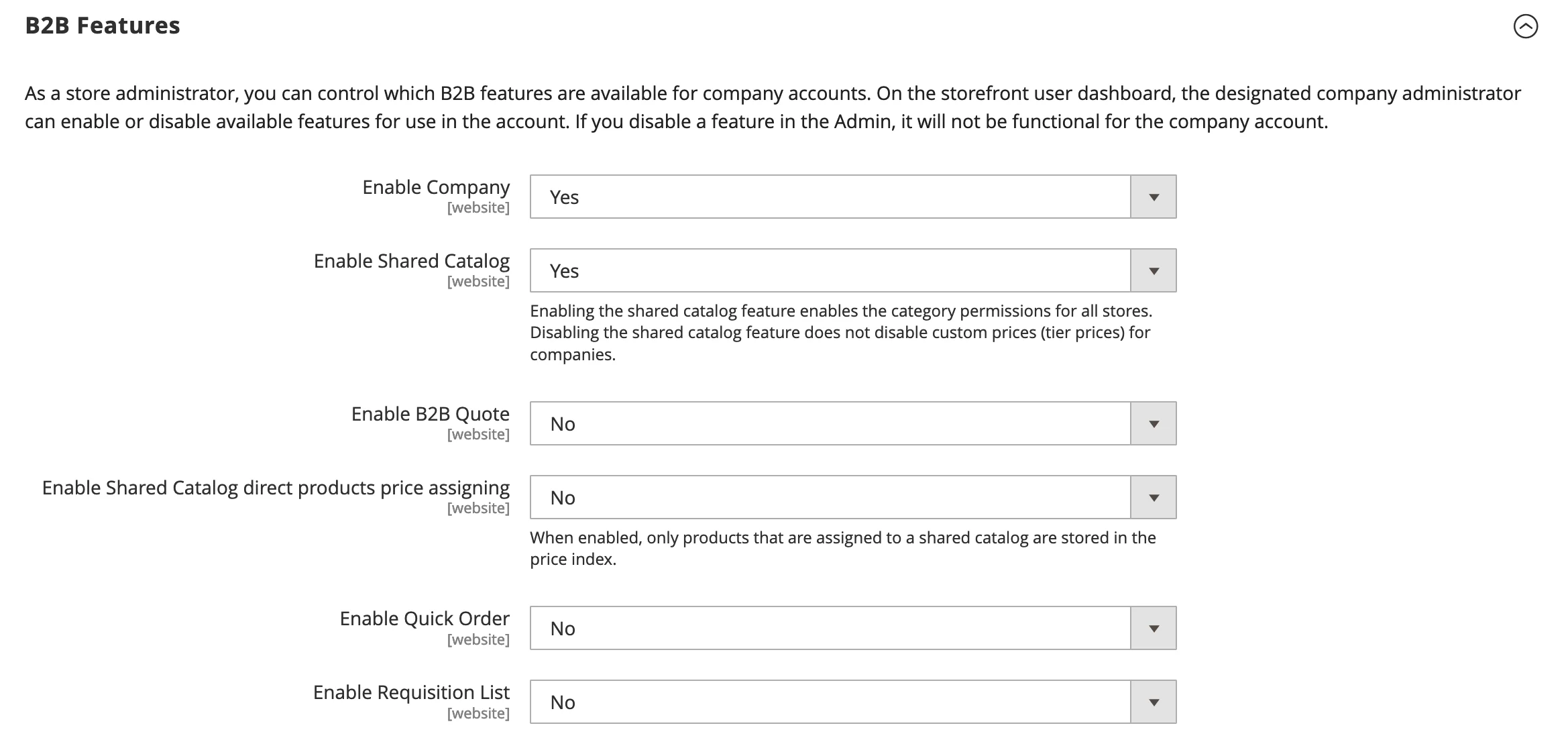 Besides, Magento stands out as one of the top choices for eCommerce platforms, especially when it comes to SEO. What sets Magento apart is its powerful features and extensions that secure high positions on SERPs for your website.
One of the things we truly love about Magento is its open-source nature, which gives us the freedom to customize and fine-tune SEO functionality fully. For instance, we can optimize default meta tags, image alt-tags, permalinks, and product descriptions and even control which pages we want search engines to index.
Moreover, Magento has additional features like Google sitemaps, options for no-follow links, redirects, and canonical tags. These features work together to make it easier for search engines to crawl your online store and comprehend its structure thoroughly.
However, it's worth noting that if you opt for the Magento Open Source edition, you might need marketing extensions to access these advanced SEO functions.
Magento Design & Customization
Currently, Magento provides two default themes: Luma, as a demonstration theme, and Blank as a basis for custom theme creation. These themes are based on a responsive design that renders the display of your storefront for different devices.
In addition, AdobeCommerce (Magento) offers 11 other ready-made themes for your shop in its marketplace, where the price varies from $0 to $499. You can also visit Themeforest, Template Monster, or Magenest for more feature-rich design options on this platform.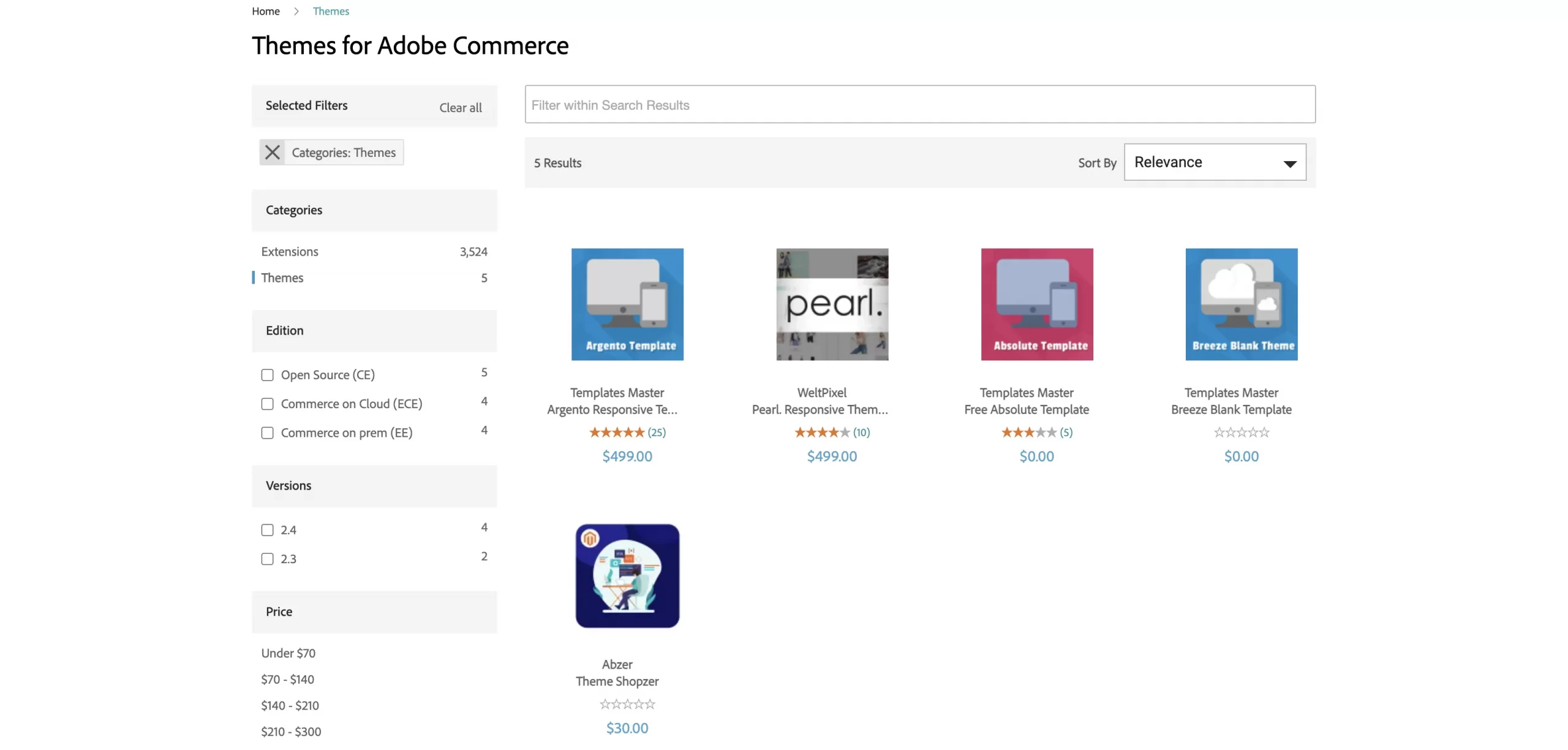 In our viewpoint, even though there are some limitations when it comes to selecting themes, Magento offers a world of customization possibilities for your store's design. However, it's important to keep in mind that these customizations may demand a certain level of coding knowledge and technical skills. While the possibilities are endless, they do come with the requirement of some technical expertise to harness them fully.
Magento Apps & Add-ons
It would be no exaggeration to say that Magento has the most robust marketplace among eCommerce platforms. Its marketplace has a wide range of more than 4,100 free and paid extensions, which allows you to enhance and expand your store's functionality significantly.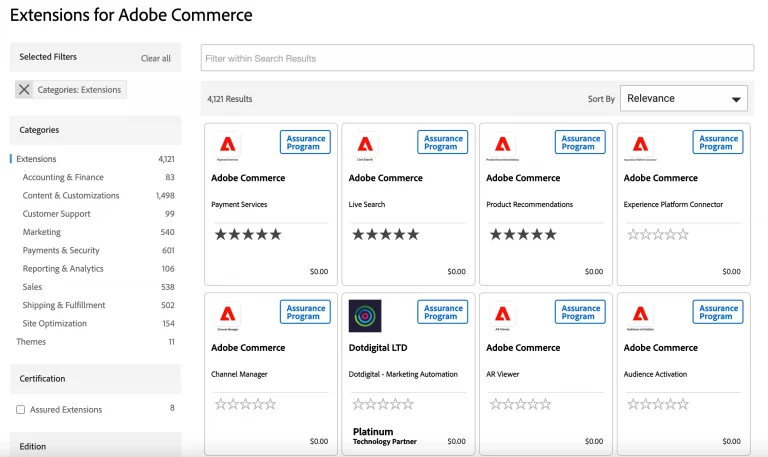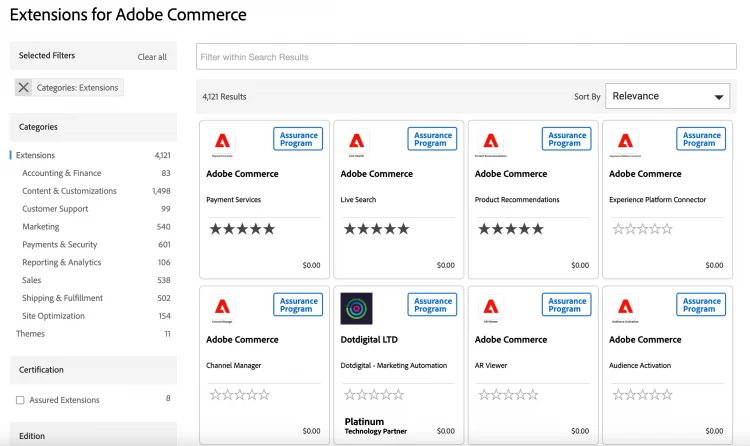 Magento marketplace provides solutions in every aspect, from accounting & finance, content & customizations, customer support, marketing, payments & security to site optimization, etc.
Support
Magento Open Source edition is a free and open-source eCommerce platform, allowing users to install and develop their site using available guides. That can help you keep the cost low, but it also means there's not necessarily dedicated support for customers when using the product.
However, Adobe Commerce Magento has a huge community from around the world to support store owners if they run into any problems. Here, you will receive advice from developers and other experienced merchants. In addition, Magento maintains a knowledge base/help center for its customers.
Meanwhile, Magento Commerce users will get official support from Magento, including email, phone, and live support.
We suggest that Magento 2 (Adobe Commerce) is best for: Businesses with a lot of technological know-how and developers, Large businesses.
#6. PrestaShop
+

Intuitive eCommerce management dashboard

+

Professional & ready-to-use templates

+

Incredible set of cross-border eCommerce

-

Pricey apps & Add-ons

-

Support contact may be costly

-

Steep learning curve & Tech skills required
What is PrestaShop?
The platform is probably lesser-known than WooCommerce and Magento, but it wouldn't be fair to say that it's not a great option for business owners to scale their business into the eCommerce world. Launched in 2007, PrestaShop has developed very quickly to become one of the most popular CMS in Europe. Currently, PrestaShop is used by more than 220,000 merchants.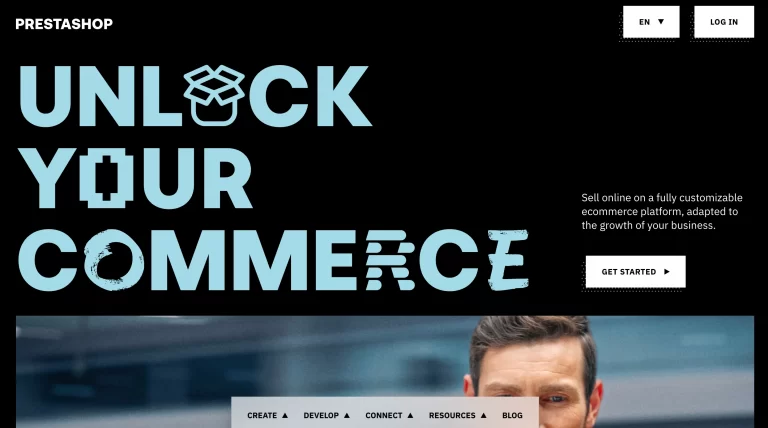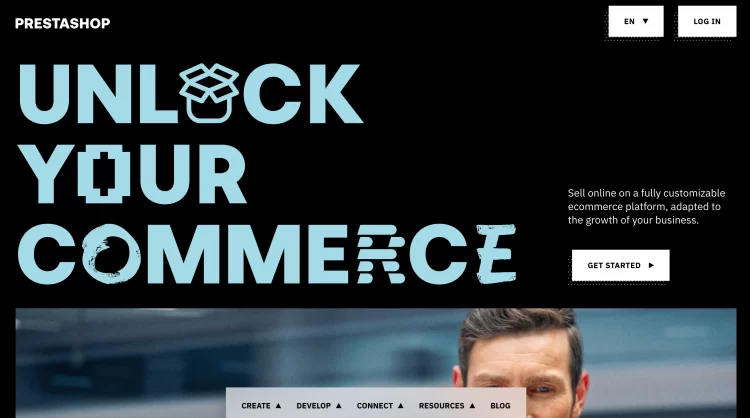 The platform is written in PHP and runs on Smarty Template Engine, which is compatible with Unix, Linux, and Windows operating systems.
Notably, PrestaShop is well-known for its user-friendliness, as the platform offers a fairly easy-to-use back-office and a well-designed interface. Its dashboard is pretty slick and intuitive that users don't have to be tech-savvy in order to use it.
Want to learn more about PrestaShop? Check out now: PrestaShop Review – You definitely can't miss!
PrestaShop Pricing
Similar to other open-source platforms, PrestaShop is totally free to download. You can install and use it without paying a penny. This can help you to keep your store's initial investment cost low.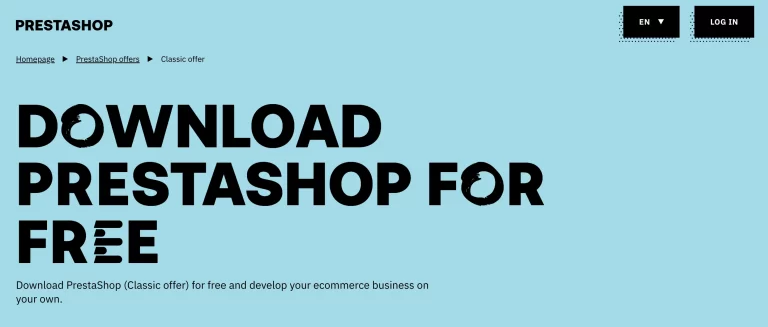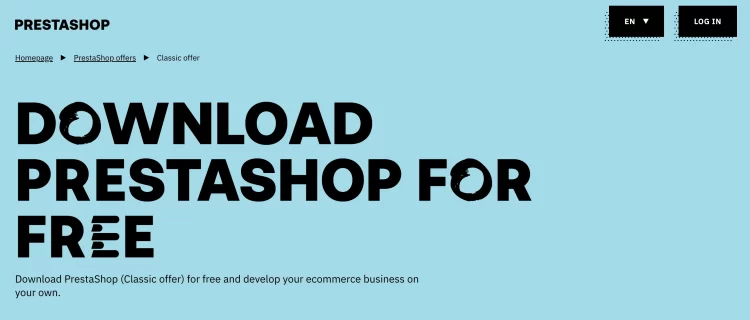 However, you still have to pay for a hosting service, a domain name, and an SSL certificate. Furthermore, extensions and plugins might come at a steep price in case you want to widen your store's functionality.
Why we select PrestaShop as one of the best eCommerce platforms
PrestaShop had a significant number of store owners flock to this open-source solution in the first half of 2023, making it the fifth most migrated-to platform. This solution is expected to maintain its position as one of the leading eCommerce platforms for the whole year 2023.
PrestaShop Security
Just like other platforms, PrestaShop provides e-merchants with world-class support in times of flaws or security issues. This eCommerce platform will assign a primary handler from their security team to resolve the issues immediately after receiving a security bug report. Store owners will be less vulnerable to crucial and severe concerns that could result in data leaking or a scam this way.
PrestaShop Apps & Add-ons
To enhance your store's functionality and appearance, you can integrate additional features from thousands of modules and themes available on PrestaShop Marketplace. These modules cover a diverse array of features, including design and navigation, shipping and logistics, administrative tools, promotion and marketing, payment options, and more.