Magento is well-known for being a self-hosting eCommerce platform that comes with a reservoir of superior SEO features. Therefore, store owners can make use of these functionalities to attract new customers and boost their sales.
In this article, we will discuss several Magento SEO tips and guides to better optimize your virtual store.
Want to migrate to Magento?
If you are intending to migrate to Magento, LitExtension offers a great migration service that helps you transfer your data from the current eCommerce platform to a new one accurately, painlessly with utmost security.
---
What You Should Know About Magento SEO
Before heading to the Magento SEO checklist section, let's have a quick overview of Magento and its ability to improve your store's SEO.
Magento was officially available for public release in 2008. It is an open-source eCommerce platform, written in PHP and built on Symfony framework. This US-based eCommerce platform has gradually gained its formidable reputation in the website builder market. Currently, it is the home for over 165,000 eCommerce websites across the planet and lists itself in the top 10 most used open-source eCommerce platforms.
This solution has been a trustful partner for many well-known businesses, namely ASUS, Puma, and Wacom. According to recent research by LitExtension, Magento is predicted to be a leading name in the eCommerce market in 2022.
Having realized the importance of search engine optimization to every online business, Magento itself offers several SEO practices for users. It grants users access to several built-in features to boost their website's ranking on the search engine results pages.
Moreover, users can open up their store's possibilities with hundreds of Magento SEO extensions available on the Marketplace. These add-ons might come with a price, but they will help you keep track of your SEO score and optimize the store better.
In this article, we will focus solely on exploiting the built-in features to boost your Magento search engine optimization score.
Let's dive right in!
You may be interested in more resources about Magento (Adobe Commerce):
---
Magento SEO Guide for Better Ranking
1. Keep your Magento store up-to-date
This tip is simple but it is remarkably effective to improve your store's performance on search engines.
It is recommended that store owners should update their Magento store to the latest version as soon as possible. If users neglect the update, some SEO features might conflict or become unsupported. This will have a negative impact on the Magento SEO score and ranking.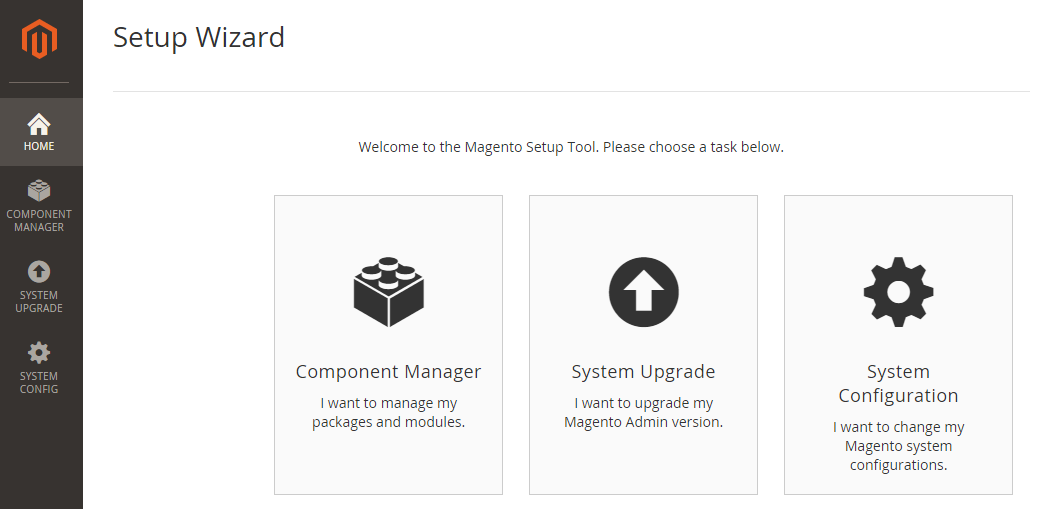 You can either update manually through the System Upgrade in the backend or ask for assistance from a professional developer. Please note that the updating process might be complicated and time-consuming. Therefore, it is recommended to hire a third-party developer in this field to help you update.
Retain 3x More Loyal Customers With a Mobile App
Do you know it costs 3 times as much to acquire a new customer compared to retain a loyal one? SimiCart offers a great mobile shopping app building service that helps you get a mobile app that converts and retains customers.
2. Allow search engines to index your site
Every effort to optimize your SEO score will be a waste of time if Google or other search engines cannot index your website. To avoid the risk of being invisible, please make sure that your store is crawlable and indexable.
There are two ways to check your indexing status on search engines. You can go to Google, then search site:yourwebsite.com. This number is a rough estimate of how many pages on your site have been indexed by Google.

If you have Google Search Console, you can make use of this tool to check the indexing status. Go to Google Search Console > Index > Coverage and pay attention to the number of valid pages. If these two figures are 0, sadly, Google is having problems indexing your website and you might need to find a solution to get your site indexed.
You can also use a tool like IndexCheckr that will report the pages that are indexed versus the ones that are not indexed. Just enter your XML sitemap and the tool will check all your pages. This method is the most accurate.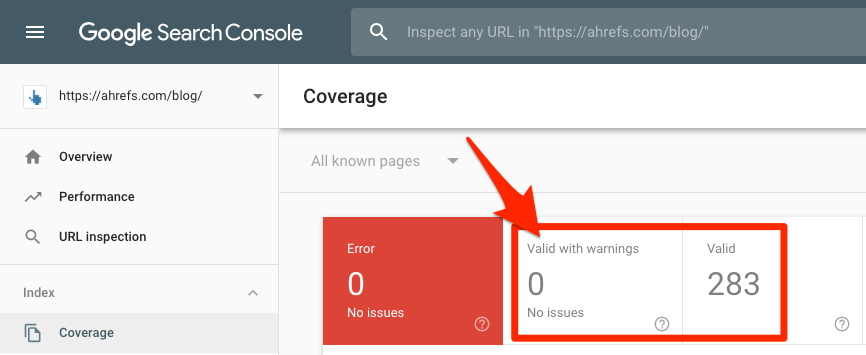 3. Improve your website speed
Your site performance has a great impact on its ranking on search engine results pages. Google tends to put websites with good loading speed at a higher position in the rankings. Therefore, store owners should make sure to optimize this element to achieve a better Magento SEO score.
Here are some methods you could employ to improve the site loading speed.
Enable caching. This setting will help your subsequent page load faster without putting too much strain on the server and increase the site speed. You can easily set up by navigating to Store => Configuration => Advanced => System => Full Page Cache in the Magento Admin Dashboard.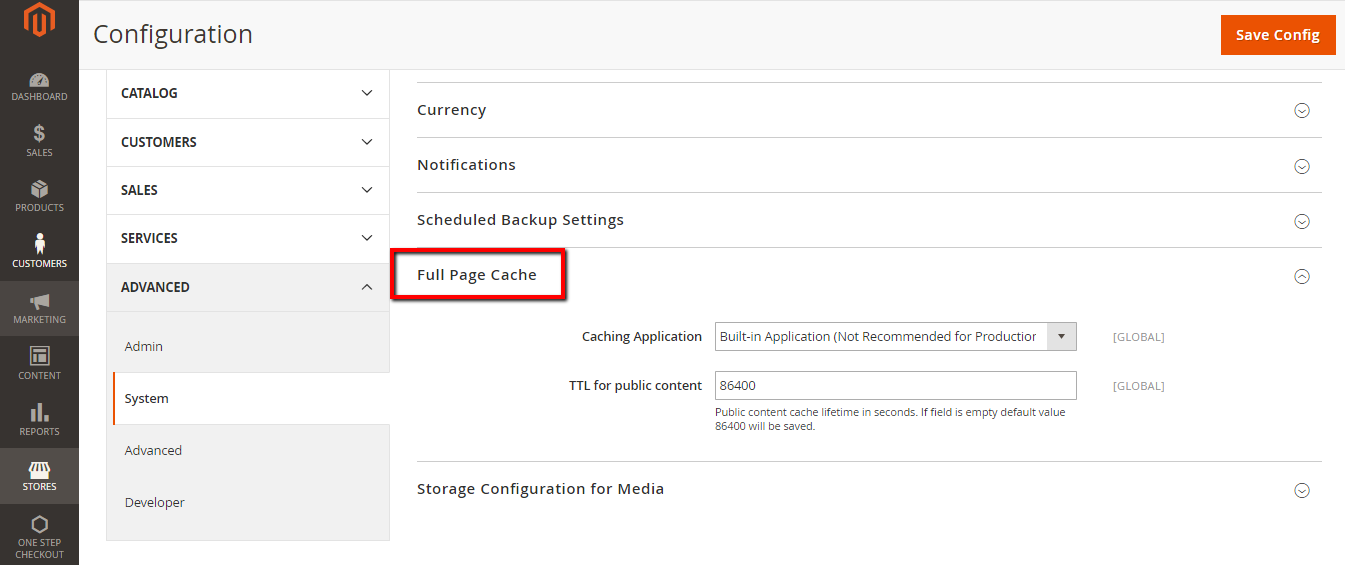 Merge and minify JS and CSS files. This action will reduce the number of separate CSS files into one condensed file by merging them together. As a result, your Magento website will have to deal with fewer files and thus increase its loading speed. An important note to keep in mind is that the merging process can only be performed in Developer Mode.

Use a Magento hosting provider. Opting for a suitable hosting provider will save you much time and effort when optimizing Magento technical SEO. It will look after the website as well as server-side caching. Many hosting providers come with an auto-configuration to offer users the best performance and most secure settings.
Make a habit to run a site audit to keep your website blazing fast as it evolves and adds up pages. Website audit tools are designed in a way to notify you if your loading speed gets really slow, and they will even point you in the right direction to fix the cause — by detecting uncompressed and uncompressed and not minified CSS and JS files, finding uncompressed content pieces, too big images, redirect chains, etc. On top of that, a website audit tool will help you spot other technical issues that could harm your website SEO, such as broken links, SSL errors, lack of mobile optimization, and many others.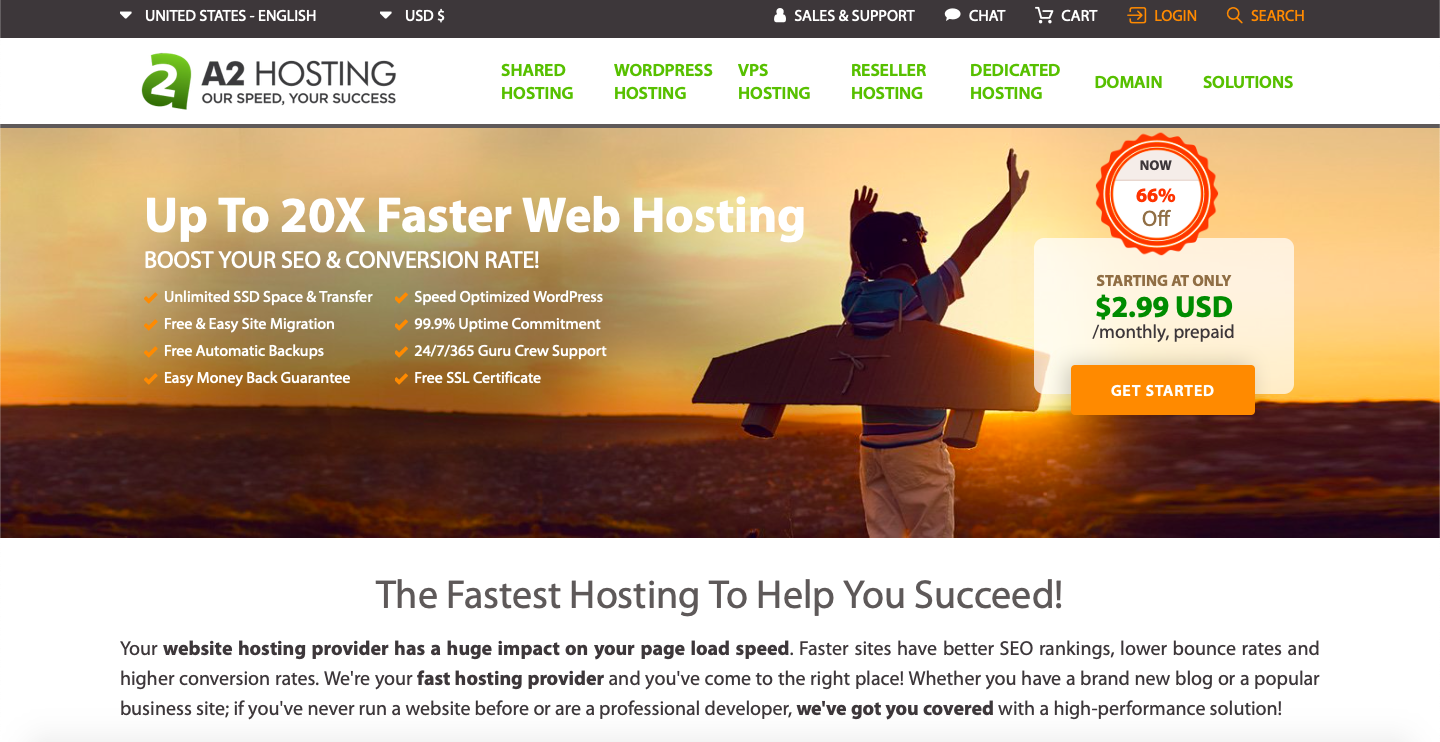 4. Use XML Sitemaps
An XML sitemap is a virtue roadmap, specifically designed to help Google understand your website structure. It will list all the important pages on your site. The XML sitemap will help Google find, crawl and index your website faster and more efficiently.
A great merit of Magento is that the system enables its own Google XML sitemap generator to help you create and submit an XML sitemap to Google with ease. Configuration is just a breeze. All you have to do is navigate to Marketing > SEO & Search > Site Map to select your own priority and configure the frequency and the time you want the XML sitemap to be generated. Remember to save your site map file.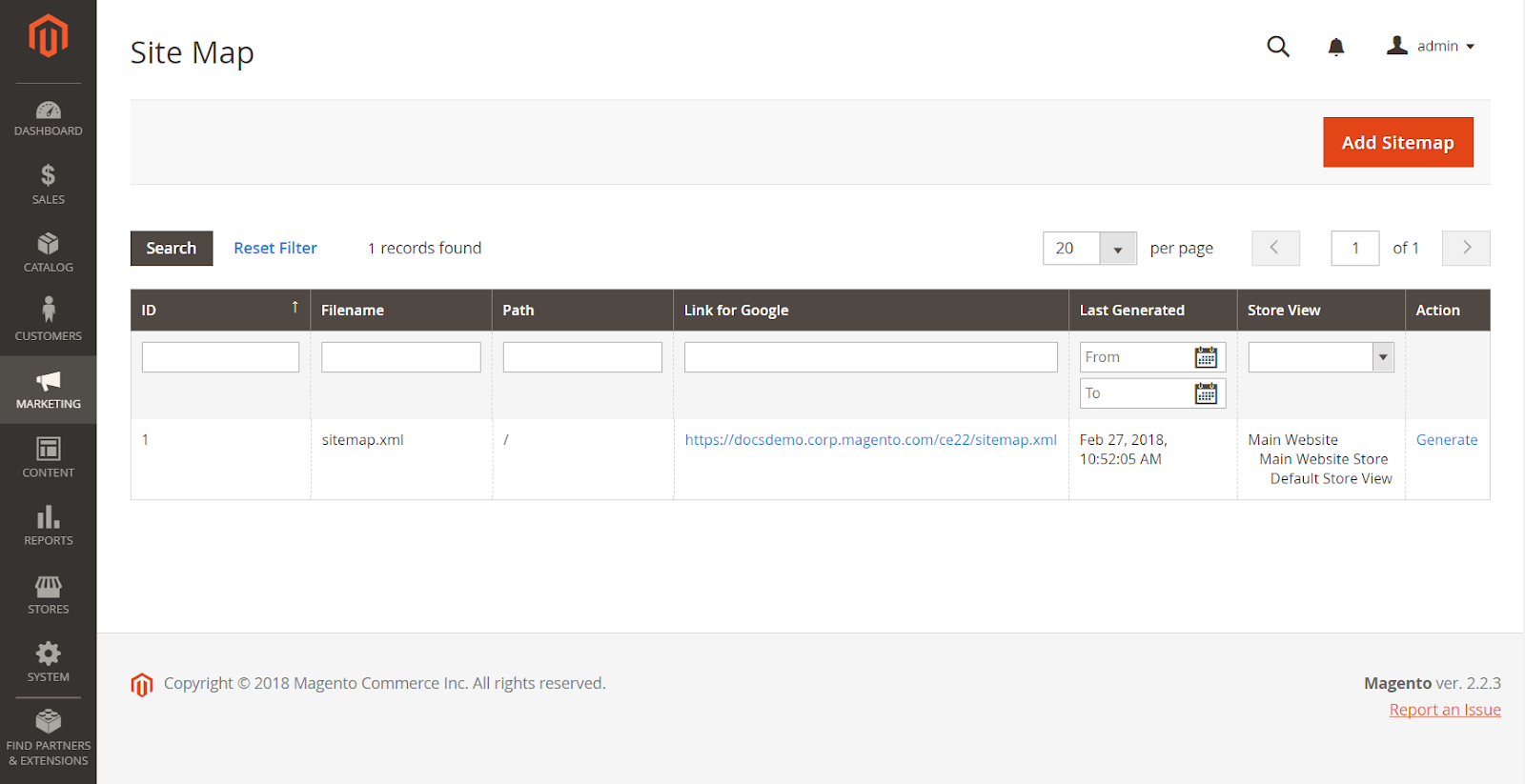 Generating an XML sitemap is not enough, you will need to give Google and other search engines access to your file. You can upload your sitemap by providing the link to the sitemap.xml file in your Magento installation. In the Site Map Grid, right-click the URL in the Link for Google column and choose Copy Link Address. Don't forget to update your sitemap regularly to make sure that Google will not miss any new content on your website.
5. Rewrite your Magento SEO URLs to be SEO-friendly
One outstanding Magento SEO feature is that it allows users to freely edit their product's URL. You can make changes to all the links that are associated with a product, category, or CMS page to be more SEO-friendly. Magento will automatically redirect the previous URL to the new one. Therefore, there's no need to worry about 404 errors or missing content on your website after the changes.
One more thing to keep in mind is that Magento automatically generates code to your products' URLs. To eliminate this code for a cleaner link, go to Store > Configuration > General > Web  > URL Options. In the Add Store Code to URL box, change the setting to No. This action will prevent Magento from adding redundant code to your URLs.

6. Optimize your products' images
Optimizing your products' images is another good Magento SEO tip. There are two elements you need to pay attention to when it comes to products' pictures. Firstly, instead of using the default name with meaningless words and numbers, the image file's name should define what the image is about. By doing so, it will be easier for search engines to access, understand and recommend your products on SERPs.
Another element that you should optimize is images' alt texts. Alt text (or alt attribute, alt description) acts as a modifier to describe the appearance and function of an image on a page. It will be displayed to Google whenever it cannot scan the picture on your website. To increase your Magento SEO score, make sure to add keywords to your alt text. However, you should consider using keywords in a reasonable way to avoid being tagged as spam by search engines.
7. Eliminate duplicate content
Duplicate content is content that appears in more than one address. It is a severe problem when optimizing your Magento SEO. This content might send conflicting signals to search engines and make it hard to index and rank your website.
Duplicate content can be gotten rid of by using the canonical tag. In your Admin Dashboard, go to the Stores > Configuration > Catalog. On the right side, scroll down to Search Engine Optimization. Then, in the Canonical LINK Meta Tags for Categories and Products, set to Yes.

8. Pay attention to meta-data
Meta-data includes the meta title, meta keyword, and meta description. A keyword-rich meta-data increases the chance search engines index your website. It is important to avoid using the same metadata info for all pages.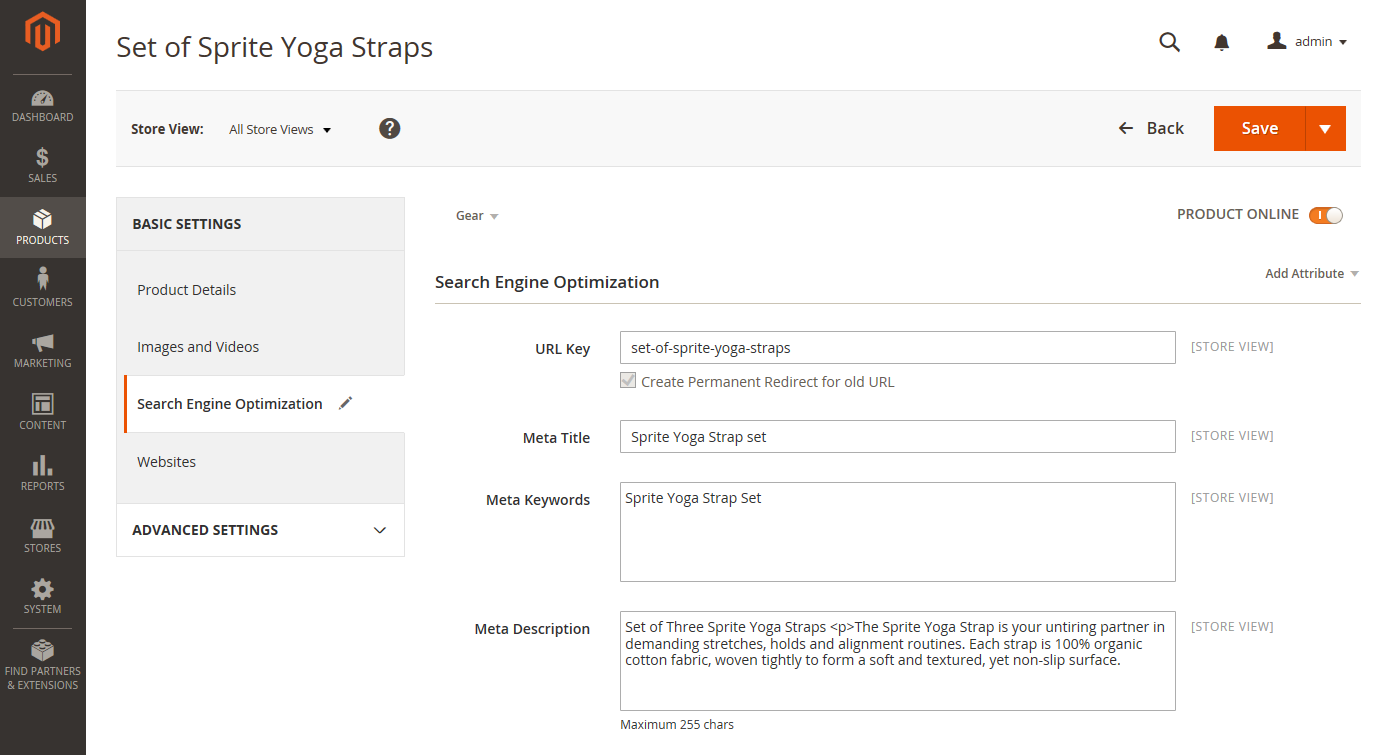 For example, meta-data descriptions for your site will not be appropriate for your specific product pages. Google and others show the metadata description below the link in the SERP. A description relevant to the searched keyword would surely convince the user to follow your link.
Enter Admin Panel (System > Configuration > Design > HTML heads) and define generic rules for the whole site. To set the title and metadata on a page-to-page basis, go to individual categories and product pages in the catalog section of the Admin Panel.
Writing concise, eye-catching descriptions with relevant keywords for your new categories, products, and services help search engines to match user search query to your product link.
Creating a "URL Key" so that the URLs are specific for the product keyword.
---
Final Words
As a matter of fact, there is a reservoir of ways to improve your Magento SEO for better ranking on search engine results pages. We hope that this article will help you to have a better view of a comprehensive SEO checklist for your Magento (Adobe Commerce) store. However, you should keep in mind that these Magento SEO tips above are just optimizing technical SEO and on-page SEO. It is important to opt for more SEO and other marketing strategies to bring more traffic to your Magento store.
Last but not least, don't forget to join our Facebook Community for more eCommerce tips and news.