Looking for a way to perform the BigCommerce CSV import smoothly and effortlessly? Tune right in! Let LitExtension – #1 Shopping Cart Migration Expert walk you through detailed steps on how to import products to BigCommerce using CSV files.
Keep scrolling to discover:
Without further ado, let's get rolling!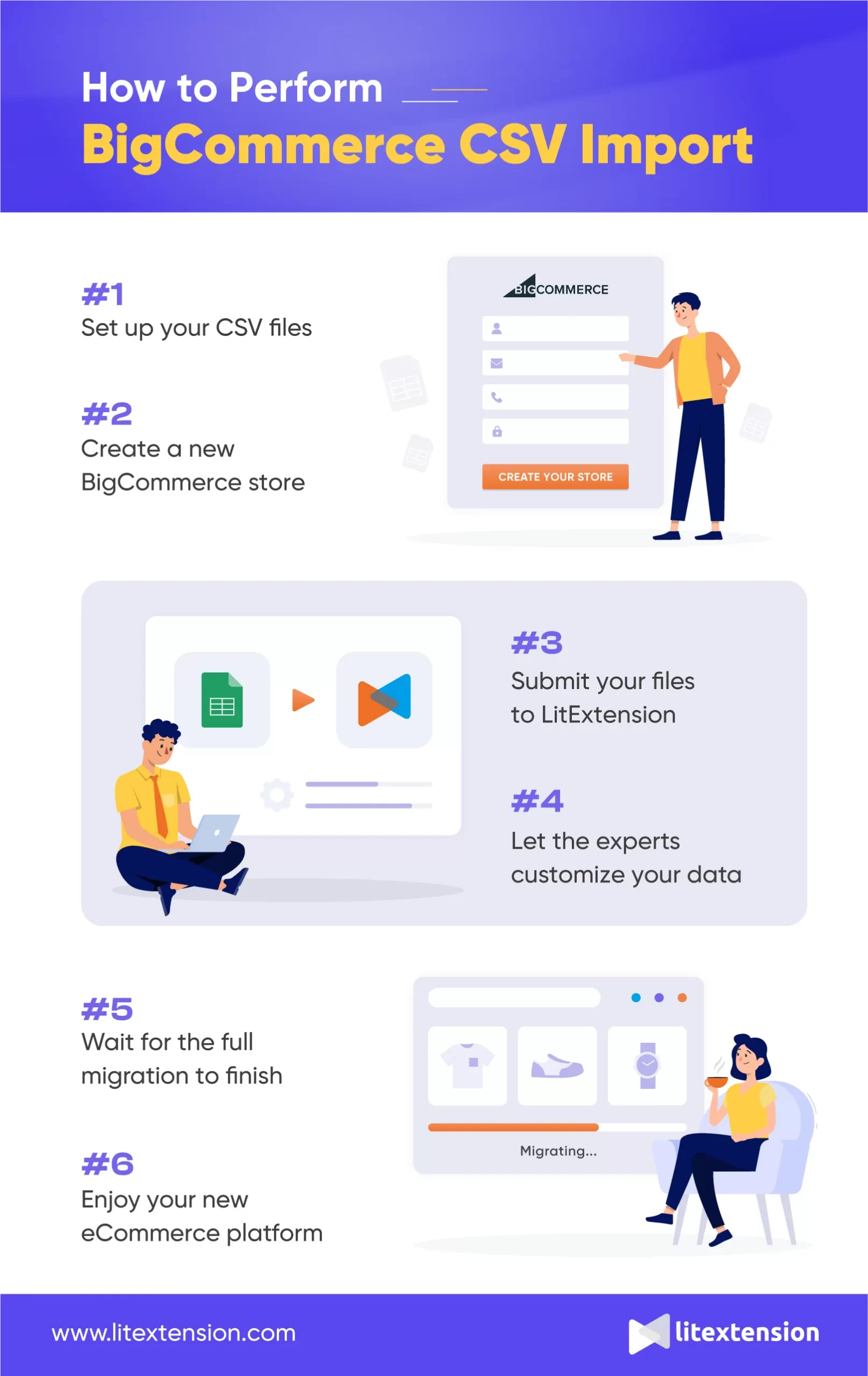 ---
What Are BigCommerce CSV Files?
BigCommerce CSV file is one of the most common ways to store data on BigCommerce. As its name suggests, a CSV file (or Comma Separated Value) represents a table of data in which each line of the file corresponds to a row, and the values within each line are separated by commas. It can be opened and modified by any spreadsheet program, such as Microsoft Excel, Google Spreadsheet, or Open Office Calc.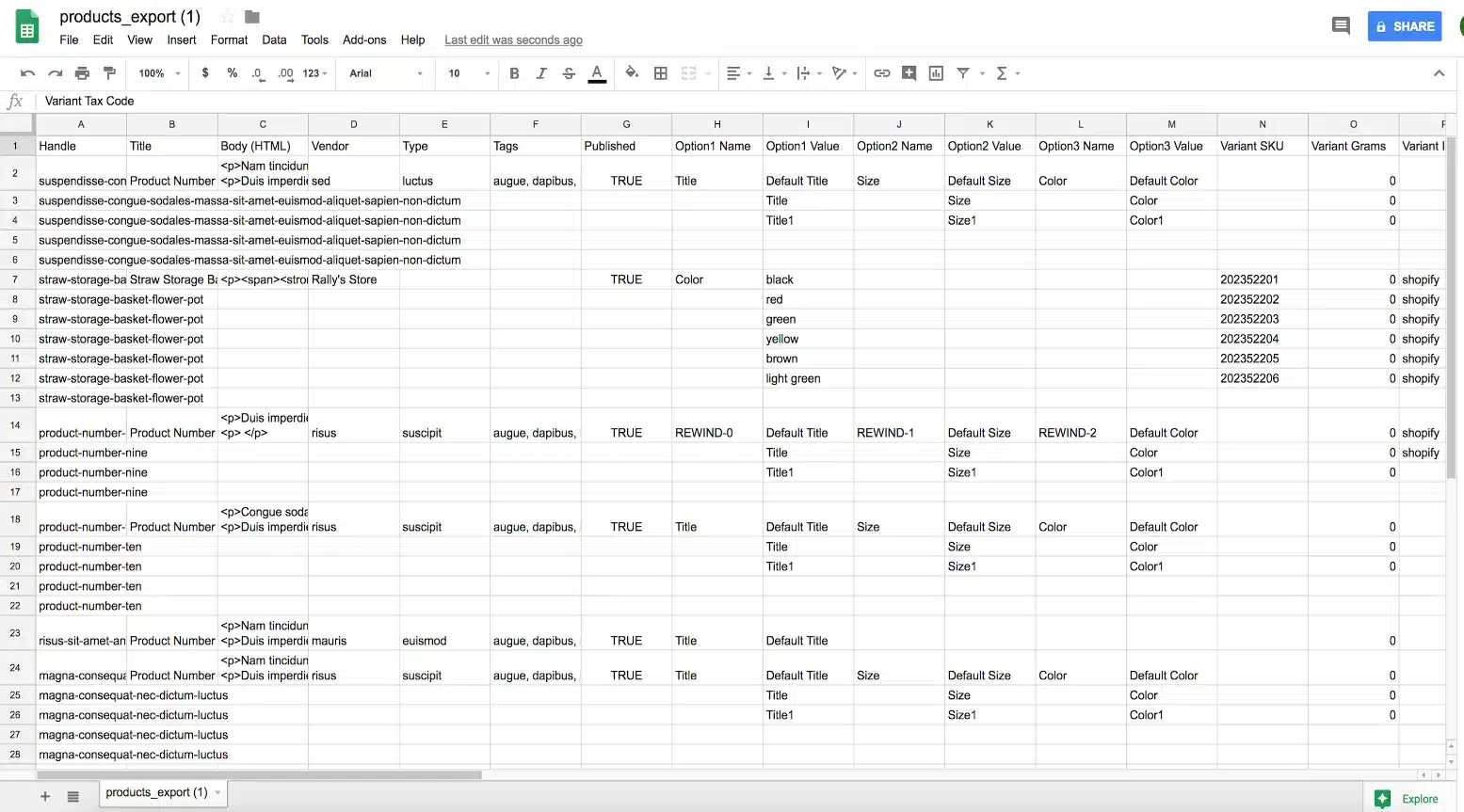 BigCommerce CSV files will come in handy when you want to exchange data between platforms since it can be easily processed by various programming languages and database systems.
---
When Do You Need to Perform BigCommerce CSV Import?
It's not every day that you need to search for how to import products to BigCommerce using CSV files. Nevertheless, a BigCommerce CSV import will certainly be helpful in these situations:
You want to migrate to BigCommerce, but your old eCommerce website has collapsed. All you have left is the CSV files.
You don't want to expose your sensitive data to external parties.
You want to reorganize your data but don't want to interfere with your live store performance.
Your online business is built on a cloud server instead of a dedicated one.

---
Which Data Can You Import to BigCommerce?
Don't forget to check out the supported data type below before performing the BigCommerce CSV import:
Products (including product options, IDs, names, and categories)
Product SKUs (for inventory purposes)
Customers (including email address, first name, and last name)
Tracking numbers
301 redirects
In case you cannot find the data type you want to import to BigCommerce, don't hesitate to contact us to get assistance.
---
What to Prepare Before the BigCommerce CSV Import?
#1 Back up and export data on your current website
The very first thing you need to do before performing the BigCommerce CSV import is back up all your data. Though LitExtension guarantees that we will not, by any means, intervene with your data, backup files will certainly come in handy in case of unexpected errors.
After that, it's time to export your data into CSV file format. Each platform comes with different ways to store and export your CSV file. Therefore, our advice is that you should carefully read the platform documentation to understand how to export products, orders, and customers.
#2 Create a new BigCommerce store
Now that your raw data is ready to be migrated, don't forget to get your new store ready before the BigCommerce CSV import.
Please follow our guide below or check out our in-depth BigCommerce tutorial to learn how to create a BigCommerce store.
1. Create a BigCommerce account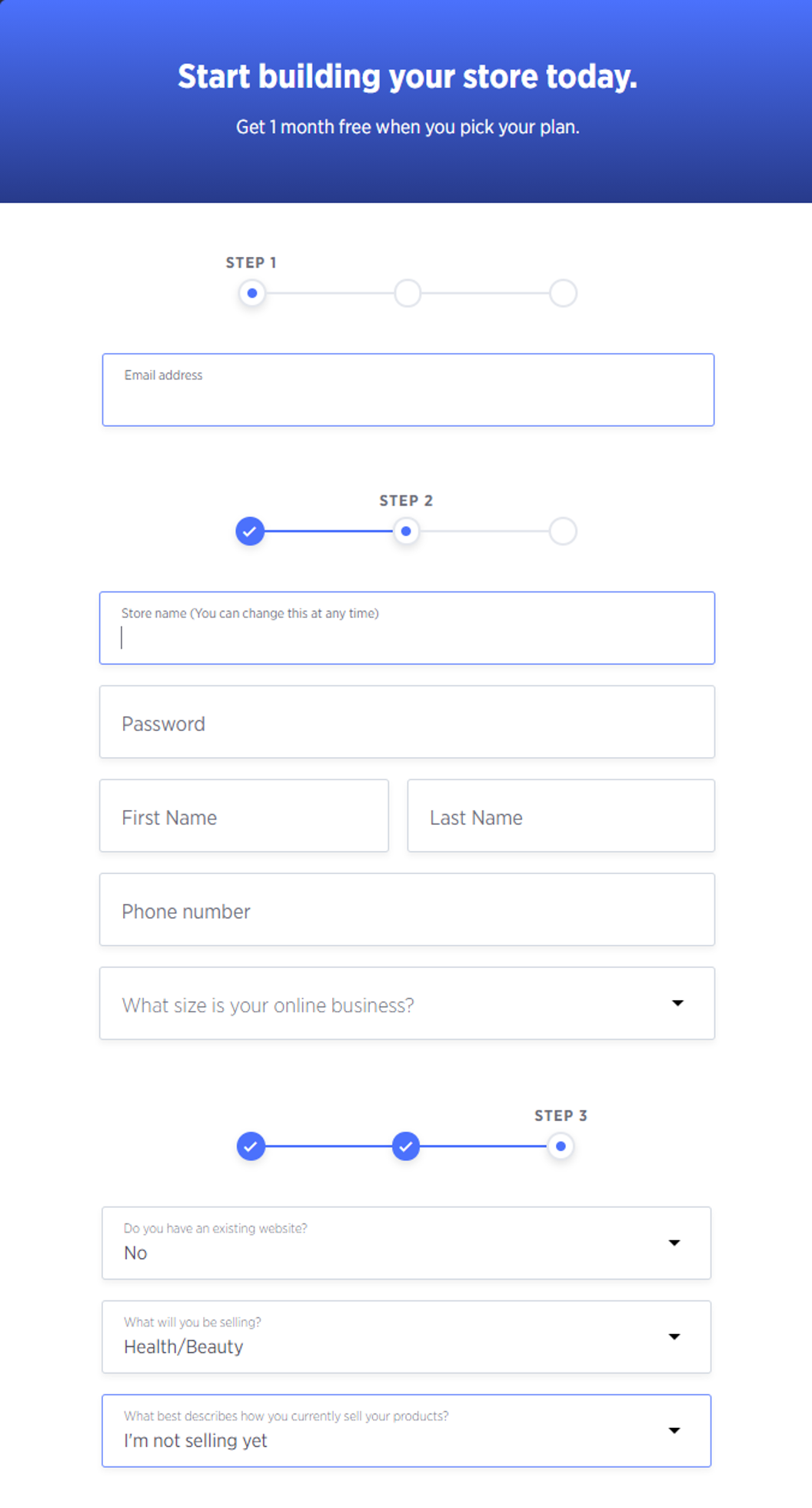 2. Create a stunning website with the best BigCommerce themes.
3. Configure settings like products, customers, tax, and shipping.
4. Enhance your business with the best BigCommerce apps.
5. Launch your BigCommerce store.
---
How to Perform the BigCommerce CSV Import with LitExtension?
If you are looking for an easy and effortless way to perform the BigCommerce CSV import, LitExtension is right at your fingertips. Our CSV Files Migration Service will help you transfer all data from the current website to BigCommerce quickly, accurately, and securely.
To import BigCommerce CSV files, please follow these 4 steps below:
Submit your files to LitExtension
Let the experts customize your files to better fit your requirement
Wait for the full BigCommerce migration to complete
Check the final result and start selling
Or, in case you want a visualized approach to how to perform BigCommerce import from CSV, don't forget to check out our videos:
#1 Submit your files to LitExtension
First off, our team of experts will kickstart the process by gathering your CSV file and getting a clear grasp of your unique requirements. We want to make sure we're on the same page, so LitExtension will set up a one-on-one consultation session to dive deep into your migration project. It's crucial that we're in sync because the end result hinges on the effectiveness of our teamwork.
To get things rolling, simply upload your CSV file to either Google Drive or Dropbox and share access with LitExtension. Once we have your file in our hands, we'll swiftly move on to the next step: the BigCommerce CSV import.
#2 Let the experts customize your files
Now that we have your CSV file in hand, you can sit back, relax and leave the rest to LitExtension. Our experts will take over your BigCommerce migration project from start to finish. No need to worry about formatting the file yourself—we are right here to help! Our technical specialists will meticulously tailor all the files to align perfectly with your specific requirements.
Additionally, we'll conduct a comprehensive demo migration and thoroughly review the results to guarantee a seamless BigCommerce CSV import process.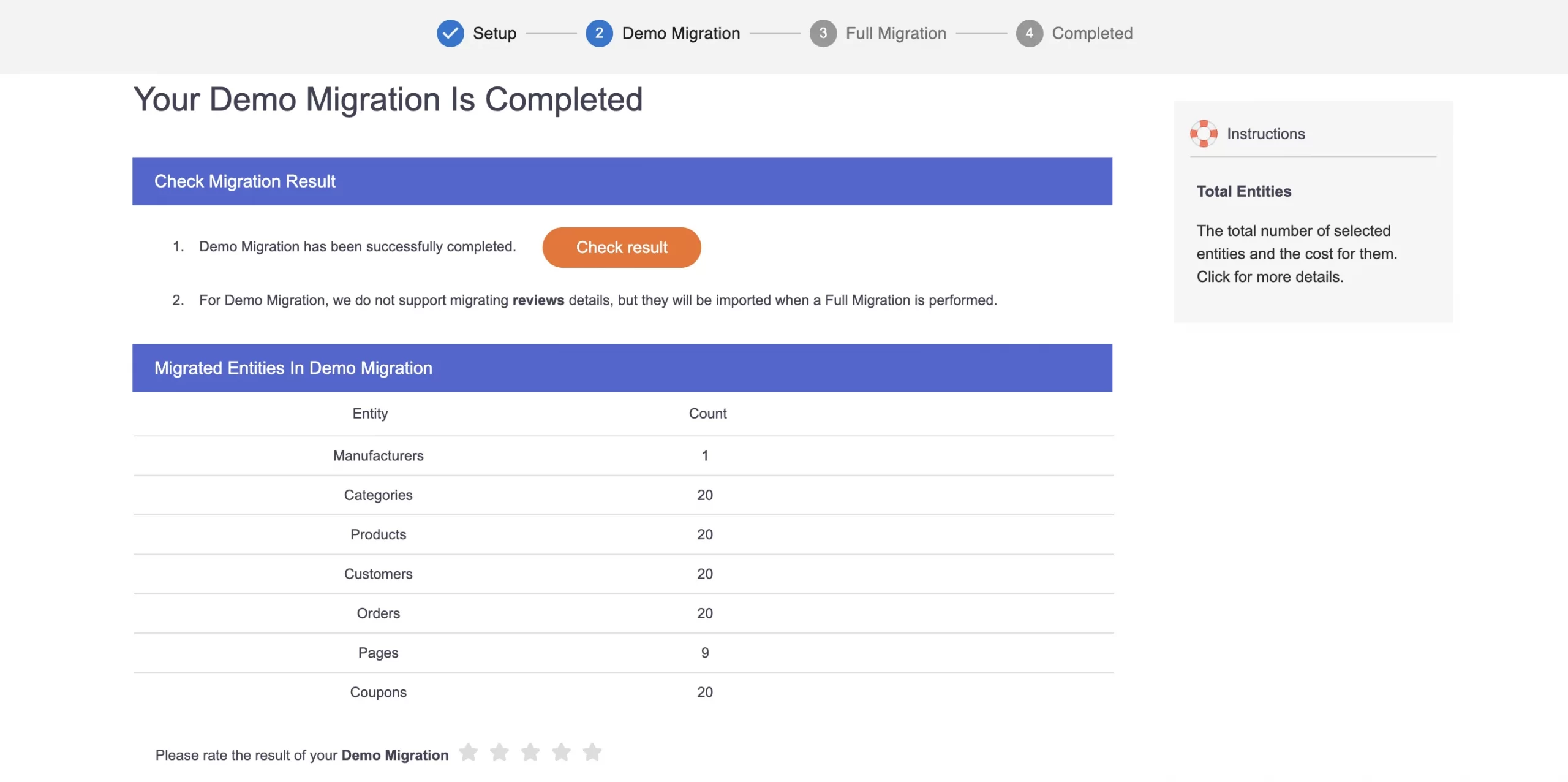 #3 Wait for the full BigCommerce migration to complete
Once you are satisfied with how the demo migration turns out, LitExtension will proceed to the full BigCommerce CSV files migration. At this stage, you can continue to do business as usual and keep generating profit. We guarantee to run the migration entirely on a cloud server; hence, there won't be any interference with your live store.
#4 Check the final result and start selling
And that brings us to the end of the BigCommerce CSV import with LitExtension.
After the transference finishes, our experts will perform several post-migration activities. In the end, we want to ensure that all your information has been moved accurately and securely to BigCommerce with no data left behind.
Want to migrate to BigCommerce?
If you are intending to migrate to BigCommerce, LitExtension offers a great migration service that helps you transfer your data from the current eCommerce platform to a new one accurately, painlessly with utmost security.
---
How to Perform BigCommerce CSV Import Manually
#1 How to import products to BigCommerce
Now, it's time for you to import those exported data to BigCommerce. BigCommerce currently supports importing data in CSV file format. These files can contain a variety of data entities such as products, customers, tracking numbers, product images, 301 redirects, etc. You can open CSV files using any spreadsheet program, making it very convenient for tracking.
Follow these steps:
1. Go to Product › Import.
2. Select the settings you want for your import under Import Options. There are some BigCommerce import product options, as seen in the image below.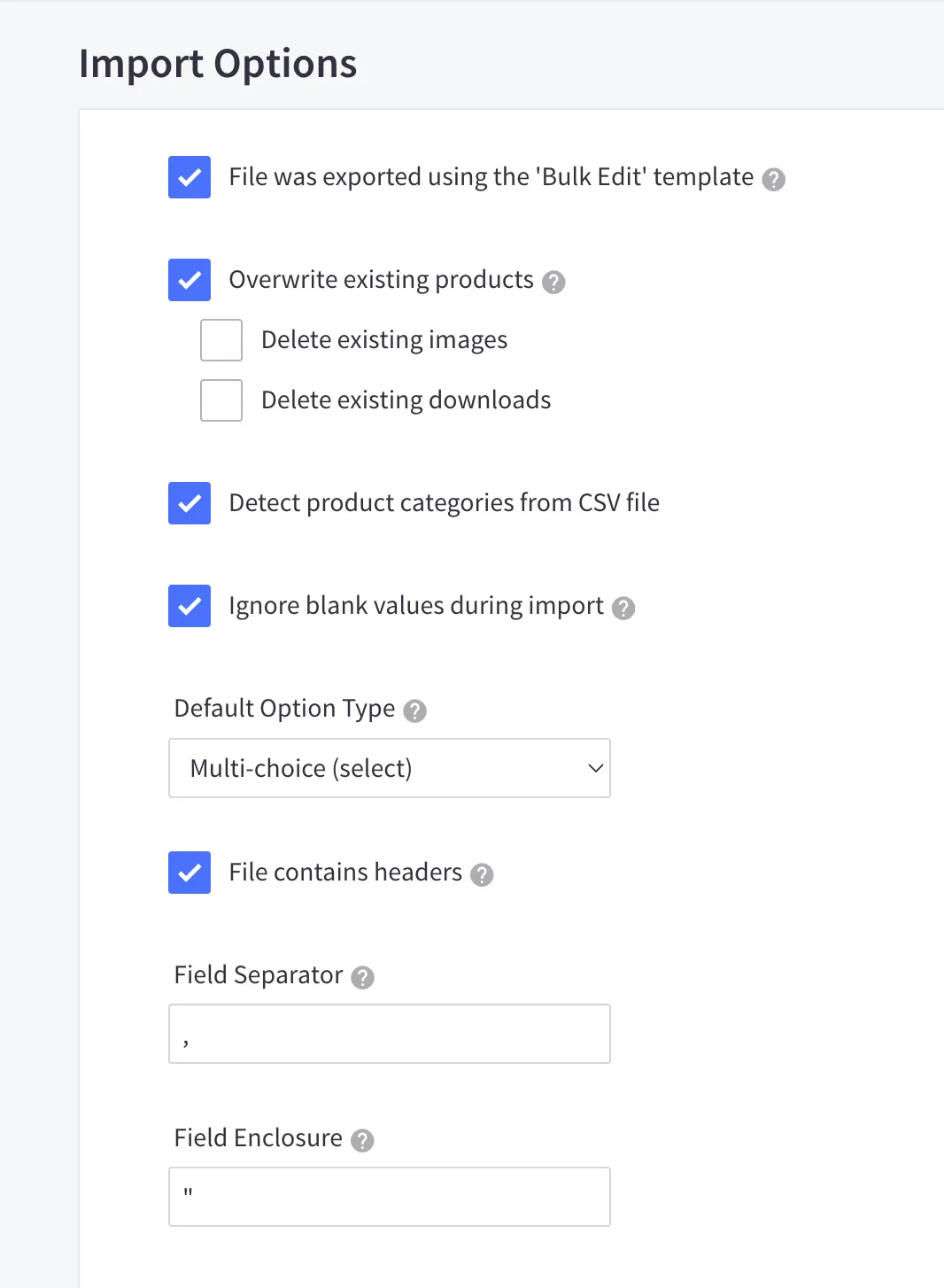 Select "File was exported using the 'Bulk Edit' template" if you export your file following the BigCommerce sample product CSV file. Choose this option, and it will automatically select the rest of the Import Details settings and skip you over the Matching Fields step.
Next up, you'll see the options Delete existing images and Delete existing downloads. We recommend you not choose these options if you don't know what you are doing. These settings will permanently delete your existing images and downloads, and there's no way for recovery.
3. In the Import Products via CSV section, drag and drop your CSV file or browse for it. Remember that the only file format supported here is CSV.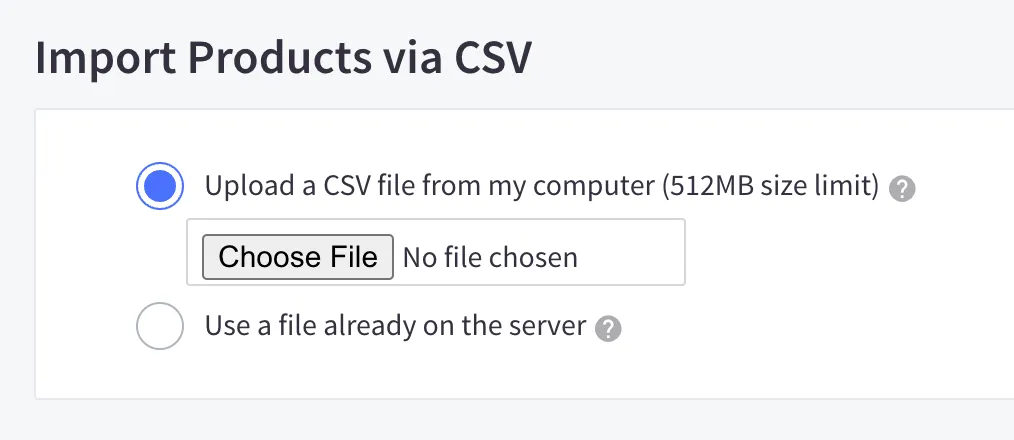 4. Click Next once you complete all the above steps.
5. Make sure to match equivalent settings for your product data when importing. If you select Bulk Edit Re-import option, you can skip this step.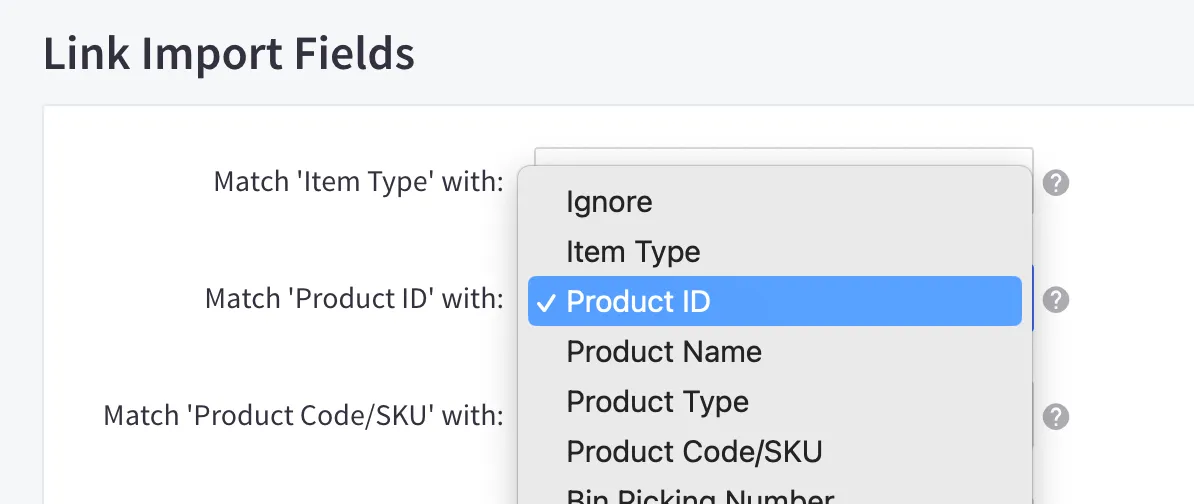 The Ignore option means that it will skip data fields in the import file with blank values. We recommend you set a specific setting for each matching.
6. Click Next.
7. After that, click Start Import to begin importing products. When you finish, you will see an import summary.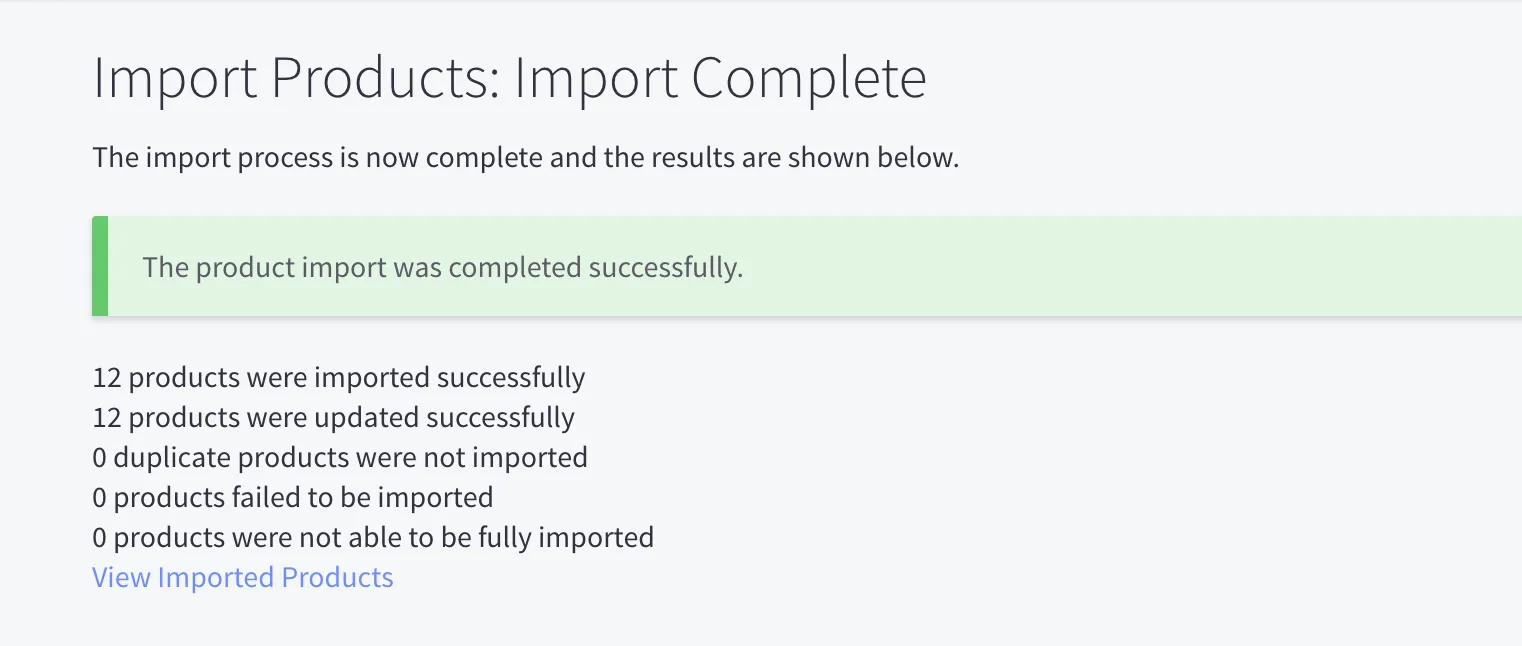 Now, you can click View Imported Products and see the final result.
#2 How to import customers to BigCommerce
1. Go to Customers › Import.
If you upload a non-spreadsheet CSV and need to specify the import settings, you can typically leave the additional File Details settings alone.
Contains Headers? – Select if the file already contains column headings.
Field Separator – Define what punctuation is used to separate the fields.
Field Enclosure – Define what punctuation is used to tie phrases together.
Then, click Next when you are ready.
Or, if you're using the Bulk Edit template when exporting customers, select Bulk Edit Re-import option. It will automatically select recommended settings and configure the next Match Import Fields step.

2. In the File Details section, next to Import File, upload your CSV file directly from your computer by drag and drop the file or browse for it.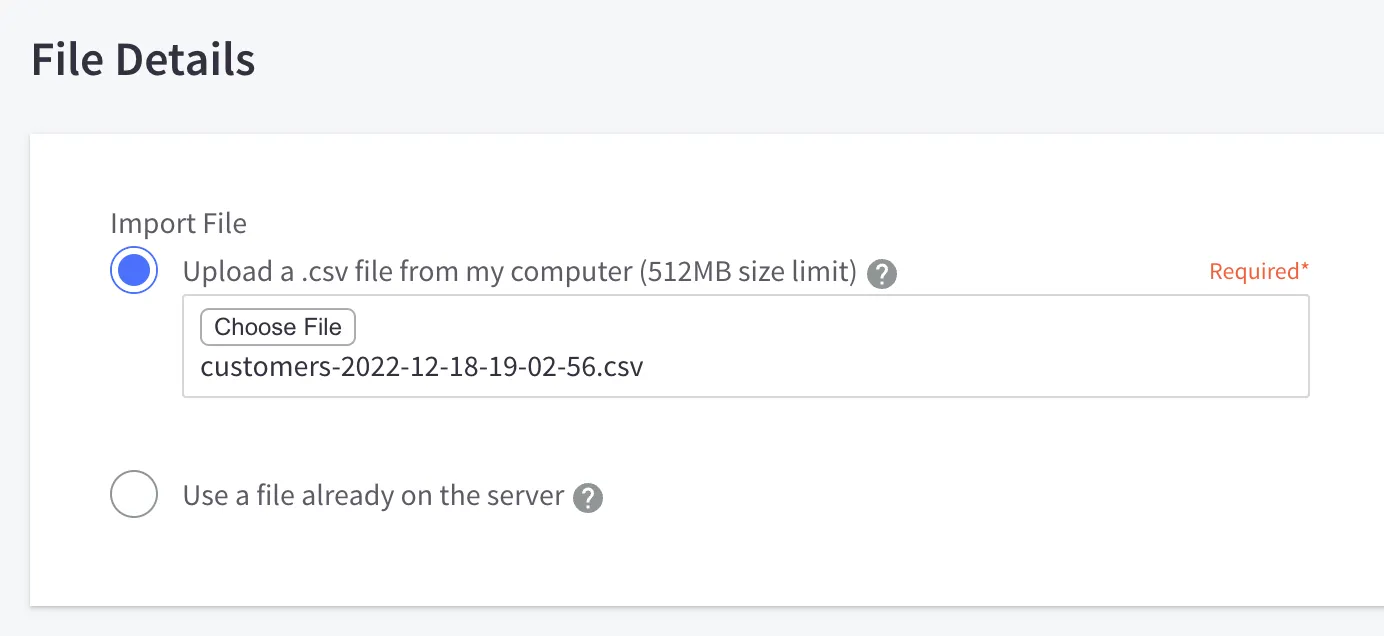 3. At this step, you need to assign column headers from the import file to their corresponding fields before proceeding. Next to the Match field, from the drop-down options, select your CSV's corresponding column name. You do not need to match every column, but you must match the required columns. Click Next when done.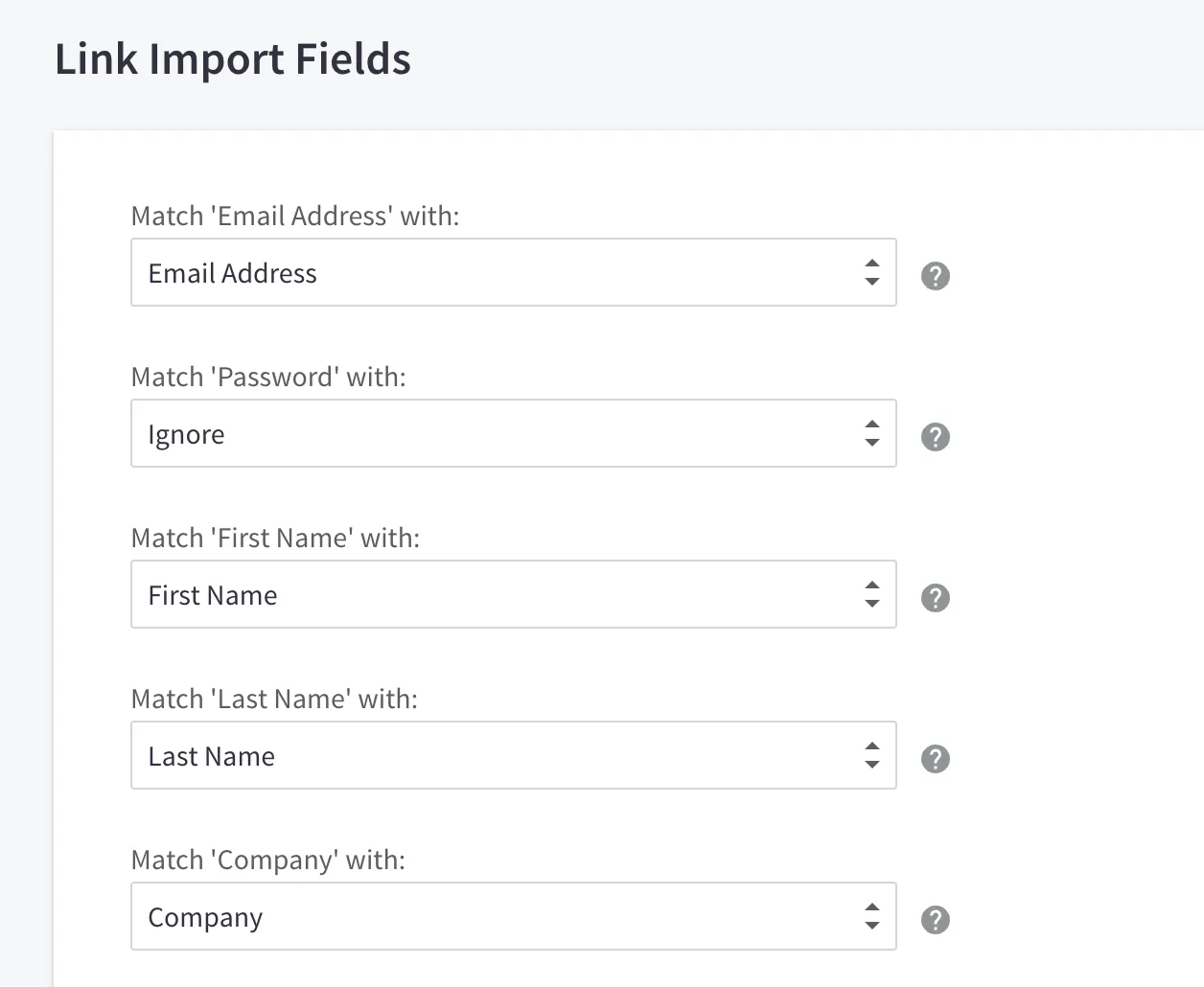 4. Click Start Import when ready to begin importing your customers. When all is done, you will see an import summary.
Hold on. Don't forget to read our essential resources on BigCommerce:
---
Import to BigCommerce Using CSV Files – FAQs
---
Final Words
Now you've learned how to import products and customers to BigCommerce via CSV files. It could be a simple task if you have had experience after multiple times doing. But to those unfamiliar with data transfer or BigCommerce, it could take a lot of time to start from scratch. Along with that, it may contain the hidden risk of losing data during the import process.
Therefore, in case you're too busy or wary about the risk when import to BigCommerce CSV files, we highly recommend you use our CSV file migration service. With this package, our experts will perform the CSV migration/import to BigCommerce. We will ensure the data compatibility of your CSV files in BigCommerce so that your data will be transferred accurately, rapidly, and securely.
Additionally, we also offer the All-In-One Migration package that will fully cover your migration/import to BigCommerce. For more information about how to migrate/import your data to BigCommerce, don't wait for too long to contact our support team. They are available 24/7 and always happy to help!
Don't forget to visit LitExtension Blog and join our eCommerce community to get more news and knowledge about eCommerce.