Along with Shopify Payments, or Shop Pay, PayPal is one of the most convenient ways to make online purchases. Albeit its popularity, not every virtue store add PayPal as their payment method. So, the big question is, where can I buy from stores that accept PayPal? What is PayPal, and how does PayPal work?
Stay tuned because LitExtension – The World #1 Shopping Cart Migration Expert will walk you through:
Without further ado, let's get started!
Let the Experts Help You Move to Shopify!
Focus on growing your business and leave your Shopify migration in good hands with LitExtension All-in-One Migration Package. Let our Personal Assistant lift the weight of manual tasks off your shoulder and provide regular updates on how your project is going.
---
An Introduction to PayPal
What is PayPal?
PayPal is not just a simple e-wallet that allows users to send and receive money without any additional expense. It is a fertile ground for online business transactions. PayPal plays the role of a "courier" who securely transfers money between e-merchants and customers. Besides that, it also helps store owners manage their stores more efficiently.

PayPal was first introduced in December 1998. With over 20 years of experience, PayPal has made its way to being the top payment gateway that powered many online businesses. In the second quarter of 2023, PayPal has successfully transferred $310 billion for 49 billion payment transactions. The current number of PayPal users has surpassed 416 million people across the world.

When it comes to ease of use, PayPal could be the poster child for other payment providers. PayPal is extremely easy to set up and use. All you have to prepare is an email address and an eligible card to begin with.
Merchant-wise, PayPal doesn't require a complicated verification process or any guarantee of your store's revenue. If you are selling or dropshipping on any eCommerce platform, you can turn your websites into stores by installing the PayPal button. This processor allows customers from everywhere in the world to easily make the purchase in your store and let you collect payment quickly.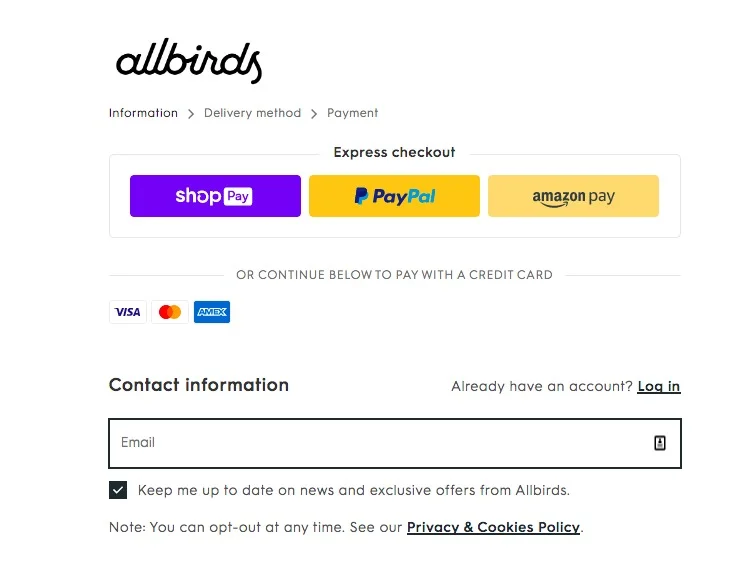 What is PayPal fees?
Is PayPal free? Yes, it is. However, PayPal is only free for consumers. In other words, when customers make an online or in-store purchase, they will not be charged any additional PayPal fee.
Nevertheless, if they perform an international payment transaction, users will be charged a small sum of money depending on the PayPal currency conversion rate. This rate ranges from 2.5% to 4% based on your currency.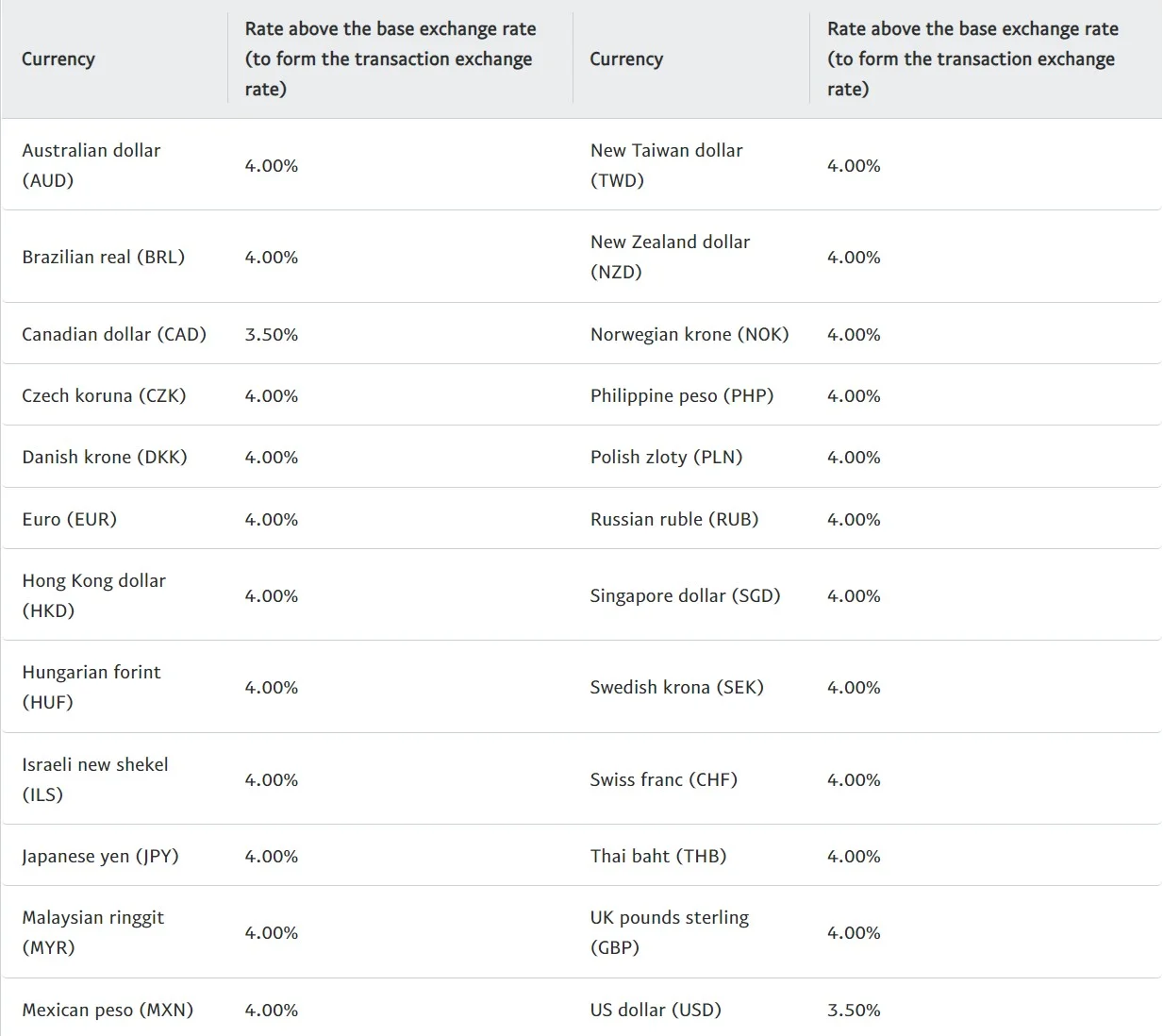 On another note, for stores that accept PayPal, e-merchants need to take heed of several PayPal fees. The first one is commercial transaction fees, the sum of money that PayPal charges for selling goods and services. Normally, store owners will need to pay an additional PayPal digital payment transaction fee of 3.49% plus 0.49 cents.

For example, a customer purchases a product for $100 in a US-based store using the PayPal checkout function. In this case, sellers will be charged a commercial transaction rate of 3.49% plus a $0.49 fixed fee. The total money that the store owner receives is 100 – (100 x 3.49%) – 0.49 = 96.02 (USD)
To get the detailed commercial transaction rates, please visit the PayPal for Merchants page for more information.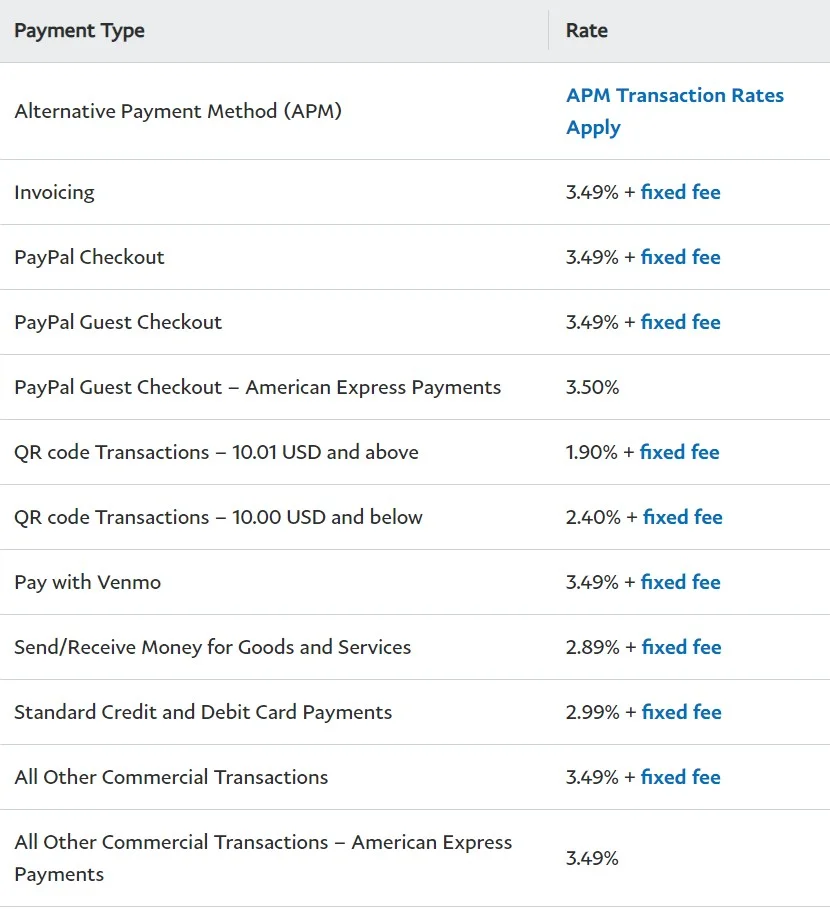 Besides the commercial transaction rates, PayPal will charge other additional fees, namely PayPal currency conversion, eCheque, Chargeback, Micropayments, and Credit/Debit card confirmation. These types of fees are not fixed. It depends largely on the store's region and currency.
PayPal pros and cons
Is PayPal good for your business? Yes, it is. Nevertheless, there is still room for improvement. Let's take a look at the table below to see how good PayPal is and which aspects need further research.
| | |
| --- | --- |
| | |
| - Is easy to use and set up | - Is available in selected regions only |
| - Provides a high level of security | - Offers inconsistent customer support |
| - Can integrate with various eCommerce platforms and marketplaces | - Can be prone to scam or fraud transaction |
| - Supports 100+ currencies | - Requires lots of fees and charges |
| - Comes with a built-in PayPal currency converter | |
| - Offers financial installment with PayPal Pay in 4 | |
| - Has an enormous user-base | |
And that's everything you need to know about PayPal. In the latter part of this article, LitExtension will help you unveil the mechanism of this payment gateway and see how does PayPal work.
---
How Does PayPal Work?
How does PayPal work in general?
For stores that accept PayPal, they trust this payment gateway to be their "middleman" between store owners and consumers. PayPal takes payments from buyers and sends them to sellers smoothly and securely.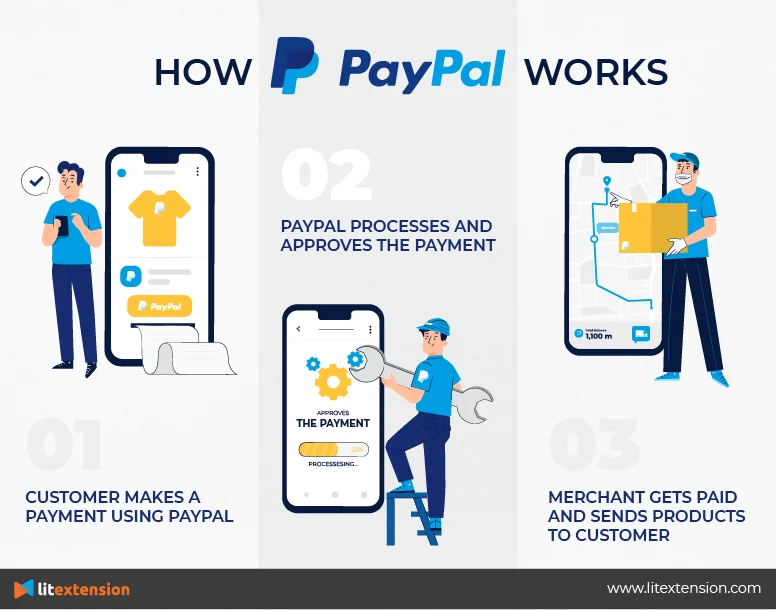 With PayPal, there's no need to fill in lengthy forms at the checkout page. Customers only have to provide their billing information once when registering PayPal. After that, every time they make a purchase using PayPal, customers can skip entering their card and shipping info and process straight to the checkout section.
PayPal creates a smooth and seamless checkout process for your customers. An accelerated checkout function might be a major decision that improves customers' experience, boosts conversion rate, reduces abandoned carts, and thus increase sales volume.
🔎 PayPal is not the only processor you can integrate to start accepting payments. If you are building a Shopify store, you might use Shop Pay as an alternative to PayPal. Learn more about Shop Pay with our in-depth review here!
PayPal Pay in 4
"Buy Now, Pay Later" has become a burgeoning eCommerce trend in the last few years. The total purchase using "Buy Now, Pay Later" will soon surpass $100 billion dollars in 2021, as reported by Forbes.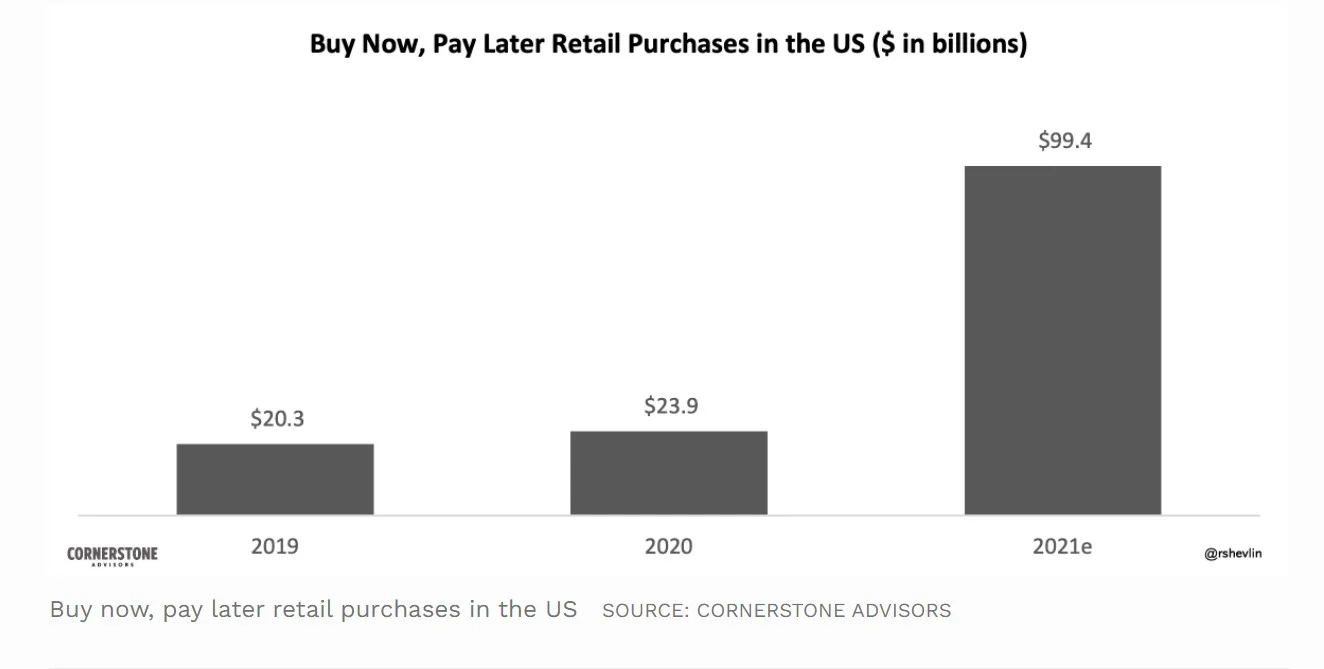 PayPal is not a latecomer in this "Buy Now Pay Later" trend. This financial behemoth provides an installment feature: PayPal Pay in 4.
So, how does PayPal work when it comes to installment? As its name suggests, PayPal Pay in 4 splits customers' purchases into four equal parts. It allows customers to pay for their purchase right at the checkout stage partially and then finish their payment later.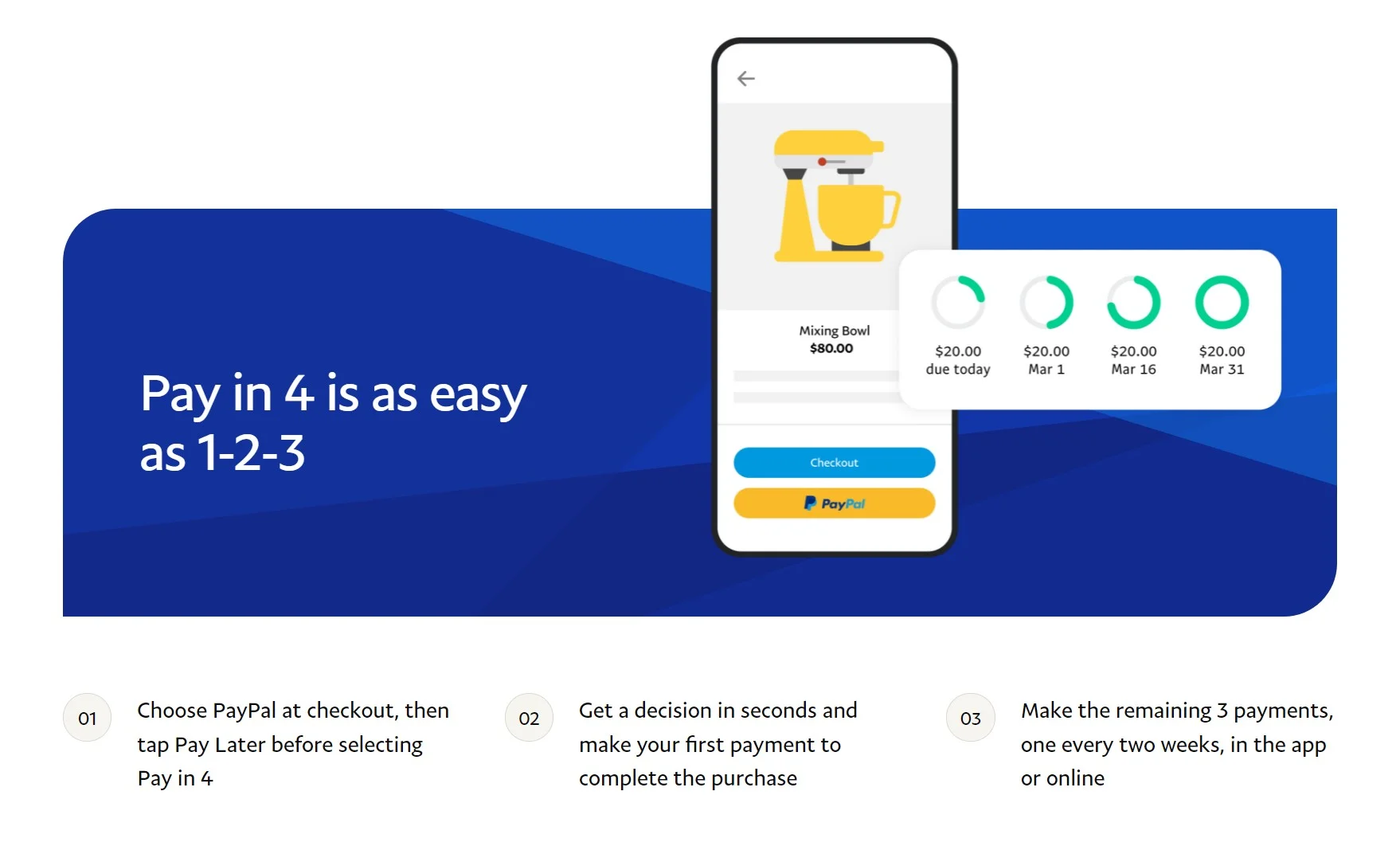 A significant advantage of PayPal Pay in 4 is that it charges zero additional fees. This means PayPal installment requires no interest rate and no late fees. Opting for PayPal Pay in 4 also has zero impact on your credit score.
Nonetheless, please note that if you make late payments, you might be opt-out of the PayPal installment program in future purchases.
Need Help to Migrate Your Store?
PayPal comes with great features to support your business. Therefore, if you intend to transfer to a platform that accepts PayPal (like WooCommerce), LitExtension offers a great migration service to help you. Enjoy a smooth and secure migration with LitExtension!
How to Pay with PayPal
PayPal Cash card
PayPal Cash is a Mastercard debit card provided by PayPal. It allows customers to shop from everywhere, both online and in-store, using their PayPal balance. More importantly, by turning their PayPal balance into a physical card, PayPal Cash users can easily withdraw money in 32,000+ MoneyPass ATMs across the globe without any fee.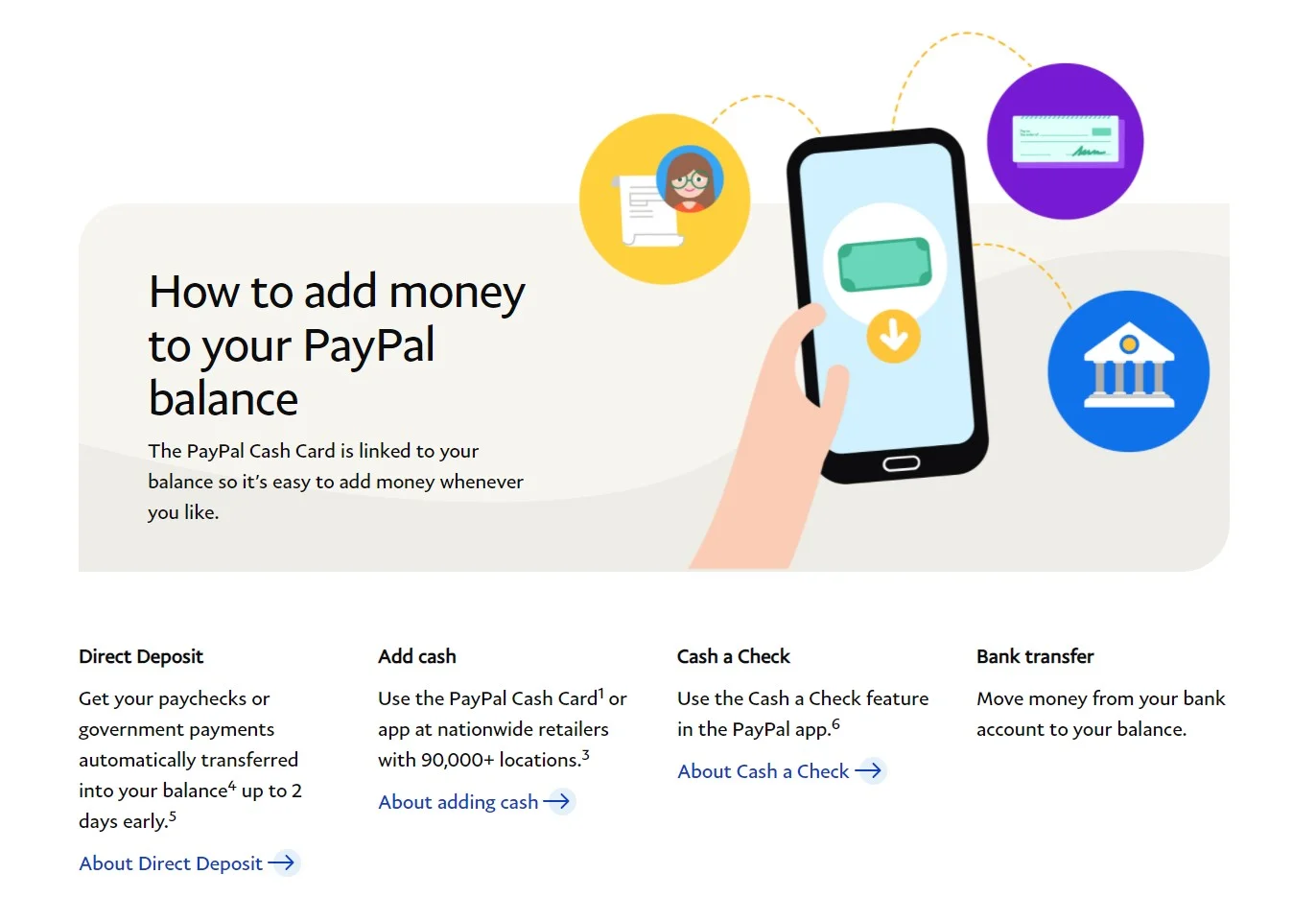 This card doesn't require any credit check to register. Besides, there is no annual or monthly fees, or minimum balance requirement. As long as you have an active PayPal personal account and a confirmed street address, you are eligible to apply for a PayPal Cash card.
PayPal Credit card
Similar to other credit cards in the market,  PayPal Credit allows users to buy now and pay over time with every order over $99. It requires no annual fee and no interest if paid in full in six months.
To apply for a PayPal Credit card, users must be at least 18 years old and have a PayPal account. A high credit score might be required to be eligible for this product.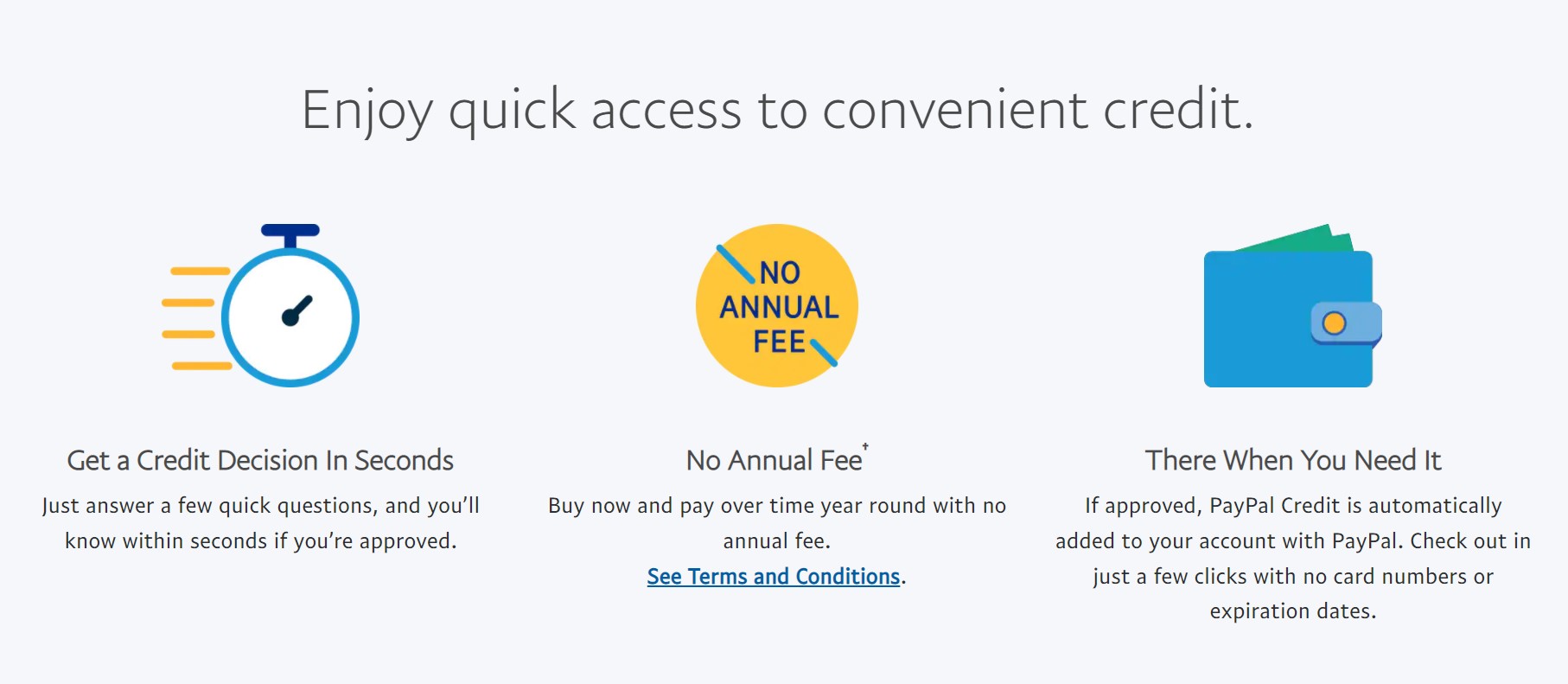 PayPal digital currency
In October 2020, PayPal announced that users can now store, buy, and sell cryptocurrency in their PayPal account, starting from 2021. With that being said, the selection of cryptocurrency that PayPal supports is rather limited. Until now, this tech giant only provides support for crypto-transaction of Bitcoin (BTC), Bitcoin Cash (BCH), Ethereum (ETH), and Litecoin (LTC).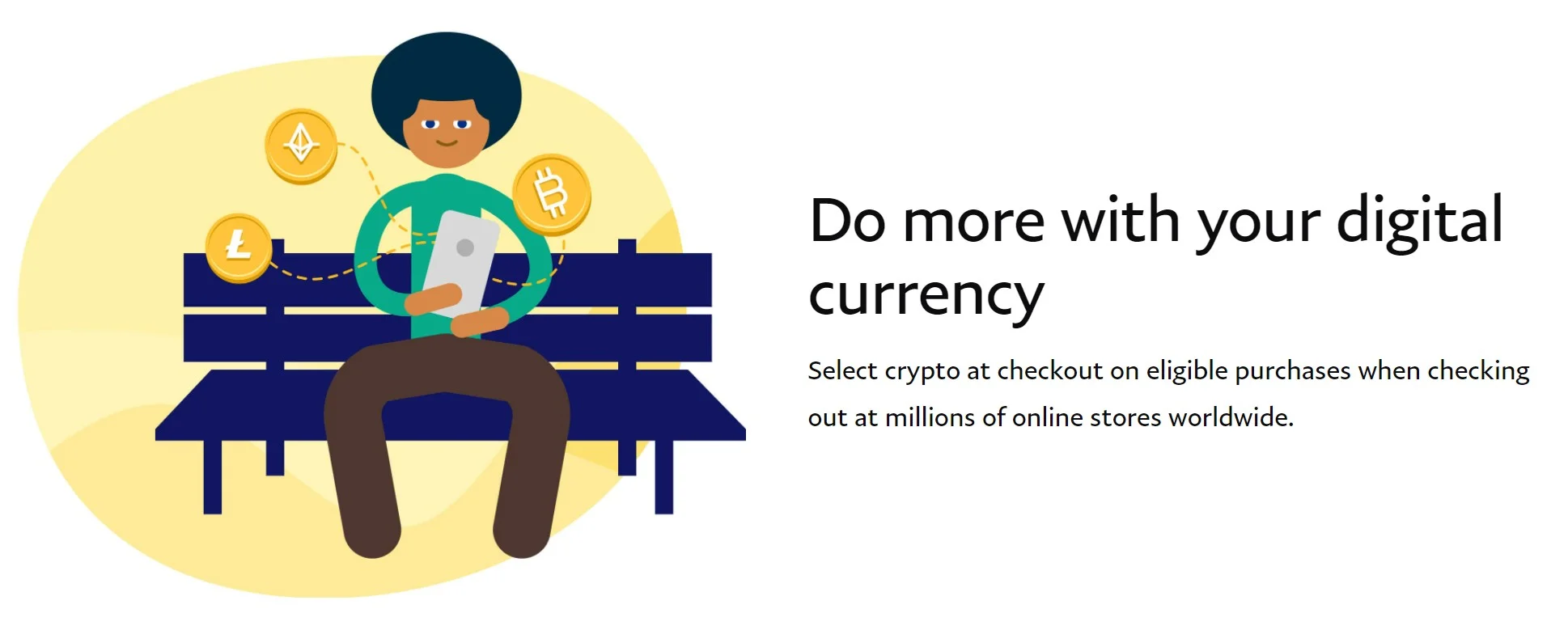 With PayPal digital currency, users can now checkout in millions of stores online using crypto. Please note that to checkout with PayPal digital currency, the store must accept cryptocurrency as an eligible type of payment.
PayPal is a great money transfer system that is safe and beneficial for both a business and a customer," – says Latoria Williams, the CEO of 1F Cash Advance.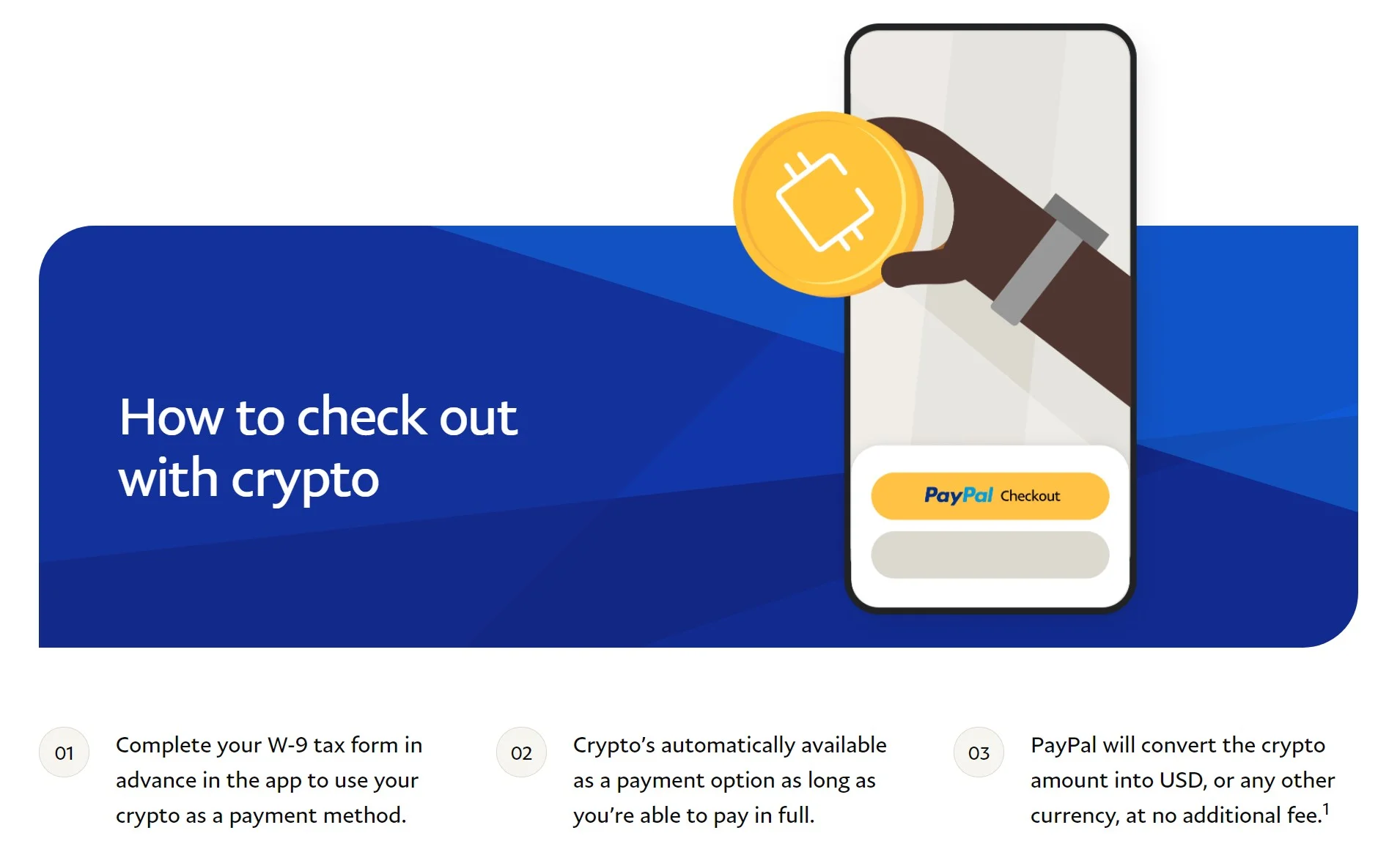 Now that we have a clear view of what is PayPal and how does PayPal work, let's take a look at how to create a PayPal account and how to set up PayPal to sell online.
---
How to Create a PayPal Account?
Before starting to sell with PayPal, let's first open a PayPal business account for your online store. The good news is, PayPal doesn't require any sign-up fees or monthly expenses. All you need to do is provide some essential information in the registration form.
Here's the step-by-step guide to help you create a PayPal account for your business.
1. Go to the PayPal website, click Sign up and choose Business Account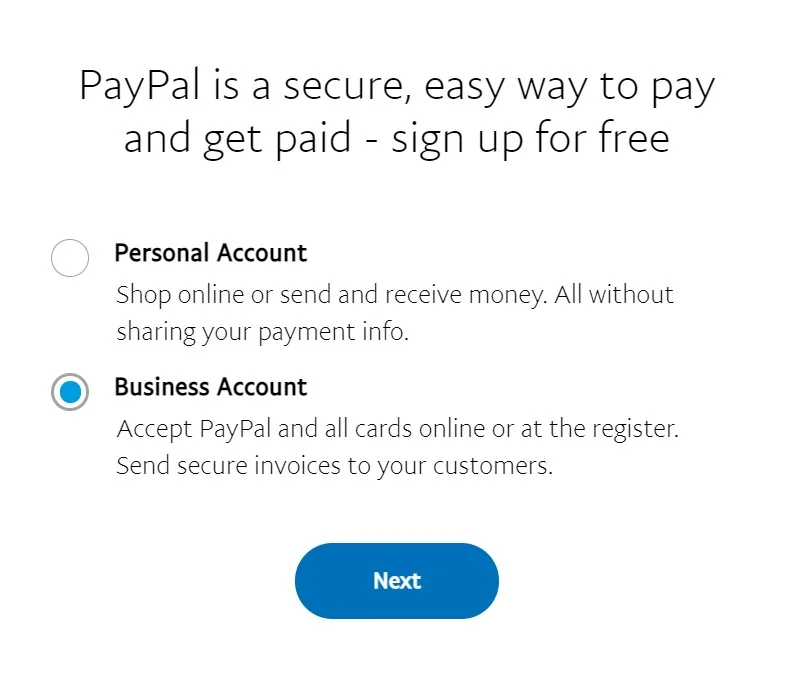 2. Enter your email address and create a login ID and password.
3. After reading PayPal's user agreement and other policies, click Agree and Continue to proceed to the next step.
4. Now, PayPal will ask you to provide some information about you and your business for verification purposes.
5. After being successfully verified, PayPal will send an email to your provided address to confirm your information. After that, your account is ready to use.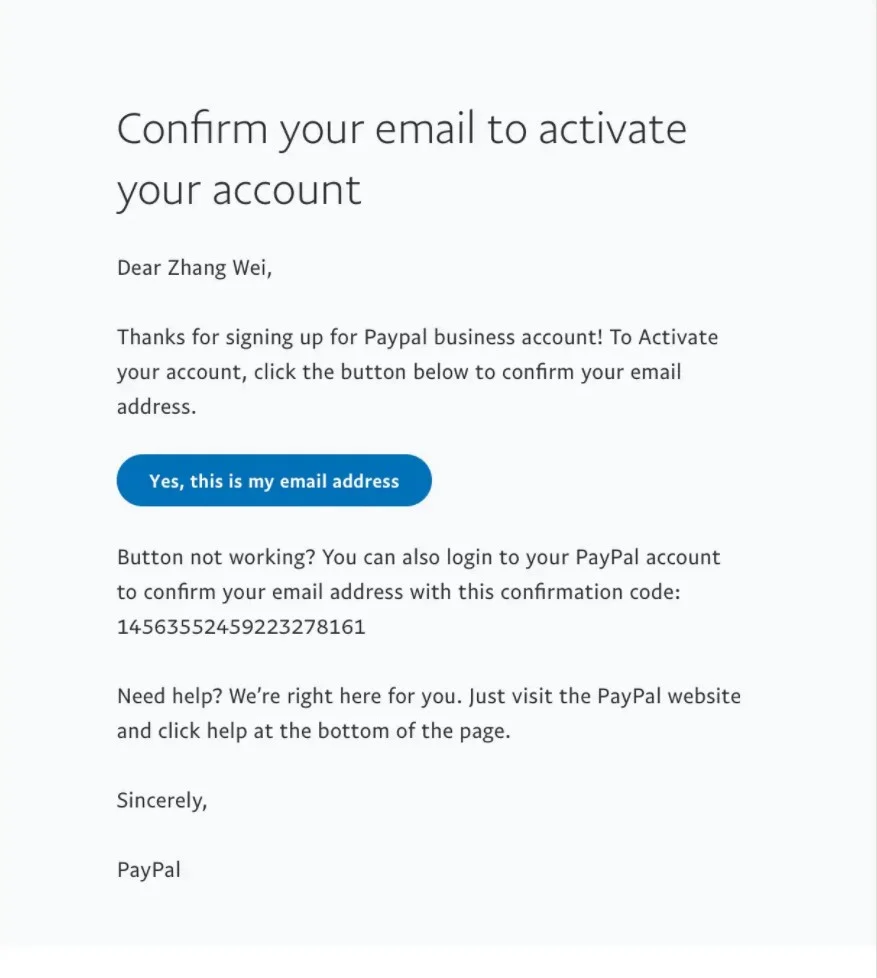 ---
How to Set Up PayPal to Sell Online?
PayPal is available for many eCommerce platforms, both hosted and open-source solutions. Therefore, whether you are selling on a store based on WordPress, Shopify, Magento, or BigCommerce, you can easily set up PayPal as a payment processor.
However, please note that to start accepting payment, you need to link your bank account with your PayPal business. Here's how to set up PayPal and link your card in a few minutes.
1. First, log in to your PayPal business account using the registered ID and password.
2. In the menu bar, choose Pay & Get Paid. Then, select Banks & Cards under the Wallet section.
3. Next, in the Bank account section, click Link a bank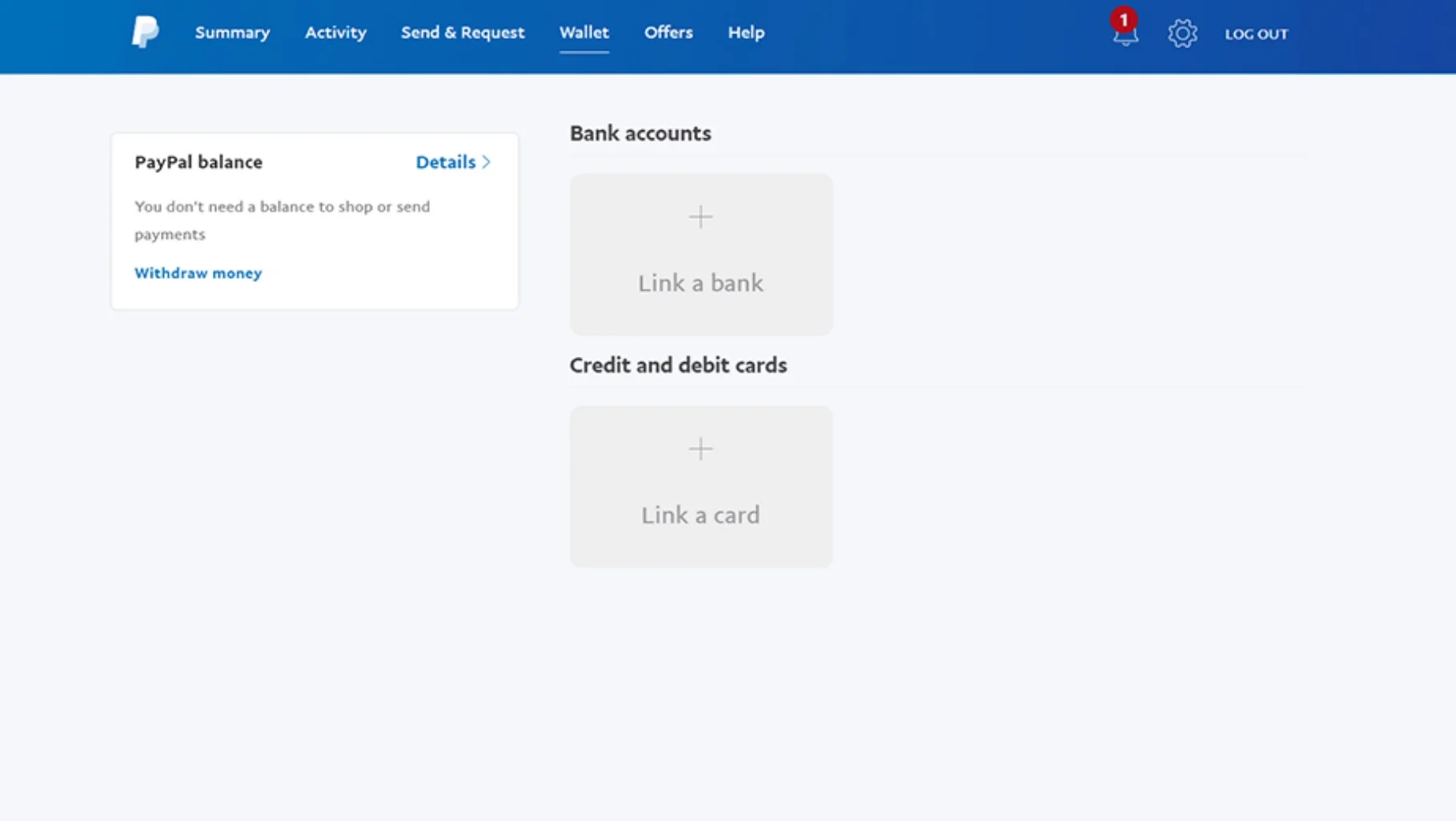 4. After that, fill in your bank information and click Agree and Link. Within two days, you will receive two test deposits sent by PayPal.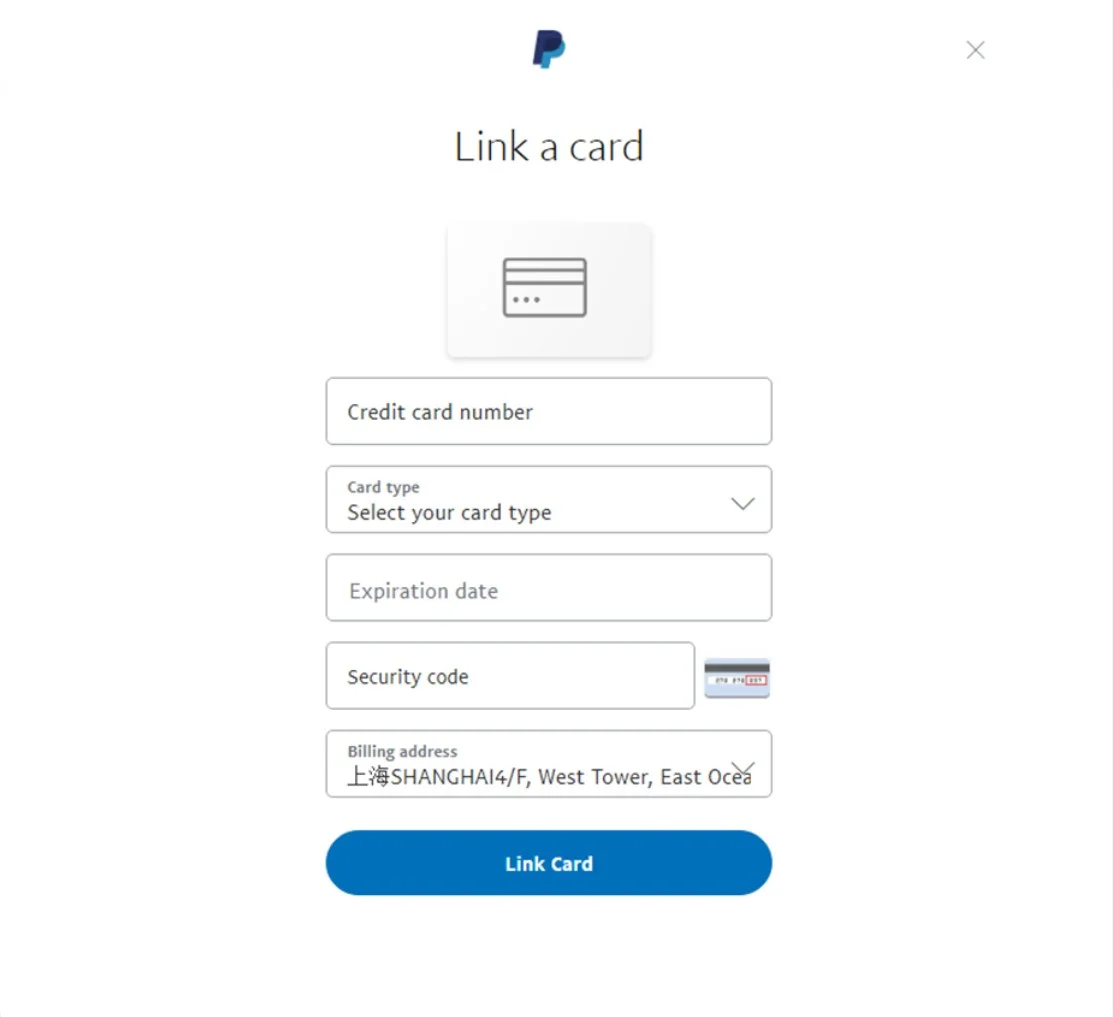 5. Then, please go back to the Banks and Cards section, choose your bank account, and click Confirm Now.
6. Finish the verification by entering the two test deposits you received earlier. Then, select Confirm your bank.
Now, your PayPal is ready to receive payments.
Still confusing? Here's a visualization of how to set up PayPal business account.
---
Which Stores that Accept PayPal?
| | |
| --- | --- |
| | Stores that Accept PayPal |
| | LitExtension, LitCommerce, Brookstore, Crutchfield, BestBuy, Lenovo, Play Asia, Xiaomi, Apple, Samsung, HP, Canon, Bose, eBay, Amazon, PlayStation, Xbox, Microsoft, Shopify, Wix, BigCommerce, Binance, Oracle |
| | Aeropostale, Calvin Klein, Kenneth Cole, Carter's, ASOS, Express, Karmat.oop, Alternative, Zara, Hollister, Milanoo, Nautica, Victoria's Secret, True Religion, Forever21, UNIQLO, H&M, Celine, Valentino, J.Crew, Vineyard Vines, Michael Kors, ShoeMall, Express, Stitch Fix, Kate Spade, JCPenny |
| | Pandora, Jimmy Choo, Shoes.com, Kate Spade, Kipling, JTV, Signet Jewelers, Blue Nile, Reef, UGG, Zappos, Hermes, Nike, New Balance, Eastbay, Reebok, Adidas, Fanatics, Under Armour, Foot Locker, Puma, Li-Ning |
| | Keurig, Target, Overstock, Home Depot, Houzz, Bed Bath & Beyond, Wayfair, Dyson, Sur la table |
| | MLB TV, Steam, Apple Arcade, Netflix, Epic Games, Game Planet, Apple Music, iTunes, Spotify |
| | FraganceX, Bath and Body Works, Innisfree, Kylie Cosmetics, Shu Uemura, La Roche-Posay, Glossier, Origins, Kiehl's, Morphe, Paula's Choice, Clinique, Skin1004 |
| | Sephora, Walmart, eBay, Amazon, Wish, Target, Kroger, DealExtreme |
| | Safelite Auto Glass, Good Year, Tire Buyer, JC Whitney, JEGS, Tire Rack, Auto Anything |
---
How Does PayPal Work – FAQs
---
Final Words
To conclude, in this article, LitExtension – The #1 Shopping Cart Migration Expert has unveiled the mechanism behind how does PayPal work. Moreover, in the latter part of this article, we have presented a comprehensive PayPal review, including what is PayPal, how much does PayPal charges, and PayPal pros and cons.
We hope that this article answers your questions about how does PayPal work. In case you have other inquiries, please don't hesitate to contact our 24/7 customer support.
Lastly, join our Facebook Community now to get more eCommerce tips and news.