The e-commerce world is constantly developing and businesses have always wanted to ensure that their business solution is right. And with the gazillion of e-commerce platforms, it makes choosing a suitable shopping cart for your business become something of an ordeal.
Among various shopping carts, the two choices that have been put in heated debates for a long while are WooCommerce and OpenCart. Both are powerfully designed to deliver a decent shopping cart experience and both come with their ins and outs. "Which one to choose?" is a tough decision, especially when you're aware that the decision you make, not anything else, will directly affect the future of your business.
For those who are wondering whether OpenCart or WooCommerce could better build your online store, you may get your questions answered after reading our comparison of WooCommerce vs OpenCart. In this article, we'll help you cover:
Brief understanding of WooCommerce and OpenCart
Key differences between the two platforms
Wise advise on what solution you should go with
WooCommerce vs OpenCart: Overview
Launched in 2011 by WooThemes developers, WooCommerce is an open-source plugin for WordPress designed to quickly turn an existing WordPress website into a functioning online store.
OpenCart was launched back in 2008 as an open-source PHP-based platform, using MySQL database and HTML components.
Let's get a broader picture of these two world-leading platforms.
WooCommerce
Developed by a very respectable company and backed by huge support communities, WooCommerce possesses a various set of powerful built-in features & tools that make the shopping experience very engaging. Its popularity is blossoming with each passing day. Up to now, WooCommerce is widely regarded as one of the most popular eCommerce solutions with  3,252,126 live sites, taking approximately 26% market share.
OpenCart
One thing that reportedly stands out about OpenCart is its overall user-friendliness. In case you have a small to medium-sized store, then OpenCart will suit you well because it is packed with many features. You don't need to have a website prior to installing it like you do with WooCommerce. Currently, OpenCart has empowered 924,024 websites all around the world, accounting for 4% of the market share.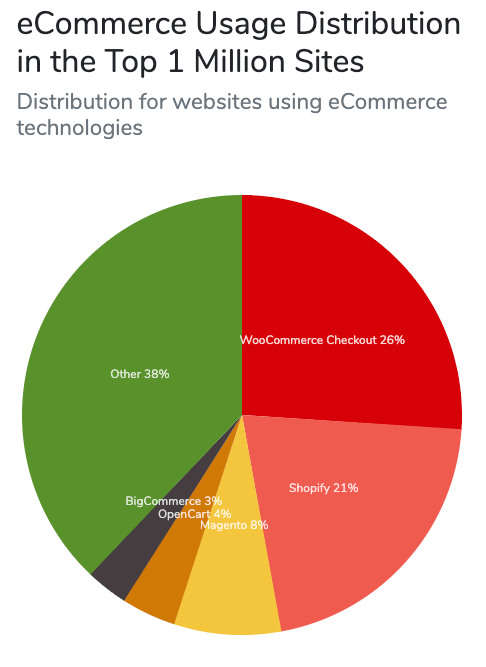 Before jumping into the detailed comparison, we've compiled all the key comparison components into this infographic aimed to give you an overarching picture.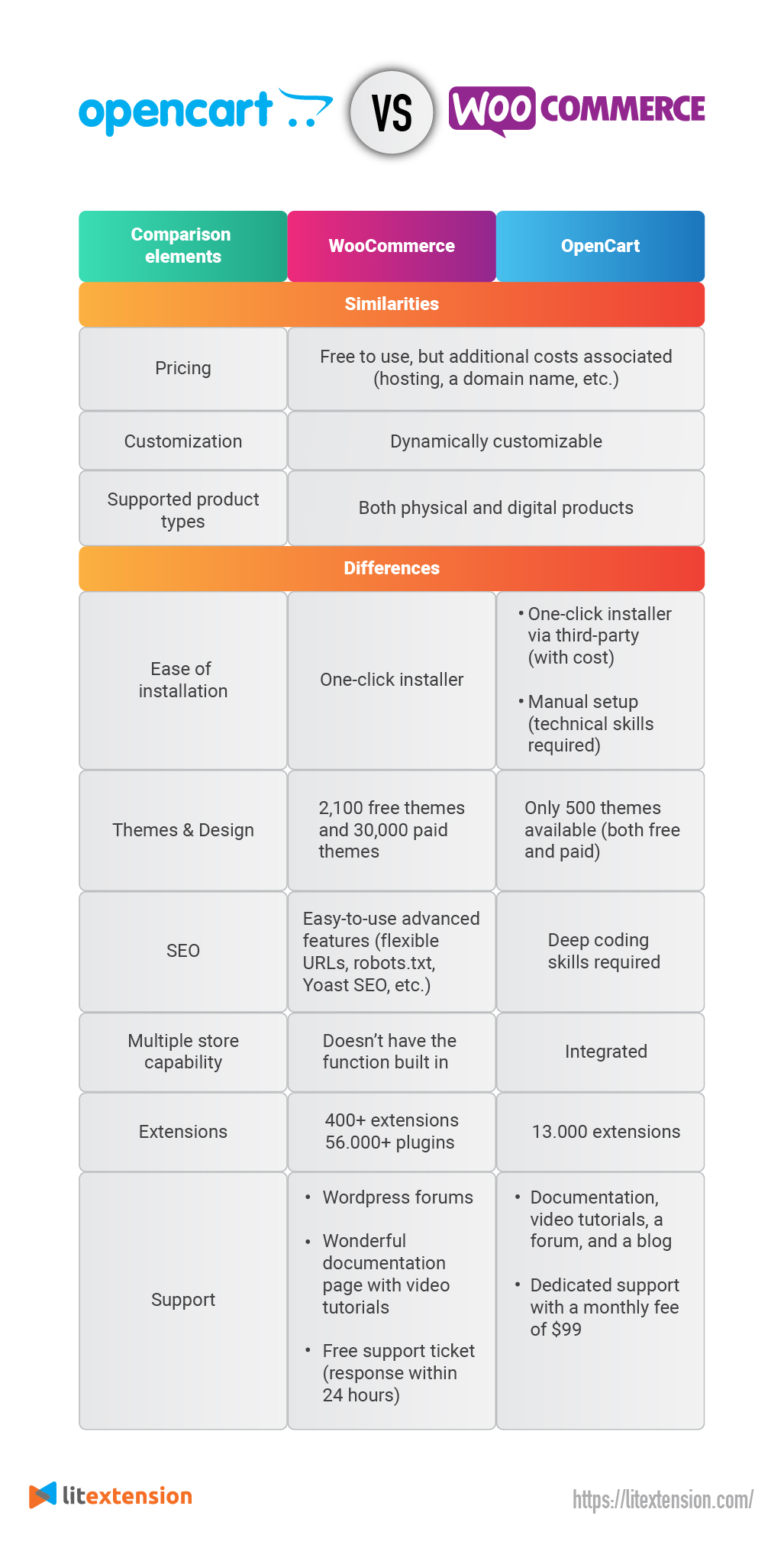 Now let's keep walking with us to see a thorough comparison between these two platforms.
WooCommerce vs OpenCart: Detailed comparison
1. Ease of installation
As WooCommerce is a plugin for WordPress, you can install it just like any other plugins. As a matter of fact that it is a free open-source software, there are no requirements for any recurring monthly fees.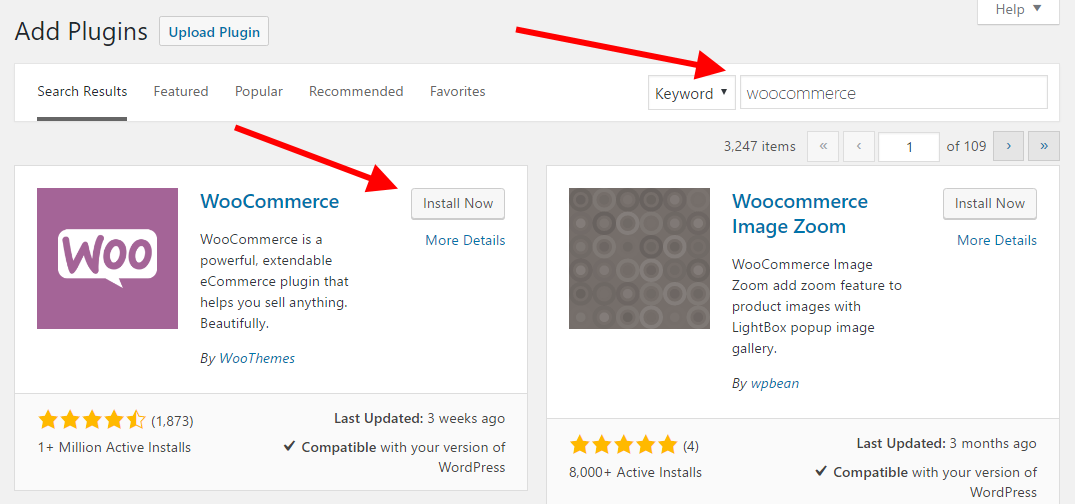 It's easy to install WooCommerce! Simply head to "Plugins" in the left sidebar, search for "WooCommerce", and click "Install Now". Having activated the plugin, you'll be then led to the setup wizard which will request you to fill in some basic information about your store. Once it's done, you'll be navigated to your online store.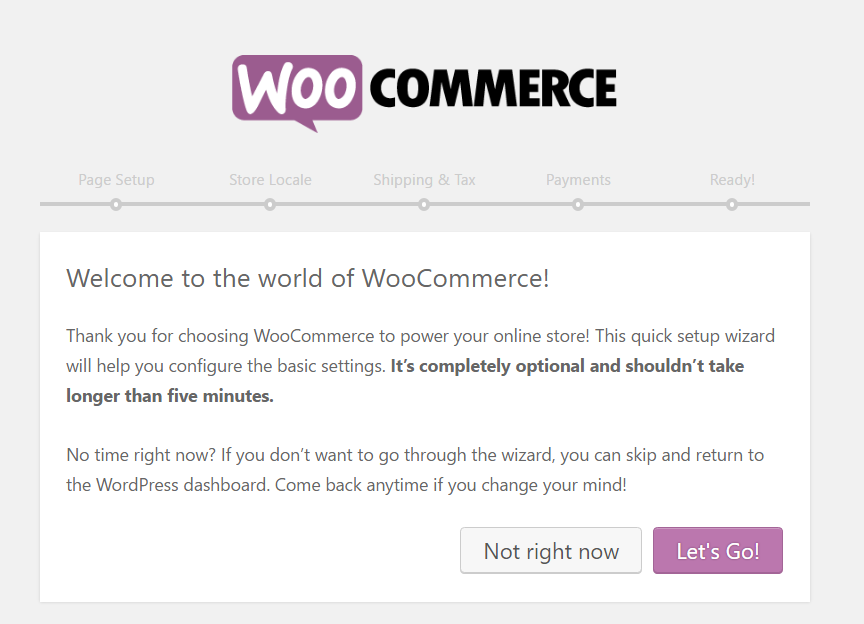 In the case of OpenCart, you have two options when it comes to store setup. The first easy set-up option is a one-click installer with the hosting providers, which charges you with $3-$15. Second, you can install an OpenCart store manually. However, you will find that the process is quite complex as you yourself need to have some basic technical skills, such as using FTP to transfer the OpenCart archive to your server then creating a database via phpMyAdmin. This may become a hardship for those who don't have technical skills.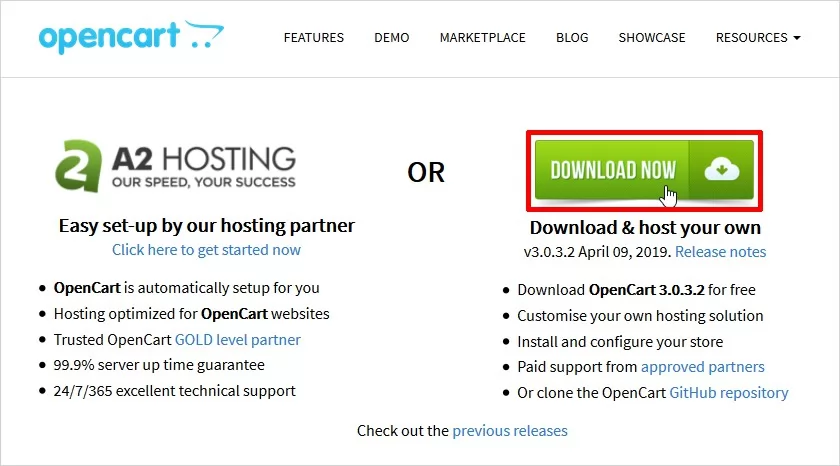 The Verdict: WooCommerce has an easier installation process than that of OpenCart, especially if you intend to manually install OpenCart. WooCommerce, on the other hand, requires that you just search for the plugin and click to install it.
2. Themes & Design
WooCommerce provides store owners with over 2,100 free themes and also over 30,000 paid themes. No matter if you need magazine themes, SEO powered themes, e-commerce themes, or business-specific themes, WooCommerce is able to offer them all.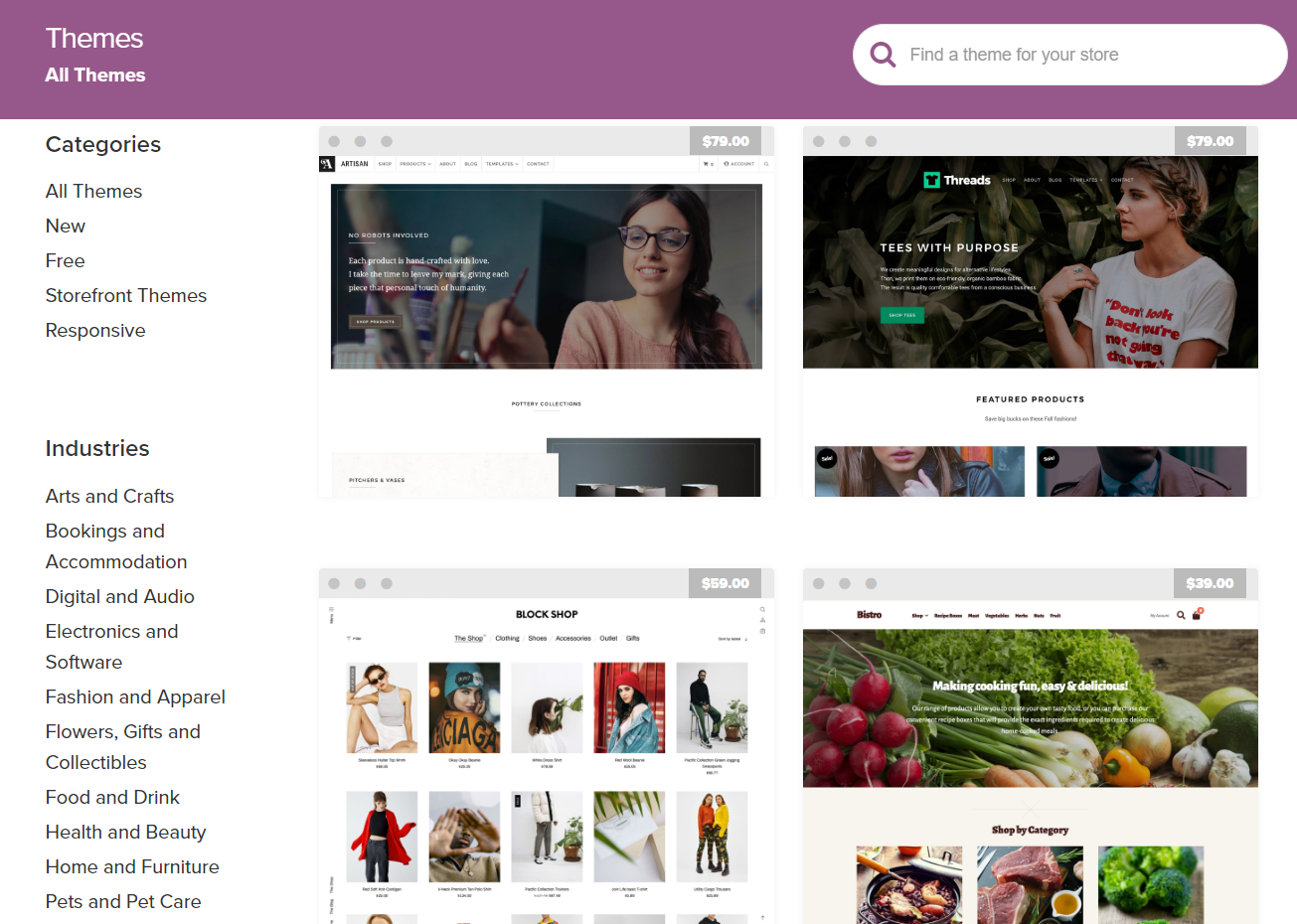 WooThemes team (WooCommerce developers) is well-aware of the significance of design and that explains why they have always laboured to build a platform that well cooperates with most themes on the market. This means that, in most cases, you could select any WordPress themes you like and still make it work together with WooCommerce. Besides, you can also see the themes built with WooCommerce in mind, which are well-tailored to beautify your product/service listings. If the design of the eCommerce store itself happens to be particularly important to you, you should look for themes that are specifically made for WooCommerce.
Storefront themes  are the official themes built for WooCommerce with exacting standards as WooCommerce itself, giving merchants an ability to sell on a store with an e-commerce-oriented look. Most of the themes come at the price of $39.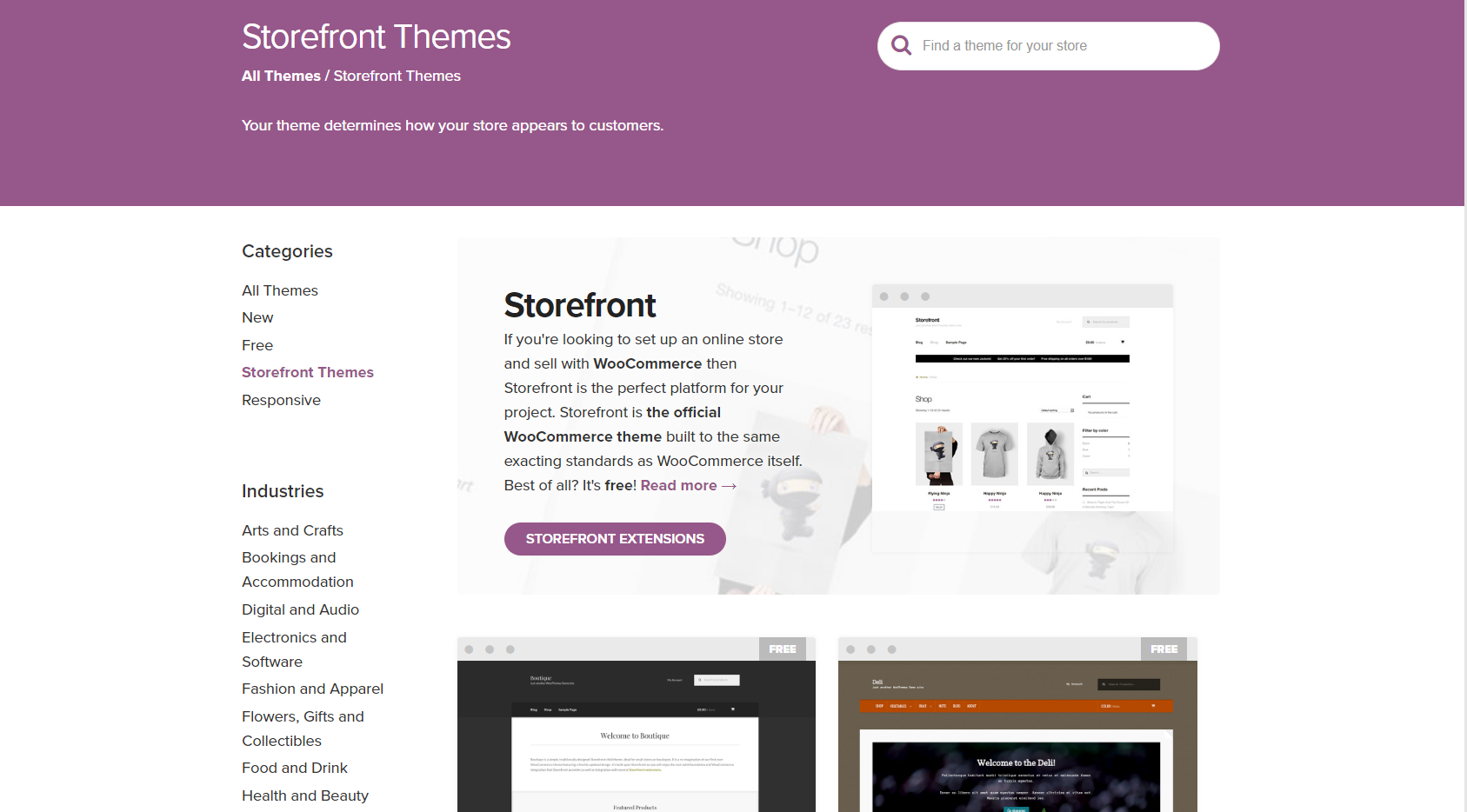 While the breadth of WooCommerce is wonderful, OpenCart's offering is very limited. This platform only offers 500 free and paid themes in total, with their cost fluctuate around $60-70. Its advanced template system allows you to modify the look and feel of your online store easily and efficiently. For example, it provides many pre-modifications so that you can add to your site conveniently. However, when it comes to deep customization, it might appear to be relatively complicated and requires you to have an intensive knowledge of HTML and CSS. If that happens to give you a hard time, then you'll need expert hands to get it done.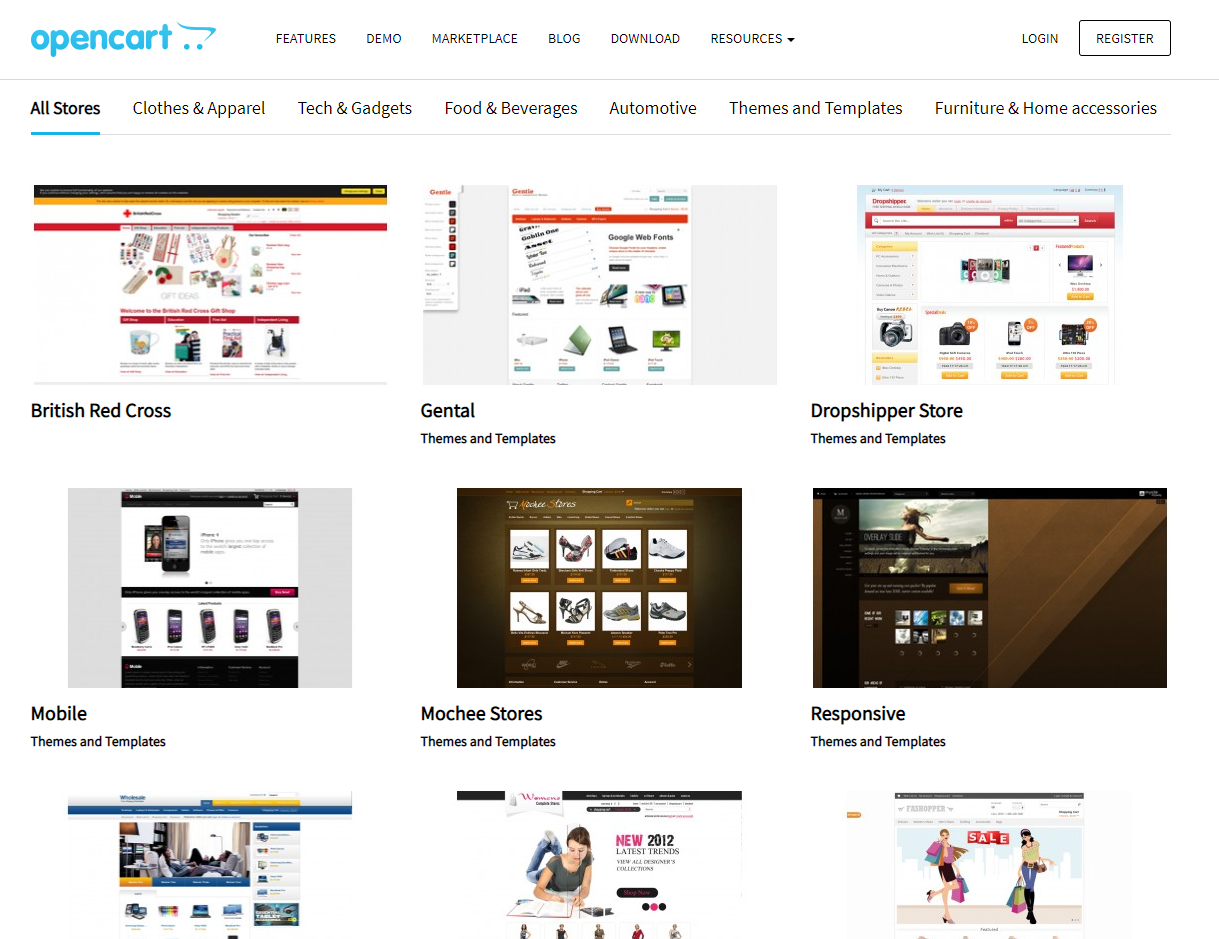 The Verdict: With top-notch aesthetics, responsive design, WooCommerce's themes are miles ahead of OpenCart's. On top of that, OpenCart doesn't offer as many free themes as WooCommerce, and most of OpenCart's paid themes are more expensive than WooCommerce's. If you want to have a limitless collection of themes coming at a cheaper price to comfortably customize your store, you should go for WooCommerce.
3. Pricing
Both WooCommerce and OpenCart are free open-source e-commerce solutions. However, you need to pay attention to the additional costs associated with getting a complete store running, such as hosting, a domain name, any additional extensions, and an SSL certificate.
First thing first, you'll need to pay monthly for a hosting service which will set you back $5-100 per month, depending on what kind of hosting you choose. Second, you need to pay for $10 per year for the domain name. And lastly, you'll need to get an SSL certificate, whose cost ranges from free to more than $1000/year.
Apart from the basic costs to run a website, there also comes the cost of paid premium themes for those who want to upgrade the look of their store. You might take advantage of the extensions store, which enhances the functionality of your store, and that's another expense you will also have to cover.
The Verdict: In point of fact that both platforms are free open-source softwares, so they are all free to download and use. However, no matter which one you opt for, you'll still need to cover some basic expenses of operating a website.
4. SEO
If you want to crush the competition with your Google rankings, WooCommerce will have you covered. There are tons of extensions and plugins you can take advantage of to experience a variety of functionalities, such as flexible URLs, robots.txt, Google Analytics, generate sitemap.xml, meta descriptions, and blogs.
For example, you are able to customize on-page SEO and add meta information right from the backend. Especially, WooCommerce's users are able to experience Yoast SEO – the #1 SEO plugin, which assembles more than five million site users.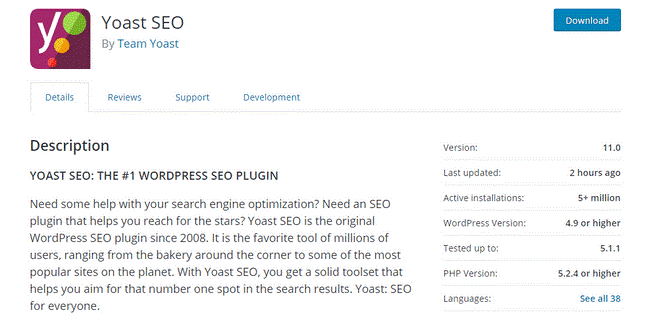 Yoast provides excellent SEO functions, for example:
Metadata Editing – Modifying text displayed on sites for search results.
Suggestions for internal linking – Tips for creating a new web page on the best sites to connect to.
Redirects – send a new URL while updating the slug on an existing page automatically.
And this is the full SEO optimization instruction that the plugin has to offer: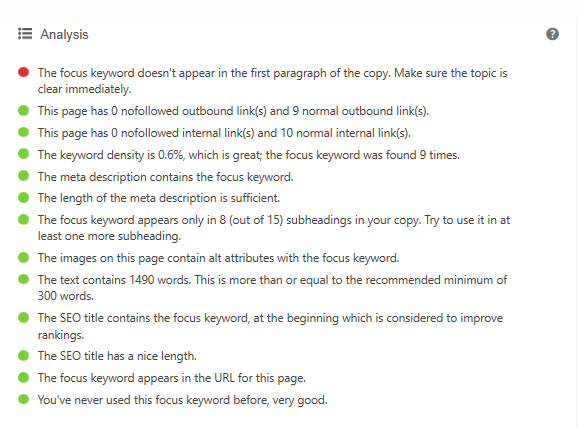 Speaking of OpenCart, although it always touts itself as an SEO-friendly platform, its limitation in SEO features restricts users' capacity to make certain important SEO modifications. While you are able to edit or modify or update meta titles, keywords, descriptions, you'll need to tinker around with code. Moreover, performing 301 redirects and rel canonical can turn out to be complicated as the tasks require you with PHP coding. If you are just newcomers or amateurs, this process will be too much of a nuisance.
The Verdict: WooCommerce easily blows out OpenCart with powerful SEO features that set you free from dealing with technical issues. 
5. Customization
WooCommerce is a PHP-based plugin integrated with WordPress, so you'll have direct access to the code via FTP.  Techies (or those who are willing to hire seasoned professionals) will have an extremely high level of control over every aspect of their ecommerce website. There are custom extension developers who will create whatever extension that you want.
Besides, utilizing REST API empowers you to include an extra layer of functionality, giving you the ability to customise data types and grow outwards to incorporate new software, thus increasing your website's capacity to provide more value to users. In short, everything with WooCommerce is customizable and can be modified according to your business needs.
In the case of OpenCart, if you can take advantage of the underlying code, you will find OpenCart greatly customizable. You can make changes to functionalities holistically so that you'll have a unique e-commerce system aligned to your principal objectives. However, to be able to do that, you will need some solid coding skills. In that case, if you don't want to mess around with technical skills, you can always look for developers/techies helping you sort it out.
How about the customization options will non-tech people be offered? For beginners, you are able to experience a broad array of OpenCart themes. On top of that, there are a number of themes that stem from the global community of independent developers and designers, who've been backing up OpenCart all along. On account of a vast marketplace hosting 13,000 extensions, you can utilize them to make further customization to your online store.
The Verdict: It's a tie between two. Being open-source platforms, both are able to give you the ability to deeply customize your store provided that you have technical expertise or you're willing to hire professionals.
6. Multiple Stores
On the one hand, OpenCart enables multi-store creation using only one installation, under one admin management. Once you have installed one OpenCart store, then you can create multiple stores right from the admin panel without performing the installation process over and over. In order to build a new store, you need to create a subdomain in your cPanel, then add the store in the Settings section of the admin panel.

On the other hand, WooCommerce doesn't provide inbuilt multiple store function. You need to depend on paid plugins to activate it. However, in the case of OpenCart, you can straightforwardly set up multiple stores without relying on 3rd-party plugins.
The Verdict: OpenCart is a better platform for creating multiple stores. It is also more flexible in that it works on any websites, like WooCommerce.
7. Supported product types
You'll be delighted to see that both OpenCart and WooCommerce allow you to have an unlimited number of items, product categories, and their corresponding descriptions. Furthermore, you are able to sell every product type:
Sell physical products: Like most other shopping carts, WooCommerce and OpenCart allow you to sell physical products online. Both platforms will help you maintain your product catalog, price your products, manage order status, and calculate shipping and sales tax.
Sell digital products: Beside physical products, digital products are also supported by both platforms. A digital product is anything that can be downloaded — from an ebook to a music tape.
The Verdict: It's pretty obvious that both OpenCart and WooCommerce are built to support both digital and physical products, so it's a tie between the two!
8. Extensions and plugins
Another key element that sharpens WooCommerce's popularity is the number of multi-functional extensions. Up to now, the WooCommerce extensions store has hosted 400+ extensions (price starts from free to $300) developed by the WooCommerce team or by a third party. They are aimed to improve the functionality of your store and its looks. The extension list consists of tools for store management, marketing, payment execution, shipping, subscriptions, etc. Moreover, it is necessary to bear in mind that WooCommerce could perfectly integrate itself with all WP plugins (56,542 plugins available). Therefore, you can find more extensions from the WordPress repository.

In the case of OpenCart, there's a huge marketplace where you can find all the additional functionalities, plugins, modules, and themes you need. There are over 13,000 extensions (price starts from free to $100) that help you customize your OpenCart. They vary from admin tools, social media integrations, email integrations, to themes, languages, payment methods, shipping methods, reports etc.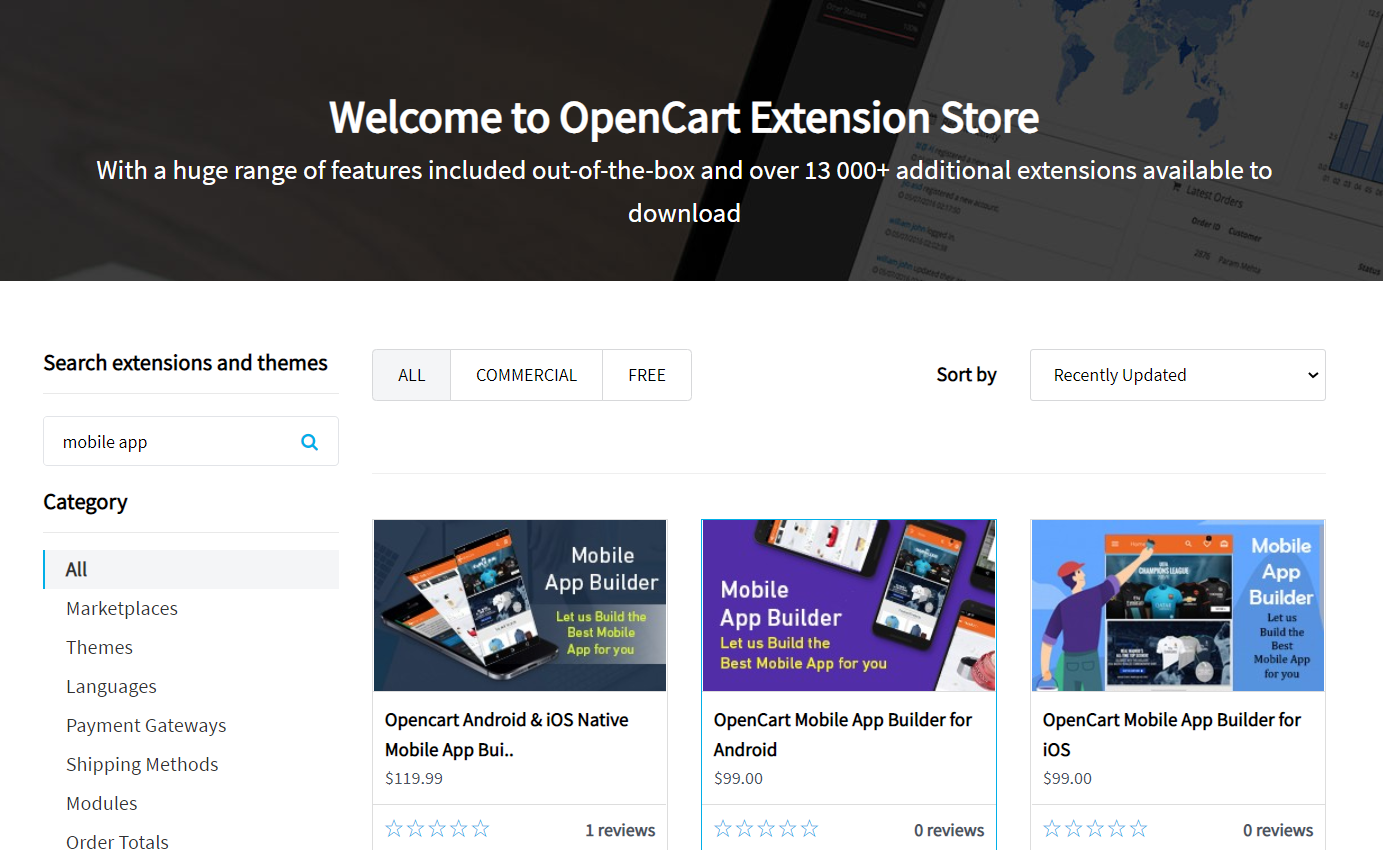 The Verdict: Although WooCommerce itself doesn't have as many extensions as OpenCart, the platform is backed by a huge number of WordPress plugins. Therefore, if you want to experience a shopping cart equipped with more multi-functional extensions and plugins, WooCommerce is a better choice than OpenCart.
9. Support
OpenCart provides support for its users with tons of documentation, video tutorials, a forum, and a blog. You can take advantage of OpenCart forum, which is incredibly active, and you'll get answer your question easily. If you need further assistance from a dedicated support, OpenCart provides a monthly fee of $99. In general, if you're considering OpenCart, customer service is pretty solid. You can get support from top to bottom in every step of launching and growing your store.
As a matter of fact that WooCommerce is free to install and use, direct support is unavailable. However, that doesn't mean that your problems are unsolvable. For instance, if you need support, you could head straight to the official WordPress forums. The community is large and people there are more than happy to help. Moreover, WooCommerce offers a wonderful documentation page and video tutorials. Another way that you can use to get support is opening  a support ticket on WooCommerce website. All queries are assured to get responded within 24 hours, however, the actual response times will depend on the complexity of your advanced/technical questions.
The Verdict: WooCommerce has huge developers and support communities, so there's no way you could be left stranded. What's good about it is that you can make use of free ticket submission and WooCommerce support staff will be right there to help. With OpenCart, you have to pay monthly for support (plus you get only a few answers each month).
Conclusion
The aspects we've walked you through will reshape your knowledge of what benefits each platform could offer. So, WooCommerce vs OpenCart, which one will win your heart?
We can't escape the truth that WordPress is a really robust powerhouse and respected e-commerce solutions. If you have already been running a WordPress website, then it's just a breeze to get started WooCommerce. The platform obviously provides more advanced features, more plugins, more flexibility, more support, more customization, ideal SEO environment, and better design.
Despite the fact that OpenCart is an easy-to-use e-commerce solution, if you yourself don't have technical skills, installing an OpenCart store will either get you stuck in tech mess or charge you with a certain amount of cost. Just like we have mentioned above, OpenCart gets some troubles with SEO and this can give you headache. Pale in comparison of themes' quantity, OpenCart definitely cannot give you the ability to customize your store as WooCommerce. Overall, WooCommerce is simply a much better choice.
Determining the suitable platform to land on is not an easy task. Hopefully when you have reached to these final lines of this in-depth WooCommerce vs OpenCart comparison, you have already cleared your doubts. If you are currently running your online business on OpenCart and now interested in switching to WooCommerce, let's take this chance to actualize your wish. Having done tons of store migration in general and a plenty of OpenCart to WooCommerce migration, LitExtension can guarantee to deliver the most hassle-free and decent migration experience to you. For the detailed instruction, you can refer to the article "OpenCart to WooCommerce migration A To Z".
You can also join our Facebook Community to get more eCommerce tips and news.
Don't wait any longer and build the store you have always dreamt of!