Used by thousands of business entrepreneurs, PrestaShop is definitely one of the most popular platforms for online starters. In this PrestaShop review, LitExtension – #1 The World Shopping Cart Migration Expert will look at its eCommerce features, pricing, ease of use, and far more. Hope this article can help you to answer the burning questions you have about this solution. Let's stick around for a full and detailed PrestaShop review!
Need Help to Migrate Your Store?
PrestaShop migration is super easy with LitExtension. We help you transfer all your data from any current eCommerce platform to PrestaShop accurately, seamlessly with utmost security.
---
PrestaShop Review: Overview
1. What is PrestaShop?
PrestaShop is a user-friendly, feature-rich open-source eCommerce platform. It means that you can download and modify it in any way you wish. However, that does not mean that PrestaShop is a zero-expense eCommerce solution. If you choose to download the software, you'll have to pay for other maintenance fees, which we will look into thoroughly in this PrestaShop review. 
It is important to keep your store up-to-date to ensure everything goes smoothly. Don't forget to perform the PrestaShop upgrade from the old version to a newer one to get the latest features. Besides, if you want to move to PrestaShop to fully exploit its potential, please consider performing a PrestaShop migration.
2. How popular is PrestaShop?
First started in 2007 and located in France with offices around the world, PrestaShop has proudly become one of the most famous shopping cart solutions. Looking into our in-house data in 2020, you can clearly see that PrestaShop is one of the most target destination not only in France but internationally.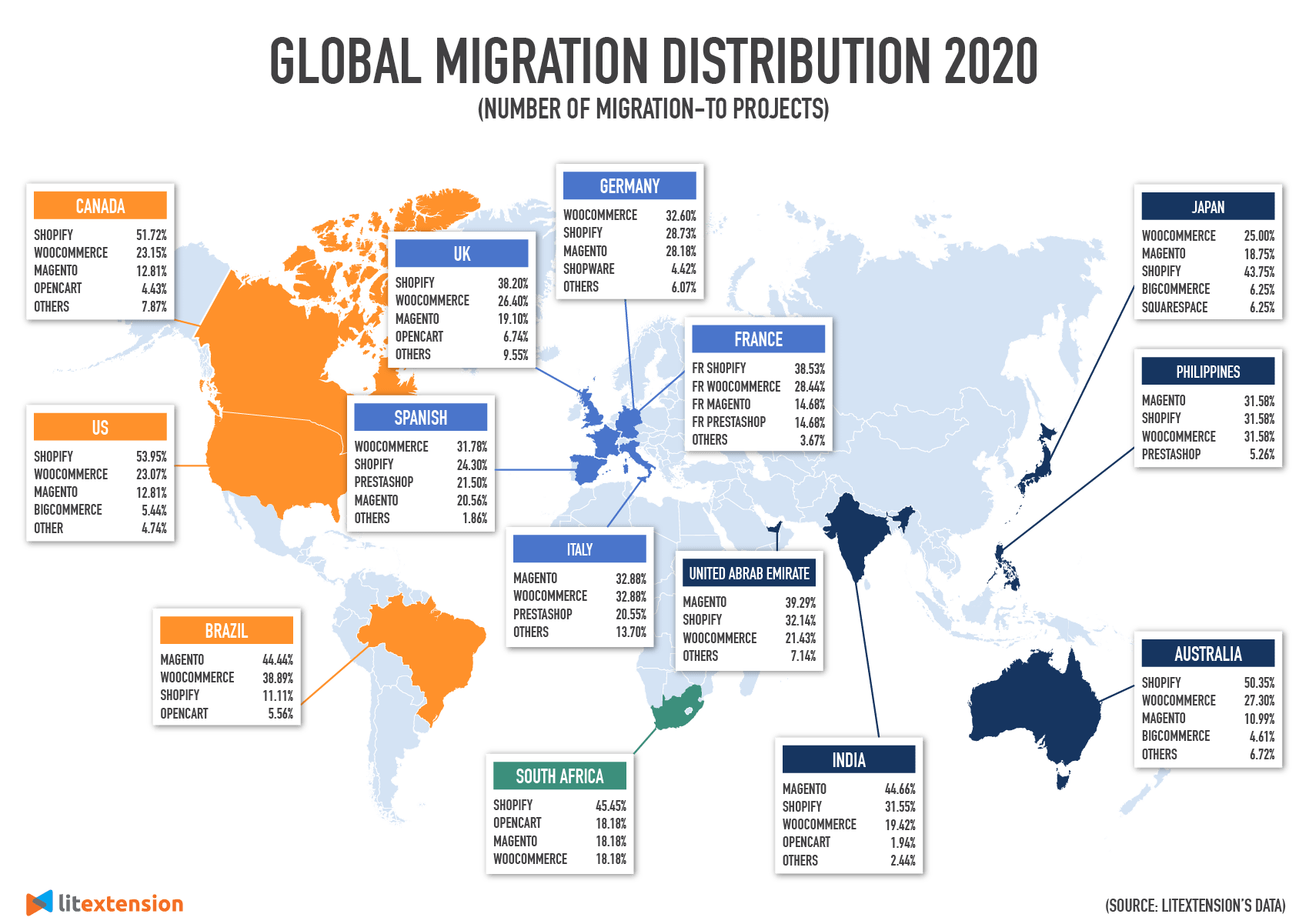 As of November 2020, this platform has over 700,000 websites that are PrestaShop customers. In fact, there are 302,990 live websites using PrestaShop and an additional 398,486 sites that used PrestaShop historically.
Need Help To Migrate Your Store?
If you are intending to migrate WooCommerce to PrestaShop, LitExtension offers a great migration service that helps you transfer your data from the current eCommerce platform to a new one accurately, painlessly with utmost security.
---
PrestaShop Pricing
PrestaShop is free to download, you will have a general picture of how the software works. As mentioned before, PrestaShop isn't a zero-expense eCommerce solution that requires you to buy some hosting and modules to launch your store. You'll end up paying for hosting services and a Secure Socket Layer (SSL) Certificate with a great deal of PrestaShop hosting partners such as 1&1 or A2 hosting. The price can range from 4$ – $14 per month.
Owing to its open-source solution, whatever modification you make requires code involvement. It means that unless you have the technical knowledge, you'll more than likely have to hire an agency or developer. Therefore, the total price for operating a PrestaShop store may include developer expenses which range from $50 to $80 per hour.
There are several add-ons and modules you want to tack onto your store experience. The price for these extensions is pretty costly compared to other platforms, which ranges between $35 and ~$6000.
You can also access extras from PrestaShop including, for example, the PrestaShop Checkout Gateways. You can add a button to your website to take payments from everything from VISA, PayPal, and MasterCard. 
---
PrestaShop Performance
It is important to see how the devices load at a particular time. Loading time is about how fast product pages are loaded. A fast website definitely gives your customers a pleasant and enjoyable experience while shopping in your store.
According to TrustRadius, many users admit that the loading speed needs to be improved as it depends on the web hosting of the site and how the servers are set up.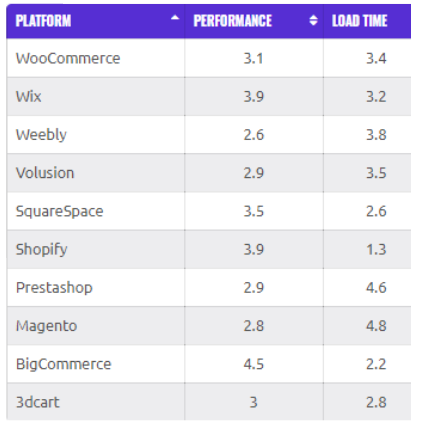 As you can see in the picture above, the performance and load time of PrestaShop is not impressive compared to other platforms.
Luckily, PrestaShop has several add-ons to improve the performance and some of those outstanding modules are Cache Manager or Page Cache Ultimate Module. The price for the module can range from $49.99 – $149.99.
It can help you reduce the loading time of your shop in an optimal way with the full page cache. The strategy of these modules is to cache the whole page so browser cache can be used with the extremely fast loading time. What the merchants like about this module as it can save time and provide ease of navigation. Therefore, users can view more pages, products and thus buying things is just a breeze.
---
PrestaShop Ease of Use
1. Build time
As an open-source platform, PrestaShop installment may take some of your time. You can get a developer to do this for you or you can make it on your own following our instructions in this video below.
For more detailed information, here is a step-by-step PrestaShop tutorial for you to successfully launch a new store. 
2. User-friendliness
As said, PrestaShop has a demo online, so you can try it out without going through all the hassles of downloading and implementing the software. As an open-source cart, it is written in the PHP language and runs on Smarty Template Engine, which is compatible with Unix, Linux, and Windows operating systems. With this platform, you do not need much technical skill when launching a basic online store.
However, you must possess some coding know-how if you want to make your store dazzling and equip it with full functionalities. Otherwise, hiring a developer is the only option to bring your vision to life.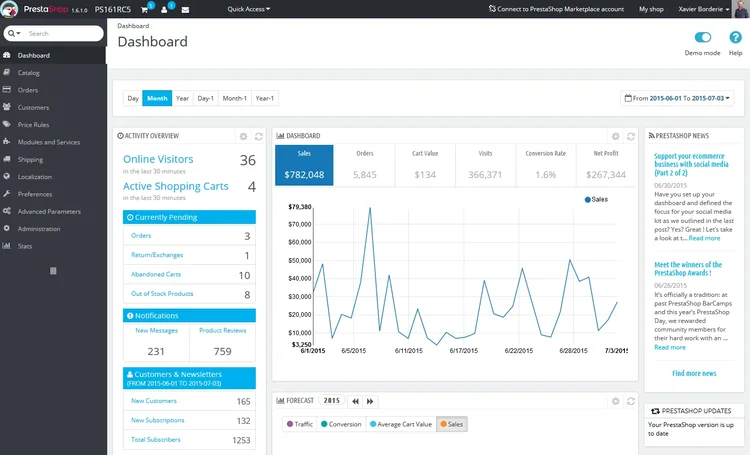 Here's the dashboard you'll be able to access once you've run the software. At this point, you'll need to figure out which modules you need for your store. If you are not tech-savvy, it will be wise to hire a developer to take care of integrations for you.
Luckily, once you've got your site up, daily operations are quite simple. You can list a product's description, categories, quantities, and SEO features to your store simultaneously with the products.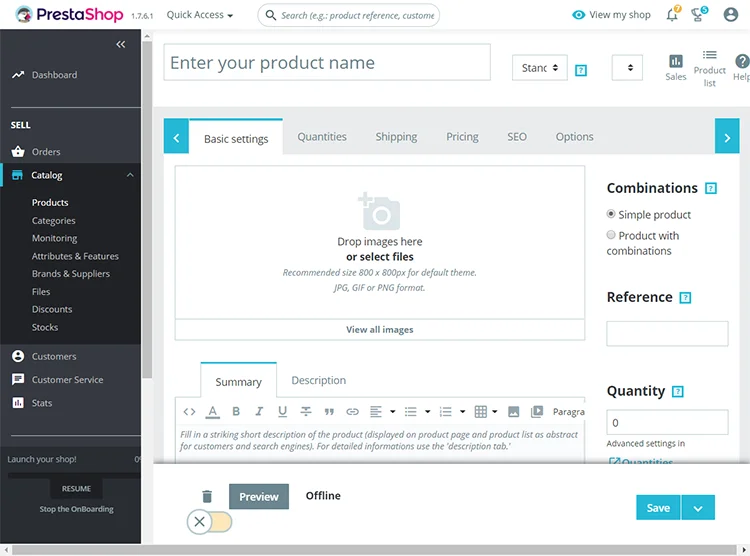 The main product page allows you to do many things such as adding title and description as well as quantity and price. However, it is worth working through the tabs at the top of the page to make sure that your product listing is the best it can be. To organize your products, merchants now have the chance to try and test the category system which makes it easy to organize them into main and sub-categories.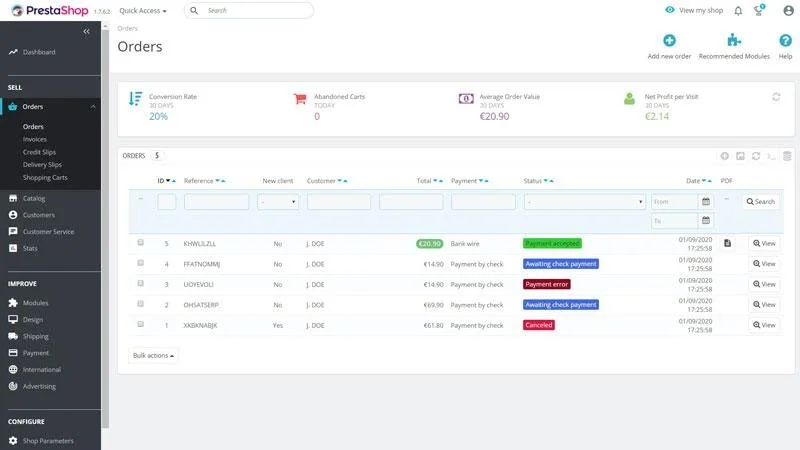 Order management is just a piece of cake. You can add, edit orders and apply discounts from the admin panel. You are also able to contact your customers via email from the orders page. If you already have your store well set up at the beginning, you should be all right handling it in the future.
---
PrestaShop Themes 
Mentioning customization means that themes and templates are the necessary factors for your online shop. Because of its open-source nature, PrestaShop offers endless possibilities for customization which means that merchants can freely customize their stores as they wish. In the competitive world of eCommerce, building a memorable brand is key to your long-term success.
Luckily, you can easily find more than 2,200 templates and a vast collection of customizable themes in the PrestaShop Marketplace – Addons. However, none of these themes are free. The price can vary from $83.99 to $279.99 depending on the quality. Particularly, you will be able to edit the underlying code by accessing CSS, HTML, and JavaScript files. That's why some coding skills will definitely come in handy. Nevertheless, there are many providers that have free PrestaShop themes.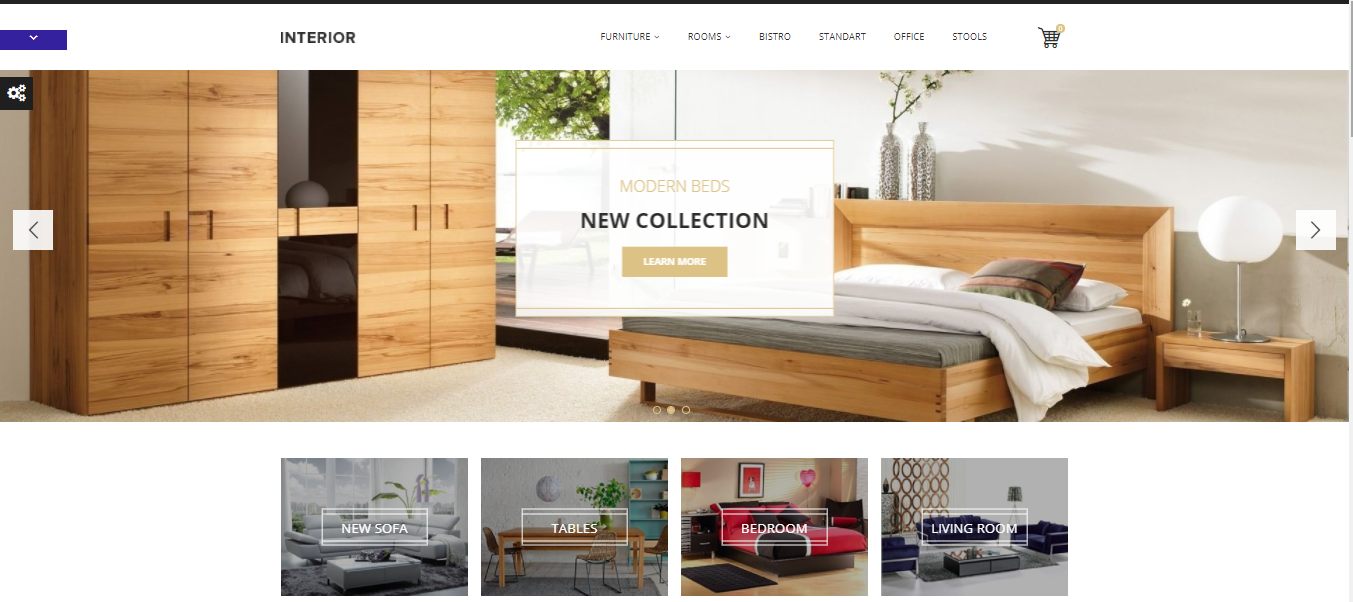 If you don't have much technical knowledge, a WYSIWYG editor is here to help. You can add your logo, change the page layouts and update your page's content without using codes.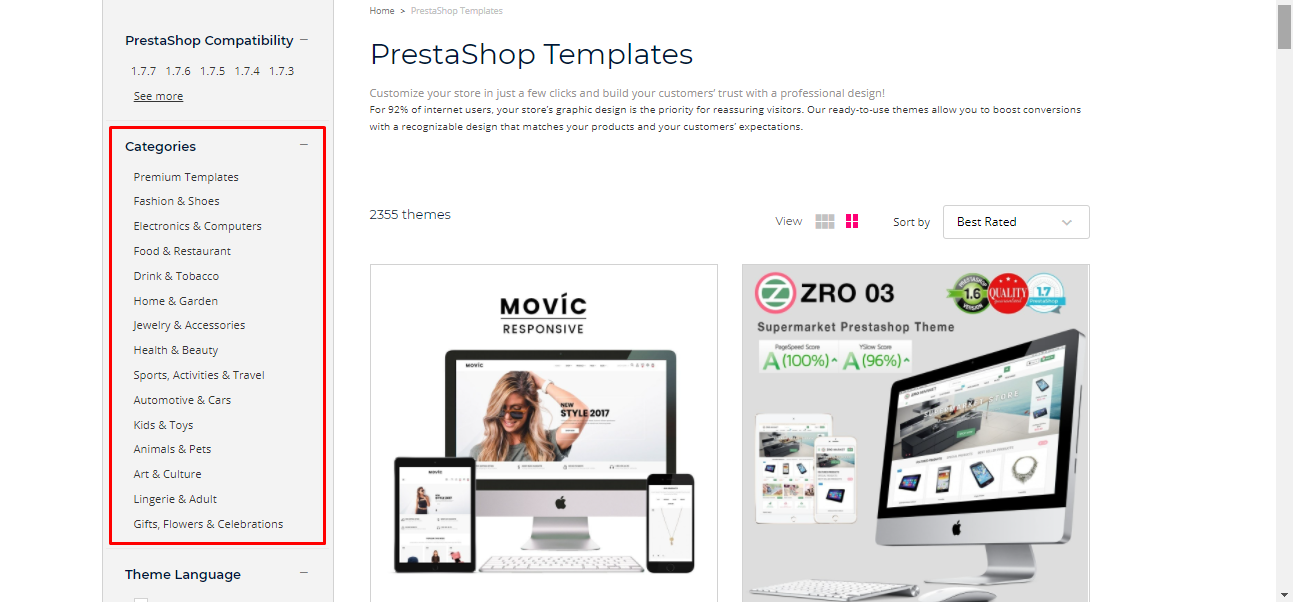 In the PrestaShop Marketplace, there are 15 different categories. The store owners now can apply filters to search results to find ones that suit your business's features. For instance, you can browse for pets and animals, food and restaurants, fashion and shoes, home and garden, and so on.
Besides, LitExtension does have a collection of "Best PrestaShop themes" for you to find the most suitable look for your website.
---
PrestaShop eCommerce Features
Because PrestaShop is an open-source platform, it can help build anything, from a small online shop to a full-on shopping cart solution. With a massive add-on market and a package of built-in features, PrestaShop presents a quick fix for eCommerce merchants.
PrestaShop Inventory management
Update Stock with Supplier: Import stock from any different file locations or any format from your supplier. With a completely automated process, it can track all sync history, check results without worrying about raw data adjustments.
Sync with Third-Party Systems: Update customers, orders, and items from any files you have from outside systems or export mailing lists, sales, and any other database for further use.
Restock Inventory Smartly: Keep an eye on the out-of-stock items, bestsellers, and hot items in your store.
Sync with Sales channels and Accounting: Get all sales in one place to keep full control over the system when selling things on Amazon, eBay and integrate with QuickBooks.
Analyze Sales and Stock Level: Make a real analysis of your sales activities, PrestaShop stock level, and incoming. Merchants can use "take an action" reports that say what you need to do which is way better than simply checking silent statistics.
PrestaShop SEO
The fact is that making your store conspicuous on search engines to get traffic is everyone's desire. For this, the solution is to be amongst the first results on search pages. Luckily, PrestaShop has more than 194 modules to let your store be indexed which can save you precious time.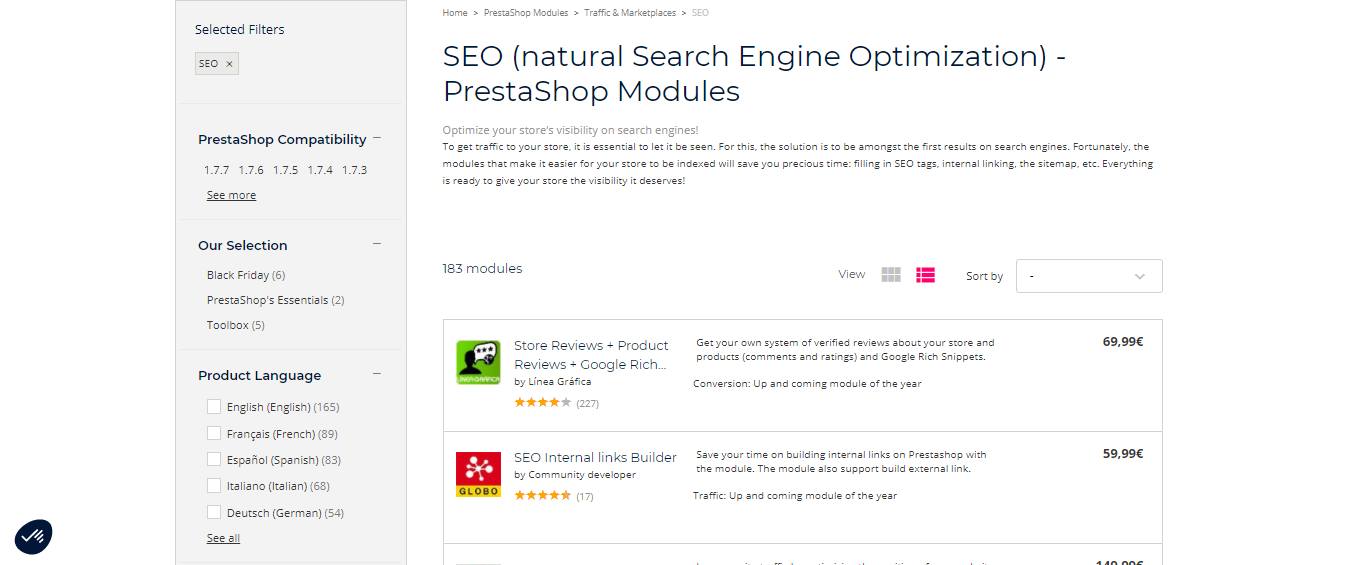 PrestaShop comes with pretty solid built-in SEO features. Here, you are able to control how the products appear in Google search, including SEO title, meta description, and permalink. You can also set up page redirects if necessary.
One of the best seller SEO modules is PrestaShop SEO Audit which hits top #1 with best SEO practices 2020. SEO Audit is the unique module that helps you write perfect friendly content for both search engines and users. It is integrated with up-to-date rank math to help you analyze and detect any SEO problems with the content on every web page of your website. You can optimize your product pages, category pages, CMS pages, and far more.
PrestaShop Marketing
PrestaShop Ads is a smart marketing tool advertising all products on relevant eCommerce websites. It allows merchants to advertise on Google Ads, Amazon Ads, Facebook, Instagram, and more. It also removes the complexity of setting up data feeds and conversion tracking. PrestaShop will introduce a new way to do competitor research, recipe products, and advertise in major platforms.
Some top features of PrestaShop Marketing include:
Product health check: improve data feed quality and helps to resolve data feed-related issues.
Competitor Analysis: find your store's top competitors across online marketing platforms
eCommerce Price comparison: Identify competitors' prices and find out the competitive products, then focus on marketing strategies.
Multi-platform access: use the same product data feed to advertise products on Google Shopping, Facebook, Instagram & Amazon.
PrestaShop Payment Gateways
Having a store with full functionality will come with tons of extra add-on features. For payments, you'll have 250 options in total which are from the third-party processor or a merchant account with the PrestaShop Checkout Gateways. Your customers will not be directed to another site when processing their checkout process as well as be fully compliant with all adjustments, especially GDPR.
PrestaShop Checkout also has an extra service collaborating with PayPal called PrestaShop 1.7 Paypal Module. It provides access to various checkout options, including American Express, Mastercard, and many others.
---
PrestaShop Modules 
In their marketplace, PrestaShop has 4116 modules that help merchants to customize online shops, increase traffic, improve conversion rates and build customer loyalty. Some modules are free while others are available through a one-time purchase. The fact is, adding integrations can cost a pretty penny to boost your site.
Those modules will range from $99,99  – $699.99 depending on your needs. However, once your sales reach the potential amount, you can come out on top with PrestaShop. One more thing you should bear in mind is that those modules are made by hundreds of developers from all over the world. Accordingly, there's no guarantee that everything will work exactly as expected. You will need to be careful about what you add to avoid a glitchy and slow-performing website.
Don't Have Time for Migration Complexities?
Focus on growing your business and leave your PrestaShop migration in good hands with LitExtension All-in-One Migration Package. Let our Personal Assistant lift the weight of manual tasks off your shoulder and provide regular updates on how your project is going.
---
PrestaShop Support & Security
While setting up an eCommerce store, you will need support from experienced experts to help you take under your wings. Luckily, in this PrestaShop review, I will provide you with 2 kinds of support services: Presta Online Assistance and Presta Technical Assistance.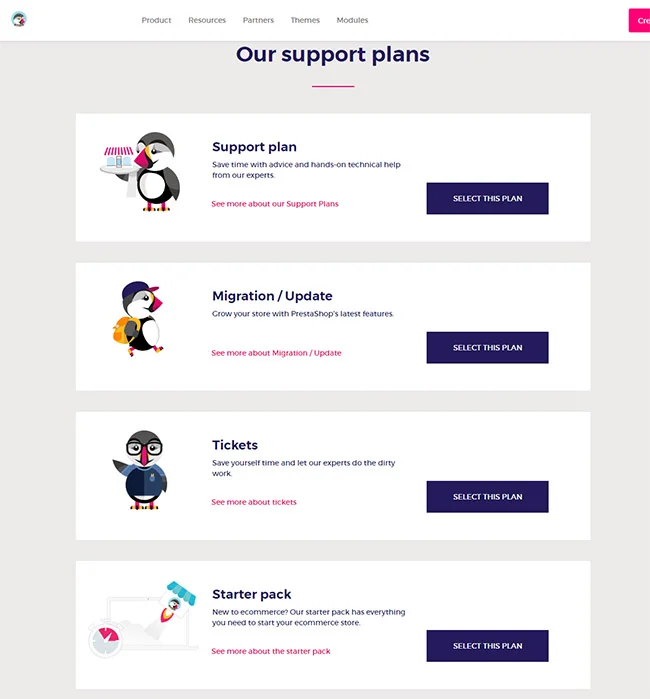 Firstly, PrestaShop has plenty of free info sources such as guides, tutorials, FAQs, and training courses for users and developers. Nearly 80% of all situations that the customers can probably encounter comes from Presta Online Assistance, you can easily find that detailed information in the search bar. In case you cannot find your knotty problems, you surely want to join the PrestaShop forum to give and exchange experiences. This forum has over 1.2 million users where you can meet any acute cases or solved issue tips.
Secondly, Presta Technical Assistance is a unique service compared to other open-source platforms. You will have a chance to call the Presta specialists within 15 minutes to solve any problem you have. However, the price for this service is very expensive which ranges from $249 to $1399 depending on the support level.
Seeing that PrestaShop is open-source software, it is PCI compliance-ready which means that your store is well-secured. However, your PrestaShop store won't be compliant on its own, you will need to purchase your SSL certificate and check up on any available security patches.
---
PrestaShop Review – FAQs
---
Final Words
If you have a small or medium-sized business, PrestaShop will be an ideal solution. Apart from the customizability and hassle-free procedures, PrestaShop is outstanding in terms of thousands of add-on modules and ready-made themes. You can start with low investments and gradually build up your website without worrying about any maintenance at all.
I hope this article will help you get the answer for PrestaShop solutions. And if you are planning to switch from your current platform to PrestaShop (i.e. Shopify to PrestaShop; WooCommerce to PrestaShop; OpenCart to PrestaShop) LitExtension is here to help. With 10+ years of experience, we can assure you to migrate your data speedily, securely, and accurately with our automated migration tools.
Finally, for further information in terms of data migration, do not hesitate to contact our LitExtension customer support! Join our Facebook Community to get more eCommerce tips and news.