Introduction
These days, there are plenty of solutions for building eCommerce websites. From hosted services to self-hosted solutions or WordPress builders that enable WooCommerce website creation without the need for code. Their innovative functionalities have contributed greatly to the growth of thousands of online stores worldwide. However, with more and more eCommerce website builders appearing on the market, merchants may find it hard to pick the best option for their stores.
As you may have known, WordPress is a powerful Content Management System (CMS) that works as a website building platform. To prove its extraordinary popularity, reports show that WordPress powers approximately a third of all websites worldwide. The website builder has a variety of eCommerce plugins that can integrate with an existing WordPress site. The good news is that WordPress eCommerce plugins provide just about anything e-merchants need with excellent features and community support.
Working with WordPress, you will find a host of plugins that serve different purposes. Such diversity of WordPress eCommerce plugins might confuse its users to pick one out for their final decision. Thus, understanding the situation, we proudly present to you this article covering
The best WordPress plugins for eCommerce
How each of them would suit you the most
What are the best WordPress plugins for eCommerce?
Here at LitExtension, we have put lots of effort into researching to pick out the best WordPress plugins for eCommerce. The criteria that we base on include search tendencies, number of active websites, community rating, features, and so forth. These are exactly the factors most users look at to select the best eCommerce plugins for WordPress.
For example, when finding which plugins are the most installed from WordPress.org, here is the result: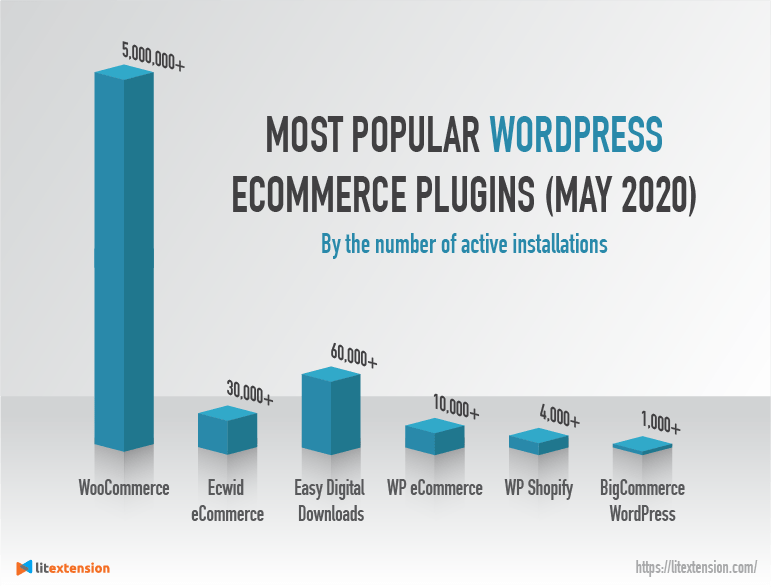 You can see from the infographic that the other plugins have a significantly smaller number of installations compared to WooCommerce. The main reason for this disparity in the number of installations is because they were released in different years. Another reason is that those less popular plugins were designed for different purposes.
The most high-rated WordPress plugin on the market is WooCommerce. As of May 2020, there are 3+ million live sites powered by WooCommerce, accounting for approximately 7.2 % of the top 1 million eCommerce websites. The statistics on Google Trends say the same thing about WooCommerce's popularity.
WooCommerce received a 4.6 out of 5 stars rating from 3600 reviewers. Easy Digital Download WordPress plugin also received a very high rating at 4.6 out of 5 stars from 322 reviewers. That figure for Ecwid, WP Shopify, WP BigCommerce, and WP eCommerce are respectively at 4.5, 4.1, 4.1, and 3.4.
So, after counting all the numbers, here is the final list of the best candidates:
WordPress WooCommerce
Easy Digital Downloads WordPress (EDD)
WP Shopify WordPress
WP eCommerce WordPress
Ecwid WordPress
BigCommerce WordPress
Now, let us show you more details about each plugin so that you can decide which one is your optimal solution.
Keep reading!
Best WordPress plugins for eCommerce review
1. WooCommerce WordPress

Firstly, the WordPress WooCommerce plugin has been long recognized as one of the best eCommerce plugins in the world. Why is WooCommerce ranked so high year after year? All due to the fact that it's fully capable of providing the highest quality functionalities and extremely flexible thanks to its open-source nature. In addition, WooCommerce also has a diverse plugin ecosystem to boost the store's overall performance.
Outstanding features
Adding WooCommmerce shortcodes: allows you to add various functionalities inside a post, page, sidebar, widget, etc…
Limitless customization: The ability to access source code helps WooCommerce users create unique personalized websites. This means that you have the highest permission to manage your content and data.
Support selling multiple product types: WooCommerce is one of the few eCommerce platforms that allow selling anything you want, including physical products, digital products, and subscriptions. However, you'll need at least one commercial extension to create a membership website (selling subscription) with WooCommerce.
Payment gateways: WooCommerce is integrated with PayPal Standard by default and has WooCommerce Payment as its exclusive payment method. Besides built-in solutions, you can choose from 100+ payment gateways available to fit your specific transaction security needs.
Complete inventory management: WooCommerce is equipped with functionalities to easily manage your inventory. Especially with the introduction of Activity Panel in its new 4.0 version, WooCommerce can now help you quickly access management tools you use most often.
Who is this plugin for?
Being a highly customizable platform, WooCommerce is definitely for those who want to have full ownership of content and data. However, since WooCommerce is an open-source plugin, there will be tasks requiring coding skills. So it's a major plus choosing WooCommerce when you are already a technically competent person.
If you want to create a store with advanced management tools, WooCommerce can also satisfy you to the fullest extent. Explore more indispensable WooCommerce plugins to build a thriving cyber-based store.
If you're a new user of WooCommerce, the WooCommerce tutorial by LitExtension will help you to set up a new WooCommerce store.
2. Easy Digital Downloads WordPress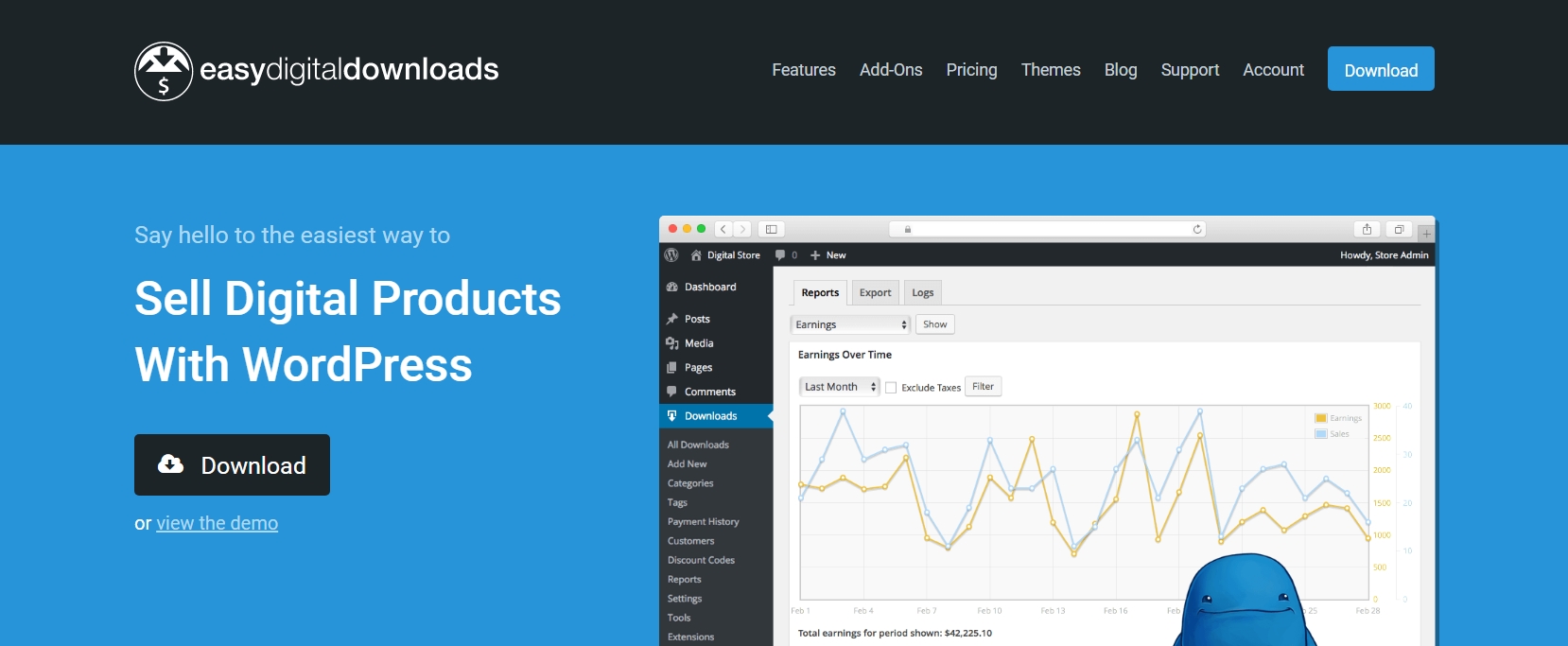 Prominent as its name, the Easy Digital Downloads WordPress plugin (EDD) is considered the best plugin for selling and managing digital products. It's very simple to take the grasp and start creating a beautiful and fully functional digital product store with EDD.
Outstanding features
Dedicated to selling digital goods: EDD is built from the ground up to sell digital products. For example, when someone buys a product from your website, the system sends them an email with the download link. Also, you can add the Key Licensing add-ons to buy license keys for your software and digital products.
Protect product files: All product files on your EDD store are restricted to authorized customers only without any configuration requirement. You may also set the file download limit and download link expiration.
Complete customer management: EDD displays almost every customer detail in the WordPress dashboard and maintains a separate record for each customer. The record includes information such as customer name, email address, and all recent purchases. The plugin also features an area that explains customer lifetime value for each of your buyers.

EDD customer management interface

Discount codes: EDD has its built-in functionality that helps easily create discount codes, attracting customers to buy more. You can offer discounts at flat or percentage rates and include settings for expiration, maximum uses, and more. Some other settings include the option to limit discount usage by count or user and set automated discount expiry.
Add-ons for digital business facilitation: You can find hundreds of extensions on the Extension Library. Some of which allows you to request software licensing, which is very innovative in digital businesses.
Who is this plugin for?
If you're planning to start businesses with a focus on digital products, then EDD is literally the best available option. EDD is a good starter for selling digital downloads such as eBooks, music, graphic designs, and more. You can also expand the power of EDD by adding free and premium extensions that empower your digital business.
3. WP Shopify WordPress Plugin

WP Shopify is a Shopify WordPress plugin that resulted from the efforts to integrate Shopify into WordPress. The great news is that getting started with WP Shopify is so much easier than using native WordPress eCommerce plugins.
You can think of WordPress as the frontend and Shopify as the backend. This way you can benefit from Shopify's user-friendly interface to manage your store (add products, process orders, etc) and those changes sync automatically into WordPress. WP Shopify also allows you to create an online business with a cart experience using the Shopify Buy Button.
Outstanding features
Automatic syncing: WP Shopify allows you to sync your products and collections from your Shopify store as native WordPress website posts. Therefore, if you change the title or price of a product on Shopify, this change will automatically reflect itself on WordPress.
Customizing products with Shortcodes: WP Shopify comes with various shortcodes that allow you to control how your products look and which information products show. This gives you the flexibility to customize products the way that plugin default pages do not.
Direct checkout: This feature allows you to replace the "add to cart" buttons with a link that takes the user directly to the checkout page. As a result, this is great if you don't need a cart experience and simply want to send users to pay immediately.
Who is this plugin for?
WP Shopify is an ideal option for those who want to take advantage of both Shopify and WordPress for online selling. All you need to do is choose a suitable plan for a Shopify store, create a WordPress website then add the WP Shopify plugin.
You can use WordPress for its flexibility on the front-end. Meanwhile, you can benefit from the security and simplicity of Shopify to power your store's back-end and checkout process. If you have already been running a Shopify store, integrating with WP Shopify is the perfect method to promote your business.
4. WP eCommerce WordPress

WP eCommerce WordPress plugin keeps it simple in terms of setting up a new store. However, it still has decent features to join the list of best WordPress plugins for eCommerce. An interesting fact is that WP eCommerce is sometimes regarded as a direct alternative to WooCommerce. It's also a very well-known plugin for economically setting up online stores.
Outstanding features
Intelligent reporting: The reporting capabilities of WP eCommerce are second to none. It has an infinitely extensible Orders API, high-level sales view right in your Dashboard. WP eCommerce also comes along with extensive CSV exporting capabilities.
Automated marketing: It's incredibly easy to automatically integrate your marketing campaigns in WP eCommerce with Google Analytics, Google Base, and countless more via add-ons.
Advanced HTML customization: You can access and edit the raw code of your online store to create a truly unique web interface for a much better user experience.
Who is this plugin for?
With WP eCommerce, you'll not fall into the situation of not knowing how to set up an eCommerce website without speaking to experts. It is very easy to use and has a huge inventory of support articles. Therefore, in any situation, WP eCommerce should be one of the best solutions to start selling online. WP eCommerce could also be the top pick priority for those who want to create a store with a high level of customization.
5. Ecwid WordPress

Ecwid WordPress plugin was founded in 2009 and has since grown to become a very popular and successful plugin. With Ecwid, you can quickly and inexpensively create an online store system on your existing website. Moreover, Ecwid has the capability to provide decent features to grow your business with a standard eCommerce platform.
Outstanding features
Multi-channel selling: Ecwid allows you to sell across multiple websites and manage everything from one admin. Therefore, selling on Facebook and Instagram is easy to set up with this plugin.
Support various product types: You can sell both physical and digital products on Ecwid. You can also set multiple product options like product variants, such as sizes and colors, etc.
Complete SEO tools: It's so good that Ecwid can automatically generate sitemaps. In addition, it's also capable of providing customizable microdata, automatic alt tags, and clean URLs.
Who is this plugin for?
Thanks to its simplicity, the Ecwid plugin is perfect for small businesses or for those who already have a website and want to add some eCommerce flair to it. Even if your website is custom-made and doesn't rely on any platform, this plugin can help you integrate and efficiently promote your products on WordPress. With its available free plan and easy-to-use system, you can quickly and easily launch your online store.
6. BigCommerce WordPress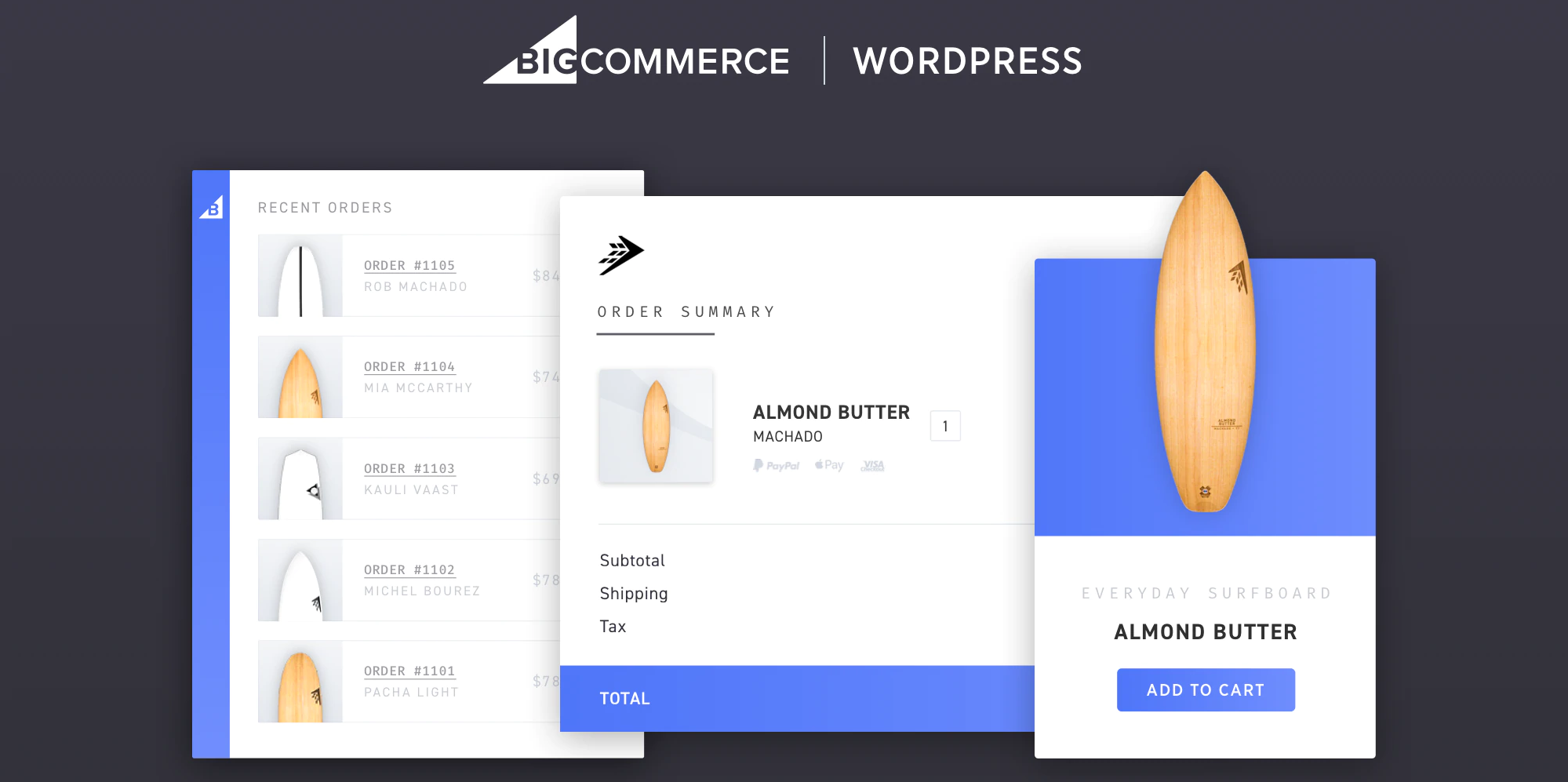 BigCommerce WordPress plugin is an attempt from BigCommerce to get into WordPress. The main goal for this movement of BigCommerce is to attract companies that have built their websites on WordPress. Accordingly, users of this plugin can benefit greatly from WordPress to manage content and BigCommerce for eCommerce. Please note that just like Ecwid, it's possible to integrate BigCommerce WordPress plugin with websites that are not built on any platform.
Outstanding features
Easy to customize: Even without coding skills, you're still able to customize your website to a large extent. It's good to hear that knowledge of iFrames and Javascript isn't necessary to make the most out of this integration.
Build complex product catalogs: BigCommerce allows you to build broad catalogs and manage a great number of orders. There are over 250 options of how you can create a completely customized product catalog using different currencies and languages.
Manage multiple sites in one place: If you are selling across an array of WordPress or any custom-made sites, you can use BigCommerce to manage them all from one control panel. WordPress BigCommerce allows you to oversee and manage your catalog, orders, and shipping info related to all your stores.
Who is this plugin for?
This plugin is perfect for large brands who value the power of content marketing while also wanting access to a leading eCommerce solution.  Additionally, this plugin leverages the best aspects of both platforms, allowing WordPress to manage content and BigCommerce to manage eCommerce aspects. The plugin is also very easy to use, well-designed, and has all the features you need to grow and succeed.
Conclusion
We have presented to you the 6 best WordPress plugins for eCommerce and their outstanding features. Hopefully, at this point, you have had a much better idea of which plugin is best suited to your online store.
Please notice that we did put a lot of effort into sorting out the best WordPress plugins for eCommerce. However, it's still very tricky to choose the best solution from a personal perspective. So it should be wiser for you to pick your best depending on your situation and business needs.
In present days, the demand for switching between eCommerce platforms to better facilitate growth is increasing drastically. It's an act of choosing a more suitable place for the next stage of your business success. And that's when LitExtension comes to outstandingly accompany you all along the way with top-quality services, including migration to WooCommerce, Easy Digital Downloads, and Ecwid.
As the world-leading migration expert, LitExtension provides top-quality migration services. We support 90+ most popular eCommerce platforms, successfully migrated 140,000+ stores for over 40,000 customers across the globe. Receiving 95% excellent customer satisfaction, we believe it would be a wise choice for you to take LitExtension into account for your future migration projects.
Our support is available 24/7 so don't hesitate to contact the LitExtension team at any time and for any question! Join our Facebook Community to get more eCommerce tips and news.