Will you agree if we say:
Marketing automation is the technology that many marketers and salespeople expect to utilize when promoting a product or service.
Indeed.
91% of professionals believe that it caters to the success of their campaigns. The rich set of tools helps manage online activities more effectively, reduce human error, and concentrate on higher-order projects.
It turns out, marketing automation functionality in Magento 2 can be easily implemented.
In today's article, we will cover the tip of marketing automation in Magento 2 iceberg but concentrate on the critical aspects that you must consider to implement it successfully.
What is Marketing Automation in Magento 2?
And here's some theory:
Marketing automation is software―either built-in within the core of a CMS or integrated―that is aimed at automating a range of marketing and sales activities.
Here's the deal:
In Magento 2, by default, merchants can enjoy the following marketing-related functionality:
promotions (creating catalog price rules, cart price rules);
communications (email and newsletter templates, newsletter queue, and newsletter subscribers);
Google shopping ads as the available advertising channel,
SEO & search (URL rewrites, search terms, and synonyms, basic site map functionality);
customer reviews management (all reviews overview, pending reviews, Yotpo reviews);
customer engagement functionality that is limited to DotDigital Engagement Cloud and Chat, exclusion rules).
As you can see, Magento 2 offers decent features to launch marketing activities.
Want to know the best part?
If your business requires more advanced possibilities, you can go further and easily integrate specific functionality that might be missing. The Magento Community and the Magento Marketplace boast a variety of stable bug-free third-party extensions that help businesses achieve specific objectives and fill the missing functionality gap.
Like this extension: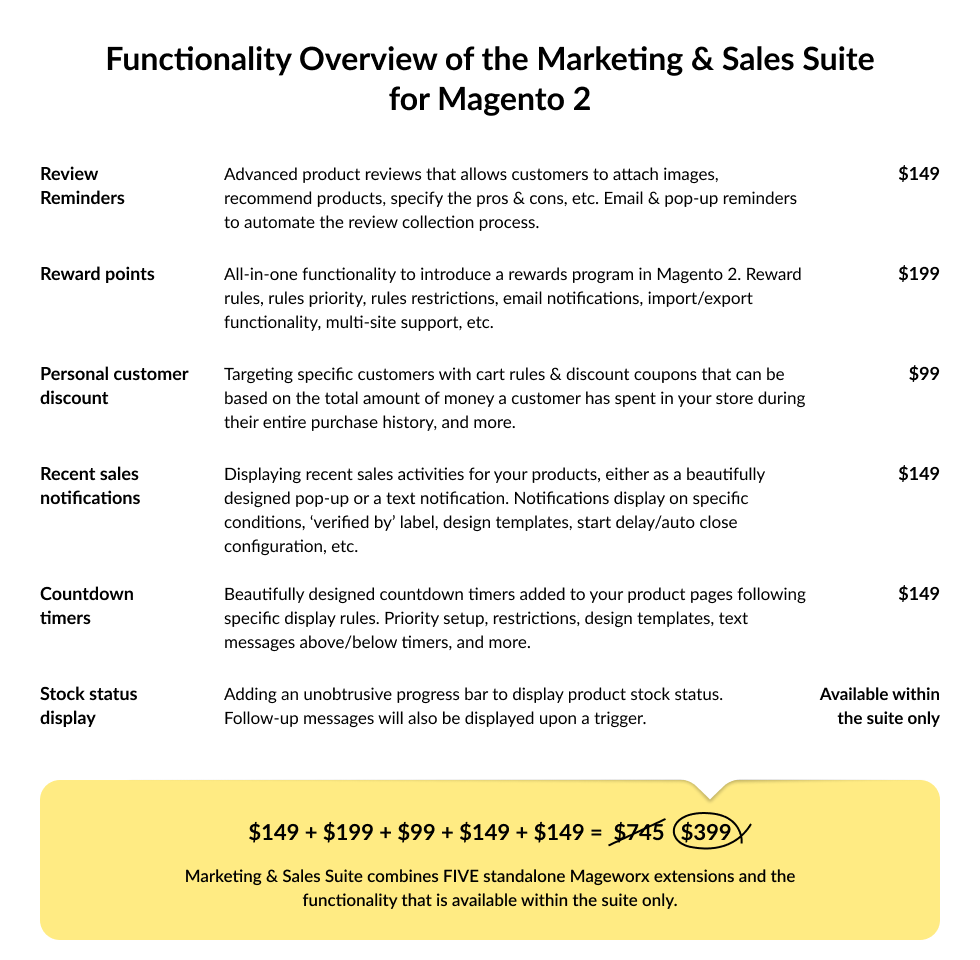 Source: Mageworx
Or any of these ones: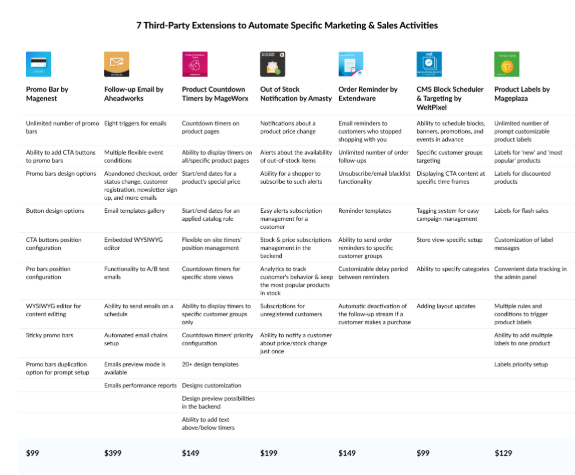 Source: R & W Media
But before you go on a hunt for the required functionality, you must have a detailed implementation plan beforehand. As however fantastic the technology is, marketing & sales automation will be as good as the implementation process behind it.
5 Tips for successful implementation of Magento 2 marketing automation
The forethought plan ensures success.
It's critical to know and recognize the potential pitfalls to start on the right track.
Here's what you must follow to rip the most benefits of marketing automation:
Set your goals and requirements in advance
To begin with, you need to decide your goal, your target. Then, ask yourself, what are your requirements for marketing automation software? What marketing or sales activities need refactoring and improvement?
Before searching for and settling on a specific solution, it's a must to have clear data-based answers to these questions.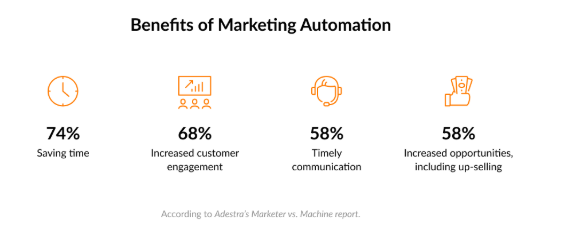 In many cases, marketing automation tools in Magento 2 help save time and cushion development costs. It gets ensured by replacing some of the existing tools with have-it-all all-in-one-place solutions that do not have any compatibility issues.
Make your choice
It's time to do the research and make your choice. There is a pool of marketing automation extensions on the web today, either SAAS or third-party extensions for Magento 2. And the number of such solutions is growing instantly.
How can you evaluate the potential vendors and the available solutions?
We've collected five essential criteria to consider. They are the available features, learning curve, support, compatibility, and pricing. Please refer to the infographics below for more details: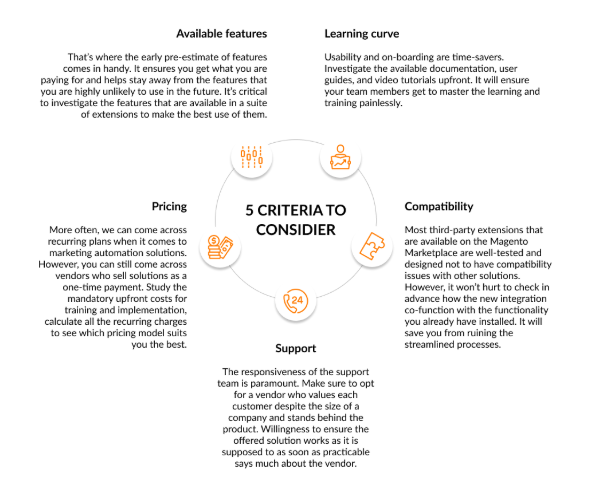 Consider expenses
Once you make up your mind, it's time to think through the implementation process of marketing automation. It includes:
budget,
right staff (sales & marketing savvy professionals in case you've got such departments),
hiring/outsourcing, planning and setup of the marketing automation schemes.
Importantly, you will also need to consider the breakdown in job duties of your marketing and sales teams. Often, marketing automation blurs the lines between these teams. You will need to consider this in advance to avoid any implications.
Adopt your plan
No matter how best-of-breed the selected solution is, it won't replace the people behind doing strategic planning. You might want to consider developing a documented project for rolling the strategy out.
Here are some ideas you might find helpful:
setting up admins, users, and permissions,
specifying with the sales team what a qualified lead is,
considering any possible business-specific extension' customization requirements,
analyzing the available in a solution (if any) templates and designing ones to match your brand.
The list is not full, but you get the idea.
Start it simple
One of the primary reasons behind marketing automation tools is shutting the hands of the team members from repeating the same routine activities.
Deploy these time-consuming activities first. After you make sure the processes have been automated correctly and run like clockwork, build as you come along.
Adjust.
Tweak.
Scale.
Performing these actions will help exhaust the maximum of your marketing automation tool, but over the time. Thus, don't put the cart before the horse.
Test, test, and test
Whether you are setting up email automations, pop-ups to collect customer reviews, rewards program workflows or any other automated marketing activity, it's critical to literally click through all the processes to ensure the automated activity chains work just the way they are supposed to.
Send test emails. A/B test pop-ups. Send email reminders to collect customers's feedback internally. Collect feedback. Make the necessary changes. And start the testing all over again.
When you feel like the logic is clear, the design and content are enticing and appealing, start with some small part of your customer base to test how they resonate with the new campaigns or functionality.
Analyze
Forget about the days when critical business decisions were made based on the gut feeling. We are living in the data-driven world, where numbers are decision-makers.
As soon as you implement the new piece of functionality, start collecting data.
You can start with some questions: How many users interacted with an automated campaign? Have you gained sufficient leads? How many customers bounced a specific automated email or pop-up?
Depending on the functionality you've introduced, make sure to collect and track all the relevant data. It will help you rip the most of the obtained functionality, pay off the invested budget rapidly and, most importantly, fatten the profit.
What's the bottom line?
Marketing automation functionality in Magento 2 can advantage your marketing and sales team significantly. But to enjoy true success, it's vital to ensure the right approach upfront.
How can anyone do marketing for the Magento 2 eCommerce product retail store?
Easy.
Follow the marketing automation tips we've just shared, select a solution for Magento 2 that suits your business needs the best, deploy and test it carefully. The benefits will not be long in coming.
Author bio:
Ellie Yantsan is the Marketing Executive at Mageworx, Magento, and Shopify solutions development company. Valuable content has always been her weakness, either reading, and sharing, or producing such content on her own. Ellie is always happy to receive comments on her articles as 'feedback makes perfect.'