Offering free shipping has become a critical and popular tactic for online sellers to improve customer satisfaction and increase sales. Fortunately, for Shopify store owners, adding free shipping to their store is easy and can be achieved through various methods. In this article, LitExtension – #1 Shopping Cart Migration Expert, will guide you through the different guides on how to add free shipping on Shopify & give you some useful tips when offering free shipping.
You will go through these steps to add free shipping on Shopify:
Let's take a closer look to learn how to offer free shipping on Shopify.
---
How to Add Free Shipping on Shopify [4 Methods]
#1. Offer free shipping as default
The first way how to set up shipping on Shopify free is to set flat rate shipping Shopify as 0. This means that any customers shopping in your store (located in the areas you offer free shipping) can enjoy free shipping without any conditions.
Follow the guide below to learn how to set up free shipping on Shopify.
From your Shopify admin, navigate to "Settings" > "Shipping and delivery". Then, in the General Shipping rates section, click Manage.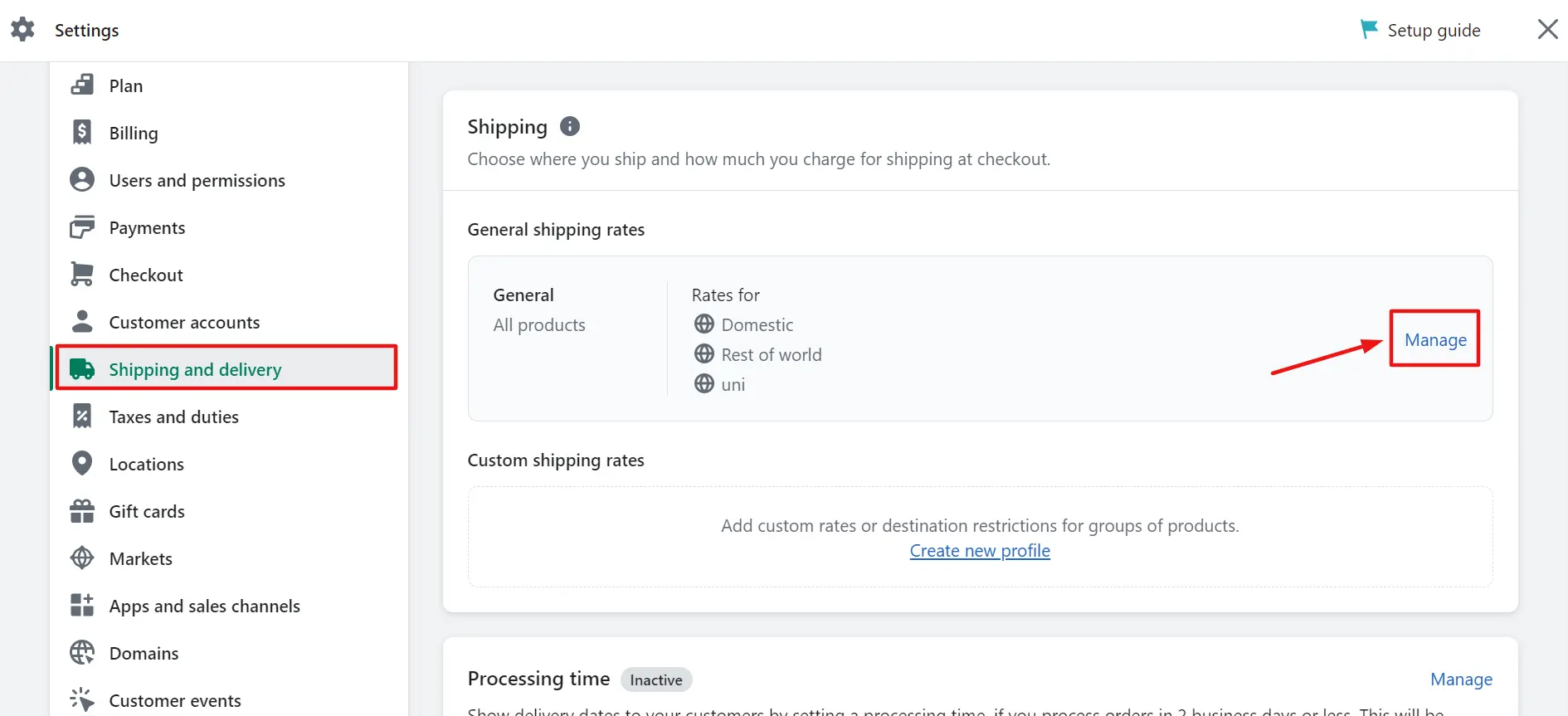 In each shipping zone, click "Add rate" button to add other Shopify shipping rates.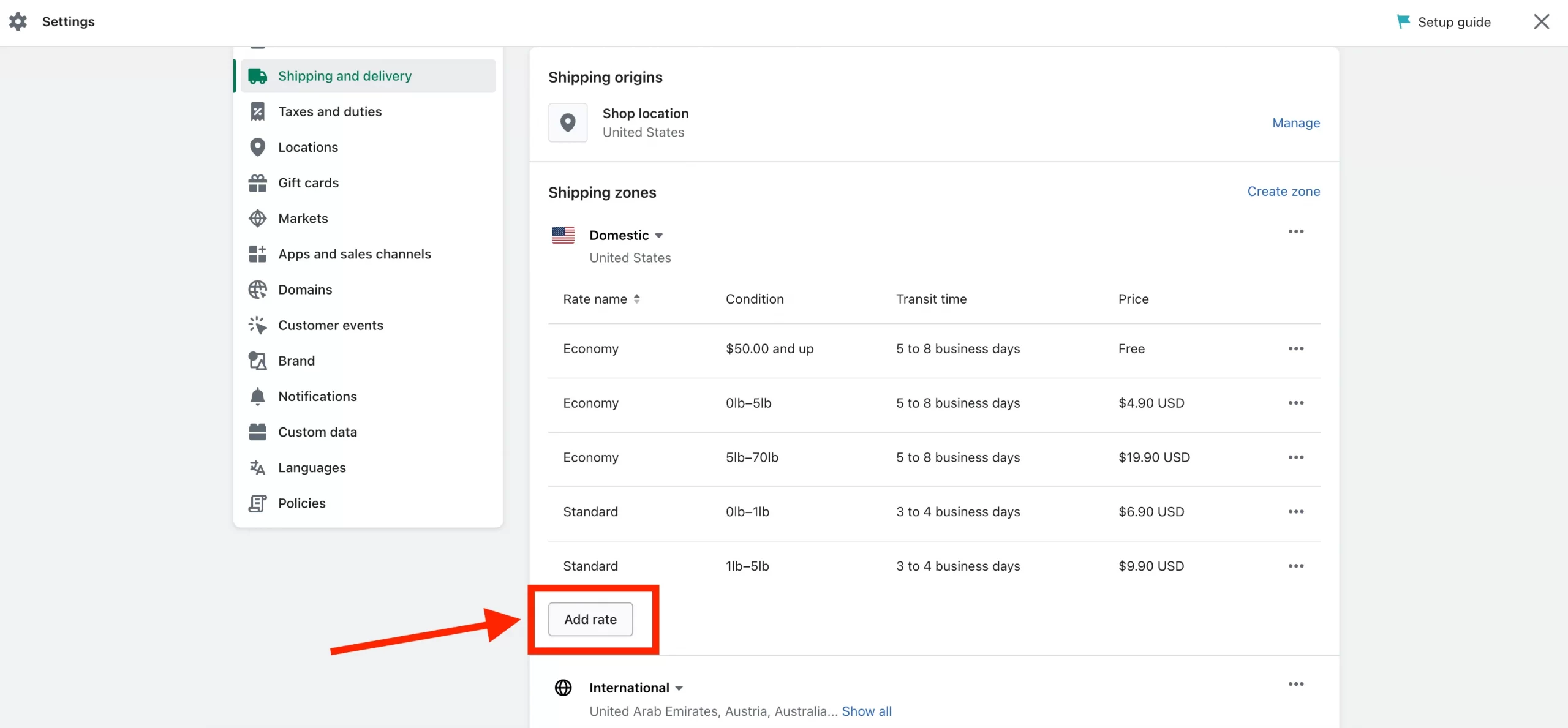 After that, a small popup appears for you to fill necessary information as below:
Check the option "Set up your own rates".
Enter the Rate name.
In the Price field, enter 0 to make sure your customers can get free shipping.
Click Done.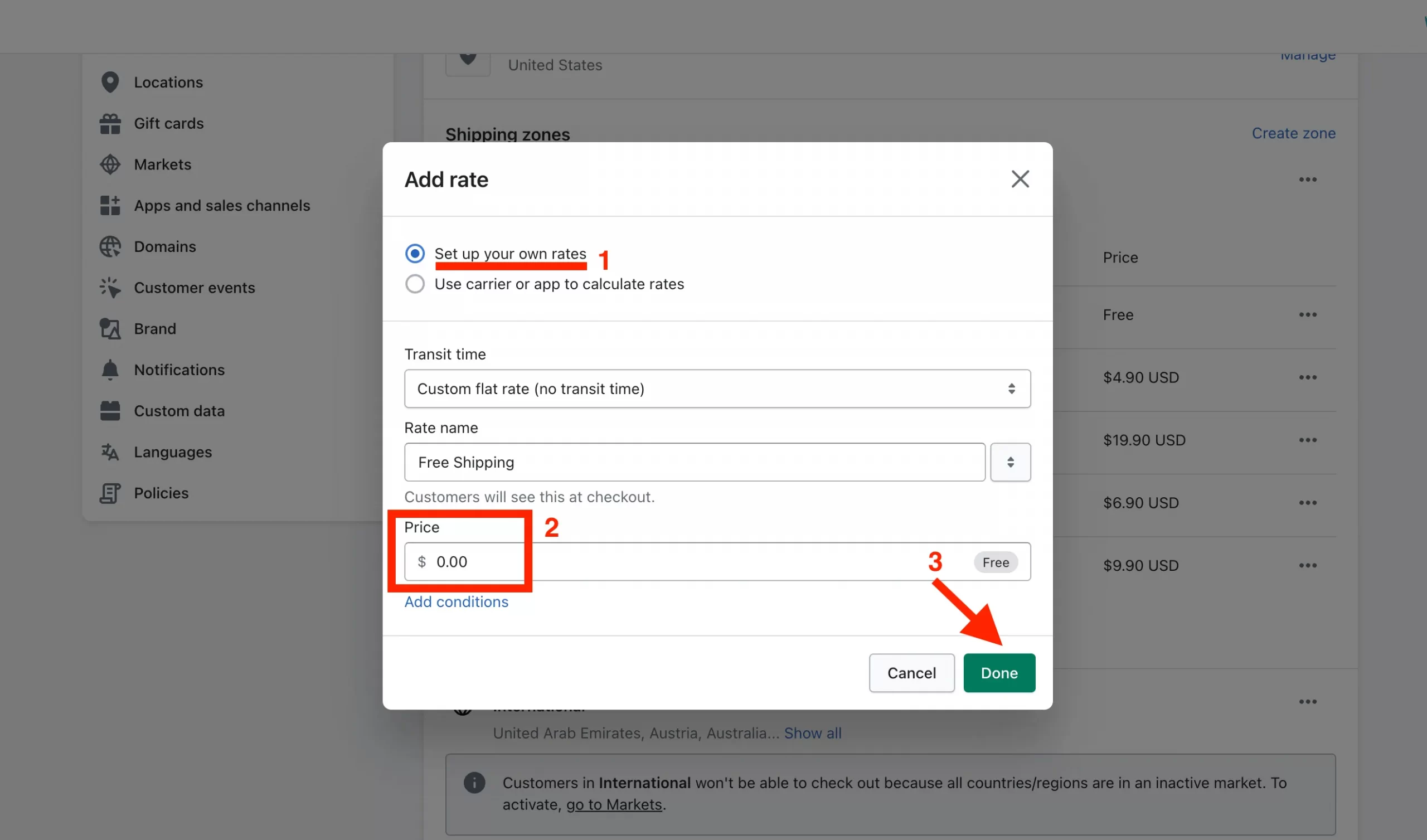 Finally, don't forget to hit the Save button to update your free shipping.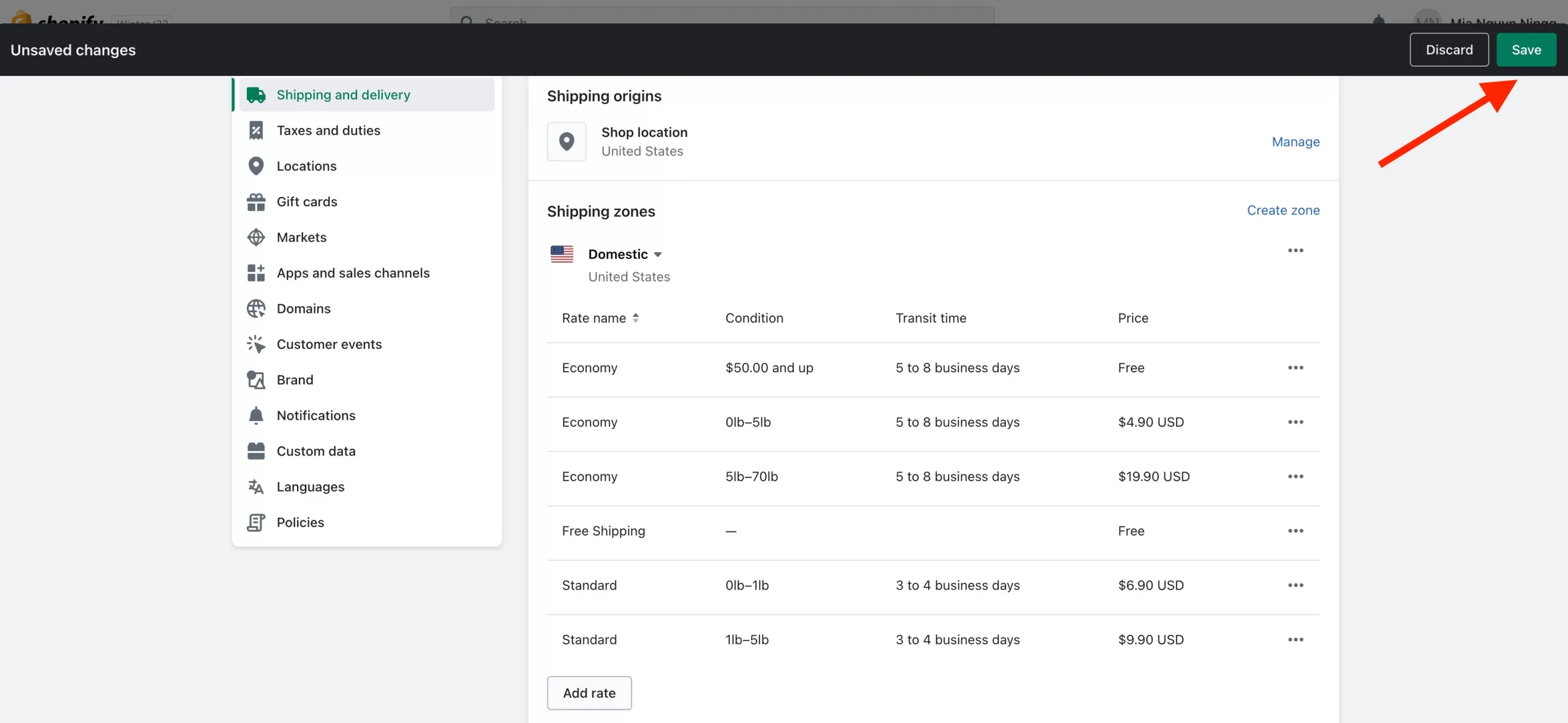 Does Shopify provide free shipping worldwide? Yes! You just need to repeat this process with other "Shipping zones" if you want to offer free Shopify shipping options to other regions.
#2. Cost-based rates free shipping
That is the way how to add free shipping on Shopify for all customers who make purchases in your store. How to create Shopify free shipping over amount of order value?
Follow this simple process if you want to learn how to make free shipping on Shopify based on cost.
Step 1: From your Shopify dashboard, go to "Settings" > "Shipping and delivery" > "Manage" in the General Shipping rates section.
Step 2: Click "Add rate" in the Shipping zones section accordingly to the regions you want to apply free delivery.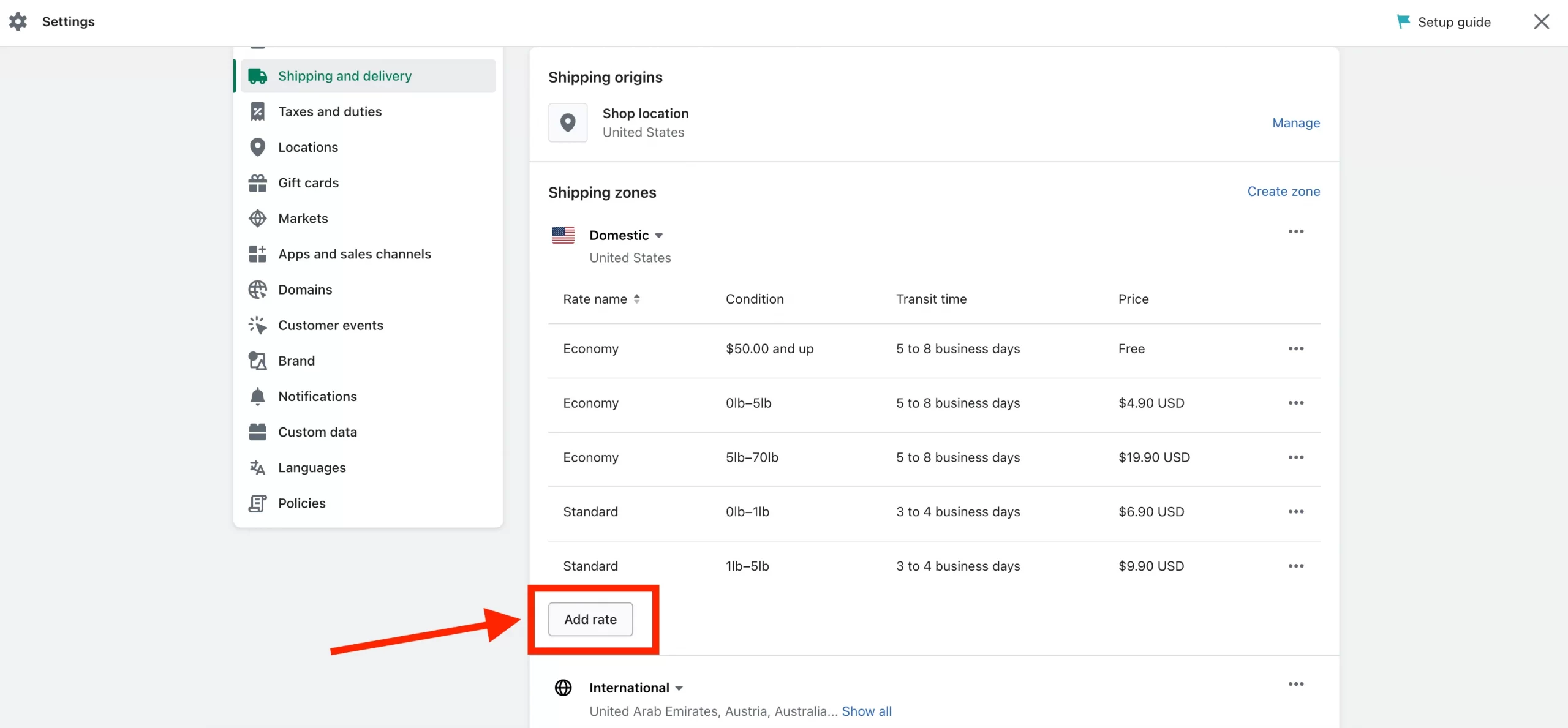 Step 3: In the "Add rates" popup, you need to:
Check the option "Set up your own rates".
Fill in the Rate name.
In the Price field, enter "0".
Click "Add conditions" to include additional requirements for customers to enjoy free shipping.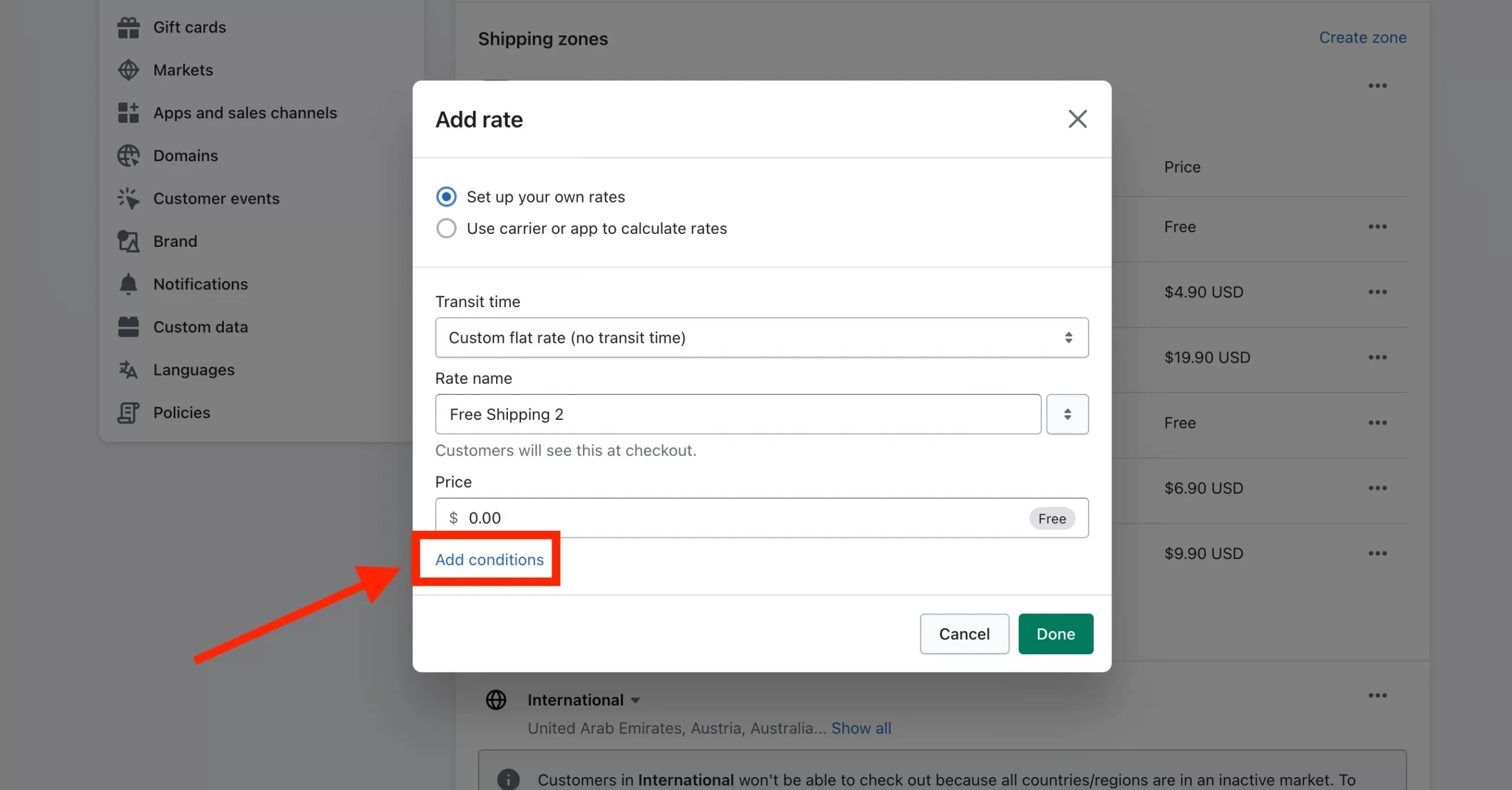 Step 4: Then, tick the "Based on order price" option to offer free shipping based on order value.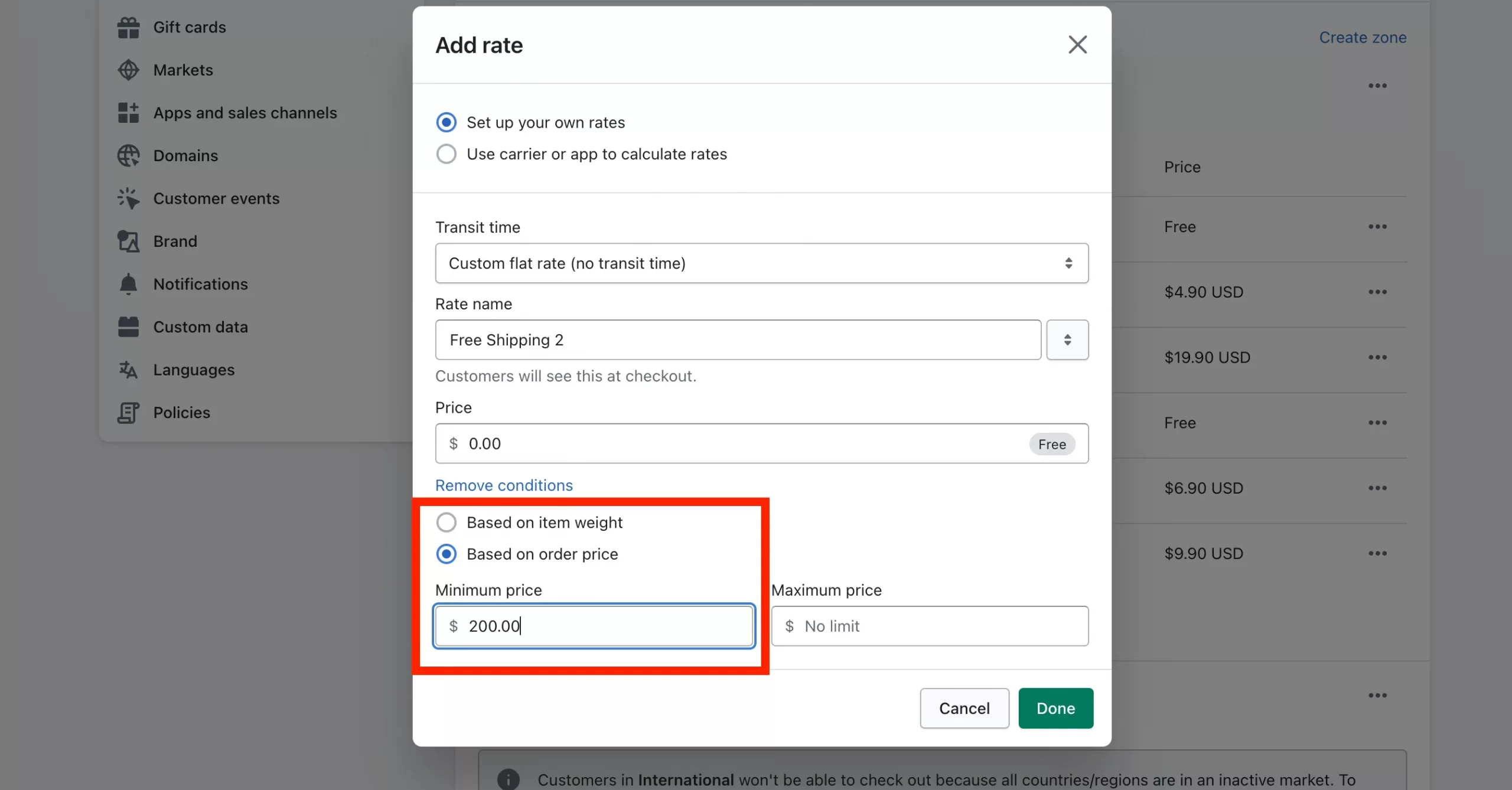 Step 5: After that, you should enter an amount of money ($) in the Minimum price field and leave the Maximum price blank.
For example, we are creating $200-cost-based free shipping for the US. It means that any people in this country shopping at least $200 in our online shop will get the orders delivered to their doorstep free of charge.
Step 6: Click Done and Save to update your new shipping rates.
#3. Weight-based rates free shipping
Now, you know how to add free shipping over a certain amount on Shopify. This section will present you with a way how to add free shipping on Shopify based on weight.
Follow steps 1-3 of the process of how to do free shipping on Shopify based on cost.
Step 4: In the Conditions area, choose "Based on item weight" option to offer Shopify free shipping on certain products weight.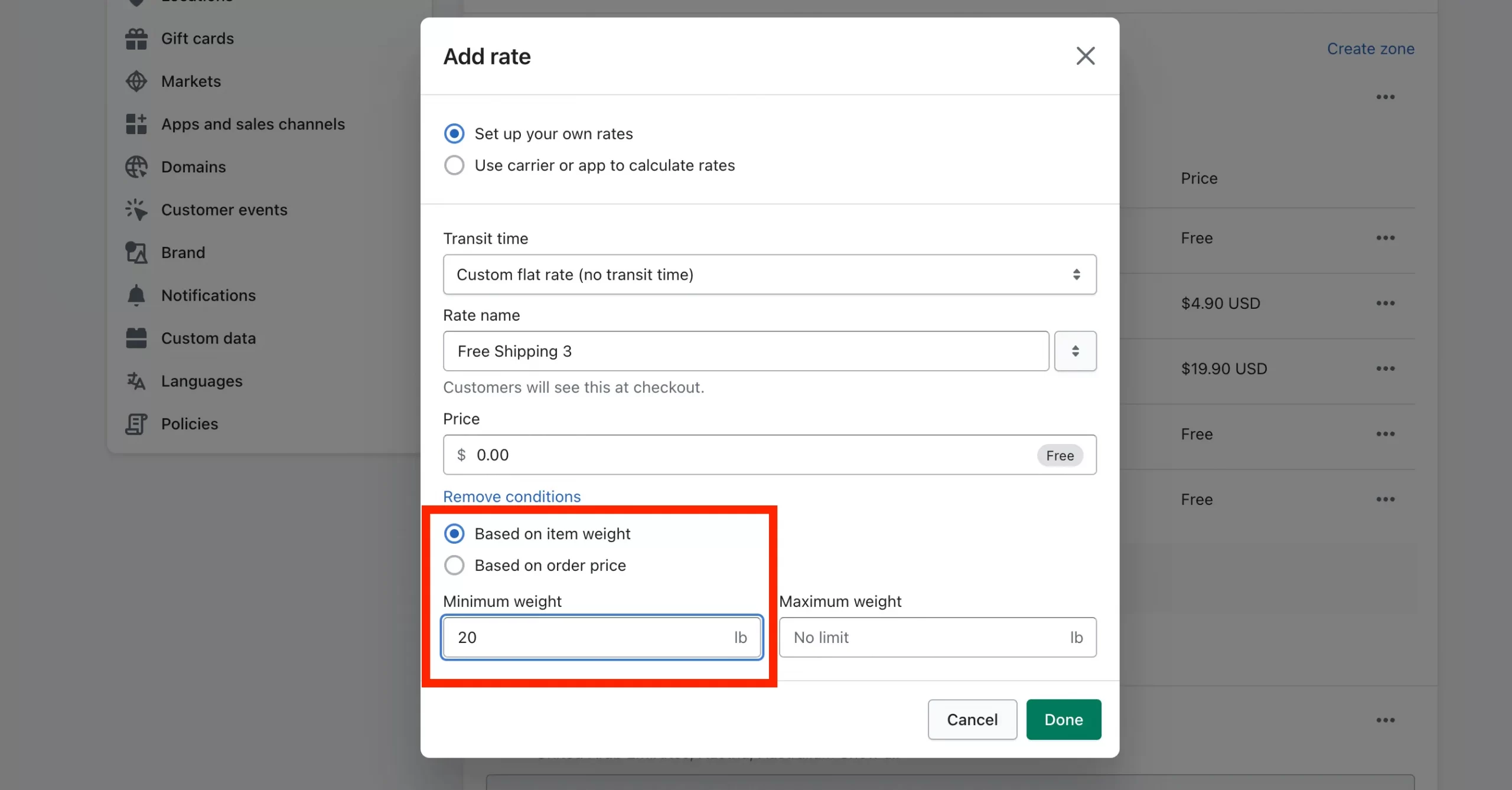 Step 5: You should fill in both the Minimum weight and Maximum weight sections with the number of weights (lb) you wish.
For example, we are setting 20lb as the minimum weight so that any customers who make a purchase with a total order weight over 20 lb will enjoy free shipping discounts.
Step 6: Lastly, remember to hit the Done button and click Save.
#4. Create free shipping discount codes
Another approach for you when considering how to add free shipping on Shopify is creating Shopify free shipping codes.
To set up shipping Shopify for free with shopify shipping discounts, follow the guideline below:
Step 1: From your Shopify dashboard, head to Discounts in the left menu.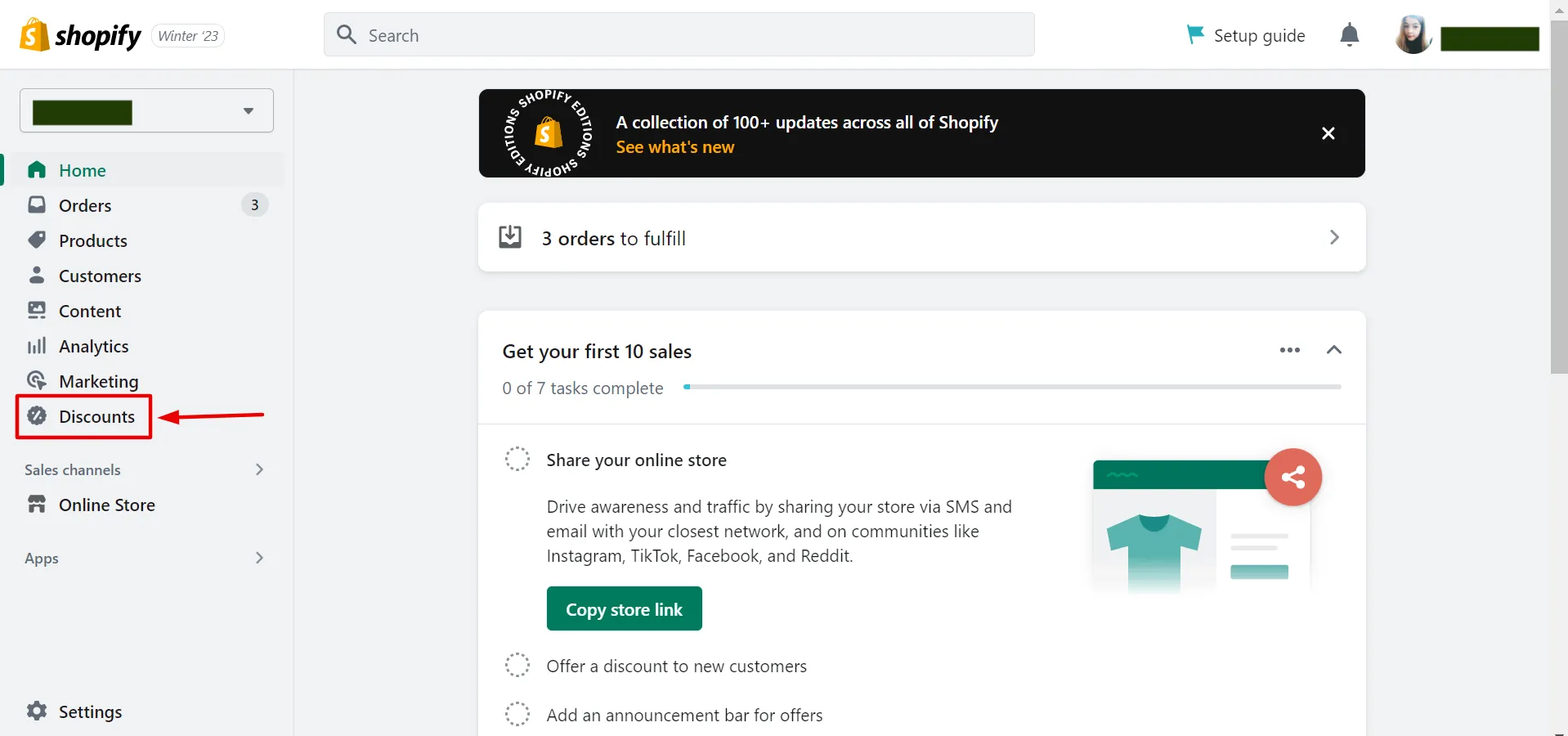 Step 2: Click the "Create discount" button in the page center or at the top right of the page.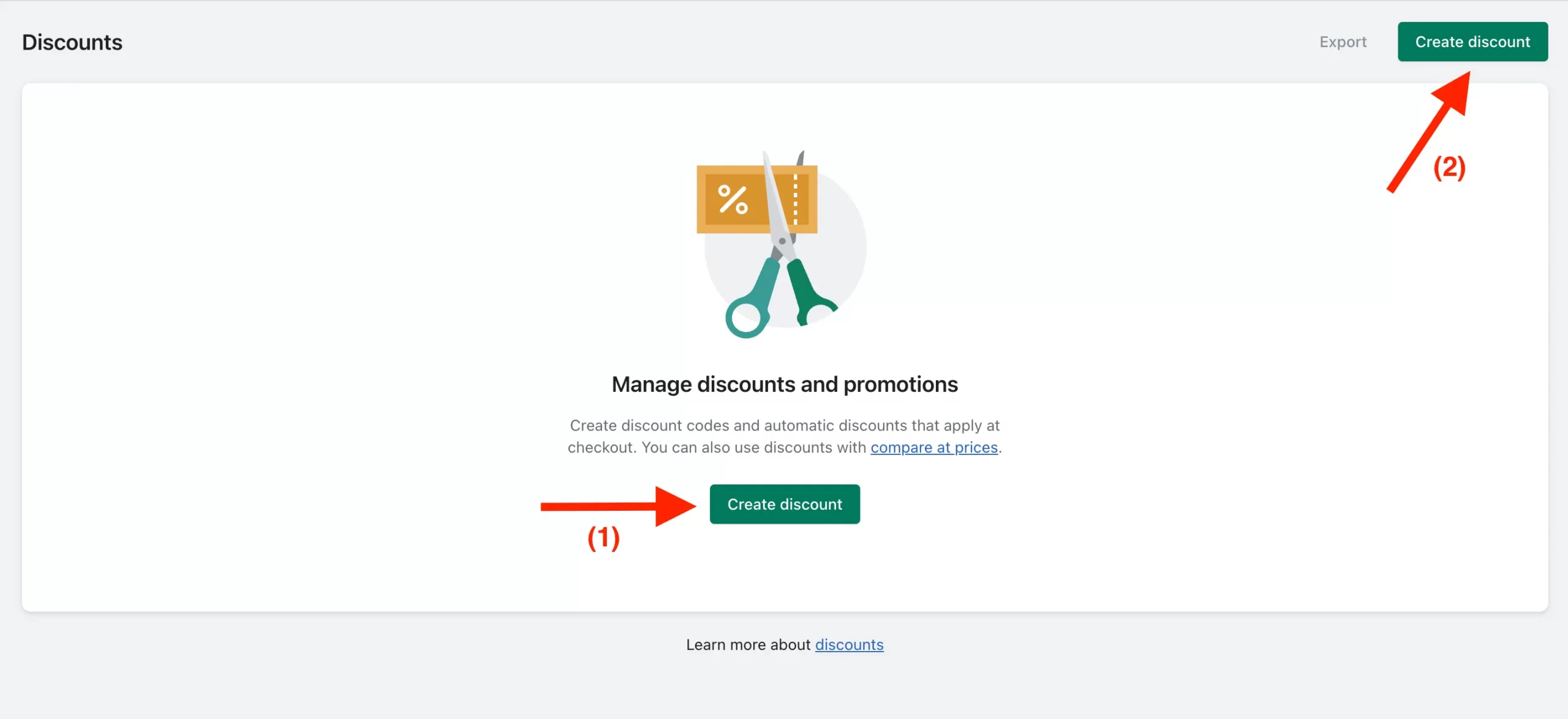 Step 3: Then, you will see a popup, select "Free shipping" option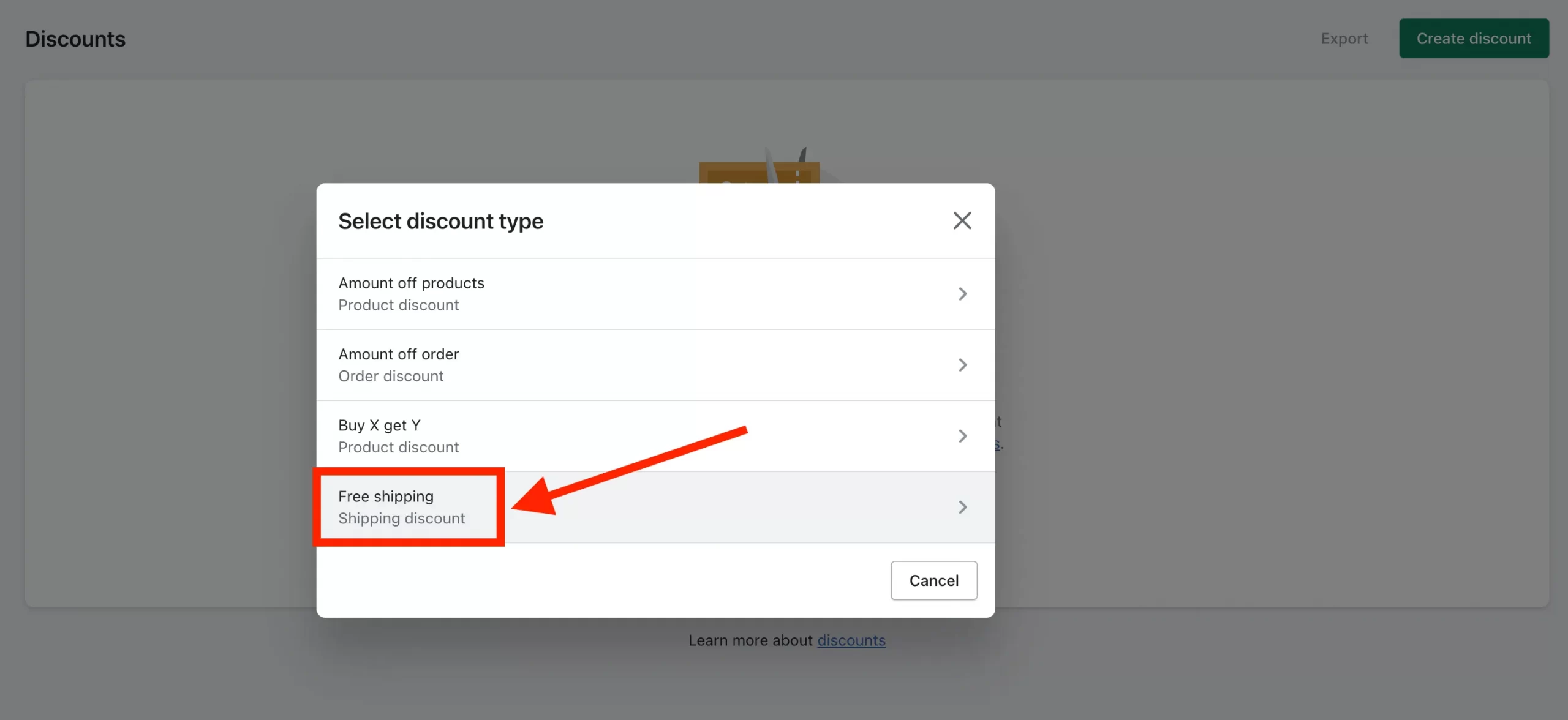 Step 4: Now, you need to provide the required information for your Shopify free shipping code, such as
Discount code: you can name anything you want.
Countries: you can apply the discount code for all countries or specific ones only.
Shipping rates: check this option if you wish to exclude free shipping for shipping rates over a certain order value.
Minimum purchase requirements: set "No minimum requirements" or set minimum requirements based on the value amount or item quantity.
Customer eligibility: you can set the customer eligibility to enjoy the free shipping discount for all customers or specific segments and customers.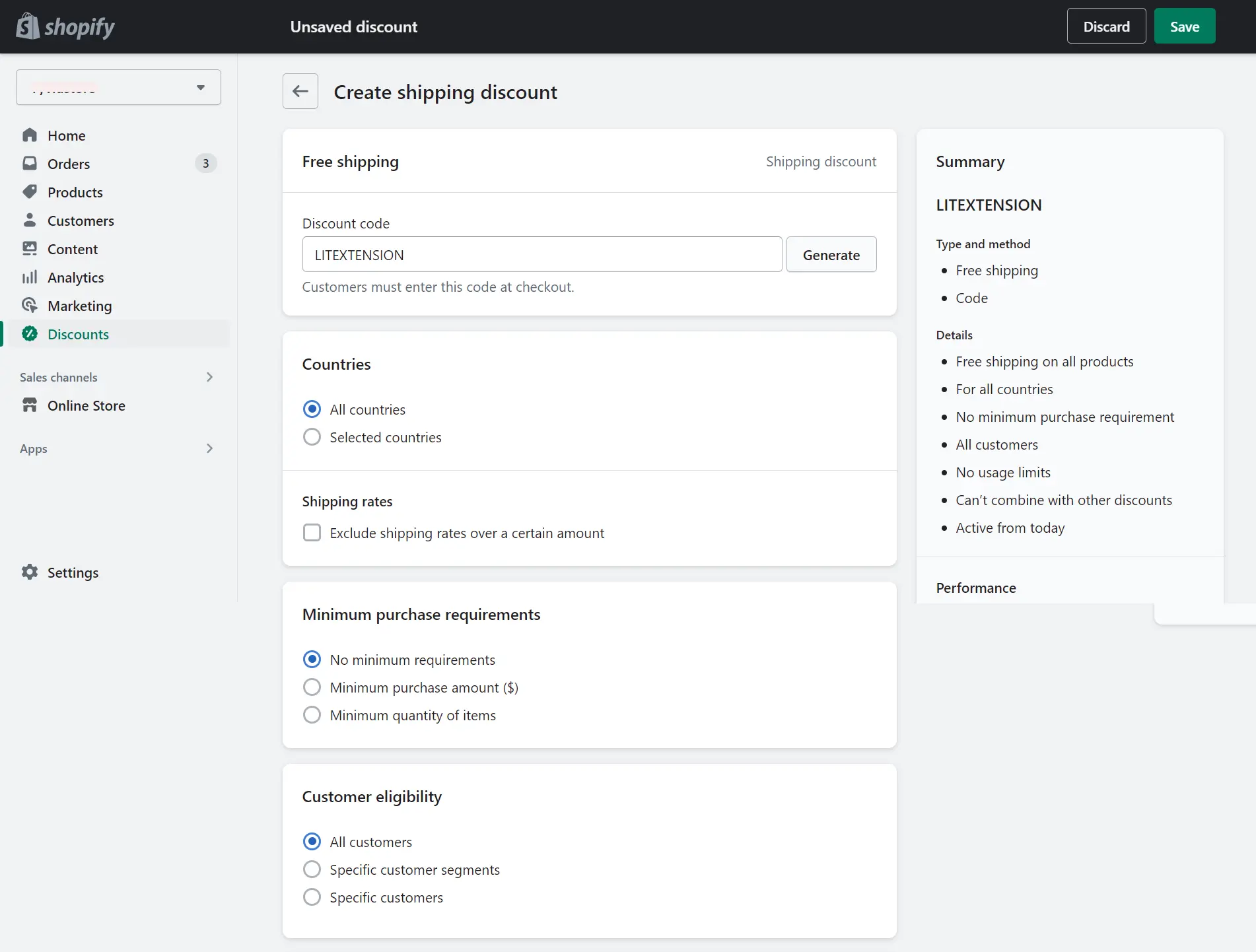 Maximum discount uses: you can set the limit total number of discount uses or set the limit to one use per customer.
Combination: you can either combine the free shipping code with product discounts or order discounts. But our suggestion is NONE.
Active dates: be sure to set the start and expiry date of the free shipping code to make sense of scarcity and attract more customers.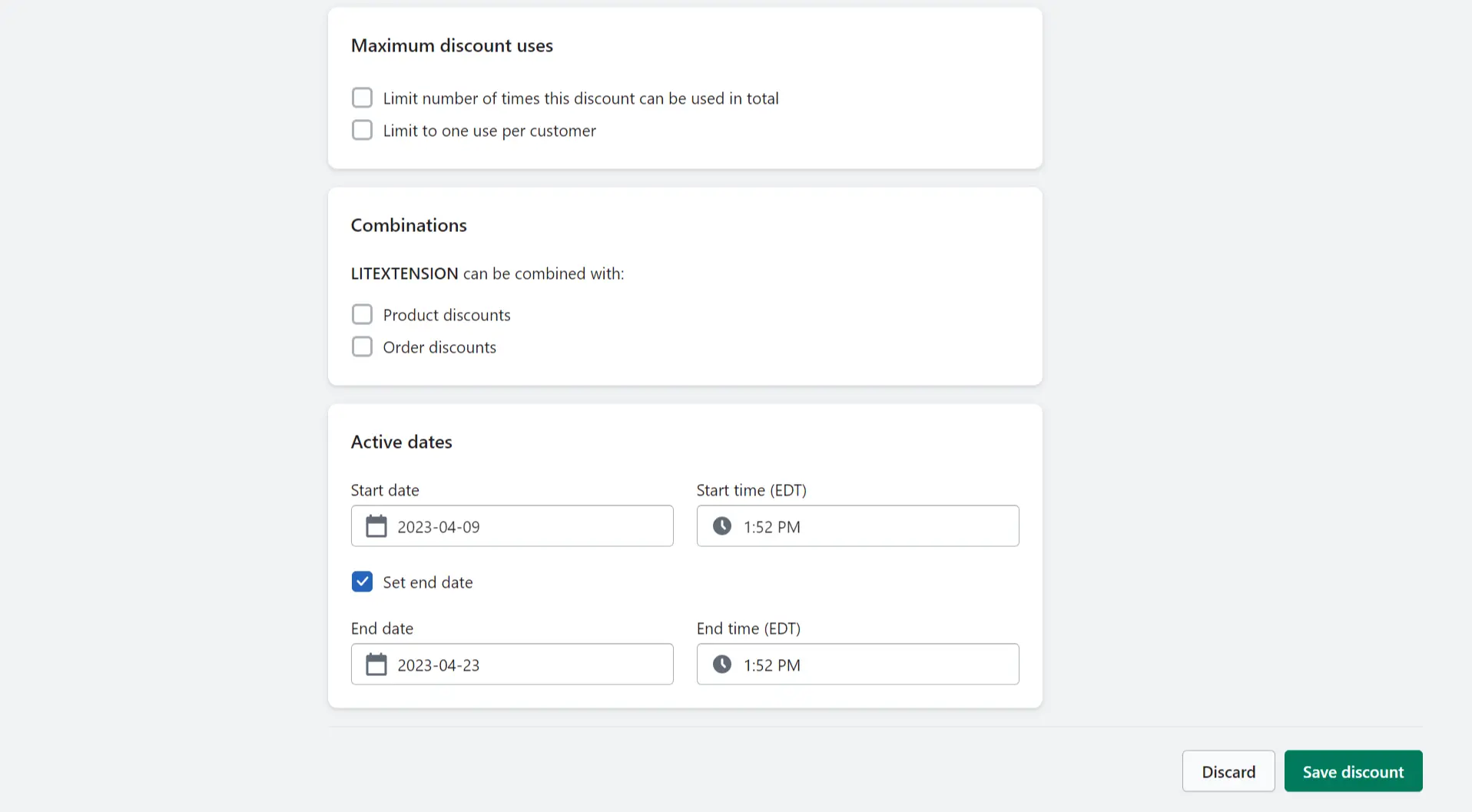 Finally, hit the "Save discount" button at the bottom right of the page, then click "Save" at the top to finish everything.
Further reading: How to Change Shipping on Shopify Quick and Easy.
---
6 Tips to Offer Free Shipping for Your Business
Now that you know how to add free shipping on Shopify, let's discover some tips to flourish your Shopify business!
#1. Set a minimum order threshold
Consider setting a minimum order amount that customers must meet in order to qualify for free shipping. This can help encourage customers to buy more to qualify for free shipping, and your average sales will increase as a result.
#2. Offer free shipping for loyalty
Consider offering free shipping to your repeat customers or members of your loyalty program as a reward for their loyalty. This can help to increase customer retention and encourage repeat purchases.
However, Shopify doesn't support loyalty features natively, to offer free shipping as a reward for customers, you should use Shopify loyalty apps.
#3. Use a free shipping bar
Adding a free shipping bar to your Shopify store to inform customers that they can receive free shipping if they meet a certain minimum order value or other conditions. This promotional sticky bar can encourage customers to take advantage of the offer before it expires. This increases the average order value and boosts sales.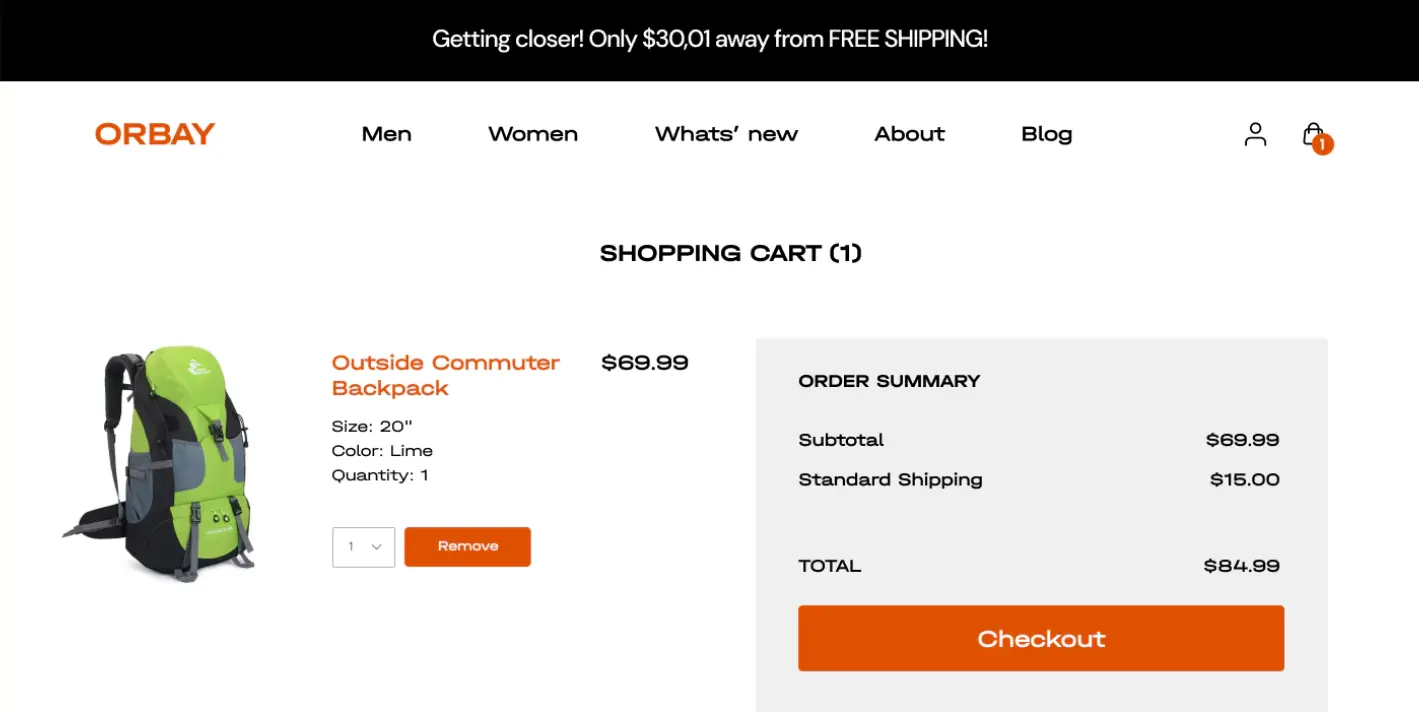 If you are wondering how to add free shipping banner on Shopify, you can look for a Shopify app. You can easily add a Shopify shipping bar to your store through by browsing in Shopify App Stores for free shipping apps like Free Shipping & Hello Bar, and Shipping Bar by ShopStorm.
#4. Offer limited-time promotions
As mentioned in method 4, when learning how to add free shipping on Shopify, consider offering free shipping as a limited-time promotion. For example, you can offer free shipping during holidays, special events, or other occasions to entice customers to make a purchase.
#5. Negotiate with shipping carriers
Negotiate with your shipping carriers to try to get better rates or discounts on shipping costs. This can help you to absorb some costs of offering free shipping without hurting your profit margins.
#6. Consider incorporating shipping costs into product pricing
This can be a strategic way to offer free shipping while maintaining your profit margins. However, make sure to consider your competition's pricing and ensure your pricing remains competitive.
As you can see, as one of the most beginner-friendly eCommerce platforms, it's super easy to add free shipping to your online store. Still considering Shopify's pros and cons? Read our complete Shopify Review.
💡 Our experts have tested and found out that you need at least 1 month on a Shopify plan to get actual results. Luckily, Shopify has an extended incentive of $1/month for the first 3 months after the free trial. With just $1/month, you can:
Check ordering
Check URLs, content display, and navigation on all pages
Remove storefront password
Want more details? Please refer to Shopify Checklist: Trial store customization & completion!
---
How to Add Free Shipping on Shopify: FAQs
---
Final Words
Knowing how to add free shipping on Shopify store can be a great way to attract and retain customers. By following the methods outlined in this article, you can easily set up free shipping for your store to enrich your promotional strategies.
When providing your customers with free shipping, it's crucial to set clear conditions and limits for your free shipping offer to avoid any unexpected costs. By successfully offering free shipping, you can improve customer satisfaction, drive sales, and ultimately build a loyal customer base for your Shopify store.
Don't forget to follow LitExtension blog and join our Facebook Community to get more useful tips for eCommerce and keep updated with the latest news.