If you are a Shopify seller looking for a way to integrate a virtual shop with a brick-and-mortar store, Shopify POS System is the ideal choice.
Keep scrolling because, in this review, we will answer all your questions about Shopify POS System based on our testing of the product, including:
Need Help To Migrate To Shopify?
If you are intending to migrate to Shopify, LitExtension offers a great migration service that helps transfer your data from the current eCommerce platform to a new one accurately, painlessly with utmost security.
---
What is Shopify POS System?
Before getting to know more about Shopify POS System, let's take a quick look at what POS is.
POS stands for point-of-sale, it refers to the stage in which a customer makes a decision to purchase a service or product. To put it simply, a POS system will be in charge of calculating the price, accepting customers' payments, and keeping track of sales.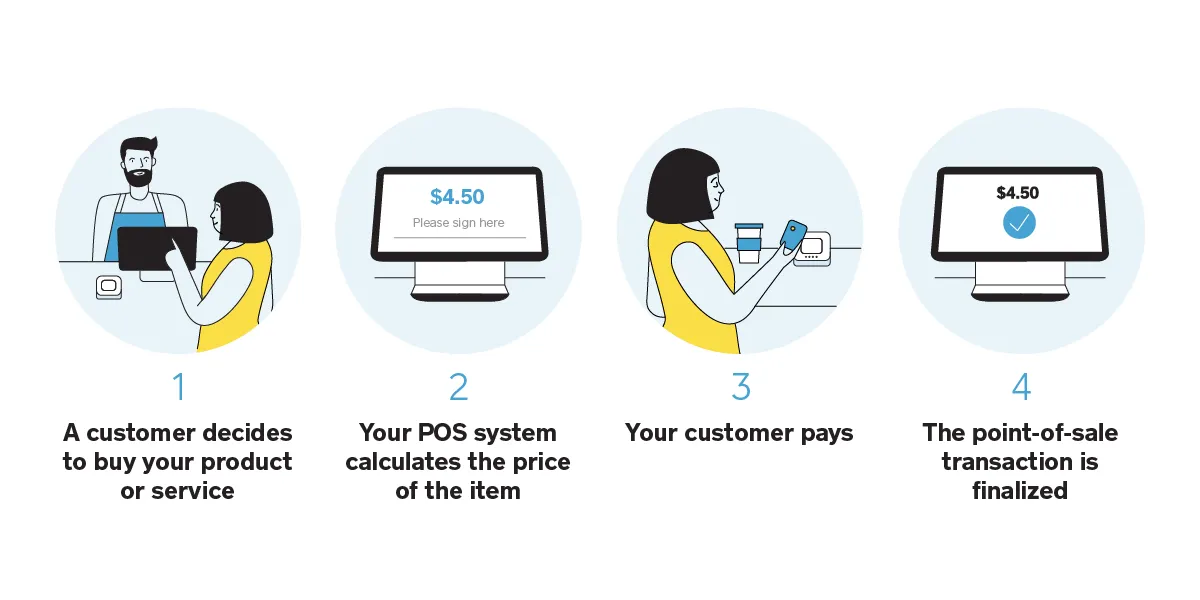 Similar to other point-of-sale systems, Shopify POS system also follows this simple process. It is a user-friendly point-of-sale software that allows store owners to sell from anywhere, both online and in person.
It is packed with top-of-the-class store and customer management features. We must say that with the Shopify POS system, managing your virtual store and brick-and-mortar business is just a breeze.
This software can sync directly with your Shopify online store to track orders, customers, and inventory from different sale channels. With that being said, in our analysis, even if you are not a Shopify user, it is possible to use the Shopify POS system as a standalone application to install in your physical store.
Curious about Shopify – one of the best eCommerce platforms and what can it offer? We've tested out Shopify since early 2022 to give out this Shopify review below for you to get a sneak peek of all the Shopify features!
Discover more about Shopify with our best articles below:
---
Pros and Cons of Shopify POS System
Shopify POS system pros
Multi-channel integration
Using multiple channels to shop has become a new norm in the eCommerce world. Customers are looking for more than one way to browse and purchase their products. Therefore, it's important that e-merchants should embrace this trend to boost their sales.
We believe that this is when the Shopify POS system comes into the picture. You can sell everywhere with Shopify POS integration, including online, brick-and-mortar stores, and pop up shops. It syncs with your Shopify inventory system, allowing you to track customers, orders, and products in real time across all your retail locations and virtual stores.
💡 Scroll down to this section of our article to learn more about all the features that Shopify POS system offers and how you can utilize them.
No monthly subscription
The good news is that all Shopify pricing tiers (excluding the Shopify Starter) are equipped with Shopify POS Lite. This means you can integrate the Shopify POS system into your business without having to pay a single penny for a monthly subscription.
Shopify POS system cons
Cannot function without the Internet
We must say that the Shopify POS system relies heavily on the Internet. If your system fails to connect and go online, the point-of-sale won't be able to function fully. You cannot sync products, orders, and customers in real-time, which can be frustrating sometimes. Besides, without an Internet connection, you cannot accept payments via credit card.
Therefore, if you decide to go for the Shopify POS system, we suggest you have a backup connection up your sleeve to avoid this kind of situation.
---
How Much Does Shopify POS System Cost?
#1. Shopify POS system pricing
You must be wondering, "How much is Shopify POS system"? Shopify POS system includes two plans: Shopify POS Lite and Shopify POS Pro.
While Shopify POS Lite is already equipped in every Shopify pricing plan, opting for Shopify POS Pro will cost an additional $89 per month for each location. If you subscribe to the annual Shopify POS plan, you can save $120 on the cost! Nevertheless, Shopify Plus POS is available for free for all Shopify Plus users.
We have summarized all the key differences between the three main plans, including Basic Shopify, Shopify, and Advanced Shopify, in the table below. With this, you will know which plan is the most proper option for launching your brick-and-mortar store.
| | | | |
| --- | --- | --- | --- |
| | | | |
| *if not using Shopify Payments | | | |
| *assign & manage staff's activities | | | |
| | | | |
| *automatically manage & operate stores | | | |
| *shipping subsidies with leading carriers | | | |
| | | | |
| Third-party calculated shipping rates | | | |
As a part of the Shopify ecosystem, you will receive a 3-day free trial for a Shopify store, besides, to save more with Shopify, you can commit to an annual pricing plan to earn a 25% discount. YET, you can enjoy more incentives with a 14-day free trial for the Shopify POS Pro plan for new subscribers!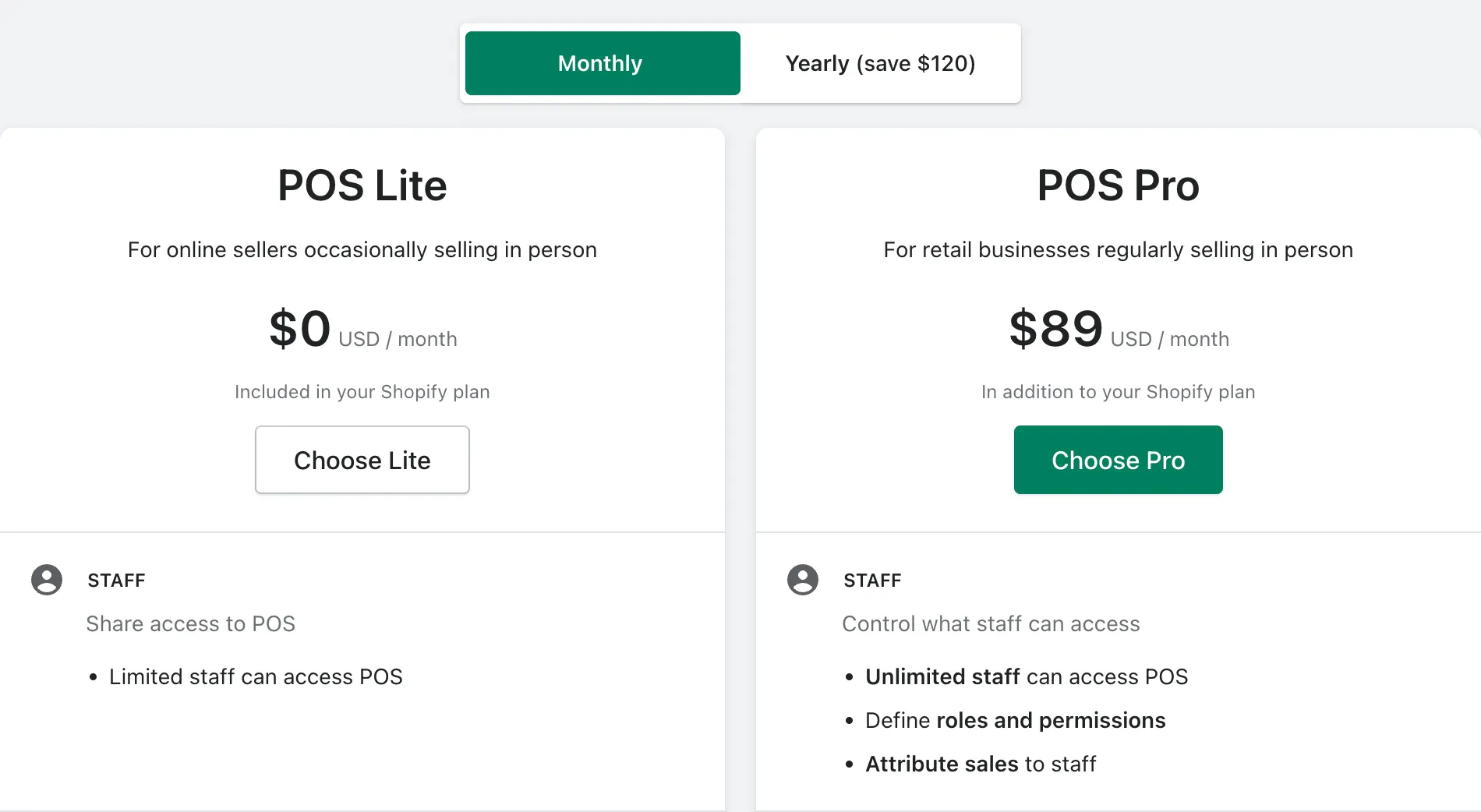 #2. Additional cost for Shopify POS system
Shopify transaction fee
Though the initial cost for Shopify POS Lite and Shopify POS Pro is fixed, you should be aware of the additional Shopify POS fees charged for each transaction. Shopify POS transaction fees vary depending on your choice of pricing plan. To put it simply, the higher the subscription tier is, the lower the extra sum of money will be.
For example, for Shopify POS Lite, a Basic plan will charge an additional 2.9% plus 30 cents for each online transaction. Meanwhile, for an Advanced Shopify user, this online credit card rate will be 2.4% and 30 cents.
I feel it's worth noting that along with the monthly subscription, ou will have to pay an extra fee charged by the payment processor. This processing fee will cost from $0.5 to $2 per transaction based on your pricing tier and payment gateway. To avoid this extra cost, consider using Shopify Payments as your payment provider.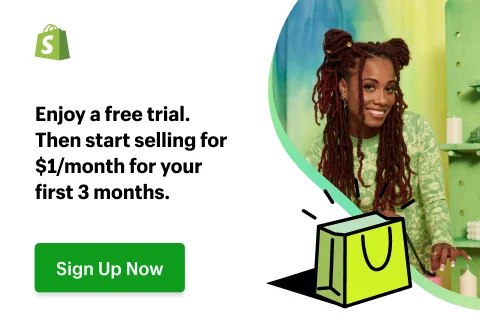 Hardware cost
On another note, for physical store owners, it is important to integrate their Shopify POS system into a piece of hardware. Based on our testing of the product, this software can connect with any device running in the iOS or Android operating system. You can equip additional POS hardware like card readers, receipt printers, and barcode scanners to speed up the in-store check-out process.
The price for the standard accessories starts from $39 and can add over $429 to your initial setup expense.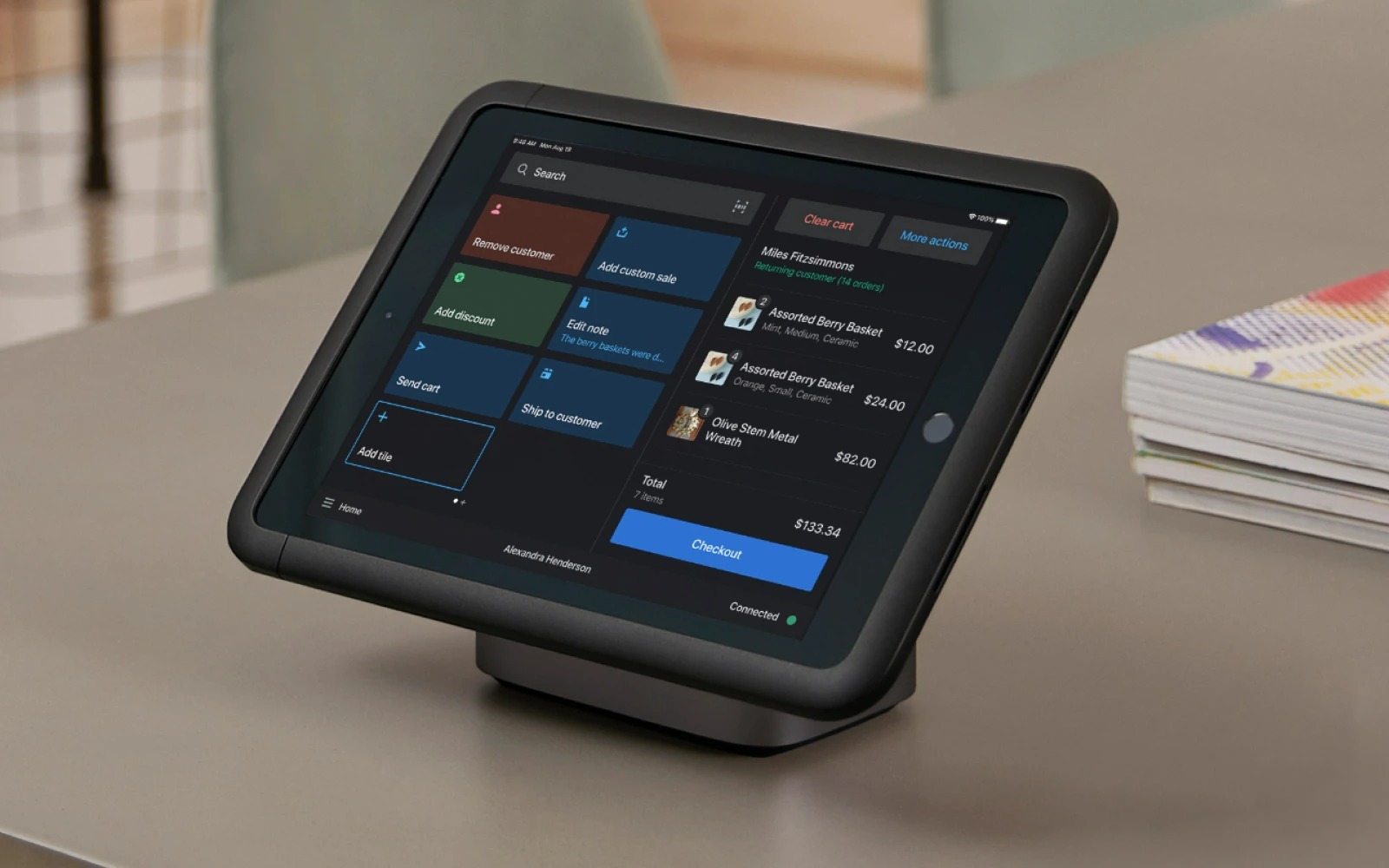 ---
How Does Shopify POS System Work?
Now that we have a comprehensive overview of Shopify POS system pricing, let's move on to all the features that the Shopify POS system can offer.
#1. Store management
Shopify POS system comes with top-of-the-class features to help you manage their products, staff, and inventory. In our analysis, with this point-of-sale software, you can add unlimited products to their POS, group products automatically using the smart collection feature, and create product variants based on their colors or materials.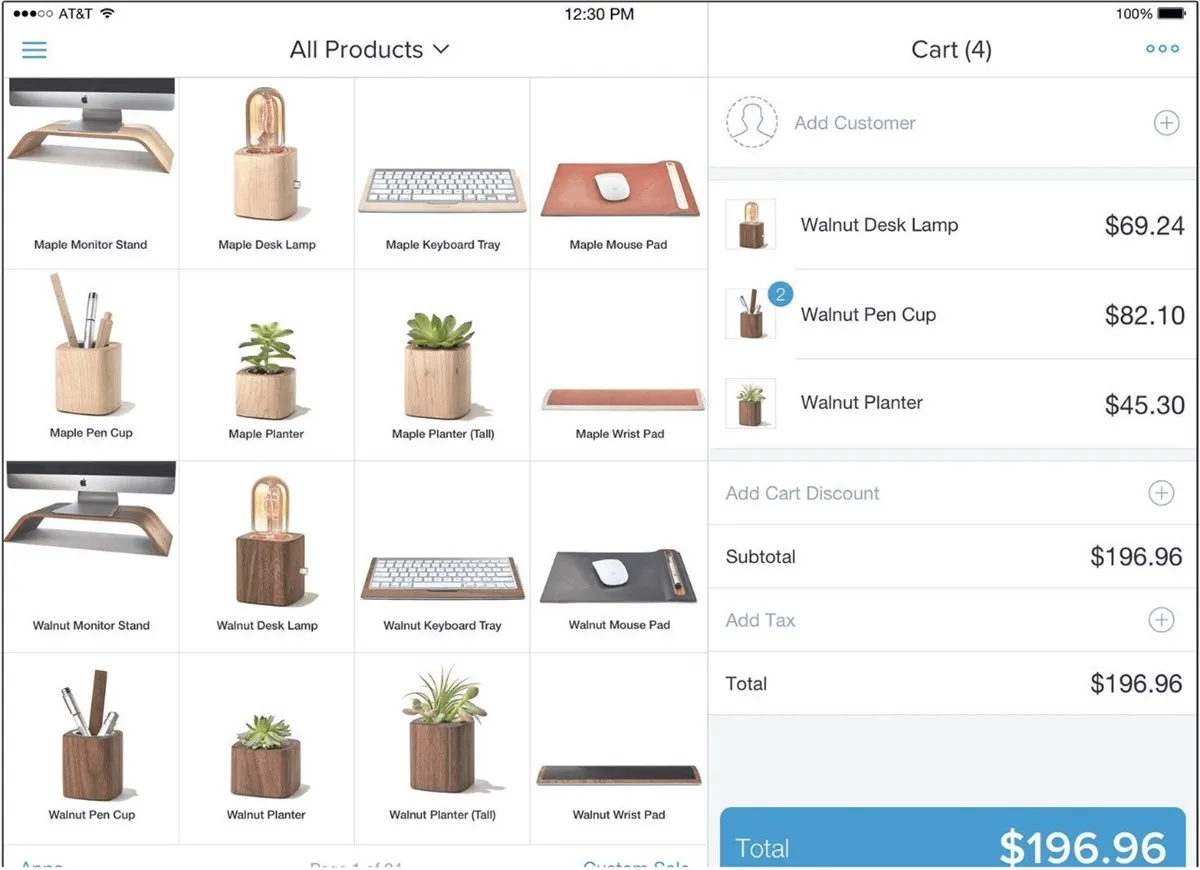 Shopify POS system also plays an important part in tracking inventory status  Merchants are able to keep an eye on their products as they are transferred or received between different sale channels. It will help you handle both online business and brick-and-mortar stores in a breeze.
On another note, staff management using the Shopify POS system is not a difficult job, in our opinion. It allows store owners to create unique PINs for each staff member using an admin account. The login pin will help you keep track of orders and any cash register activity of staff members.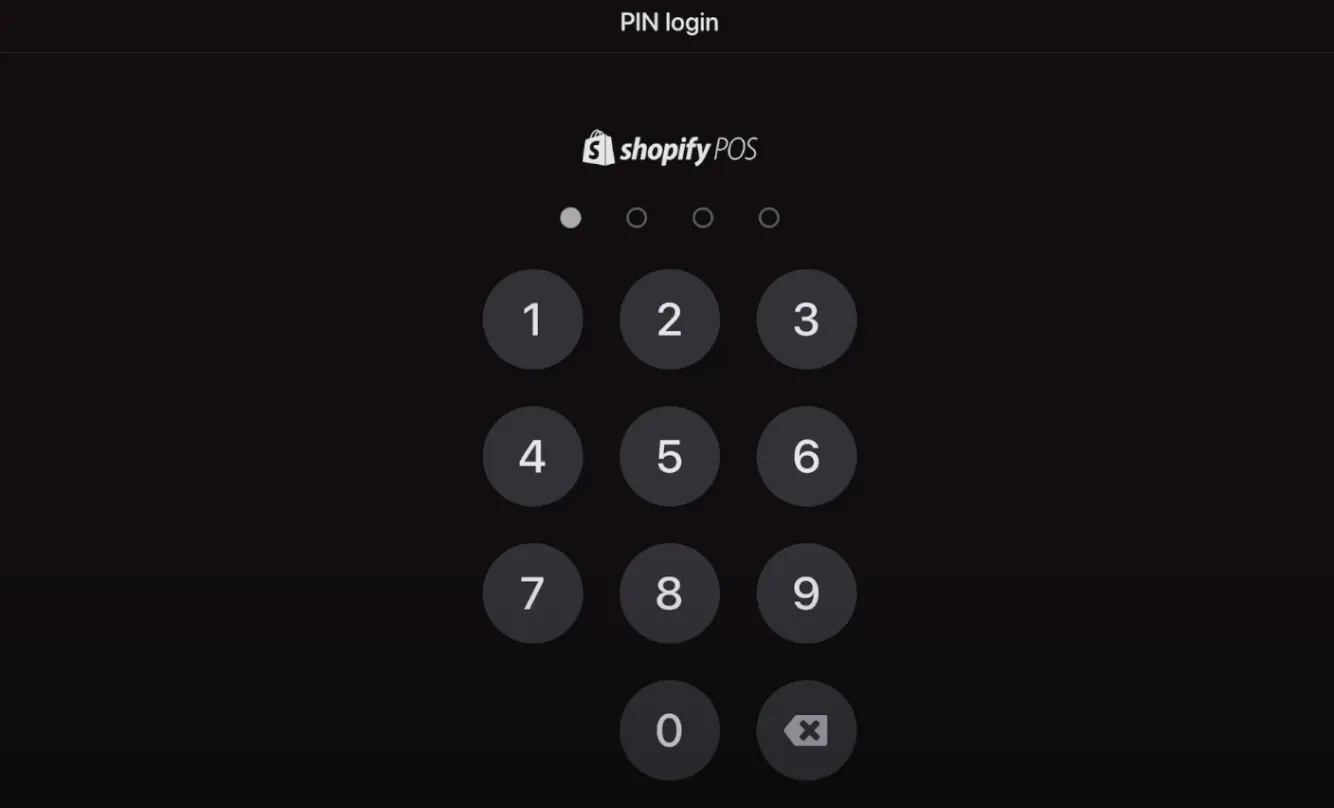 However, as we understand it, the Lite version is only able to add a finite number of employees to your POS. To have unlimited staff members and assign their roles and accessibility, you should upgrade to the Shopify POS Pro plan.
#2. Customer management
We are of the opinion that Shopify POS system is a useful tool to capture customers' information and turn them into loyal brand advocates. You can create a new customer profile right from the moment they walk into the store or after they make a purchase. Each time a buyer successfully completes a transaction, their information will be added immediately to their customer profile.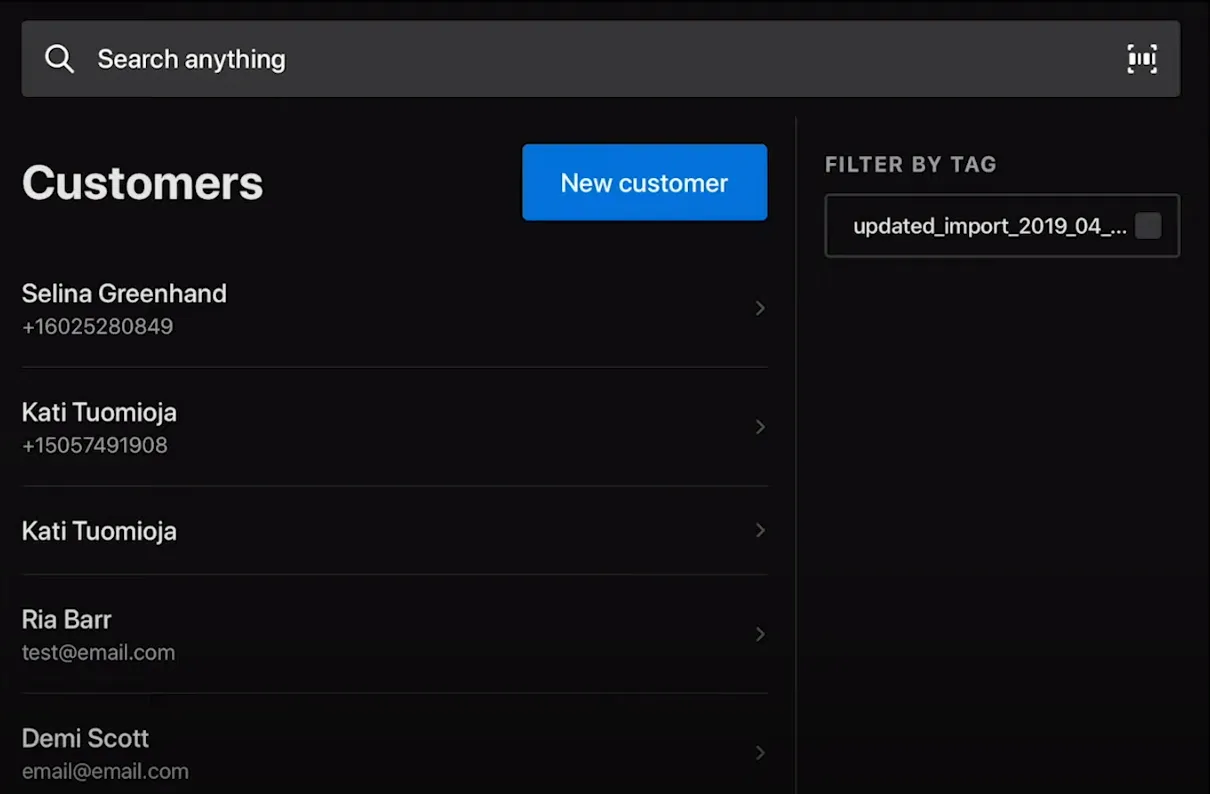 With this feature, the Shopify POS system allows you to keep track of every customer coming to their store, including information about their total orders, totally spent, details from their past purchases, or any other notes from previous interactions. We believe that these pieces of information will come in handy when categorizing customer groups or making products recommendation for upselling and cross-selling purposes.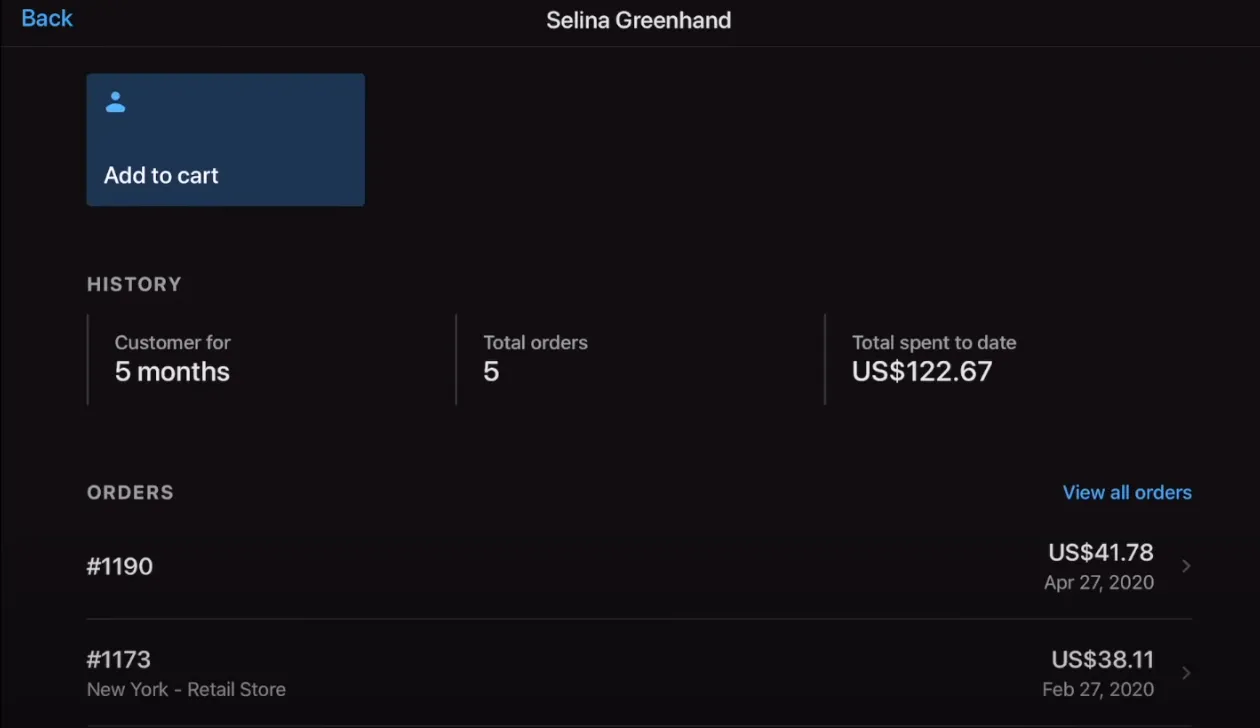 Besides, a customer profile on the Shopify POS system can provide customers' personal information like contact, shipping address, and email. It will generate a huge amount of leads to grow your email list. These email addresses will be beneficial when executing marketing campaigns for future sales and promotion events.
#3. Checkout
Shopify POS system comes with a customizable "smart grid" system that allows you to speed up your checkout process based on our assessment. This grid keeps all the vital features like products, discounts, and shipping options right at your fingertips. These features will improve staff efficiency and help serve customers faster. What's more, you can fully personalize this smart grid to better fit your workflow.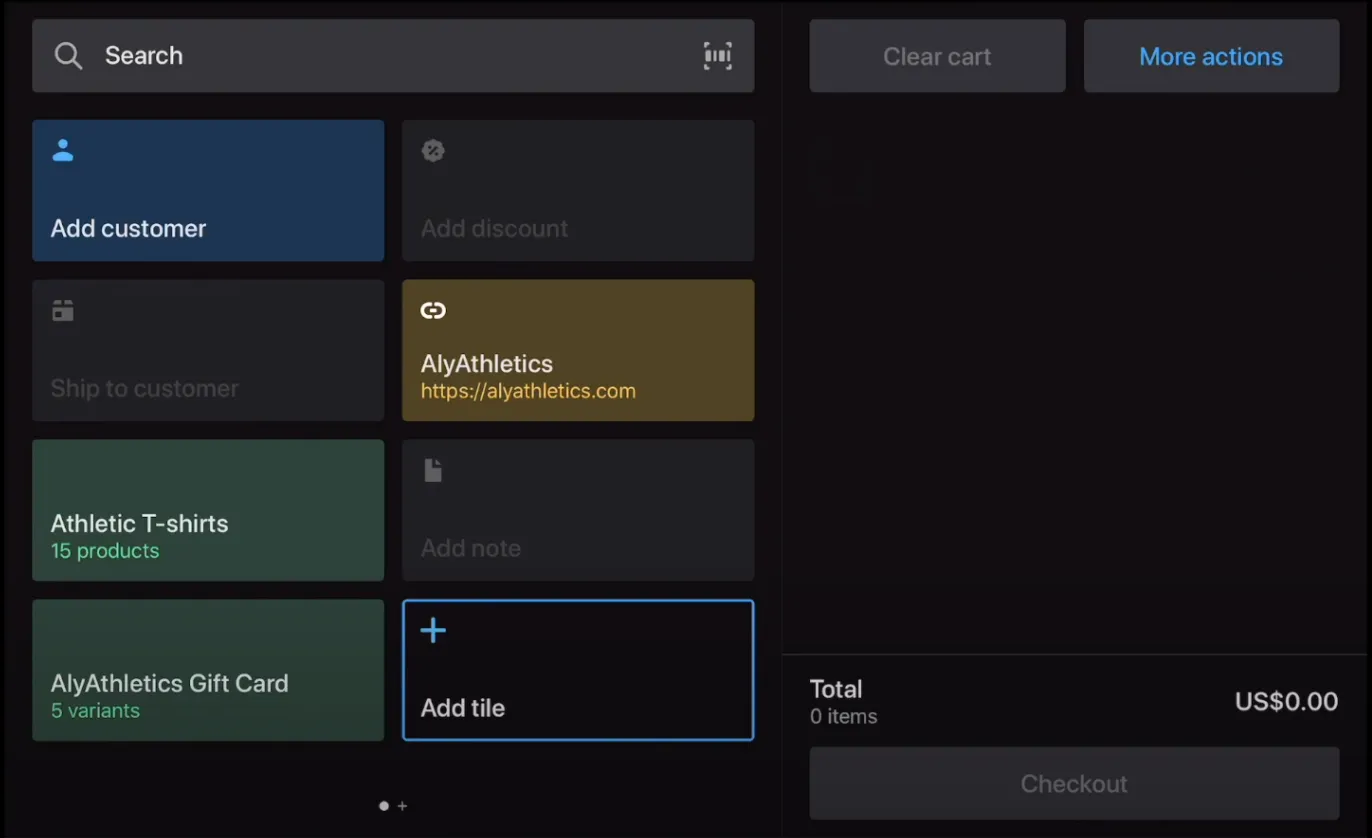 This point-of-sale software also comes with a "global search" function. From our perspective, this search allows you to quickly access any products and variants that match the keyword and add them to the cart directly. Besides, you can easily add custom discount codes on the main screen before completing the checkout.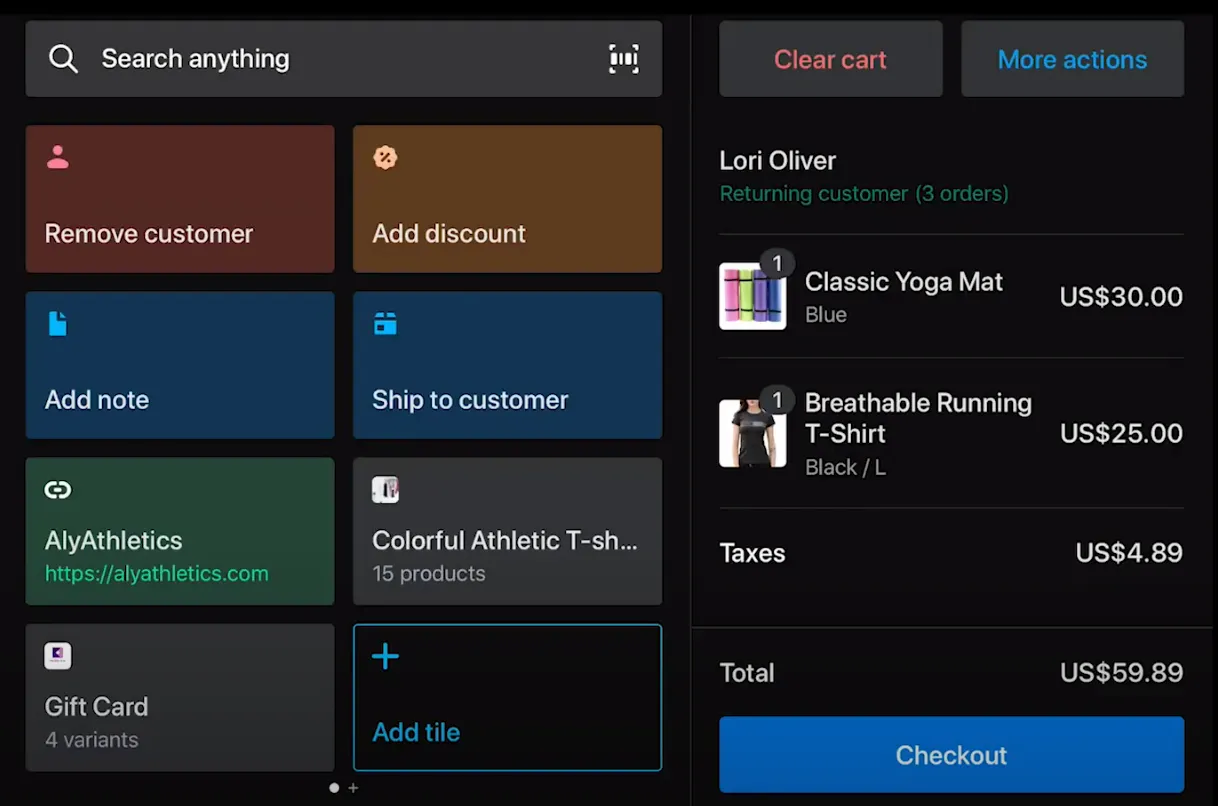 #4. Report and analytics
When it comes to report and analytics features, we think that the Shopify POS system provides a comprehensive view of your business. This point-of-sale software grants users access to a wealth of different reports, including retail sales, cash flow, finance, discount, product, and daily sales,… Each report focuses on a specific eCommerce metric that helps you gain insight into your store's growth.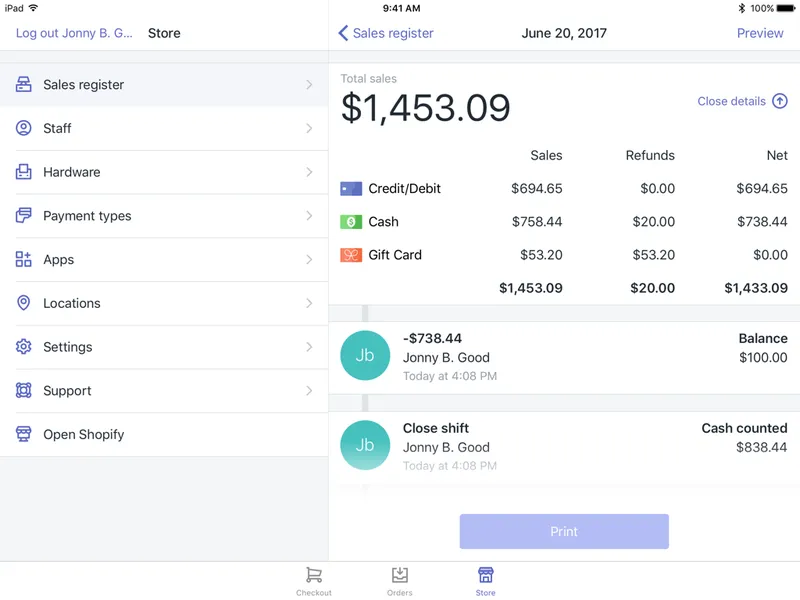 On the other hand, Shopify also offers an overview report that lets store owners see how well their stores are doing at a glance. This report includes fundamental information for your business, like sales, tax, discounts, and shipping fees. With this overview report, the Shopify POS system helps store owners track the store's performance and find a way to increase sales.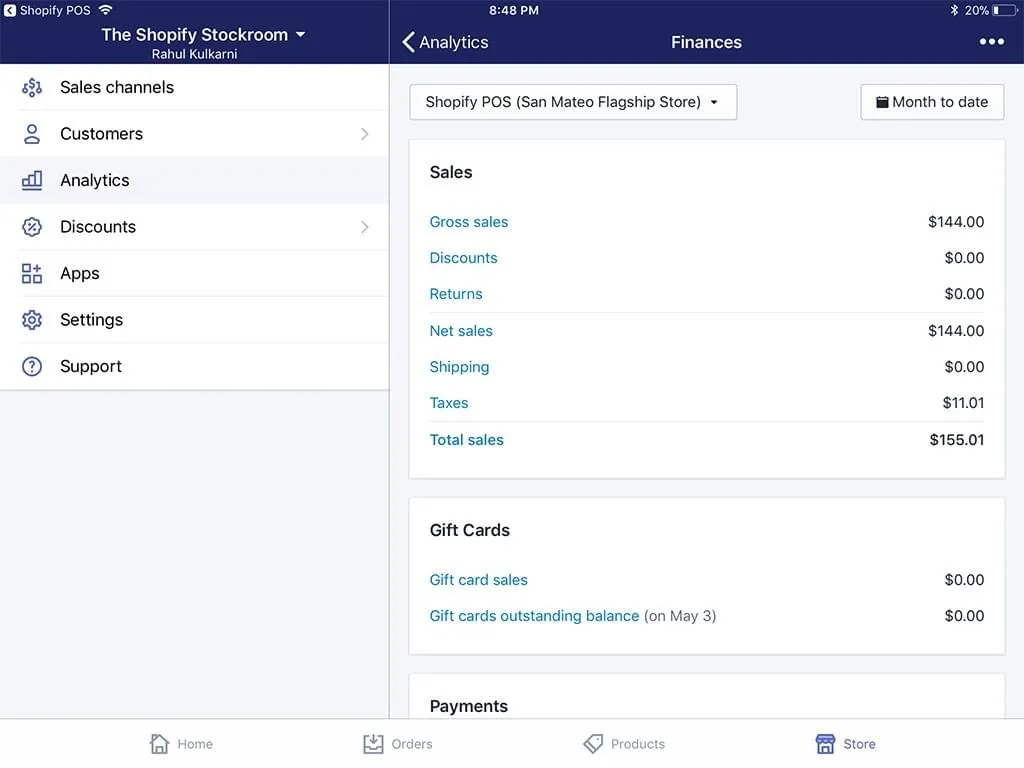 ---
How to Set Up Shopify POS System?
Now that we have a quick review of what Shopify POS system is, how much it costs, and what it can provide, let's take a look at how to set up Shopify POS System.
#1. Choose a subscription plan
Before start selling in person with Shopify Point-of-Sale, you'll need to select a suitable Shopify pricing plan for your business.
Currently, Shopify offers 5 subscription tiers in the Shopify pricing plans. Each plan comes in different prices and features to support your business. Check out the table below to see the details of the three most used Shopify pricing plans. Please note that the price shown in this table is available only if you purchase Shopify annually.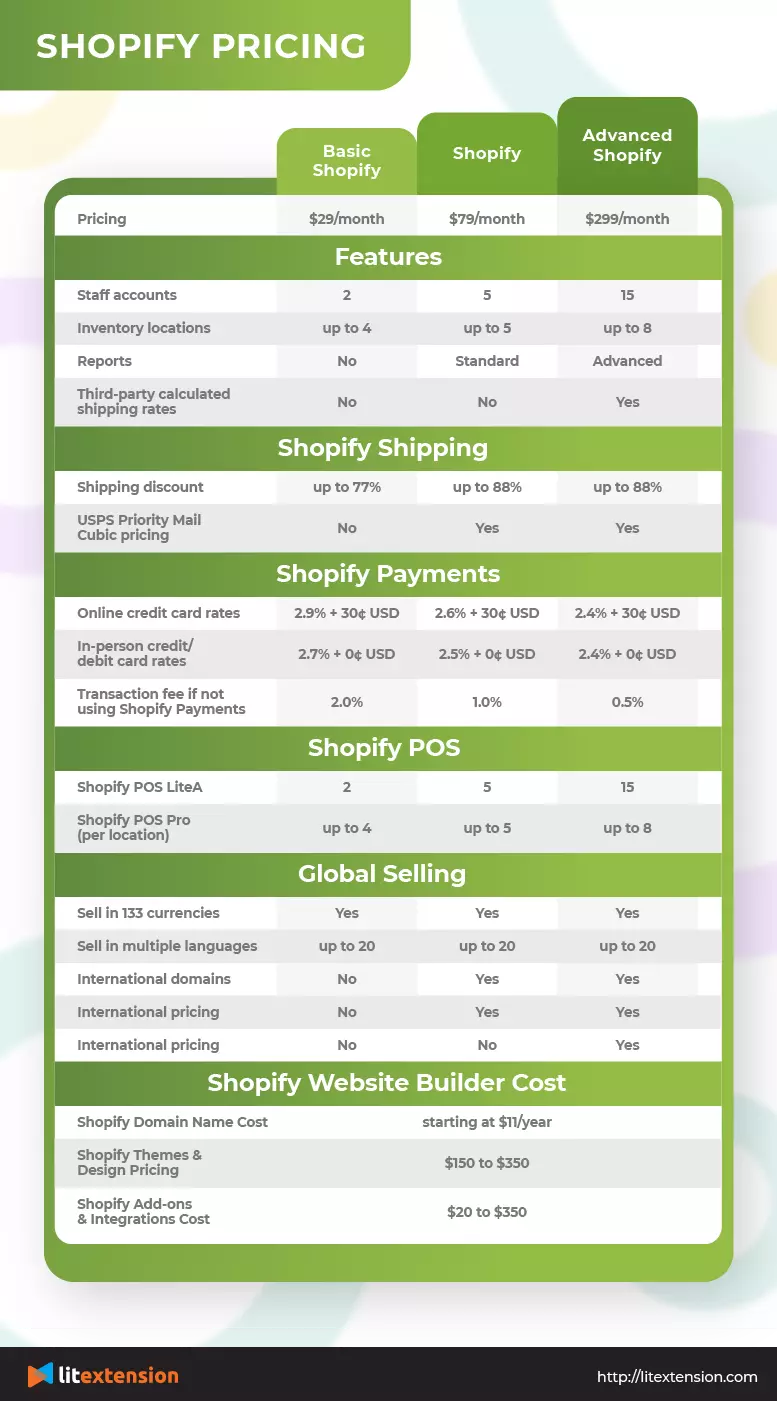 Please note that Shopify POS Lite is already included in each Shopify pricing plan. On another note, you can upgrade to Shopify POS Pro for an additional $89/month to get more features.
Let's move to the next sections and follow the Shopify quick start guide to set up a full-fledged POS system!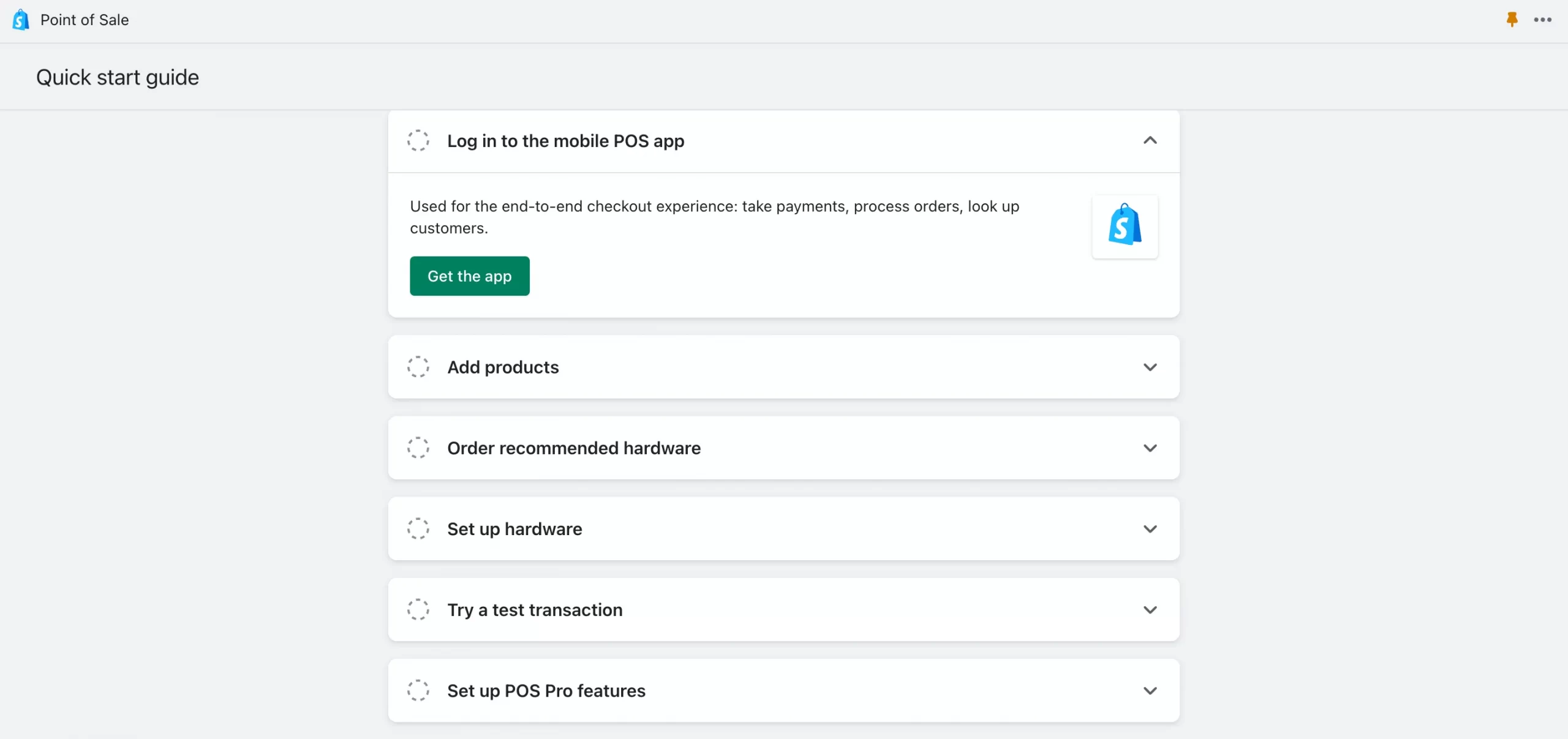 #2. Log in to the mobile POS app & Add products
With the POS apps, you can provide a seamless end-to-end checkout experience, enabling users to accept payments, handle orders, and search for customers.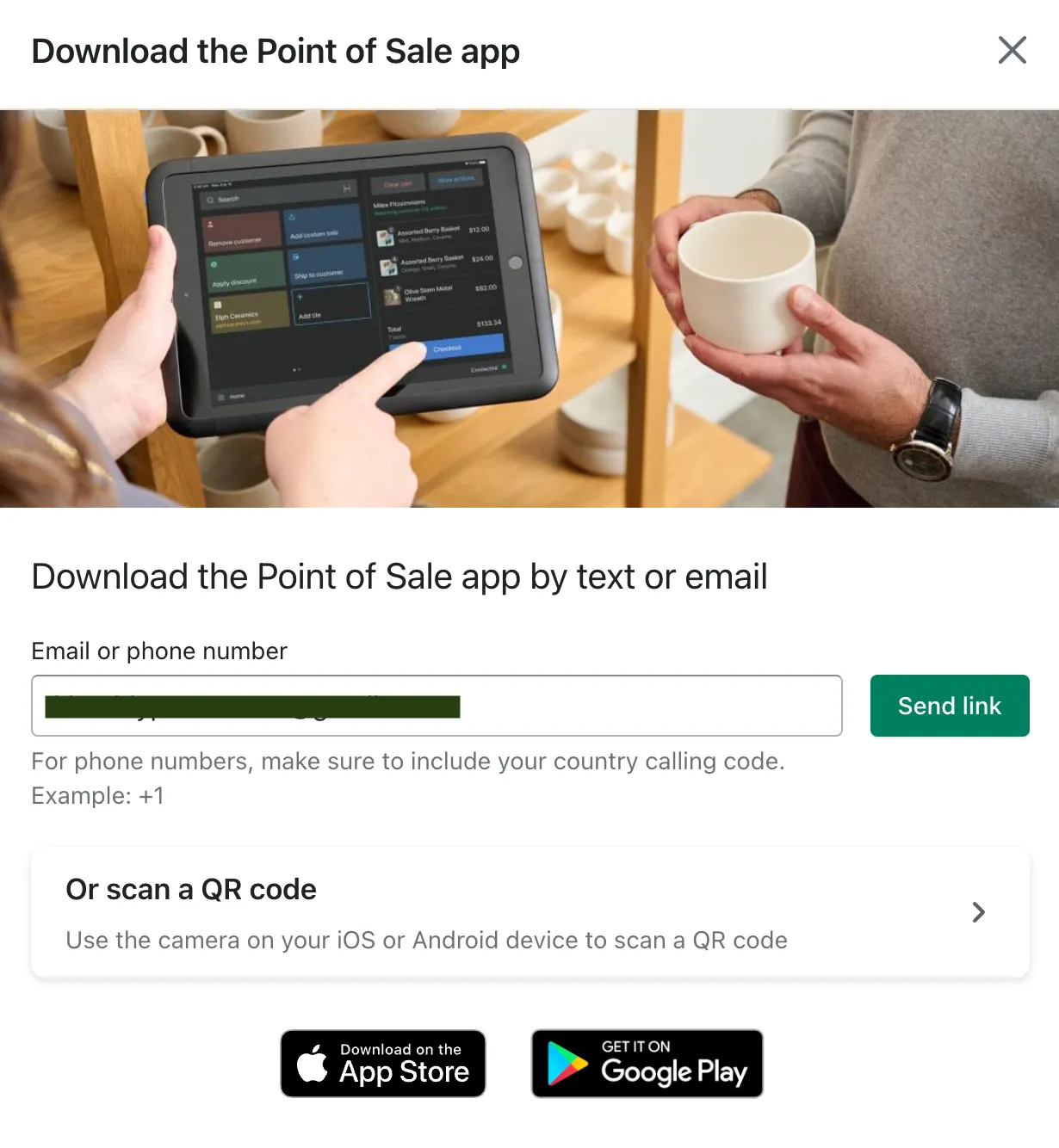 There are 2 ways to download Shopify POS apps:
Get the download link via email or SMS
Scan a QR code
After that, your products will be automatically synced to your POS system.
If you have yet had any products in your store, let's add some products (you can always add more after). If you need any guide here, please follow our Shopify import products guide for more!
#3. Order & Set up recommended POS hardware
You can purchase Shopify POS hardware from Shopify or order any POS device in the market. Shopify POS System can integrate well with many types of hardware, as long as you are a Shopify user.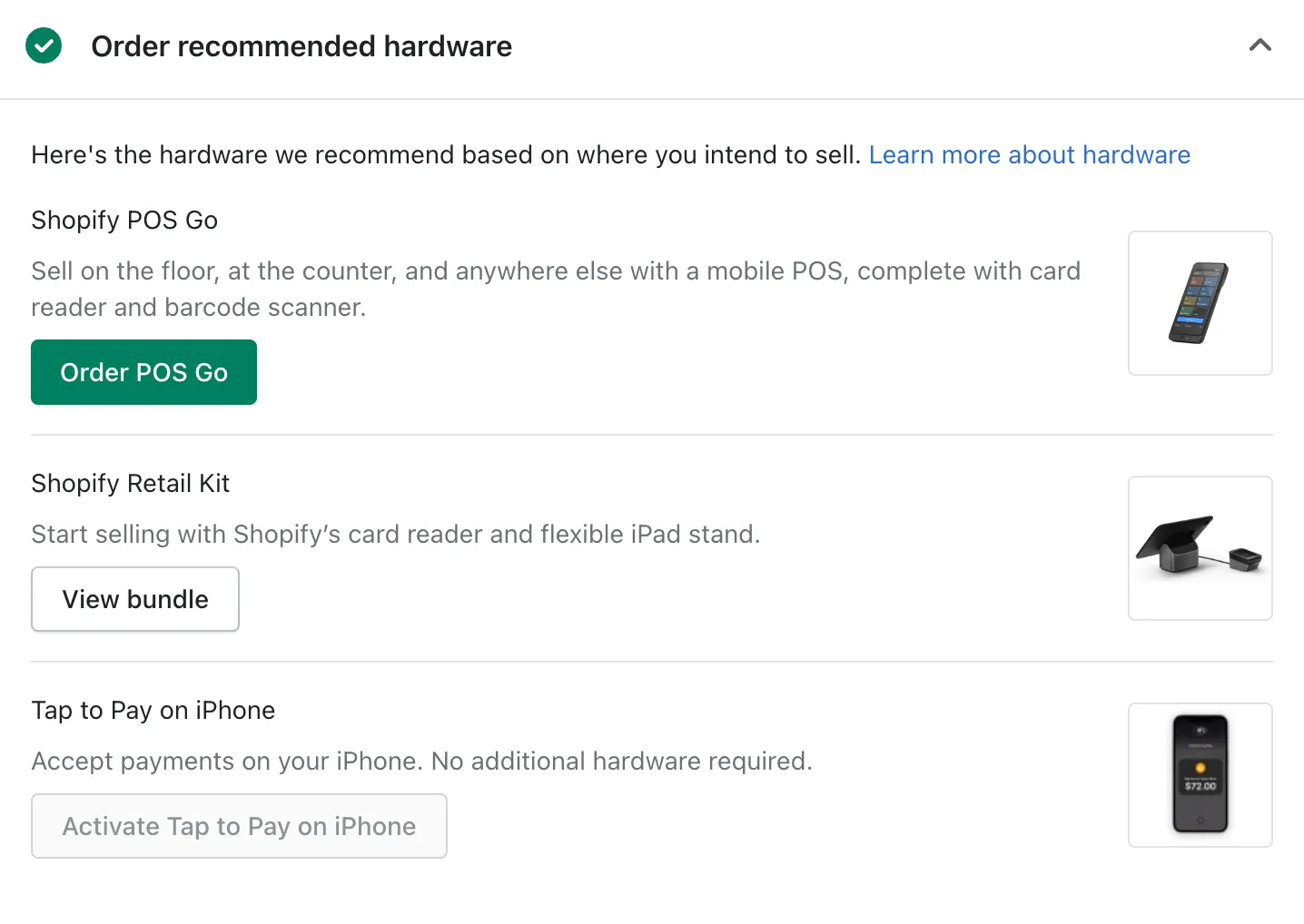 Based on where and how you want to sell, you can consider having these Shopify Point of Sale hardware:
Shopify POS Go
Shopify Retail Kit
Tap to Pay on iPhone
Other Add-ons (Bluetooth Receipt Printer, Cash Drawer and Barcode Scanner)
After that, let's come to the Shopify POS setup hardware. The action can be done by paring your card reader to the POS app so you can accept in-person card payments.
#4. Test a transaction before accepting payments
Now, you can have some test transactions on the Shopify POS app to get familiar with the checkout process. In case you get lost, below is a complete guide to processing a sale on your POS system:
#5. (Optional) Set up POS Pro features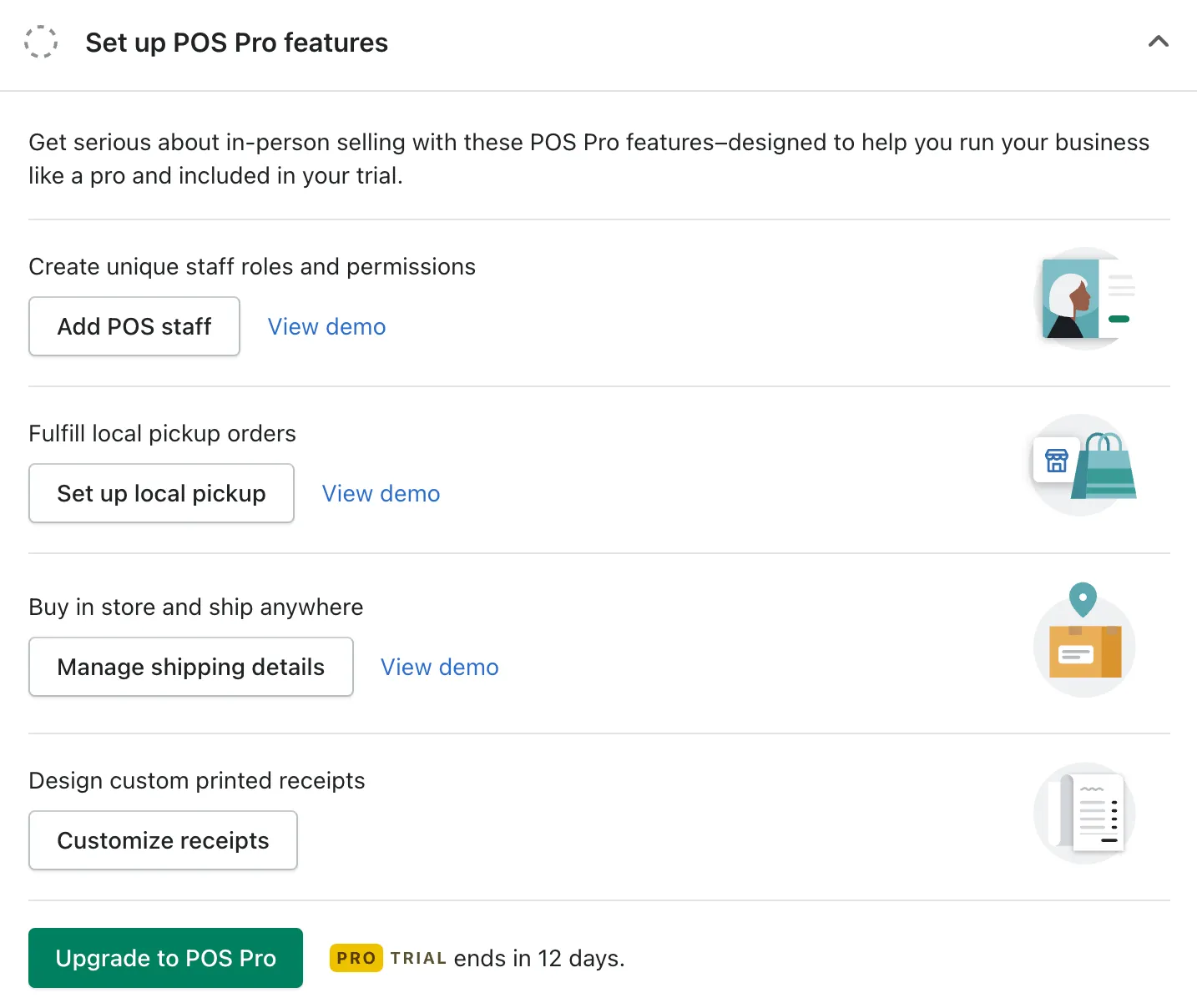 If you opt for the Pro plan of Shopify POS, you can set up even more features, including:
Create unique staff roles and permissions
Fulfill local pickup orders
Buy in-store and ship anywhere
Design custom-printed receipts
Based on our trial, Shopify POS Pro vs Lite, we find that Shopify POS Pro is great for offline stores with custom-printed receipts. Simply go to the "Printed receipts", we can access the Receipt settings section, and we can customize the logo, store details or custom QR code on the receipt.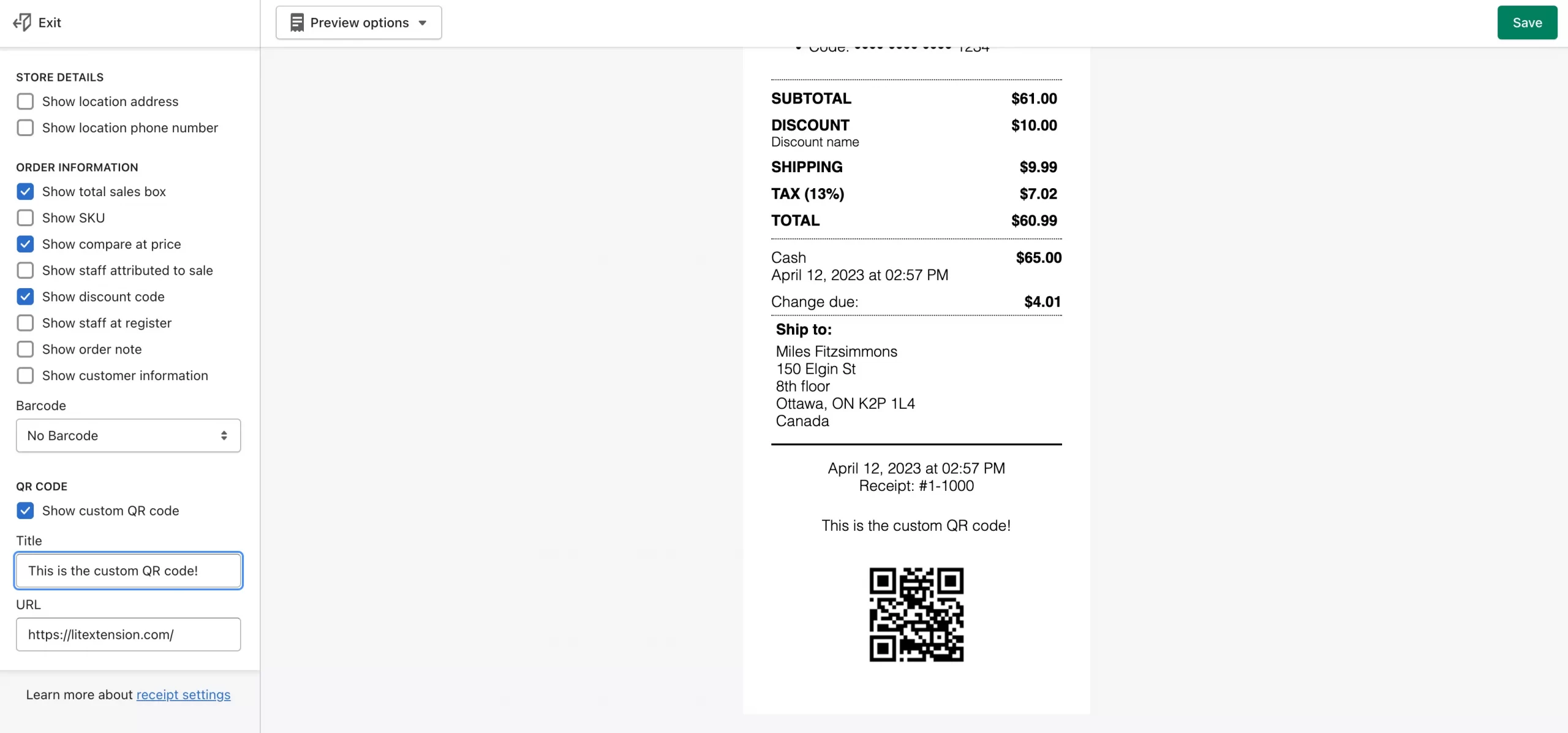 ---
Shopify POS Hardware
If you want to expand your business beyond the "online" space, Shopify POS hardware is definitely an essential item that you shouldn't ignore. Fortunately, Shopify offers everything you need to set up your in-house POS system and start selling in no time.
Here is everything that Shopify POS hardware comes with, available right on its website.
Card readers – starting from $39 per item.
Shopify POS Go (POS device comes with a built-in card reader and a barcode scanner) – costing $399 or $429 with Case.
Other Shopify POS hardware (like receipt paper, printer roll, and shipping label) – starting from $9 per item.
With that being said, it's not obligated to purchase POS hardware directly from Shopify. Feel free to buy these items from a third-party provider and integrate it with Shopify POS System.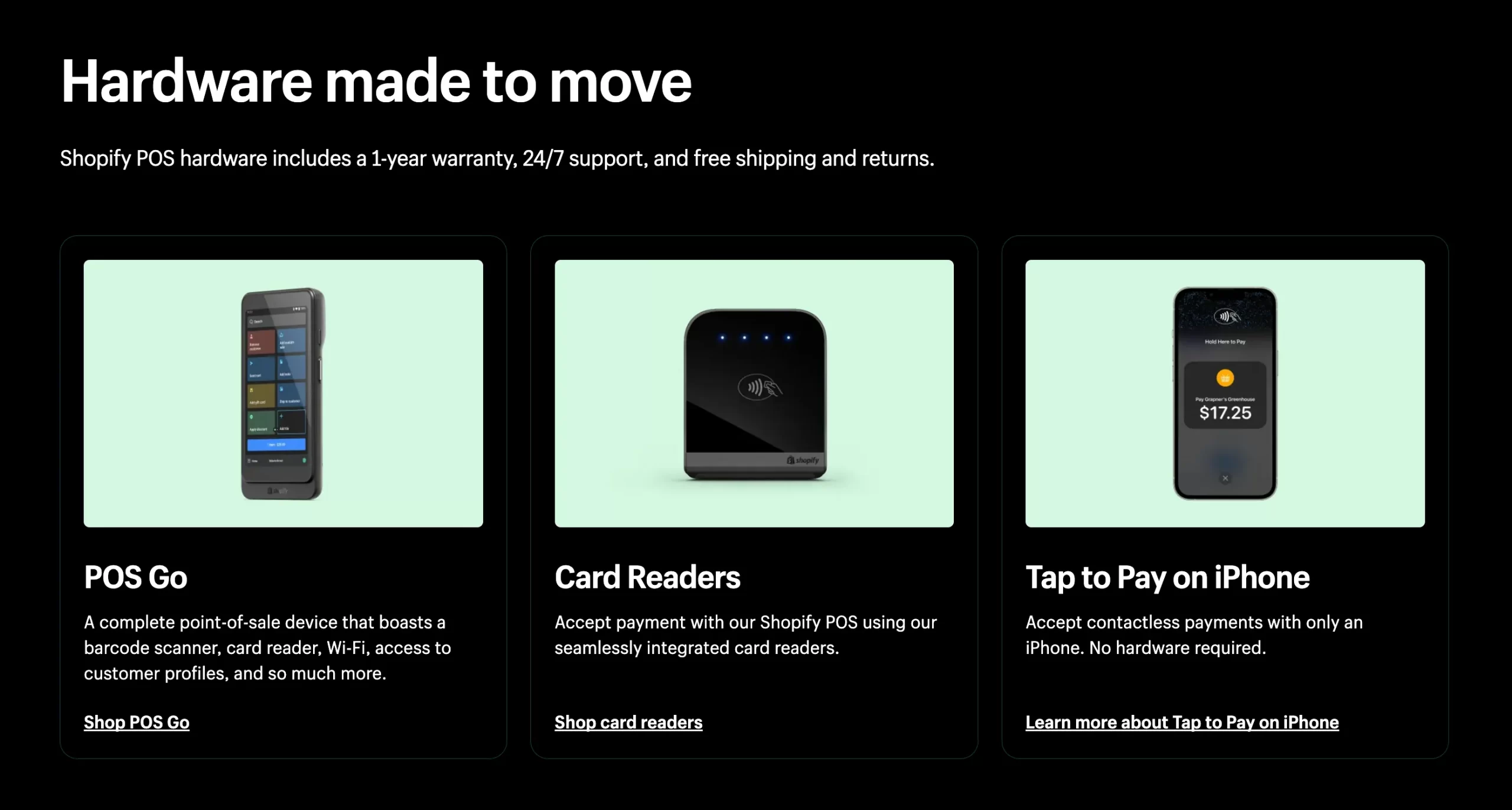 ---
Shopify POS System – FAQs
---
Conclusion
To conclude, I can confidently say that the Shopify POS system is a top choice when it comes to point-of-sale applications. This software offers top-of-the-class features that unify an online store and a brick-and-mortar business. With the Shopify POS system, you can easily track your inventory, orders, and customers from everywhere and ensure a smooth customer experience.
If you want to migrate to Shopify to make full use of this Shopify POS system, please consider using LitExtension – #1 Shopping Cart Migration Expert. With over 10 years of experience in the market, LitExtension guarantees to transfer all your products, customers, and orders quickly, accurately, and securely. Outstandingly, LitExtension ensures 100% uptime for your store, which means you can keep generating sales during the migration.
In case you have any questions or inquiries, don't hesitate to contact our 24/7 customer support team to get your problems resolved as quickly as possible.
Last but least, please visit our LitExtension blog and join our Facebook Community to stay up-to-date on all the eCommerce news and get more tips to grow your business.