As an eCommerce business owner, you know it's not just about getting customers to make a one-time purchase, but more about creating a loyal customer base that keeps returning for more. To aid that progress, Shopify loyalty apps come in. These apps can help you reward your customers for their loyalty, encourage repeat purchases, and ultimately increase customer lifetime value.
In this article, LitExtension – #1 Shopping Cart Migration Expert will provide you with some best Shopify loyalty apps that can help you foster a long-lasting connection with your consumers and learn how to utilize these Shopify loyalty program apps creatively.
Let's get in to explore:
---
5+ Shopify Loyalty Apps to Retain Customers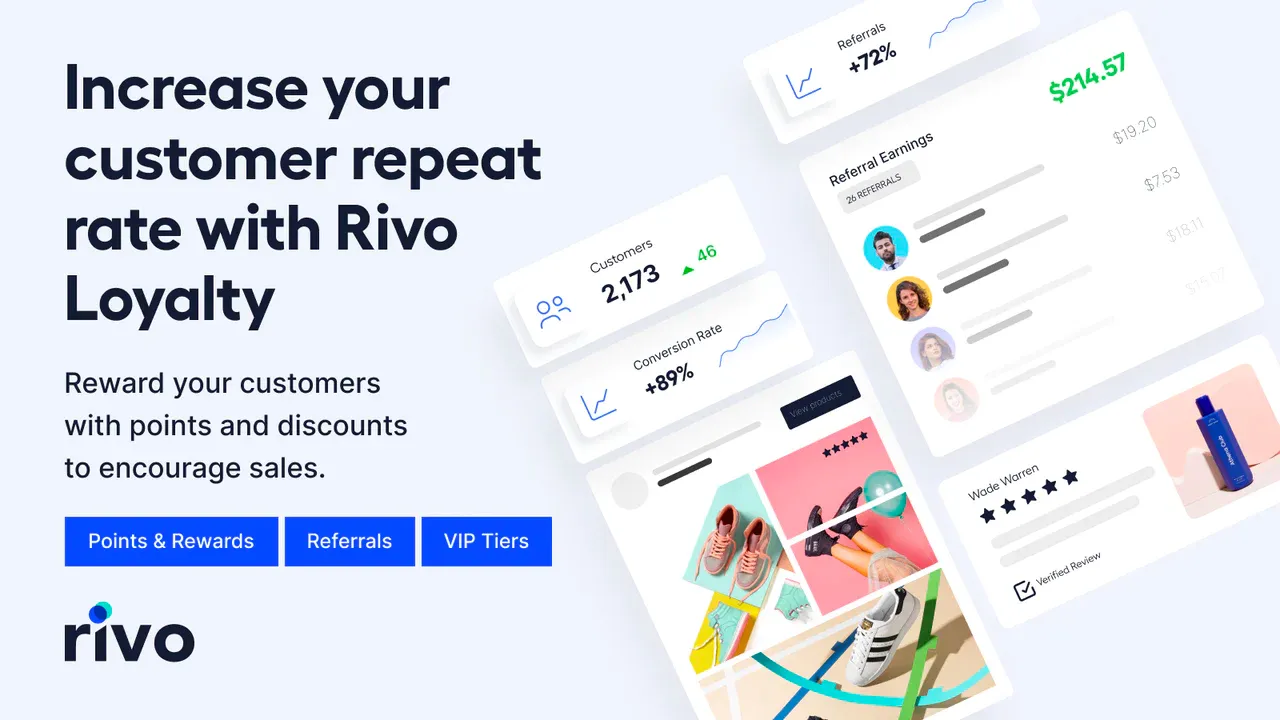 Rivo – one of the best Shopify loyalty apps that are shaking up the game of customer intention! It is exclusively designed for Shopify – meaning you'll get seamless integration with your existing store. Plus, Rivo is updated constantly, offers a range of features to help you engage and retain your customers, including points-based systems, tiered rewards, and automated referral workflows.
With Rivo, you won't just get run-of-the-mill Shopify loyalty programs – you'll get an open place that's fully customizable to suit your brand's needs, thanks to their amazing Developer toolkit. Whether you want to create a one-of-a-kind rewards program or integrate it with your favorite marketing tools, Rivo has all to cover you up!
Pricing: starting from $39/month | Free plan available | 3-day free trial
Rating: 4.9/5.0 (1,500+ reviews)
Special features:
Loyalty Page Builder: Businesses can set up individualized profiles for their clientele, replete with exclusive deals, discounts, and prizes through its built-in Loyalty Page Builder. These pages may be altered to fit the look and feel of the company, providing a consistent and interesting experience for customers.
Referrals program: This powerful tool allows businesses to reward their customers for referring new customers to their online store. With the referrals program, businesses can turn their customers into brand advocates and create a community of loyal supporters.
24/7 support: This Shopify loyalty app offers 24/7 world-class live chat support to help you get the most out of their apps. Whether you have a question about setting up your program or require help troubleshooting an issue, their support team can  help you every step of the way.
Whether you're just starting out or a well-established DTC brand (such as Dyper.com and Hexclad), Rivo can keep up with your growth. Moreover, with customization options and a developer toolkit, you can create a loyalty and referral program tailored to your unique needs.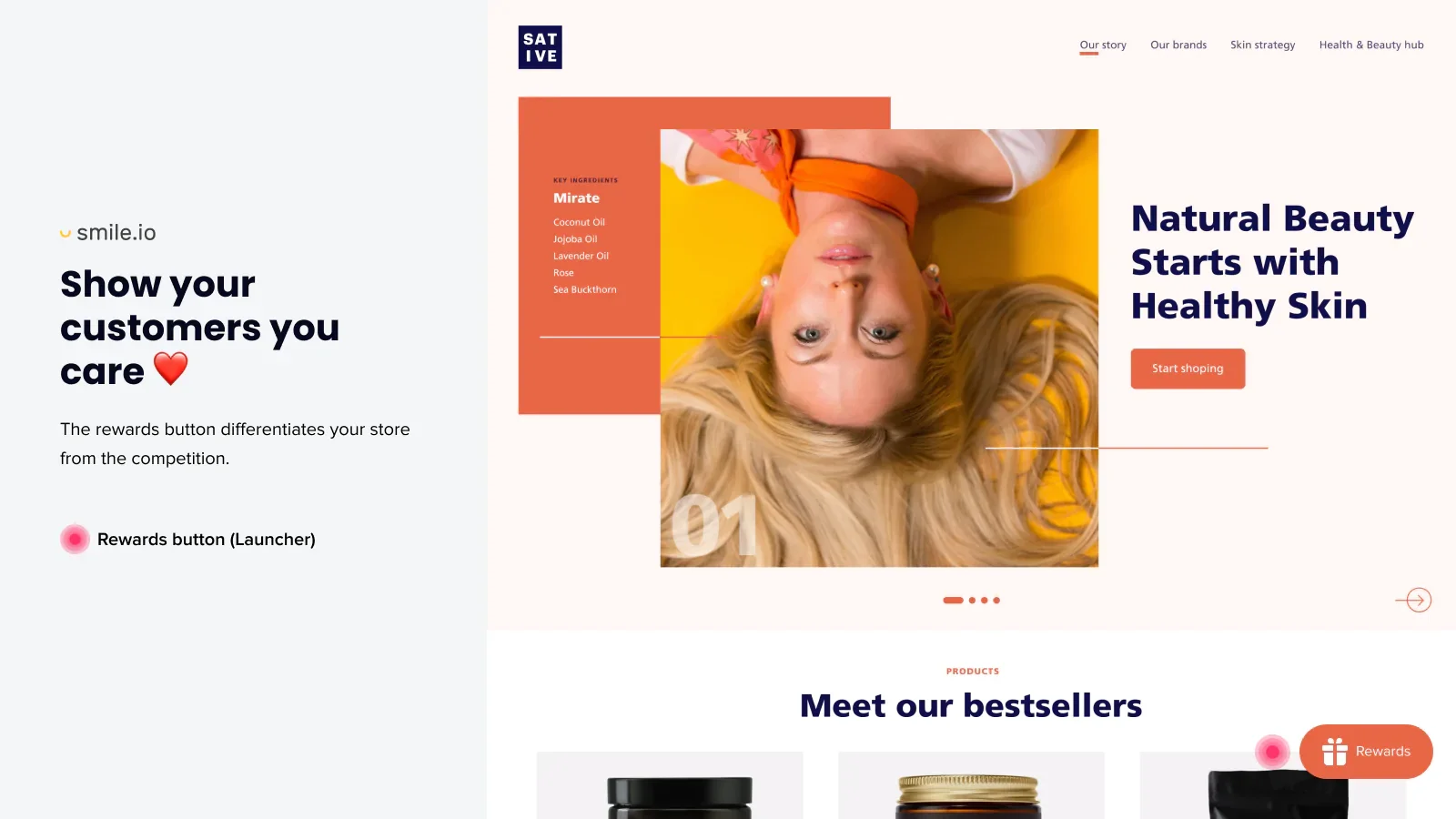 Welcome to Smile.io, one of the most popular Shopify loyalty apps that help turn first-time customers into forever customers! First of all, you may set up a program that helps promote brand loyalty, lower acquisition costs, and enhance sales and repeat purchases in only a few minutes. Additionally, with easy integrations with your favorite apps, managing your program is effortless!
Pricing: Starting from $49/month | Free plan available
Rating: 4.8/5.0 (4,900+ reviews)
Special features:
Match your brand's look: With Smile.io, you can customize the reward's launcher, panel, and emails to match your brand's unique aesthetic. This means you can create a loyalty program that not only rewards your customers, but also reflects your brand's personality and values.
Guest shoppers earning and redeeming points: Speaking of rewards, Smile.io also allows guest shoppers to earn and redeem points – even without creating an account! This can be a great way to encourage repeat purchases and boost customer loyalty.
Up to 6 language translations: What if you have customers who speak a different language? No problem! Smile.io can auto-translate your entire loyalty program into one of its 6 preset languages. This implies that you can reach a wider audience and make participating in your program easier for international customers.
With Smile.io's user-friendly tools, such as individualized incentives, referral programs, and VIP levels, it will surely make it simple for companies to retain consumers and boost engagement.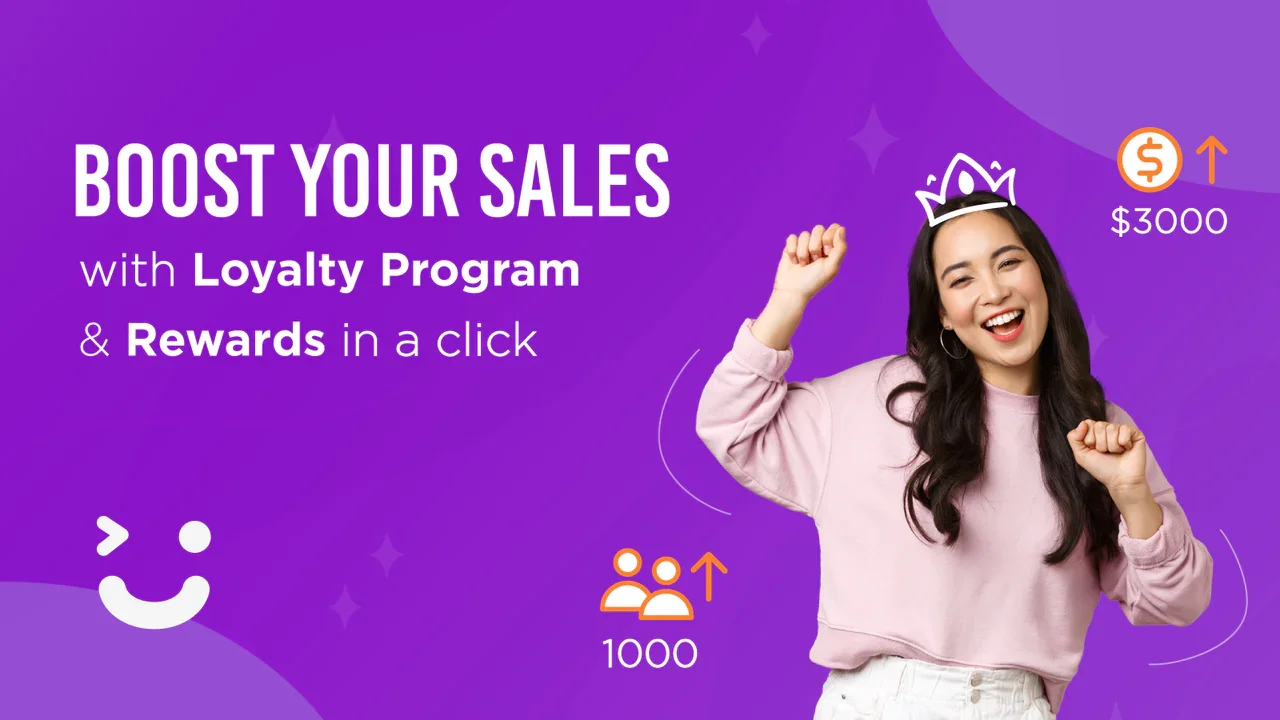 Looking for a way to reward your customers and boost brand loyalty? Look no further than Joy, one of the prominent Shopify loyalty apps that helps you engage with your customers in a completely different way.
Thanks to their flexible earning and spending rules, plus powerful customer management tools, you'll be well on your way to boosting brand loyalty and rewarding your customers in a way that is truly meaningful.
Pricing: $29/month | Free plan available
Rating: 4.9/5.0 (700+ reviews)
Special features:
Automated points earning: By automating the points earning and redemption process, Joy makes it easy for customers to engage with the brand and earn rewards without having to jump through hoops or deal with complicated systems.
Customized rules: You can choose to offer a discount amount or percentage on your online store or POS, making it easy and convenient for your customers to redeem their rewards and feel appreciated.
Customer management tools: You can adjust points as needed, import and export customer data, and view detailed reports to understand customer behavior better. This means you can make informed decisions about rewarding and engaging with your audience and keep them coming back for more.
Range of reminder tools: At Joy, they understand that communication is key when it comes to building customer loyalty. Hence, Joy makes it easy to stay connected with your audience, from reward email notifications to automation emails. And with their loyalty email feature, you can create custom email campaigns that will drive long-term growth and success for your business.
By creating seamless and rewarding Shopify loyalty programs for customers, Joy can help businesses grow their brand and increase customer lifetime value effortlessly.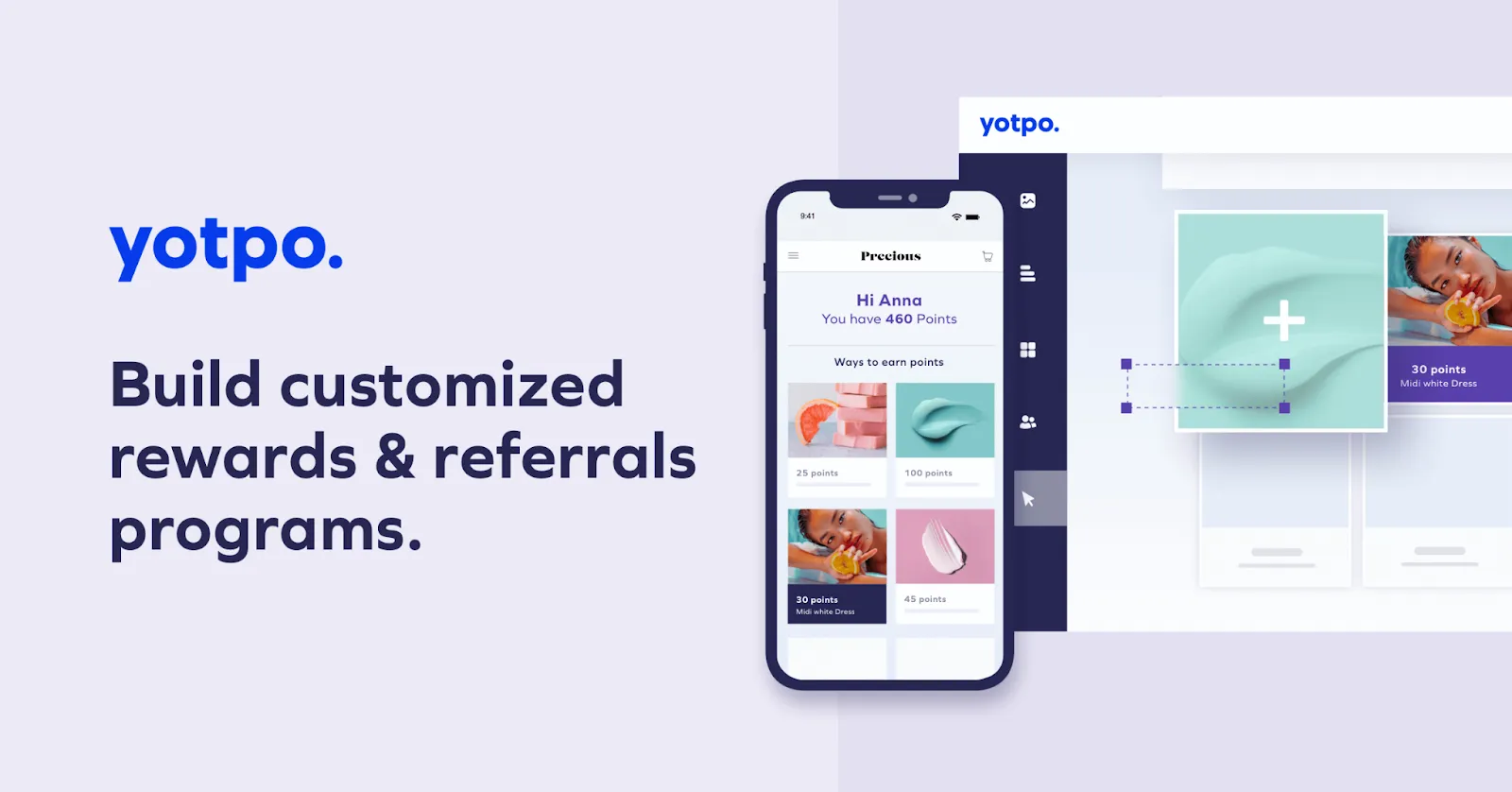 Yotpo Loyalty & Referrals is one of the most user-friendly Shopify loyalty apps that empowers you to build your program quickly and easily, with no coding or development experience required. With their agile platform, out-of-the-box campaigns, and detailed analytics, they are here to help you build a loyal customer base that will drive growth and success for your business.
Pricing: $199/month – Free to install
Rating: 4.7/5.0 (2,400+ reviews)
Special features:
Out-of-the-box campaigns: With 20+ pre-built campaigns designed to reward valuable actions like referrals, reviews, and social shares, you can launch your program quickly and start seeing results immediately in your Shopify store. Not to mention, with their customizable campaign builder, you can tweak and adjust campaigns to suit your specific needs and goals.
Modular deployment: Yotpo understands that time is money, so they have made launching and managing your loyalty program easy without any coding or development work. Their modular approach lets you choose which features and campaigns to activate, making it easy to test and iterate your program for maximum impact.
Flexible database programs: This Shopify rewards app offers a flexible and customizable tiered system based on points, spending, purchases, or referrals. Besides, they also include powerful analytics and reporting tools, allowing businesses to track their performance and optimize their loyalty strategy.
Regardless of how big or small your business is, Yotpo is a must-have tool for any business looking to build long-term relationships with its customers.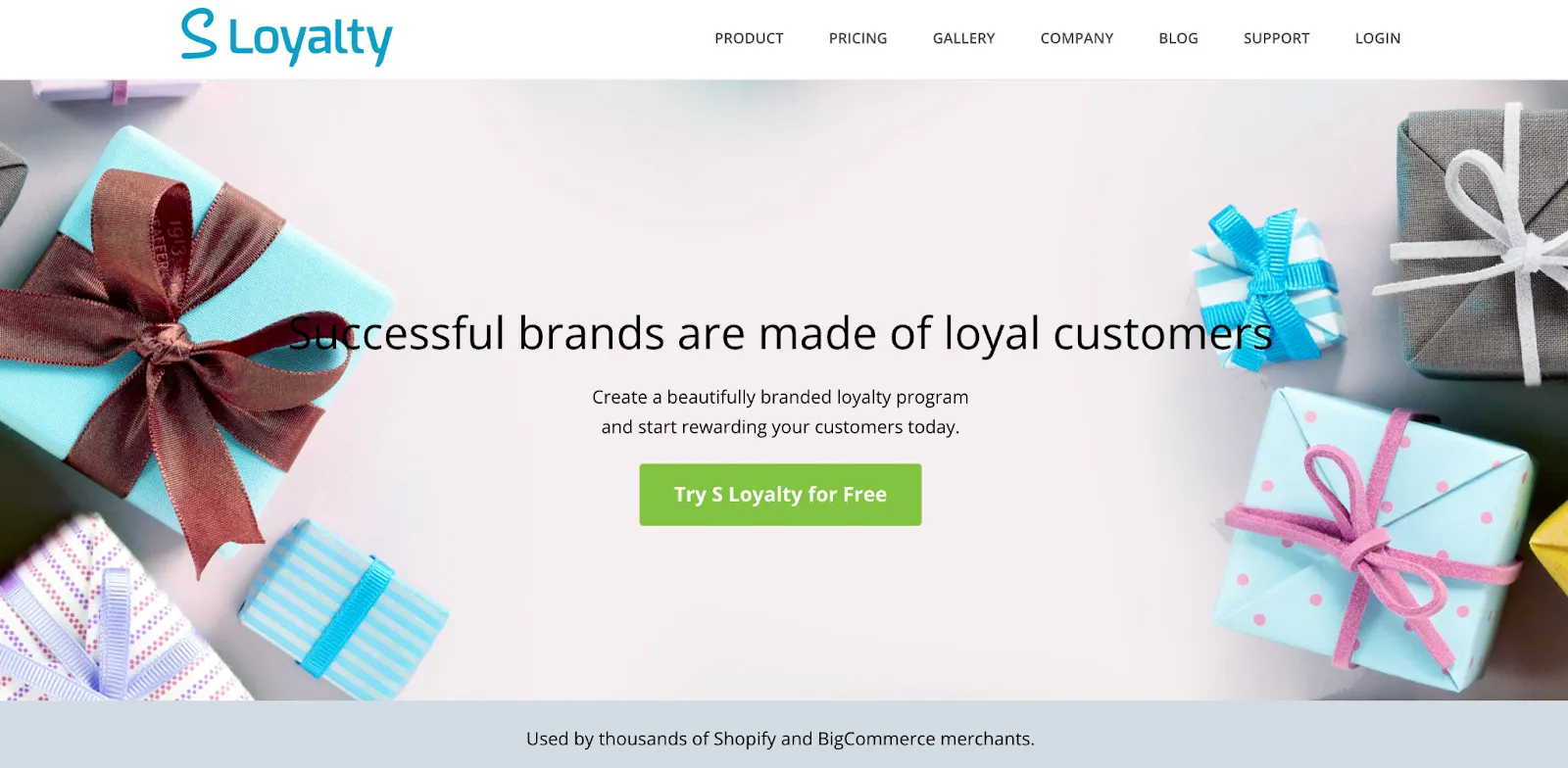 S Loyalty believes in building deeper connections between you and your customers. This feature-rich Shopify loyalty app is designed to help you create a loyal customer base and drive store sales. As they understand that every business is unique, they take care of every detail, like customer exclusion or when rewards points are added, to ensure each need is met.
Pricing: Starting from $19.99/month | Free plan available
Rating: 4.6/5.0 (700+ reviews)
Special features:
Flexible rewards: S Loyalty's platform allows you to offer "Pay with Points", "Free Shipping" or percentage and fixed amount rewards, giving your customers a range of options to choose from when redeeming their loyalty points. This flexibility is crucial in building customer loyalty and ensuring that your rewards program is attractive to a broad range of customers.
Extra personalized points: As one of the best loyalty apps for Shopify, S Loyalty also offers a range of personalized features to help you build deeper connections with your customers. They provide holiday bonuses, birthday rewards, special points events, and extra point campaigns to help you engage with your customers and keep them returning to your store.
Customized programs: They understand that every business is unique at S Loyalty. Thus, you can build a rewards program tailored to your brand and deliver actual results in terms of customer engagement, retention, and sales growth.
In conclusion, S Loyalty is one of the most powerful loyalty and reward points apps that offers a range of features to help businesses retain customers and increase engagement.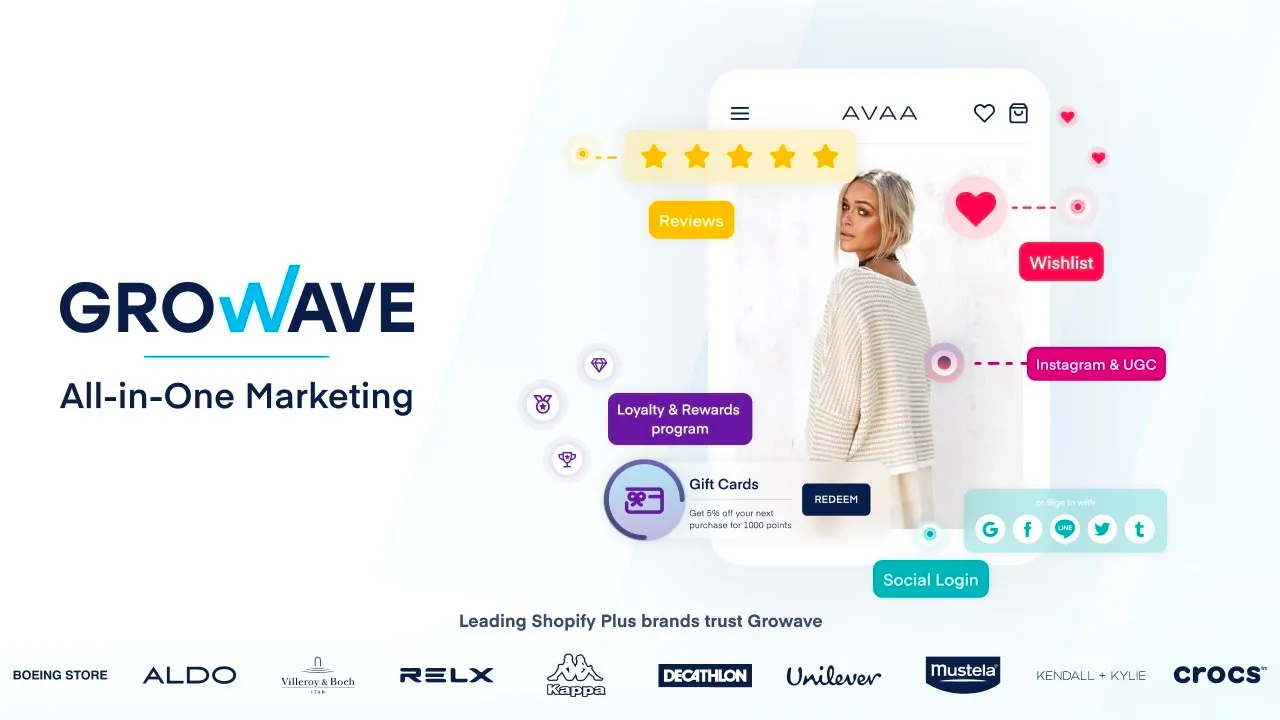 Growave is among the best loyalty program apps for Shopify explicitly designed for Shopify stores. With features like reviews, wishlists and rewards, Growave empowers merchants to boost customer loyalty and increase repeat purchases. In addition to that, Growave is multi-functional, streamlining the process and still, keeping costs low.
Pricing: Starting from $9/month | Free plan available
Rating: 4.8/5.0 (1,800+ reviews)
Special features:
Loyalty programs: Including VIP tiers and rewards to incentivize customers, loyalty programs increase repeat purchases and build a solid emotional connection between your brand and your customers. With Growave, you can create personalized Shopify loyalty programs that actually resonate with your audience and helps to differentiate your store from the competition.
Referral program: By incentivizing your existing customers to refer their friends and family to your store, you can save on advertising spend while increasing your customer base. Furthermore, with Growave's built-in tracking and analytics, you can easily measure the success of your Shopify reward programs and optimize them for even better results.
Wishlist and trigger emails: By allowing customers to receive notifications when products go on sale or come back in stock, Growave can increase the likelihood of them purchasing. This personalized approach helps to build trust and loyalty with your customers, leading to increased sales and revenue for your store.
Growave offers important insights into consumer behavior and loyalty program success through its robust capabilities. Therefore, it is one of the Shopify loyalty apps that helps organizations retain consumers for the long haul, which in turn raises their profitability.
You may want to look for some other best Shopify apps, especially best Shopify apps for ABC, we all got you covered! What is more, if you want to have an all-inclusive view on Shopify, don't miss our comprehensive Shopify review to grasp everything about Shopify.
---
How to Set Up a Loyalty Program on Shopify?
Creating a Shopify loyalty program is an excellent way to boost customer retention and sales. However, you need to think outside the box to create an engaging program that stands out.
Wanna have some ideas? Here are some to consider:
#1 Create a gamified experience
Creating a gamified experience is a great way to make your loyalty program more engaging and fun for your customers. The idea is to make the experience of earning and redeeming points more exciting and rewarding, like a game.
For example, you can create a points-based system that unlocks different levels or tiers, each with its own unique perks and rewards. Also, customers can level up and unlock new benefits, such as free shipping, exclusive discounts, or early access to new products as they earn points. You can easily utilize Shopify loyalty apps to help creating these unforgettable experiences.
#2 Host exclusive events
Hosting exclusive events is another great way to make your loyalty program stand out. Customers love feeling like part of a VIP community. Consequently, exclusive events can help you achieve this.
For example, you can invite your most loyal customers to an exclusive online event, or offer your customers exclusive access to workshops and classes related to your products or industry.
#3 Reward non-purchase actions
One novel method to encourage brand loyalty is to provide incentives for non-monetary behaviors. For instance, sharing on social media, recommending the product to others, and writing a review are what this might include. Thus, customers can be motivated to become brand advocates and generate new business through rewards for performing certain acts.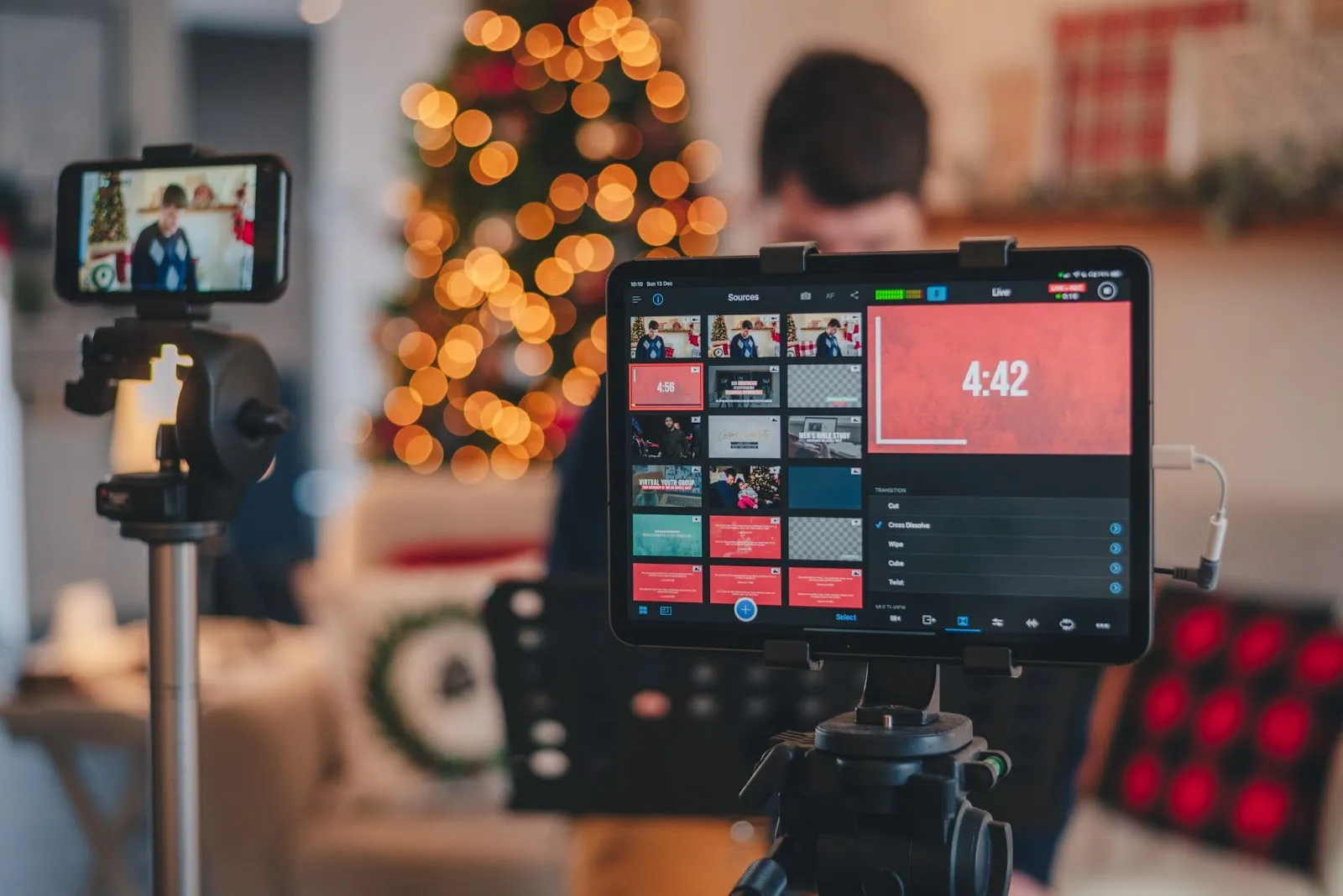 #4 Business partnership
Finally, business partnerships can be an excellent way to create a comprehensive loyalty program. By partnering with other brands in your industry, you can offer your customers exclusive discounts and offers they won't find anywhere else.
As a result, you will be able to help drive customer loyalty and increase sales for both businesses involved. With creativity and strategic planning, you can create a loyalty program that keeps your customers returning for more!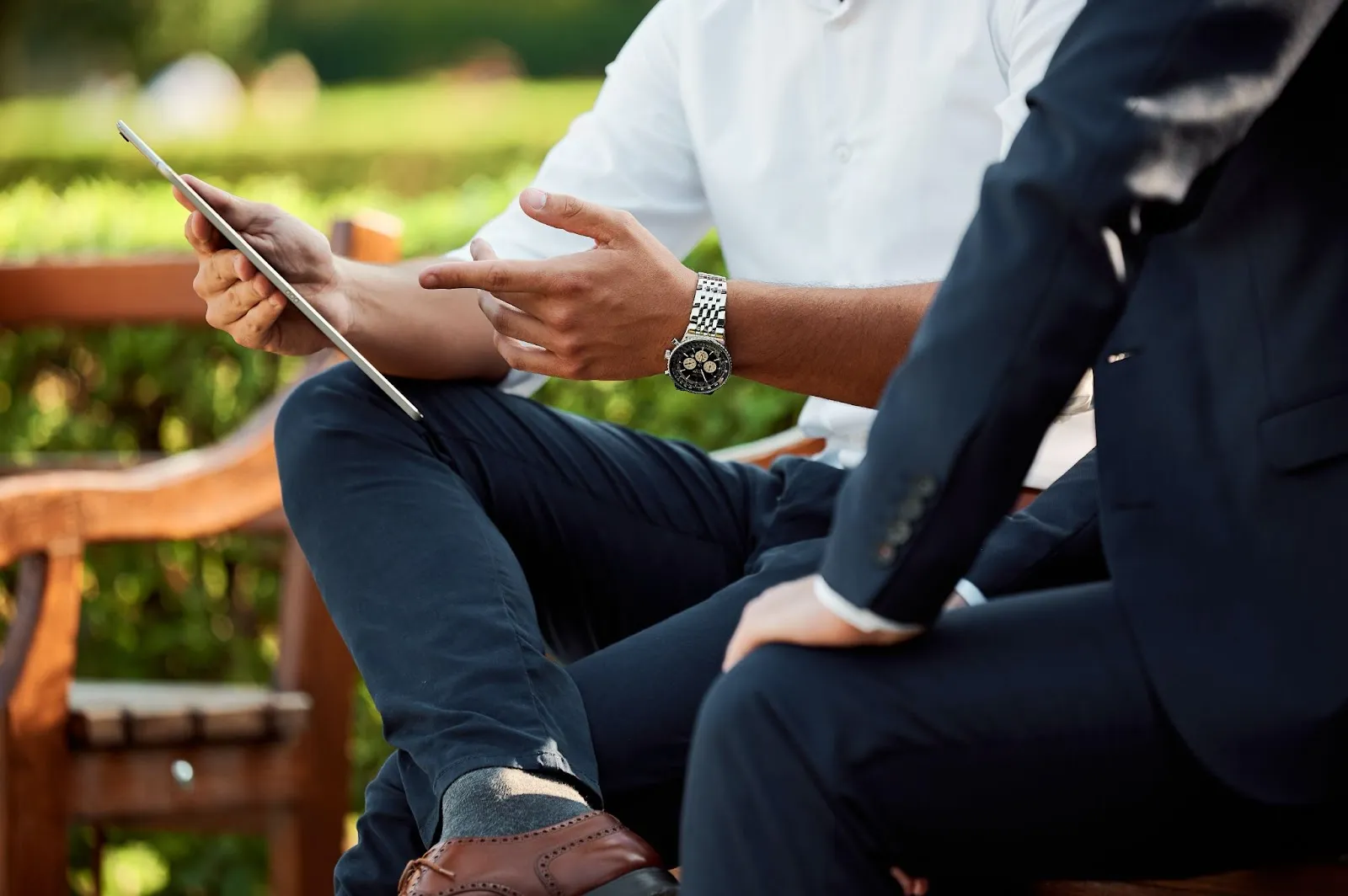 ---
Shopify Loyalty Apps – FAQs
Yes, Shopify supports loyalty programs through various apps and integrations available in the Shopify App Store. These apps allow businesses to create and manage loyalty programs directly on the Shopify platform.
You can use one of the many Shopify loyalty apps available on the Shopify App Store to create a customer loyalty program on Shopify. These apps offer a variety of loyalty program options, including points-based systems, tiered rewards, and exclusive perks.
Many loyalty programs Shopify fail because they lack relevance, ease of use, and genuine value for customers. By contrast, to be successful, a loyalty program must offer meaningful incentives, be simple and accessible to customers, and be regularly evaluated and optimized to ensure it meets customers' changing needs and expectations.
---
Conclusion
In this article, we have explored the top 6 Shopify loyalty apps that can help you create a successful loyalty program. From points-based systems to tiered rewards and exclusive perks, these apps offer a range of customizable options to suit your business needs.
With the right loyalty program in place and some other eCommerce tips via LitExtension Blog, you can turn first-time shoppers into loyal brand advocates, driving repeat purchases and revenue growth. So why wait? Take action now and start reaping the benefits of a loyal customer base! Don't forget to join our eCommerce community to get more insightful tips and tricks!