Introduction
Since the cost of acquiring a new customer constantly rises, affiliate marketing has proved to be amongst the most cost-effective acquisition channels for online brands. You don't have to go far to see the impact. Amazon's affiliate program accounted for a staggering 40% of its more than $34 billion in sales in 2010.
There is no doubt that a well-executed affiliate network will significantly increase online sales. Affiliate marketing can help companies achieve an advantage in an intensively competitive online world.
Another important benefit is the performance-based marketing model, which pays affiliates only when they contribute to the company. Implementing an affiliate program is a low-risk and inexpensive way of earning a second revenue stream for your Magento store without spending a huge amount of time, resources, or effort.
And if you use an affiliate extension, you're more likely to set up an appropriate affiliate program within your Magento. A comprehensive affiliate extension includes all of the tools you need to set commission rules, manage affiliate accounts, customize payout terms, monitor transactions and results, and so on. If you're searching for a Magento 2 affiliate extension for your business, you'll find the best match among our top providers in 2021.
Stay tuned!
Magento 2 affiliate extensions
Magenest
You can easily build compelling campaigns of your own rules using the Affiliate module by Magenest. With this extension, campaigns are developed using four different types of methods (Pay per Lead, Pay per Click, Pay per Discount and Pay per Sale), which helps customers to receive commissions in a variety of ways.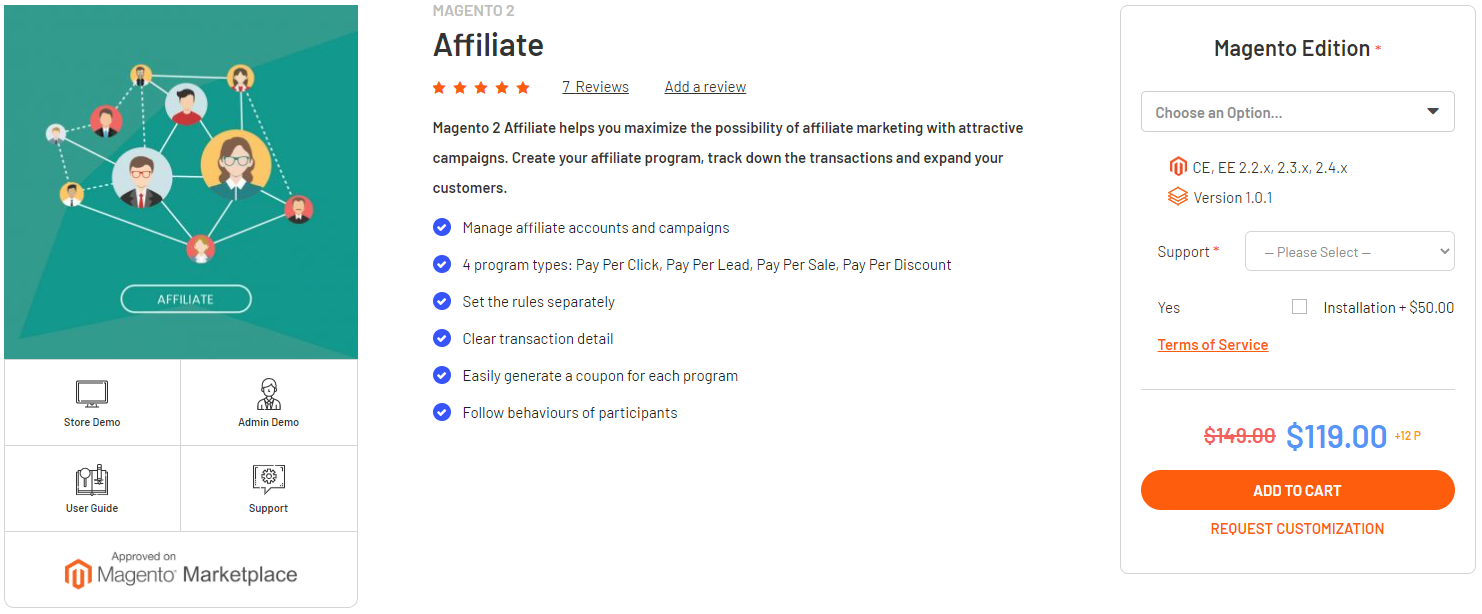 Highlight Features: Affiliate workflow that is both transparent and efficient
Advantages for affiliates:
Receive and build their reference materials (e.g., coupon, referral link, unique code)
Commissions can be deducted when refund.
User-friendly banners and interface
The streamlined affiliate withdrawal procedure
Advantages for admin:
There are four different types of campaigns to pick from: pay per sale, pay per click, pay per lead, and pay per discount.
On the Withdraw Listing page, you can view, accept, or reject all withdrawal requests.
Withdrawal limitation can be set
Each affiliate program has an unlimited number of tiers.
Full and direct control over the affiliate program
Pricing: $119 (Community Edition) – $369 (Enterprise Edition)
Compatibility: CE, EE 2.1.x, 2.2.x, 2.3.x
Mageplaza
Affiliate programs developed by the Mageplaza extension help to increase revenue, improve traffic, get in quality leads, and enhance SEO rankings. With smart referral links, you can build an endless number of digital marketing strategies, which is extremely useful for multi-level marketing.
This module enables you to run several affiliation programs with a variety of actions for your affiliates to receive their commissions.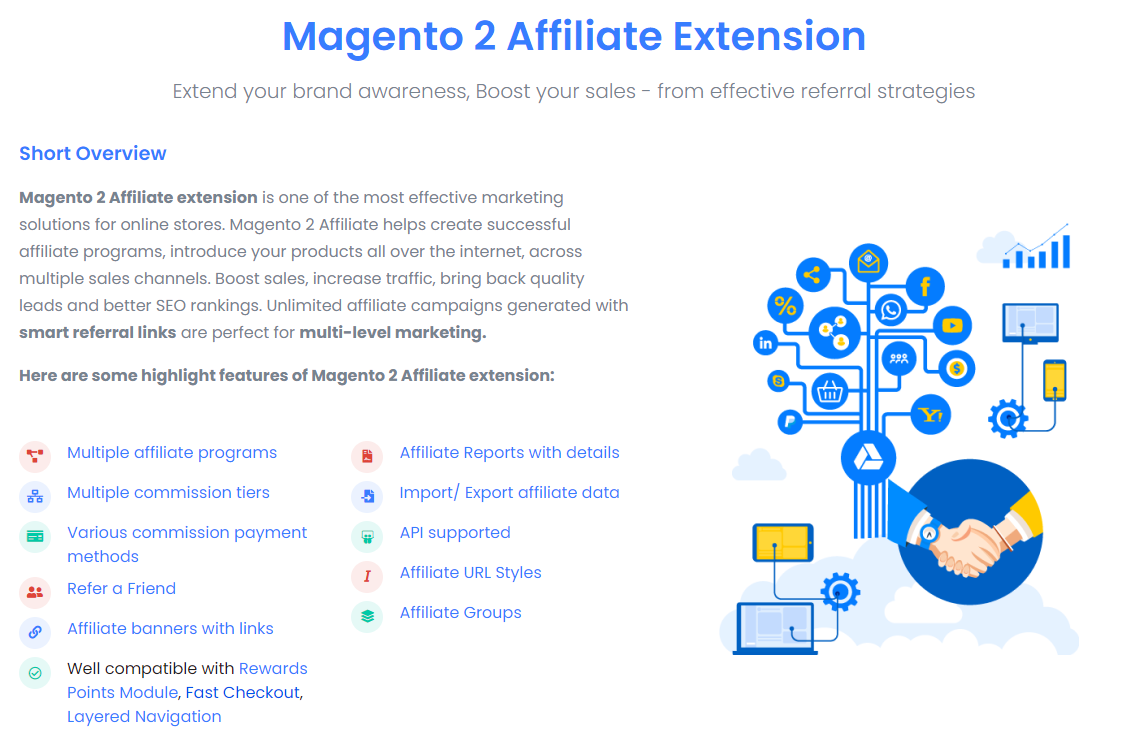 Highlight Features:
The extension involves all of the needed functionality for the Affiliate system:
Accounts for Affiliates are limitless.
The number of Affiliate Campaigns is unlimited.
Banners and links are allowed to be placed on affiliate's pages
Affiliate is allowed to withdraw commissions via the various payment method
Referral links are smart.
Receive notifications via email.
Generate reports regarding affiliate actions.
Pricing: $99 (Standard edition) — $199 (Professional edition) — $299 (Ultimate edition)
Compatibility: Magento 2.1.x, 2.2.x, 2.3.x, 2.4
Aheadworks
Aheadworks Affiliate Extension enables well-organized affiliate programs to increase traffic and revenue, create qualified leads, boost brand awareness, and improve search engine rankings. It helps you to plan promotional campaigns to advertise your products or services.
You can pay the affiliates based on the conversion of sales by using the module's tier percent rate, fixed percent cost, fixed amount, or tier amount.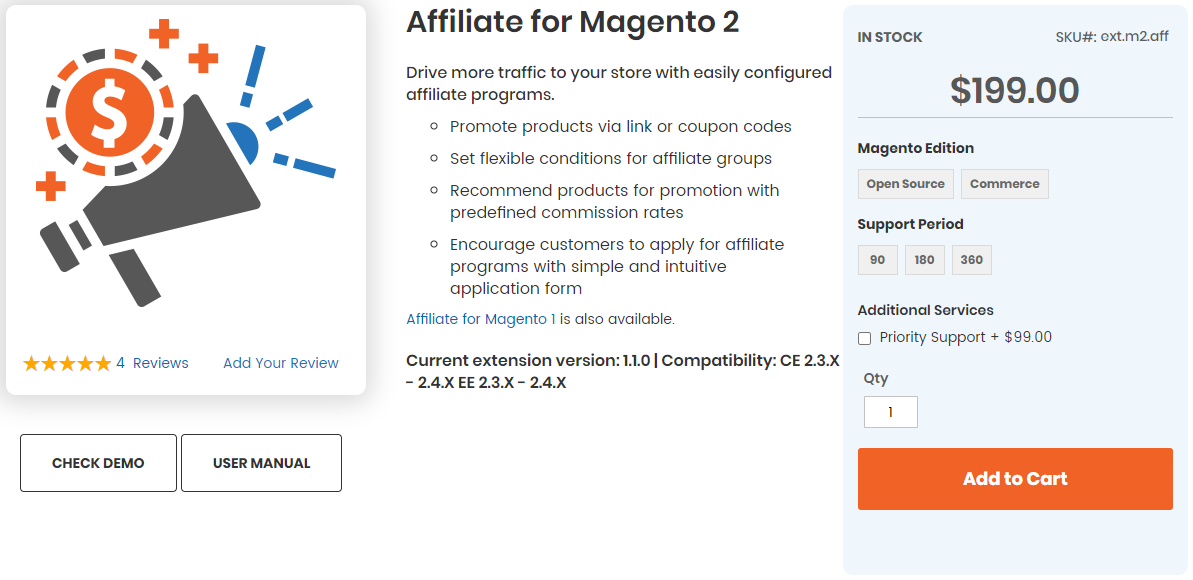 Highlight Features:
Create an affiliate marketing program based on pay-per-sale.
Create affiliate campaigns with various terms.
Make adjustments for particular brands and customer segments.
Set the incentive rates as a percentage or monetary value.
Create reports of main campaign statistics.
And much more.
Pricing: $99
Amasty
Affiliate by Amasty is an extremely flexible platform for Magento 2 stores that allows you to launch and monitor affiliate services with endless functionality directly from your admin panel.
You can use the extension to run full-scale affiliate programs on your website to successfully drive revenue from multiple channels. It provides affiliates with promotional materials as well as comprehensive statistics reports.
Meanwhile, administrators can efficiently monitor affiliate accounts, track commissions, and control withdrawals.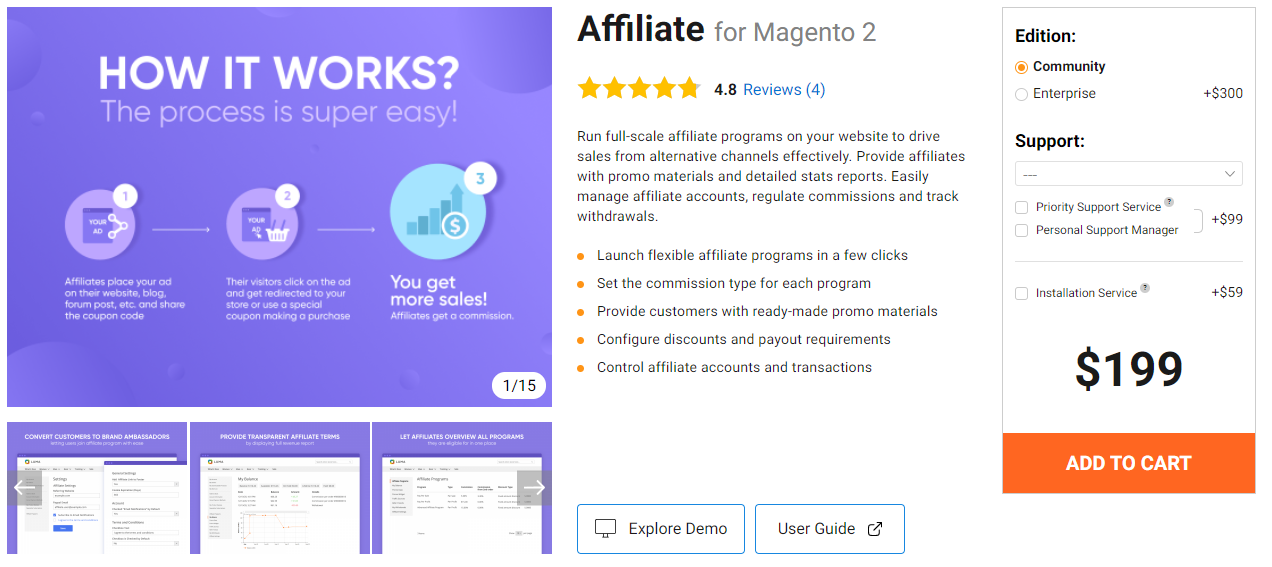 Highlight Features:
Affiliate programs launched based on cart price rules.
Choose a specific form of commission for each program.
Set up discounts and payout requirements.
Make use of a wide range of promotional materials.
Monitor partner accounts and transfers.
Frontend tailored for mobile
Pricing: $199 (Community Edition) – $499 (Enterprise Edition)
Compatibility: Magento 2.3.1 – 2.4.x
Landsofcoder
Among the most marketing tactics for sale online is affiliate marketing. Are you looking for a free extension to help you design your affiliate program since your budget is not big?
We recommend that you take a look at Affiliate extensions by Landsofcoder. This company offers 2 different versions of Affiliate extensions: a free one and a paid one.
The free Magento 2 Affiliate Extension from Landofcoder is available to you. While this extension is free, it is completely responsive, fast, and easy for affiliate partners to participate; moreover, it will effectively allow you to generate a significant amount of revenue across your affiliate networks.
Once your budget grows bigger, you can consider switching to the paid version.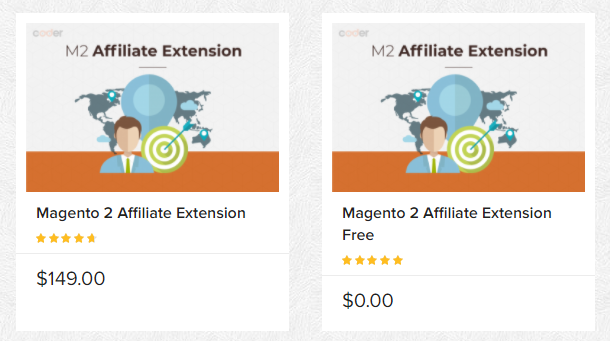 Highlight Features:
Allow pay-per-sale, pay-per-click, pay-per-lead, and pay-per-new-customer-order.
Clear and simple to use for a variety of affiliate services
Multi-level marketing (MLM)
Conditions and standards are easily set, so are commissions and discounts.
Manage banners and links in the same place.
Conveniently manage the account of a transaction partner.
Payout requirements and mass payments
Define withdrawal limits and commissions via Paypal & Bank Transfer.
Pricing: Free – $149
Compatibility: Magento 2.0.x, 2.1.x, 2.2.x
Magecomp
Managing affiliate programs is a time-consuming process if you do not have a suitable system in place. Magento 2 Magecomp Affiliate Extension will be a smart choice for the store because it will guide consumers to the affiliate product they prefer while still driving traffic and thus sales for the store. That means you can have it all: increase sales, increase traffic, and promote leads while improving SEO rankings.
Since multiple partner campaigns can be created using smart referral links, Magecomp's extension is very ideal for multi-level marketing.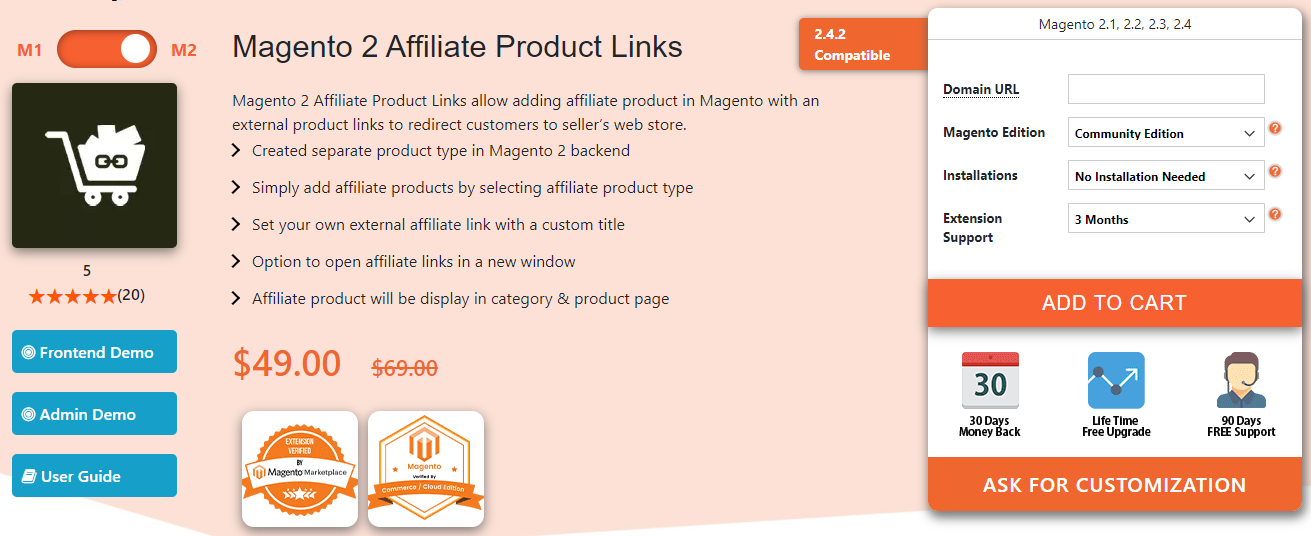 Highlight Features:
Add affiliate items by selecting affiliate product categories.
Provide additional partner merchandise with external links that can be customized.
Capable of opening external links or partner product links in a new window.
When set up, affiliate items are shown on both the product and category pages.
Pricing: $49
Compatibility: Magento 2.1, 2.2, 2.3, 2.4
Mageworld
Affiliate Pro by MageWorld allows store owners to create multiple affiliate programs, pay commission by sales and integrate multi-level marketing systems into their Magento. The extension also provides visual reports for affiliates, refer friend features, ease of customization, and a huge community to advertise products successfully.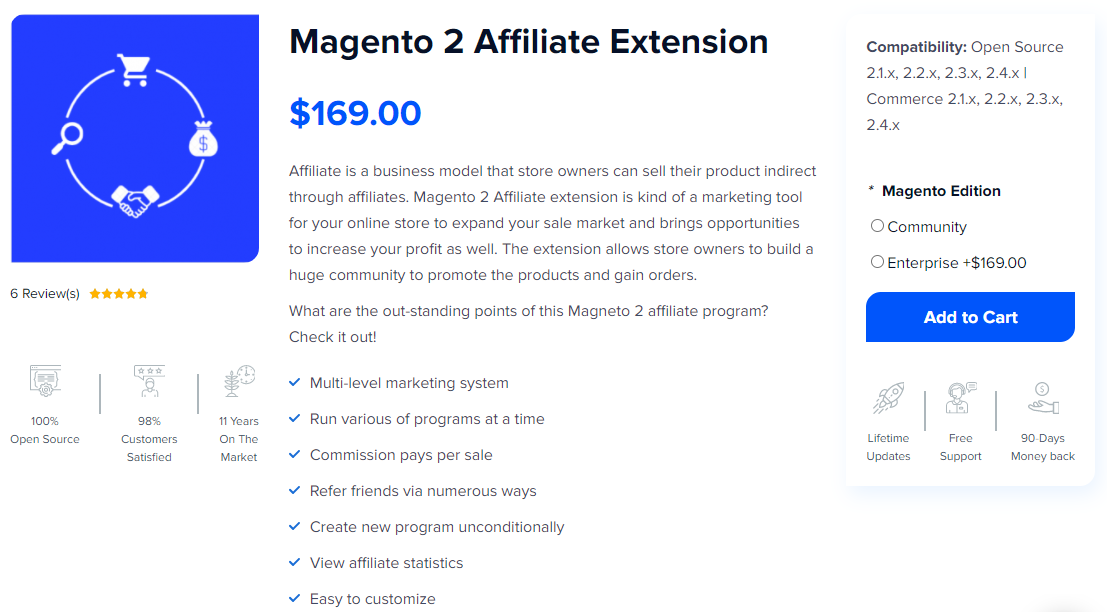 Highlight Features:
For admins:
Full affiliates account management: add, edit, enable, ban accounts
Design and execute multi-level marketing campaigns.
Manage your billing and account records, as well as your invites.
Email Notification Preferences
Control commissions and discounts.
Compile reports
For affiliates:
Sign up new affiliates and maintain existing accounts management
Keep track of your commission/discount and transaction records, as well as credit use and payment referrals.
Often keep affiliate details up to date with email notifications.
Based closely on Magento 2 default but 100% open-source.
With a responsive design and optimized for PC, laptop, tablet, and even mobile.
Pricing: $169 (Community Edition) – $338 (Enterprise Edition)
Compatibility: Open Source 2.1.x, 2.2.x, 2.3.x, 2.4.x | Commerce 2.1.x, 2.2.x, 2.3.x, 2.4.x
Magetop
One of the most popular marketing solutions for online retailers is the Magento 2 Affiliate Extension. You can increase revenue by using partner pay-per-sale channels or easily run affiliate promotions by recommending the appropriate products to promote to affiliates. Affiliates should be rewarded for each purchase made during a campaign.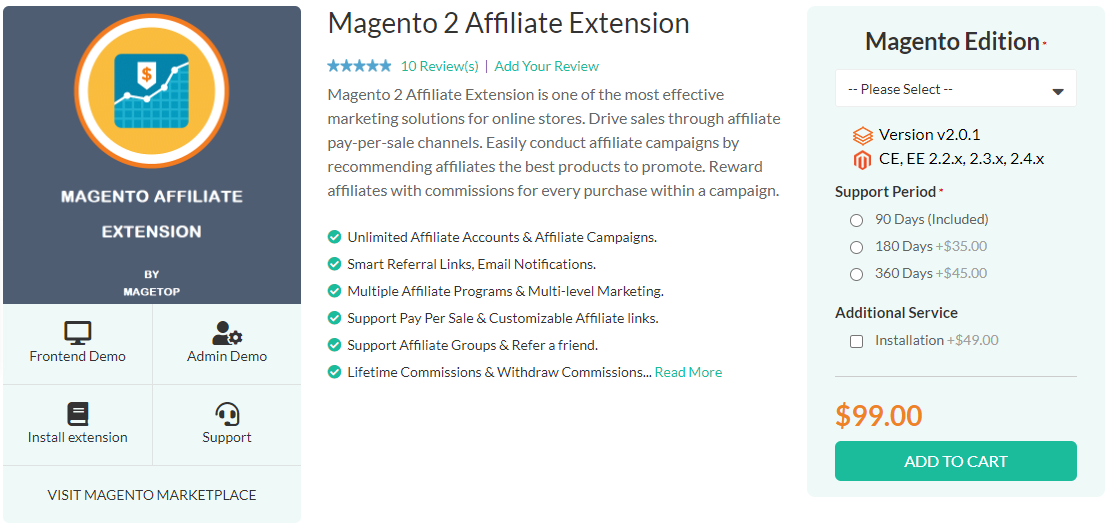 Highlight Features:
There are no limits on the number of affiliate accounts or affiliate campaigns.
Allow email notifications and smart referral link features.
Affiliate programs vary, as does multi-level marketing.
Pay per sale and customizable affiliate connections are supported.
Help affiliate groups by referring a friend.
Allow withdrawal commissions and lifetime commissions
It's easy to set up and personalize with 100% open-source, multi-language support and multi-store support.
Pricing: $99
Compatibility: CE, EE 2.2.x, 2.3.x, 2.4.x
Webkul Store
Affiliate System For Magento 2: The Affiliate System module enables the shop owner to operate an affiliate marketing campaign on their website. Using this, affiliate users will sign up for the store and start marketing items through text and image banners. The administrator will analyze incoming traffic, sales results, and display data, as well as reward affiliate users through PayPal.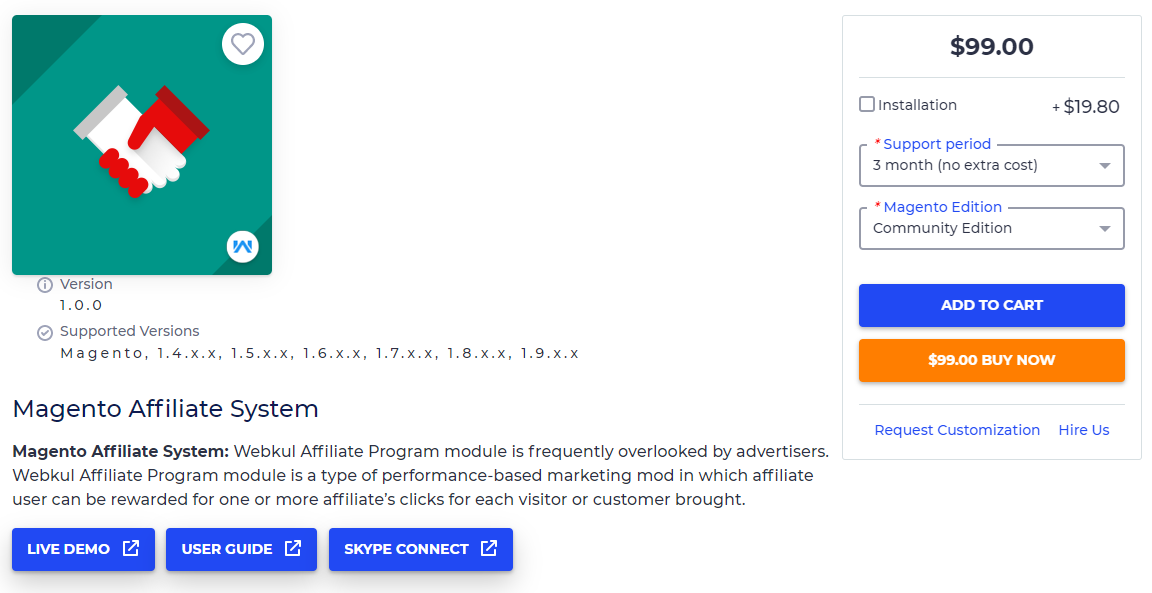 Highlight Features:
Allows the store owner to run several affiliate marketing services on his eCommerce site.
Allows affiliates to offer reference links to others, making it easier for others.
The merchant has complete control of the affiliate referral incentive.
Allows affiliates to use the refer and receive the concept for store marketing.
By using statistics, diagrams, and other tools, retailers can easily monitor transactions, payment data, and push traffic.
Encourage consumers to refer and earn, and boost traffic to increase revenue.
Pricing: $99
Compatibility: Magento, 2.0.x , 2.1.x, 2.2.x, 2.3.x, 2.4.x
Conclusion
When the cost of acquiring a new client continues to rise, affiliate marketing has proved to be one of the most cost-effective acquisition methods for eCommerce businesses. Without a doubt, the right partner network will massively boost your online sales.
Integrating this performance-based marketing program is a low-risk way of generating a second revenue source for your Magento-based business. We hope the list of Magento 2 affiliate extension providers above helps you set up an effective affiliate program in your Magento.
If you are planning on migrating to Magento, consider choosing LitExtension – the world-leading shopping cart migration expert. We guarantee to flawlessly transfer all your business data from one eCommerce platform to a more robust one within a couple of hours depending on the number of entities and the complexity of the migration.
In case you have any problems, don't hesitate to contact our customer support team. We are available 24/7 to help you immediately!
Further, you can join our community to get more tips and news about the eCommerce industry.