Overview
In this day and age, there is a wide variety of shopping carts to choose from. All would accept that the platform has to be straightforward to use, fairly priced, user-friendly and eye-catching.
If you are wavering between X-Cart vs 3dCart, it would be so difficult since both 3dCart and X-Cart have amazing features for creating and managing completely customized online stores. To make your selection process easier, we have conducted:
Brief introduction of X-Cart and 3dCart
Detailed comparison of notable features from both eCommerce solution
Wise advice on how to choose the best suit for your business
1. Introduction X-Cart vs 3dCart
What is X-Cart?
X-Cart is an open-source ecommerce platform that is designed to meet the needs of online stores of any sizes, but works best for large stores and marketplaces. Merchants can process orders, track inventory, and manage every aspect of an online store without any customization limitation. Until December 2020, there have been over 23,000 online stores built on X-Cart.
There are 2 versions of X-Cart which are X-Cart 4 and X-Cart 5. Compared to the classic version, X-Cart 5 is superior in terms of performance, customization potential, design, SEO, marketing and sales, mobile friendliness and multilingual support. X‑Cart 5 also comes with a built-in app store of 1,000+ apps, so you do not have to waste time googling for the necessary features anymore.
What is 3dCart?
Different from X-Cart, 3dCart is a hosted ecommerce provider. The cloud based software empowers merchants to quickly create an online retail store in a matter of minutes. If you are looking for an all-in-one solution to host and manage an online store that does not take a lot of muscle and technical expertise, 3dCart is really worth your consideration.
There have been over 30,000 websites using 3dCart, 7,000 more than X-Cart. In order to provide smooth third party integrations for their apps, 3dCart has collaborated with 350+ app developers. You can almost be sure to find a solution on the 3dCart app store, regardless of what your desired features are.
2. Pricing
X-Cart
X-Cart is licensed, but it is still open source. If you are just aware of free open source software, this can be a little misleading. Purchasing a license also allows you access to more features and the source code for customization in the case of X-Cart. However, sellers can still use the free edition, it is still feature-rich and has good performance.

Besides, X-Cart also has 3 more premium plans:
Business Edition: $495 License
Multi-vendor Edition: $1,495 License
Ultimate Special Edition: $5,995 License
This licensing fee is one time payment, which means you only have to pay once. However, if you want to keep your website up to date, you will still need to pay more:
Free Edition: Free upgrades
Business Edition: $195 – $350 to upgrade
Multi-vendor Edition: $545 – $999 to upgrade
Ultimate Special Edition: $3,155 to upgrade
Beside licensing fee, you will incur another type of cost, which is hosting fee. You can choose your own hosting provider or X-Cart hosting, starting from $27.95/month.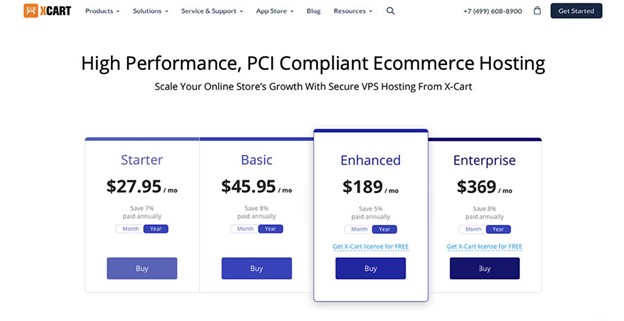 3dCart
Comparing 3dCart vs X-Cart, the hosted eCommerce platform seems to have a drawback as it does not offer any free plan. However, users still have a 15 day free trial to see whether 3dCart comes up to your expectation or not before deciding to make a purchase.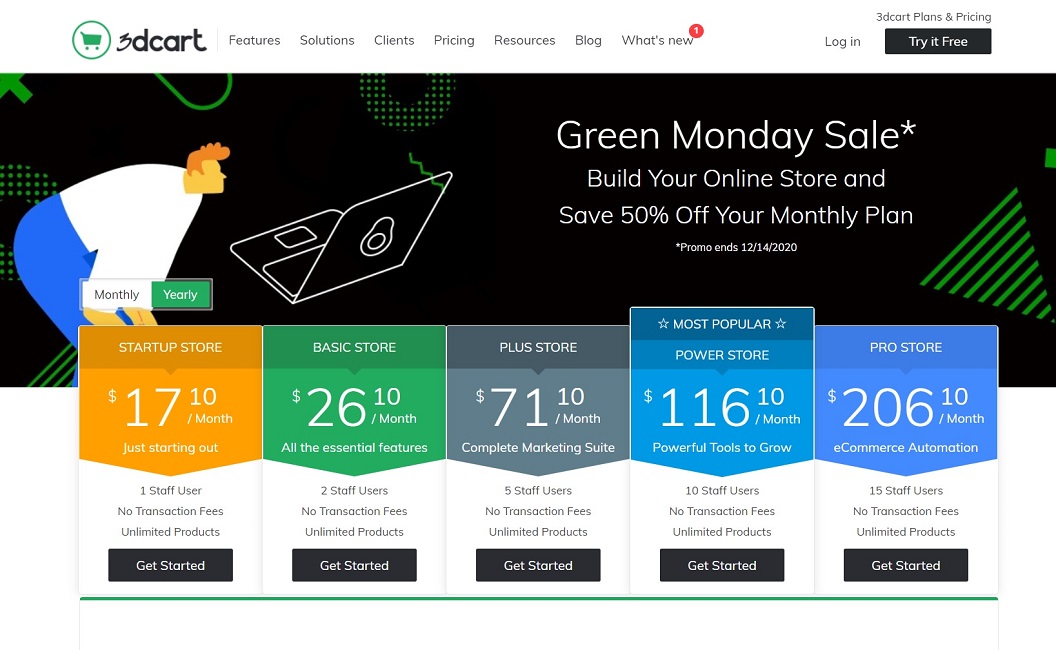 3dCart offers 5 premium plans with the monthly fee varying from $17.10 up to $206.10. All of these plans do not set any limit on your bandwidth, which means you can drive as much traffic to your website as you can. No need to worry about handling unexpectedly increasing traffic or paying additional overage fees. Comparing X-Cart vs 3dCart in terms of hosting fee, this is such a big plus advantage of 3dCart.
The biggest difference among those plans is the number of staff users. As your store grows, you will need more people to handle different aspects of the business, such as fulfillment, customer services, sales, marketing,… Besides, you also need to take notice of each plan's features to make the right choice because some advanced features are only available in higher plans. If you need some specific features right away, like a CRM or Customer Groups, you need to see which plan offers them.
3. Ease of use
X-Cart
X-Cart is not a hosted ecommerce platform, so you will have to get your hands dirty with all the installation, configuration and maintenance tasks. Some of those may require basic understanding of PHP, CSS, and JavaScript. If you do not have ability to handle those coding duties, there may be plenty of step-by-step tutorials on the internet for you to follow. However, you should equip yourself with technical knowledge to keep up with the updates from the software providers.
After installing the software, you can see that managing your store in X-Cart is quite simple. All the navigation buttons are on your left-side. Installing addons or apps can be done just in a matter of clicks, which is a huge improvement in comparison with the X-Cart 4 version.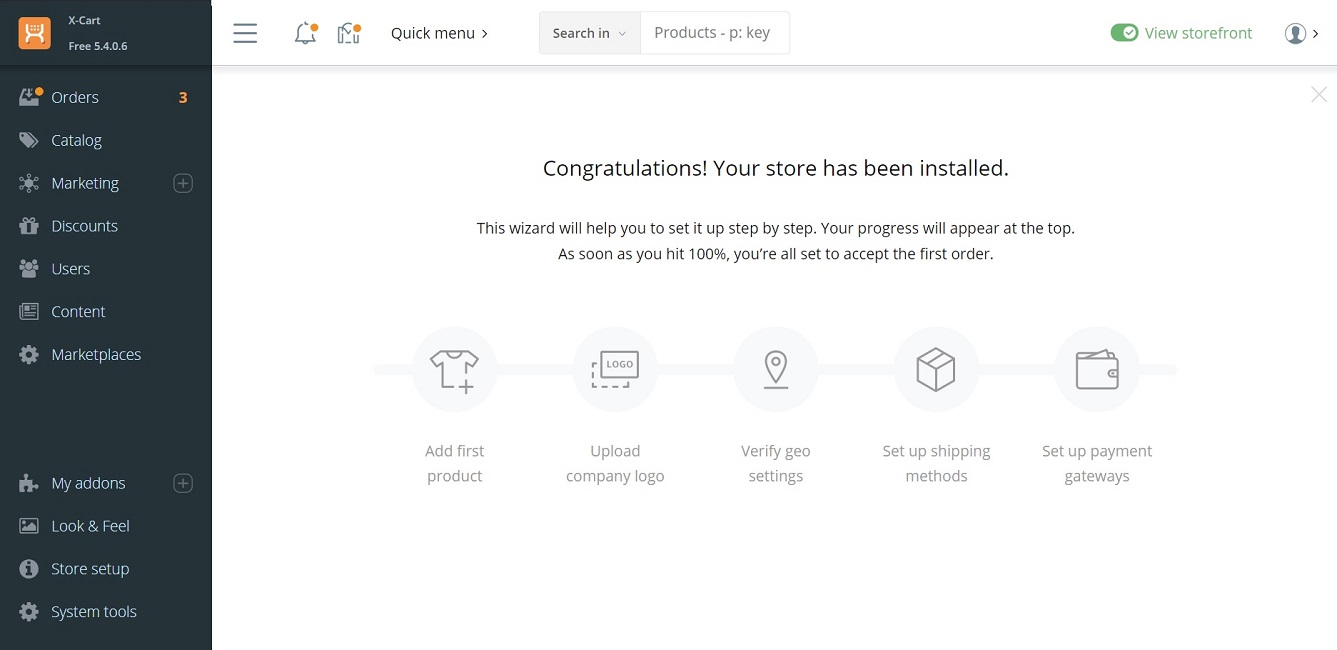 3dCart
Opposing to X-Cart, 3dCart is quite easy to use. As logging in to your store dashboard, you can immediately see the navigation menu on your left with all the settings you need. It is quite similar to WordPress and Shopify, so it would be familiar if you have already set up an ecommerce website.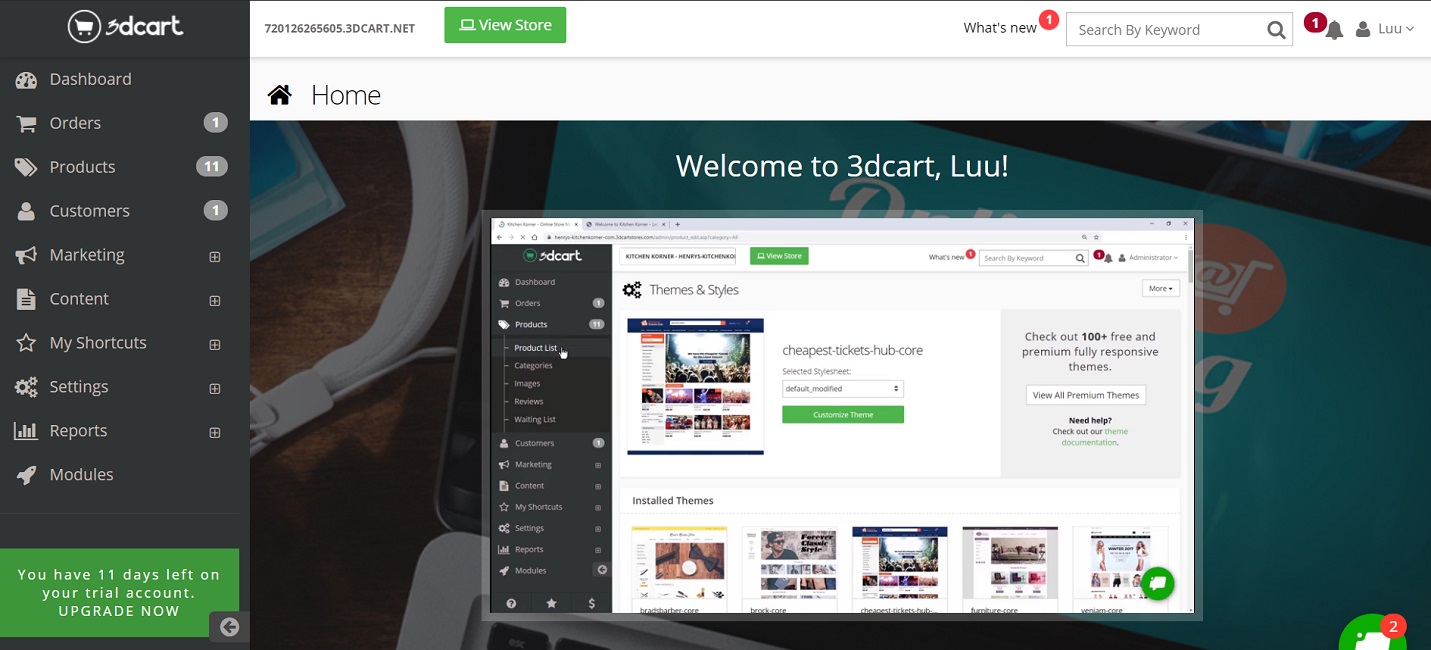 In the center of the dashboard, there is a video to walk you through how to get started with 3dCart. You would be instructed how to use the navigation menu, customize your online store, set up shipping and manage business statistics. This video is so helpful to users to quickly get familiar with the software.
You do not need a lot of technical expertise to learn how to use 3dCart. Everything looks straightforward within the dashboard, so you can quickly find any setting that you want to configure your website. With the quick design bar, customizing parts of your website design is unchallenging and involves no HTML coding skills.
4. Design and customizability
X-Cart
Browsing on X-Cart marketplace, you can see there are 8 free and 45 paid ecommerce themes. All of them are responsive, mobile friendly, open-source and fully customizable. However, the selection is quite limited, especially if you want to choose a free theme before paying for a premium one.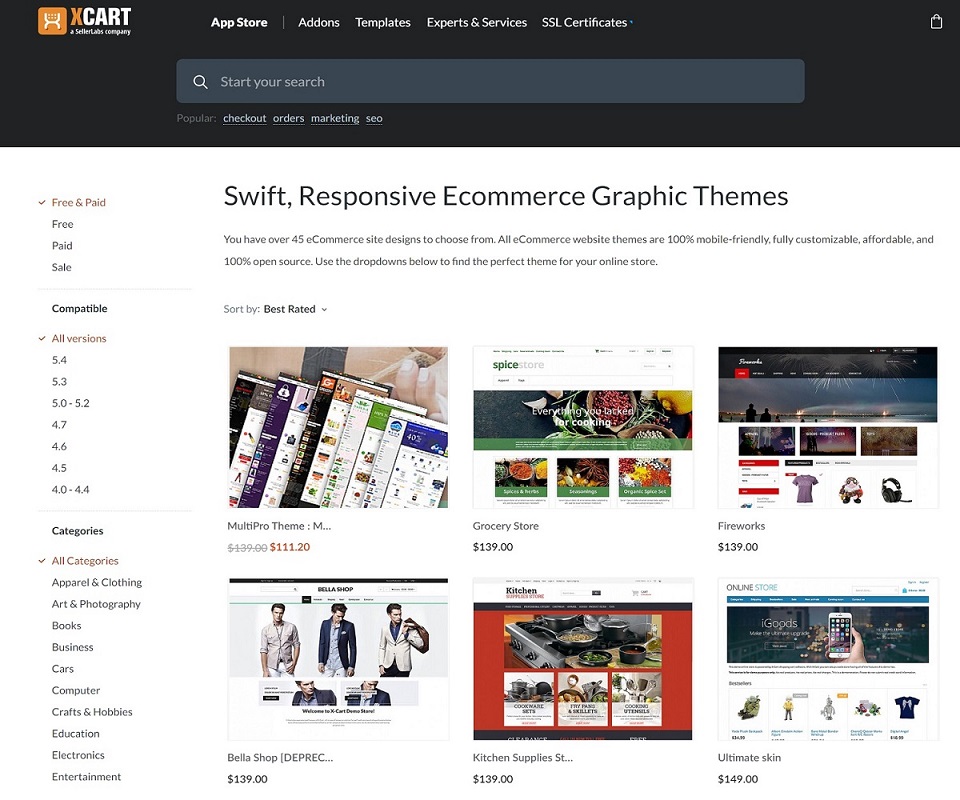 Another thing that you need to take note of is theme compatibility. A theme may not function well on all X-Cart versions, and your theme becomes outdated due to a software update.
In terms of customizability, X-Cart is super flexible. As the software is open-source, you have full control of the whole website. With the help of more than 1,000 apps and coding skills, you can add bespoke features to your online store without any limitation.
3dCart
When it comes to 3dCart themes, the selection is much more diverse. They offer 62 free themes for you to choose from, and 50 additional paid themes from $149 to $199. New themes from 3dCart and third-party providers are updated on themes store on a frequent basis.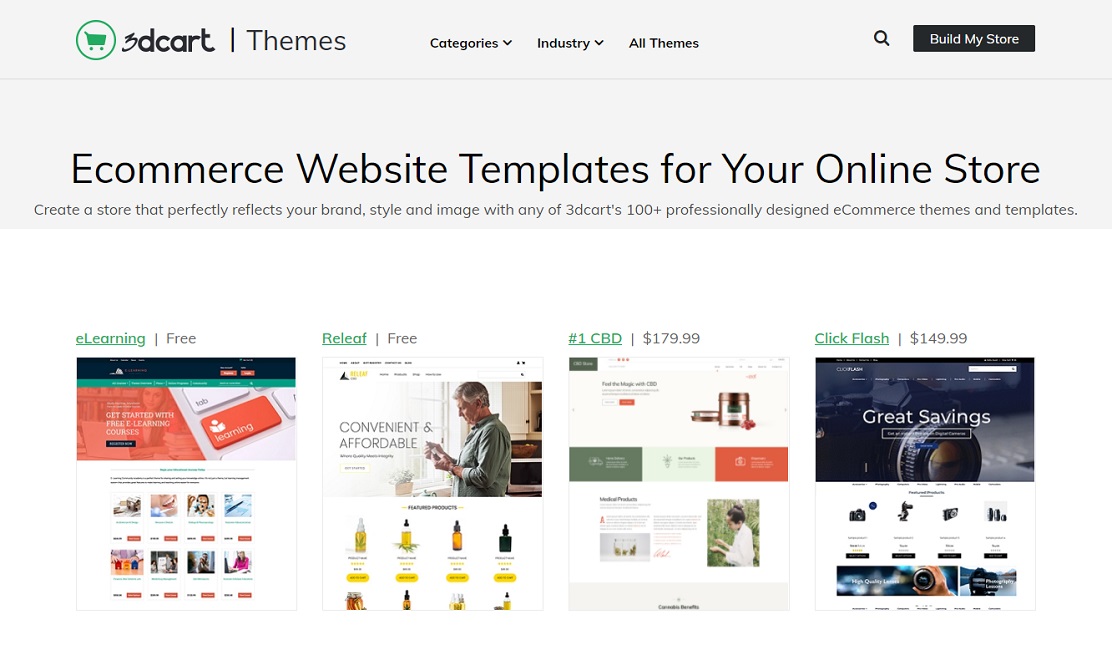 After applying a theme, you can customize it to your liking in terms of layout, typography, colors… Although 3dCart is a hosted platform, you can still make changes to the theme using HTML and CSS code, keep version history or easily restore a previous version. From your dashboard, go to Settings → Design → Themes and Style → Open Template Editor.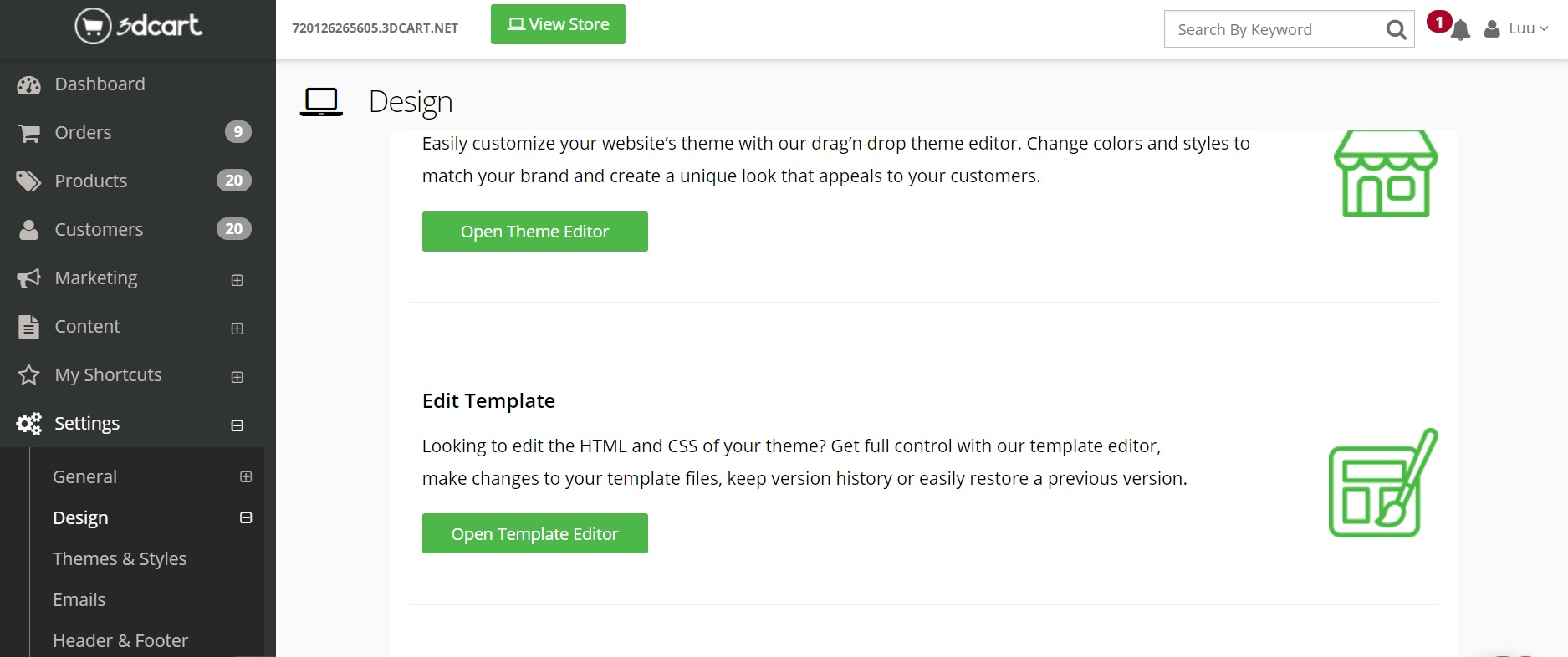 Besides default marketplace, you can look for paid 3dCart themes in Themeforest, which is also a good choice for your store.
5. App store and integration
X-Cart
X-Cart provides the option to combine the online store with external add-on apps to extend features, much as most ecommerce providers. You can discover thousands of integrations and add-ons in a searchable marketplace by visiting the X-Cart App Store.
If you already have an add-on in your mind, you can enter its name into the search bar, or you can search by category. Enter "statistics" for example, and you'll see a total of 16 free and paid integrations that you can add to your store if you choose. Popular tracking tools such as Google Analytics, Google Tag Manager, Facebook Pixel… are all available here, helping you to quickly integrate them into your shopping cart.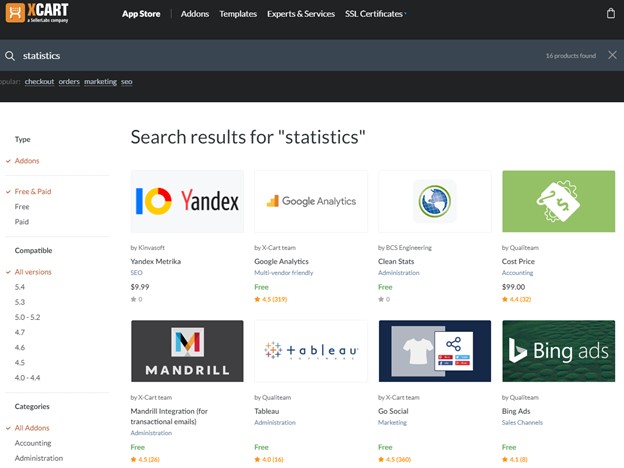 Beside statistics, you can also find a ton of apps in other categories including processing online payments, email marketing, drop shipping, migration to X-Cart,…
3dCart
3dCart app store is slightly inferior to X-Cart in number (over 200 apps), but it still helps to further extend functionality and integrations a lot. You can still find a wide range of options for mobile commerce, cart abandonment, order management, email marketing, inventory management, product feeds, SSL certificates and tax. They are all categorized in a neat manner, which makes the app you are looking for at your fingertips.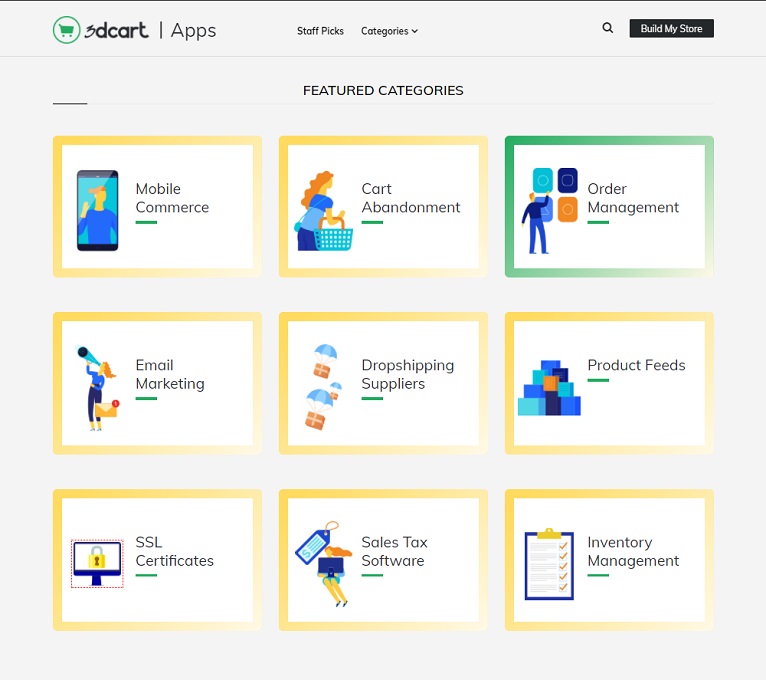 3dcart also offers a RESTful API, so if the applications you need are not available on the app store, the developers can create custom connections to integrate them to your website.
6. Professional support
X-Cart
If you are using the free edition of X-Cart, you will have to pay if you need assistance from their technical team. They offer 3 support packages, all including email support, log review, systematic diagnosis, store setup assistance, X-Cart installation, fundamental SEO audit, GDPR consulting and security patching.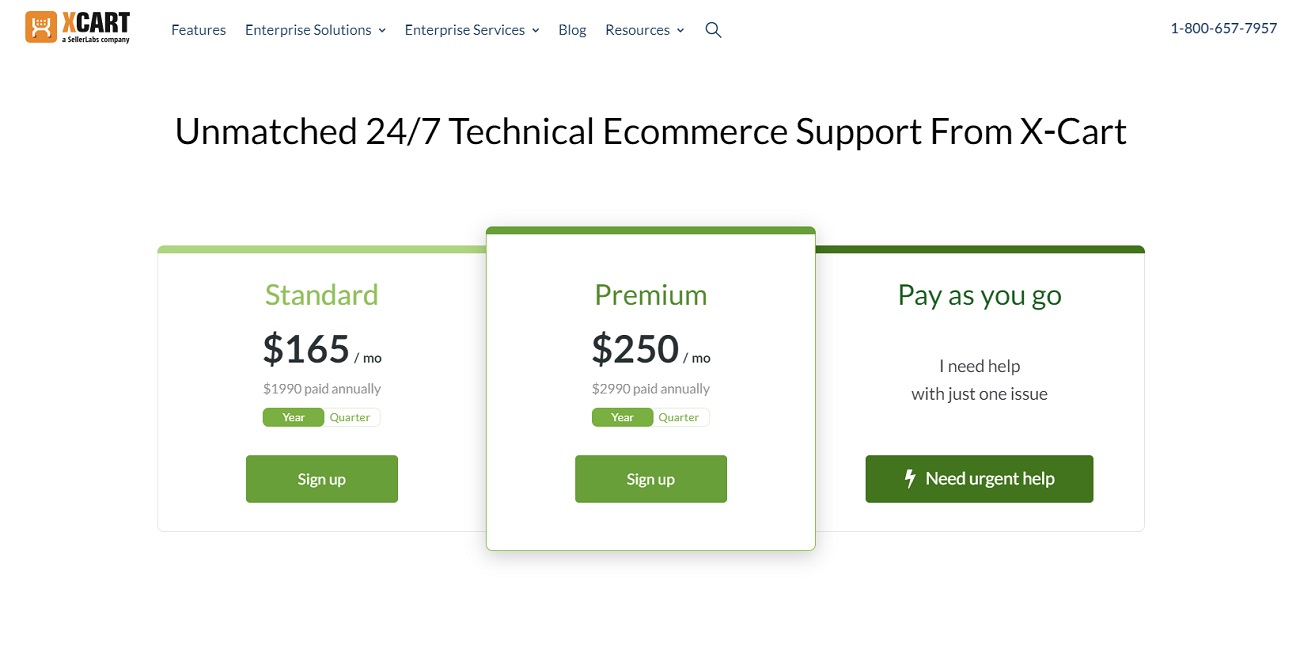 Three level of assistance that X-Cart provides include:
Standard plan: $165/month if billed monthly

Maximum 8 hours response time
Unlimited request for Help
Minor software upgrades (withing 4th digit)
Premium Plan: $250/month if billed monthly

Reaction time of up to 30 minutes
Unlimited Demands for Help
All minor and major software upgrades
Performance Audit
Full SEO Audit, annually
Support via phone/ live chat
Optimizing Photos

Pay as you go: When you need e-commerce assistance for a particular event, you can book a one-time support from X-Cart. You can choose one of 2 support options based on maximum response time, which are $139 for 30 minutes and $99 for 8 hours.
Additionally, X-Cart still runs an active user forum and offers plenty of documentation for support on its web knowledge base hub and FAQ pages.
3dCart
Users can send support requests via email or web tickets on the Startup Plan and contact a service agent via live chat. In addition to web tickets and live chat, users on the Basic, Plus, Power, and Pro plans are able to get access to phone support.
Beyond these main support channels, 3dcart offers the following additional resources:
7. Marketing
SEO
The old saying "if you build it they will come" does not work anymore in ecommerce. In this day and age, search engines like Google, Bing, Yandex or Yahoo tend to be the first place that prospective buyers turn to find a product or service they need. Therefore, to draw consumers to your shop, you need to promote your products/services you are selling and make your website accessible on search engines. The higher your website is rated in the search engines, the more you attract visitors and future clients.
X-Cart
In X-Cart, SEO tools and reports can give you very deep insight into your sales and customers and help to build a SEO-friendly website to search engines:
Setting up SEO-friendly URLs: By default, URLs for products and categories are in the form of GET parameters (such as cart.php?target=category&category_id=2), because they are generated dynamically. However, you can use Enable clean URL feature to start using seo-friendly URLs. Now you can add keywords to each URLs in the Clean URL section in product/category details page to make the link more human-readable.

Set up SEO-friendly URLs in X-Cart

Title and meta elements: you have absolute control over the meta elements and can use them for SEO optimization (including meta names, meta descriptions, meta tags, meta keywords).
Submitting your online store to search engines: With X-Cart 5, you just need to install XML sitemap addon from Marketplace. It can help you do a variety of tasks with sitemap:

Automatically generate a sitemap
Choose which search engines you want your website to be indexed,
Set frequency of content renewal for a specific page
Set the priority for specific types of pages on your store.

Google Analytics integration: Via the Google Analytics add-on, which is free and available in all X-Cart versions, you can quickly connect the analytics tool to your store . The plugin helps you to gather data and evaluate shop traffic and marketing success on your eCommerce website. The insights gained will help you make the best changes to your online business.
301 redirect: You can still redirect
When it comes to search engine optimization, 3dcart is one of the biggest eCommerce sites. 3dcart has excellent features to create an SEO friendly shop, beyond the basics such as meta description fields and alt tags for images:
AMP: help your pages load and display much more quickly for mobile platforms;
Native mobile pagespeed tool;
Mobile Optimization suite;
Custom SEO Friendly URLs;
Built in support for Schema markup (this is a big win)
3dCart
In every products page or blog post, The SEO prompts from 3dCart are helpful and original. Unlike the other builder, what they do is make SEO functions noticeable on the platform, like when items are installed. In addition, pop-ups will prompt you to fill in some SEO stuff on search engines to help your page rank better. Overall, they make a complicated subject like SEO fairly achievable for merchants.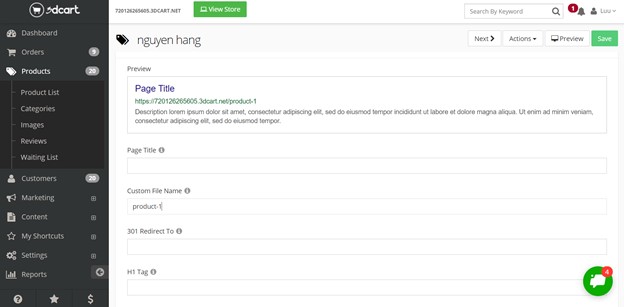 Blogging
X-Cart
Natively, X-Cart does not have a blogging feature. The absence of blogging features will have a negative effect on SEO, as you cannot capture long tail traffic. To compensate for this shortcoming, X-Cart recommends you to install an add-on Blog System in X-Cart 5. This app will create a WordPress blog for you and integrate it with your X-Cart system.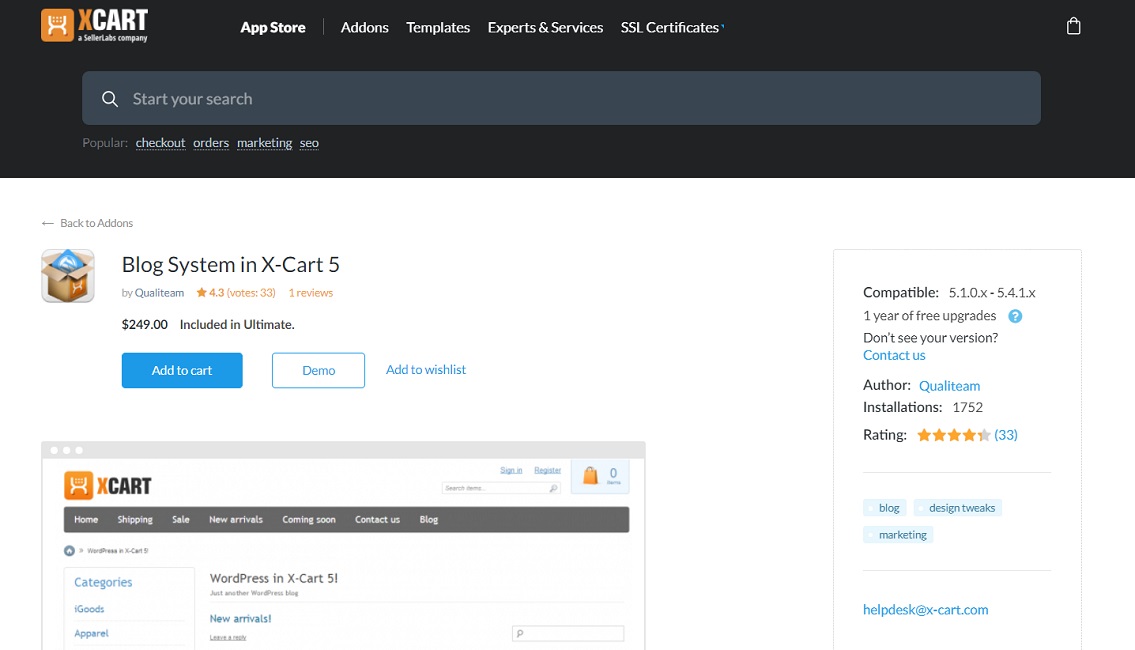 Although WordPress is so famous for its powerful blogging features, integrating with WordPress is still a bad idea. Switching between two platforms can make your daily tasks more complex and time-consuming. Furthermore, WordPress has its own ecommerce plugin named WooCommerce which is at the peak of its popularity. Choosing WooCommerce with WordPress seems to be a better choice compared to X-Cart with WordPress.
3dCart
3dCart, however, has a built-in blog section in the dashboard. The built-In glog of 3dcart contains all the main blogging tools, including post categories and archives and a commenting feature. You can also edit SEO titles & meta tags right in each post easily.
The blog will seamlessly match the style of your store and ensure a seamless look through your whole website, which is impossible to do for an outside blogging network, as a bonus of being built-in to your 3dcart shop.
Email Marketing
X-Cart
X-Cart does not have its own email marketing tool, but it integrates with Mailchimp. Mailchimp is so famous for its powerful email marketing features, but it set a limit of 2,000 contacts and 10,000 emails per month in its free plan. If you want more, you need to pay to upgrade to higher plans.
Key features of Mailchimp on X-Cart:
The Checkout and Registration Page Subscription Form
Control of Subscriptions of both admin and customer
Integration of Mailchimp Ecommerce: track visitors, purchasing activities, conversions, total sales,…
Set email automation based on particular actions taken in your store
Connect instantly in few clicks
3dCart
3dCart has a versatile built-in email marketing module called Newsletter Module in the Marketing section. In establishing a long-term partnership with your clients and winning their repeat company, newsletters can be very effective. With 3dCart Newsletter, you can:
Update new-arrival-products for your clients, remind them of offers, deliver discounts and exclusive promotions,…
Give several updates to various customer groups
Develop mailing lists dynamically based on factors such as the purchasing of a single object, allowing you to quickly reach those categories of consumers.
Build an email template of your own or use a premade one
Access to statistics such as the number of opened emails and the sales of the campaigns.
8. eCommerce features
Inventory management
X-Cart
X-Cart inventory tracking tool is not a separate section but built right in each product. It has all fundamental features for you to keep track of your stock, including:
Show quantity in stock
Set up low stock threshold
Show low stock warning on product page
Get notification of when stock quantity reaches threshold
You can also update product quantity by SKU in bulk with Update Inventory add-on. This is a big advantages as you will need to change stock of many products when stock is replenished
3dCart
3dCart allows you to track your product inventory and determine the various actions that occur when an item's stock reaches 0, such as hide items, Show as "Out of Stock", Allow Back Order, Use Waiting List. Besides, you are able to make inventory management changes to specific products rather than to all products in general. When an item gets low in stock, you will even get a notification with stock alert via email automatically.
Multiple sales channels
X-Cart
X-Cart is integrated with many sales channels that merchants can use to sell products and reach more customers. Multiple online marketplaces, like Facebook, Amazon, eBay and Google Shopping are trusted by millions of online shoppers. You should consider configuring one or more sales channels to broaden your customer base and instantly boost online sales. The following channels are supported:
Amazon Feeds
Buy Button
eBay Integration
Facebook Ads & Instagram Ads
Google Product Feed
Nextag – Export your product feed and get it listed at nextag.com.
Pricegrabber
Shopgate – Mobile Commerce
Shopzilla
3dCart
By default, 3dCart's additional sales channels are in the Shopping engines section. You can quickly add your products to Google Shopping Feed, Shop.com, Bing, Google Product Listing Ads and Godatafeed.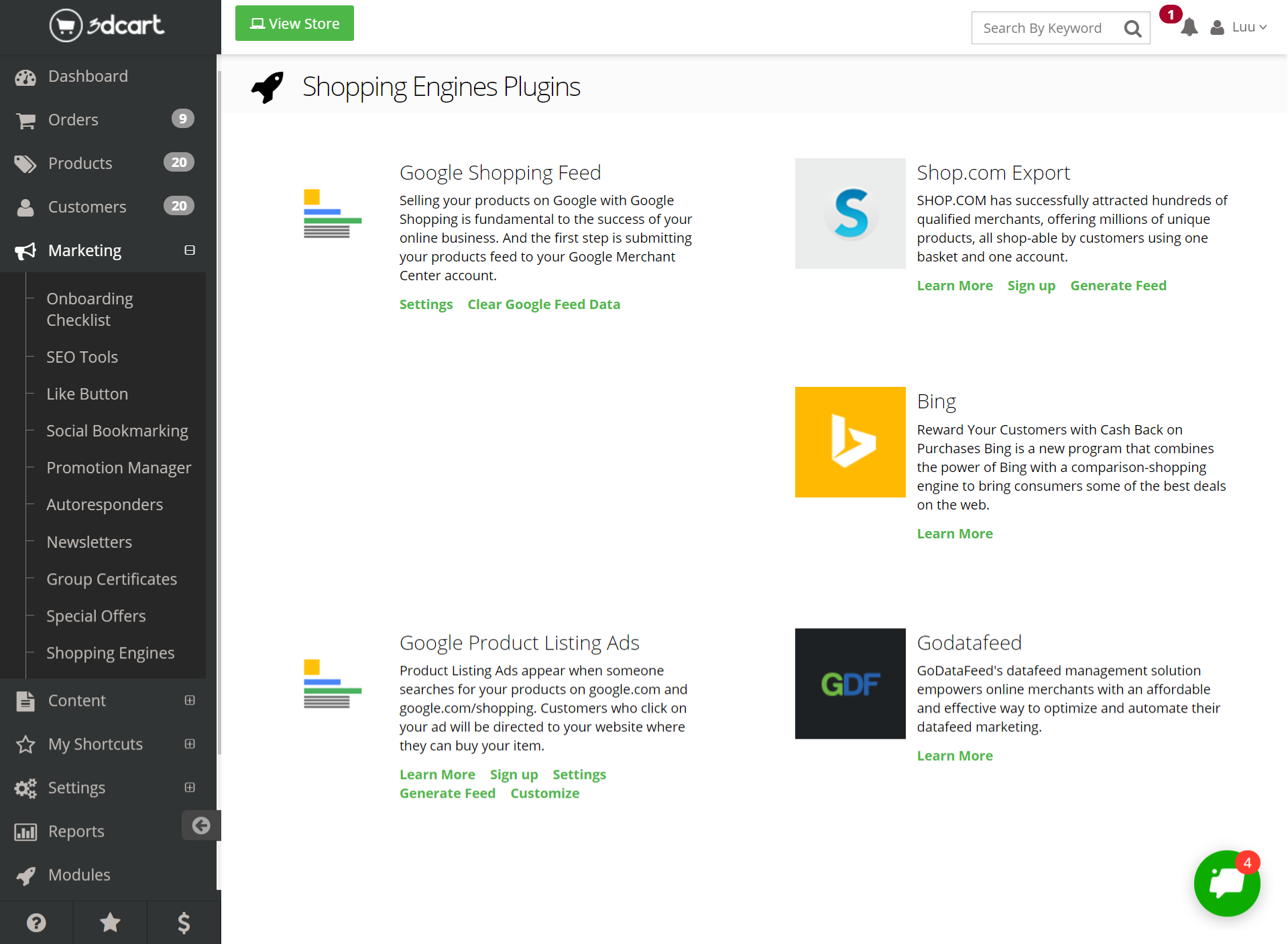 Payment methods
X-Cart
With X-Cart, you can choose among 120 payment processing providers. A significant number of international gateways, such as PayPal, Pay, Sage Pay, and Authorize.net allow you to accept payments from all over the world in multiple currencies and languages.
If you are not satisfied with the payment methods mentioned above, you still have a great choice developed by X-Cart, which is X-Payment. It is a PCI Level 1 Certified platform, providing an extra layer of protection between your store and the payment gateway.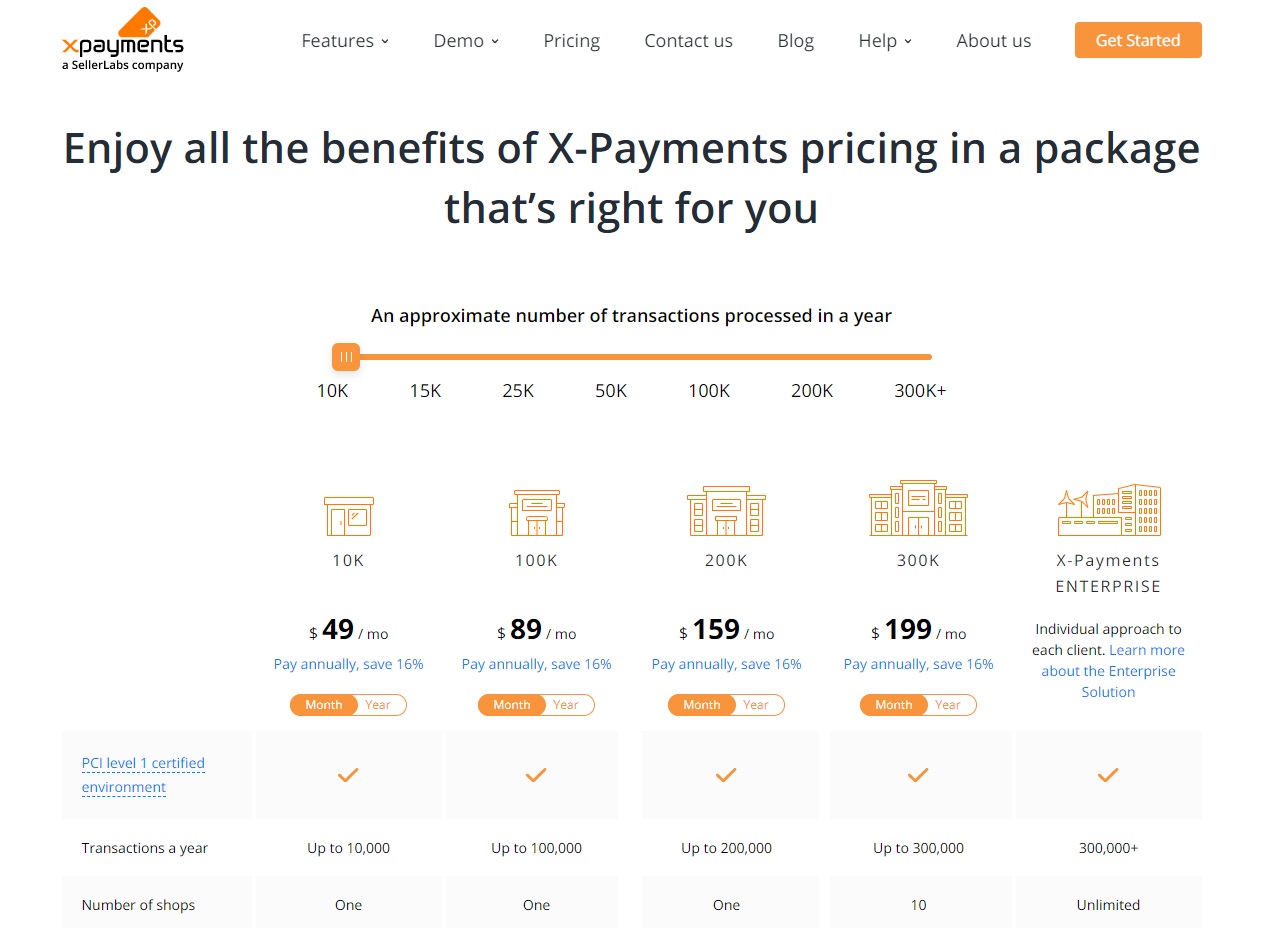 The main difference of X-Cart is that it does not charge merchants directly on their gross merchandise value (GMV). Instead, you only need to pay a monthly fee based on the number of transactions. This can save you a ton of cash if you are selling expensive products.
3dCart
3dCart offers integration with over 100 different pre-integrated eCommerce payment gateways, so you have quite a few options to choose from. You can choose PayPal, Checkout by Amazon or Authorize.Net to process payments online.
By default, Shift4 is already integrated with your 3dCart account, so you can be up and running right away. Shift4 goes above and beyond simply meeting PCI standards, implementing extra procedures for advanced security. Even fraud detection and prevention is built in.
Let's take a quick look at of X-Cart vs 3dCart ecommerce features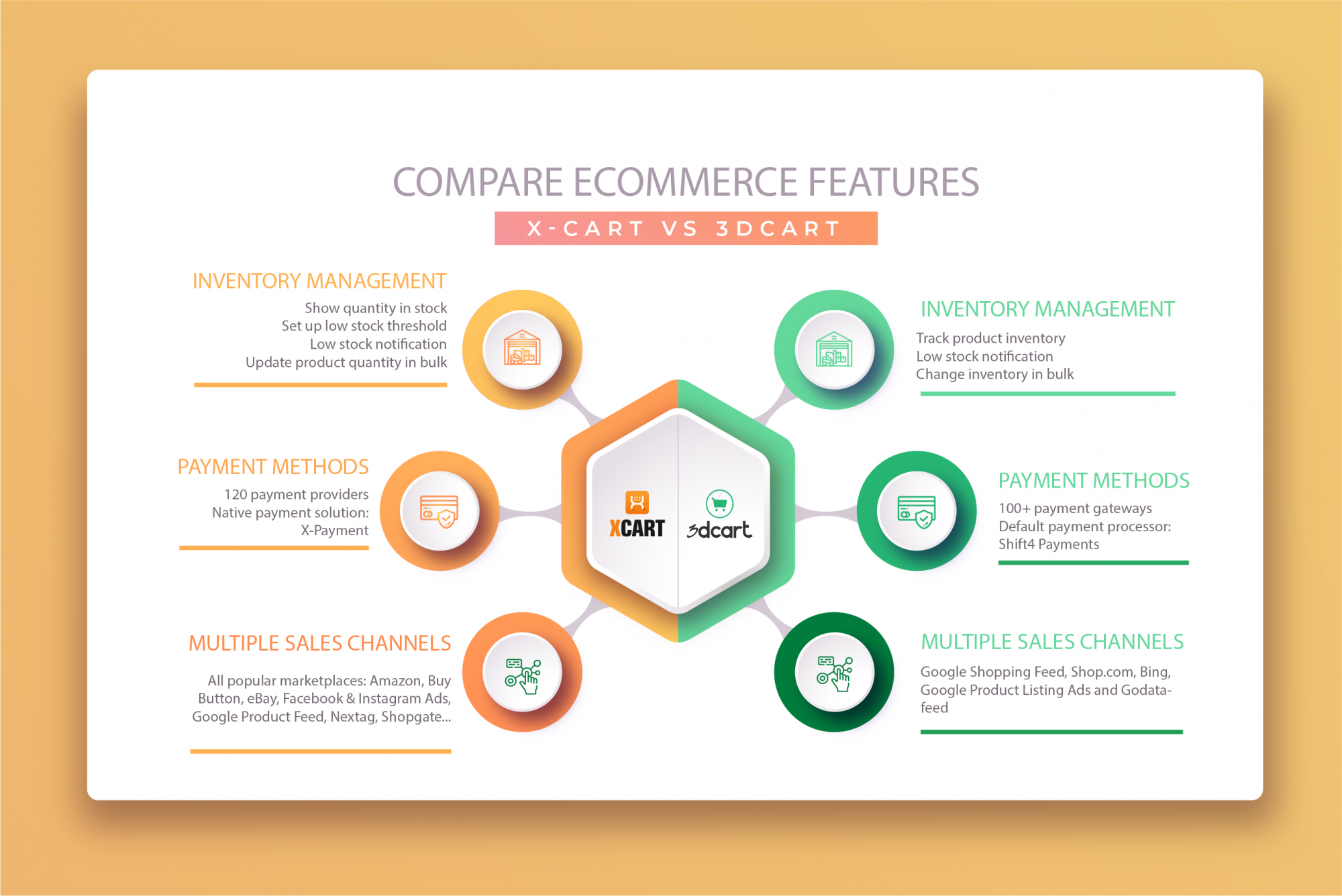 9. Internationalization
Tax settings
X-Cart
Sales tax calculation in X-Cart 5 can be enabled using the Sales Tax add-on. Typically, you will find this add-on already installed and enabled in your store. It gives you absolute control over your tax setting, including setting up and configuring rates for tax classes, assigning tax classes to products and shipping methods.
With X-Cart, you have 5 tax calculation rules:
Subtotal + Shipping cost;
Discounted subtotal + Shipping cost;
Subtotal;
Discounted subtotal;
Individual settings for every rate.
3dCart
3dCart has a built-in Tax Manager that allows you to specify tax rules based on the order's "Ship to" zip code. Unlike X-Cart, you can only set up tax rules based on percentage. This can be an obstacle if your country law requires you to set different tax rates on individual products. In that case, you have to specify your applicable tax codes in the individual product's Advanced Tab.
Languages
X-Cart
To add other languages to your X-Cart store, you have to install a language package in the X-Cart App Store. Once you have more than one language installed and enabled, language selectors will be provided both in the Admin and Customer areas of your X-Cart store.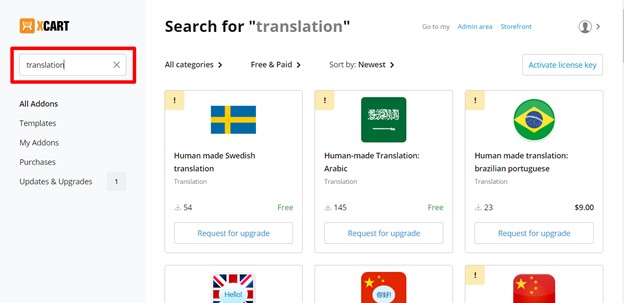 However, the add-on still has a lot of mistakes. For instance, your store is translated from English to German, there would be many sections containing English words. If you are not satisfied with the translation you can complete it by editing the respective text labels or by changing the text of the chosen page directly in the store interface
3dCart
With 3dCart, you can go to the Store Language section to translate your website. This section contains all content for the store's web pages, such as headers, footers, instructions, and general page content like buttons.
Go to Settings → Design → Themes & Styles
Once there, scroll down to the bottom and click on the edit button for "Store Language"
In each section, replace the English terms with the corresponding language terms to replace the language displayed on the website.
Click Save Changes.
Currencies
X-Cart
Sellers can enable X-Cart Multi-currency add-on to show product prices, as well as shipping costs and totals in the currency their buyers are used to. The number of currencies supported is unlimited, and you can convert from one currency to another manually or automatically. However, the orders are processed in the primary currency only.
3dCart
To change the currency that your 3dCart store uses, go to Settings → General → Store Settings. Once there, you will see "Regional settings" at the very bottom of the page.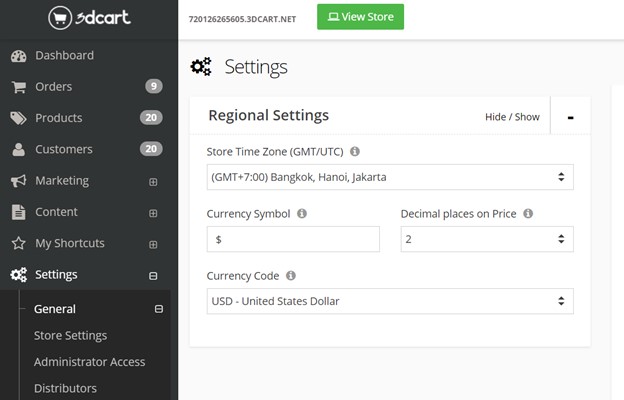 Within this section you will see:
Currency Symbol: Use this field to specify the desired currency symbol for your store. (i.e. $, €, or ¥)
Currency Code: Use this dropdown to specify the standard 3 letter currency code that will be used for your online payment gateway. For example:

USD – US Dollar
CAD – Canadian Dollar
GBP – British Pound
EUR – Euro
With these 2 options, you can set up any currency you want. However, you can only choose one currency for your store. Multiple currencies option on 3Cart  is not available yet.
10. Summary
3dCart and X-Cart have both positive and negative aspects. Both platforms bring so much value to your online business. 3DCart would probably suit you if you are a beginner to eCommerce or your store is small or mid-range, because it is easy and quick to deploy. This is explained by 3DCart's highly intuitive interface. In contrast, X-Cart is good for more experienced merchants with big stores who need to deliver large volumes of goods.
Finally, you can let LitExtension Software give you a hand if you find your old website no longer compatible for online business and want to move to X-Cart or 3dCart. LitExtension is for all consumers and does not require any expertise in technology or programming. We support more than 100 carts, including 3dCart to X-Cart, X-Cart to 3dCart, X-Cart migration, 3dCart migration.
If you have any concerns about X-Cart vs 3dCart migration, the LitExtension team is glad to be of assistance! Join our Facebook Community to get more eCommerce tips and news.