Virto Commerce vs Episerver are two eCommerce solution providers which have been working for over 10 years. If you are looking for an analysis of the key features of these two platforms, don't look further because you're in the right place.
This article will be providing you with a head-to-head comparison between Virto Commerce vs Episerver for your consideration.
Stay tuned!
What are Virto Commerce and Episerver Commerce Cloud & B2B Commerce Cloud?
Virto Commerce vs Episerver B2B Commerce Cloud are products primarily aimed at B2B commerce. The focus of Episerver Commerce Cloud is on B2C, but clients also use it for B2B.
A few words before we start the story. It is publicly announced that Alexander Siniouguine, Virto Commerce CEO & Founder since 2011, was a creator and chief product architect for what is known as EPiServer Commerce. This former EPiServer Commerce is now known by its product name Episerver Commerce Cloud.
Since 2011, Virto Commerce and Episerver products have come a long way in improvement and development. Despite both Virto Commerce and EPiServer Commerce Cloud products were initially created under the same ideas and management, after 2011 their paths of development diverged with fundamentally different approaches to product roadmaps.
Virto Commerce focuses on developing its core eCommerce product without being distracted by investing resources in other business ideas. Episerver, on the contrary, uses the acquisition of companies with ready-made solutions as a strategy.
Over the past decade, Episerver has acquired almost ten companies that focus mainly on digital content. The acquisition of InsiteCommerce in 2019 strengthened the eCommerce product line, but now the company needs to merge its previous Episerver Commerce solution with InsiteCommerce into one product so as not to confuse customers and avoid cannibalism in their product line.
How much do Episerver and Virto Commerce solutions cost?
Price is the factor that interests customers most, along with the list of functionalities. There is no one-click pricing here, as both vendors adhere to the B2B tradition of providing a quote at the request of a buyer.
Episerver indicates on its website that the price depends on the number of SKUs. There will most factors affecting the price. The reason lies in the fact that corporate contracts include various levels of technical support and customization.
Virto Commerce has a detailed price list and provides it upon request, but its interpretation requires the assistance of Virto's sales representative. In general, their license price depends on the customer's eCommerce monthly/yearly revenue and license group. For SaaS pricing tiers, it starts from USD720.00 per month.
CMS and digital experience are the strengths of Episerver
According to its idea of buying up companies, Episerver has merged with various businesses, strengthening its content-oriented and digital experience. In 2015, it merged with Ektron (development in CMS), in 2016, Episerver acquired Peerius (development in personalization), and in October 2020, Episerver acquired Optimizely, a digital experimentation company to which name Episerver announced its rebranding in 2021.
Initially, Episerver positions itself as a CMS (content management system) instead of an eCommerce platform. Therefore, Episerver receives positive feedback about its rich CMS functionality. Episerver calls its CMS as "Content Cloud".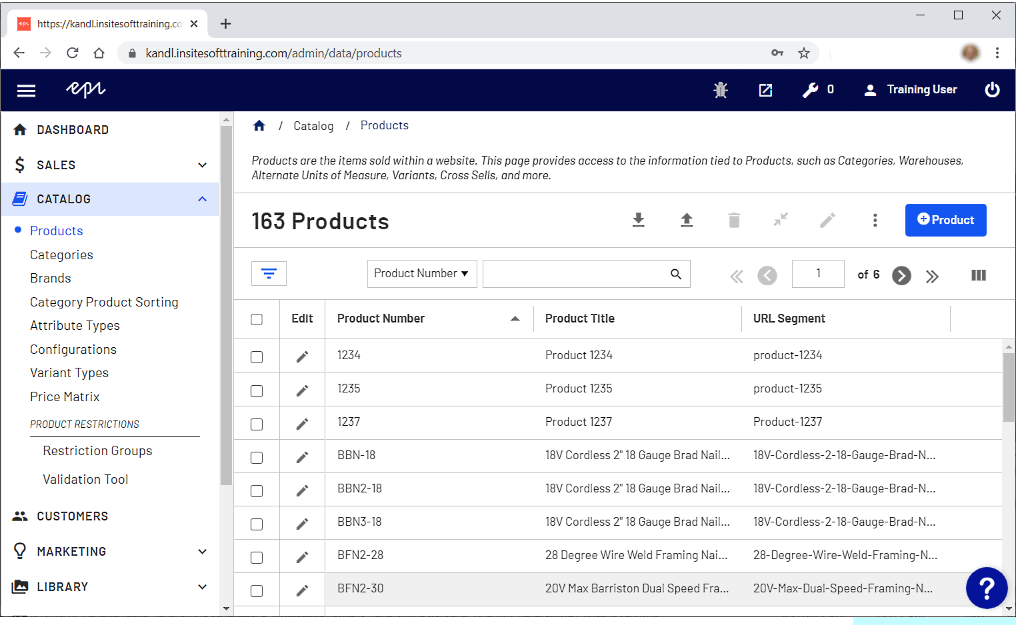 Episerver's B2B eCommerce alignment challenge after acquisition
After the acquisition of Insite Software, Episerver added a new B2B Commerce Cloud app to the product line in December 2019. This product was formerly known as InsiteCommerce. There are 2 Episerver eCommerce products: Commerce Cloud (Episerver develops) and B2B Commerce Cloud (formerly InsiteCommerce).
Two eCommerce products intended for B2B in Episerver's product line bring confusion for new and existing customers. The IDC agency identified this in particular as a post-acquisition alignment challenge: "Following the acquisition of Insite, Episerver has stated its intention to fully support the B2B digital commerce platform as a separate product. However, Episerver's native commerce offering also supports B2B commerce, and the company will need to build integration and clearly recommend the most appropriate product to prospects depending on their needs."
Quite interesting, in 2019, Episerver conducted a survey with hundreds of decision-makers in different countries, including the USA and the European Union, about their expectations of B2B eCommerce and plans to develop online business.
A majority of the participants understand that their company's technology stack is holding back their digital agility goals. Besides, outdated software is another cause of technology problems in their business. Therefore, existing Episerver customers should think about what to do next in an uncertain situation. They face an unclear Episerver software roadmap for B2B eCommerce.
There may be two ways for Episerver B2B eCommerce customers:
The first way is to get more detailed information from the vendor [even at an insider level] on how Episerver's original Commerce Cloud and the B2B Commerce Cloud (Ex: InsiteCommerce product) will be combined into a single solution. However, each team develops the products independently. Therefore, they have different visions and technology stacks.
The second chance is a migration to another B2B platform with a clear roadmap. Although this is usually a difficult procedure, it can be proceeded using the LitExtension service. LitExtensions's use cases have many successful examples of migrations between dozens of different eCommerce platforms, with good results and praised client references.
Technology stack votes for Virto Commerce
Regarding Virto Commerce, they chose the technological excellence of their product to position themselves in the market of eCommerce. You can find almost everything you read about the latest technologies and hot trends in B2B eCommerce in the Virto Commerce tech stack.
The list of Virto Commerce version 3.x.x improvements contains the widest OS compatibility, ASP.Net Core stack, better performance, and increased extensibility and unification for customization and add-on development.
Composable architecture for building the solution based on best-of-breed applications.
Modularity for selecting business components, thus giving the capability to compose customer solutions.
Headless API for multiple touchpoint runtime based on the same business logic.
API-driven architecture for seamless integration with ERP, CRM, order management, product information management (PIM), content management (CMS), and payment pipeline.
Microservices for higher performance and processes isolation.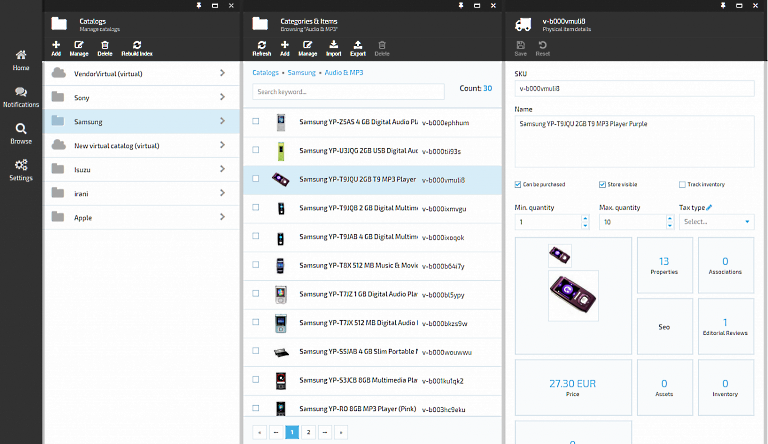 At the edge of 2021, Virto Commerce released Digital Commerce Experience functionality (also known as DcXP or XAPI), which is now available on GitHub. All the platform's functionalities are exposed as various GrahpQL APIs that fully satisfy the main principles of SOA.
In 2021, the roadmap for Virto Commerce version 3.x.x includes integration with Azure Events Grid, property-based dynamic customer segment, simple export/import tool for prices, email verification workflow for account data management and other improvements. The full list of the Virto Commerce platform roadmap is available online.
Integration feature for Virto Commerce vs Episerver
Integration abilities are built into the technology stack of both Virto Commerce [ASP.NET Core] and Episerver [ASP.NET]. The founders of these platforms expected to extend an enterprise digital commerce.
Both platforms manifest themselves in enabling universal integration of eсommerce vendor applications with existing software in the enterprise IT ecosystem, supporting the organization's business needs. In the modern world, any API-driven software has to be easily integrated with other API-driven software.
A common integration challenge is the re-platforming of the eCommerce solution because an eCommerce vendor usually offers integration primarily with its own set of applications. Moreover, the client has some applications and nice-to-keep legacy tools they want to maintain. But re-platforming is always expensive, and in many cases takes longer than expected.
However, new applications are appearing every day, especially for product recommendations, marketing, etc. To keep the business competitive, store owners should be able to choose best-in-breed apps, test them and replace them by demand.
Episerver Integrations
Episerver B2B commerce Cloud declares integration with any technology or protocol – REST APIs, ODBC, Flat Files, XML, JSON, etc. Customers don't need to purchase or implement a separate middleware to connect B2B Commerce Cloud with their critical back-end business systems like their ERP, PIM, CRM or others. At the same time, Episerver B2B commerce Cloud invites clients to use their application library, pointing out the limitations in choosing compatible applications.
Virto Commerce provides an open architecture, a seamless integration framework and a complete set of components for the end-to-end solution, which helps in the step-by-step transition between different applications. Both REST API and GraphQL are available in the Virto Commerce architecture.
Virto Commerce Integrations
Virto Commerce supports a common standard for designing web APIs by REST API and allows to obtain fine-grained insights into the data being requested on the back end with GraphQL. As each client specifies precisely what data they require, it is possible to gain a deep understanding of how they can use available data.
Read more about Episerver B2B commerce Cloud integration capabilities and Virto Commerce integration approach at vendors' websites.
Virto Commerce vs Episerver feature list at a glance
Besides some key parameters, you should pay extra attention to the solution's integration capabilities. Every company growing in B2B eCommerce has a complex software ecosystem and choosing a flexible platform has become extremely important.
For the subsequent comparison of Virto Commerce vs. Episerver platforms, let's note the factors that are important for decision-makers. Here we summarize technical specifications from the vendor websites as well as independent surveys:
Features / Vendor
Virto Commerce
Episerver Commerce Cloud
Episerver B2B Commerce by Insite
Business-related features
Digital catalog
Yes
Yes
Yes
Mobile touchpoints
Yes
Yes
Yes
Account management
Yes
Unknown
Unknown
Account-based pricing
Yes
Unknown
Unknown
User groups
Yes
Yes
Yes
Group promotions
Yes
Unknown
No
Multicurrency
Yes
Yes
Yes
Coins, cryptos
Yes
Unknown
Unknown
Multiple languages
Yes
Yes
Yes
AI engine support
Third-party
Unknown
Add-on
Built-in CMS
Yes
Yes
Yes
Multi-site management
Yes
Yes
Yes
Technology-related features
Solution framework
Virto Commerce's solution framework is ASP.NET Core
Episerver Commerce Cloud's framework is ASP.NET MVC5
Similar to Episerver Commerce Cloud
Preferred cloud
Microsoft Azure
Microsoft Azure
Microsoft Azure
Multi-cloud enabled (Azure, AWS, Google, Alibaba)
Yes
Unknown
Unknown
Multitenant cloud application
Yes
No
No
Open source code
Yes
No
No
Headless
Yes
Yes
Yes
Microservices
Yes
Yes
Yes
Composable design
Yes
CMS-related
Unknown
Linux based Container (k8s) support
Yes
No
No
Conclusion
Current Episerver customers use EPiServer Commerce running both B2C and B2B on the same platform. However, the purchase of InsiteCommerce may force you to act differently. They have a choice to continue using and extending a product that no longer has a dedicated B2B development roadmap. Otherwise, they can switch to a completely new platform (and only for the B2B part).
In addition, it is quite expensive to maintain two Episerver platforms. You may need to spend unnecessary IT and personal resources as well.
Among the main advantages of Virto Commerce are its composable architecture, the framework transition from ASP.NET to ASP.NET Core, and multi-cloud support. Customers are those who have the most comprehensive comparison. They can request a test setup of EpiServer and Virto Commerce B2B eCommerce platform and then try out features that are critical to the customer's B2B differentiation.
If you're on the plan to transfer your store entities from the current platform to a more robust one, LitExtension would be a perfect choice. With over 10 years of working experience, we have successfully migrated more than 150,000 online stores all over the world. We are proud to be your world-leading shopping cart migration experts that transfer all your data automatically, securely, and fastly.
Don't forget to join our community to get more eCommerce knowledge.