Choosing a suitable ecommerce solution to use (or to replatform to) is always a tough decision. Especially if you are running a big brand, you have to take this issue into serious consideration. Two of the most prominent names at the enterprise end of the market are Salesforce Commerce Cloud vs Magento Commerce. According to Ahrefs, monthly search volume of Salesforce Commerce Cloud vs Magento Commerce are 5,400 and 2,300 correspondingly. The numbers indicate that store owners take a great interest in those two platforms.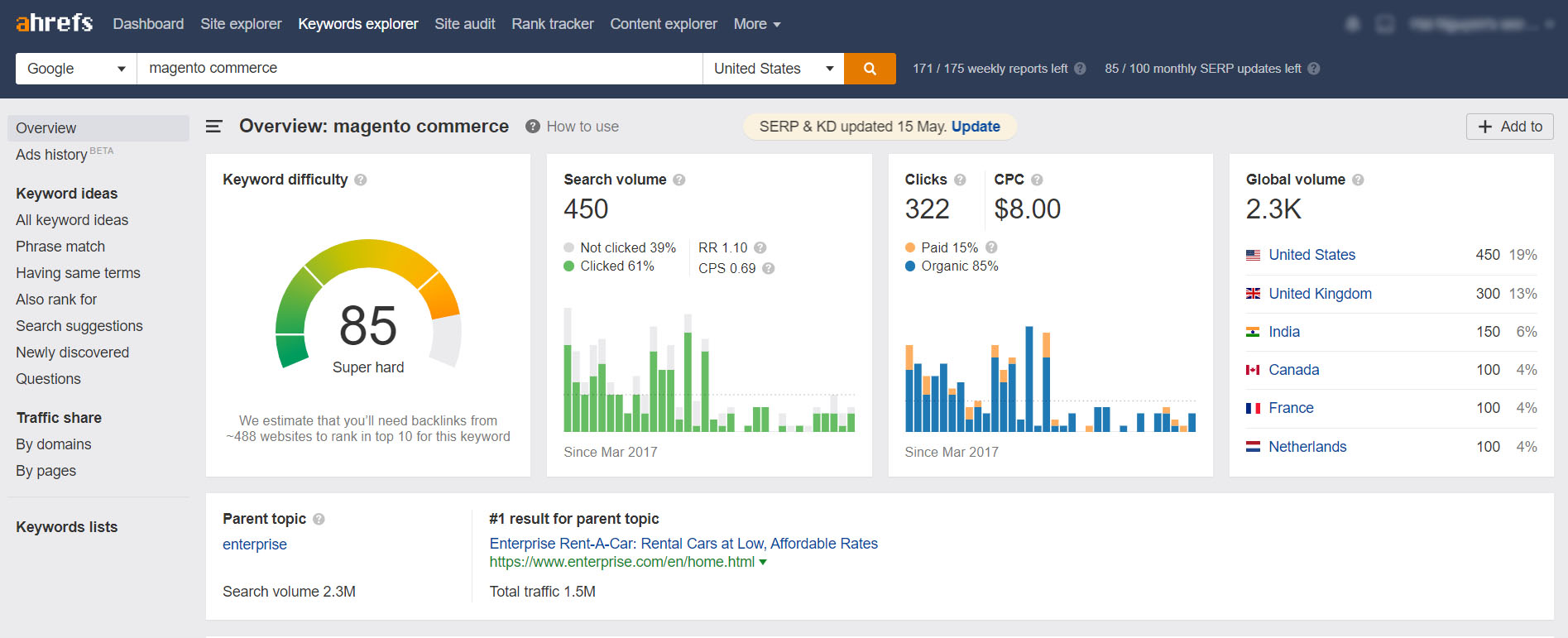 Therefore, in this article, we will give you a thorough comparison between Salesforce Commerce Cloud vs Magento Commerce in terms of pricing and features.
Overview
What is Salesforce Commerce Cloud?
In 2016, Salesforce acquired Demandware, a software company providing a cloud-based unified ecommerce platform. Since then, Demandware has been renamed to Salesforce Commerce Cloud and became one of the main products by Salesforce.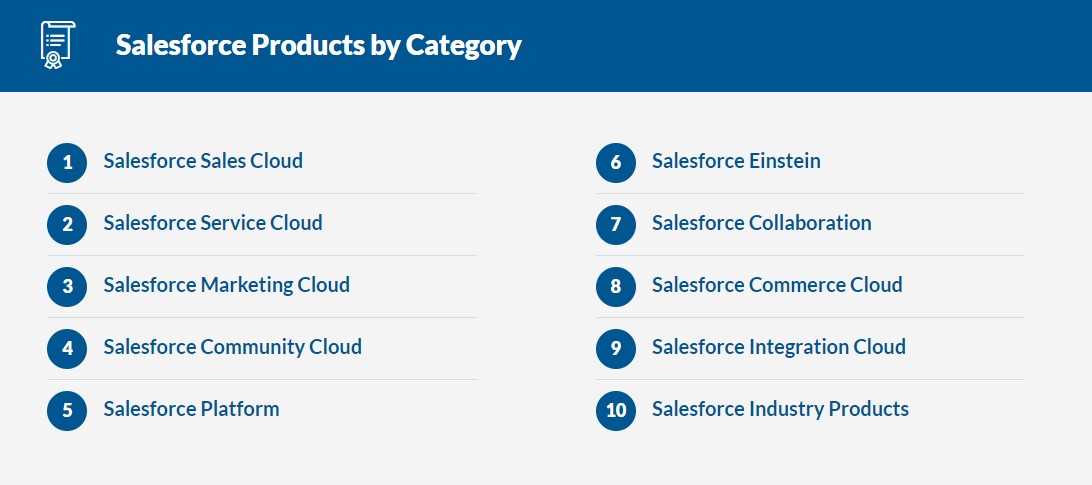 Salesforce Commerce Cloud solution is a multi-tenant, cloud-based commerce platform, empowering brands to create intelligent, unified buying experiences across all channels (mobile, social, web, and store).
Though the term "cloud-based" is quite familiar to e-merchants, "multi-tenant" may be more confusing. Multi-tenancy means that a single instance of software and its supporting infrastructure serves many customers. All customers share the same software application and also share a single database. However, each tenant's data is still isolated and invisible to other tenants to ensure the data security requirements. Merchants who are using multi-tenant cloud architecture can benefit from automated maintenance and updates, lower costs and high configurability.
Similar to Demandware, the target users of Salesforce Commerce Cloud are enterprise-level merchants, not small businesses. The most prominent brands using this solution are Adidas, Burton, Puma, and Lacoste. If you are looking for a detailed review of Salesforce Commerce Cloud, we also have a dedicating article for you here.
What is Magento Commerce?
Magento, a well-known e-commerce solution and Content Management System (CMS), has been offering a free and a premium version of its platform since its inception. After the acquisition by Adobe, Magento has rebranded the paid version (Magento Enterprise) to Magento Commerce/Magento Cloud, and the free one (Magento Community) to Magento Open Source.
Magento Commerce comes with stronger built-in capabilities than Magento Open Source in key areas of data analytics, marketing, content management, and customer experience. If you are looking for a detailed comparison between Magento Open Source vs Magento Commerce, we also have a very interesting article attached for your reference.
Magento Commerce gives you two options to self-host (Magento Commerce On-Premise) or pay for cloud-hosting as part of the subscription fee (Magento Commerce Cloud). Based on your choice and your GMV (Gross Merchandising Value), your license fee would vary from $22,000 to $190,000 per year. We would learn more about Magento Commerce's pricing model in the next section.
Magento Commerce also aims for providing solutions for big brands. Some of the largest Magento Commerce's customers are: Helly Hansen, Paul Smith, End Clothing, MADE.com, BrewDog, Paperchase, Bulk Powders.
Pricing
In order to compete with other competitors, Salesforce Commerce Cloud has recently changed their pricing model. Its purpose is to attract smaller merchants to use the software. The new licensing fee has three core tiers, which are called Starter, Growth and Plus. All of the 3 plans are revenue-based:
| | | |
| --- | --- | --- |
| | Top features | Pricing |
| Starter | 1 site/storefronts and 2 price books | ~1% GMV |
| Growth | 5 sites/storefronts and 10 price books | ~1 – 2% GMV |
| Plus | More than 5 site/storefronts | 2% GMV |
Note: A price book is a list of products and their prices. It contains price definitions for a group of products on the basis of a certain currency. Each product in the price book can have many price tables where you define prices for varying quantities.
For Magento Commerce, the pricing model is based on not only GMV but also merchants' hosting choice. The table below shows the platform fee of Magento Commerce based on annual revenue.
| | | |
| --- | --- | --- |
| Revenue per year (USD) | Magento Commerce On Premise (licensing) | Magento Commerce Cloud (including licensing and hosting) |
| 0 – <1 M | $22,000 | $40,000 |
| 1 – <5 M | $32,000 | $55,000 |
| 5 – <10 M | $49,000 | $80,000 |
| 10 – <25 M | $75,000 | $120,000 |
| 25 – <50 M | $125,000 | $190,000 |
The hosting seems to take a significant amount of money from your pocket, but it will not let you down. Magento Commerce Cloud is built on Amazon Web Services, the world's most comprehensive and broadly adopted cloud infrastructure. Therefore, your website would run smoothly on a multi-functional, secure and innovative environment.
Salesforce Commerce Cloud vs Magento Commerce – Feature comparison
1. Omni-channel capabilities
The term "omni-channel" refers to the combination of multi-channel selling and gathering information across sales channels so that you can have a complete view of your customers' profile and journey. Retailers are taking greater notice of omni-channel than ever because of its capability to engage new customers, boost revenues, and enhance your overall business. Therefore, omni-channel is becoming a must-have feature of ecommerce solutions for mid-size and large businesses.
Salesforce Commerce Cloud enables retailers to manage their businesses across multiple channels by allowing a shared view of orders, customers, inventory, products, and promotions across physical and digital channels. Order Management function on Salesforce Commerce Cloud is fully integrated across both Commerce Cloud Digital and Commerce Cloud Store. It acts as the central nervous system for all order information, giving your customers the freedom to receive or return a product when, where, and how they want (such as buy online, pickup/return in-store). 
Besides, Salesforce Commerce Cloud provides built-in inventory management functionality that you can use with your storefront application. Real-time inventory management shared across all channels enables merchants to catch every opportunity to offer customers an available product, regardless of where it is located — in another store, a warehouse, or an entirely different zip code.
In addition to all that, Salesforce also partners with companies providing independent omni-channel services on its Commerce Cloud solution, which enhances its omni-channel capabilities. You can get access to its partners' innovative solutions, connect with experts and quickly execute your omni-channel projects. For example, you can integrate Salesforce Order Management with their third-party partners like Mad Mobile, NewStore, and PredictSpring to bridge the gap between digital and physical experiences. Their POS (point of sale) solution can synchronize all your clients' purchase history and information from your physical stores to digital ones. Or Feedonomics, a Salesforce's partner that helps list your products anywhere people shop online, including Google Shopping, Amazon, Facebook, Walmart, and eBay.
Magento Commerce also provides the capabilities to grow your store into a finely tuned omni-channel business by uniting your ecommerce channels, supporting growth and expansion, and enhancing your customer service. Magento Commerce can create a complete digital representation of inventory across a handful of sources and assign stock levels to your warehouses.  
As your business expands to multiple brands, websites, stores, warehouses, and other channels, Magento order management would automate the way you handle the increased order volume. Your stores would be transformed into a multi-distribution network, and all the complex combinations of fulfillment and sourcing are optimized. 
Furthermore, like Salesforce, Magento Commerce also allows customers to view in-store inventory online, buy online and pick up in your physical stores. That creates a truly seamless cross-channel journey. A complete view of inventory coupled with powerful order management can ensure the best shopping and delivery experiences for your customers. No matter where or how they choose to buy or how big your business grows, that experience would exceed their expectations. 
2. E-commerce Site Management
Salesforce Commerce Cloud gives you a tool named Business Manager to help you manage various aspects of your sites. This crucial tool is the command center for your B2C Commerce merchandising, administration, and site development capabilities.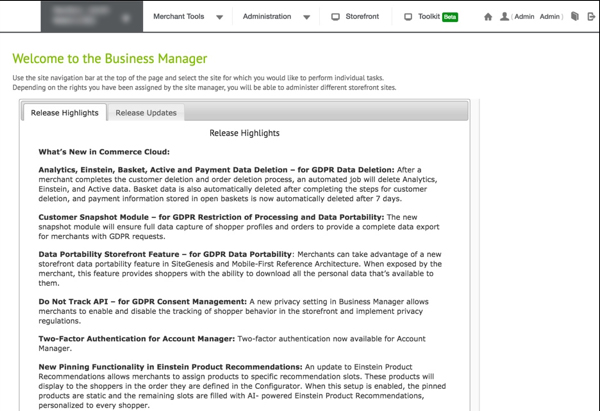 The admin can define roles to grant or restrict access based on a role's permission set. There are 4 types of user roles in Business Manager, which are Admin, Merchandiser, Web Operation and Developer. They can get access to a bunch of features to run their ecommerce site on Salesforce Commerce Cloud:
Category Management:

Business Manager enables you to create categories and subcategories, and assign products to categories as well. You can use the category attributes settings and products attribute definitions to control the appearance of your categories and products on your storefront. Moreover, additional actions such as setting category schedules, linking categories, managing category search refinement definitions, and setting category sorting rules are also achievable.

Online Marketing:

Set up promotions, campaigns and customer groups; and predefine group experiences according to best-case scenarios. We can learn more about this in the Marketing section of this article.

Search Configuration:

Define search behavior for your users and increase your conversions by providing them with desirable search results.

Sorting Rules:

Personalize experiences for customers by prominently displaying select, seasonal or best selling products.

Product Management:

Bundle products or create product sets to improve their representation on your site and drive sales.

Shipping Methods:

Automated real-time shipping processors can be configured to process shipments through shippers like USPS, UPS, DHL, FedEx, and CanadaPost. A shipping processor might be set up for the entire company, or for a specific site or catalog. It helps limit shipping costs when selling to different geographical areas and optimize the shipping process for each country.
Magento Commerce brings in powerful admin experience. It works efficiently with a modern, and customizable intuitive user interface. Via a single dashboard, you can monitor your stores with quick access to sales, order, search term and best-selling product data. Enhanced navigation and search also make it easy to find information, and management screens can be customized and saved to speed up your daily operational tasks. Some of the most frequently used features on Magento Commerce are listed below: 
Control multiple websites and stores from one Admin.
Customize and save different Admin panel views to efficiently manage daily tasks.
Define multiple roles and permissions to control access to administrative features.
Log and review all users' Admin activities.
Set tax rates based on location, product type, or customer group (i.e., wholesale vs. retailer).
Generate comprehensive system reports to quickly diagnose and resolve technical issues.
3. Internationalization
The internationalization features of Salesforce Commerce Cloud vs Magento Commerce are equivalent, as both platforms want to support merchants with very high sales volume.
A site built on Salesforce Commerce Cloud can be localized and configured to fulfill the multiple needs of consumers from various regions. It has a variety of localization features to support the global expansion of an enterprise. You can localize your store designing from the storefront to the Business Manager.
Multi-site management allows the creation of multiple sites and the management under a single window. Regional teams can launch regional stores within a few weeks. Moreover, the Business Manager interface has the built-in languages support of English, French, Italian, Chinese and Japanese. This will help to involve local people in the admin team to have more customized regional content.
With Salesforce Commerce Cloud, merchants can create multiple priced books defining price tags for different currencies. They can also adapt locale-specific format for numbers, dates, time, and addresses to make the storefronts more user-friendly. Configuring the charging of sales tax on orders is also very easy by using a feature named Tax Providers. You can set a fixed rate, configure a different tax rate for different regions or use tax rate tables from integrated third party providers including Avalera, Vertex, and CyberSource.
Magento Commerce supports different languages, multiple currencies as well as localized pricing and tax rates. You can manage multiple sites for different countries from a single store, configure a list of allowed countries for site registration, shipping, and billing.
About languages, global stores have capacity to use accented characters and right-to-left text. It means that if your business is expanding to countries using Spanish, French, Italian, German and Portuguese, you are still good to go.
Another concern when your brand operates internationally is taxes. Magento Commerce supports fixed product taxes in the EU, or automatically calculates tax for transactions in the EU with VAT-ID validation.
4. Merchandising capabilities
When it comes to the merchandising capabilities of Salesforce Commerce Cloud vs Magento Commerce, both of them are really strong. This is a big advantage of these two ecommerce solutions over many other ones on the market.
Let us have a look at the key merchandising features on Salesforce Commerce Cloud: 
Complicated product types availability:

Beside standard product, store owners have a bunch of other

product types in Salesforce Commerce Cloud

to configure their items:

variation master, variation group, variation product, product set, and product bundle.

 

Visual merchandising:

You can sort a category visually with Business Manager, either by just pinning some products to the top, or rearrange the whole category in a specific order that you want with drag-and-drop capability.

Ability to schedule tasks:

You can schedule campaigns, A/B tests, promotions, and content slots (like products, categories, static HTML…). For example, you can use scheduled categories to create special promotions like flash sales, and seasonal offerings. On the scheduled date and time, the flash sale category becomes immediately visible to customers in the storefront. 

Product recommendation

: Allows rule-based and machine-learned cross-sells, up-sells, and related product recommendations. 

Advanced built-in search features:

You can use Salesforce B2C Commerce's Beta search feature. This feature is case insensitive, which means it supports multi-word entries that are not order specific. For example, "Red Shirt" and "Shirt Red" are considered equivalent. 
Key merchandising features on Magento Commerce are listed below: 
Support complex product types:

Natively, there are

7 standard product types

on Magento Commerce: Simple products, Configurable products, Bundled products, Downloadable products, Virtual products, Grouped products and Gift cards. 

Ability to customize product types

: In some cases, you may not be satisfied with existing product types that Magento Commerce provides. Thanks to its open source nature, customizing product types on Magento Commerce is achievable. You can access the source code to modify the existing product types or create a completely new one. 

Visual Merchandiser:

This is a set of advanced tools on Magento Commerce edition that allows you to position products and apply conditions that determine which products appear in the category listing. You can just drag and drop or set position value to change products' position. 

Customer segmentation and personalization:

This feature creates personalized shopping experiences that significantly boost conversion rates by dynamically displaying content, promotions, and pricing to specific customers. It works based on properties such as their location, gender, order history, lifetime purchase value, wish list items, and more. You can also target unknown site visitors based on the products they have viewed or items in their cart. 

Content staging and preview:

Now your business teams have capacity to easily create, preview, and schedule content updates without involving IT. By managing all changes through a timeline dashboard, you can preview all changes by date or store view to guarantee a flawless shopper experience and optimize the timing and impact of site updates.  

Rewards and Loyalty

: Magento's reward points system gives you the ability to implement unique programs that drive customer engagement and promote customer loyalty. Points can be awarded considering a wide range of transaction and customer activities. Customers can redeem points toward purchases, based on the conversion rate that you set up between reward points and currency.
5. Customization
About customization of Salesforce Commerce Cloud vs Magento Commerce (Magento Cloud), in case you are not satisfied with what they offer natively, you may want to look for third-party integration or build bespoke functionalities. Fortunately, both solutions have very comprehensive APIs and developer documentation to support external solution providers.
Salesforce Commerce Cloud is on a SaaS basis, so full client control of the codebase is not possible. However, it is still more extensible in terms of heavy customization than other SaaS solutions like Shopify Plus or BigCommerce Enterprise. Salesforce has the Commerce Cloud Partner Marketplace, which is composed of selected Demandware partners that can offer support and value-added services for your store. Although heavy customization is not achievable, this is part of Salesforce's stability selling point, as all codes are committed to be vetted.
For Magento Commerce, customizability seems to be endless thanks to its open source nature. You can not only modify your storefronts to meet consumers' taste but also makes changes to your admin panel to speed up your daily tasks. You also have a wide range of choice among 404 third-party extensions that support both self-hosting and cloud-hosting versions on Magento Marketplace.
6. AI-Powered Personalization
Salesforce has been quite famous for its AI tool, Einstein. Commerce Cloud Einstein is an artificial-intelligence-powered tool for product recommendations, predictive sort, customer insights and advanced site search suggestions.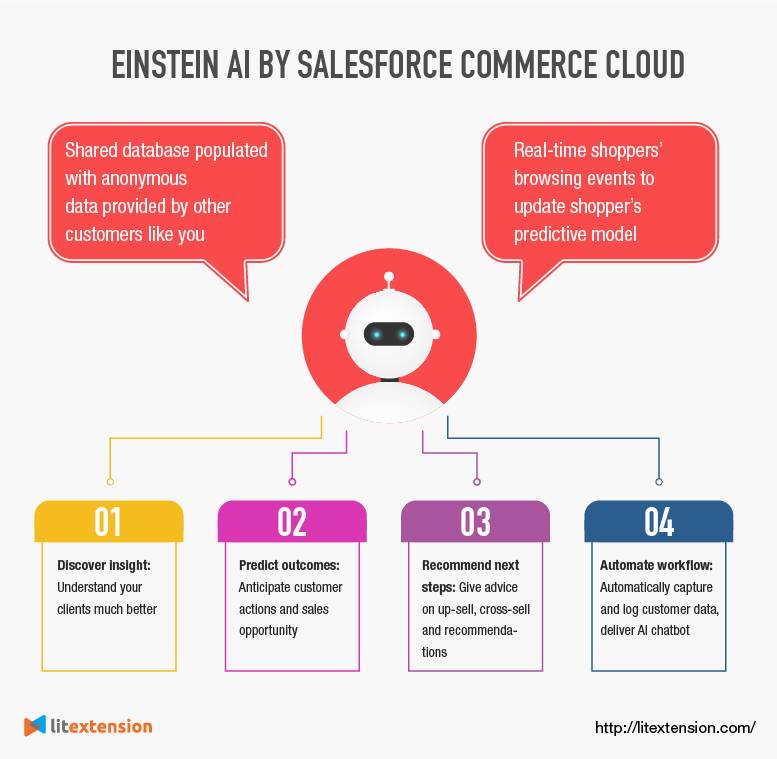 Einstein relies on two sources of data:
Shared database populated with anonymous data provided by other customers like you.
Shoppers' browsing events collected to update the shopper's predictive model in real-time, and then calculate the most relevant experiences for shoppers.
From the data collected, Einstein can empower merchant to build a smarter business than ever before:
Discover insight

: Give every employee instant access to smart insights to understand your clients much better. 

Predict outcomes

: Einstein uses data to anticipate customer actions based on their behaviours, to predict which sales leads and opportunities will convert and to which channels, content, products, messaging and even timing your customers will most likely respond to.

Recommend next steps

: After the learning process, Einstein would deliver the right recommendations to your employees and customers. Your staff are advised on up-sell, cross sell and recommendations to decrease attrition, and more.

Automate workflow

: Einstein can automatically capture and log critical customer data for analytics purpose and deliver the on-demand support customers want using AI chatbots.
After all, you also have the ability to verify the quality of your data, receiving warnings by Commerce Cloud Einstein about catalogs, orders, recommendations, or deployment.
For Magento Commerce, the built-in product recommendation feature is powered by Adobe Sensei. The leading artificial intelligence fuels a collection of machine learning algorithms that automatically analyzes shoppers' behaviors to produce meaningful product affinities. The artificial intelligence powers 4 types of recommendations:
Shopper-based:

Recommends items based on each visitor's browsing, viewing, and purchasing history. These items are generally referred to as "Recommended for You" 

Content-similarity based:

Recommends items similar to items based on current page activity or past visitor behavior. 

Item-based

: this kind of recommendation is based on the the products viewed or bought in the same browsing session with a certain product, including 3 main types:

Viewed this, viewed that

: Recommended items that are most often viewed in the same session that the specified item is viewed.

Viewed this, bought that

: Recommended items that are most often purchased in the same session that the specified item is viewed. 

Bought this, bought that

: Recommended items that are most often purchased by customers at the same time as the specified item.

Contextual popularity-based

: including products that are trending, most-viewed, most purchased and most added to cart
7. Marketing
Salesforce provides an "Online Marketing" section in the Merchant Tools tab to empower store owners to promote their products. As you can see below, you can get access to 10 features: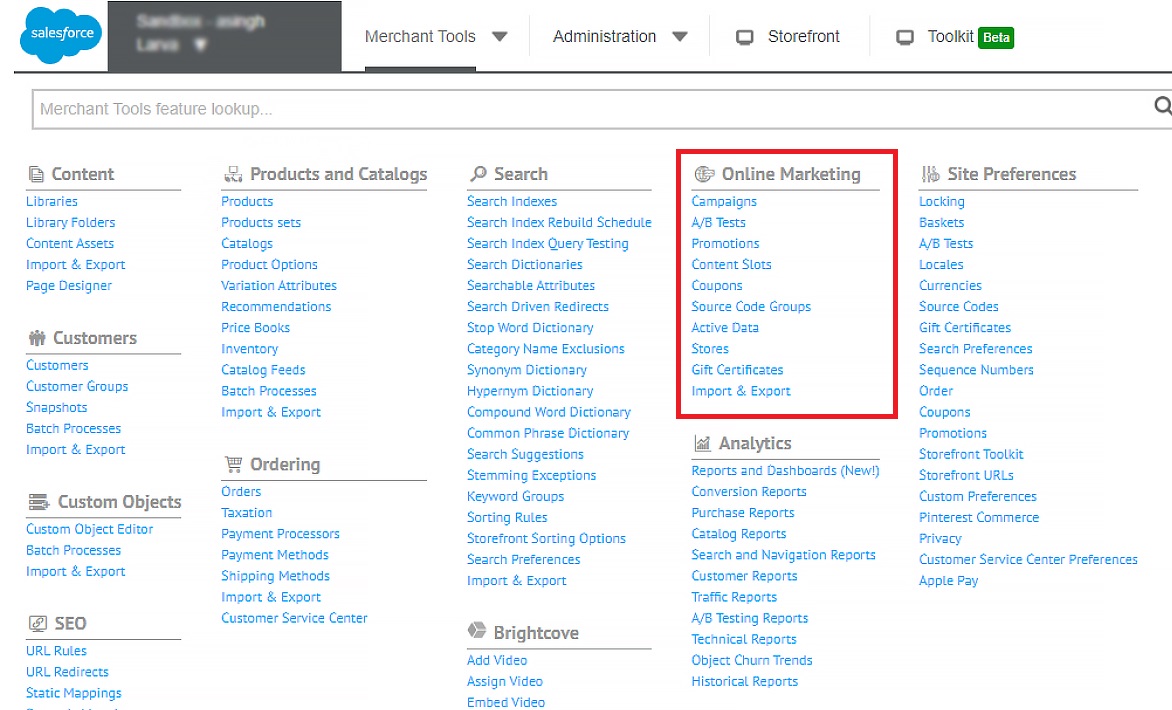 Campaign:

A campaign represents a collection of upcoming experiences that consumers can have in your storefront based on your configuration. 

Promotions:

Promotions are discounts for your shopper. They can be set for a specific item, for the total order value or for shipping cost.

Content slot:

Slots are specific places in a storefront that display content and perform some certain actions. You can choose what can appear and schedule the time for it to go live. 

A/B test:

This feature enables you to figure out which promotion or content slot is better. You only have to make changes to your sites that affect only a subset of visitors. Then,  based on the results that you get, you can optimize your site to make it perform more efficiently.

Coupons:

You can issue a single-code coupon, a multiple code coupon or a system-generated coupon.
Source code groups:

it gives you the ability to create a URL that ends up anywhere on your Commerce Cloud site.
Active data:

This is the center of analysis and reporting of your customers and products. You can use these data inside Salesforce Commerce Cloud,  import data from external sources or export data for your own usage outside Salesforce Commerce Cloud.
Stores:

This tool is used to keep track of store location information, such as addresses, locations, and hours of business, which appears in your storefront.
Gift certificates:

Gift certificates are created for shoppers to use on your storefront.  Shoppers can purchase a gift certificate and email it to a recipient of their choice, redeem a gift certificate as a method of payment, and check a gift certificate balance.

Import & Export:

support your demand for transferring data between Salesforce and an outside system like an inventory, ordering, or marketing system.
About SEO, Salesforce provides a tool named Commerce Cloud Search Engine Optimization (SEO) Tools to empower merchants to maximize their ranking in search engine results. Its key features include creating SEO-friendly URLs, constructing custom URLs, importing XML files for SEO tags, redirecting sites and customizing URL mapping. Additionally, you can benefit from other advanced features such as customizable 404 pages, broken URL analyzer, custom robots.txt file, configurable image alt tags, optimized images with Digital Imaging Service (DIS), character replacement, and more.
Besides, Salesforce Commerce Cloud can easily integrate with Salesforce Marketing Cloud, a provider of digital marketing automation and analytics software and services. Knowing your consumers, engaging and personalizing the best experience for them would become much easier to your business. 
Magento Commerce websites have a separate Marketing menu, providing access to tools for managing promotions, communications, SEO, and user-generated content. Moreover, you can see a section named Advertising Channels, which captures new traffic with Google Shopping ads and expanding sales to additional web stores with Amazon Marketplace integration.
Websites built on Magento Cloud/Commerce are basically SEO-friendly. It automatically generates a Google sitemap for you and gives you full control of your URL with URL rewrite. Structured data markup is also added to your pages, which is really helpful to enable detailed search results.
8. Customer Support
Salesforce provides comprehensive 24/7 support to help merchants leverage their Salesforce investment, including its Commerce Cloud solution. You can easily get in touch with them immediately via phone, as they have separate phone lines for different regions. Besides, Salesforce set up a support contact number for Commerce Cloud customers globally, which is a priority over other Salesforce's products. 
The issues that need support by Salesforce are not just limited to core code issues. Salesforce Commerce Cloud also handles all core upgrades and aspects like security patches, which is very compelling to a lot of retailers. 
In contrast, support is by far one of the biggest concerns with Magento Commerce Cloud. Magento Commerce Cloud is inferior when it comes to customer support in comparison with Salesforce Commerce Cloud or other ecommerce solutions for big brands. It is said by Magento that "Magento Technical Support is available 24×7 to help you quickly resolve technical issues and questions". However, the feedbacks from users seem to be different: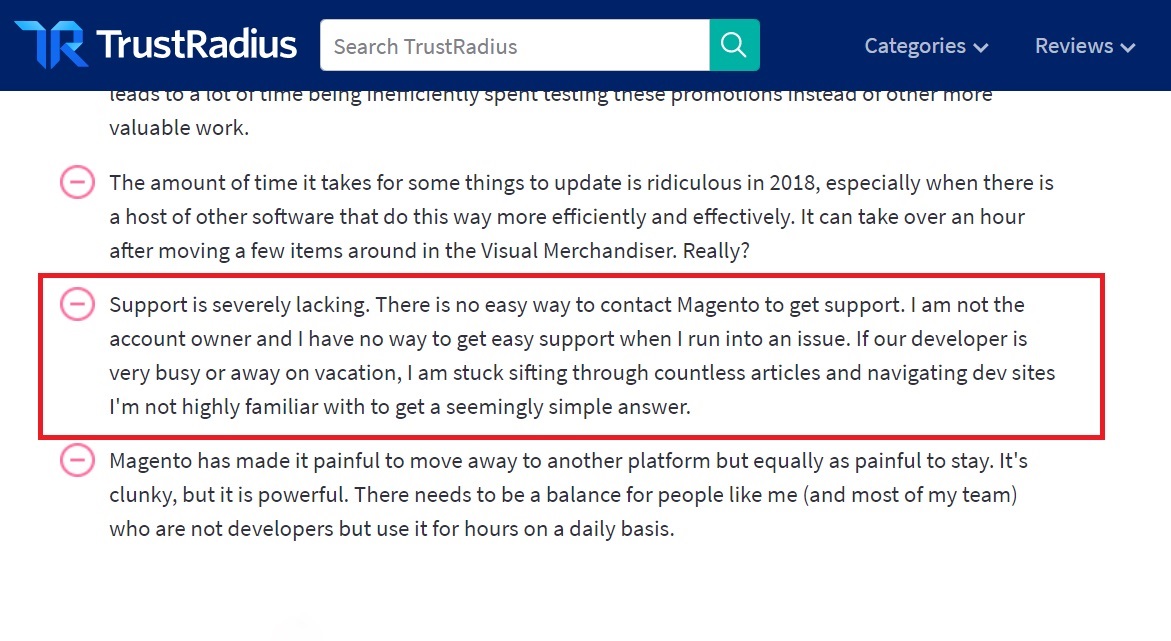 You can also rely on Magento forum (community support). However, it will be hard for you to resolve your issues quickly and efficiently as you have to wait for replies. Plus, forums are also an unofficial source of information, so you would bear the risk of receiving incorrect, unnecessary, or sub-optimal advice. Therefore, in terms of customer support of Salesforce Commerce Cloud vs Magento Commerce, Salesforce is definitely the winner.
Conclusion
Both solutions seem to be equivalent in terms of omni-channel capabilities, site management, internationalization, merchandising, AI-powered personalization and marketing functionalities. Salesforce Commerce Cloud provides superior customer service to Magento Commerce, but Magento still has an active user community to support each other. About customization, Magento Commerce has an absolute advantage over Salesforce Commerce Cloud thanks to its open source nature. If you are looking for heavy customization, Magento Commerce will be better suited. On the other hand, if you do not want to spend too much time managing your infrastructure, Demandware/Salesforce Commerce Cloud is the better choice for you.
Are you planning to migrate your store?
After comparing Salesforce Commerce Cloud vs Magento Commerce, you may have already made your own choice for your business. If you are planning to migrate from Magento Commerce to Salesforce Commerce Cloud or vice versa, LitExtension is there for you.  
With our help, switching to another platform is no longer a big deal. We offer an advanced automated migration tool that transfers all your data to another platform quickly, with high level of security and accuracy. 
To have your doubt cleared in a blink of an eye, we provide a free Demo Migration feature for you to check yourself how the process works. Should you have any questions, please contact LitExtension Team.