Introduction
If you're about to launch an eCommerce store, you'll be likely to face a thorny dilemma: Magento vs WordPress, which one you should go for?
While both WordPress vs Magento is powerful in their own right, there are several differences that make either platform better suited for your specific blend of resources, objectives, and personnel.
Hence, if you're wavering between Magento vs WordPress, scroll down for a comprehensive comparison of the two solutions' key features and the primary reasons why you should choose Magento over WordPress or vice versa.
Before diving right in, here's some good news! If you're selling elsewhere and you want to take advantage of the unique features of these two platforms, you can always migrate to Magento or switch to WordPress easily and seamlessly.
---
Magento vs WordPress – Pros and Cons
While Magento (Adobe Commerce) is a full-fledged eCommerce solution gearing towards tech-savvy users, WordPress is a top-notch CMS solution that appeals to users with varying levels of technical skills.
Before getting down to the nitty-gritty, let's take a look at the pros and cons of Magento vs WordPress.
Magento
WordPress
Pros

Powerful eCommerce features
Impressive security capabilities

Easy to set up and operate
A plethora of plugins and themes

Cons

High-level technical skills needed
Not really geared for small businesses

More vulnerable to hacking
Reliance on third-party apps
---
Magento vs WordPress – Overview
What is Magento?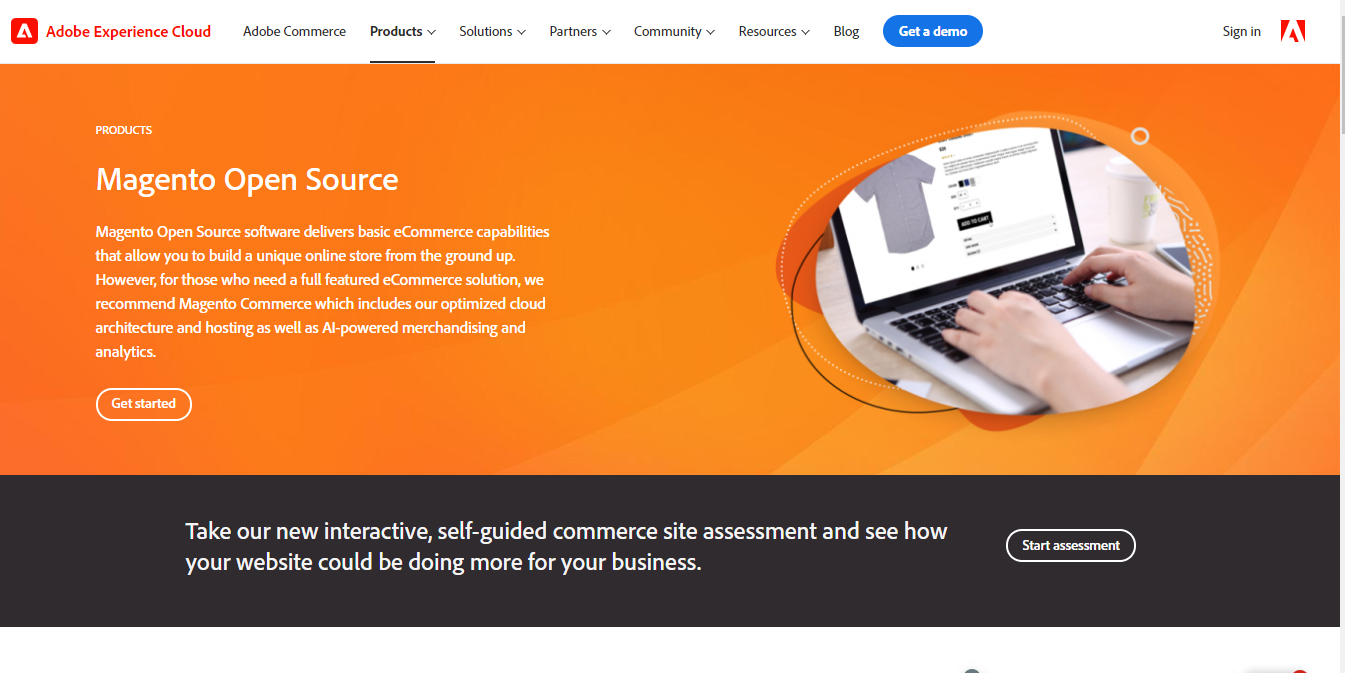 Magento (Adobe Commerce) was released in 2008, acquired by eBay and then sold to Adobe. As of March 2022, the latest version we have is Magento 2.4.3 with bug fixes and substantial enhancements to performance and security. Every year, Magento handles over $100 billion in gross merchandise volume.
Since its inception, this platform has gained an enviable reputation for its strong scalability, high customizability and robust built-in features. It is, at the time of this writing, powering nearly 190,000 websites on the Internet.
While it's true that Magento is not as popular as its competitor WordPress, many industry giants like Coca-Cola, Nike and Ford have their stores operating on Magento and successfully serve millions of customers every day.
Currently, Magento is offering two eCommerce solutions, which are Magento Open Source and Magento Commerce. The two versions both have the same core features of the Magento platform. But the latter has several outstanding features over the former.
Magento Open Source: This edition is an open-source solution. This means it is available for free download and mostly targets advanced users.
Magento Commerce (Adobe Commerce): It's the paid version that provides all-in-one cloud solution for enterprise-level businesses to accelerate sales.
What is WordPress?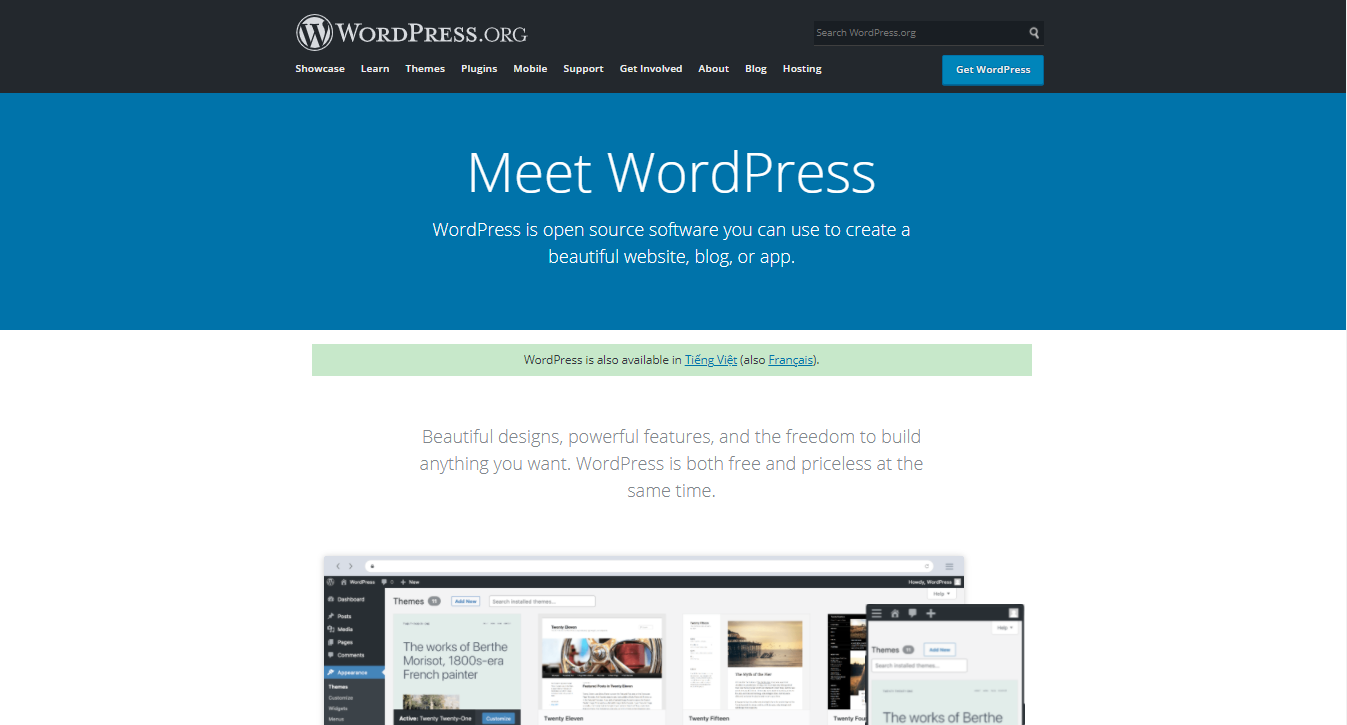 Originally created in 2003 as a blogging platform, WordPress has quickly evolved to a top-notch choice when it comes to creating a website.
WordPress is considered the crown jewel among other website builders as it is currently home to over 35 million live websites on the Internet. Bloomberg, The Walt Disney Company, Spotify, Toyota and SoundCloud are some high-profile names that are building their online home on WordPress.
There are two WordPress versions: WordPress.com vs WordPress.org. WordPress.com is the hosted solution whilst WordPress.org is the self-hosted one.
WordPress.com: It's totally free. You can use it without spending a penny on either hosting or domain name.
WordPress.org: The platform itself doesn't cost you anything. But you will need a hosting account and maybe some efficiency-enhancing features which are sometimes pricey.
In this Magento vs WordPress shootout, we'll delve into the open-source variants of Magento and WordPress: Magento Open Source and WordPress.org. That way, you can have a better idea of each self-hosted platform before making up your mind.
Magento vs WordPress – Similarities
Magento and WordPress are top open-source solutions. Therefore, they provide you with endless scalability and customizability. In other words, you can control every aspect of your online business.
WordPress vs Magento requires a high level of technical know-how

. As a result, it seems challenging for non-techies and amateurs to nail these platforms.

Magento vs WordPress is totally free to download and install

. However, they aren't free to implement. If you opt for Magento or WordPress, you'll have to pay for a domain name, hosting, plugins & extensions as well as some extra maintenance and development fees which can cost you a pretty penny.
---
Magento vs WordPress – Detailed Comparison
Ease Of Use
Magento Ease of Use
Magento is mostly tailored for advanced levels of web development. Thus, if you are a layman, it's likely that you will have difficulties setting up and customizing your Magento site.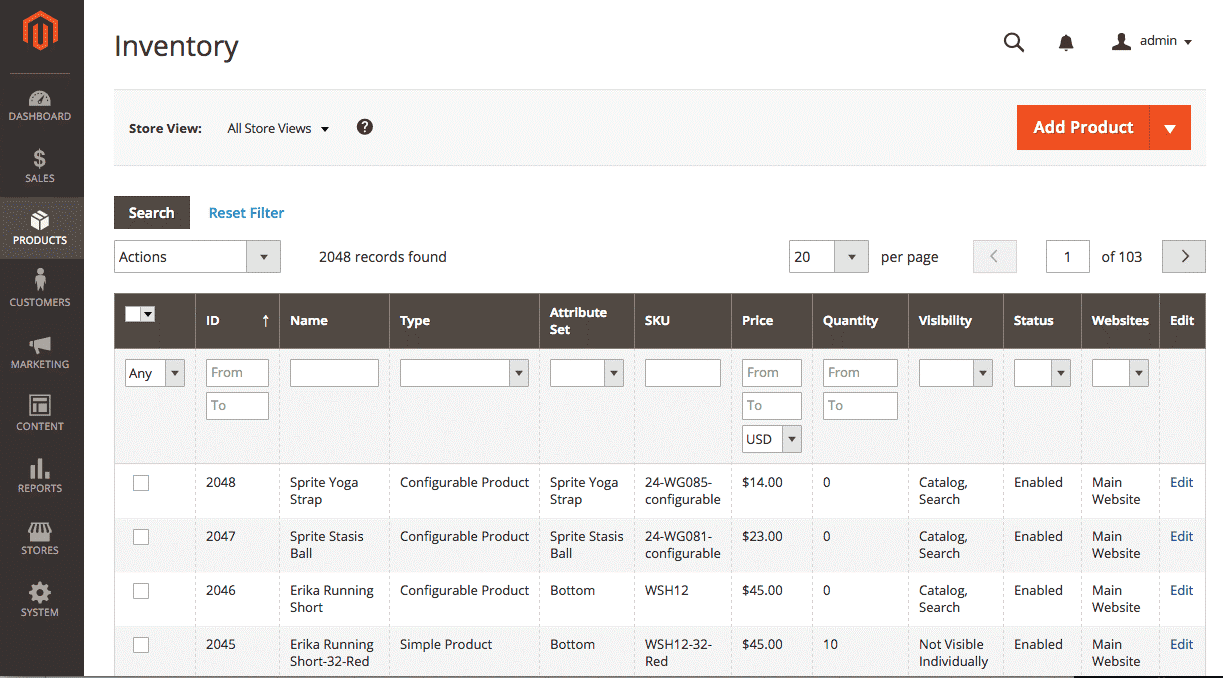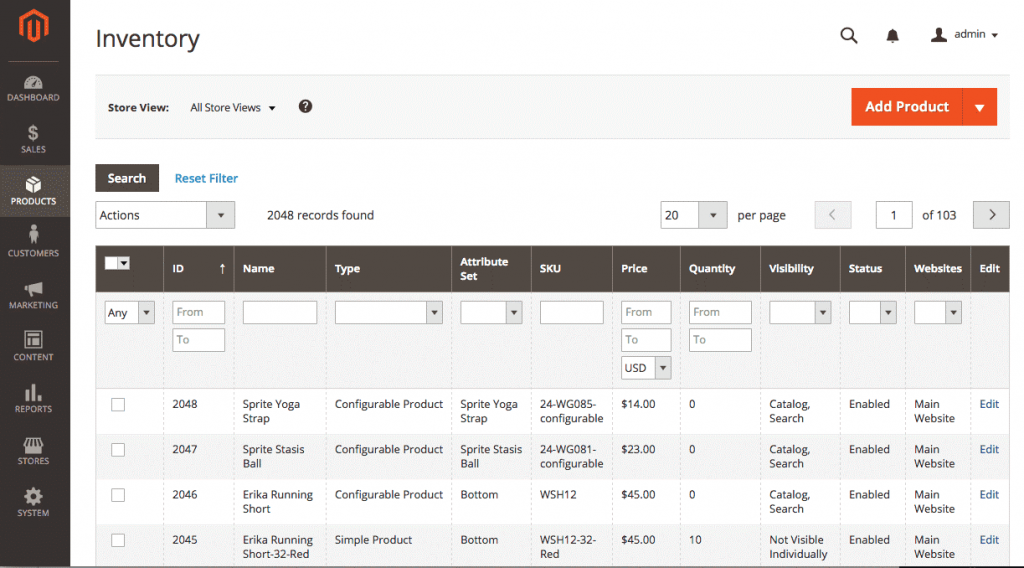 However, once you have finished the setup process, the hassles seem to have ended.
In fact, when your site starts going live, day-by-day operation is not as complex as you may think. Everything you need to manage from product, customer, inventory to marketing is all listed on the sidebar for seamless navigation.
Here is our tutorial video to help you set up your Magento store from scratch.
WordPress Ease of Use
On the contrary, WordPress gears towards newbies and non-tech savvy users. That's the reason why it only takes a couple of minutes to figure out how the system works.
WordPress dashboard
Moreover, the post-installation process of WordPress is quite linear. Its straightforward clean-cut interface provides a user-friendly dashboard, quick blog creation options, and drag-and-drop functionality through third-party page builder plugins.
You can also find out how to install WordPress in our detailed video tutorial of the WooCommerce setup.
Pricing
Magento Pricing
As Magento is an open-source solution, you can download and install it without spending a penny. But you will still need to pay for some extras like hosting, domain as well as some efficiency-enhancing features.
Therefore, it's quite hard to predict the final Magento pricing. Nevertheless, this estimated cost breakdown below will give you a good idea of your own expenditure for your business.
| | | | |
| --- | --- | --- | --- |
| TYPE OF EXPENSES | MINIMUM COST | MAXIMUM COST | AVERAGE |
| HOSTING, DOMAIN & SSL | $10 | $50 | $30 |
| EXTENSION | $1000 | $1500 | $1250 |
| FRONTEND & BACKEND | $5000 | $67000 | $36000 |
| MAINTENANCE & DEVELOPMENT | $1500 | $5000 | $3250 |
| TOTAL | $7510 | $73550 | $40530 |
Magento 2 price estimation
It's true that Magento pricing is not competitive at all. However, please keep in mind that Magento is a full-fledged eCommerce platform, which means you can start your online store right away.
Instead of offering a reasonable price for all types of users, Magento shifts its focus to system improvements and extended functionalities. Hence, if your business is medium to large scale with a certain cash flow, go for Magento as it's truly a powerful platform.
WordPress Pricing
Similarly, WordPress is free to download and use. Just because the software itself is free to download, doesn't mean that it will be completely free to run your website with this platform. You still need to purchase these following:
The domain name ($12/year)
WordPress hosting fee (from $3.95/month)
Security (from $50, on-going or one-off charge)
Developer fees (from $50/hr)
Because of the open-source nature, WordPress also greatly depends on customization themes and plugins.
Paid theme (from $30)
Plugins ($0 – $1000)
In order to start selling online, you'll have to install an eCommerce-specific plugin for WordPress (e.g. WooCommerce) as well as some efficiency-enhancing features which often come with a price tag.
Themes & Templates
Magento Themes
Default Magento comes with two design themes: Luma, as a demonstration theme, and Blank as a basis for custom theme creation.
Luna theme
Besides, you can find an appealing array of templates on the Magento marketplace or explore more premium options on Themeforest.
If you're feeling overwhelmed by such a glut of options available, let's take a look at our suggested list of the top 10 best Magento themes.
WordPress Templates
WordPress significantly outweighs its competitor Magento when it comes to the number of themes. In fact, WordPress users can access the theme library which stores 4700+ themes.
Those themes are generally elegant and eye-catching yet feature-rich and mobile-responsive. Apart from those prefabricated themes, you can always create your own to make your website something one of a kind.
You're selling on WooCommerce but have difficulties determining the proper theme? Let's take a closer look at our suggested list of the 10+ best themes for WooCommerce.
Plugins & Extensions
Magento Extensions
Magento marketplace has a myriad of both free and paid extensions across all aspects from accounting & finance, content & customizations, customer support, marketing, payment gateways & security to site optimization, etc. Currently, Magento offers more than 3000 extensions on its marketplace.
WordPress Plugins
The core popularity of WordPress lies within its humongous plugin repository, which has over 59,000 free and paid plugins. In essence, you are able to find any WordPress plugins that meet all your logistical, technical, and marketing needs.
WordPress plugins
The wonderful thing about both WordPress vs Magento is their great degree of customizability. And when it comes to plugins and extensions, there's no exception. The two platforms both allow you to create your own plugin to meet your specific needs regardless of your technical expertise.
eCommerce Features
Magento eCommerce Features
One of the main reasons that make Magento stay top of mind with online merchants is its. powerful built-in features including eCommerce-supporting ones.
Magento reduces an enormous amount of work for users by combining all the functions you need into the core system. Under the hood, Magento comes packed with full-fledged eCommerce attributes ranging from inventory management, sales & ads, shipping & tax, reports & analysis to payment gateways.
Besides, Magento's built-in CMS also brings out excellent features including effective SEO, high performance, a plethora of themes & extensions as well as mobile responsiveness.
Popular Magento 2 migration pairs & How to perform migration:
WordPress eCommerce Features
Originally built as a blogging platform, WordPress lacks eCommerce functionality out of the box. This means that in order to start selling online, you will have to install an eCommerce-specific plugin that might cost tons of money as well as time worrying about compatibility, support, and updates.
Standing out among the pack is WooCommerce, the most highly-rated WordPress plugin for eCommerce. By the time of this writing, WooCommerce is the most widely used eCommerce solution with 6,546,734 live websites, taking up approximately 23,43% market share.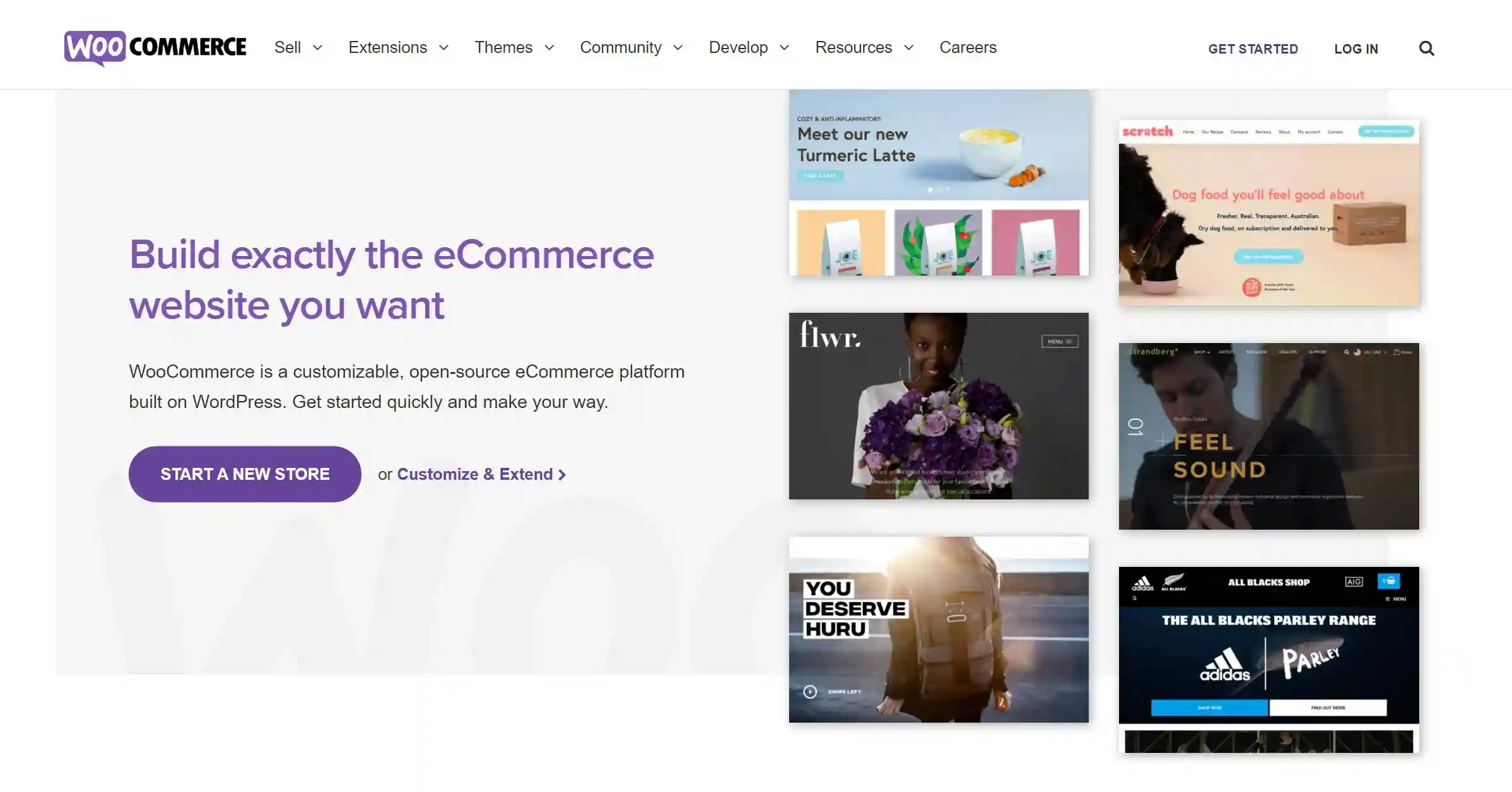 Besides, WooCommerce also opens the door for merchants to sell on marketplaces. This is a fertile ground for store owners to increase sales and maximize their profit. However, to sell on other platforms, you'll need another tool to integrate WooCommerce with Etsy, eBay, or Amazon.
Overall,  regarding WordPress vs Magento for eCommerce, you can clearly see Magento clearly outweighs WordPress thanks to its strong built-in functionalities.
You can find more information about other eCommerce Platforms:
Customer Support
Magento Support
Due to the open-source nature, customer service is essentially nonexistent with Magento. There's no live chat, phone, or email support for Magento Open Source users.
Nevertheless, for merchants who want to take control of their own support strategy, Magento does provide plenty of resources. This platform has an informative blog, a knowledge base, and a forum where you can seek guidance from other users.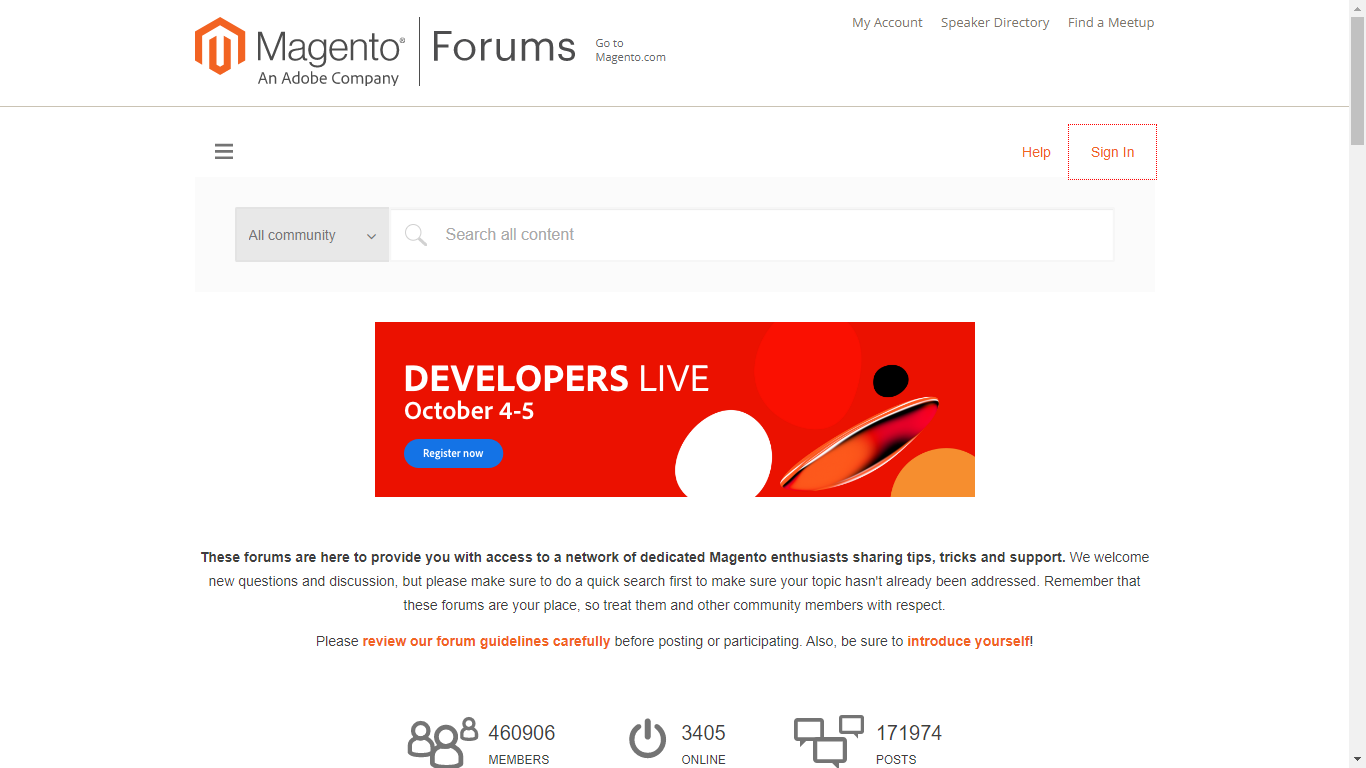 WordPress Support
Just like Magento, WordPress doesn't support live chat, phone, and email. But with the enormous user base, WordPress users are able to look for help from an active community of peers, developers. They are quite knowledgeable about the platform and capable of giving you insightful responses to almost every question.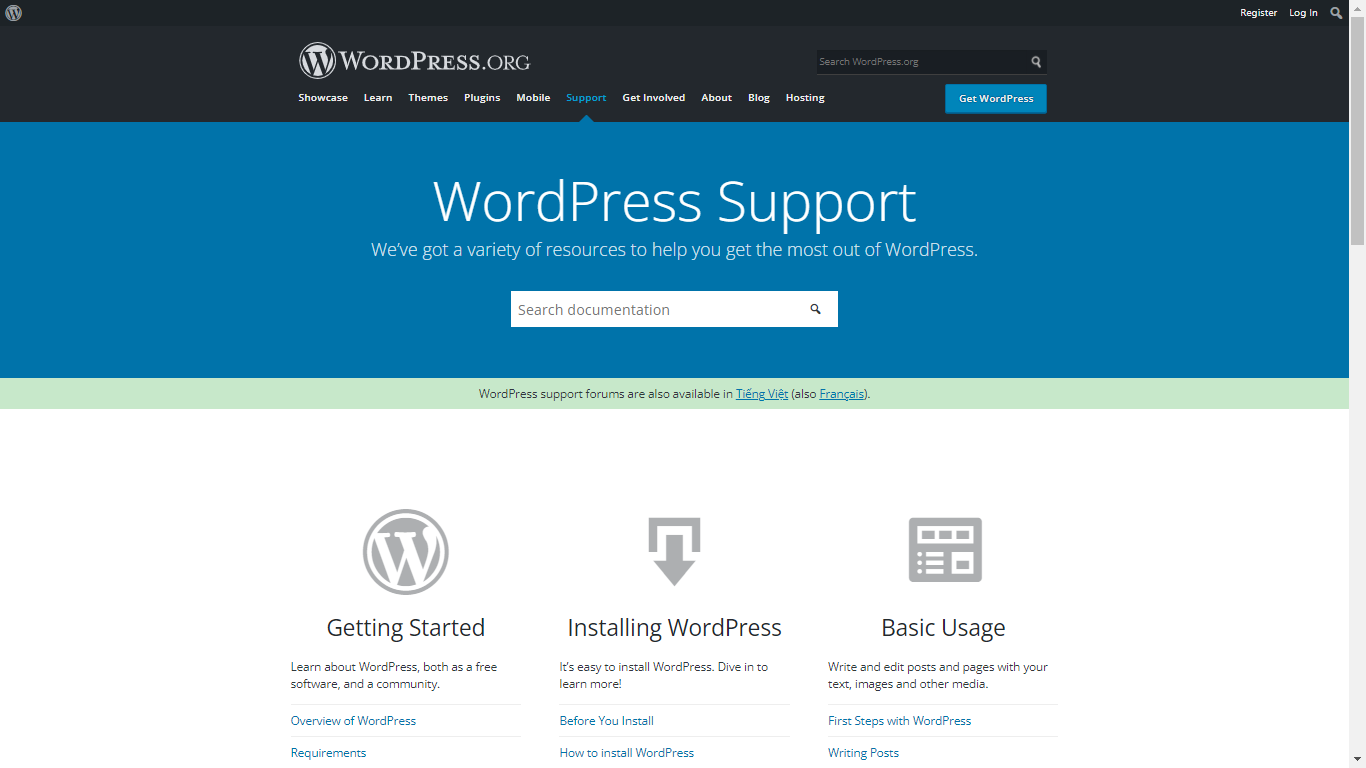 Also, you can come across loads of multiple texts, video tutorials, guidelines compiled by other system users.
Apart from that, you can always hire WordPress experts for more dedicated support. These experts will provide you with WordPress-related services including installation, design, hosting, module development, and site-building.
Magento vs WordPress for SEO
SEO features of Magento
Magento really excels in SEO, and comes with plenty of SEO guides and prompts to help you get started. You can always make changes to meta keywords, meta descriptions, image alt-tags, product descriptions, and snippets. Additional features such as Google sitemap, no-follow links, and redirects also help search engines to crawl your site faster.
As you have to manually carry out most of these tasks, Magento is ideal for users who master SEO best practices.
SEO features of Magento
SEO features of WordPress
Just like Magento, WordPress lets you create tags for posts, optimize permalink structures, and set all the appropriate metadata for pages and posts.
Nonetheless, the real SEO power of WordPress lies in the huge reservoir of SEO-supporting plugins available. With the assistance of some fantastic SEO plugins like Yoast SEO, WP Rocket, you can bring your website into the limelight seamlessly.
Want to migrate to Magento?
If you are intending to migrate to Shopify, LitExtension offers a great migration service that helps you transfer your data from the current eCommerce platform to a new one accurately, painlessly with utmost security.
Magento vs WordPress for Security
Magento Security
It's worth acknowledging that if you're using Magento as an open-source storefront, most of the security falls into your own hands. Specifically, you are in charge of your own SSL certificate, configure your site security plugins, two-factor authentication, PCI compliant.
Magento also regularly rolls out patches and security updates, but the update process needs to be manually installed and can be tricky for non-techies. Thus, if you don't have the time or resources to patch their installations, your store can be susceptible to malicious codes and hackings.
WordPress Security
WordPress Security
WordPress's global popularity is sometimes a double-edged sword. Its popularity has led to the growth of a robust ecosystem of resources around the globe.
The problem is, this same popularity also means that WordPress is a target for hackers. According to the Website Threat Research Report by Sucuri, WordPress accounts for 94% of successful cyberattacks against CMS-powered websites in 2019.
Another security issue with WordPress stems from non-verified 3rd plugins. The number of WordPress plugins is enormous. Therefore, it's impossible to ensure that every plugin employs proper safety standards and remains compatible with newer versions of the platform.
However, unlike on Magento, WordPress has an auto-update mechanism that allows users to schedule automatic updates when there is a new security patch.
---
Magento vs WordPress: Which is Better for Your Business?
Overall, when comparing Magento vs WordPress, it's quite hard to precisely determine the winner between the two.
Ultimately, they are fairly well-matched platforms. Magento is the tie-breaker when it comes to eCommerce features and security. Meanwhile, WordPress comes out on top in terms of simplicity, themes, and plugins.
As analyzed above, there are also criteria where it's impossible to pick out the upper hand between WordPress vs Magento. They are pricing, SEO, and customer support.
Apparently, neither Magento nor WordPress is perfect. For most of the time, Magento vs WordPress come with a set of distinctive features and a set of downsides. The important thing is to make sure the platform you opt for can provide you with everything you need.
Magento (Adobe Commerce) is an ideal choice for fast-growing and large-scale businesses. If you're an online merchant looking for a platform that is eCommerce-focused and highly secure, we highly recommend you choose Magento.
Or if you are just dipping your toe into building a website and ease of use is your priority, then you definitely should go for WordPress. Then, if you wish to step into the eCommerce market, you can install an eCommerce-supporting plugin to start selling online.
---
Magento vs WordPress: FAQs
Magento outperforms WordPress in terms of eCommerce features. This platform combines all the functions you need into the core system and offers powerful built-in eCommerce features. Therefore, it can be a perfect choice for your online business.
Having an open-source nature, both Magento and WordPress are vulnerable to being attacked. However, the good news is that the code of Magento is highly secure. If you opt for WordPress, you might have to face security issues related to non-verified 3rd plugins.
Magento is free to download and install. However, you will still need to pay for hosting, domain, and plugins…, which are quite pricey.
---
Conclusion
Hopefully, when you've reached these final lines of this ultimate Magento vs WordPress comparison, you've already determined which of the two represents the best platform for your specific requirements.
If you're currently using Magento and you would like to migrate to WordPress or vice versa, LitExtension is always at your service.
LitExtension – the world #1 Shopping Cart Migration Expert provides top-quality migration services. Besides Magento vs WordPress, we currently support data migration for over 200 most popular platforms. At LitExtension, we ensure accuracy and the highest level of security to your data with a 30-day money-back guarantee and 24/7 dedicated support. Receiving 99% excellent customer satisfaction, we believe it would be a wise choice for you to take LitExtension into account for your future migration projects.
Finally, if you have any questions regarding our service, please don't hesitate to contact the LitExtension team.
Let's join our community to get more eCommerce tips and news!