Migrating between eCommerce platforms has become a necessity for online merchants with a hope to improve their business performance. And here we have Magento to Shopify as one of the most popular migration projects in recent years. Especially in the event of Magento 1's end-of-life, a large number of Magento users are rushing to resettle their stores and Shopify seems to be an ideal solution.
When replatforming a website, it's a common fear to merchants that they may lose their search engine ranking after the switch. To avoid this to happen, you should deliberately choose a migration method that can preserve your website URL you've built rankings for so far.
So if you're planning a move from Magento to Shopify without losing pagerank, seek no other resource but this article to get the best advice.
Let's get started!
What SEO benefits you can get from the Magento to Shopify migration?
A chance to review site structures, content
Website migration is a good chance for you to conduct an entire examination over your old store. During the time operating and managing your store, it's unavoidable if there are some orphan links. Orphan links are basically links that aren't linked to from any other pages on the same site. This means that when the Google bot crawls your website, it cannot detect those orphan links. The solution to this is to review your site structures and make some modifications if needed. Make sure that your Magento homepage is linking to the most important subpages and the individual subpages are linked to one another.
Planning for SEO of the new site well before it goes live is a wise step-forward move for every e-merchant. You can first start by creating the benchmark for your current performance.
This is when reviewing current content marketing becomes a crucial part to create new values and to boost your search results for focused keywords.
Take advantage of Shopify templates' mobile responsiveness
For your information, in March 2018, Google has officially announced their priority for the mobile version of a website to rank pages. This approach is called mobile-first indexing, which means that Google predominantly uses the mobile version of the content for indexing and ranking. Historically, the index primarily used the desktop version of the content of a page to evaluate the relevance of a page to a user's query. Since most users now have access to Google Search from a mobile device, Google crawlers will prioritize indexing mobile versions of pages.
With Shopify, you'll get access to a great selection of mobile responsive themes that are optimized for every possible layout and screen resolution. Whether your customers view your site from a tablet, smartphone desktop or laptop, your website displays perfectly and exactly as it should. Therefore, if your Magento store is not fully responsive, this is a good chance for you to take advantage of Shopify mobile compatibility.
Shopify has faster loading speed than Magento
Everyone should know that site loading speed is important both for search engines and visitors. To strengthen this opinion, you can relate to the event in 2010 when Google officially indicated that loading speed is one of the key factors for page ranking.
A website with slow loading speed could be very likely to make visitors instantly return back to the Search Engine Results Pages (SERP). A study from Think With Google shows that, 53% of people will leave a website if it takes more than 3 seconds for the page to load. This will consequently increase bounce rate of a website, decrease its relevance to the searched keywords and results in losing pagerank.
Besides, a slow page speed means that search engines can crawl fewer pages using their allocated crawl budget, and this could negatively affect your indexation.
Website page loading speed depends on factors such as hosting, images, HTTP requests and codes. When putting Shopify and Magento in a comparison of speed, Shopify, of course, is better for a number of reasons:
Hosting
As Shopify is a hosted platform, its technicians will totally be in charge of the page loading speed and making improvements on the server level to improve performance. Magento, on the other hand, is a self-hosted platform, so things get a little trickier to online merchants.
Theme design
Your theme's code will also affect your site's loading time. Images, scripts, and even file structures can all contribute to your speed's reduction. In Magento, it has less control over themes as they come from a variety of developers following a wide range of different coding techniques and best practices. However, Shopify has requirements for how their themes are created, third parties must follow these requirements if they want to sell on Shopify Theme Store. This will reduce the risk of bad coding practices.
Images
Product images are important to your sales conversions. However, the more and higher-quality your images are, the longer they need to load. Normally, each product has at least 3 to 5 images. Pages that show multiple products or list categories will have even more.
To help your images load faster, you may be paying for a content delivery network (CDN) on Magento. However, you can wave this cost away when moving to Shopify as they provide it without additional fee.
In conclusion, Shopify has been proven to be faster than almost all other eCommerce platforms. According to aheadworks, it has the fastest page loading speed when putting in comparison with Magento, PrestaShop, and WooCommerce.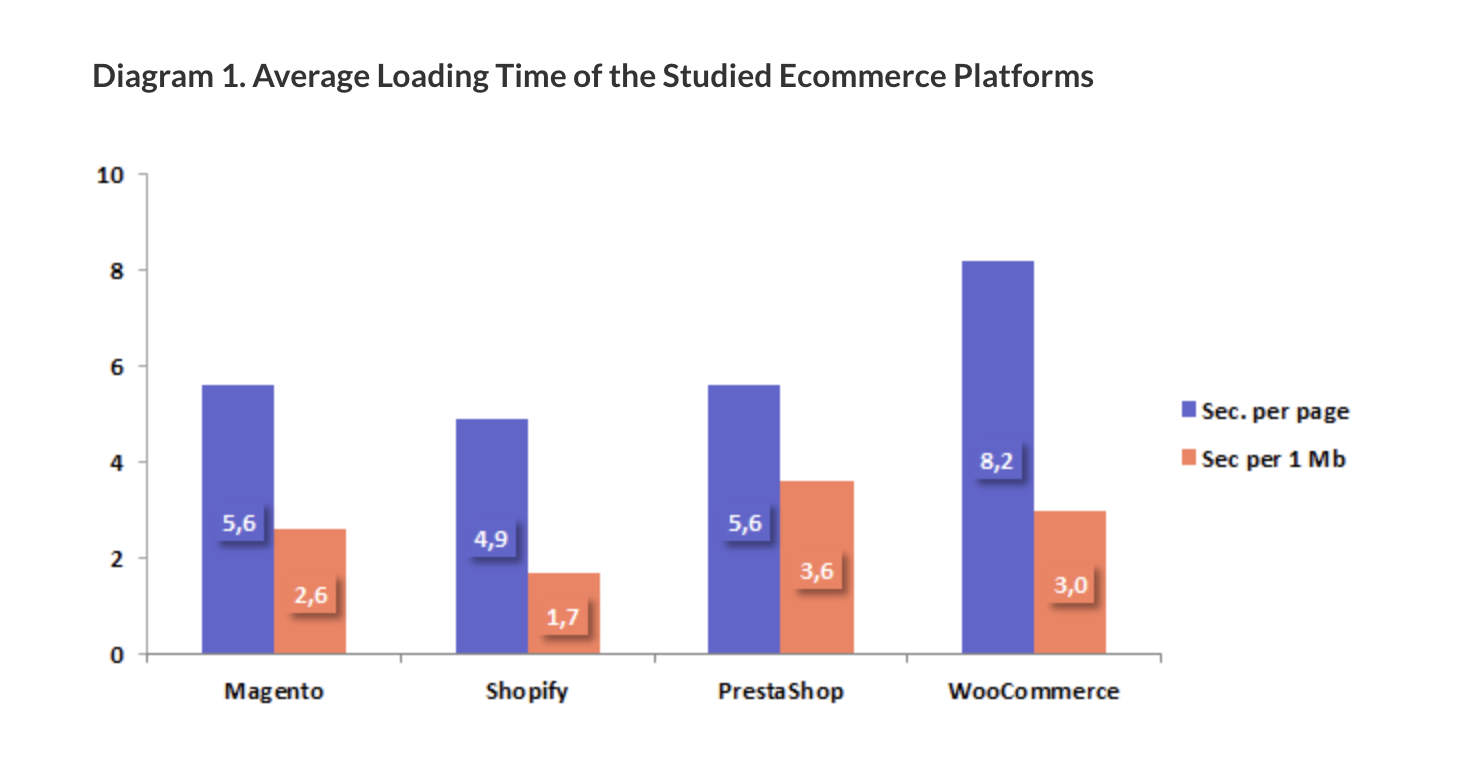 For these above-mentioned reasons, moving from Magento to Shopify is a good chance to increase loading speed and therefore having a better Google ranking.
SEO risks you can encounter during a migration and solutions
Migrating your website can be a great move. But it also comes along with risks and so you should carefully prepare for how search engines will react to this action. Now move along to learn about 2 main risks following Magento to Shopify migration.
Changes to URLs
Imagine one day after you've migrated to your new store, your dear customers search for products on your old store but all they receive is the 404 Not Found error. Unless you find a way to notify your customers about your new store, they will probably leave your business without hesitation.
Why is this happening to your site? Each eCommerce platform has its own URL structure and there's no exception for both Magento and Shopify. When migrating data from one eCommerce platform to another, the URLs will change accordingly with the target store default URL structure. Consequently, you will lose all the optimized URLs that you have been building trust for years, causing huge damage to your pagerank.
Don't worry, LitExtension can help you easily solve this problem. We provide the SEO URL migration service to help you migrate your SEO URLs to the target site. Unfortunately, as Shopify is a fully hosted platform, it does not allow editing URLs. So it's unable to migrate SEO URLs from Magento to Shopify.
Therefore, we would suggest you to create 301 redirects. With LitExtension, you'll have the option to automatically create 301 redirects during the migration process. And here's how you do it:
Step 1: Create new migration
You can sign up or sign in using Google and Facebook. After that, go ahead and click the "create new migration" button at the top right corner of the screen.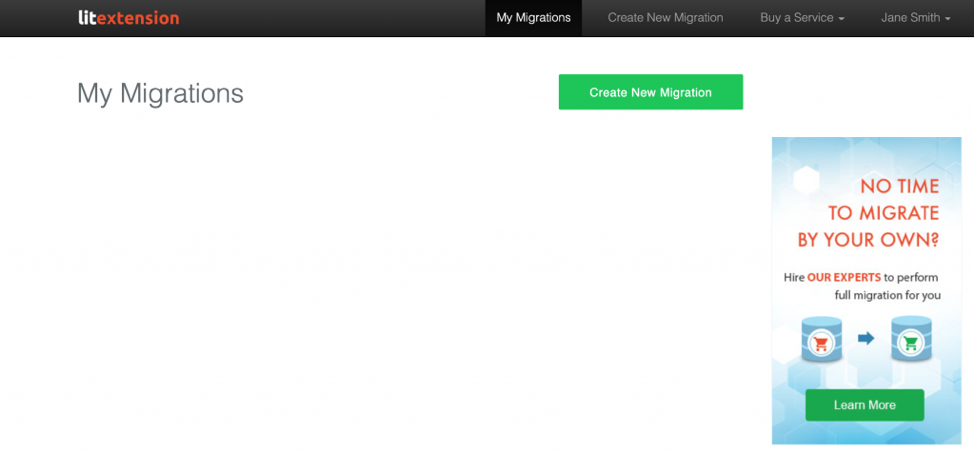 Step 2: Source and Target Cart setup
After logging in, click "Create new migration". Then, you will see a page where you can enter the information of your PrestaShop and Shopify store. Just follow the instructions appearing on the right side of the screen for each part to complete the setting procedure.


Step 3: Configure the migration
At this stage, you'll choose what entities you wish to migrate from Magento to Shopify. You can either quickly choose migrating all entities by clicking on "Select all" or choose some of them individually. Most importantly to mention in this step, remember to select "Create 301 redirects" from the Additional options section.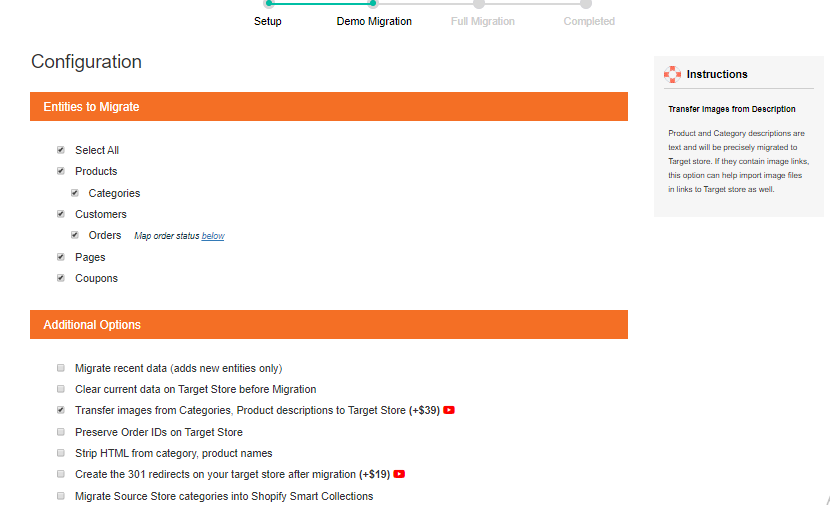 Step 4: Perform migration
Finish the configuration and you are now ready to perform the migration. We highly recommend you to run the FREE DEMO migration first to see how the migration process works. You'll get $5 after having done the demo migration, a good starter before performing the full migration, right?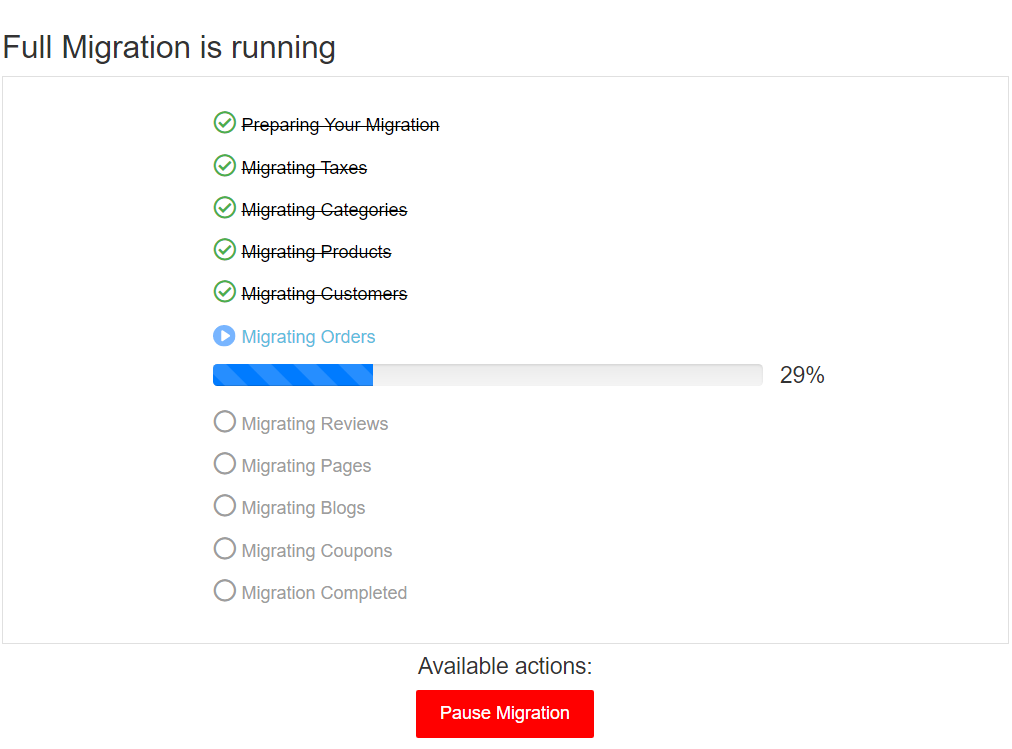 The migration will run seamlessly on the server, therefore, you don't even need to keep your PC awake while the data is being transferred. Once the process has completed, you will receive notification about the migration via your email.
To help you better visualize the the process, here we have created an instruction video for Magento to Shopify migration:
Lose current rich snippets
Rich snippets are search results with extra information displayed on SERPs, in between the URL and description of what the page is about. There are different types of rich snippets and here are some prominent examples: star ratings, author, prices, and so on. Below is an example of rich snippets of our page on Google search result page.

Why are rich snippets important for SEO? Rich snippets help you stand out from other results by giving your more space to describe your page. Visitors will definitely know better about your website just by looking at rich snippets. Accordingly, the Click-through-rate (CTR) can potentially increase and therefore boost your google ranking.
When migrating Magento to Shopify, it's unable to migrate rich snippets of your old website. Simply because, as a fully hosted cart, Shopify doesn't allow accessing its source code and add rich snippets. The easiest approach to add rich snippet is to use a third-party app specifically made for this function. There are a host of these available from the Shopify app store. We would recommend you try the JSON-LD SEO app as it received the highest number of votes and excellent rating. Check it out!
More actions after migration to maintain SEO ranking
Switch domain and change DNS
After completing your Magento to Shopify migration, you need to switch domain to your new store. Here are the steps to transfer your old domain to the new Shopify store:
Unlock your domain and get a transfer authorization code. All you need to do is log in to your third-party domain provider account and find the settings for the domain that you want to transfer, then click Unlock.
From your Shopify admin panel, click "Online Store" -> "Domains" -> "Transfer domains".
Enter the domain that you want to transfer to Shopify. Do not include www. at the beginning of the domain. Click "Next"
Click "Verify domain". You will see a "Domain unlocked" message.
In the Verification code box, enter the authorization code that your domain provider gave you. Click "Next" -> "Buy and transfer".
Depending on your domain provider, you might have to confirm these changes by email. If so, it takes up to 20 days for the domain transfer process to complete. Shopify will send you a message confirming that domain transfer has successfully completed.
URLs testing
Creating 301 redirects helps you to redirect your old URLs on Magento to your new URLs on Shopify. Knowing that redirecting URLs is an important effort to maintain SEO ranking, always remember to check if all your old URLs have safely landed in your new store. You will start by verifying that all of the old URLs are redirected to the new site. After that, make sure there's no 404 pages. If there is any, go and fix it as soon as possible to avoid damages to your SEO.
Check snippets
As I previously stated, you can use apps to add snippets. Once you've finished adding snippets, don't forget to check its visual status by searching for your page on Google or any other search engine.
Conclusion
Losing Pagerank after migration is a common possibility, however, there are solutions for you to minimize the loss. With this article, we believe we've delivered to you the best you can learn to migrate Magento to Shopify without losing Pagerank.
We recommend you to be bound to every factor affecting your PageRank before, during, and after your migration process from Magento to Shopify. Once you've managed to mitigate possible damage to your Pagerank, you'll be able to further execute SEO efforts effectively. By increasing Pagerank, you are one step closer to an explosive number of treasured customers.
If you have any questions about Magento to Shopify, don't hesitate to contact our enthusiastic support team, they're 24/7 available to help.