The great thing about Shopify is that online merchants can import products and customers in bulk using the CSV file. However, Shopify CSV import might be tedious if you are doing it manually.
Fortunately, we have just the right and simple way for you to do so. In today's article, we will guide you through the following key points:
Before diving into how to import Shopify products, you can check out our in-depth Shopify review below to get a sneak peek of all Shopify features.
And now, without further ado, let's get the show rolling.
---
What Is Shopify CSV Import?
Before importing the CSV files to Shopify, it's important to understand what is a csv format.
A Shopify CSV file (comma-separated value) is a text file in which individual data points are separated by commas. Each line in a CSV file represents a new row in an Excel spreadsheet and commas separate data sets within each row.
Most of the time, CSV files are often employed when data needs to be read by many different applications. Text editors, spreadsheet tools like Excel, and other special programs can all read CSV files.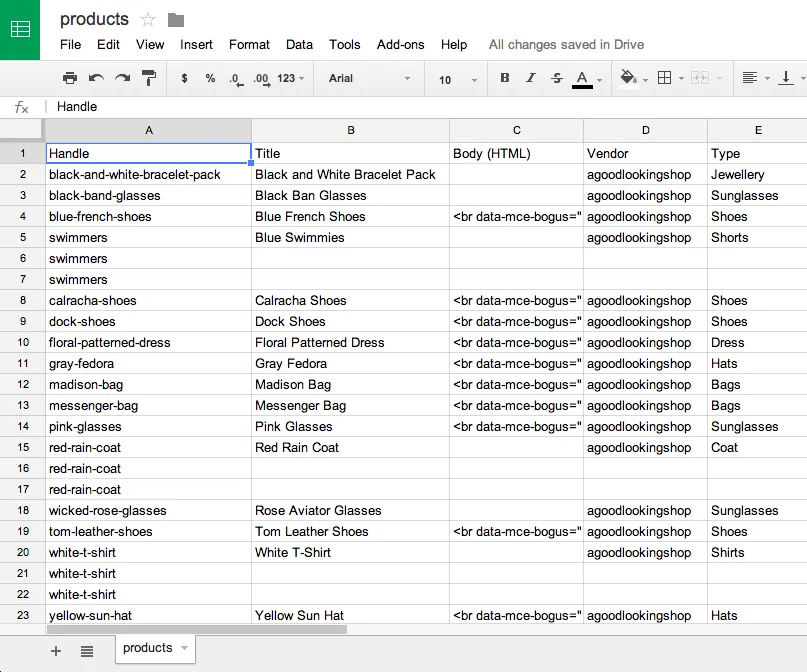 Using the CSV file, you can effortlessly import/export a vast number of items along with their details to your Shopify store. Also, in our analysis, this file type makes it easier to move between two platforms, either from or to Shopify.
---
When Do You Need To Import Shopify CSV?
As you can see, the main purpose of the Shopify CSV file is to store and transfer data for future reference. From our observation, there are three most common cases where online merchants will need to create CSV files for Shopify:
You have just opened a new store on Shopify and want to bulk upload all the products at once to save time.
Your current platform can't fulfill your requirements, and you want to switch to Shopify using the CSV file.
You need to rearrange your data without slowing down your active Shopify store
Your current website is cloud-based instead of server-based
The Shopify CSV import process will vary slightly depending on which scenario you are interested in. This could lie in the steps when creating, formatting, or uploading your CSV file.
---
What Are Viable Ways To Perform Shopify CSV Import?
Shopify import CSV can be done in a number of different ways, and we will analyze each method in length later. But overall, there are two main methods you could employ to perform the Shopify CSV import:
1. Manually
Shopify provides its users with comprehensive documentation to guide them on how to use its built-in features. This also includes the Shopify CSV manual import guideline. However, we do not advise doing things independently if you lack technical expertise.
To explain, the steps from configuring the CSV file format to matching the product variants might take days to finish. If things go wrong after uploading the file, you must modify all products repeatedly.
2. Migration expert – LitExtension
Things will get even more complicated if you manage a store with a large inventory setup. Besides mapping the necessary data fields one by one, you have to deal with all possible platform issues on your own during the process.
This is why outsourcing the work and obtaining expert support would be a much better way. A reliable, well-established service like LitExtension will streamline the procedure and eliminate possible technical issues. There's no need to get your hands involved, we are here to help!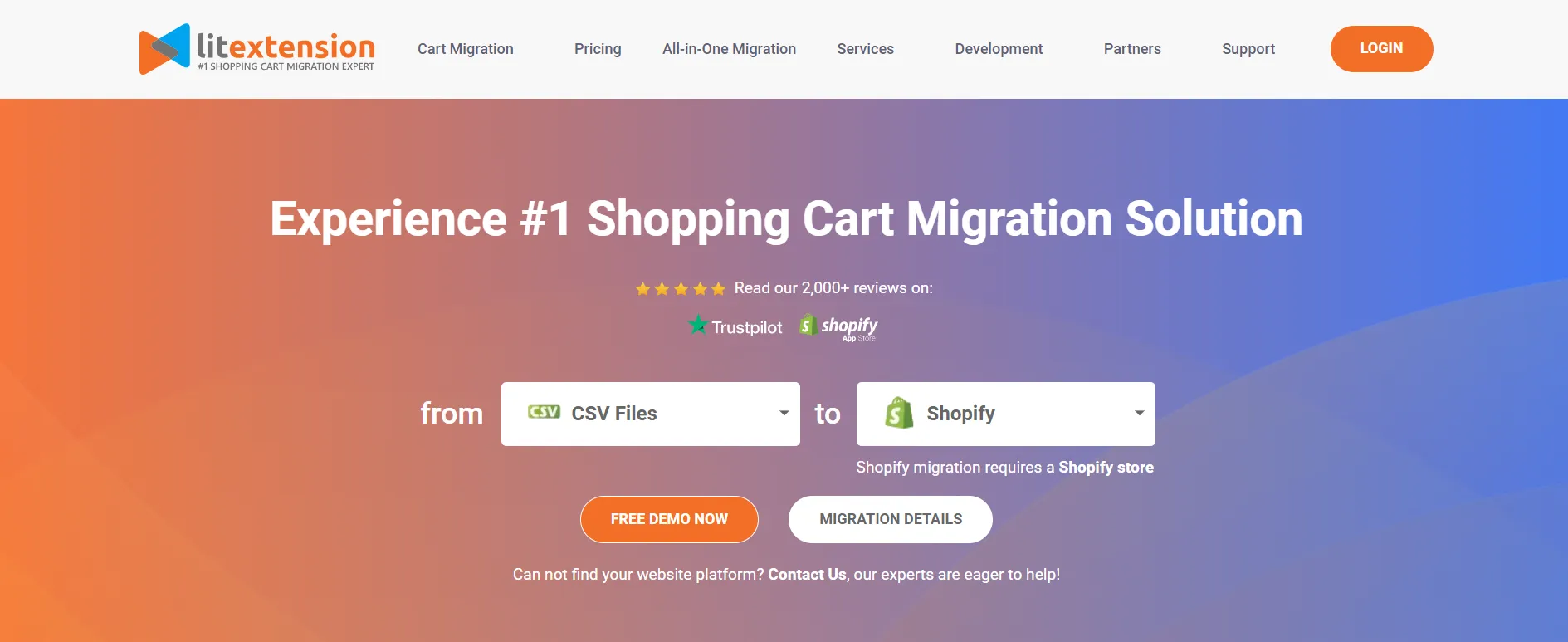 LitExtension is a migration expert that helps online merchants to minimize manual effort while building their eCommerce store. Besides the standard migration service from one platform to another, LitExtension also offers a CSV Files Migration Service to help you import to Shopify quickly, accurately, and securely.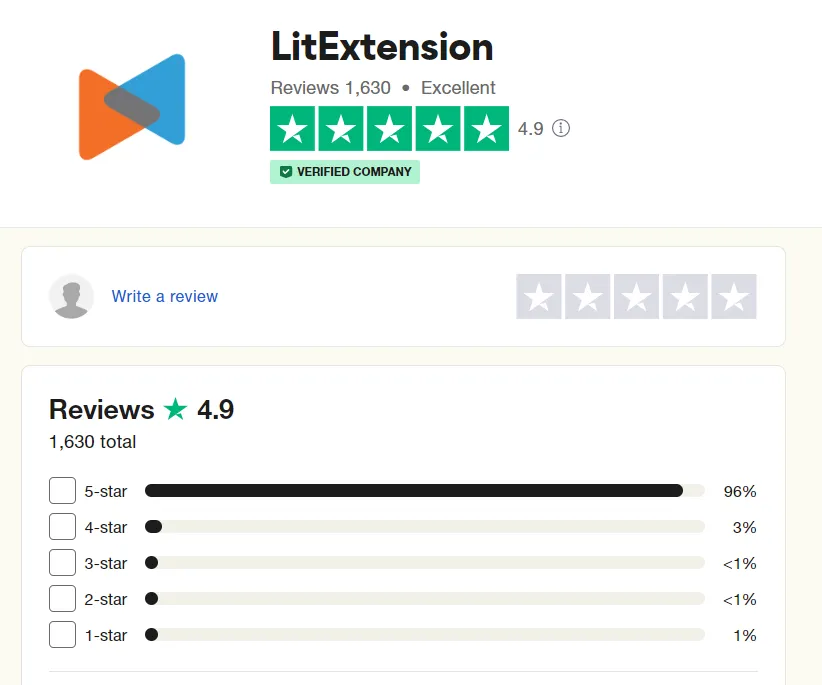 Upon choosing our CSV Files Migration service, we will assign a Personal Assistant to take care of your Shopify CSV import. They are responsible for keeping track of the whole project as well as answering any of your questions within 12 hours. What's more, you also gain free access to all the premium options such as SEO URLs Migration, Customer Password Migration, etc.
With 10+ years of working in the industry, our team is guaranteed to have in-depth knowledge of the features of Shopify. This means we can minimize the potential for data inconsistencies and maximize efficiency.
Based on our guide and your specific requirements, identify the most efficient strategy for your store. At the end of the day, what we're looking for is the one that fits in.
---
Shopify CSV Import: Preparation
1. Set up your CSV file
First, set up your CSV file. If you switch from another platform to Shopify using CSV files, our advice is that you must read their technical documentation before exporting your file. By doing so, you can avoid data incompatibility during the Shopify import process.
Alternatively, you can create your own CSV file from scratch using a text editor or spreadsheet program.
With the spreadsheet program, create a new file, fill in the columns, then go to File > Save as > Save as Type > CSV.

With a text editor, create a new file in which data is separated by commas. Go to File > Save As > File Type > All Files and enter .csv as the extension.
Those wishing to update their Shopify store can directly import/export a CSV file with a few clicks. The steps are similar for all categories. Here's how to export the Products page:
Navigate to the Products page from your Shopify Dashboard.
Click on "Export".

Select products you want to export.
Decide the CSV type to download, it could be a plain CSV file or for Excel, Numbers, or another spreadsheet program.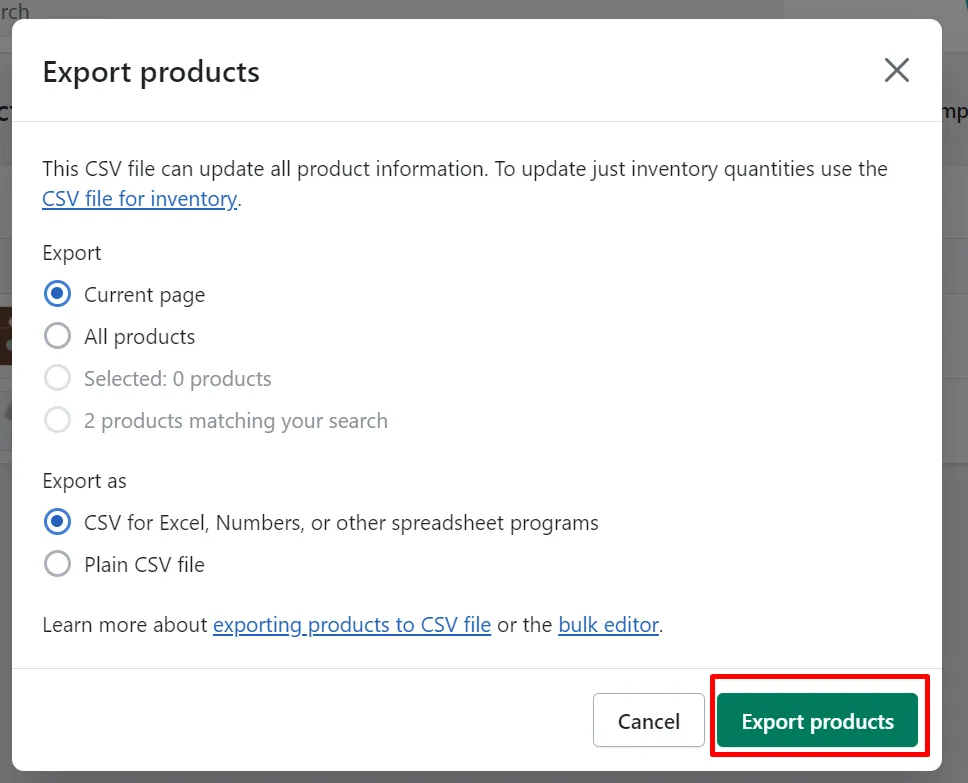 2. Create a Shopify store
In case you haven't had a Shopify store yet, spend some minutes creating one quickly. This platform provides a special promotion that allows new users to try it for free for 3 days, then enjoy Shopify for $1 for the first 3 months. So, seize this one-time offer and create a Shopify store now.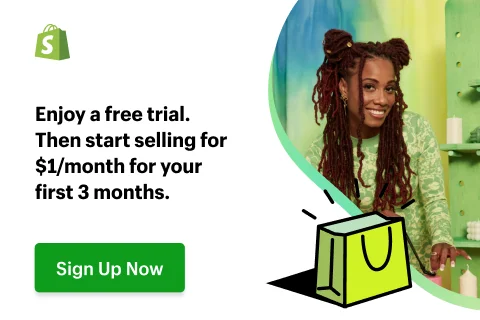 To begin with, sign up for a new Shopify account by entering your email address. After that, Shopify will ask you several questions to gain insight into your store and current situation. Click "Skip All" if you don't want to answer them.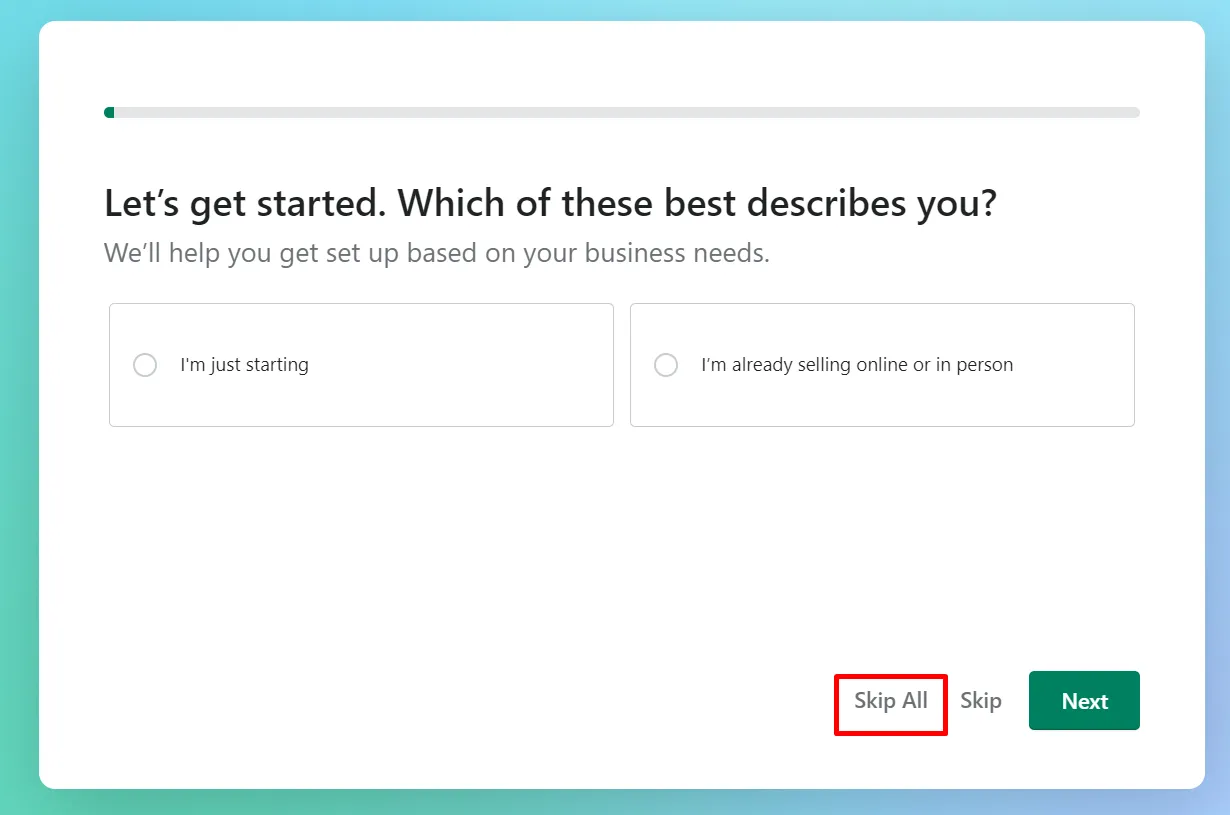 Now you are on the Shopify Dashboard, time is ripe for importing your CSV file to Shopify.
Did you know all the steps to start your Shopify store and drive sales? We have exactly what you've been looking for. Our step-to-step tutorial will guide you through:
More awesome tips and tricks for your Shopify store can be found here:
In the latter part of our article, we will take a closer look at all the essential steps you should do before launching your Shopify store. Stay tuned!
---
How To Shopify CSV Import With LitExtension In 4 Steps?
With the CSV Files Migration Service, LitExtension experts will easily handle your Shopify CSV import from start to finish. We will double-check that your CSV files are compatible with your Shopify store so you can move your data over without a hitch.
Before getting started, here's a quick recap of all the steps needed:
Step 1: Send your file to our experts
Step 2: Customize your CSV file
Step 3: Run Full Migration
Step 4: Start your new journey
For a clearer understanding, take a look at our video below, too:
Not gonna let you wait any longer, it's time!
1. Send your file to our experts
Initially, our experts will need to collect your CSV file and understand the specific requirements of the task. To do so, LitExtension will schedule a 1-1 consultation session to ensure we fully comprehend your migration project. It is important that we're on the same wavelength since the final result is directly related to teamwork effectiveness.
Upload your CSV file to Google Drive or Dropbox and share access with LitExtension. We will then collect your file and move to the next step of the Shopify CSV import.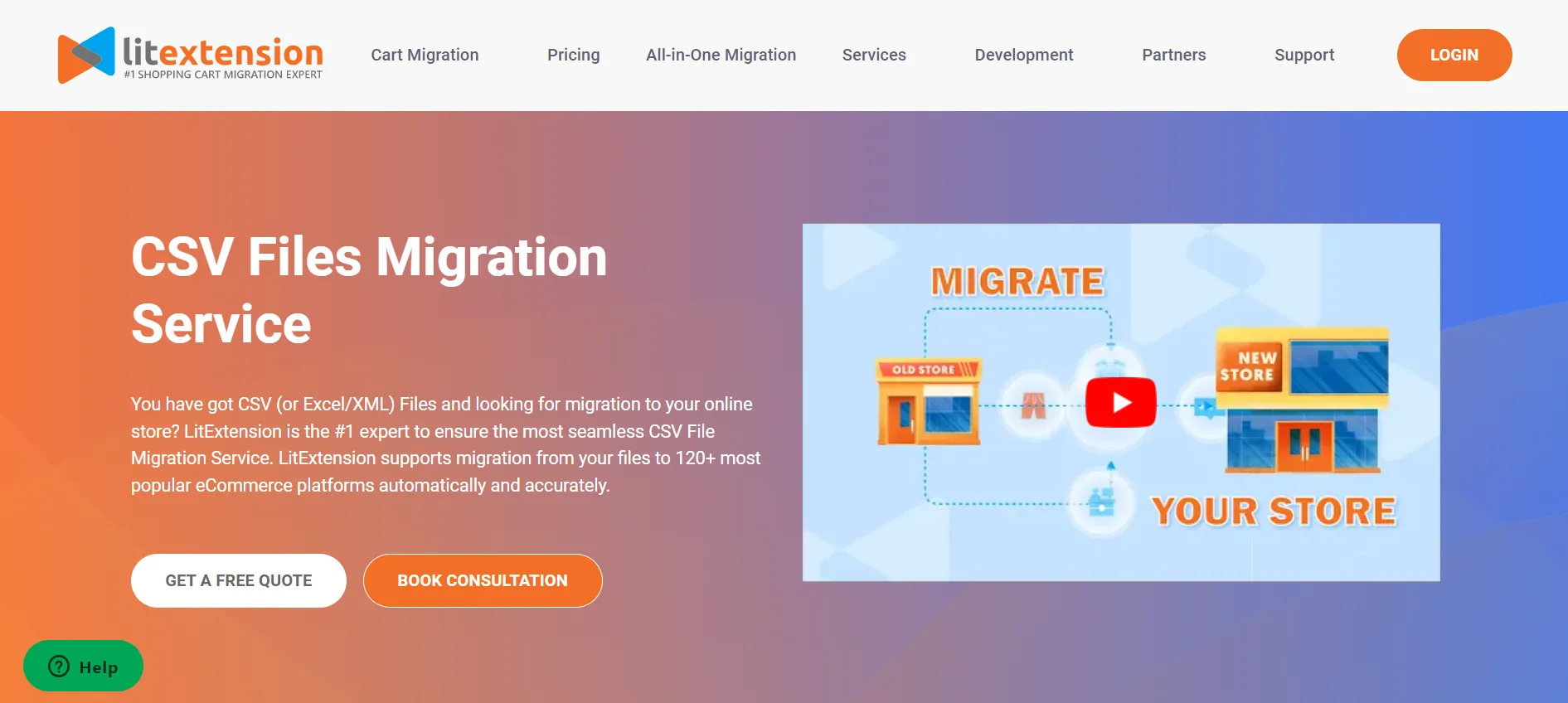 2. Customize your CSV file
With the gathered CSV file, now leave it to the LitExtension experts. No need to format the file; we'll do it for you. Our technical specialists will modify all files to meet your specific needs, conduct a demo, and then double-check the demo results to ensure a smooth Shopify CSV import process.
3. Run Full Migration
Once you approve the demo results, our professionals will perform the entire Shopify CSV import while keeping a tight eye on everything that goes on. LitExtension Smart Controller will identify any occurred problems, and our team will promptly address them.
Rest assured that your migration project is in good hands. You can solely focus on thriving your business, and we will notify you when the migration is completed.
4. Start your new journey
Before we give over your data, our Quality Assurance Executive will double-check the final migration results to guarantee they meet your standards.
Furthermore, since your existing store will continue to function normally throughout the Shopify CSV import, there's a higher chance that there will be new data updated or modified. To deal with this, LitExtension also offers post-migration activities, including:
Recent Data Migration: migrate all newly created data during the CSV import process to Shopify seamlessly.
Re-migration: import the CSV file to Shopify again in case there are errors happening or you're not satisfied with the result.
Smart Update: update only the new data appearing after the last CSV import.
For customers utilizing our CSV Files Migration Service, these are entirely free of charge in the first 3 months.
---
How To Shopify CSV Import Manually?
As mentioned previously, the manual Shopify CSV import process might be time-consuming due to its complicated nature. It gets harder, especially if you are handling a massive amount of data.
However, if you still prefer a more cost-saving method, follow our tried-and-true procedure for importing products, customers, and orders to Shopify using a CSV file.
1. Download a sample CSV file
To start with, download a Shopify CSV import template and make changes to the file. The sample data set includes an example field with its related information. Before generating your import file, remember to delete the sample so it doesn't mix up with your actual items.

For instance, with the Shopify product CSV file, the sample data set includes a product and its variants. While the CSV file Shopify for Customers contains two default customer profiles with their email addresses and phone numbers.
2. Format your CSV file
Make sure your Shopify import product CSV file satisfies the following conditions so it may be used correctly:
The column headings for each field in your CSV file must be filled on the first line.
When exporting a CSV file Shopify from Excel, double-check the options to ensure that commas will be used to separate the data.
When uploading your products to the Shopify import CSV file, the two columns "Title" and "Handle" are necessary.

With the Customers file, the "Email" column has to be included, but the value may be left blank. The import of your CSV file will fail if this column is absent. Moreover, the headers of CSV files are case-sensitive, so be careful when you enter the value.

3. Include the required columns
Next up, specify your data sets by adding value to the columns. Below is a full list of required columns that you must include in your Shopify CSV import file for products and customers. Otherwise, you might run into trouble while performing Shopify CSV import.
Option1 Name , Option1 Value,..

Variant Inventory Tracker/Qty /Policy

Image Src/Position/Alt Text

Variant Fulfillment Service/Price/Requires Shipping/Taxable/Barcode

Google Product Category/Google Shopping Metafields

Variant Image/Weight Unit/Tax Code

Accepts Email Marketing/SMS Marketing
For more details, you can check out Shopify's guidelines on how to import products and customers to Shopify.
4. Upload CSV file to Shopify
Once you have finished creating or editing the Shopify CSV import file, let's upload it to the system. However, please make sure that your file fulfills the following requirements:
Customer CSV files must be less than 1 MB in size to be imported.
The size limit for your product CSV is 15 MB.
From your Shopify dashboard, navigate to the Products or Customers page, where you can quickly notice the "Import" button right at the top:

Click on "Add file" and choose the CSV file you want to import.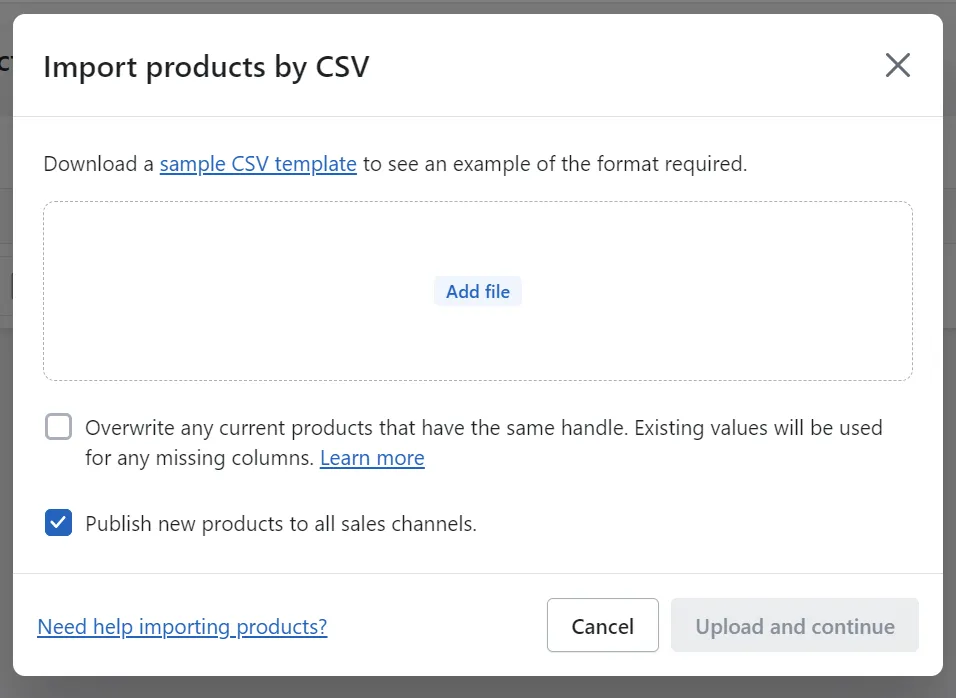 For Shopify update purposes, you can select the overwriting options. Then click on "Update & Continue".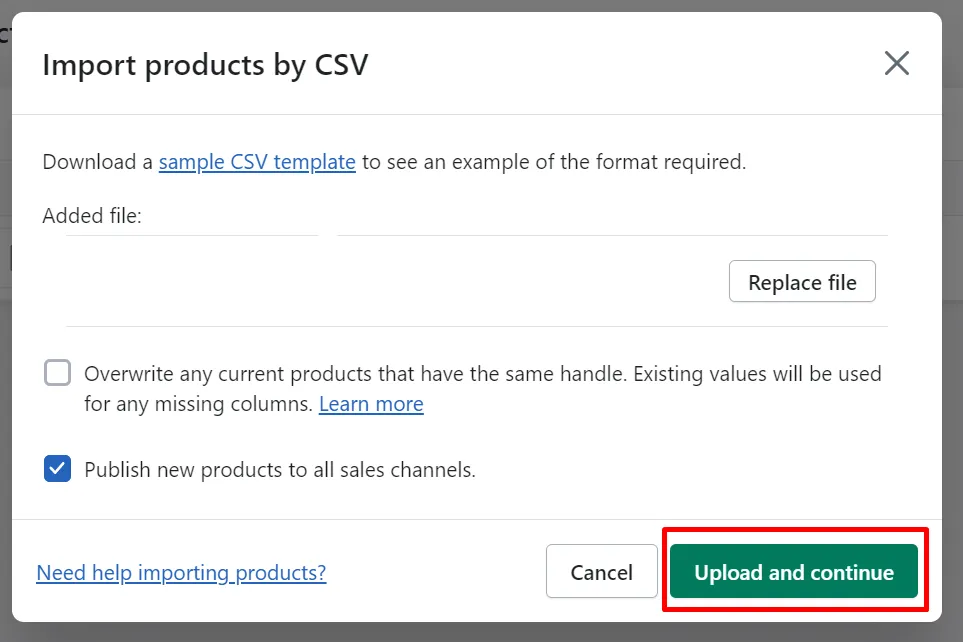 Review your file before hitting the "Import" button!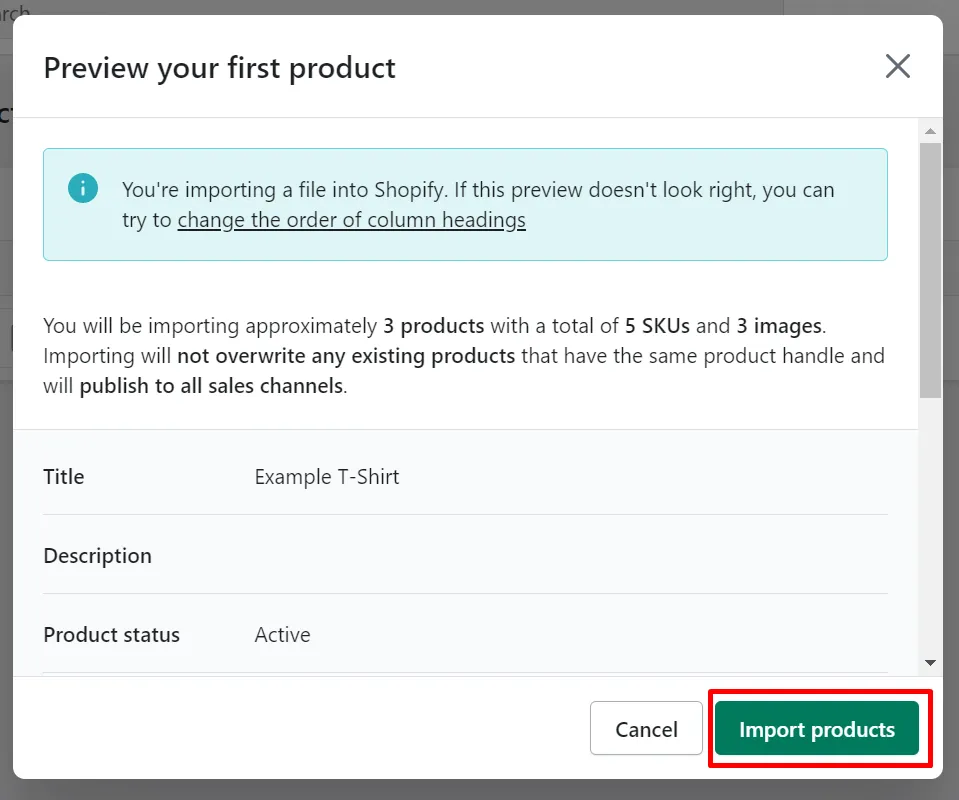 And that's how you can manually import your products to Shopify via CSV file.
Want to Import Your Important Data to Shopify with Ease
Our team of experts can safely transfer your business data, products, customers, and orders to unlock more growth on Shopify's robust platform. Let us provide a customized data transfer for your store.
---
Tips To Import Shopify CSV Files Successfully
Since the manual guide for Shopify CSV import requires multiple steps to complete, there are a few tips that we think might be helpful for you:
Make two copies of your CSV so that you may make changes to one while keeping the other as a backup.
If there are any mistakes in your CSV file import, Shopify will replace the original products, and you will lose them forever.
The images associated with your products are not duplicated when you save a CSV. Hence, we recommend storing an extra copy of the product images in another folder just in case the worst scenario happens.
Ensure that your Shopify CSV import file has been accurately formatted. Otherwise, Shopify won't be able to read CSV files and handle your data.
You cannot import products via a CSV file manually when using a dropshipping app. The issues that might happen are missing links, outdated pricing, out-of-date stock, and orders not delivered to the supplier.
---
How to Perform Shopify Import Products With Ease
Shopify import products with LitExtension app in 6 steps:
#1 Prepare for the migration
While transforming among platforms, the worst scenario is that all of your information related to customers, orders, and products might disappear in a blink of an eye. As a result, it will cost you tons of time and effort to build your store from scratch. For this reason, it is important to store your current store data before product import Shopify.
#2 Create a Shopify store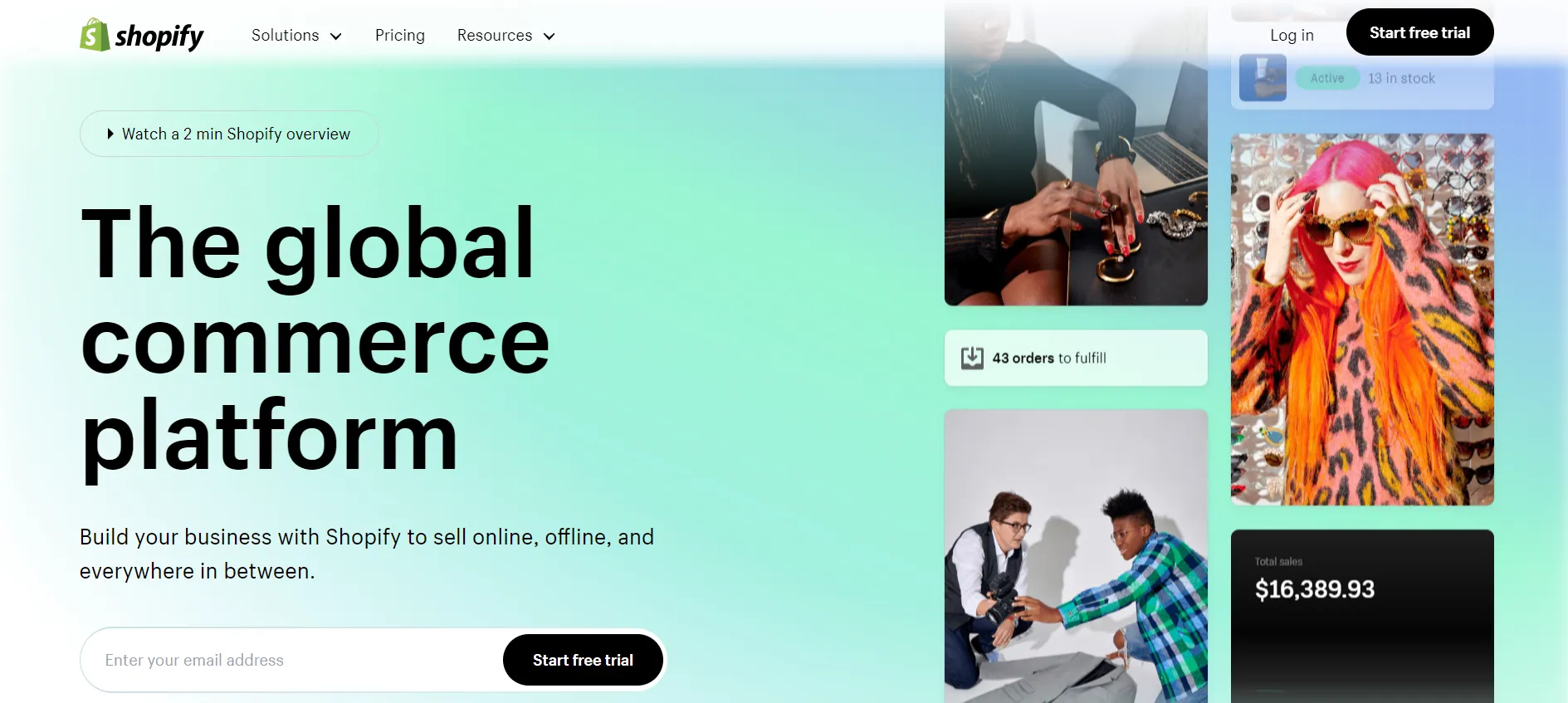 It's time to kick off your eCommerce business by creating a Shopify store and make the best out of it!
If you haven't had your own Shopify store yet, register for a new account now. Currently, Shopify is offering a 3-day trial enabling its users to test out the features before making the real deal.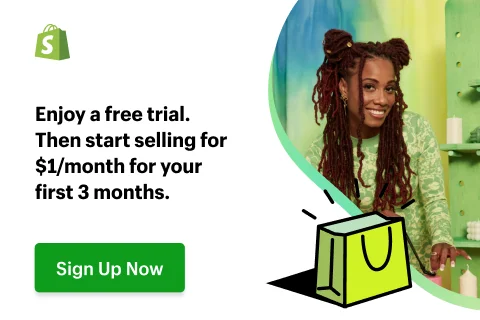 We have done thorough research on all of Shopify's pricing plans in this article, check it out for more details. After that, follow our guide on how to start your Shopify store to kick off your business!
#3 Set up source and target cart
LitExtension is the #1 Shopping Cart Migration Expert with over 11 years of experience in eCommerce re-platforming service. Our solution will help you to migrate your essential data, including Products, Orders, Customers, etc, with utmost security.
Besides the website, Shopify users can painlessly use our app version from the Shopify App Store. Within several simple steps, Shopify data import has never been less of a hassle!
To get started, go to the Shopify App Store and type in "LitExtension Store Migration" into the search bar. You can quickly notice our app at the top of the results page, add this plugin to your Shopify store and move on to the next step.

After installing the app, you will be directed to the Source Cart and Target Cart set up page. You can choose any cart as your Source Cart from the drop-down menu and insert the store URL. Some of our most popular migration services to Shopify are from Wix, BigCartel, and so on.
For example, if you're having a WooCommerce store, follow these steps:
Choose WooCommerce as "Source Cart Type"
Insert the Source Cart URL
Download and install the LitExtension Connector
Wait for the notification "Connection was successfully installed" to appear.

The great thing about using our LitExtension app is that you no longer have to fill in the Shopify import products API key. Compared to the website version, the system has automatically recognized the Store URL for you, which makes the whole migrating process become less of a hassle!

When complete filling in the information, click "Next: Configure your Migration" to move on to the next step.
#4 Select entities to migrate
You can choose the products and other data types to migrate to your Shopify store. Simply click on the entities you want to transfer or click "Select All".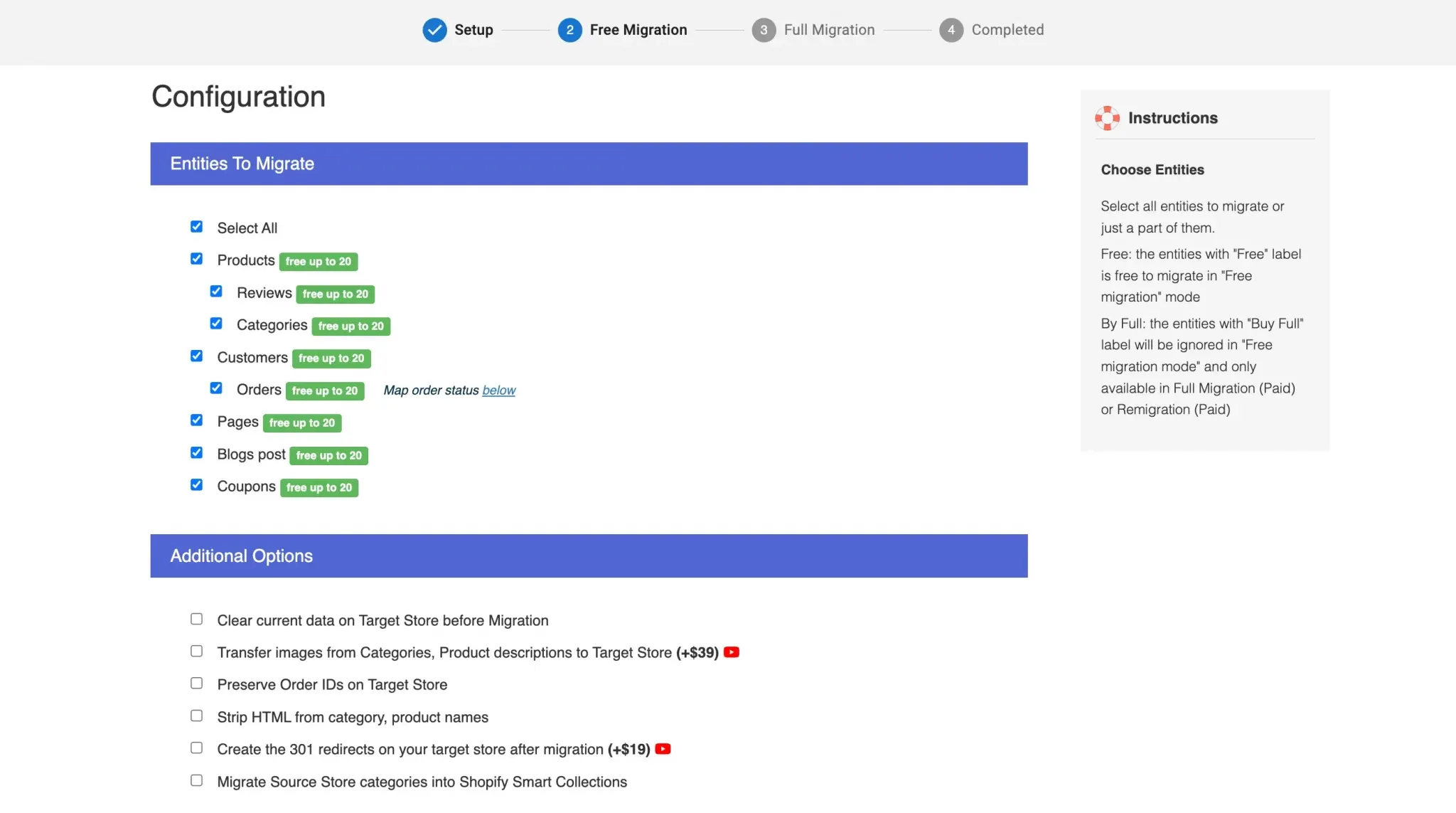 To help you extend your migration possibilities, LitExtension also offers "Additional Options" based on your chosen Source and Target Cart Type. Therefore, remember to choose other options in accordance with your business needs and requirements.
There are some critical differences between importing data with LitExtension and other methods:
Typically, products are linked to the product category and order. In case you import both product and order data to Shopify with LitExtension, the links will be kept. However, those links might lose when you import manually or use the Import Store app.
LitExtension supports 301 redirects: When you migrate from another platform to Shopify, Shopify will automatically generate new URLs for your products. As a result, you will lose your SEO rankings. This option supports creating all the URLs at the same time you import products to Shopify automatically. Meanwhile, with the manual method and the Import store app, you must create one-by-one product URLs by hand.
#5 Perform Shopify import products
Before starting, you should try a Free Demo to visualize how LitExtension performs your data migration automatically and securely.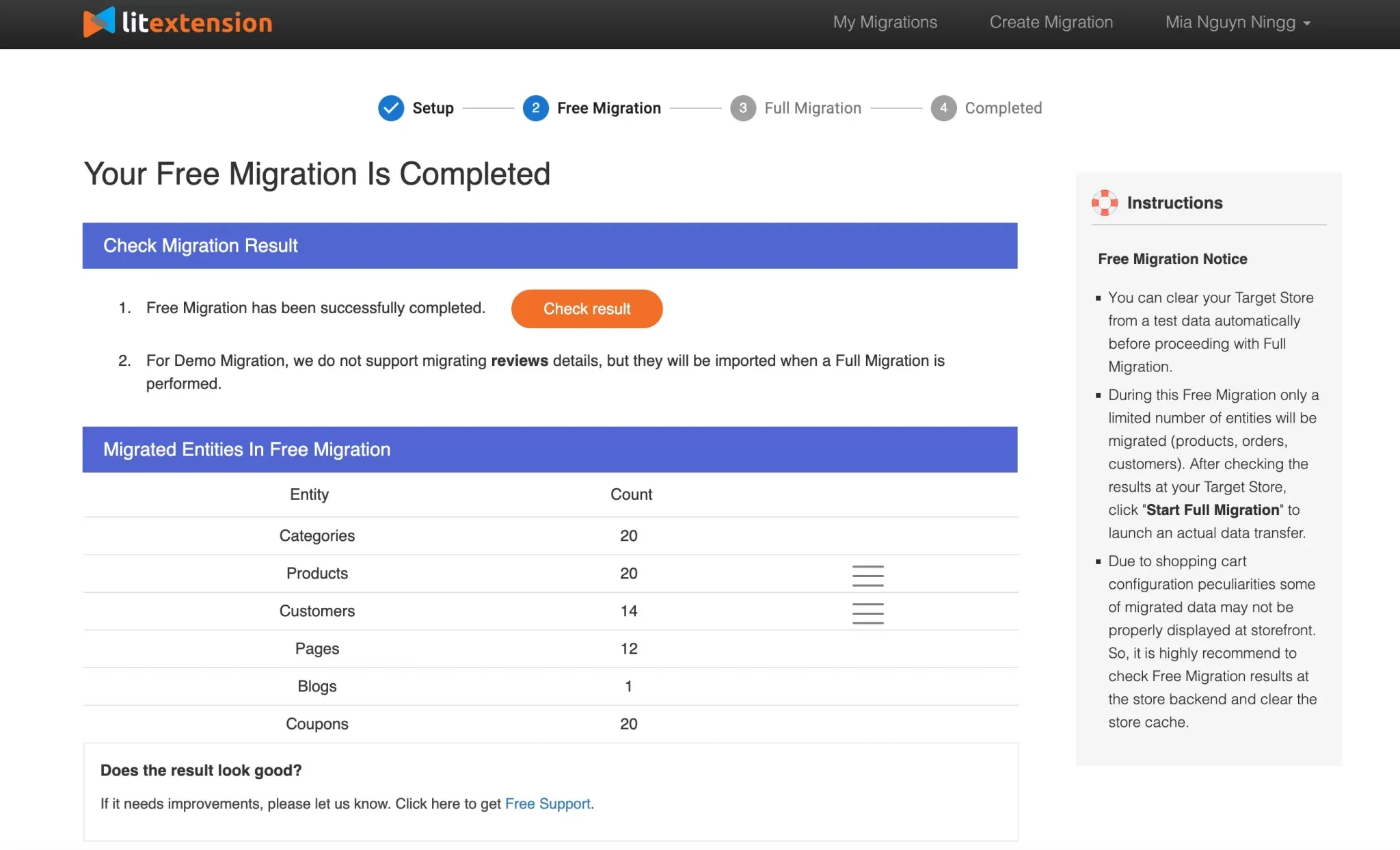 You can skip the Free Version and go right to the Full Migration by click on "Next: Start Full Migration":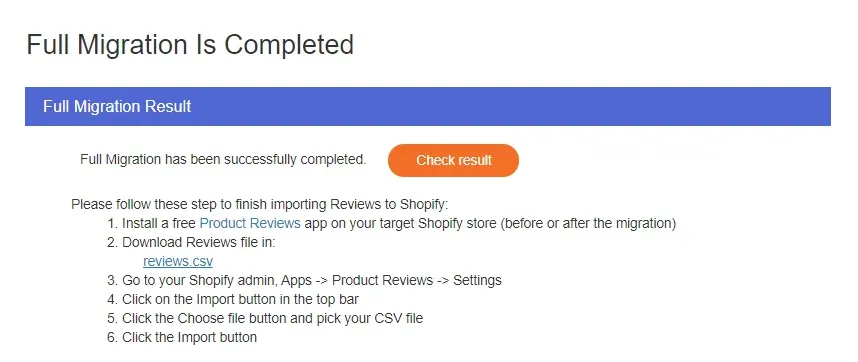 You can rush the video below to have a clear sight of the Shopify import product process:
Because this process runs automatically, you can turn off your PC during the transfer. When the import completes, LitExtension will send you a notification email.
Besides Shopify, LitExtension also supports importing products to the WooCommerce platform. If you are curious, this article might be helpful.
#6 Tick the post-migration checklist
Don't forget to check your database in your target Shopify store after the process. Get some help with our comprehensive Shopify post-migration checklist!
In case you need help or have any questions, you can contact the expert team through email and live chat. This support ensures you have a successful import as you expect.
---
Other Methods to Import Products to Shopify
#1 DSers Import Products to Shopify for Dropshipping

Dropshipping refers to a selling method without storing the inventory yourself. Dropshipping on Shopify is a growing business thanks to its ease of setting up. However, dropshipping store owners cannot perform the Shopify import products process via CSV files.
You cannot export data to CSV files because of the following reasons:
Product links will be broken
Orders are not sent to the Oberlo app
Prices are not updated
The inventory is out of sync
Let's take DSers, a drop shipping app, as an example. This is exclusively built for Shopify merchants, allowing them to process hundreds of orders within a few minutes. Not to mention their wide range of cost-effective suppliers and products from across the globe.
#2 Shopify Transporter App

For those large-size businesses who are using the Shopify Plus plan, the Transporter app is designed to help fasten up the migration process.
To start with, the Transporter command line tool can be utilized to convert data from your previous platforms into a single CSV file. Don't worry because you can easily adjust the source files at any time you want. What we even love more about this application is that this command-line tool can be freely downloaded and installed from github.com/Shopify/shopify_transporter.
After that, the app will upload the exported CSV files to your current Shopify store. With a few simple clicks, you can import everything from products, and customers to orders.
#3 Store Importer app
Important Note: Shopify has stopped providing support for the Shopify Importer App. Please refer to other methods to import products to Shopify.
Store Importer app is a free app that Shopify offers by default. You can use this app to migrate from a Shopify store to another one, or from another platform to Shopify. However, this app only supports importing certain data including products, customers, and inventory.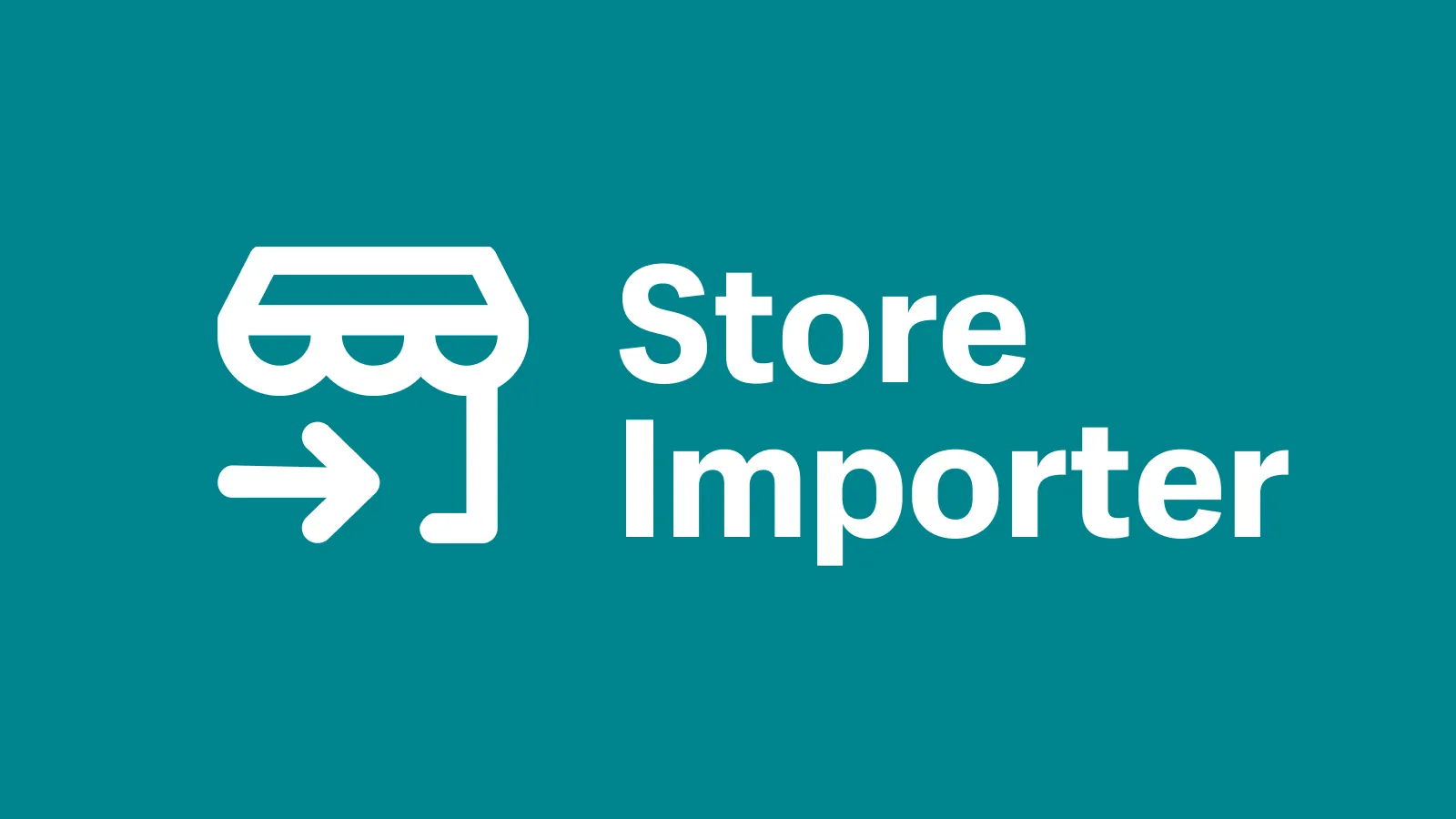 If you choose Store Importer app to carry out Shopify import products, you should pay attention to these things:
You still need to export data into CSV files and edit these files to match the requirements of the Shopify CSV file format. As mentioned above, editing is complicated and you must have enough tech skills to do this.
Import Store cannot import all of your product data. You have to create gift card products manually. Some of your products did not import, so you must add them manually. Another case is that products are imported successfully but aren't available on your Shopify store. In this case, let's make products available on your sales channels.
Here come the steps to import your products to the Shopify store by using the Import Store app:
Export product data into CSV files and ensure the data is in the correct CSV format. (Same as you do manually).
From the Shopify Admin, go to Apps > Import store.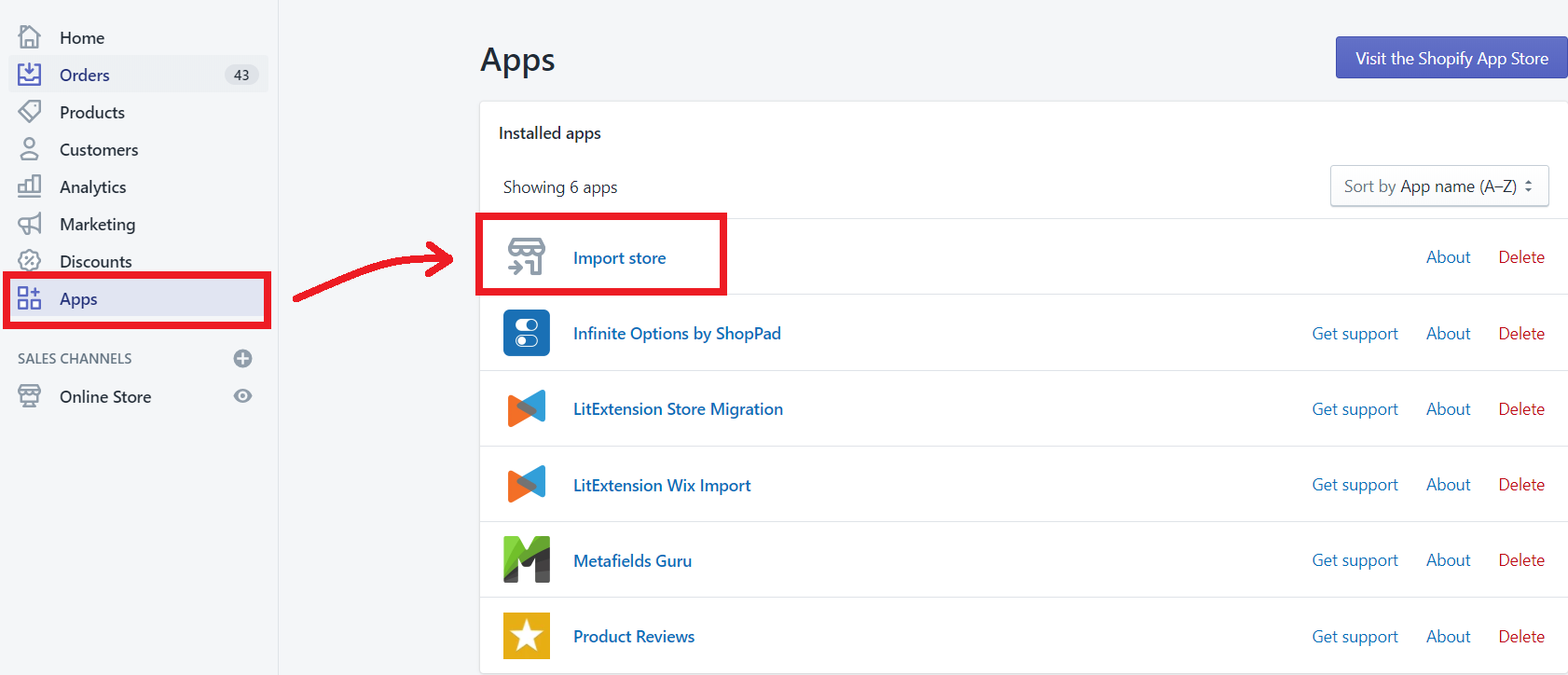 In the Upload files section, click Add file. When you migrate from a certain platform to Shopify, the Import store app chooses a platform automatically for you. Thus, if this platform is different from your one, you can scroll down and then click Select a different platform.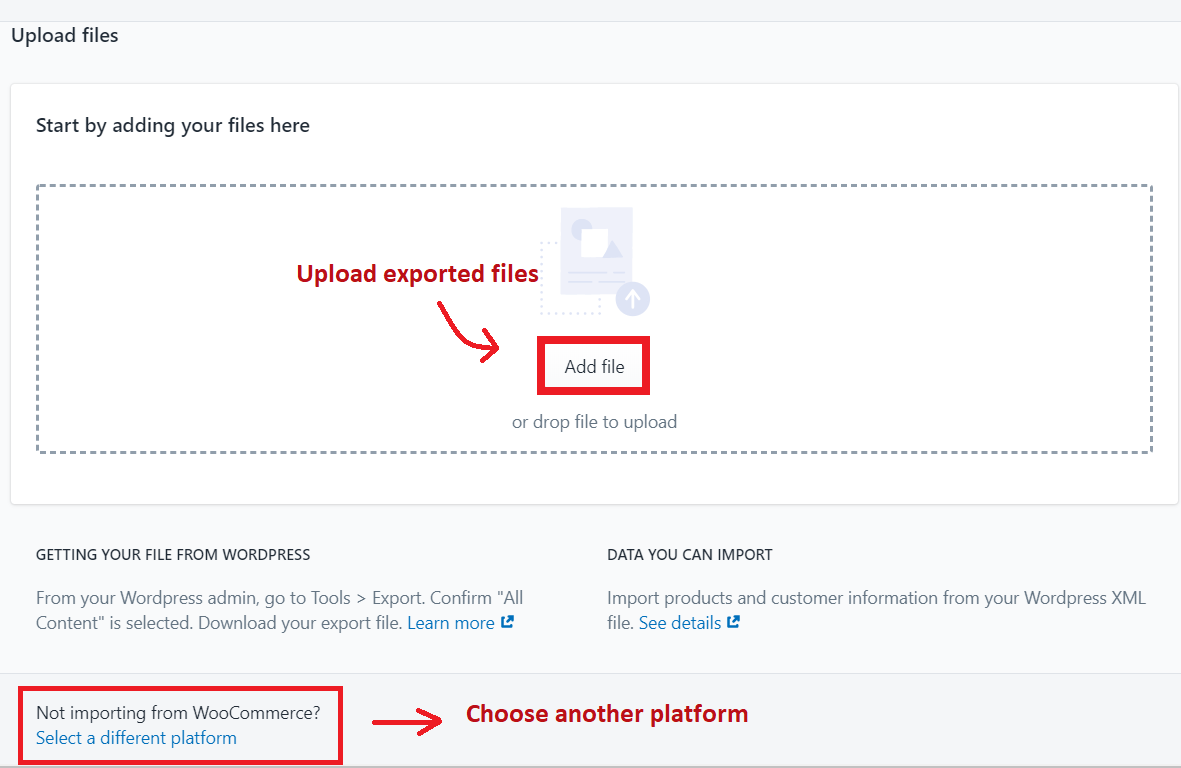 Choose your exported files > Continue import > Import.
---
Important Steps to Take Before Launching Your Shopify Store
1. Customize your storefront
The appearance and usability of your store are the foundation upon which the success of your client journeys and conversion rates rest. To create an impressive Shopify storefront design, it's no surprise that you need to invest in every little detail appearing on your website.
Currently, you can find 130+ well-designed templates (both free Shopify themes and premium options) that go along with almost all business types from the Shopify Theme Store. Moreover, you can try out all themes even with the free trial. In case you are sitting on the fence about choosing the right one, check out our best Shopify themes for any website.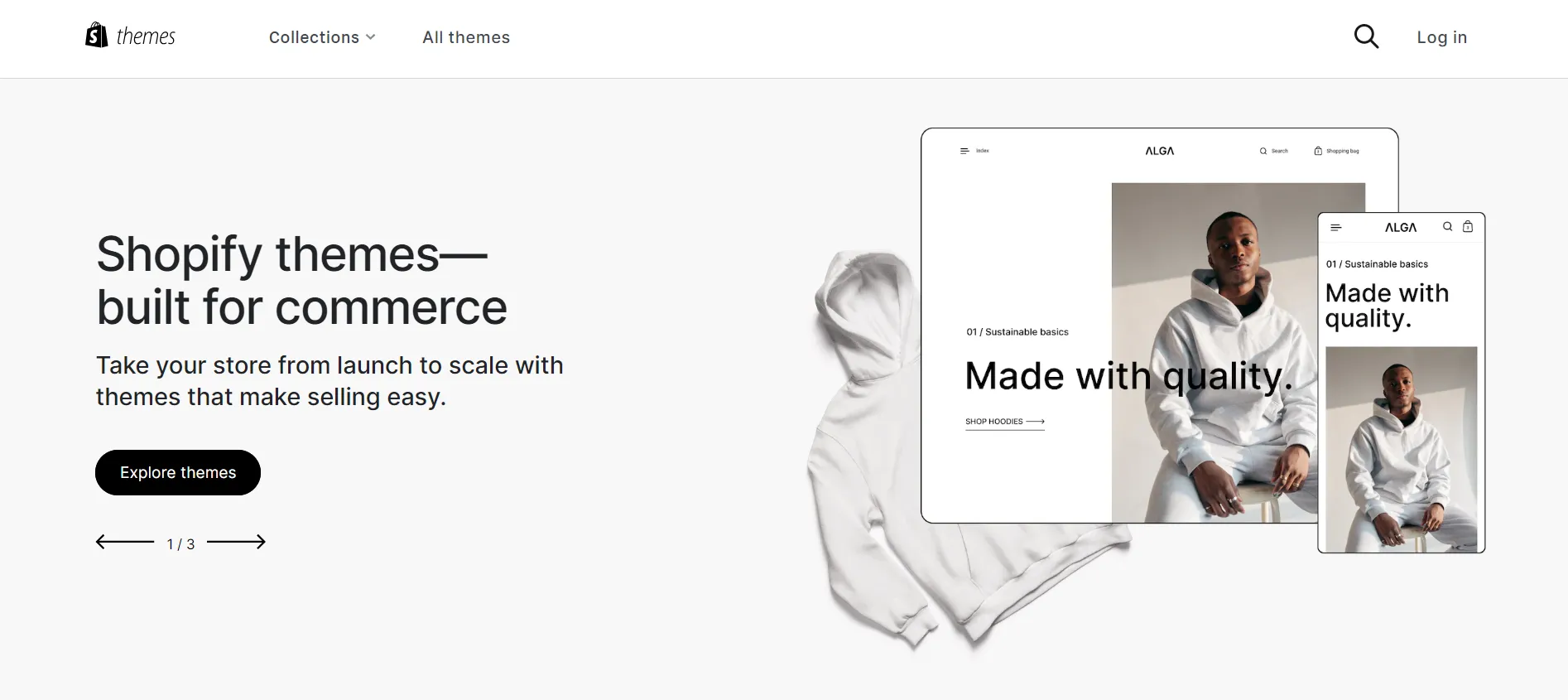 To set up a Shopify theme, follow these steps:
Navigate to Online Store > Themes for the Shopify Dashboard.
Pick a desired option from the "Popular free themes" section or see more by hovering over "Visit Theme Store".
Select the "Add theme" button on the theme page.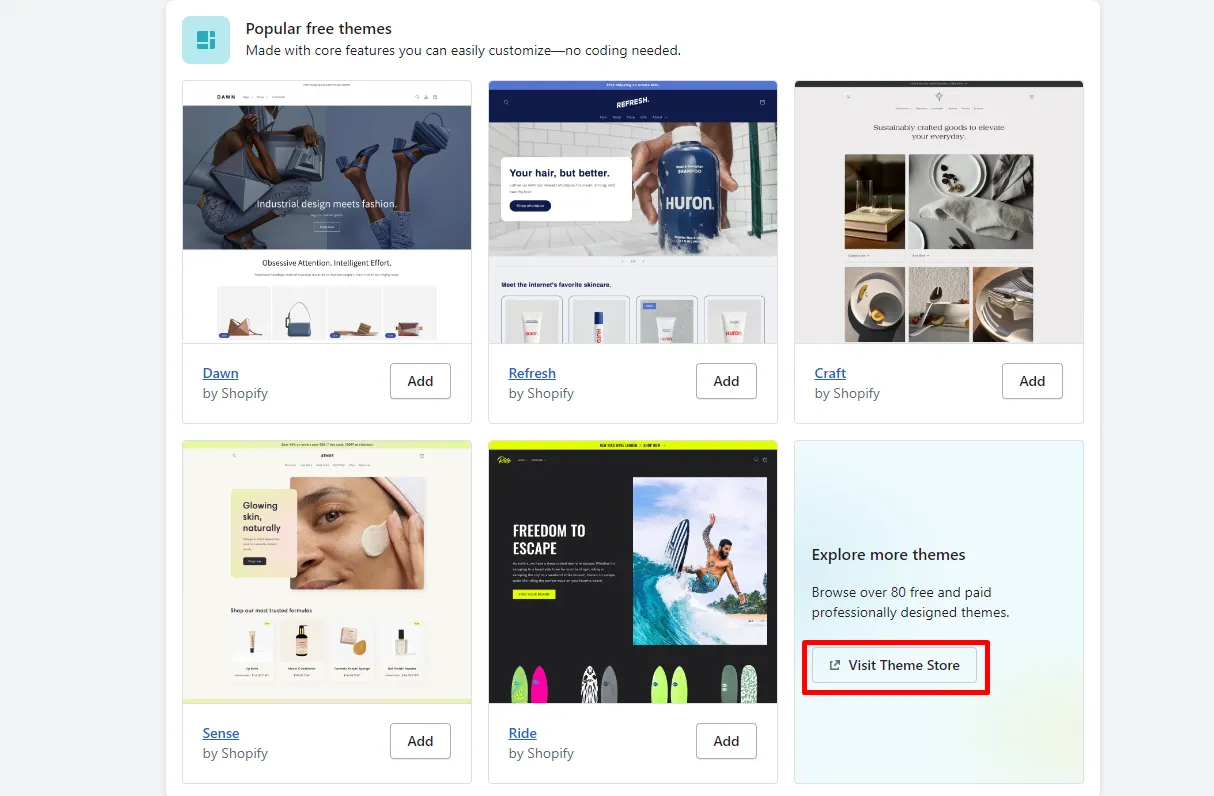 Compared to other eCommerce platforms, our take on Shopify's advantage is its extensive collection of themes with handy drag-and-drop customization tools. This means that starters can develop the best website design in no time.

We still have more Shopify themes collections waiting for you to explore over here:
2. Install apps
By incorporating apps into your store, you may boost sales, simplify your customer service, and enhance your customers' shopping experience. Thousands of useful applications to expand your company are available in Shopify App Store.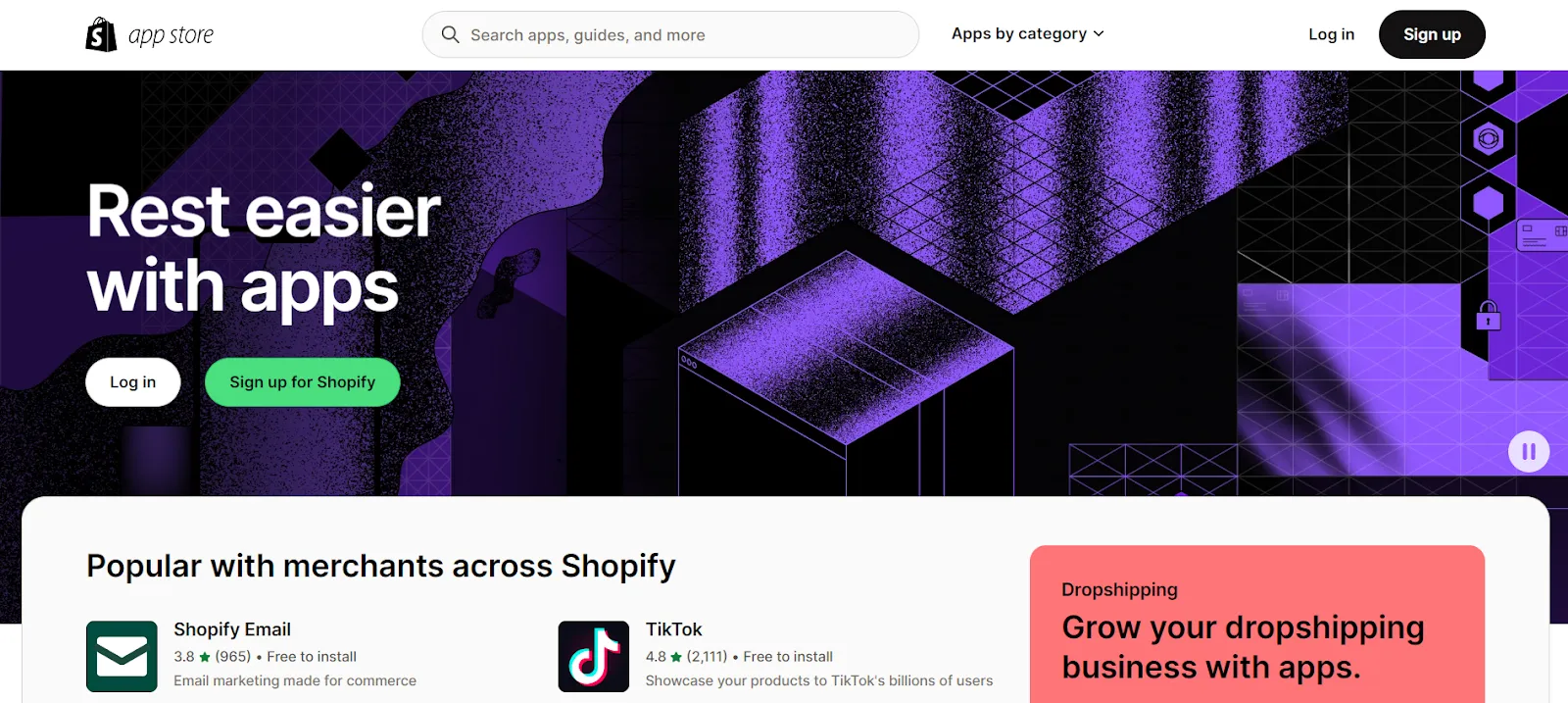 However, choosing the finest applications for your store may be difficult when there are so many alternatives. To help you out, we have compiled a list of the best Shopify apps for reference.
Installing a Shopify app is pretty simple:
Click on "Add apps" from the Shopify Dashboard.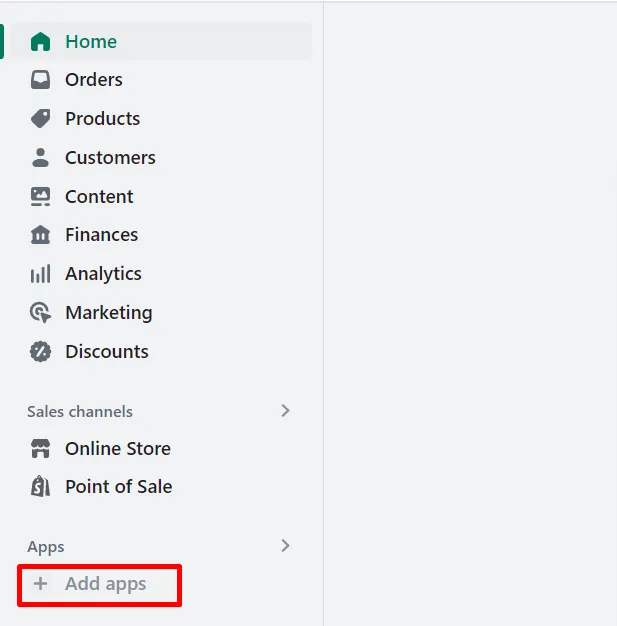 Pick any app you want, or find more in the Shopify App Store.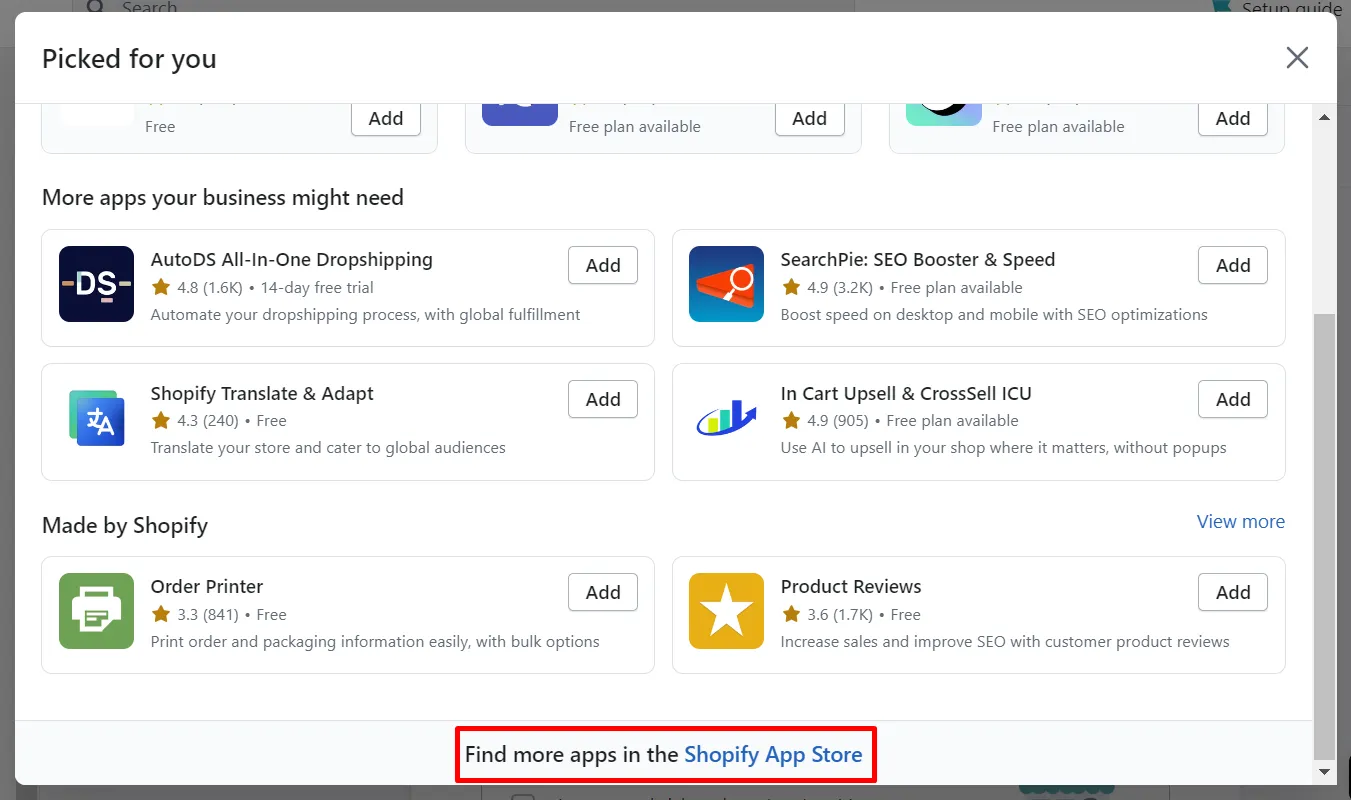 Connect your Shopify store with the application.
Start generating profits with these useful apps.
More apps to maximize your store's performance:
3. Set up payment gateways and shipping methods
Don't forget to set up a payment processor so that you may open for business as soon as possible. Shopify supports 100+ payment gateways, including major credit cards, debit cards, and e-wallets. Make a decision based on personal preference, but keep in mind the surrounding area and the demographics of your target audience.
Each payment gateway charges a different rate of transaction fee. If you are on a low budget, consider Shopify Payments, which only requires you to pay for the credit card processing fee instead of the transaction fee.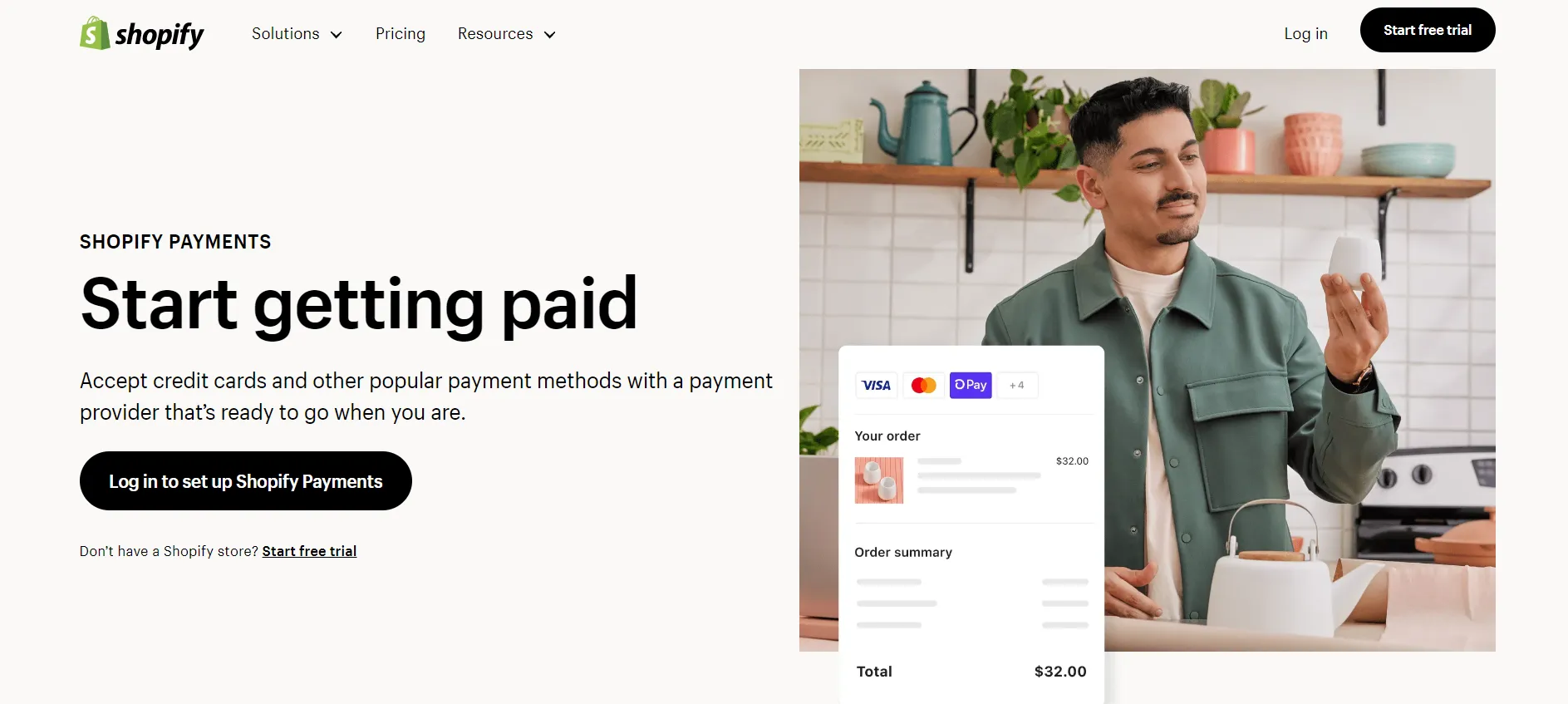 Go to Setting > Payments, and you will be able to choose the most suitable payment gateways for your customers. Shopify also includes the transaction fee next to each method for your comparison.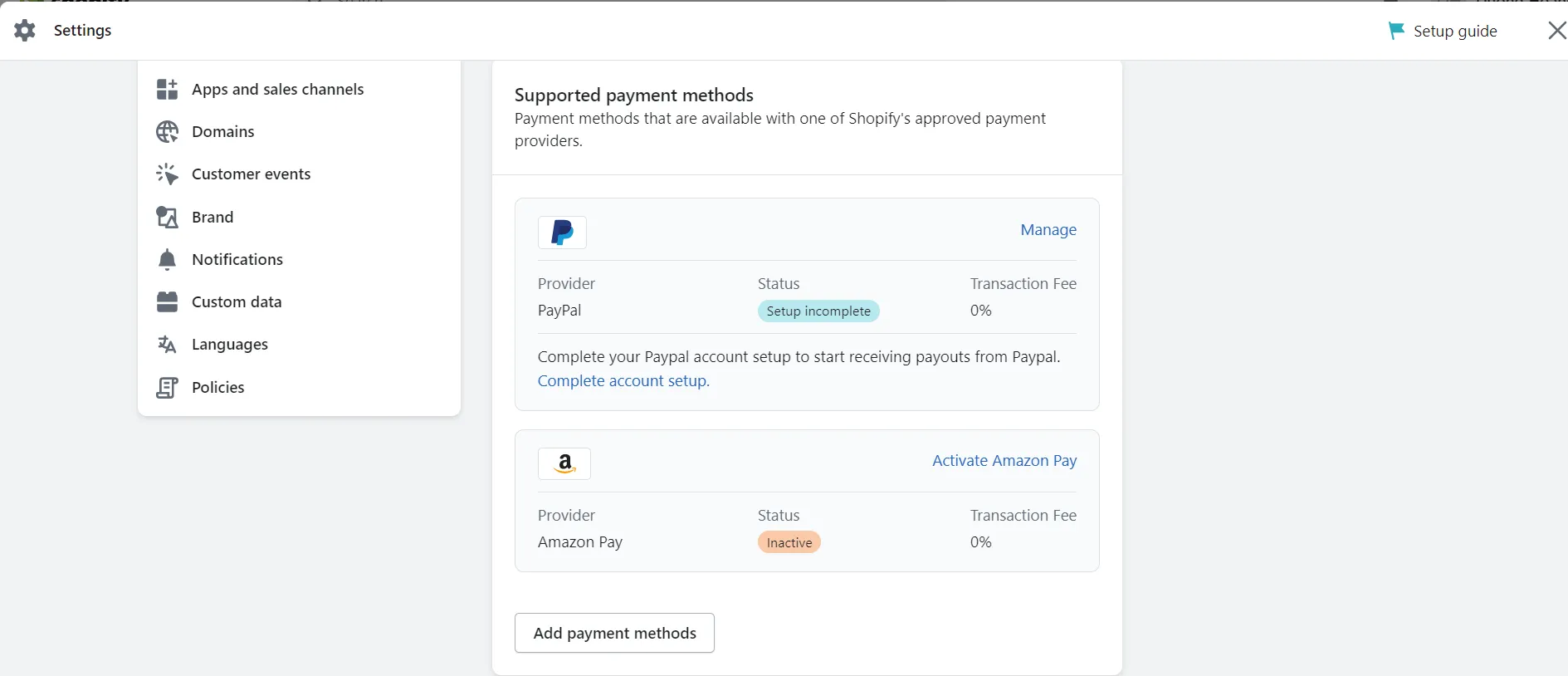 You may continue with determining Shopify shipping methods and insurance coverage. At checkout, consumers will see a shipping fee computed based on your settings rather than a flat one.
4. Create promotion and marketing campaigns
You may expect rivals in whatever market segment you focus on. That's why you need solid marketing plans to make money selling on Shopify.
In fact, you should have an insightful marketing plan in place before opening your store's doors. It is relatively simple for new entrants to create buzz about themselves and position their businesses for immediate success.
5. Choose a pricing plan
Depending on the scope of your business needs, there are up to 5 Shopify pricing plans for your choosing. For more information, consult our in-depth review of Shopify pricing.

---
Shopify CSV Import – FAQs
---
Final Thoughts
In conclusion, Shopify CSV import is crucial whether you're looking to migrate from other platforms to Shopify or are just getting started with eCommerce. Depending on the CSV file size, the procedure may require a lot of time, technical expertise, and data corruption.
Therefore, be careful if you are performing the task manually. To save you time and effort, LitExtension – #1 Shopping Cart Migration Expert has developed the CSV File Migration Service. This way, you can easily transfer or import your data through CSV files.
For more information, check out our LitExtension Blog or join the Facebook Group Community now.