LitExtension is one of the two leading providers for Shopping Cart Migration Service in the world. We provide a possibility to migrate customers, orders, products, SEO URLs, even customer passwords and other data with all corresponding data to a desirable shopping cart. However, we know that no one wants to make a sight-unseen transaction. Therefore, at LitExtension, we provide Demo Migration so that our customers can check whether our service and migration tool works as they expected before making a purchase.
Demo is short for demonstration which aims to show how our tool works with limited number of items and the result after that. In other words, this functionality is actually a "reduced" version of full data migration.
Basic Info about LitExtension Demo Migration
LitExtension Demo Migration is 100% free.
It allows you to transfer a limited number of entities (up to 10 products/orders/customers).
It takes you 10-20 minutes to perform the whole process.
You can skip our demo by clicking "Skip demo Migration" to immediately move forward to Full Migration.
You can check the result performed by our tool in the Demo before officially launching the Full Migration.
Now, let's move to the reasons why we highly recommend you try our Demo Migration.
Benefits of Demo Migration
Using demo migration not only doesn't take a lot of time, effort or any money but it also brings you many benefits as follows:
You can get used to our service and migration tool
Make sure everything is operating the way you want them to before Full Migration
You can see real migration results on your target store and know if they worth your investment.
If any issues arise, you can have us fix them before performing full migration.
Now that you have understand what Demo Migration is and why you should use this functionality. Let us walk you through the process it works.
How You Can Start a Demo Migration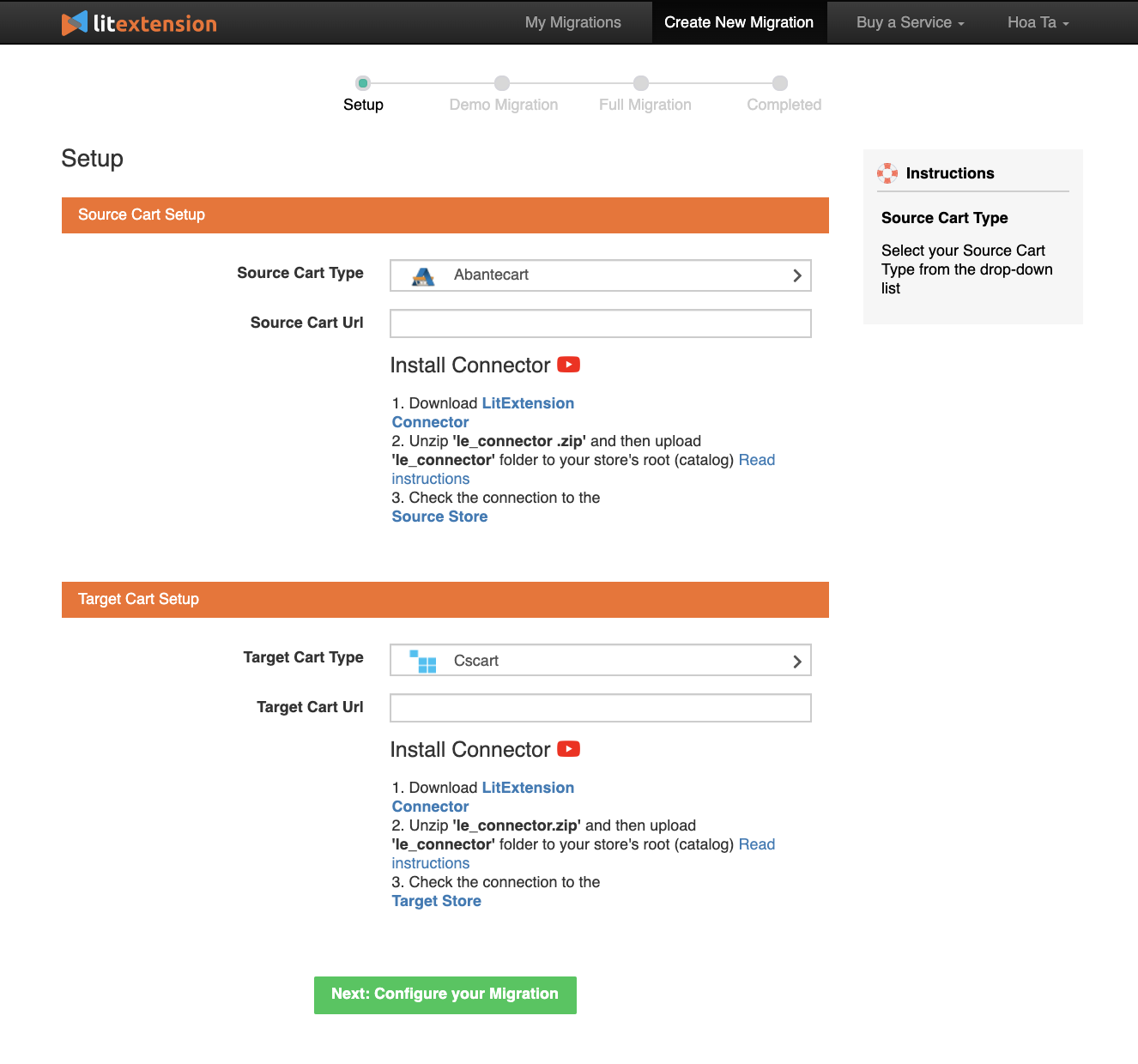 To illustrate how our Demo Migration is set up and performed, let's suppose you are using a Magento platform and want to switch to Shopify. Below are steps to migrate data from Magento to Shopify in Demo:
Registration: Register an account or sign up with yours on LitExtension site. You also can login easily by your existing Google or Facebook account.
New Migration Creation: On the Migration Page, click Create New Migration at the top right button of the screen
Source Cart and Target Cart Setup: Select your Source / Target Cart type and provide its URL, API key and Password into required fields. In some cases, you will be asked for Admin email, password, API path, Client ID, Token depending on platform you are using. You can find these information easily from your administration panel.
Entities Selection and files uploading: Select entities you want to migrate. You can select either all of them together or certain data, for example only Products, Customers and Orders. LitExtension also provides additional options here to extend your migration possibilities. Languages, Order Status and Customer Group will be matched together to be displayed correspondingly in the new store.
Free Demo Migration: Start your demo migration with limited number of entities. You will see the same steps as the actual migration. However you can skip this step by clicking Skip demo Migration to immediately move forward to Full Migration.
Check result: You can check the result done by the Demo before officially making the full migration by clicking on our provided link. Our version can also check the total entities you have on your current Source type and calculate the price for your full migration.
Technical Support
You can perform several Demo migrations with any cart types you like until you are sure about our tool's functionalities. If you need further information or support, please feel free to Contact Us via live chat, we are 24/7  available to help you with anything of your concern.