Magento vs Shopify is currently the two best eCommerce platforms that thousands of e-merchants select to settle in. Regardless of several weaknesses, both platforms get their names on the score sheet by offering superior functionalities for a feature-rich online store.
If you are considering performing Magento to Shopify or Shopify to Magento (currently known as Shopify to Adobe Commerce) migration, look no further because you are in the right place. In this article, we will be providing you with a comprehensive Magento (Adobe Commerce) vs Shopify comparison that helps you figure out which one is the cream of the crop for your business.
Keep reading to grasp all features of Magento eCommerce vs Shopify:
Let's get in!
Migration Made Easy With LitExtension!
Don't have time to switch to a new eCommerce platform? Opt-in for our All-in-One Migration Service and have an exclusive Personal Assistant carry out the migration process for you without having to lift a finger.
---
Magento vs Shopify – Overview
What is Magento?
Magento is a powerful open-source eCommerce platform that provides a flexible and scalable solution for building online stores. It offers a robust set of features and tools to manage products, orders, payments, and customer data. As an open-source platform, Adobe Magento 2 allows for customization and extension development, enabling businesses to create unique and tailored e-commerce experiences for their customers.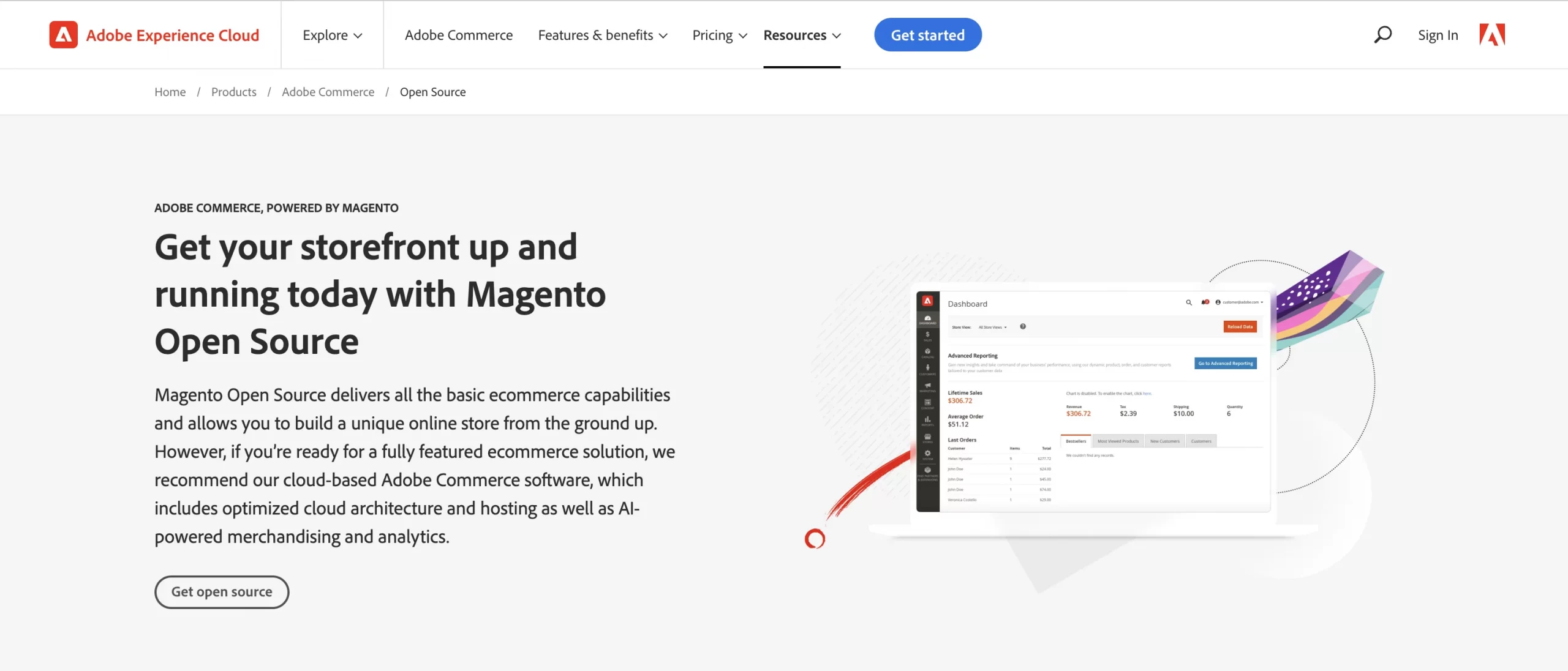 Magento Commerce (Magento Commerce Cloud or Adobe Commerce Cloud), is a comprehensive solution for larger businesses with advanced needs. It provides all the features and functionality of Magento 2 Open Source but offers additional and exclusive capabilities and support.
More insights about Magento:
What is Shopify?
Meanwhile, Shopify is hosted solution that allows businesses to simply create and manage their online stores. It provides a user-friendly interface and a wide range of customizable templates, making it easy to set up and design a professional-looking website.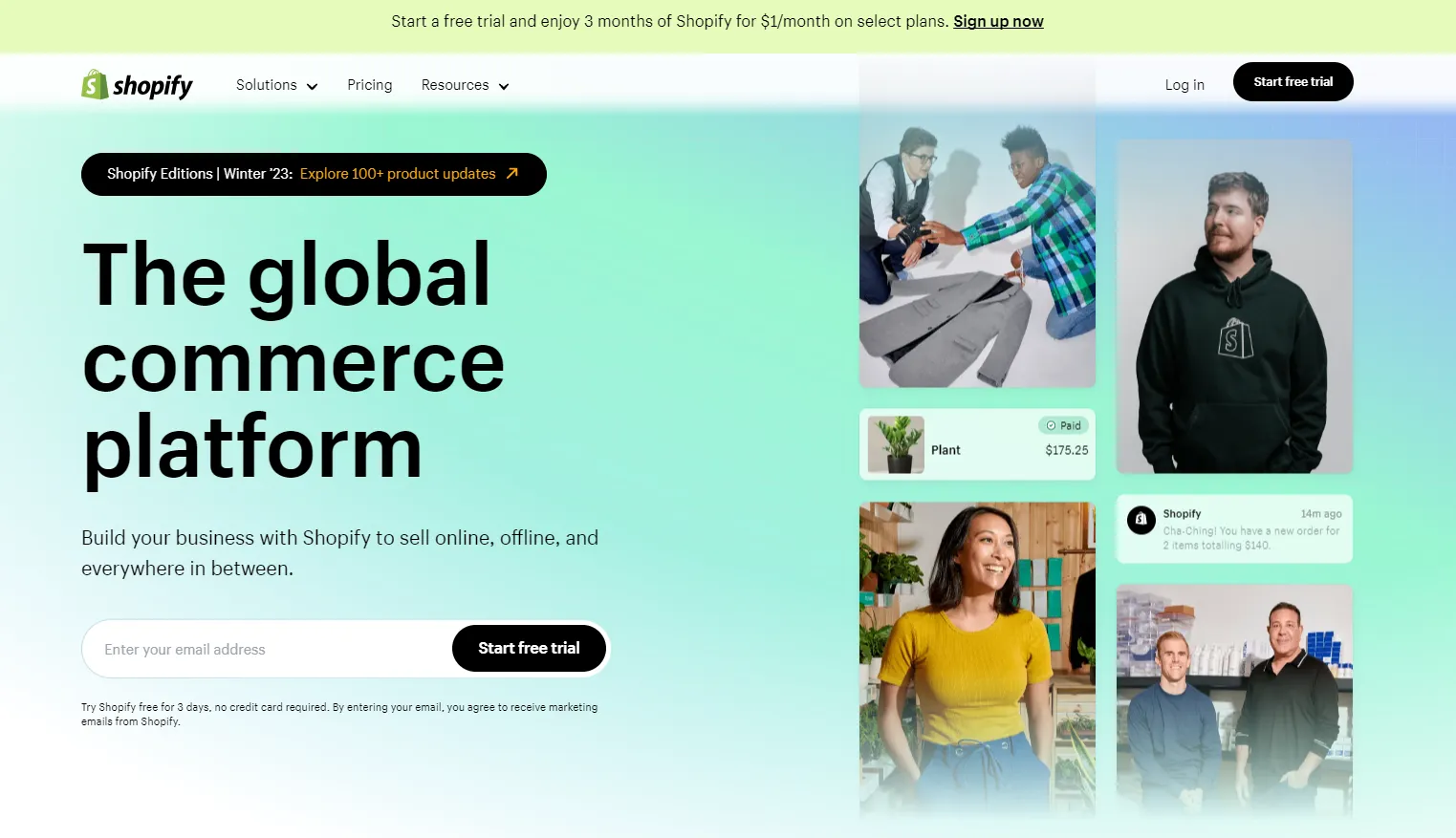 Shopify Plus is an enterprise plan for Shopify's larger and high-growth businesses. It offers all the features of Shopify, but with additional capabilities and scalability to meet the needs of enterprise-level merchants.
More insights about Shopify:

---
Magento vs Shopify – 12+ Key Differences Comparison
If you're afraid of a wall of text? Don't forget that we also have a full comparison of Magento vs Shopify video for you to watch:
If not? Now, let's get into all key feature reviews!
#1. Pricing & Costs
When choosing a shopping cart, pricing is an essential factor to consider. How much budget are you going to spend on your store? Magento vs Shopify, which one offers a better price for you? We'll show you the difference between Magento vs Shopify pricing.
Magento Pricing
In fact, Magento doesn't require a monthly subscription. This platform is free to download, install, and set up your store. However, as we were building our Magento store about a month ago, we found out that to publish your website, finding a domain and a hosting provider is required. Therefore, the price for Magento is flexible depending on your selection.
Besides, if you want to enhance your store's capabilities, you can consider adding several integrations to your website. These apps can be found on Magento App Market, and the price can cost up to $15,000.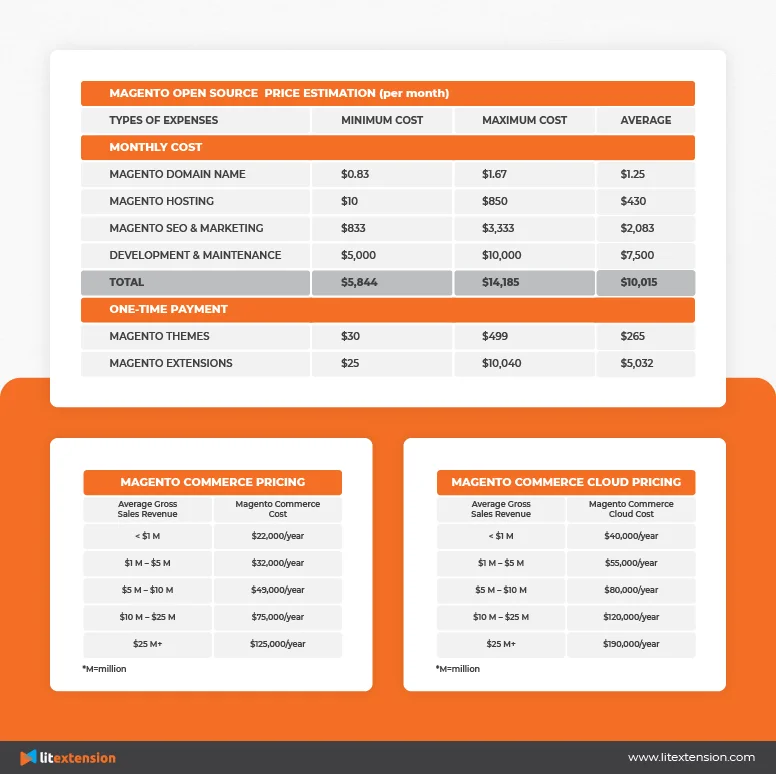 Shopify Pricing
In comparison vs Magento, Shopify pricing is subscription-based. Similarly, we also built the same store as what we did on Magento. There are 3 main pricing tiers that you can opt for, ranging from $39 to over $399 per month. Fortunately, this plan includes both domain and hosting fees, so you don't have to worry about purchasing these elements.
| | | | |
| --- | --- | --- | --- |
| | | | |
| *if not using Shopify Payments | | | |
| *assign & manage staff's activities | | | |
| | | | |
| *automatically manage & operate stores | | | |
| *shipping subsidies with leading carriers | | | |
| | | | |
| Third-party calculated shipping rates | | | |
For more details, Shopify offers a more affordable set of themes and website templates. While the maximum price for a theme on Magento can range up to $499, Shopify only charges $380 for its best website template in the market. In addition, this website builder asks us for a fairly complicated way to calculate transaction fees based on your subscription plan.
The verdict:
After testing out, it's quite hard to say which platform is more affordable because Magento vs Shopify are two completely distinct systems.
From our point of view, as Magento is an open-source platform, the pricing will depend entirely on your needs. Meanwhile, Shopify has three fixed-price plans that appear less expensive, but you'll still need to pay for themes and apps.

#2. Themes & Templates
One of the first things that many companies (including us) care about after budget and ease-of-use problems is how their platform will look like. Therefore, the first impression of customers is a really important element, and themes are what allow you to reflect your stunning brand and individuality.
Let's take a look at our independent research on Magento vs Shopify themes!
Shopify Themes
A great thing that we love about Shopify is that it provides a wide range of themes with 140+ options on Shopify theme store. So it's not our biggest fear that we wouldn't find the perfect theme, but we did take a little step back while looking at the price point. Most Shopify themes cost around $170 – $380, which might be a little costly for some people.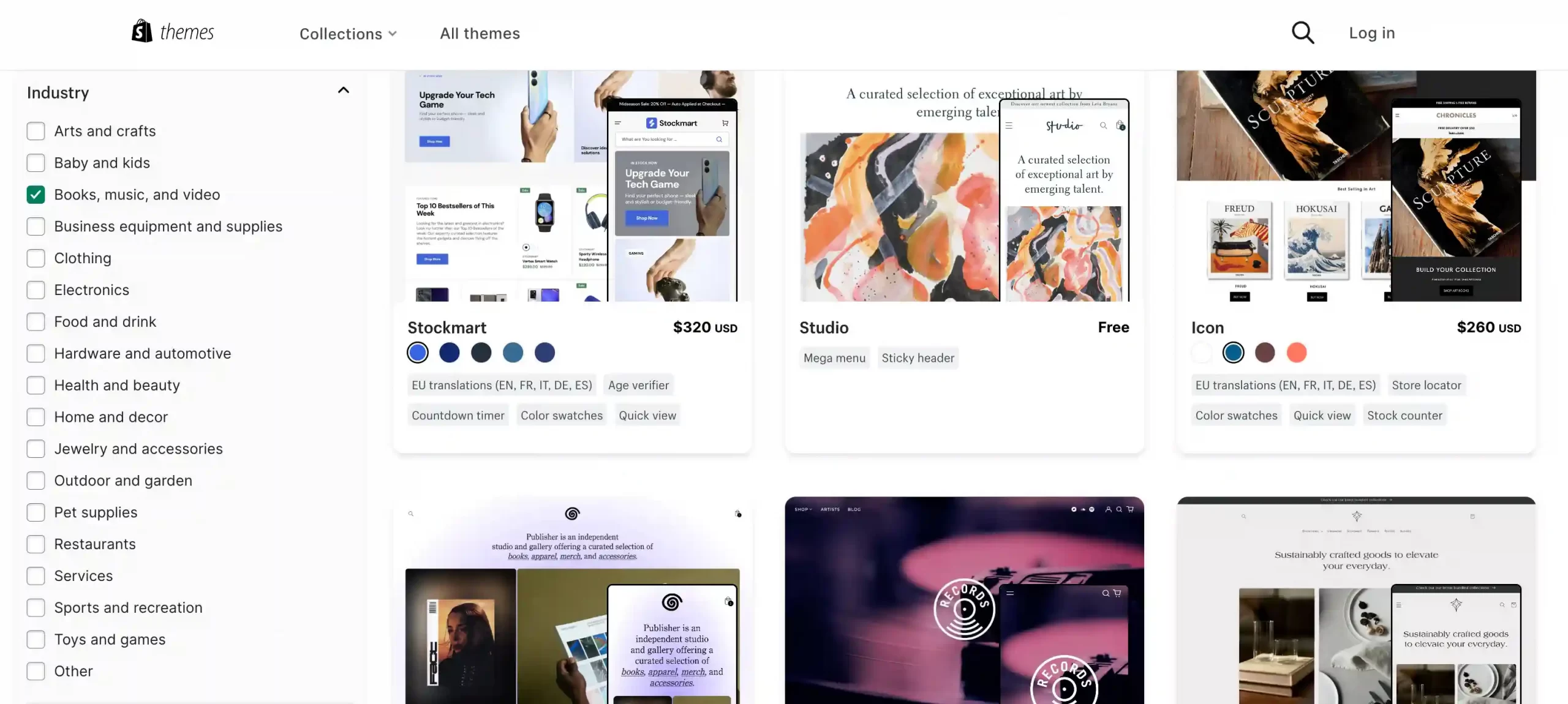 Highlight features:
The drag-and-drop editor allows you to custom, add, switch, remove, and resize elements of your Shopify theme.
All the themes are mobile-optimized.
High loading speed.
Easily add or create new pages.
You can change the color palette and images according to your business.
It allows you to add social media feeds easily.
Want to get more insights into Shopify website templates? Please check out our recommendation of the best Shopify themes to find a suitable design for your website.
Magento Themes
Magento themes offer 9 fully responsive themes, which charge you up to $499. With Magento, we can even create your theme from scratch (but this requires you to have deep coding knowledge or a budget big enough to hire help).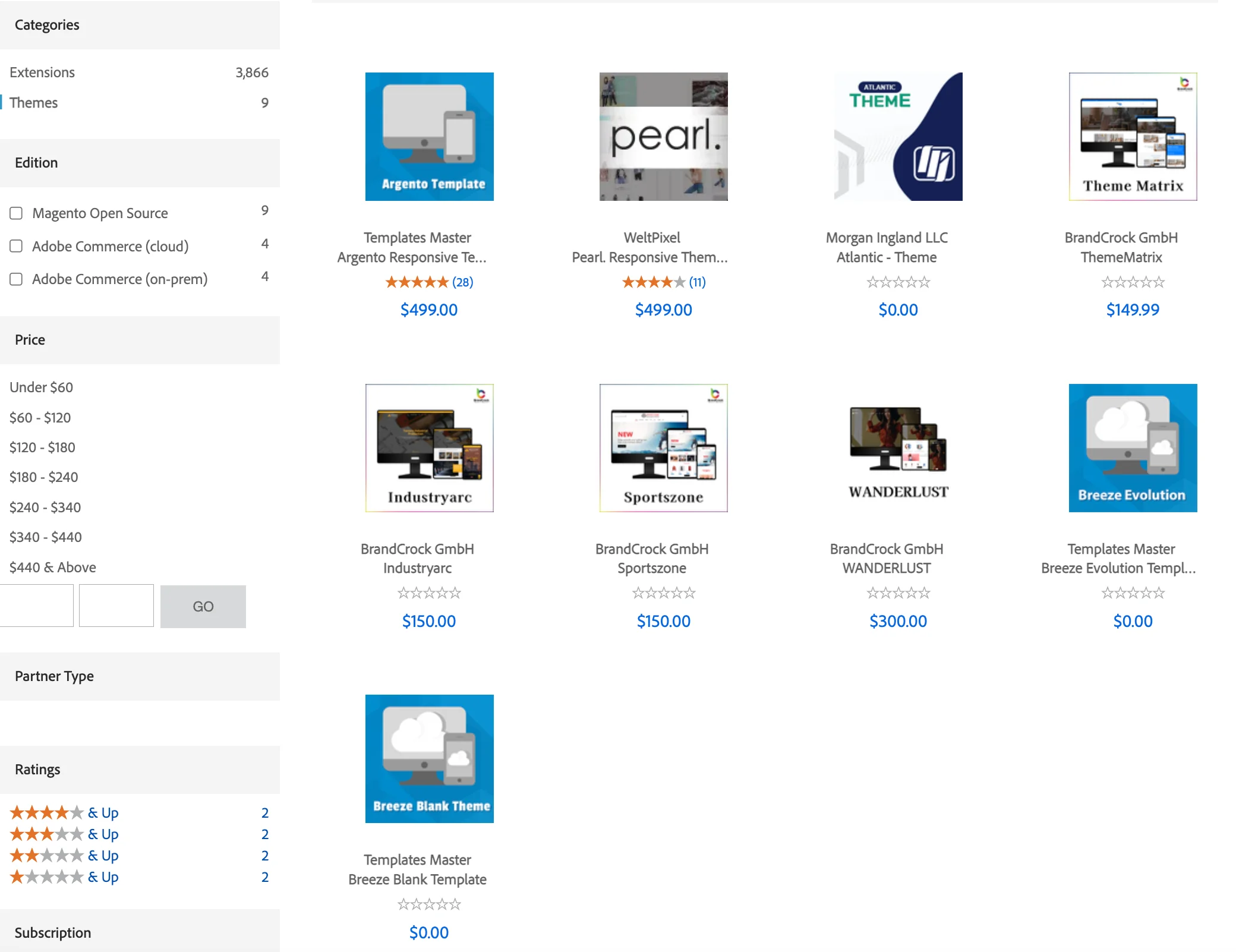 Highlight features:
It offers more flexible customization (as long as you have a firm technical foundation)
It allows you to add animations to make your store engaging
Add a featured product slider to your homepage
You can incorporate newsletter options in your webpage footer
Place "cross-selling blocks" on your product pages
The verdict: 
In our opinion, Shopify offers a wider range of themes in the fight vs Magento. Plus, we don't even need to utilize code to customize Shopify themes, making it simpler to have a custom design for your stores.
#3. Ease of Use
The majority of e-merchants who set up an online business aren't web designers or developers. Even users who are familiar with basic principles want an easy-to-set-up and-operate platform.
Let's explore how Shopify vs Magento compare in terms of usability.
Magento Ease of Use
When it comes to usability, Magento is not as user-friendly as Shopify, especially for non-tech users. Although this platform grants users complete control over their website, it requires a comprehensive knowledge of technology to install and set up their online business.
Shopify Ease of Use
On a different note, Shopify clearly holds leverage against Magento. Thanks to the nature of a hosted platform, this eCommerce solution is quite easy to use.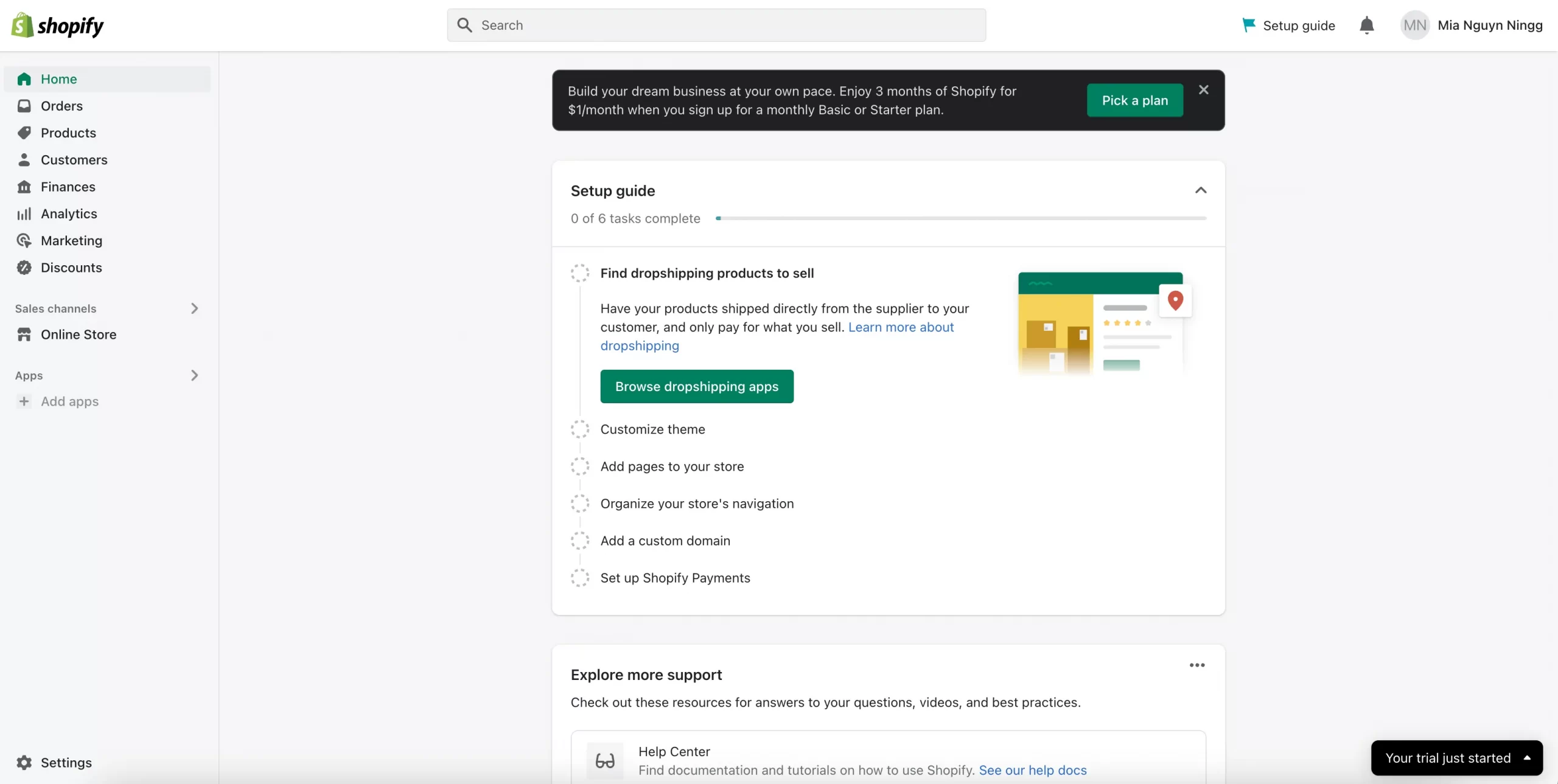 Additionally, Shopify is built for everyone, both tech-savvy and people with a little technical background. As a result, we don't have much trouble while building our online store on Shopify.
The verdict:
It's clear to us that Shopify wins this round vs Magento. Being easier to use than Magento, Shopify is the perfect choice for those who lack technical knowledge.
Want to migrate Magento to Shopify?
If you are intending to migrate from Magento to Shopify, LitExtension offers a great migration service that helps you transfer your data from the current eCommerce platform to a new one accurately, painlessly with utmost security.
#4. Apps & Extensions
Themes only make up the look and feel of your website. However, to add additional functionality, adding extensions is a solution for you. All systems offer app stores and extensions. Most of these applications are just a click away, allowing you to add multiple features to your e-commerce site.
Magento Extensions
At the moment, Magento provides nearly 3800+ extensions through the Magento marketplace. In addition, no comprehensive coding knowledge is required to install and implement these extensions (read more about top 7 Magento Extensions).
As we were looking through the list, there are some highlight extensions that are extremely helpful. For example, Mageplaza allows us to promote products by providing them custom discount options, or using plugins Product Pre-Order can send an email automatically to your potential customers whenever a new product is available.
Besides, we want to mention an Adobe Exchange Partner – Magezon. They provide quality and trusted Magento Extensions such as Magezon Builder (the key product package) and a lot of free products.
Shopify Apps
Compared vs Magento, Shopify App Store provides over 8000+ free and paid apps to add features, control your store, and boost sales. If you are on a low budget like us, even free ones are satisfying enough.
For example, Avada SEO can aid your SEO efforts, PageFly is the best website builder app, and Dsers is the go-to app if you want to start dropshipping on your site (read more must-have Shopify Apps).
The verdict:
As you can see the number, Shopify clearly won our hearts when it comes to the number of apps and extensions vs Magento.
#5. Marketing Features & Sales Tools
In this part, we will mainly focus on comparing SEO and other sales features of Shopify vs Magento.
Magento marketing features & sales tools
SEO stands for Search Engine Optimization allows you to optimize your eCommerce website SEO as this will affect your store ranking. This is an aspect in Magento vs Shopify comparison in which both the shopping carts offer pretty similar options.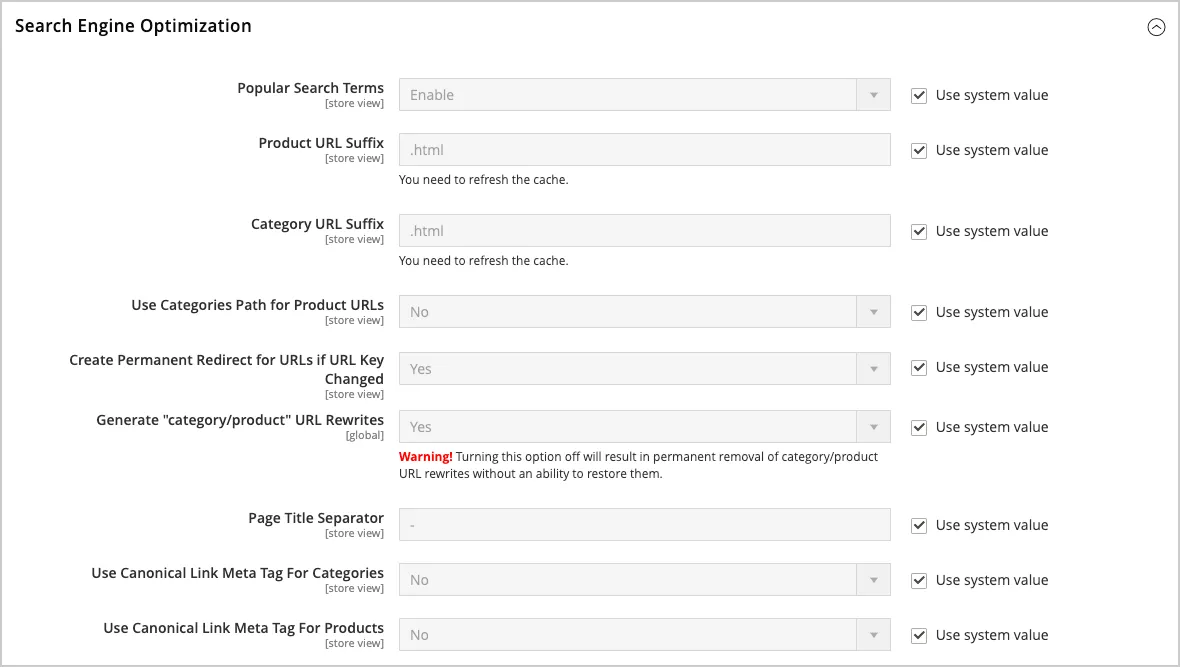 On Magento SEO, we can easily edit the page title and description to define how our store displays in the search results pages and add alt text to images to help search engines understand what they are all about. For more details, you can have a look at this Magento SEO guide to rank your online store better on Google.
Other marketing features
Magento comes with a powerful set of marketing features to promote your online business. For example, Magento allows users to create flexible coupons for multiple purposes freely, create a landing page for different categories, or manage newsletters. With Magento, you can set discounts on items for abandoned cart recovery.
When it comes to multi-channel selling options, you can integrate your eStore with Facebook, Instagram, and eBay by installing extensions.
Shopify marketing features & sales tools
Meanwhile, when it comes to Shopify SEO, we can still access basic SEO functions to edit SEO and meta titles of the page.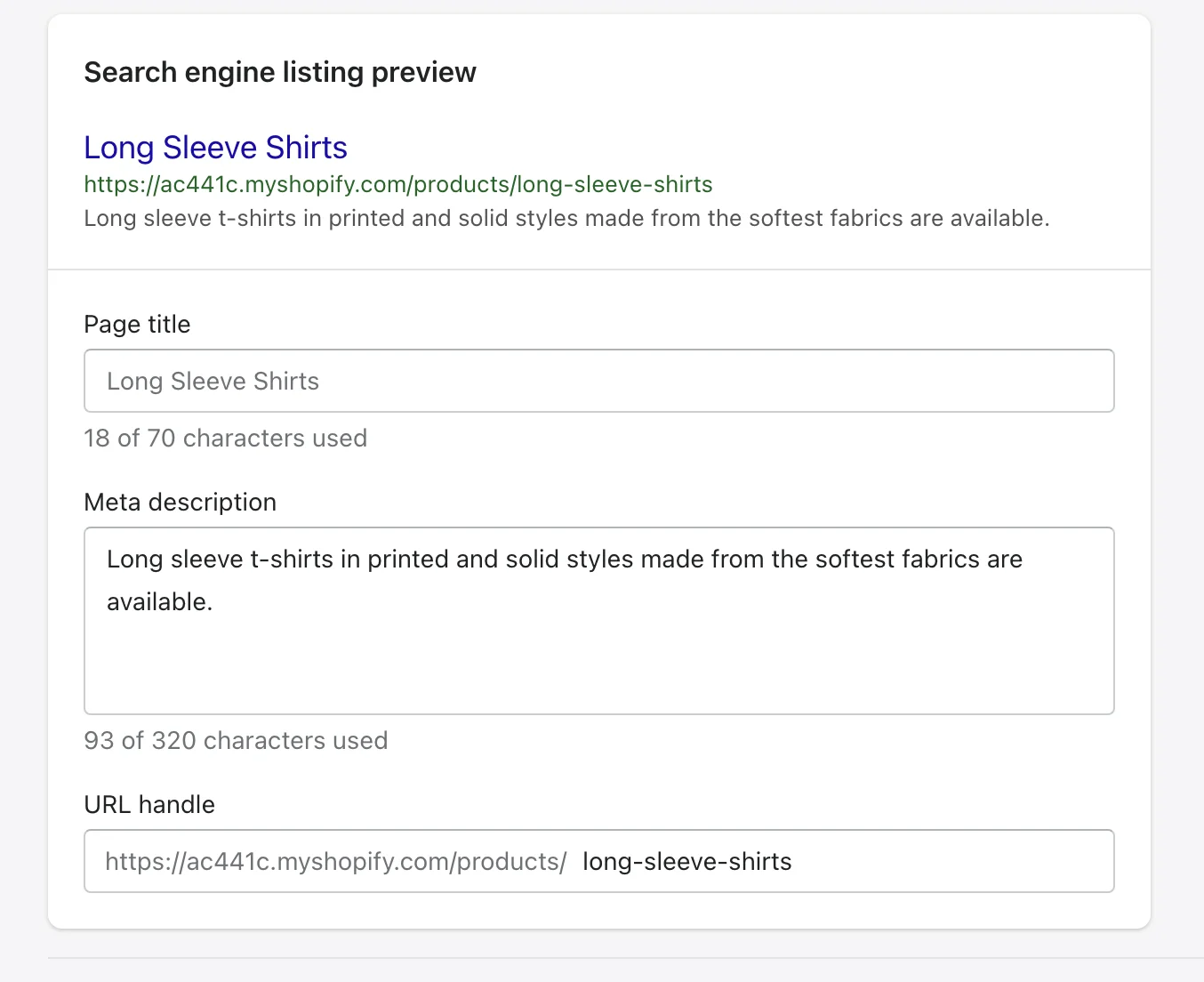 To extend SEO possibilities, we can buy more SEO apps in the Shopify App Store. For example, SEO Booster is Shopify's app that allows users to find issues related to SEO as soon as to solve the problems on time.
Other marketing features
Shopify offers a built-in email tool to promote your products and share updates.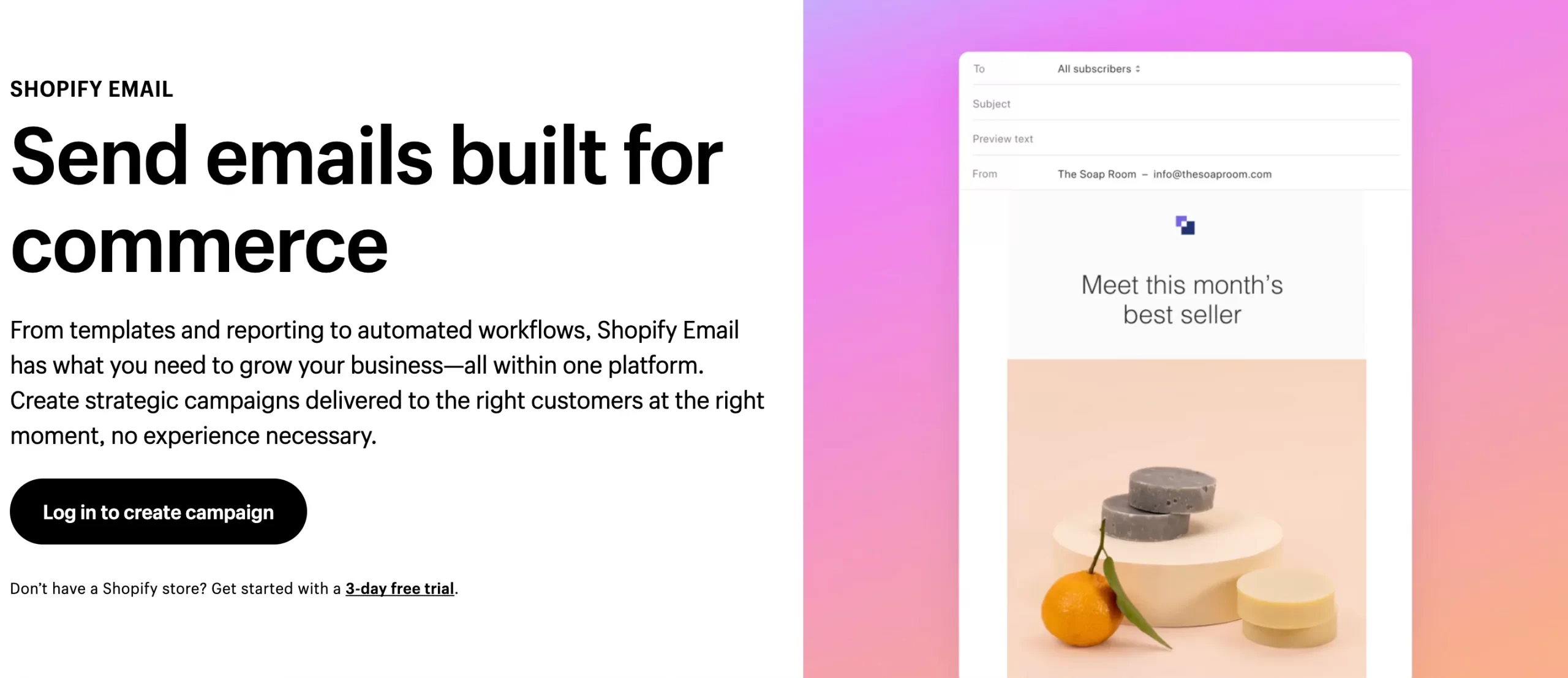 With Shopify Email, you can create emails tailored to your brand with a plethora of stunning email templates to customize but can still maintain professionalism.
Regrading Shopify social media marketing, you can share your products to key social media channels like Facebook, Twitter, Reddit, LinkedIn or Pinterest. Stunningly, Shopify has Shopify Collabs, which lets you partner with creators or KOLs to promote your business.
The verdict: 
Personally, Shopify takes the prize. Both Magento vs Shopify rely on app markets for the most significant marketing functions but Shopify includes social media advertising as a built-in feature.
#6. Payment Options & Transaction Fees
Shopify Payment Options & Transaction Fees
Payment options
During our setup process, Shopify offers more than 100 payment gateways but we need to pay some specific fees.
Credit card processing fee
Your payment provider will charge you a fee for completing all transactions, which includes data transmission between buyers, sellers, issuing banks, and acquiring banks. In our case, we were charged based on the Shopify Plan we chose.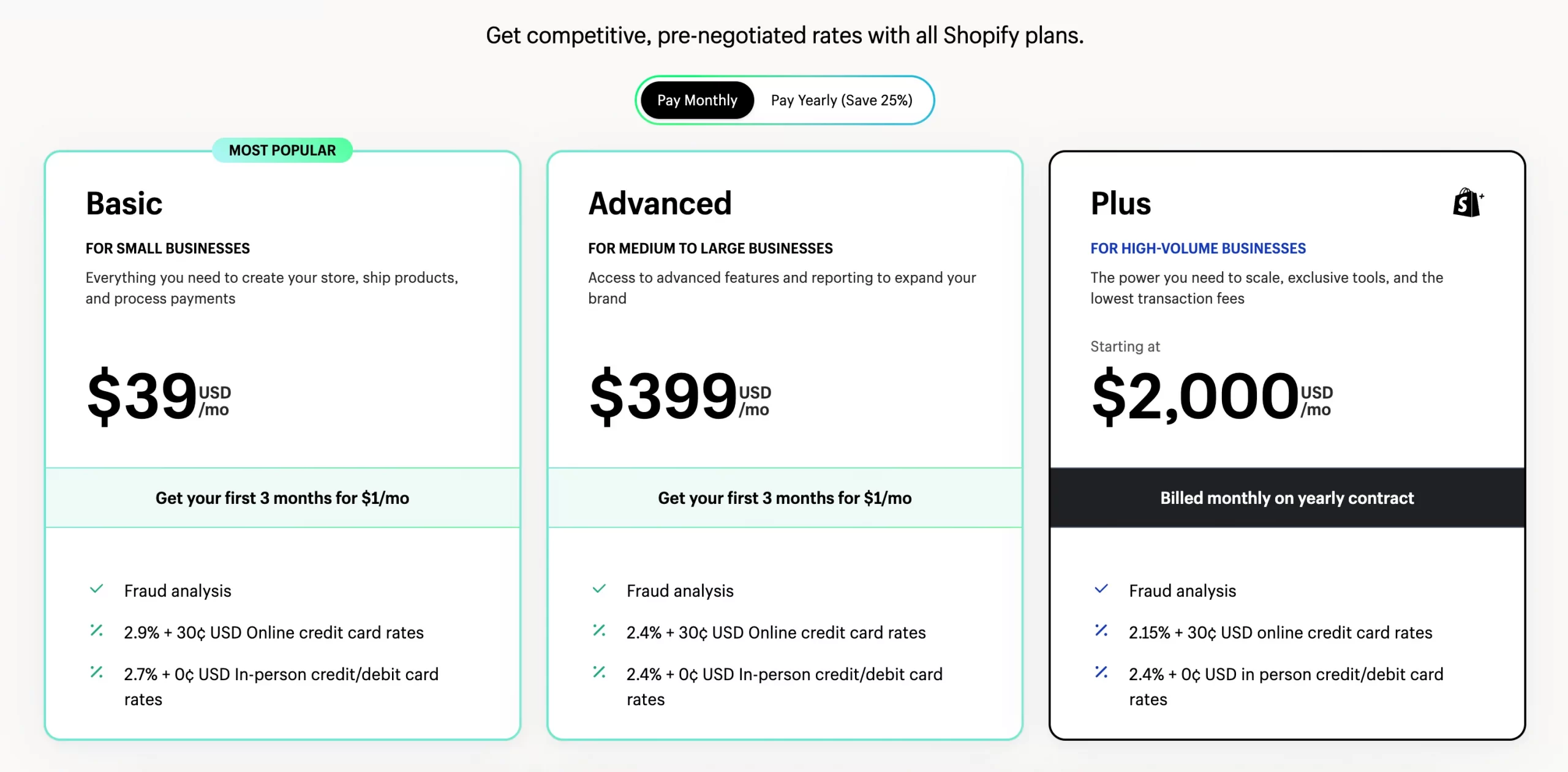 Transaction fee
Shopify charges you a specific fee for each transaction based on the plan you choose.
Shopify Lite: 2.4%
Basic Shopify: 2%
Shopify: 1%
Advanced Shopify: 0.5%
Shopify Plus: 0.15%
To save the cost for e-merchants, Shopify also has a payment processor that is friendly to use called Shopify Payments and it's definitely free. On the other hand, if customers use Shop Pay, they can enjoy a free transaction!
Magento Payment Options & Transaction Fees
Payment options
On the other hand, Magento doesn't have Magento Payment, which means we have to download the extension of the payment processor through the Magento marketplace, then pay a transaction fee for them. At present, Magento is providing 339 selections for store owners to choose from.
Transaction fees
For example, if you choose PayPal as your Magento payment gateway, PayPal will charge you 3.49% + $0.49 for every transaction processed within the US and 5.0% for international cards (with no setup or monthly fee).
Moreover, the payment apps of Magento have been supporting different languages, so if you want to conquer the world's eCommerce business, multi-language support is essential.
The verdict: 
When it comes to Shopify vs Magento payment fees, Shopify is the better choice. E-merchants who use Shopify Payments or Shop Pay can take advantage of a free transaction.
#7 Reports & Analytics
When you're owning or are about to start an eCommerce business, tracking store performance is rather important. So, we must mention reports and analytics when comparing Magento vs Shopify.
Shopify reports & analytics
Shopify provides a range of reporting and analytics features to help merchants gain insights into online stores' performance, customer behavior, and sales trends. These features enable users to make data-driven decisions and optimize their businesses.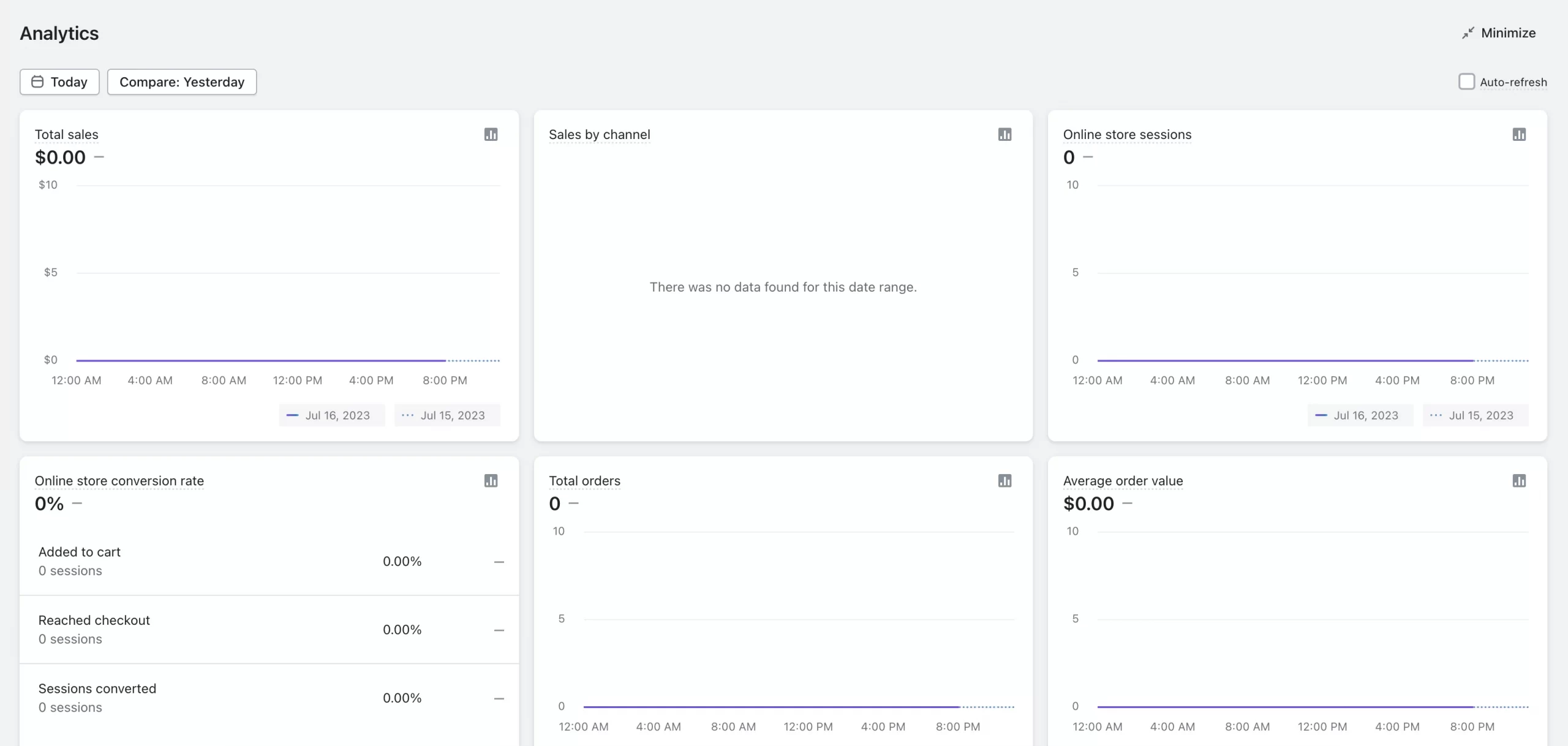 Within Shopify Analytics dashboard, you may gain insights in:
Reports. Begin by choosing a report template, which can be modified later by adjusting the columns and filters once your custom report is created.
Live view. You may track the current Orders or Visitors with Total sessions on your store.

What is more, Shopify also allows you to integrate Google Analytics into Shopify store for further tracking insights.
Magento reports & analytics 
The specific reporting and analytics capabilities of Magento 2 may vary based on the version, extensions, and integrations you're using.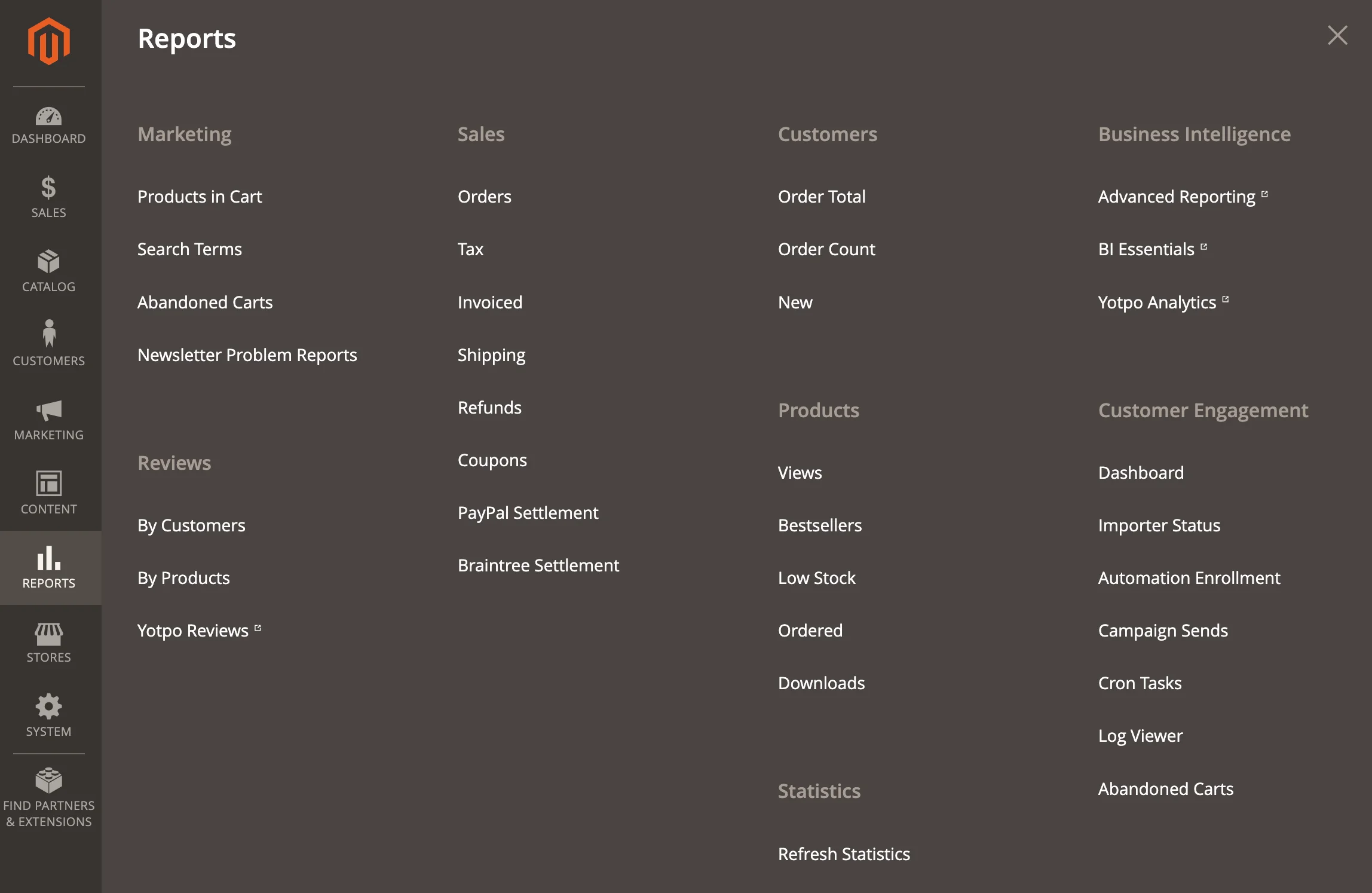 For example, here are some key features of reporting and analytics in Adobe Commerce (Magento 2):
Sales & Customers tracking.
Review tracking and more.
Magento also let you integrate with Google Analytics 4 to your store for further analytics and tracking.
The verdict: 
When it comes to Shopify vs Magento analytics, it seems to be tight since both platforms offer sufficient analytics features!
#8. Help & Support
Shopify Support
It is obvious that we will run into problems while trying to build our online store. And we must say, Shopify offers the most dedicated help and support. No matter where you are from or what time it is, there will always be a professional team working 24/7 to solve your problem in a minute. We can either contact them via phone, email, or even live chat as long as it benefits us.
Not to mention their supportive community forums, help center, API documentation, and numerous video tutorials. Even if that still does not satisfy you, feel free to hire professional certified Shopify experts to ensure maximum problem resolution and flawless business operation.
Magento Support
Being a self-hosted solution, Magento doesn't offer live chat, phone, or email support along the way unless you register for the Magento Commerce Cloud plan for B2B. Because of this, there are parts where we feel pretty exhausted while trying to build our own Magento store.
But still, you can benefit from Magento's excellent user community. At the moment, you can receive informative advice from Magento experts all around the globe. Besides that, there is an active help center that provides all-time support as in the image below: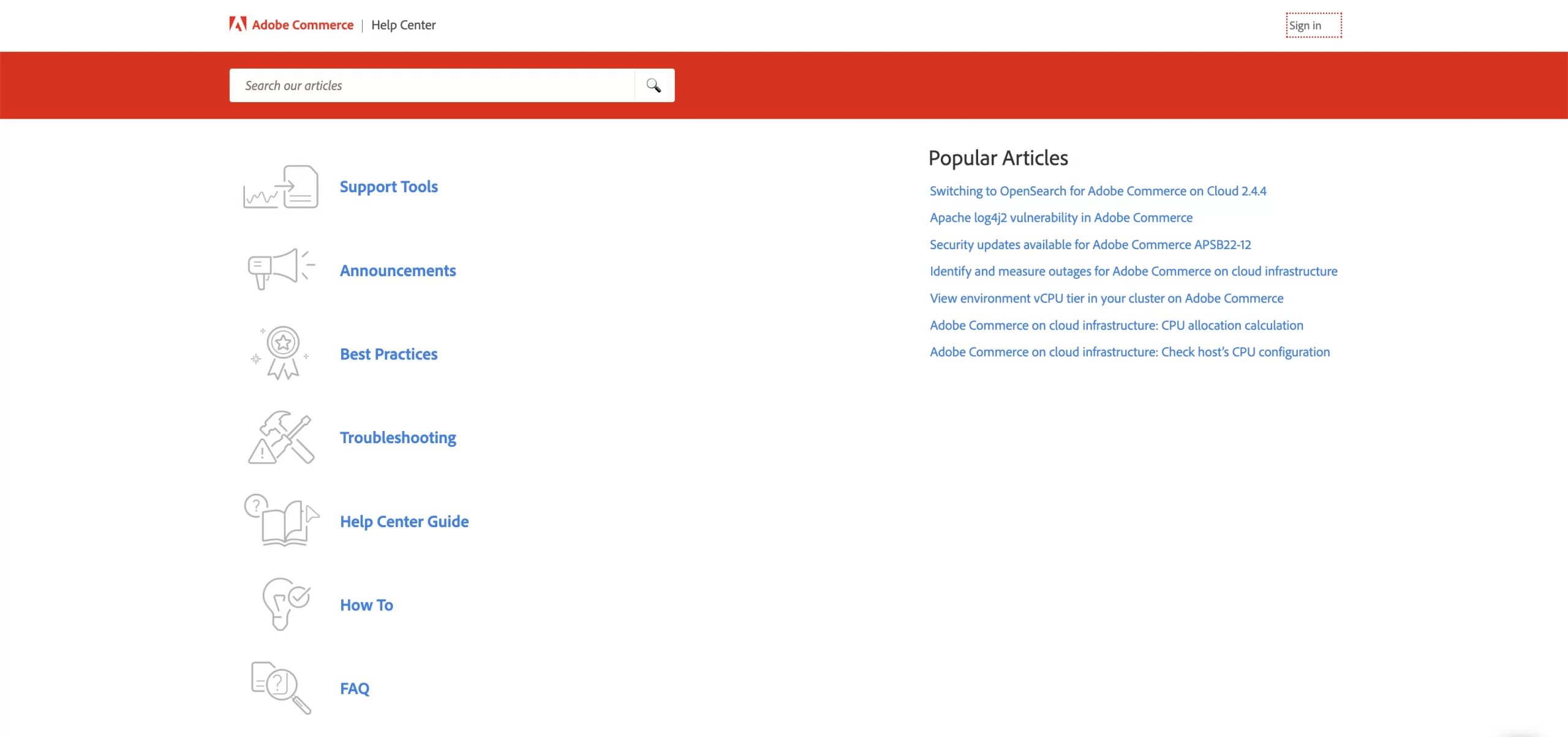 The verdict:
If you ask us, Shopify is the clear winner in comparison vs Magento. This eCommerce platform provides excellent customer services, including phone, email, and live chat support, while Magento has an international community to help you solve your issues.
#9. Other Functionalities
| | | |
| --- | --- | --- |
| | | |
| | Only 10+ dropshipping extensions on Magento Commerce Marketplace. | 100+ Shopify dropshipping apps on Shopify App Store. |
| | Magento allows discount code creation and calculation functionalities from the start. | This feature is available on every plan apart from the Starter one. |
| | Major shipping carriers like USPS, UPS, DHL & FedEx. | Built-in Shopify Shipping with major shipping carriers like DHL, USPS, UPS, FedEx, Canada Post, Sendle.... |
| Multilingual capabilities | Multi-lingual capacities. | Third-party/paid apps are available for Shopify for this. It does not offer full multilingual capabilities by default. |
| | Magento supports currencies from over 200 countries around the world. | 135 currencies supported. |
| | Magento offers massive flexibility and scalability. Also, it can cope with high levels of traffic. | Shopify is proper for both newcomers and big sellers. You can upgrade your store plan to Shopify Plus for an enterprise level. |
| | Magento does give its users the flexibility to improve store security by themselves. Otherwise, you can install the Magento extension in the Payment & Security section to keep the business data safe. | Shopify is a hosted solution coming with Fraud analysis, PCI Compliant, GDPR Compliant and SSL Certificates available for every Shopify sites. |
The verdict:
From our standpoint, Magento outperforms Shopify in terms of functionalities such as multilingual capabilities or sales tools. Based on our experience, many of your business objectives and demands will require you to look for and use functions on Magento.
Want to migrate Shopify to Magento?
If you are intending to migrate from Shopify to Magento, LitExtension offers a great migration service that helps you transfer your data from the current eCommerce platform to a new one accurately, painlessly with utmost security.
---
Magento vs Shopify – Summary
To sum up, the analysis above had run you through the key similarities and differences between Magento vs Shopify that we concluded when we ran our business on both platforms. Now, let's take a quick look at what the numbers say.
| | | |
| --- | --- | --- |
| | | |
| | | |
| | | |
| | | |
| | | |
| | | |
| | (hosting & extensions fee are around $5000) | |
| | Windows, Android, iPhone/iPad, Mac, Web-based | Windows, Android, iPhone/iPad, Mac, Web-based |
| | | |
| | Email, Phone, Training, User Community, Help Center | Email, Phone, Live Support, Ticket, Community forum, Help Center, API documentation, Video tutorials, Professional certified experts |
| | Magento has far more intermediate and advanced features built into the system | With Shopify, you often have to get an app for extended functionality |
| | Support for a far lower number of gateways, but they can be added through third-party apps | Supports more than 100 payment gateways and their own payment |
*With Magento vs Shopify sites, you can also buy themes externally if you want to.
Other than selling on both eCommerce platforms and online marketplaces like eBay, Amazon, or Etsy can even drive more sales and connect thousands of buyers outside.
If you want to thrive your business with multi-channel selling, how about giving LitCommerce a try? For more details, this tool is another LitCommerce brand that will help you automate repetitive processes and take control of everything from a central dashboard.
---
Magento vs Shopify – FAQs
---
Bottom Line
In conclusion, we rated Shopify higher in comparison vs Magento, but this is still our subjective assessment based on the analysis. Therefore, we highly recommend you find out which one, Magento vs Shopify, is suitable for you by prioritizing the criteria that are important to you before making a final decision. In addition, Shopify offers a 3-day free trial to help you catch a glimpse of how things work. As a result, why don't you try it out now to see what Shopify has to offer?
Finally, if you feel dissatisfied with your current shopping cart and wish to migrate to a new dream shopping cart, LitExtension – #1 Shopping Cart Migration Expert is still there to help you migrate data from the source store to the target store. It is designed for all users and requires no technical and programming skills. With three simple steps, all your data will be transferred completely, securely, and speedily.
If you have any questions regarding Adobe Magento vs Shopify migration, the LitExtension team is always there to help you! Last but not least, don't forget to check out our LitExtension blog and join our Facebook Community to get more eCommerce tips and news.
Further insights about Magento 2 vs Shopify: