Looking for the best free eCommerce platforms sometimes is frustrating. Which is the best eCommerce platform? How can you choose the most beneficial one?
Understand your struggle, LitExtension – #1 Shopping Cart Migration Expert, has spent a whole year (from February 2022) conducting in-depth research into the eCommerce world to select the 10 best free eCommerce platforms for your business.
Stay tuned to discover our recommendations of platforms divided into 3 main categories:
Without further ado, let's get started!
Migration Made Easy With LitExtension!
LitExtension provides an excellent All-In-One migration service with a Personal Assistant that will help you transfer all your data accurately, and seamlessly with utmost security.
---
10 Free eCommerce Platforms – Detailed Analysis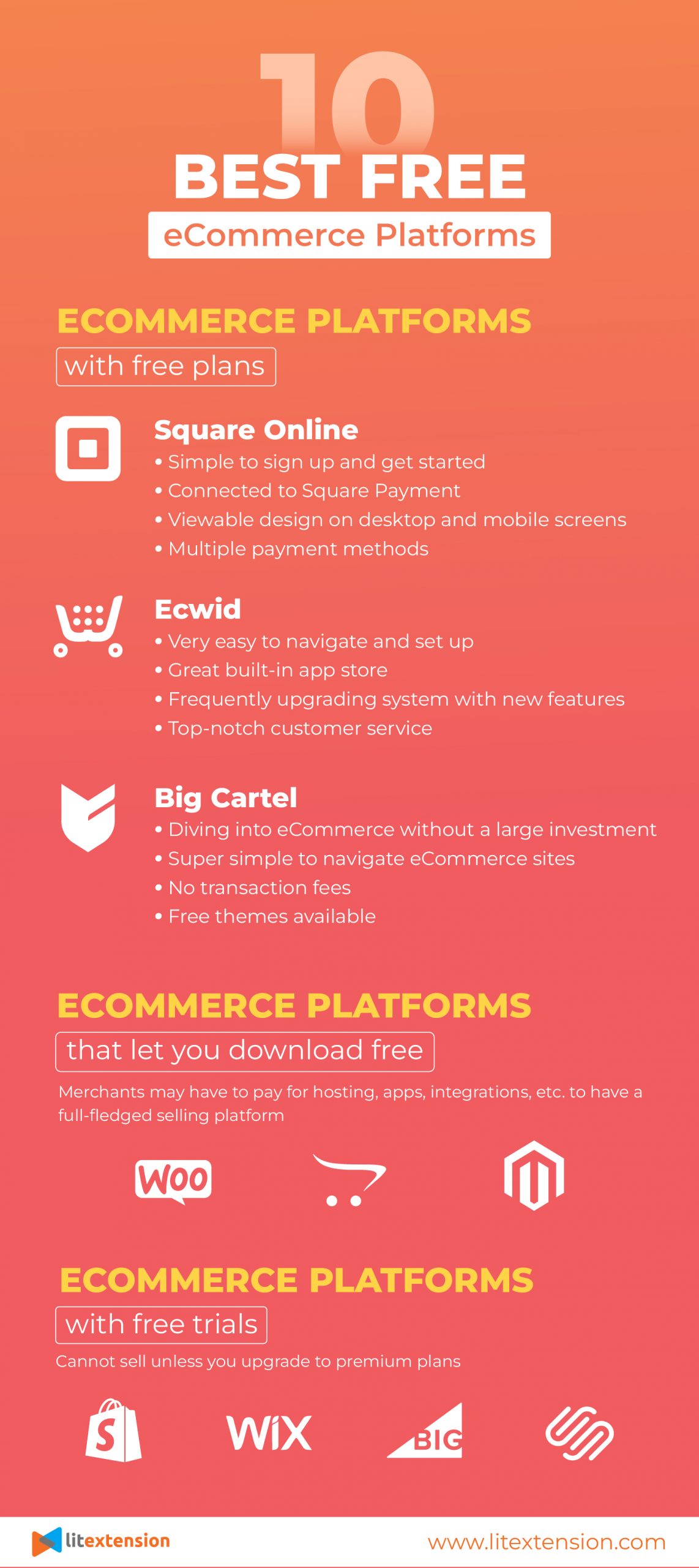 eCommerce Platforms with Free Trial
In this category of free eCommerce platforms with a free trial, you can try and experience the store for free before starting selling.
However, we think it's worth noting that they're not free websites to sell products. With free hosted eCommerce, you cannot sell unless you upgrade to premium plans.
Shopify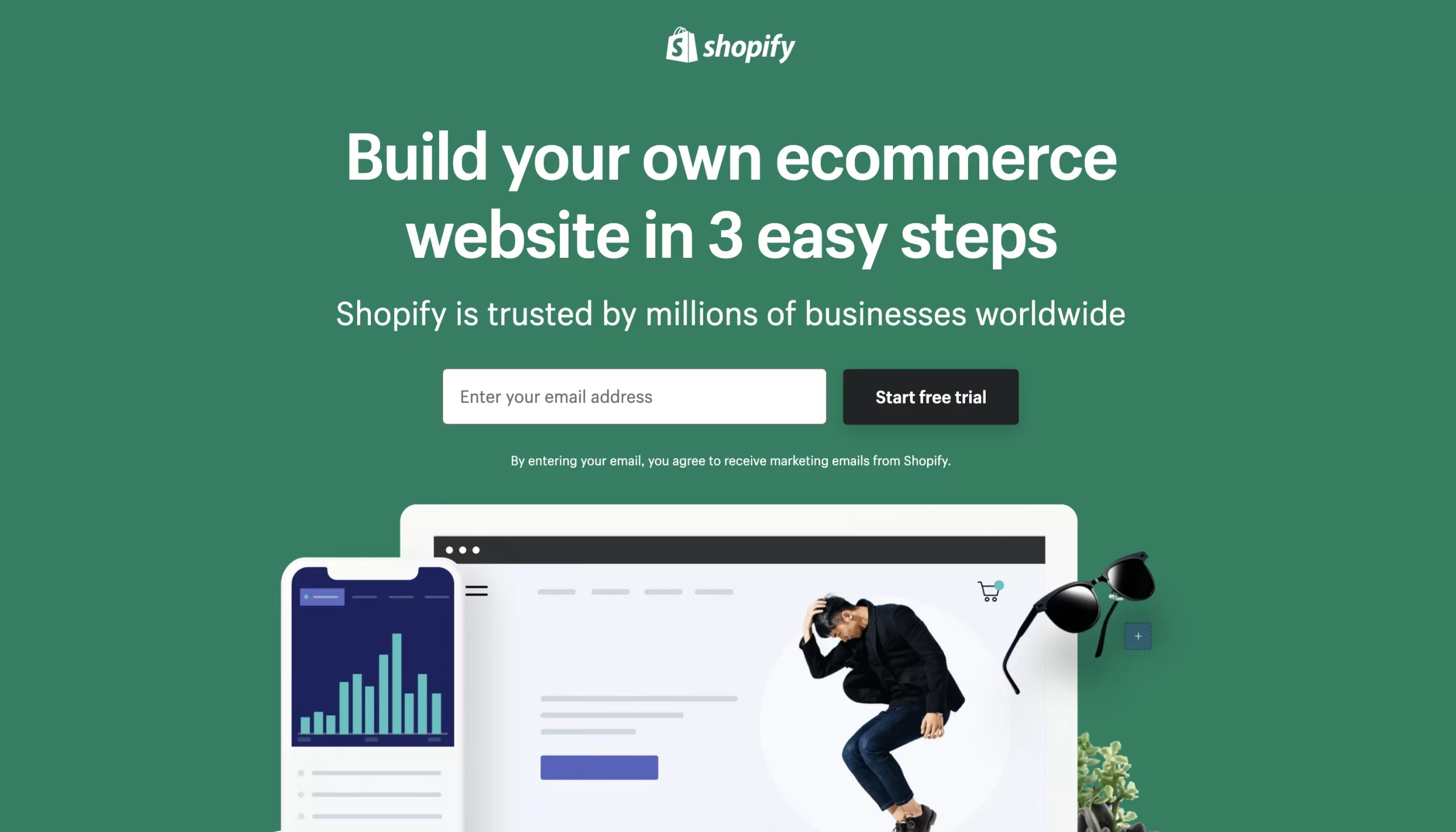 At the time of writing, Shopify powers over 4 million live websites and is one of the best online store platforms in the marketplace. No matter how big your business is, we believe Shopify is always an option worth considering. Shopify offers merchants a 3-day free trial when setting up a store using the platform.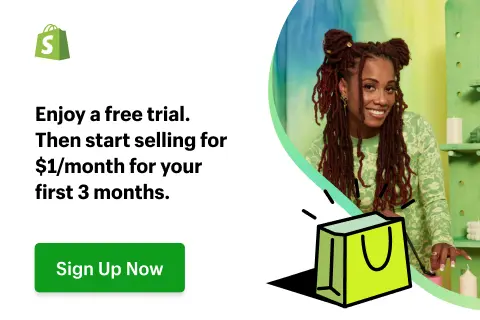 Shopify puts itself in customers' shoes, creating tailor-made, mobile-responsive themes for various business fields. There are more than 120+ appealing themes on the Shopify Theme Store, both free and paid. In our opinion, Dawn, and Impulse are among the best Shopify themes with high loading speed and great customer support.
Are you ready to start a new adventure with Shopify? Check out our Shopify resources now to learn everything you need to know about this eCommerce platform:
Overall, we have no doubt that it is one of the easiest-to-use eCommerce platforms, with a vast range of third-party add-ons that help merchants empower their stores' capabilities to boost sales performances. Currently, this platform provides over 6000 plugins on its Shopify App Store, each comes with its own set of unique features to cater to every merchant's needs.


If you want to grasp the unique features of each Shopify pricing plan, check out the table that we summarized below:
| | | | |
| --- | --- | --- | --- |
| | | | |
| *if not using Shopify Payments | | | |
| *assign & manage staff's activities | | | |
| | | | |
| *automatically manage & operate stores | | | |
| *shipping subsidies with leading carriers | | | |
| | | | |
| Third-party calculated shipping rates | | | |
Want to Migrate to Shopify?
If you are intending to migrate to Shopify, LitExtension offers a great migration service that helps you transfer your data from the current eCommerce platform to a new one accurately, painlessly with utmost security.
Wix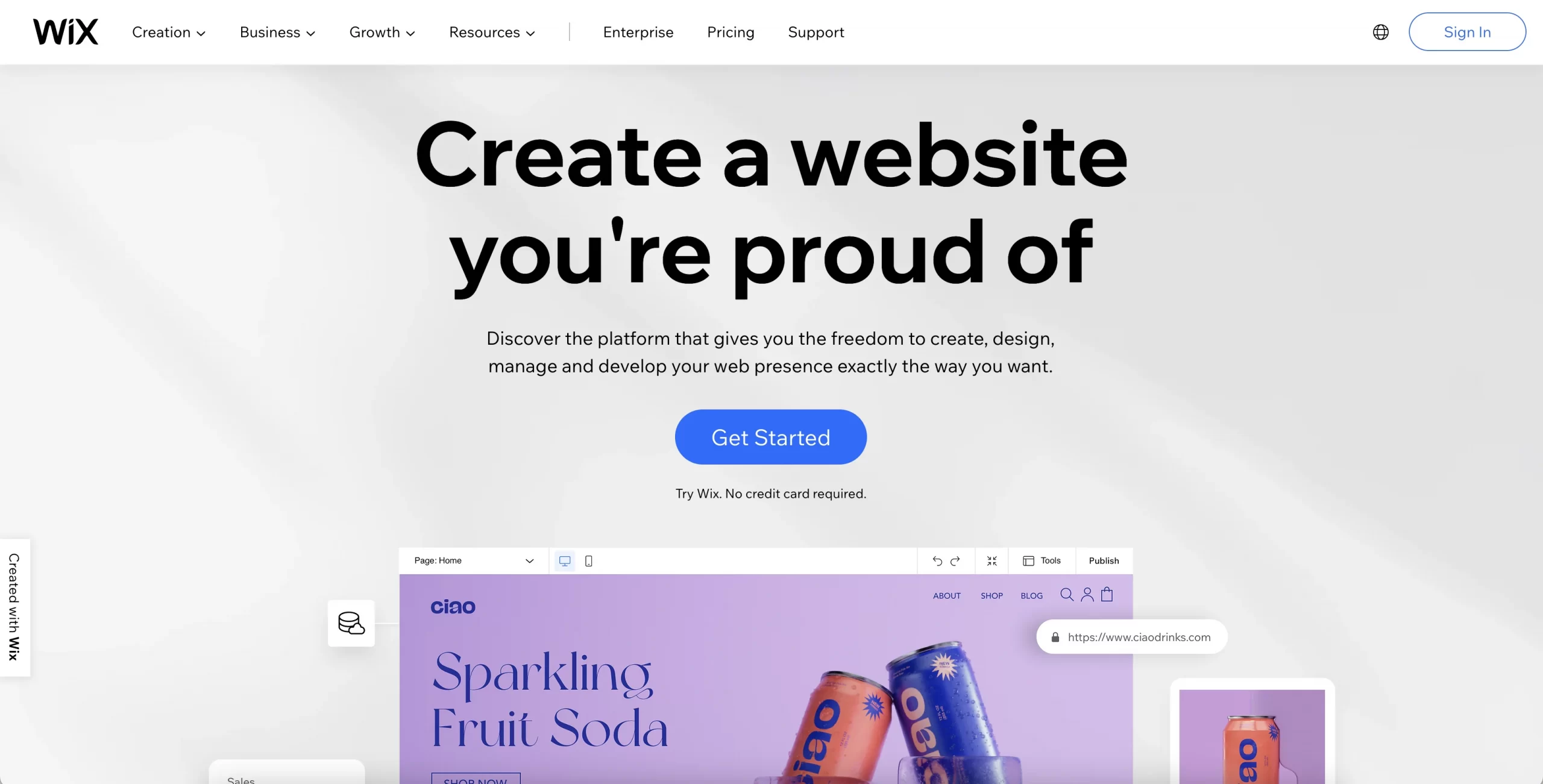 Celebrating its 15 years anniversary, Wix is proud to have 200+ million users covering 190 countries worldwide. With over 4 million live websites, we think it's safe to say this platform never leaves the top of the most popular eCommerce platform.
Let's discover more about Wix: 
This budget website builder announced a new version named Wix eCommerce on June 30, 2020, for online retailers, companies, and merchants of all sizes all over the world. Wix eCommerce offers 3 pricing plans that range from $27 to $59. Based on our experience, Business Basic, Unlimited, and VIP are all ideal for different types of businesses.
Plans & recurring payments

Complete eCommerce Platform


Build, manage, and scale your business with Wix

Product reviews by KudoBuzz


Loyalty program by Smile.io

In our assessment, one feature that makes Wix the best free eCommerce platform lies in its wide selection of themes. There are over 500 website templates on the Wix theme store, divided into different categories that can cater to your specific needs. All of them are well-designed and customizable, allowing e-merchants to create a stunning eCommerce website with Wix.
Want to migrate to Wix?
If you are intending to migrate from Shopify to Wix, LitExtension offers an excellent migration service that helps you transfer your data from the current eCommerce platform to a new one accurately with utmost security.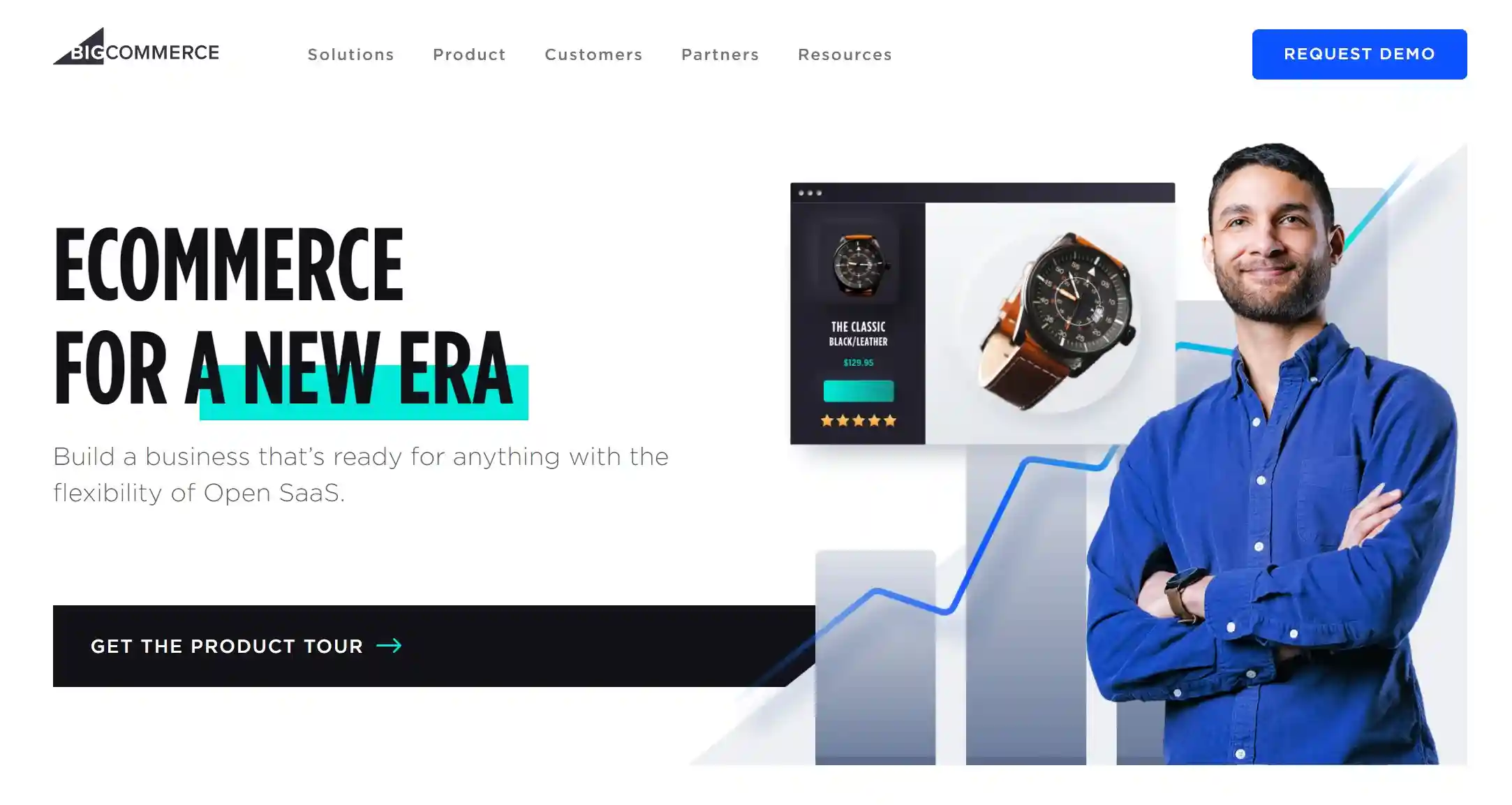 Being home to over 50,000 live businesses, we must say that this platform ranks high among the top popular eCommerce platforms. BigCommerce is a well-known hosted eCommerce platform that includes everything you need to get started with an online store. This platform is ideal for stores with hundreds or thousands of products at any scale.
Want to know more about BigCommerce? Take a look at our essential BigCommerce resources and rocket your sales:
You can also check out this table below to have an overall view of all BigCommerce Pricing plans that we have come up with based on our testing of the product.
Products, file storage & bandwidth

Customer groups & segmentation

PayPal credit card by Braintree

2.59% + $0.49
per transaction

2.35% + $0.49
per transaction

2.05% + $0.49
per transaction

Calculated on a trailing 12-month basis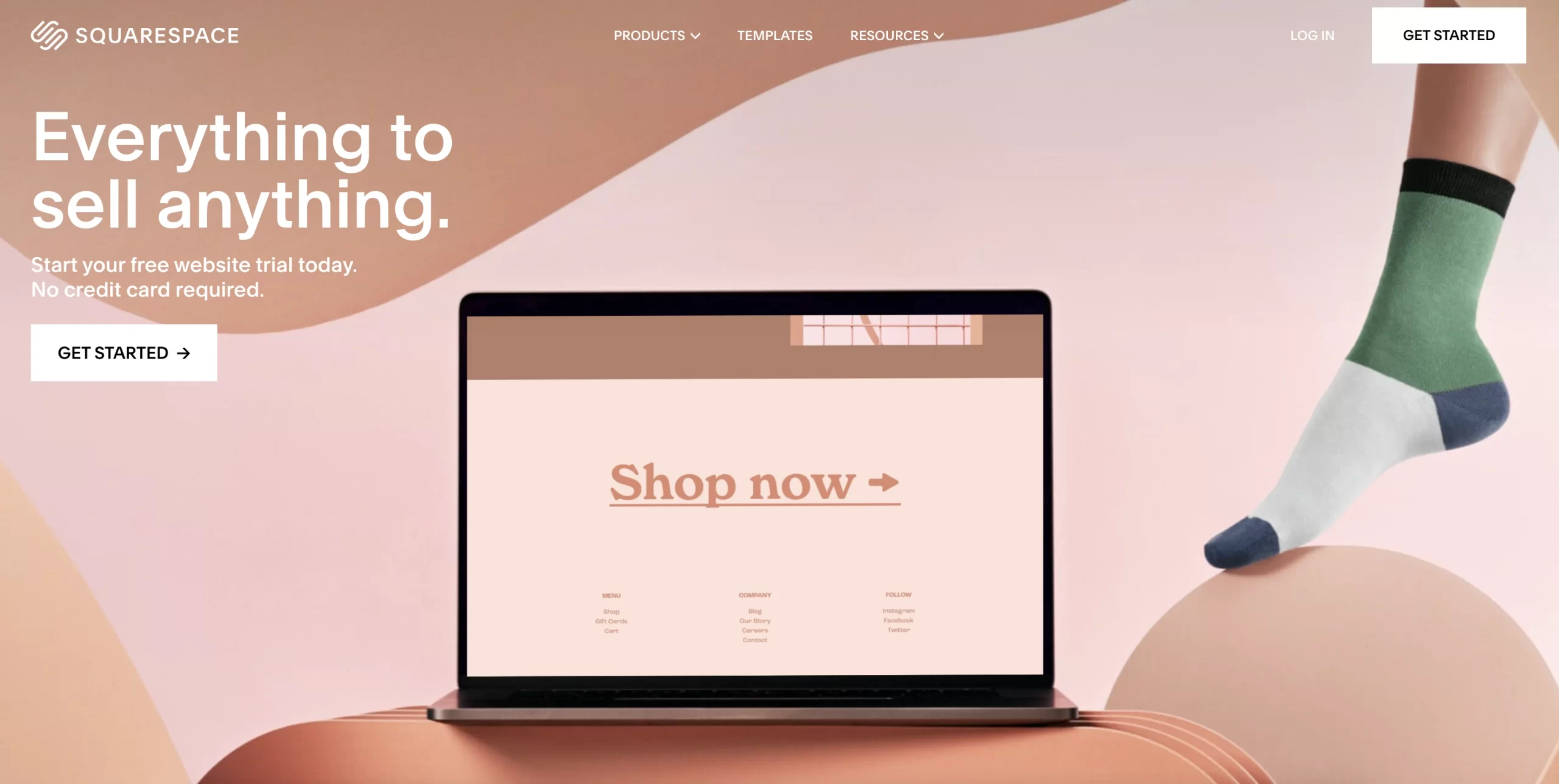 According to Builtwith, this platform currently powers over 85,000 live stores worldwide.
Find out more about Squarespace with Squarespace Review – Is It Worth Your Money?
Or, if you want to look at the Squarespace Pricing Plans quickly, our summary below will help you.
Free Custom Domain (annually paid ONLY)


Mobile-Optimized Websites

Complete Customization with CSS and JavaScript

Advanced Website Analytics

Squarespace Video Studio App

Fully Integrated eCommerce

Powerful E-Commerce Analytics

eCommerce Platforms with Free Plans
These free eCommerce platforms let you start your store at no initial cost. However, we must say that there will be some limitations in storefront customization and selling features. Yet, these platforms offer you enough freedom and pre-built functionality to display and sell products quickly.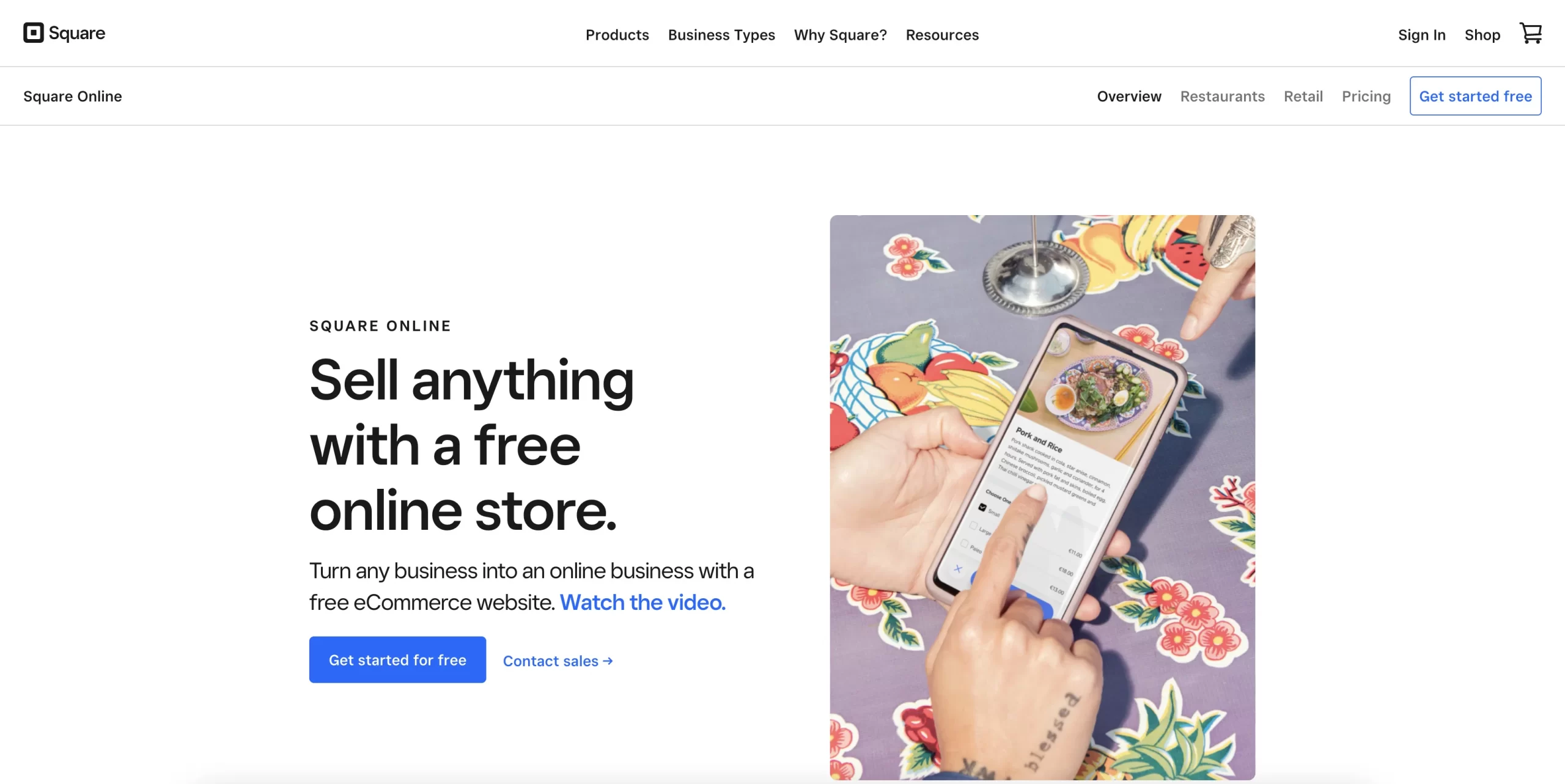 With Square, you can build your website without coding skills when it is user-friendly for small businesses.
Square Online Features for eCommerce
With Free Plan, merchants can sell unlimited products online. What is charged is 2.9% + 30¢ for each transaction, and you will get 500MB of bandwidth and storage.
Other eCommerce features that we like about Square Online
Selling on social media channels
Multiple sites management
In-house delivery; On-demand delivery
Curbside pickup
Automatic tax calculator (US only)
Square also offers its own Payment Platform, designed to save you time and money. This payment platform offers at-any-scale payment solutions, PCI compliance, AML, KYC checks, battle-tested security data, and payment risk, and more, all customized to your business needs. Moreover, you can also get access to major payment options like PayPal, Apple Pay, Google Pay, Cash App Pay, and BNPL (Buy Now Pay Later).
If you want to have a custom domain with no Square Online branding & ads on your site, our advice is to upgrade to premium plans: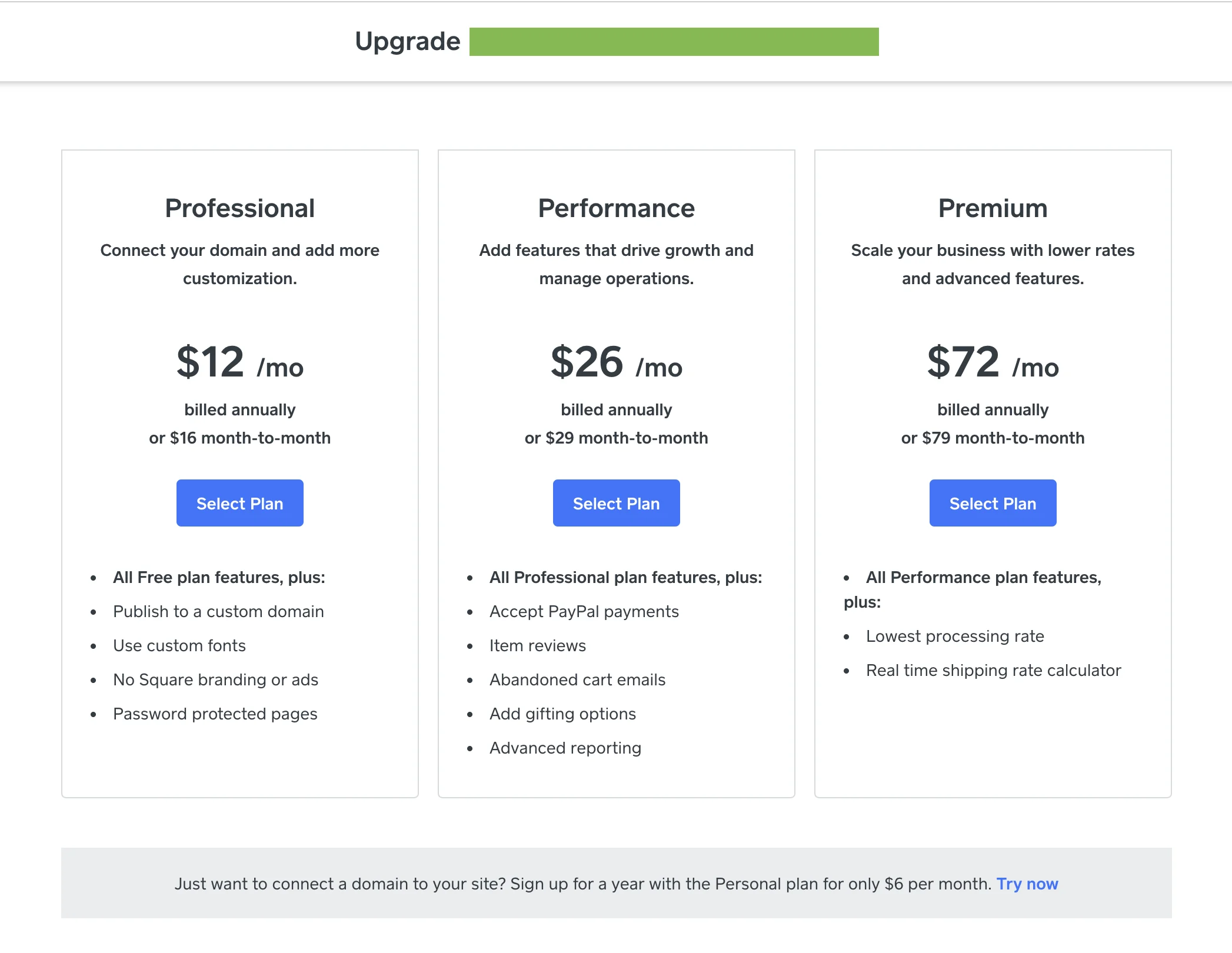 Square Online Pros & Cons
Pros:
It's simple to sign up and get started
No payments are needed when registering for free online stores
Connected to its own payment processing
It offers viewable design on desktop and mobile screens
Multiple payment methods
Cons:
Limited basic store designs
Lack of quality templates as compared to Wix, Squarespace, or Shopify
You must be wondering, why to choose Square Online? Well, based on our experience, this is the cheapest eCommerce platform. Thus, it is excellent for those who have just started out and can satisfy fundamental eCommerce needs.
Do you also want to try out another platform that is both easy to use and beginner-friendly? Shopify is an optimal choice! Check out eCommerce website comparison – Shopify vs Square to know which one is more suitable for your online store.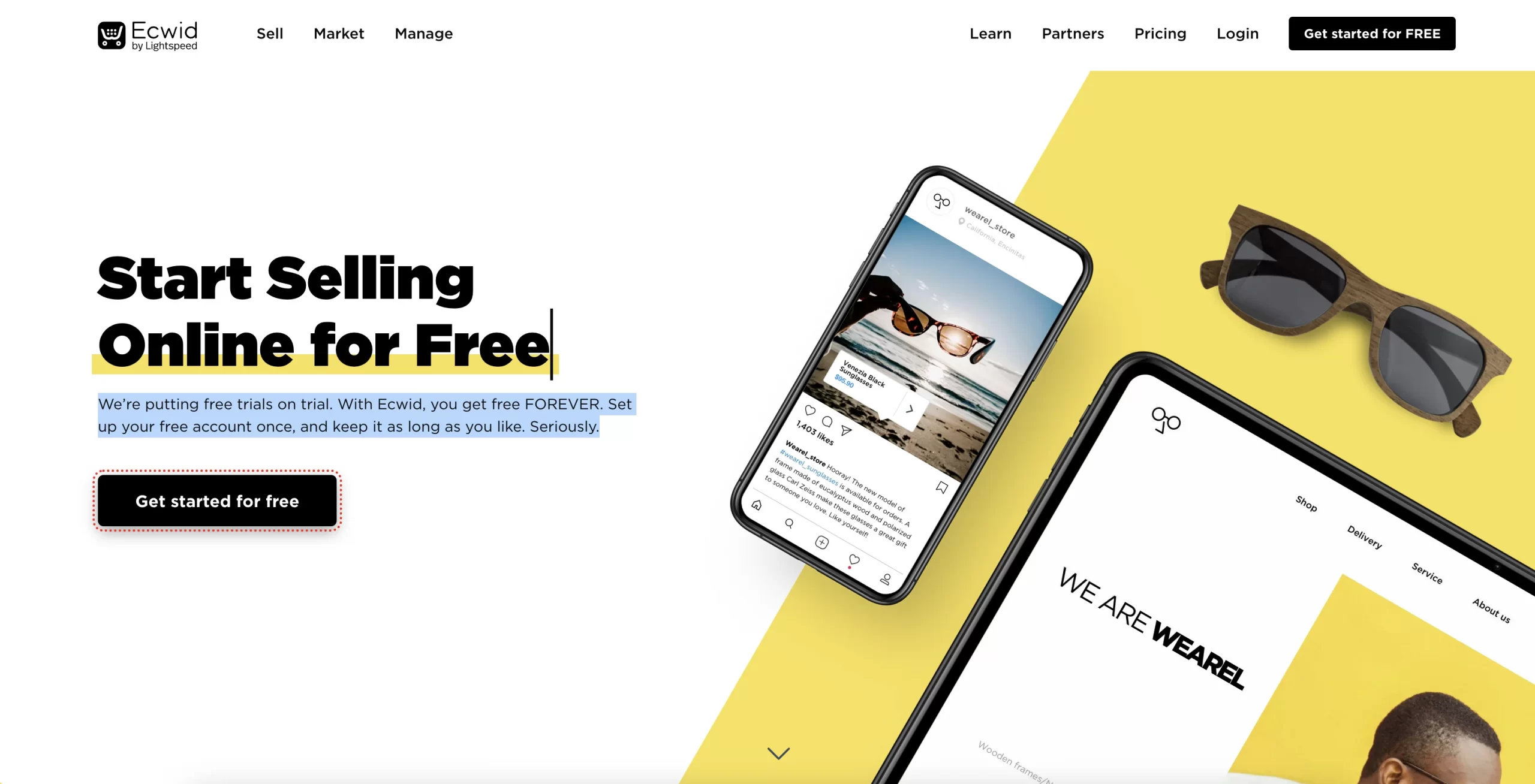 Ecwid (eCommerce widget) is a SaaS solution geared toward small businesses. Beginning the journey in 2009, currently, there are over 900,000 live websites using Ecwid. In all honesty, this platform is a top choice for small company merchants looking to set up a store and start selling quickly. Specifically, Ecwid lets you create a free account and keep it forever.
Ecwid Features for eCommerce
This platform is easy to use with its user-friendly interfaces. Thus, getting started with Ecwid and developing your own store is a piece of cake, based on our testing of the products.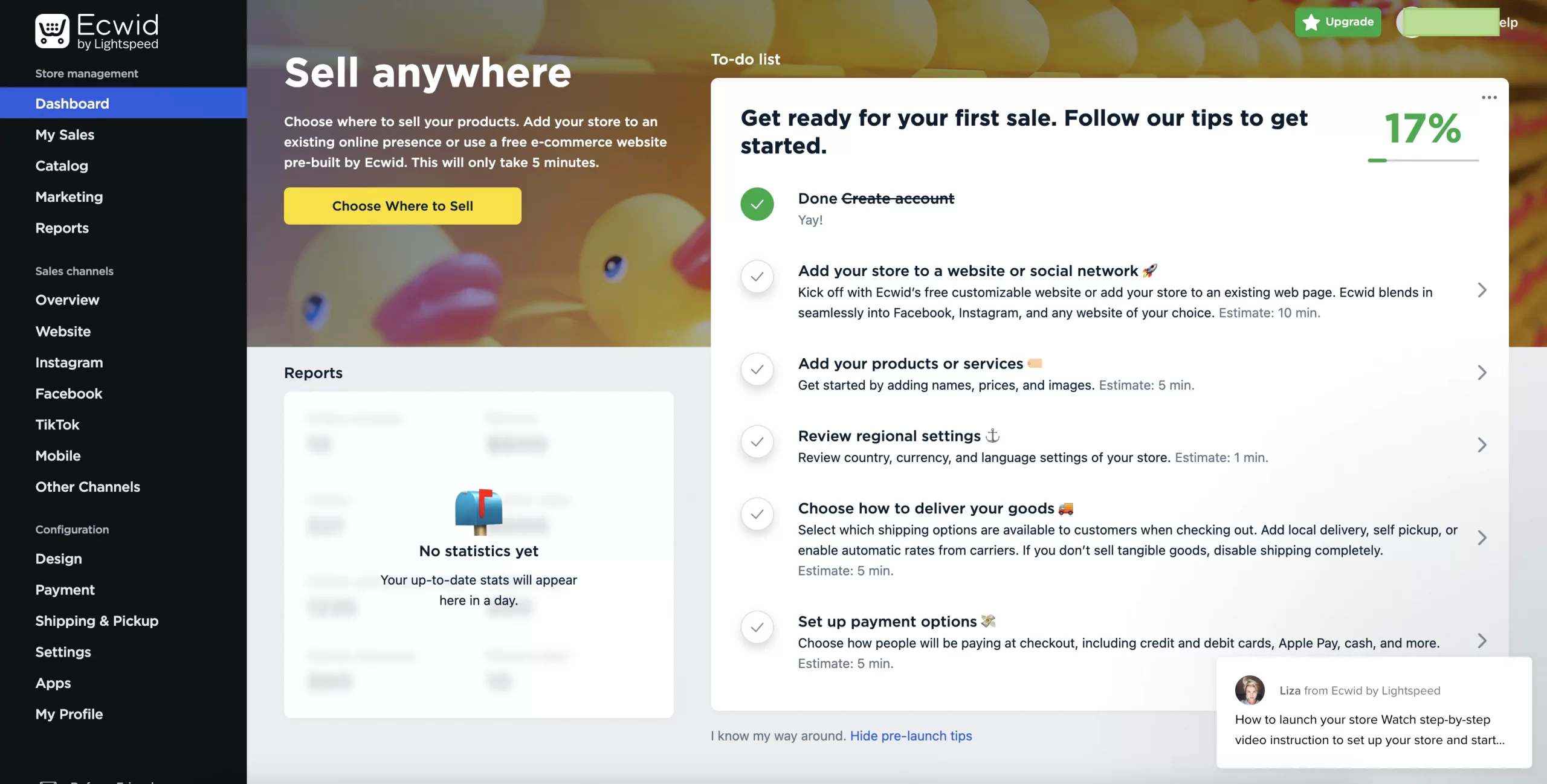 Ecwid has a lot of quality eCommerce management features. For example, you can add unlimited product options together with their various attributes such as weight, price, size, and so on.
With Ecwid free plan, you can create a free online store on this platform that can be promoted on major websites like Facebook, Google, Pinterest, and Snapchat. Besides, you can add up to 10 products to your store that can be displayed in mobile optimization.
In our humble opinion, what sets Ecwid apart from other eCommerce sites is that this platform charges you no transaction fees on any plan (even with the free one!).
Other eCommerce features that you might like about this platform:
Unlimited bandwidth
You can add your store to any website
You can sell simultaneously on multiple sites
One-tap checkout with Apple Pay (via Stripe)
Chat support
You can also integrate your Ecwid store into other platforms such as WordPress, Wix, Weebly, Joomla,…. If you want to sell on other places such as Amazon, Facebook and Instagram, you can consider updating to a higher plan.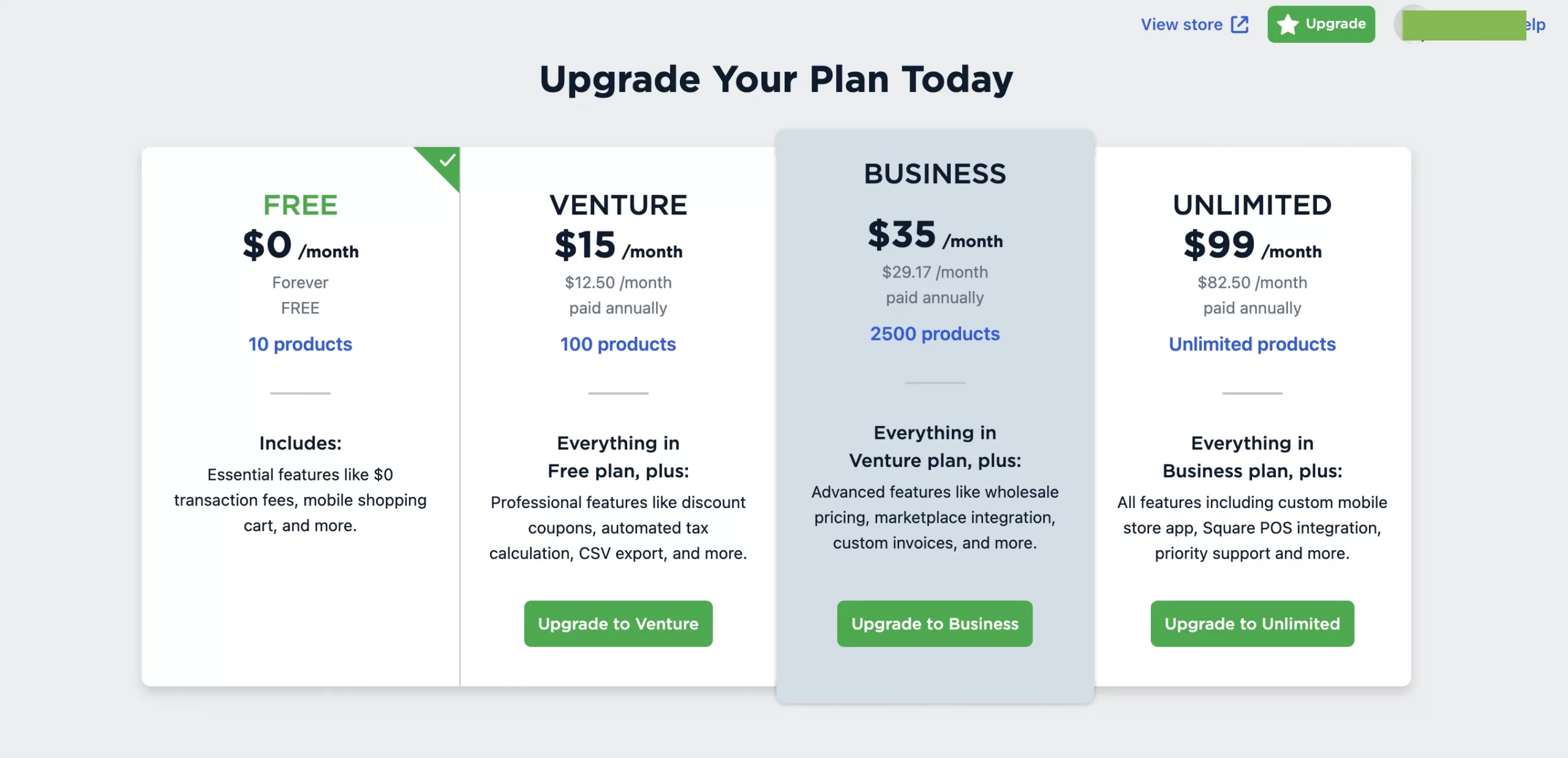 Ecwid Pros & Cons
Pros:
Very easy to navigate and set up
Great built-in app store
Frequently upgrading the system with new features
Selling in multiple languages
Top-notch customer service
Cons:
Lack of 3rd party tool support
Code skills required to customize the store further
Lack of integration when compared to other eCommerce platforms
Why Ecwid? If you want to sell limited products for trial, we think Ecwid can satisfy almost all your needs among other free eCommerce platforms. Do you want to have more insights? Check out these articles below: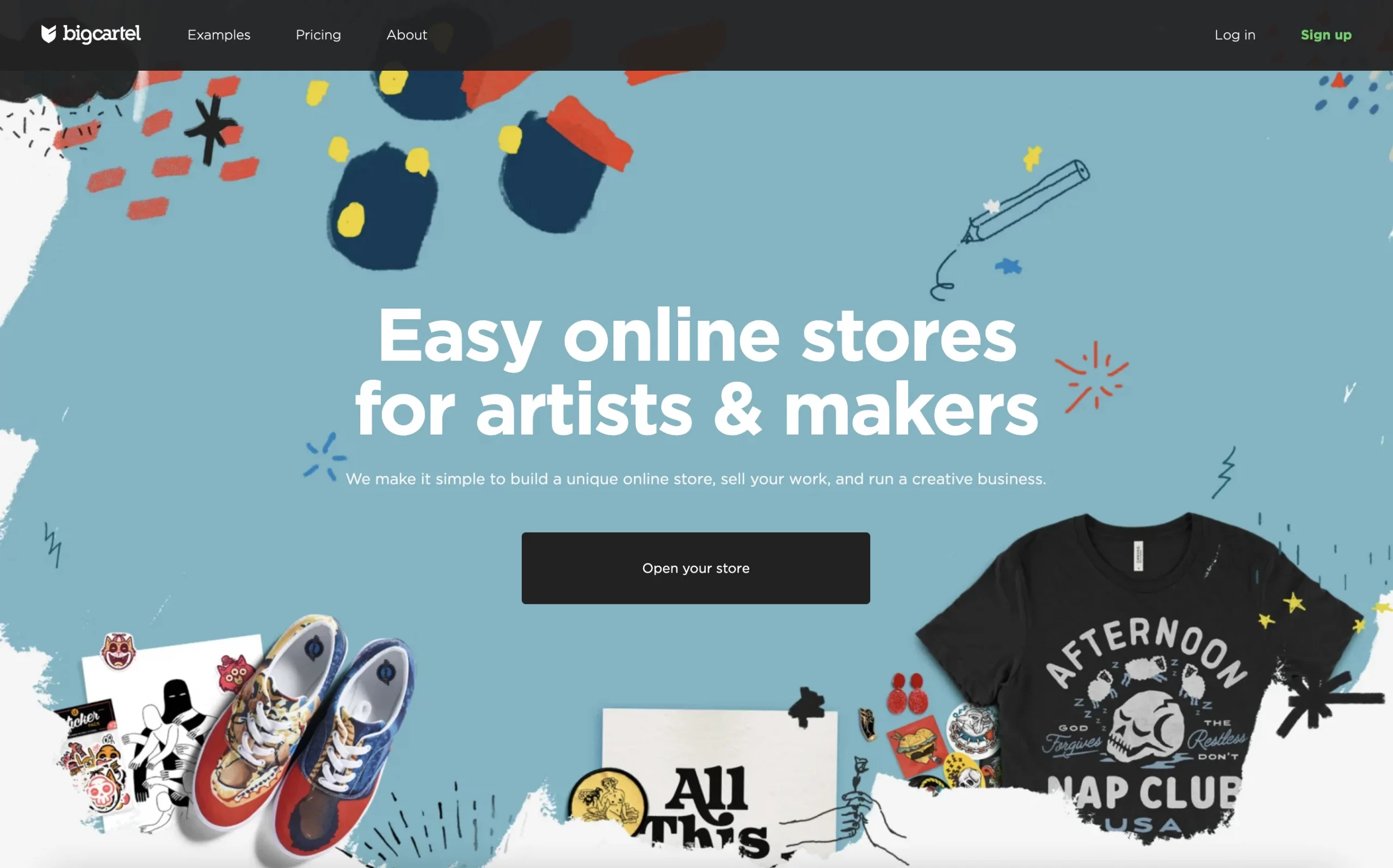 Compared to other free eCommerce platforms, Big Cartel is an excellent platform for small businesses. My take is that this platform keeps things easy and economical for all merchants, especially for artists and craftsmen.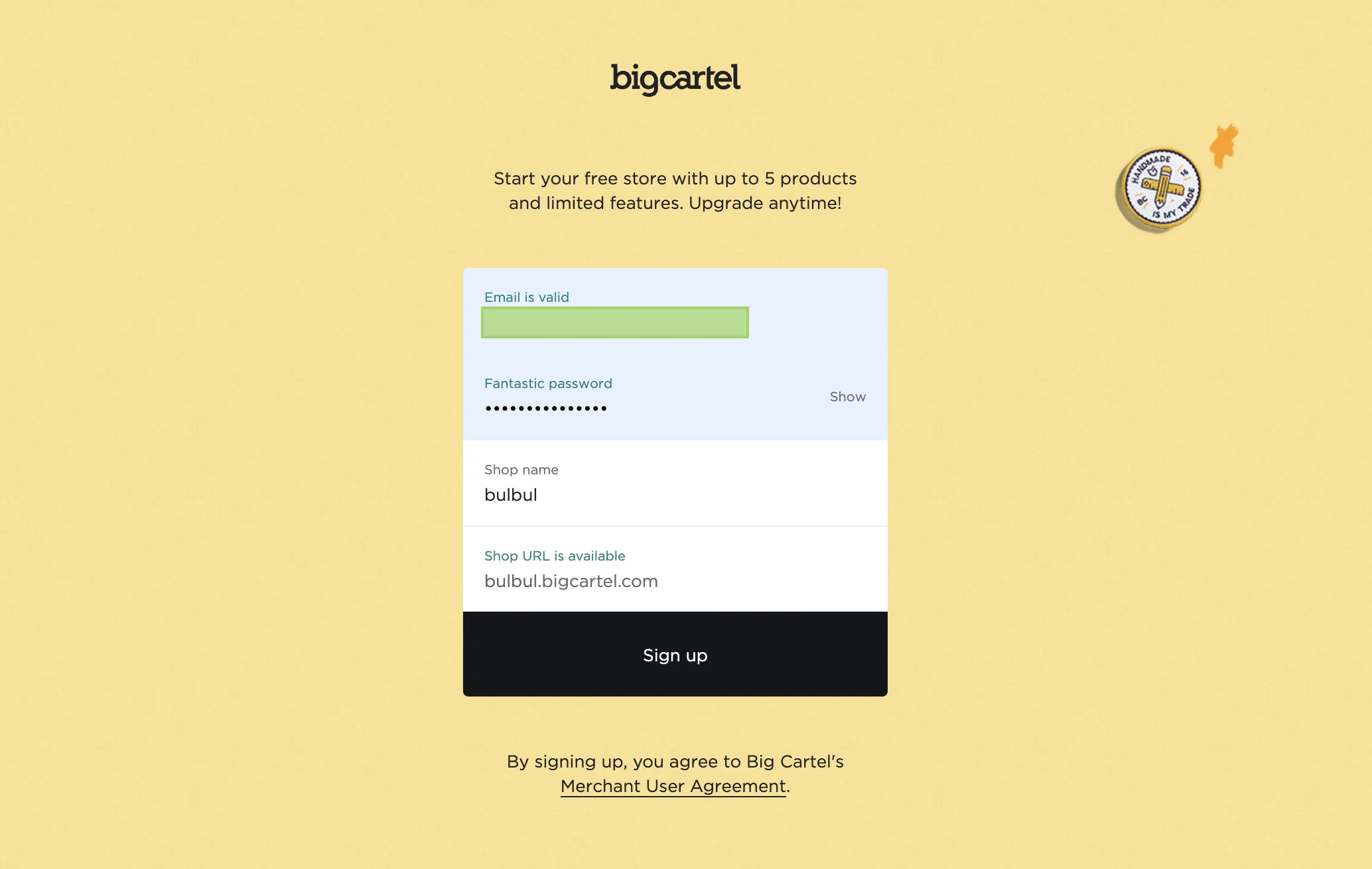 Let's see with the free plan, which eCommerce features this best free eCommerce platform offers.
Big Cartel Features for eCommerce
If you are new to online selling, this Big Cartel free plan can provide you with a plethora of benefits and essential features. You have 5 products with 1 image per each.
What is more, product option groups can be used to establish groupings such as size or color and then add variations such as small, medium, black or white. Then, each option group will be displayed in a separate list in your storefront, making it easy for your consumers to find their ideal combination.
Furthermore, Big Cartel also generously gives merchants 18 free artistic, aesthetic and mesmerizing themes.
Adding a custom domain on free eCommerce websites sets Big Cartel different from other free eCommerce platforms. Thus, if you already have a registered domain somewhere else, our suggestion is to connect yours with Big Cartel.
Other eCommerce features that this platform comes with:
Free customizable themes
Real-time stats; shipment tracking
Sales tax autopilot
Product option groups
Offer discounts & run promos
Like Ecwid, Big Cartel also charges merchants no transaction fees on any plan (even with the free one!), and personally, we think that's why it's among the generous free selling platforms!
If merchants want more robust eCommerce features (Google Analytics, inventory tracking), go for higher plans. You can add more goods and photos, link a custom domain, utilize Google Analytics, enable inventory tracking, offer discounts, and even alter the code of your theme when you upgrade.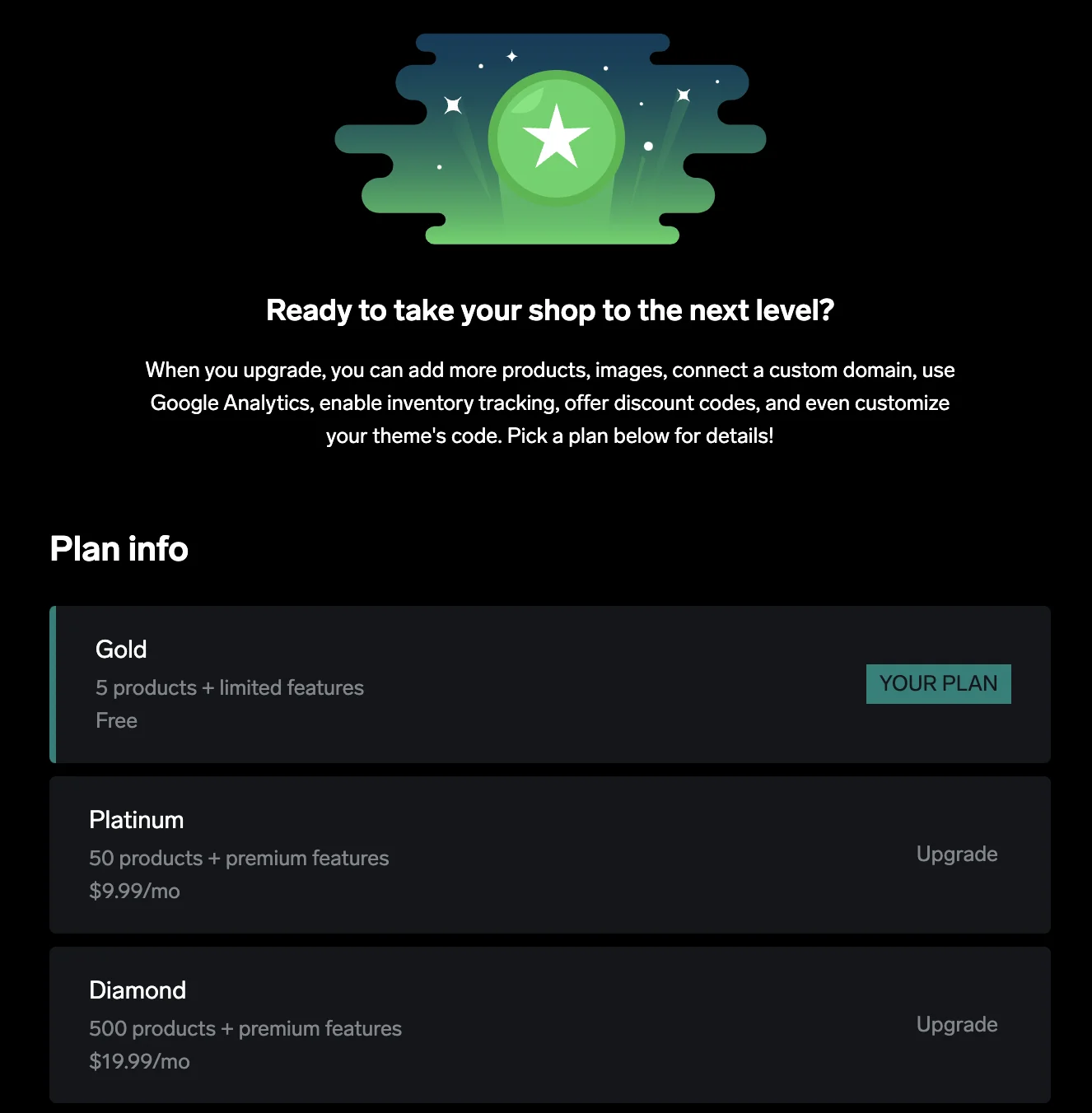 Still concerned about what will be included in each premium plan of this platform? The infographic below will let you fully grasp all the latest features of Big Cartel.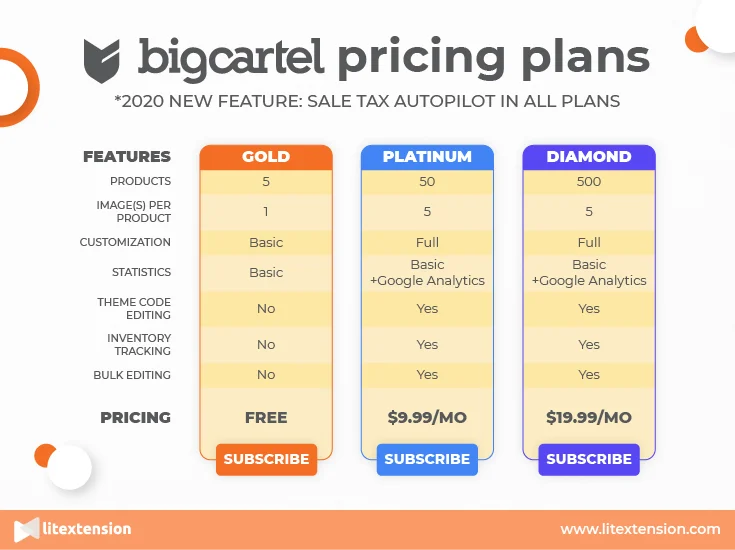 Big Cartel Pros & Cons
Pros:
Ranking in the top easy-to-use website builders
It's super simple and easy to navigate eCommerce sites
No transaction fees
Free themes available
Cons:
It costs a lot more to store additional items, and the subscription plan only allows you to list 500 products.
After-pay cannot be used
Prefab options limit sites customization
Selling in person, on your site, Facebook, and Instagram only
No 24/7 live chat, and phone support
Want To Migrate To Big Cartel?
If you are intending to migrate to Big Cartel, LitExtension offers a great migration service that helps you transfer your data from the current eCommerce platform to a new one accurately, painlessly with utmost security.
eCommerce Platforms with Free Download
This part includes free eCommerce platforms that let you download it free. However, you may have to pay for hosting, apps, integrations, etc., to have a full-fledged selling platform. What is more, I feel it's worth noting that you may need some coding skills or need to hire developers or outsource agencies to complete the task.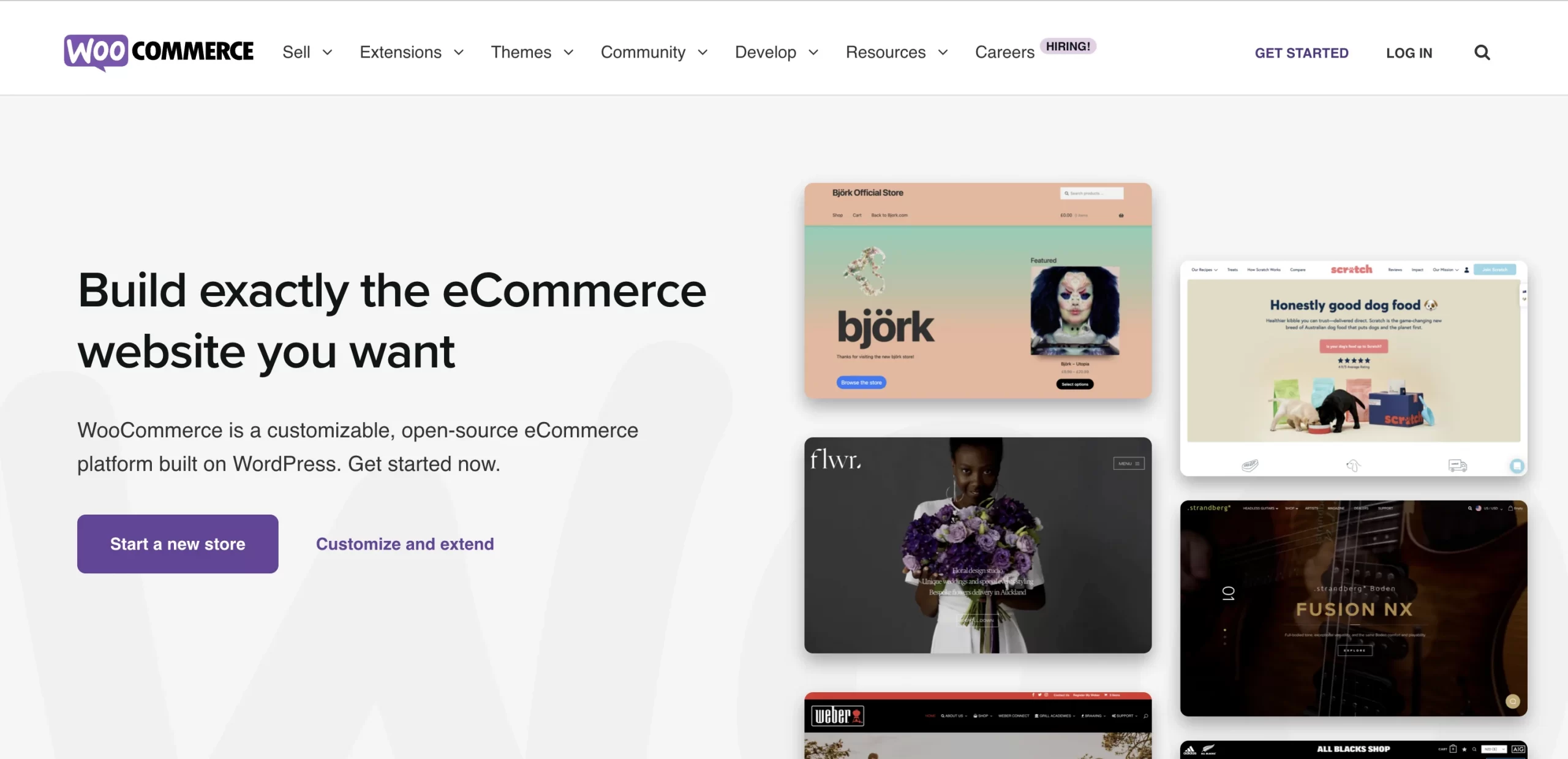 Currently, we think it's safe to say this is now one of the most popular platforms and is unlikely to be dethroned in the near future. Being a WordPress plugin, it is free to download and use. But first, you must install WordPress, which requires specific associated fees to construct a website, such as hosting, domain name, etc.
If you want to manually set up your website, LitExtension has a detailed tutorial video that guides you through the process from start to finish.
WooCommerce Features for eCommerce
Basically, you can get:
Great source of both free & paid plugins from WordPress
Easy inventory management
Various shipping options: Flat Rate Shipping, Free Shipping, and Local Pickup
Great source of payment processors available
Powerful store analysis tools
Multi-site selling
Dropshipping with reasonable cost, no product restrictions, and high customizability
Powerful CMS, SEO & Marketing
You can extend your knowledge of WooCommerce before deciding to choose this platform by reading the below articles:
WooCommerce Pros & Cons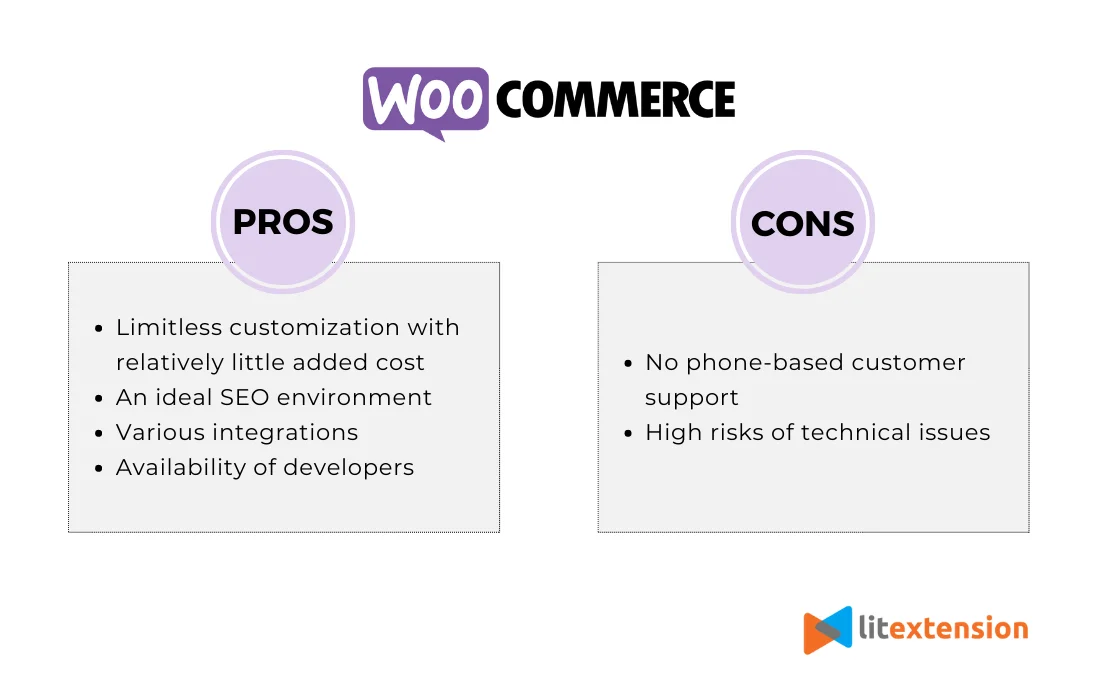 Pros:
Great flexibility
Wide variety of themes and plugins
Automating virtual features
Strong SEO performance
WooCommerce community forum support


Cons:
Coding skills required
Lots of plugins needed
Frequency of updates
Easy to lose sight of security
One of the Simplest Plugin to Kick Start Your Ecommerce Business With WordPress

Mohit G – Director of a Small Business
Want To Migrate To WooCommerce?
If you are intending to migrate to WooCommerce, LitExtension offers a great migration service that helps you transfer your data from the current eCommerce platform to a new one accurately, painlessly with utmost security.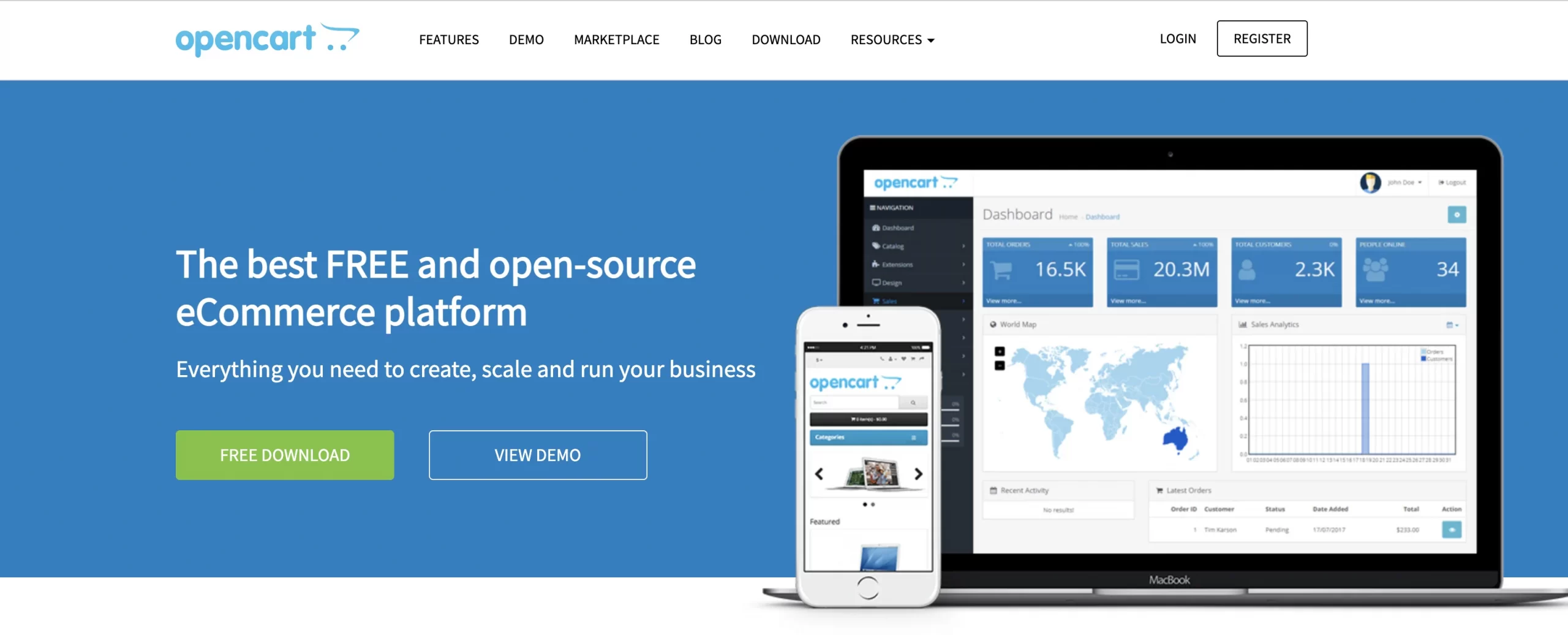 This platform is now home to 451,456 businesses all over the world. OpenCart is a PHP-structured open-source platform specifically tailored for online businesses. Not only does offering website design customization, but this platform also being as well as a modern, user-friendly dashboard interface, in our opinion.
Like WooCommerce, OpenCart is free to download and install. However, to create an OpenCart store, you might need to pay for some extras such as a hosting plan, domain name, SSL certificate, and eye-catching templates. To fully set up OpenCart, you will need to refer to the detailed tutorial on installing OpenCart.
OpenCart Features for eCommerce
Basically, you can get the following:
Google Analytics (Track the activities of both admin and customers, enable/disable modules at any time,…)
POS (Point of Sale)
Proper inventory management system
51 payment gateways that are pre-installed
Powerful CMS, SEO & Marketing
In all honesty, OpenCart is everything about extension. If you want a fully-fledged eCommerce store, you must depend on extensions. Fortunately, OpenCart brings a vast range of out-of-the-box features and over 13,000+ additional extensions available to download.
You can extend your knowledge of OpenCart before deciding to choose this platform by reading the below articles:
OpenCart Pros & Cons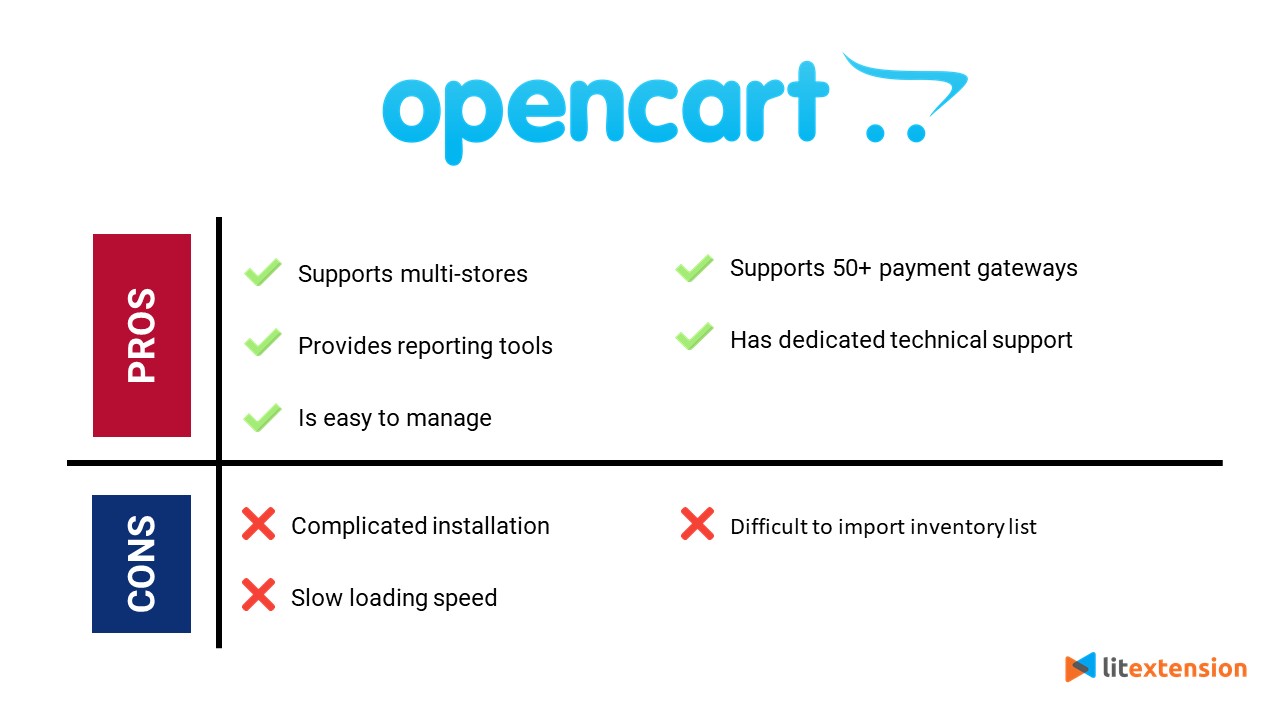 Pros:
Multi-store support
Reporting tools provided
50+ payment gateways supported
Great flexibility and customization
Cons:
Complicated installation
Slow loading page
Difficult to import inventory list
OpenCart is free and open-source. It is customizable with various extensions that are usually very reasonable in cost.
Jeffry T – Digital Marketing Specialist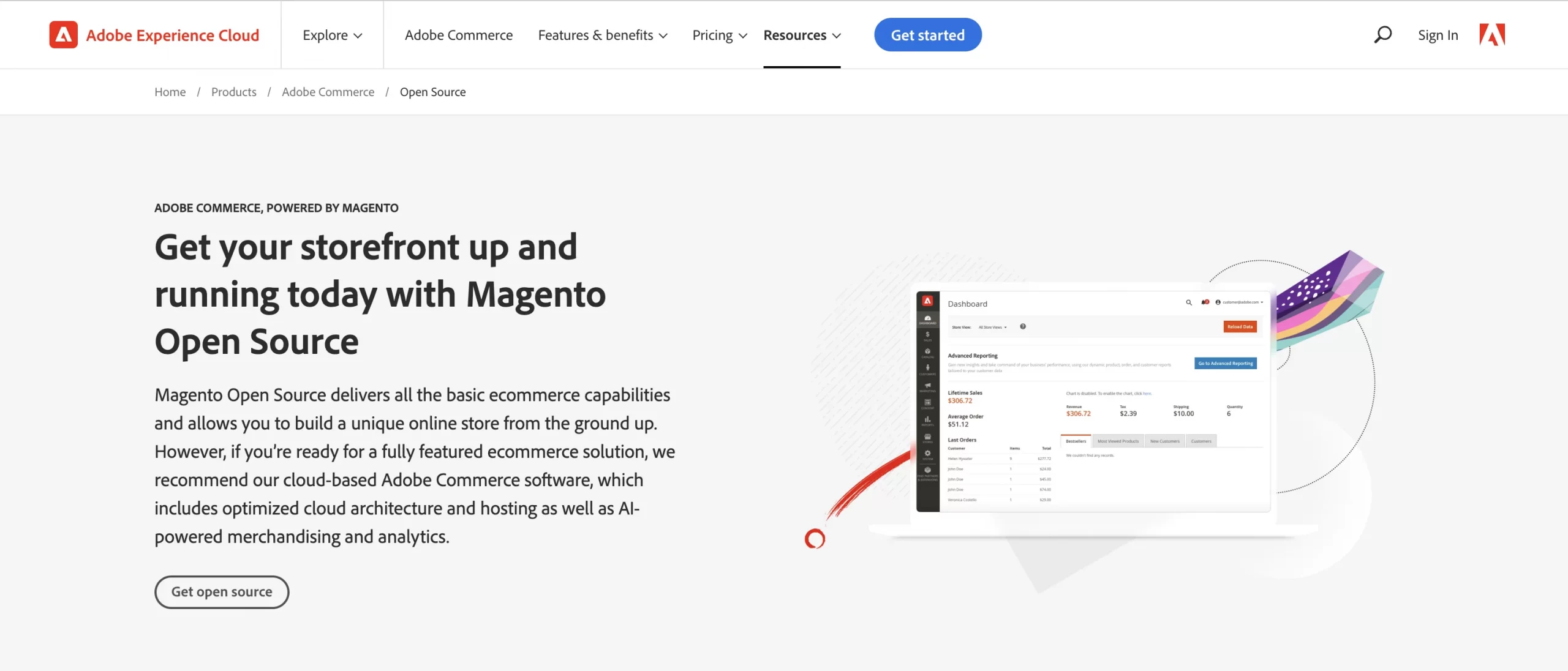 It seems to me that Magento Open Source (by Adobe) has a well-deserved reputation for its scalability, customizability, and robust built-in features. The download and installation are both free. However, you must still pay for your hosting, domain, and security, as well as any web development assistance if you lack the time or skill level to build your site the way you want.
The installation of Magento 2 Open Source will truly let you drown. So, LitExtension Team has a super detailed guide for you to do so:
Magento Open Source Features for eCommerce
After installing, you can get:
POS (Point of Sale)
Integration with global shipping carriers
Powerful inventory management system & sales channels
Automated & regularly updated analytics & reports
Integration with multiple payment gateways, including PayPal, Braintree, Authorize.net, CyberSource, and WorldPay
CMS, SEO & Marketing tools
Our further exclusive resources for Magento (Adobe Commerce):
Magento Open Source Pros & Cons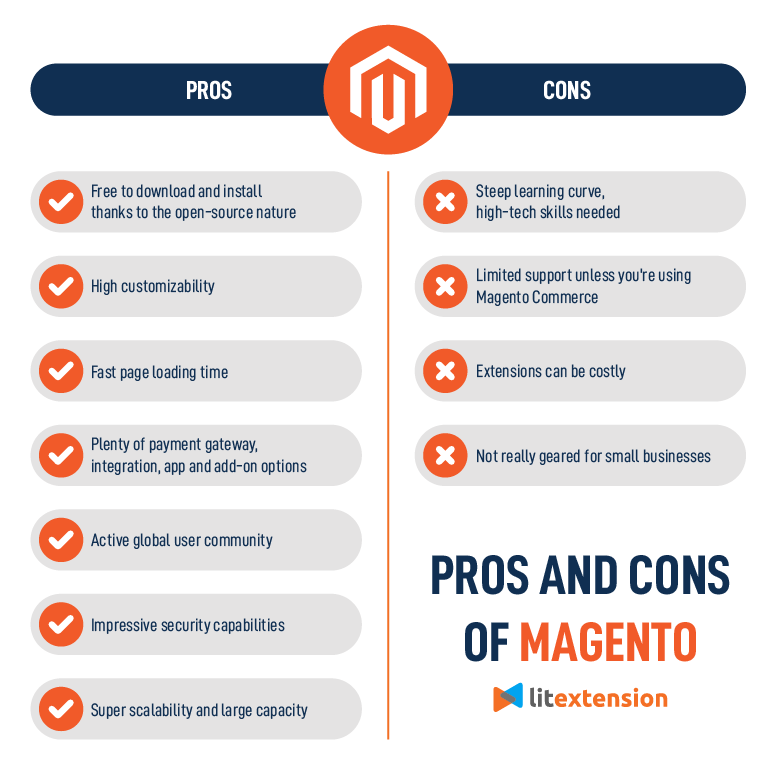 Magento is a very famous and secure platform as compared to other electronic commerce providers. It helps to create your separate IDs and admins for easy use.
Niraj S – Magento and Larvel Solution Specialist

---
Free eCommerce Platforms – Pros & Cons
Free eCommerce Platforms Pros
Basically, all free online selling platforms will offer:
Easy to start and navigate storefront for new users
Frequent upgrades for new features
Top-notch customer service
Free eCommerce Platforms Cons
On another side, free eCommerce website will bring inconvenience:
Cannot sell in the free trial
Limited product number at the free plan
Limited sites customization
Multi-channel selling limitation
Lack of integration with some other services as compared to other paid eCommerce plans
Is It Worth Upgrading Your Premium Plans?
The answer may depend on your current needs. If you're starting and want to try out eCommerce words, there's no need to go for a premium plan.
A free website to sell products is fine however, subscribing to premium plans would be well worth it if you're serious about your business and want to scale it. This is because you can eliminate the following:
Ads (from your free eCommerce website builder providers)
Products limitations
Poor customer support
Limited themes & design
Insufficient sales tools
Need Help to Migrate Your Store?
Don't have time to switch to another platform? Opt-in for our All-in-One Migration Service and have a Personal Assistant carry out the migration process for you without having to lift a finger.
---
Free eCommerce Platforms – FAQs
Absolutely yes. You can create a free eCommerce website forever with Square Online, Ecwid and Big Cartel. If you just want to try out eCommerce platform features, Shopify or BigCommerce with free trials will satisfy your needs.
If you just want to sell a small amount of product, you should definitely choose free eCommerce platforms because it can satisfy all basic needs. Otherwise, you can go for premium plans with more exclusive features.
eCommerce can offer your business some serious advantages. It's cheap, it's fast, and it's incredibly flexible with seamless shopping experience and no geographical restrictions.
---
Final Words
Overall, depending on your purposes of choosing to sell online, each platform in our free eCommerce platforms list can satisfy you in its own ways. If you are getting lost, here are our recommendations based on our testing of each platform.
Small businesses (and artists!) will be suited with Square Online, Ecwid, Squarespace & Big Cartel
WooCommerce, OpenCart & Magento Open Source are more suitable for larger businesses that want flexible website customization.
Shopify, Wix & BigCommerce are tailored for businesses at any scalability.
We hope that this article about free eCommerce platforms could help you to decide whether you should open eCommerce businesses or not, whether it's worth your investment or not. Thus, you're able to create the best free online store!
If you have other inquiries, please don't hesitate to contact our 24/7 customer support. Last but not least, don't forget to check out our LitExtension blog and join our Facebook Community now to get more eCommerce tips and news.