In an age when the growth of subscription-based platforms and website creators tend to thrive, sometimes finding free solutions is extremely necessary and economical. So what is the right platform to choose? The answer is OpenCart.
OpenCart, an open-source platform with nearly 20 years of existence and development, is considered the perfect eCommerce solution for online businesses. This solution gains its reputation thanks to the collection of dedicated features. So let's take a look at our OpenCart review.
What is OpenCart?
OpenCart is an open-source CMS specially designed for eCommerce sites, structured by PHP programming language. Since OpenCart is an open-source platform, it is completely free to download. This platform provides users with customization in website design as well as a modern, easy-to-use dashboard interface.
A typical function of OpenCart is multi-store creation, allowing you to access and manage multiple stores on the same interface. Also, this platform provides eCommerce features such as promotion/discount services, product category management, point accumulation for loyal customers, etc.
With a total of 418,331 live websites and 96,344 redirects, the platform accounts for 0,26% of the top 1 million websites on the entire internet according to Builtwith. OpenCart has been trending recently, and it managed to secure a spot among the top five leading eCommerce platforms with a market share of six percent.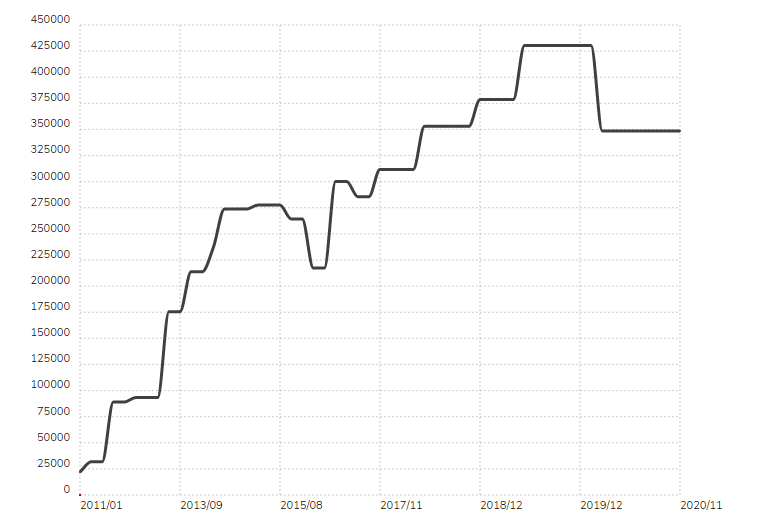 Pros and cons of OpenCart
When you start to research a platform, what is the first thing you need to be concerned about? That is the platform's strengths and weaknesses. What can the platform do and what are the limitations. Here are the key points to think about if you're taking a closer look at OpenCart.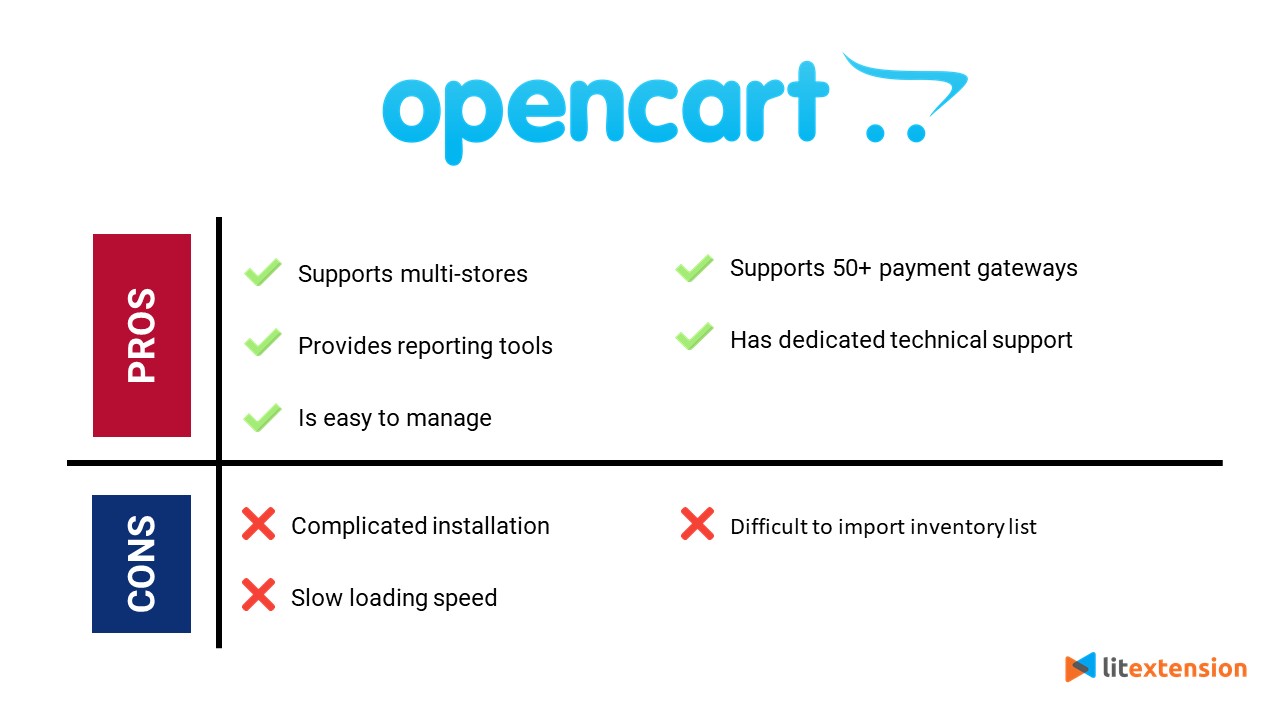 OpenCart 's advantages and disadvantages remind us that it is an easy-to-use and straightforward platform. It integrates well, is free to use, and will provide a secure eCommerce solution for your website. However, one serious drawback of OpenCart is that its page loading time is quite slow. Thus, you might need to optimize your website for a better user experience.
Performance
Site loading speed is an important factor that mainly affects your online business. All of your hard work on marketing and website interface might be completely ruined if the online shop fails to respond quickly.
This is one of the drawbacks of OpenCart. This platform has an average load time of 831 milliseconds, which is more than 1,6 times higher than the ideal response time recommended by Google. However, it should be noted that site speed also depends partly on the hosting service you are using, the quality of your products' images, and the theme you are applying. So make sure to optimize your OpenCart store for better performance.
On the other hand, this Hong Kong eCommerce website has made several attempts to speed up its loading time. There are numerous extensions and modules on OpenCart Store specially made for speed optimization.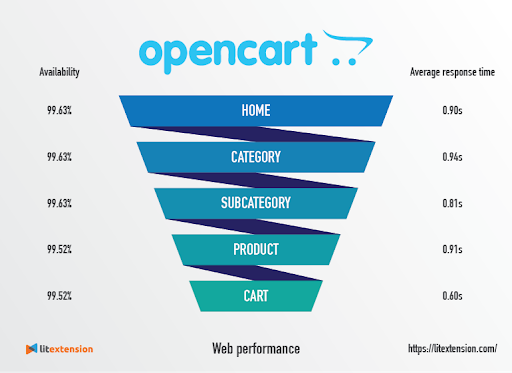 Pricing
OpenCart is an open-source platform so you can download and use the platform freely. However, to be able to create a store, you need to comply with the following requirements:
A hosting plan: Those usually start at around $10 / month if you're on a budget (quality host will cost you more).
A domain name for your store: Around $10 / year or so.
An SSL certificate: Depending on the needs of the store owner, the price will vary.
Lastly, an eye-catching theme/template, and any additional modules/extensions that you want to have in your online store (those tend to cost $100 on average).
Moreover, OpenCart also offers a cloud hosting solution based on AWS (Amazon Web Service) Server. It comes with an "all-in-one" package that is fully equipped with the latest version of OpenCart. Therefore, users won't need to go through the complicated installation process. All OpenCart Cloud stores will get unlimited products, categories, and orders regardless of their pricing tier. This is a preeminent feature of OpenCart Cloud compared with some eCommerce platforms which require higher tiers of subscription to get more products displayed.
OpenCart offers three different pricing plans for their Cloud version, each comes with a 14-day-free-trial and a discount of 50% if you purchase 12 months. There are three tiers starting from £25/month, including Bronze, Silver, and Gold. Higher levels of subscription come with exclusive privileges like better support and multiple stores.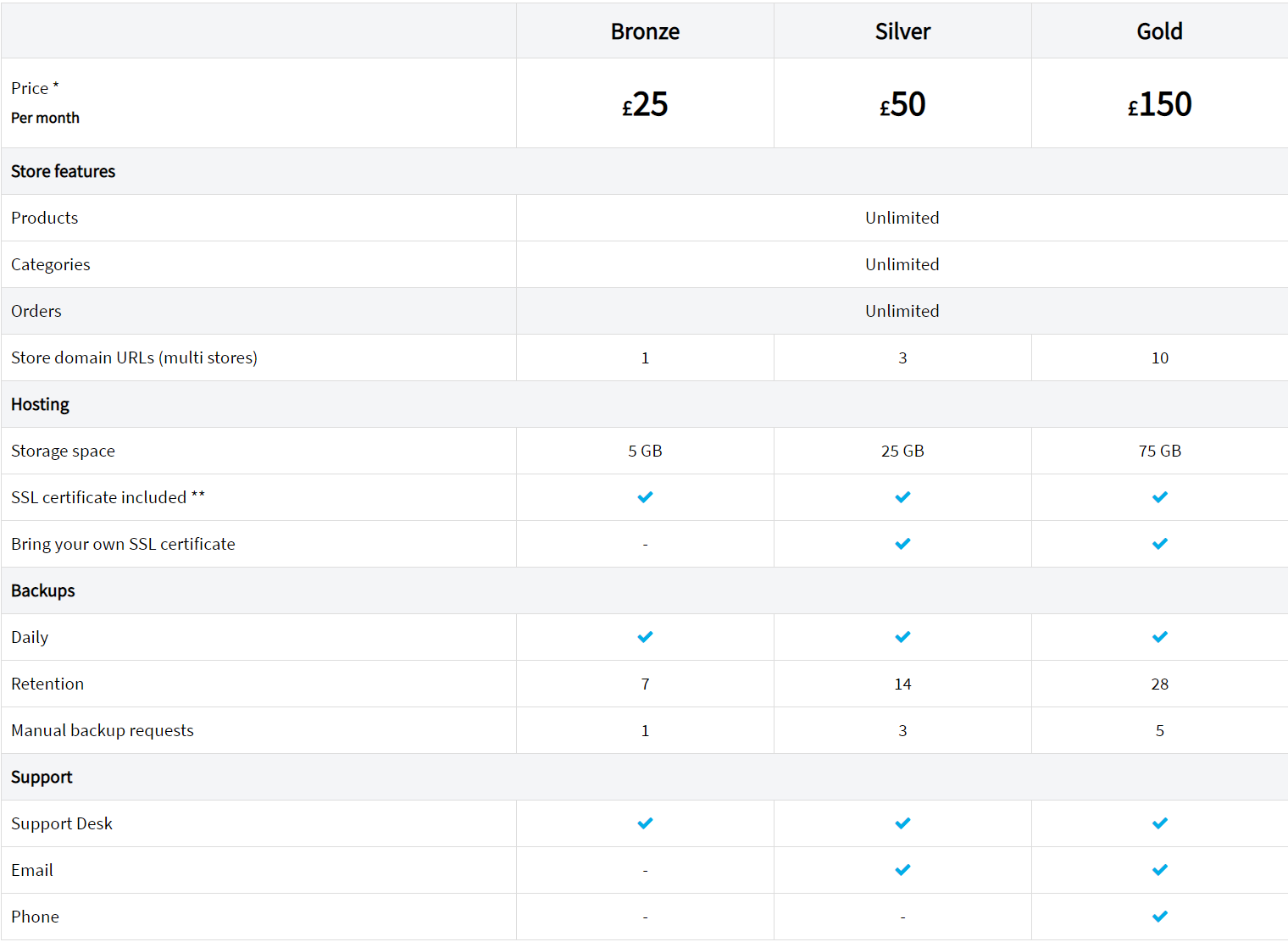 Built time
OpenCart is an open-source eCommerce platform. It runs on PHP and requires a database as well as a web server to work properly. Fortunately, unlike Shopware, OpenCart can run seamlessly in both Windows and Unix-based operating systems. Therefore, there's no need to prepare a dedicated computer for it.
A quick heads-up, the installation is not "a piece of cake". Users will need to have a considerable knowledge of technology and devote a significant amount of time and effort to go through this step. If you are not tech-savvy, hiring a developer to run the installation and initial setup could be a great option to quickly get started with your OpenCart store.
In case you want to set up an OpenCart manually, here are the steps you could follow.
Download and unzip OpenCart archive. You can download directly from the OpenCart website (recommended for end users) or go to their GitHub site to get the source code (recommended for developers).
Install and configure FTP client. In this step, make sure you know your website's host name, username, and password. Please contact your hosting provider to obtain this information
Connect to the Site Manager.
Upload OpenCart's file.
Create a database for the shop.
Launch the auto-installer and you are done.
Please note that the instruction above is just an overview of the major procedure. To fully install OpenCart, you will need to perform several detailed steps that you can find here.
Ease of use
Despite being an open-source eCommerce platform, using OpenCart is not a real struggle. Sure, if you have technical skills and knowledge, managing this PHP-based solution is just a breeze. But don't worry if you are a newbie in eCommerce. OpenCart is well-known for its user-friendliness even for inexperienced users.
OpenCart offers a very modern and easy-to-use Admin Panel interface. On the admin page, you'll be able to accomplish all of your primary tasks, like managing your products, installing extensions, choosing new templates, monitoring sales and customer groups, and even running marketing campaigns.
Aside from the minor difficulties in setting up your site, it's quite intuitive and all the features are laid out nicely.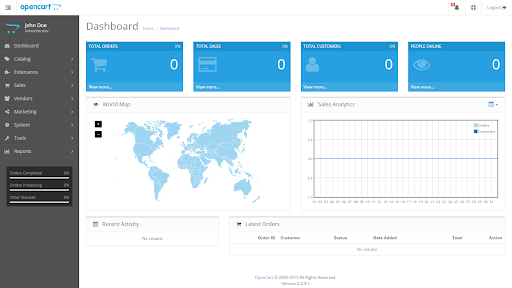 Design and flexibility
Like every other open-source platform, OpenCart gives users the freedom to customize it. However, to do this, you need to know the necessary technical skills.
OpenCart's core software doesn't come with multiple design templates. What you'll get is a basic stock template to start building your store. However, this default template is responsive and quite modern looking.
You'll probably want to shop for paid themes on their marketplace, where you'll find 83 catalog pages of templates, all rated by the user community.
When it comes to customizing your theme on a granular level, you're going to have to know how to work with the code. Despite a little inconvenience compared to other hosted solutions, OpenCart's excellent integration with CSS and HTML coding will ensure maximum customizability and site performance.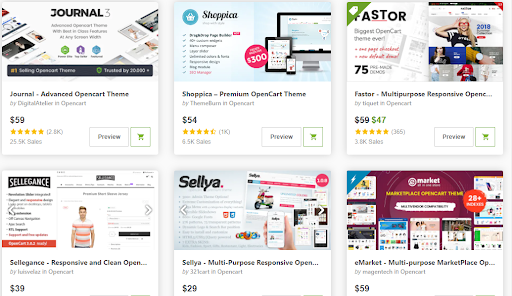 ECommerce features
1. Analytics
Google has specially added its feature to OpenCart, which is Google Analytics. This extension allows you to measure the number of transactions and revenue that your website generates. With this tool, you can record your sales transaction with google analytics. Moreover, you can create reports and monitor your sales performance, product performance, transactions, eCommerce conversion rate, unique purchases, etc.
And most importantly, you can monitor shopping behavior, check out behavior, product list, etc.
Here are some features of Google Analytics in OpenCart:
Track the activities of both admin and customers.
Enable/disable modules at any time.
Supports multi-store.
Has full control to enable/disable the tracking of admin/catalog end.
Provides tracking options:
– The number of visitors.
– Customers from different regions
– The number of pages visited every day.
– The activities in graphical format.
– The visited pages of your site with time duration.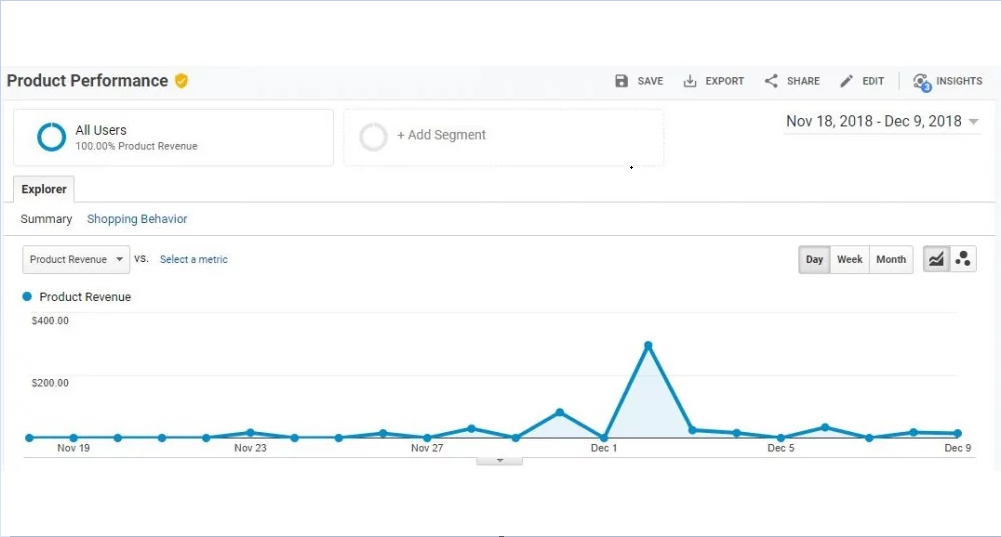 2. POS (Point of sale)
OpenCart Point of Sale System (POS) is a system that allows merchants to create orders from their physical stores. With POS integration, these orders will be synchronized and created on the OpenCart online store.
The advantage of this add-on is that it gives an option to the customers to walk into the physical store and pick up the product directly. This process will cut out the time of going online and checking out, then waiting for the shipment.
With the OpenCart POS system, merchants will be able to manage their sales, inventory and customers. Plus, they can easily manage their day-to-day transactions without any hassle.
Besides, the OpenCart POS system is a powerful tool to manage sales and revenue. The admin can set up and manage multiple physical stores along with the online one from OpenCart.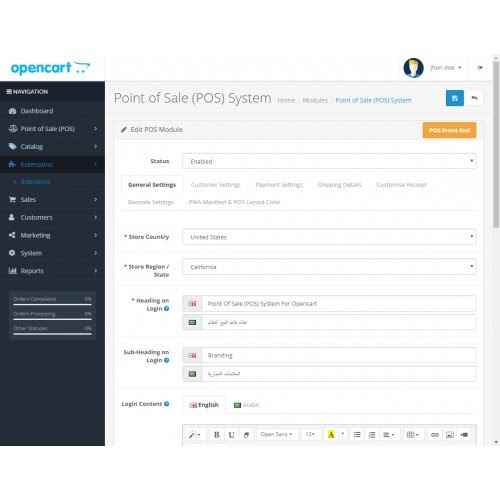 3. Inventory Management
It's critical to carefully keep an eye on your store to ensure you're on track to be profitable. Inventory Management is one of the essential parts of your online selling.
Inventory management is the part of supply chain management, which aims at selling the right products in the right quantity at the right time. Proper inventory management will help you to track your inventory and automate this process in real-time. When performed effectively, companies reduce excess inventory costs while maximizing sales.
OpenCart Inventory Management features:
Reduce costs, improve cash flow, and boost your business's bottom line
Track your inventory in real time
Help you forecast demand
Prevent product and production shortages
Prevent excess stock and too many raw materials
Allow for easy inventory analysis on any device
Be accessible right from your retail point-of-sale (POS) system
Optimize warehouse organization and precious employee time
Offer quick and painless bar code scanning to speed up the intake
Allow for multi-location management, tracking inventory across several locations or warehouses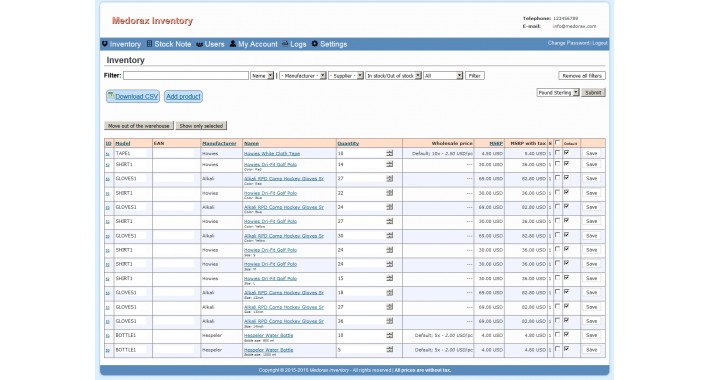 4. Payment gateways
The OpenCart comes with a variety of payment methods, from bank transfers to online payment gateways. There are 51 payment gateways that are pre-installed with the installation of OpenCart. If you want to use other types of payment, there are more methods available on its Extension marketplace.
To be able to use these payment gateways, you need to edit the supported extensions. Besides, OpenCart also supports additional functions such as payment method in checkout and payment method in order history.
5. Marketing
The Marketing section in your OpenCart dashboard allows you to add and track the marketing campaigns you create. This feature helps to create a code attached to the link, which enables you to track the number of clicks and orders from that link. From there, you can see where to set up a Marketing Campaign that will work.
To access the section from the dashboard, go to the Marketing field, click it, and you will see submenus named Marketing, Affiliates, Coupons, Mail. Click on Marketing.
OpenCart allows users to edit the meta tags and add 301 referral and rel canonical, but it still requires PHP coding skills. Also, individual URLs are not supported as well. Fortunately, you can find extensions on the market place to help you deal with this problem.
Also, this platform exclusively provides a blogging module called OpenCartDaily. You can post like WordPress and publish your articles, news and posts. This tool comes with additional modules that will be integrated with OpenCart products and categories to allow you to sell your products via blog posts. The link of this blog with the OpenCart system makes it different from WordPress or any separate blog you use with OpenCart in subdirectory or subdomain. Not only that, but this module will also help your SEO become friendlier by using the analytic.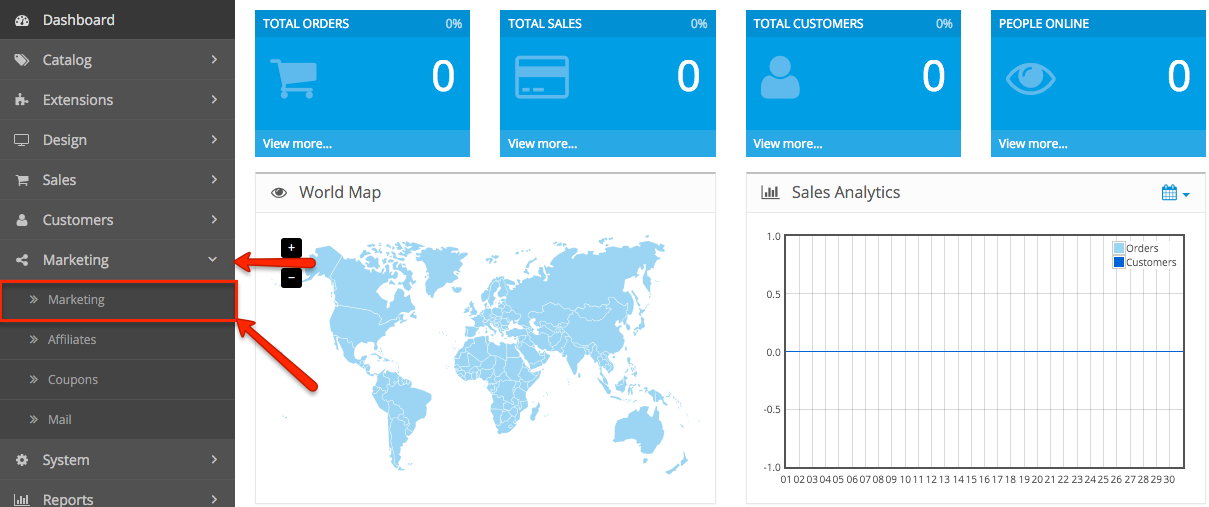 6. Extensions and plugins
OpenCart brings a vast range of features included out-of-the-box and over 13 000+ additional extensions available to download. You can find service integrations, payment providers, shipping methods, social media, marketing, accounting, reporting, sales as well as language packs.
And of course, these things in the OpenCart apps store include both paid and free versions. Therefore, you don't have to worry about a limited budget to build your store.
With the varieties of the free module, you can choose and set up to help your store run faster and sell more without any additional fee.
But when your store becomes bigger, try to look for paid extension. They might help you as a weapon to beat other competitors by adding product management, marketing campaigns, and tactics as well as improving customers' experience.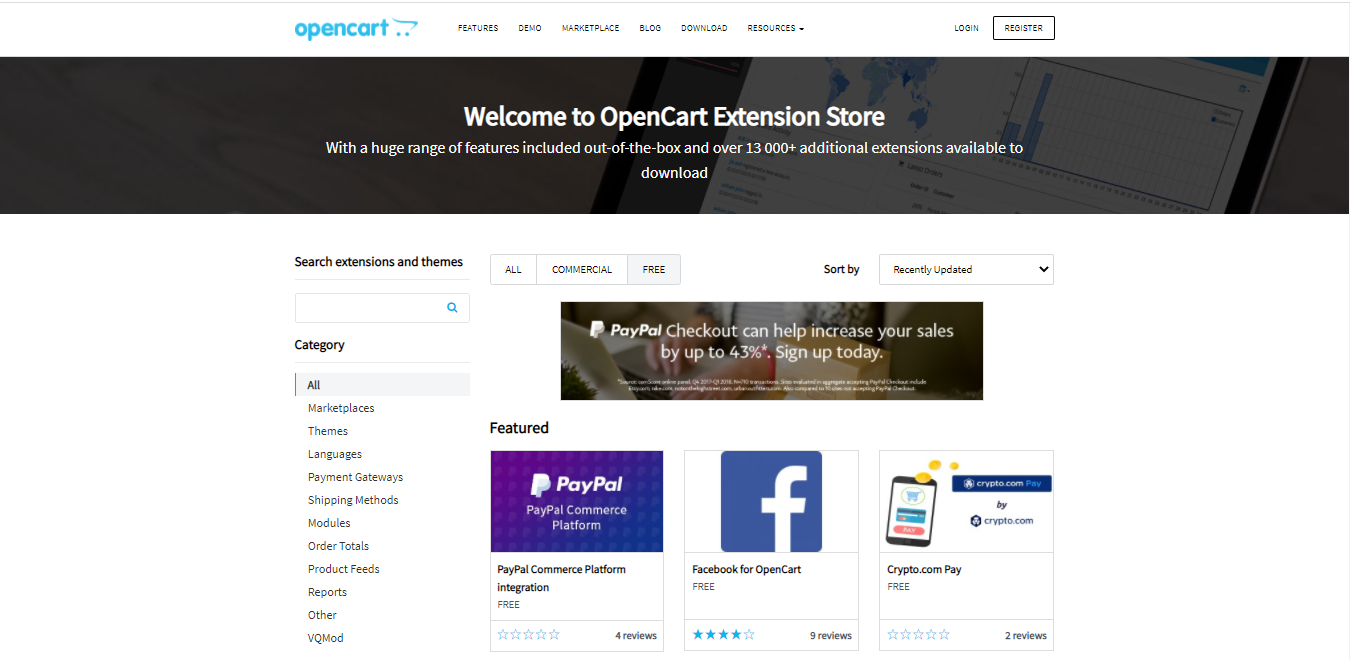 Support
OpenCart offers two types of support for its users, a free and a paid one. Users can have full access to OpenCart's Community Forum which has 123,000+ active users and 160,000+ topics, including support for bugs, installation, config, themes, and extensions.
Furthermore, this Community Forum also provides a whole section dedicated to forums in 30+ languages so that users of these languages will feel more at home.
If you want professional worry-free technical support for your website, consider using Premium Support by OpenCart. Subscribers of this package get dedicated monthly support for $99 a month, and your subscription will be charged quarterly. But please keep in mind, this paid option only supports a maximum of five extension installations and three bug fixes per month.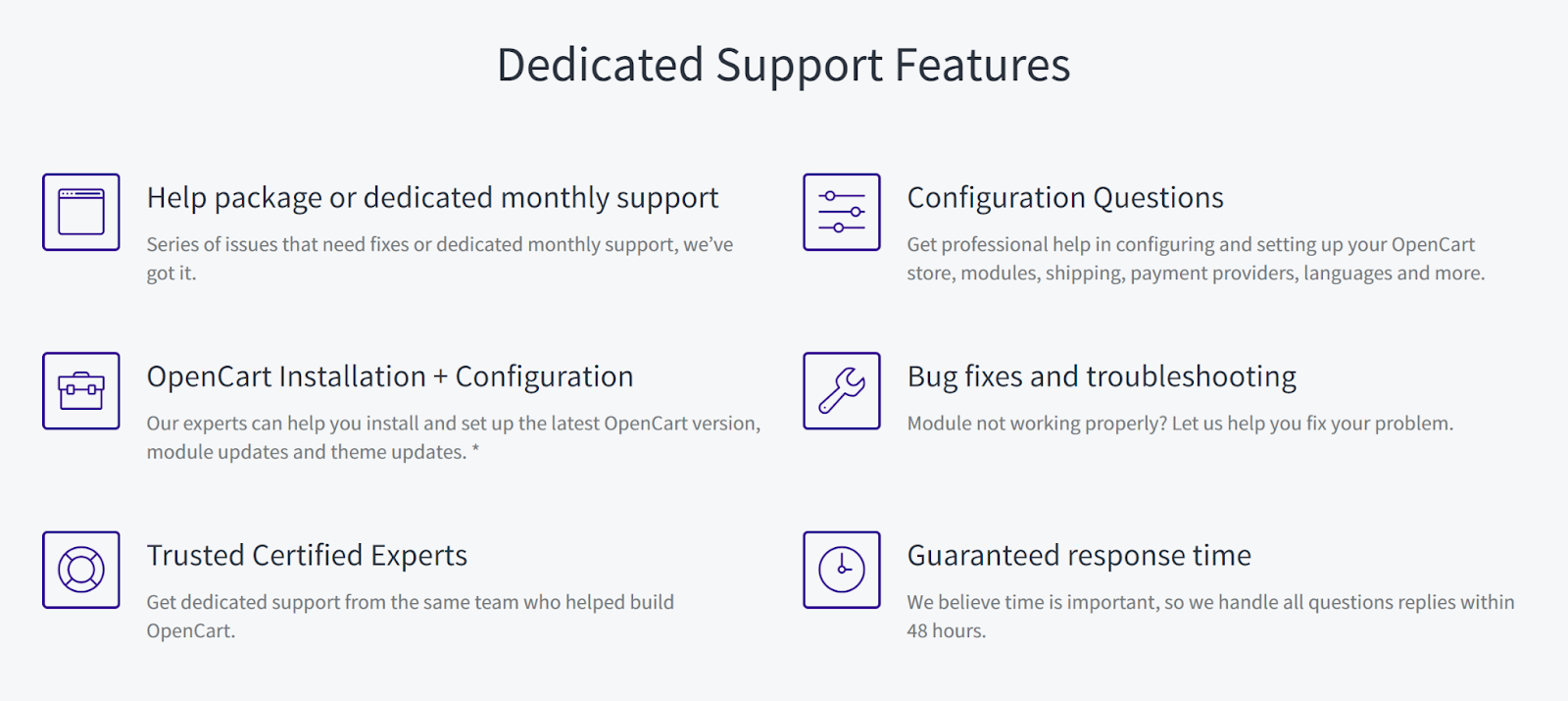 Moreover, you can get one-time technical troubleshooting for your site starting from $99 a time. This solution comes with a 30-day bug-free guarantee and a quick response time within 48 hours. OpenCart's developer will help you fix your problems neatly and effectively without modifying your store's source code.
Conclusion
Overall, OpenCart is a robust open-source eCommerce builder. It has a lot of functionalities and is very useful. The only drawback is the difficulties in customizing if store owners don't have any technical knowledge.
Meanwhile, if merchants have a strong background in coding and programming, please don't hesitate to go for OpenCart. They can freely customize and optimize the store to meet their needs. With just some basic HTML and CSS understanding, store-owners can set up a full-stack store with multiple extensions to successfully develop their business.
If you see OpenCart as a more suitable platform than the one you are using, please contact us. LitExtension provides a reasonable price and risk-free full migration service. If you need more information, please contact our 24/7 support team. Join our Facebook Community to get more eCommerce tips and news.