Overview
Starting an eCommerce business is a big deal. Either you launch your website from scratch or integrating your current one into more selling channels, Shopify and Ecwid could meet your needs. In this article, we will give you:
A brief introduction of Shopify and Ecwid
Key differences between the two eCommerce platforms
What is your best solution?
What is Shopify?
Shopify is the most popular eCommerce website builder which allows you to build your website from scratch with tons of options. Shopify is a whole package, a complete solution for your online store to be up and running seamlessly. Launched in 2006, Shopify has powered over 800,000 stores with over $100 billion worth of merchants revenue (read our Shopify review). If you're looking for a completed Shopify tutorial, check out this video
What is Ecwid?
Meanwhile, Ecwid is an eCommerce plugin, its main purpose is to help small businesses expand their market. Certainly, Ecwid enjoy its reputation for the ability to integrate into any platform and boost sales effectively. Came to the market in 2009, Ecwid has helped over 1 million online merchants (read our Ecwid review).
Shopify and Ecwid are both industry leaders with distinguishing features, let's dive in all the functionalities that Ecwid and Shopify offer us.
Pricing and Support
Pricing
Key differences in Shopify vs Ecwid pricing:
| | |
| --- | --- |
| | Ecwid |
| 14 days trial: standalone store | Free Plan: 10 products, 2 products categories, one-page website (Starter Site), websites integrations. |
| Shopify Lite Plan ($9/ month): Sell on Facebook and connect with customers via Messenger, Buy Button (no standalone store). | Venture Plan: (£15/ month): 100 products, mobile inventory management apps, social media integration. |
| Basic Shopify Plan ($29/ month): Basic tools to start online business, 2 staff accounts. | Business Plan (£35/ month): 2500 products, marketplace integration, 2 staff accounts, abandoned cart recovery,.. |
| Shopify Plan ($79/ month): features for growing business, professional report, gift cards, 5 staff accounts. | Unlimited Plan (£99/ month): unlimited products, Additional POS options, unlimited staff accounts |
| Advanced Shopify Plan ($299/ month): Features for scaling business, 15 staff accounts, real-time carrier shipping, advanced report builder. | |
| Shopify Plus (from $2000): Complete customisation, high volume traffic, Merchant Success Program | |
Support
Shopify and Ecwid both offer comprehensive customer service. Users are entitled to access email, live chat or phone support 24/7. Both two platforms provide its own YouTube channel, blog with a rich selection of educative videos, tips, FAQs and a forum filled with thousands of topics relating to user's experience with the platform.
While support is provided for all Shopify's paid plans, Ecwid's level of support depends on the type of plan you are on, here are the details: 
Free Plan: Email
Venture Plan: Email and live chat
Business Plan: Email, live chat, and phone
Unlimited Plan: Email, live chat, and priority phone support
Ease-of-use
Starter Sites
The interface of the Ecwid control panel is simple yet visually appealing. Offering various settings, Ecwid ensures users follow the wizard's instructions to set up their store. Meanwhile, Shopify will impress any users with its logical structure and endless choice of designs. Whether you are a beginner or a web design expert, you would definitely find joy in the web building process. It is not only visually appealing, but it also triggers the urge to keep working with it.
New store's build time for each platform also differs. In this regard, Ecwid, in case users have their current store running, takes little time to integrate into Ecwid. The process is simple, as Ecwid automatically matches and adapts to your current store theme and templates. This could be done in a few clicks in the dashboard settings. Meanwhile, Shopify's users may end up spending a great deal of time depending on how stunning and perfect they want their store to be. Shopify offers endless features and customization options for your store to look as professional as ever.
Inventory Management
Both Shopify and Ecwid facilitate customers with full functionalities to manage sales and supervise their inventory on the go (both for iOS and Android). Shopify uses Buy Button to allow store owners to sell products across different marketplaces (more information below) and manage them all in Shopify's control panel.
With Ecwid, after integrating your online store into social platform or marketplaces, your online sales shall be synced automatically across all channels. They are free to download; however, for Ecwid, managing all the selling channels (Ebay, Amazon, Facebook, Instagram..) from the phone's app is for paid plans only.
Point of sale (POS)
POS allows you to sell in the physical storefront and on the web-store as well. You could avail of your Shopify phone app to manage sales. However, you need to be on the $79 Plan tier or higher to take advantage of POS full features.
To compare, Ecwid also offers point-of-sale features but it tends to be more limited and you need to be on a $99 Unlimited Plan to use it.
Design and Customization
Templates
As I have mentioned above, Ecwid is tailored for merchants who have already had their website. Therefore, Ecwid has shortened the process as much as possible. In case you want to create a standalone website, Ecwid only offers one theme; hence, users, in comparison to Shopify, may not customize this theme as freely as they want. There are paid themes if store owners wish to buy one in Ecwid's App Market.
On the other hand, Shopify is very flexible when it comes to design. There are 10 free templates available in Shopify and around 60 paid themes on Shopify apps. What's more, for those who want to hand-made their themes using codes by CSS or HTML, Shopify could meet your needs.
Flexibility
Buyers all over the world enjoy viewing products in their native language. In terms of language flexibility, due to Ecwid multilanguage detection and translation ability, users are free to choose among 51 languages to translate their sites, which certainly draws more traffic world-wide.
Differing from Ecwid, Shopify requires users to install third-party translation apps and a multi-language compatible theme. After adding and publishing a language, customers can browse your website, receive emails and bills in their languages. Langify and Langshop are the only two third-party apps that Shopify supports and it comes with additional charge. Apparently, in this language translation competition, Ecwid has the 'competitive edge'.
Apps
Like other eCommerce platforms, Ecwid provides a number of integrations with other web apps, allowing purchases via its App Market. Well-known extensions are arguably limited, but integrations exist with fundamental tools like Mailchimp, Xero, ShipStation or Taxjar.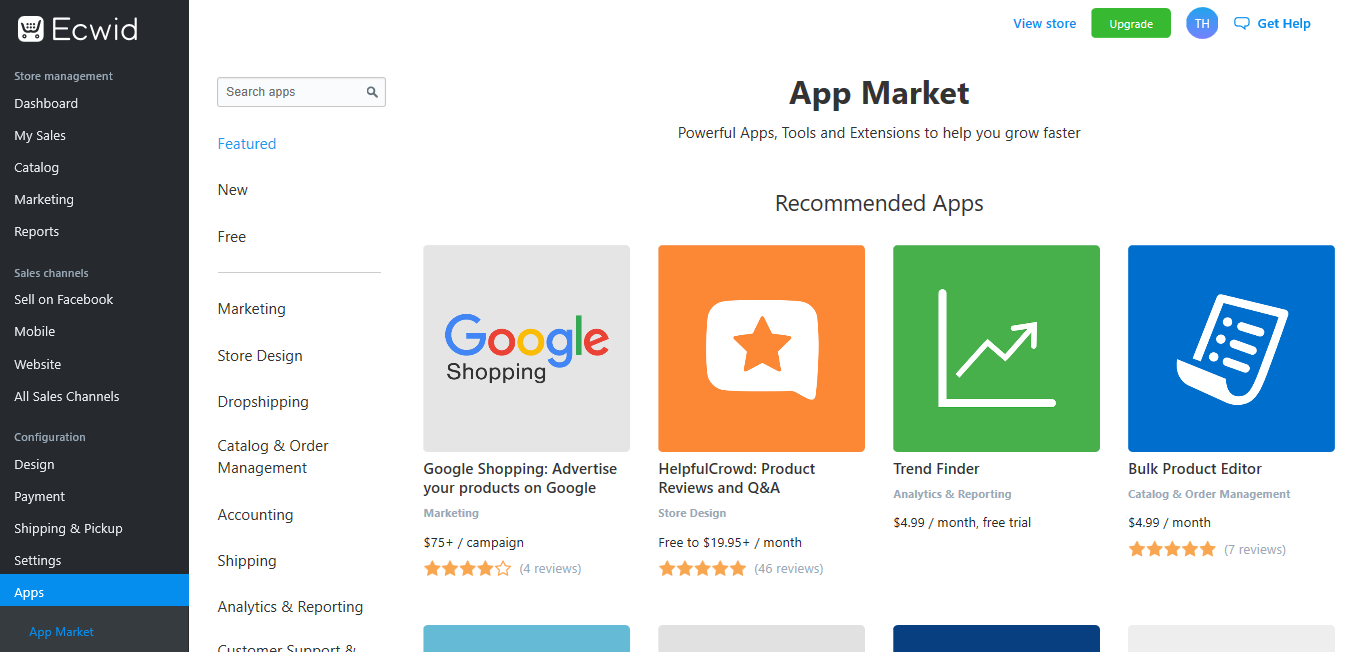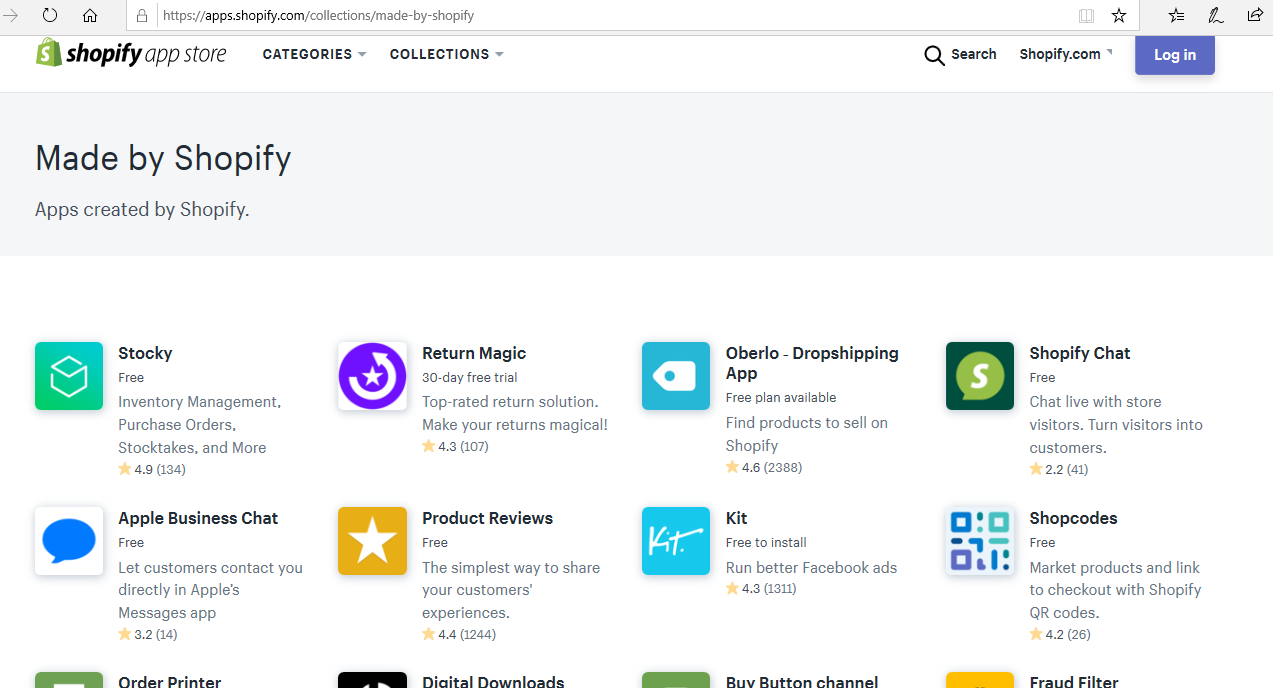 By contrast, Shopify is packed with over 2500 apps and extensions which were developed by both in-house team and third-party developers. Apparently, Shopify spares more room for development than Ecwid does.
Multiple selling channels
Both Shopify and Ecwid allow selling on multiple channels. Shopify's Buy Button is simply a button that allows customers to conduct online purchases on any marketplaces or social platforms without having to visit Shopify's store.
This is extremely convenient for retailers to boost their sales. For example, imagine when customers are reading a blog on"Why sunscreens are important", at the bottom of the blog pops up a nice 50+++ SPF sunscreen product with that Buy Button, they are very likely to go for it. The Buy Button is available on the Lite plan for $9/ month.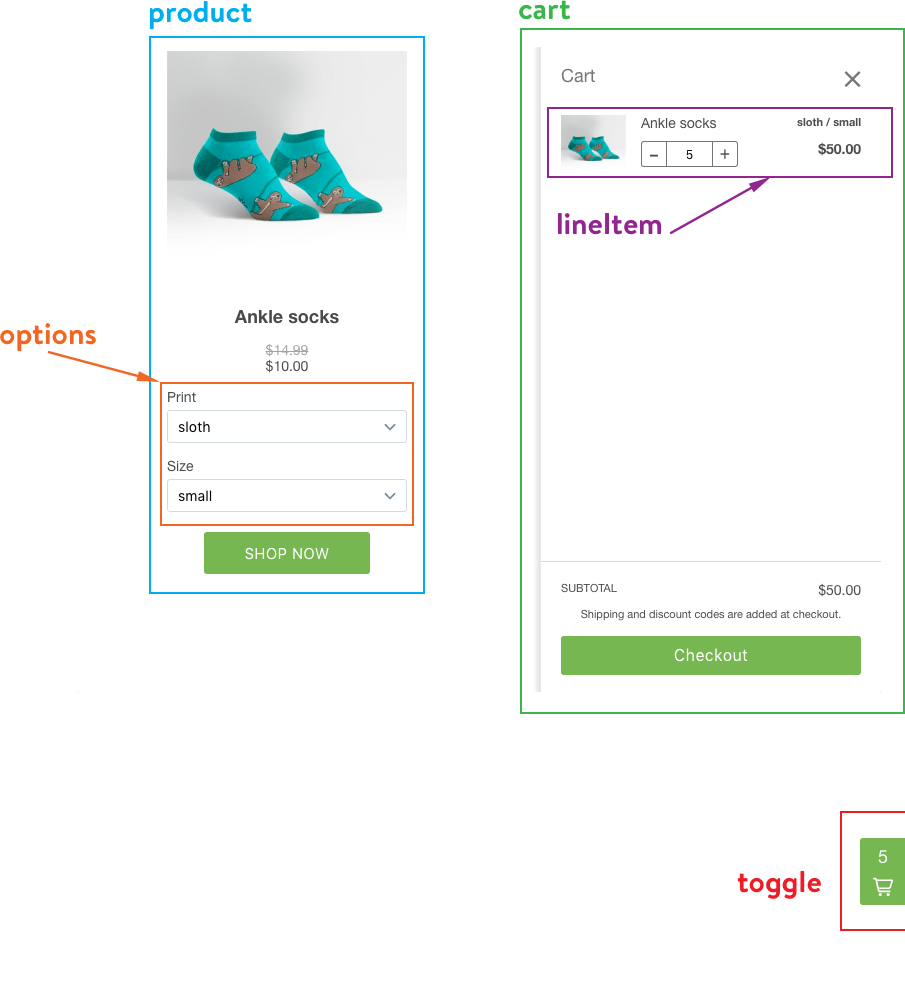 That said, the functionality you get with Shopify's Buy Button is not as comprehensive as that provided by Ecwid. You can embed products with Buy Button, but you can have your complete store integrated with Ecwid, which includes all the necessary functions such as product search, product options, account creation, ect.
Let's say, customers want to choose from some more sunscreen options instead of the embedded product. Mind that Ecwid integrations with your current store are free but you need to be on Venture plan to sell on social platforms (Facebook, Instagrams, Facebook Messenger) and on Business plan for Ebay and Amazon.
SEO-friendly features
Mind that online stores launched by Ecwid are considered by the search engines as JS script due to the use of the AJAX. However, such platforms are not suitable for standard SEO promotion. Ecwid has a "Promotion" settings, but it only includes partners-related features  such as Facebook app, external trading platforms, etc. This means Ecwid doesn't have standard SEO settings for online retailers.
On the contrary, Shopify's SEO feature set is generally stunning and compares favorably with other SaaS platforms (especially SquareSpace and BigCommerce). Everything on-page SEO in Shopify is very easy to manage, from changing titles and meta descriptions to adding headings and alt text.
Payment options
With Ecwid, users can process credit cards with Paypal, with no extra charge other than Paypal's fee. Besides, there are bout 50 other payment gateways you can connect to Ecwid Some of the payment gateways are country-specific, so the exact tax and fee will depend on your location.
Shopify provides more options in this regard. Specifically, you can use Shopify Payments, Shopify's built-in payment system. Should you use this method, there are no transaction fees at all, which is great. However, there is still a 'credit card rate' to consider with the fee (the more expensive the plan, the lower the rate). Alternatively, you can opt for a third-party 'payment gateway' to process card transactions with over 100 options to choose from. If you use a payment gateway, bear in mind that Shopify will apply a transaction fee as well.
Conclusion
All in all, in this comparison between Shopify vs Ecwid, both solutions are strong and competitive in the eCommerce market. However, they possess distinct features and purposes.
Apparently, Shopify offers to sell on larger scales and support growth better than Ecwid with the SEO features and various plan options for scaling high volume traffic. However, Ecwid understands the needs of small online businesses.
In case you want to have your website migrated from/to Shopify vs Ecwid no worries as LitExtension is at your service. Currently, LitExtension is supporting migration services from 80 carts to Ecwid such as Shopify to Ecwid, Ecwid to Shopify, BigCommerce to Ecwid.
We take pride in our comprehensive migration service and reliability. You can easily transfer all your data namely products, customers, orders, variants, etc. LitExtension also provides you with additional options so that you can expand the migration possibility, such as:
Should you have any questions regarding Ecwid or Shopify migration, LitExtension support team is more than happy to help! You can also join our community. We're happy to help.