BigCommerce vs Shopify are both powerful eCommerce site builders, so they're both good options. That said, there are key differences between the two that can help you pick the right choice.
In this post, we're going to compare BigCommerce vs Shopify by providing further details regarding:
Without further ado, let's get into it!
Want to Migrate Your eCommerce Platform?
If you are intending to migrate from one eCommerce platform to another, LitExtension offers a great migration service that helps you transfer all your data accurately and seamlessly with utmost security.
---
BigCommerce vs Shopify – Overview
#1. What is BigCommerce?
BigCommerce is the industry-leading hosted solution allowing you to easily set up and sell with an online business. This process is especially well-supported if you already have a physical store and need to take it online.
In most cases, for owners, retailers, and even wholesalers who want to customize within a hosted environment, BigCommerce is surely the best start.
Although not an open-source cart, this cart has the best built-in features and powerful open APIs that you cannot find elsewhere. Therefore, BigCommerce enables you to not only set up with ease but also customize and grow your business. Its current users range from startups to high-profile companies such as Toyota, Bliss, DressUp, etc.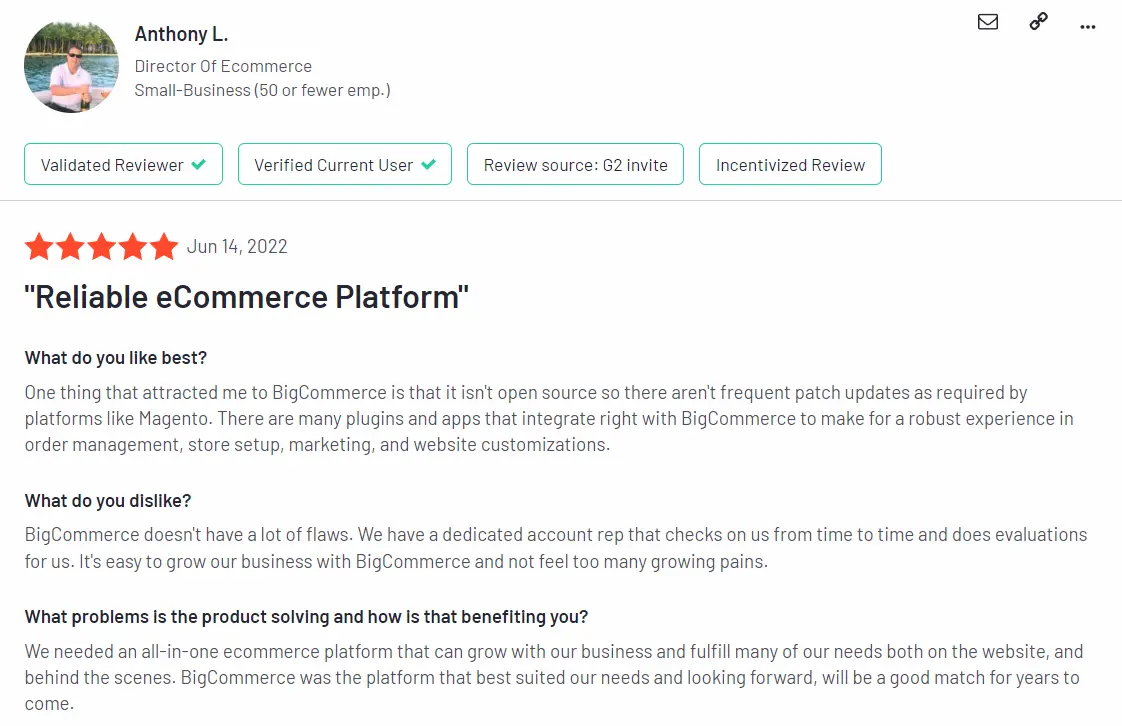 To fully experience creating a BigCommerce store, start the 15-day BigCommerce free trial or request a product demo with custom needs.
BigCommerce Pros and Cons
BigCommerce Pros
Better value for money than Shopify: when it comes to pricing, both seem to offer the same price range. However, BigCommerce has a slight edge thanks to rich built-in features, open APIs, lower additional costs, and customization functions. Moreover, the platform provides quite a lot more features which results in a lesser need for users to add apps.
Rich built-in features: reduce merchants' reliance on third-party apps while managing the store. With Shopify, merchants operate the store with quite a great deal of apps.
(Truly) Powerful open APIs: give a hand on customization and enable users to add additional functions as per their needs. This feature and how it works efficiently are nowhere to be found among the hosted carts.
Versatile solution: In comparison vs Shopify and other hosted systems, BigCommerce is versatile enough for owners to access and modify the underlying code in stores.
No transaction fees: there are no transaction fees in all BigCommerce plans. However, with Shopify, you'll be charged monthly transaction fees.
More flexible themes: you may gain much more flexibility in the BigCommerce Stencil theme engine and switch different themes.
Stronger built-in marketing functionalities: the platform provides readily accessible marketing tools, especially excellent SEO features.
High-performance checkout: with a server-to-server checkout API and SDK, you can customize every aspect of the checkout process.
Limitless scalability and freedom to expand: if a business is growing fast, the owner is able to access various features that support its growth. i.e. flexible product variants, automatic marketplace integration, multichannel selling features (multi-storefront, currency, payment, etc.), etc.
BigCommerce Cons
BigCommerce's built-in features require a bit more technical skills, whereas Shopify offers user-friendliness.
This platform does not have as many themes to choose from as you get with Shopify.
Read on: What is BigCommerce & How BigCommerce works

#2. What is Shopify?
Shopify is an all-in-one eCommerce platform built for everyone to start launching and growing their online businesses in the most convenient way. Thanks to its great usability, even users with a little technical knowledge can simply play around and quickly build a store.
Founded in 2006, Shopify has had over 4 million users in 175 countries around the world. Along with this, you can check some impressive insights about this Canadian giant below:
Until September 2021, Shopify has the highest market share in the US eCommerce platform market with 29%.
The number of Shopify stores significantly grew by 201.53 percent between March 2020 and January 2022.
Shopify has been used by huge brands like Gymshark, Red Bull GmbH, Heinz and Lindt.
To help their users understand how the platform works, Shopify is currently offering a free trial process.
You can read our thorough Shopify review or check out this video to see what else this eCommerce platform offers.
Shopify Pros and Cons
Shopify Pros
This platform has better customer support. It has the edge over BigCommerce because of its automatic direction to relevant support pages. Both eCommerce builders have multiple help channels, but Shopify has the extra addition of social media support.
Shopify is easier to operate in comparison vs BigCommerce, making it the top choice for beginners.
Has better designs and offers more choices, both in features and in more up-to-date templates.
Offers more customizable features on offer when it comes to the fight vs BigCommerce because of its extensive app store.
Oberlo is the one powerful tool that gives Shopify the upper hand for dropshipping.
Shopify facilitates the communication of the company's information, stimulates customer interest, and motivates action.
Shopify's user base is much larger, therefore the bigger number of apps available.
Shopify provides the necessary features for your store protection and validation for safe online payments.
Shopify Cons
This platform applies additional transaction fees and only 15 staff accounts, even with the Advanced Plan.
Only the 'Advanced Shopify' plan allows third-party real-time shipping rates.

---
Shopify or BigCommerce – Detailed Comparison
While both BigCommerce vs Shopify are awesome in their own right, there are differences that make either platform better suited for specific types of users. A few experts suggest that Shopify is top-rated, but BigCommerce stands its own ground very well.
To make sure that the experts are right, we did a test ourselves and have our own conclusion for both platforms. We built an online store selling T-shirts around three months ago and Shopify vs BigCommerce were the two biggest names at that time. Just like any other online merchants, we did some research and have some worthy hands-on experience to share with you.
#1. Pricing & Costs
One of the first questions that users (including us) have about BigCommerce vs Shopify is "How much do they cost?"
Both Shopify vs BigCommerce pricing plans offer free trials. They also have price plans ranging from around $39 to $399. However, there are several pricing differences between Shopify vs BigCommerce. Keep scrolling to get more details!
BigCommerce Pricing & Costs
There are 4 BigCommerce pricing plans as follows:
Standard: $39/month
Plus: $105/month
Pro: $399/month
Enterprise: custom pricing depending on requirements.
BigCommerce pricing varies by the sales you hit each year. However, it is understandable since this is the only hosted cart giving you room to grow up to higher sales with loads of well-paid features.
In our estimation, several more features are added in the BigCommerce Standard plan vs Basic Shopify. These include real-time shipping quotes, sales channel integration, unlimited products, file storage, etc.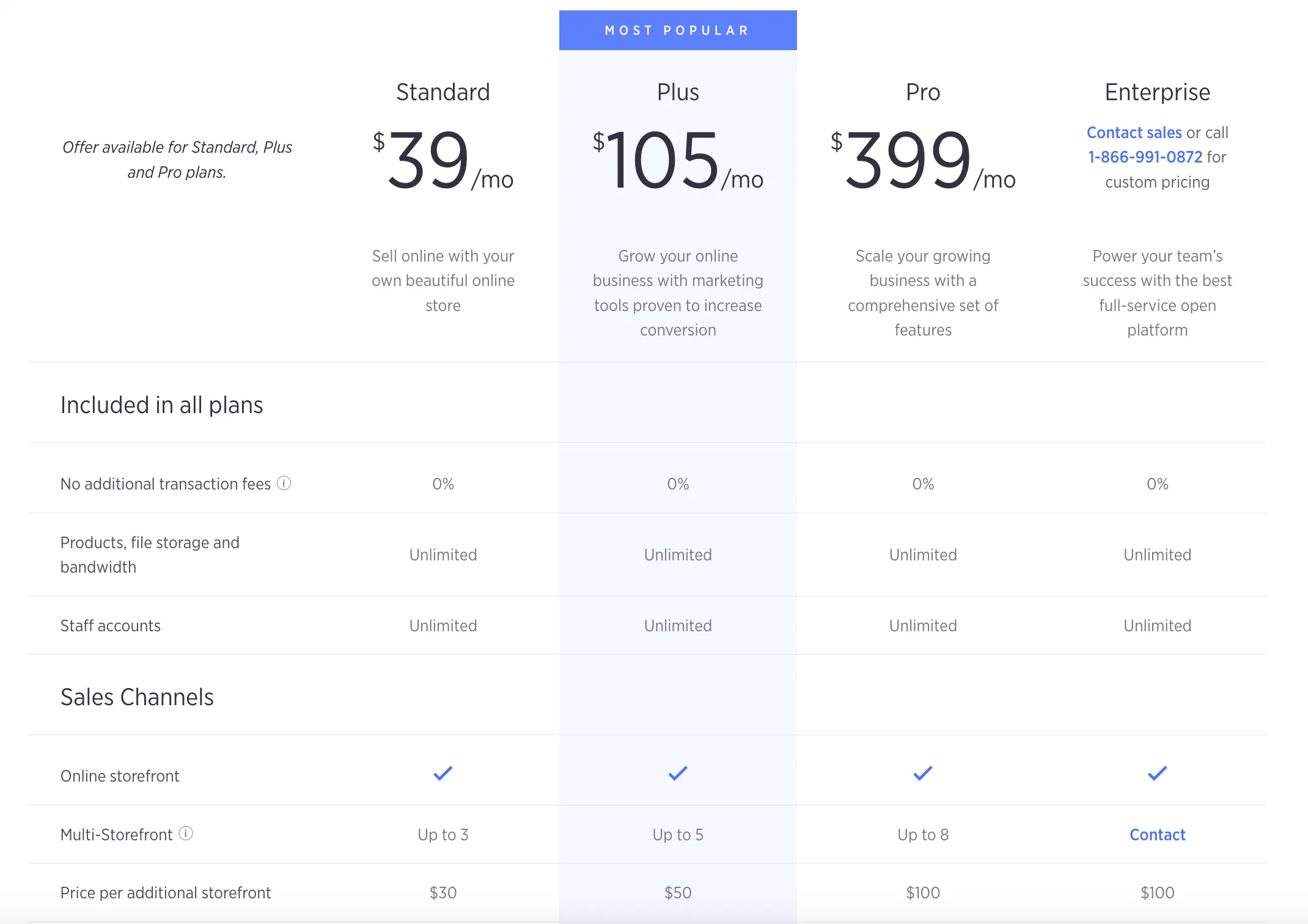 The reason why we chose BigCommerce in the pricing fight vs Shopify is that there are no transaction fees, unlimited file storage, product variants, bandwidth, and staff accounts, as opposed to Shopify. Plus, you can also take advantage of PayPal's exclusive fee rates for BigCommerce users. With Shopify, there will be additional transaction fees and only 15 staff accounts with the Advanced Plan.
Shopify Pricing & Costs
While Shopify offers 5 pricing plans:
Starter: $5/month
Basic Shopify: $39/month
Shopify: $105/month
Advanced Shopify: $399/month
Shopify Plus: Pricing varies depending on requirements.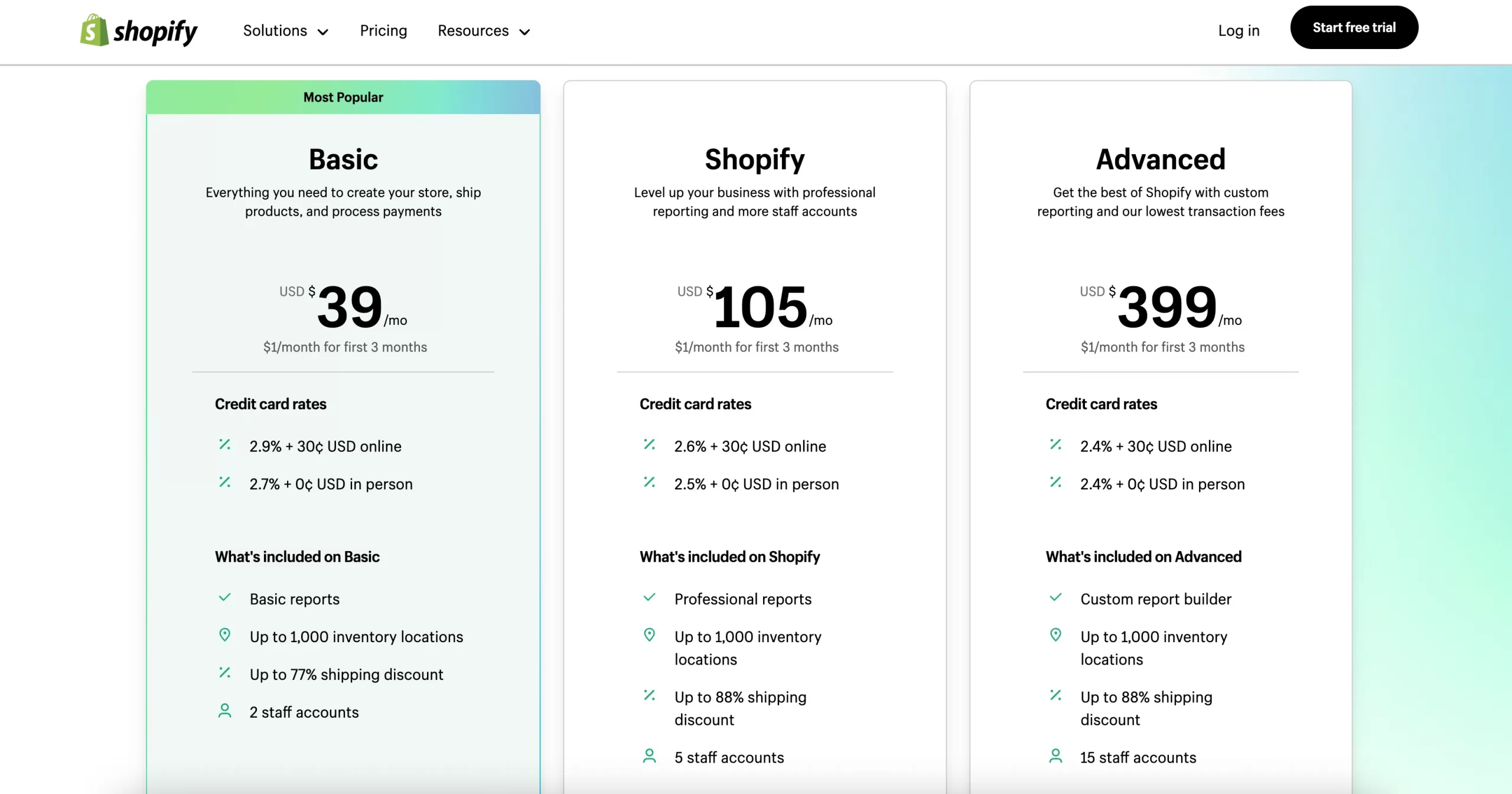 The difference between BigCommerce vs Shopify pricing relies more on the types of features available to each plan.
Although Shopify does have the abandoned cart recovery feature in the Basic Plan. BigCommerce would only unlock this feature in the Plus Plan, which is extremely advantageous for you.
You might be also interested in reading:
#2. Ease of use
Ease of use is important not only to beginners but also to experienced eCommerce entrepreneurs. Therefore, it is important to take it into consideration when comparing BigCommerce vs Shopify.
BigCommerce Ease of Use
BigCommerce was initially designed for owners with not much experience setting up websites.
It is, however, versatile enough for experienced users and developers to modify the code in stores. Therefore, if you're down to developing from scratch or digging into codes, BigCommerce is the solution you will choose anyway.
It will take you some time to understand how the platform works and start building your store. That said, you can empower your store with out-of-the-box functions to grow your business.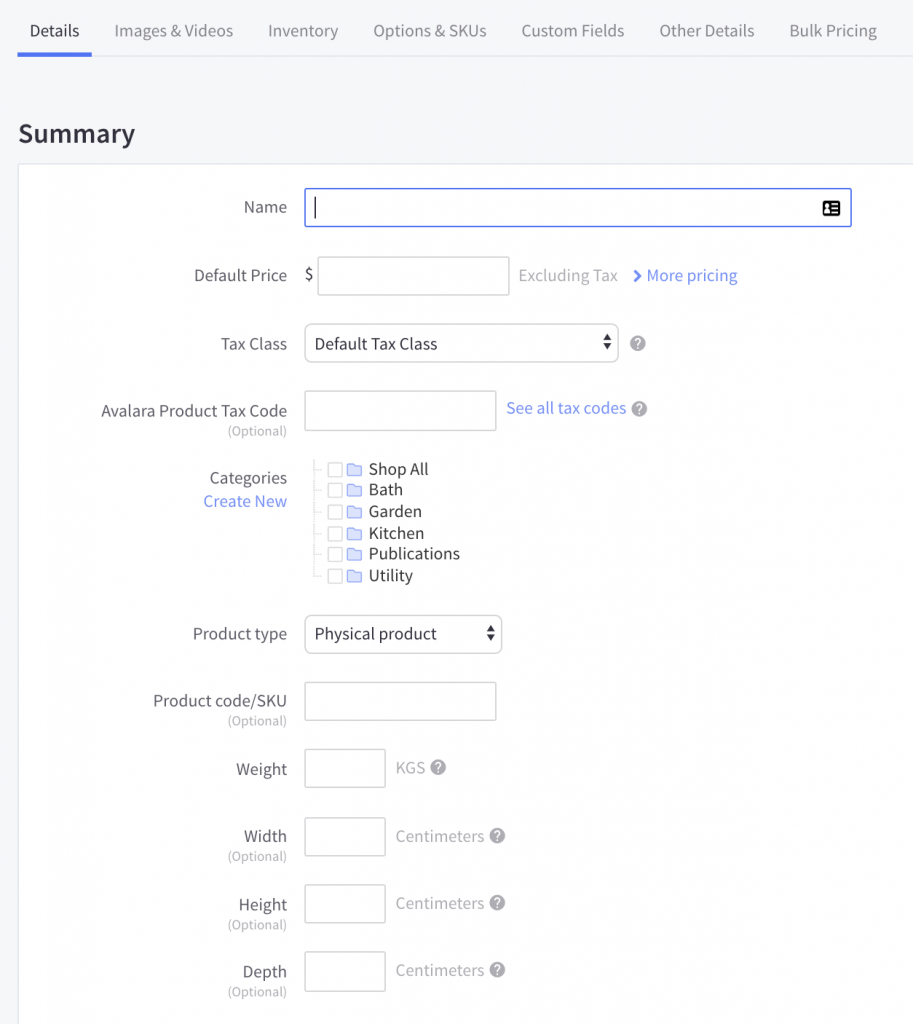 Plus, BigCommerce has recently improved its user interface. Regarding design flexibility, BigCommerce's drag-and-drop outperforms Shopify, and we just have to grab an element and place it wherever you want. Whilst Shopify does not provide the same hands-on adjusting experience as BigCommerce. We can change the order of page elements from a list in Shopify, but can't drag and drop any element anywhere.
Here is a quick BigCommerce tutorial to help you create an online store with this platform easily and effortlessly. You can also opt for a 15-day BigCommerce free trial to have hands-on experience. In case you have custom needs, request a product demo instead.
Shopify Ease of Use
Setting up a new Shopify store is easier since Shopify's dashboard is minimal and easy to navigate.
As Shopify has already built different sections for its users, we only need to follow the in-app instruction to start editing them. We don't need to get involved in the technical aspect too much and can focus on planning your business strategy.
In all honesty, Shopify scores higher in terms of ease of use vs BigCommerce. Shopify is praised by most users for its onboarding process and user-friendly editor. We can access every option we need from the left-hand main menu and there is a nice wizard instructing you to set up your store step by step.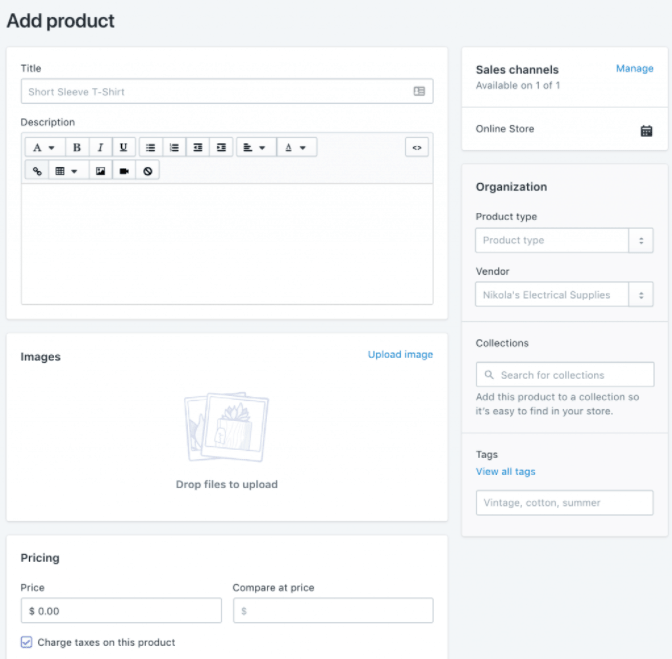 #3. Themes & Design
Of course, you also want the store to look attractive enough on the front end so customers would have the urge to buy. Here's what the store design options look like with BigCommerce vs Shopify.
BigCommerce Themes
This eCommerce platform offers different themes sorted by industry, layout, and price on BigCommerce theme store. There is a wide range of industries to choose from, although fewer than Shopify. BigCommerce's free themes are great options for beginners, or you can choose paid ones priced from $150 to $399.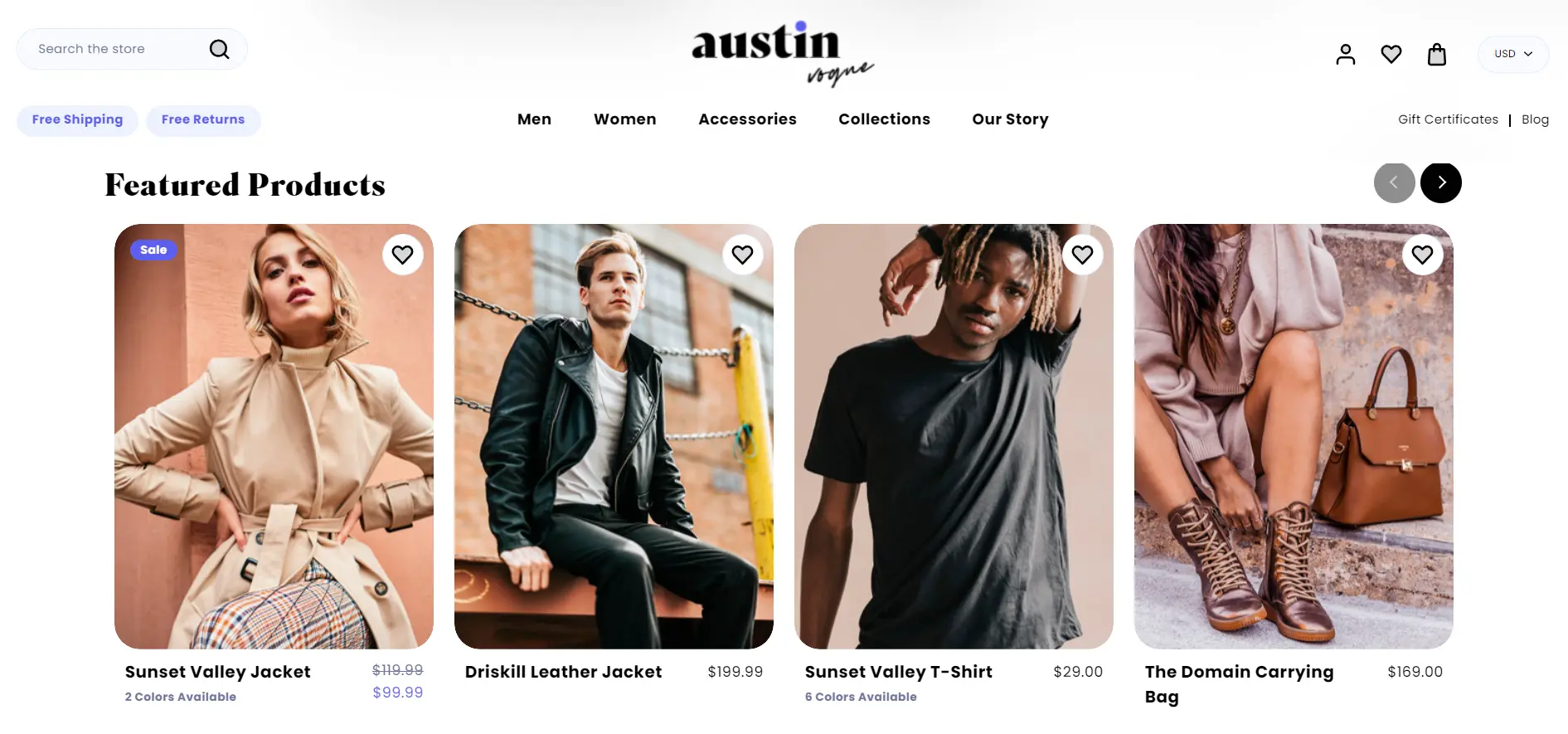 Shopify Themes
On Shopify Theme Store, there is a wide range of themes for different industries and styles that vary in price from $100 to $350.
It's easy to find your perfect theme by searching via layout, size of the store, industry, navigation style, and more. Whether we're looking at the free vs paid options, all of Shopify's themes are modern and professional. Shopify's themes allow superb levels of customization. They're easy to personalize and look professional.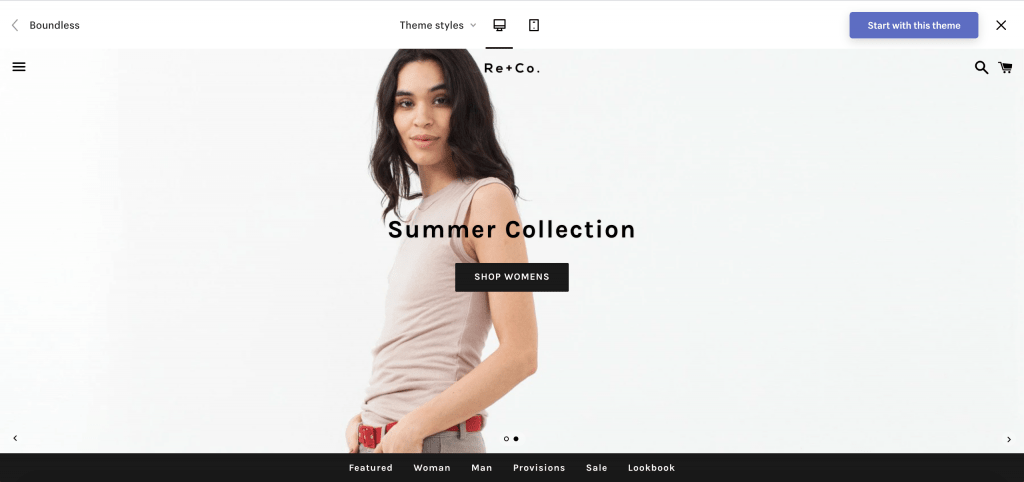 All of Shopify's themes are mobile responsive and will automatically reformat to fit the appropriate screen size. You can also edit both versions to your heart's content, so you can be sure your site looks great on all devices. Shopify even allows a mobile preview in the demo.
If you're still lost in the ocean of Shopify themes, here we've got you a list of 25+ best Shopify themes.
The verdict box
Regarding themes & designs, Shopify wins the battle vs BigCommerce because of various modern and mobile responsive themes. To our way of thinking, either is purchased free or at an affordable cost.
Want to Migrate Your Store and Grow on Shopify?
Having decided that BigCommerce is not the perfect fit for your online business? Switch to Shopify now and rocket your sales with powerful eCommerce functionalities and good support and maintenance with this platform.
#4. Payment Gateways
In our analysis, both Shopify vs BigCommerce can integrate with almost all third-party gateways like Paypal, Stripe, Square, etc.
With that being said, Shopify comes with its own built-in payment processor. However, BigCommerce did very well, enabling sellers to integrate third-party apps with extra good features. Keep scrolling to learn more about this difference between Shopify vs BigCommerce.
Shopify Payments
Shopify Payment is the in-house payment provider dedicated to sellers on Shopify. Whenever a purchase is made, Shopify Payment takes customers' money and directly sends it to store owners. Besides, it is packed with a fraud analysis to detect any suspicious activities.
Shopify Payments ensures a quick, smooth, and secure transaction between buyers vs sellers on Shopify. In addition, there are some advantages of Shopify Payment that impressed us during our time here:
Instant setup and approval
Full integration
No extra transaction fees, no hidden fees
Don't like Shopify Payments, or does your country not support Shopify Payments. No worry, because Shopify provides support for hundreds of third-party payment gateways based on your store location.
BigCommerce Payments
In comparison vs Shopify, BigCommerce doesn't come with a built-in payment processor. Instead, we had to look for payment integrations from the BigCommerce App Store.
BigCommerce offers 65+ payment gateway integrations in over 100+ countries with 250+ local payment methods. These can be named Amazon Pay, Paypal, Square, Stripe, Authorize.net, Bolt, etc. All come with excellent features as well:
No transaction fee
PCI Compliance
Mobile-optimized
And here's a visualization of how the BigCommerce payment gateway works.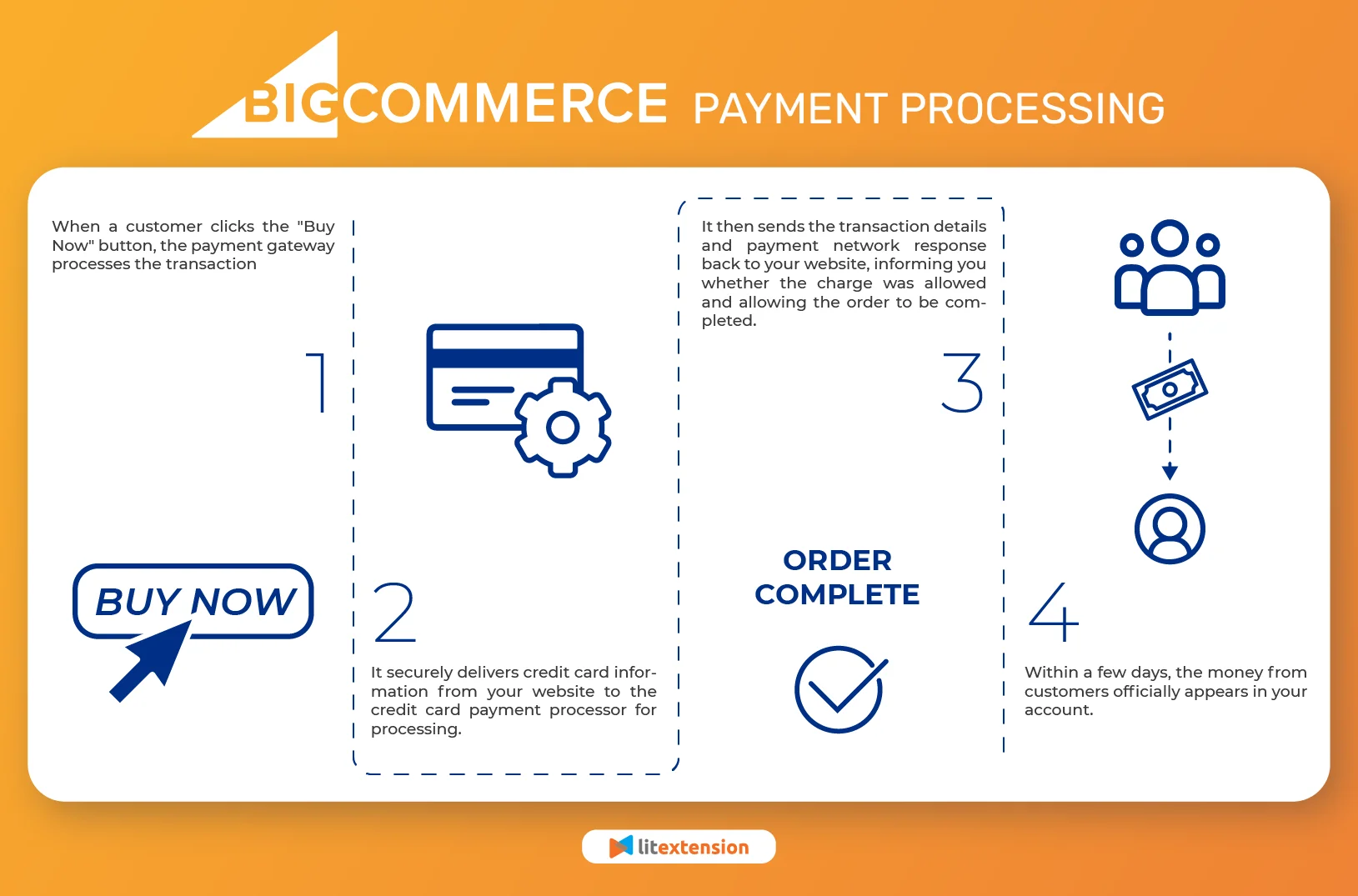 Bonus fact:
One best addition to the BigCommerce portfolio is multi-currency – which makes it a leading open SaaS platform. You can use pricing lists to customize pricing at a deeper SKU level with this feature. This is something that other market leaders, such as Shopify, do not allow.
BigCommerce users are able to select payment providers. This is distinct from other tools, which frequently force owners to use the in-built payment for multi-currency tools.
#5. eCommerce Dropshipping
The most important thing for drop shippers is to be able to quickly and easily source products from suppliers. Then they can add those products to their stores and have the selling and shipping process automated.
Although BigCommerce vs Shopify apps let you do everything from start to finish, Shopify just has more consistent quality. Oberlo is the one powerful tool that gives Shopify the upper hand for dropshipping.
Shopify Dropshipping
As we perceive it, Shopify's partnership with Dsers and Dropified is its headline feature for drop shippers.
Dsers is the go-to supplier for a massive selection of goods at wholesale prices. There are many similar apps available on the Shopify app market that focus on different niches, marketplaces, or regions. Because of Shopify's high curations standards, they're almost all highly rated and good at what they do.
BigCommerce Dropshipping
BigCommerce has a decent app marketplace with a number of great product-sourcing apps. The quality of BigCommerce's other apps varies differently, and to be honest, a few of them are not as comprehensive as Dsers.
#6. Sales Features
Inventory management
BigCommerce: offers a simple, native, and powerful inventory management system to manage stock levels and order trends. It helps keep inventory on track with seamless integration between online and offline channels. Furthermore, only BigCommerce lets us sell physical, digital, and service-based products without having to use apps.
Shopify: Shopify's inventory area allows you to set up inventory tracking, view your inventory and adjust your inventory counts. It also helps view the history of inventory adjustments for product variants.
Sales channels
BigCommerce: Channel Manager is designed to help merchants grow sales while making multi-channel selling easier. We can easily connect your store with sales channels and sell on various channels. i.e. Marketplaces (i.e. eBay, Amazon, Walmart, etc.), social channels (i.e. Facebook, Google, etc.), and more.
Shopify: You can use Shopify to sell your products on different online sales channels. By connecting each sales channel to Shopify, we can keep track of your products, orders, and customers in one place. Shopify supports several online sales channels such as Facebook, Amazon, eBay, Instagram, etc.
Point-of-sale (POS)
BigCommerce: gives you the flexibility to connect with any POS providers (i.e. ConnectPOS, Hike, Vend, etc.) and consistently sell online – offline. In fact, this comes without additional fees. It helps you manage product catalogs from one location and sync inventory everywhere. Many of the POS integrations offer integrated payment processing both online and offline.
Shopify POS: provides an application on IOS and Android for a point-of-sale system directly available from Shopify. You can use this to sell your products in person. Kindly read our thorough analysis on Shopify POS to know more about this feature!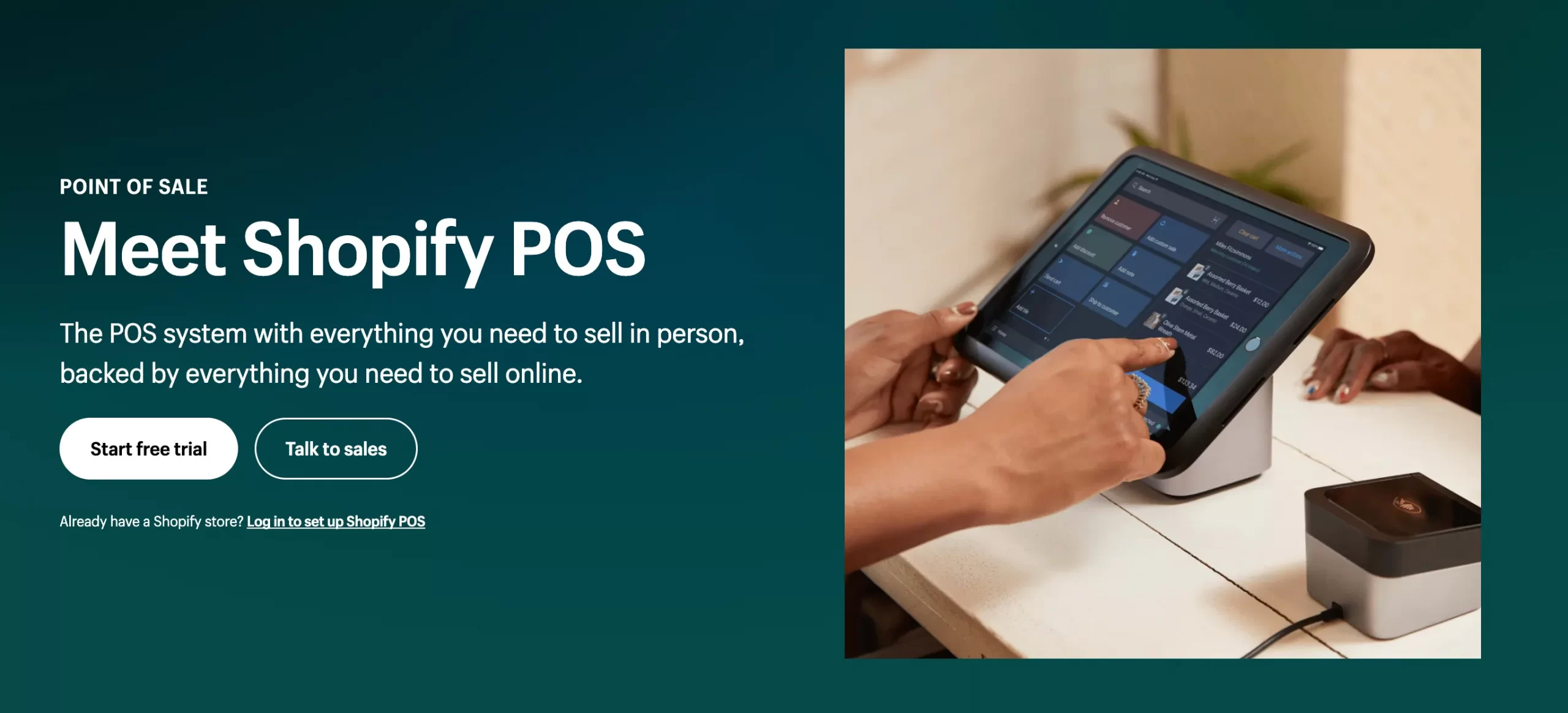 #7. Marketing Features
Marketing tools and functionalities come in handy when it comes to promoting your business. In this round, let's move to BigCommerce vs Shopify's marketing features.
BigCommerce Marketing
Approaching customers through email marketing is a decent tactic to help promote products easily. Resultedly, BigCommerce allows you to sync data with leading email platforms: MailChimp, G Suite, and more.
One marketing feature that BigCommerce wins over Shopify is the best built-in SEO practices. From what we've observed, this ensures industry-standard SEO, which is built into all of the BigCommerce sites. The best thing is that we have full control over URLs, title tags, header tags, and metadata. Moreover, 301 redirects in BigCommerce are automatically created whenever the name or the URL of a product, category, or web page is changed.
Our assessment is that Shopify has obvious limitations with SEO that BigCommerce does not. BigCommerce offers better solutions to utilize SEO aspects. These can include URL duplication, native robots.txt adjustment, HTTP headers customization, and blogging (WordPress plugin).
For more information, take a look at our BigCommerce SEO guide, which provides comprehensive practices for optimizing a BigCommerce website.
Shopify Marketing
Shopify email, on the other hand, provides you with built-in tools to build lasting customer relationships. This platform provides ready-made templates for you to choose from and apply right away. We are even able to manage and analyze all marketing activities within your dashboard.
Shopify's SEO supports on-page optimization with a custom title tag and meta description configuration. It is applied on an easy interface in every product and page editor. 301-redirect is easy to create as well within Shopify and automatically prompts if a page or product URL changes. You can discover more about Shopify SEO here!
The verdict box
Both BigCommerce vs Shopify have a built-in blog, a basic yet very effective tool for content marketing. However, BigCommerce does offer more for merchants to optimize their sites in search engines.
#8. Apps & Scalability
BigCommerce Apps
There are applications available for both BigCommerce vs Shopify.
Using BigCommerce, you'll benefit from 1000+ apps from different categories: Accounting & Tax, Checkout, Payment & Security, etc. Here we provide an insightful review of top BigCommerce apps to help users figure out the most suitable apps for their business.
More importantly, BigCommerce has (seriously) powerful built-in features, reducing resource managing third-party apps. Though all plans offer open APIs and 99.99% uptime, its Enterprise Plan delivers a headless solution with unlimited API calls. This deal from BigCommerce definitely enables sellers and developers to outperform in eCommerce.
Lastly, what makes BigCommerce the most scalable platform is the multi-storefront, deep integration with Google products, and custom consulting management.
Shopify Apps
Shopify comes with a plethora of 4000+ apps on Shopify App Store, which makes it the biggest app store on the market.
You can easily navigate to choose the trending apps, new and noteworthy apps, top new apps, and the like. Otherwise, you can explore the categories for more shipping and delivery apps, customization tools, or marketing features. If you're still in confusion which Shopify app is well-tailored for your Shopify store, how about taking a look at our best Shopify apps review here?
Besides 3 basic plans, Shopify offers Shopify Plus plan for more than 10,000 of the world's leading brands, including Rothy's, Heinz, Allbirds, etc.
Both BigCommerce vs Shopify is designed for the scalability plan. For more details, read our Shopify Plus vs BigCommerce Enterprise comparison to see which one is your cream of the crop.
The verdict box
From our point of view, BigCommerce is significantly more favorable vs Shopify for sellers or those who want to scale up their business, especially the Enterprise Plan. Its B2B edition offers limitless possibilities to build, innovate and grow, thanks to the flexibility and convenience of an open SaaS platform.
Make Your Migration Project A Breeze with LitExtension
Don't have time to manually migrate to BigCommerce? Let LitExtension lift the burden off your shoulder with our top-of-the-class migration service. Enjoy a streamlined and secure data transfer process with no technical skill required!
#9. Customer support
If you want to get the most out of the eCommerce store-building experience, you need to look beyond pricing plans. Having access to tech support is crucial for any business. You never know what kind of problem you might run into.
Ecommerce customer service is how online businesses provide assistance to customers with everything. These range from making purchase decisions to resolving issues, all while creating a seamless customer experience across platforms. Hence, in this section, let's take a look at how BigCommerce vs Shopify provides customer support.
Whether you choose Shopify vs BigCommerce, you'll get access to similar options. Here following are the support options:
24/7 phone support
24/7 live chat
Help Center
Support forum
Email
Video tutorials
Advanced specialist support
Now, let's dive a little bit deeper into BigCommerce vs Shopify's Support.
BigCommerce Support
Once you sign up for a BigCommerce free trial, you'll receive an appointment for a 10-minute call from this platform. By doing this, BigCommerce understands more about your business, and thus they can give better pieces of advice.
Besides, BigCommerce also gives top priority to those who enter the enterprise-level plan. You'll avail of onboarding consultants and phone calls from highly skillful BigCommerce staff.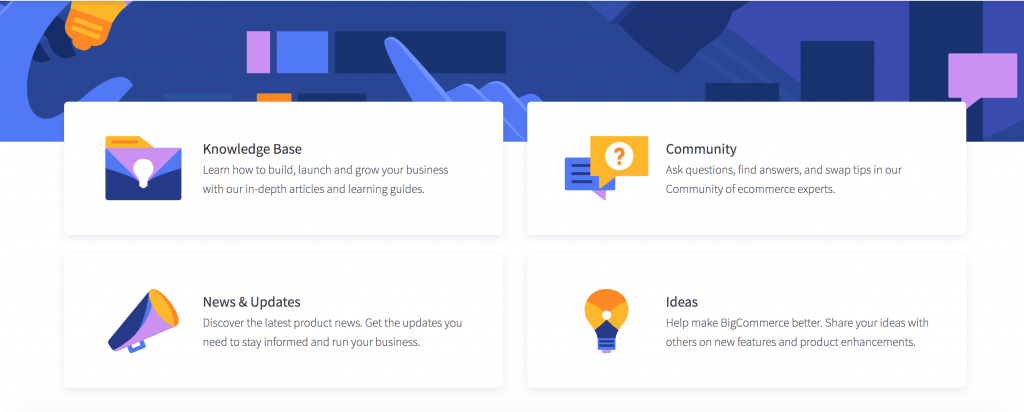 Shopify Support
BigCommerce's help center is useful but less clear than Shopify's. In Shopify, the different sections are clearly separated in detail.
In addition to this, Shopify customer service also offers support through social media, unlike BigCommerce. When you request help within the Shopify editor, you're directed to a relevant page within the Shopify knowledge center. This is a great help feature and puts Shopify ahead of BigCommerce in this aspect.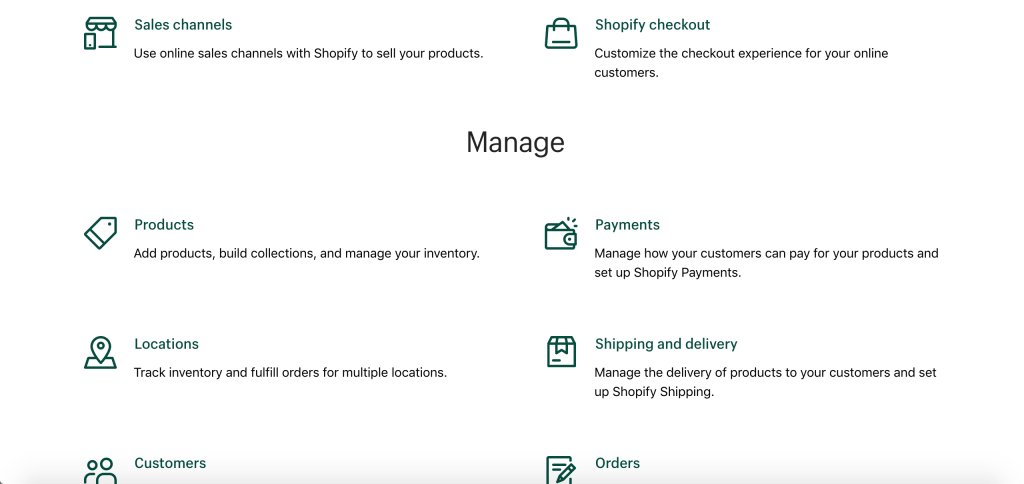 #10. Security
Ecommerce site security is critical, specifically when it comes to data protection and sensitivity on a website. The problems can be:
safeguarding business finance
preventing fraud and financial scams
or defending the store's reputation as a safe place to conduct transactions.
When the right security measures are put in place on your website, it ensures customers' privacy and integrity. Following this, they will feel safe buying from you while protecting their data and your online store data.
BigCommerce Security
It's safe to say that BigCommerce leaves little to nothing to be desired in terms of its approach to security.
As a SaaS, BigCommerce provides multiple layers of strong security for all sites they host. All servers are PCI DSS certified at level 1 to protect against credit card data breaches. Additional security measures include perimeter and server-specific firewalls, file integrity scanners, intrusion detection software, 24/7 human monitoring, and fraudulent transaction protection provided.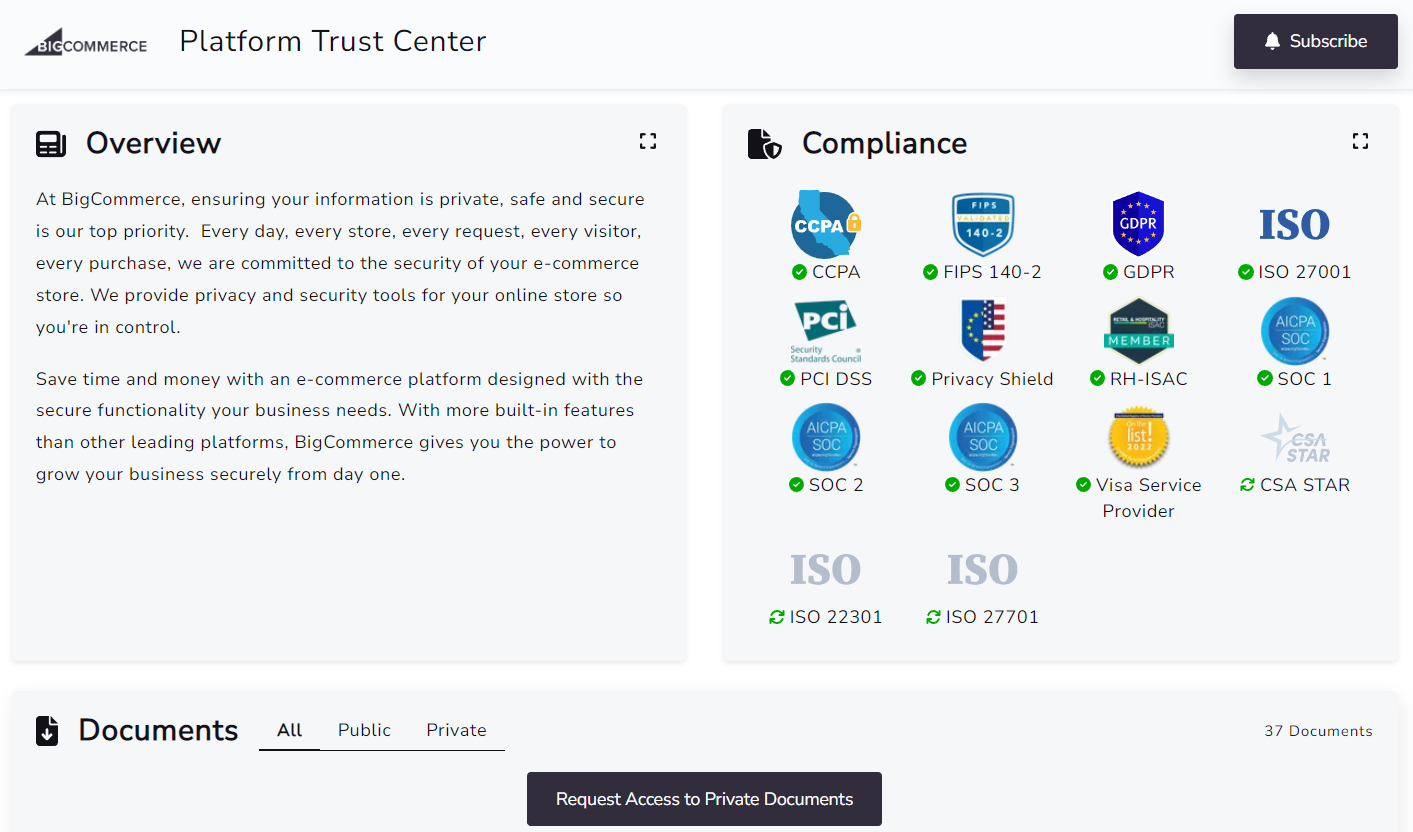 As well as ab SSL certificate issued by a trusted third party for a specific domain or subdomain. It verifies that a secure web page is properly encrypted, ensuring that all information passed between a user and the site is private.
Shopify Security
Similarly, all of Shopify's stores are PCI compliant by default to keep your business and customers secure. Thus, you can keep payment info and business data safe.
Shopify provides SSL certificates after adding a custom domain. To improve security, SSL certificates encrypt your store's content and publish it securely using HTTPS instead of HTTP.
---
BigCommerce vs Shopify – Summary
To sum up our thoughts, both BigCommerce vs Shopify are awesome in their own way, there are differences that make either platform better in specific scenarios and users. That's the reason why both BigCommerce and Shopify are on our list of best eCommerce platforms.
To help you make a sensible decision, here is a quick comparison of BigCommerce vs Shopify.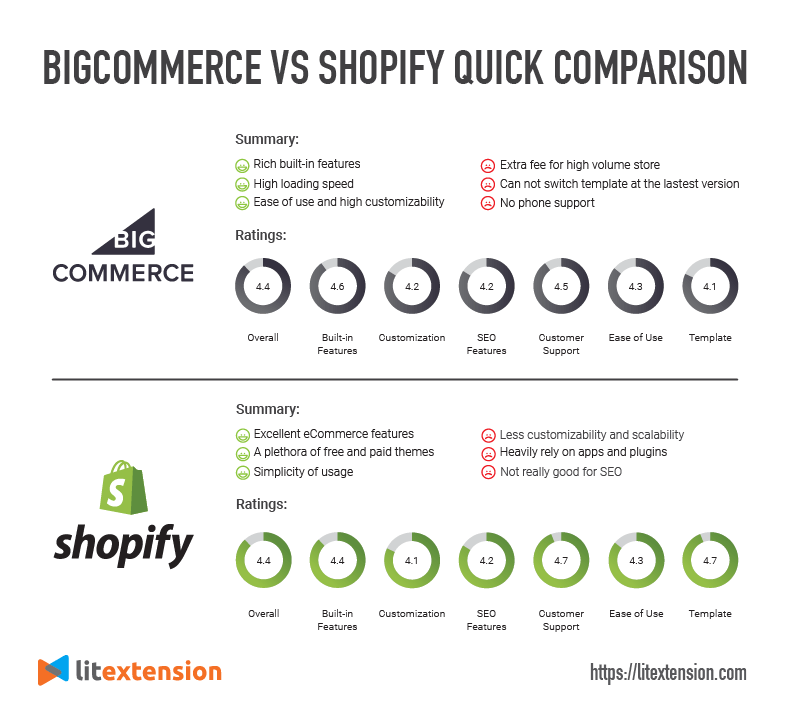 ---
FAQs – Shopify or BigCommerce?
---
Final Words
Both BigCommerce vs Shopify are excellent site builders and there's a lot of overlap between them. Overall, when comparing BigCommerce vs Shopify, it's hard to pick the final winner. Finally, there are significant differences that can help you choose which one to go with.
In conclusion, the decision may lie in your business direction in the next coming year. Hopefully, this article has given you enough information to help choose the best platform that can cater to your business well.
If you are planning to migrate your platforms to BigCommerce or Shopify, LitExtension – #1 Shopping Cart Migration Expert team is willing to assist! Our team offers the world-leading migration solution with 200,000+ successful migrations for 100,000+ worldwide customers in the last 12 years. Don't hesitate to contact our support agents to get the utmost assistance.
Please visit LitExtension Blog and join our eCommerce community to grasp even more eCommerce insights.