No longer fit with BigCommerce? Looking to migrate your online store to WooCommerce? Look no further! LitExtension BigCommerce to WooCommerce migration service will seamlessly transfer your BigCommerce store to the WooCommerce platform, ensuring that all your data is preserved and your store is up and running in no time.
The A-Z BigCommerce to WooCommerce migration process includes these below steps:
Step 1: Backup database of the BigCommerce store
Step 2: Set up a new WooCommerce store
Step 3: Set up Source and Target Cart
Step 4: Select entities to migrate
Step 5: Perform full migration from BigCommerce to WooCommerce
Step 6: Follow a go-live checklist for WooCommerce stores after data migration
In case you want to dig deep into a complete guide on switching from BigCommerce to WooCommerce, please look at our comprehensive BigCommerce to WooCommerce migration guide here! Now, let's head straight to 3 critical steps of the BigCommerce to WooCommerce migration with LitExtension.
Step 1: Set up Source Cart & Target Cart
To set up your shopping cart, select BigCommerce as your source cart type, and provide the store URL. Follow the brief instruction to get your API info and fill them in the form.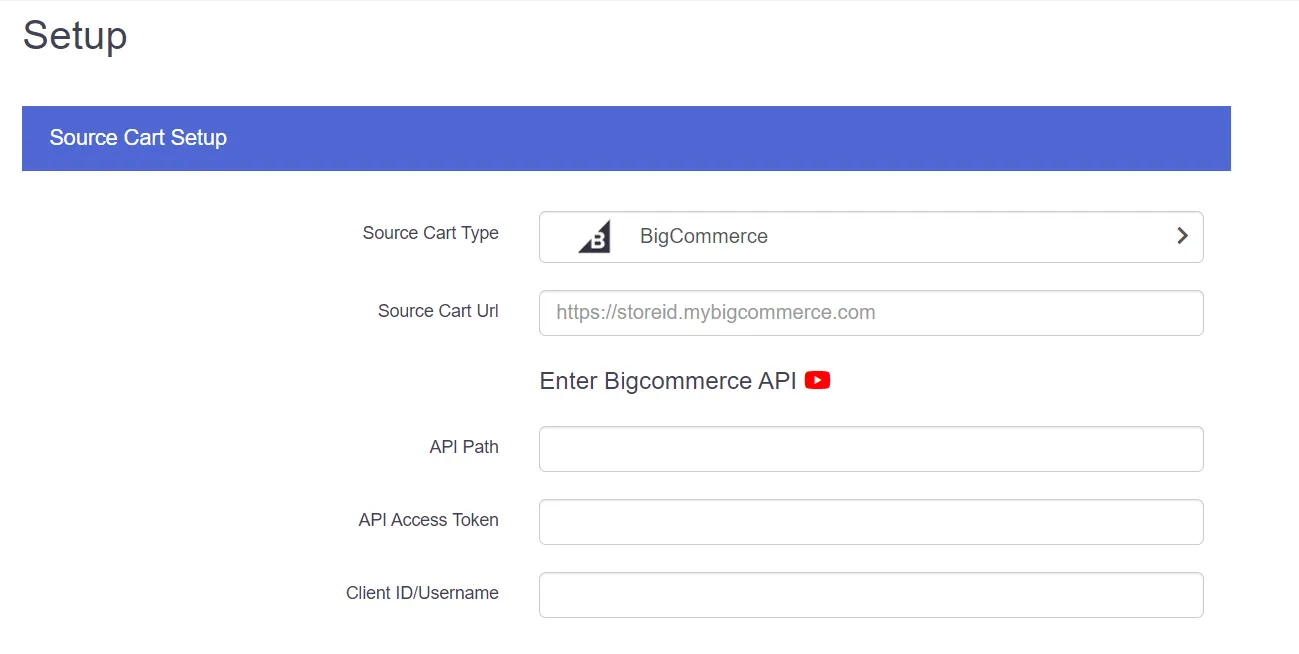 Follow the same steps to set up your WooCommerce store as the target cart. Then you need to download the connector file by clicking LitExtension Connector.

If you meet any problems while installing the connector, don't hesitate to contact our support team.
Then, click Next: Configure your migration to select entities to migrate and additional options.
Step 2: Select Entities to Migrate BigCommerce to WooCommerce
In this step, you can choose any data that you want to migrate or all of them.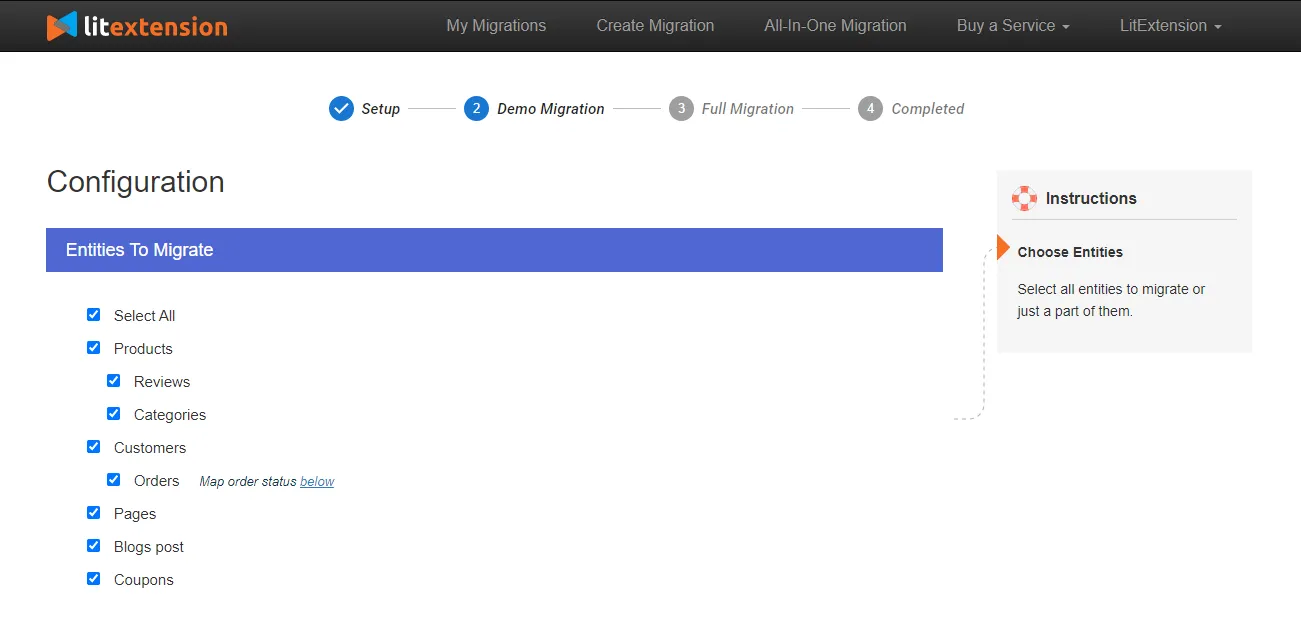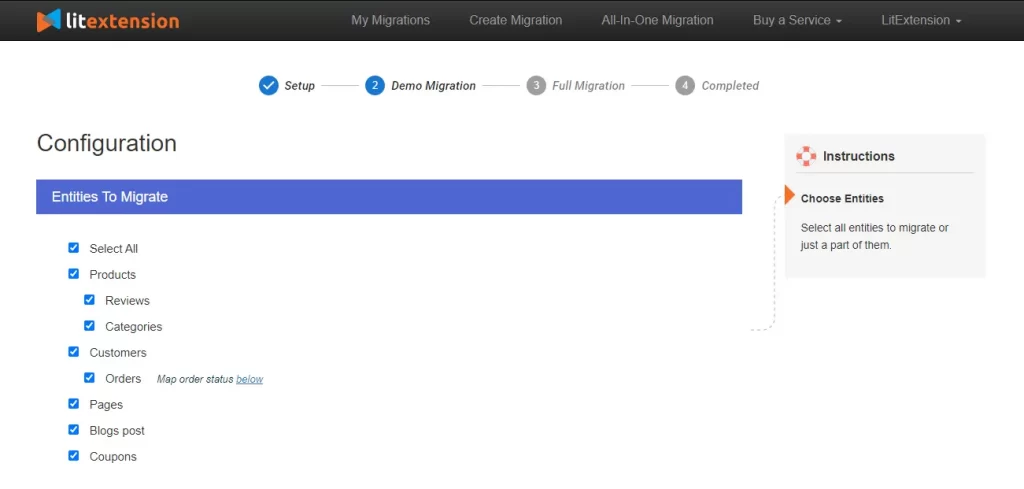 Then, scroll down to select additional options to expand your migration possibilities.


With SEO URLs Migration & 301 Redirect, you can migrate Products and Categories URLs to the new store or create 301 redirects to the new URL. Therefore, this will help maintain the  SEO rankings you have built up for years.
Step 3: Perform BigCommerce to WooCommerce Migration
Right now, everything is ready for the full cart to cart migration. However, I suggest you choose Start Demo Migration free option to know how your migration process operates and visualize your new store.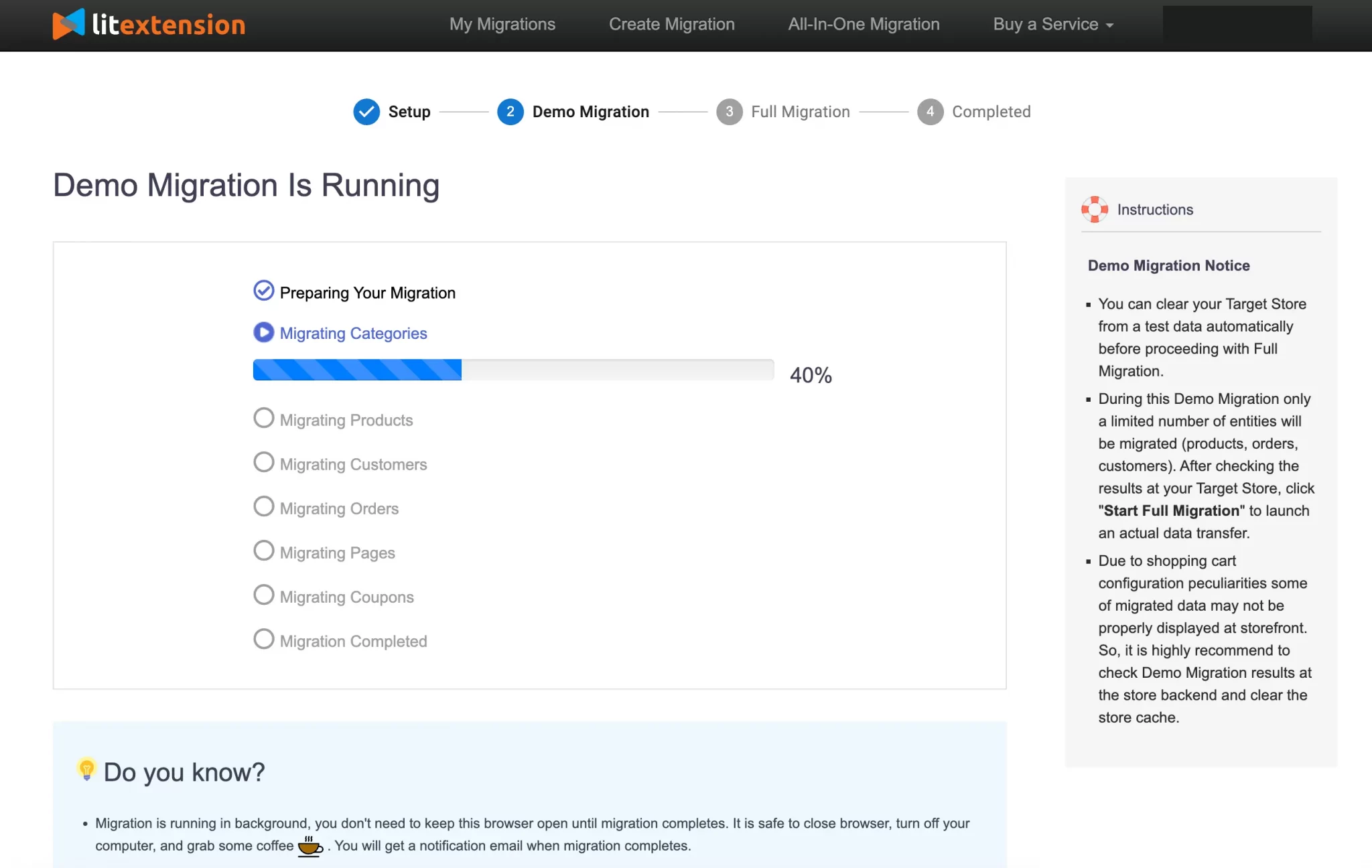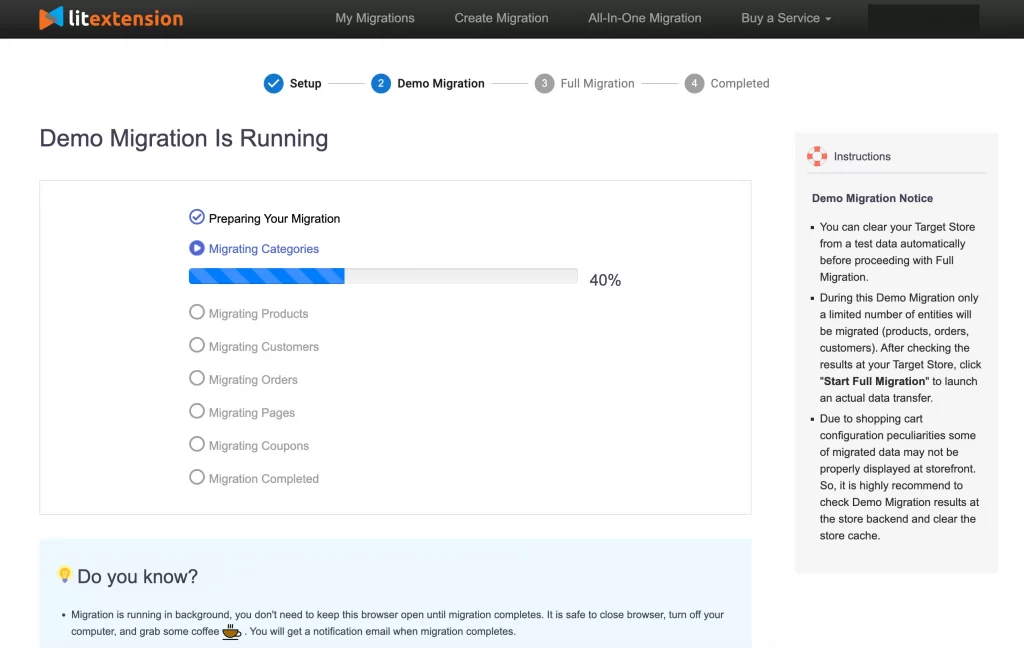 By doing free demos with different target carts, you can visualize your new store in various cart types. Thereby, you could choose the one you prefer most. In addition, you also know how your migration process operates before you decide to take the full migration.
After that, you can perform the Full Migration.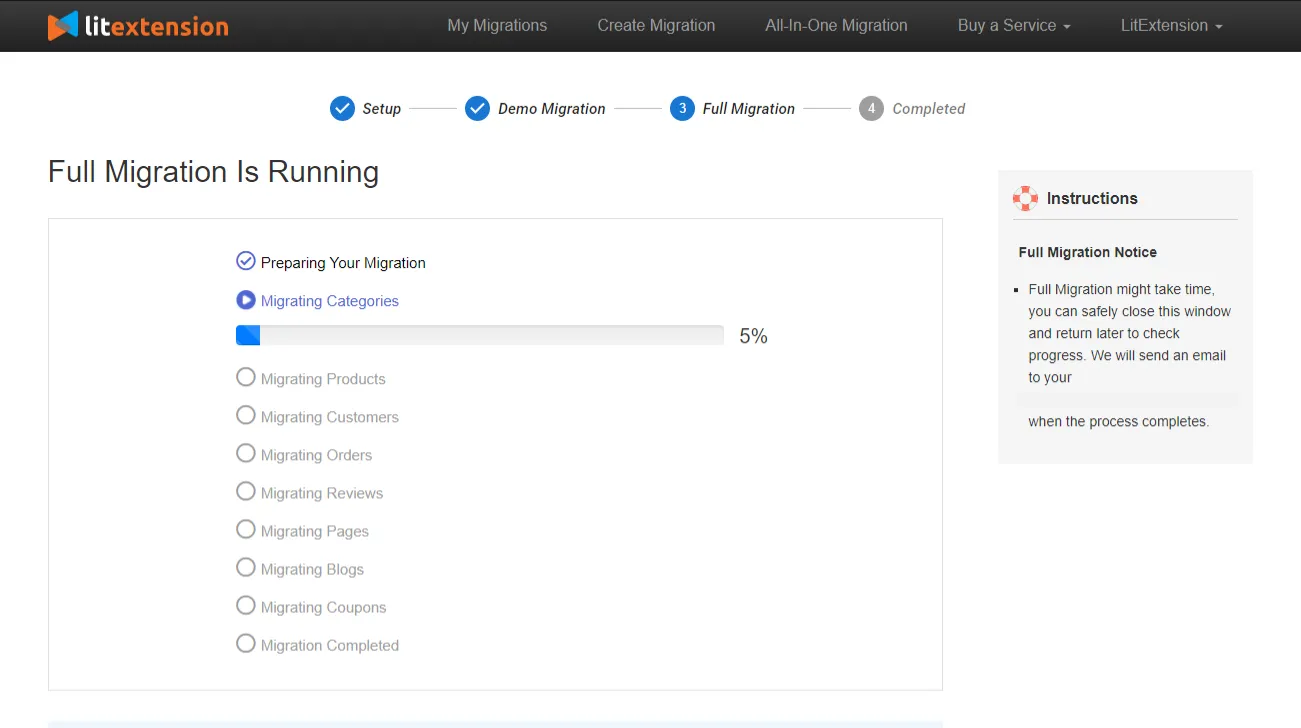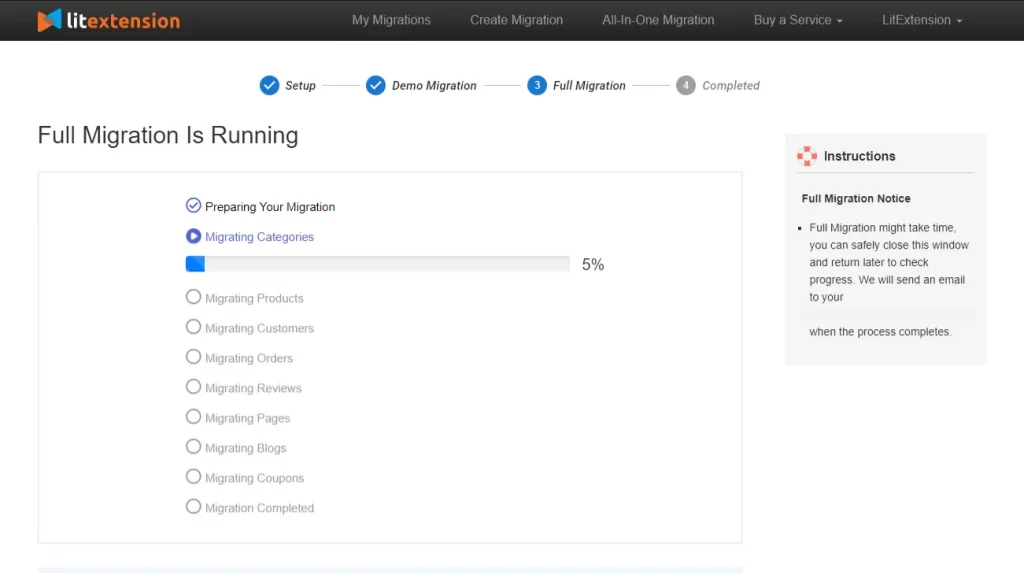 Once the migration is started, you can shut down your PC or disconnect the internet. Your data will be transferred seamlessly to your target store on the server and you will be informed via email when the migration completes.
So, don't hesitate to move to WooCommerce with LitExtension since the process is easy peasy! If you aren't tech-savvy, leave your BigCommerce to WooCommerce migration in good hands with our All-in-One Migration Package. Our WooCommerce migration experts will lift the weight of manual tasks off your shoulder and handle the migration at a committed response time, with a personal assistant and free additional options.