No longer fit with Shopify? Looking to migrate your online store to BigCommerce? Look no further! LitExtension Shopify to BigCommerce migration service will seamlessly transfer your Shopify store to the BigCommerce platform, ensuring that all your data is preserved and your store is up and running in no time. 
The A-Z Shopify to BigCommerce migration process includes these below steps:
Step 1: Backup database of the Shopify store
Step 2: Set up a new BigCommerce store
Step 3: Set up Source and Target Cart
Step 4: Select entities to migrate
Step 5: Perform full migration from Shopify to BigCommerce
Step 6: Follow a go-live checklist for BigCommerce stores after data migration 
In case you want to dig deep into a complete guide on switching from Shopify to BigCommerce, please look at our comprehensive Shopify to BigCommerce migration guide here! Now, let's head straight to 3 critical steps of the Shopify to BigCommerce migration with LitExtension.
Step1. Enter Shopify and BigCommerce stores' information
You must provide the Shopify source shop information, including your store URL and API password, on the migration setup page. If you're unsure of how to obtain an API password from your Shopify store, watch this video for simple instructions:
Next, select BigCommerce from the drop-down list in the Target cart. Enter your store's URL next. You must also give us your API Path, API token, and Client ID/Username for this platform.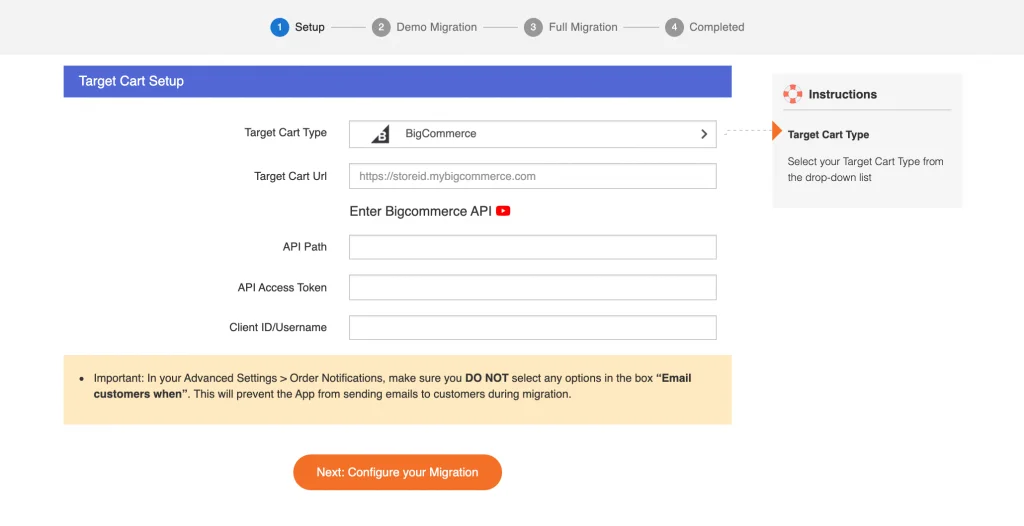 Important: Ensure that you DO NOT pick any settings in the box labeled "Email customers when" under Advanced Settings > Order Notifications. As a result, consumers won't receive emails from the App during the migration.
Step2. Select entities and additional options
You select the entities you wish to transfer from Shopify to BigCommerce here. You may transmit all the crucial information, such as products, clients, orders, etc., using LitExtension. Either all of them together or a specific set of data can be chosen.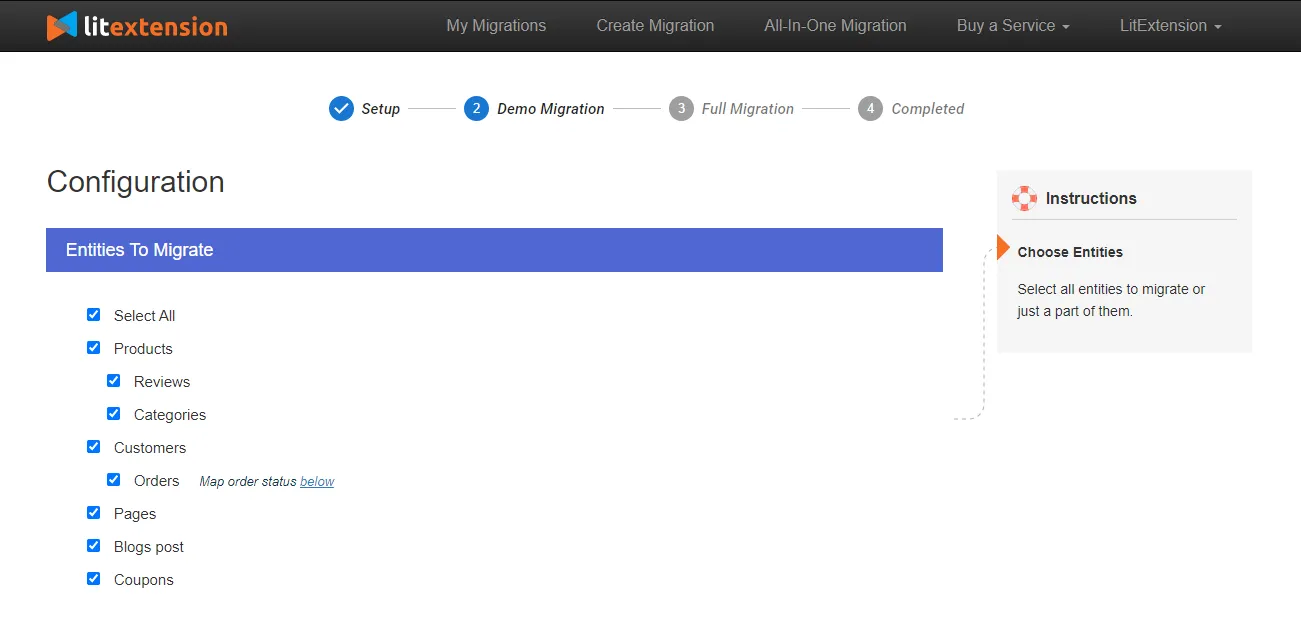 In order to increase the scope of your migration, LitExtension now offers Additional Options, such as maintaining product IDs on the Target store and stripping HTML from category and product names. For consistent display in the BigCommerce store, you can additionally pair Languages, Order Status, and Customer Group.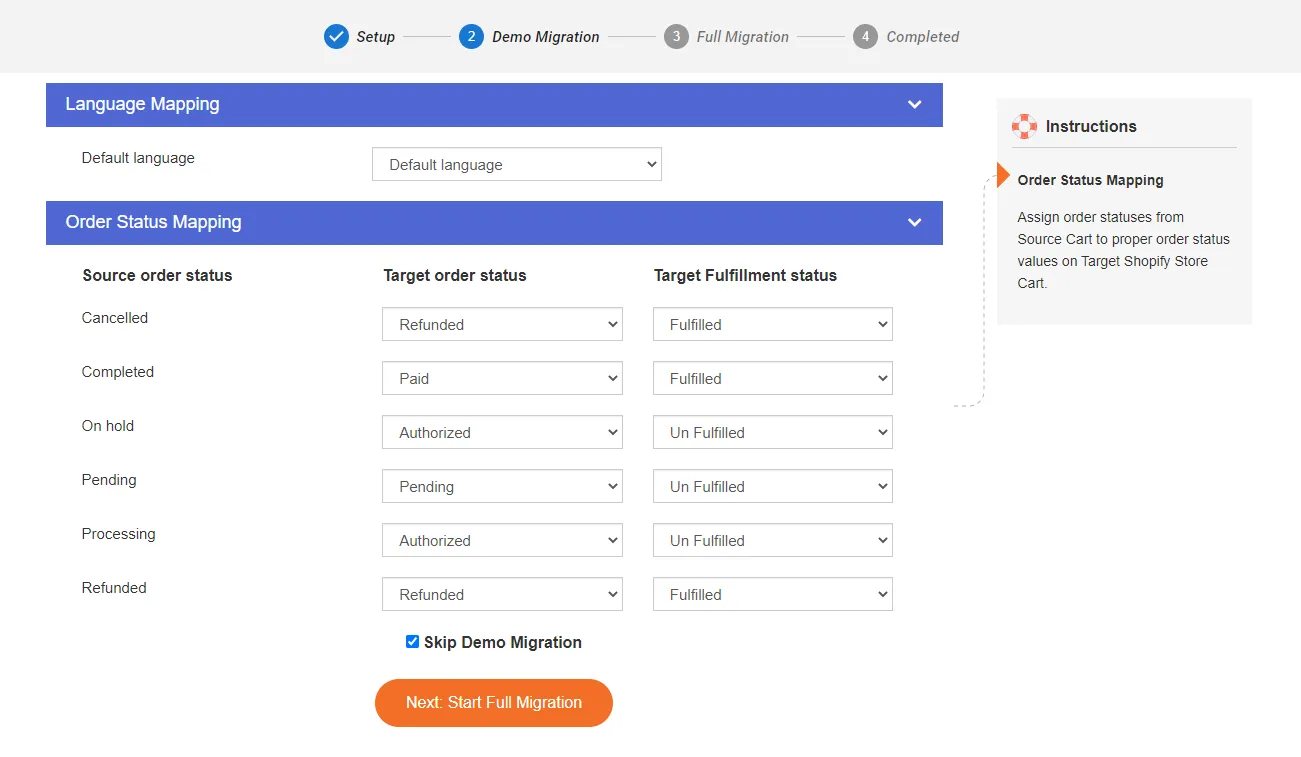 Step3. Perform Shopify to BigCommerce migration
We highly recommend you try a demo first to see how our system works. Or else, you can run full migration right away.
To try Demo: Start your demo migration with a limited number of entities. You will see the same actions as the actual migration. After choosing entities and extra options, simply click "Start Free Demo Migration" to start migrating.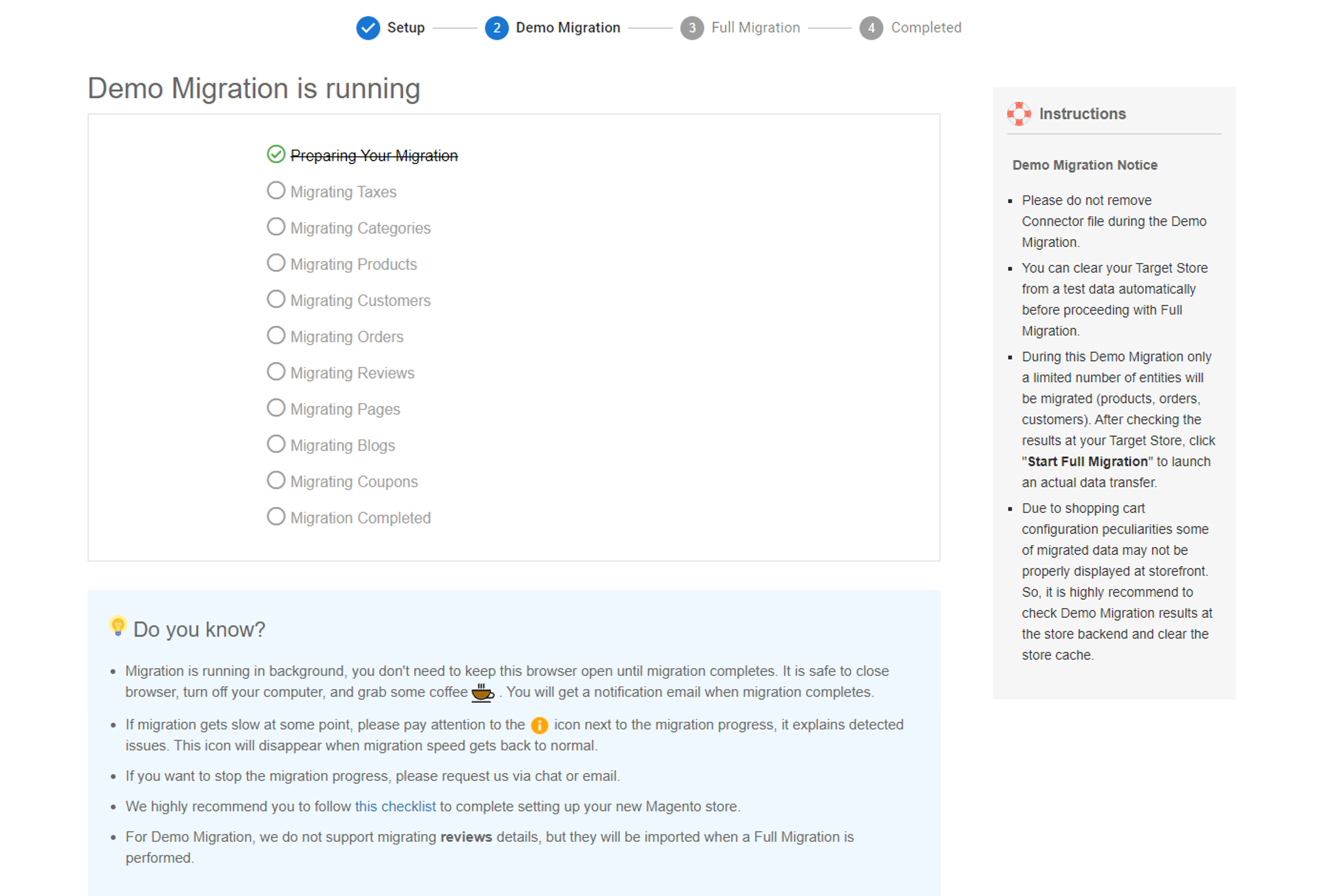 During Demo migration, you can see the data transfer status. Test transfer will take about 20 minutes, depending on how many entities you migrate. After finishing, you will get the notification email and start your work, therefore, you don't need to sit and wait.
To perform Full Migration: You can choose the "Skip Demo Migration" button to perform full migration right away.  Once the migration starts, it will run on the server smoothly. There's no need to keep your PC on while the process is running, it's completely safe to turn it off! Just relax and have a cup of coffee, you will receive a notification email when the migration is completed.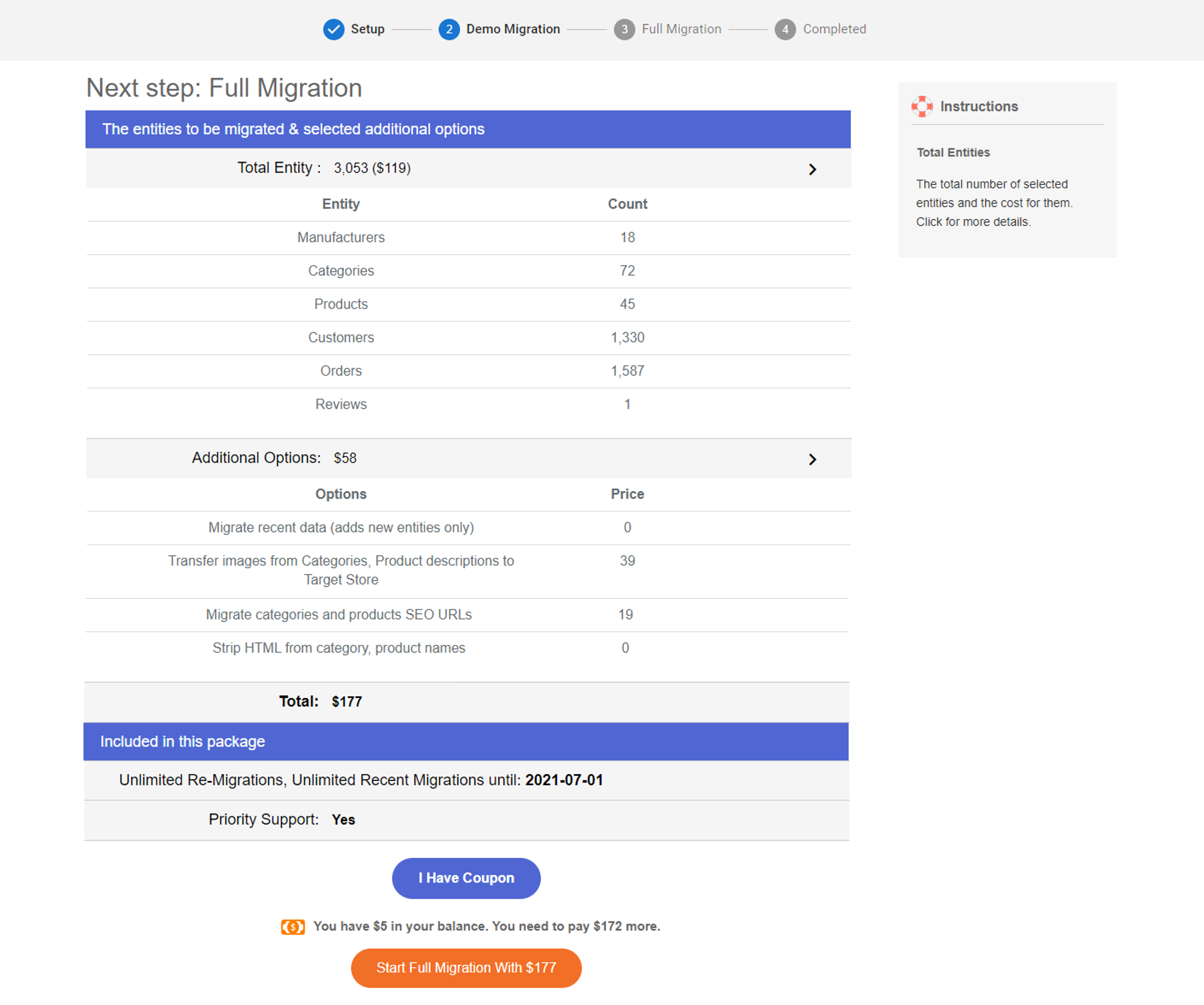 Which Shopping Carts Can Be Migrated to BigCommerce?
Proud to be among the leading BigCommerce migration experts, LitExtension currently supports BigCommerce migration from 140+ different platforms. Some outstanding pairs include:
Shopify to BigCommerce
WooCommerce to BigCommerce
Volusion to BigCommerce
Magento to BigCommerce
Squarespace to BigCommerce
OpenCart to BigCommerce
6 Reasons Why You Should Move to BigCommerce
#1 BigCommerce does not require special technical skills
Thanks to the nature of a hosted eCommerce solution, you don't need to be a seasoned developer to open an online store on this platform.
BigCommerce comes with an easy-to-use and intuitive dashboard. Every section is laid out neatly and nicely. Therefore, with BigCommerce, you can seamlessly navigate through your site and easily find the function you need.
#2 BigCommerce has everything you need to grow your business in one place
BigCommerce provides a robust set of built-in selling features packed on one single dashboard. You will find all the essential functions to increase your sales and expand your reach, from BigCommerce payment gateways to robust inventory management.
Additionally, this platform also offers nearly 1,300  BigCommerce apps on its marketplace. Therefore, if you want to further enhance your eCommerce function, these add-ons will undoubtedly come in handy.
On top of that, this eCommerce website builder also allows you to access its underlying code through BigCommerce API. With this function, you can deeply customize and modify your site the way you want. You can even create a new feature as you wish.
#3 Expanding your business to another level has never been easier with BigCommerce
BigCommerce migration opens the door to excellent scalability functions. This platform does not set a limitation to the number of products, storage, bandwidth, and staff accounts. It will be advantageous to all e-merchants, especially if you are operating a high-volume store.
On top of that, BigCommerce allows you to go beyond borders with its robust internationalization features. This software supports BigCommerce multi-storefront creation, multi-currency selling, and multichannel integration that helps expand your business easily.
#4 Be ready to attract a great volume of visitors with stunning BigCommerce themes
This platform is packed with 200+ stunning BigCommerce themes, available on its Theme Store. These website templates are divided into categories based on their main features and industry. Hence, you can effortlessly find the ideal BigCommerce theme that can cater to your business needs.
These website templates range from $0 to $399 each. Whether you want to install a free theme to save some bucks or a premium one to stand out in the eCommerce world, BigCommerce always has an option for you.
#5 Worries about high transaction fees? Let BigCommerce eliminate it for you.
BigCommerce is one of the rare eCommerce platforms that does not charge transaction fees on any order. For this reason, you can solely focus on increasing your sales and improving your profit without the burden of any additional fees.
If you are operating on another platform and want to eliminate this additional charge, BigCommerce migration can be a great solution for your business.
#6 BigCommerce offers flexible pricing plans that cater to every need
When it comes to pricing, this eCommerce website builder provides three different BigCommerce pricing tiers. They are Standard ($39/month), Plus ($105/month), and Pro ($399/month). Additionally, this platform offers an "Enterprise" tier built explicitly for high-volume stores. Thus, whether you are starting small or want to go big, you can always find a suitable BigCommerce pricing plan. 
In conclusion, BigCommerce is undoubtedly one of the best eCommerce platforms to host your virtue store. If you are using another platform and want to migrate to BigCommerce, why not make the move? 
When Is the Perfect Time to Switch to BigCommerce?
It's not every day that you need to perform the BigCommerce migration. Nevertheless, if your current virtual store is suffering from one (or several) of these problems, you should plan to migrate to BigCommerce soon.
#1 High transaction fees
#2  Insufficient eCommerce features since your business has expanded 
#3 Slow loading speed that might lead to customers' frustration
#4 Poor website performance
#5 Insufficient eCommerce features to support your business
#6 Website malfunction due to code conflict
#7 Site crash
10 Tips to Optimize Your Store After the BigCommerce Migration
Now that you have successfully migrated to BigCommerce, the work is not done yet. Though LitExtension's BigCommerce migration service ensures that all your data will be transferred accurately to the new platform, you'll need to perform some optimization before going live.
Here are 10 tips to optimize your store after migrating to BigCommerce:
#1 Compress your image sizes to improve the site loading speed
#2 Eliminate unused apps and plugins
#3 Minify CSS and JavaScript files
#4 Incorporate high-quality visual elements (like images, videos, GIFs,…)
#5 Include relevant keywords in your title, description, and URL
#6 Display customer reviews and ratings to increase trust and social proof
#7 Use collections and categories to enhance your website navigation
#8 Include clear and appealing call-to-action buttons
#9 Provide multiple payment options that can streamline your checkout process
#10 Offer incentives such as free shipping, discounts, or loyalty programs to encourage repeat purchases
So, don't hesitate to move to BigCommerce with LitExtension since the process is easy peasy! If you aren't tech-savvy, leave your Shopify to BigCommerce migration in good hands with our All-in-One Migration Package. Our BigCommerce migration experts will lift the weight of manual tasks off your shoulder and handle the migration at a committed response time, with a personal assistant and free additional options.
We are happy to help, so reach out to one of our agents if you run into any hiccups during your stay!