No longer compatible with PrestaShop? Do you want to switch your online store to WooCommerce? There is no need to look any further! LitExtension's PrestaShop to WooCommerce conversion service will transfer your PrestaShop store to the WooCommerce platform in a seamless manner, guaranteeing that all of your data is maintained and your store is up and running in no time.
The following steps are included in the A-Z PrestaShop to WooCommerce migration process:
Step 1: Backup database of the PrestaShop store
Step 2: Set up a new WooCommerce store
Step 3: Set up Source and Target Cart
Step 4: Select entities to migrate
Step 5: Perform full migration from PrestaShop to WooCommerce
Step 6: Follow a go-live checklist for WooCommerce stores after data migration
If you want to dive deep into a detailed guide on converting from PrestaShop to WooCommerce, please see our comprehensive PrestaShop to WooCommerce migration guide! Let's jump right into the three most important steps of the PrestaShop to WooCommerce transfer with LitExtension.
Step 1: Set up Source cart & Target cart
Next, on the migration page, click the Create New Migration button in the upper right corner of the screen. Select PrestaShop as the Source Cart Type from the drop-down menu, then enter the store URL.


Then, click LitExtension Connector to download the connector, unzip it, and place it in PrestaShop's root folder. The LitExtension connector acts as an access gateway, assisting in the connection of your shopping carts.
To make your WooCommerce the target cart, enter the URL, username, and password.

Don't mind contacting the LitExtension support team in case you meet any problems.
Step 2: Select Entities to Migrate PrestaShop to WooCommerce
You can move any data, such as products, customers, orders, or all of them.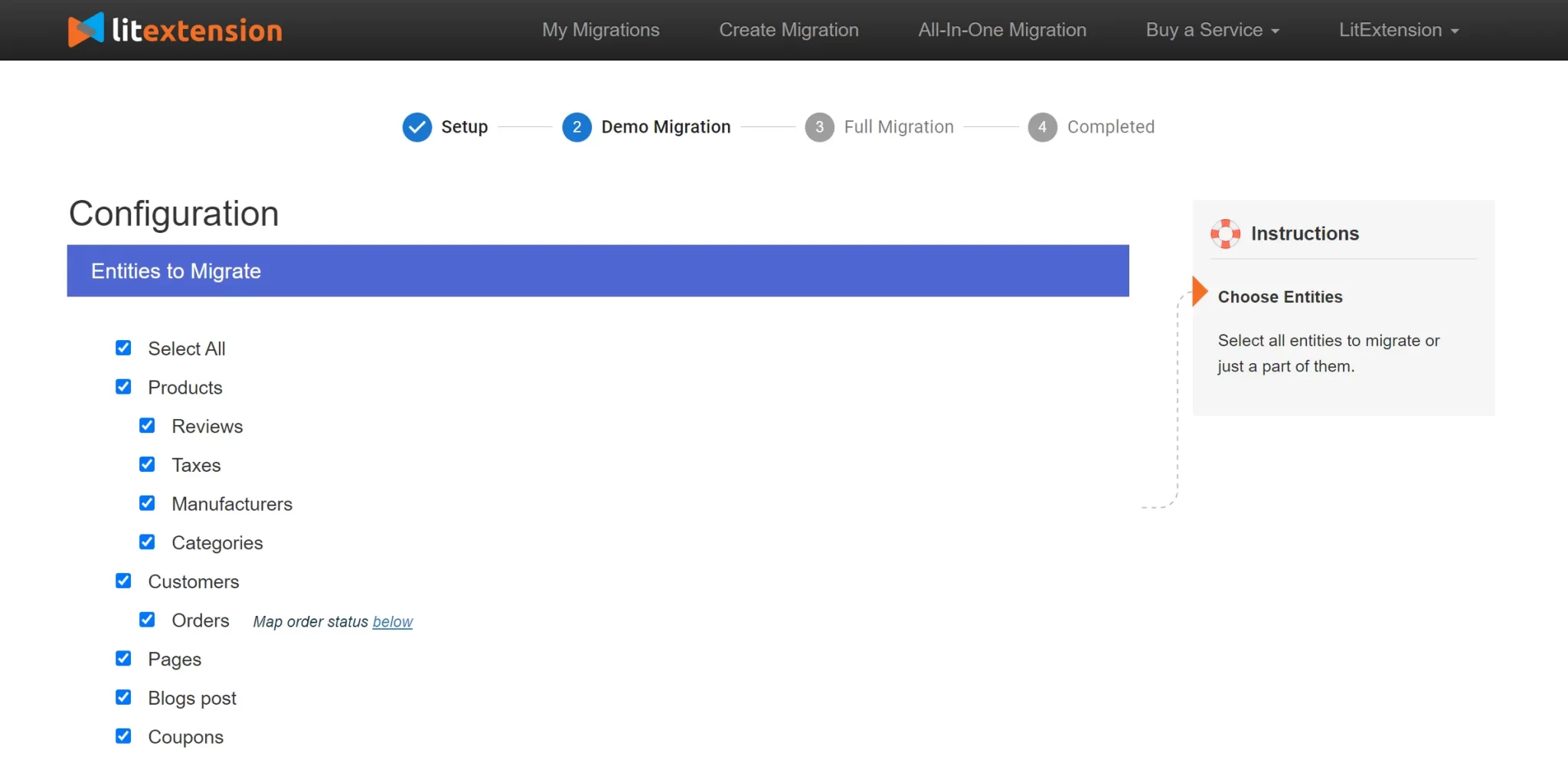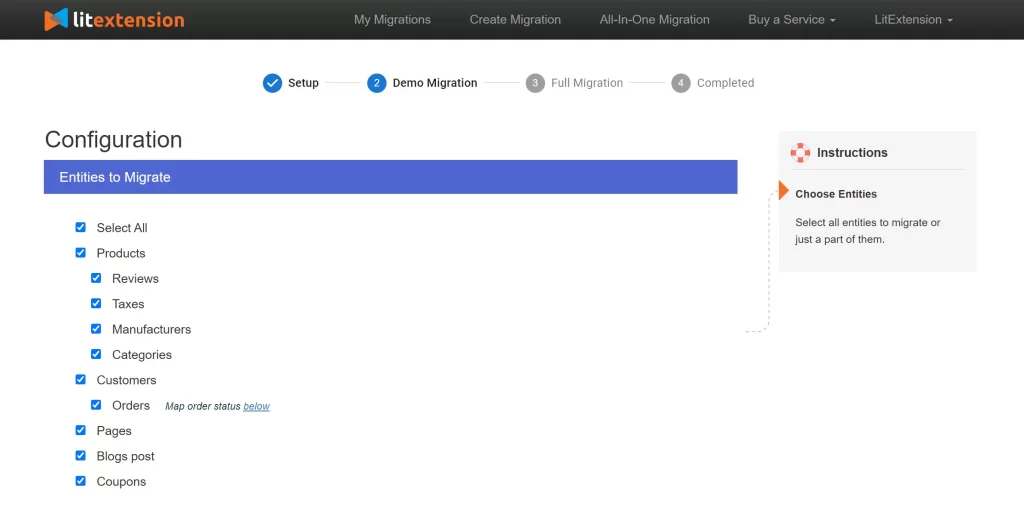 With our Additional Options, you can additionally examine a variety of solutions for expanding your migration options.
For example, SEO URLs Migration and 301 Redirect allow you to migrate Products and Categories URLs to the new shop and keep the SEO rankings you've built up over time.


Step 3: Perform PrestaShop to WooCommerce Migration
You are now ready to begin the move. I strongly advise you to perform the Free Demo migration to observe how your migration process works and to see the results on your new WooCommerce store.
Alternatively, you can skip the Demo Migration and begin the Full Migration right away.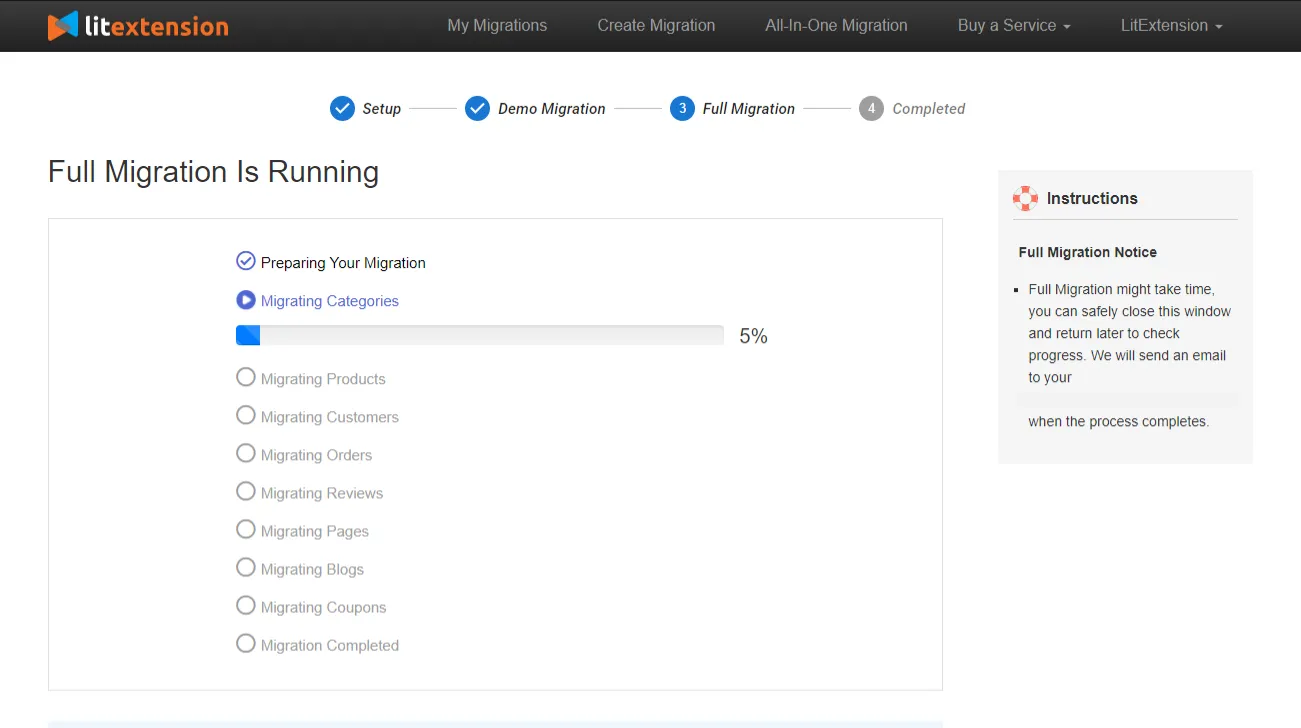 You can shut down your computer or disconnect from the internet after the migration has begun. LitExtension will assist you in easily transferring your data to your desired server store. Take a break, grab a cup of coffee, and your email will be notified when the procedure is finished.
So, don't be afraid to switch to WooCommerce with LitExtension because the process is simple! If you're not tech-savvy, our All-in-One Migration Package can handle your PrestaShop to WooCommerce migration for you. Our WooCommerce migration professionals will relieve you of the burden of manual activities and perform the migration with a guaranteed response time, a personal assistant, and free additional choices.
---
Why Should You Migrate to WooCommerce?
WooCommerce is a popular WordPress eCommerce plugin that allows users to convert their WordPress websites into fully working eCommerce stores. It offers a strong foundation for creating and managing online stores, as well as numerous customization options and a robust extension ecosystem. Over 6 million websites currently use WordPress WooCommerce to power their online stores.
If you are on an open-source platform like PrestaShop and want to migrate to WooCommerce, here are the pain points that motivate you to switch to WooCommerce. 
1. You need a more straightforward & easier-to-use dashboard
WooCommerce is known for its user-friendly interface and intuitive setup process. It offers a more streamlined and straightforward experience compared to other open-source solutions. You will enjoy a more effortless experience managing online stores without extensive technical knowledge.
2. You need a powerful CMS integration with WordPress
WooCommerce seamlessly integrates with WordPress, the world's most popular content management system (CMS). This integration allows you to leverage the vast ecosystem of WordPress plugins and themes, giving you more flexibility and customization options for your online store.
3. You want to access more extensive plugins
As a WordPress plugin, WooCommerce boards a broader selection of over 60,000 free plugins and extensions. WooCommerce also has a robust plugin ecosystem, providing a wide range of extensions and add-ons to enhance your store's functionality. Whether you need additional payment gateways, shipping options, marketing tools, or other features, there's likely a plugin available to meet your specific needs.
4. You need strong and active community support
Compared to other open-source solutions, WordPress WooCommerce benefits from an active and supportive community of developers, designers, and merchants. 
If you encounter issues or have questions while using the platform, you can rely on community forums, documentation, and resources to find solutions. The strong community ensures you access ongoing support and updates for your store.
So, why don't you perform your WooCommerce store migration now? 
What to Consider Before Migrating to WooCommerce?
When considering a move from a opensource platform to WooCommerce, there are several essential factors to pay attention to. 
1. Consider feature parity
You should assess whether WooCommerce offers the same or equivalent features you currently utilize on your hosted platform. To be more specific, you must ensure that WooCommerce supports essential functionalities such as:
product variations 
inventory management 
shipping options
tax calculations
discount codes
and other features specific to your business.
Due to the peculiarity of two different platforms, this task may be daunting. Therefore, we highly recommend seeking a WooCommerce migration agency for your WooCommerce data migration!
2. Check data for migration
Plan a smooth data migration from your current hosted platform to WooCommerce. Here, you should identify the necessary data to transfer, such as product details, customer information, order history, and other relevant data. 
Again, when transferring data, you must understand the nature of two different eCommerce platforms. And actually, it's never been an easy task. Therefore, seeking WooCommerce migration services is a wise choice. 
Wait! Do you concern about "how to automate data migration for WooCommerce import"? If yes? LitExtension is among WooCommerce migration experts that allow you to import products to WooCommerce or any other entities automatically and seamlessly.
3. Prepare for design & theme look of new WooCommerce store
If you have a custom design or theme on your hosted platform, you must adapt or recreate it for WooCommerce.
Now, you must analyze whether you can migrate your current theme to WooCommerce, invest in a new theme, or hire a designer/developer to create a customized WooCommerce theme. Consider the impact on your branding, user experience, and any specific design requirements.
4. Look for appropriate payment gateways
Check if WooCommerce supports the payment gateways you currently use or those with the same functions. You must verify that you can seamlessly integrate your preferred payment providers or explore alternative solutions in WooCommerce. 
Pay attention to transaction fees, payment processing options, and additional configuration requirements for setting up payments on WooCommerce.
5. Examine SEO & URL structure of new WooCommerce store
Moving to a new platform might affect your website's search engine rankings. You can choose 301 Redirects option from LitExtension for WooCommerce SEO migration to redirect old URLs to their new equivalents on WooCommerce. 
Additionally, consider optimizing your WooCommerce site for search engines, such as using SEO plugins, generating XML sitemaps, and optimizing page load times.
6. Prepare for ongoing maintenance of WooCommerce store.
As the nature of the open-source solution, WooCommerce will pass on to you all responsible for the maintenance and updates of your website, including WooCommerce core, themes, plugins, and security measures. 
7. Consider ways to perform migration to Shopify
Of course, you have this question: "How to migrate website to WooCommerce?". Basically, there're 3 main ways to migrate your data to Shopify. 
Manually migrate, and you import CSV to WooCommerce yourself.
Hire a WooCommerce expert/developer, and your data will be handled by a third person.
Use an automated WooCommerce migration service, LitExtension, for example, and your data will be transferred to WooCommerce without interference from third parties.
Evaluate whether you have the technical expertise or resources to handle ongoing maintenance tasks or if you need to engage a WooCommerce developer for help.
What Is the Cost of WooCommerce Migration? 
When using LitExtension, there will be 2 options for you to choose from:
Basic package starts at $79. If you opt for additional options, you will enjoy some free options, including: 
Clear Data On Target Store Before Migration
Create Product Variants Based on Combinations of Options
Migrate Images from Products, Categories and Blog Post Descriptions and many more. 
However, if you want "Preserve Product, Order, Customer IDs on Target Store" option, you must pay $39.
All-in-One package starts at $139. With this package, all additional options will be free. 
So, how long does migration for WooCommerce take if you go for LitExtension? The duration of the process can fluctuate based on the amount of data and the level of complexity associated with the migration.
Tips to Optimize WooCommerce Store After Migration
After migrating your old store to WooCommerce, optimizing your new store for sales is essential. Here, we want to provide tips to optimize its performance and maximize its potential.
1. Choose a reliable hosting provider
You must have a reliable and scalable hosting solution for your WooCommerce store. Choose a hosting provider specializing in WooCommerce hosting that offers good server performance and provides sufficient resources to handle your store's traffic.
If you are still looking for a hosting provider, please refer to these 7 best WooCommerce hosting providers to find out yours.
2. Enable caching mechanism
When you implement a caching mechanism on your WooCommerce store, you can improve page load speeds. Utilize caching plugins to generate static HTML files and minimize server processing. Let's learn more about it via WooCommerce Hosting Requirements.
3. Customize WooCommerce storefront
Assess your current WooCommerce theme and ensure it is optimized for performance, responsiveness, and user experience. Consider choosing a lightweight and fast-loading theme to enhance page loading times and overall site performance.
Haven't you got any ideas for the WooCommerce theme? Please refer to 10+ Best WooCommerce Themes for Online Stores. 
4. Streamline the checkout process
Any online store needs a simple and seamless checkout process to minimize cart abandonment rates, and WooCommerce is no exception. By offering guest checkout options, reducing the number of required form fields, and providing clear and concise instructions, you can enhance the user experience on your new website.
5. Implement a Content Delivery Network (CDN)
On the new WooCommerce store, you can utilize a CDN to distribute your store's static content across multiple servers globally. This improves loading times for users in different geographic locations and reduces server load.
6. Monitor website speed and performance
Regularly monitor your store's speed and performance using GTmetrix or Google PageSpeed Insights. When you identify areas for improvement and take the necessary steps, you take one step closer to optimizing your store's performance.
7. Keep WooCommerce store stay updated and secure
It's of importance to keep your WooCommerce store and its plugins up to date to benefit from performance improvements, bug fixes, and security patches. Regularly review your store's theme look and plugins to ensure compatibility and optimal performance.